Did you know we have 17 different Kids Children's Museums in Wisconsin? And, these are the perfect first indoor public playgrounds for children and their families! Each museum is unique in its specific exhibits, but they all offer loads of age-appropriate, creative play-based learning opportunities for babies, toddlers, preschoolers, and beyond!
On rainy days or any day, a children's museum is a great place to spend some quality time in a touchable, learn-by-doing atmosphere with your little one.
A children's museum is the perfect place to bond with your child and dive into the wonderful world of learning together. We've gathered everything you need to know about Wisconsin's 17 children's museums right here, so you can get out there and learn together today!
What is a Children's Museum?
According to the Association of Children's Museums, children's museums are unique community institutions where…
Children are valued citizens with the right to developmentally appropriate and high-quality learning experiences.
Play is learning, and it is critical to the healthy social, emotional, and cognitive development of children.
Family, culture, environment, and society are recognized as critical factors in all children's lives to effectively serve them.
Pursuing equity and inclusion is a best practice that reflects a commitment to serving all children and families and advancing the growth of our field.
An important note: Wisconsin Children's Museums are the perfect place to learn and explore with your family even if you have financial need. Many of the children's museums here in Wisconsin and across the United States do offer special museum access and rates for those in need of it. Also, be aware that many of the museums offer specific hours or special programs to create a safe place or a sensory-friendly experience within the museum for those with sensory sensitivities.
Also, before you head out on your next museum visit, be sure to check the museum's website for hours and updates, including special holiday hours. Each museum's website is also the best place to check in on their special events, community events, and upcoming educational programs! Many of these museums also offer the option to host birthday parties for children of all ages right here in the midst of all of the hands-on activities at the children's museum.
Building for Kids, Appleton
There is so much to explore in this 31,000-square foot building of interactive exhibits that spans two floors. Current exhibits include a real fire truck, doll hospital, semi-truck depot, convenience store, art studio, STEM innovation lab, and more here at the Building for Kids! Some of our favorite spots on the second floor include the Discovery Tree, the Water Gallery (prepare to get wet!), or the rotating, new exhibits. There's no better local museum to begin exploring and lifelong learning than right here in Appleton.
While you're in downtown Appleton, you may also want to check out the Atlas Science Center (formerly the Paper Discovery Center). This is a great place to learn more about the world around us. You can even try your hand at making paper!
100 W College Ave
920-734-3226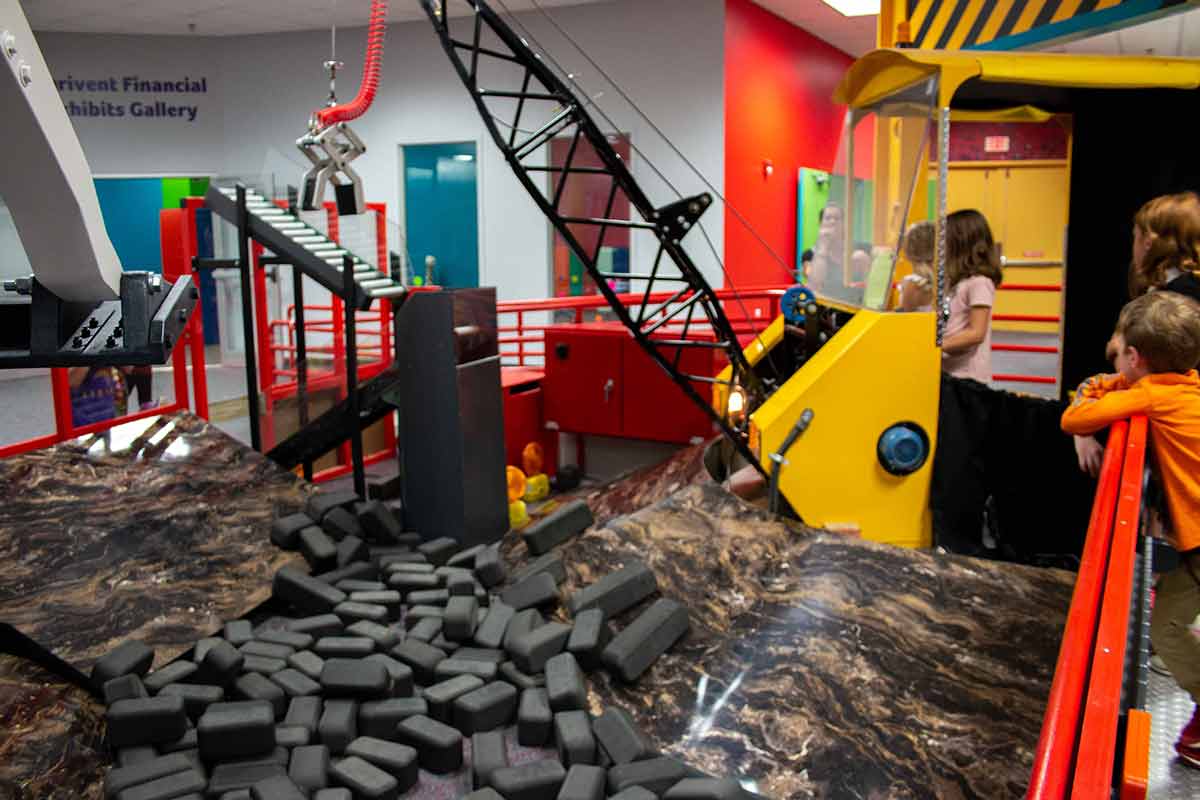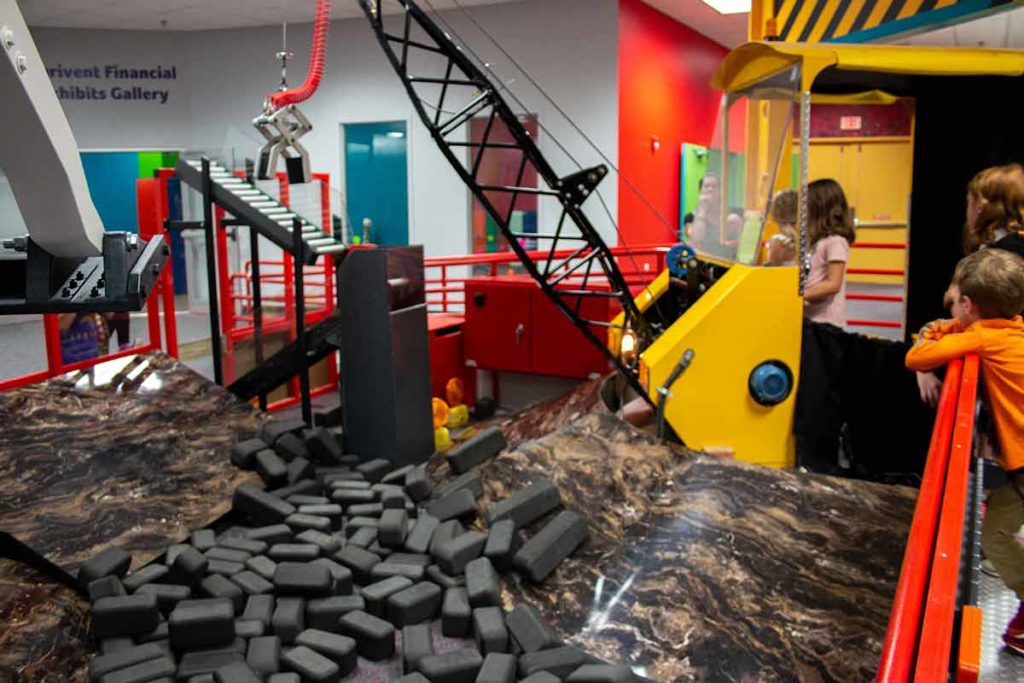 The Children's Museum of Green Bay
The Children's Museum of Green Bay recently moved to its new home located conveniently right across the street from Bay Beach Amusement Park & Wildlife Sanctuary! Some of our favorite exhibits include the Farmer's Market, the 1950's-style diner complete with a working jukebox & hula hoops for dancing, garden and chicken coop care in the Backyard Experience, the Vet Clinic, the Digestive System Climber (crawl into a mouth and learn the body's pathway of nutrient intake!), and the Outdoor Discovery Center.
Visiting in the summer months? You simply MUST add Bay Beach Amusement Park to your itinerary (it's adjacent to the children's museum). It's the most inexpensive amusement park around, with rides for the littlest visitors starting at just 25 cents per ride! And while you're here, stop by to feed the ducks at the Bay Beach Wildlife Sanctuary, too.
1230 Bay Beach Rd
920-432-4397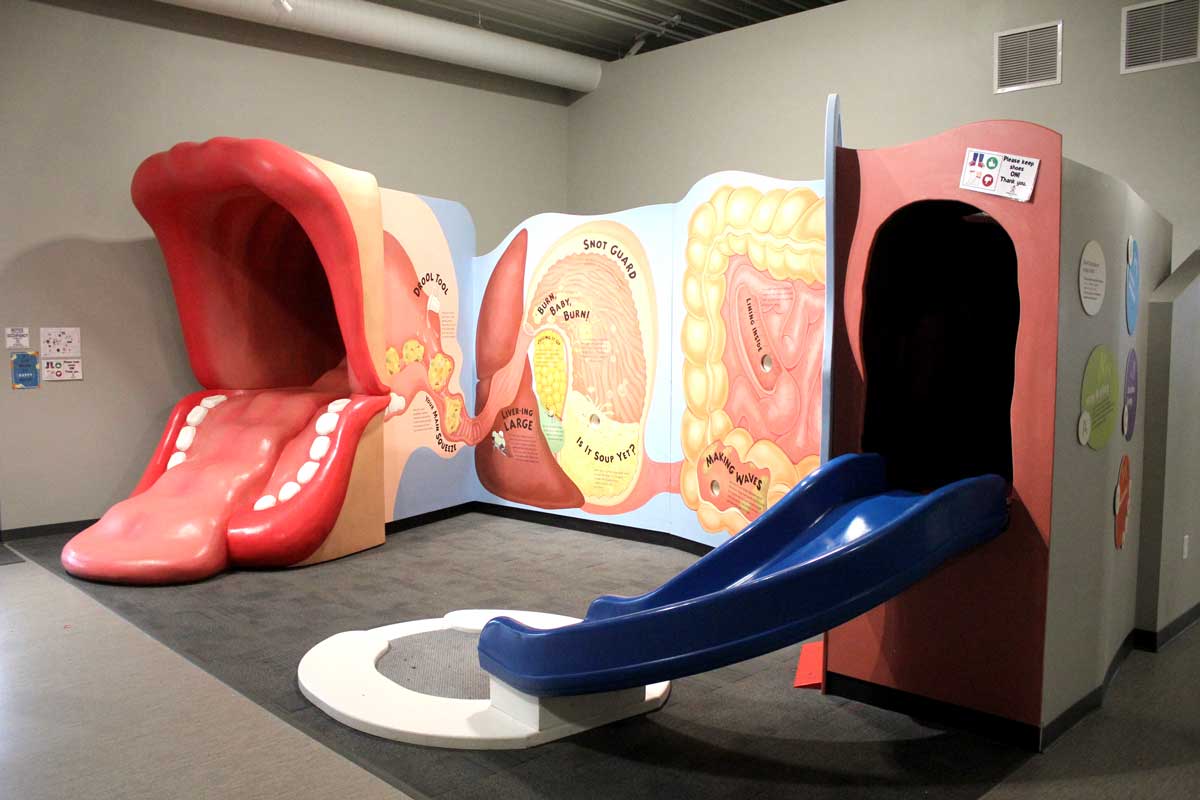 Children's Museum of Fond du Lac*
Real-life learning through play shines at the Children's Museum of Fond du Lac. Your child will get hands-deep in various career-oriented play exhibits, such as creating a radio broadcast, stocks trading, auto repairs, pizza-making, working on a family farm, firefighting, and more!
You'll also want to check out the Trike Track or gardening and fishing activities in their outdoor area.
Some of our other most favorite Fond du Lac-area stops include a visit to Lakeside Park or swing by LaClare Family Creamery in Malone, home of some sweet & productive goats, on your way back to the Fox Cities!
75 West Scott Street, Fond du Lac, Wisconsin
920-929-0707
Above & Beyond Children's Museum*, Sheboygan
You won't want to miss a trip to the Above & Beyond Children's Museum! According to the museum, they have the largest nettled crawl tunnel set up in the country! There's also a 1900s-era schoolhouse, a fire station & truck, and an amazing 15-foot long PVC pipe organ to try.
Other great accessible amenities here include special hours for those with sensory sensitivities and the purple octopus playground, a fully accessible playground including a wheelchair transfer platform and other ADA-compliant accessible fun.
For more things to do in Sheboygan, check out Kohler-Andrae State Park, Bookworm Gardens, and Shaw Family Playground!
902 North 8th Street, Sheboygan, Wisconsin
920-458-4263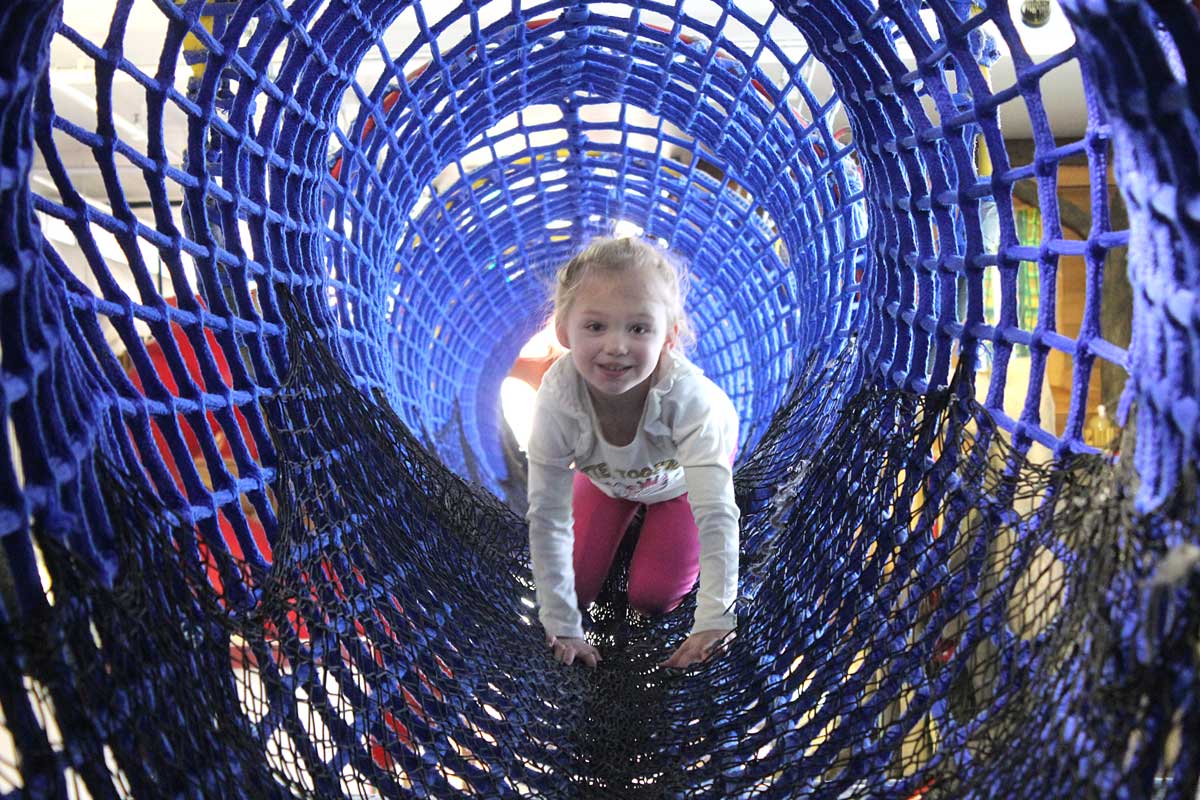 Central Wisconsin Children's Museum, Stevens Point
Each children's museum offers unique learning opportunities for your child, and the Central Wisconsin Children's Museum is no different! Come join in the fun in the dental clinic, learn all about simple machines, or put on your best performance in the Lights, Camera, Action! exhibit.
Families with babies will find an exceptional baby care area here complete with a comfy rocker for nursing mothers, a changing table, and other soft toys and baby-friendly books. This quiet nook is a perfect place for baby to nod off during your visit to the museum.
For more of the best things to do in Stevens Point we recommend the Stevens Point Sculpture Park or tobogganing and ice skating at Iverson Park Winter Sports Area!
1100 Main Street, Stevens Point, Wisconsin
715-344-2003
Greater Wausau Children's Museum*
The Greater Wausau Children's Museum aims to be a family-based discovery place that fosters the development of children. They offer plenty of activities that meet the interests of children, including water, art, and building fun, to keep your child engaged in learning through play. This museum hosts some great annual events and weekly programs, such as a Mother-Son Dance, STEAM Saturdays, Preschool Science, and Kids in the Kitchen!
And, if you're looking for things to do in Wausau with your family, we recommend the breathtaking views at Rib Mountain State Park, family skiing at Granite Peak Ski Area, or the accessible & fun JoJo's Playground which is great for all children including those with special needs!
10101 Market Street Suite D70, Rothschild, Wisconsin
608-408-4668
Betty Brinn Children's Museum*, Milwaukee
The Betty Brinn Children's Museum, located along the shores of beautiful Lake Michigan in downtown Milwaukee, has lots of space to run around and explore from the classic grocery store in the Our Town market exhibit to a multi-level indoor play structure, the Be A Maker Space for creating, and various STEM exhibits all in this mega interactive environment!
For the littlest learners, check out Pocket Park, an exhibit designed specifically to meet the developmental needs of children 4 and younger through hands-on learning experiences. And, the museum offers free admission for families on the third Thursday of every month from 9:30 am – 7 pm. This one is definitely worth your while on your next family day trip to Milwaukee!
If you need suggestions of other fun family things to do in Milwaukee, we highly recommend the Milwaukee Zoo, the Milwaukee Public Museum, the Milwaukee Art Museum, Discovery World, or try some fun & unique Milwaukee area igloo-style dining venues!
929 East Wisconsin Avenue, Milwaukee, Wisconsin
414-390-5437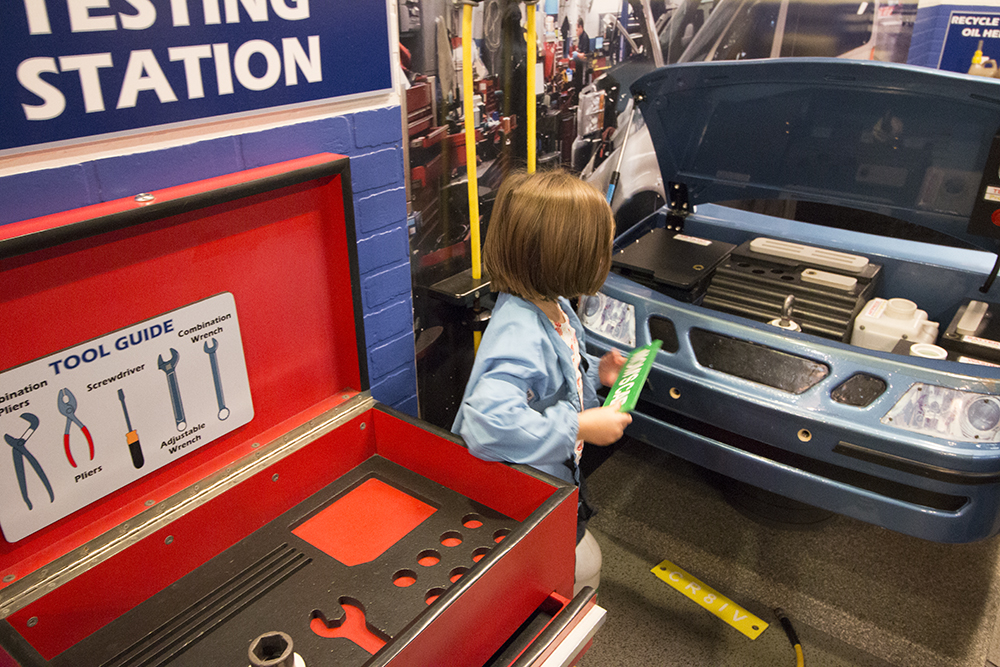 The Children's Play Gallery, Oconomowoc
The Children's Play Gallery is a perfect place to play if your child enjoys ships & pirates, a play stage, and art & science discovery. Make sure to check out their rotating exhibits in the Tree House, such as Santa's Workshops, Easter House, Mexican Restaurant, Post Office, Vet Clinic, and more!
For other fun things to do in Oconomowoc, we recommend Imagination Station, a fully inclusive playground, Fowler Park, or the Oconomowoc Historical Museum!
126 E Wisconsin Ave, Oconomowoc
262-354-0819
Explore Children's Museum*, Sun Prairie
There is truly something for every little explorer at the Explore Children's Museum in Sun Prairie. From Lego brick building to arts & crafts creativity, to an area for tots, to a giant train table, to a large sand area, to a slide & imaginative play kitchen, to vehicle repair, to a tree house, your kiddos will certainly find plenty to do and to learn while playing in the hands-on exhibits at this new museum!
For other fun things to do in Sun Prairie and the east Madison area, we recommend visiting the Sassy Cow Creamery in Columbus, the Monona Pool, or a walk through the Olbrich Gardens on the near east side!
1433 West Main Street, Sun Prairie, Wisconsin
608-478-5456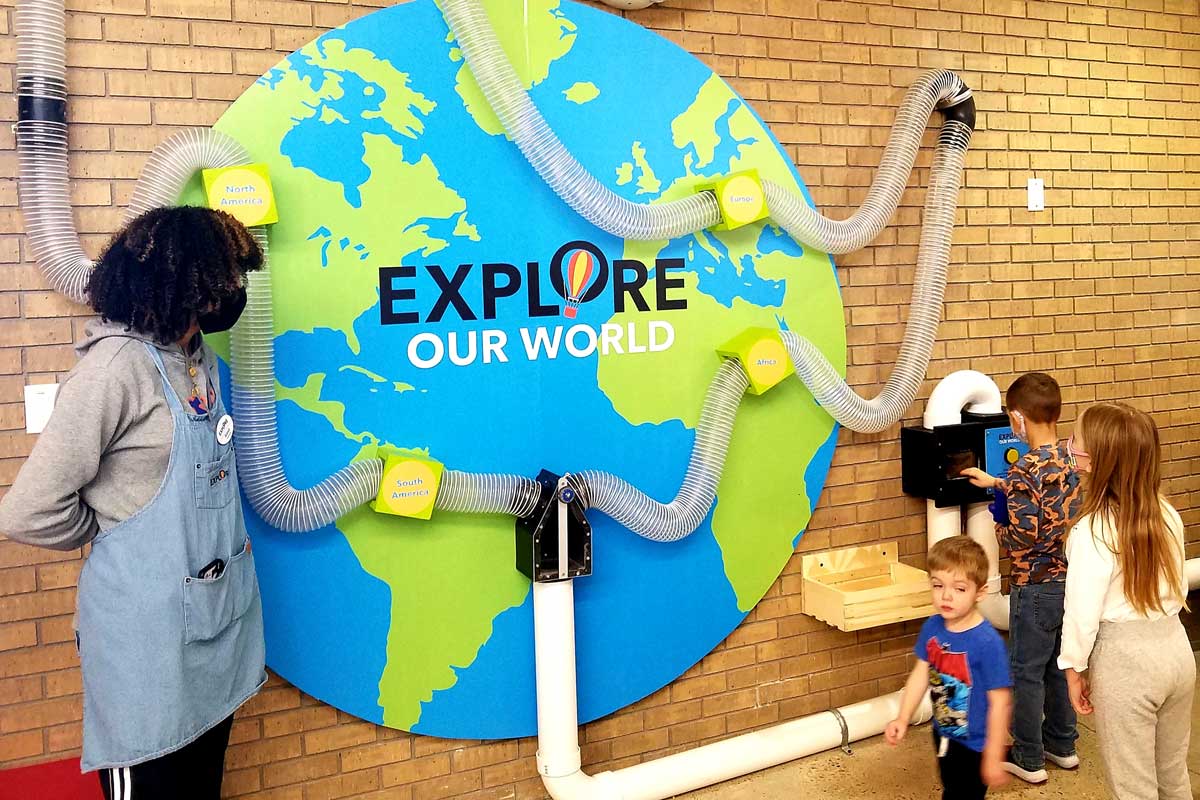 Baraboo Children's Museum
The Baraboo Children's Museum is a growing, up and coming new children's museum located in the beautiful Baraboo, Wisconsin area! They have wonderful, interactive events every week like art clinics, STEM learning, and scavenger hunts to keep your little learners engaged and loving their visit. They do not offer WiFi here on site and encourage parents and caregivers to 'unplug' and connect with their little ones.
Looking for things to do in the Baraboo area? We recommend Ochsner Park & Zoo, the Circus World Museum, or Devil's Lake State Park!
1212 8th Street, Baraboo, Wisconsin
608-448-4442
Madison Children's Museum*
The Madison Children's Museum, a non-profit organization, is nestled just off of the capitol square in beautiful downtown Madison! This Wisconsin favorite is bursting with indoor and outdoor fun, including floors of interactive exhibits! Make sure to visit the amazing new Wonderground, where the playground gets elevated to a whole new level, or enjoy a visit to their rooftop garden with exotic animals, like the bearded dragon, rotating adventures, and all with an amazing view of the Capitol City! Some of the very best things to do in Madison with a family include a visit to the FREE Henry Vilas Zoo, ice cream at UW Madison's Babcock Hall, or an adventure to the UW-Madison Arboretum on Madison's near west side! Make it an overnight adventure and find your family a nearby hotel with an indoor pool.
100 North Hamilton Street, Madison, Wisconsin
608-256-6445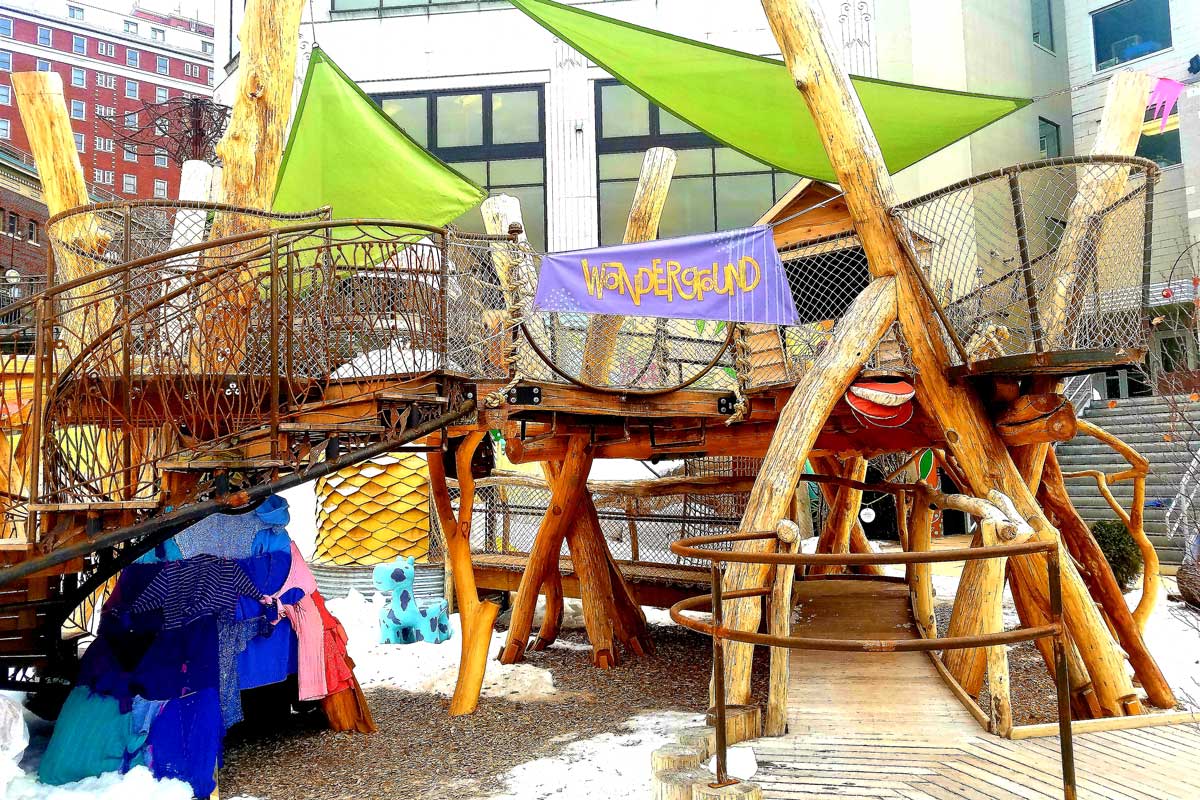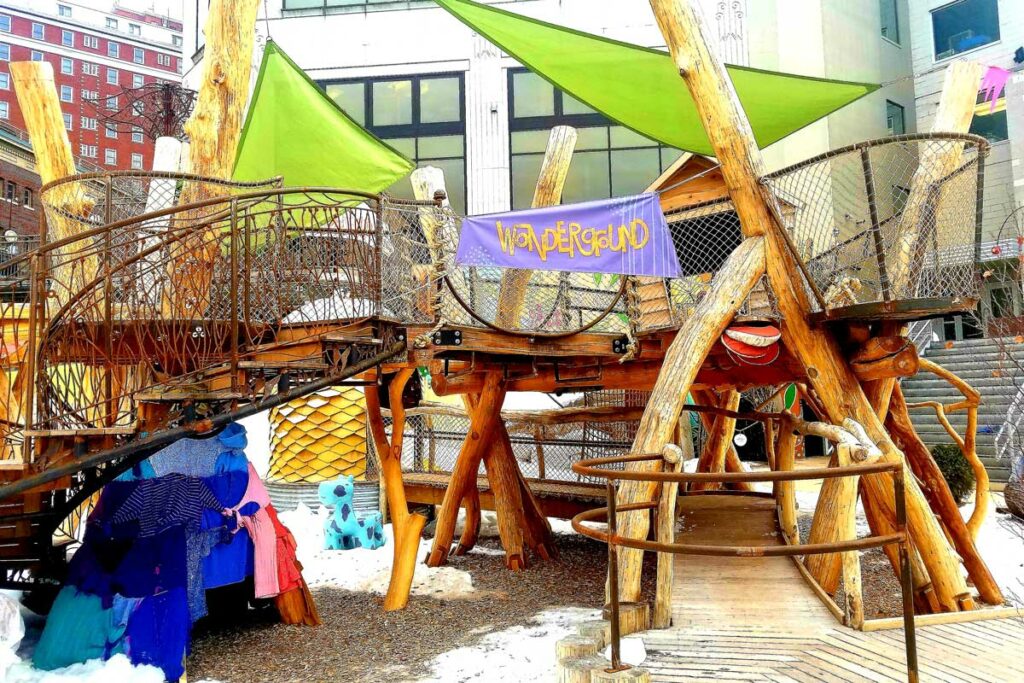 Phillips Children's Museum
The Phillips Children's Museum is a creative combination of a traveling museum with children's learning exhibits and future plans to build a free-standing museum location in the near future.
The museum currently travels all throughout Price County. Follow them on Facebook for their upcoming events & locations.
Children's Museum of La Crosse*
Come test out your skills as a firefighter, weave through the giant dinosaur maze, build to your heart's content in the Imagination Playground, or deliver your first weather forecast from their real TV studio set right here at the Children's Museum located in historic downtown La Crosse!
While here, your kids will also enjoy climbing on the Luckey Climber, part jungle gym and part work of art.
For more great things to do in La Crosse, Wisconsin, we recommend a visit to Grandad's Bluff, the Pearl Ice Cream Parlor, or family skiing at Mount La Crosse!
207 5th Avenue South, La Crosse, Wisconsin
608-784-2652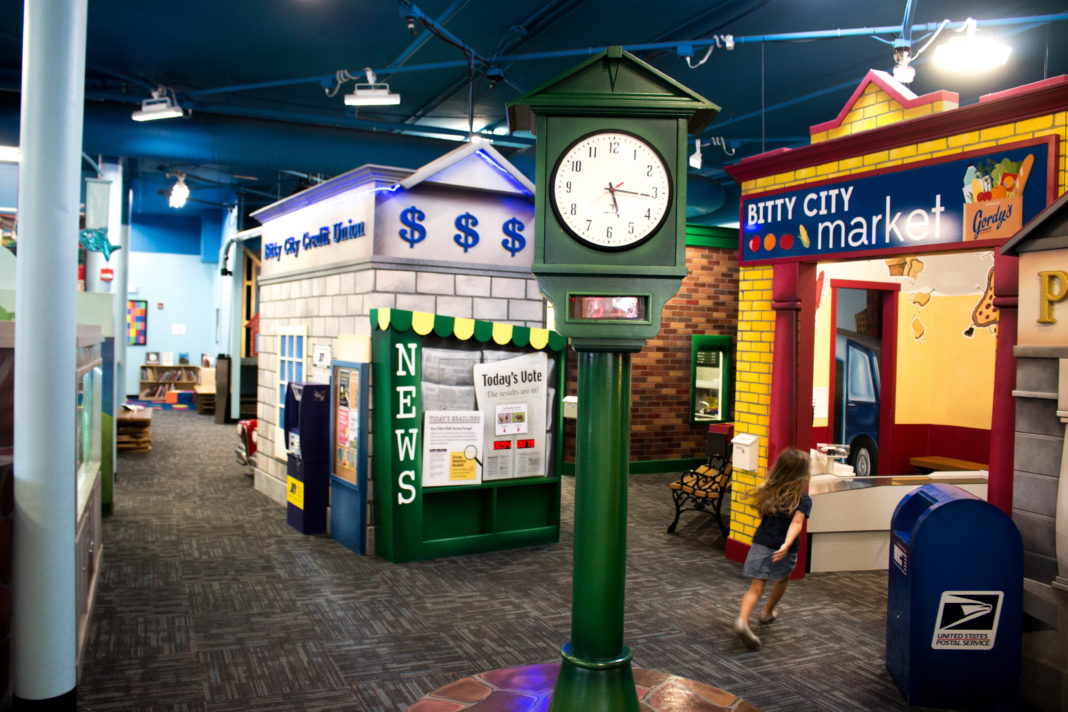 Children's Museum of Eau Claire*
Exploring in a moon rover and playing lifesize games of chess are just some of the fun to be had while learning at the Children's Museum located in downtown Eau Claire! You won't want to miss them in their brand new location this new year or visit one of their area Play Spaces in Menominee or Chippewa Falls.
For more family fun things to do in Eau Claire, we recommend a visit to Carson Park for a ride on their kiddie train or a family walk along the Chippewa River Water Trail.
126 North Barstow Street, Eau Claire, Wisconsin
715-832-5437
Northwoods Children's Museum*, Eagle River
Come check out 24 amazing exhibits of childhood learning and fun at the Northwoods Children's Museum! Stop by the ranger station, pioneer cabin, Grandma's attic, giant loom, and much more here in the beauty of the Northwoods.
For the best things to do in Wisconsin's Northwoods, we recommend a trip to nearby Minoqua with your crew!
346 W Division Street, Eagle River, Wisconsin
715-479-4623
Black Earth Children's Museum
Small town charm and Wisconsin's natural history & resources shine at the Black Earth Children's Museum! Come play in the Driftless Den where you can learn all about Wisconsin's glacial history or enjoy the toddler farmyard with your littlest visitors. The Forest Tree House and Wetland Wonders exhibits are also well worth the visit!
For more fun things to do south of Madison, we recommend a trip to the charming Swiss village of New Glarus, New Glarus Woods State Park, or the Fireman's Park Beach & Splash Pad in Verona! Venture a little further, even to Cave of the Mounds & Blue Mound State Park while you're in the area.
1131 Mills Street, Black Earth, Wisconsin
608-888-2017
Children's Museum of Rock County, Janesville
The Children's Museum of Rock County is coming soon to uptown Janesville. We're keeping our eyes peeled to see what this new museum offers!
If you're looking for more fun things to do in Janesville, we recommend visiting My Tiny Town Indoor Playground, the Rotary Botanical Gardens, or swing by Lake Kegonsa State Park just north!
2500 Milton Avenue Suite 104, Janesville, Wisconsin
608-352-3349
How to Save Money on Visiting Multiple Museums!
Insider Tip: Purchase an Explorer Membership for $140 at the Building for Kids in Appleton or your nearest participating museum. This membership includes two adults and their children under 18 and ASTC/ACM reciprocal membership. This membership includes 50% off or FREE admission to participating Children's Museums.
50% off general admission for up to six (6) people including the cardholder.
The Building for Kids, Appleton
Above and Beyond Children's Museum
Betty Brinn Children's Museum
Children's Museum of Eau Claire
Children's Museum of Fond du Lac
Children's Museum of La Crosse
Madison Children's Museum
Northwoods Children's Museum
Explore Children's Museum
FREE or reduced general admission
Building for Kids – Up to six people get 50% off general admission.
Children's Museum of Eau Claire – Two adults and all children in the household listed on the membership card. Photo ID required for cardholder.
Children's Museum of La Crosse – Up to 6 people; one must be name on card.
Madison Children's Museum – Up to six individuals listed on the membership. Photo ID required for cardholder.
Which is your favorite Wisconsin Children's Museum? Have tips? Pictures to share? Comment below or email us at govalleykids@gmail.com.