Located in downtown Appleton on College Avenue, the Appleton children's museum has been a family staple since November 1992. In 2006, the Fox Cities Children's Museum was rebranded and expanded under the new name Building for Kids.
There is so much to explore in the 31,000 square feet of interactive exhibit space that spans two floors and includes a real fire truck, water room, doll hospital, semi-truck depot, art studio, STEM innovation lab, and more!
The layout of the museum makes it easy to keep track of kiddos, yet the museum still feels big and open. Changing exhibits, daily events, and drop-in activities mean that there's always something new to discover.
As Fox Cities locals, we love a Family Membership, especially as an option for an awesome place to take younger children to learn and burn off energy on a rainy day, cold winter day, or extra hot summer day. It is easy to pop in for a visit after a trip to the library or a nearby park.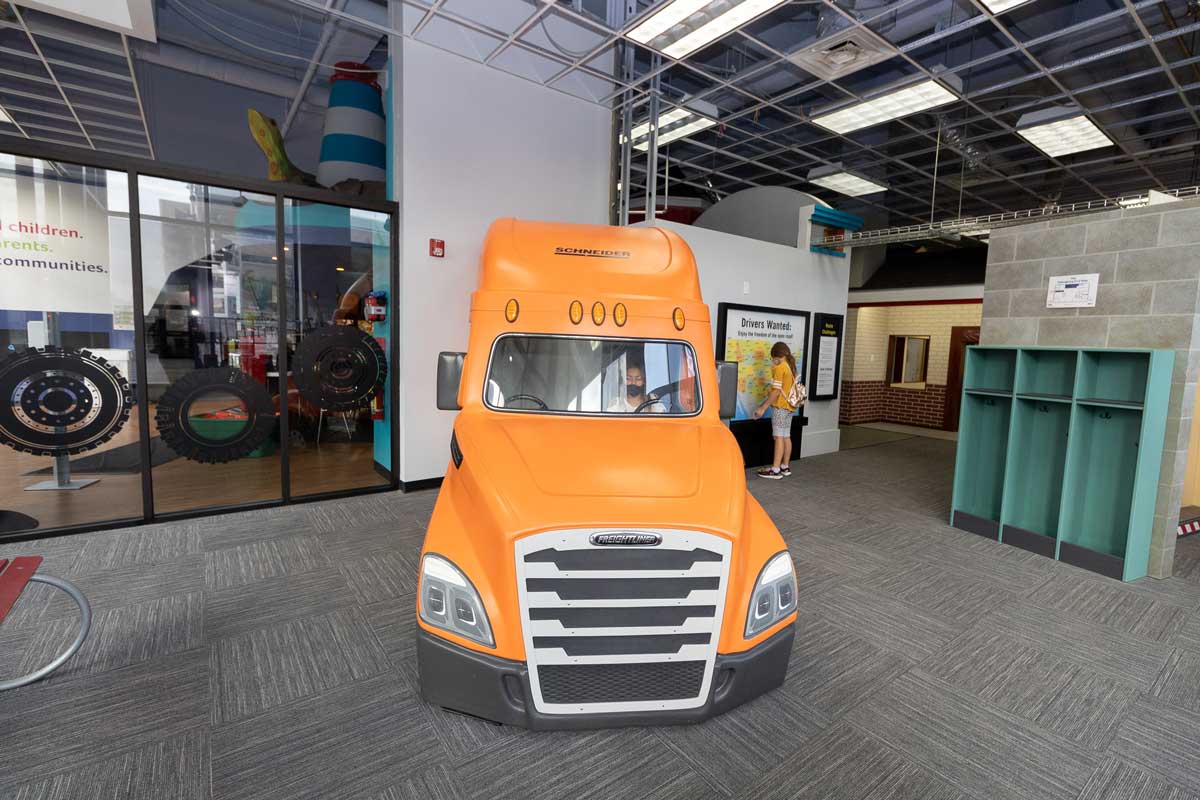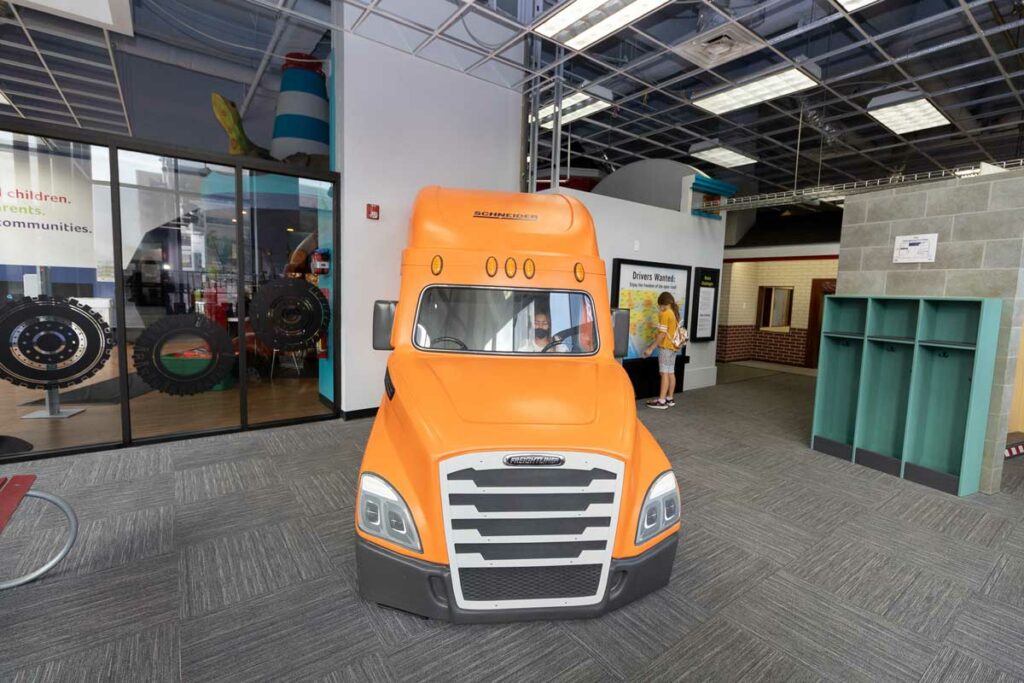 Learn, Explore & Have Fun – Exhibits
The BFK is all about learning through play, whether that be imaginative play, physical play, social play, or any other kind of play. The BFK also encourages intergenerational play, meaning the adults get in on the fun too. Many of their exhibits support the development of fine and gross motor skills and encourage learning through repetition or trial and error.
When you enter the museum, you step right into the heart of kid's town. Stop by the credit union to get some cash, get your shopping done at the convenience store, and then head to the doll hospital to give some dolls a check-up. Also on the first floor, hit the road or the skies with the semi-truck depot and airplane. All of the immersive exhibits make imaginative play easy. There's also a treehouse with tree forts and nets to climb through that spans both floors of the museum.
The second floor houses some of the most well-known exhibits in the museum, including a 10-foot human heart slide, a construction area with a crane, and a firetruck. The water playspace is always a favorite. There you can build boats and even make music with water. Also on the second floor is an exhibit dedicated to visitors 3 and under (and their adults).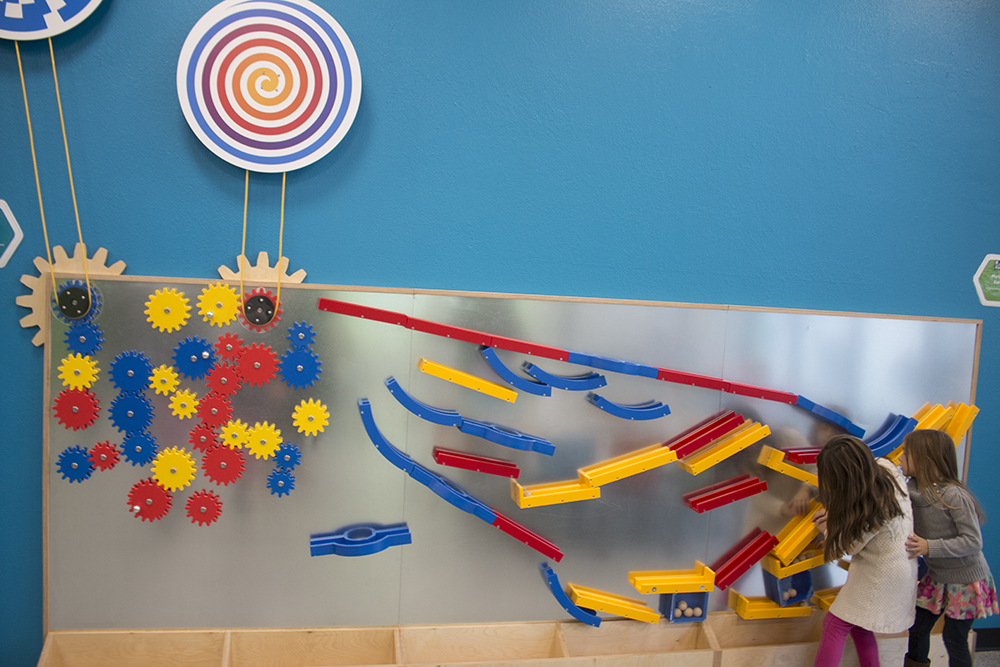 Innovation Lab
Located on the first floor, the Innovation Lab is all about STEM! From the microscope to the wind tunnel to the circuit board, all ages (adults included!) can get involved in exploring Science, Technology Engineering, and Math. The space also has tables where families can participate in STEM drop-in programs that change weekly.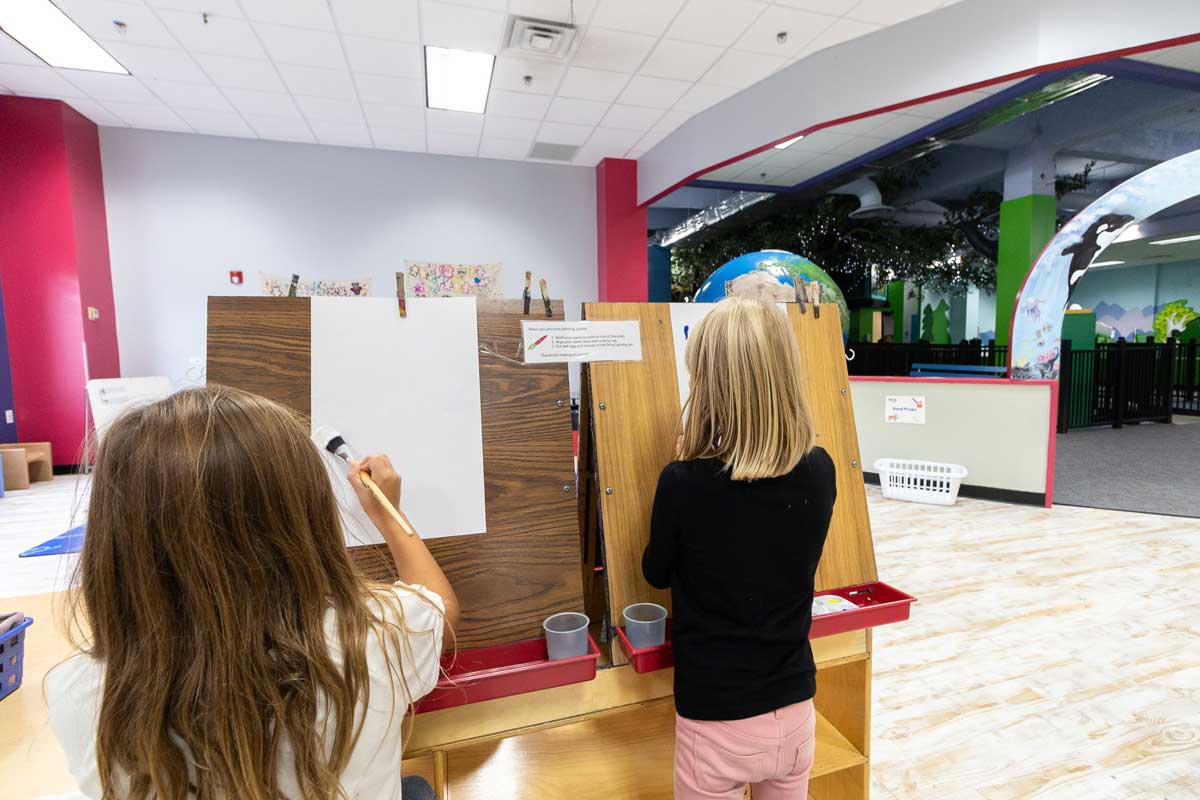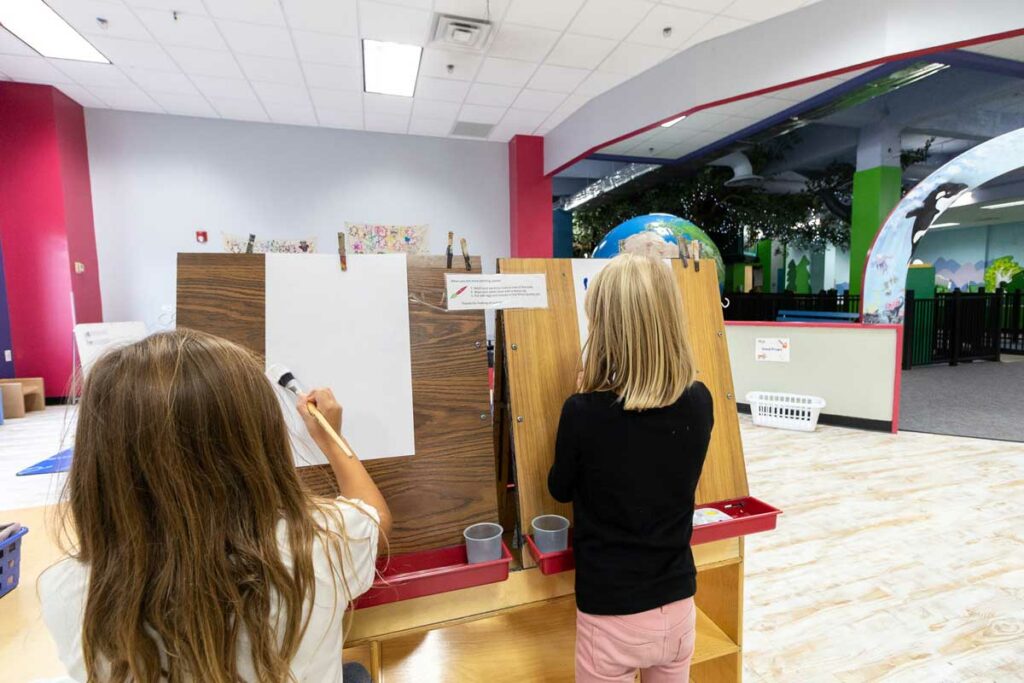 Da Vinci Studio
Located on the second floor, da Vinci Studio is the perfect place for creativity to fly. If you have a young artist, be prepared to spend a lot of time here. The space contains lots of tables, easels for painting, and all of the art supplies needed to make your family's next fridge-worthy masterpiece. Programs change weekly in the space, so no two visits are the same.
The museum is also home to animal friends including birds and fish!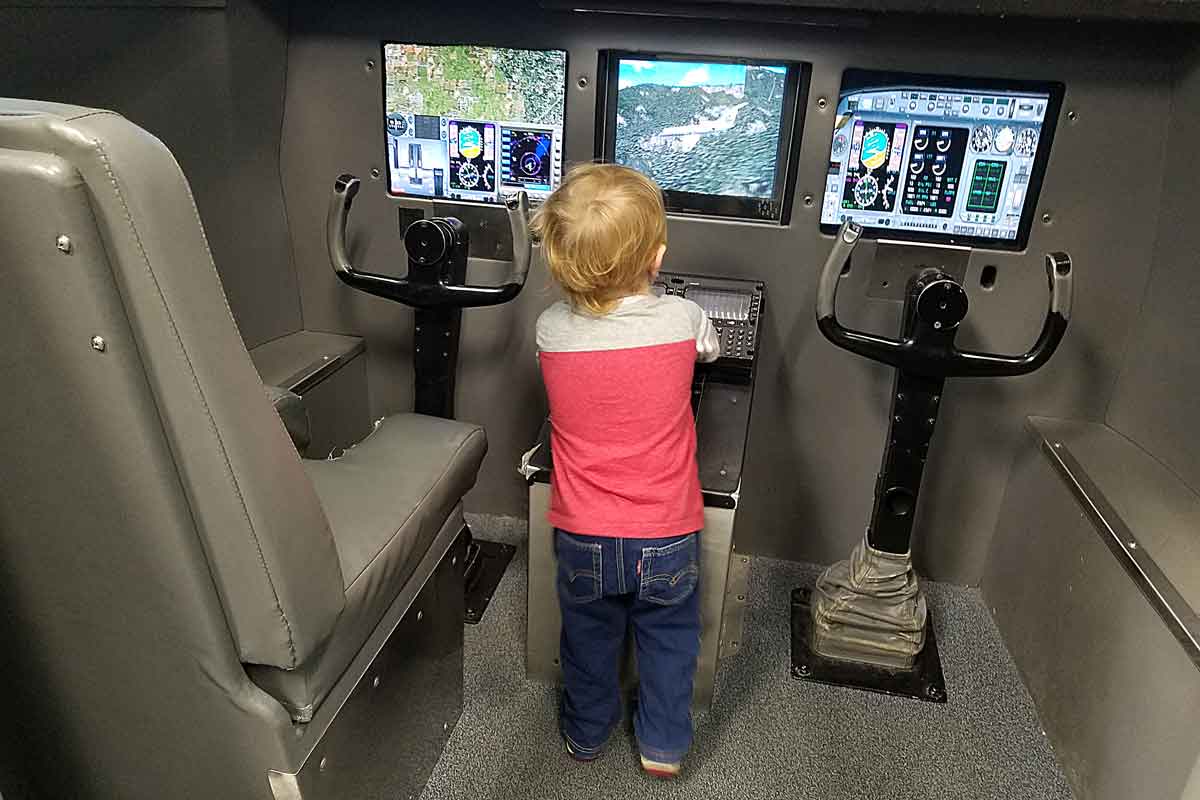 How does the Building for Kids compare to other Wisconsin Children's Museums?
At a Glance
Building for Kids

2 floors, 31,000 square feet

Betty Brinn Children's Museum Milwaukee

1 floor, 32,000 square foot

Green Bay Children's Museum

1 floor, approximately 17,000 square feet

Fond du Lac Children's Museum

1 floor, 15,000 square feet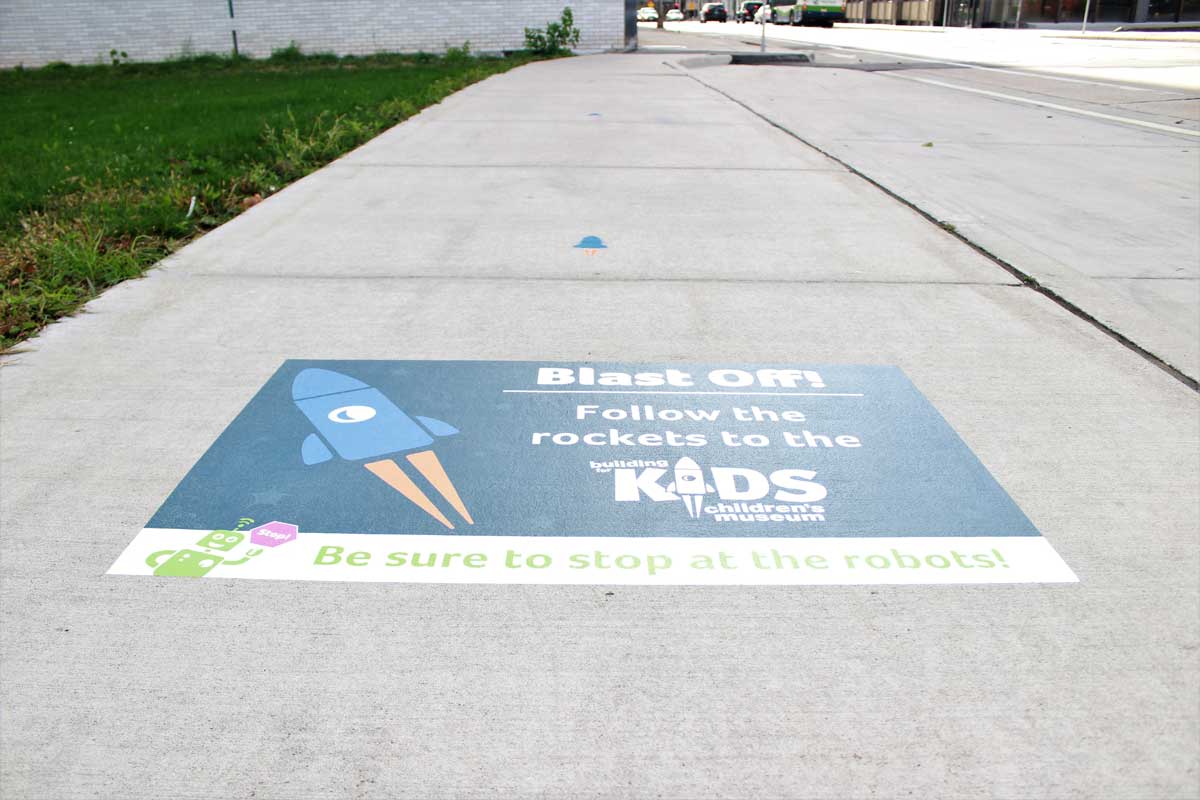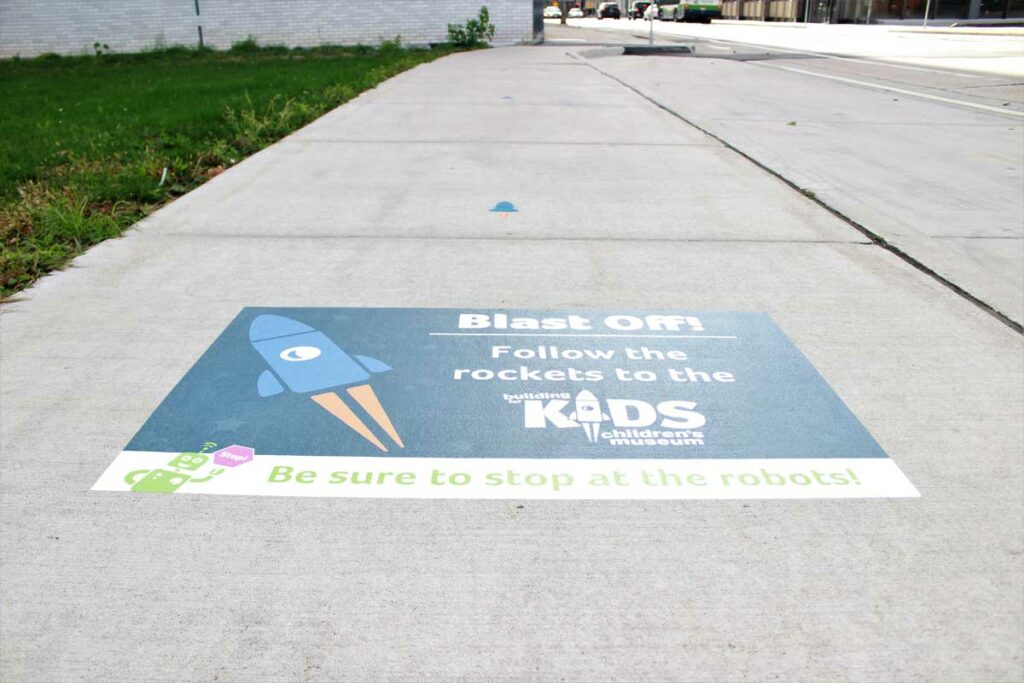 Museum Amenities
Quiet space
Family restrooms
Stroller parking and jacket hooks
Wheelchair-accessible entrances and elevator
Outside wayfinding on the sidewalk to the museum
Special Temporary Exhibits
Planet Imagination – Use their giant building blocks to 'create your own planet' and then explore via an obstacle course that traverses across planets!
Access for Everyone
The BFK believes that every family deserves the opportunity to play and form stronger family bonds.
The Access Initiative ensures that families going through financial hardships have access to safe, play-based learning opportunities at the Building for Kids.

Access Admission – Families can visit the BFK for $2 per person
Family Access Membership – Families can become members at the BFK for $20 per year

First Time Parents Program – The Welcome Baby Community was created to support the needs of first-time parents in the Fox Valley area and includes resources, programs and a FREE membership to the Building for Kids for the first 18 months of the child's life.
Sensory Friendly Play – The Building for Kids hosts Sensory Superstars on the third Sunday of each month. Families with children on the autism spectrum will be able to play for FREE at the Building for Kids! Decision boards, visual timers, a quiet room, play scripts and sensory maps are also available.
FREE Days – Free admission days happen multiple times throughout the year with themes like Diversity Discovery, Financial Literacy, STEM, and Music Makers.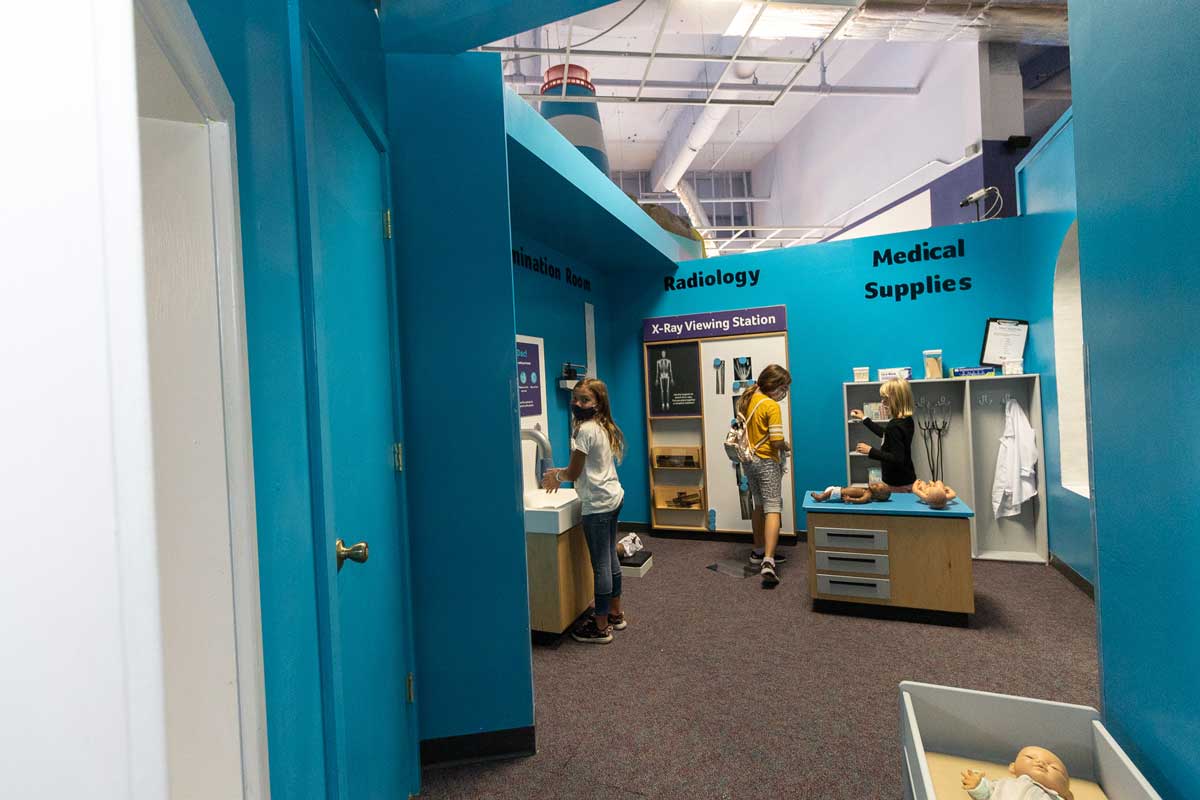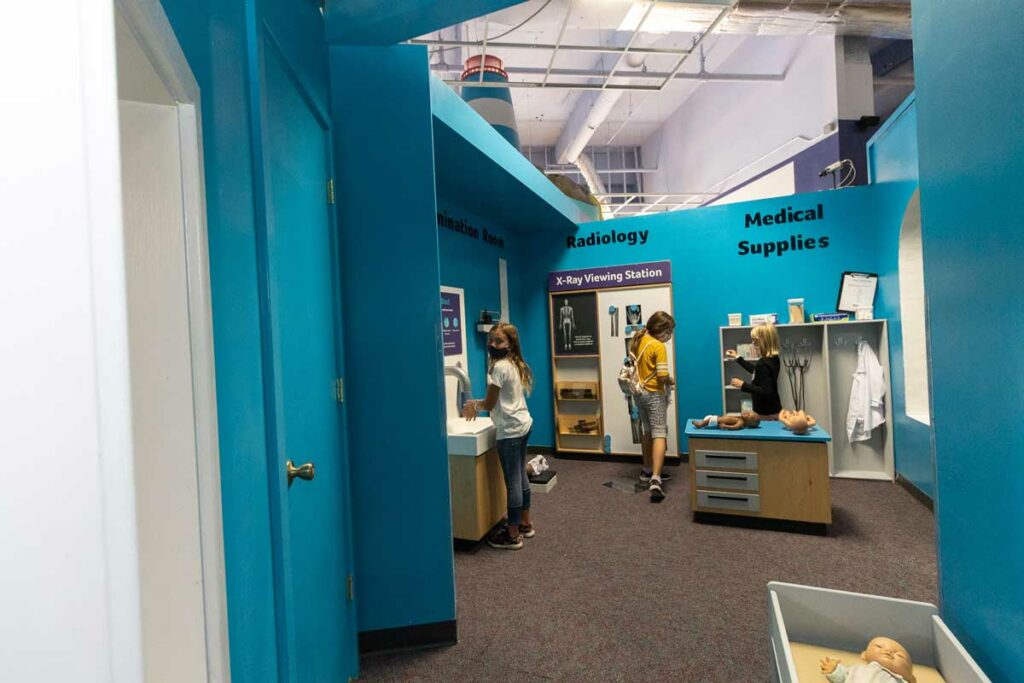 Frequently Asked Questions
How much does it cost to go to the Building for Kids?
What age is the children's museum geared for?

There are engagement opportunities for the whole family at the Building for Kids. Most exhibits are geared towards ages 0-10.
There is a dedicated area for babies and toddlers that features lots of space crawling and beginner walkers to enjoy safe play in a soft and engaging environment.
How long does it take to go through the Appleton Children's Museum?

Plan to spend about two hours at the museum. A little more if you have a kiddo that loves to spend a lot of time in art studios.
Where should we park when visiting the museum?

Option 1: The Red Ramp with entrances on South Superior and South Appleton Streets is less than a block away from the museum. Simply follow the rockets on the sidewalk to the museum! Cost: $2 for 2 hours
Option 2: The Yellow Ramp on East Washington Street is a bit longer of a walk but there is a skywalk that will take you to City Center Plaza, so there is less time outside if the weather is yucky. You'll need to exit City Center Plaza and walk next door to the museum to enter. Cost: $2 for 2 hours
Option 3: Metered street parking. The meters downtown have a two-hour limit; you can pay with coins or the Passport Parking app.

Tip if you think you'll be past the two-hour limit: Pay with coins first and if you find you'll be longer, extend your parking via the app. Just note the number of the meter!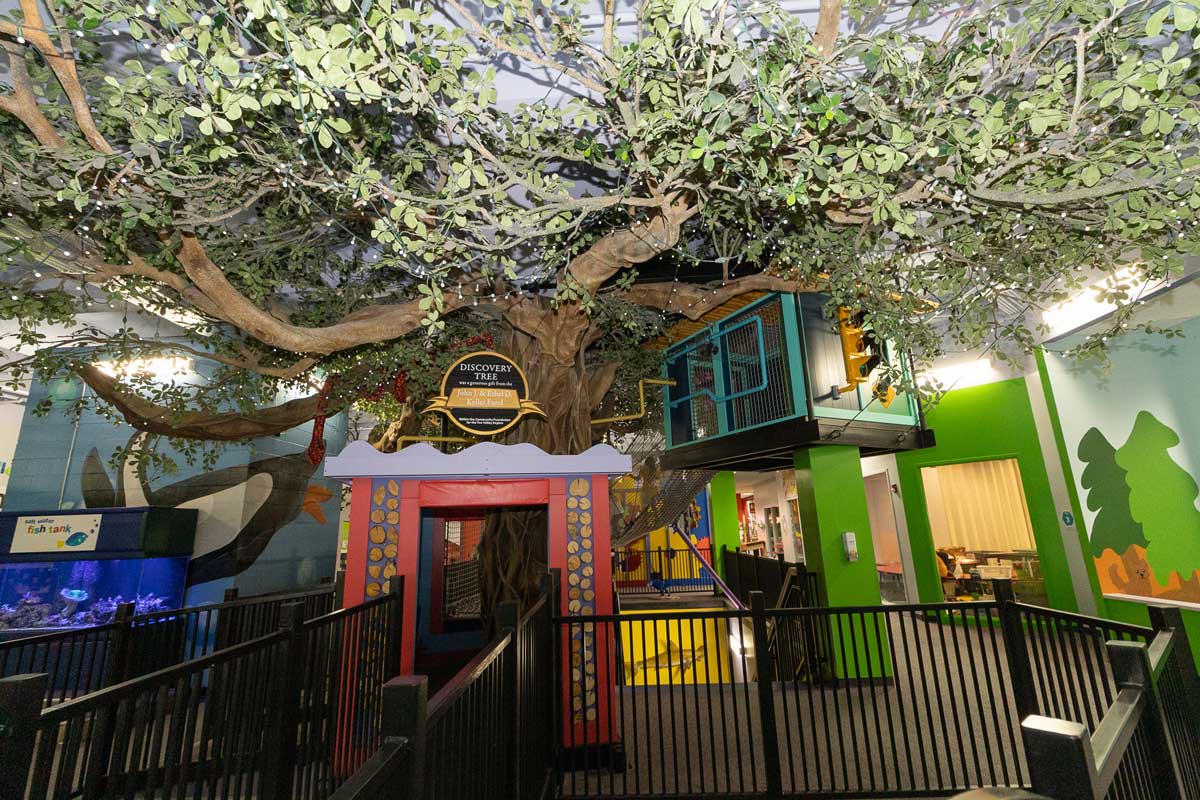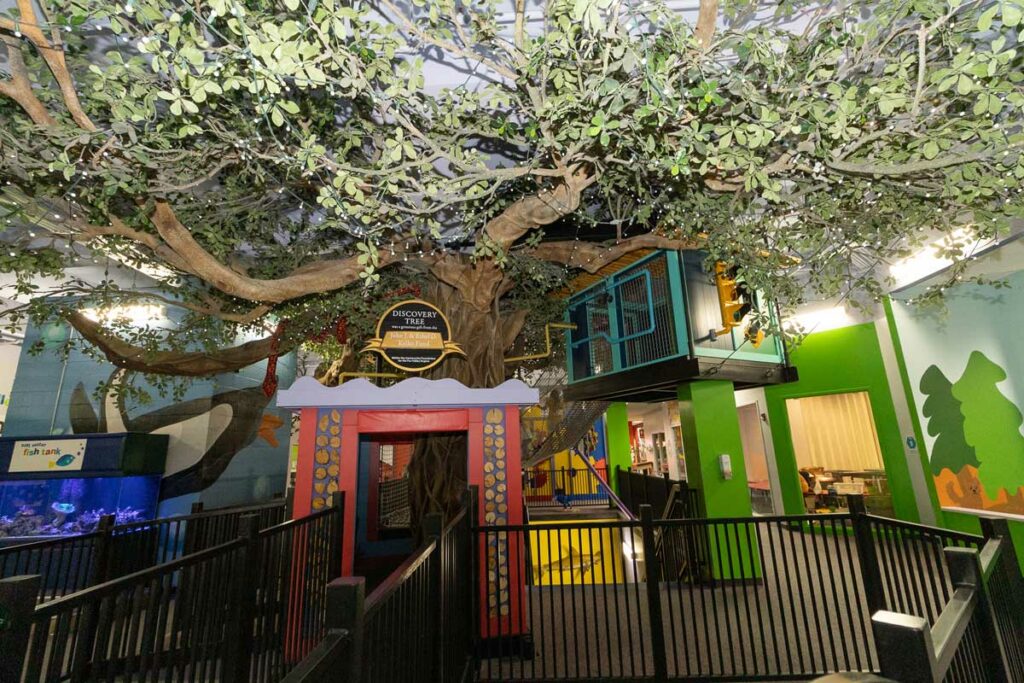 What are some other things to do with kids in downtown Appleton?

Jones Park is a favorite year-round park! In the winter, there is a warming shelter and two ice rinks when the weather is cool enough to hold ice.
Plan Your Visit
Best time to visit.
Do your children love bustle, excitement, and meeting with new friends to play with? Or, do they need more calm and less stimulation? Planning your visiting time can help you to meet your family's needs. Weekdays are always quieter than weekends, and the calmest time of day is near the end of museum hours. Sundays are also less busy than Saturdays. You will run into more school groups in the spring semester, generally mid-mornings. Days, when schools are closed, are always busier, more like weekend traffic than a weekday.
What to expect during a visit currently.
Visitors have access to all museum exhibits, including the da Vinci Studio and Innovation Lab, and can explore the museum freely.
During normal hours, children must be accompanied by a chaperone age 16 or older.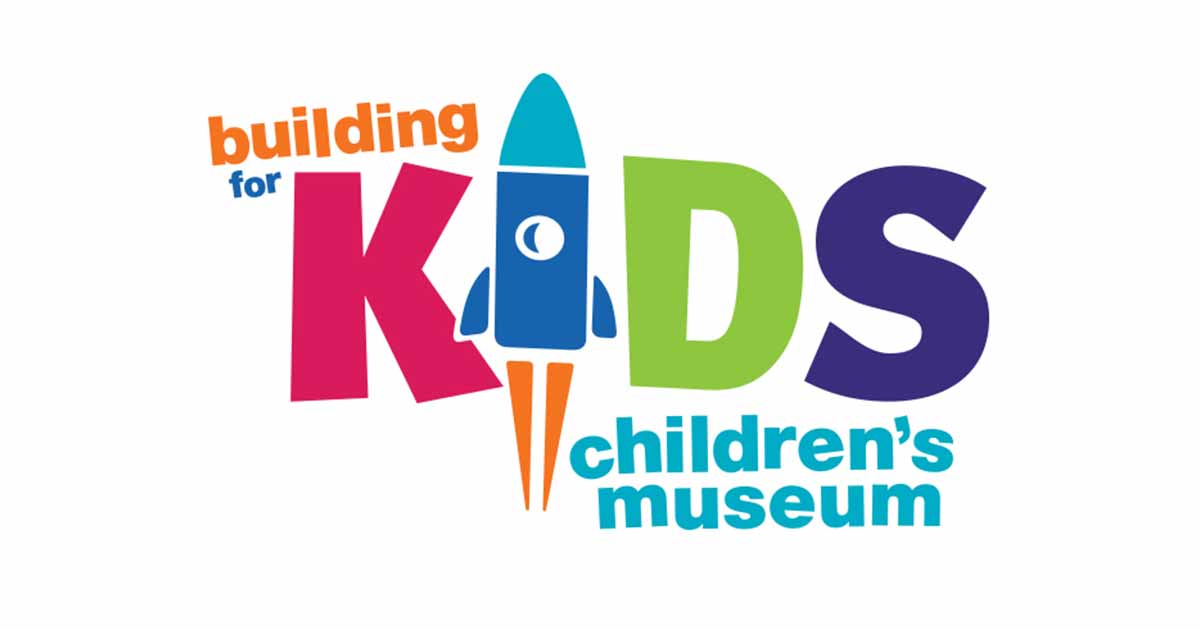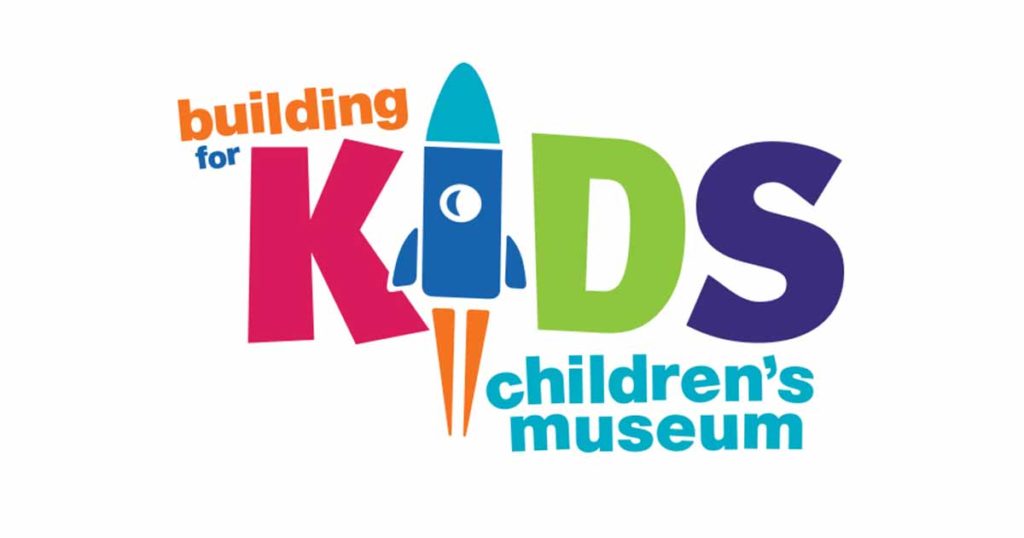 Building for Kids, 100 W College Ave, Appleton, WI
The Building for Kids Children's Museum's mission is to inspire discovery and build resilience through intergenerational play-based learning and exploration of the arts, sciences, and humanities.