You've gotta love the Wisconsin weather… if your kids are like ours, there is always plenty of extra energy to be burned off regardless of what the sky is throwing our way.
Try some of these indoor park and playground options to beat the indoor blues!
Many of these places also make great birthday party locations, check websites for specific information.
Don't forget your socks, they are required at all locations that ask you to leave your shoes at the door of their play structures.
Admission costs and open play hours are subject to change, please confirm by calling or visiting their websites. Have fun!
Note: We strive to deliver the most up-to-date information for our readers. Many of these locations have variable hours and schedules that are subject to change for staffing or other unforeseen circumstances, check to ensure that your destination is indeed open! Last update: November 2022.
Find an Indoor Playground Near Me
Indoor Places to Play in Appleton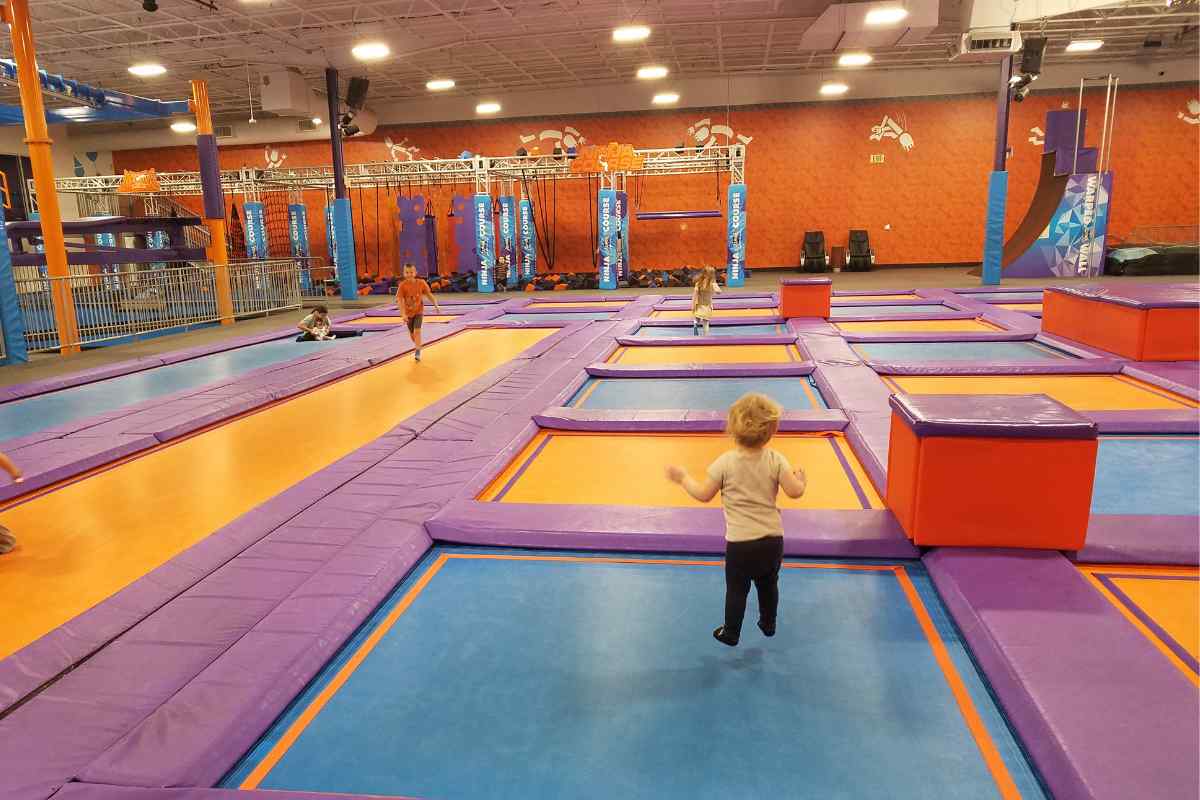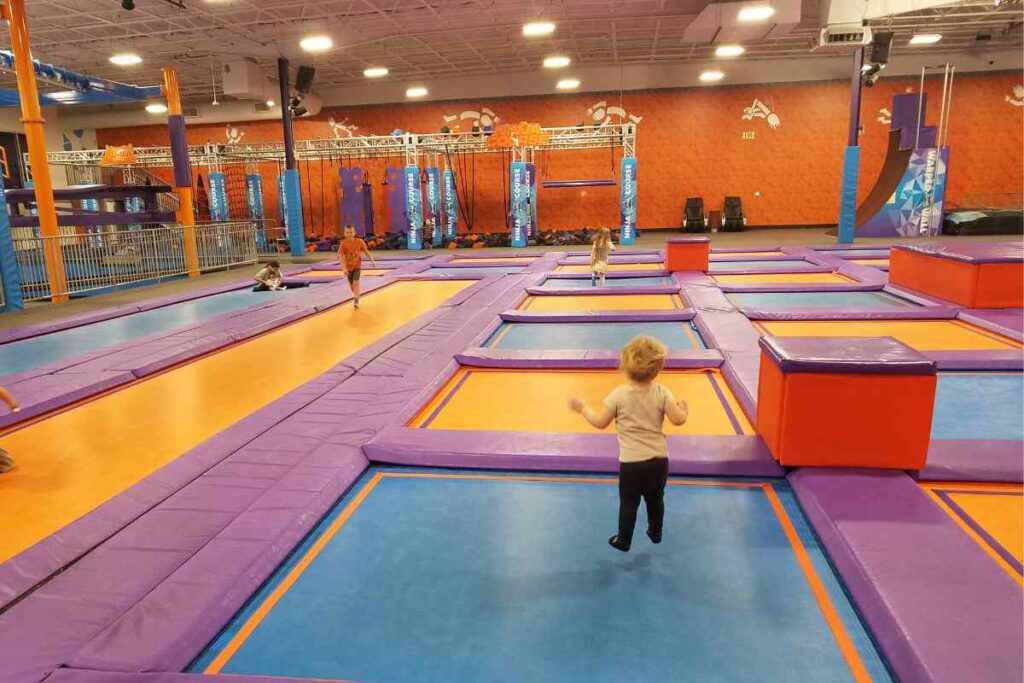 Altitude Trampoline Park
Altitude is a 30,000 square feet indoor trampoline park that includes dodgeball, airbag jump, foam pit, battle beams, basketball slam dunking, competitive jumping, and jumping fun. This is one of the fun places for parents to join in the fun during open jumps for a best flips competition or catch up on a bit of reading or work while the kids enjoy themselves.
Visit during Junior Jumpers' time, expressly set aside for ages 6 and under with a discounted jumping rate!
We also recommend their monthly $10 membership if you plan to go with any frequency. The membership offers a great value at 3 hours of jumping time daily throughout the month vs a one-time pass for 2 hours at $21.  
Altitude Trampoline Park, 4950 Integrity Way, Appleton, WI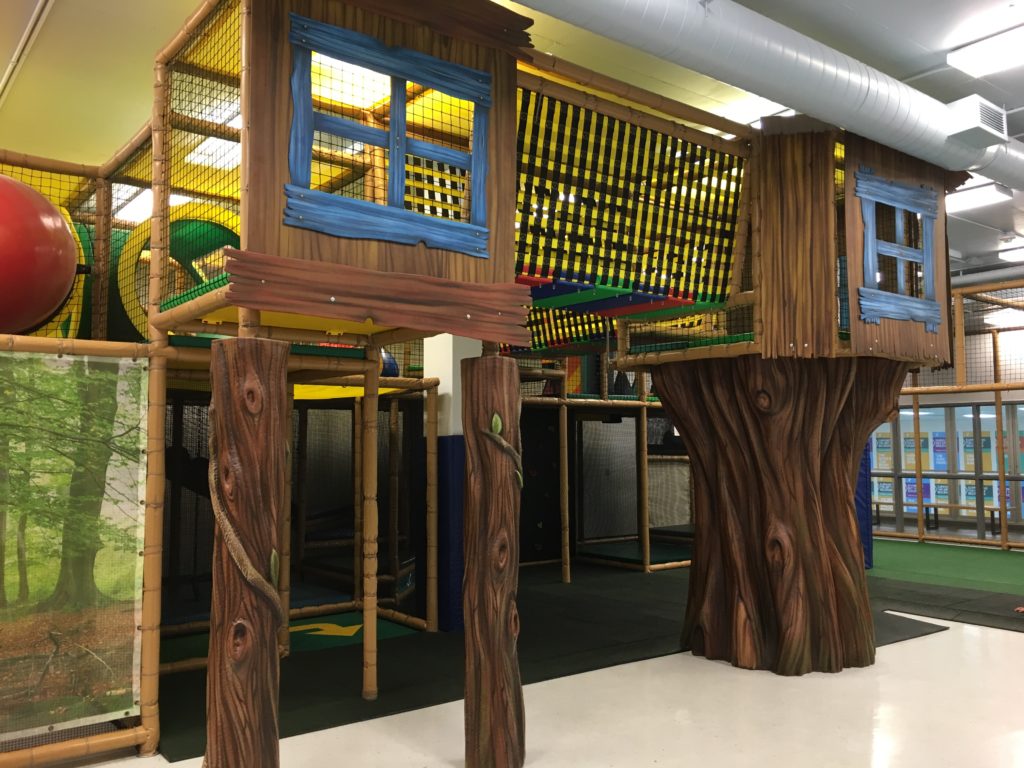 Appleton YMCA
Family Fun Center Play Area (the treehouse) is for ages 1-9, adult (16+) supervision is required for ages 7 and under. It is a great stop after playing in the pool or splash pad water slides.
There is a fun play structure with two levels and includes slides, obstacles, and more for bigger kids to enjoy playing tag or hide-and-seek games.
Toddlers and babies can enjoy the soft safety of a special area just for them with a little slide. Everyone can play soccer and basketball in a netted area that helps to contain stray balls.
There's a dedicated area for shoes and other gear just outside of the play center.
You can enjoy a snack break right outside of the Family Fun Center where there are plenty of tables and even some board games to play.
Note: The Family Fun Center is currently open to YMCA members only.
Appleton YMCA, 218 East Lawrence St, Appleton, WI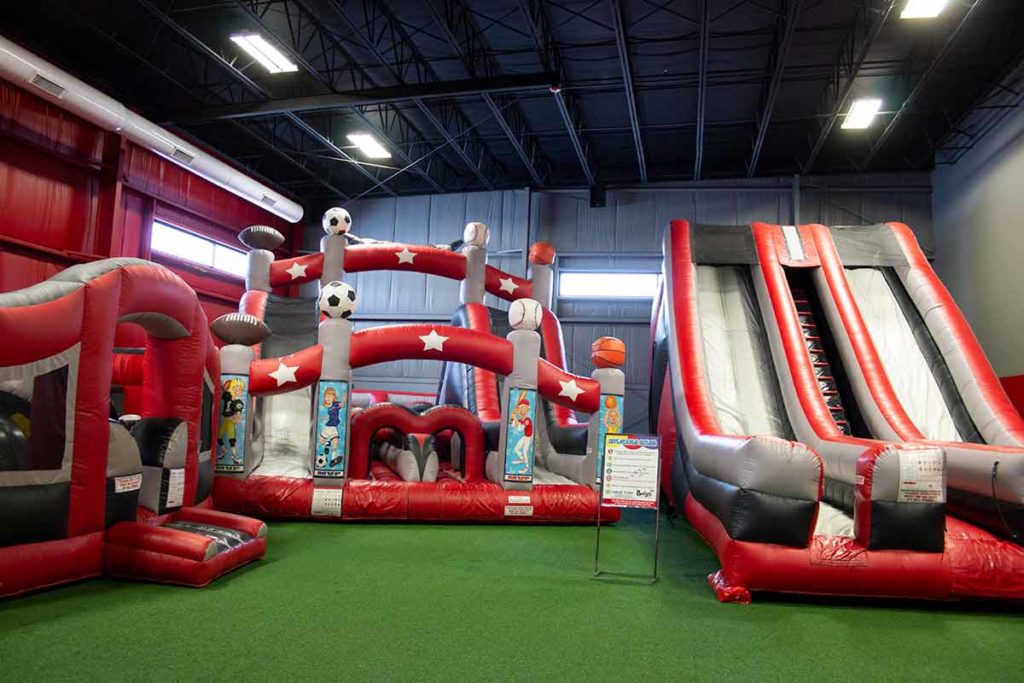 Badger Sports Park
North Appleton-based family entertainment center with year-round fun for older kids and families. Attractions open year-round include an arcade game room that uses a rechargeable fun card for credits and tickets, giant two-story laser tag arena for ages 7 and older, a laser maze, mini bowling, and a virtual reality experience, Hologate, for all skill levels.
There is an indoor Inflatable area is for children ages 2-10 and includes four sports-themed bounce house inflatables. Bonus, adults can enjoy Badger's free wi-fi while the kids play.
The is a large dining area with delicious homemade pizzas and other snacks and appetizers on the menu.
Outside, seasonal attractions include a fun 18-hole mini-golf course with 9 ADA-compliant holes, a NASCAR Road Course go-kart track, and batting cages.
In addition to birth parties, private parties of all sorts, including corporate outings and post-prom parties can book events at Badger Sports Park.
Badger Sports Park, 3600 E Evergreen Dr, Appleton, WI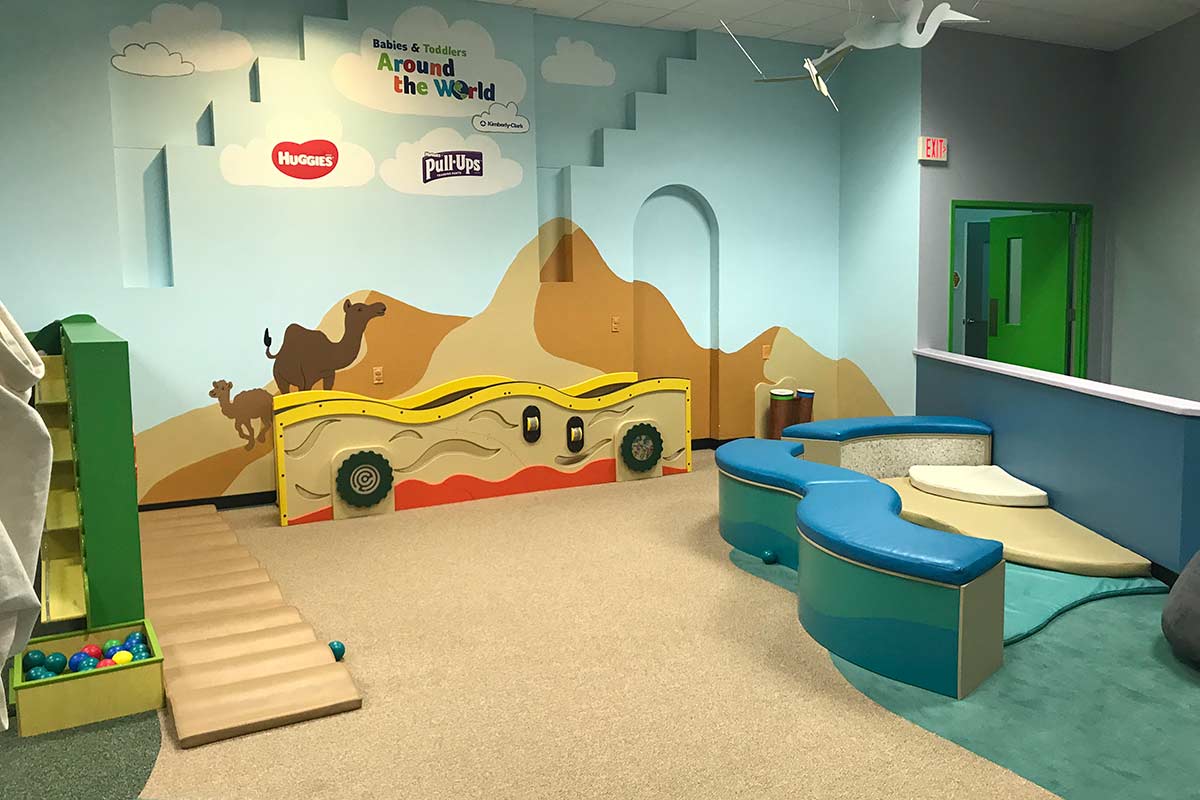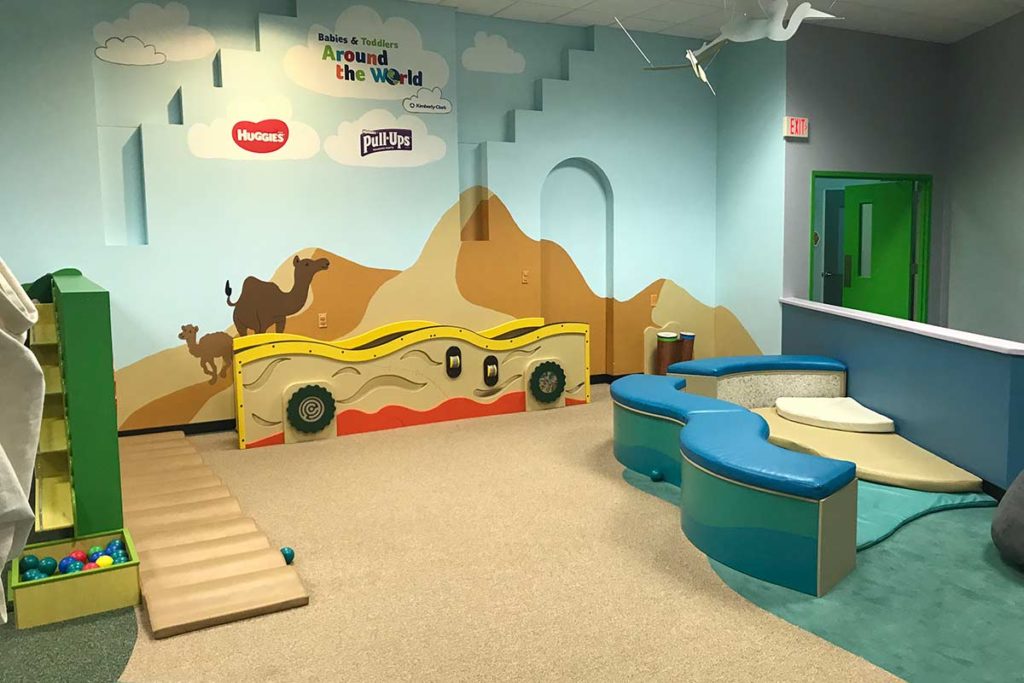 Building for Kids Children's Museum
Located in downtown Appleton, the Building for Kids is a family fun spot children's museum geared towards ages birth to about 10 and is open to the public for drop-in play without reservations.
There is so much to explore in the 31,000 square feet of play area and interactive exhibit space that spans two floors and includes a real fire truck, water room, doll hospital, semi-truck depot, art studio, and more for kids off all ages to engage in pretend play and work on social skills as well as large and fine motor skills.
Older children will love the STEM innovation lab on the lower level which has plenty of space and fun activities for the whole family to work on together.
There is a gated area with a low wall that contains play spaces for babies and toddlers in a separate area away from the bustle of the rest of the museum. It features lots of space for crawling and beginner walkers to enjoy a safe environment with soft play equipment and an engaging environment.
Watch the Building for Kids and Go Valley Kids events calendar for special events happening here, from character story times to holiday celebrations and free admission days. The museum can also host private events, including birthday parties!
Admission can be purchased as a day pass or with a yearly or monthly membership.
Building for Kids, 100 W College Ave, Appleton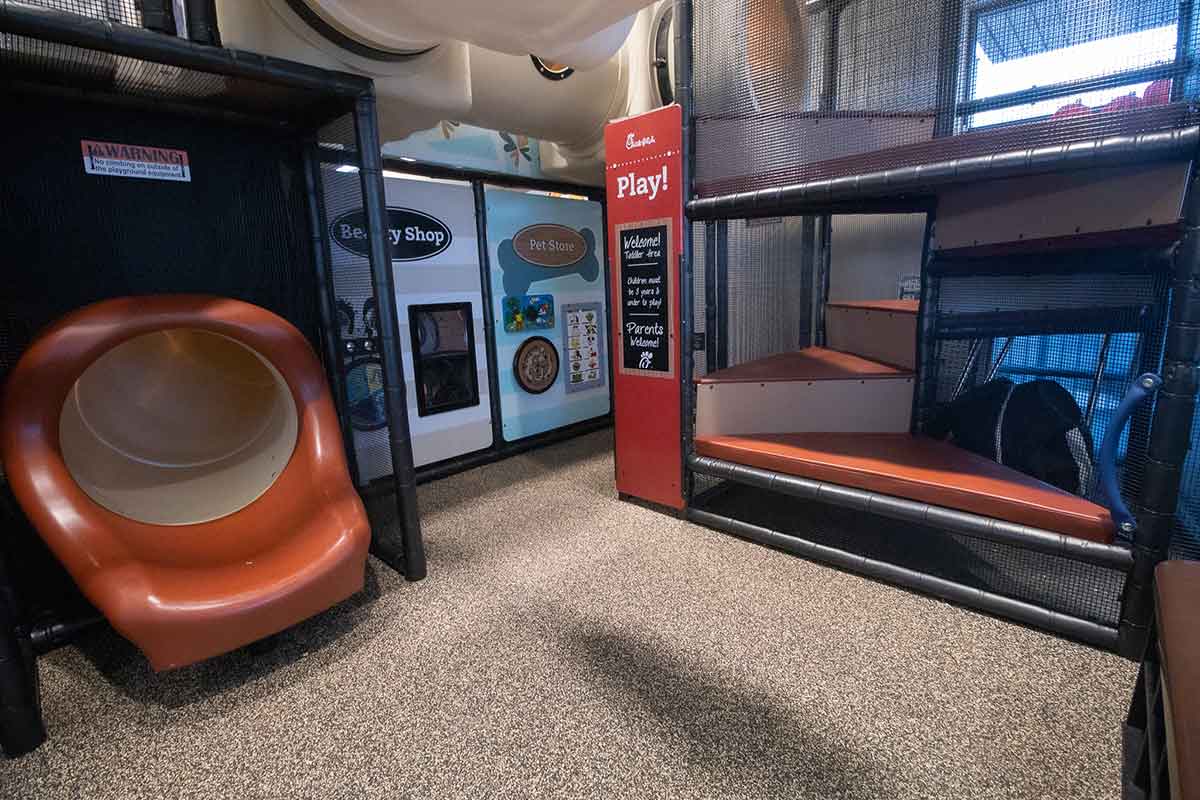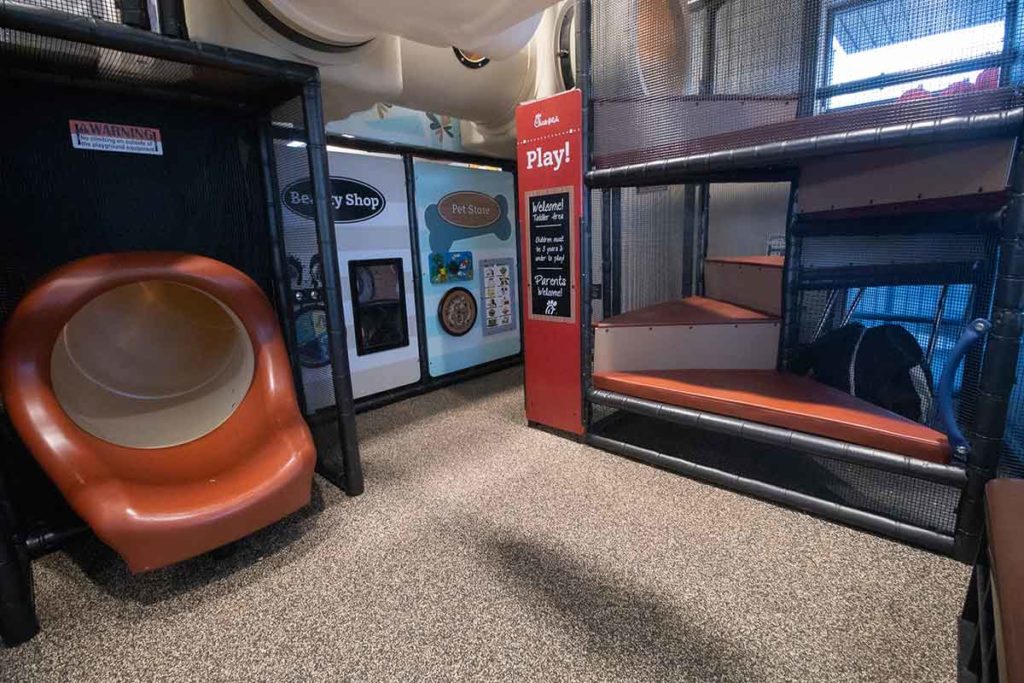 Chick-fil-A
Chick-fil-A has a small but fun indoor play area with slide! Great spot for little ones to burn off a little extra energy in a more contained space.
Chick-fil-A, 3775 W College Ave, Appleton, WI
Doughlicious
Doughlicious invites children of all ages to stay and play awhile. In addition to games and activities for kids, there is a small arcade with 50-cent games, including claw machines.
Keep an eye on their Facebook page as they are often hosting events with fun crafts and character drop-ins. They are also a fun birthday party venue!
Doughlicious, 322 W College Ave, Appleton, WI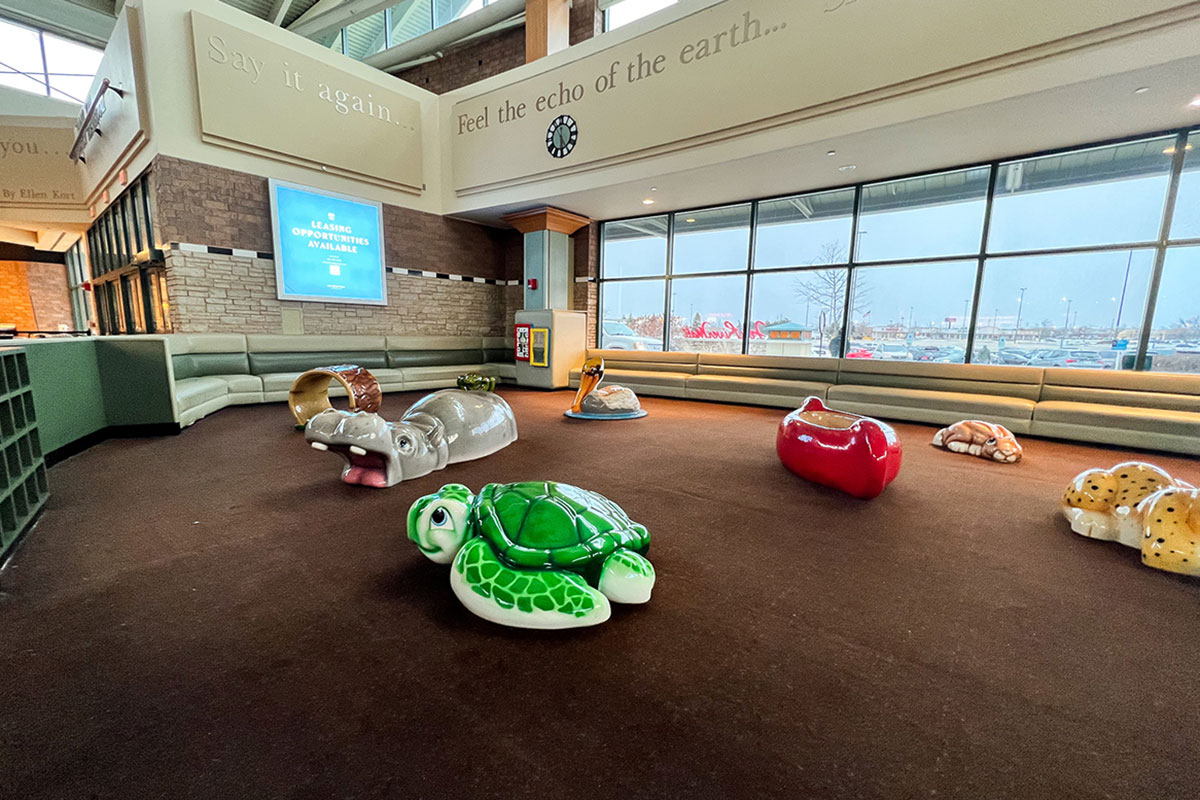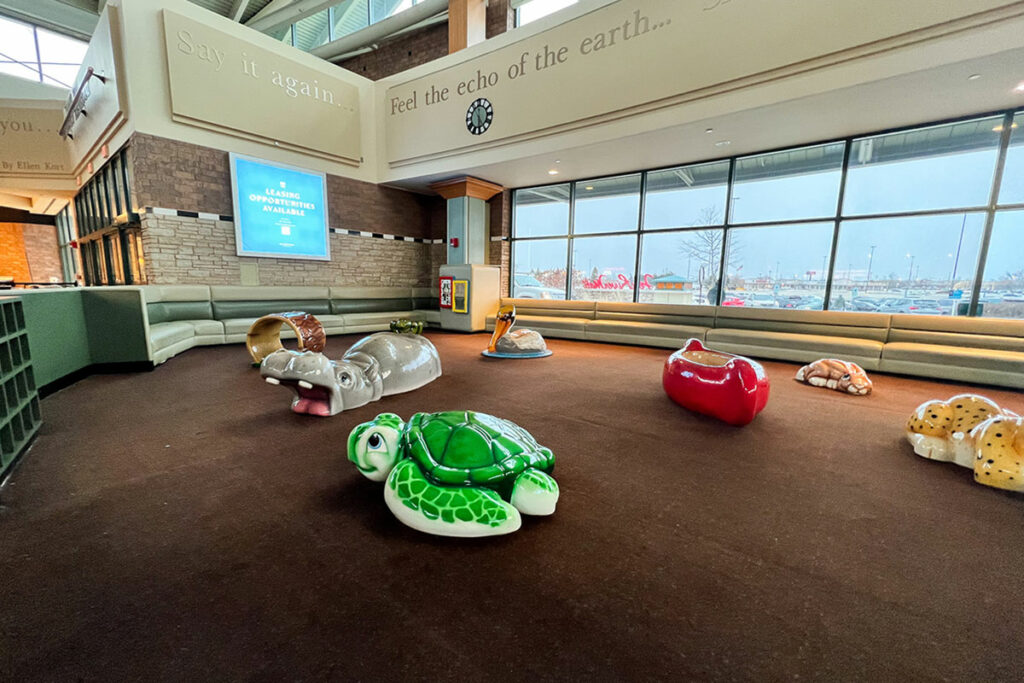 Fox River Mall – Northwoods Cafe
Located in the Northwoods Cafe (food court), the children's play area is a soft play area and great for little ones to burn off some steam. It is a perfect indoor play area with lower stimulation levels for toddlers and younger kids on a rainy day.
Mom and Dad can enjoy the ample seating all around the play area or even have a quick meal just outside the play area with adjacent seating with a clear view to easily keep an eye on the kids.
The play area is FREE.
Fox River Mall – Northwoods Cafe Food Court Children's Play Area, 4301 West Wisconsin Ave, Appleton, WI
Funset Boulevard
Kids of all ages can enjoy a trip to Funset Boulevard, making it a great destination for families with kids spanning age groups!
There are many fun activities here that you won't find in other places, like a full-size merry-go-round and mini train right next door to traditional playground equipment found at indoor parks.
Funset also has a laser tag arena, arcade games, a movie theater adjacent, bowling, and an onsite restaurant featuring fun favorites like pizza and ice cream.
With so many options to fill the time, it is one of the best places for a full day of play.
Young children will love a dedicated playground with a ball pit, tubes, and slides! The toddler play area is designed for ages 4 and under and lots of activities for the little ones. Parents must accompany their children in this space.
They offer specials during the week, on days when there is no school, and on most holidays.
Birthday parties are available here with dedicated party rooms.
Funset Boulevard, 3916 W College Ave., Appleton, WI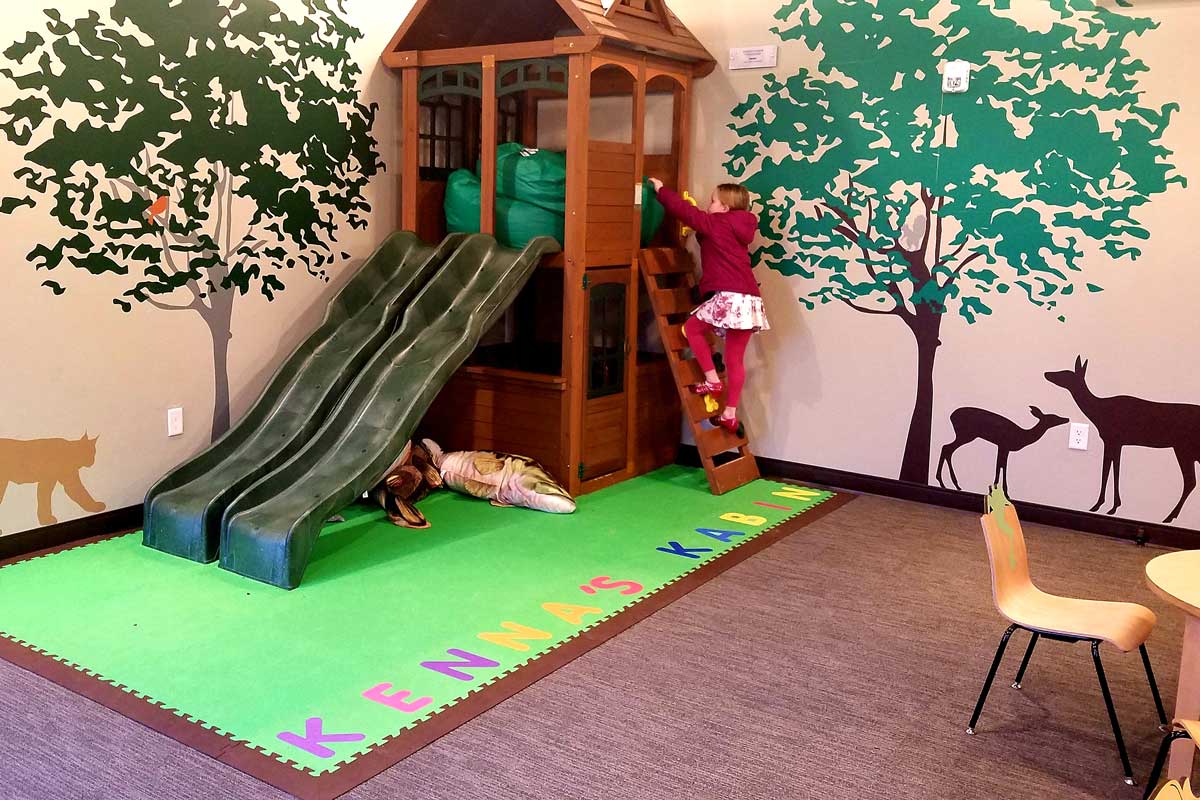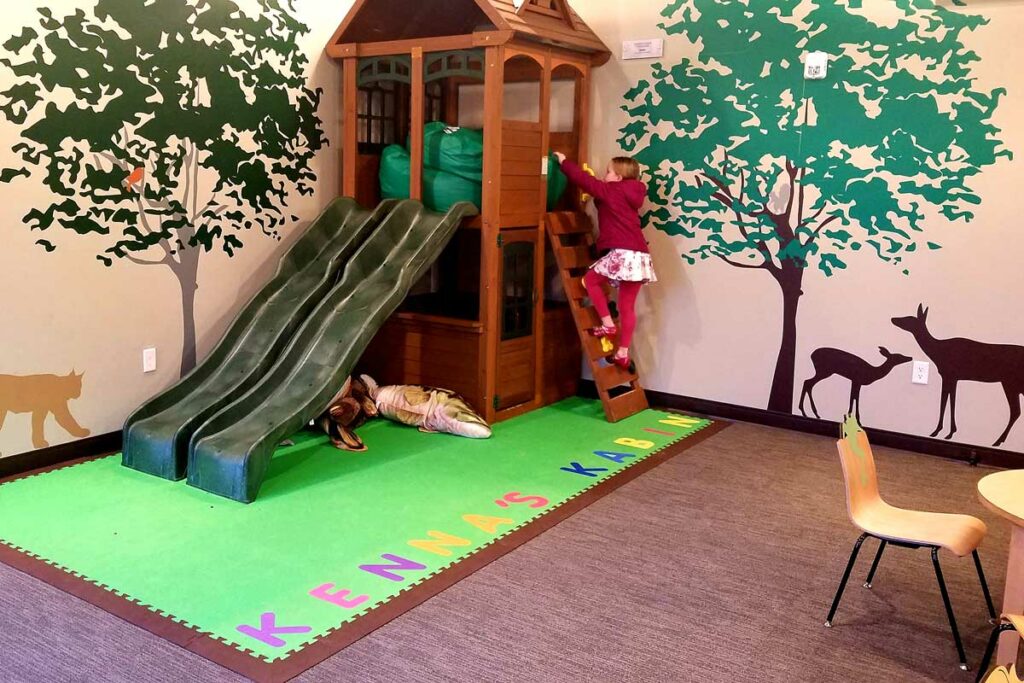 Kenna's Kabin at Bubolz Nature Preserve
Kenna's Kabin is one of the best places for toddlers and preschoolers! The natural world is highlighted in this newer play center and can be combined with walking and playing outdoors year-round for a full day of play.
This FREE interactive play area targeted for ages 10 and younger featuring children's library, floor puzzles, games, puppets, building table, slide, playhouse and more.
Bubolz Nature Preserve – Kenna's Kabin, 4815 N Lynndale Dr, Appleton, WI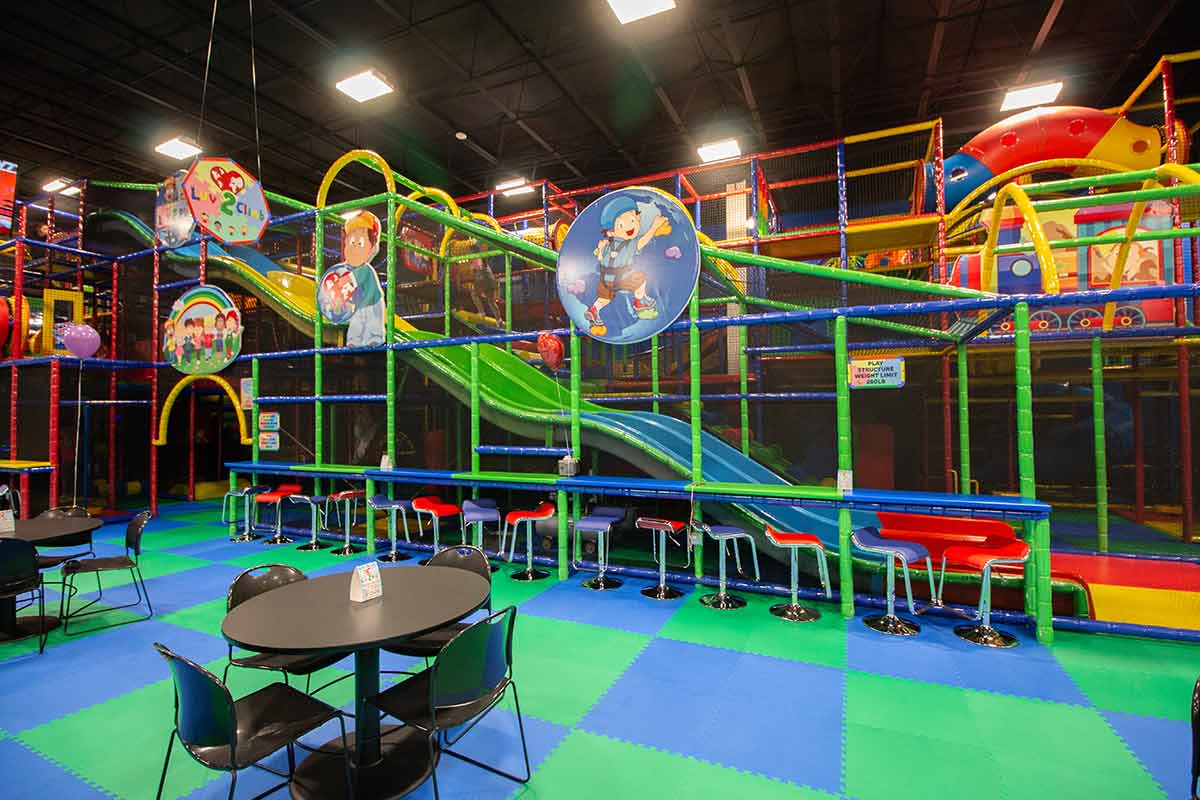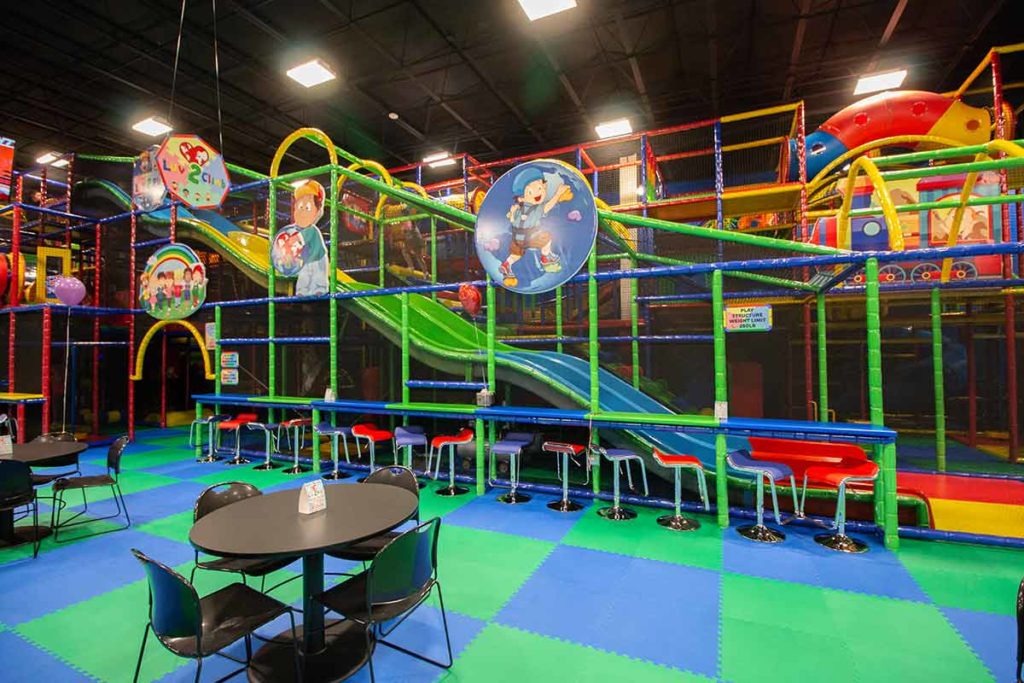 Luv 2 Play
Luv 2 Play is an indoor playground in Appleton near the Fox River Mall and is perfect for the youngest members of your family.
The family fun center includes a bright and cheerful playground and arcade for children ages 0-12.
The two-story climbing structure includes winding tube slides, slides perfect for races, mazes, tunnels, obstacle courses, jumping areas, ball pits, and more.
Luv 2 Play Indoor Playground & Cafe, 4938 Integrity Way, Appleton, WI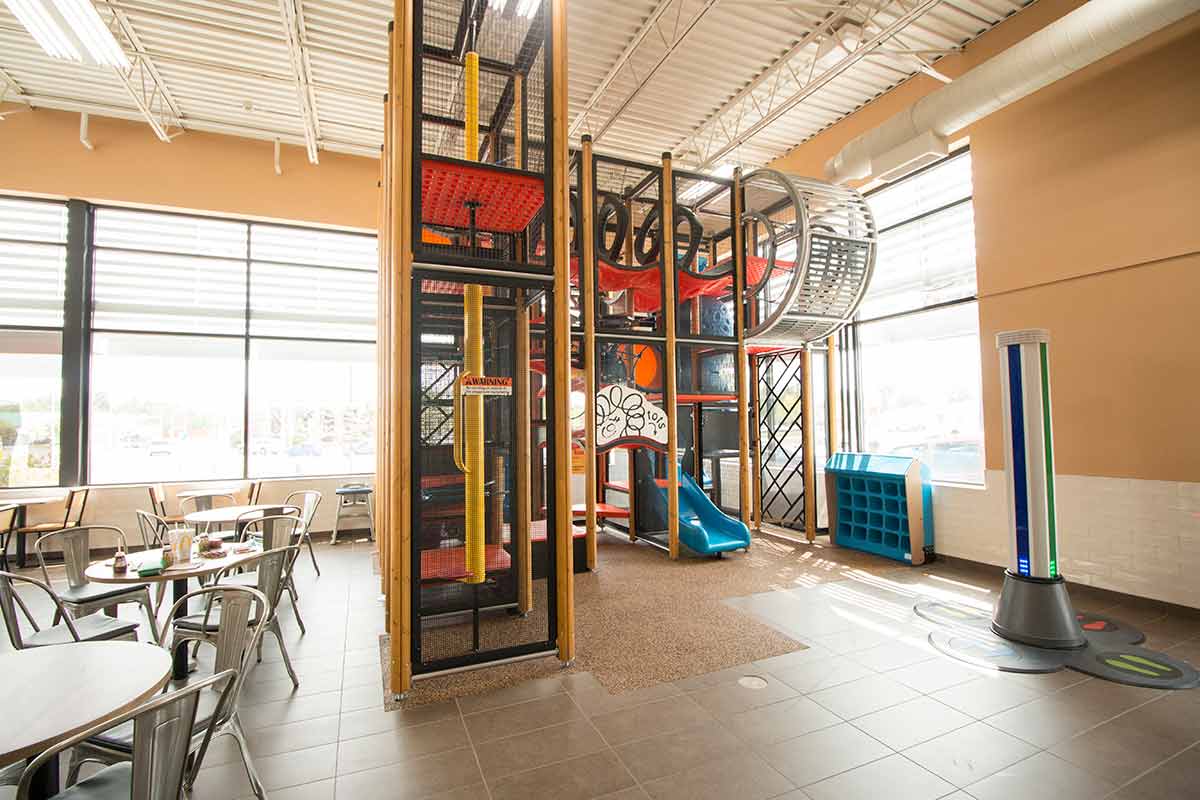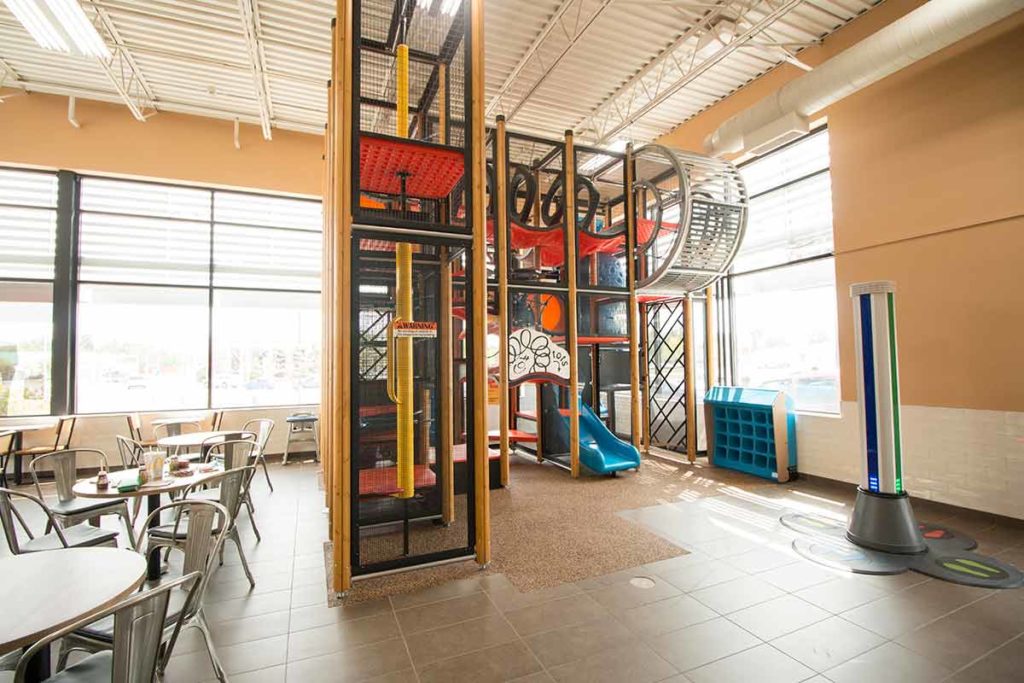 McDonald's Playplace
The McDonalds Playplaces around our area were rejuvenated in the not too distant past and offer fun and simple play. Some of the locations have larger and taller play structures or open play spaces than others or have added interactive technology to the mix.
Play is FREE at all locations, so you can definitely check them all out to find your favorite spot to visit.
When we had younger children, this was often a go-to for free WiFi to work while they were busy playing with friends and then ice cream cones on site for incentive when it was time to leave!
McDonald's, 700 W Northland Ave, Appleton, WI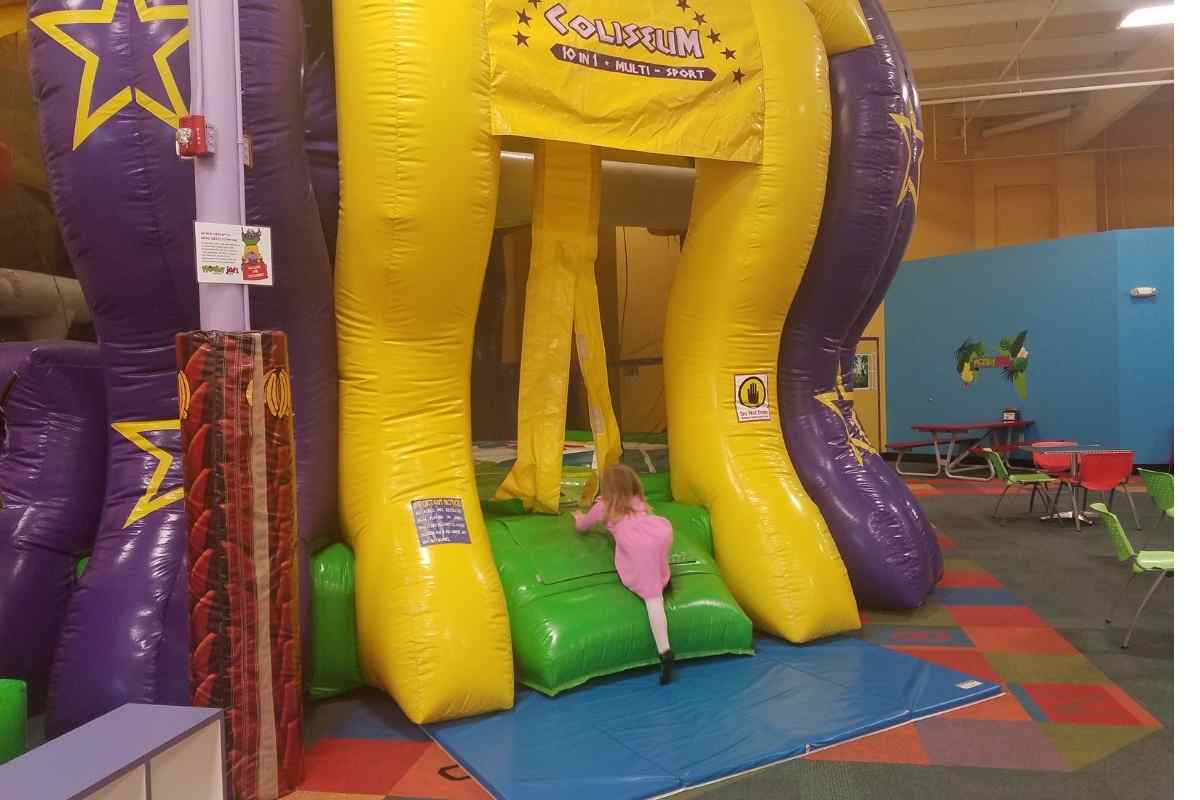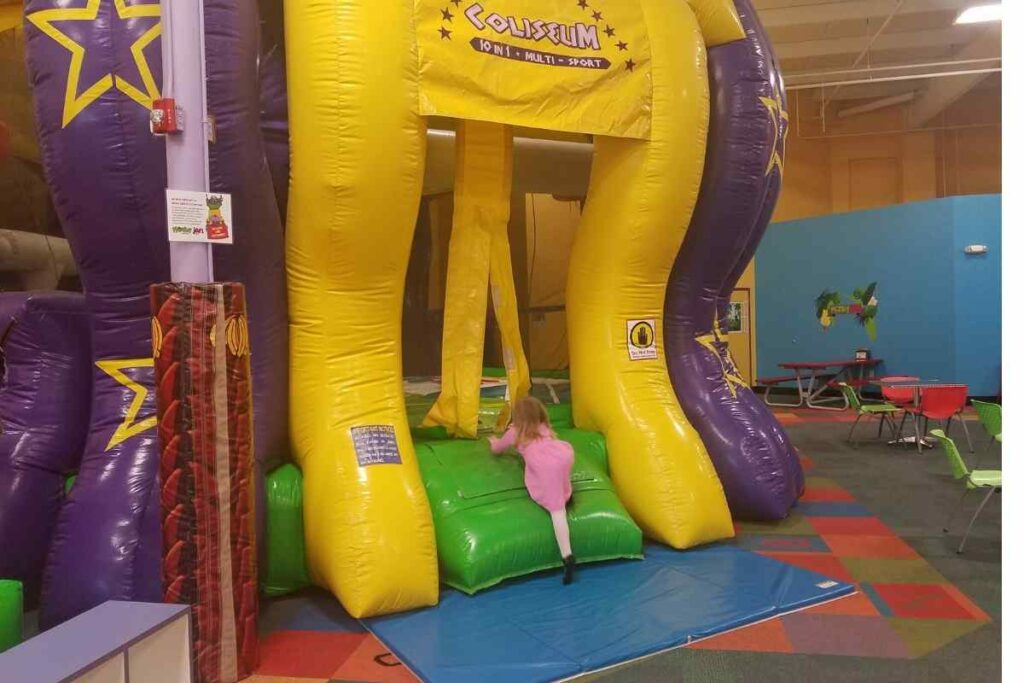 Monkey Joe's
An indoor play center for children including inflatables, arcade games & concessions for 12 years-old and younger. A separate toddler area and bouncy house for kids 3 years-old and younger.
Parents can play too or enjoy a moment to themselves while older kiddos play in their lounge area that features WiFi, comfy chairs, and more.
Monkey Joe's, 1800 N Casaloma Dr., Appleton, WI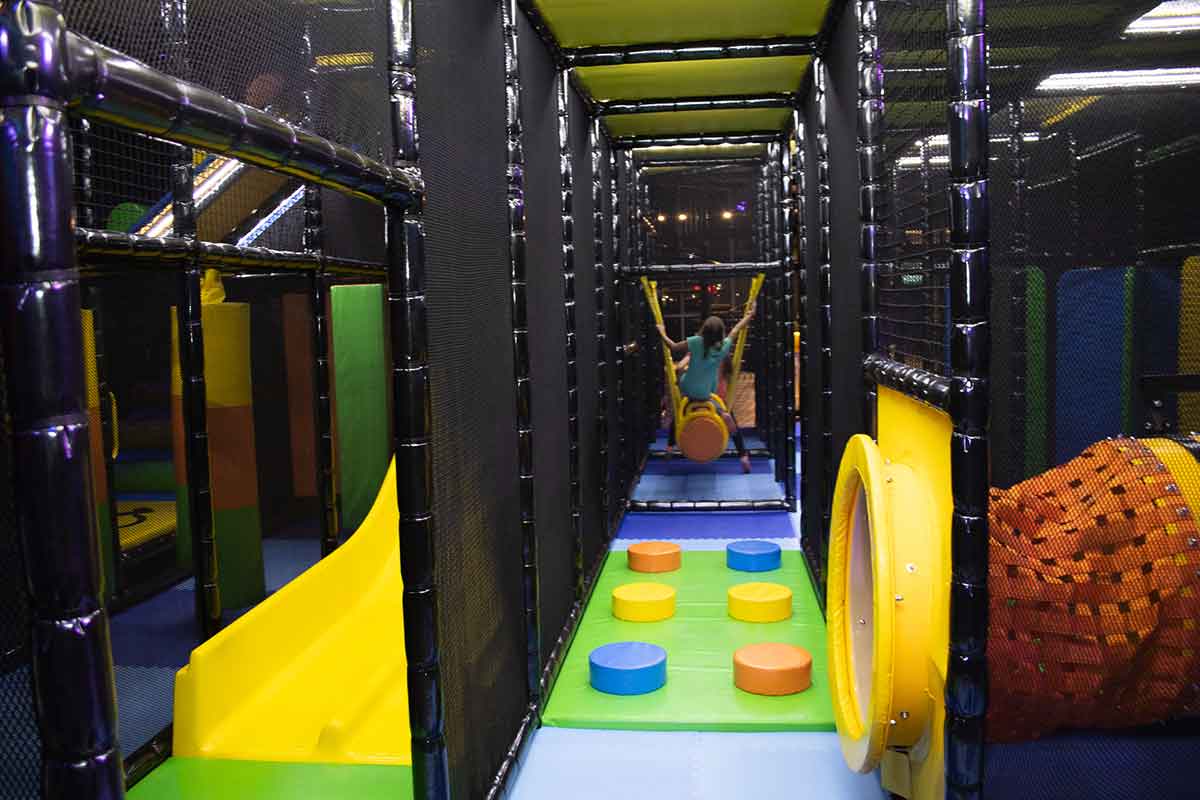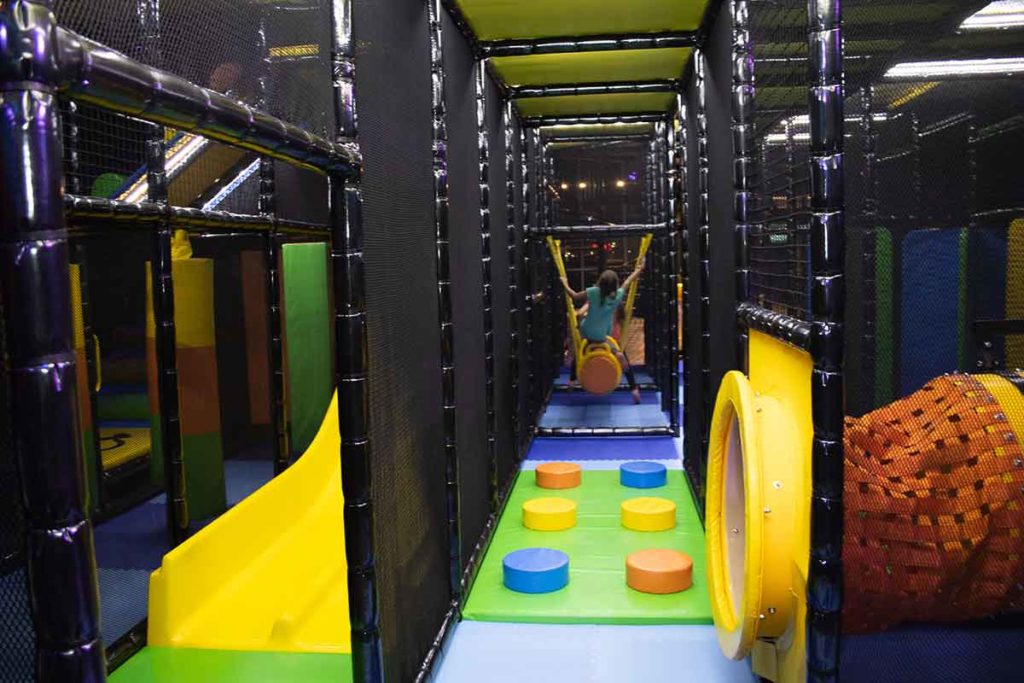 Urban Air Adventure Park
Urban Air is not just an indoor trampoline park but an amusement park with 2 story indoor go carts, rock climbing wall and structures, virtual reality, trampolines, bumper cars, zip line, battle beam, ninja obstacle courses, and more.
This is the most expensive option on this list but might just be the best indoor playground for a special day with 60,000 square feet of room to play!
The indoor playground includes tubes and slides for running, climbing, crawling and more for 52 inches and under.
The regular trampoline area includes plenty of opportunities for big air with wipeout, extreme dodgeball, tumble track, drop zone and basketball.
There is a separate trampoline area for ages 7 and under for high-flying fun without the danger of much bigger jumpers.
Urban Air Adventure Park, 4741 W Lawrence St, Appleton, WI
Xtreme Air
Xtreme Air in Appleton is a great place if you're looking for a trampoline park! In addition to trampolines, there is a gladiator joust, ninja obstacle course, slam dunk basketball trampolines, two self-contained dodgeball trampoline areas, and a three-story high climbing wall. There is also a laser maze to test out your secret agent skills alongside your kiddos.
There are multiple designated toddler times for children 5 and under and their admission includes parents. They're scheduled from 10 am – 12 pm, so maybe right in time for playing and lunch before a good nap time!
Xtreme Air, W3035 Edgewood Trail, Appleton, WI
Indoor Places to Play in Little Chute
Little Chute Library
Enjoy free coffee and bunny snuggles at the Little Chute Library! Take the steps or ramp down to the Family Area that is open play for kids of all ages any time that the library is open.
There is a lego wall, craft table, fish tank, pet bunny, open play toys, train table, puppet stage, and more. You'll also find an ongoing community LEGO project, teen lounge area, and lots of board games to try and check out to take home.
They are working on a new imaginative play area that will cycle through fun themes for kids to explore.
The Little Chute Library offers an all-ages storytime on Wednesdays at 9:30. You can also set up a Storytime on Demand! So, if you and a few other families want a storytime, the staff will do a special storytime just for you.
Little Chute Library, 625 Grand Ave., Little Chute, WI
Indoor Places to Play in Kaukauna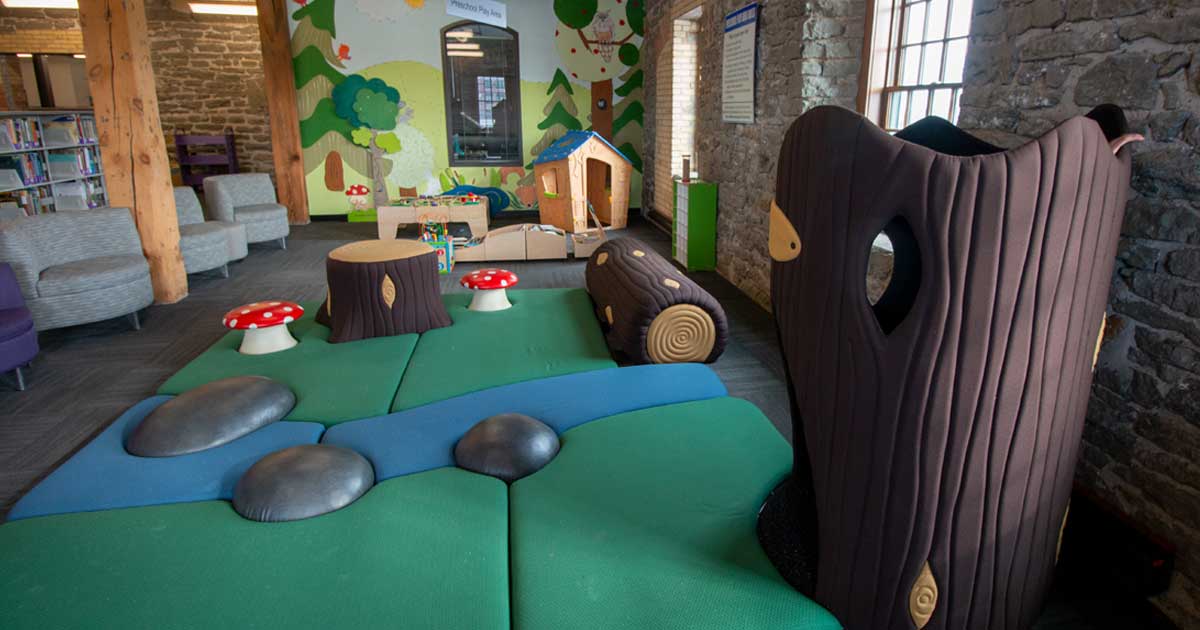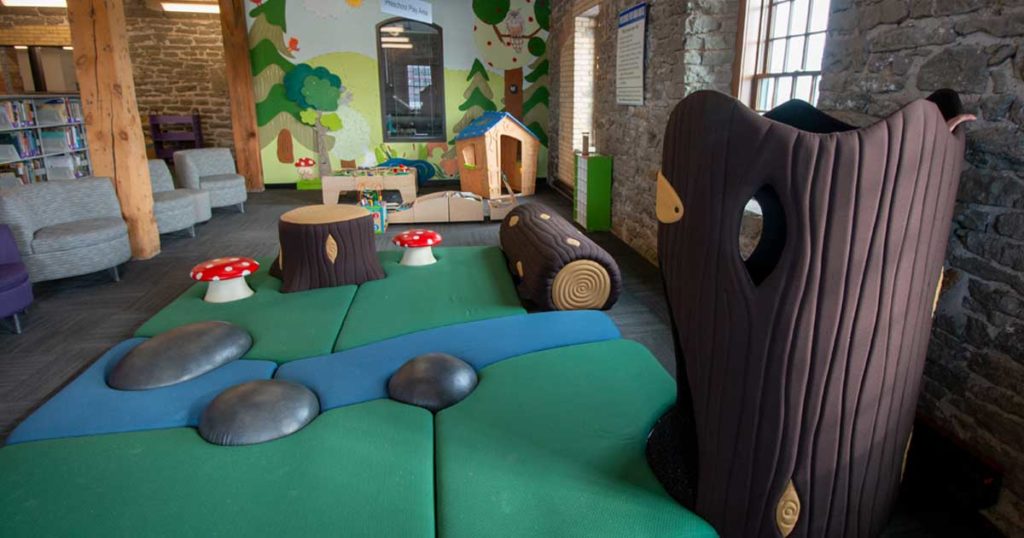 Kaukauna Public Library
The child play area at the Kaukauna Public Library is designed for children 5 and under (no exceptions) and includes a fun forest-inspired play mat and toys to encourage imaginative play!
This space is great when you and your toddler need some time out of the house and a change of scenery. Socks are required and can be purchased at the library for $1 if you forget your own.
If you want to venture outside, there is a fun children's garden to explore here, also.
Kaukauna Public Library, 207 Thilmany Rd #200, Kaukauna, WI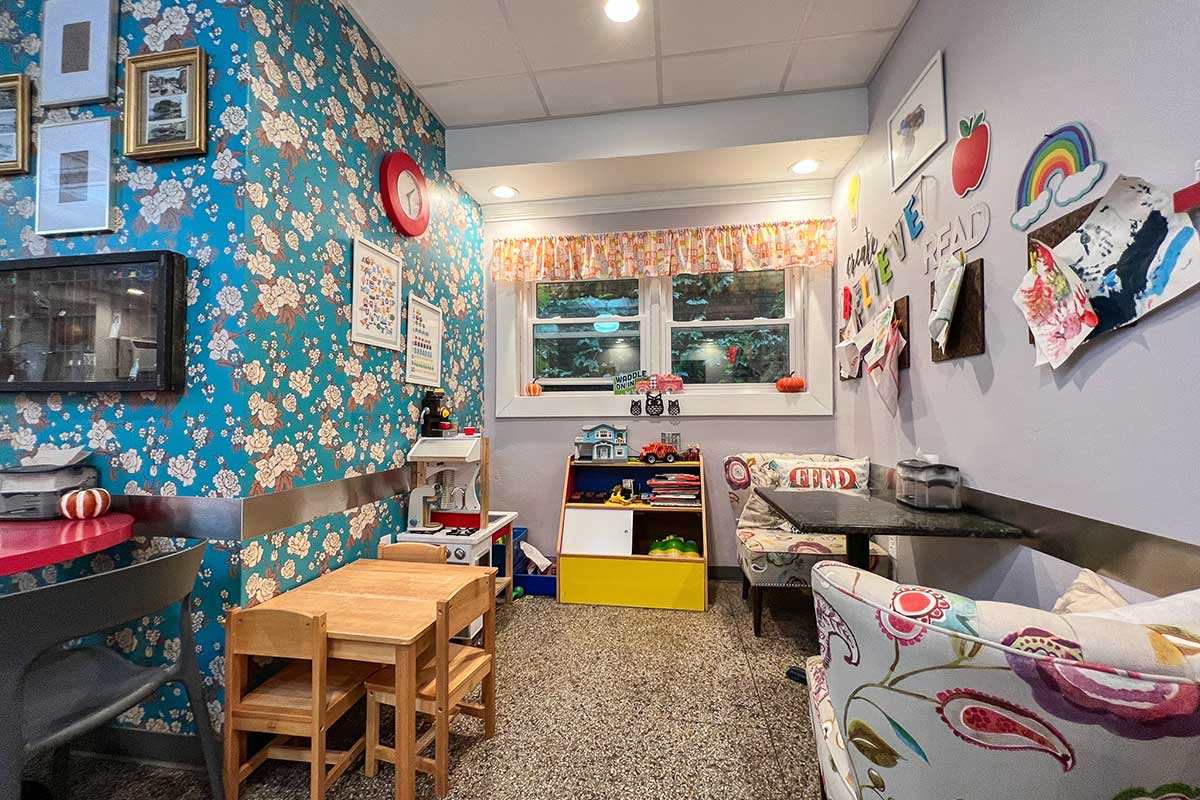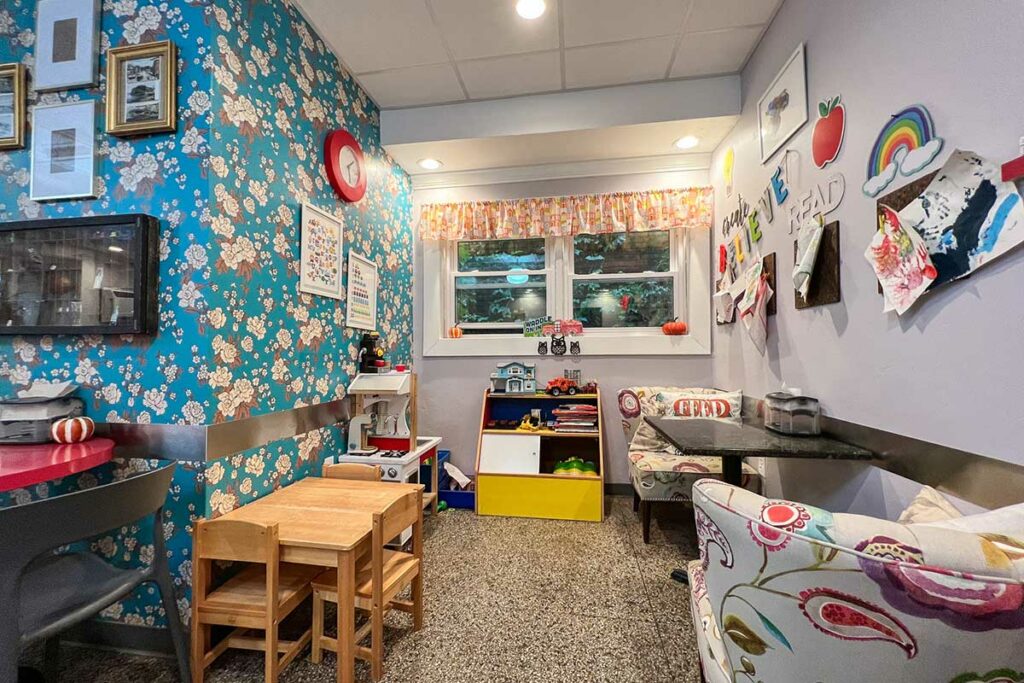 Kaukauna Coffee & Tea
There is a small and sweet play area at this cafe that includes a play kitchen, kid sized table, and toys to explore. The cafe menu offers a wide variety of drinks and foods that include kid friendly, vegan, and gluten free options.
Kaukauna Coffee & Tea, 127 W Wisconsin Ave, Kaukauna, WI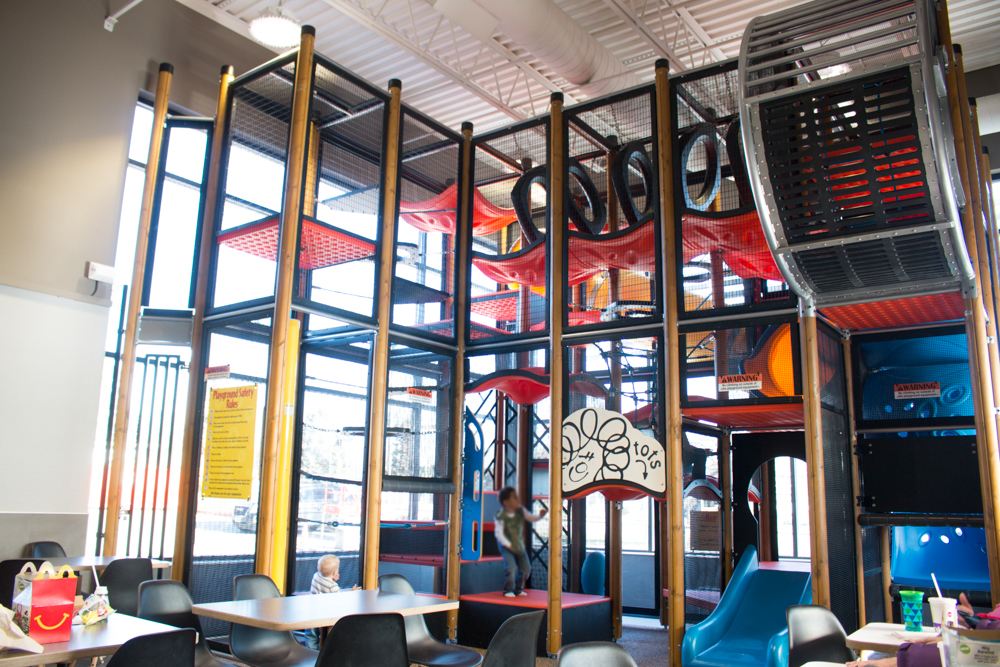 McDonald's Playplace
This playplace is open and has ample seating in the shared space that is separated from the main dining area. Enjoy the free wifi while the kiddos burn off a little energy in the free play space that is perfect of those super cold or rainy Wisconsin days.
McDonalds, 401 Lawe St, Kaukauna, WI
Indoor Places to Play in Kimberly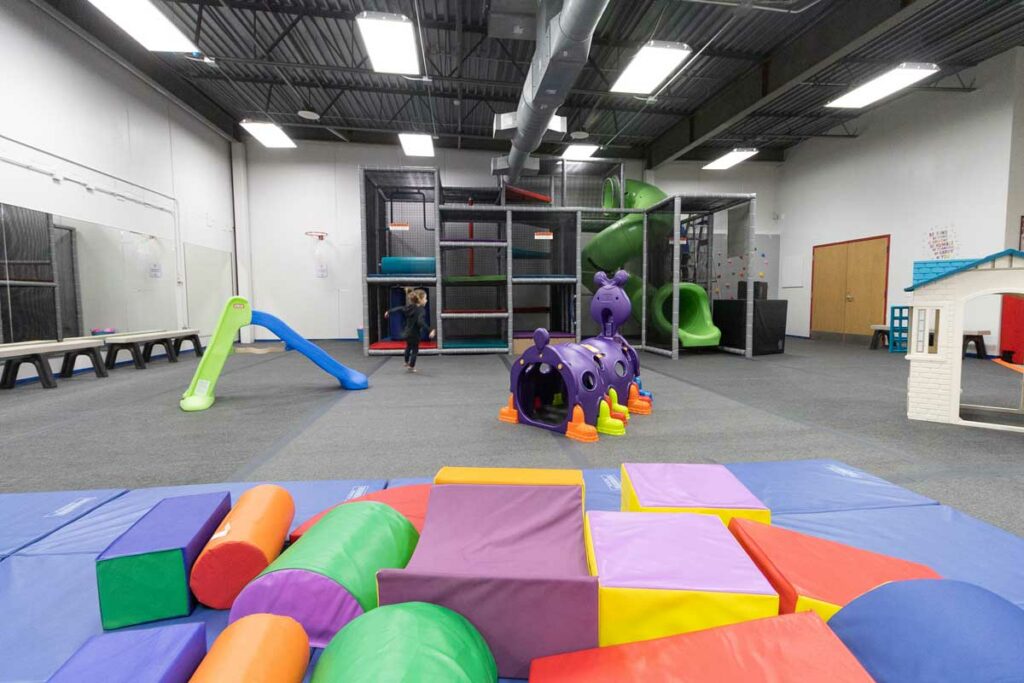 Heart of the Valley YMCA
The Family Fun Center is designed for kids 9 and under and includes table for coloring, blocks, magnatiles, and more.
It also includes lots of soft play area for toddlers and preschoolers with activity boards on the walls, soft blocks for tumbling and climbing, playhouse with a slide, small climbing wall and a mini basketball hoop.
Note: This area is currently open for members and their guests only.
Heart of the Valley YMCA, 225 West Kennedy Ave, Kimberly, WI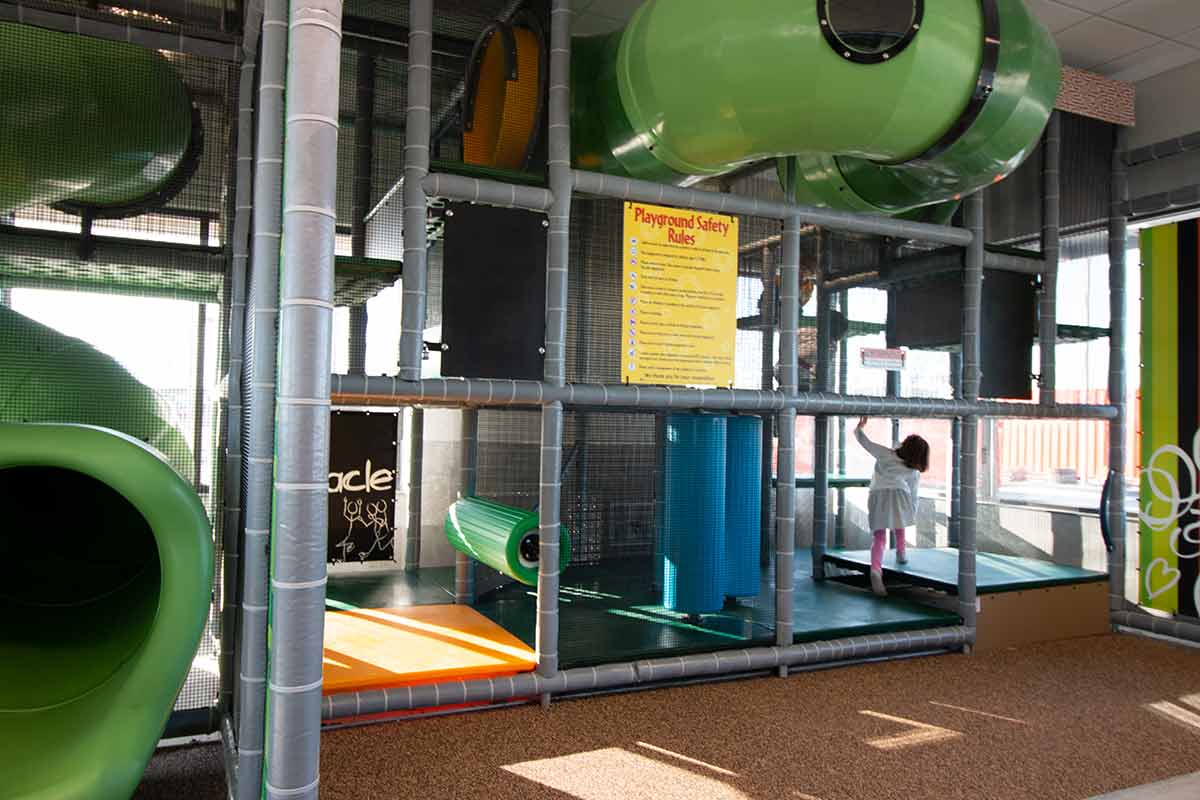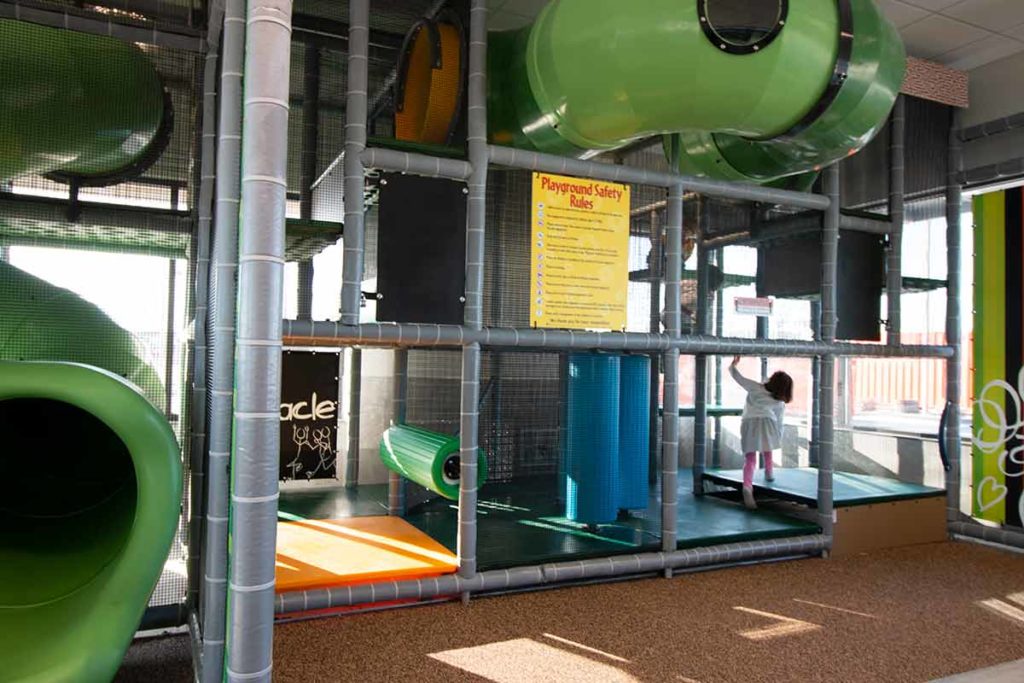 McDonald's Playplace
This playspace has a large open seating area for enjoying lunch or coffee. The multistory climbing structure has lots of platforms and a twisty slide.
McDonald's, 840 Eisenhower Dr, Kimberly, WI
Indoor Places to Play in Neenah & Menasha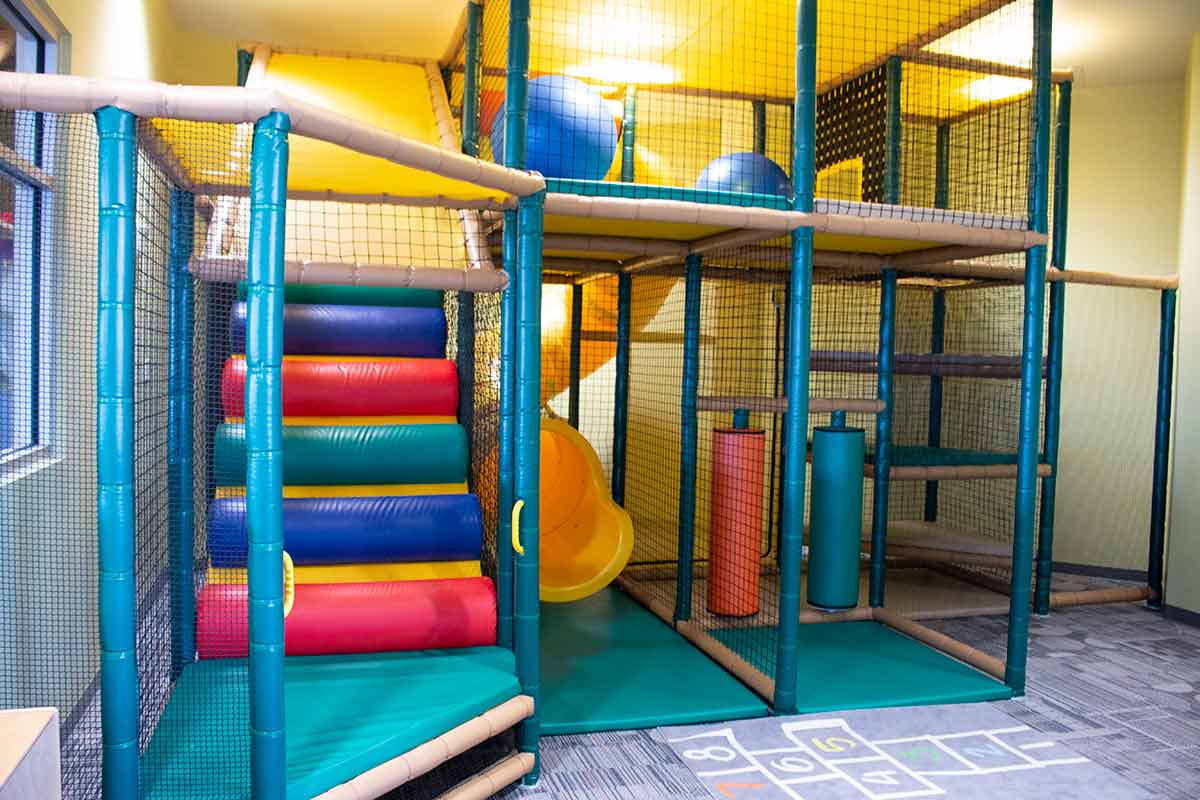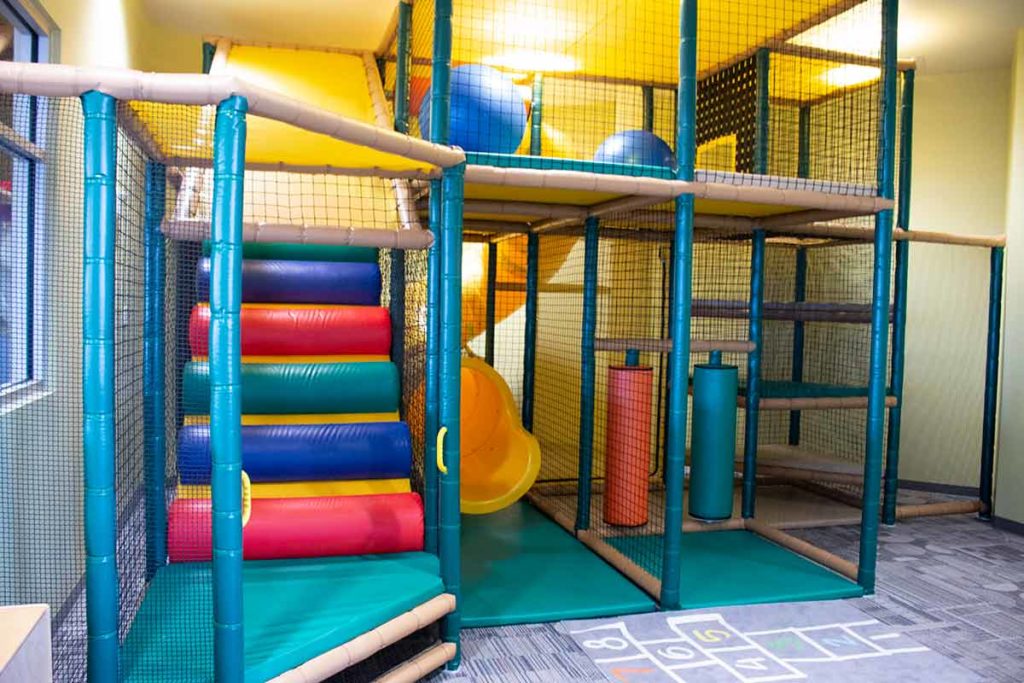 Fireside Cafe
Inside Christ the Rock Community Church but open to the general public. Enjoy an amazing indoor play area (socks required), toys, and on good weather days, an outdoor patio with ride ons, swing set, climbing hill, slides, and more!
They even offer a Toddler Trio snack deal in their cafe.
Enjoy a delicious cup of coffee near their fireplace—a real treat on fall and winter mornings!
Fireside Cafe, W6245 US Highway 10-114, Menasha, WI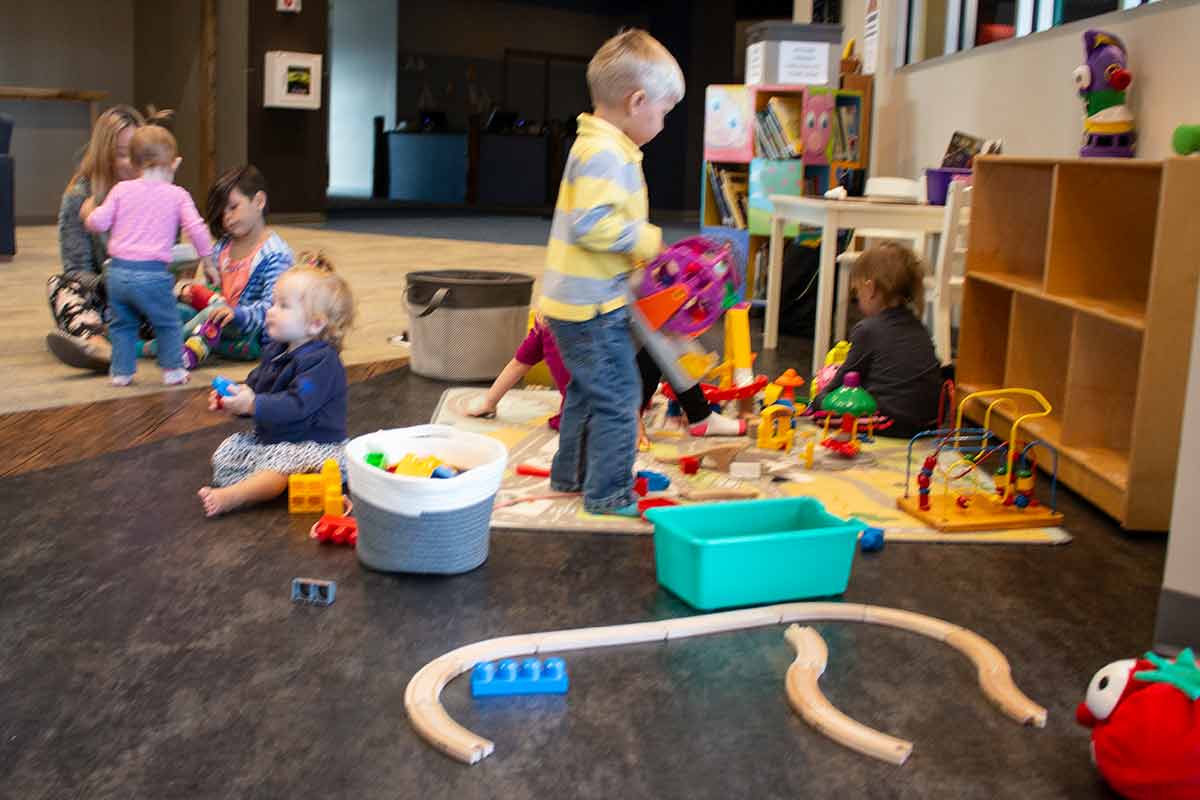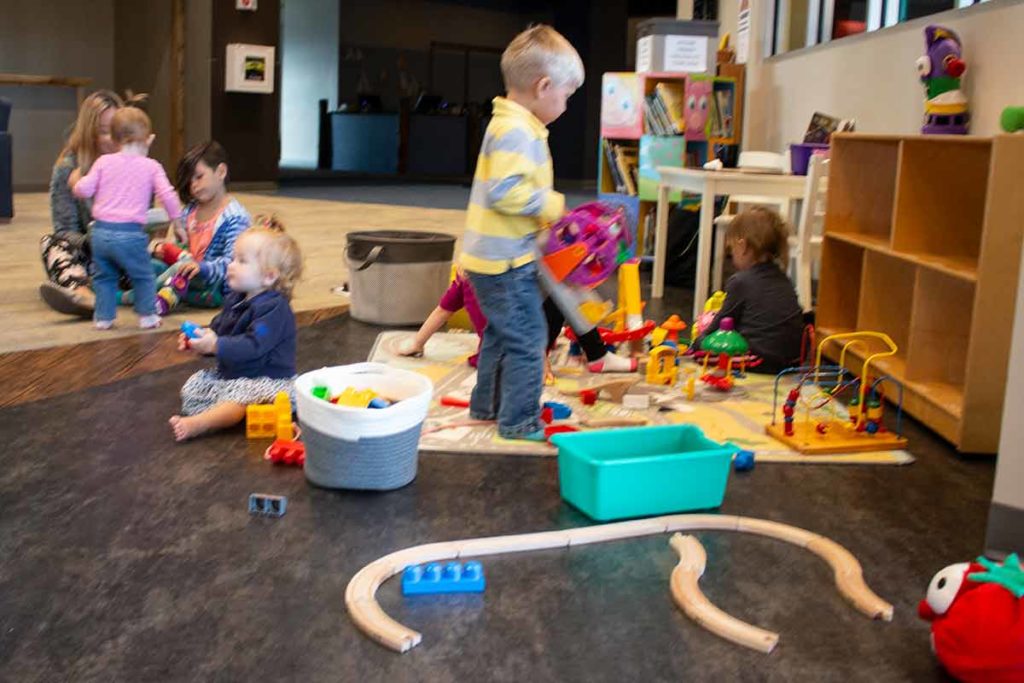 McDonald's Playplace
The Menasha location has a play center that is well suited to smaller kids with a lower overall height and size.
McDonald's, 212 Racine St., Menasha
There is a tall climbing area as well as other interactive play features and a bathroom within the play area.
McDonald's, 705 Green Bay Rd, Neenah, WI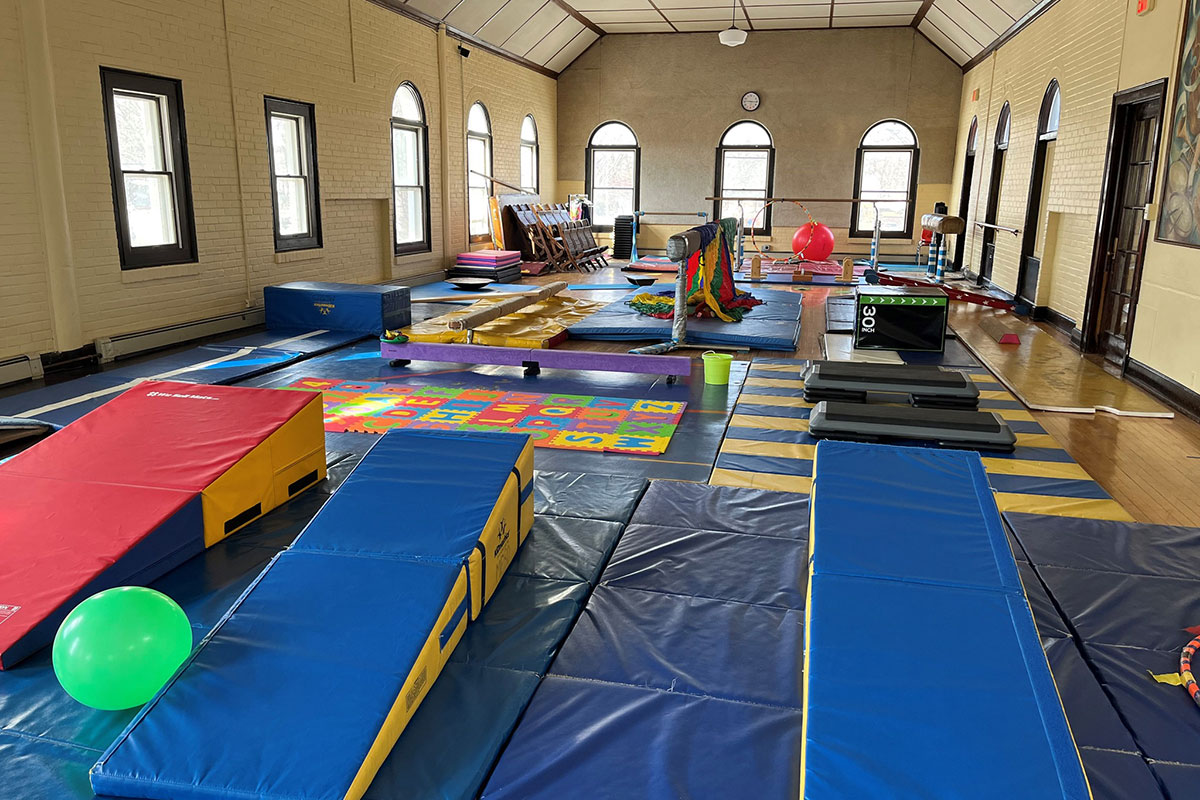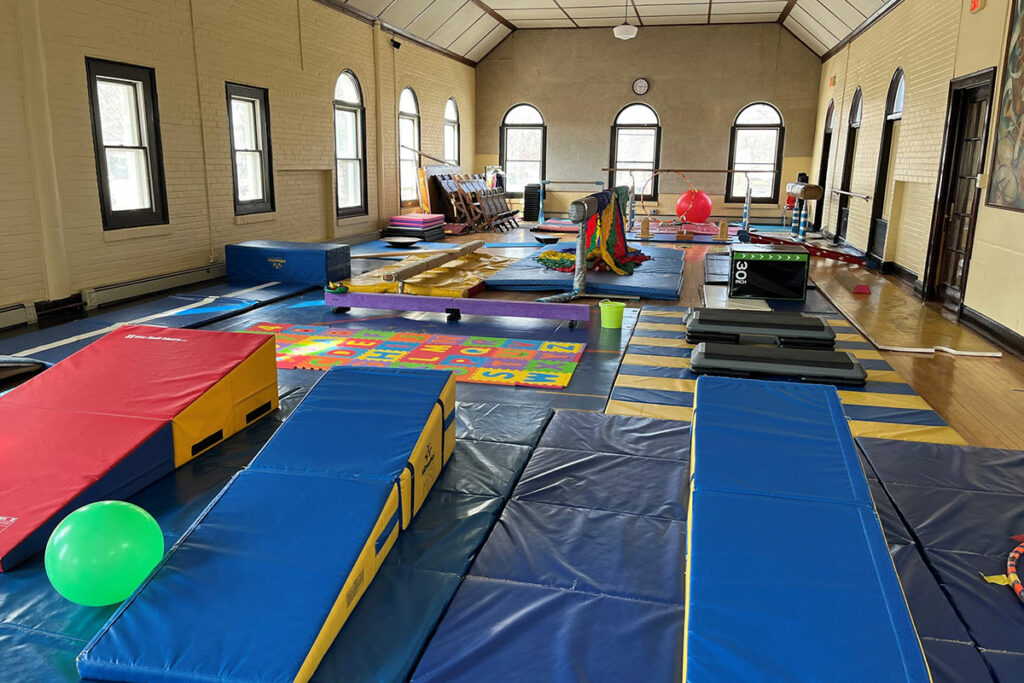 Menasha Parks & Recreation
The Menasha Park & Recreation Family Flips program is a perfect place for you and your little to warm up on Fridays from 10:00 – 11:15 am at the Memorial Building (640 Keyes St). The cost is $2 for residents or $3 non-residents. Enjoy a colorful gym with an age-appropriate obstacle course, warm ups and play time.
Memorial Building, 640 Keyes St, Menasha, WI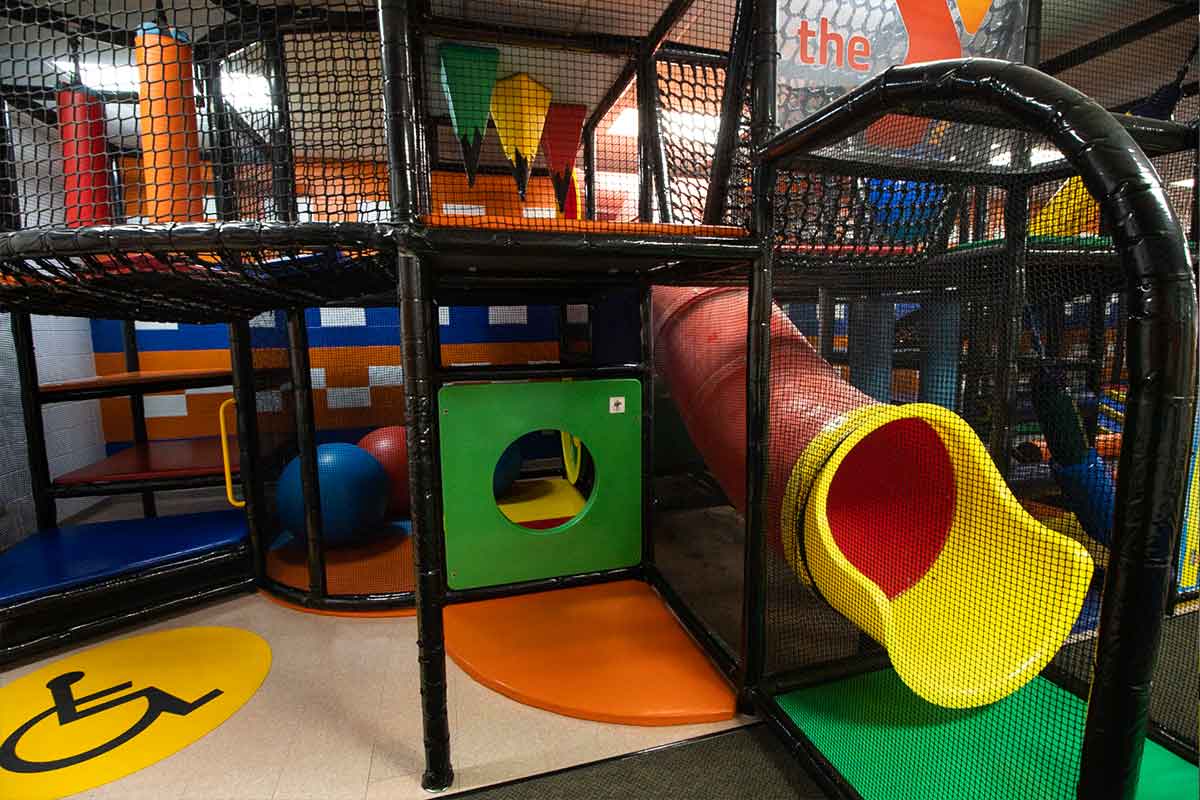 Neenah-Menasha YMCA
Adventure Alley is for ages 9 and younger. Children age 5 and under must be accompanied by an adult, or sibling 16/older. Call or visit their website for times.
Neenah-Menasha YMCA, 110 West North Water Street, Neenah, WI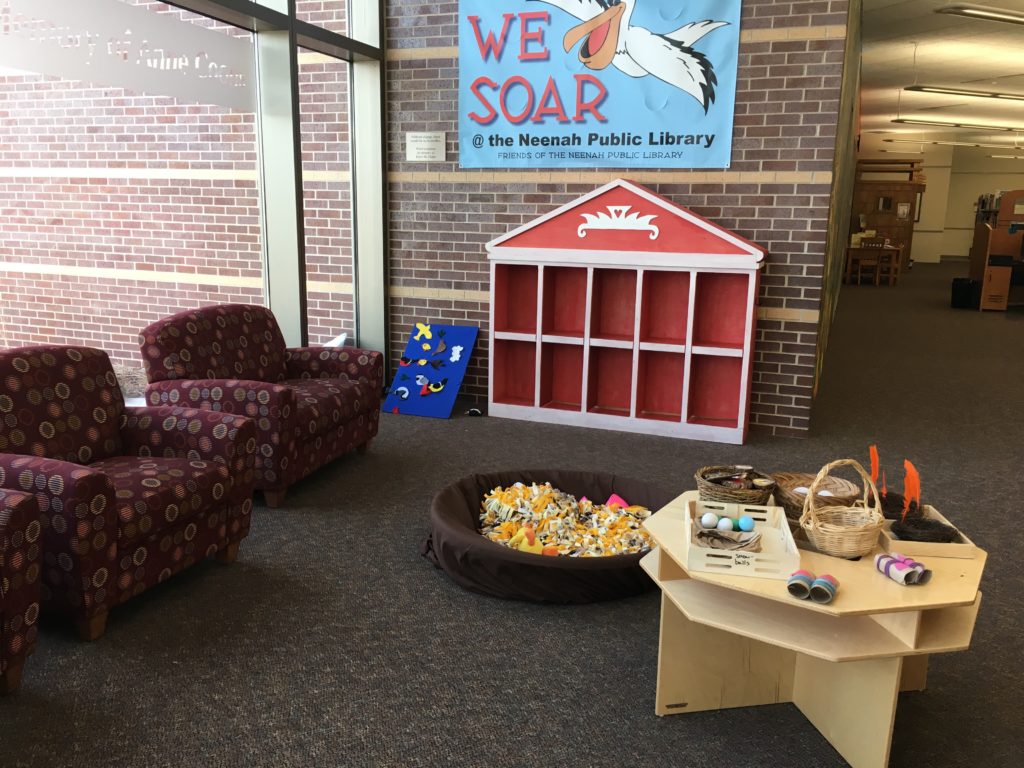 Neenah Public Library
The Neenah Public Library has a children's reading nook overlooking Lake Winnebago. Play area for toddlers and preschoolers that changes out regularly for imaginative play.
Little ones can enjoy a comfy book-reading area, a train table, and a variety of craft, sensory, etc kits that can be used right there!
Neenah Public Library, 240 E Wisconsin Ave, Neenah, WI
Ultimate Fusion Athletics
Full gymnastics gym including a foam pit that offers open play for kids 6 and younger with their families and a drop-off open gym for kids 6 and older weekly.
This is also available as a birthday party venue!
Ultimate Fusion Athletics, 1670 Drum Corps Dr, Menasha, WI
Indoor Places to Play in Hortonville & New London
Familiar Grounds Coffee Shop
Enjoy your favorite coffee drinks, lunch, or ice cream while the kiddos busy themselves or enjoy a fun game together.
Familiar Grounds Coffee Shop, 206 N Pearl St, New London, WI
Hortonville Public Library
The newly renovated space opened in May 2022 as the Wolf River Community Bank Wolf Den Children's Area featuring lots of fun items for imaginative play and building.
Hortonville Public Library, 531 N Nash St, Hortonville, WI
Indoor Places to Play in Oshkosh
Caramel Crisp & Cafe
This is more than just a cafe! It is a book shop, a gift shop, a toy store and more! While there is not a traditional play area, there is so much to look at and discover and a spot to try out Mindware toys on site.
Caramel Crisp & Cafe, 200 City Center D, Oshkosh, WI
Oshkosh Public Library
The library offers a large learning and play space for kids called Explorer's Grove. Themed activities and a cozy setting create opportunities for hands-on learning through play.
Check their events calendar for fun drop-in opportunities like storytimes, LEGO wall building, crafts, and more.
Take home a craft kit to keep the fun going even after you leave.
Oshkosh Public Library, 106 Washington Ave, Oshkosh, WI
Precision Athletics
Precision Athletics (formerly Oshkosh Gymnastics Center) Trampolines, foam-filled pits, a climbing wall, zip-lining, and offers open gym time.
Preschool Party is a time specifically designed for the little ones twice a week for ages 10 months to 2 years.
Precision Athletics, 2080 W. 20th. Ave., Oshkosh
20th Ave. Oshkosh YMCA
The Oshkosh YMCA has an amazing water park like pool area with a zero-depth entry and ice center as well as a fun drop-in program for toddlers, Wiggles & Giggles that welcomes non-members to join in the fun.
Wiggles & Giggles at the YMCA, 3303 W 20th Ave, Oshkosh, WI
The Mineshaft
The Mineshaft is a great destination for families who love to play games. This giant arcade has classic and new games, air hockey, skee ball, and so very much more!
The Mineshaft, 2041 South Koeller Street, Oshkosh
Indoor Places to Play in Green Bay & De Pere
Bay Park Square Children's Play Area
A free playground for toddlers and preschoolers. The best entrance is Entrance 4, facing Holmgreen Way. Located in the mall in the North Wing outside of rue21.
Bay Park Square, 303 Bay Park Square, Green Bay, WI
Chuck E. Cheese
It's the classic pizza and play spot that you remember from your childhood! They've updated and modernized since you played there as a kid but the specialness remains. Play games, gather tickets, and have a blast.
Check their website and Facebook for specials and deals before you head over to play.
Chuck E. Cheese, 1273 Lombardi Access Rd, Green Bay, WI
Get Air Trampoline Park
Foam pits, trampolines, dodgeball, and a special area for little ones under 46 inches tall. Toddler times and special sensory-friendly times are available.
Get Air Trampoline Park, 790 Hansen Rd Suite A, Green Bay, WI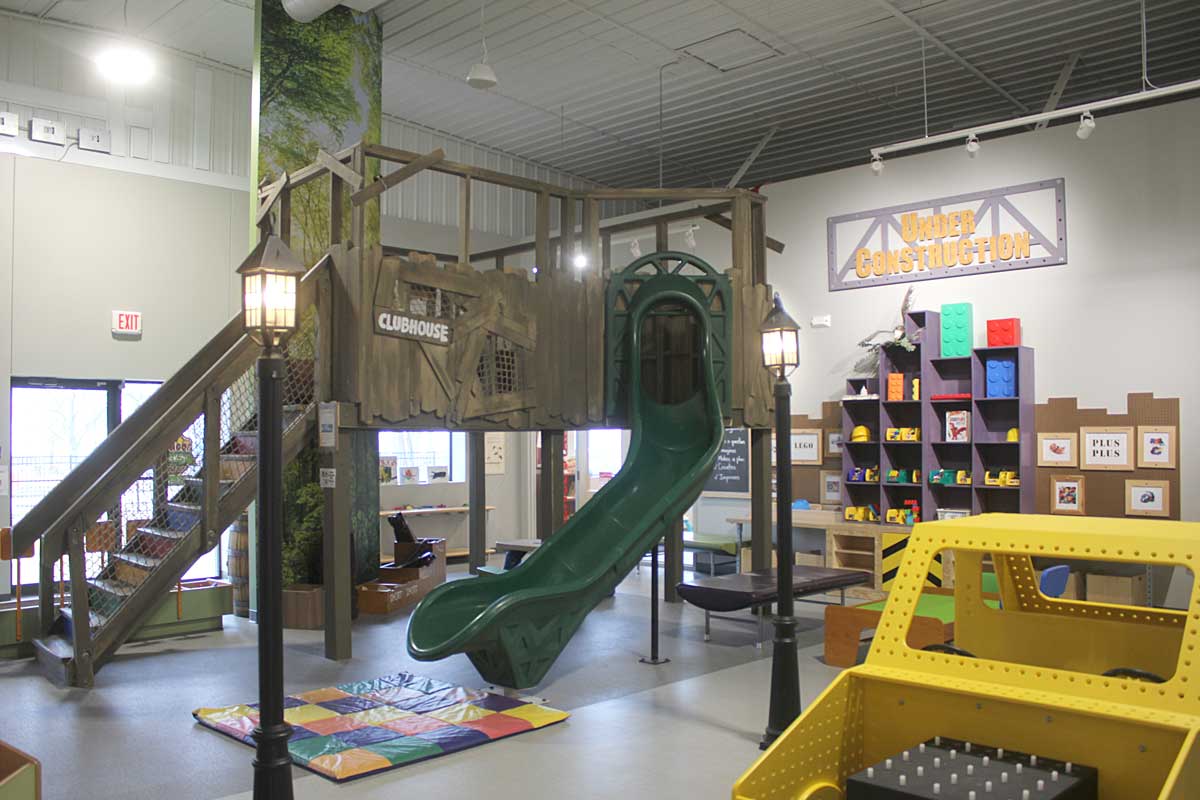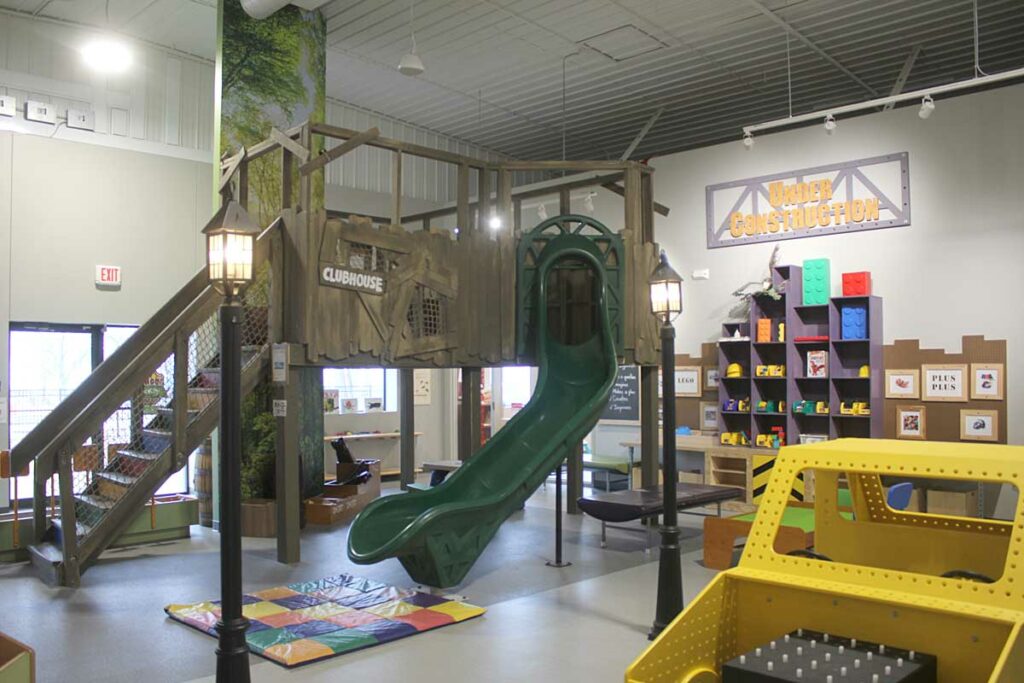 Green Bay Children's Museum
Kids can climb into a giant mouth, explore building materials, imaginative play in the farmers market and fire station, diner, vet clinic, and auto garage.
Drop in the Imagination Station, where messes are welcome while kids and their grown ups create together, try new things, and get creative.
Babies and toddlers can enjoy a designated play area that has activities and equipment that they will love.
The Green Bay Children's Museum also has a new water gallery and indoor sand play area.
Green Bay Children's Museum, 1230 Bay Beach Rd, Green Bay, WI
Green Bay Community Church Children's Play Area
The play area opened in September 2021. Everyone in the community is welcome. Play area includes a tube slide, 2 small slides, mini trampoline jungle jumparoo and more. Indoor playground hours are Monday through Thursday, 8:30 am to 7 pm; Sundays 8:00 am to 11:30 am. Children 12 & under must be supervised by adults; no food or drink in the play area; no shoes in the play area (socks are provided if you didn't bring yours).
Green Bay Community Church, Cardinal Ln #6731, Green Bay, WI
Kidz Town
This indoor playground was designed with infants in mind to use their imaginations while exploring and playing in themed rooms, on climbers, and with many toys that encourage creativity.
Two-hour play stamps are given when you arrive, and then you can choose to add a time boost for an additional hour. Frequent play passes are also available in blocks of five or ten.
There is space for adults to relax with a cup of coffee in a cafe area with free wifi while kids that are able to play independently explore.
Kidz Town, 1109 Honey Ct Suite E, De Pere, WI
McDonald's Playplace
2421 Monroe Rd, De Pere, WI
1373 S Broadway, De Pere, WI
2420 Velp Ave, Green Bay, WI
2625 W Mason, Green Bay, WI
Tri-County Gymnastics & Cheer
Tri-County Gymnastics & Cheer invites members and non-members for open gym on Friday nights.
Some Fridays are designated at Parents' Night Out Open Gyms and run for three hours. These require pre-registration.
This location also offers birthday parties!
Tri-County Gymnastics & Cheer, 2789 Allied St., Green Bay, WI
Warrior Jungle
Ninja warrior and obstacle course fitness facility for both kids and adults in De Pere. Open gym on Fridays from 5 – 6 pm for ages 6 – 14 includes group warm up, obstacle instruction, and a warped wall crash course for any new participants.
Warrior Jungle, 2125 American Blvd, De Pere, WI