There are so many fun things to do in Sheboygan with kids, making it one of our favorite day trip destinations in Wisconsin (and also the perfect overnight family getaway)! This lovely city is located on the shores of Lake Michigan and offers several activities to enjoy, from one of the best beaches in Wisconsin (known as the Malibu of the Midwest) to art and everything in between.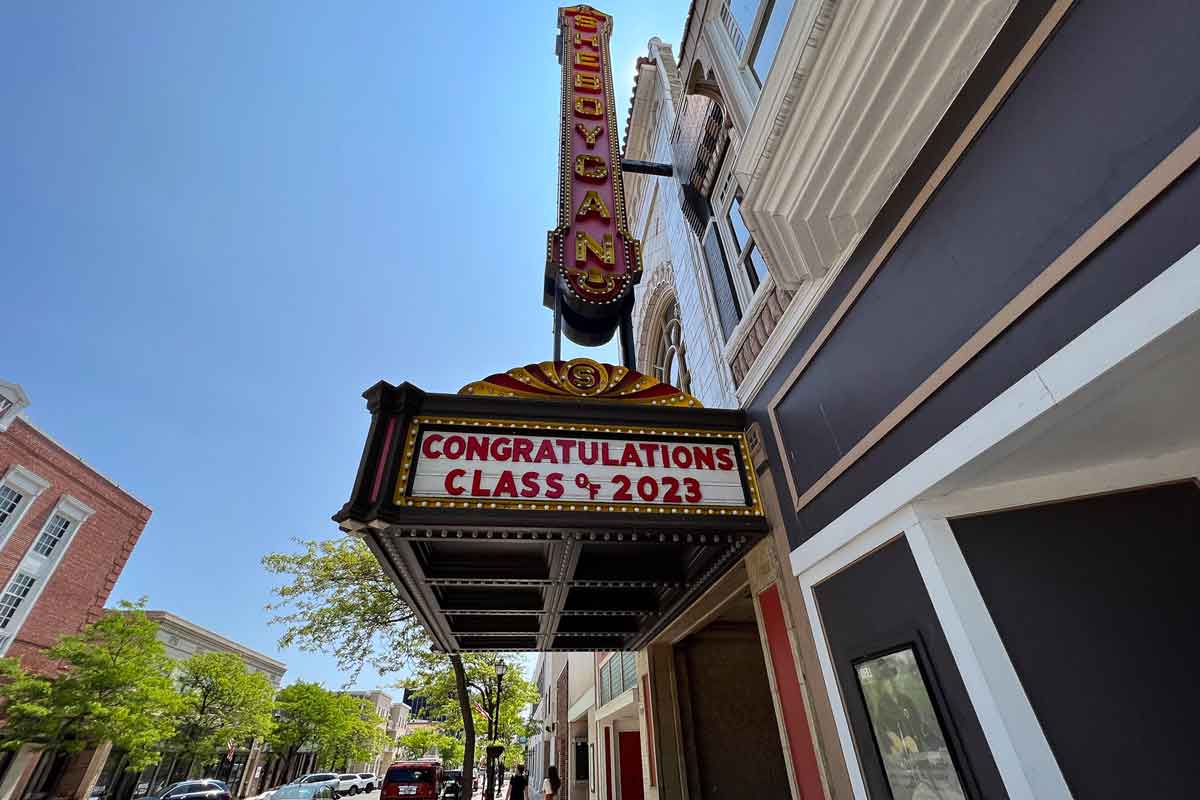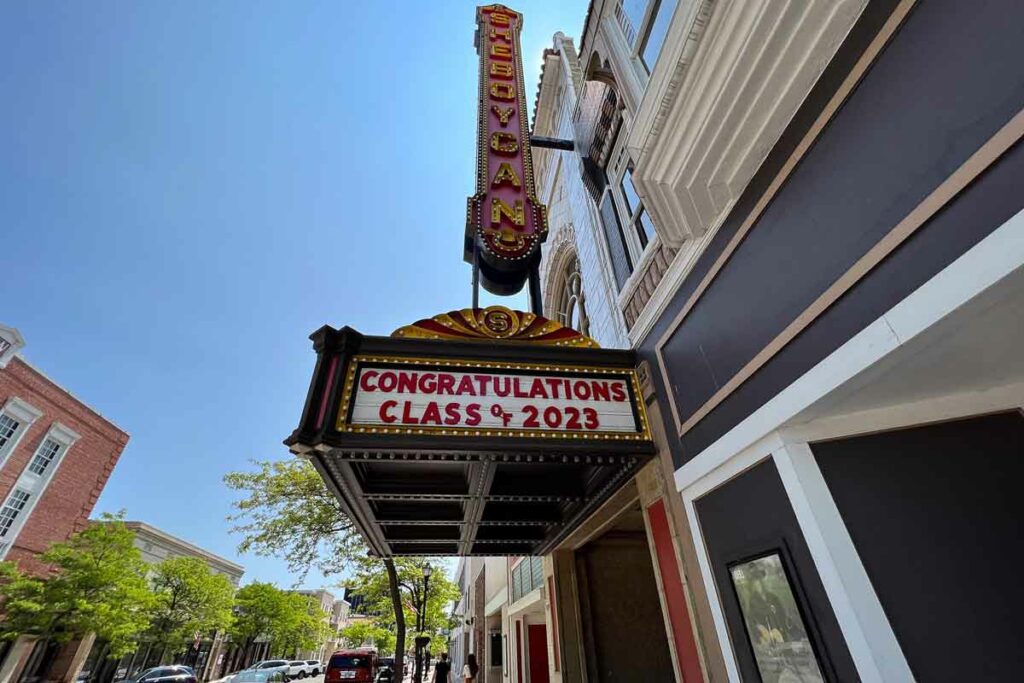 The Shoreline Metro's Harbor Centre Express Trolley is just $1 to ride all day per person; children ages five and under are free. The route is 4.6 miles and travels through downtown, South Pier, the riverfront, and the lakefront. Popular destinations include Blue Harbor Resort, Harbor Pointe Mini Golf, Deland Park/North Beach, John Michael Kohler Arts Center, and more.
The 2023 schedule runs daily from June 12 – September 2. Look for the signs at any of these locations and scan the QR code to track the trolley, map, and hours.
FUN FACT: Did you spy the world's largest flag before exiting the highway for Sheboygan? Located at Acuity Insurance, the flag is 120 ft wide by 60 ft tall, and the pole is 11 feet in diameter! Visitors are welcome at the flagpole and memorial at any time.
The flagpole is nearly 100 feet taller than the Statue of Liberty!
The 9,800-square-foot flag weighs 250 pounds!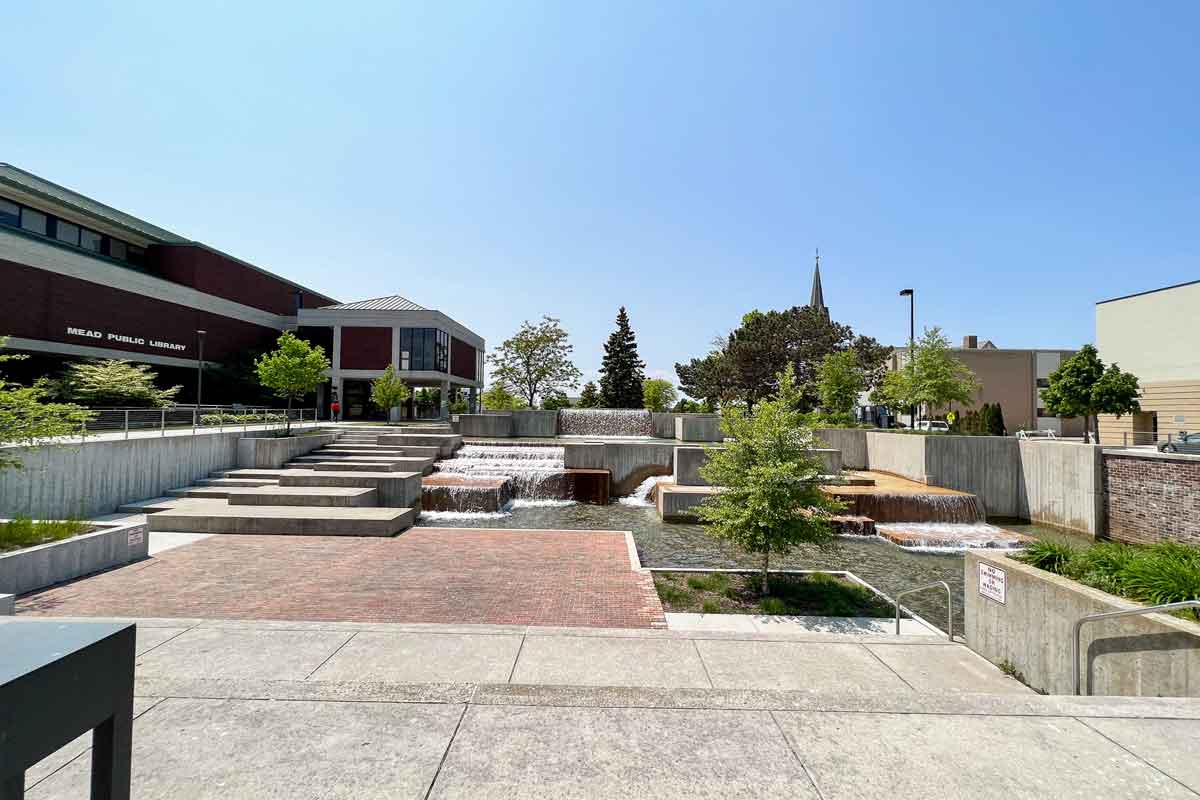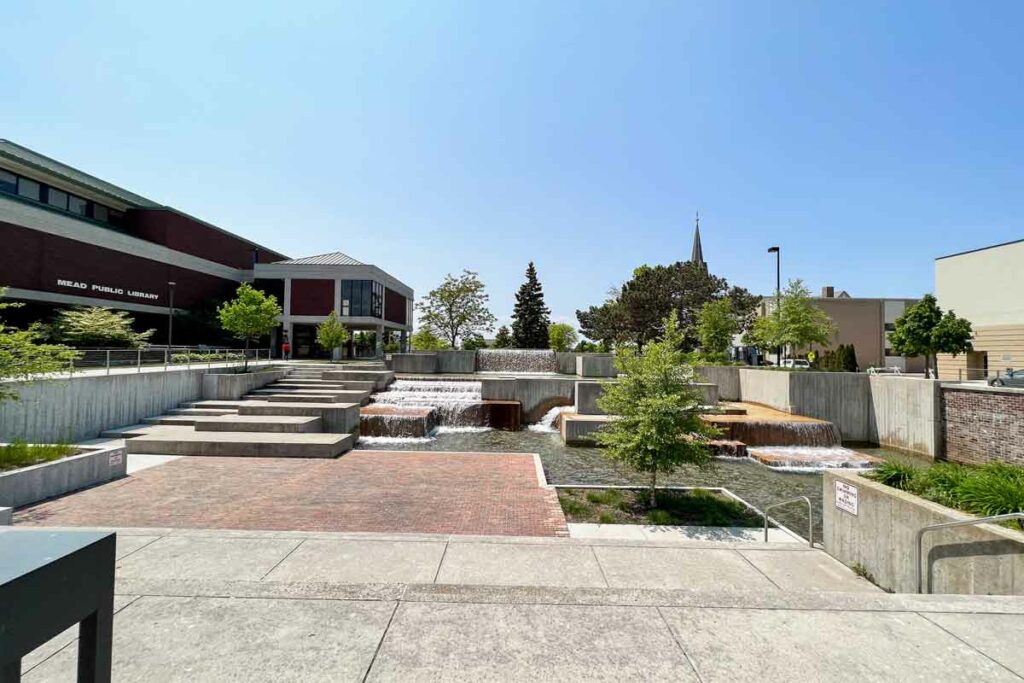 Downtown Sheboygan
Sheboygan has a charming downtown with unique shopping, dining, street art, and entertainment!
Some of our favorite family-friendly spots downtown:
Above & Beyond Children's Museum
John Michael Kohler Arts Center
Mead Public Library – The outdoor water fountains are perfect for a picnic or people-watching.
Fountain Park – (summer farmer's market on Wednesdays and Saturdays)
Stephanie Weill Center for the Performing Arts – home of local performing arts groups, including the Sheboygan Symphony Orchestra, live performances including theatre, music, dance, and movie showings.
Paradigm Coffee & Music – A cozy little downtown spot for food, coffee, drinks, and music
Mini Mocha Play Cafe – an indoor playspace designed for kids ages six and younger
The Victorian Chocolate Shoppe in Sheboygan is a charming little candy store. With over 80 varieties of homemade hand-dipped chocolates as well as a large selection of nostalgic candy and sweets, there is a treat for everyone!
City Bakery for a baked treat! Home to Sheboygan's exclusive hearth-baked hard rolls and bread, authentic Fleishbrok, Bavarian pretzel buns, and fresh pastries.
Il Ritvrovo for wood fire pizza – 5th Certified Vera Pizza Napoletana member in the United States. Slow-fermented dough, fresh mozzarella made from Wisconsin curd daily, air-shipped Bufala mozzarella, and San Marzano tomatoes kissed by the sun and the sea at the base of Mount Vesuvius. Seasonal and sustainable ingredients with Italian methods to achieve the essence of Neopolitan pizza.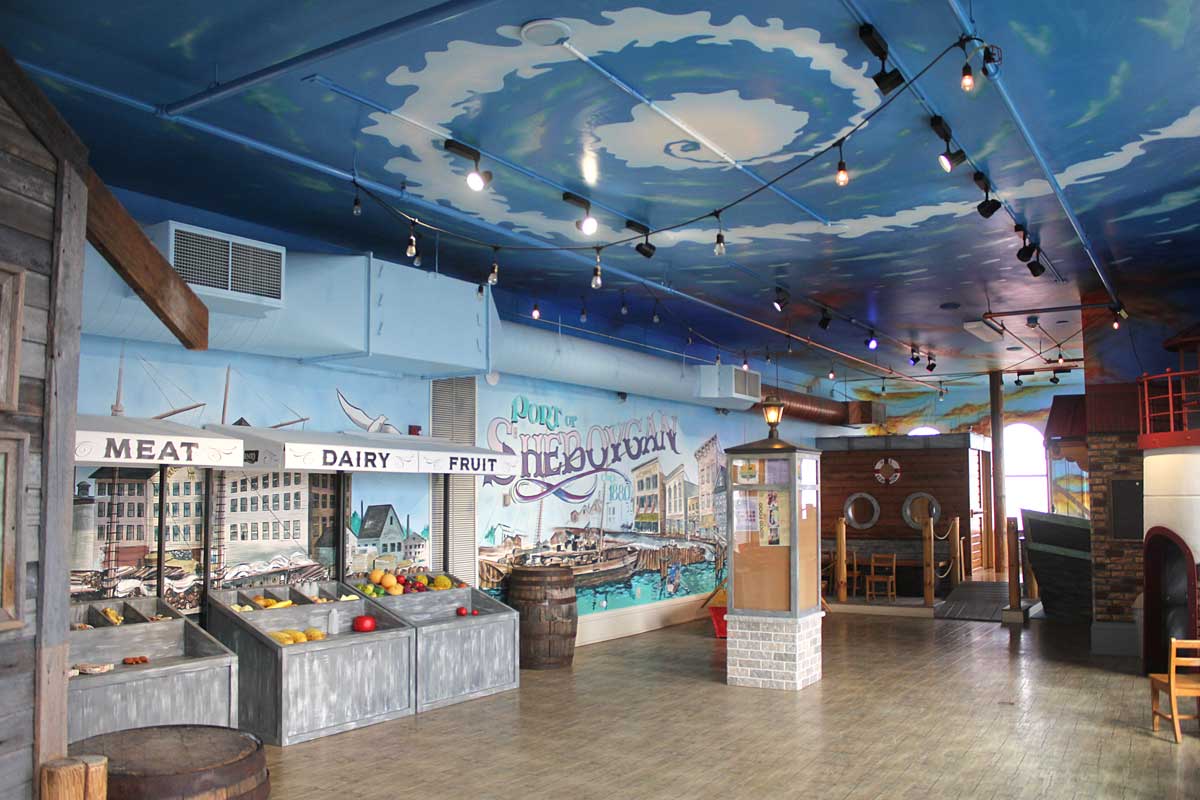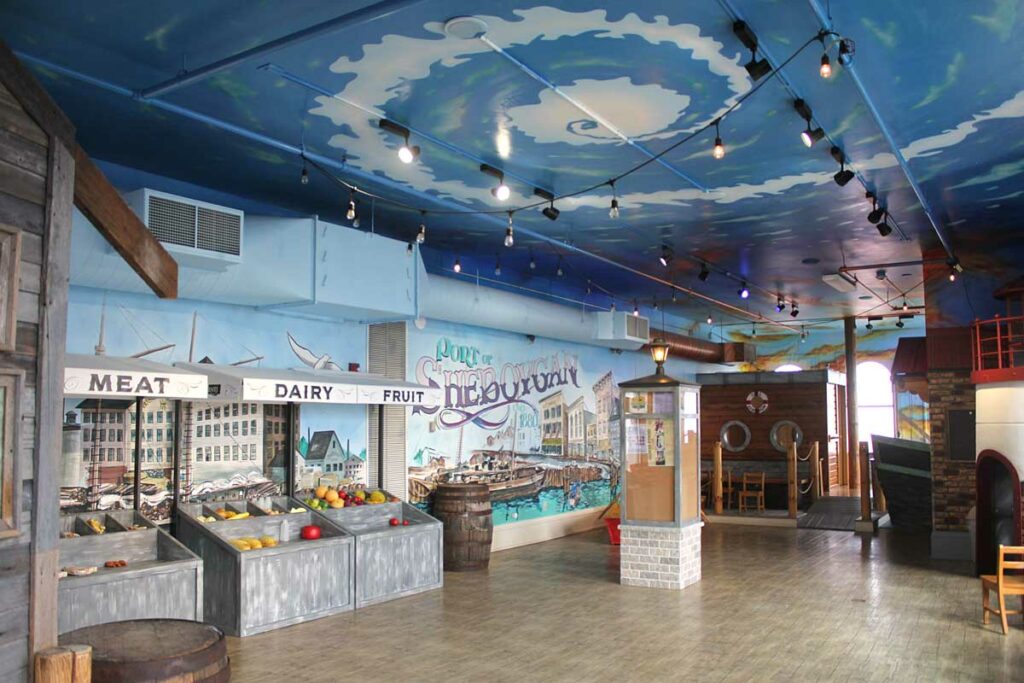 Above & Beyond Children's Museum
Above & Beyond Children's Museum, one of many children's museums in Wisconsin is a fantastic place for kids and their grownups to play (and learn). The museum offers an array of interactive exhibits that are both educational and entertaining. Kids can learn about science, art, and history while adults can play along too!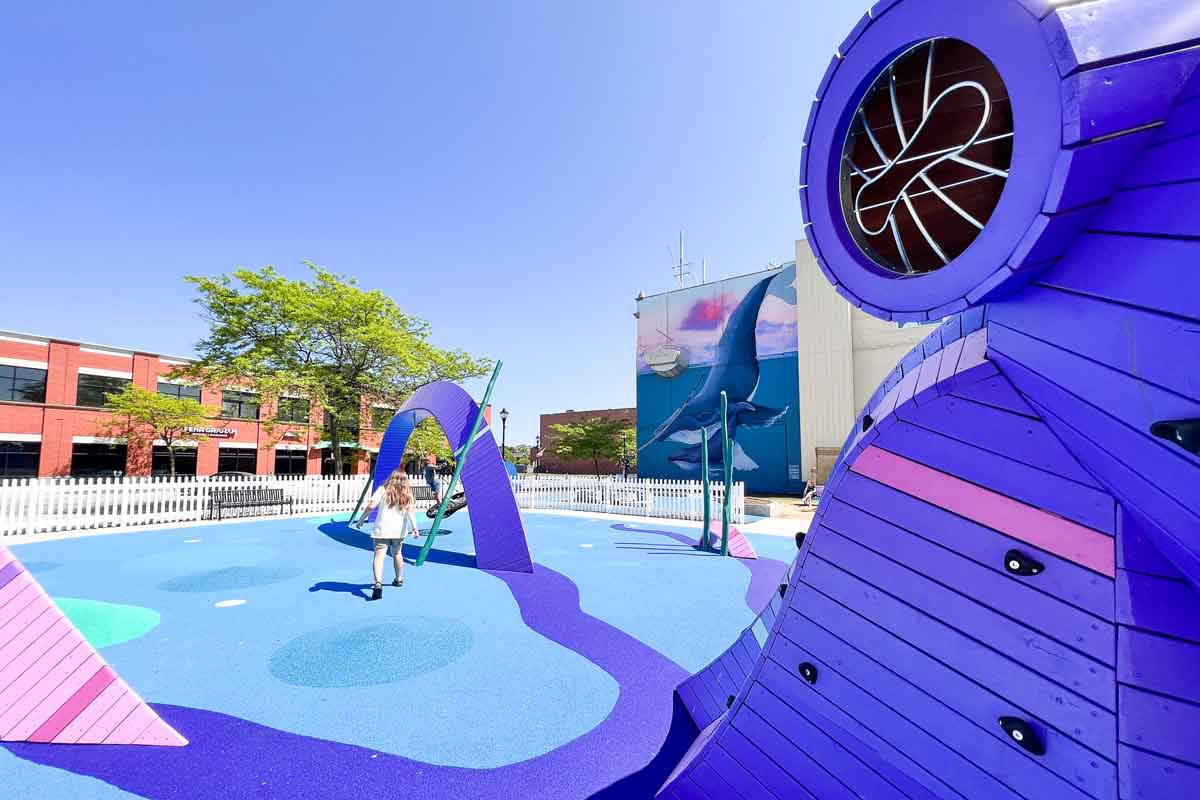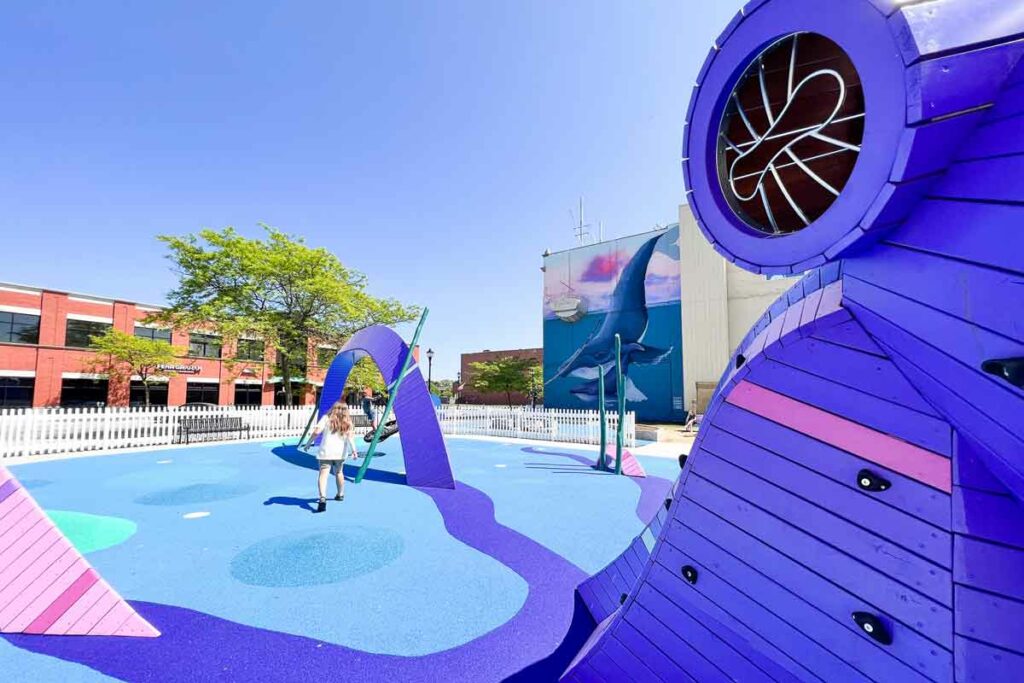 There is so much to explore in this children's museum! A grocery store, a doctor's office, a toddler play area, a hand-carved, animated circus display, a fire truck, a schoolhouse, a lighthouse, and more!
The newest addition to the museum is an octopus-themed park outside. This unique playground has rubberized ground and a fun climbing structure and swing. Make sure to get a picture in front of the beautiful whale mural on the side of the museum's wall.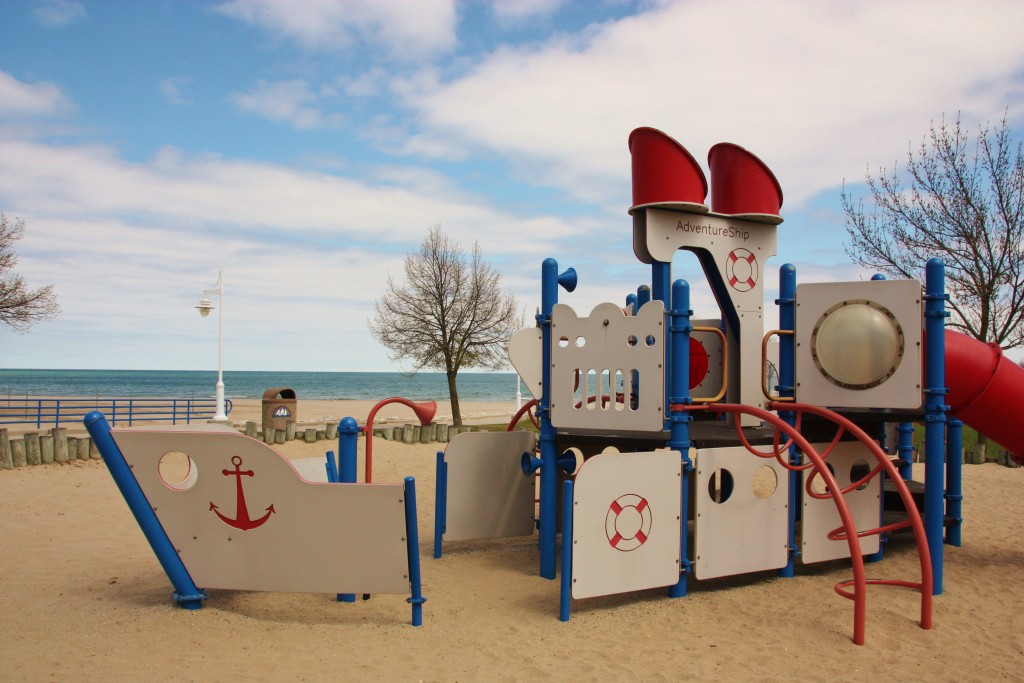 North Beach & Deland Park
The beach on the north side of town has a park, a nautical-themed boat playground right on the sand, volleyball courts, a long pier with a lighthouse at the end, a boat launch area, pavilions, and a walking trail.
Located off Deland Park on the harbor's north break wall, make sure to walk out and snap a picture of the Sheboygan Breakwater Lighthouse! Built-in 1915, the lighthouse stands 55 feet tall. The lighthouse can be viewed from the shore or by a stone and concrete breakwater pathway.
The Lottie Cooper was constructed in 1876 and tragically sank in a fierce storm nearby Sheboygan Harbor in 1894. She represents one of approximately 10,000 vessels that have disappeared in the Great Lakes, with 700 sinkings specifically in Lake Michigan and 62 around the local Sheboygan area. The shipwreck was discovered before building the marina and is now exhibited at Deland Park. Enjoy a self-guided or guided tour.
Check out the mural located on the restroom shelter at Deland Park on Broughton Dr.
If you need a snack, head to Blast Soft Serve! Open in the summer, the ice cream shop serves soft-serve ice cream, Dole Whip, and Slush Puppies. Walk-up service with outdoor seating.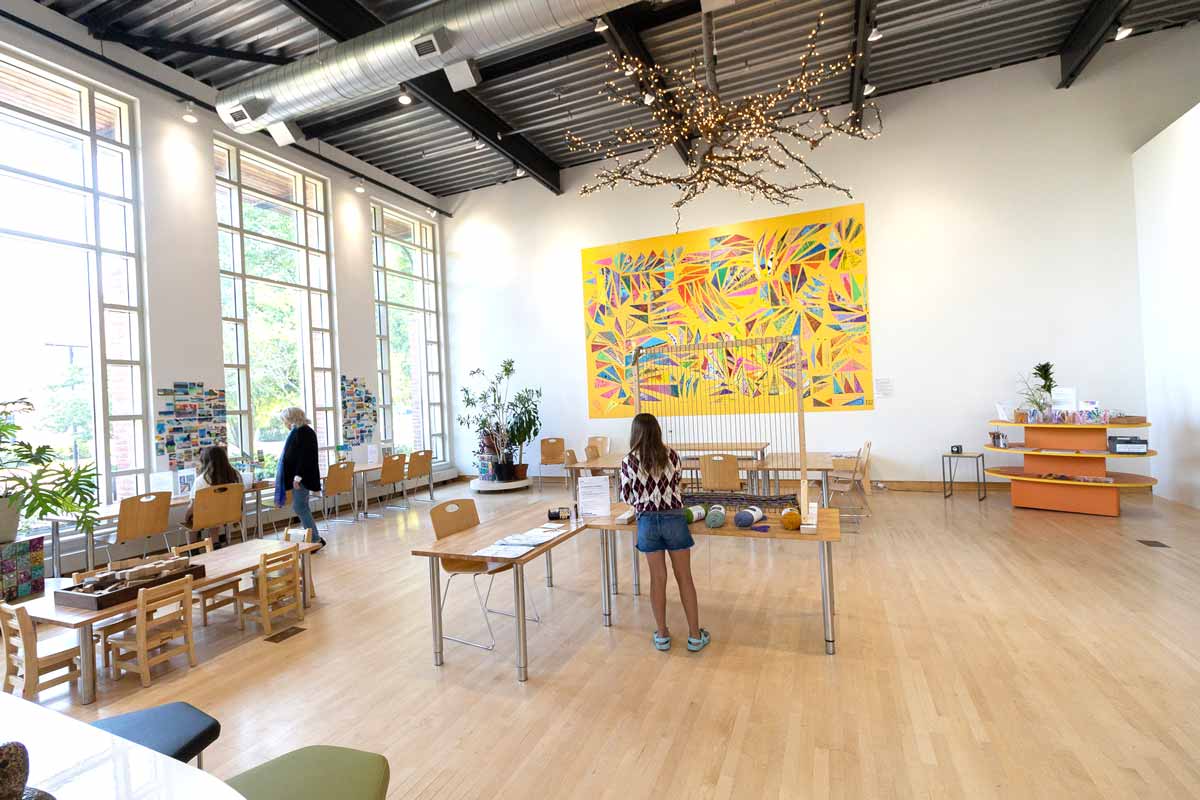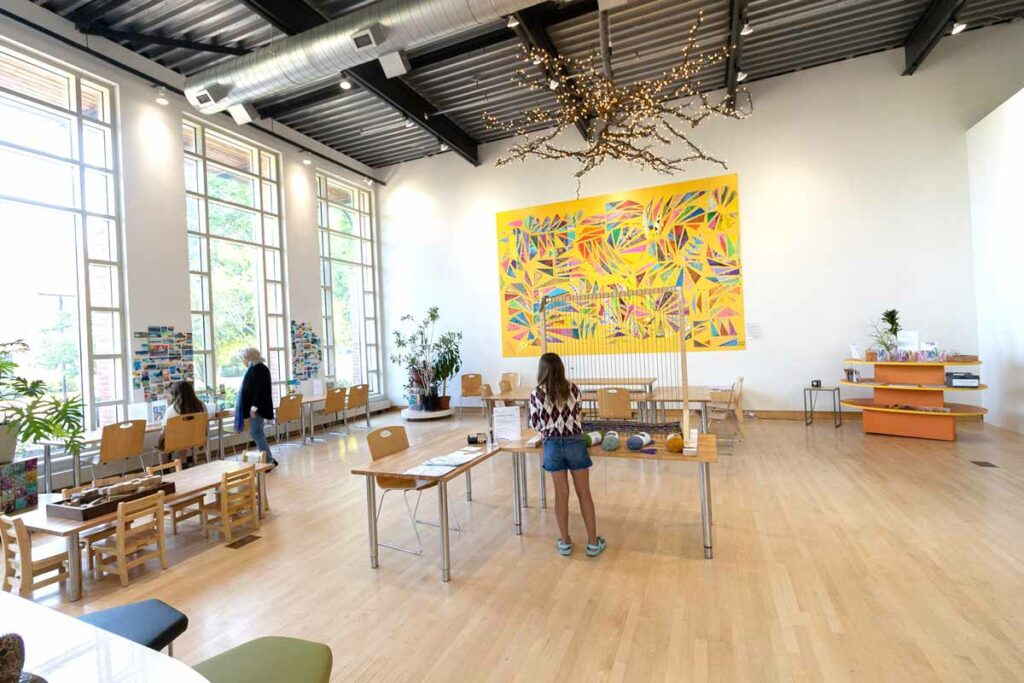 John Michael Kohler Arts Center
The John Michael Kohler Arts Center in Sheboygan is a free art museum showcasing contemporary artwork in a wide variety of media. Founded in 1967, the center has become a major hub of artistic expression in Wisconsin and worldwide. Visitors to the museum can experience everything from painting and sculpture to performance art and music.
The arts center has two locations – the original location downtown and its newest location, The Art Preserve, on the outskirts of town. Both locations are family-friendly and unique. The downtown location has a beautiful hands-on art studio perfect for kids. The Art Preserve has so much to look at and a fun and engaging art journal activity to guide your way through the immersive spaces.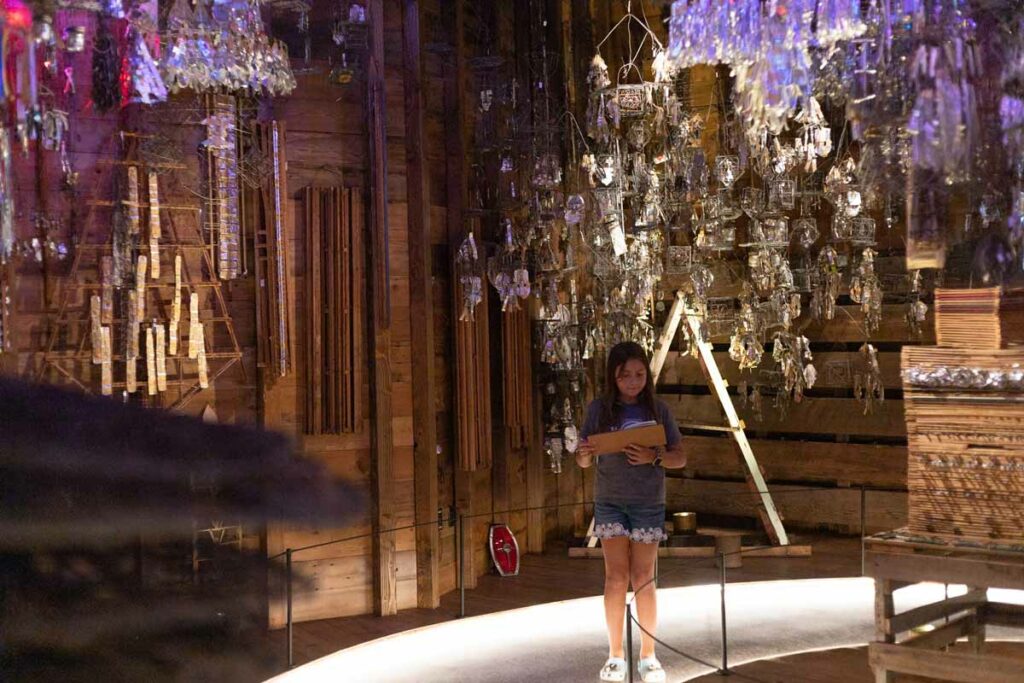 INSIDER TIP: Visit the washrooms! Artists carefully designed the bathrooms, and are also works of art. "America's best bathrooms," according to ABC's Good Morning America.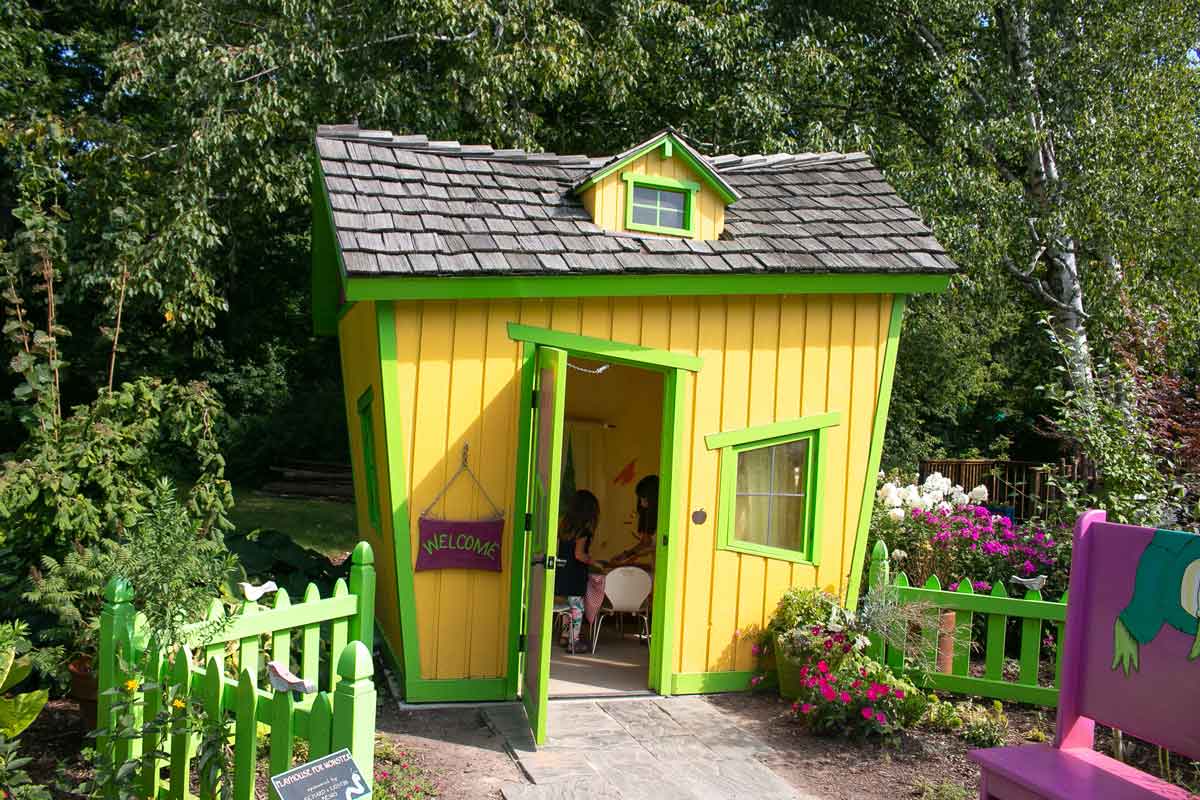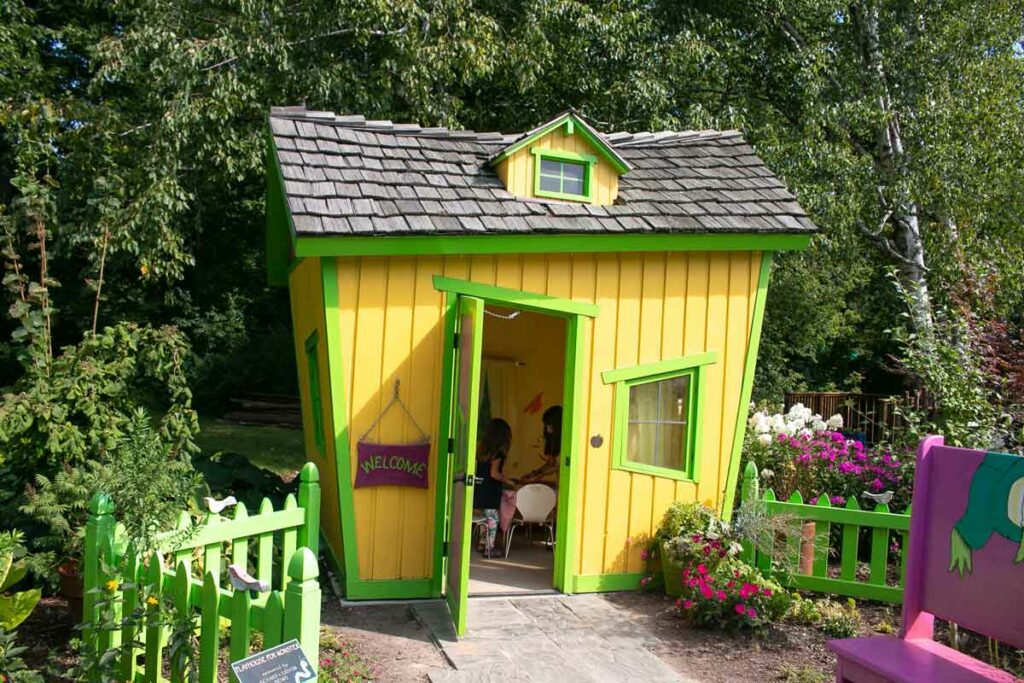 Bookworm Gardens
Bookworm Gardens in Sheboygan is a playful 7.5-acre botanic garden inspired by literature, the natural world, and the imagination. Walk through and explore whimsical gardens based on favorite children's books, such as "Winnie the Pooh", "The Magic School Bus" and "Charlotte's Web," and participate in hands-on activities and programs that promote literacy and the love of reading. Grab a book and read a story, dig in the garden, play house, and discover hidden treasures. Find new adventures with every visit!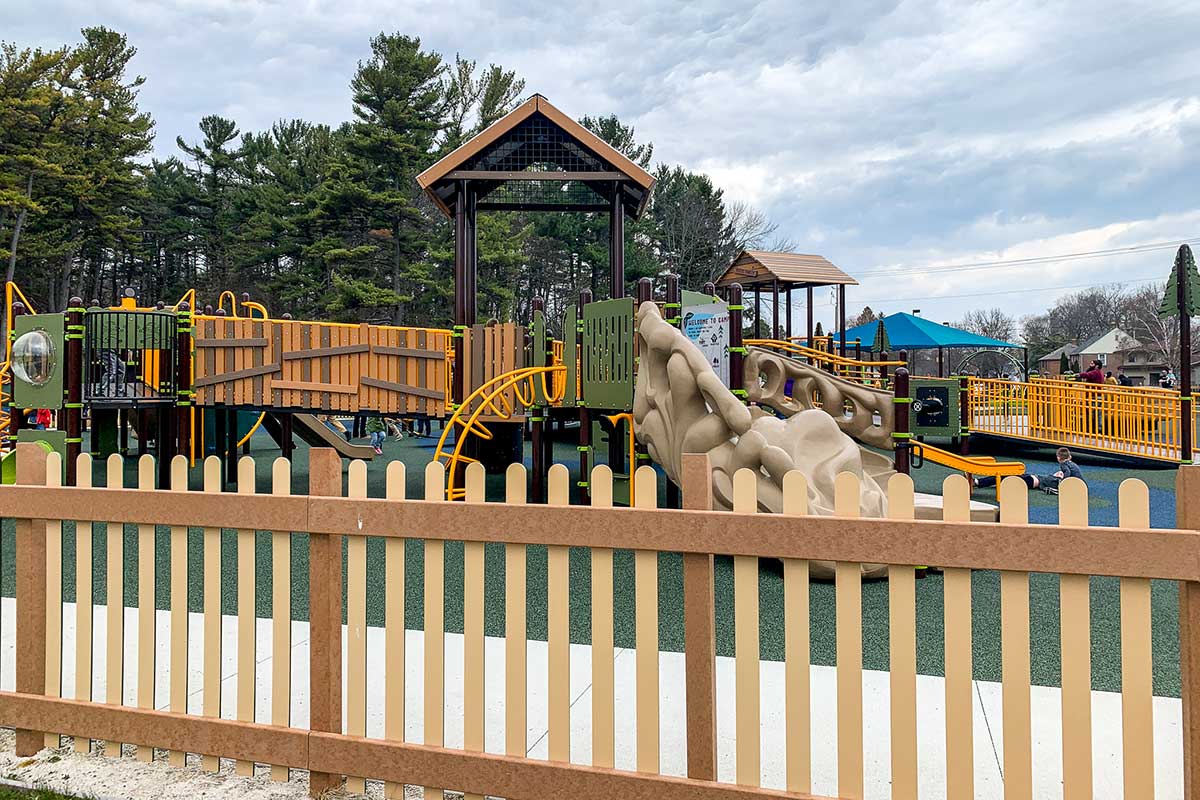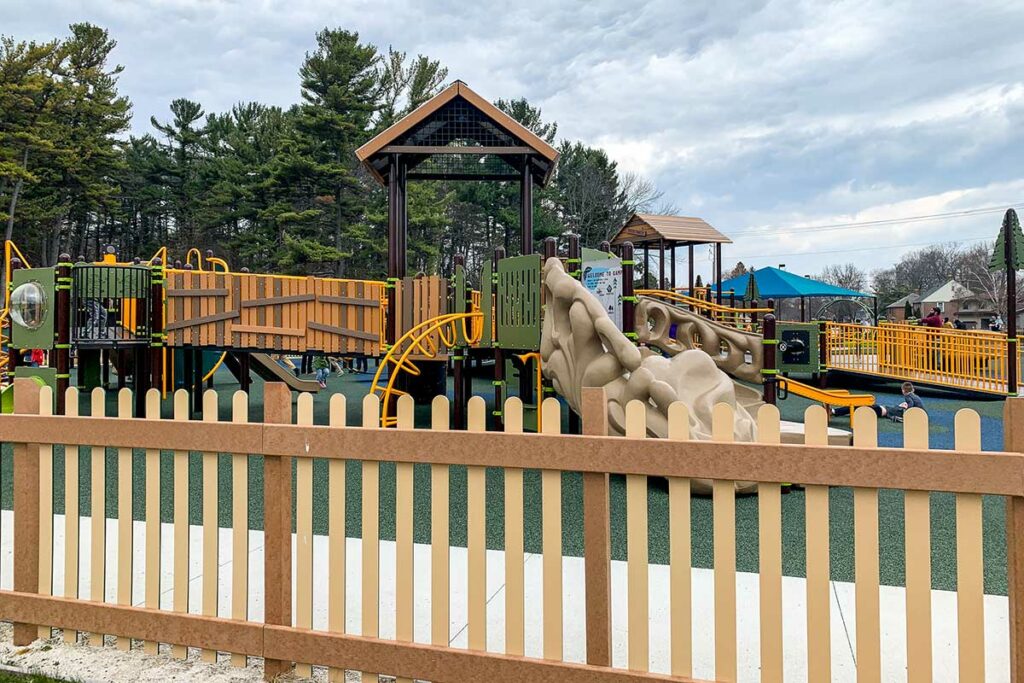 Shaw Family Playground
The Shaw Family Playground is unique as it is the only fully accessible park in Sheboygan. Started by a local couple, Ryan and Angie Shaw, the family began fundraising for a playground after Angie gave birth to conjoined twins Mateo and McHale in 2006. In September of that year, a team of 65 medical professionals spent 19 hours separating the spinal cord the boys shared. Now the boys are healthy, in school, and have friends they want to share a playground and park with. This park is perfect for working off some energy with the kiddos.
The fully accessible ADA playground includes:
Cozy Dome – allows over-stimulated children, especially autistics, to "take a break"
Sway Fun – allows two children who use wheelchairs to share a glider with non-disabled friends
Omni Spinner – children of all abilities to play alongside each other and "spin."
Oodle Swing – large enough for 4 to 6 children, with transfer points for wheelchair or walker
Multiperson See-Saw – 4 seated positions with backs – wheelchair/walker transfer accessible
Hand-Level Play Components – creating hand, eye, and fine motor skill practice
Raised Sand Tables – sandbox fun for children in wheelchairs or walkers
Sand Digger – allows children who use wheelchairs to dig in the sand with their peers
Roller Table – children of all abilities can experience the fun of a roller pin table
Transfer Platform Slides – a triple-high slide with multiple transfer stairs/platforms
Musical Components – therapeutic, multi-sensory play for all
Braille Panels – for sensory interaction with people with little or no vision
Accessible Zipline – allows the mobility impaired to race a peer or family member beside them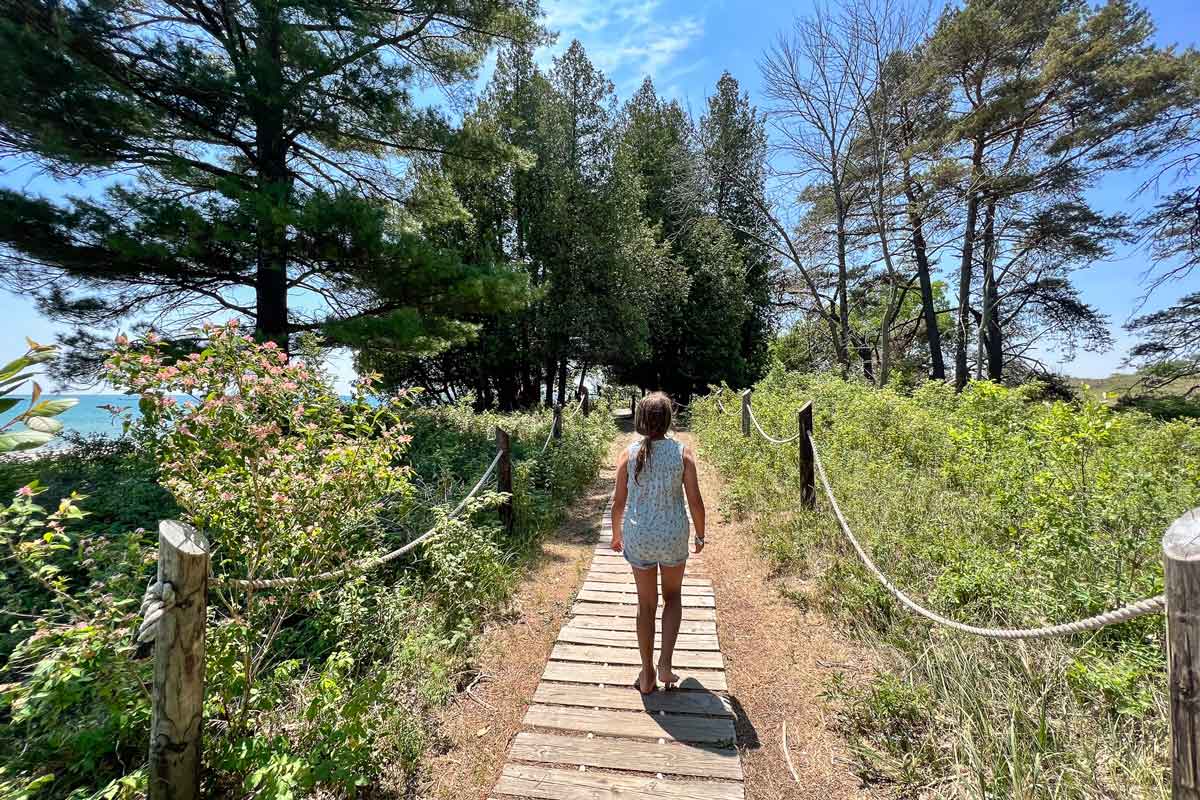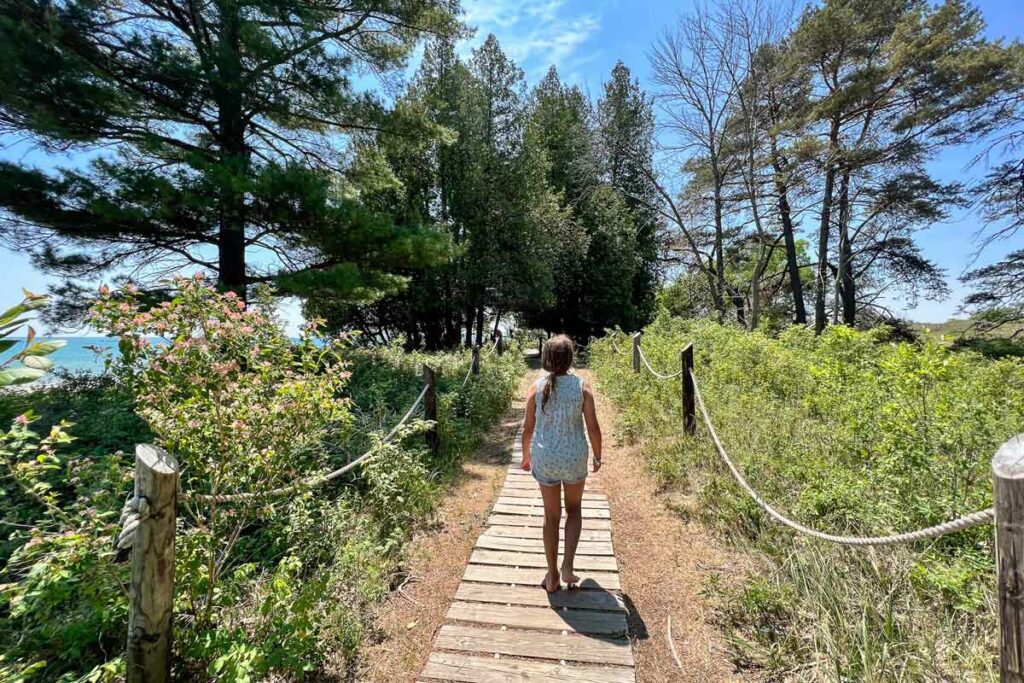 Kohler-Andrae State Park
Kohler-Andrae State Park is one of our favorite Wisconsin State Parks near the Fox Cities. This beautiful state park sits on the shores of Lake Michigan and is best known for its sandy beaches and cordwalk (like a boardwalk but above sand) through the dunes.
The Kohler-Andrae State Park is truly a place out of a fairytale with majestic sand dunes, miles of golden beach, and fun for the whole family. It is one of the last natural preserves along the Lake Michigan shoreline, and you can camp at lakeside sites!
Aside from swimming, hiking is one of the most popular activities in this area. Guests who are looking for a little challenge can attempt the Dunes Cordwalk, a trail that runs parallel to the shoreline. Along the path, enjoy sand dunes, dry-mesic white pine forests, and wetlands.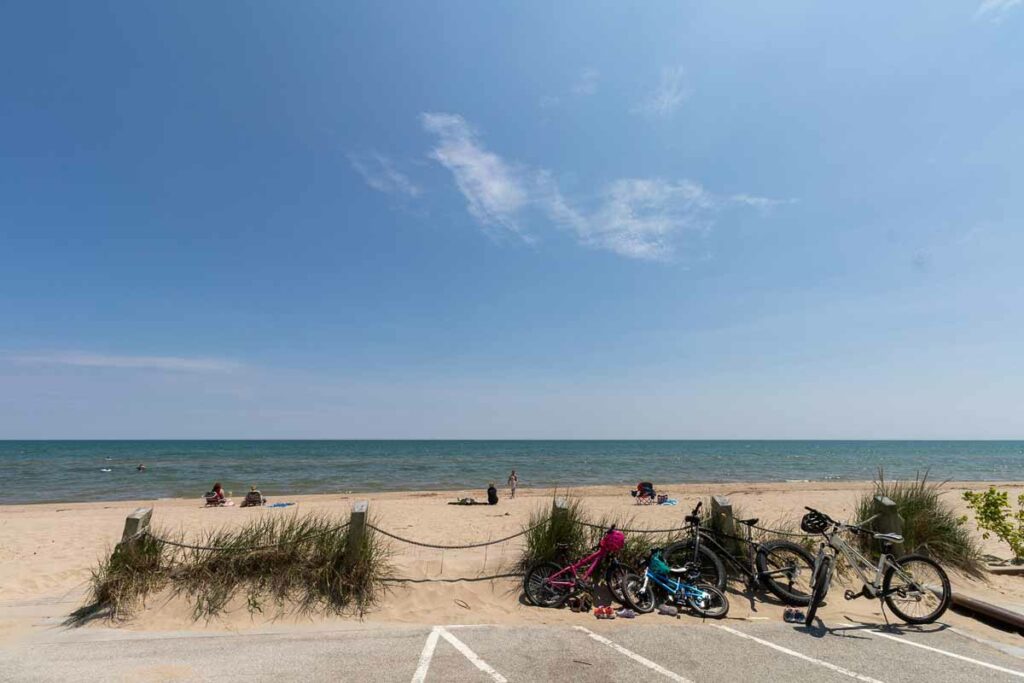 Those looking to spend a day exploring and embracing nature can visit the Sanderling Nature Center, part of Kohler-Andrae's wildlife refuge. Kiddos will learn about animals, plants, sand dunes, and the park's history. The gift shop also offers field guides, patches, treats, and other surprises!
PRO TIP: This state park can get pretty busy on summer weekends. We suggest arriving earlier in the day if visiting on Saturdays or Sundays.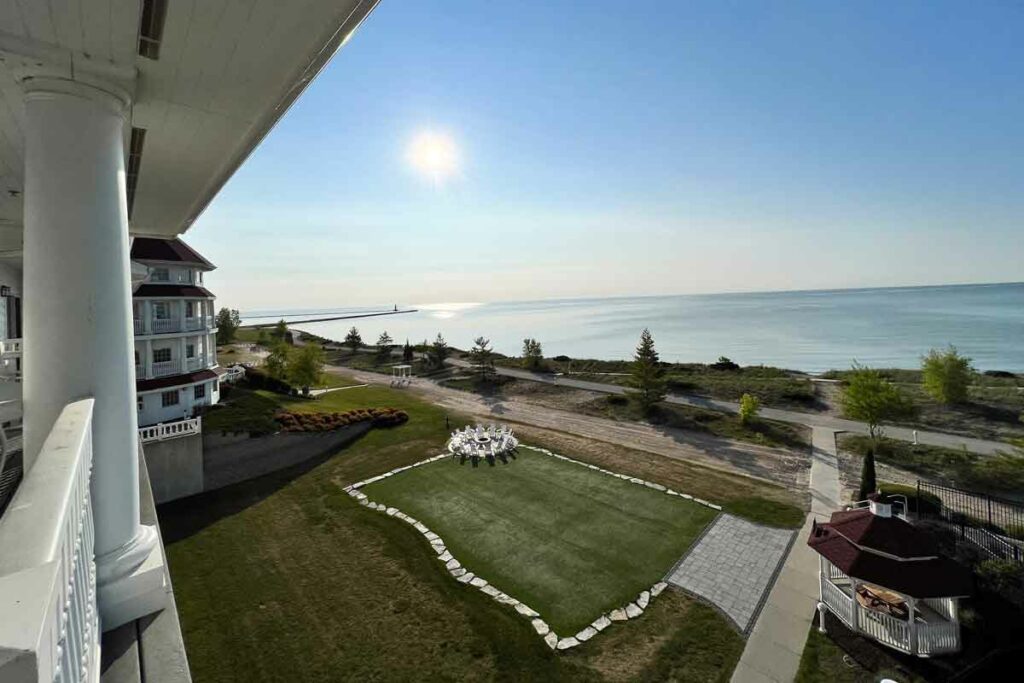 Blue Harbor Resort
Blue Harbor Resort in Sheboygan is a beachfront hotel perfect for families or adult getaways. It's one of the best indoor waterparks in Wisconsin for younger kids.
PRO TIP: Make sure to confirm waterpark hours before booking.
PRO TIP: Ask for the family activity schedule! Kids club activities include special crafts, bonfires with smores, and themed games.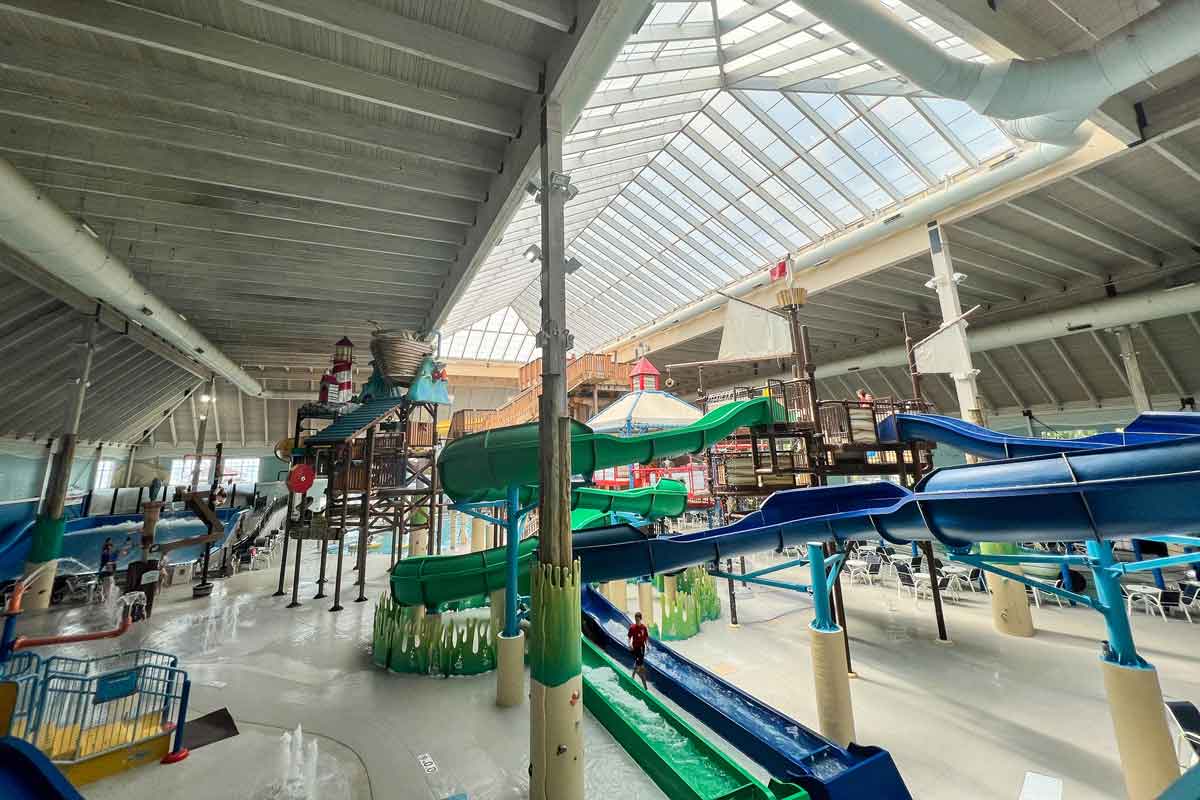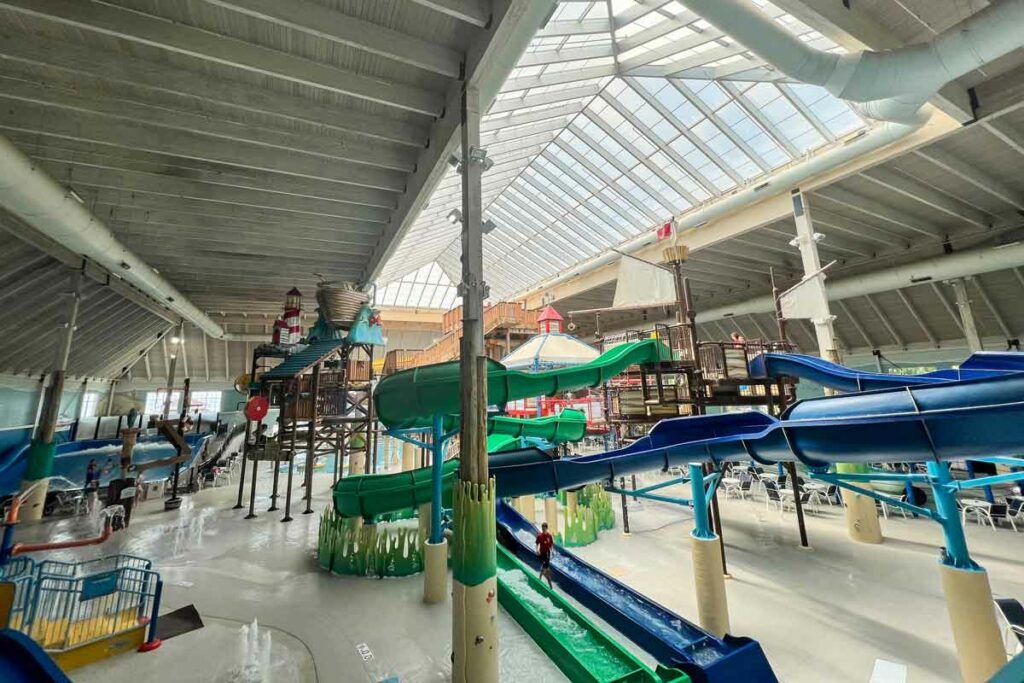 Breaker Bay Waterpark Highlights:
54,000 sq. ft indoor waterpark
3,600 sq ft. lazy river
Giant 1,000-gallon water dump bucket
2 tube water slides and 2 body water slides
12-level play with suspension bridges, cargo nets, and interactive water effects
Toddler Tides for tiny tots to play with a gentle spray, small waterslide, and zero-depth entry
Lilly Hopper recreation pool with floating climbers and basketball hoops
Wisconsin's only double surf simulator
Swimsuit dryers in the locker area
Outdoor pool open during the summer
Blue Harbor Highlights:
Themed guest rooms with balconies
Family-friendly dining in the water park
On-site dining options with a lake view
Pier Fun Zone Arcade
Build Your Own Stuffed Animal Station
Glow in the dark mini golf
Private balconies
Spa Services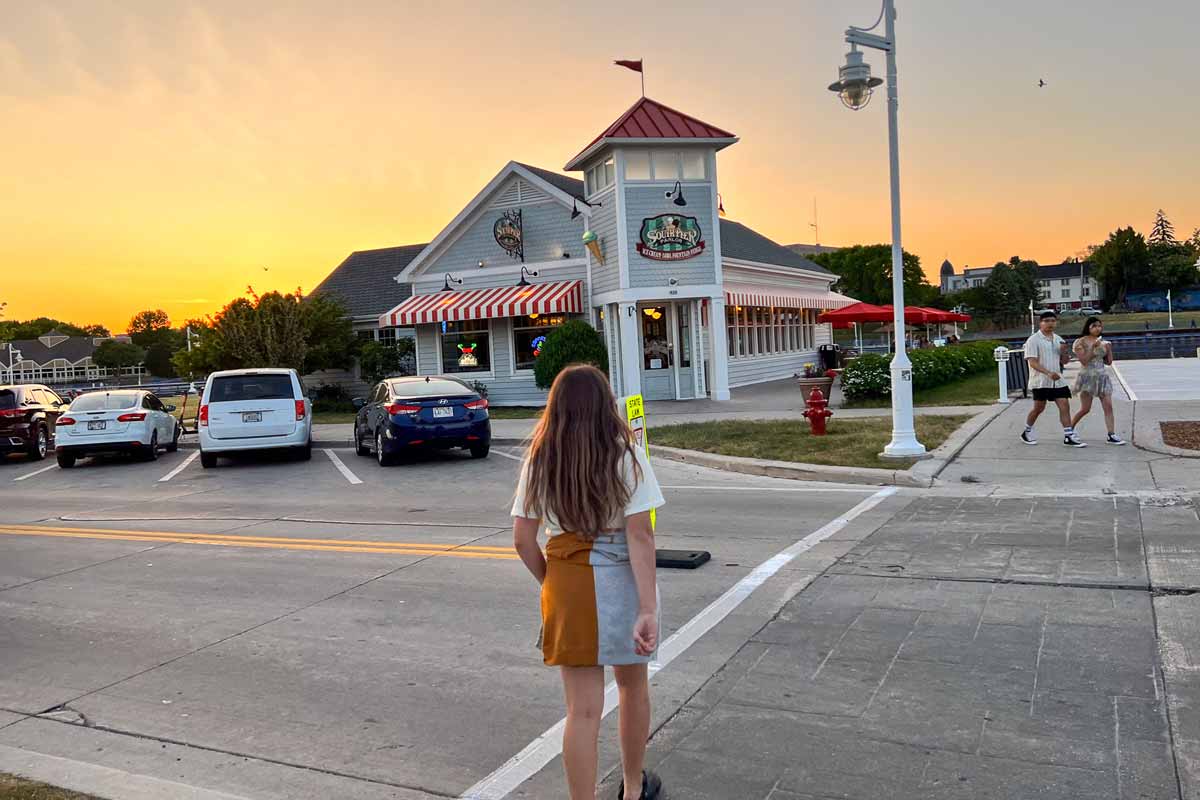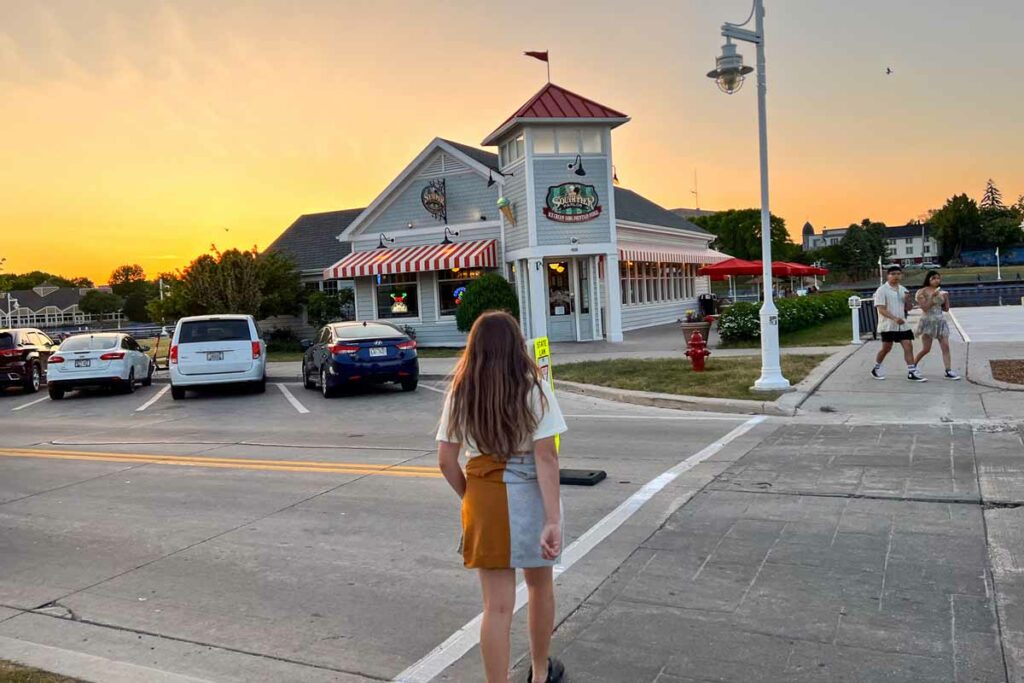 South Pier Parlor is a must-stop destination for ice cream! It's conveniently located across from Blue Harbor Resort and well within walking distance. The classic ice cream shop features hand-scooped ice cream with 32 flavors changing daily, homemade waffle cones, malts, shakes, sundaes, coffee, and homemade fudge. Enjoy your treat inside or from the waterfront picnic tables outside.
PRO TIP: Make sure to look up to see the train while waiting in line!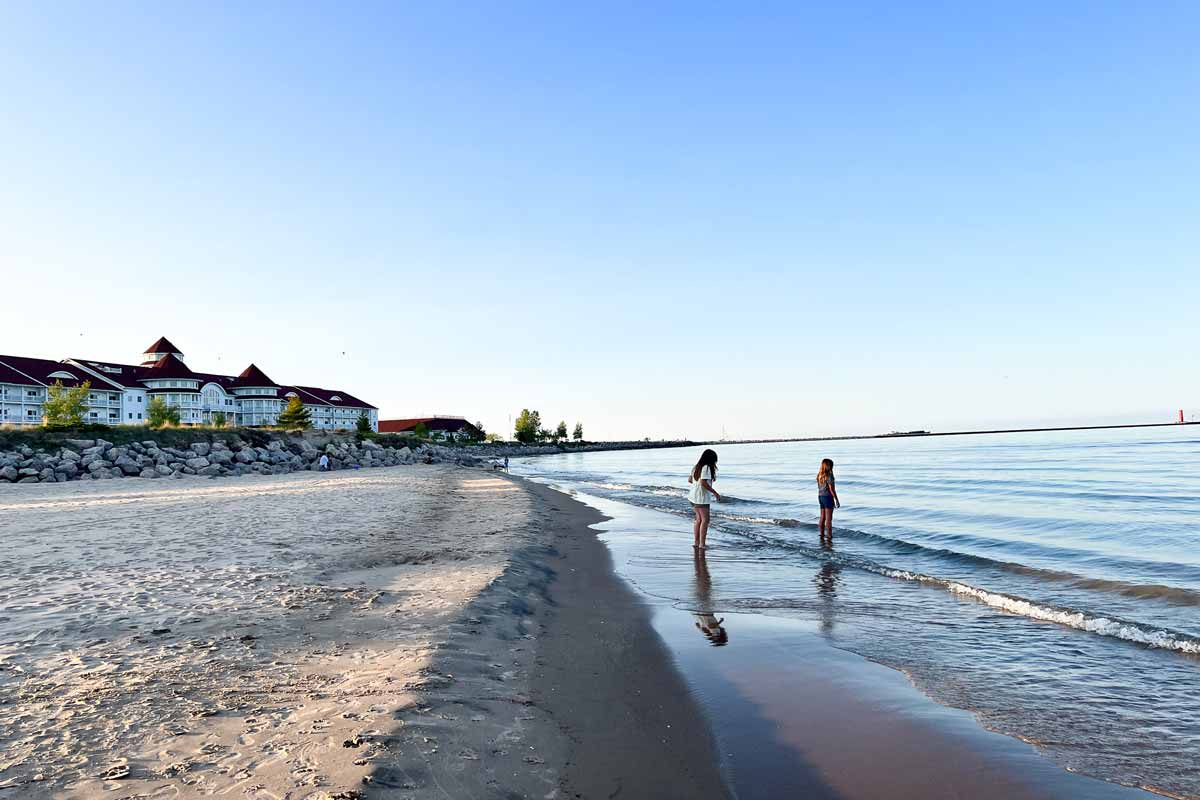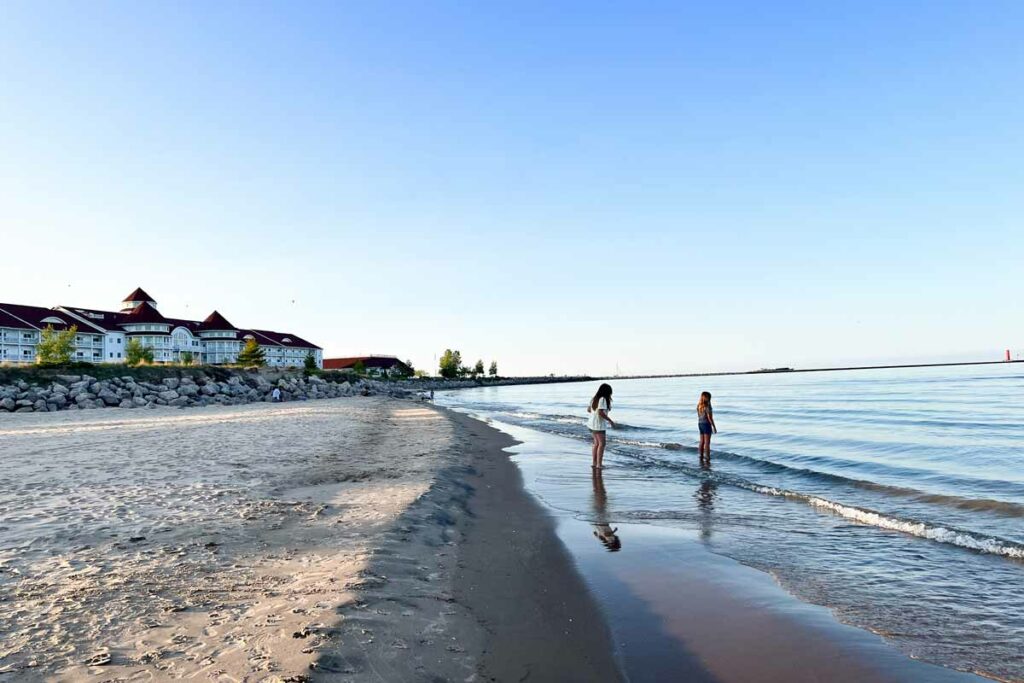 The resort has access to lots of beachfront to enjoy! Connected to King Park / South Beach, this beach is a bit quieter than North Beach and great for swimming and playing in the sand. The beach is open to the public, but no public restrooms exist. It's also a great place for picnics and long walks!
Harbor Pointe Mini Golf is a family-owned nautical-themed 18-hole mini golf course on the waterfront and also near Blue Harbor.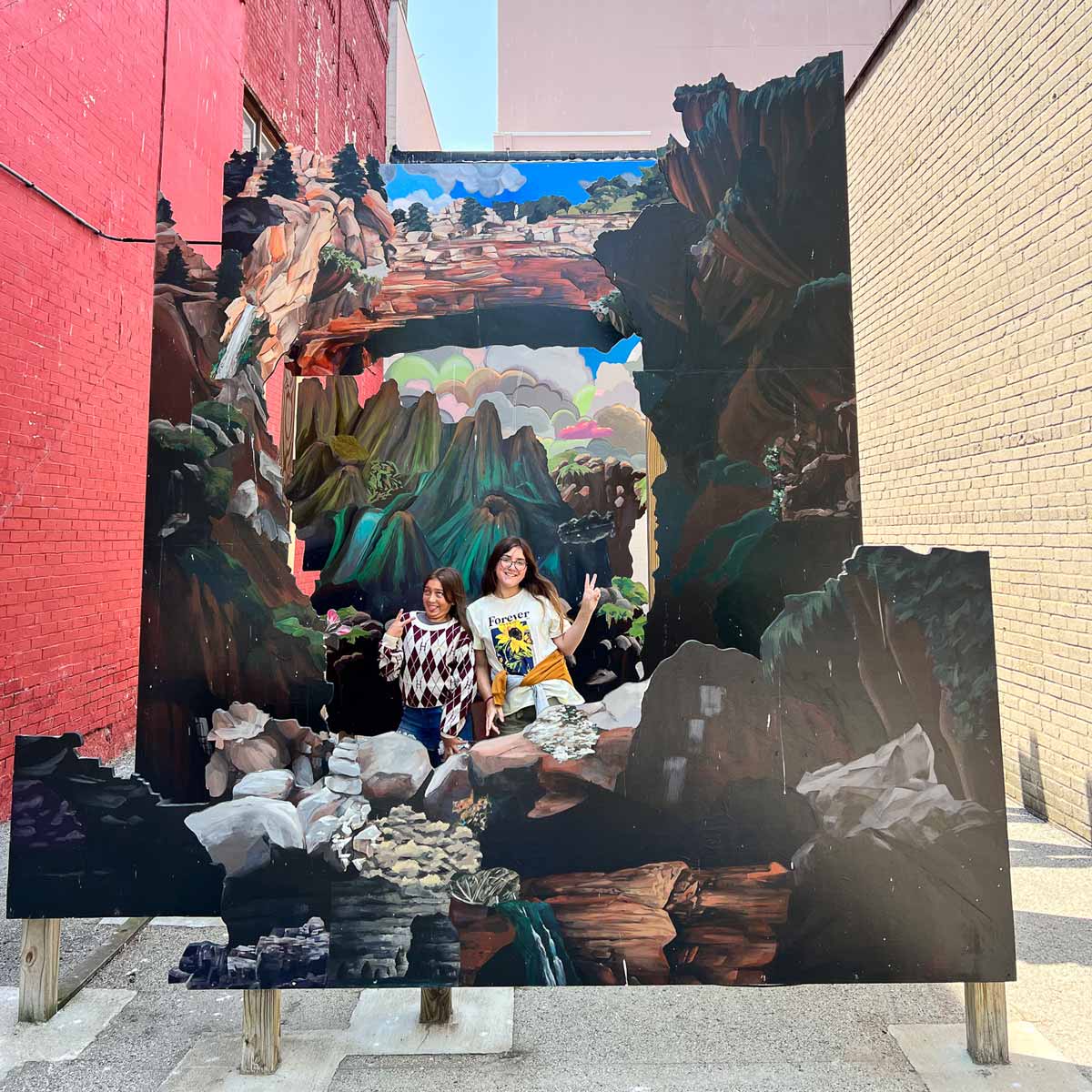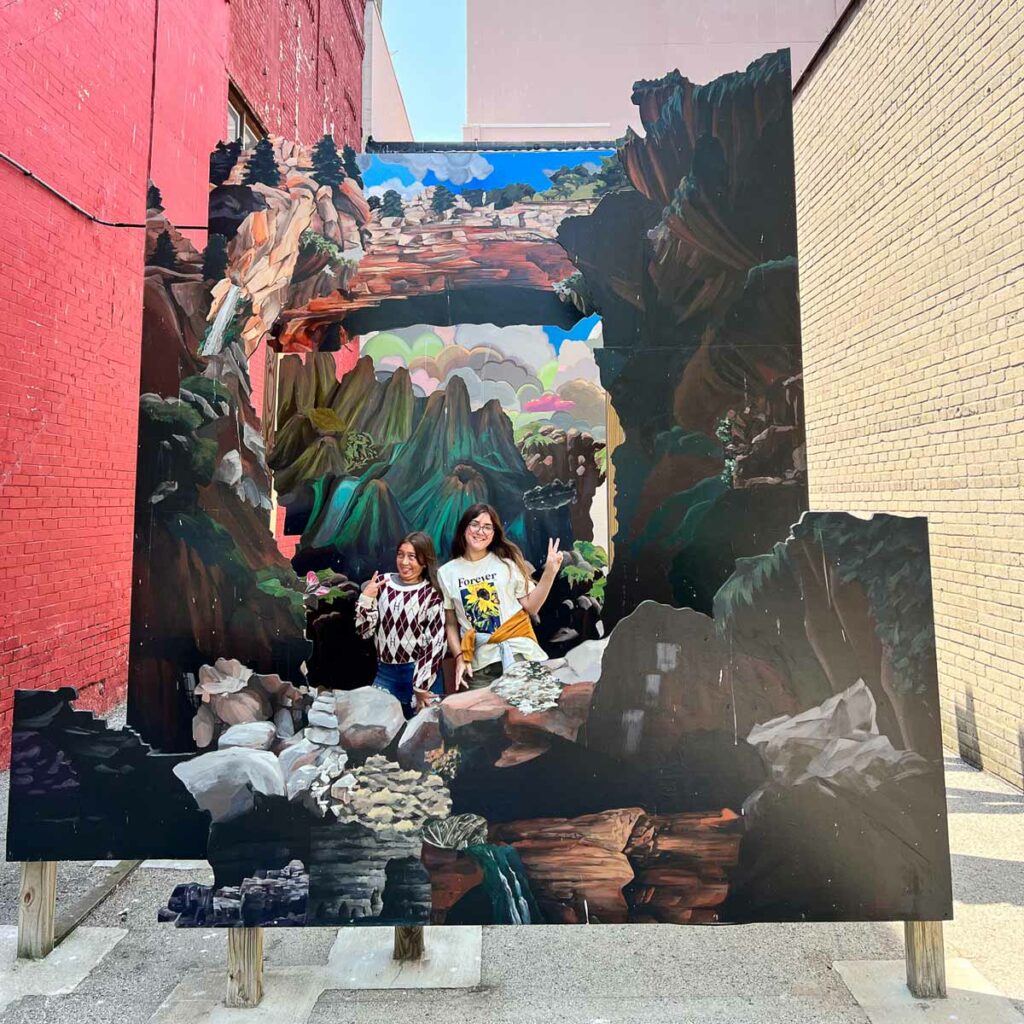 Looking For More Ideas?
Sheboygan Quarry Park & Beach is an inflatable water park for ages 6 and up. The park also offers kayak and stand-up paddleboard rentals as well as lessons.
Vollrath Park is Wisconsin's oldest disc golf course. The 18-hole course is located right on Lake Michigan.
Visit Sheboygan's Visitor's Center, Visit Sheboygan, located at 826 S. 8th St. The center not only offers information on sites, attractions, events, restaurants, and shopping but also features a Sheboygan-centric gift shop with souvenirs and limited pieces produced by local artists.