It's time to hit the open road and head to the beautiful Western border of Wisconsin! La Crosse is nestled right along the Mississippi River on the Minnesota-Wisconsin border and about a 3-hour drive from the Fox Cities. From the amazing views and history of the Mississippi River to the breathtaking beauty of the surrounding river bluffs, La Crosse has plenty of adventure to offer your family on your next road trip. Keep reading for all of the best, family-friendly stops once you arrive! And, if you're looking to add some adventure along your way, make sure to visit some of the beautiful State Parks that western Wisconsin has to offer!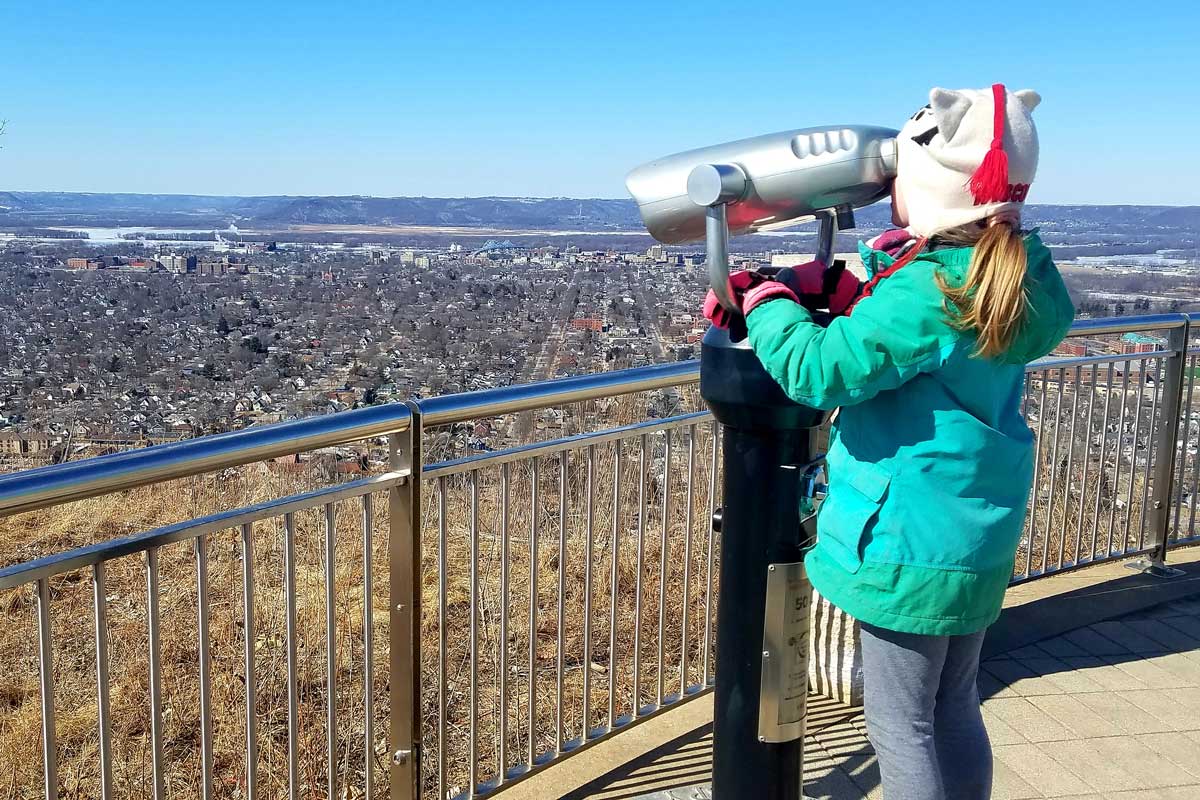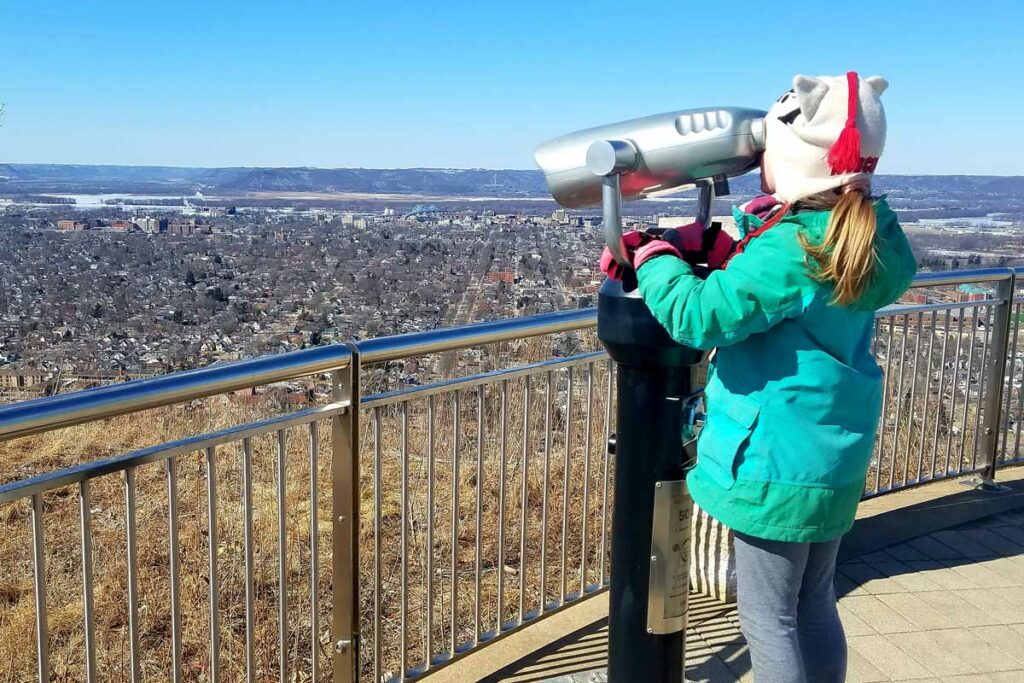 Plan Your Visit: La Crosse, WI
Parking
Great news! Downtown La Crosse is filled with free parking. For this itinerary, we recommend the La Crosse Center Ramp. You can park for free for three hours and $1 for each additional hour payable via the ParkMobile App or cash/card. This ramp is an easy walk to all of the best attractions in downtown La Crosse.
Riverside Park-Downtown La Crosse
Once you arrive, you'll probably want to get out and stretch your legs! Head right on down to the heart of downtown La Crosse to explore the Mississippi riverfront at Riverside Park. You can catch a glimpse of the trestle bridge heading over to La Crescent, Minnesota, and you may even find yourself surrounded by a clan of happy ducks to greet you at the riverside. If you have time, go ahead and take the drive over the bridge to La Crescent, another beautiful river town. If you visit at Christmastime, you won't want to miss the La Crosse Rotary Lights Holiday Display right here at Riverside Park.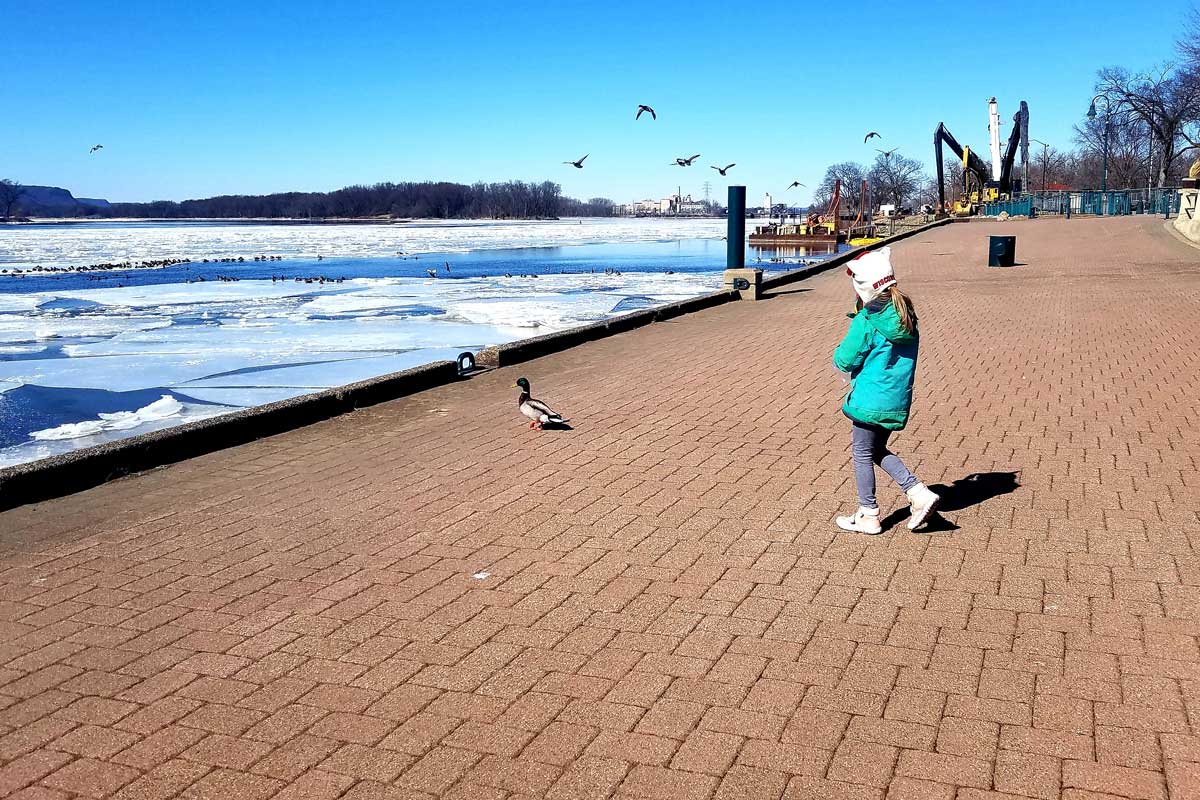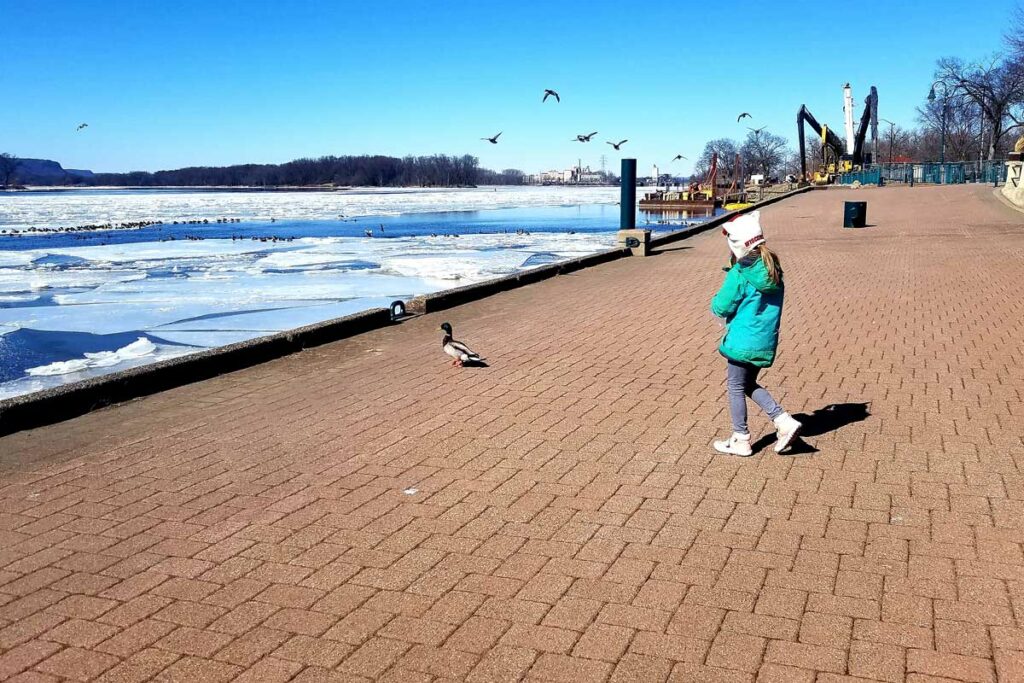 Buzzard Billy's Flying Carp Café
Are you hungry? While La Crosse is home to a handful of delicious restaurants, we recommend Buzzard Billy's Flying Carp Café, located a block off the Mississippi River on historic Pearl St, for a bellyful of mouthwatering New Orleans and American food. From delicious blackened catfish to yummy hush puppies and one heck of a shrimp po'boy, you will definitely not leave hungry. Feeling extra adventurous? Try the gator fingers! Yes, alligator is on the menu here (think chicken fingers only with alligator)! They taste great (not that weird at all!) and make for a fun story when you're back home again, even for the kids. And, they do have some flying carp in the bar area. Check it out!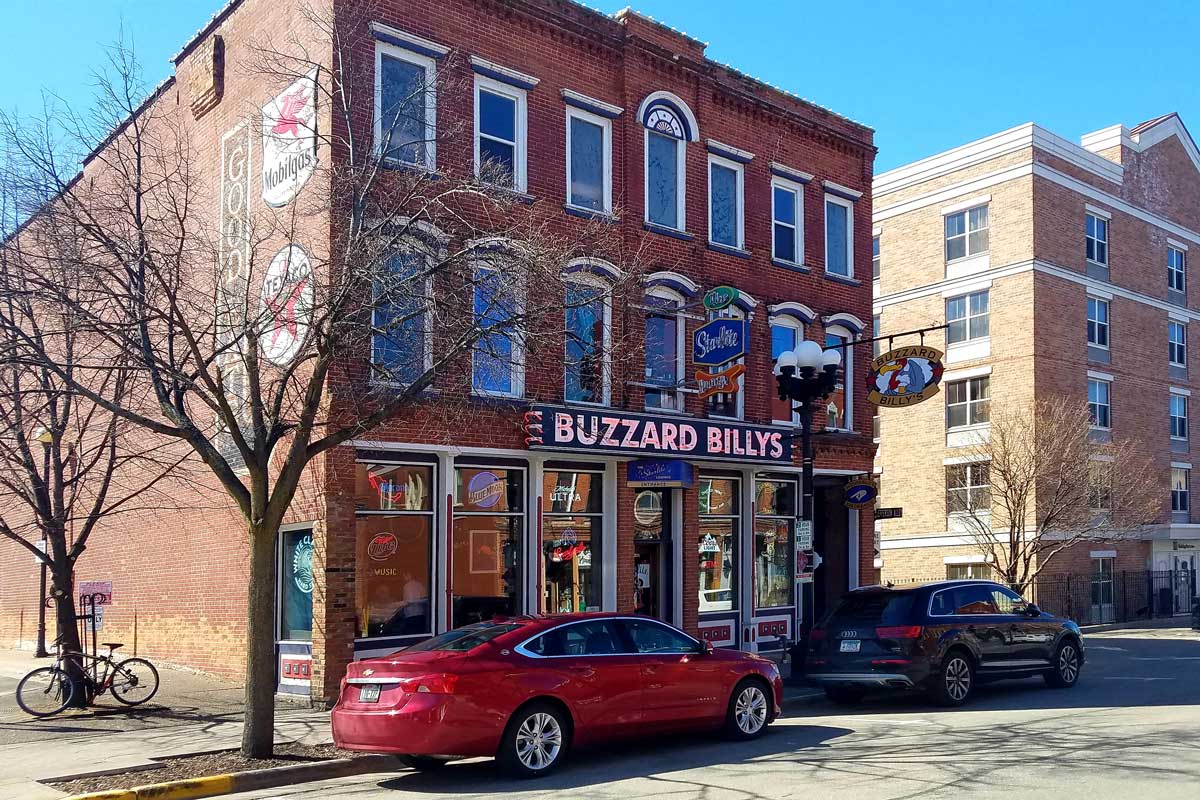 The Pearl Ice Cream Parlor & Confectionery
You just cannot say you've experienced La Crosse as a kid (or adult!) without a visit to The Pearl Ice Cream Parlor & Confectionery! A child's dreamland of sweets and a local favorite, The Pearl is located just across from Buzzard Billy's in downtown La Crosse on historic Pearl Street. Stop in for a scoop of their homemade ice cream, homemade fudge, any candy you can imagine (including some retro candies!), or your favorite coffee drink. Filled with all of the iconic charm of an old-fashioned ice cream parlor and candy confectionery, you'll definitely want to linger and sample some delicious treats here while you're visiting La Crosse.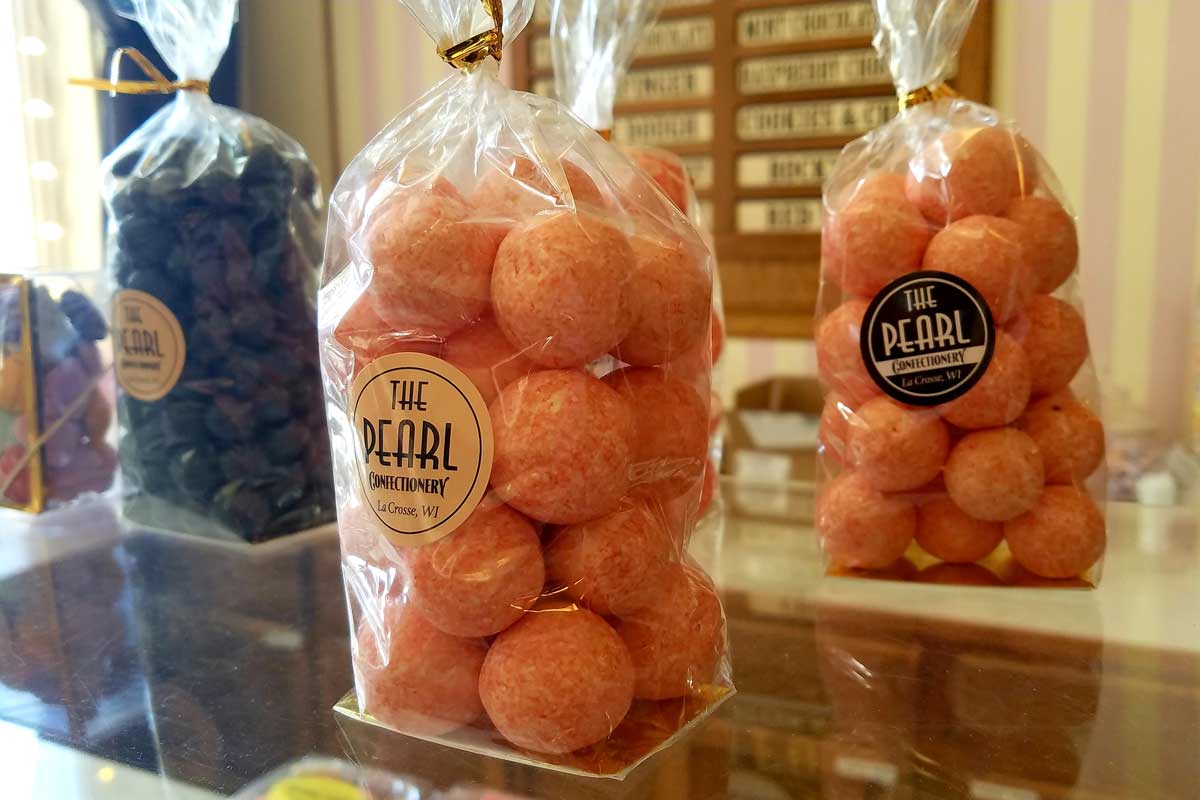 Grandad Bluff
Once your belly is filled with all sorts of delicious goodies, it's time to head out on another adventure! Next stop: Grandad Bluff Park, situated on top of the world! Well, actually, on top of, you guessed it, Grandad Bluff. There are two main ways to access Grandad Bluff: you can head straight up Bliss Road (not kidding!) for a steep ascent up the bluff or head a bit out of town on Highway 33 toward Cashton and follow signs for Grandad Bluff as you drive atop of the bluffs.
Grandad Bluff Park offers breathtaking views of La Crosse, the Mississippi River, Minnesota, and beyond! This has even been coined 'The most scenic view in the state.' Fear not, parents of little ones! The overlook area is well-fenced, but you might want to keep extra adventurous children close by or in a stroller or backpack just to be extra safe. If you're lucky, you might spot a training passing by below or catch a glimpse of a bald eagle soaring about the bluffs. The park includes a warming shelter and bathrooms (open in the warmer months). You simply cannot do La Crosse without a visit to Grandad Bluff!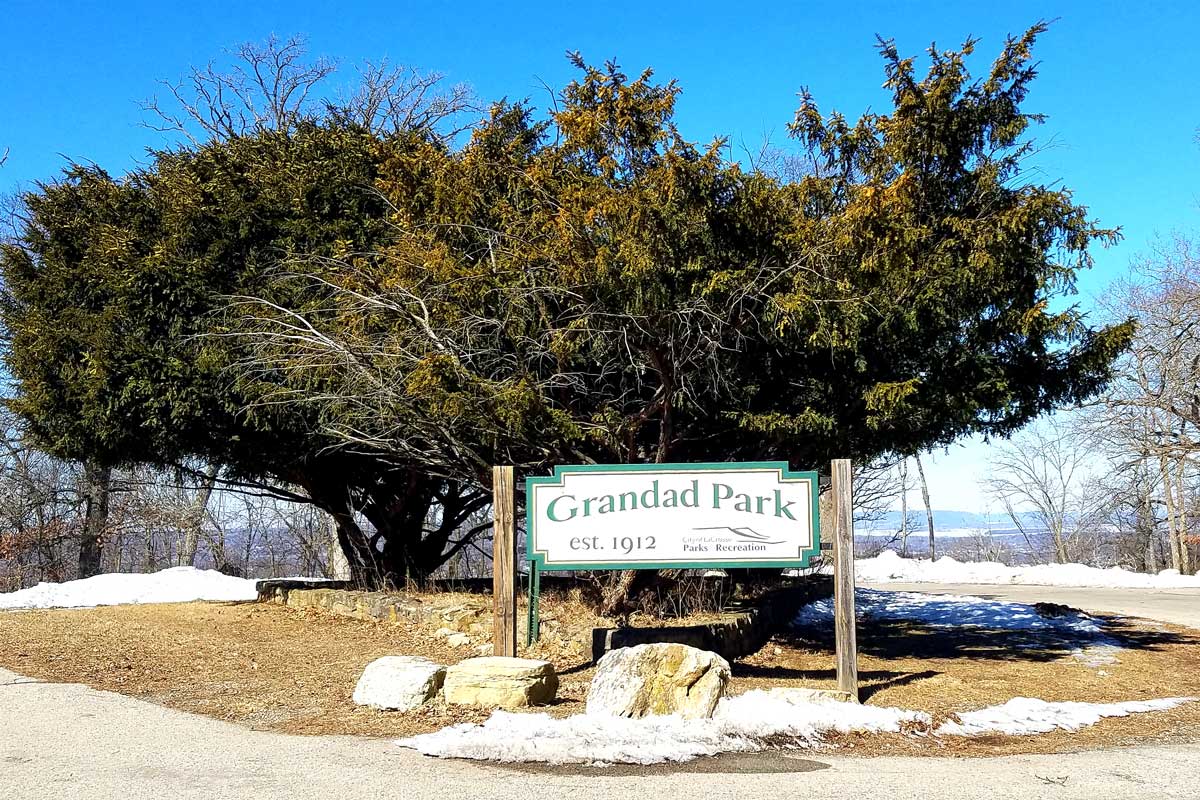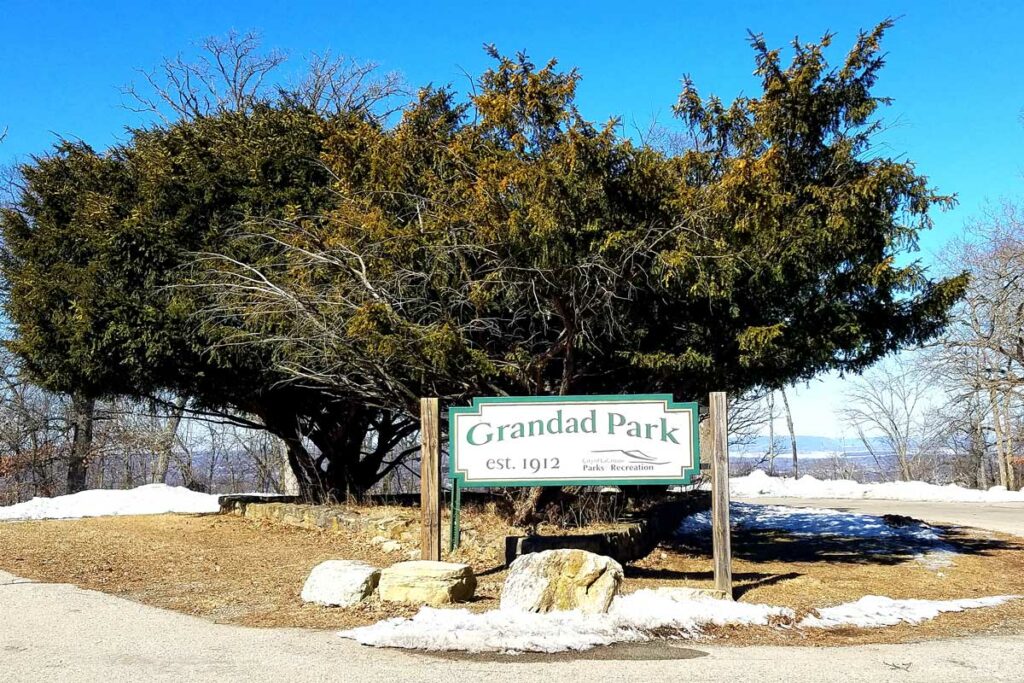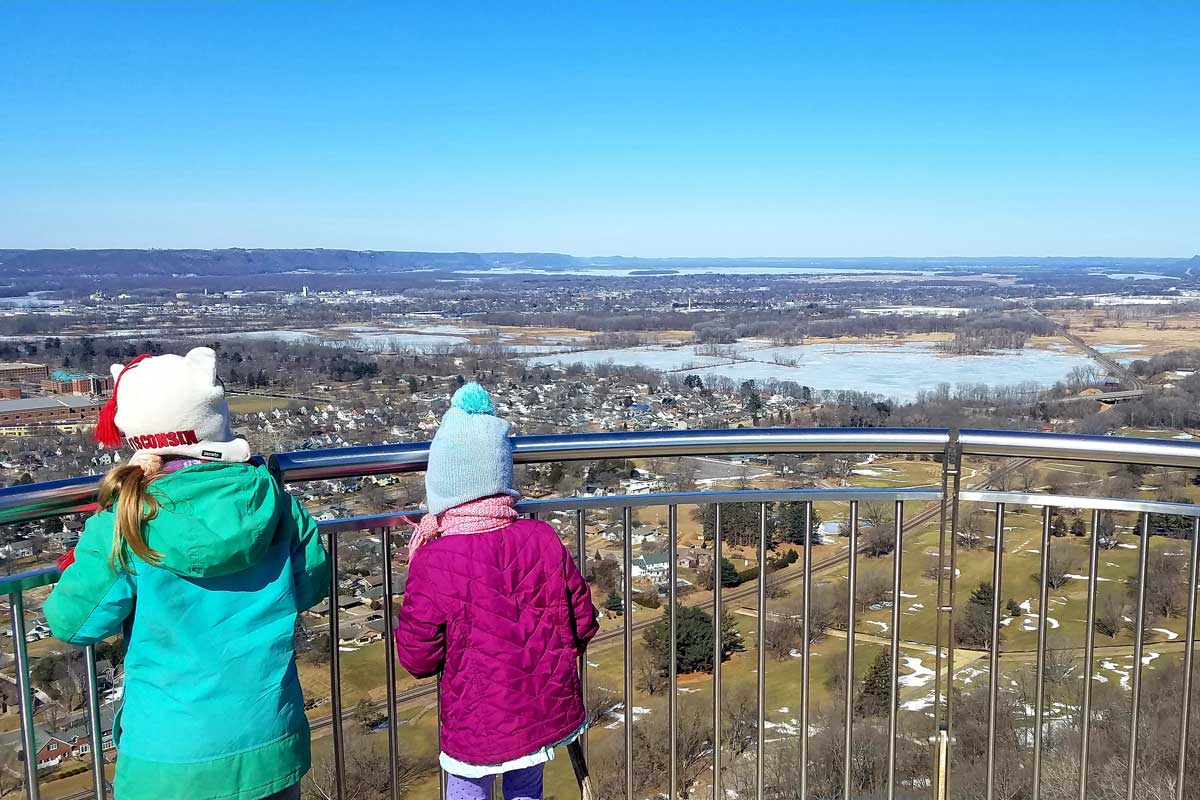 Other Fun Stops in La Crosse if Time Permits
Children's Museum of La Crosse, 207 5th Ave South, La Crosse
$8/person over 1 year, $1 off on Sundays and for Seniors (60+) upon request
Open: Thursday through Sunday 9 am—5 pm. CLOSED major holidays.
University of Wisconsin-La Crosse Campus, 1725 State St
Check out the amazing outdoor pool at Mitchell hall in the summer!
Myrick Park, 789 Myrick Park Dr
Enjoy a walk on one of the many trails or stop to play at the Kids Coulee Play Area!