If you love downhill skiing, it's natural to want to share that joy with your kids. Skiing is a great way to keep family members connected and exploring nature together.
Taking young kids skiing for the first time doesn't need to feel overwhelming. Planning and realistic expectations are key. Here are some been-there-done-that tips from an experienced ski mom. Guest blogger, Kristen Stankewicz, shares her wisdom from eight years of being a Northeast WI ski mom to help families have a great day skiing on the hills.
Tips to Prepare your First Ski Adventure
Aim for good weather and snow conditions – Try to pick a day that's comfortable, rather than cold and windy. Keep in mind that even if there's not much snow in town, ski hills may have great snow. Check ski hill websites for current conditions.
Bundle up

– Layer your kids up like an onion. They'll get cold. They'll get hot. Layering lets you keep them comfortable. Otherwise, you'll wind up with a grumpy kiddo who wants to stop.

Get the right gear

Skis or snowboards, boots and helmets can be rented at the hill or from an independent ski shop ahead of time. They'll ensure gear is in proper condition, sizing is correct and bindings are adjusted safely.

Renting at the hill saves car space and eases the walk from the parking lot. (Arrive early to avoid rental lines.) Renting from an outside shop, like Play It Again Sports in Appleton or Zeller's Ski & Sports in Green Bay, means once you get to the hill, all you need is a lift ticket.

Either way, the gearing-up process can take time, especially the first time. Expect some,

"Mommy, these boots feel funny!"

Always have kids wear a helmet

and goggles to keep little heads protected and eyes free from snow and wind.

Schlepping –

Stash hats, gloves and other gear in a duffle bag or a backpack for each grownup to carry from the parking lot to the lodge. Little kids may not be able to carry much of their own stuff, especially if they're wearing ski boots.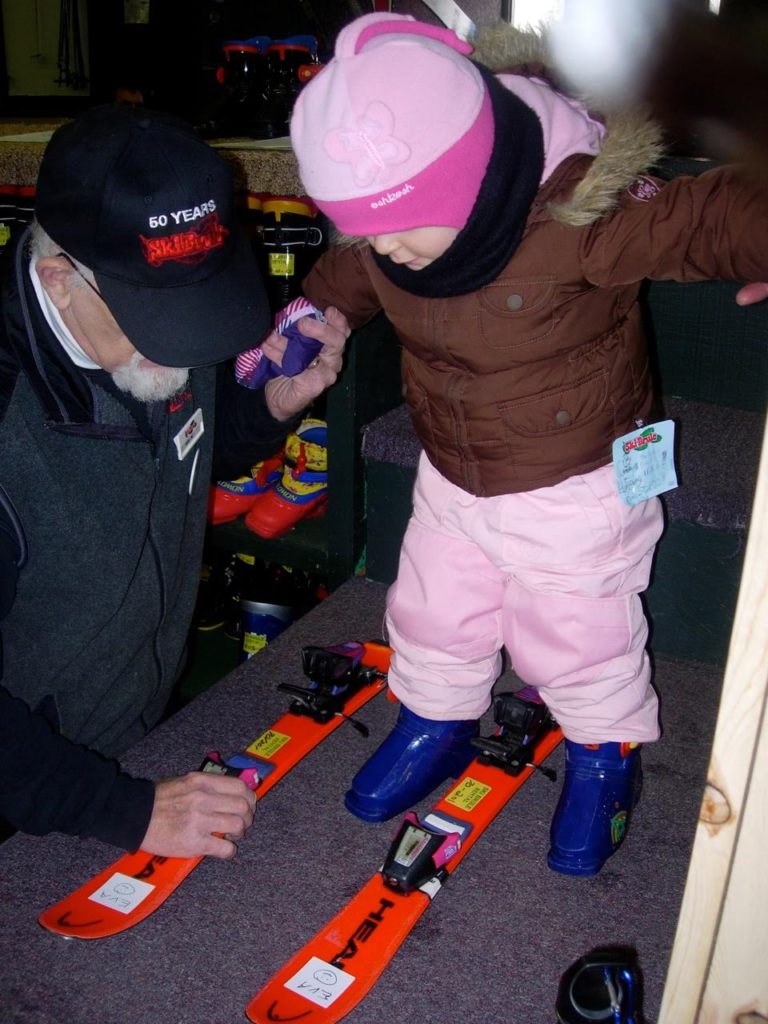 Learn to Ski Tools
Trainer harness (such as the Racer Chaser or Lucky Bums): A vest with straps for parents to hold onto. The harness gives kids the feeling of independence, yet lets parents control speed. If you use a harness, make sure kids still learn how to properly slow down, turn and stop, so they can ski safely once the vest comes off.

Ski wedge (such as the Edgie Wedgie or Wedgease): Secures ski tips together, prevent skis from crossing or spreading too far apart. It's useful for kids who may not have the leg strength to make a stopping wedge or keep skis together.
Lessons: A good skier does not necessarily make a good ski teacher, so consider lessons to help your kids learn the right way. Instructors are trained in teaching techniques to help kids enjoy the sport. Private, semi-private or group lessons typically run $30-60, plus tip. Combination lesson/rental packages are often available. Call the hill ahead of time for reservations.
Tips for the Slopes
Start on the bunny hill.

A "magic carpet" conveyor lift is easiest for little feet to navigate.

Once your child feels comfortable and knows how to slow down, turn and stop, move on to green runs.

Typically, chairlift operators will see you coming and slow the lift down. You can carry your little one off at the end.

Let your child dictate the day's pace, even if it's slow. Take lots of breaks for bathroom, food, water and playtime. The more kids feel comfortable and enjoy the day, the more they'll want to do it again.
Where To Ski near the Fox Valley
There are many ski hills located within a few hours of the Valley. Check out a list at www.skicentral.com. Some of the most popular for families with beginners are:
Nordic Mountain – located in

Wild Rose, 1 hour from Appleton. Magic carpet lift. Tubing hill.

Granite Peak – located in Wausau, 1½ hours from Appleton. Family pricing for an adult and child together. Magic carpet lift.
Ski Brule – located in

Iron River, MI, about 3 hours from Appleton. Daycare is available onsite for ages 1+. Two tubing hills.
Reader Suggestion: "I would also add Whitecap Mountain near Hurley, Camp 10 in Rhinelander area, and Winter Park in Kewaunee to the list of awesome places to take kids. Granite Peak is close, but not the best hill for beginners."
Be patient
There will be mishaps. There will (hopefully) be lots of laughter. The more calm, positive and patient you can be, the more fun your kiddos will have. Keep your sense of humor and your temper, and everything will be just fine.
Skiing can open kids up to a lifetime of fun, an appreciation of nature and a world of adventure. Let's hit the slopes!