Spend the afternoon as a family exploring one of Sheboygan's most creative gems: the Above & Beyond Children's Museum! Conveniently located in the city's historic downtown, the four-story building features over 10,000 square feet of uniquely themed hands-on exhibits and a self-acclaimed largest Sky Crawl tunnel in the country!
Arriving at the museum, visitors are greeted by a whimsical, full-scale mural of Humpback whales and a suspended split boat. Inside, they are welcomed to a magical and vibrant world full of wonder. Each of the three floors, plus a mezzanine, provides a different experience for children from free play, to learning opportunities to imaginative and expressive play.
READ MORE: Road Trip! Exploring Sheboygan with your Family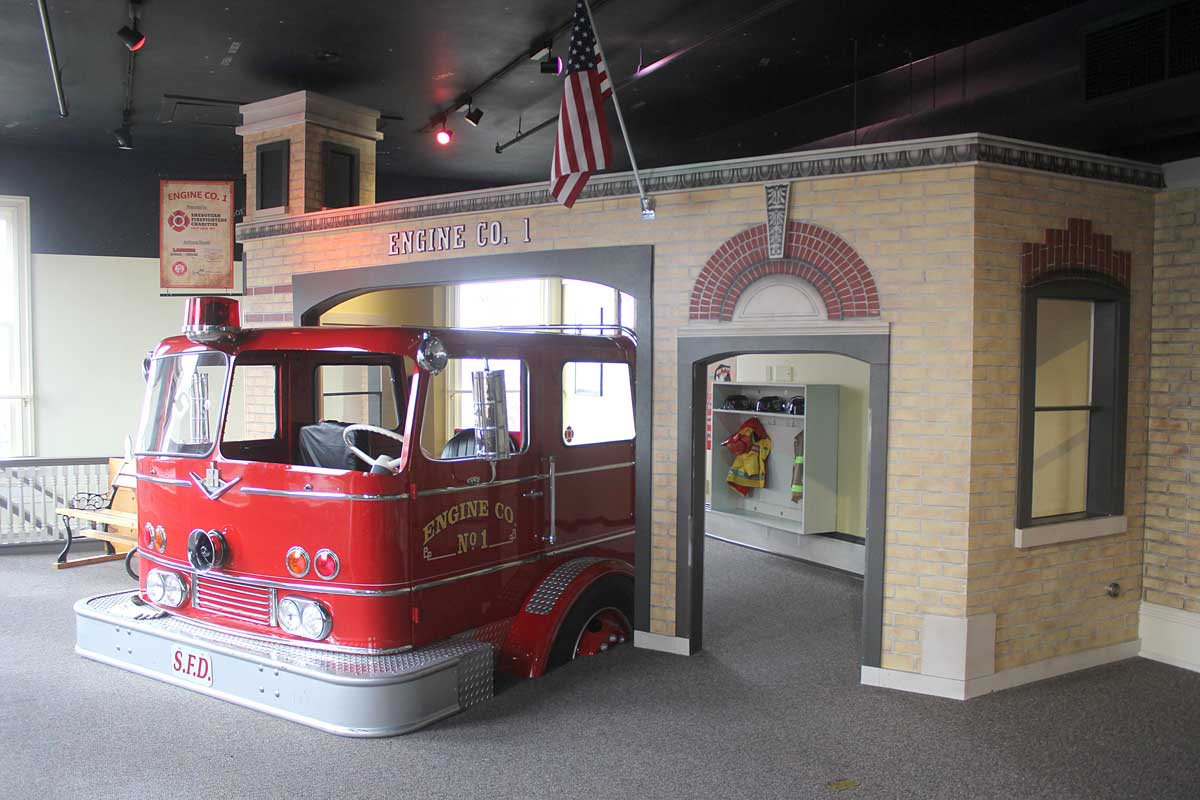 Exploring the Floors
Above & Beyond is one of the most beautifully-curated children's museums that I have visited. It is spacious, intricately detailed and well-planned out, impressively clean, and filled with natural light from its long window that overlooks the area.
First Floor
Contraptions Wall & Build Table: Send balls through turning tubes and paths or construct your own creations at the build table, filled with Duplos, vehicles, and blocks.
Giant Pin Art Screen: Write a message, press shapes or make fun designs and patterns on a supersized pin screen.
Rachel's Favorite: Built-in Memory of Rachel Jorgensen, the exhibit shows what can come of everyday objects like a bicycle, hockey sticks, a cowbell – and more, plus an active imagination.
Flight Site: Play with gravity and air with a wind tunnel and tulle scarves.
TreeHouse & Slides: Ground entry to the Adventures Tree House with a tire swing and two slides that connect to the Sky Crawl and through to the Music Mezzanine.
Mezzanine
Sky Crawl: Netted crawl tunnel above the first-floor exhibit area that connects to the Music Mezzanine and the Adventures Tree House. Kids and adults can crawl their way through and explore.
Whompamaphone: Learn to play a tune on the PVC pipe organ, where the longest pipe plays the lowest note. The 15-foot long exhibit is found on the Music Mezzanine.
Second Floor
Real Life Bee Colony: Watch live bees in an enclosed glass colony and see what the inside of a hive would look like.
Felt Tree & Comb Seating: Read a book on a comfy comb-shaped chair and admire a collection of felt bees found in the tree.
Tumbling Mats: Perfect for babies and toddlers, stretch out, roll, and play on colorful and soft tumbling mats.
Puppet & Show Theater: Put on a play under the stage lights with a collection of costumes or act out a puppet show with adorable animal friends.
Peg Light Room: Get creative with a glowing peg wall – it's like a giant Lite Brite.
Sing-Along Station: Spot a Sing-Along sign and follow the prompts to create a tune.
Toddler Barnyard: Fine-tune motor skills by playing in the multi-level play barn with a gadget wall, slide, and soft animal toys.
Third Floor
Engine Co. #1 Truck and Fire Station: Grab some gear from the station and hop on board the fire truck for some imaginative fun.
Memories School House: Step back in time and visit an old-fashioned, 1900s schoolhouse with wooden desks and a classic teachers' bell.
Festival Foods Fresh Marketplace: Playshop amongst market-style goods such as produce, flowers, honey, bread, fruits, and vegetables.
Port of Sheboygan: Row a boat or enter a lighthouse hideaway, located alongside a beautiful city mural.
U.S.S Efoymson: Steer the ship's wheel, enter the captain's quarters, or fish for the catch of the day from the deck.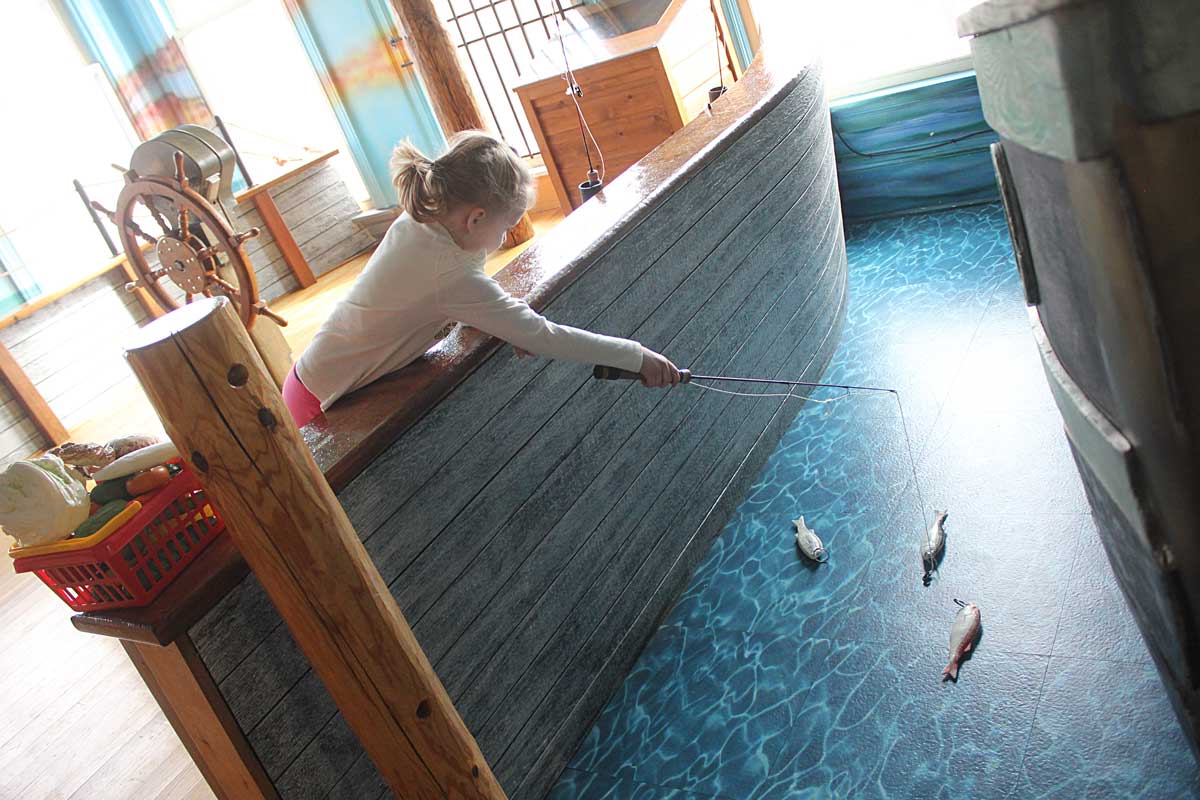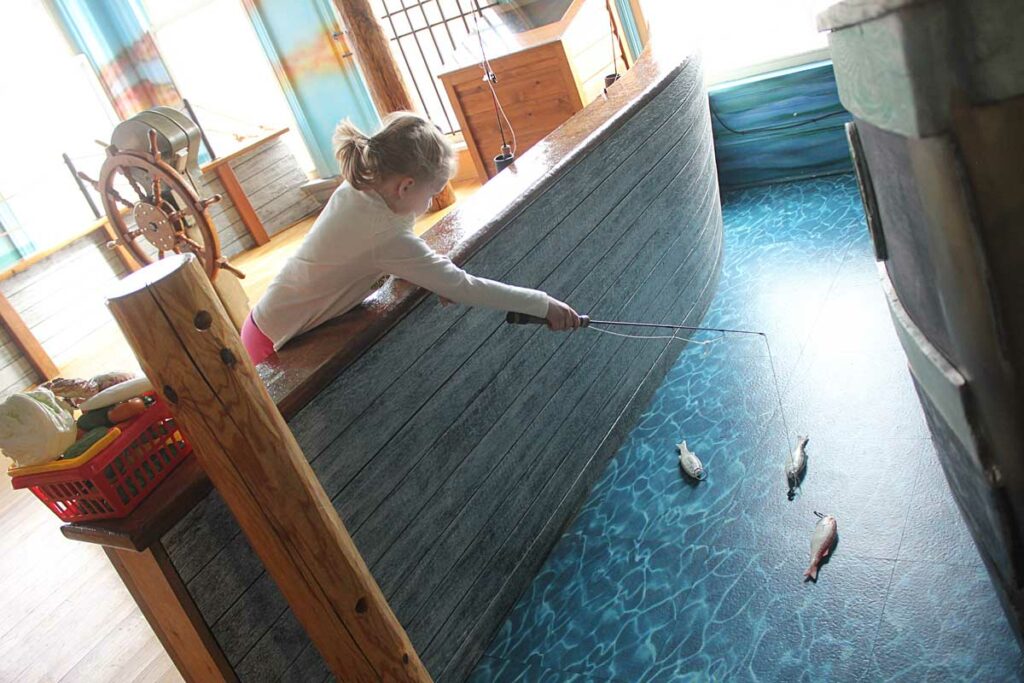 Worth the Mention
Some elements that families may find convenient at this museum include:
Specific Sensory Sensitivity Hours are offered from 2 pm – 3 pm
Private Mother's Nursing Area available on the second floor
The Purple Octopus Playground will join the museum as an outdoor exhibit—offering ADA accessible fun, a wheelchair transfer platform, and ground-level accessible equipment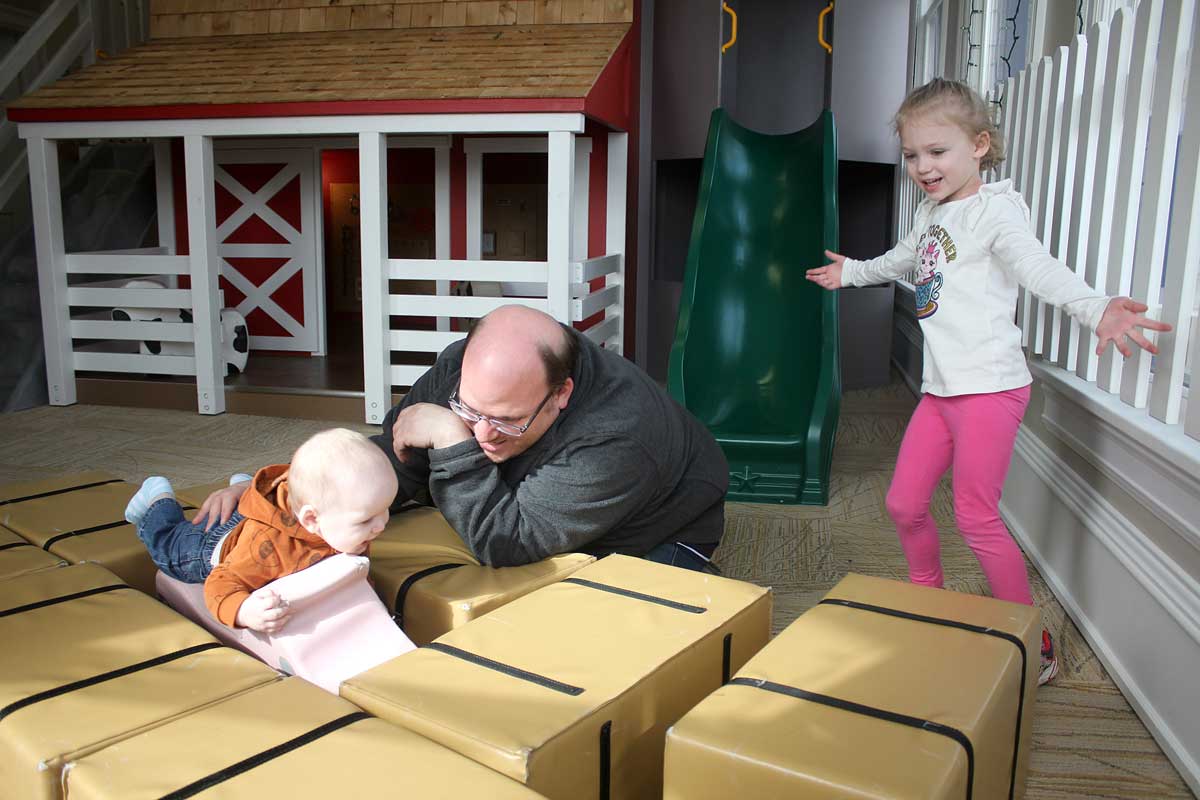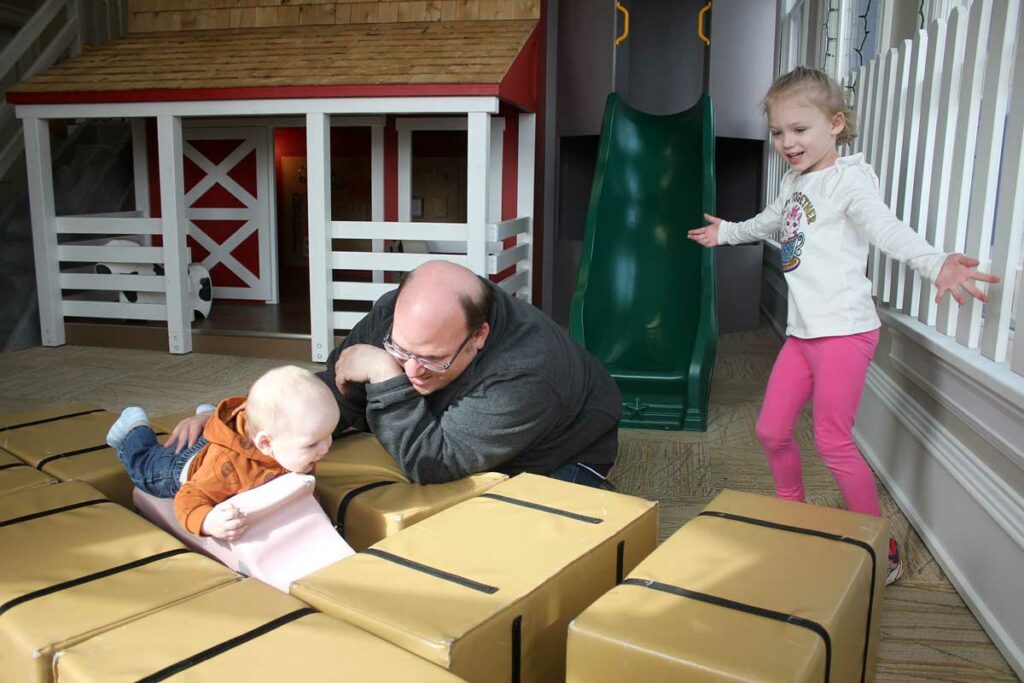 From A Kids View
Katelyn, 5, says: "I loved the Sky Tunnel on the ceiling because I liked being up high, but not too high. It was so fun! I also liked the market with the vegetables, crabs, and shopping basket and catching fish from the ship!"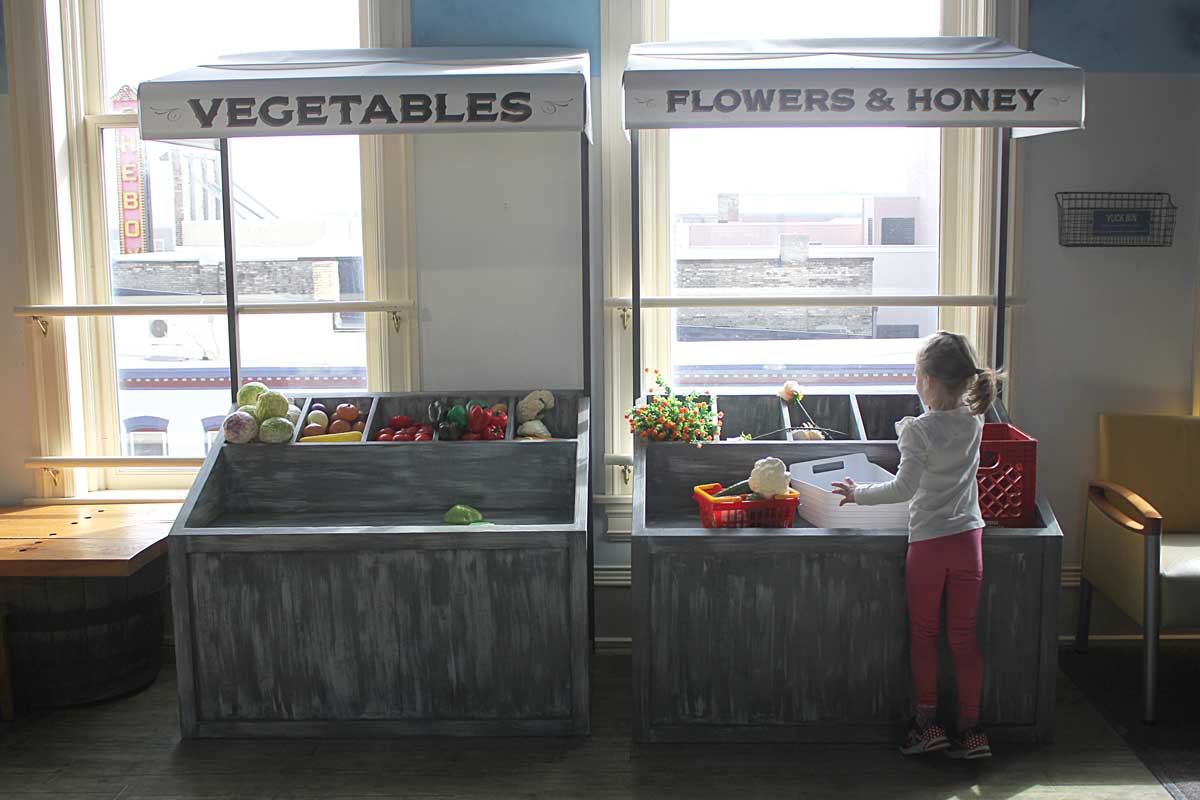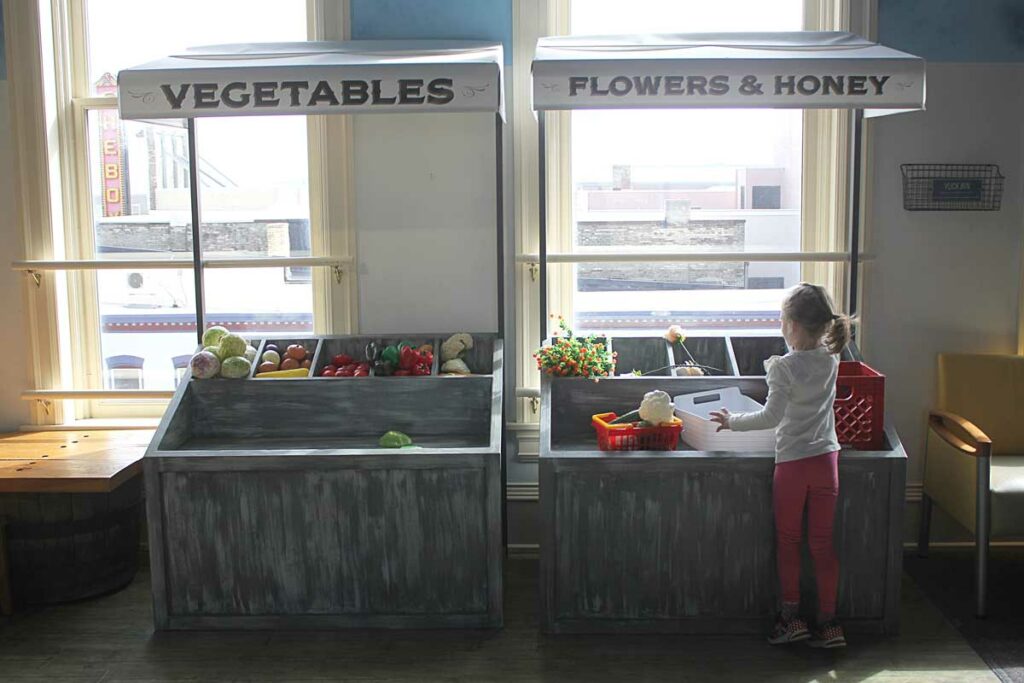 Plan A Visit
Above & Beyond Children's Museum
www.abkids.org
Location: 902 N. 8th Street #4005, Downtown Sheboygan
Hours: Tuesday-Saturday: 9 am – 4 pm, Sunday: 11 am – 3 pm, Monday: Closed

Note: The museum closes daily from 12 pm – 1 pm for cleaning

Admission: Daily rate of $8 for Adults and Children over 12 Months or purchase one of the multiple Membership options
READ MORE: Family Trip to Kohler-Andrae State Park