Opened in 1892 and owned and operated by the City of Green Bay, Bay Beach Amusement Park is a family favorite and must-do for all Wisconsin kids! Hint… hint… it's included in our 25 Things Every Fox Valley Kid Should Do Before Growing Up. This long-standing iconic tradition has been entertaining families in the summer for a long time. Growing up in Appleton, my family made annual summer trips to Bay Beach since before I can remember for field trips, family outings, and even before kid date nights!
Typically the park is open from May through September. Opening for limited weekend hours in May and September (Saturdays and Sundays) and extending to daily summer hours through June, July, and August.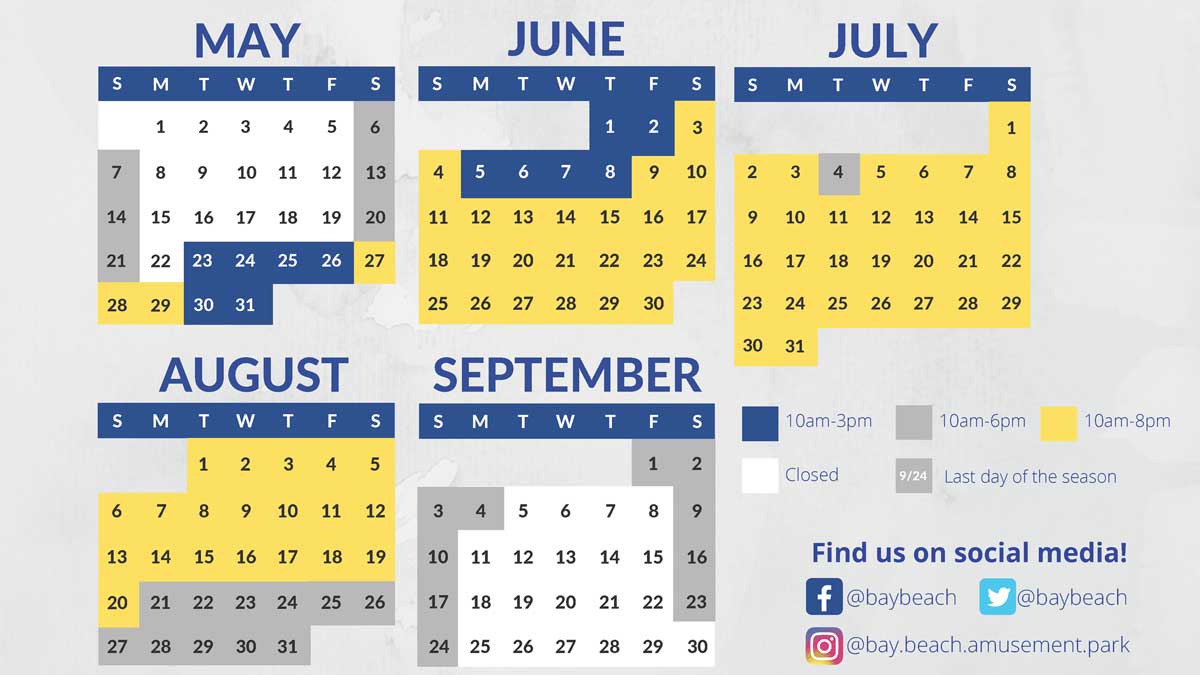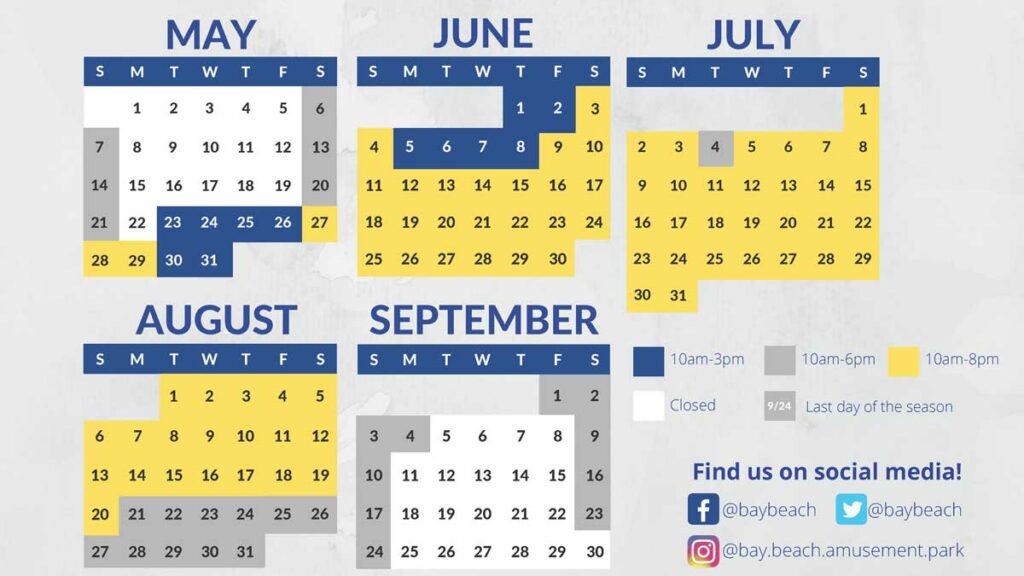 General Tips
Sunscreen up! There is not a lot of shade.
Wagons and strollers are great for kids and there is plenty of room for walking around with them.
Save money and pack snacks, water bottles, and lunches. Carry-ins are allowed!
How much does it cost? Admission, Tickets & Parking
Bay Beach is an affordable day of family fun. There is NO admission fee. Parking is FREE. The only thing you'll need to purchase is tickets for the rides and you can purchase as few or as many as you want. Ticket prices are the same for both adults and childrensame—just 25 cents each! All rides range from 1 to 4 tickets per person. You can purchase tickets when you arrive with cash or a credit card ($10 minimum purchase required). There are two ticket booths, one by the main entrance and one by the Zippin Pippin. An ATM is also available inside the main pavilion.
How many tickets should we buy? How many rides you get through depends on how busy the day is how much time you have for rides (and how much time is spent waiting in lines). The kiddie rides for younger kids have short lines and only take 1 ticket. Bay Beach recommends starting with $5 for each person (20 tickets). Remember, there are no refunds on tickets but they also don't expire so you can save any extras for a future trip.
Food Options
Several concession stands are located throughout the park to have lunch, dinner, or just a yummy treat! You can also pack your own picnic lunch. There are also several pavilions available to rent for family outings or birthday parties.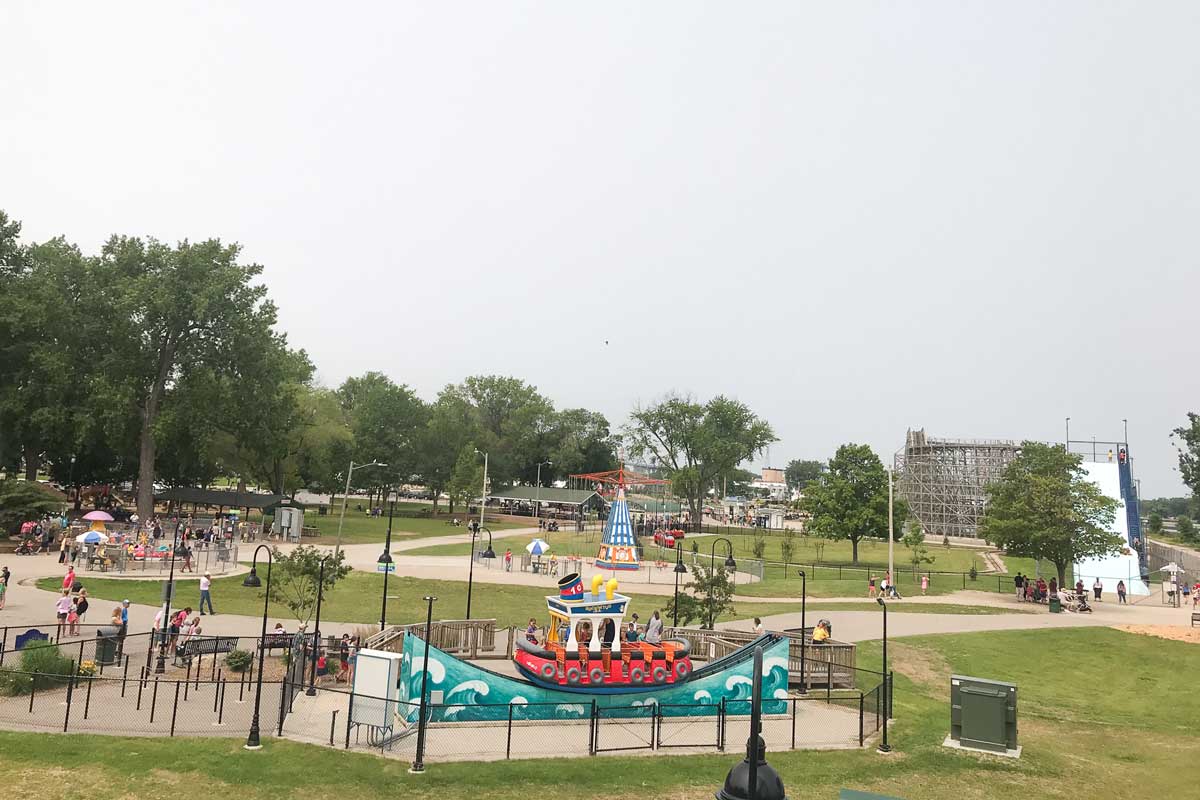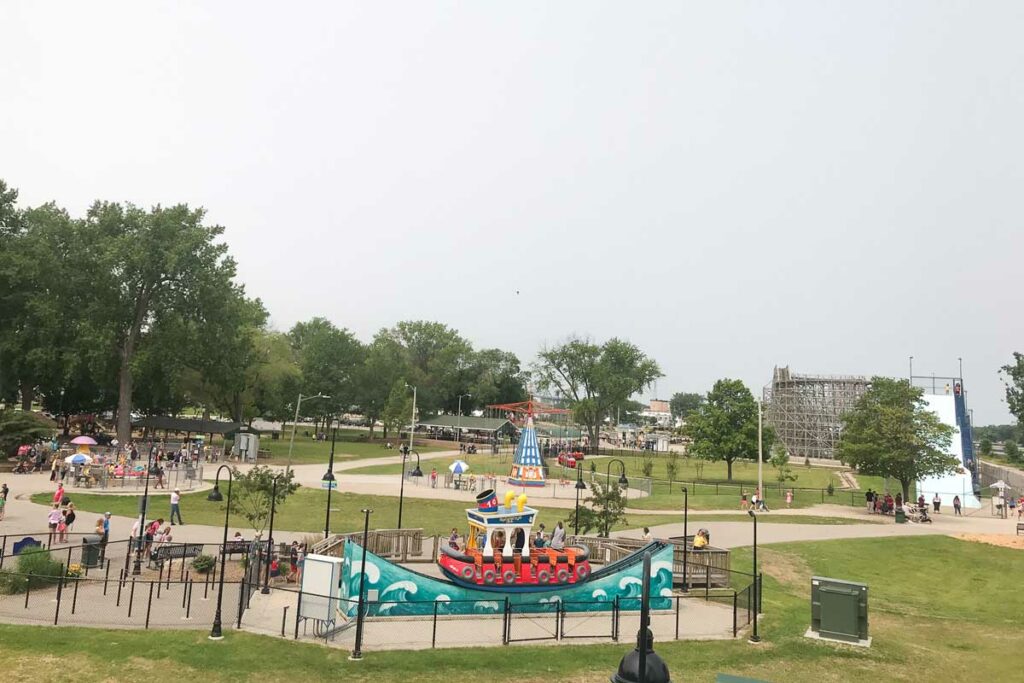 The Amusement Rides
No matter what age your kids are, they will find something they like at Bay Beach. It truly has rides for toddlers, kids, teens, and adults of all ages!
It's so neat to watch your kids grow with the rides offered. They start out on the little race cars and as the years go by, pretty soon they are big enough for the roller coaster!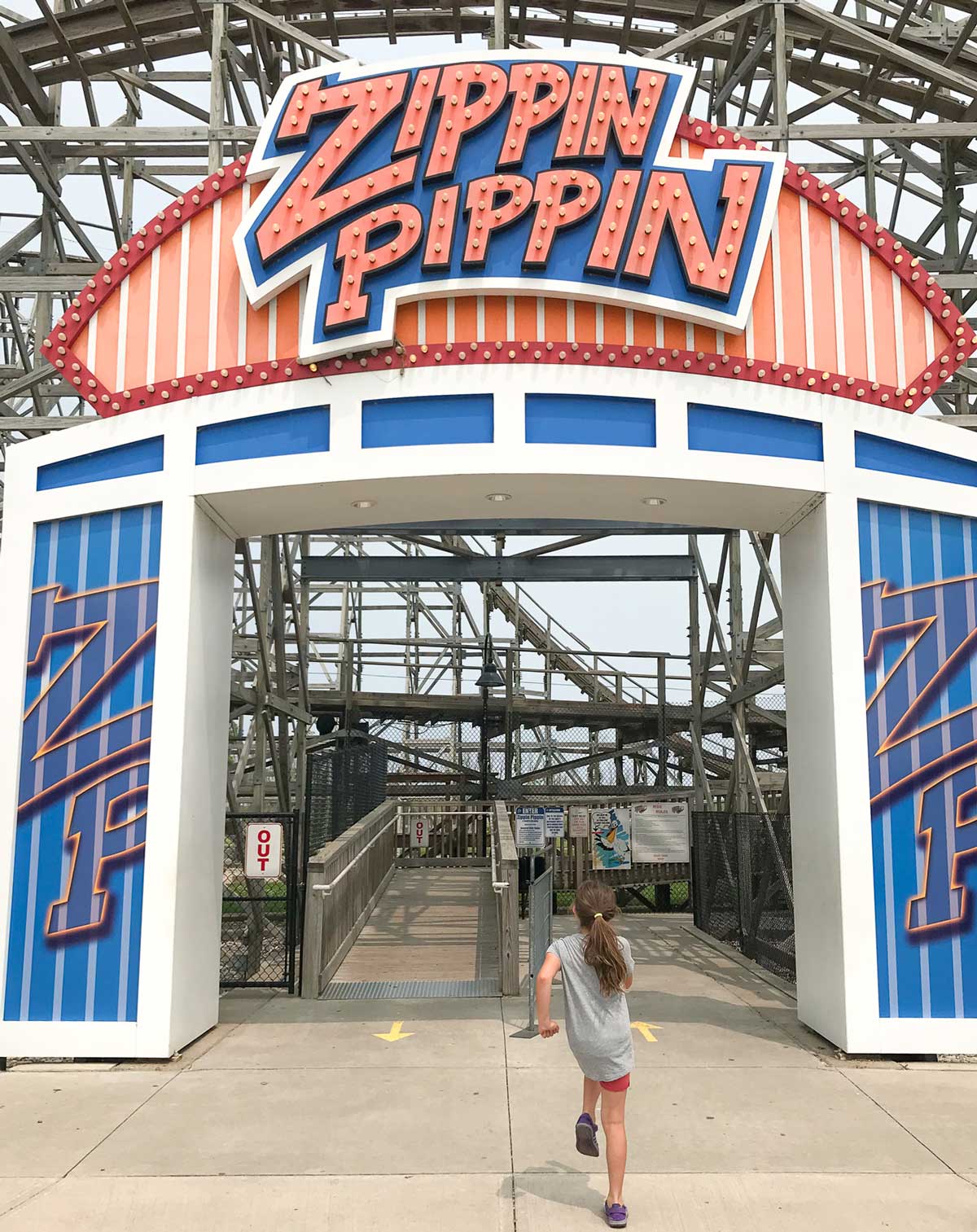 Newest Rides
Green Bay hopes to add a 1000-foot swimming beach, pier, and boardwalk in the future!
2019: 100 foot Ferris Wheel
2018: Westbound Train
2017: Falling Star
2016: Rockin' Tug and Bay Beast
2013: Sea Dragon
2011: Zippin Pippin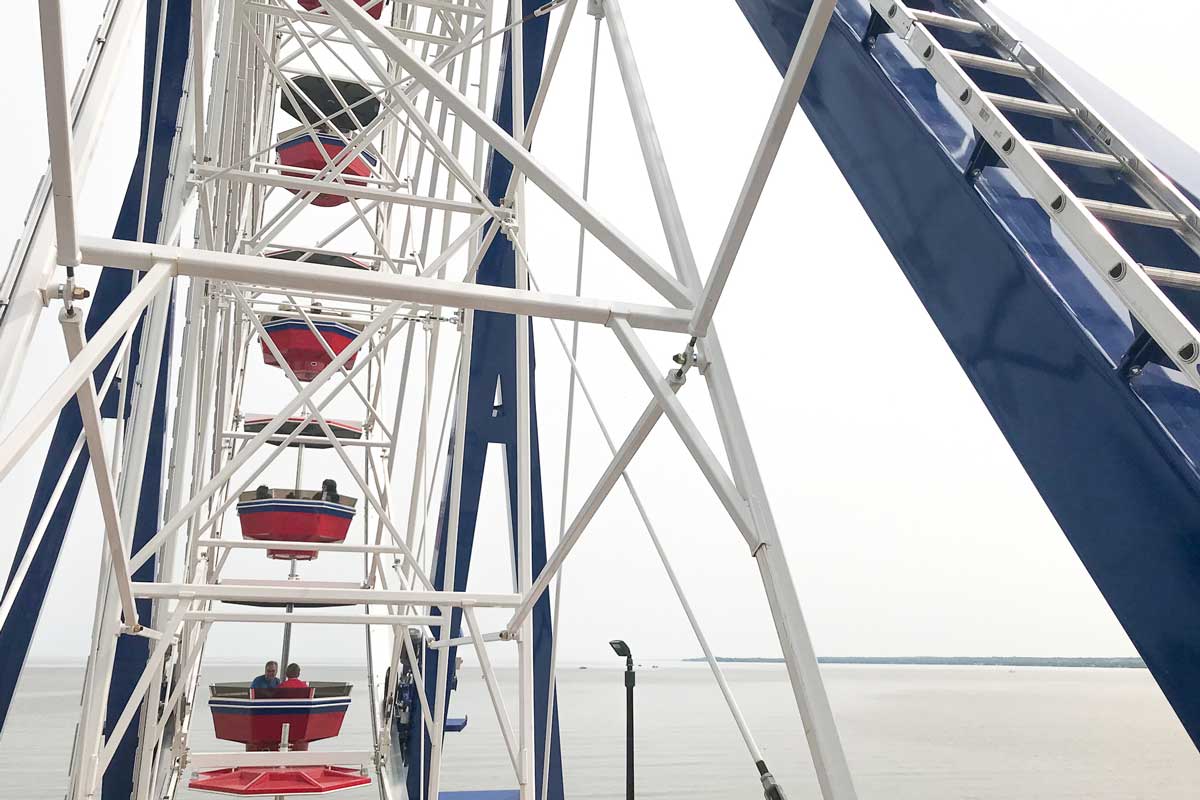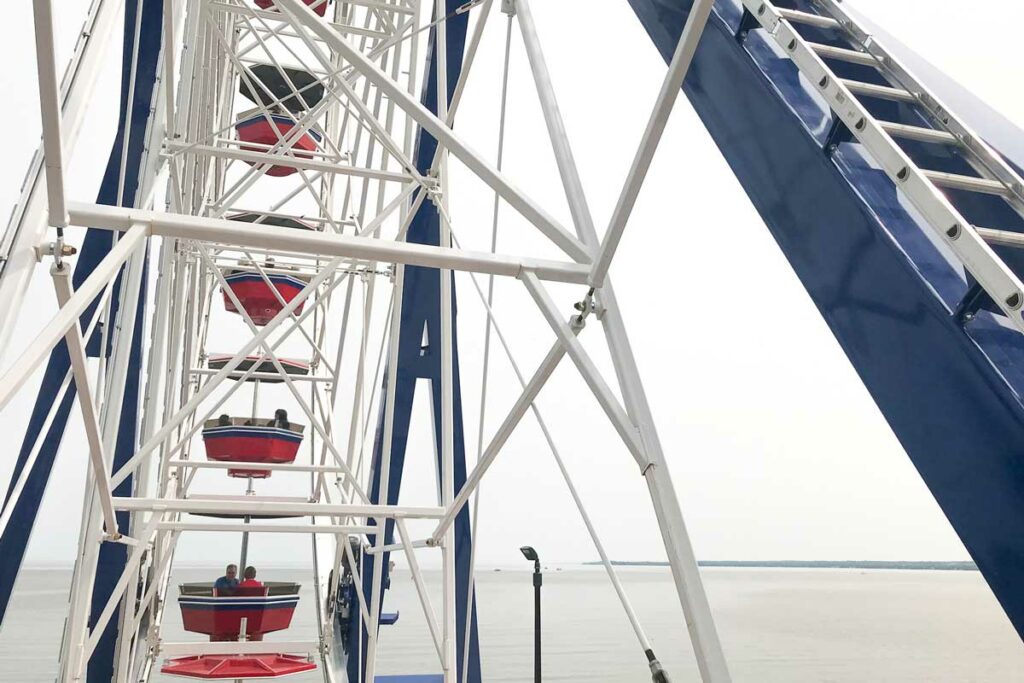 Height Restrictions
Grab your tape measure and get ahead of any meltdowns for younger kids! Here are the height and weight requirements for all Bay Beach rides.
Toddler / Preschool – Little Kid Rides: To ride on boats, granny bugs, jeeps, ladybugs, racecars, and sky fighters, riders must be able to sit up on their own and be no taller than 50 inches.

For the chair planes, riders must also be between 36 and 50 inches tall.

Group / Family Rides: Some of these height requirement rules can ride alone or with an adult.

Big Wheel (under 42 inches rides with an adult–no single riders)
Bumper Cars (must be 48 inches to ride with an adult, 54 inches to drive alone)
Ferris Wheel (must be 36 inches to ride with an adult, 48 inches to ride without an adult–no single riders)
Helicopters (sit up on their own)
Train and Merry-go-Round (all may ride with adult supervision)
Rockin' Tug (under 42 inches rides with an adult–no riders under the age of 2)
Scrambler (under 42 inches must ride with an adult–no riders under the age of 2)
Slide (under 48 inches must ride with an adult–no riders under the age of 2)
Tilt-a-Whirl (under 46 inches must ride with an adult–no riders under the age of 2)

Thrill Rides: Height requirements to ride alone

Bay Beast (must be 44 inches to ride)
Scat (must be 48 inches to ride)
Sea Dragon (must be 48 inches to ride)
Yo-Yo (must be 42 inches to ride – under 215 pounds)
Zippin Pippin (must be 48 inches to ride)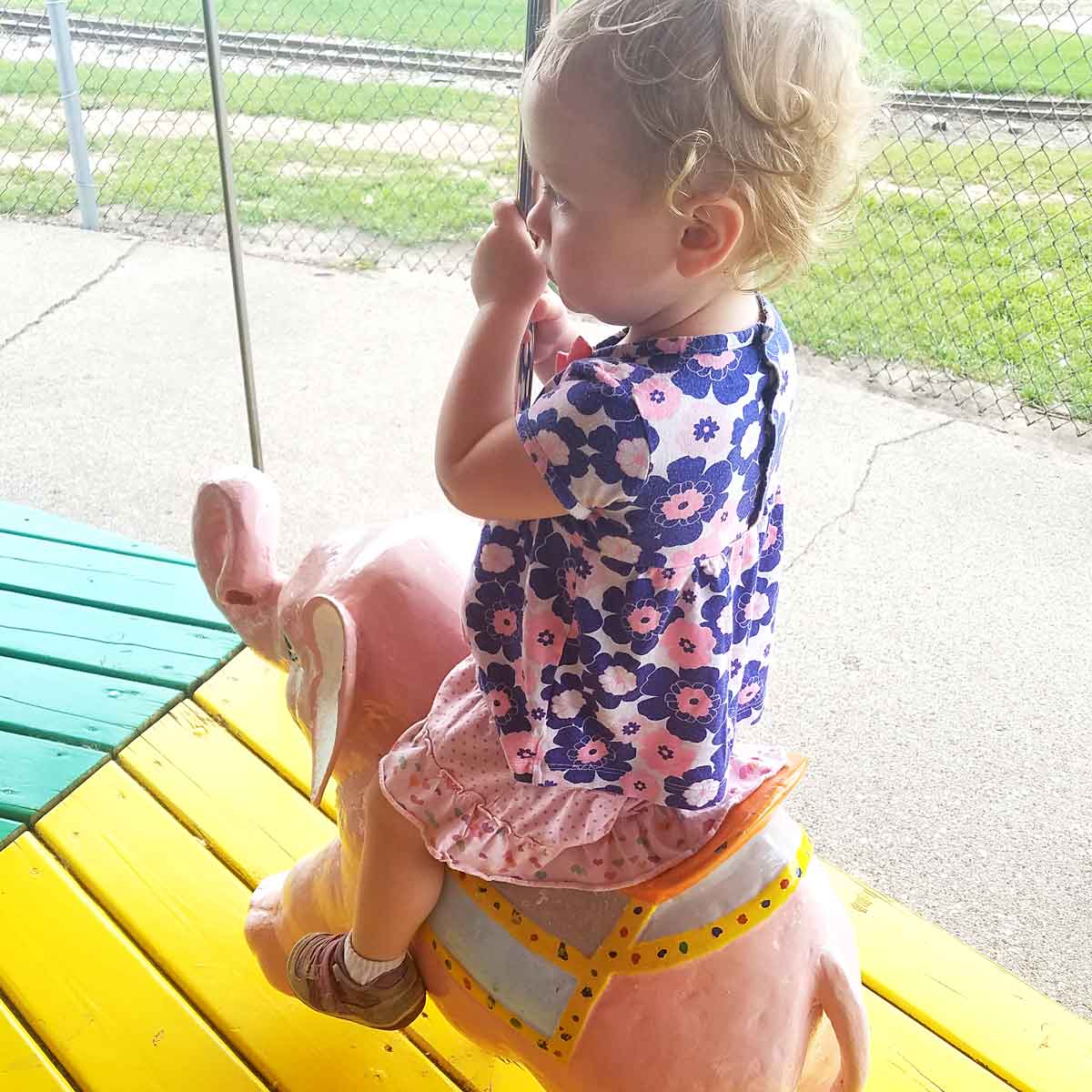 Plan for Green Bay Weather
If the weather looks questionable when planning your trip, here are some things to remember. Updates, when possible, on hours will be made on Facebook. Some rides may need to close with light rain, consistent rain, thunderstorms, and severe weather.
In a light rain: Slide, Scat, Tilt-a-Whirl, Sea Dragon, Bay Beast, Rockin Tug, and East Train.
A consistent rain: All of the above, plus Ferris Wheel and Zippin Pippin
Thunderstorm: All rides will shut down for 30 minutes after the last lightning strike
Severe weather: Park will close; staff and customers will be directed to the main pavilion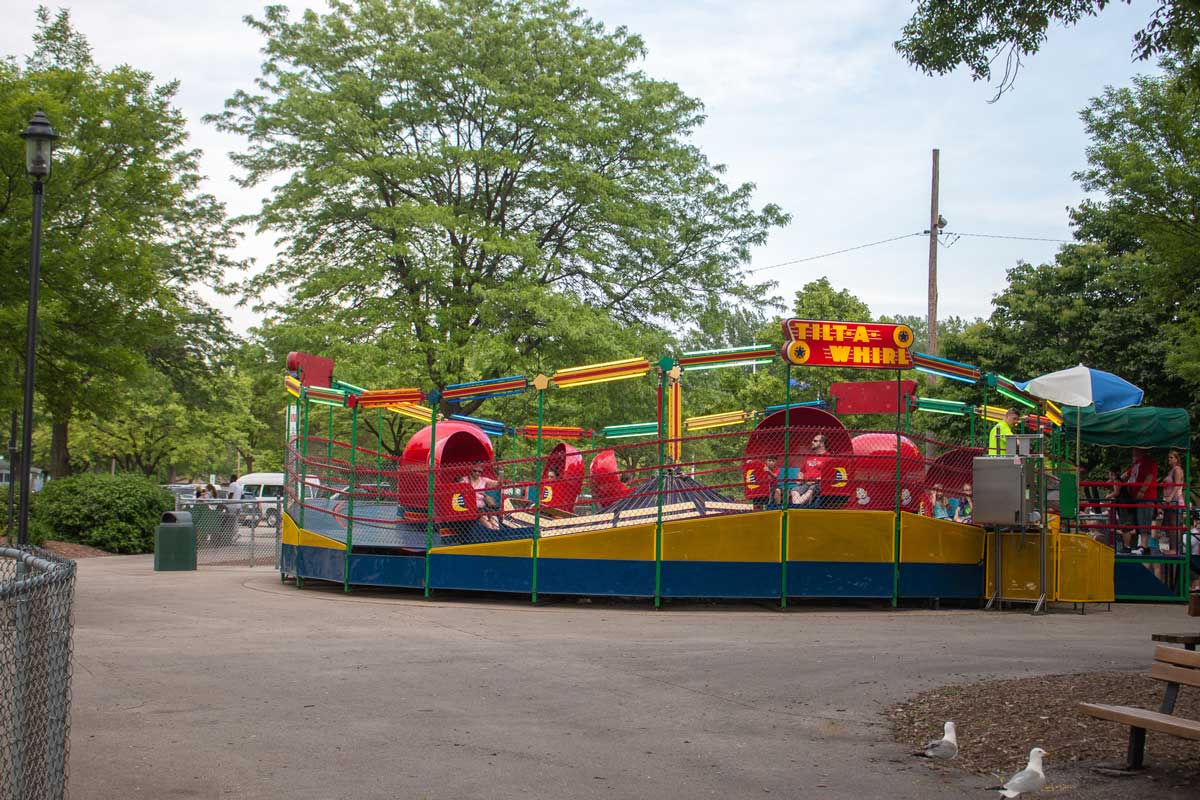 Other Nearby Things to Do in the Green Bay Area
If your family still has energy or time left in your day there are three fun places conveniently located across the street! Kastle Karts is a quarter-mile go-kart race track with many turns and even a tunnel. They also have concessions and an arcade.
Bay Beach Wildlife Sanctuary, an awesome nature center and wildlife refuge, has nature trails, a nature center, animals, and lots of geese to feed. The sanctuary is also free! Just bring some quarters for corn to feed the geese, and donations are gladly accepted.
The Children's Museum of Green Bay reopened its doors in June of 2018 across the street from Bay Beach. This fun and educational space is perfect for toddlers, preschoolers, and young elementary-aged children.
Ice Cream
If you are heading back home to the Fox Valley, our favorite ice cream spot on the way home is Smart Cow, a self-serve yogurt bar with 16 rotating flavors of frozen yogurt, sorbet, gelato, Italian ice and custard and lots of topping options! Zesty's Frozen Custard has homemade frozen custard with a daily special flavor. Like burgers and fries with your treats? Zesty's has you covered.
Where to Cool Off
Joannes Aquatic Center, 1430 E Walnut St, Green Bay (2 miles away)
Ashwaubomay Lake, 2881 S Broadway, Green Bay (7 miles away)
Pamperin Park, 2801 County Road RK, Green Bay (8 miles away)
Splash Pads at Fisk and Fort Howard Park
Bay Beach Amusement Park
313 Bay Beach Rd, Green Bay, Wisconsin