We are so fortunate to live in an area with many fun, unique and inviting places to visit. My family and I love to explore areas close to home. Each summer I check out Go Valley Kids Summer Bucket List to find new things for us to do. This year on the list is to explore as many parks as we can. How fun!! I was up for the challenge and I knew my littles would be too! I grew up on the east side of Lake Winnebago and have been to Fond du Lac often, but yet this was the first time I made a trip with my littles! So we made a play date with friends that live about 90 minutes south of us and we decided Lakeside Park in Fond du Lac was the perfect middle meeting spot.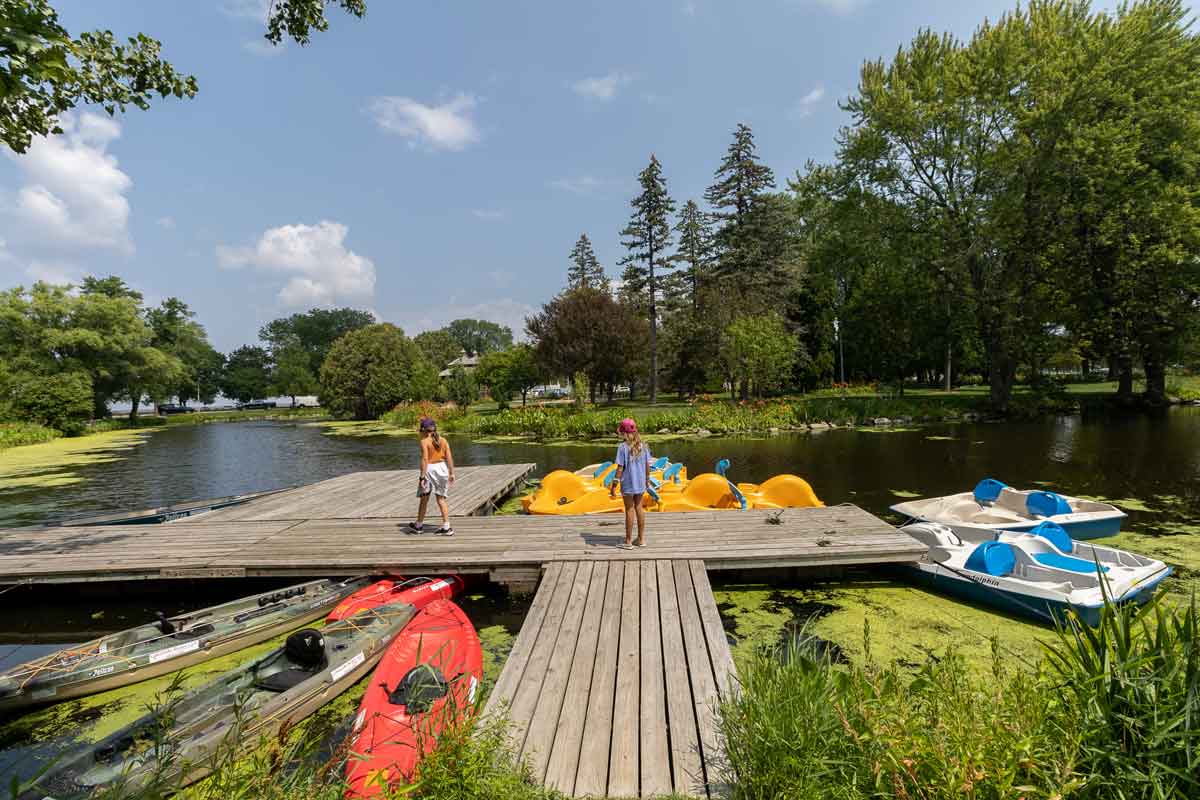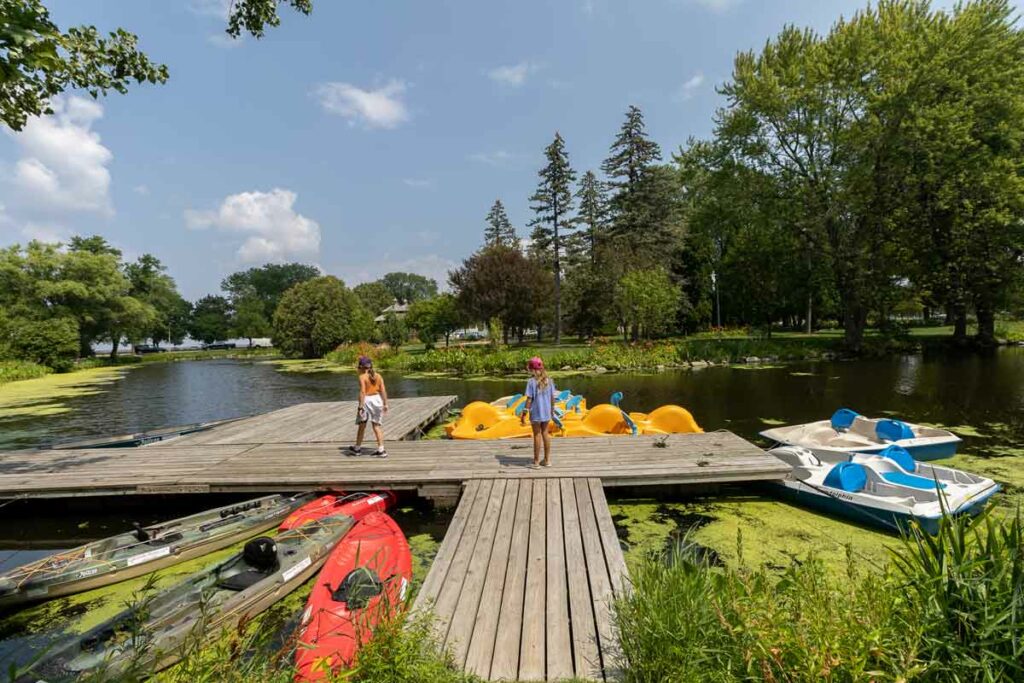 Lakeside Park is over 400 acres and is most notably known for Walleye Weekend, a fishing tournament and festival held each year in June. I knew Lakeside Park as the park with a lighthouse and the place I would hang out at with my friends in high school. What I had forgotten over the years, or maybe never really noticed, is that Lakeside Park has so much to offer families.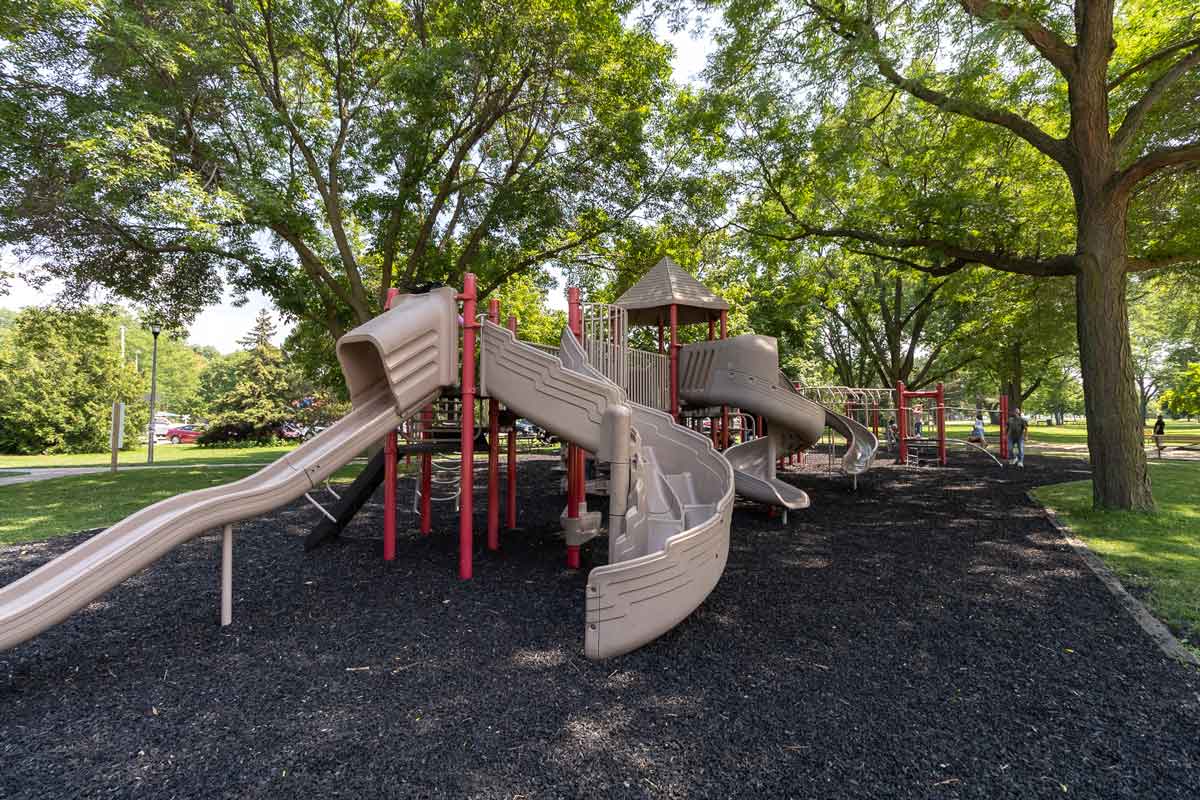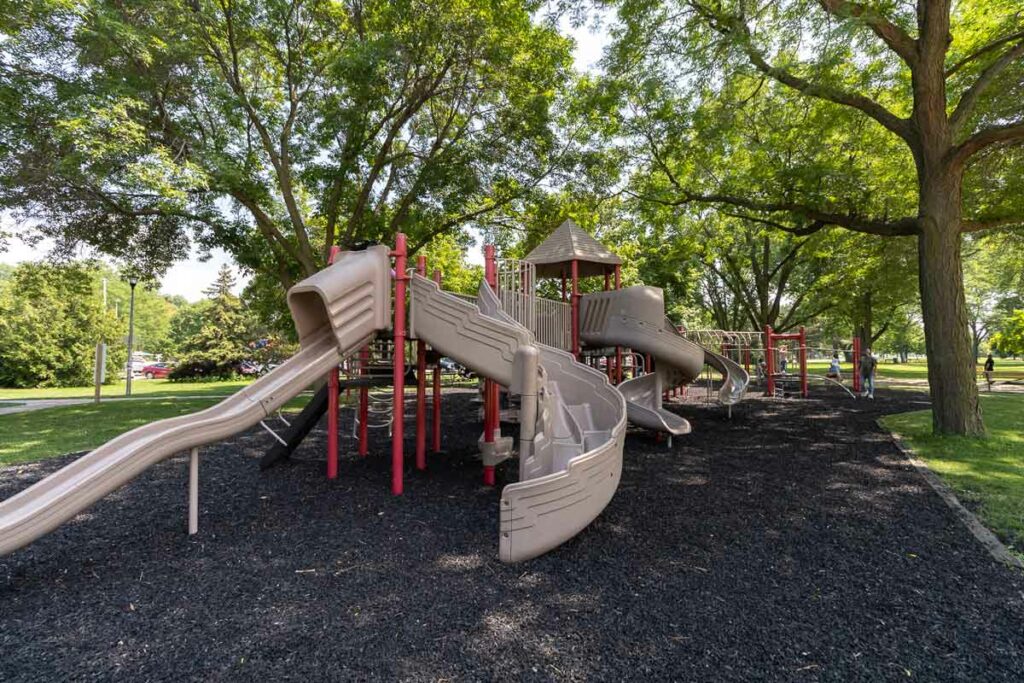 Playgrounds & Splash Pad
We spent the majority of our time on the playground. Much of the area is shade-covered, so on a hot, humid day, near the lake, it was the perfect playground to be at! There are four playground sets for varying age and skill levels, multiple swing sets, zipline and a merry-go-round all in one area. Each playground set has a different material under it and several are handicap accessible. We had kiddos that ranged in age from 2 ½ to 6 and they all had fun exploring the play equipment and running around. There is also a nautical-themed splash pad to cool off at!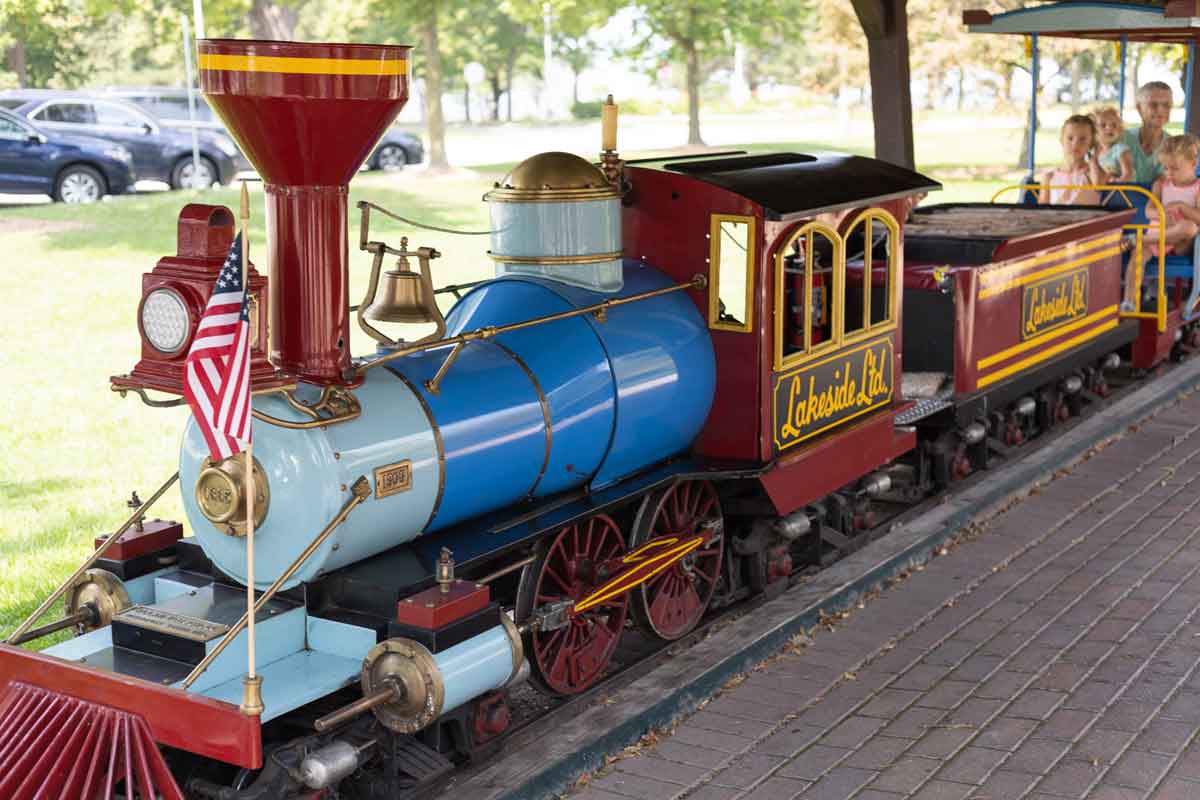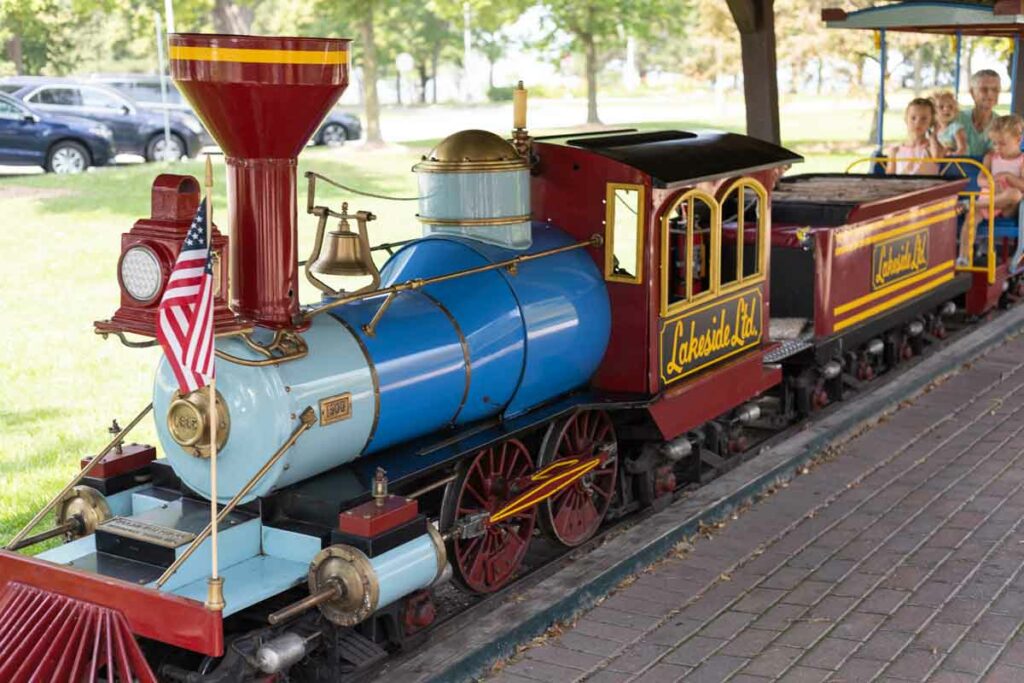 Amusement Rides
Another really fun part of Lakeside Park is the amusement rides. This area is just a short walk across the street from the playground. There is a small fee to go on the rides, so when you visit, come prepared with a little money in your pocket.
We decided to take the train ride first. It took us around a fairly large area so we were able to see a few things we wanted to check out that we did not see on our drive into the park. The kids especially loved going through the dark tunnel! Next up was a ride on the antique carousel. The carousel was built in 1920 and still has much of its original components. It was very neat to see with the flaking paint and all!
Open: Memorial Day Weekend to Labor Day Weekend (daily after the second weekend in June)
Tickets: $1.25 each
Rides (1 ticket per person, per ride): Train, Whip Ride, Carousel
Rentals: Canoes, Pedal Boats and Kayaks by the half-hour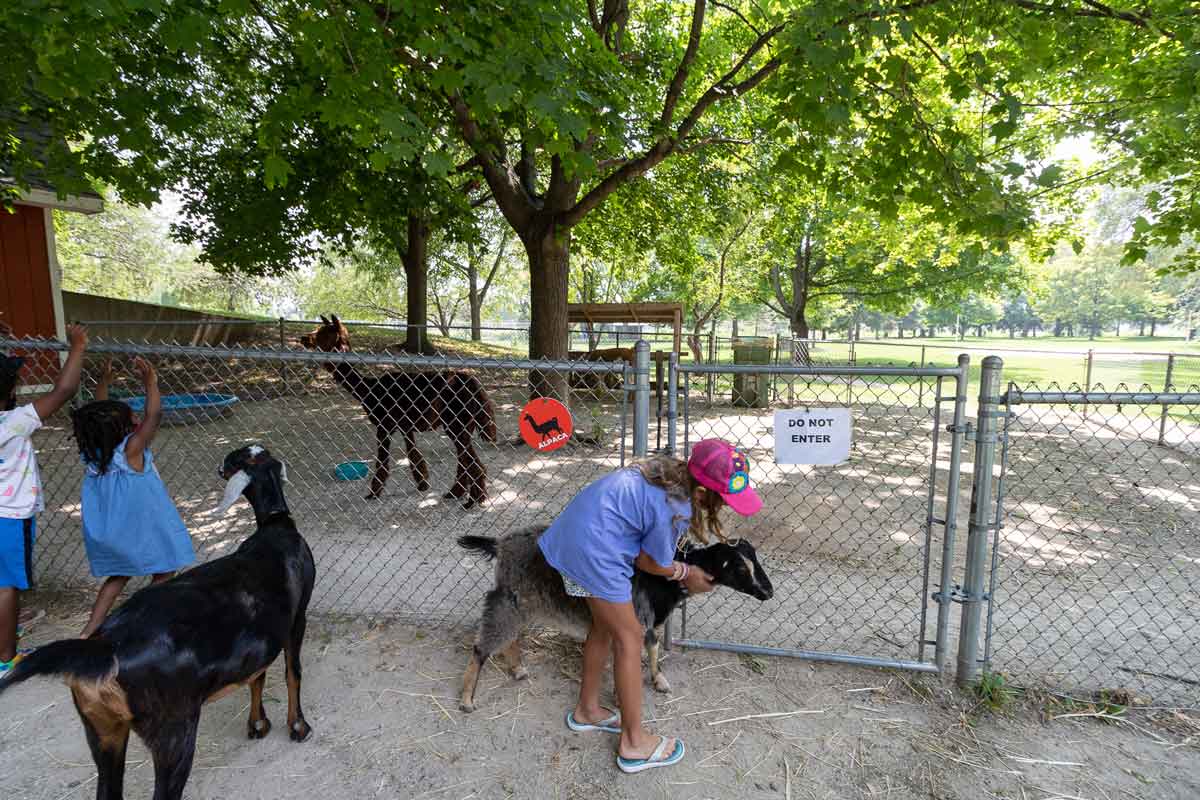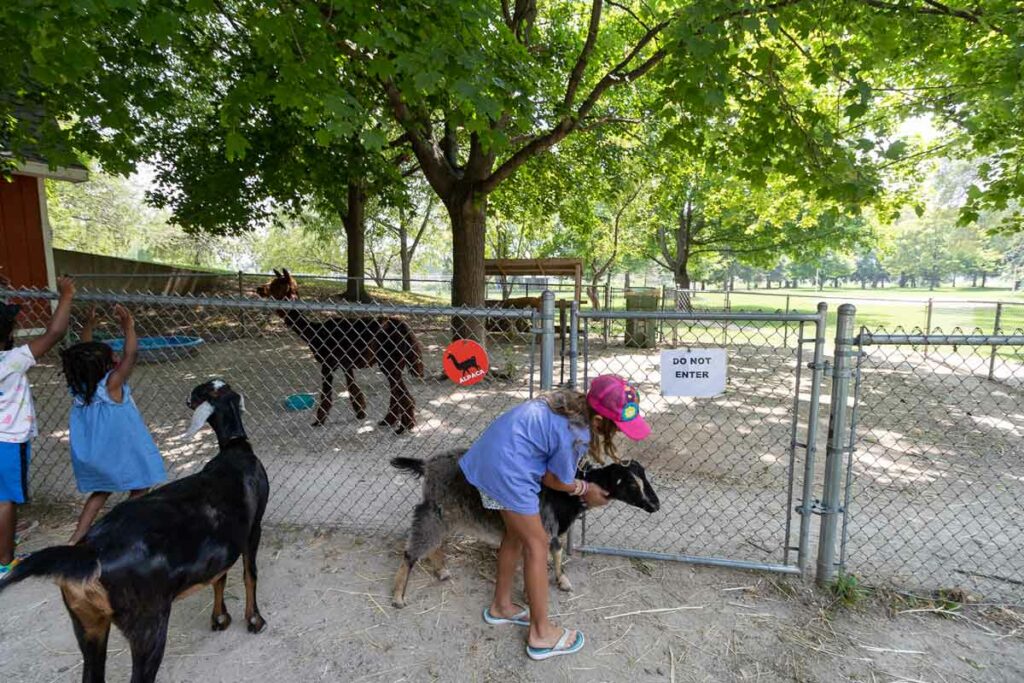 Petting Zoo
There is even a small petting zoo with a few goats, a rabbit, and a couple of llamas! Since it was hot and humid during our visit this area was closed so the animals could rest. They were still hanging around outside in the shade though, so we were able to watch them. In addition to the petting zoo, there is an area with several whitetail deer. We had fun seeing how many deer we could spy hiding in the tall grass trying to stay cool. The next time we visit we are going to plan to rent a kayak or paddleboat. We thought it would be fun to see the park from the water and be able to paddle under the bridges.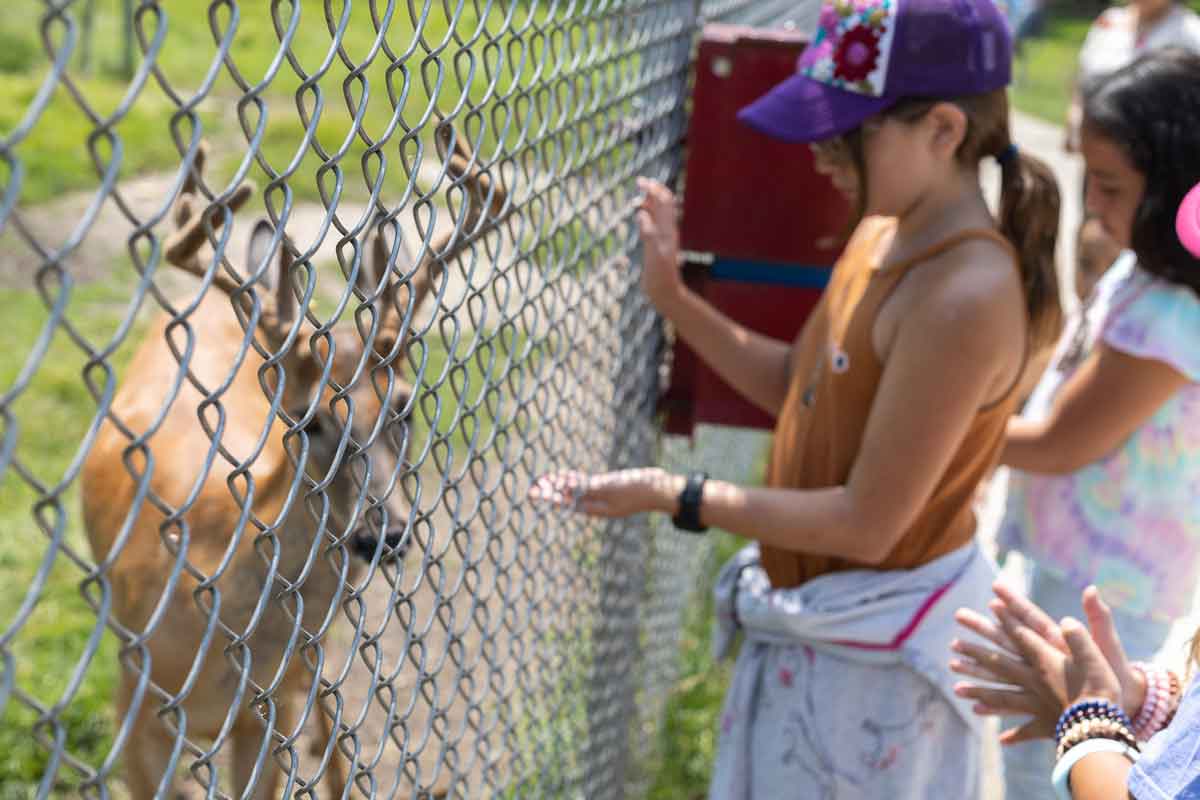 Lighthouse
Our trip would not have been complete without checking out the lighthouse. It was really fun to go to the top and look out over the lake. My kiddos had fun looking through the observation scope to look for grandma and grandpa's house on the other end of the lake.
Hours: Open May 1 thru October 15:  8 am to dusk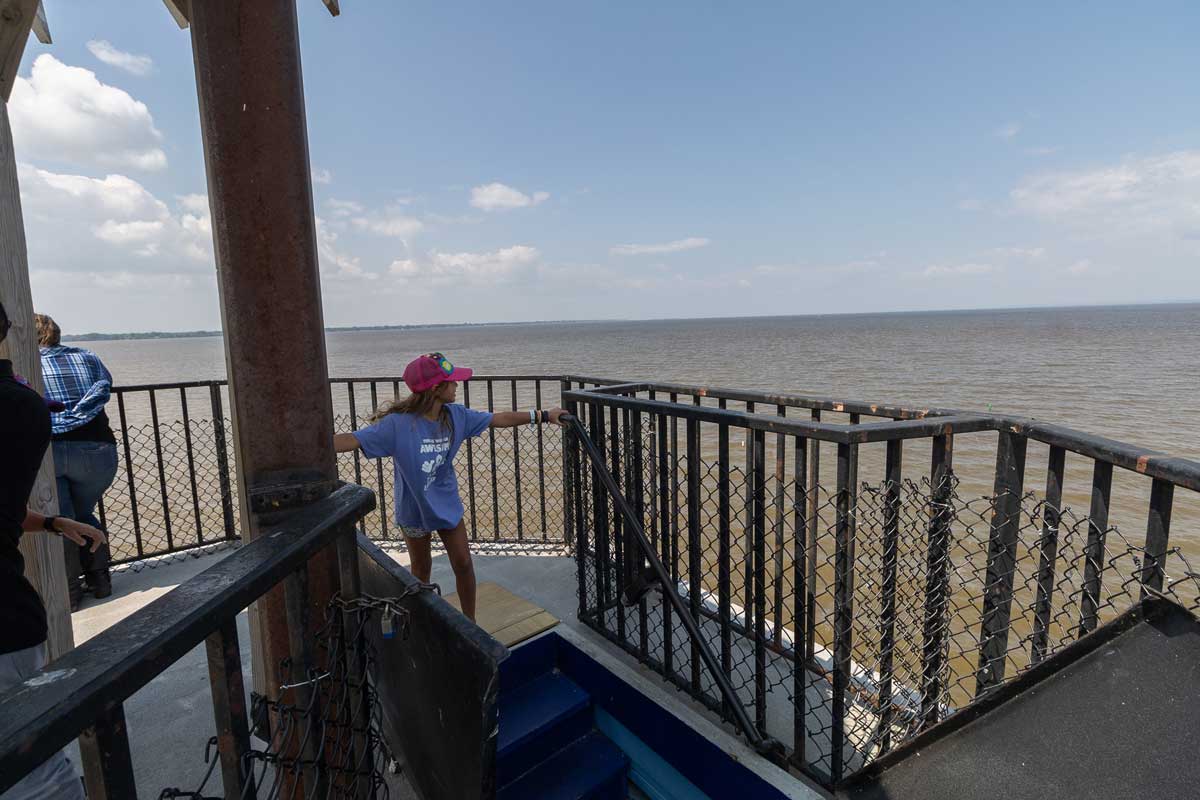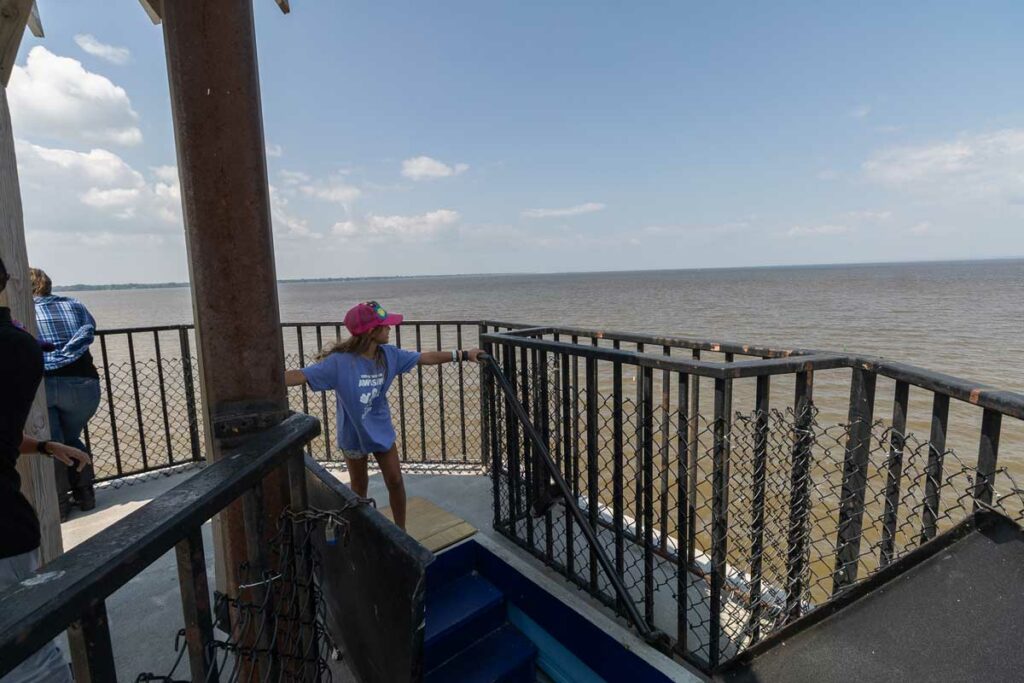 Other Fun Things To Do in Fond du Lac
There are a couple of other great places you might want to visit. Kelley Country Creamery is just a short drive south of the park and is listed on The Ultimate Ice Cream Lovers Bucket List: 60+ Favorites list!
If you take the scenic drive along the east side of Lake Winnebago and have time to spare on your way to or from the park, take a minute to check out LaClare Family Creamery in Malone. The cafe is delicious, their artisan cheeses are fabulous and who doesn't love to look at baby goats?!
Don't let the back-to-school sales fool you! Summer is still here, leaving plenty of time left to take the challenge of exploring a new park. Perhaps you can find a new park on the GVK Park Series list that you have not visited yet. I hope you will pack a lunch, take your time, and enjoy the sun and heat while it lasts!
For more information about Fond du Lac and things to see and do in the area visit the Fond du Lac Area Convention and Visitors Bureau.