Are you looking for a family road trip adventure with unique opportunities to explore southwestern Wisconsin's underground limestone wonders and breathtakingly scenic rolling hills? The Cave of the Mounds and Blue Mound State Park give you up-close experiences with some of Wisconsin's most beautiful natural phenomena! Come along with us as we guide you along the perfect family day trip to soak in all of the natural charm the Blue Mounds, WI area has to offer! Just slightly more than two hours from the heart of the Fox Valley, the driftless area of Southwestern Wisconsin is one of unparalleled pre-glacier beauty and outdoor adventure.
Before you head out on your journey, we also recommend you join the 2022 Wisconsin State Parks Challenge and get your kids started with the Wisconsin Explorer's Program so that you can earn prizes and patches while you explore nature together.
READ MORE: Explore Wisconsin's Driftless Paradise at Wyalusing State Park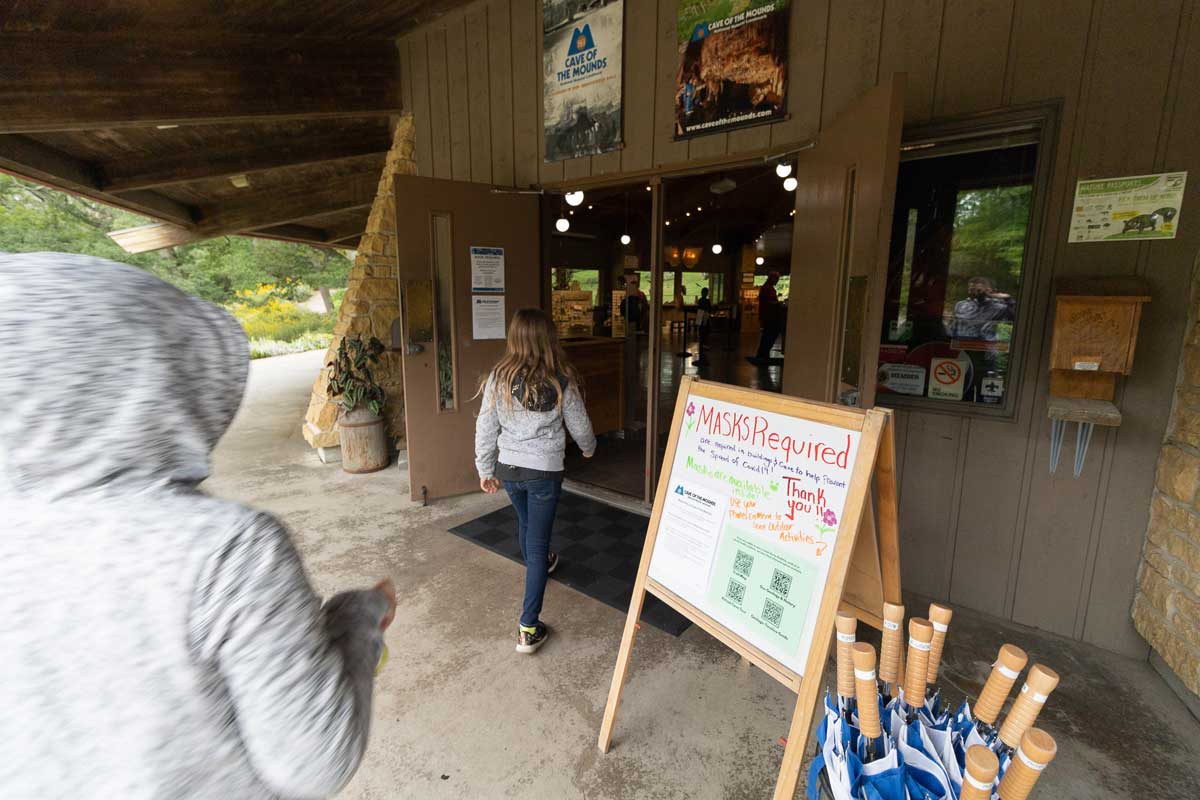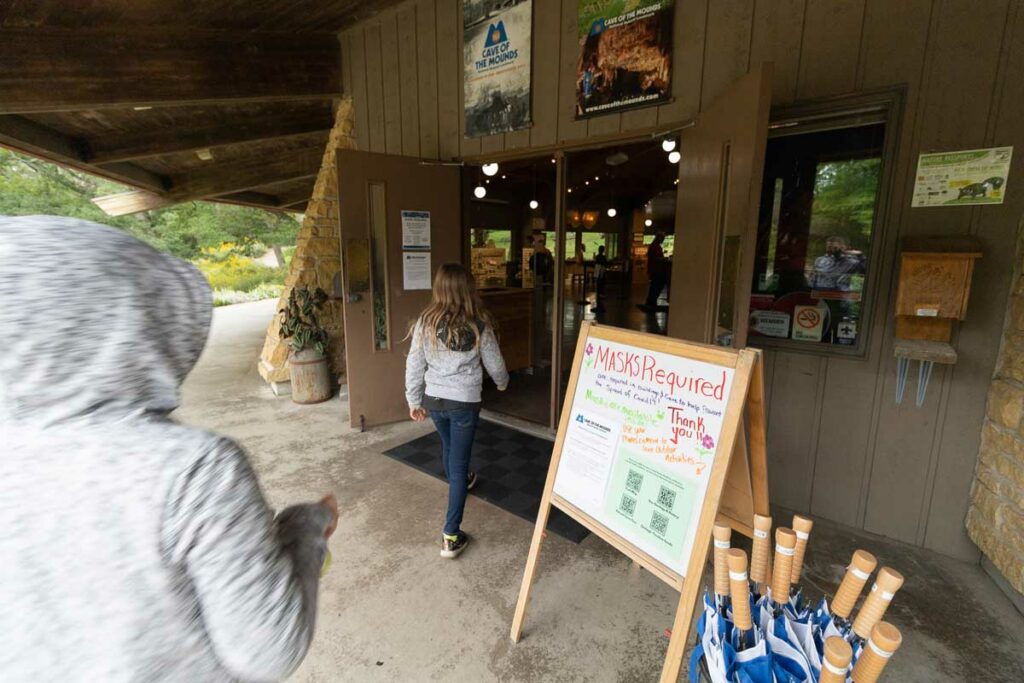 The Cave of the Mounds At-A-Glance:
Address: 2975 Cave of the Mounds Road, Blue Mounds, Wisconsin
Hours: Open daily from 9 am – 5pm, last tour departs at 4 pm
Admission:

Ages 3 and under: FREE
Ages 4 – 12 years: $12.99
Ages 13+: $21.99

How was the cave formed: The Cave of the Mounds formed within sedimentary rock, a limestone made of compacted seashells, that began eroding underground and forming the cavern of the cave nearly a million and a half years ago!
How was the cave discovered: In 1939, during routine limestone blasting at a dairy farm that had been partially converted into a quarry. The workers received a huge underground surprise!
Tips for Exploring the Cave
No strollers are allowed, and you'll need to babywear using a front carry for any non-walkers as the cave walkways do get very narrow.
How to dress: Bring a jacket for the cooler (50 degrees) cave temperatures. Wear tennis shoes for better footing on the slippery cave stairways and walkways.
Don't let the rain keep you away! Rainy days make good cave days. You can leave your umbrellas in the car and borrow one for free at the caves. There are conveniently located at the doors of buildings and in the parking lot.
If your little ones simply CANNOT keep their hands to themselves (touching the cave walls is not permitted), you might want to save yourself the headache and wait until they are a bit older to embark on this adventure.
Other Fun at the Cave of the Mounds Grounds
Gift shop: peruse a variety of gemstone and other rock creations. Rock candy is always a big hit here.
Gemstone mining activity: purchase a bag of sand in the gift shop ($10) and enjoy some old-fashioned sifting and sorting to uncover various gems and fossils!
Hiking Trails: Enjoy the beautiful grounds and hiking trails that will teach you more about the geological richness of this area.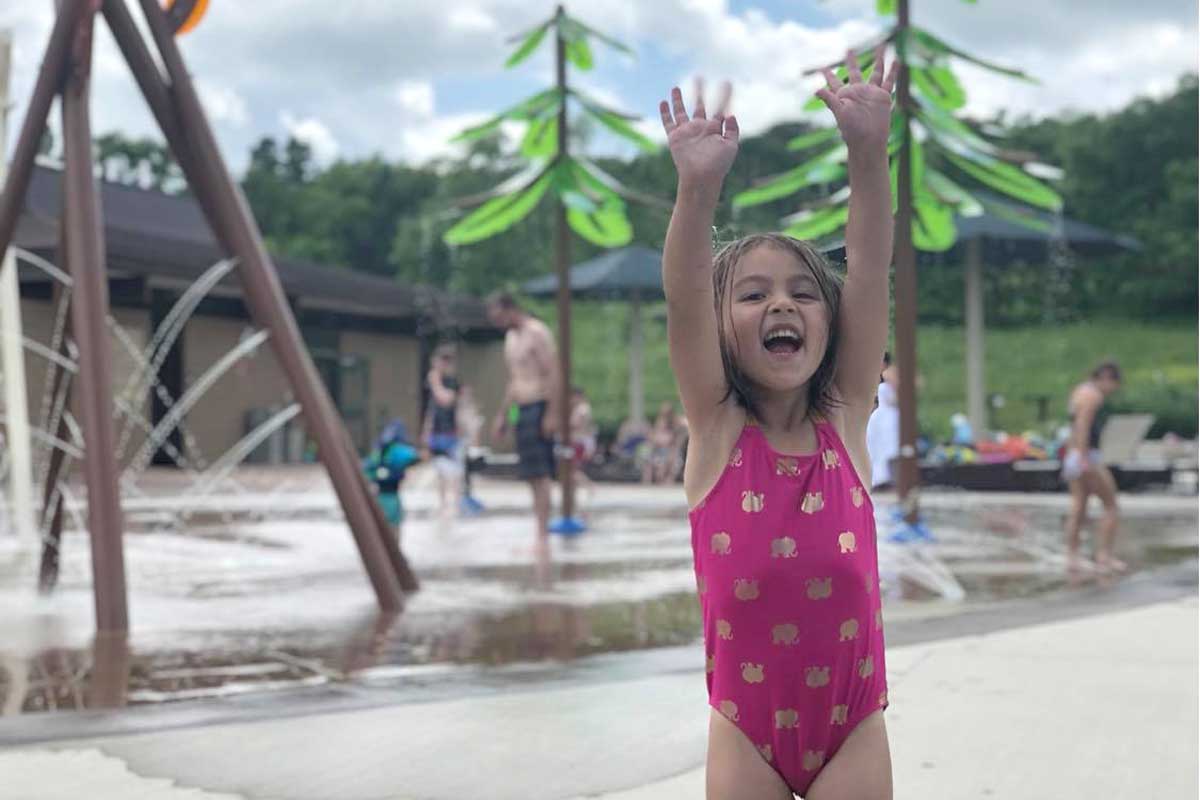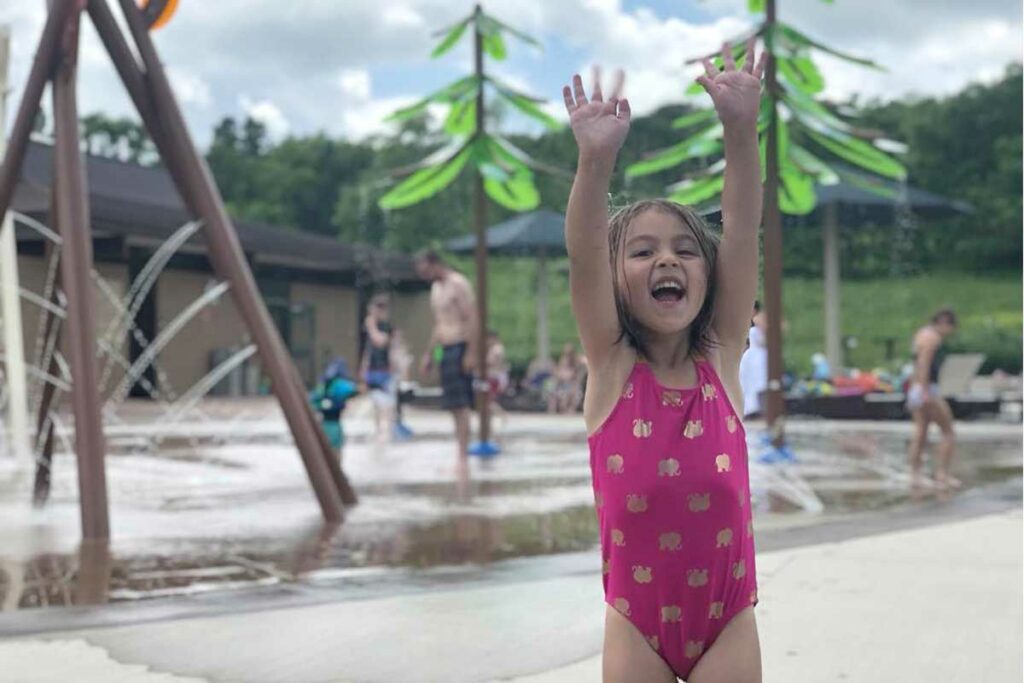 Blue Mound State Park At-A-Glance:
Travel Specs: 2 hours, 17 minutes | 137 miles
Address: 4350 Mounds Park Rd, Blue Mounds, WI
Hours: Open daily 6 am – 11 pm
Vehicle Admission Pricing: With a WI license plate, you can purchase a daily pass for $8 or an annual pass to all of Wisconsin's state parks for $28. Stop in at the park office.
Camping: Yes, 77 family campground sites, 11 hike-in sites, and one accessible cabin.
Pets: Leashed pets are allowed in the park.
About: Blue Mound State Park sits atop the highest point in Southwestern Wisconsin and offers spectacular views of the surrounding rolling hills and farmland.
Playground & Picnic Area
After a busy morning exploring the Cave of the Mounds, make the 4-minute drive over here to have a picnic lunch on top of the world! There is also a playground, bathroom facilities, and many trails within an easy walk.
READ MORE: Pack a Picnic & Play at New Glarus Woods State Park
North & South Observation Towers
Nicknamed the 'Sunset' and 'Sunrise' Towers these sit at opposite sides of the upper park area and offer breathtaking views not only at sunset and sunrise but all day (and night with clear skies!) long.
Make sure to supervise younger hikers closely on the tower stairs!
Hiking & Mountain Biking Trails
Over 20 miles of hiking trails and 15.5 miles of off-road challenging biking trails are available to park visitors! Check out the park's map to plan your favorite hike.
Hiking Trail Highlights: Flintrock Trail (1.3 miles) offers hikers an opportunity to learn more about the geology of the Blue Mound area. The John Minix Trail (1.0 miles) gently meanders through the forest and is the park's easiest trail making it perfect for the youngest of hikers.
Before you head out on your family adventure, be sure to check at the park office for trail closures and other updates.
Pool & Splash Pad
The only Wisconsin State Park that offers a pool AND a splash pad!
Hours and Details: Open annually from Memorial Day to Labor Day, the public pool here ranges from 3 to 4 feet in depth and is warmed to 80 degrees.
Pricing: Ages 2-17 is $2, 18+ is $3
Campground
77 wooded sites, 11 hike/bike-in sites, and a rustic accessible cabin
Ample vault toilets and a shower house
Small playground & hiking trails through the woods to access the larger playground/picnic area and the pool/splash pad
Check out the park map to pick your favorite site.
Military Ridge State Trail
Blue Mound State Park provides access to the 40-mile Military Ridge State biking, walking, and snowmobile trail that connects Madison and Dodgeville, WI.
The trail offers beautiful views of the natural features of this area. There are also observation towers available along the trail to enhance your viewing experience.
You'll need to purchase a state trail pass ($5 daily, $25 annually for all state trails) if you want to make use of this historic trail. Passes can be purchased at the park office or at self-registration stations along the trail itself.
Winter Activities
Over 10 Miles of cross-country trails will take you through the beauty of oak forest and rolling hills! Check out the park's winter trails map to choose the right trail for you.
Snowshoeing is permitted on/off any trails except those designated for cross-country skiing.
This hilly park is a great place for sledding! You can access the sledding hill from the pool parking lot.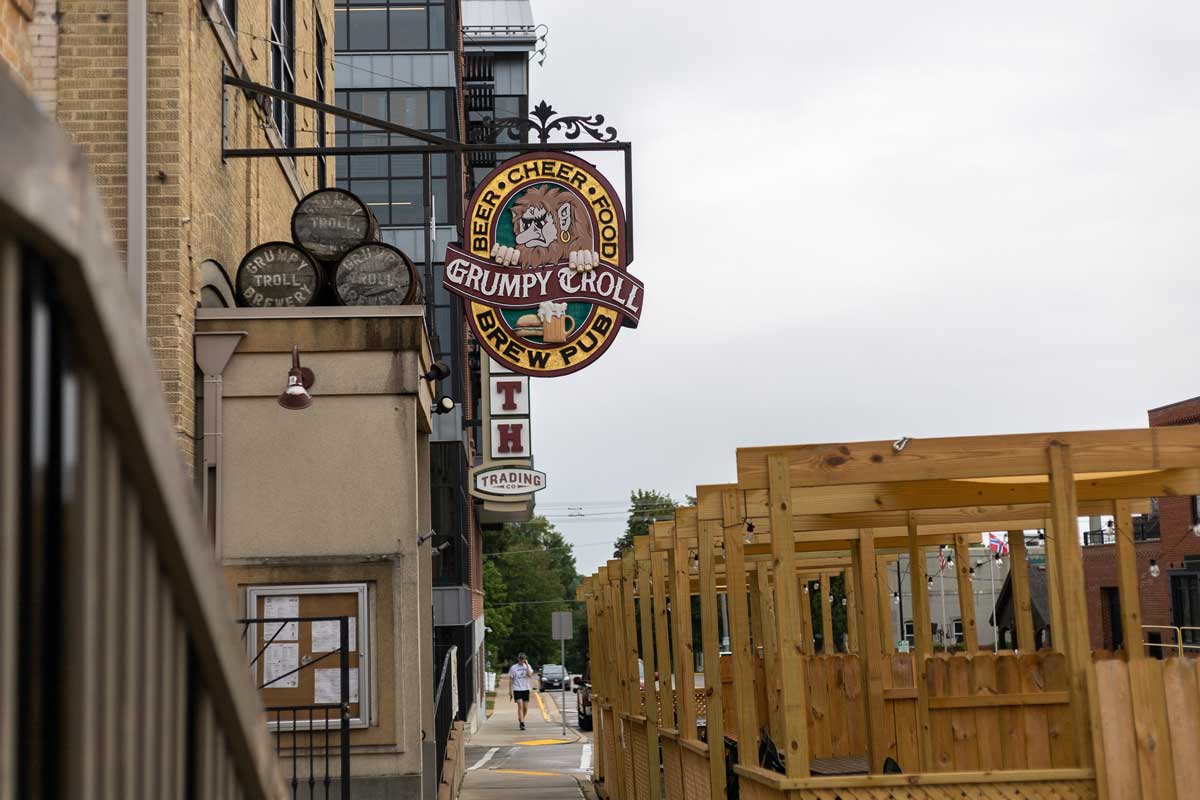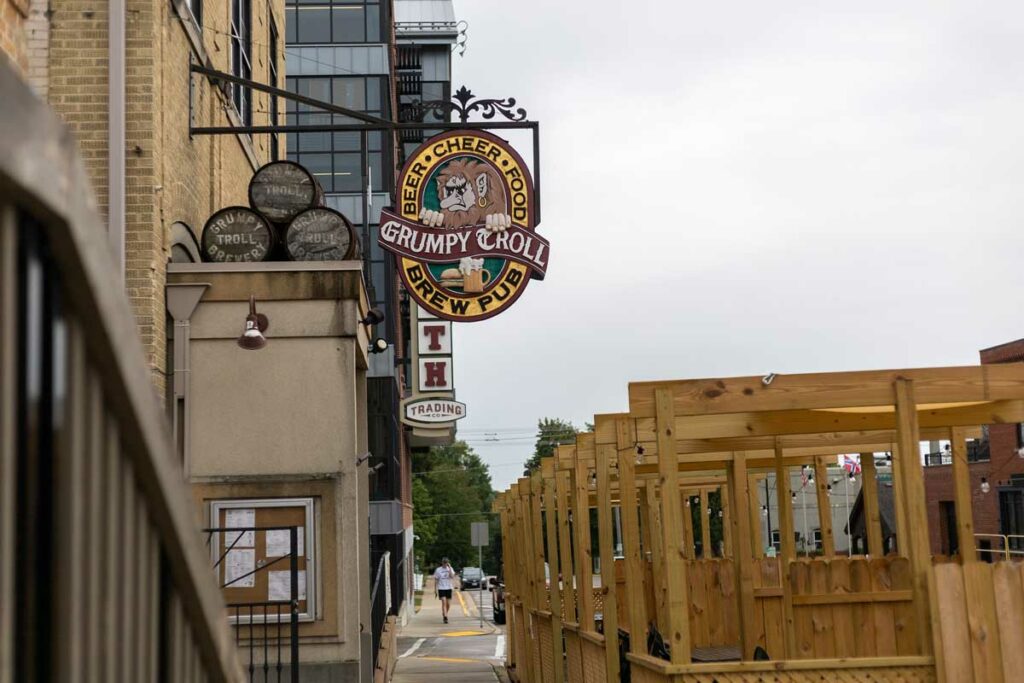 Local Eats & Treats In The Area
The Grumpy Troll Brew Pub, 105 South 2nd Street, Mount Horeb, Wisconsin

Wisconsin cheese curds, burgers, homemade roodbeer and handcrafted beers for the grown ups – a hearty stop to fill up after a day out exploring in nature. Walk around this quaint town for a troll scavenger hunt. Mount Horeb is said to be the "Troll Capital of the World" and hints of their Norwegian and Norwegian-American heritage can be found throughout the town. Look for trolls stealing chickens, water plants and more!

Skal Public House, 209 East Main Street, Suite H, Mount Horeb, Wisconsin

Their website says it all: 'Serving tasty Norske pub food with a twist!'

Bavaria Sausages Inc, 6317 Nesbitt Rd, Fitchburg, Wisconsin

Crafting and selling authentic, natural Old World Bavarian sausages and much, much more! You won't regret a trip to their "Wurstkuche" (sausage kitchen) store to explore the bounty of European goodies.
Looking to make this a weekend trip? You'll pass through our Capital City, Madison, right on your way to The Cave of the Mounds and Blue Mound State Park. Check out our Guide to Exploring Downtown Madison with Kids for the scoop!
READ MORE: Explore the Greater Madison Area: South Madison Day Trip with Kids