The Baraboo area and surrounding hills are no doubt one of the prettiest areas in our state. It's no wonder that Devil's Lake State Park is Wisconsin's most popular state park! Devil's Lake encompasses 360 acres and is surrounded by 500-foot quartzite bluffs.
When you visit you'll want to hike around the lake for the iconic lake views from the bluffs and enjoy swimming, paddling, or scuba diving at either of the two lakeshores. If you haven't yet been, get to Devil's Lake ASAP! We'll help you plan your visit to maximize your time and get to all of the best spots in the park and area.
And, before you hit the road, we recommend you join the 2022 Wisconsin State Parks Challenge and get your kids started with the Wisconsin Explorer's Program so that you can earn prizes and patches while you explore nature together.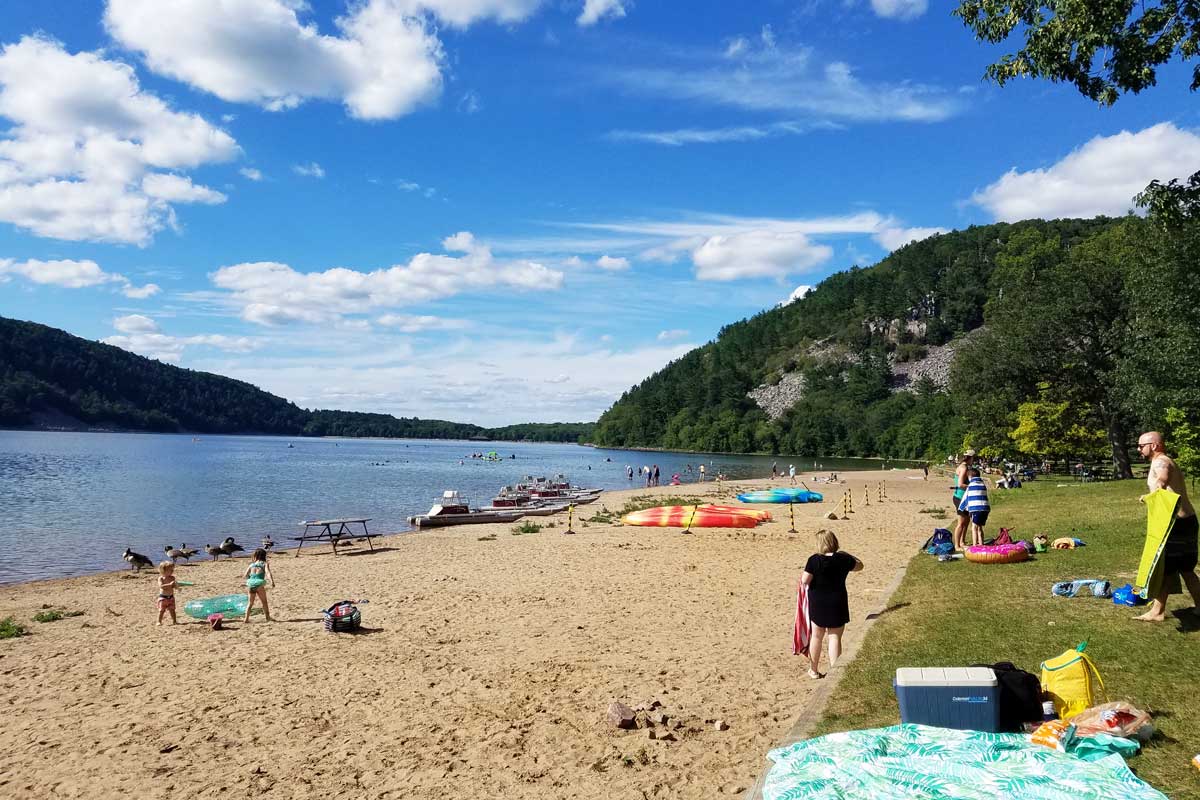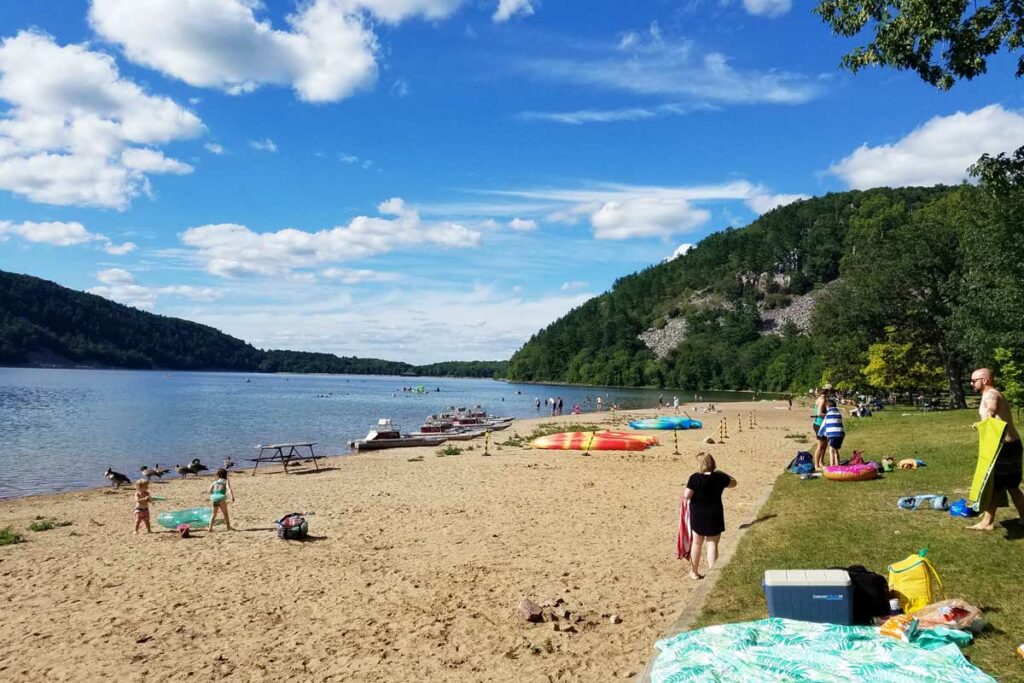 Devil's Lake State Park At-A-Glance:
Travel Specs: 2 hr, 11 min | 113 miles, Sauk County
Address: S5975 Park Rd, Baraboo
Hours: Open daily 6 am – 11 pm
Vehicle Admission Pricing: With a WI license plate, you can purchase a daily pass for $8 or an annual pass to all of Wisconsin's state parks for $28. Stop in at the park office.
Camping: Yes, 423 sites of family campgrounds with many electric sites
Pets: Leashed pets are allowed in the park. They have a pet swim area, too!
History: Devil's Lake State Park boasts a rich history, and there are many rumors mixed in with the real facts of its existence. There is evidence of early native people inhabiting this land. The lake became popular for visitors by train from Chicago and Milwaukee in the late 1800's. The popularity has only grown since then. Today, an estimated 1.3 to 1.7 million people visit the park annually!
When to Visit: The park often reaches capacity in the summer on the weekends. Try to visit during the week to beat the crowds (although, it's always busy here).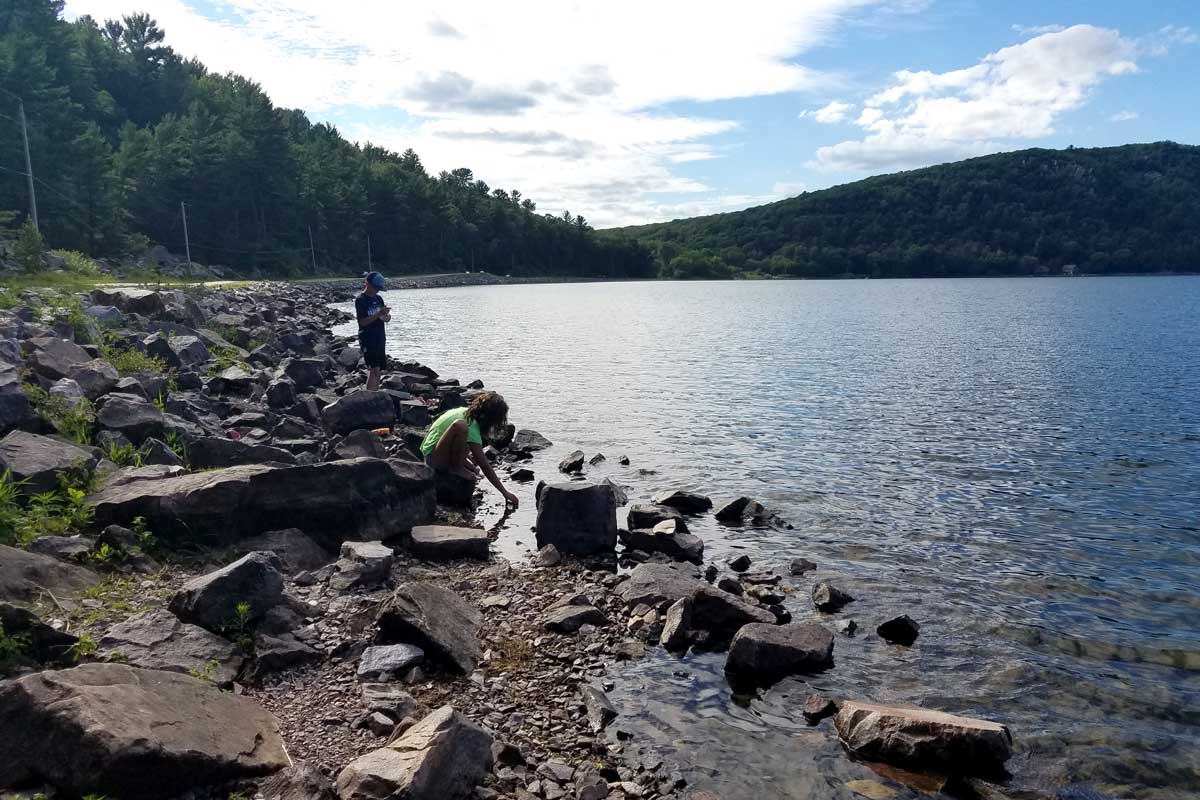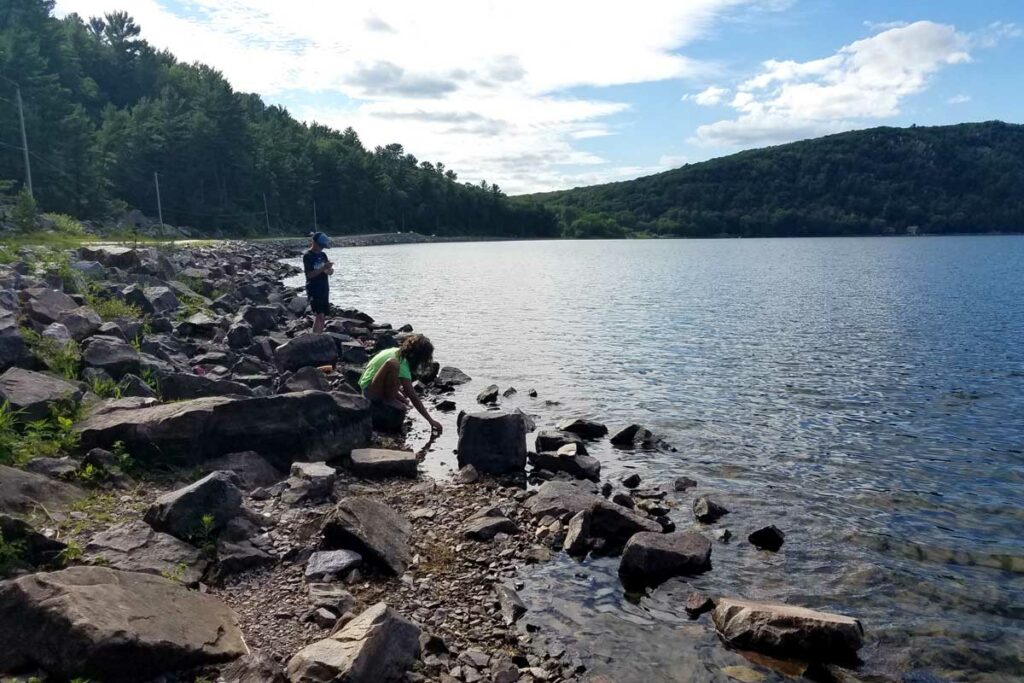 Recreation Opportunities
Beach & Swimming
With the beautiful waters and two amazing beach areas, the North Shore and South Shore, put swimming on your agenda while you're here at Devil's Lake! There are no lifeguards on duty, so keep an eye on your swimmers. Also, check the signs posted for water quality. Swimmer's itch is a common phenomenon at Devil's Lake, especially in early summer, so be sure to rug vigorously with a towel and shower off (each shore has a bathhouse) before you head home or back to camp.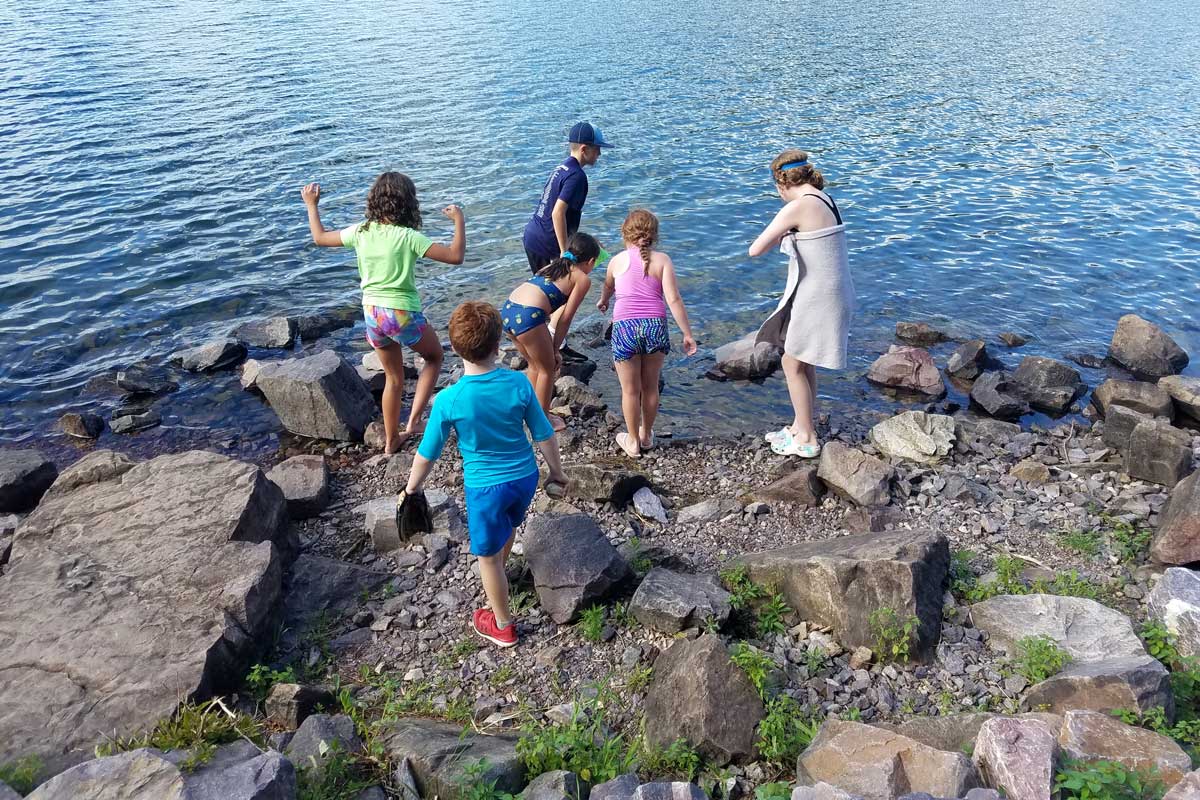 Boating, Fishing & Scuba Diving
Fishing is a common sight here at Devil's Lake! You can find a wide variety of fish in these waters. Don't have fishing gear? No problem! There is free equipment to loan out in the park office. Fishing is free for anyone 15 years or younger, but a license is required for all older anglers.
Boating is especially fun on the crystal clear waters of Devil's Lake. Bring your own kayaks or rent kayaks, canoes, paddle boards, and more at the park. They also have an adaptive kayak for those with disabilities. These waters are pretty peaceful; only electric motors are permitted.
Scuba diving is a popular form of recreation at Devil's Lake. You must use diving flags; don't dive alone.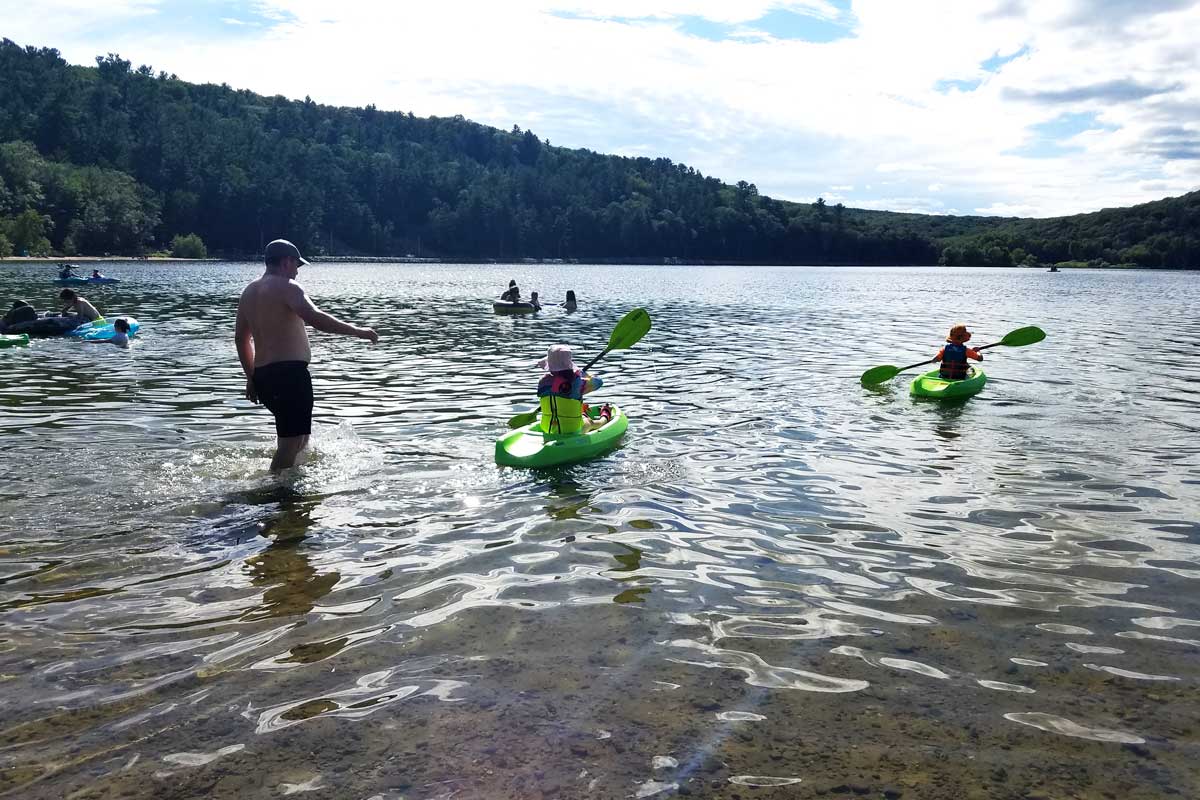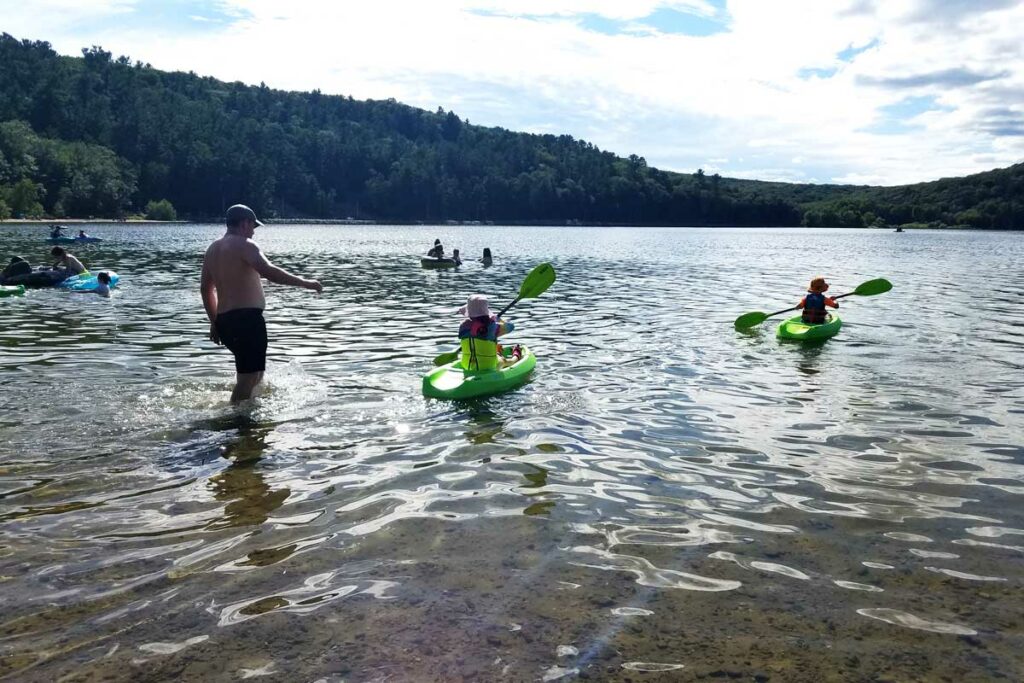 Camping
Devil's Lake is the perfect place to set up family camp. And, they have plenty of options for you, too, with 423 sites and three campgrounds to choose from! Just be sure to set up your reservations well in advance as they go quickly. Note: the Ice Age Campground is more rustic: non-electric and vault toilets only.
The park offers ice, firewood, and other camping essentials if you need them at its three concession stores. There are also a handful of grocery and hardware-type stores just minutes away in Baraboo if you need any last minute gear or groceries.
Hiking & Rock Climbing
If you came to hike, then you are in for an absolute treat! Devil's Lake offers some of the most exciting hiking in Wisconsin. There are 29 miles of trails with varying levels of difficulty to choose from. Here are some of our suggestions:
Tumbled Rock Trail (1.0 mile): This one is perfect for families and little hikers. Situated at the base of the west bluff, it offers great lake views as you weave amidst the tumbled rocks.
Grottoes Trail (0.7 miles): This one is accessible with a level, gravel surface.
Best of Devil's Lake hike: Start at Steinke Basin and hike in until it connects with the Upland Trail Loop. From there get on the trails that encompass Devil's Lake: the East Bluff Trail/Balanced Rock Trail, down to the South Shore and Boardwalk Trail, then back up to the West Bluff Trail, down along the North Shore, then back onto the East Bluff Trail and follow the trails you already went on out to the Steinke Basin Trail. This will take you the majority of the day so pack plenty of snacks and water. This hike is perfect for older kids/parents and babywearing! You will get all of the best views of the lake and property!
Rock climbing is popular at Devil's Lake, but climb at your own risk! The State Park doesn't prohibit or promote rock climbing, and there is no maintained area to climb. There are accidents each year, usually involving untrained individuals and alcohol. Don't climb unless you really know what you're doing!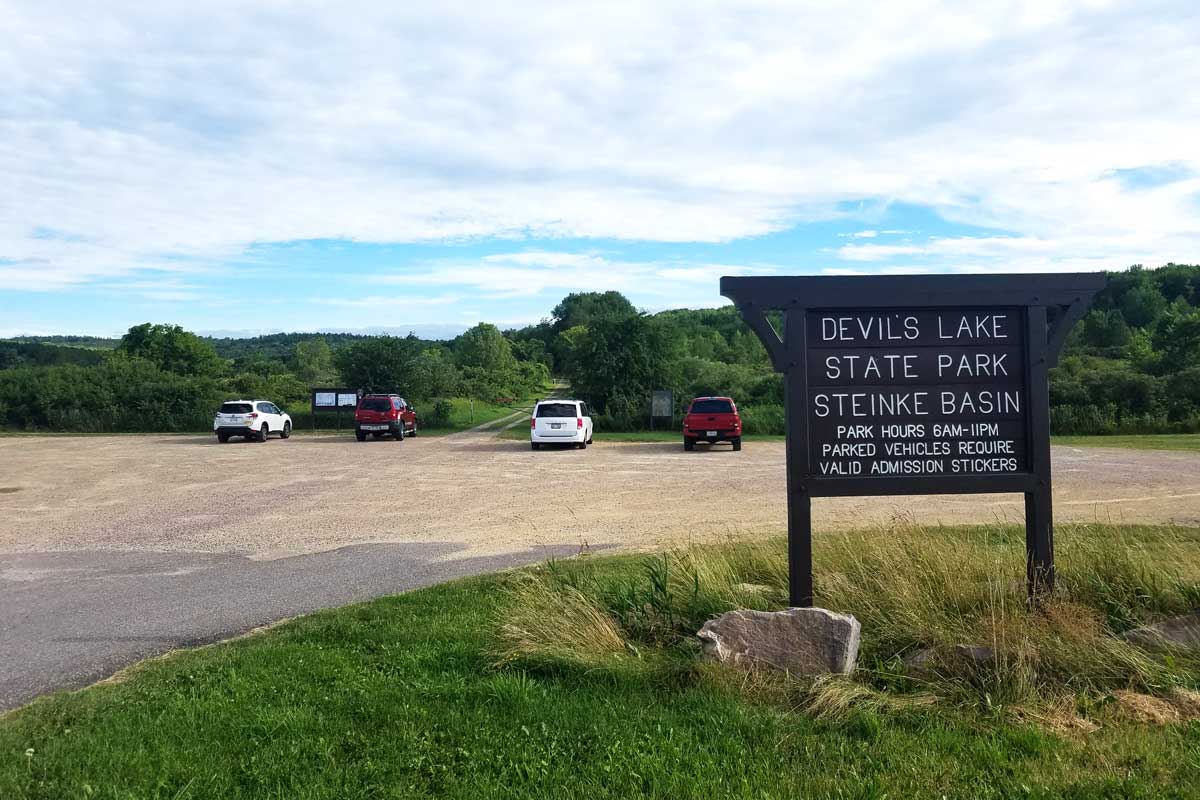 Nature Center
The Nature Center is the first building you see as you enter the park's North Shore. Stop in to talk to a park naturalist and scope out their 3D park model to help plan your hike! There are live reptiles and amphibians here as well as many other displays of wildlife found at Devil's Lake State Park. They also offer many programs and events for visitors throughout the year. The Nature Center is open 6 days a week in the summer and on some Saturdays in the wintertime.
Hours (June through August):
Monday 10 am – 4 pm
Tuesday through Saturday 10 am – 5 pm
Sunday CLOSED
Picnic Areas & Playground
Both the North and South Shores of Devil's Lake have ample picnic areas, shelters (for reservation), and grills. Picnicking and enjoying the lake are common pastimes here. There is also a nice playground structure near the South Shore of Devil's Lake with nearby flush toilets.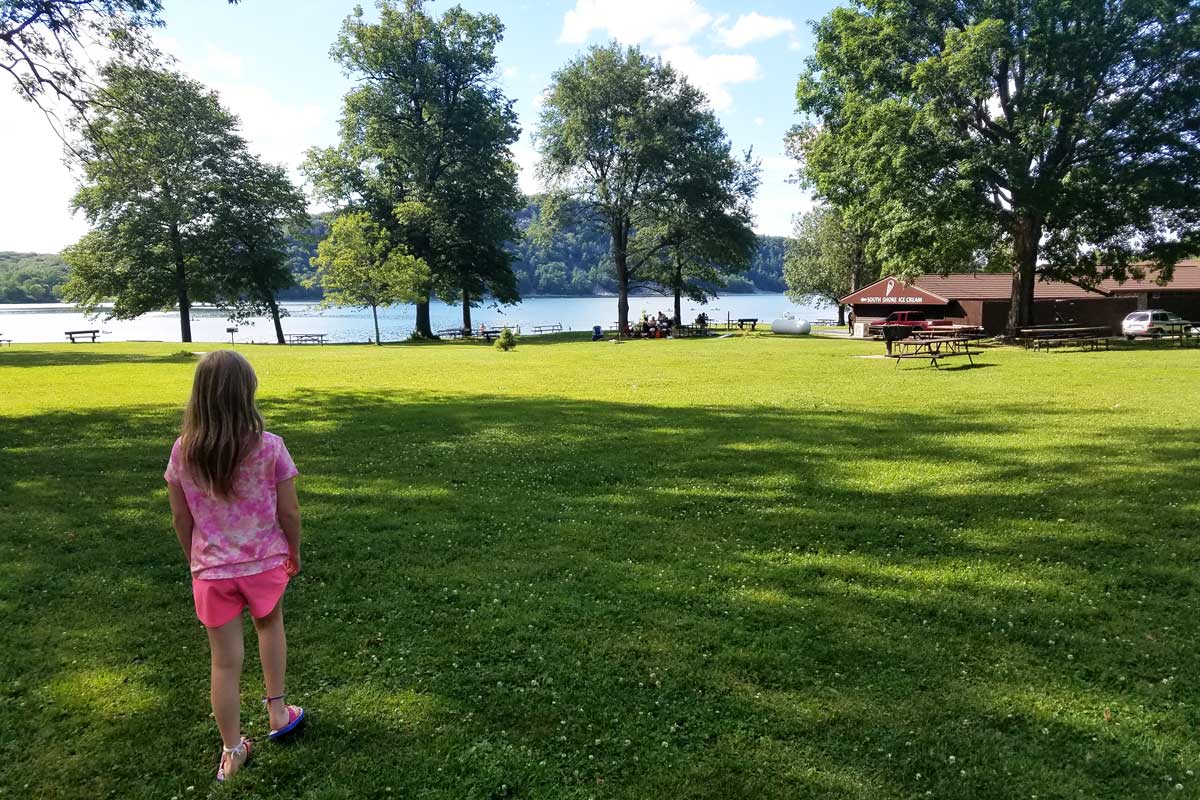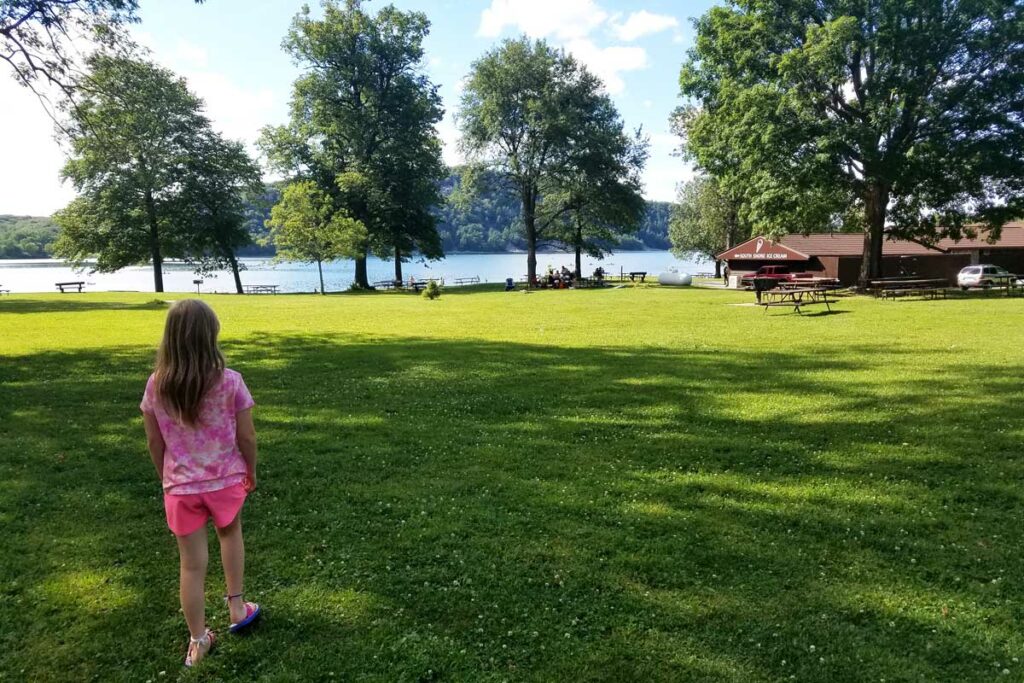 Winter Activities
Winter outdoor enthusiasts enjoy visiting Devil's Lake! While there are no groomed cross-country ski trails, you may travel anywhere in the park by ski. The hiking trails are also not maintained in the wintertime but remain open. Be careful as some of the step rock climbs can get really slippery this time of year!
If you're hoping to snowshoe, Devil's Lake offers FREE loan snowshoes for visitors on a first come, first served basis. They are available in the Nature Center which is open most Saturdays in the winter.
Ice fishing is also popular at Devil's Lake, but the ice conditions are not monitored for safety so use caution.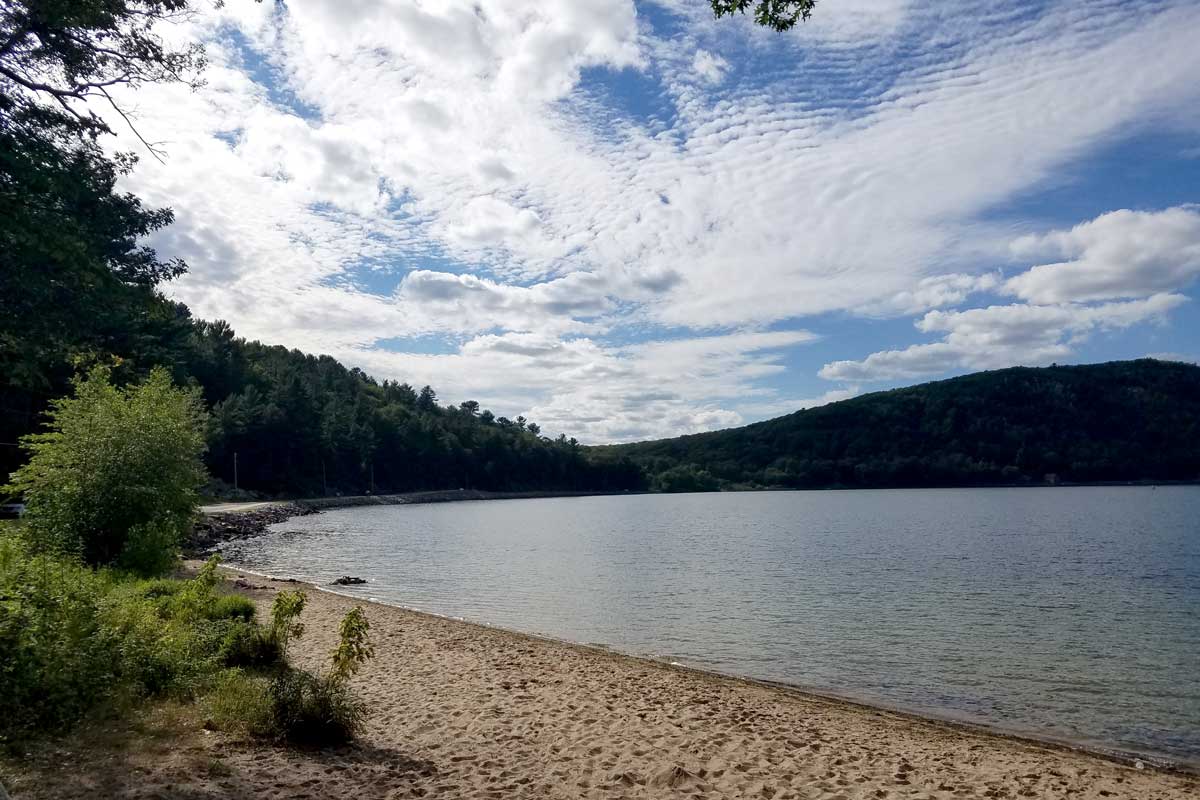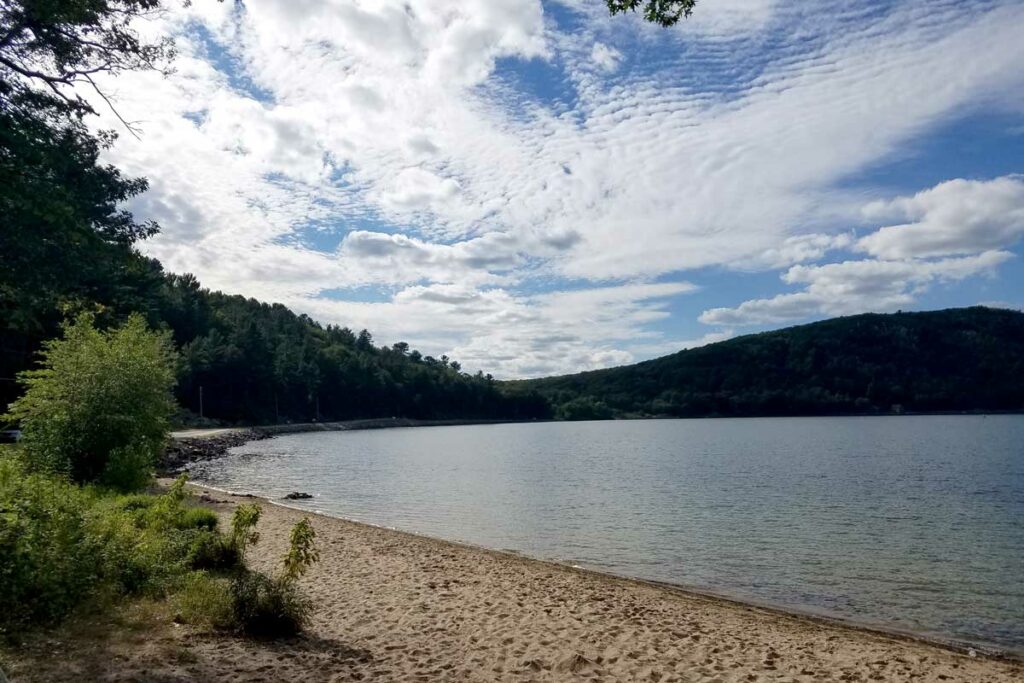 Fun Stops While You're in the Area: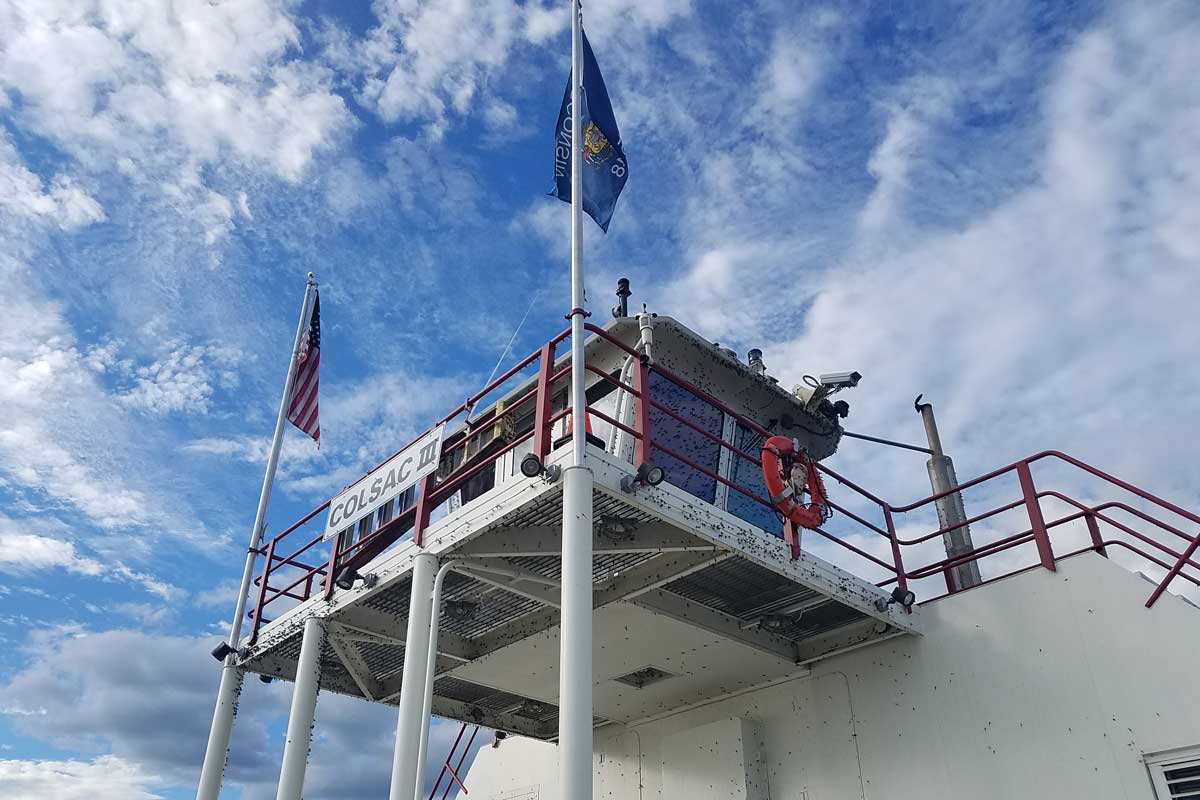 Yummy Treats in Baraboo:
Baraboo Candy Co, E10891 Coop Ln

The home of the Cow Pie (yes, you heard that right) and other tasty chocolate confections and candies. They now even offer a specially brewed Cow Pie dessert stout.

Ski-Hi Fruit Farm, E11219A Ski Hi Rd Ste A

Stop by in the fall for apple picking, petting farm and a farm store. Open in the summertime, too!

Tin Roof Dairy, 119 3rd Ave

1940's-style soda fountain and ice cream parlor. You're sure to find a winner among their 32 flavors!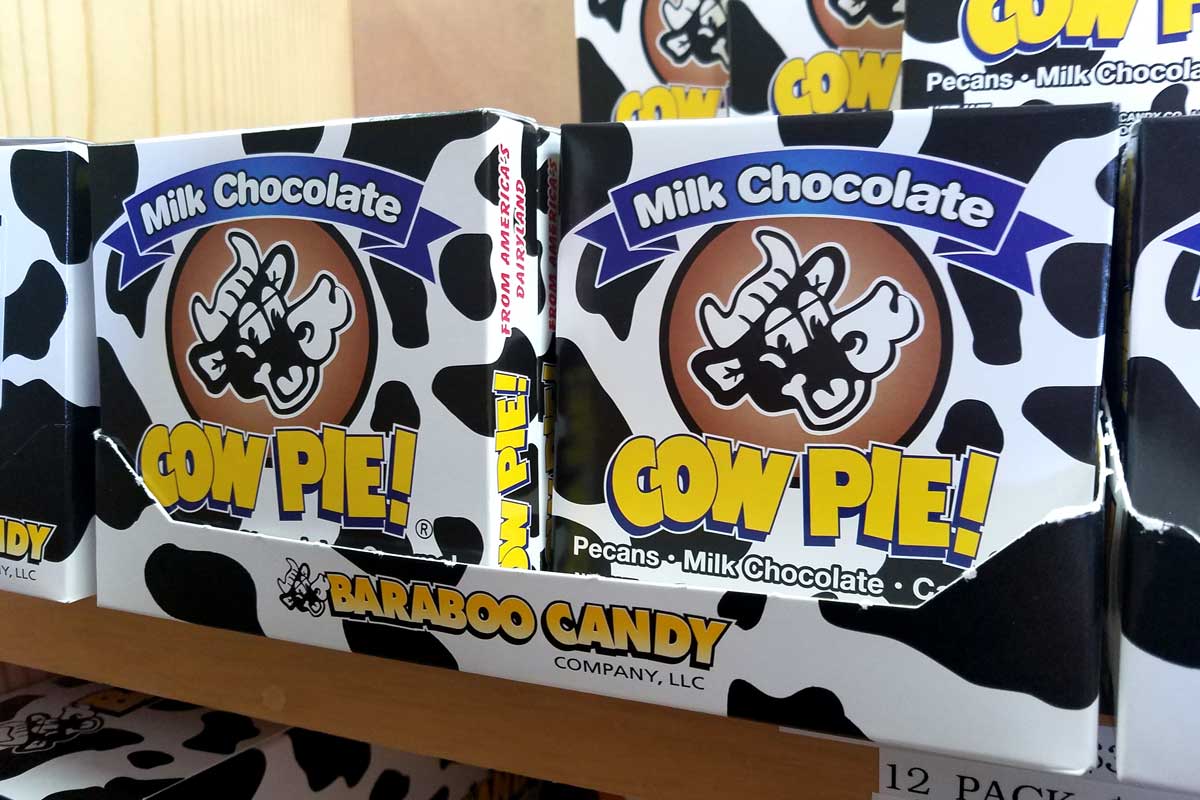 Are you looking for more fun while you're in the area? We've got some super fun stops in Wisconsin Dells, and you also might enjoy these 10 Hidden Gems in the Baraboo WI Area for A Family Adventure!