Check another adventure off your summer bucket list and take on waterslides, history, and chilly treats! If you are looking for fun not far from the Fox Cities, Wausau is the place for you!
Located in Marathon County, Wausau and Rothschild are spacious neighboring cities located along the Wisconsin River. Wausau boasts a charming downtown area booming with boutiques and cafes while Rothschild is home to one of the grandest waterparks in the area!
Those looking to get out into fresh air will also enjoy trekking along Rib Mountain and taking a walk along its' many trails. History and art lovers can also find their niche thanks to a prominent family in Wausau's past.
From spending time in the sun to exploring the scenic areas, Wausau welcomes all families and promises a memorable trip filled with adventure!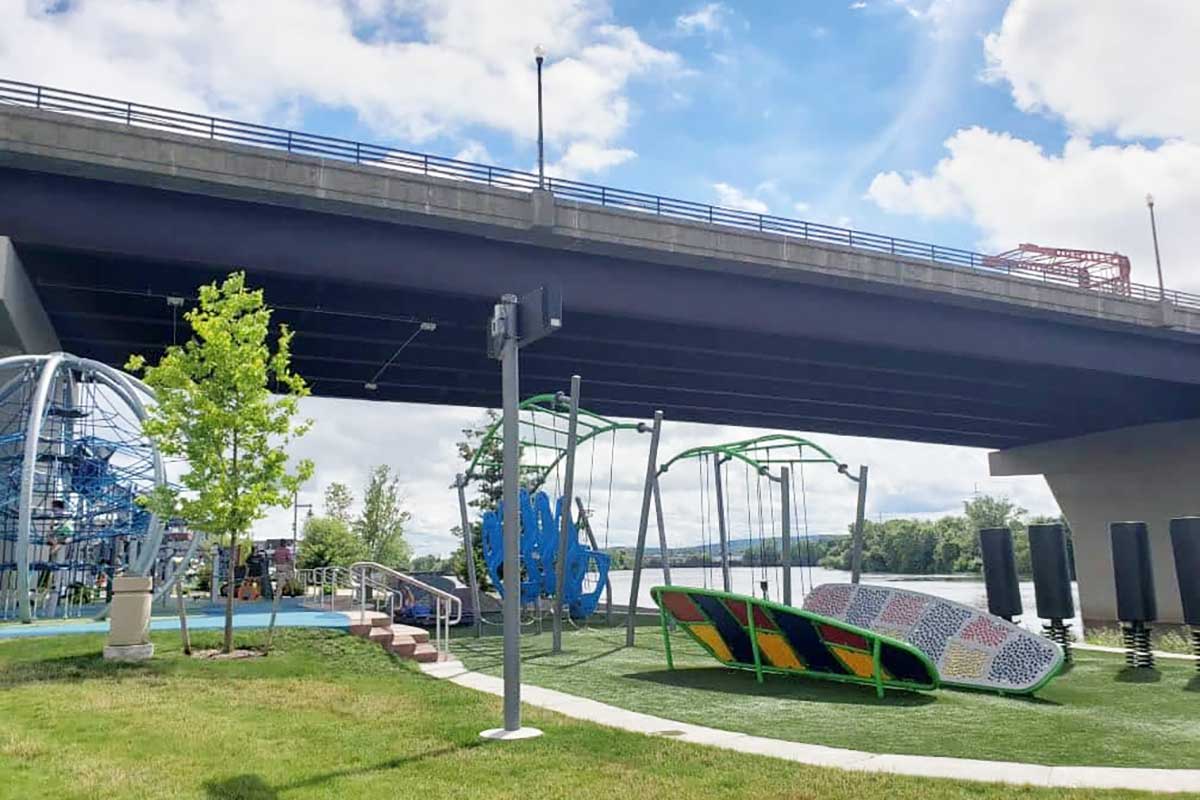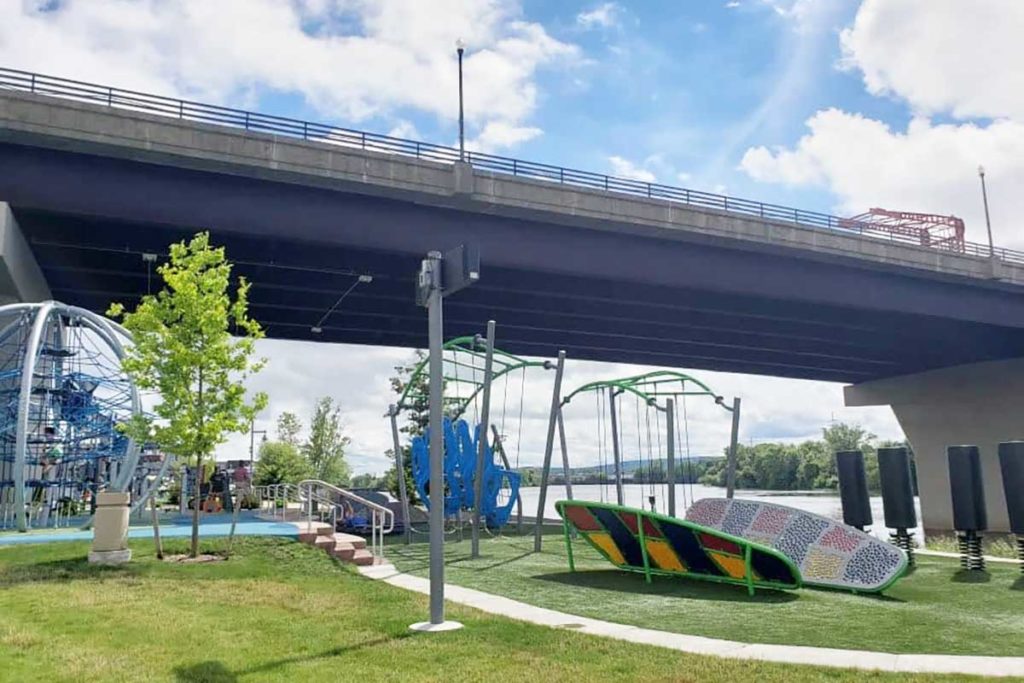 Unique Playgrounds & Parks
Riverlife Park
Hit up a park that will truly transform family togetherness with a mix of fun and fresh air! Opened in July of 2019, Riverlife Parks' unique setup reveals an amazing offering of free entertainment along the serene riverfront. The park, which features an interactive playground, also includes a timed challenge course for thrill-seeking visitors as well as a workout area with cardio and static weight stations for adults.
Hungry bellies can conveniently visit the concessions area for ice cream and snacks – all without having to leave the park! This park really does offer a little bit of everything, but within a whole lot of space! Bike the trails, watch boats in the wharf or sprawl out and relax in the green space. Families will also love seeing the lighted waterfalls and can enjoy an afternoon out while visiting this spacious park!
Park Features:
timed obstacle course
exercise stations
seating along Wisconsin River
water features operating 10 am – 11 pm daily
paved paths
Briq's ice cream
gas fireplace with adirondack chairs
kayak slips and launch (and pier)
Riverlife Park, 1400 N River Dr, Wausau
READ MORE: NEW Wausau playground like no other and designed for ALL kids!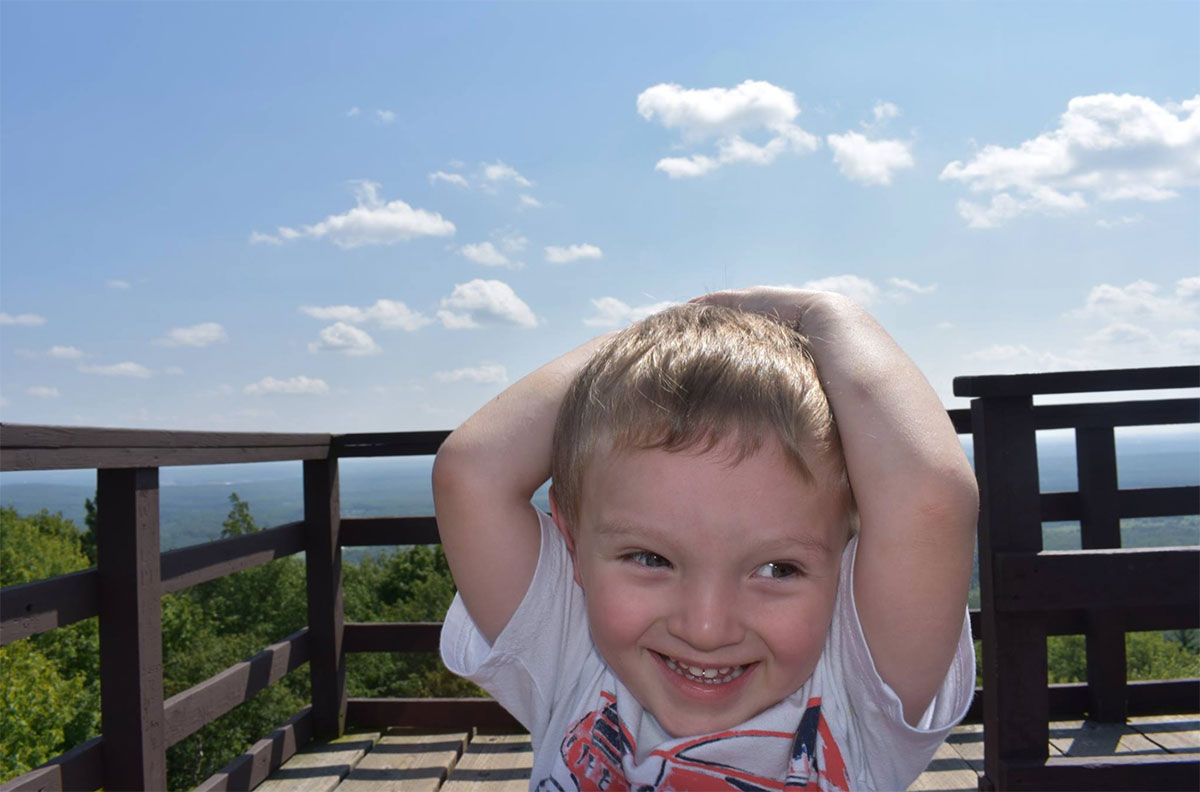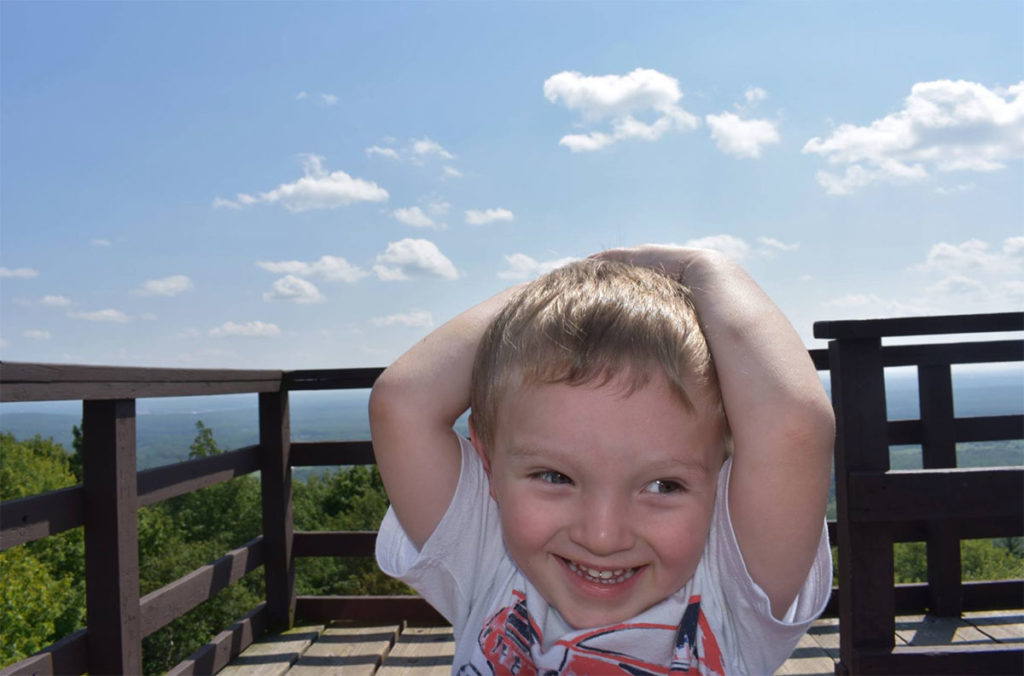 Rib Mountain State Park
Rib Mountain is a gorgeous, billion-year-old hill that is one of the area's oldest geological formations! It lies within the 1,528-acre Rib Mountain State Park.

Other features include:
15 miles of trails
a ski area
an amphitheater
the 60-foot tall observation tower gives visitors a breathtaking, birds-eye view of Wausau
Families can walk the many trails, go nature spotting, and picnic in the park. The park, which is open year-round, does require a Wisconsin State Park Vehicle Admission sticker. Be sure to plan and order one in advance as they are currently not available on site.
Sawmill Adventure Park
COVID-19 UPDATE: Sawmill Adventure Park is open and has an operating plan during the pandemic. They ask that groups of 6 or fewer people make reservations and fill out waivers prior to visiting.
Endure entertaining challenges that will keep you on your toes at the Sawmill Adventure Park:
18 holes of mini-golf
massive indoor trampoline park
three-lane Ninja Warrior course with obstacles
race up the Traverse Climbing wall
trampoline dodgeball
The park gives families and kids the opportunity to:
learn stunt jumps
practice aerial climbing
dive from dunk pads
fine-tune their balancing abilities on battle beams
There is an activity for those of all ages to enjoy and the park is open rain or shine!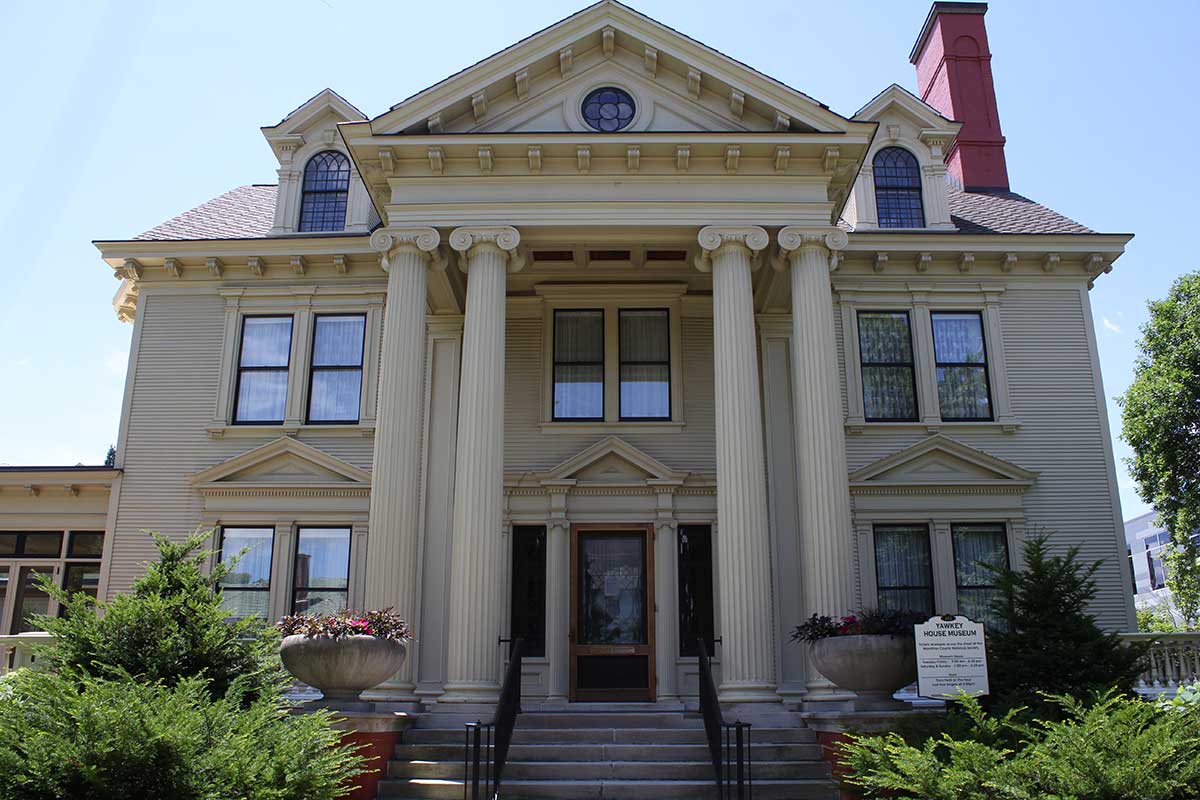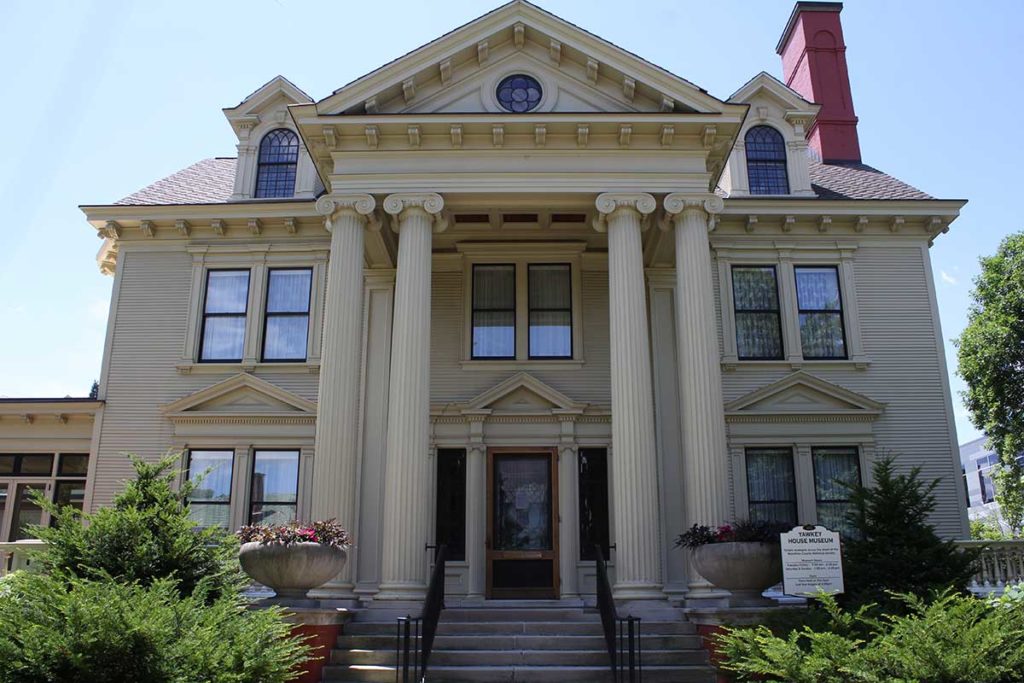 Explore Remarkable Spaces
Yawkey House Museum
COVID-19 Update: While the museum has not yet released an opening date, guests can still stop by the tranquil garden at no cost and admire the massive mansion!
Built in 1901, the Yawkey House is a classical revival style house with iconic columns and portico. It was said to be the most expensive home in Wausau at the time, costing $35,000 to build!
Designed by Milwaukee architects Henry Van Ryn and Gerrit de Gelleke, the gorgeous house-turned-museum was home to several generations of the Cyrus Yawkey family. The family, which was undoubtedly wealthy, moved to Wisconsin from Michigan and founded several successful businesses, utility companies, and the first paper mill in the area.
The home features many of the original Yawkey furnishings as well as beautiful, stained glass windows, art glass light fixtures, and lush gardens. Visitors of all ages will enjoy peeking into history as they walk through the many rooms of this home and admiring the beautiful craftsmanship.
Yawkee House Museum, 403 Mcindoe Street, Wausau

Admission is $7 for adults, $5 for children age 6+ and those under 6 are FREE.
Leigh Yawkey Woodson Art Museum
COVID-19 UPDATE: The museum is open and has a COVID-19 operating plan in place. There are no visiting artists or programming currently.
The Yawkey family's tree still extends far throughout Wausau with the renowned Leigh Yawkey Woodson Art Museum! The museum is well-known for its "Birds in Art" exhibition, a contemporary artistic representation of various breeds of birds. Visitors can enjoy other exhibitions as well as audio tours and activity guides. The museum also offers artist residencies to extend the passion for art to local artists.
From art to walking through the beautiful gardens, plan to spend the afternoon at the museum. Visitors of all ages are welcome, and strollers and wheelchairs are available for rent.
Admission is free and there are always new exhibits and upcoming events, so be sure to check out their website for a complete list.
Leigh Yawkey Woodson Art Museum, 700 N 12th St, Wausau

Hours: Tuesday-Friday 9am-4pm, Saturday & Sunday noon-5pm
Free Admission for all ages
2020 Birds in Art Exhibition will be September 12 – November 29, 2020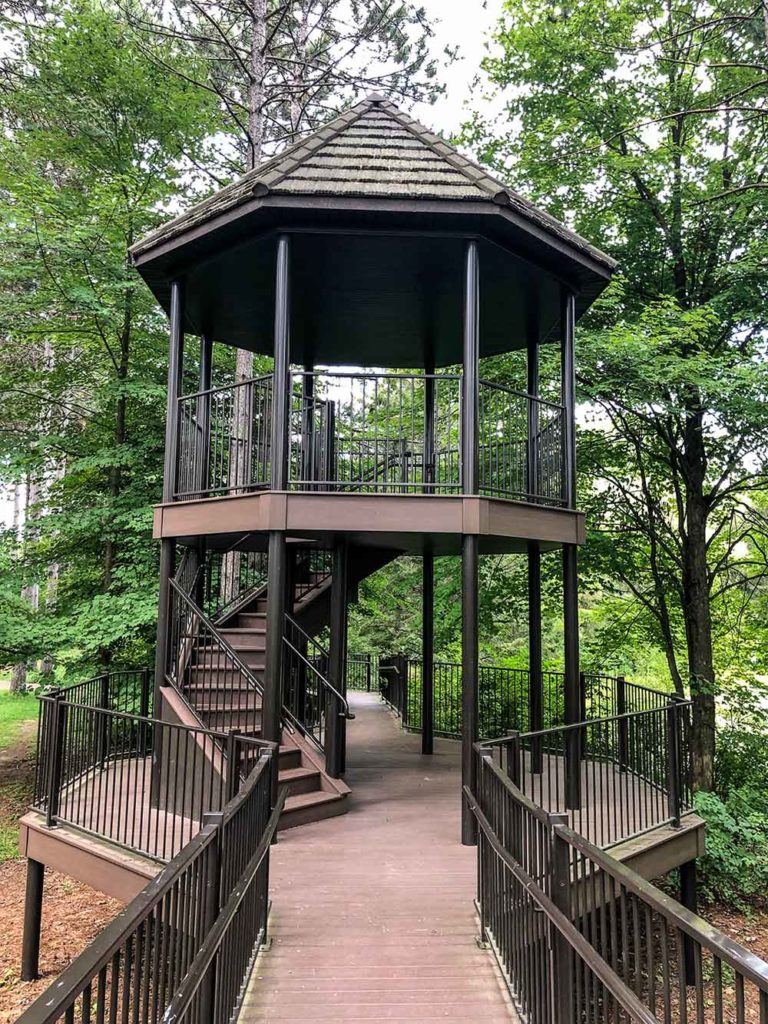 Monk Botanical Gardens
COVID-19 UPDATE: The gardens are open with limited hours and pandemic precautions in place.
The Monk Botanical Gardens are a stunning hidden gem of Wausau.
The 30-acre park has:
meditation garden
storybook garden
a multitude of trails
a treehouse to explore
Families will enjoy spending time together walking among nature in these relaxing gardens.
BONUS! The gardens also double as a geocaching site! Geocaching, a form of treasure hunting, is a fun activity for those of all ages. It involves using GPS and navigation techniques to find containers, called "caches" located at specific coordinates. Parents can download a free geocache app on their phone before visiting and the whole family can gear up for an afternoon of exploring!
Monk Botanical Gardens, 1800 N. 1st Avenue, Wausau

Free to visit, but a donation is appreciated
Open to the public on Saturdays & Sundays from 7 am – 7 pm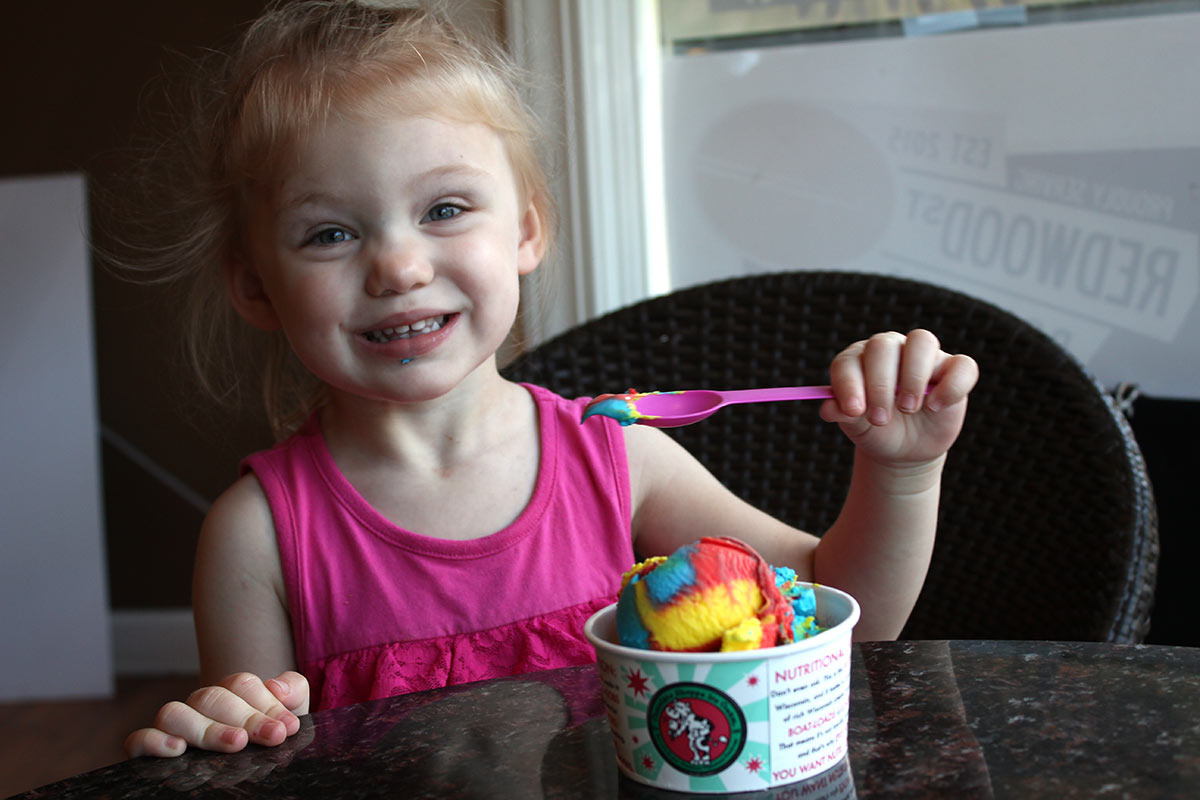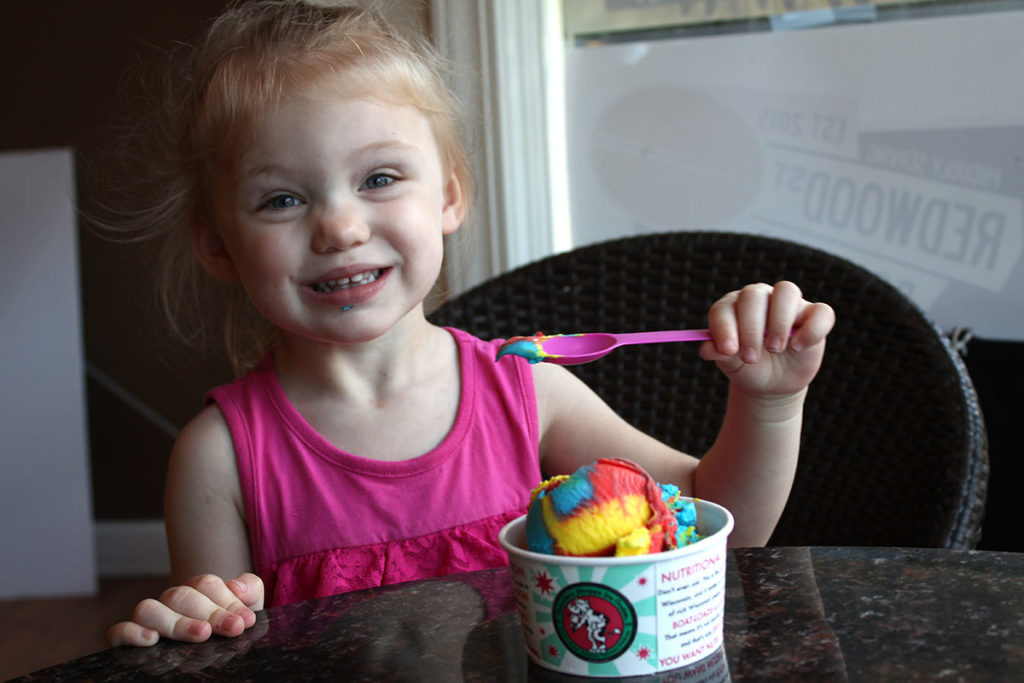 Grab A Treat
Sweets On 3rd
Make a special trip to Wausau's beautiful downtown district and grab a treat at Sweets on 3rd. Rows of glass jars line the shelves with a vivid assortment of traditional hard candies and specialty confections, and the cases are stocked full with even more delicious nibbles!
Other treats:
exceptional chocolates
fresh-brewed coffees
a variety of super-premium Maggie Moo's ice cream flavors
Kids will like selecting their own chilly concoctions and cones and parents will also enjoy the variety. There is even a flavor that gives a humorous nod to parenting: The Exhausted Parent.
The shop, which is charmingly whimsical, offers seating inside or spots outdoors along the windows for families to unwind and enjoy their treats. There are also extra gifts and goodies that can be purchased including natural wood toys, bulk loose-leaf tea, and brewing supplies.
Extend the Fun
Grand Lodge Waterpark Resort
COVID-19 Update: The waterpark reopened on July 1st. COVID-19 related changes to operations are in place.
After a day out and about, families can swim, splash, and play at the Grand Lodge Waterpark Resort, home of the largest waterpark in central Wisconsin! Located on the outskirts of Wausau in Rothschild, the resort extends the opportunity for fun and a thrilling adventure with all the comforts of home. Suites are spacious and designed with guests of all ages in mind and don a beautiful woods-theme, cozy furniture, microwave, and mini-fridge.
Along with a clean and creatively decorated property, the hotel includes, Logger's Landing, a bustling waterpark!
Waterpark Features:
seven waterslides
a winding lazy river
toddler play area
hot tub
various water activity areas
Waterpark admission is included in the stay and the whole family will enjoy soaking and splashing in the soothing 84-degree park.
Kids will also enjoy testing their gaming skills in the Blue Ox Arcade! Arcade play cards are available for purchase and families can compete on games such as Connect Four, Monopoly, Space Blaster, amongst many others! Claw machines loaded with plush prizes line the room, and when everyone is ready to redeem tickets, there are lots of amazing prizes to choose from!
---
Between a blissful walk through nature and an exhilarating ride down a bunch of waterslides, families will have so much fun in Wausau! Not only is summer the perfect time to visit, it is only a short drive from the Fox Cities, but far enough to really kick back and unwind. So, what are you waiting for? It's family time!