Visiting our Capital City is undoubtedly filled with some of the best family-friendly adventures around, such as the Henry Vilas Zoo, the Capitol & State Street, and the Madison Children's Museum. But, we're on a mission to take you a little more off the beaten path to explore all of the wonder that the greater Madison area has to offer on your next family day trip. Ready? Let's visit the area to Madison's south! There's plenty of small town charm and adventure to make for a day filled with learning, treats, and fun for everyone.
READ MORE: Essential Downtown Madison: Visiting the Capital City with Children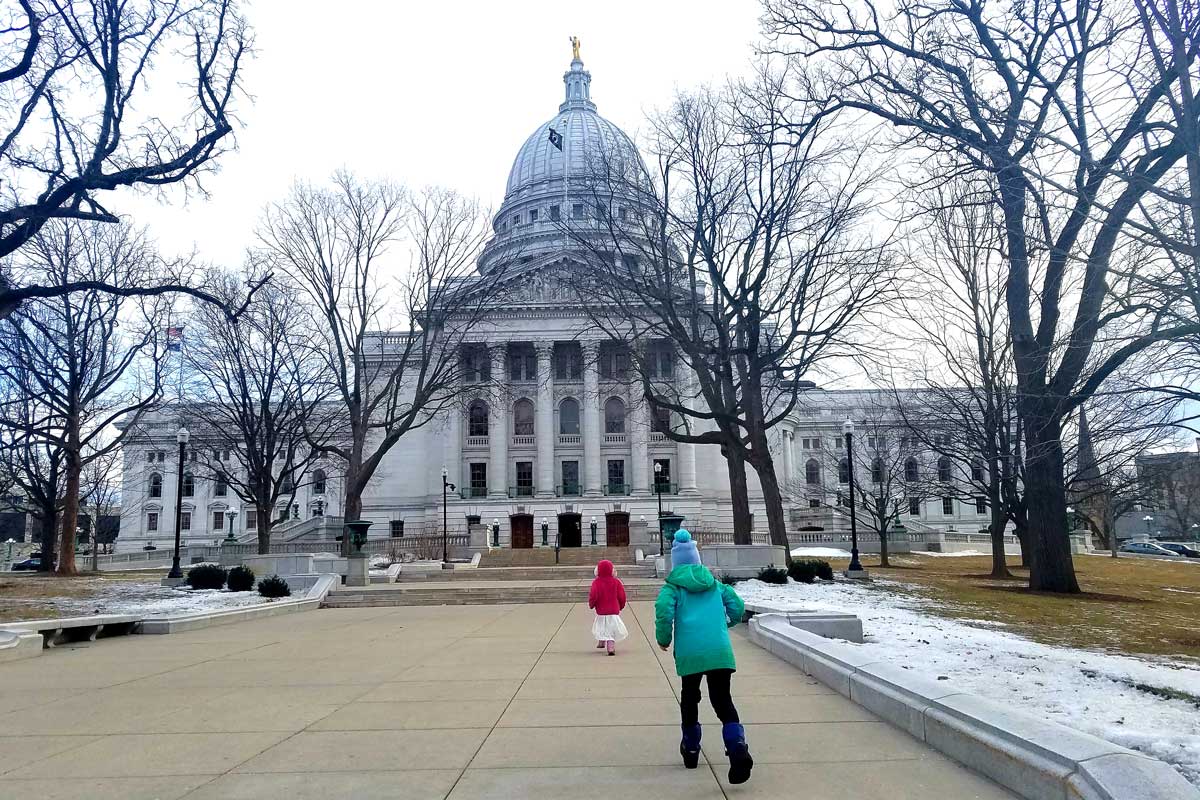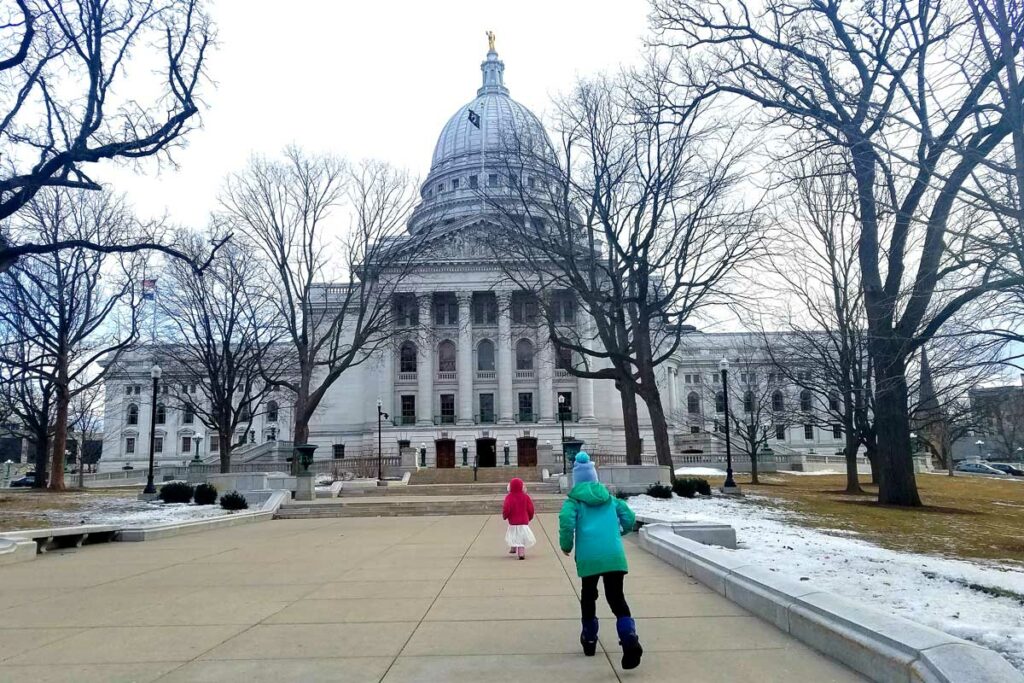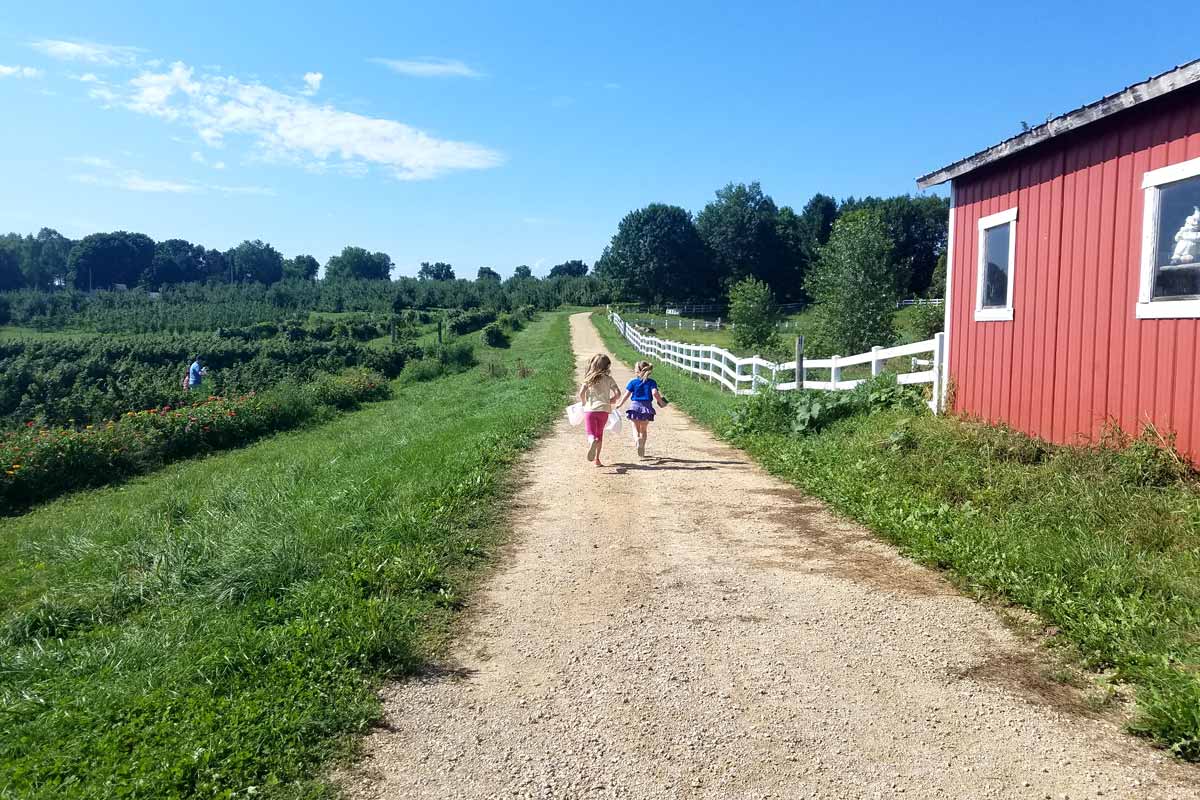 Fitchburg
Just to Madison's south, you'll find the explosively-growing suburb of Fitchburg. There are a lot of great stops popping up around here, but we highly recommend Eplegaarden Apple Orchard, in season, The Great Dane Pub & Brewing Co, and Bavaria Sausage, Inc. as spots you won't want to miss on your journey to Madison's south.
Eplegaarden Apple Orchard & Pumpkin Farm
If you are visiting the Madison area in the fall, there is no better spot to stop by for some harvest time fun than at Eplegaarden in Fitchburg! They offer a variety of autumn favorites such as apple picking, pick your own fall raspberries (including sweet & delicious white raspberries!) wagon rides, and pumpkins all with a Norwegian flare. Stop in their farm store for some fresh apple cider or hard apple cider to enjoy later!
Eplegaarden At-A-Glance: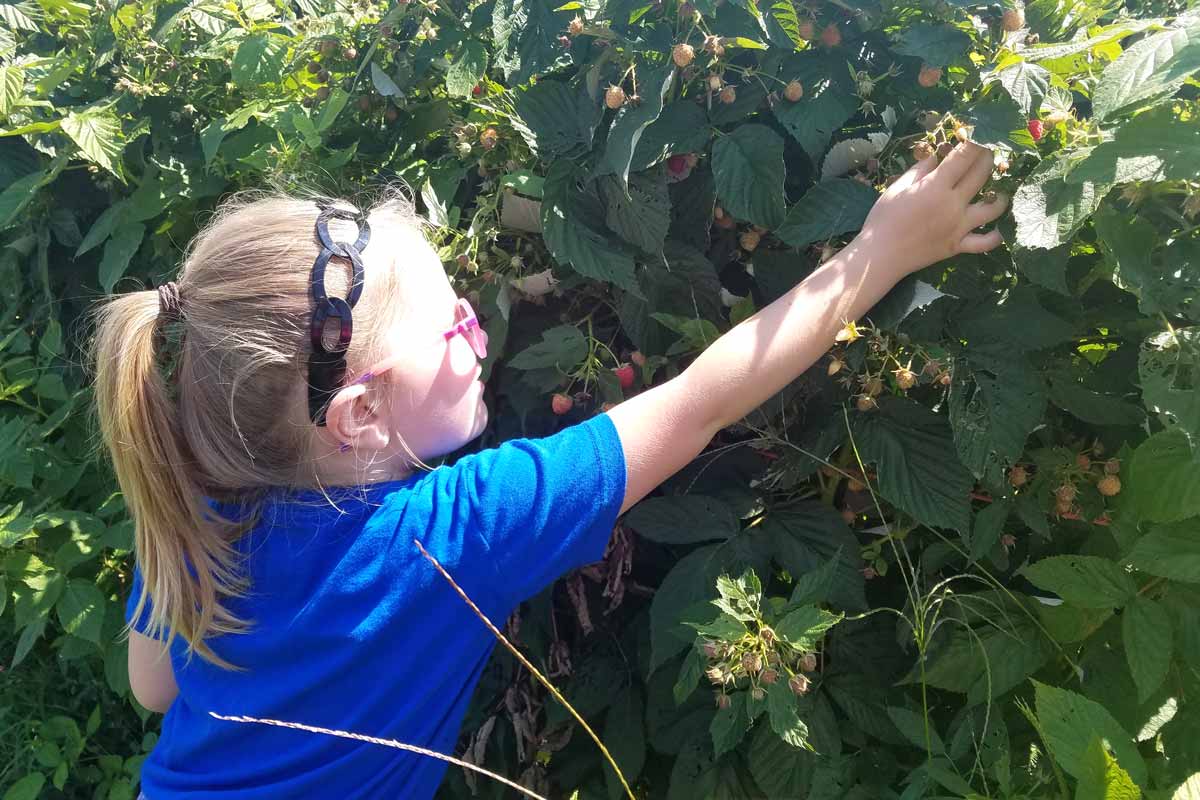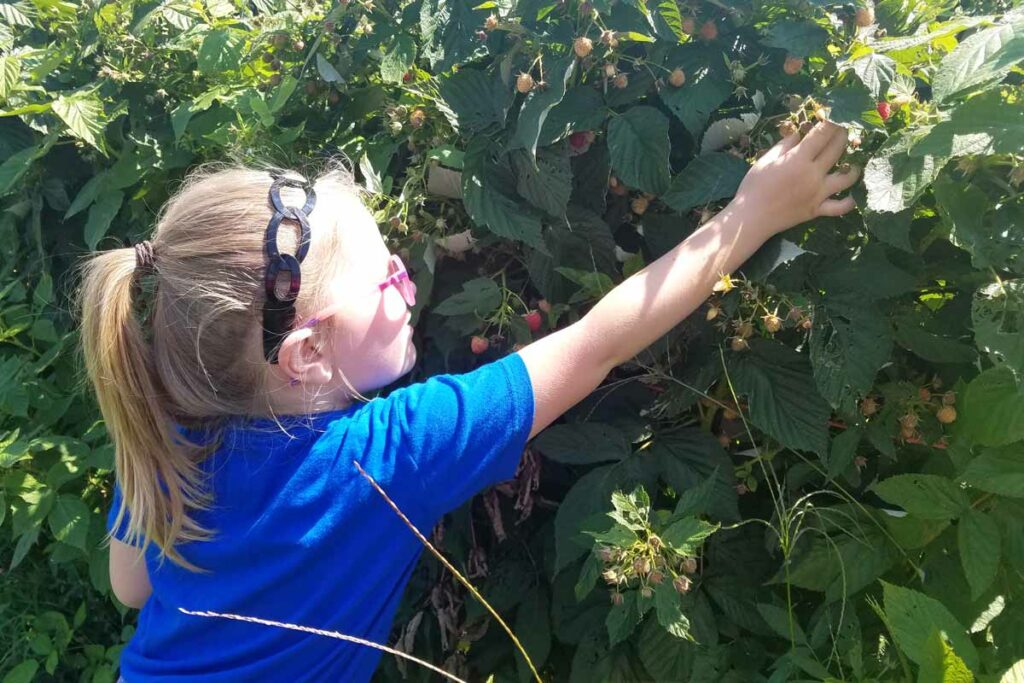 The Great Dane Pub & Brewing Co
While you're in Fitchburg, stop by The Great Dane Pub & Brewing Co, an iconic Madison brew pub and restaurant with several locations. We highly recommend the chicken pot pie, New London fish fry, or brat & bacon pretzel burger for your entree. And, you can never go wrong with the Milwaukee Pretzel Company Bavarian pretzel for a starter! If you like a wheat beer, try a glass of their Crop Circle Wheat brew to complete your meal.
The Great Dane At-A-Glance:
Bavaria Sausage, Inc
Authentic Old World German sausage is the name of the game at Bavaria Sausage, Inc in Fitchburg. Their craft and sell authentic sausages right here in their "Wurstkucke' (sausage kitchen) for sale in their store and shipped across the globe! You won't regret a trip to their store to behold the bounty of other European goodies they offer, too.
Bavaria Sausage At-A-Glance:
READ MORE: Off the Beaten Path: Madison's Near-West Side with Kids
Verona
Verona, adjacent to Fitchburg and just south of Madison, is another wildly growing suburb, thanks mostly to being the global headquarters of Epic Systems. This lovely little town has a handful of fun spots to offer on your day trip south of Madison.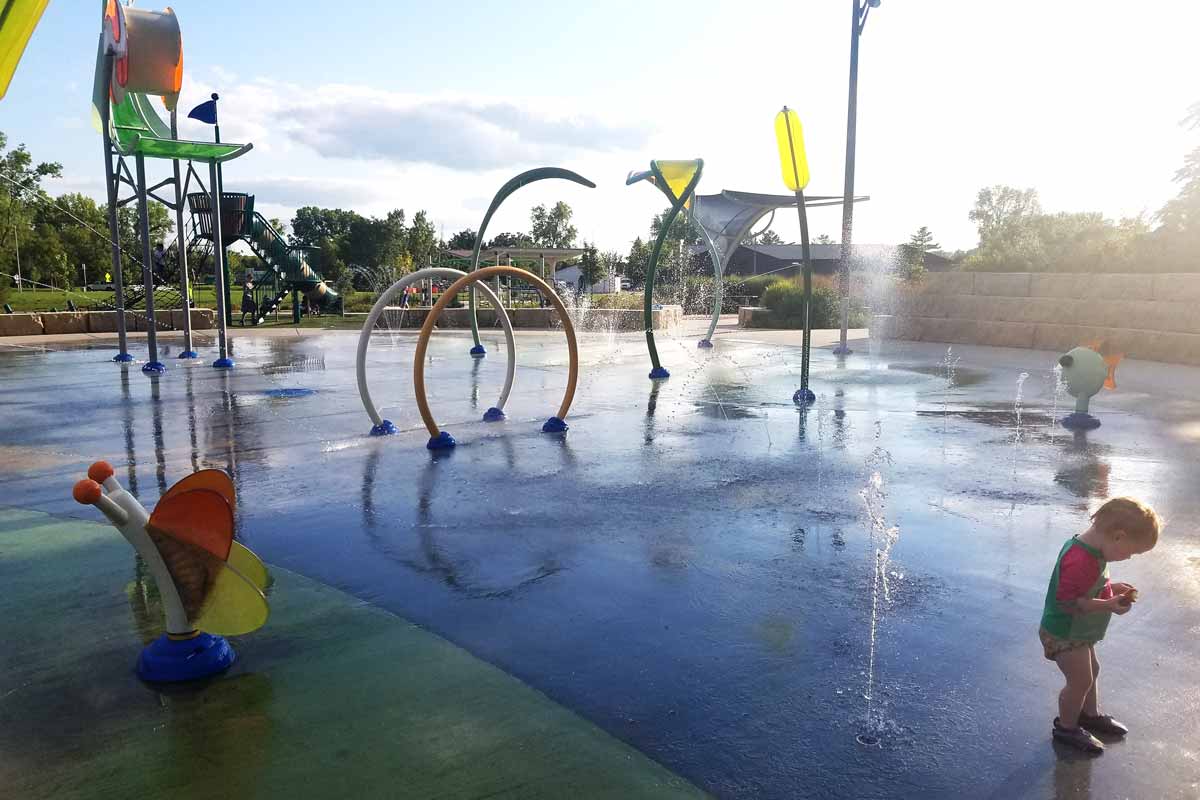 Fireman's Park Beach & Splash Pad
The ultimate splash pad, beach, and playground experience, The Verona Beach is a must stop for a summertime adventure! There is literally something for every age here. We loved the shaded waterway play area. Our children of every age enjoyed damming and freeing the water as it runs downstream. Go Valley Kids Tip: Bring some plastic balls (think old-fashioned McDonald's ball pit) or other floatables to send down the 'river'. Our kids always love bringing along a sand pail or two, as well, to fill & dump in the splash pad.
Fireman's Park Beach At-A-Glance: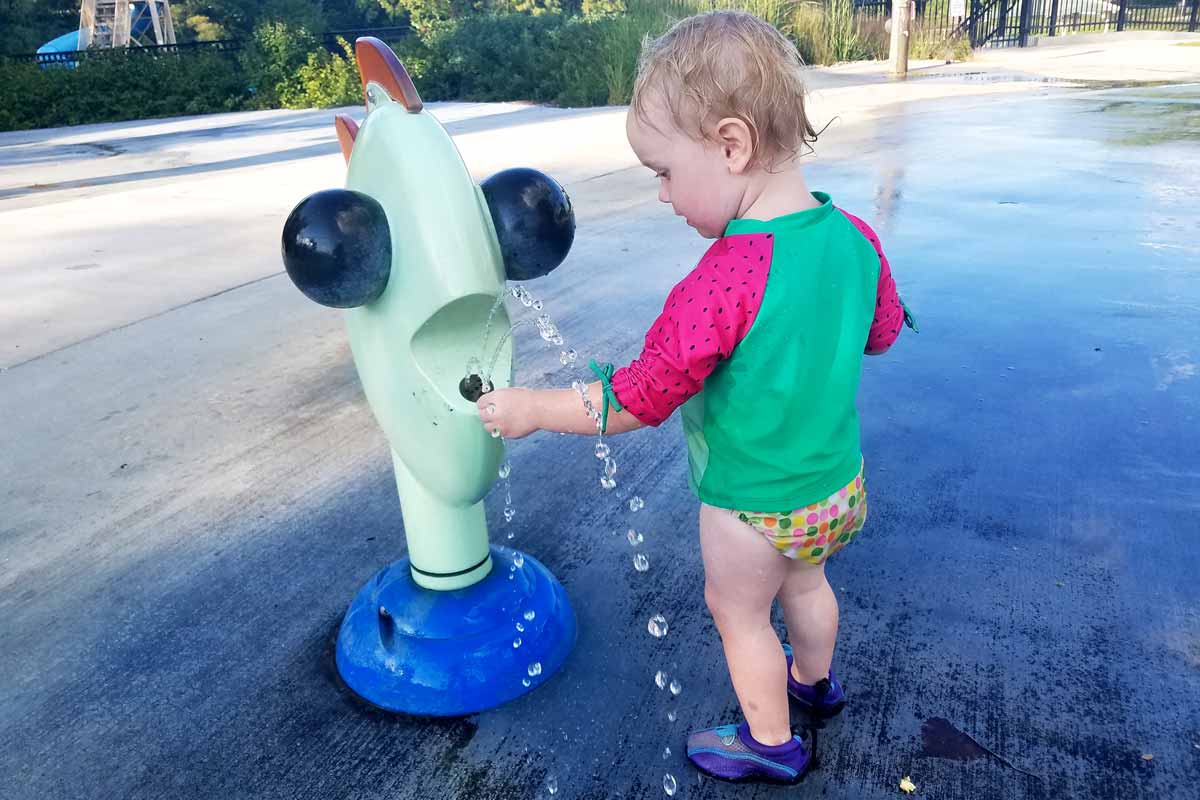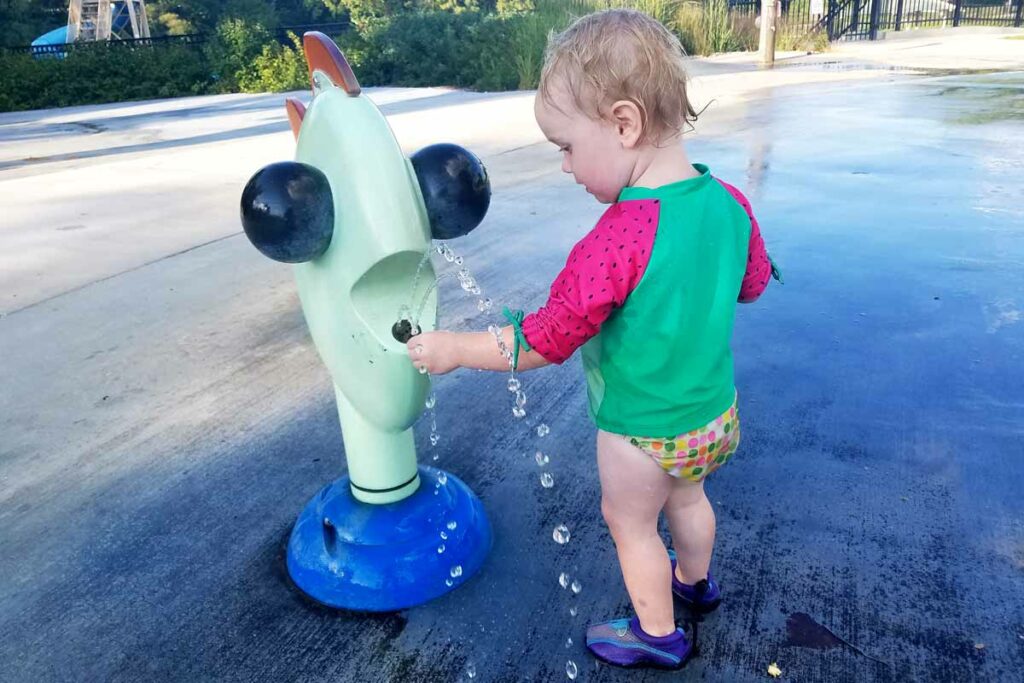 Icki Sticki
Looking for a cool treat after an afternoon in the water? Check out Icki Sticki right here in Verona for some deliciously unique treats. They offer coffee, smoothies, boba teas, bakery items, Belgian waffles, Chocolate Shop ice cream, and even rainbow grilled cheese!
Icki Sticki At-A-Glance:
The Sow's Ear Cafe & Yarn Shop
You simply must stop in at The Sow's Ear, the first cafe and yarn shop in the Midwest, while you're here in Verona. Hungry? Check out their All Day Breakfast and other yummy dishes. And, they even offer a variety of online knitting classes, so you can continue to enjoy The Sow's Ear when you're back home!
The Sow's Ear At-A-Glance:
READ MORE: Off the Beaten Path: East Madison & Monona with Kids
New Glarus
One of Southern Wisconsin's little gems, New Glarus was first established as a Swiss colony in 1845. This charming little town retains its title as 'America's Little Switzerland' today. From ski Chalet-styled buildings, to a Swiss Cow parade, to bells ringing at the local Swiss United Church of Christ, a trip to New Glarus is like stepping into another world!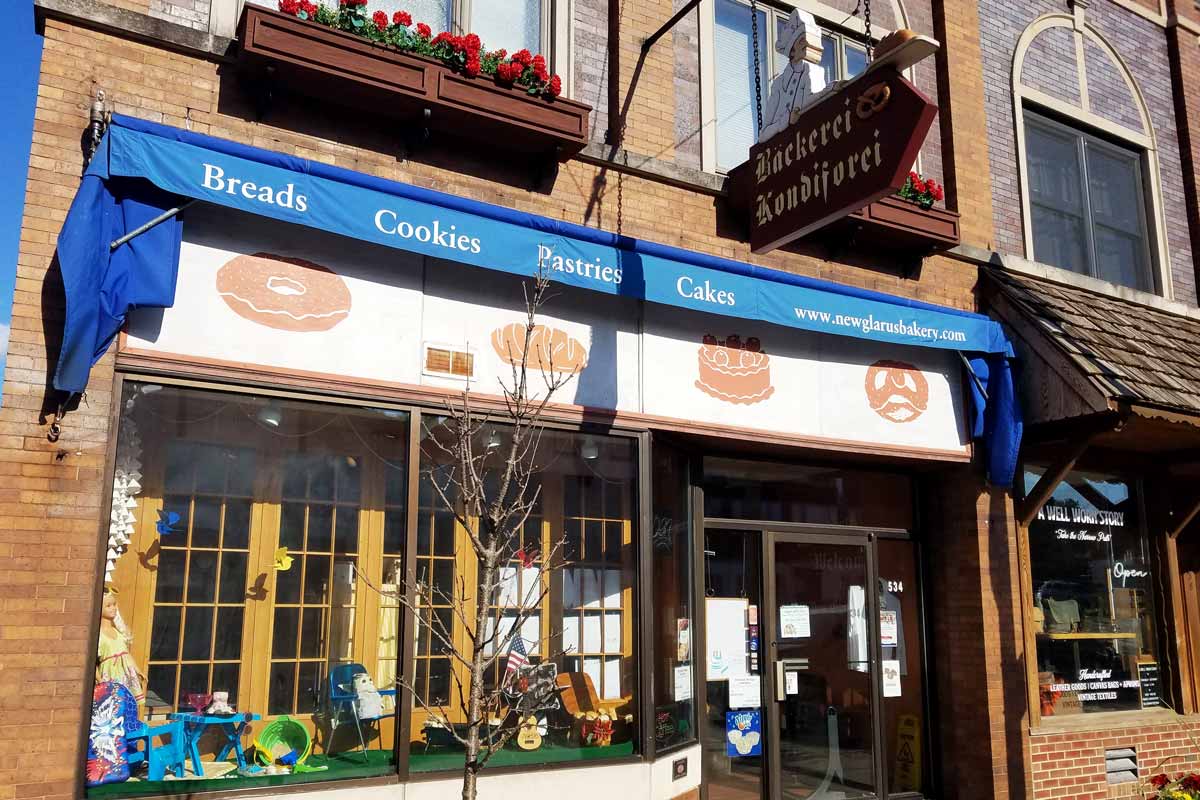 Downtown New Glarus & Shops
One of our favorite pastimes in downtown New Glarus is exploring the handful of little shops & boutiques selling all sorts of Swiss and Nordic-themed gifts, goodies, and other treasures. Just park along any side street and you'll be within an easy walk of a handful of shops. Tip: These stores and fragile items are VERY tempting for little ones. Bring along another adult to watch the kids so you can browse in stress-free peace.
New Glarus Bakery
Before you leave downtown, make sure you swing by the New Glarus Bakery. You'll find arm-fuls of traditional Swiss pastries and the usual American standbys along with fresh baked breads. Also, grab a homemade dog treat for your furry companion!
New Glarus Bakery At-A-Glance: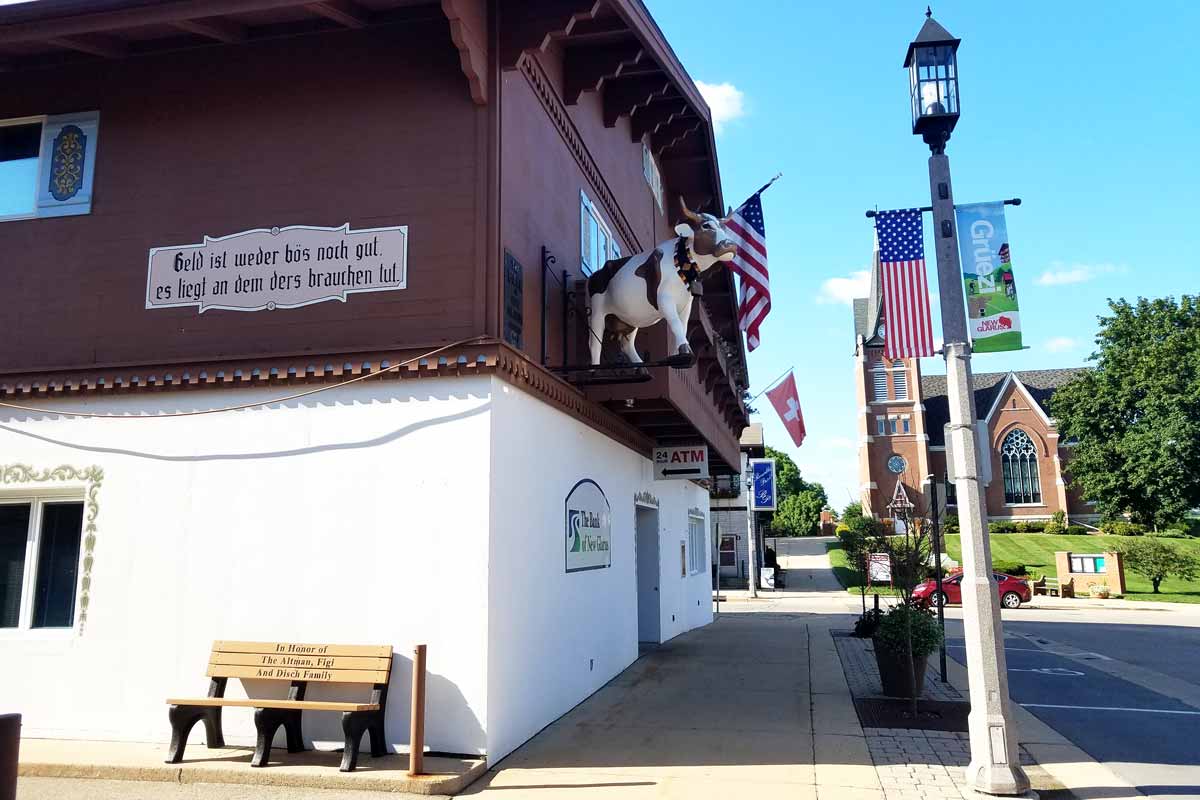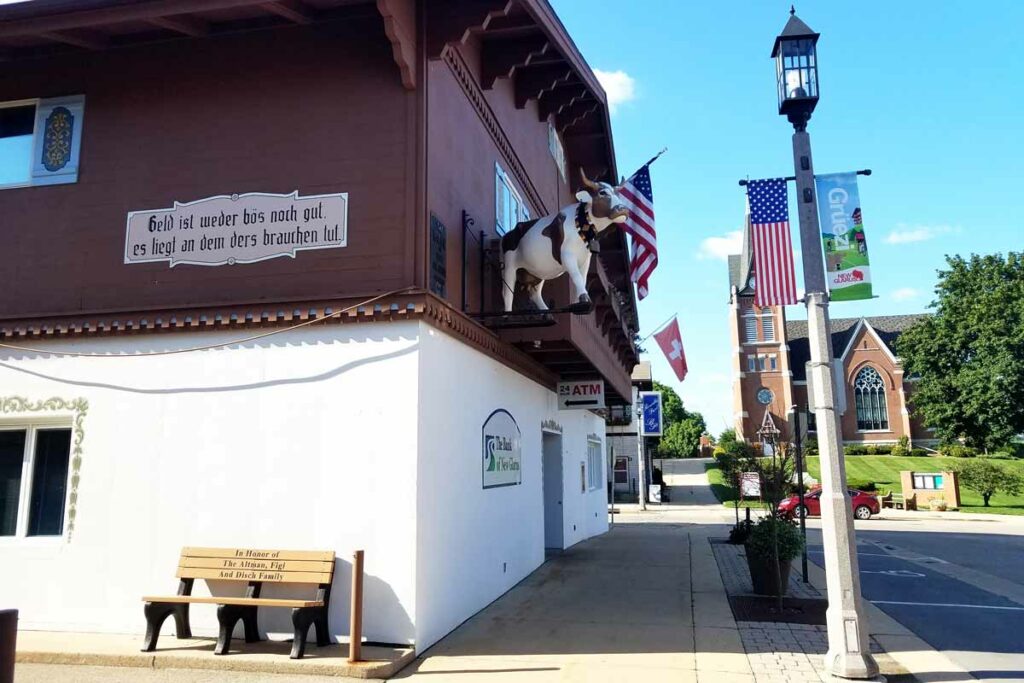 New Glarus Cow Parade
You won't miss the parade of cows scattered throughout New Glarus while you're here visiting. These cows were imported from Switzerland and painted by local artists. The idea for this 'Cow Parade' was born when two New Glarus shop keepers spotted a cow parade at the airport in Zurich, Switzerland. The idea fit perfectly here: a Swiss town nestled in a dairyland. Take the kids on a super fun Swiss Cow scavenger hunt to spot them all!
Kennedy's Ice Cream & Grill
After all of this hunting and shopping, you'll surely be looking for a great bite to eat. And, who doesn't want to enjoy some ice cream, Madison's famous Chocolate Shoppe super premium ice cream no less, here in the heart of dairy country? Kennedy's Ice Cream & Grill located on Railroad Street is just the ticket.
Kennedy's Ice Cream At-A-Glance:
Swissland Miniature Golf
Looking for something that's a little more engaging for the kids? Check out Swissland Miniature Golf, located just across Highway 69 from downtown New Glarus. You'll enjoy 18 holes of mini golf geared for all ages, Swiss-themed no less.
Swissland Mini Golf At-A-Glance: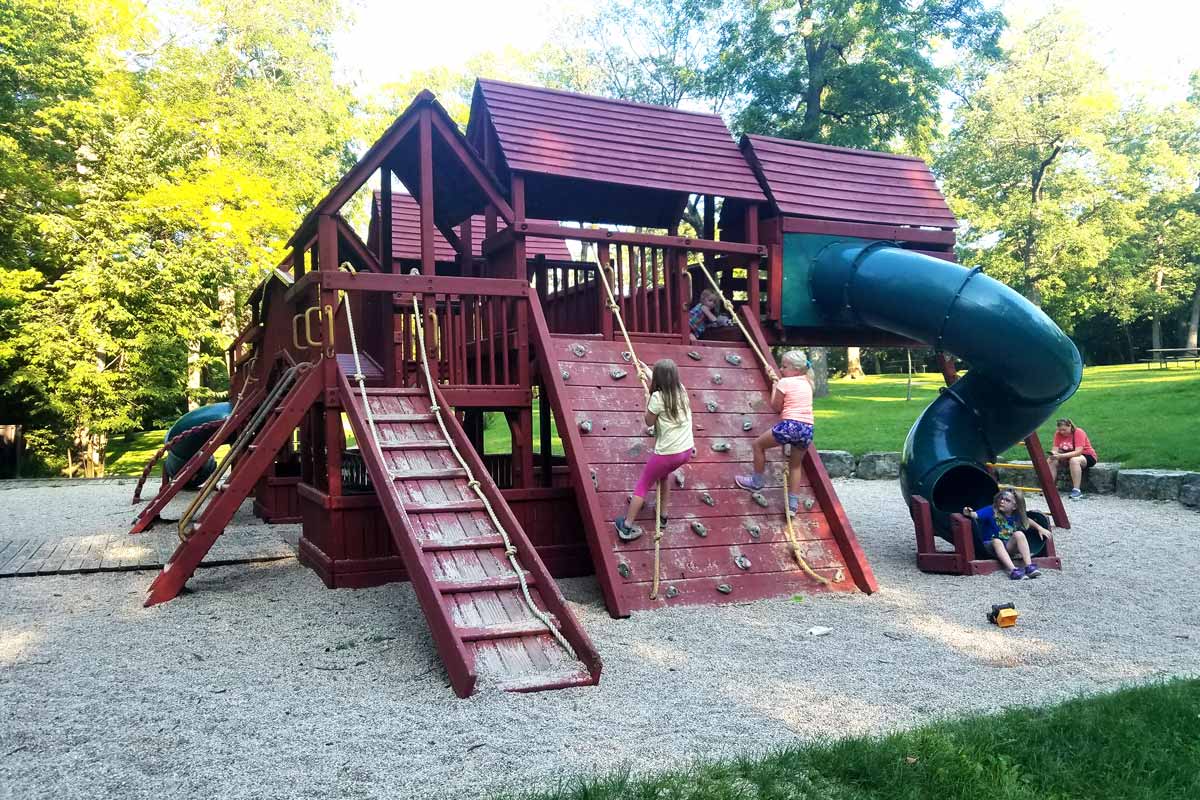 New Glarus Woods State Park
Grab a bite to eat and head over to New Glarus Woods State Park for the most pleasant picnic! They have a great shelter space just adjacent to their HUGE playground structure. Go Valley Kids Tip: Bring a bucket or other sand toys to enjoy digging in the rock pebbles that surround the play structure. From this main area, you can also take a short 0.4-mile hike along the Basswood Nature trail. The park is filled with longer hiking trails, too!
New Glarus Woods At-A-Glance: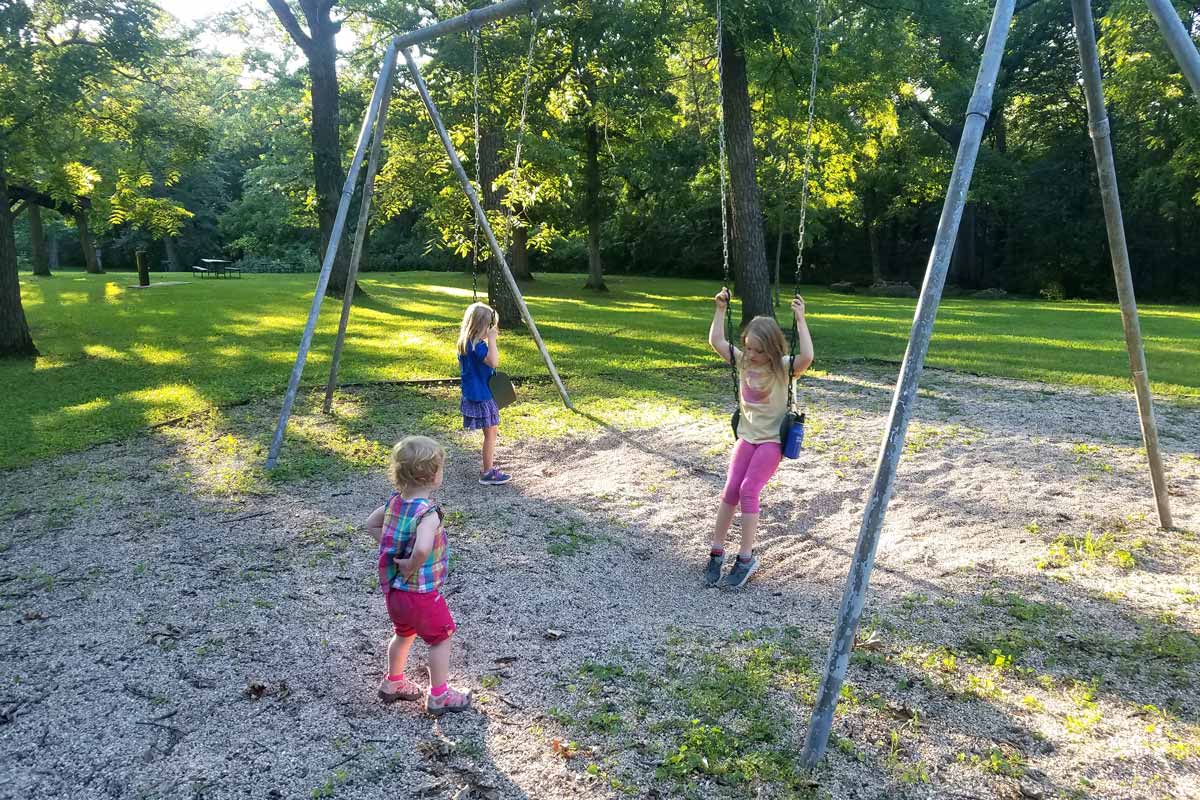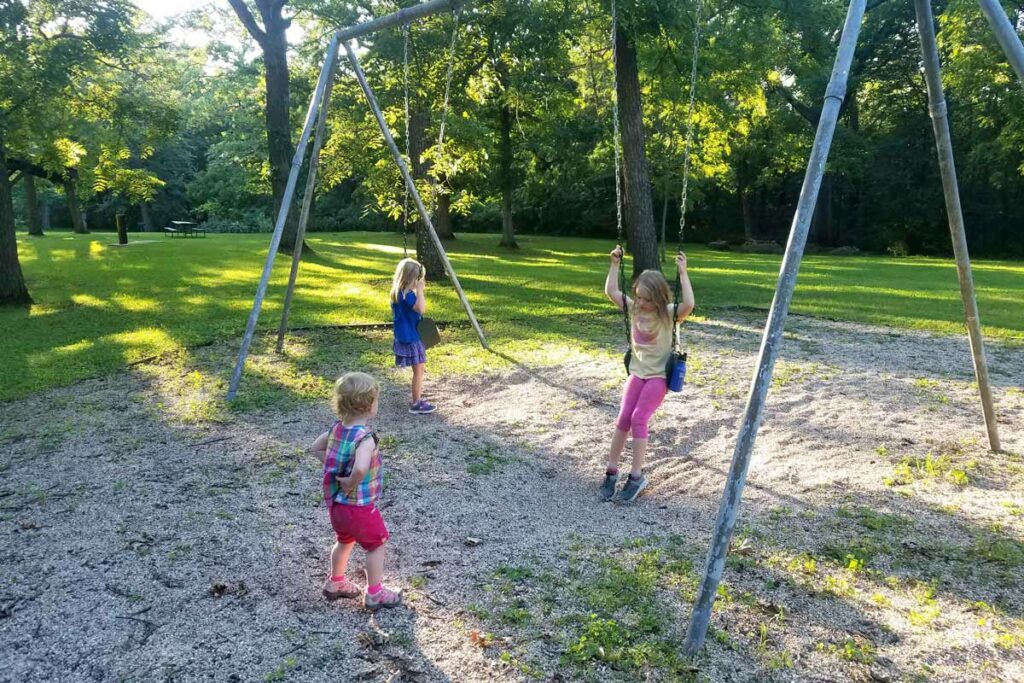 READ MORE: Explore Geological Wonders at the Cave of the Mounds & Blue Mound State Park!