Fall is certainly upon us, and the itch to soak in as much autumn color as you possibly can before the fleeting season passes is on many of our minds. Are you, too, searching for the ultimate fall colors experience for your family? Look no further! The scenic chairlift rides at Granite Peak Ski area at Rib Mountain State Park in Wausau are an unparalleled autumn color treat and just an hour and a half from the Fox Cities! Cozy up with your family and friends for a quiet and comfortable ride up the hillside while you gaze upon the breathtaking views and colors of the surrounding area. Once you reach the top of the ride, you can spend some more time soaking in all of the natural beauty of central Wisconsin at the lovely Rib Mountain State Park. Already convinced and ready to hit the road? We've got all of the important details you'll need to make the most of this fall colors spectacular!
Granite Peak Scenic Chairlift Rides
Located in Rib Mountain State Park
About the scenic chairlift rides: Granite Peak Ski area is situated on Rib Mountain in Wausau, WI. Standing at 700 feet above the surrounding plain, Rib Mountain, or 'monadnock,' is the tallest mountain in Wisconsin! Each fall the ski resort offers fall colors rides on its chairlift for visitors to enjoy the breathtaking views of the surrounding area.
Hours: September 10- October 17, 2021, Fridays 4:00-7:00pm, Saturdays & Sundays 11:00am-5:00pm
Tickets: You'll need prior reservation to get tickets. Visit their website to purchase them.
Pricing: Children 3-5 years FREE (must be at least 36 inches tall to ride the chairlift), 6-12 years $10, 13-64 years $15, 65+ $12
Tips for Families
We suggest only bringing children with previous successful experience with rides/heights, such as ferris wheels, roller coasters, or other more adventurous rides. The ride is extremely gentle, quiet, and peaceful, but the height can be scary for little ones. If your children are super wiggly toddlers or scared of heights, wait to bring them another year!
How to dress: dress in layers for fall weather and consider throwing a rain jacket in your pack! Bring good footwear and avoid flip flops that can fall off. If you want to hike around at the top, bring along water bottles, etc., in a secured backpack. This is a great way to enter the park without having to pay for vehicle admission! Just make sure you check in with the ski lift operators as to when you need to get back to the ski lift so you can make it back down the hill before closing.
The chairlift comfortably fits six riders all together. If you have a smaller party, you are welcome to ride the chairlift on your own chair and aren't expected to inter-mix groups.
Expect to wait in a long but relatively quick-moving line. There are restrooms available at the ski lodge at the bottom of the hill or Rib Mountain State Park at the top of the hill. You can purchase food and drinks on-site, but expect to pay for the convenience.
Rib Mountain State Park
4200 Park Rd, Wausau, WI
About: The park is situated on Rib Mountain, a quartzite billion-year-old hill is one of the oldest geologic formations on earth, and is Wisconsin's second-highest point. The park offers abundant daytime outdoor activities, including boulder climbing and amazing views of the Wisconsin River and the surrounding Wausau area. Note: This state park does not have a campground. If you enjoy mountain hiking and views, Rib Mountain State Park is a smaller scale, Midwest flavor of just that!
Hours: Open 6 am-11 pm year-round 
Vehicle Admission Pricing: With a WI license plate, you can purchase a daily pass for $8 or an annual pass to all of Wisconsin's state parks for $28. Stop in at the park office.
Important Park Details: Leashed pets are allowed on trails. Rock climbing using technical gear is not permitted in Rib Mountain State Park, but they permit 'bouldering.'
Hiking Trails
Rib Mountain State Park offers 13+ miles of hiking trails of various difficulties with 8 miles of accessible paved (but relatively steep) trails that run along the park's main entrance road.
Red, Blue, and Green Trails: These trails, initially developed by the Civilian Conservation Corps (CCC) in the 1930s, offer some great views of unique rock formations within the top innermost area of the park. The green is the gentlest, then the blue, and the red trail offers some more challenging but rewarding hiking along the wooded, southern slope of Rib Mountain. The autumn sunset from the top of the 60-foot observation tower is a particular treat. (NOTE: the observation tower is closed in winter). At the base of the observation tower you'll find some amazing boulder formations for climbing, but just be sure to watch your little ones closely.
Turkey Vulture Trail: this 1.28-mile trail offers hikers exceptional views of the old quarry and the surrounding area.
Yellow Trail: The most challenging of the park's trails, the 3.79-mile Yellow Trail, traverses the beautiful maple forest on Rib Mountain's southern slope. 
Check out the park's trail map for a closer look.
Picnic Areas, Playgrounds & Shelters
Rib Mountain State Park offers several picnic areas throughout the park and shelters that are reservable. The park has two playgrounds, an impressive outdoor and reservable amphitheater overlooking the city, and a Friends Gathering Space which is also available for reservation. The majority of these features can be found at the top of Rib Mountain.
Winter Activities
There are no groomed cross-country ski trails in the park, but snowshoeing and winter hiking are permitted in most park areas.
Snowshoeing: The Middle Yellow Trail, described above, is an excellent option for winter-time snowshoeing. It is marked with green ribbon and can be accessed from the parking lot just south of the entrance station.
Skiing and Snowboarding: Granite Peak Ski Corporation leases land from Rib Mountain State Park to provide ski and snowboarding opportunities that were originally established by the CCC in the 1930s.
Great Local Spots for Coffee, Lunch & Ice Cream
Sam's Pizza of Wausau, 111 Elm Street #4669, Wausau

Yummy thin crust pizzas from a local pizza parlor that's been around since 1958.

Polito's Pizza, 311 N 3rd Street, Wausau

Enjoy charming, downtown Wausau and a local, New York-style pizza favorite with 30+ varieties!

2510 Restaurant, 2510 Stewart Ave, Wausau, WI

A huge selection of American-style meals, deli, and bakery all in one. You need to try their famous onion frills–trust us on this one.

The Ugly Mug, 300 N 3rd Street, Wausau

Coffee, breakfast, lunch & kombucha on tap in downtown Wausau!

Sweets on 3rd, 615 3rd Street, Wausau

Another downtown favorite featuring chocolate, hard ice creams & locally roasted coffee

Milkster Nitrogen Creamery of Wausau located inside Bigby Coffee, 320 E Bridge St, Wausau, WI

Custom-make 'nice cream' for each person using the science of liquid nitrogen!
Looking for a pit stop along the way? Make sure to check out our guide to Hartman Creek State Park and the beautiful Waupaca, Wisconsin area!
You Might Also Like: Fabulous Family Fun: Things to Do with Kids in Wausau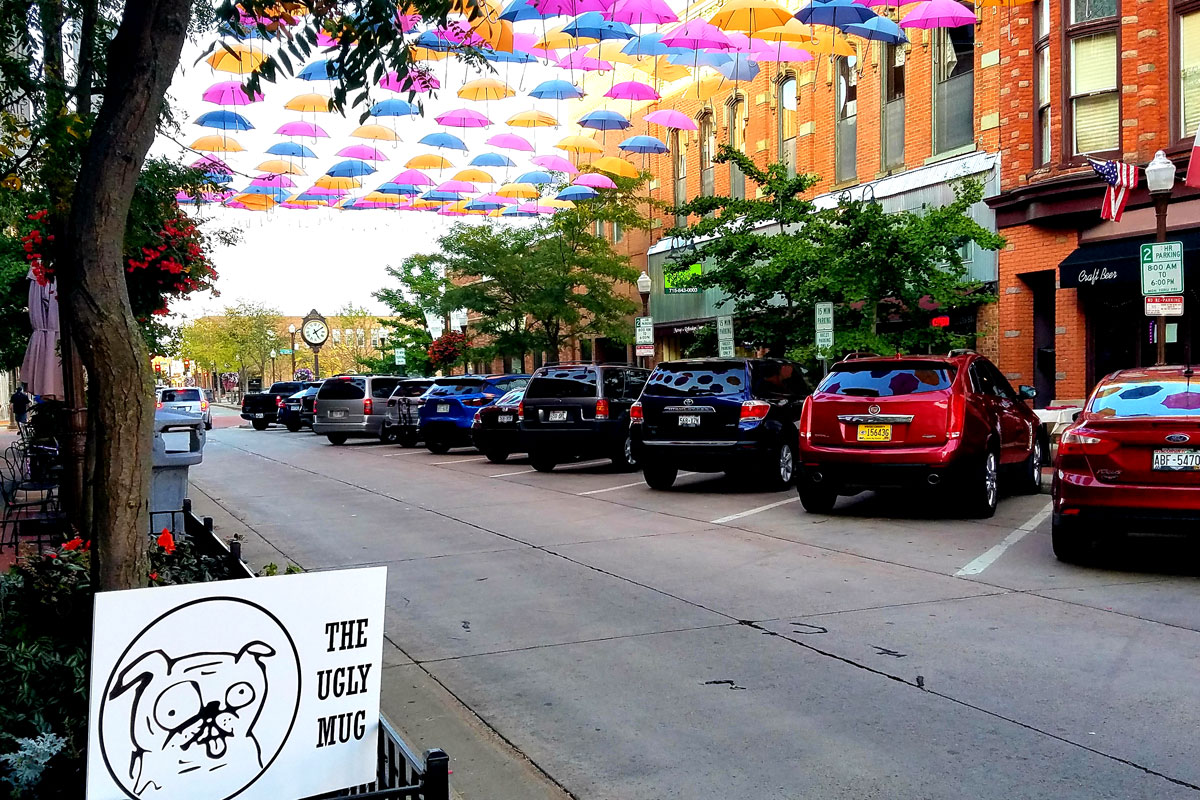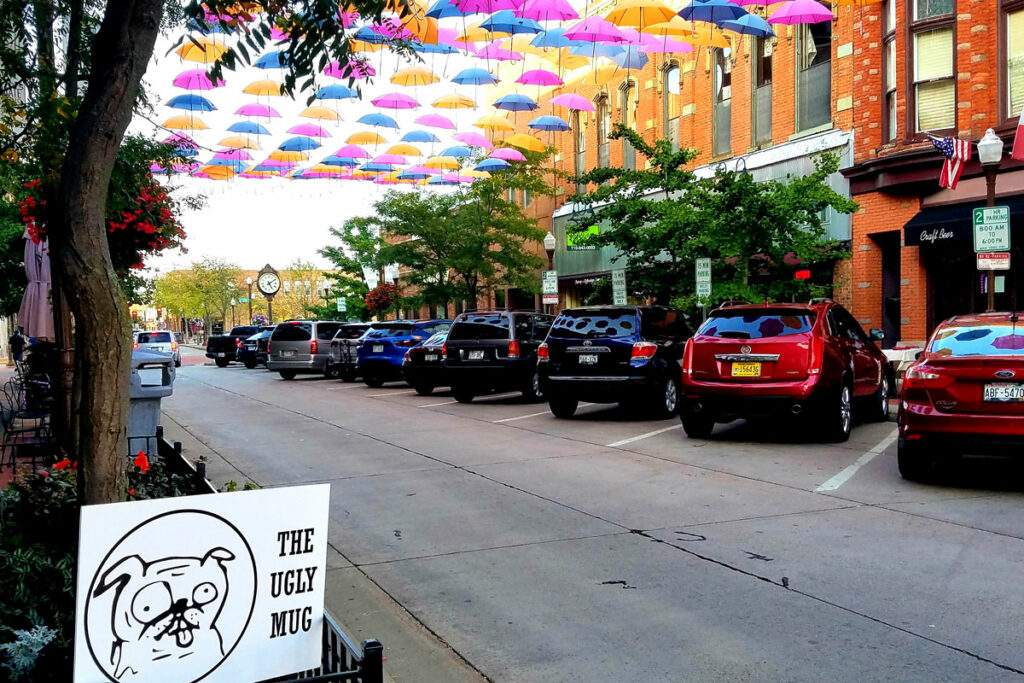 More from this author: Essential Downtown Madison: Visiting the Capitol City with Children