Downtown Madison is not only home to the state's Capitol building, governing bodies, and the world-class University of Wisconsin-Madison, but it is truly a Wisconsin destination unlike any other. The downtown Madison isthmus, a small strip of land nestled between Lakes Mendota and Monona, is home to various crowd-pleasing sights, one-of-a-kind restaurants, and unique local events that have put Madison on the map for many a Wisconsin traveler.
Feeling overwhelmed by the idea of parading around metro Madison with children? Fear not—we've done the leg work for you! This guide narrows it down to the top destinations for families with children so that you can maximize your visit to the Capital City. We'll start with must-see spots at the heart of downtown in Madison's Capitol Square and then move westward toward the Henry Vilas Zoo on Madison's near-west side.
Parking Downtown
Before we jump in, one more practical note: parking can be a real headache in downtown Madison. Several parking ramps are available, but they can be closed periodically for downtown and campus events, not to mention the maze of one-way streets. Consider hopping on one of the many Madison Metro city bus routes further out of the heart of downtown and simply using your foot power to get around the Isthmus. Be sure to bring a stroller, layers (it tends to be windier/cooler downtown with the lakes), and cash, especially for the special events around the square. There are also options to rent bicycles and e-bicycles throughout downtown.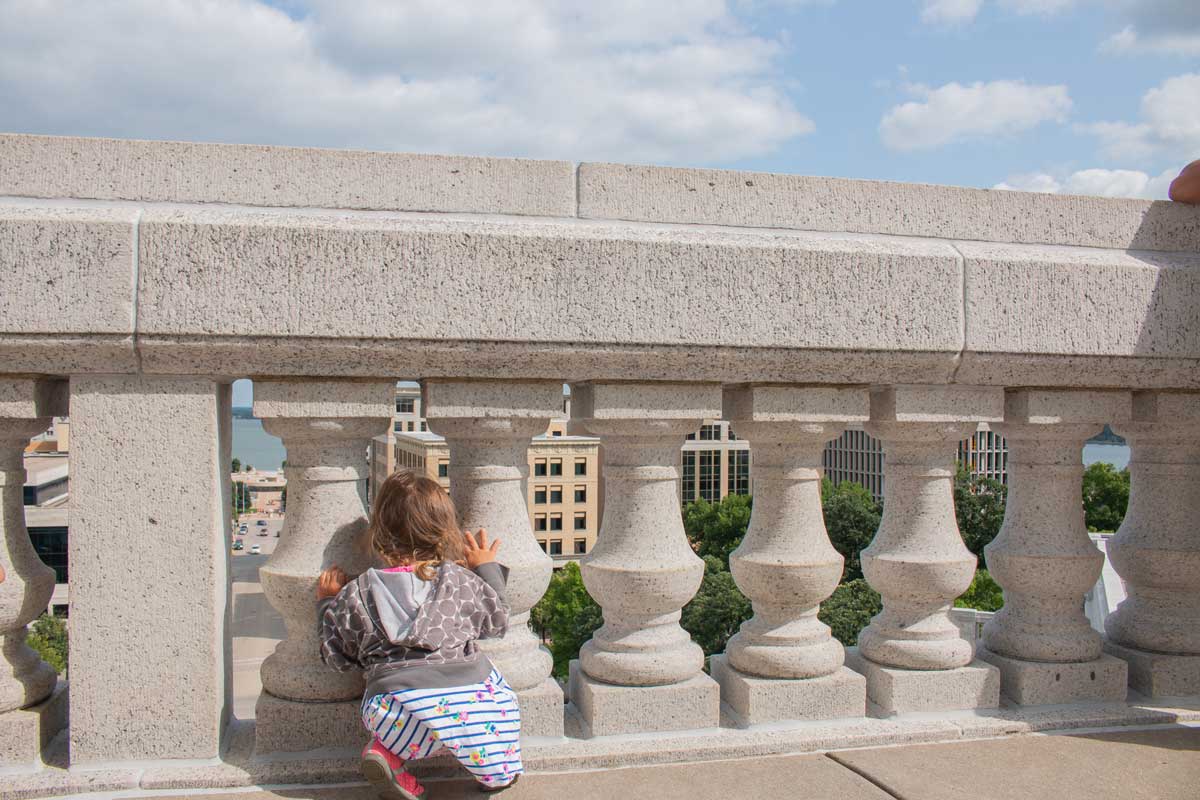 The Wisconsin State Capital
Wisconsin's State Capitol building, re-built in 1917, sits at the epicenter of Madison's downtown Isthmus area. A walk through this spectacularly mammoth structure with floor-to-ceiling marble and a 184 ft dome is sure to make a lasting impression on any curious youngster. Capitol tours are available on both weekdays and weekends for groups of under 10 without prior reservation.
Visiting the Capitol during the holiday season is a special treat. Each year a gigantic evergreen Christmas tree is harvested from a Wisconsin farm and becomes the focal point of the Capitol rotunda. Traditionally, the tree is decorated with ornaments crafted by school children from throughout the state.
Another noteworthy holiday event is the TubaChristmas Concert held annually in the rotunda. This free concert highlights a volunteer band of tuba, sousaphone, euphonium, and baritone musicians whose bold and echoey renditions of Christmas favorites reverberate throughout the building for an unparalleled musical and sensory experience. Those with auditory sensitivities may want to pack a pair of headphones for a more controlled and calm experience.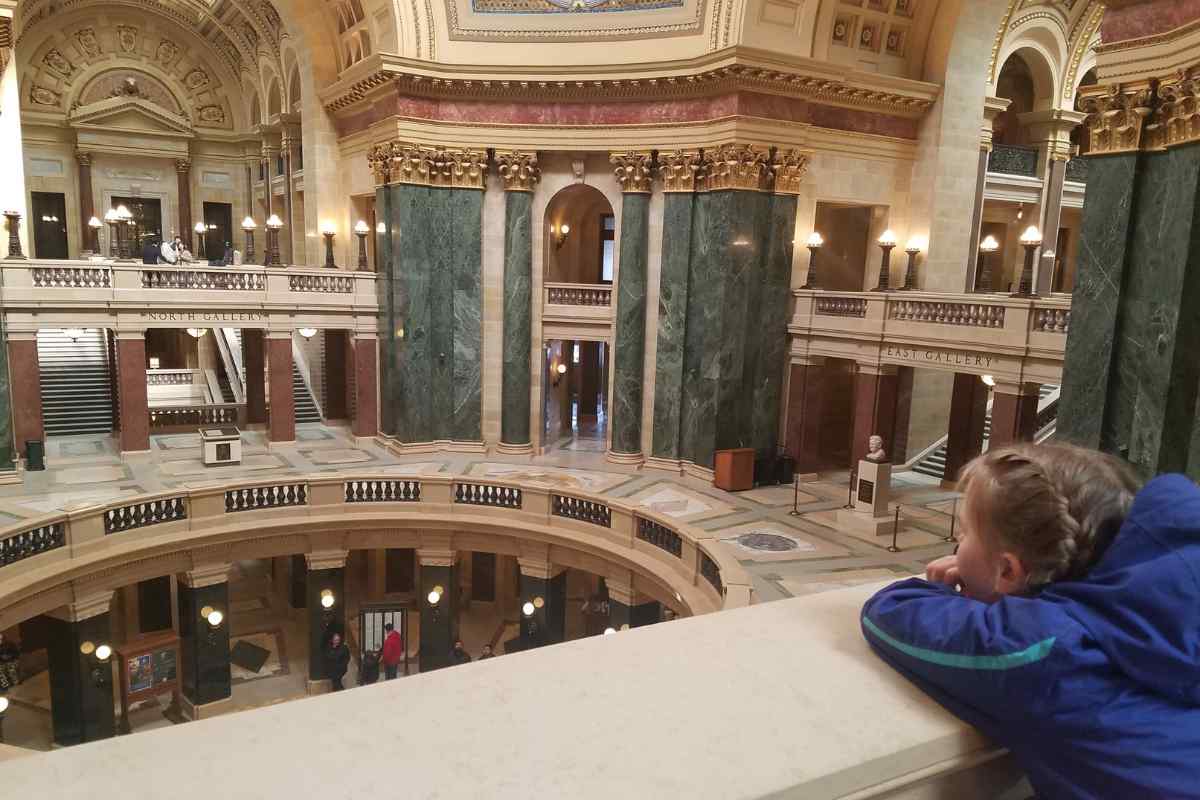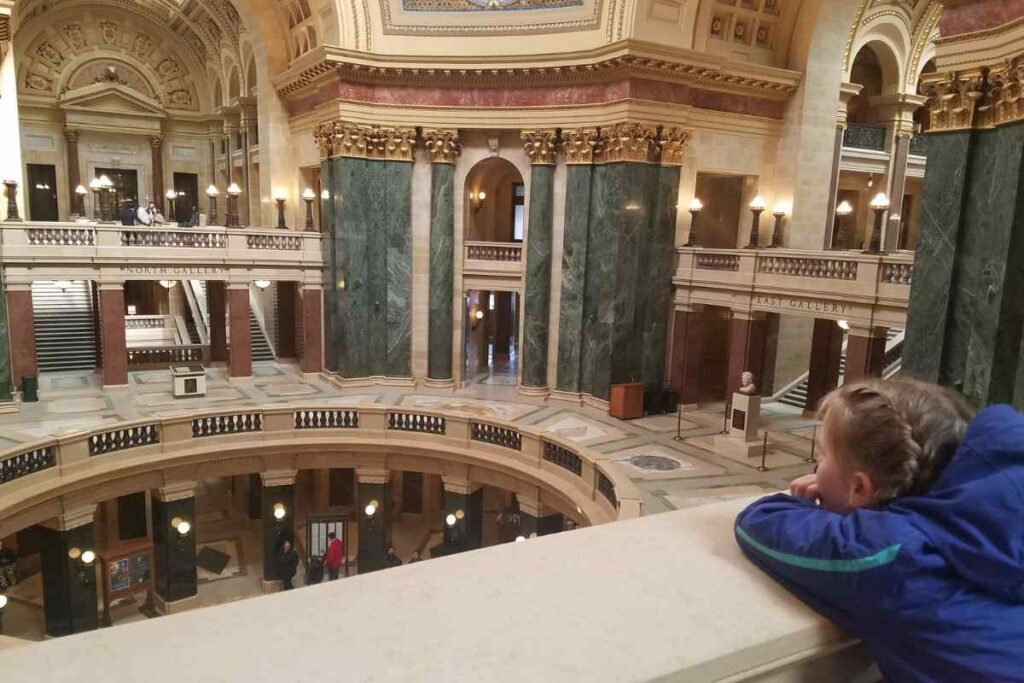 Wisconsin State Capitol At-A-Glance: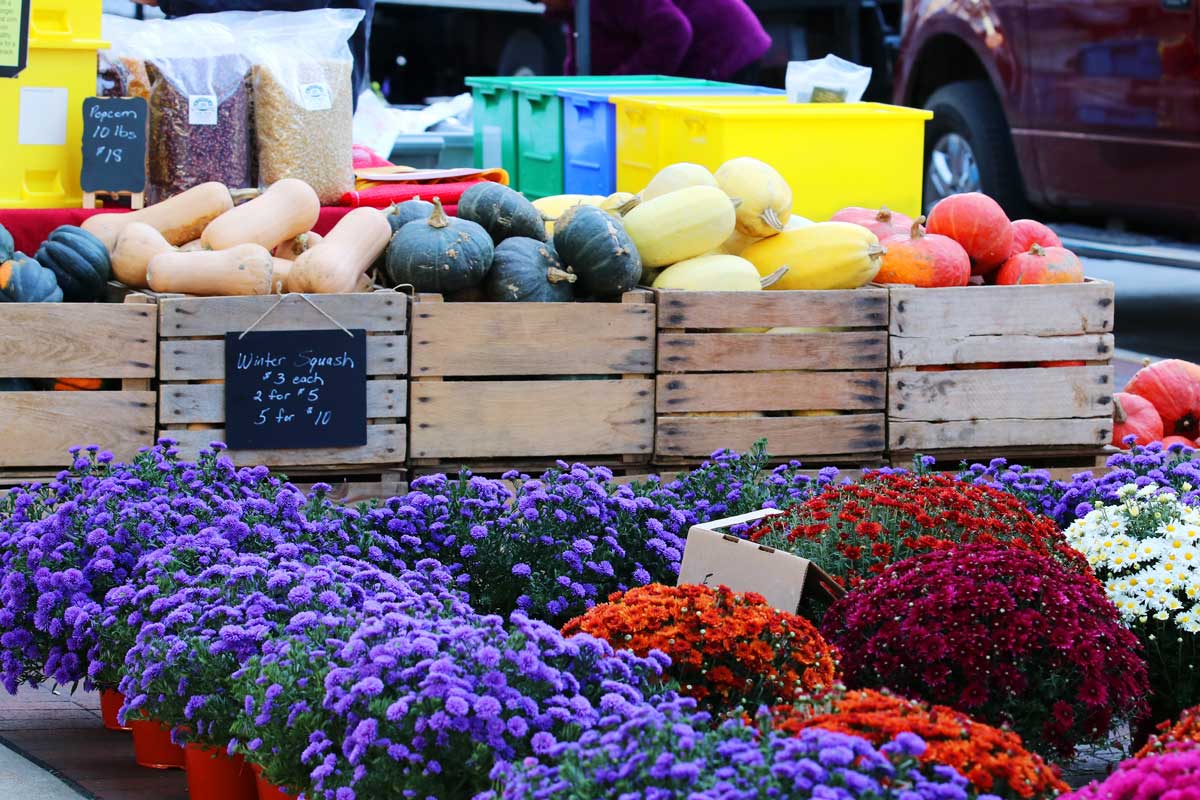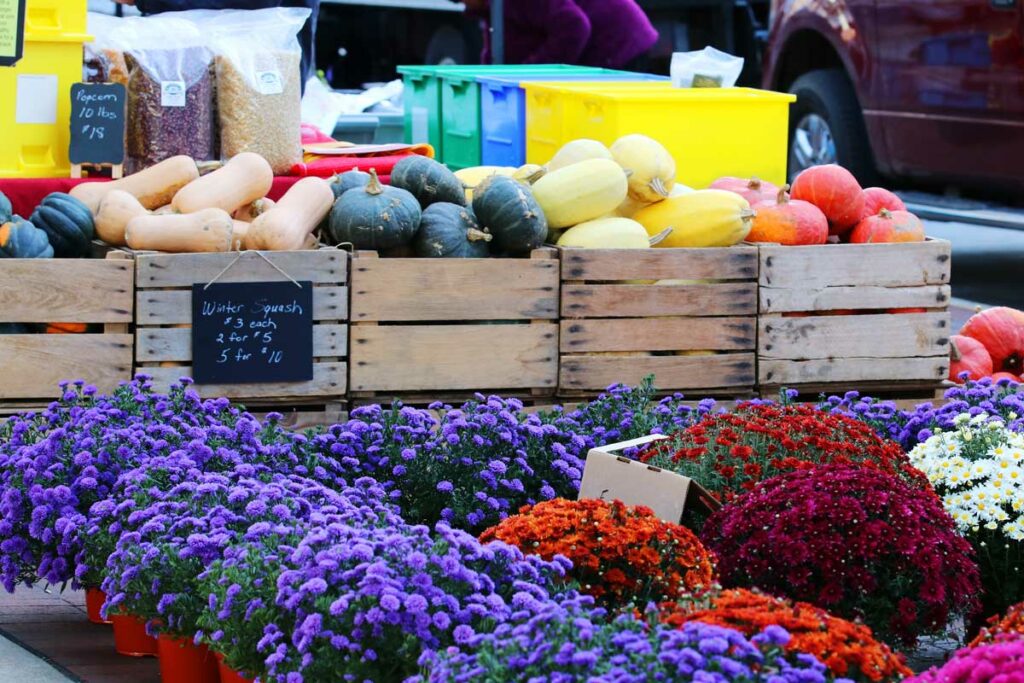 The Dane County Farmers Market, Saturday Market on the Square
The Capitol Square, which immediately surrounds the State Capitol building, is home to many lively events throughout the more seasonable months. Most notably, the Dane County Farmers' Market, Saturday Market on the Square which is the country's largest producer-only farm market. This Madison favorite runs every Saturday morning from April to November and moves indoors to the Monona Terrace during the winter months. Squeaky fresh cheese curds, Stella's Bakery's hot and spicy cheese bread, and a variety of seasonal vegetables, local honey, organic meats, vibrant flowers, and a plethora of other treats and treasures are available to buy. You'll likely want to have cash on hand for ease of purchasing, but many stands do accept plastic too.
Saturday Market on the Square At-A-Glance:
Concerts on the Square
Another favorite Capitol Square activity is the Concerts on the Square. The Wisconsin Chamber Orchestra holds these weekly concerts on Wednesday evenings at 7 pm throughout the summer. Grab a picnic dinner (or purchase one from one of the many street vendors surrounding the Square) and join the crowd of nearly 5,000 others for a relaxing evening of enchanting music on the Capitol lawn.
Concerts on the Square At-A-Glance:
The Madison Art Fair on the Square
Another big-ticket event, The Madison Art Fair on the Square, is one of the Midwest's most highly regarded outdoor art, music, and food festivals, and it attracts upwards of 200,000 to the Capitol Square each summer. This Madison Museum of Contemporary Art event is traditionally held on the second weekend in July. The festival features photographs, prints, jewelry, paintings, and other beautifully handmade goods fashioned by nearly 500 artists.
Art Fair on the Square At-A-Glance:
Taste of Madison
One last essential visit to the Square is the annual Taste of Madison, which attracts around 250,000 participants each Labor Day weekend. Enjoy the culinary specialties of nearly 80 restaurants and 20+ beverage vendors amidst the beats from three live music stages. All of the restaurants keep their profits from food sales, but beverage sales are what help to keep the event admission free. Plus, the non-profit groups that help vend the beverages get to keep all of the tips for their charitable organizations! Who has the best taste in Madison? That's up for debate, but if you stop by the Old Fashioned's stand to sample their award-winning deep-fried Wisconsin cheese curds, we know you won't be disappointed.
Taste of Madison At-A-Glance: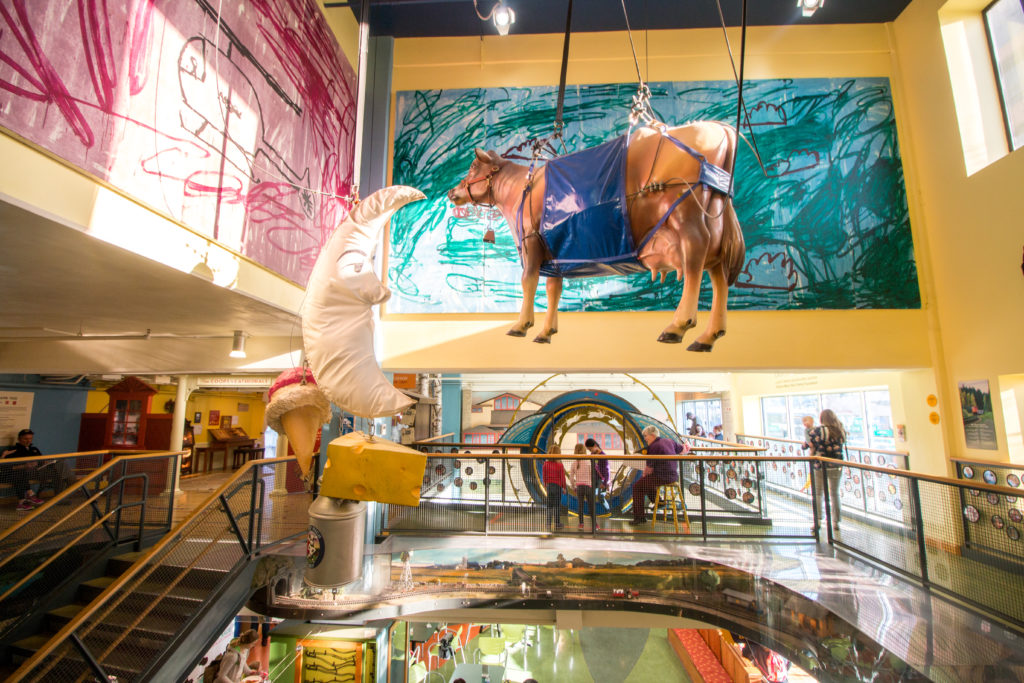 Madison Children's Museum
The Madison Children's Museum is a long-time favorite of local families and those visiting the Madison area. This action-packed, hands-on children's experience is generally open year-round with some shift in hours for the school year and school breaks. They offers various admission deals and membership options throughout the year. New and exciting exhibits regularly rotate in and out, so this is a stop that is worth repeat visits for every trip you take to the Capital City!
Madison Children's Museum At-A-Glance:
READ MORE: Kenna's Kabin – The Perfect Indoor Nature Play Area for Toddlers & Preschoolers!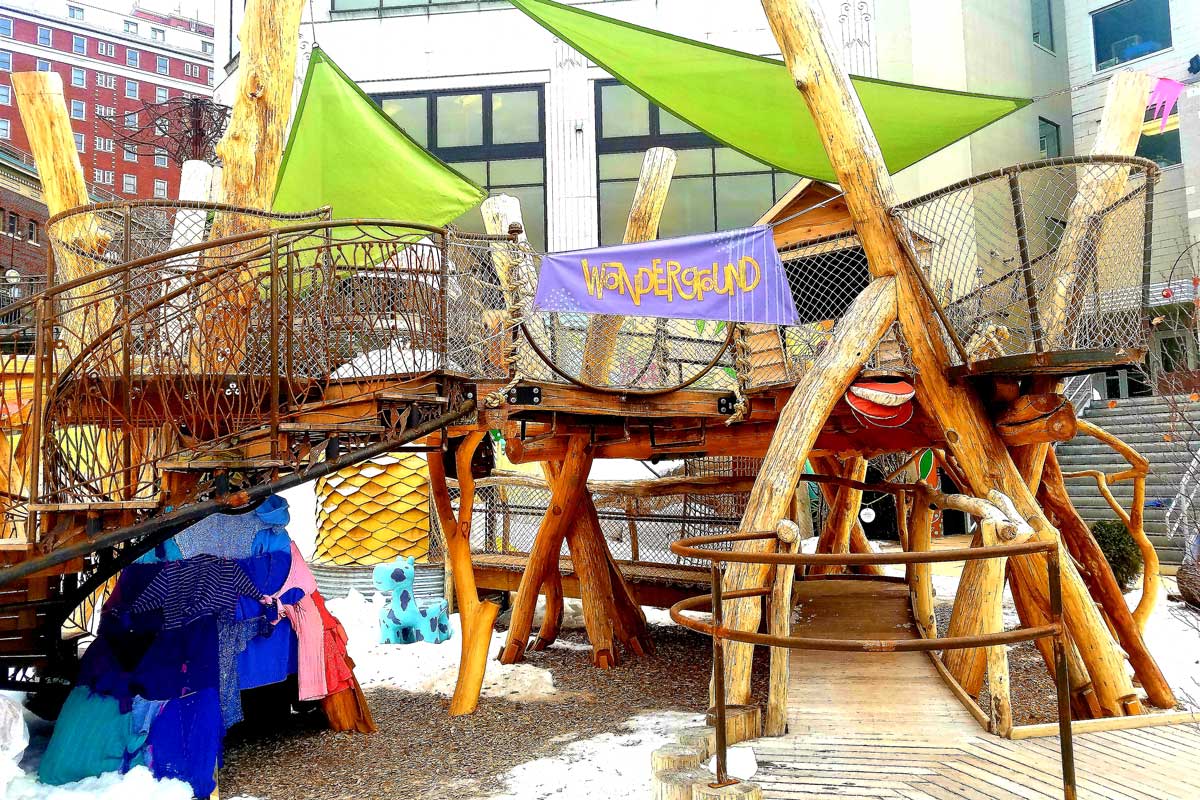 State Street
Madison's downtown State Street is as iconic as any stop in the Capital City, and it is definitely worth a stroll up and down to take in all of the many sights, sounds, shopping opportunities, and treats. Reserved for mainly bicycle, city bus, or pedestrian traffic, State Street paves the way from Capitol Square toward the University of Wisconsin-Madison campus. Some must-stop family food spots along the way include Ian's Pizza, known for its non-traditional pizzas including mac n' cheese, State Street Brats, a Badger favorite, and home of the world-famous red brat, or Teddywedgers, offering a variety of hand pies suited for any meal.
Iconic Dining Spots on State Street:
For those with a more adventurous palette, State Street offers a wealth of options. Consider a stop at any one of these foodie havens.
State Street Adventurous Eats: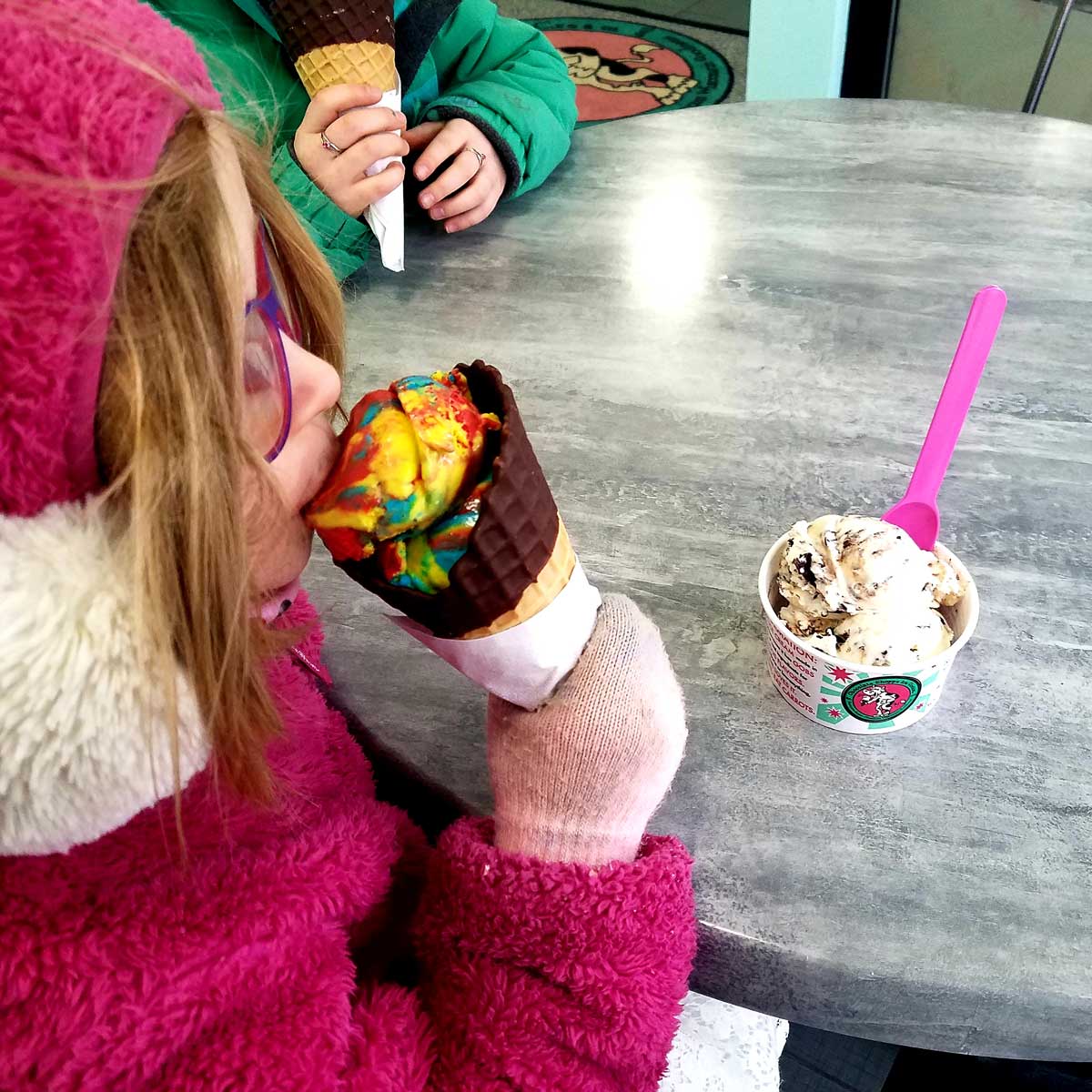 Looking for a sweet treat?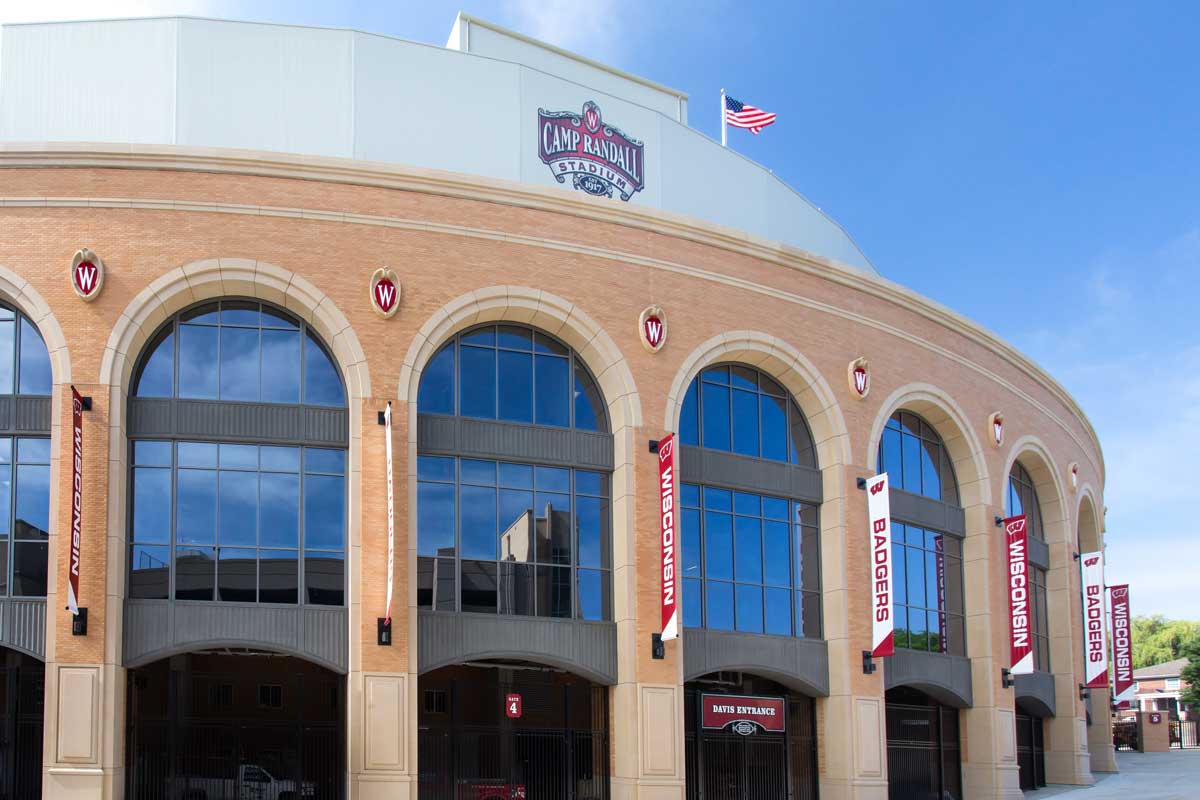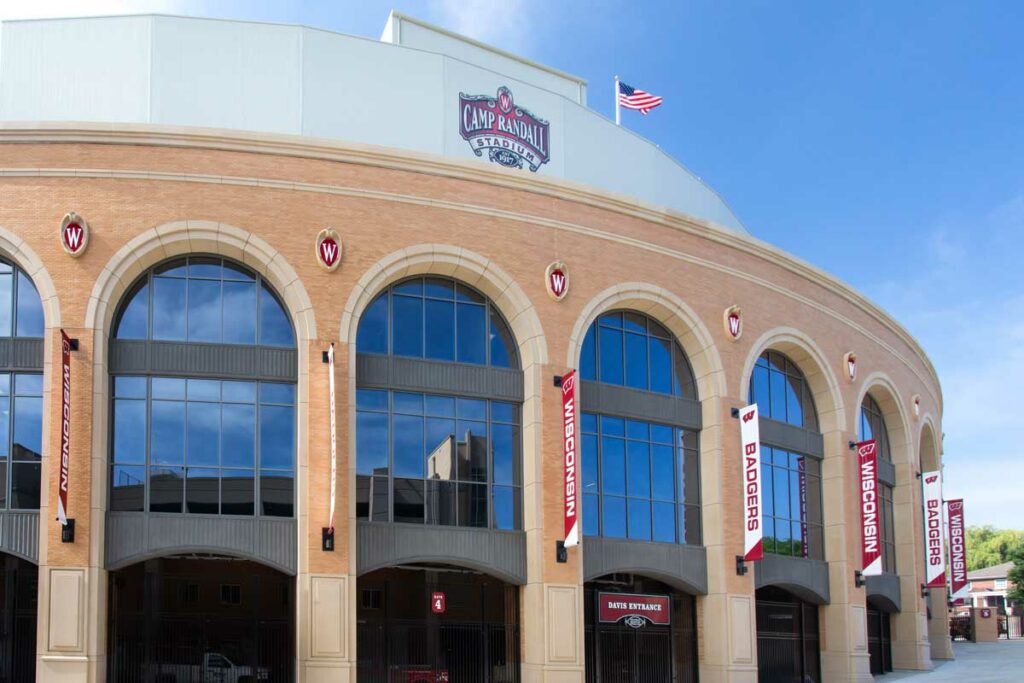 University of Madison – Wisconsin Campus
No visit to the Badger State Capital City is complete without perusing the University of Wisconsin-Madison campus. Nestled near the bottom of State Street along Lake Mendota is the University's timeless treasure, the Memorial Union and the Union Terrace. The Union Terrace is an absolute must experience for every family wanting to enjoy a good, old Wisconsin brat (and a beer for the grown-ups!), the iconic terrace chairs, and the lakeside beauty of this outdoor patio venue. If you visit in warm weather, you'll want to hit up The Daily Scoop for a taste of the campus's very own ice cream.
Finding yourself at the Union in less favorable weather? Not to worry—Der Rathskeller, with its cozy and dim German dining hall vibe, is another great spot to stop for a burger and a beer on a chilly or rainy Wisconsin evening.
Memorial Union At-A-Glance:
Camp Randall Stadium
As you further adventure into Badgerland, make sure to stop by Camp Randall Stadium, home of the University of Wisconsin- Madison Badgers. Adjacent to the Stadium, you'll find Bucky's Locker Room, where you can stock up on all of your favorite Badger gear.
Bucky's Locker Room At-A-Glance:
Babcock Hall
If you want to learn more about UW-Madison's homemade ice creams, make the trip further west into campus to visit the home of the campus's very own dairy, UW Babcock Hall. Here at the dairy store, you'll find 22 flavors of ice cream and 23 varieties of cheese.
Babcock Hall Dairy Store At-A-Glance:
Lakeshore Path
Looking for a bit of a downtown hiking adventure? We've got you covered! You can follow the 4.3 mile Howard Temin Lakeshore Path along the southern shoreline of Lake Mendota from the Limnology Lab near the Memorial Union toward the University Hospital and Wally Bauman Woods, situated next to the Village of Shorewood Hills. Along the path, you'll see various campfire rings for first come, first served use that has been a favorite student gathering spot for decades. Once you reach the woods, be sure to continue hiking toward Picnic Point, a peninsula that juts almost a mile into Lake Mendota.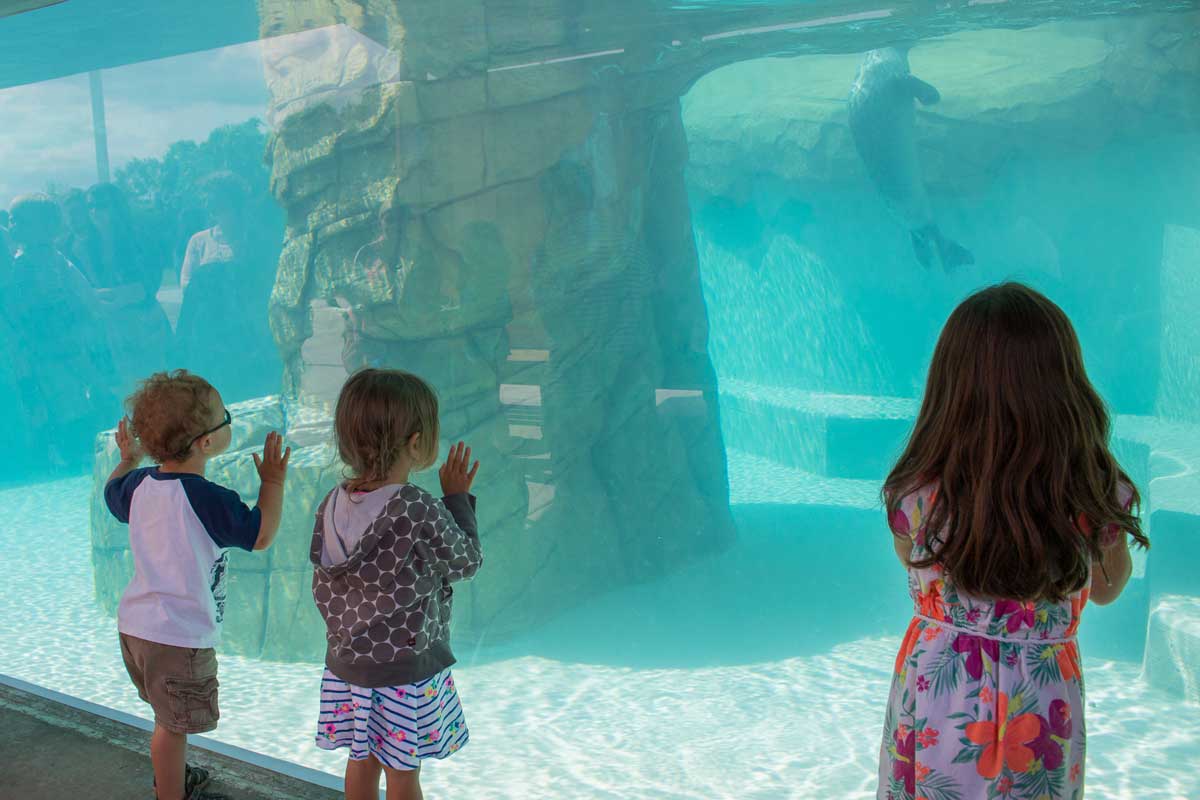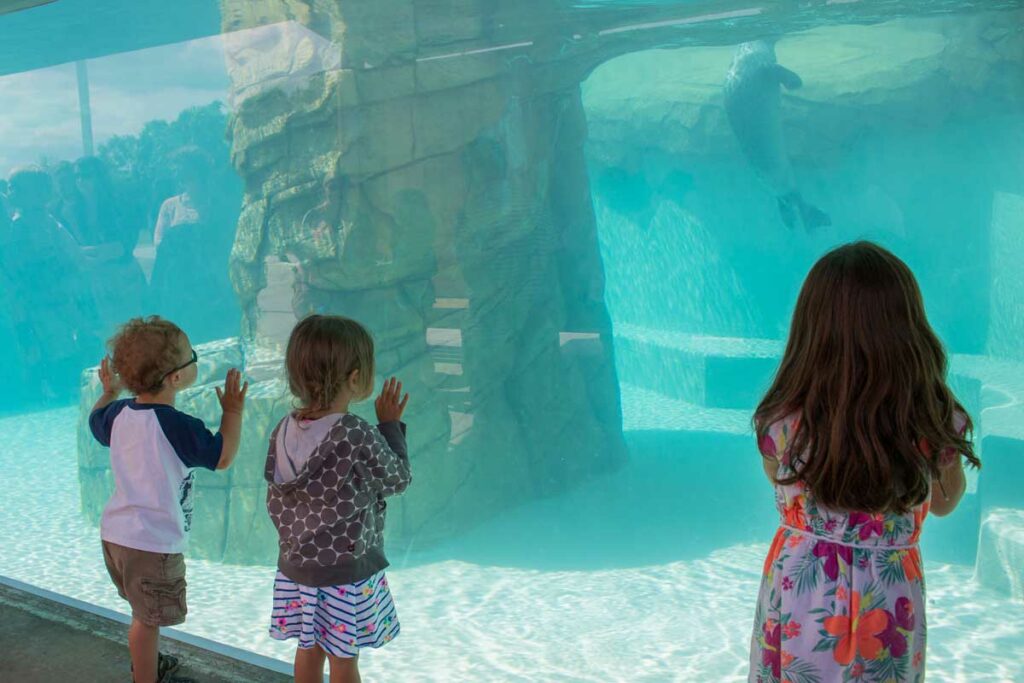 Henry Vilas Zoo
As you head just west of the UW-Madison Campus, you'll find the Henry Vilas Zoo, one of Madison's finest gems for families! This is one of the few admission-free zoos available in the country, and their operations rely on donations from the local community and beyond. The Henry Vilas Zoo is open daily, and they even have limited hours on major holidays throughout the year.
The zoo offers many animal exhibits and habitats, from buffalo in the North American Prairie exhibit, to African lions and Amur tigers in the Big Cat exhibit, to grizzlies and polar bears in the newer Arctic Passage exhibit, and much, much more!
Pro tip: visit the zoo around lunchtime! Many of the animals are up and active, hungrily awaiting their lunches. Stop by the Artic Passage exhibit for a special treat of watching the polar bear swim while waiting for a mealtime.
Speaking of grub, if you're hungry, there are three great options for you while at the zoo: you can pack in a picnic lunch to enjoy inside the zoo or in the surrounding Vilas Park, stop by the zoo's very own Glacier Grille, or check out ZuZu Cafe located directly across the street from the zoo. This is a great stop to grab some delicious Mediterranean or American fare in a family-friendly cafe that offers both indoor and outdoor seating options.
Need to change it up a little? Stop by the Conservation Carousel in the Children's Zoo for a $3 spin. The carousel runs 10 am – 4 pm daily from April to October. Be sure to plan some time to play at the giant treehouse playground just across from the carousel for an extra opportunity to burn some steam. A charming electric Zoo Train is also a favorite attraction for youngsters.
Henry Vilas Zoo At-A-Glance: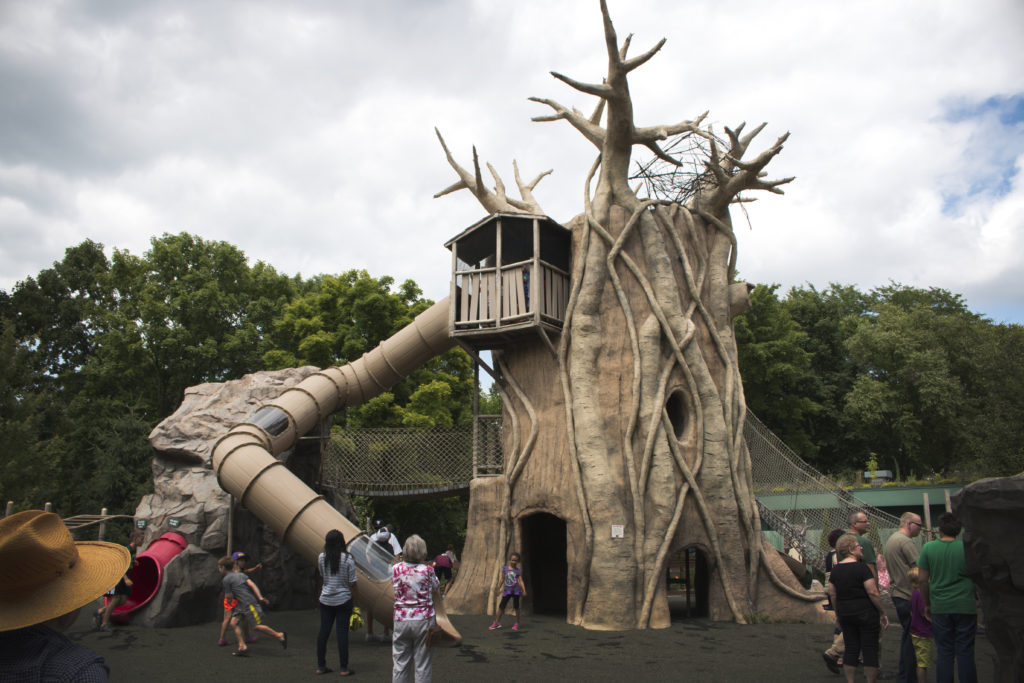 READ MORE: Off the Beaten Path Madison's Near-West Side with Kids