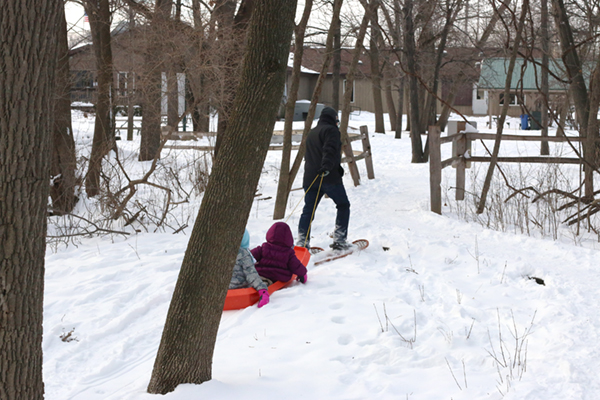 No more I'm bored or winter blues! Here are more than 100 things to do during winter in Northeast Wisconsin including the Fox Cities, Oshkosh, and Green Bay. These ideas will help you get out of the house and have fun!
Explore Nature
Gordon Bubolz Nature Preserve, Appleton
www.bubolzpreserve.org/
Heckrodt Nature Preserve, Menasha
Read more about our visit here or visit www.heckrodtnaturecenter.org for more info.
1000 Islands Nature Preserve, Kaukauna
Visit 1000islandsenvironmentalcenter.org for more info.
Bay Beach Wildlife Sanctuary, Green Bay
We LOVE feeding the ducks, check out our visit here or visit baybeachwildlife.com for more info.
NEW Zoo, Suamico
Did you know the NEW zoo is open in year round? Visit newzoo.org for more info.
Milwaukee Zoo
Visit the winter-loving animals, stroll through our warm indoor exhibits and see the new tiger cubs! Open from 9:30 am to 2:30 pm weekdays and from 9:30 am to 4:30 pm on weekends. Enjoy FREE admission on Family Free Days throughout the winter.
Barlow Planetarium
Check out the moon, stars and more! Visit uwfox.uwc.edu/barlow for more info.
Pony Playdate at Pony Playce, Appleton
Who doesn't love cute ponies! Weren't able to grant that pony gift for Christmas? Schedule a pony playdate! Read more here.
Petsmart, 923 N Westhill Blvd, Grand Chute and Just Pets, 2009 N Richmond St in Appleton.
When we need to get out of the house for a little bit sometimes we head to the pet store to check out the animals!
 Swim
Open Swim at Appleton West
Appleton West High School has Open Swim on December 26-29, 2017 from 1 – 3 pm. They are also hosting a Water Carnival on December 27, 2018 from 1 – 3 pm for ages 6 – 13 and includes fun aquatic activities & games!
Go Valley Kid's Indoor Pool Roundup
Check out our roundup of the best swimming spots around here.
Bowl
Run Around, Jump, Climb & Play
 Sports
 Ice Skating & Roller Skating
Enjoy a free holiday break open skate at Appleton Family Ice Center on Wednesday, December 26, 2018!
Outdoor Snow Activities!
Play & Explore
Titletown District, Green Bay
Ice skating, sledding, playground, and field for running and playing open daily from 7 am – 10 pm.
titletown.com
Old World Wisconsin
govalleykids.com/old-world-wisconsin
Building for Kids Children's Museum, Appleton
buildingforkids.org
Children's Museum of Green Bay
gbchildrensmuseum.org
Kidz Town, Green Bay
kidztowngb.com
Paper Discover Center, Appleton
Learn more about our visit here.
Neville Public Museum, Green Bay
nevillepublicmuseum.org
EAA Museum
eaa.org/eaa-museum
Oshkosh Public Museum
oshkoshmuseum.org
History Museum at the Castle
myhistorymuseum.org
Weis Earth Science Museum
weismuseum.org
Play on a train table
Barnes & Noble, Caramel Crisp Kids and The Learning Shop have neat train tables and lots of neat toys and books to check out when you are there!
See Trains in Kaukauna
Watch the model trains at Paper Valley Model Railroad Club. More info here. 

See Trains in Neenah-Menasha
Visit the Neenah-Menasha Railroad Club. More info here.
Watch the Milk Bottling Process
Lamer's Dairy Country Store Monday – Friday mornings until about 11 am.
Ride an Escalator
Another one of our tricks if we need to get out of the house on a winter day! Check out the escalator at the City Center Downtown Appleton or at Macy's in the Fox River Mall.
Mall Walk
Mall walk at the Fox River Mall. Bring your quarters and let the kids ride the machines (or avoid the Target wing). If the weather is mild check out one of our favorite family-friendly trails here.
Worth the Drive Children's Museums
Get Crafty, Creative & Artsy
The Fire, Appleton
thefireartstudio.com
The Fire Escape Art, Oshkosh
fireescapeart.com
Rooster Dreams, Neenah
roosterdreams.com
Painting Pottery or Bead it, De Pere
potteryorbeadit.com
Make Lip Gloss or Bath Gel
For more information or schedule an appointment visit kingdomkutswi.com.
Make a Stuffed Animal
Head to the Build-A-Bear at the Fox River Mall to make a new friend.
Nutcraker at the Castle, Paine Art Center and Gardens, Oshkosh
November 16, 2018 to January 7, 2019
thepaine.org
Trout Museum of Art / Fox Cities Building of the Arts
www.troutmuseum.org
Day Trip to Milwaukee Museum of Art
Kids are FREE! More information here.
Fun Pampering
Plan a Fun Manicure or Pedicure 
Find our list of kid-friendly nail salons here.
Get a Hair Do
Need a haircut? Braids? Special or fun updo? Check out Go Valley Kids' recommendations here.

Take a Road Trip or a Day Trip
Eat
Movies
Volunteer!

Things to do for FREE in the Fox Cities, Oshkosh & Green Bay
Save