No more "I'm bored" or winter blues! Here are more than 100 things to do during winter in Northeast Wisconsin, including Appleton, Oshkosh, Green Bay, and the greater Fox Cities. These ideas will help you get out of the house and have fun!
The Ultimate Winter Bucket List is a fantastic list of the best winter activities in Wisconsin.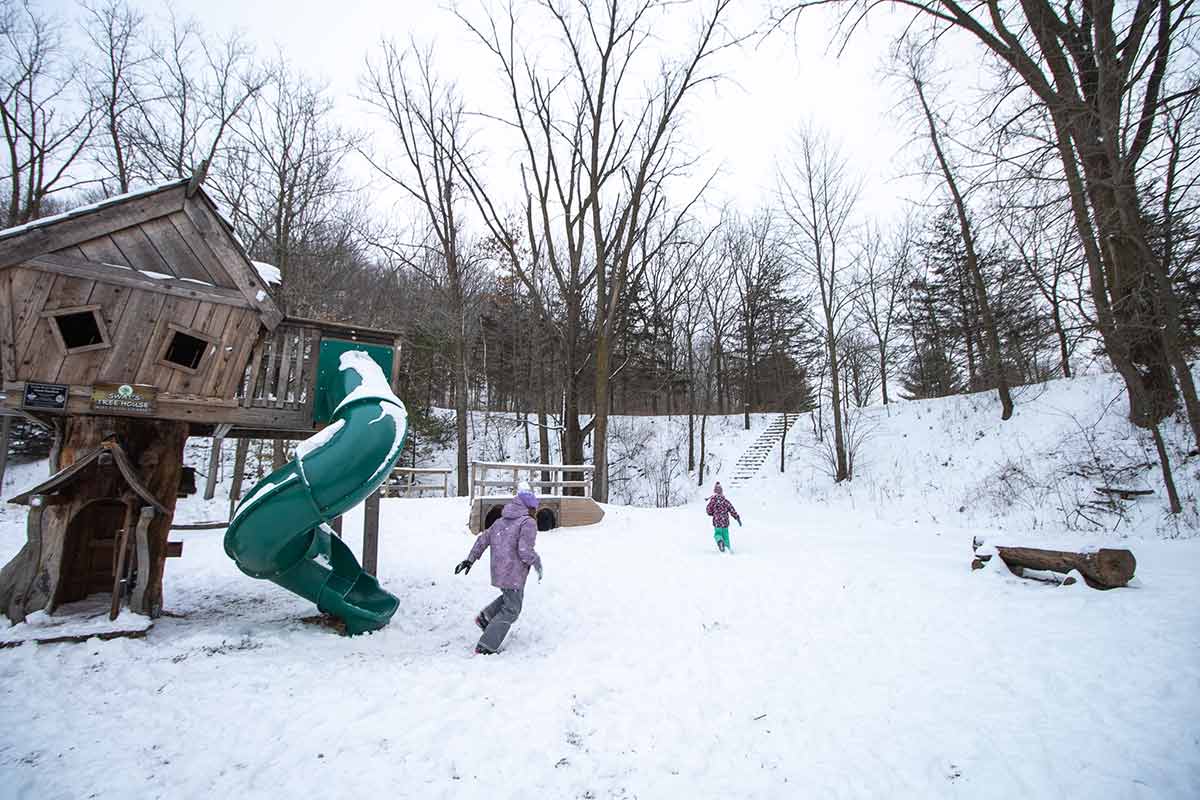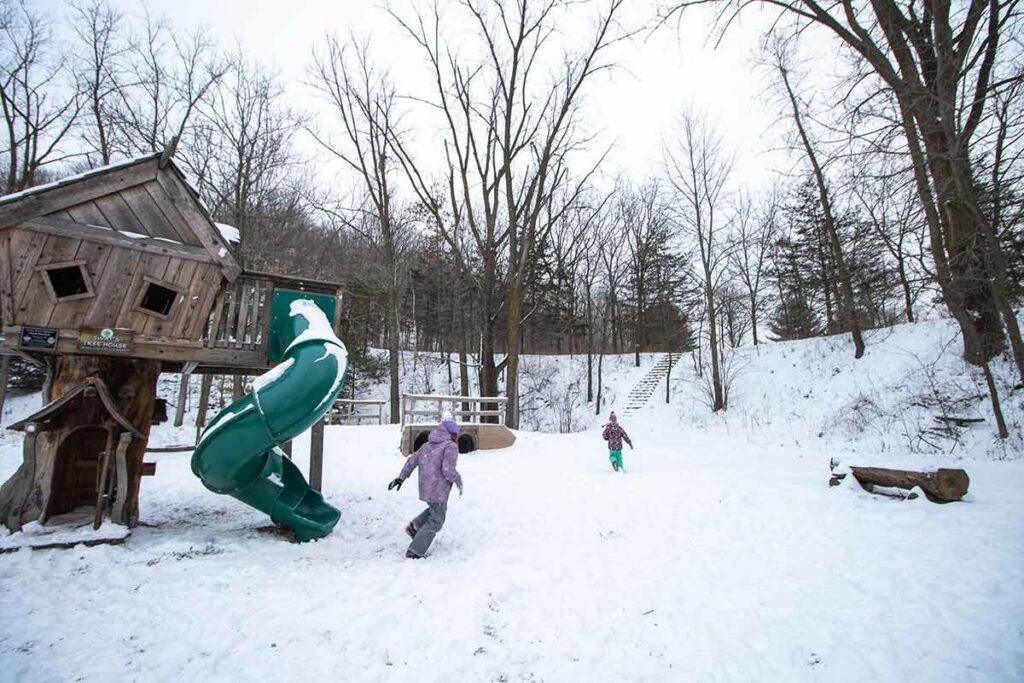 Explore at a Nature Center
The Fox River is a great place to eagle watch, and one of our favorite places to visit along the water is 1000 Islands Nature Preserve in Kaukauna. The indoor nature center is perfect for warming up and learning about Wisconsin animals. The trails are great for walking or rent snowshoes.
Bubolz Nature Preserve in Appleton sits on 700 acres and miles of trails. When the snow and weather conditions are right, there are also trails designated for skiing and snowshoeing. Kenna's Kabin is a fun indoor play area for toddlers and preschoolers with an indoor playground treehouse with slide, library, toys, and other learning tools.
Heckrodt Wetland Reserve in Menasha is another one of our favorites! It is home to one of our favorite Fox Valley walking trails, a fun nature center, and an amazing outdoor play area for all-weather exploration. This gem is right in the city of Menasha and it's FREE (but strongly consider a donation if you are able)! Open year-round, this 76-acre urban nature reserve includes forested wetland, cattail marsh, open water, created prairie, open field, and upland forest habitats.
Mosquito Hill in New London is great for a winter day of exploring nature and searching for nearby murals!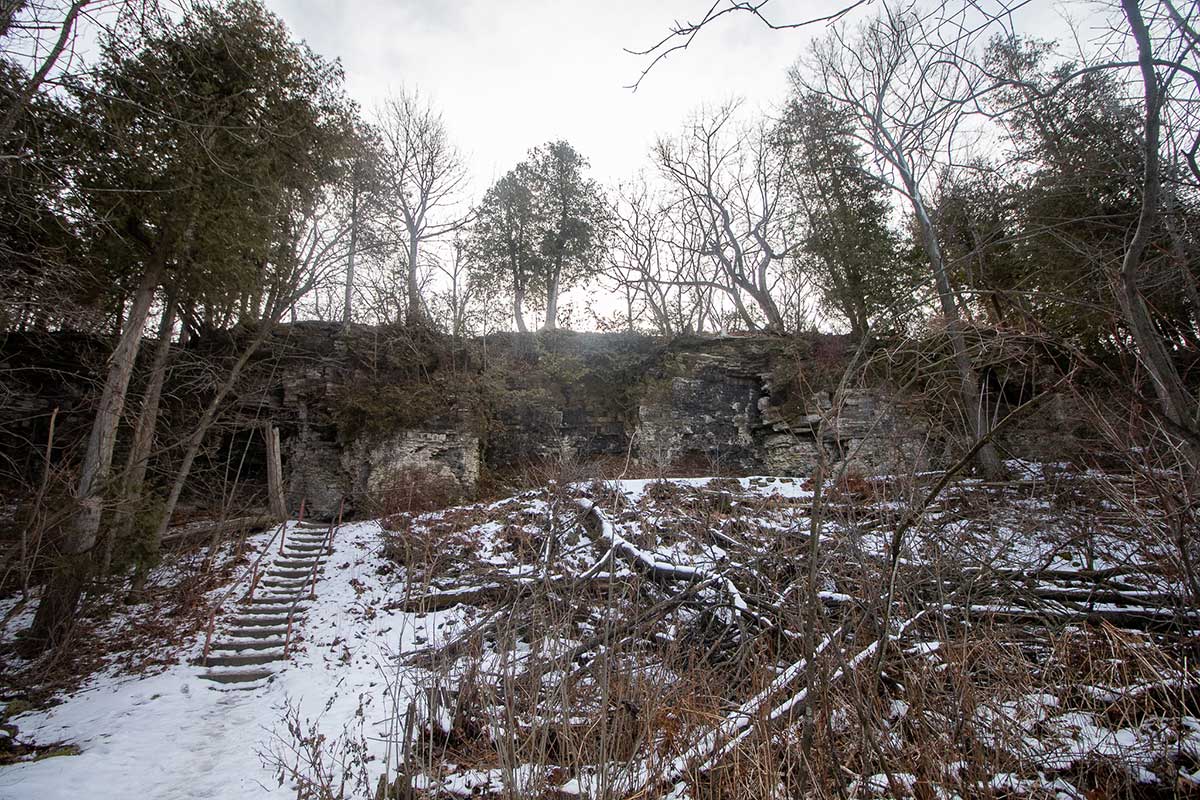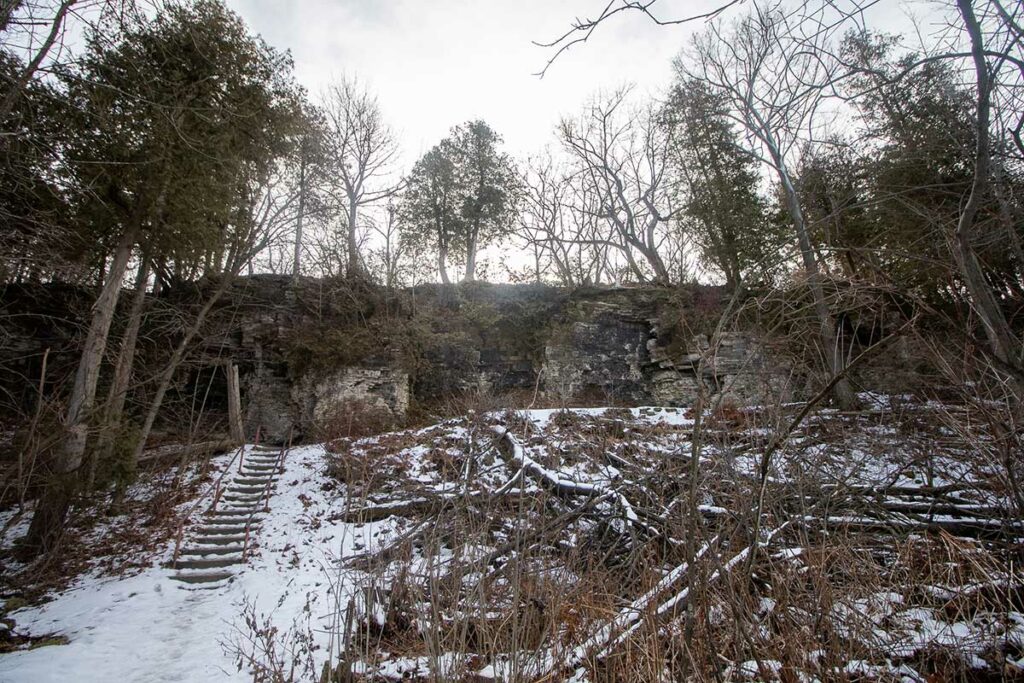 Go for a Walk
Mall walk at the Fox River Mall. Bring your quarters and let the kids ride the machines (or avoid the Target wing). If the weather is mild, check out one of our favorite family-friendly trails.
Don't forget about our state parks! We have 26 Wisconsin State Parks within 2 hours of Appleton! Bonus… they are less busy during the winter months!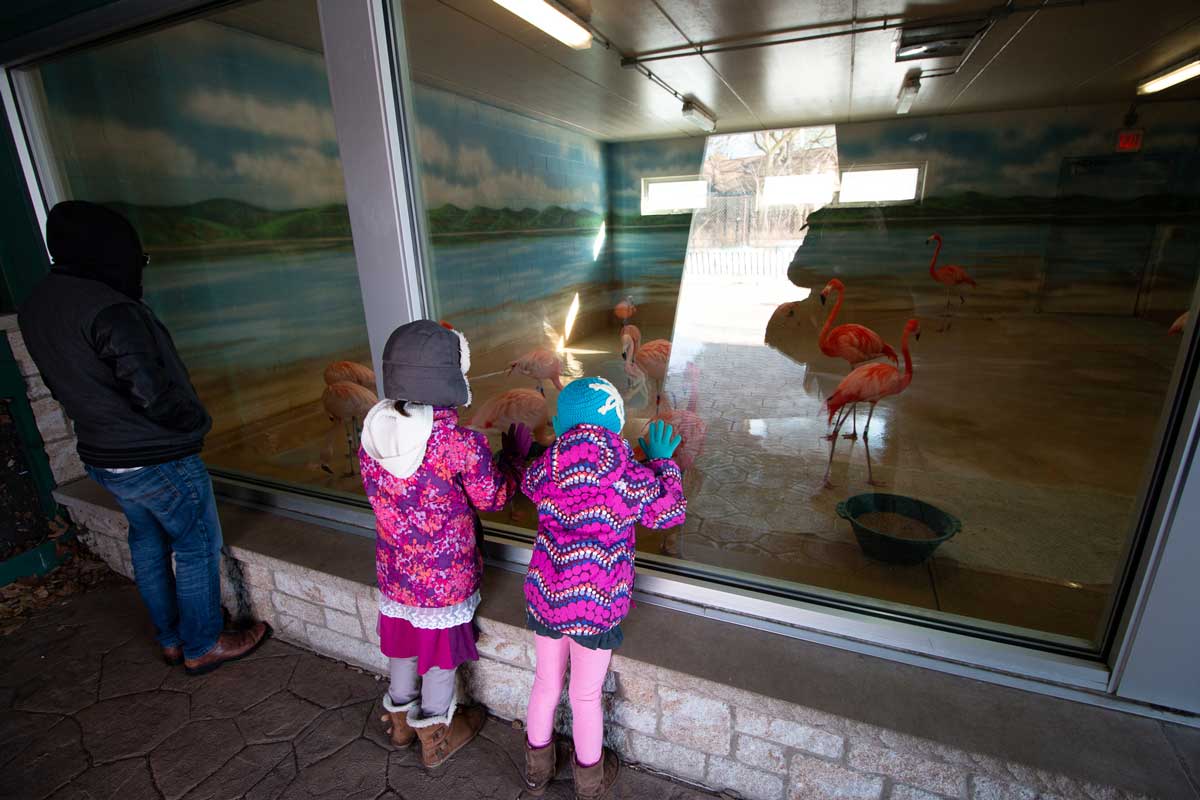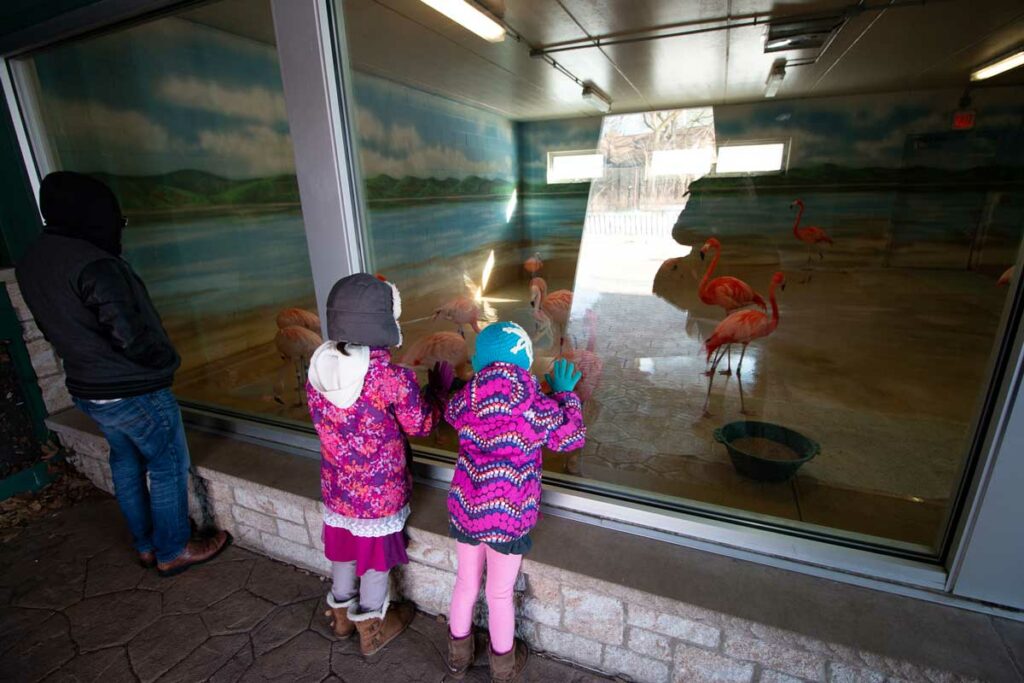 Visit the Zoo
Did you know that most zoos are open year-round?
The New Zoo in Green Bay has over 200 animals and nearly 90 different species! Plan your next visit! The Milwaukee Zoo also offers FREE admission on Family Free Days throughout the winter.
Visit an Aquarium
Sanctuary Aquatics is one of Oshkosh's newest attractions… an aquarium, retail, and hands-on learning. 
Snakes
Learn about snakes, spiders, and reptiles galore at MToxins in Oshkosh.
Feed the Birds
We LOVE feeding the ducks and geese at Bay Beach Wildlife Sanctuary, Green Bay. It's also conveniently located near the Green Bay Children's Museum.
Try your hand at feeding chickadees at Harrington Beach State Park or Peninsula State Park. If you are patient enough, they will eat out of your hand! Bring black oil sunflower seeds to feed the birds.
Our Wisconsin State Parks are a great place to birdwatch in the winter! Did you know we have 26 Awesome Wisconsin State Parks 2 Hours or Less From Appleton?!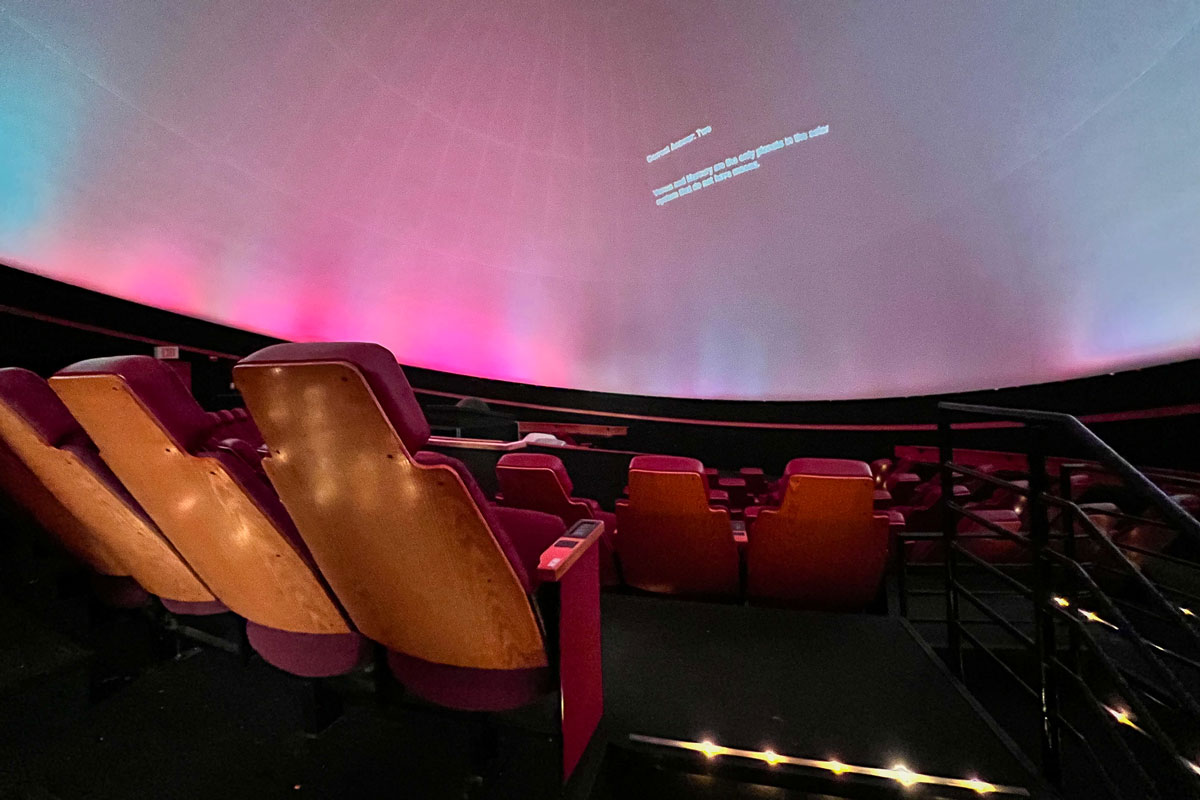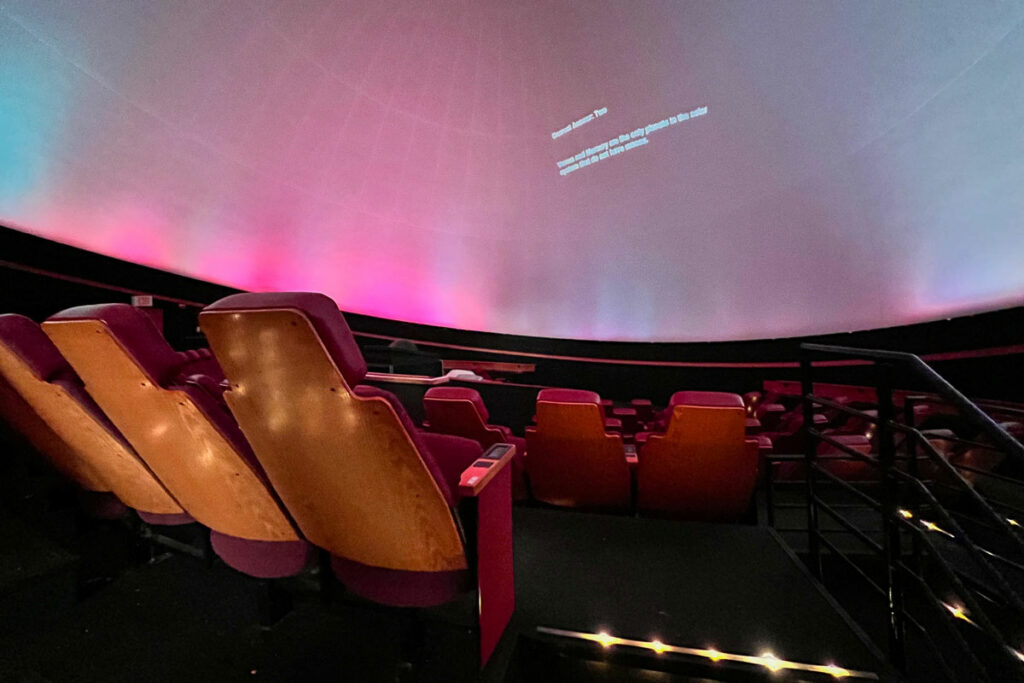 Watch the Stars in the Winter Sky
Do you and your kids love to gaze upon the stars or spot famous constellations in the nighttime sky? If so, then the Barlow Planetarium located at the UW-Oshkosh Fox Cities campus in Menasha is the perfect destination for your next family outing! From laser shows to current nighttime star-gazing, telescope viewing, and naming constellations, be prepared to be filled with awe and wonder at the astronomical beauty of the solar system we call home!
Make sure to check out Weis Earth Science Museum next door to learn about Wisconsin's geology, fossils, natural resources, history, and even dinosaurs!
We are super lucky to live just a short distance from one of the nation's designated Dark Sky Parks, Newport State Park. International locations are chosen for their exceptionally starry skies in areas that are protected natural areas. You can keep an eye on the northern lights forecast to see if the conditions are going to be right to catch a view of the natural wonder.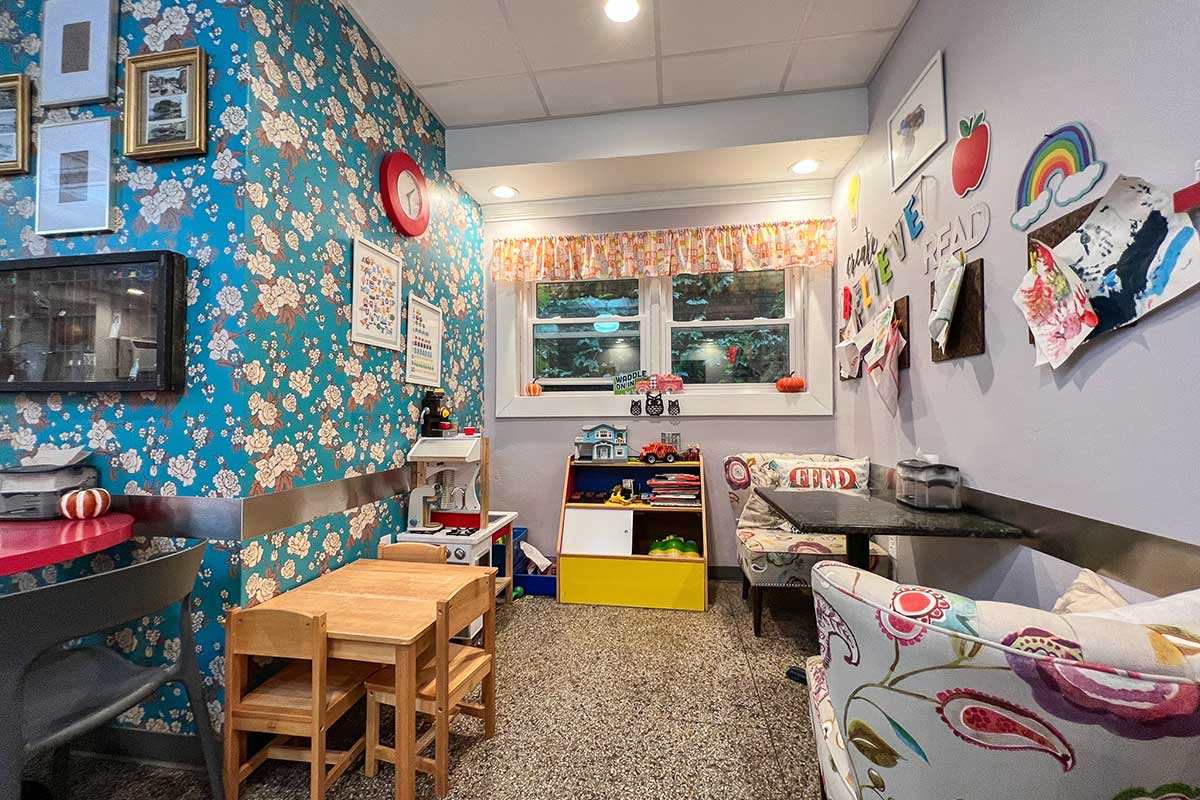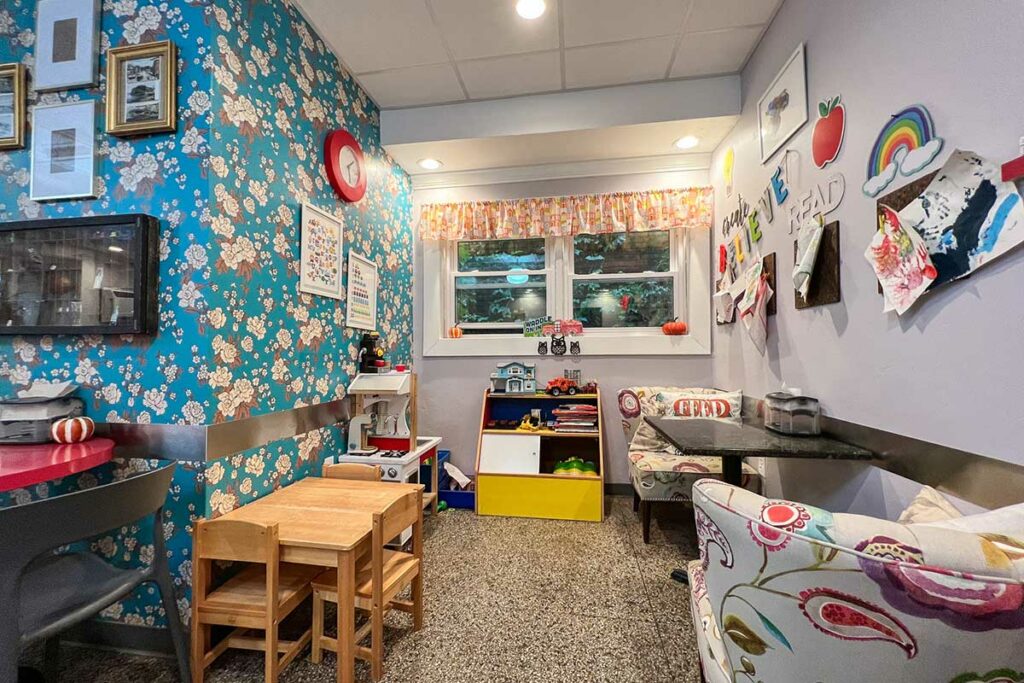 Sip on Hot Chocolate
Hot Chocolate by the fire arguably tastes better! Fireside Cafe in Menasha has yummy coffee and hot chocolate and an indoor playground for the kiddos.
Drink hot chocolate and roast marshmallows at The Plaza in Neenah.
Snuggle at Pawfee Shop Cat Cafe in Appleton while drinking hot cocoa.
These coffee shops have play areas for kids that make meeting a friend the perfect date for everyone!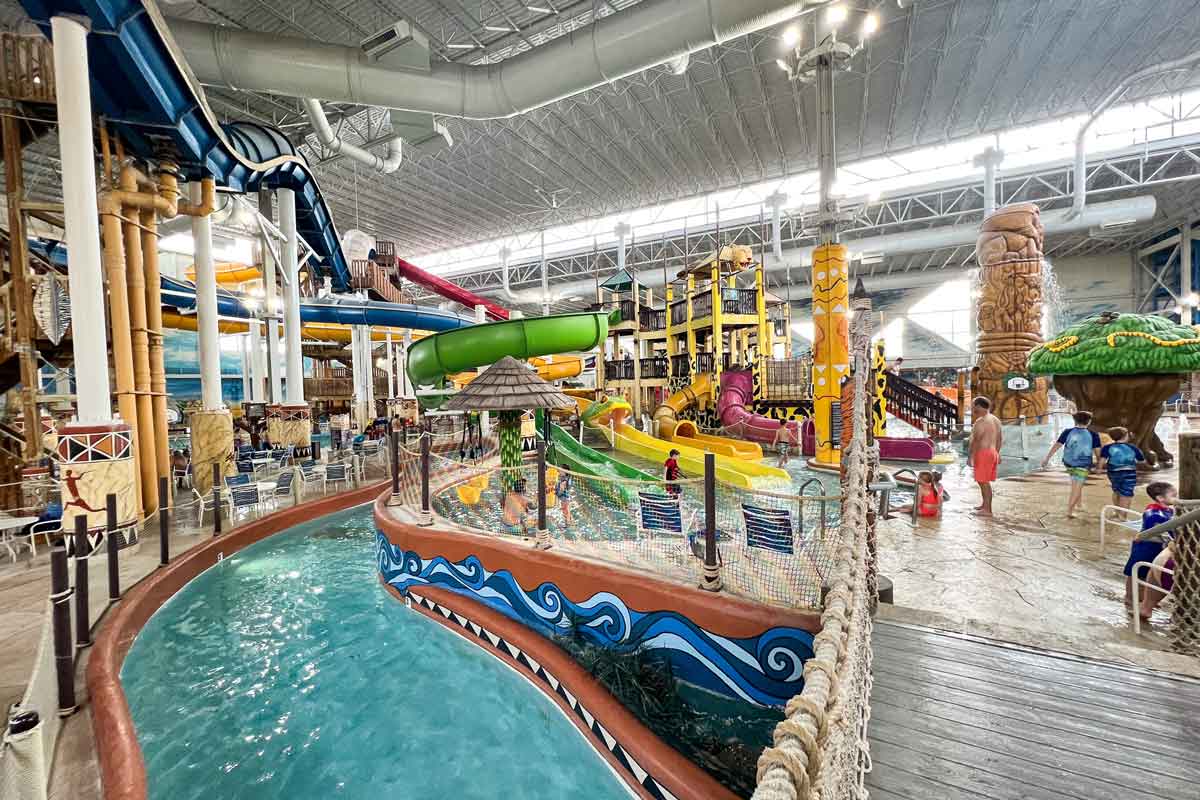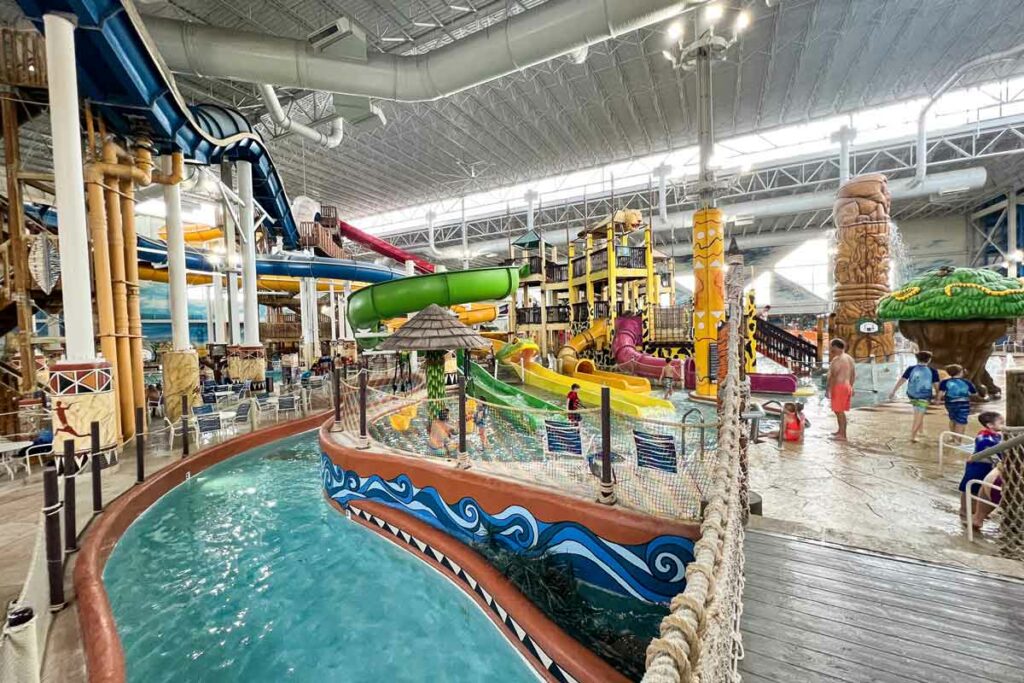 Go Swimming
We have so many great indoor pool options in the Fox Cities both at hotels and park and rec options. There are water slides, splash pads, lap swimming, diving, hot tubs and whirlpools, saunas and more!
Need a winter escape? Head to the waterpark capital of the world, Wisconsin Dells for a fun weekend retreat!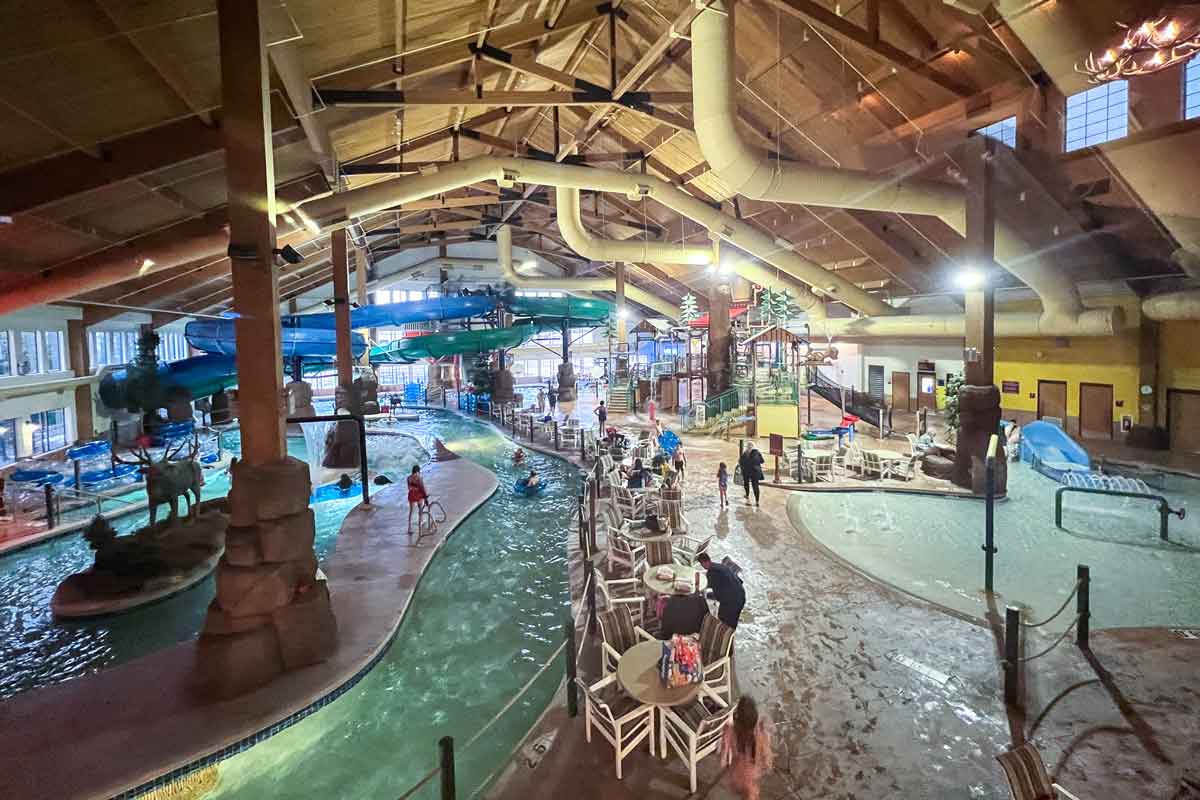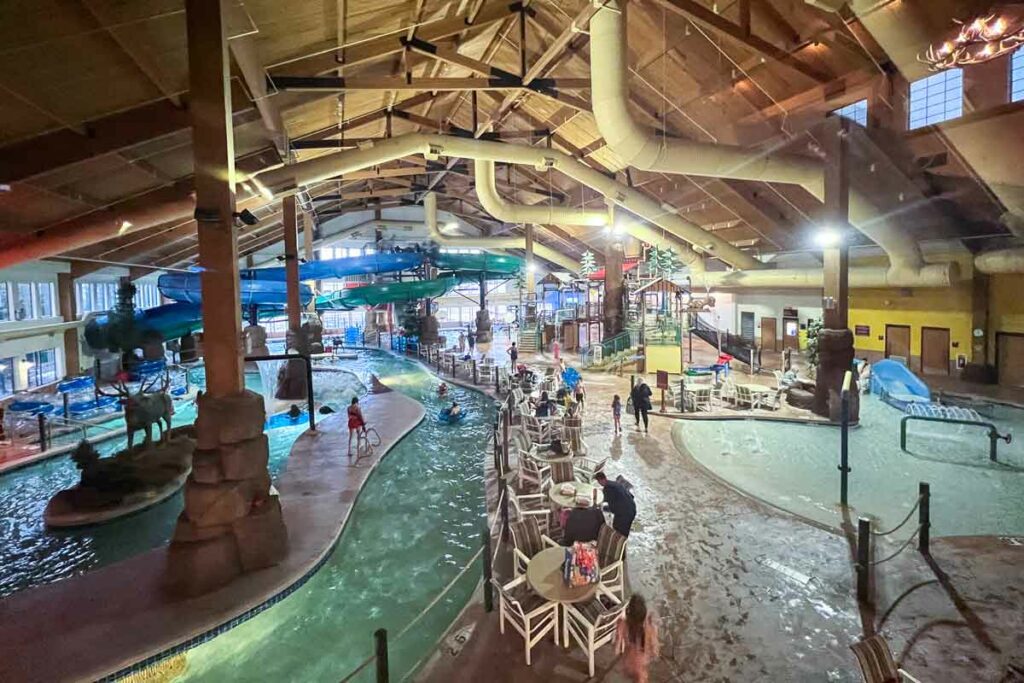 Go Bowling
Bowling is a fun indoor activity to forget about how cold it is outside! Both Super Bowl in Appleton and Sabre Lanes in Menasha are now owned by Bowlero and offer special loyalty programs, events and promotions and lots of lanes for bowling.
The 10th Frame in Appleton is locally owned and operated and has good old-fashioned bowling, including keeping score by hand!
Electric City Lanes in Kaukauna has a cozy, intimate bowling experience with fluorescent lights and a fireplace. The full-service restaurant has a casual dining menu and a wide selection of beer, wine and spirits.
Rolling Thunder Lanes has open bowling and an arcade (and wings!)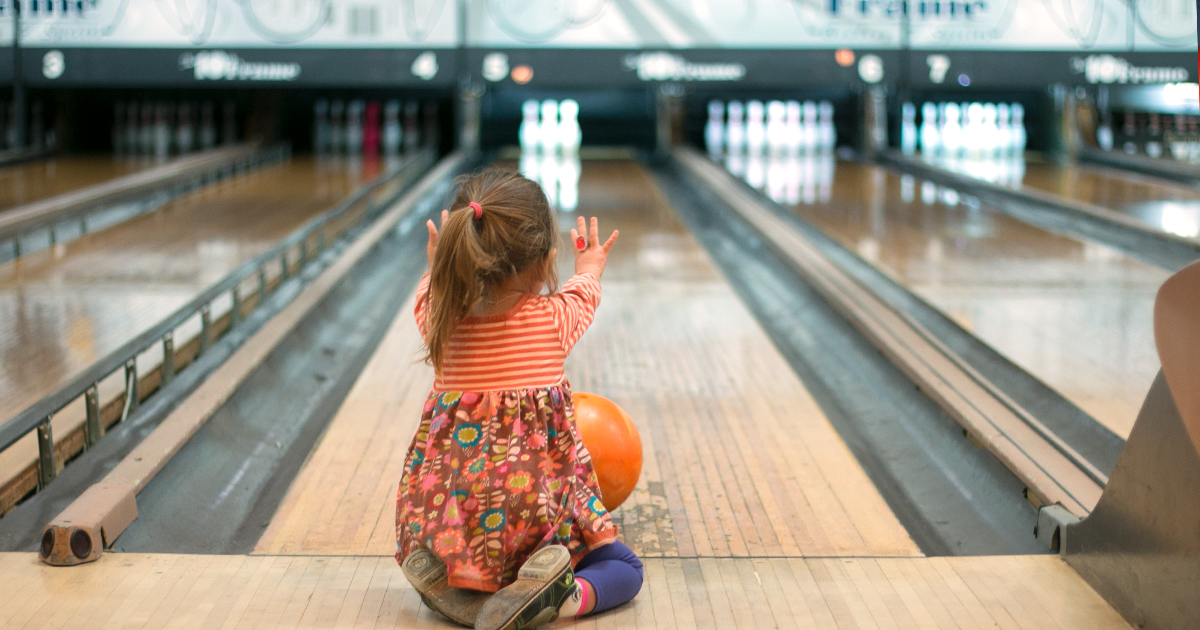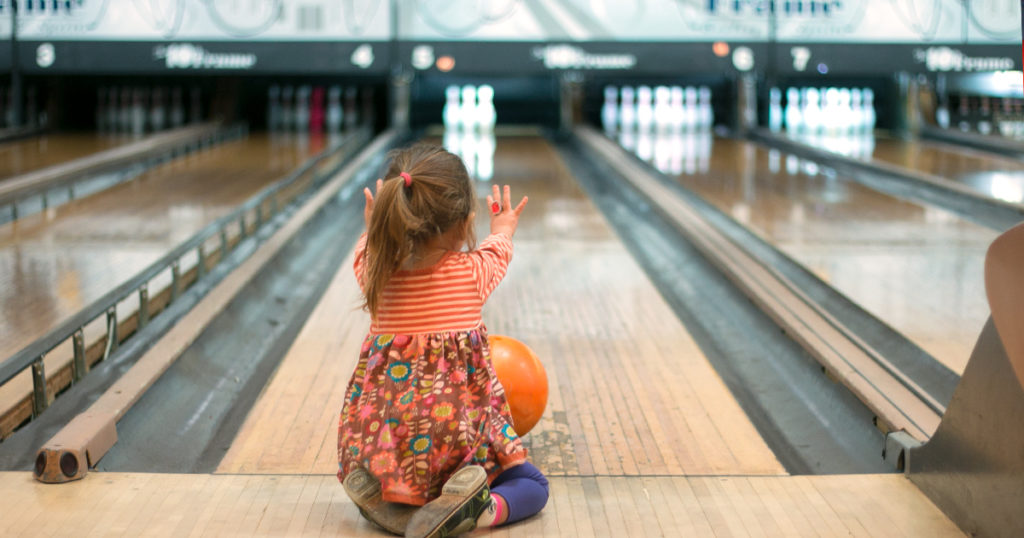 Play all Day at the YMCA
The YMCA of the Fox Cities has so many fun and family-friendly things to do, from the treehouse and splash pad at the Downtown Appleton YMCA to the Neenah YMCA indoor play area and the newest addition, the indoor play area at the Heart of the Valley YMCA.
The Oshkosh 20th YMCA has ice skating, pool, indoor gym and more. Check out their website for lots of fun activities too!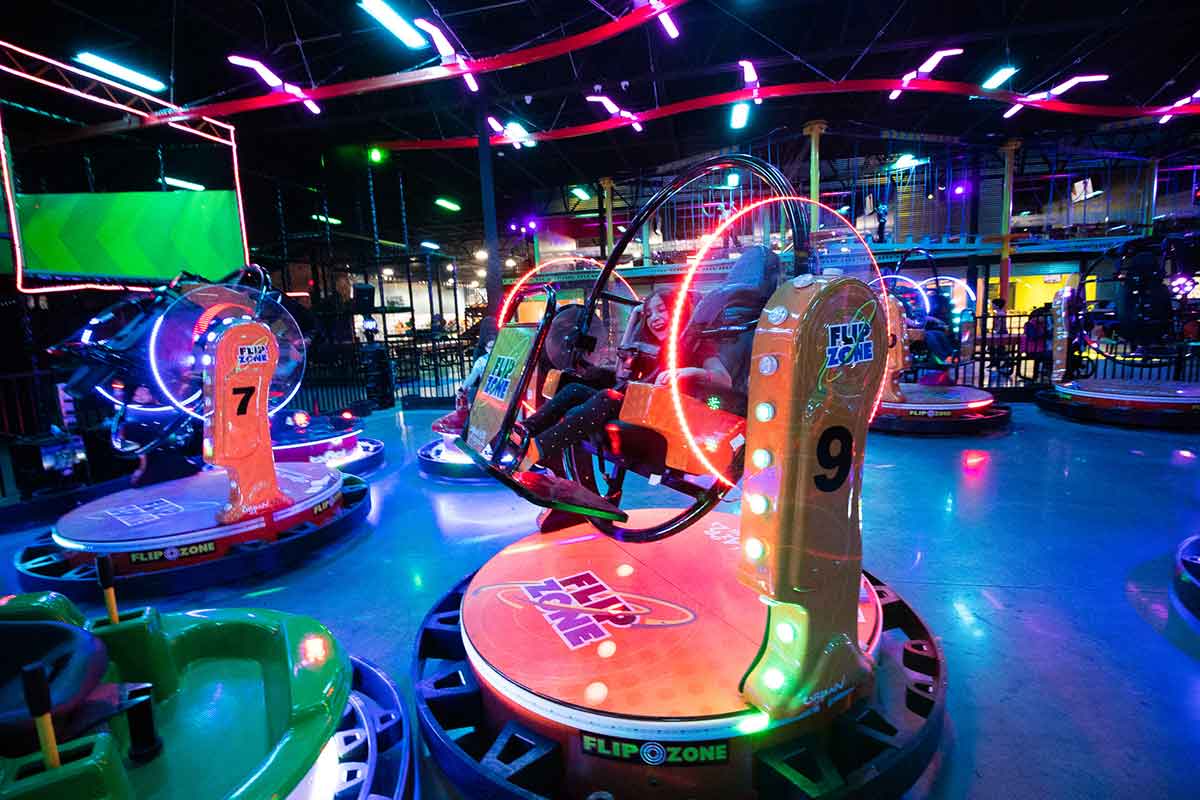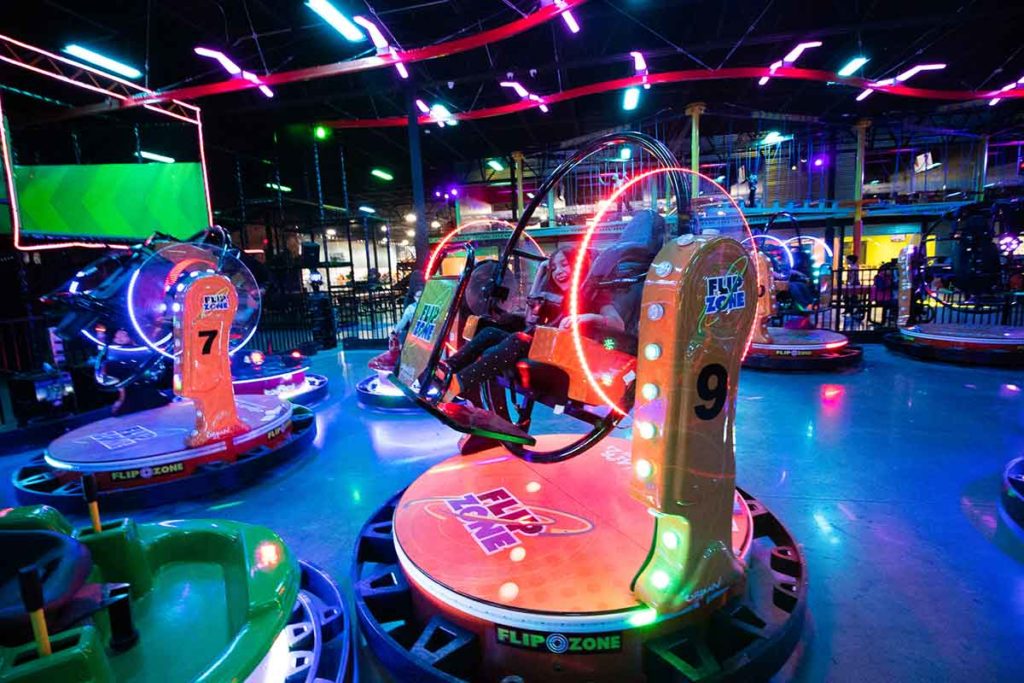 Indoor Trampoline Parks & Inflatables
Luv 2 Play is perfect for the younger kids! Enjoy three stories of climbing, crawling, sliding, and zipping! Cafe and grill available and fun games available to pay.
You can't go wrong with a visit to Badger Sports Park, with escape rooms, VR, laser tag, mini bowling, arcade games and more!
Other great options are Urban Air Adventure Park, Altitude Trampoline Park in Appleton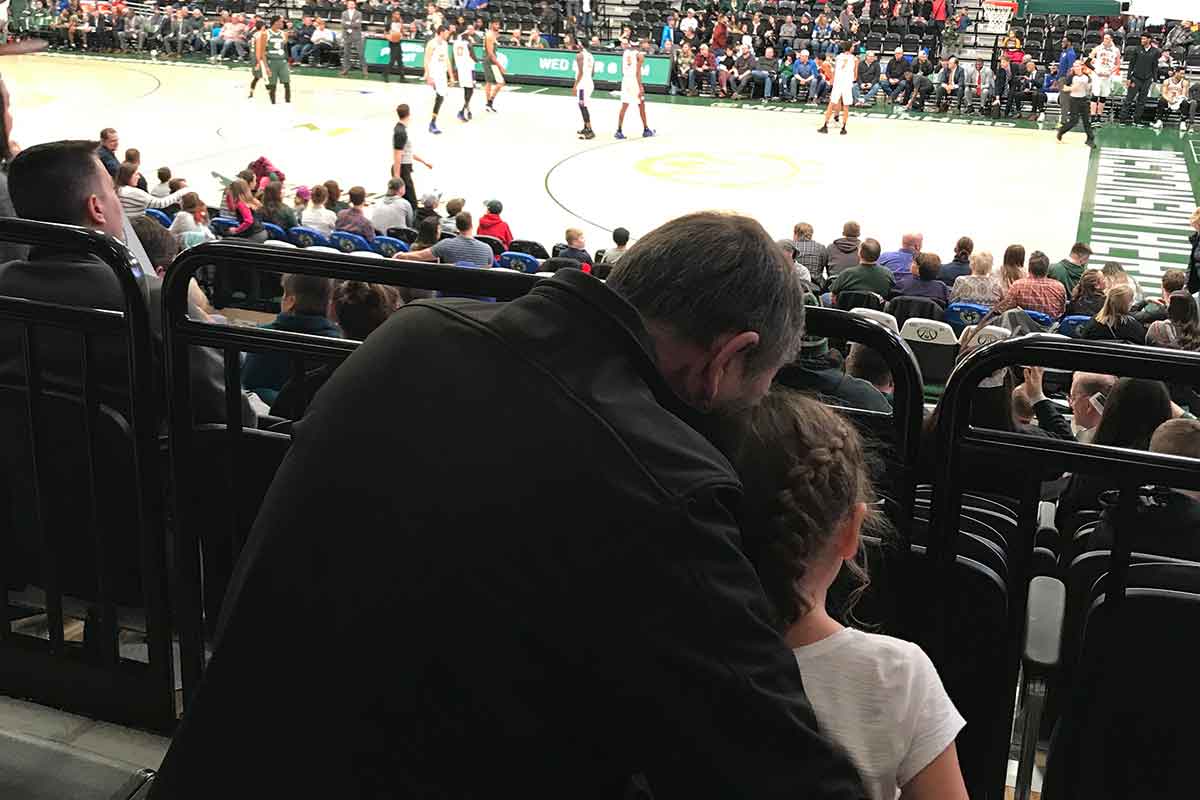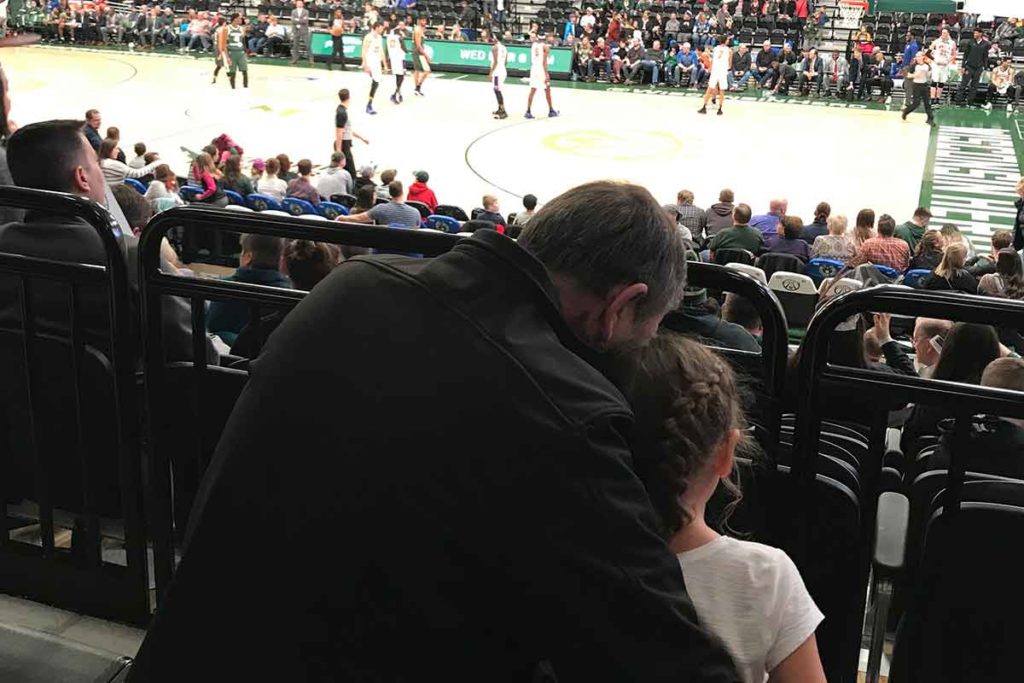 Cheer
Cheer on the Green Bay Gamblers in Green Bay or the Wisconsin Herd in Oshkosh.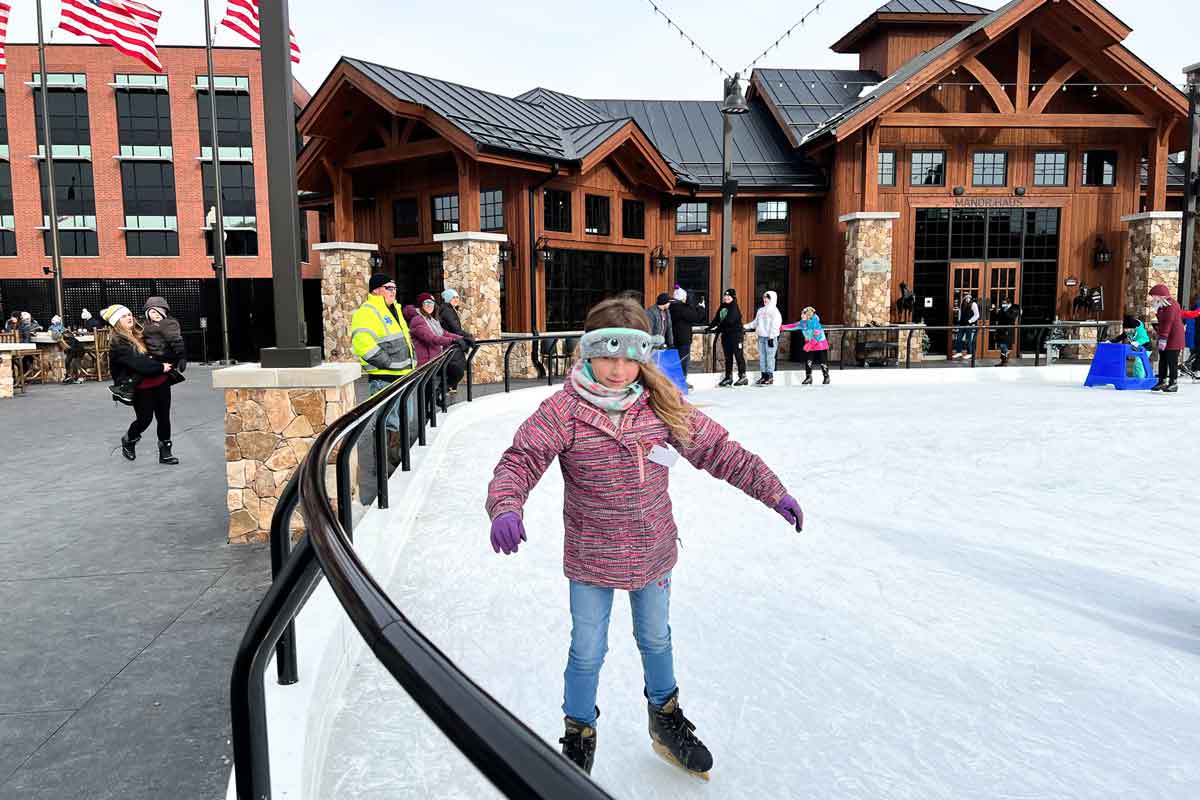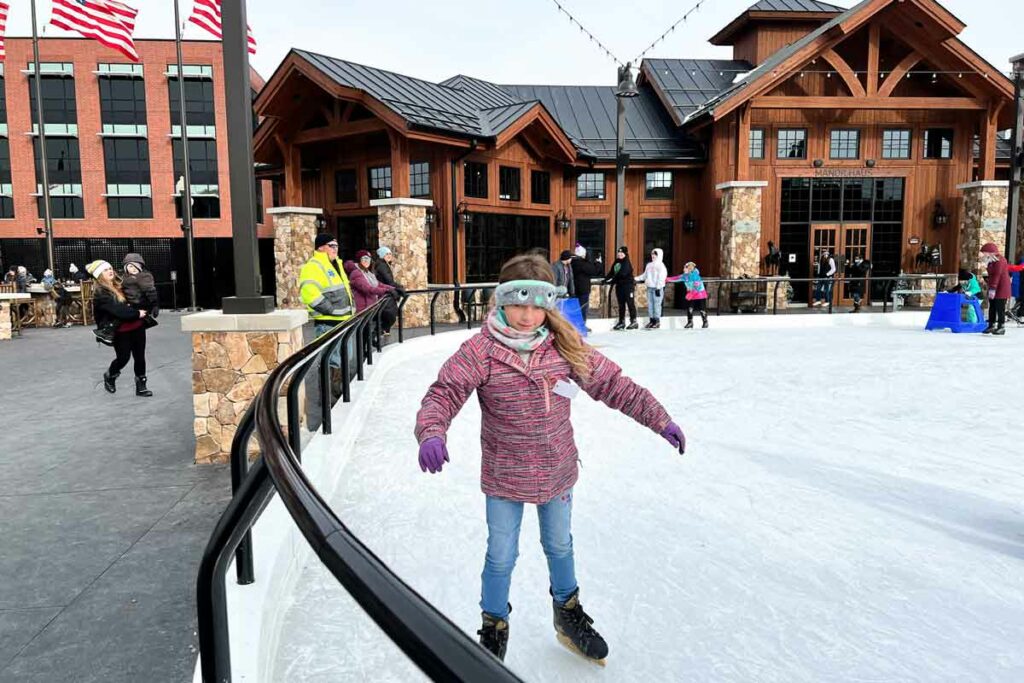 Ice Skating
Ice skating is a wintertime favorite for many families throughout the state! There are so many fantastic family-friendly ice rinks throughout Wisconsin. 
One of the newest ice skating locations is in Neenah, called The Plaza. It's a beautiful outdoor ice rink nestled in the charming downtown area, with a quaint cafe, coffee shop, fire pits, and outdoor seating.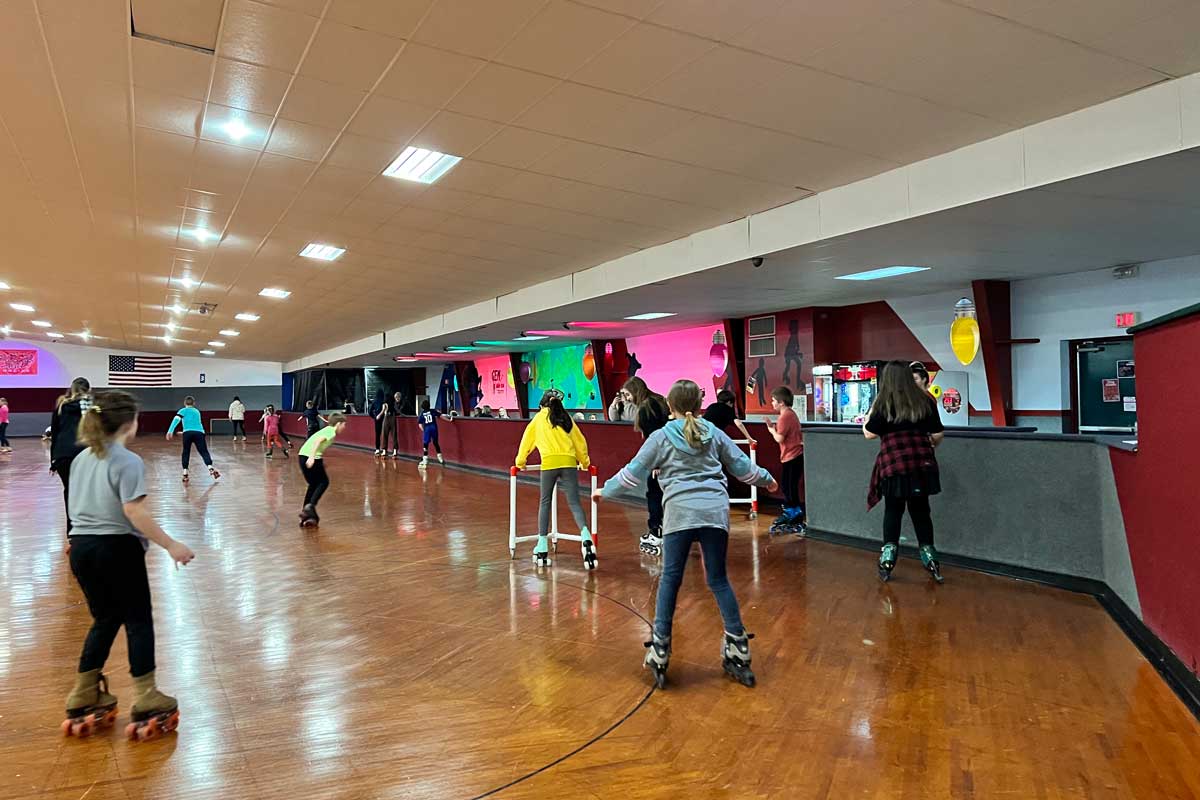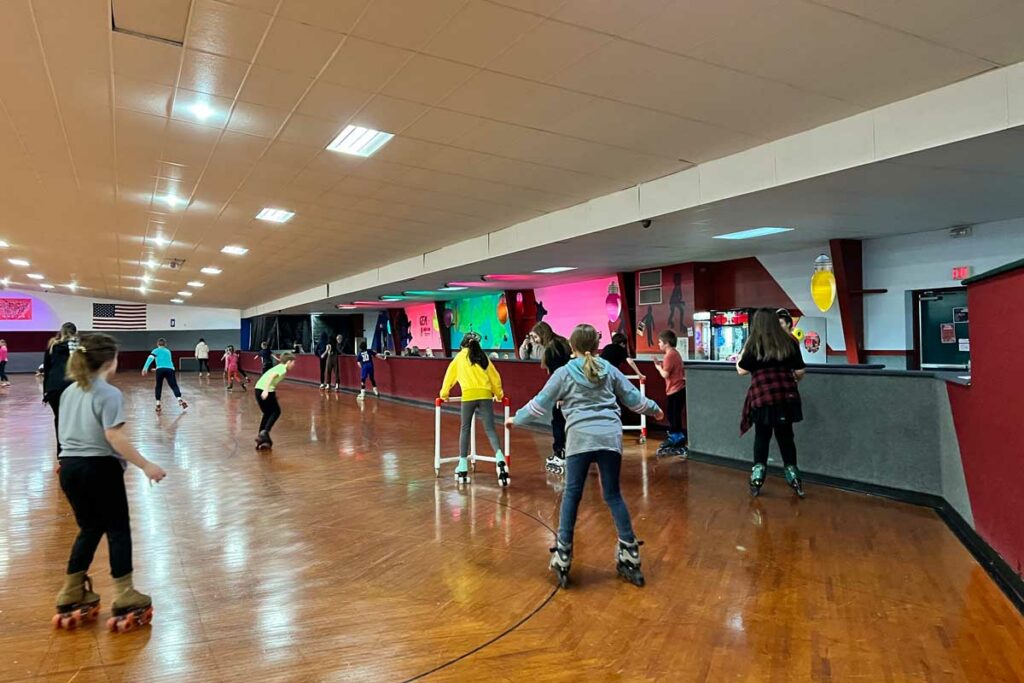 Roller Skating
Looking for inexpensive fun for the whole family? Head to the roller rink and lace up for some roller skating! We recommend Skate City in Kimberly and Skaters Edge in Appleton!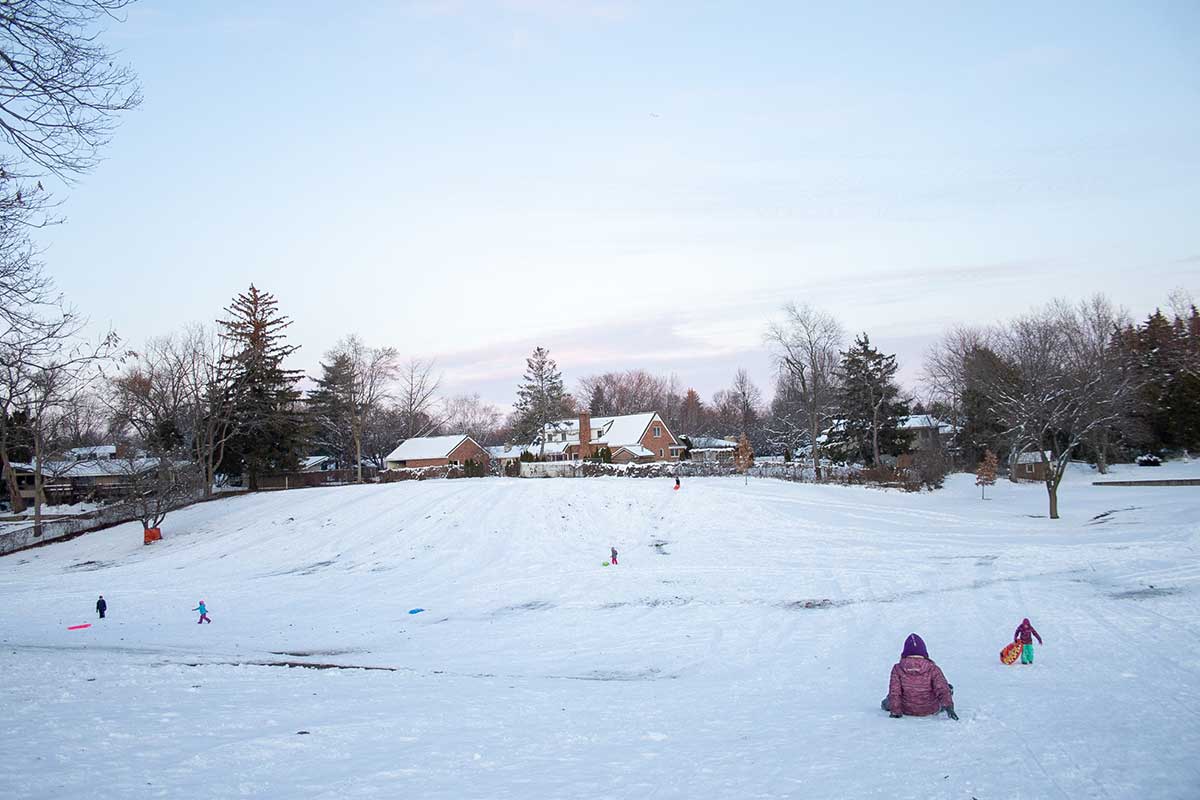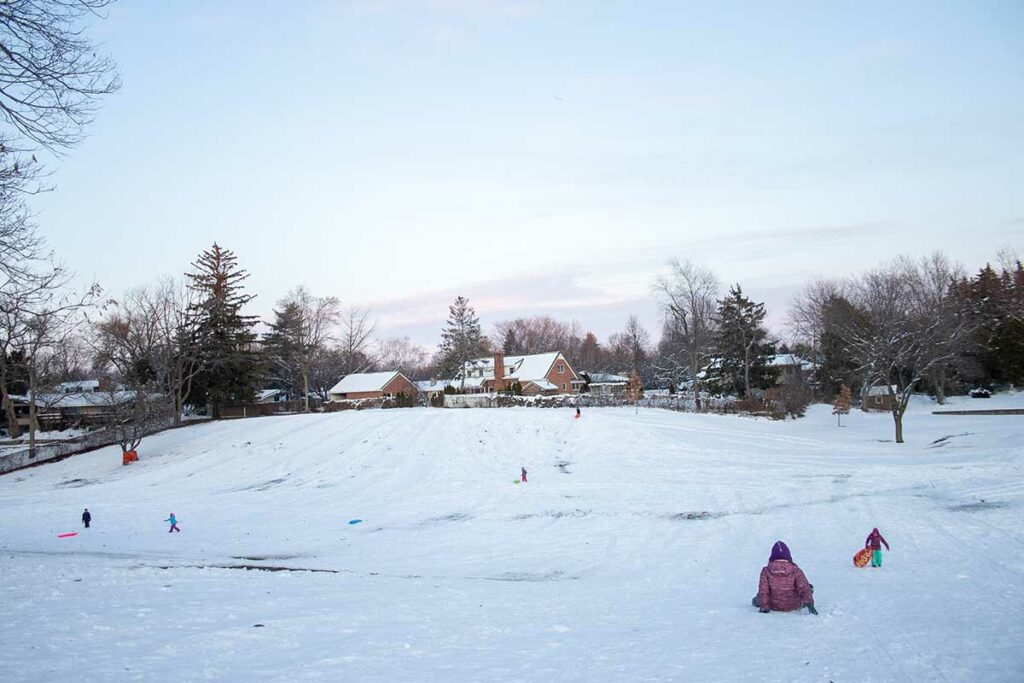 Go Sledding or Snow Tubing
Sledding and snow tubing is one of the best things to do this time of year with the whole family! Many of the hills here in Wisconsin require no experience and can be completed at any age! 
Titletown in Green Bay also offers tubing on Ariens Hill beginning in December.
A truly unique option in Stevens Point is a cool toboggan run at Iverson Park Winter Sports Area.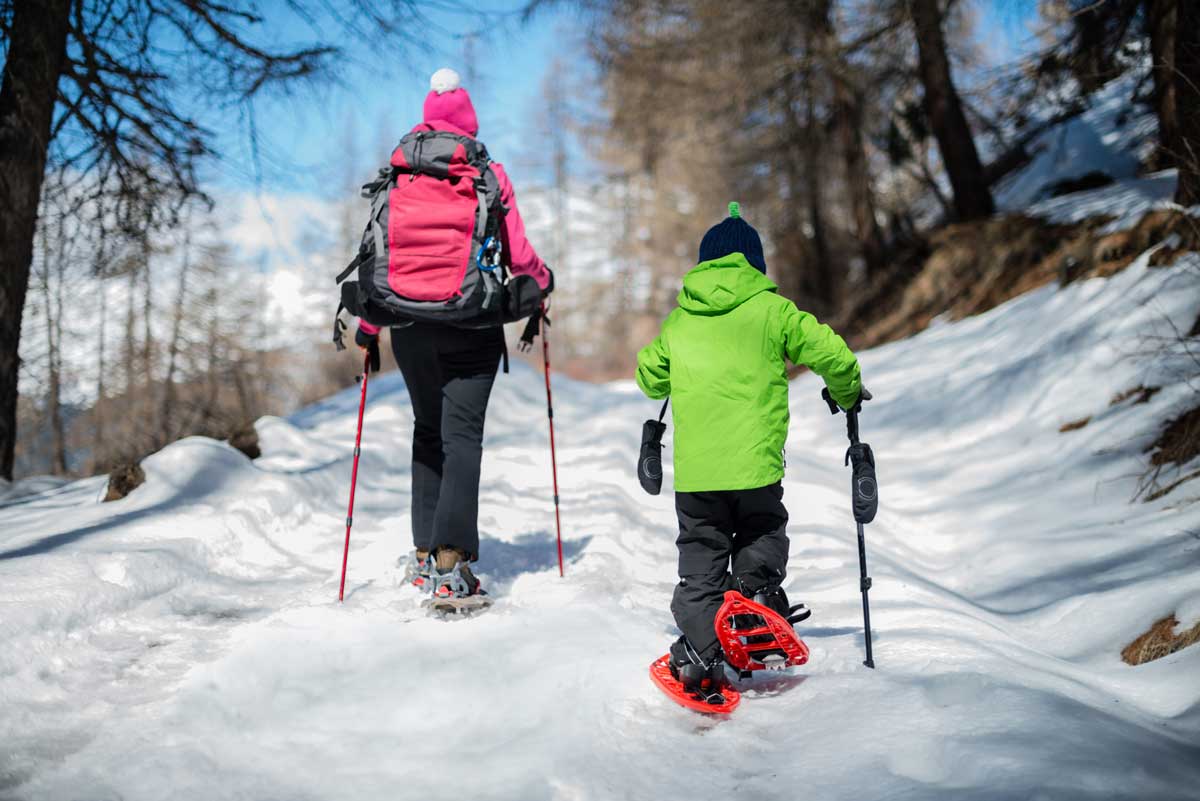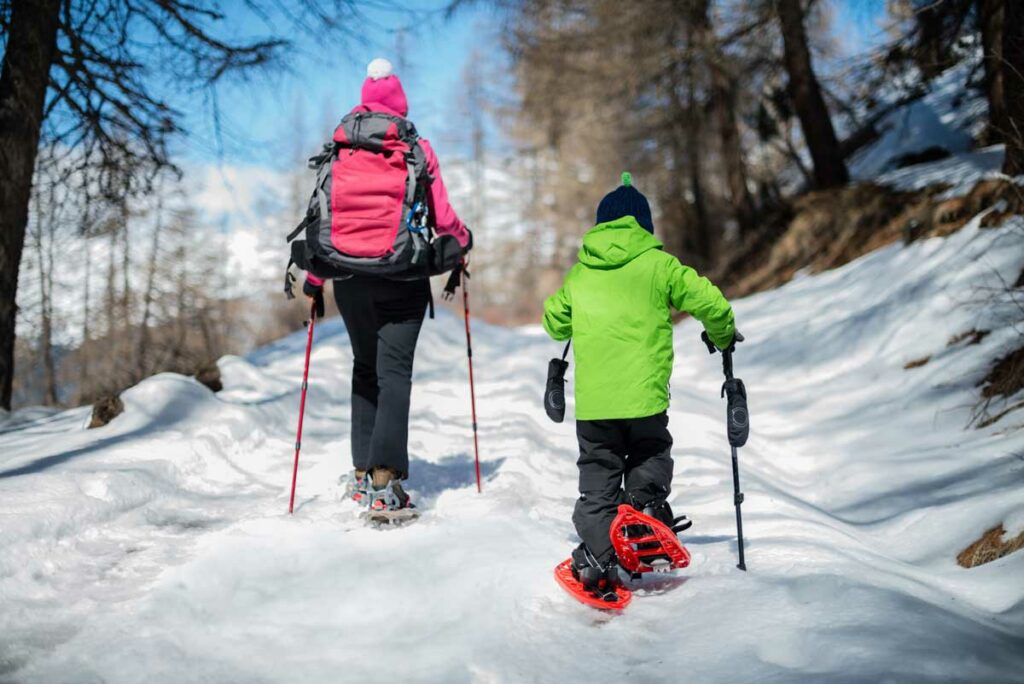 Snowshoe
If you and your family have not yet tried your hand (er, foot?!) at snowshoeing, this season is the perfect opportunity to take the plunge.
Cross-Country Skiing
Spend some time this winter with your family and try cross-country skiing! Cross-Country skiing offers a fun exercise to get some fresh air outside. This outdoor adventure is easy to learn and can be relatively inexpensive.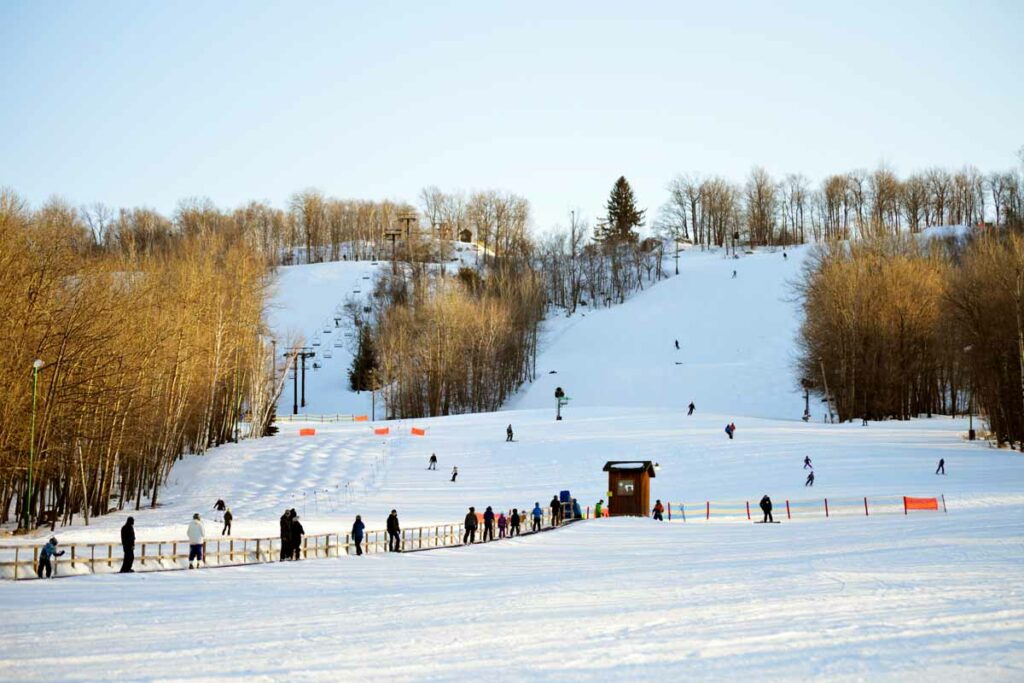 Skiing
Skiing in Wisconsin is a beautiful way for you and your family to spend these long, cold months enjoying the fresh air and some quality time together! Plus, many ski hills and resorts offer lift tickets FREE for children with paid adults. It's also one of the BEST Winter Activities in Wisconsin.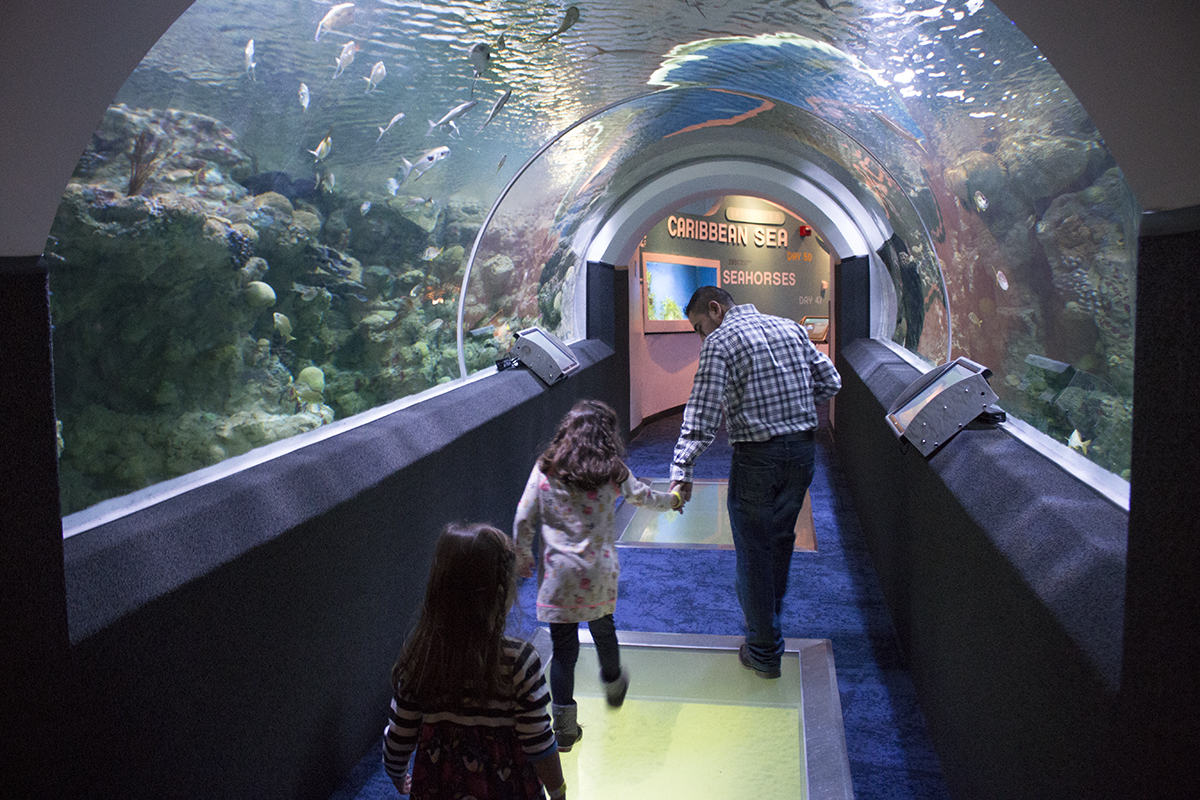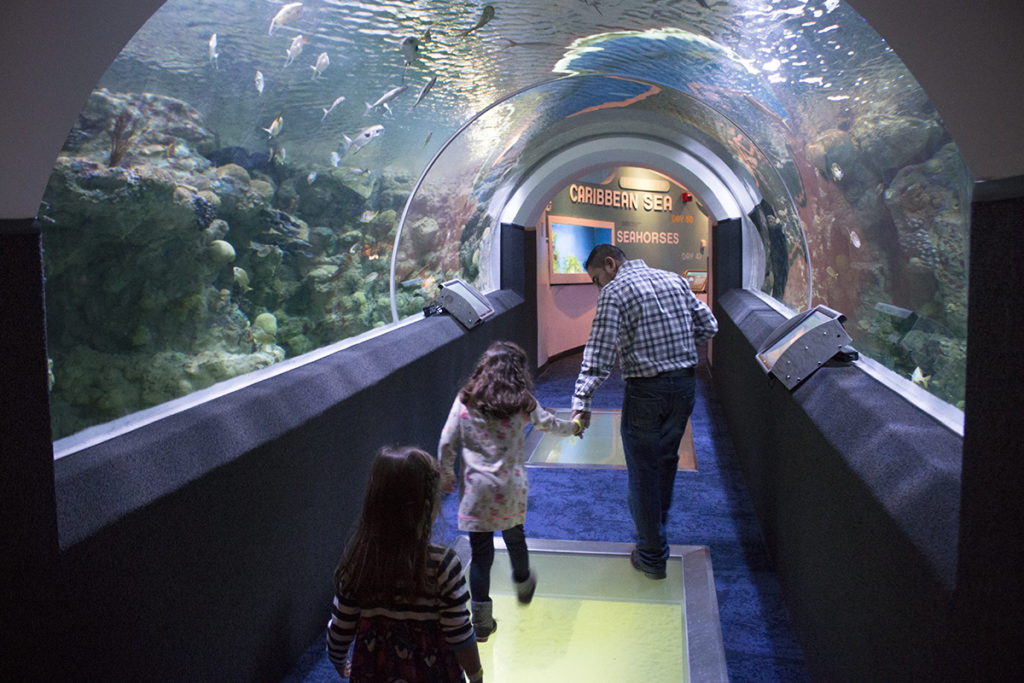 Explore at a Museum
Whether you are looking for a children's museum in Wisconsin, science, art or history museums we have so many great options across the state. Some of our favorites include Discovery World and the Milwaukee Art Museum.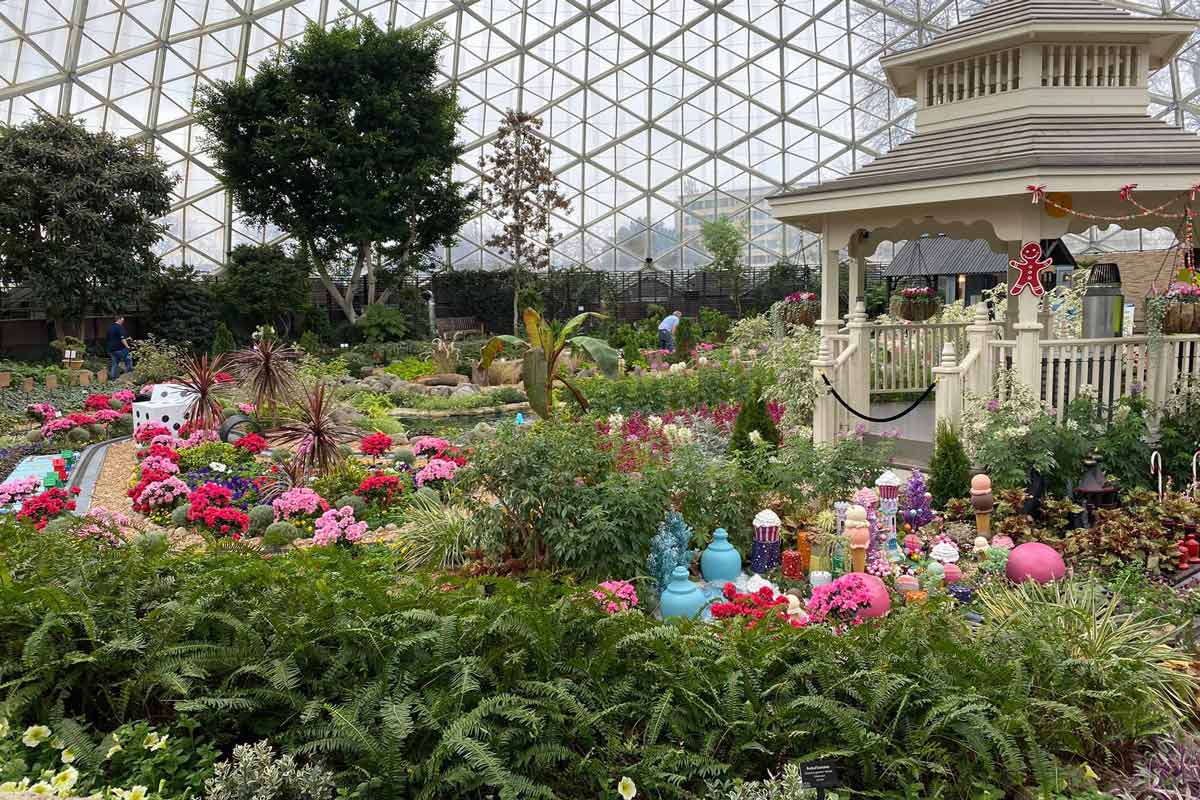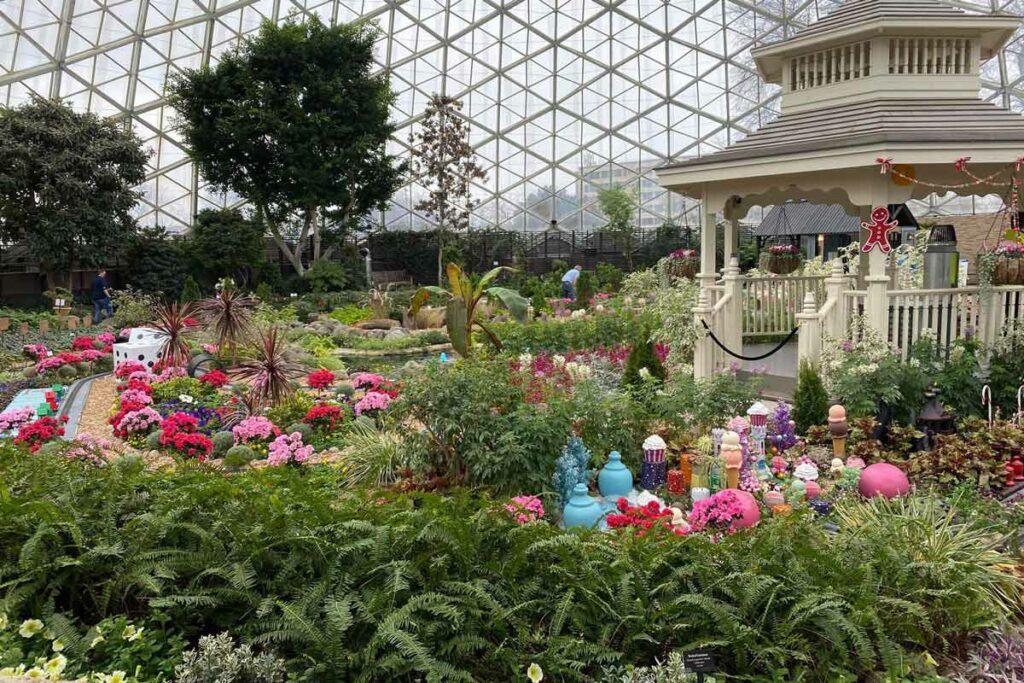 Trains
Have a train lover? Head to the National Railroad Museum in Green Bay or the Train Show at the Domes in Milwaukee. You can also find fun train tables at Caramel Crisp in Oshkosh and The Kaukauna Library!
Get Crafty, Creative & Artsy
There are many options for drop-in projects or scheduled classes for artists, young and old. Check out the events and schedules at the following locations: 
Hazelmade Art Studio in Appleton
The Fire, Appleton
The Fire Escape Art, Oshkosh
Rooster Dreams, Neenah
Painting Pottery or Bead it, De Pere
Trout Museum of Art / Fox Cities Building of the Arts
Take a Road Trip or a Day Trip
We have so many great day trips and road trips near the Fox Cities that are fun for the whole family. Find lots of things to do in our guides. Some of our favorites are Milwaukee, Madison, Sheboygan, and a weekend trip to Minneapolis or Chicago.
Movies
This year's Kids Dream Winter Family Film Series features some sure-to-please movies to beat cabin fever in Wisconsin! This partnership between Marcus Theatres and American Family Insurance offers a movie lineup from January 13 thru April 2 for just $3 (or FREE, just download the vouchers before).
Library
Check with the libraries for FREE programs. Many of these events are on our calendar or check out the individual library calendars.