Caffeine seems to be a staple in nearly every parent's day. Along with bottomless refills, many of us find ourselves wishing we could bottle up all of our children's wild energy! There is now a happy medium – coffee shops and cafes with play spaces. Check out these fun spots that offer plenty of coffee options for parents and exciting areas to play for kids for your next playdate!
Fox Valley Play Areas
Fireside Cafe, Menasha
Fireside Cafe is an inviting, cafe located inside the lobby of Christ the Rock Community Church. As parents enjoy a morning beverage, kids can burn off energy in their indoor play space!
The indoor space features a giant padded climbing system with a tunnel slide, a hopscotch rug, blocks, trucks, and more. There are complimentary movies that play and kids can relax in the comfy chairs with a snack. During warmer weather, visitors are invited to play outside in the on-site park area.
The cafe offers an assortment of goods including gluten-free pizzas and items geared toward kids. Young children can order a Toddler Trio and select three snacks of choice. Bigger kids also have snack options for them, too. All items offered are locally-sourced.
Kids will love their:
Dedicated indoor and outdoor play spaces
Exclusive snack options for big kids and toddlers
Complimentary wifi and movies
Plan a visit: Fireside Cafe
Address: W6254 US-10 #114, Menasha, Wisconsin

Located inside Christ the Rock Community Church

Phone: 920-840-6800
Hours:

Monday through Friday 8 am – 2 pm
CLOSED Saturday
Sunday 10 am – 12:30 pm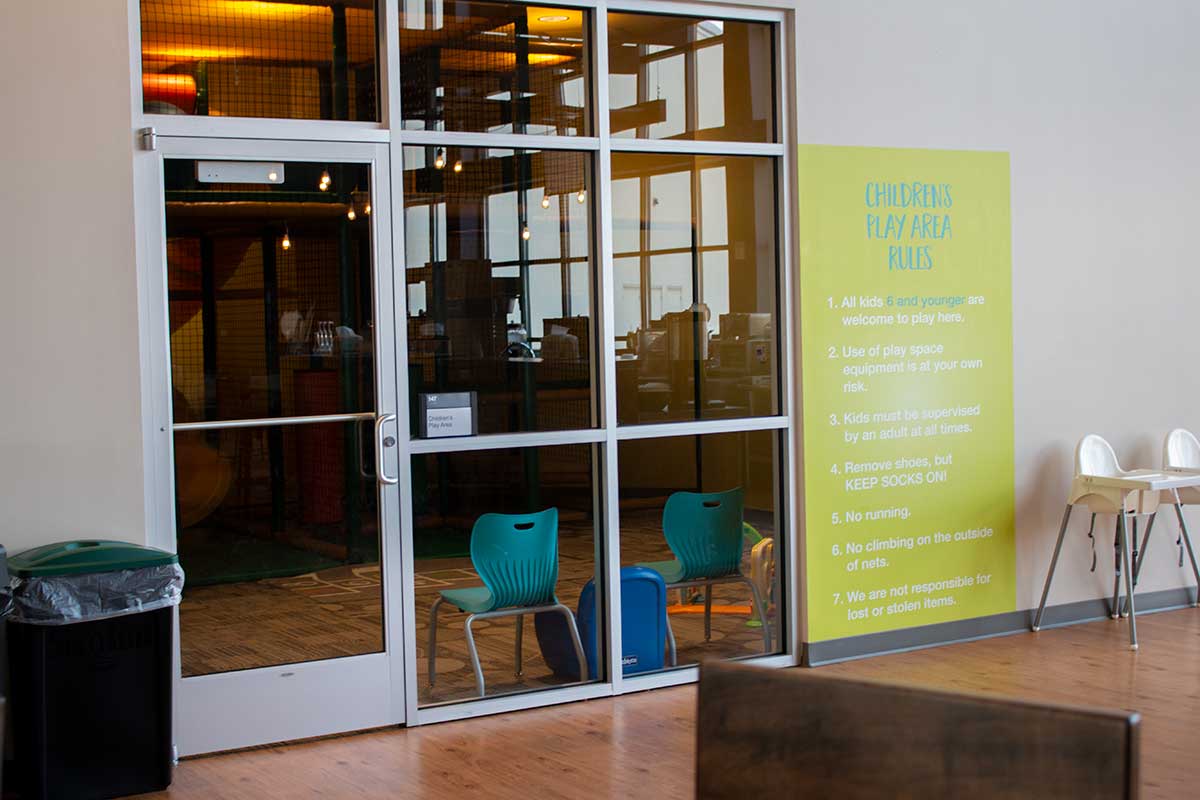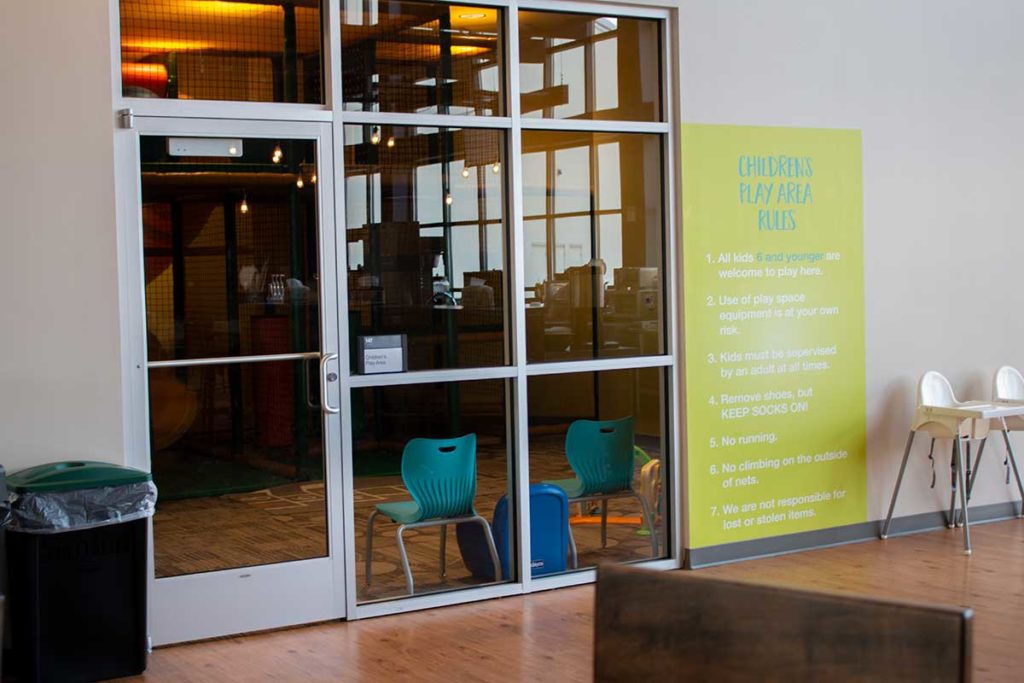 READ MORE: Dig Deep into Wisconsin Geology at the Weis Earth Science Museum in Menasha
Kaukauna Coffee & Tea, Kaukauna
For those who are looking for a convenient place to grab gluten-free or vegan options and fresh brewed coffee and tea, this is the place for you! Kaukauna Coffee & Tea serves a diverse menu, including breakfast!
Upon arriving, customers are greeted by a counter and case filled with fresh bakery treats, including fudgy avocado brownies, vegan and gluten-free chocolate chip muffins and peanut butter oat bars. The staff is very friendly and are happy to suggest items to try. Kids can nibble on grilled cheese sandwiches and sip on cocoa, juice or flavored lemonade.
There are plenty of tables and also a nook with a tabletop toy bin and a kitchen playset, to entertain the kiddos. The cafe also sells a variety of crafts and trinkets. A rack of toddler outfits are also on display and are for sale. Find a unique outfit while you visit, the options are adorable!
Kids will love their:
Kids nook with a tabletop toy bin and a play kitchen
Fudgy avocado brownies
Chilled apple juice
Shelf of crafts and trinkets
Plan a visit: Kaukauna Coffee & Tea
Address: 127 West Wisconsin Avenue, Kaukauna, Wisconsin
Phone: 920-766-4038
Hours:

Monday through Saturday 6:30 am – 2 pm
Closed Sunday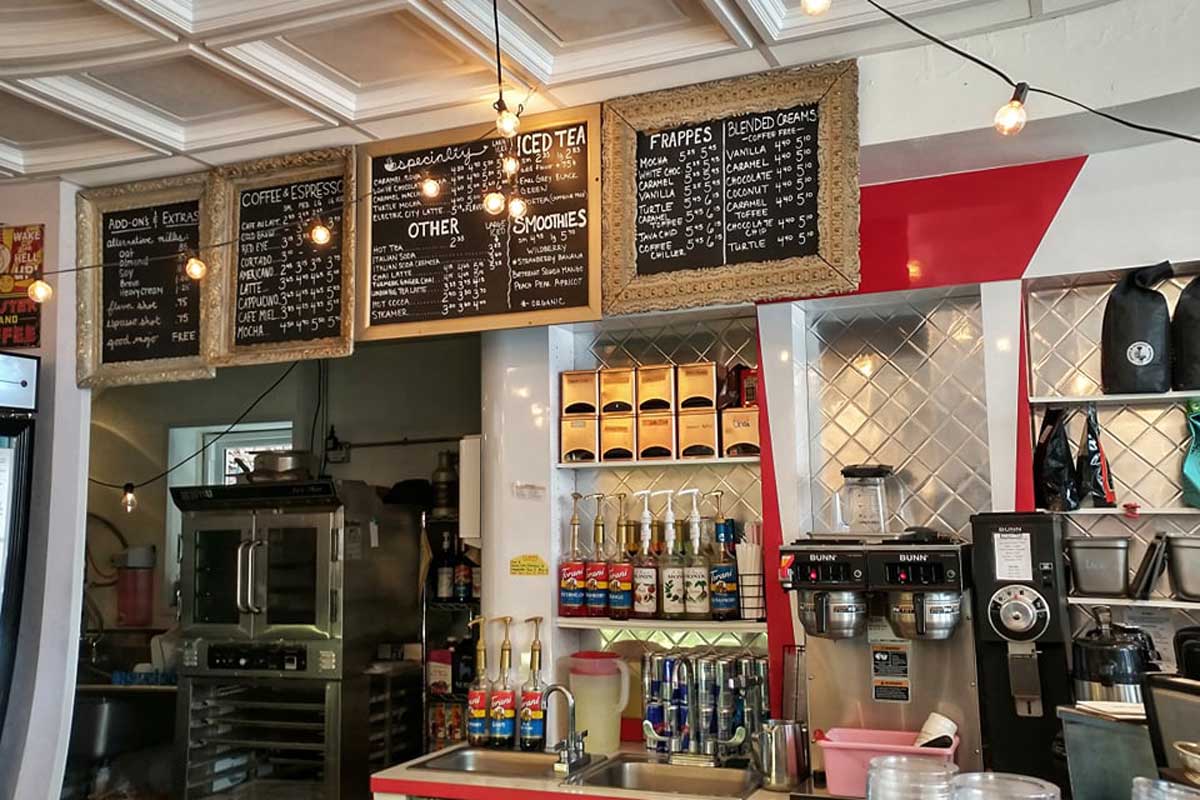 READ MORE: Family Guide to the Kaukauna Public Library
The Pawffee Shop Cat Cafe, Grand Chute
Prepare for the purrfect morning out with the kids at the Pawffee Shop in Appleton – the most adorable cat cafe! Kids can drink hot chocolate and eat kitty-inspired macarons while snuggling with a bunch of friendly felines!
Parents can browse a generous menu of drinks, including orange cranberry herbal hot tea, and cat-inspired coffees like White Cat (Light-Medium blend), Purruvian (Medium-Dark blend) and De-Catffinated (decaf). Young visitors can order milk, juice and munch on Banana bowls – sliced bananas with chocolate and caramel sauce.
The cafe welcomes parents and kids to spend time with the cats and soak in limitless cuteness and cuddles. The cat side of the cafe features tables and cat-pillow-filled benches and a room full of toys to entertain the kitties (and let's be honest, the kids, too!). All of the cats are up for adoption, so the day out just may double as meeting the Banew fur family member!
Kids will love their:
Cute kittens and cats
Feline-inspired keychains
Bakery and fruity snacks
Plan a visit: The Pawffee Shoppe Cat Cafe
Address: 1745 North Casaloma Drive, Appleton, Wisconsin
Phone: 920-257-4621
Hours:

Tuesday, Thursday, & Friday 8 am – 6 pm
Wednesday 8 am – 7 pm
Saturday 8 am – 2 pm
CLOSED Sunday & Monday
Note: The cafe opens one hour prior to the cat lounge hours

Reservations are recommended for Saturdays. Reserve a time in half-hour increments between 9 am – 2 pm on the cafe's website.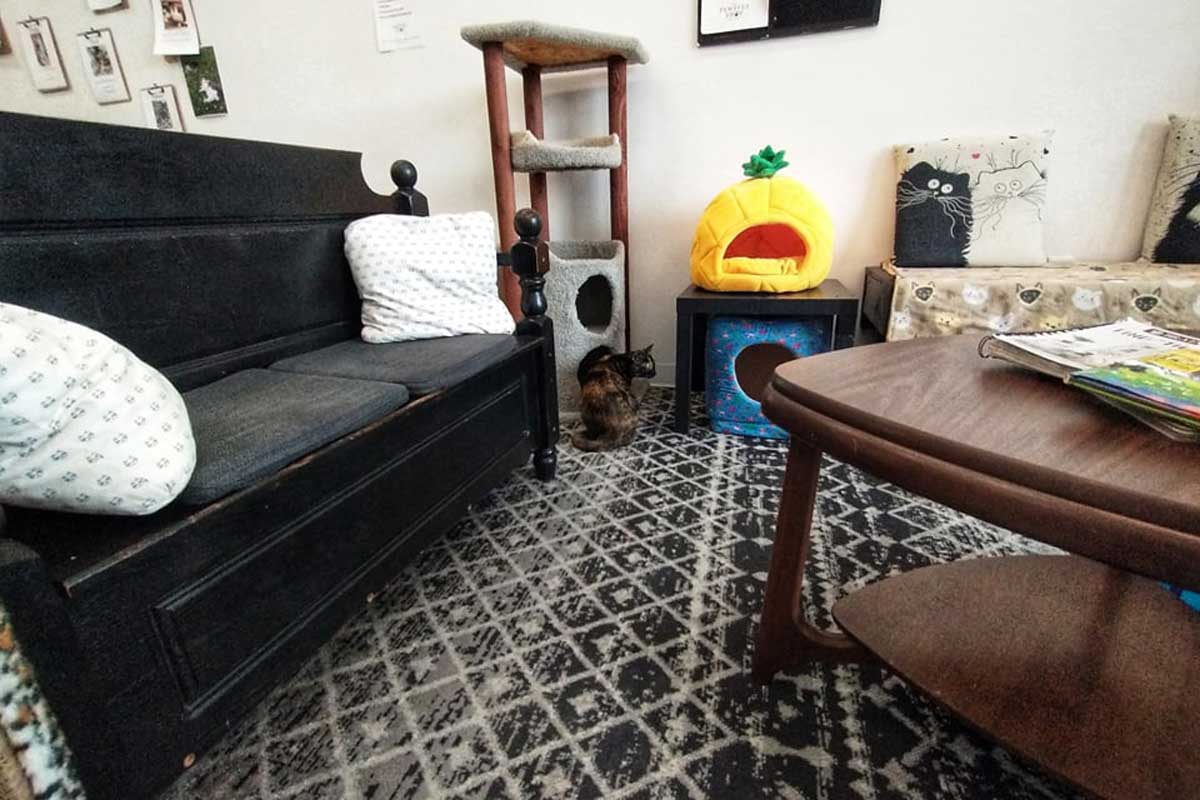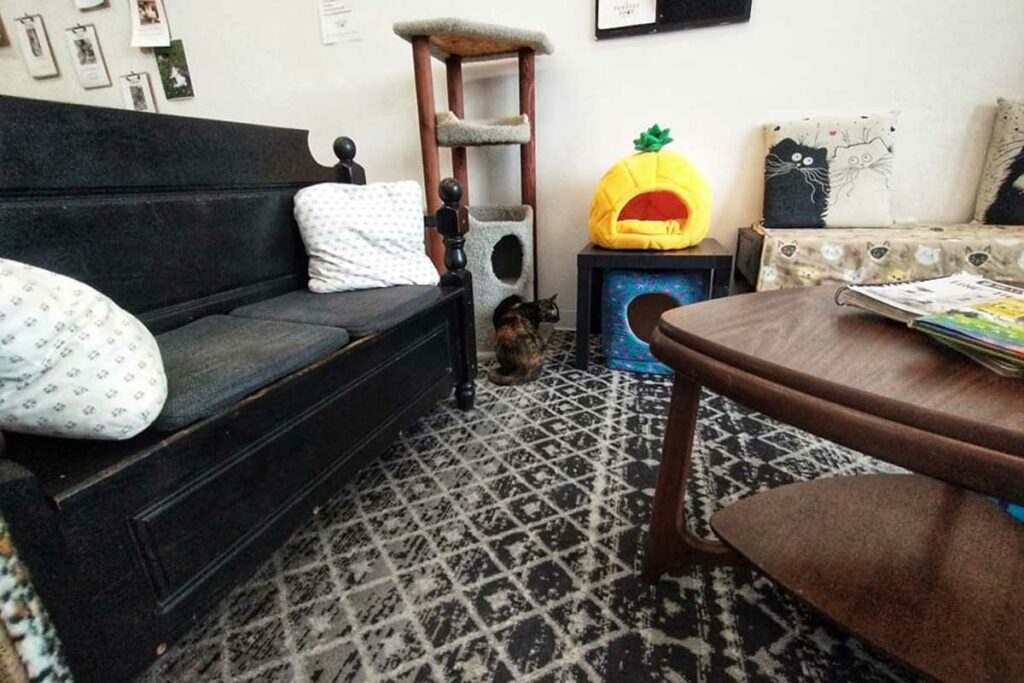 READ MORE: Luv 2 Play – Appleton's Fun Spot!
Familiar Grounds Coffee Shop, New London
A fresh cup of joe and gourmet eats…sound familiar? Familiar Grounds Coffee shop in New London has all the frills paired with an inviting family atmosphere. There's a charming play area and PLENTY of space here to spread out. Engage in friendly competition with the kiddos with games like Connect 4, Giant Jenga, and Kerplunk! Be sure to check out their Facebook Page for exciting events like visist from Santa Claus and the Easter Bunny.
Grab a tasty bite by selecting from an array of quiches, sandwiches, soups, and salads. The drink menu also offers many options including a creme brulee latte, carmello, hot spiced cider, and more. Limited time specials can be found on the cafe's Facebook page. From coffees, smoothies, ice cream, and bakery items galore, there is something for even the pickiest taste buds!
Kids will love their:
Games and Toys
Family-focused Events
Sweet Frozen Cinnamon Bun beverages
Plan a visit: Familiar Grounds Coffee Shop
Address: 206 North Pearl Street, New London, Wisconsin
Phone: 920-982-4332
Hours:

Monday through Friday 6 am – 4 pm
Saturday & Sunday 6:30 am – 4 pm
READ MORE: Exploring New London in Winter with Murals, Hiking, & Nature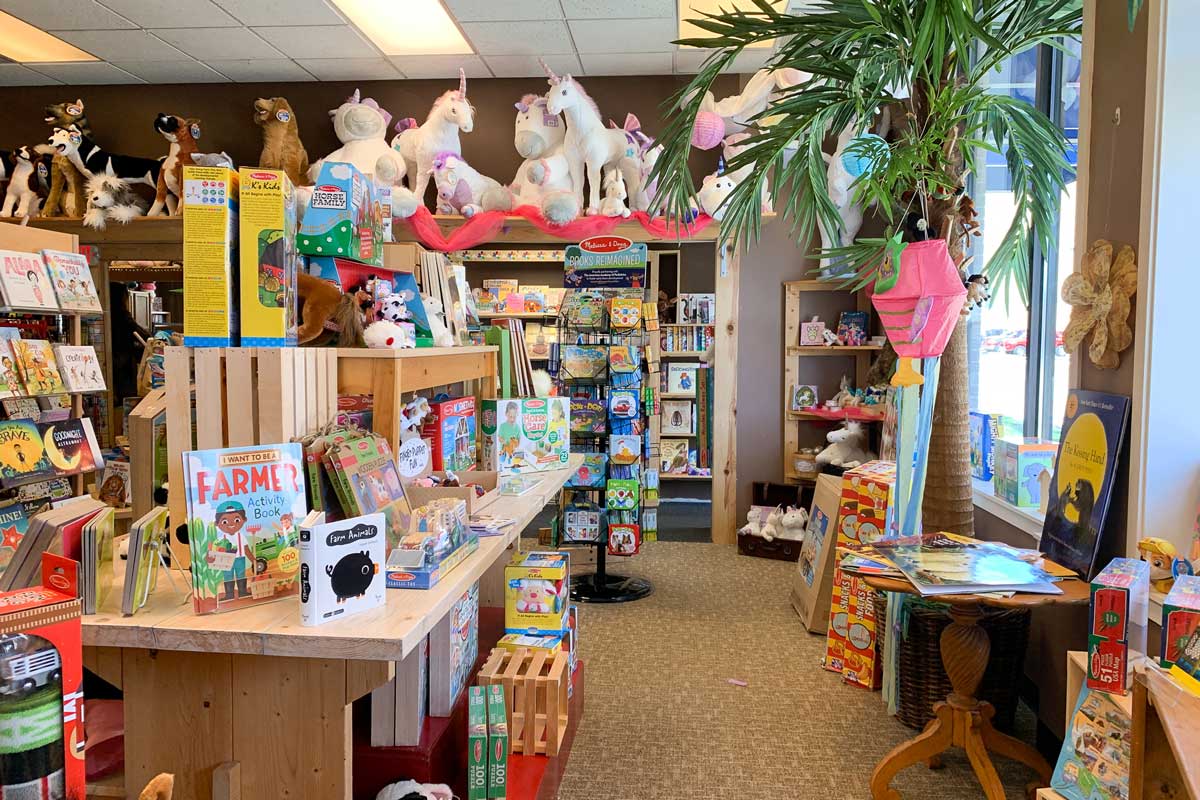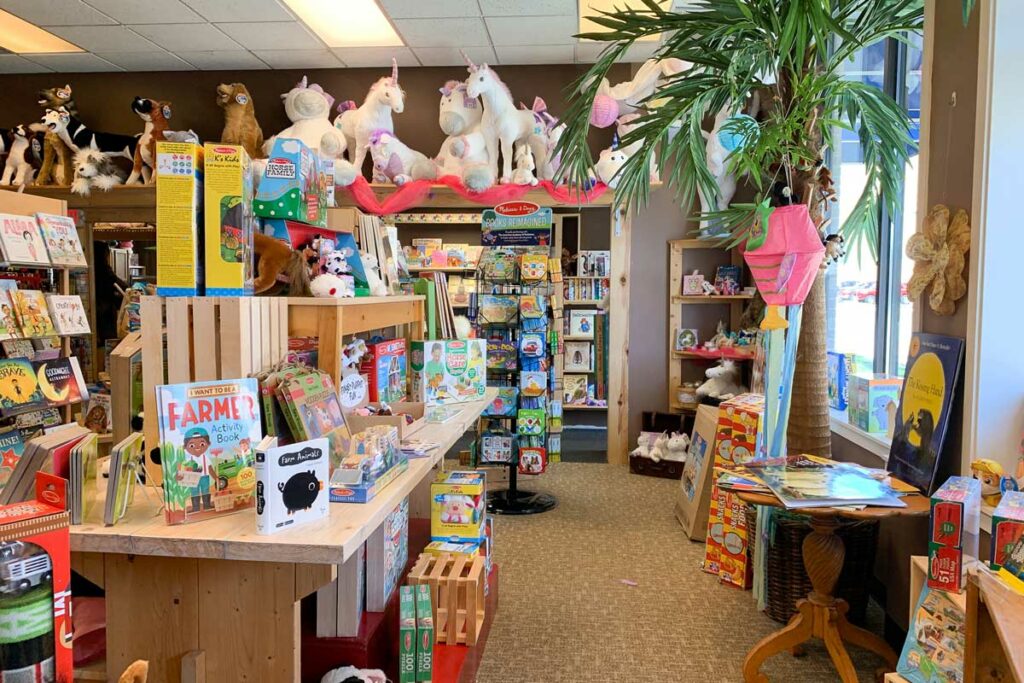 Caramel Crisp Corner, Oshkosh
While it may not be your typical play space, the Caramel Crisp Corner in Oshkosh offers a wonderland of fun for children and a comfortable space to unwind for their parents!
The shop features an on-site collection of goods ranging from candy to toys to gourmet popcorn. Recently, they've expanded to include an ice cream shop, and their bakery whips out nearly 30 different kinds of their famous cookies! What more could a kid want?
Browse through rows and rows of every toy imaginable and pick up a few to take home and enjoy. Kids can also grab their favorite book to read while digging into a bowl of ice cream!
Kids will love their:
On-site toy & book store
Variety of candy and ice cream
Super Fruity Gourmet Popcorn
Plan a visit: Caramel Crisp Corner
Address: 200 City Center D, Oshkosh, Wisconsin
Phone: 920-231-4540
Hours:

Monday through Friday 7:30 am – 7 pm
Saturday 8 am – 6 pm
Sunday 8 am – 4 pm
READ MORE: Time to Socialize! Story Times, Playgroups, and Moms' Groups in Oshkosh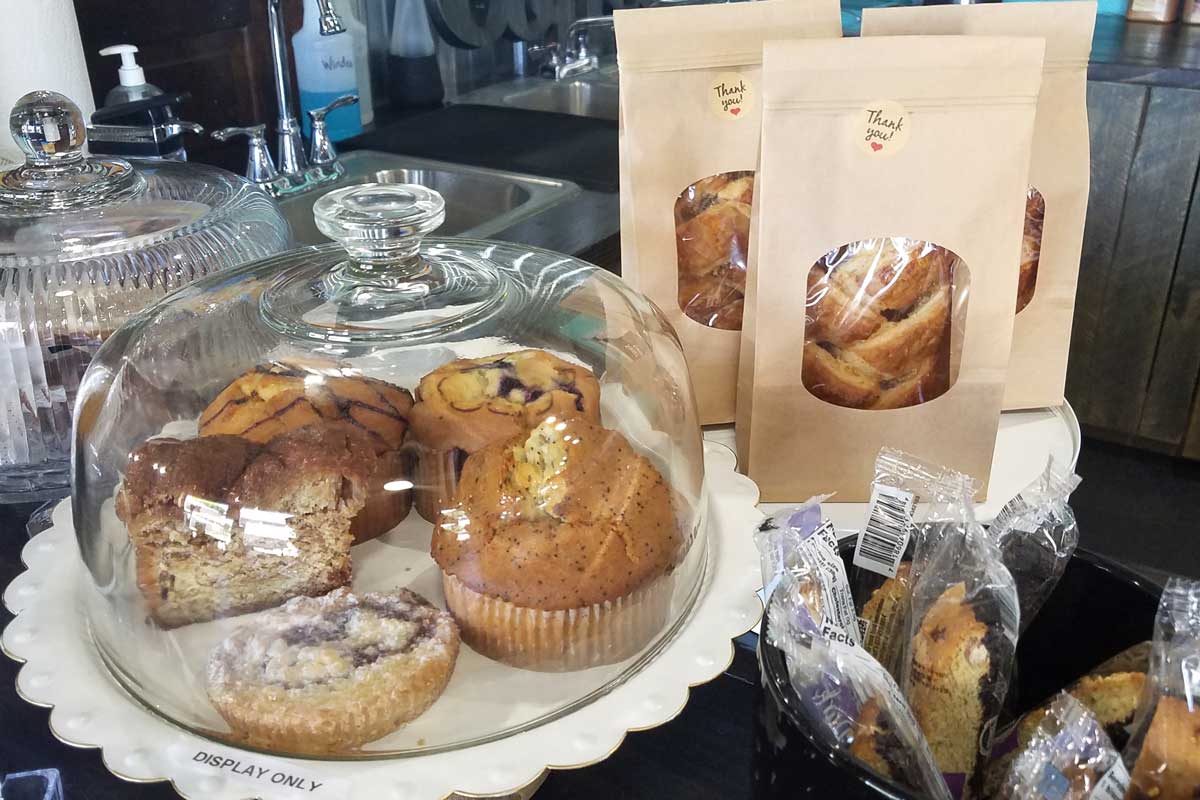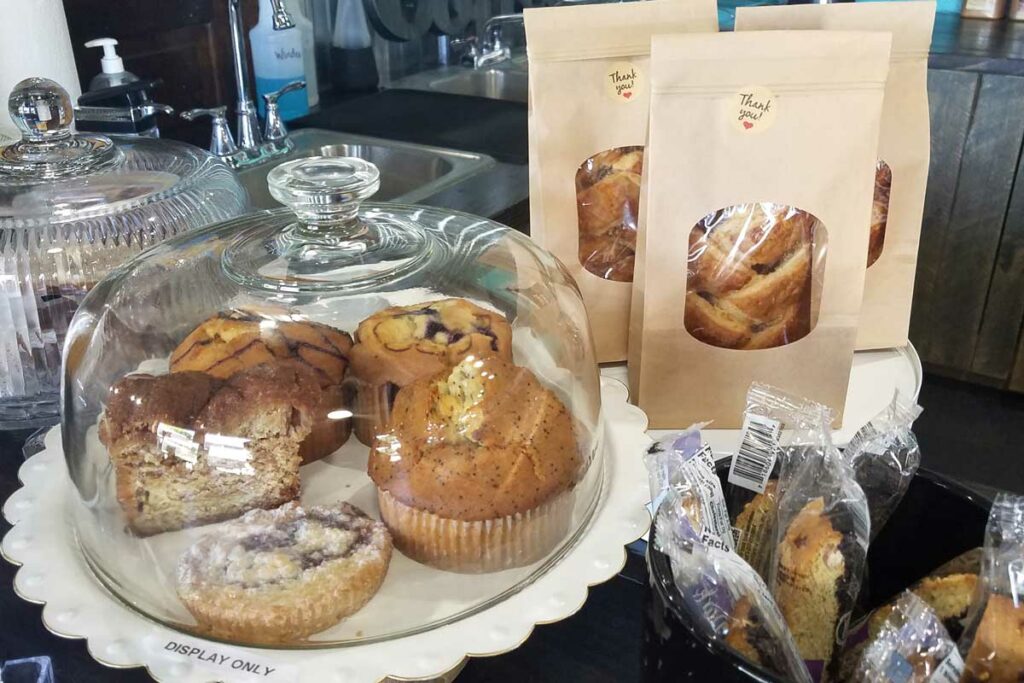 Spaces Beyond the Fox Valley
If you're on the go or looking for an adventure, check out these fabulous cafes with play spaces outside of the immediate Appleton area.
Mini Mocha Play Cafe, Sheboygan
A shoe-free space for kids ages six and younger. The space focuses on imaginary and dramatic play with items for dress-up, house, restaurants, puppet shows, a train table, and beyond!
FREE Colectivo drip-coffee/tea and Wi-Fi for grown-ups
Address: 815 New York Avenue, Sheboygan, Wisconsin
Phone: 920-395-6878
Hours: Visit website
Admission:

0-7 months FREE
8-11 months $5 + tax
1-11 years $10
children 11+ years and adults are no charge
READ MORE: Family Trip to Kohler-Andrae Stae Park in Sheboygan
Little Sprouts Play Cafe, Shorewood / Mequon
An indoor play cafe geared toward children up to six years of age. The space is filled with toys and structures that will inspire a child's imagination. Little Sprouts also offers classes!
FREE Stone Creek coffee and Wi-Fi for all parents
Address: 4606 North Wilson Drive, Shorewood, Wisconsin
Phone: 414-563-7529
Hours: Visit website for open play hours and class information
Bug & Goose Play Cafe, Elm Grove
The cafe is a lively center for play, learning, and growth! The tablet and screen-free space offers climbing and slide structures, high-quality toys, and crawling areas for kiddos.
Address: 13448 Watertown Plank Road, Elm Grove, Wisconsin
Phone: 262-788-5029
Hours: See website for open play hours and class info
Admission: $17.25/child for up to three (3) hours of play
Yola's Cafe, Madison
A great, family-friendly atmosphere on Madison's west side. Stop in for their amazing waffles. They have many organic and gluten-free options, too!
Address: 494 Commerce Drive, Madison, Wisconsin
Phone: 608-827-5800
Hours:

Monday through Friday 6:30 am – 3:30 pm
Saturday 7 am – 2 pm
READ MORE: Off the Beaten Path: Madison's Near-West Side with KidsKenna's Kabin – The Perfect Indoor Nature Play
What is your child's favorite space? Let us know on social media with #GoValleyKids