Gliding effortlessly across the glimmering frozen water. A cool breeze in your face on a crisp winter day. Feeling exhilarated as you gently spin or push forward in a burst of speed. For many families in the Fox Valley, ice skating is an enjoyable winter activity that provides hours of outdoor (or indoor) fun and exercise!
We're confident that anyone can have a great time participating in this fun Wisconsin winter pastime. Here are some tips if you are heading outdoors to ice skate!
Dress in layers. Too warm? Take something off. Too cold? Put it back on. We recommend sturdy snow pants for little ones or anyone who's less experienced (the extra padding helps with falls!)
Selecting a good pair of socks is really important. Find a pair that will keep your feet nice and toasty but not so bulky that it makes putting on your ice skates especially difficult. If your ice skates get too tight, they begin to restrict the circulation to your toes, making your feet cold and uncomfortable.
Don't forget spare hats, mittens, and scarves. If one of these gets damp, it is nice to be able to replace them quickly.
Bringing a warm beverage like hot chocolate, apple cider or tea in a thermos can help hydrate and warm you.
Helmets are a great idea for extra safety.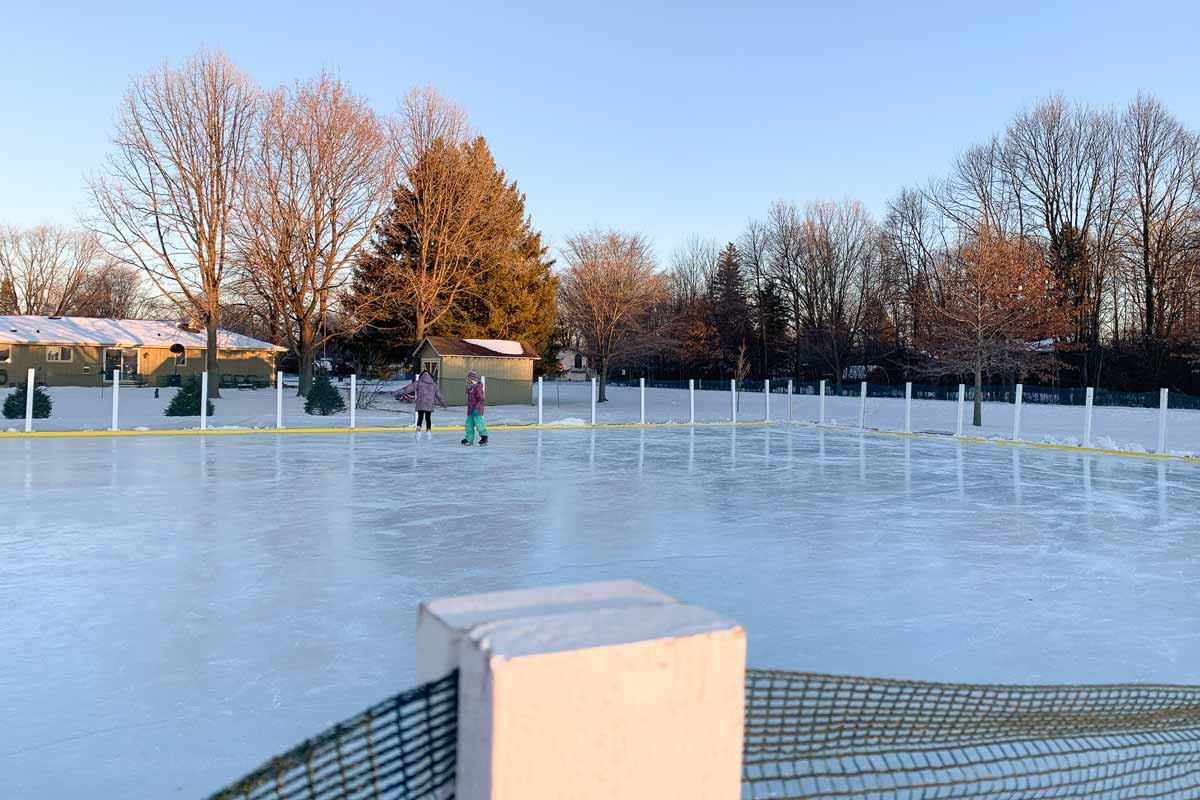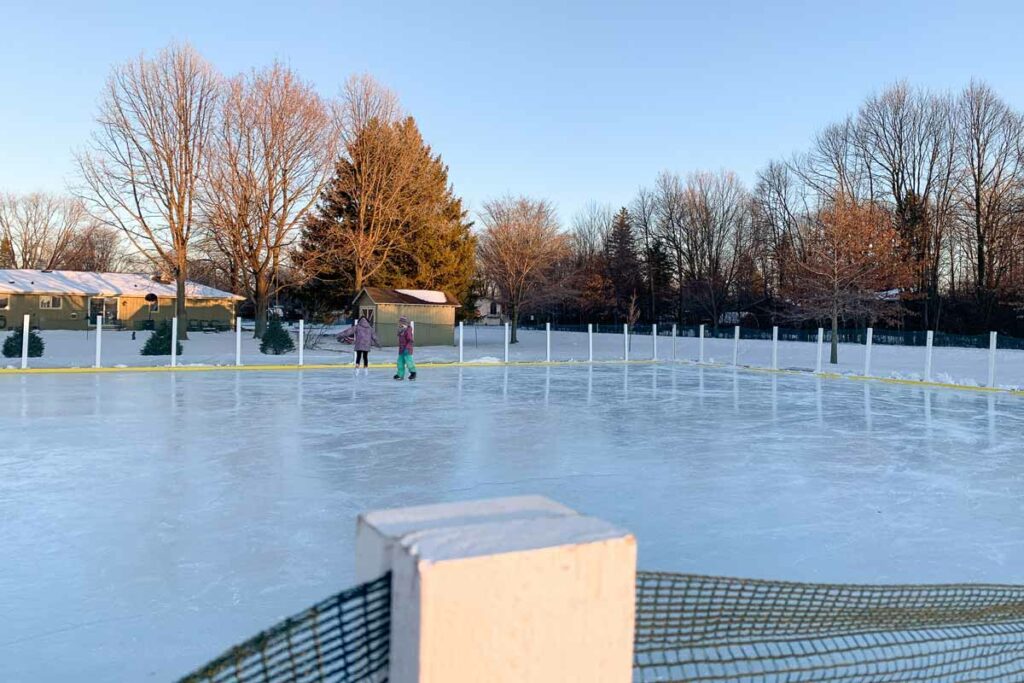 If you are looking for a cheap, no frill option, head to one of our local parks. The naturally frozen rink is often uneven and rough but usually not as busy. You'll need to bring your own skates. Some rinks have pairs to borrow, similar to a Free Little Library, to use while you are there. You can also buy skates locally at Scheels or Play it Again Sports.
We also included more premium options that include skate rental, smoother ice, snacks and more! These rinks are temperature controlled and the ice is smooth and resurfaced often with a Zamboni. For beginners, you can usually find ice skating trainers or aids to push around on the ice. These options also include skate rentals that are typically sharpened regularly.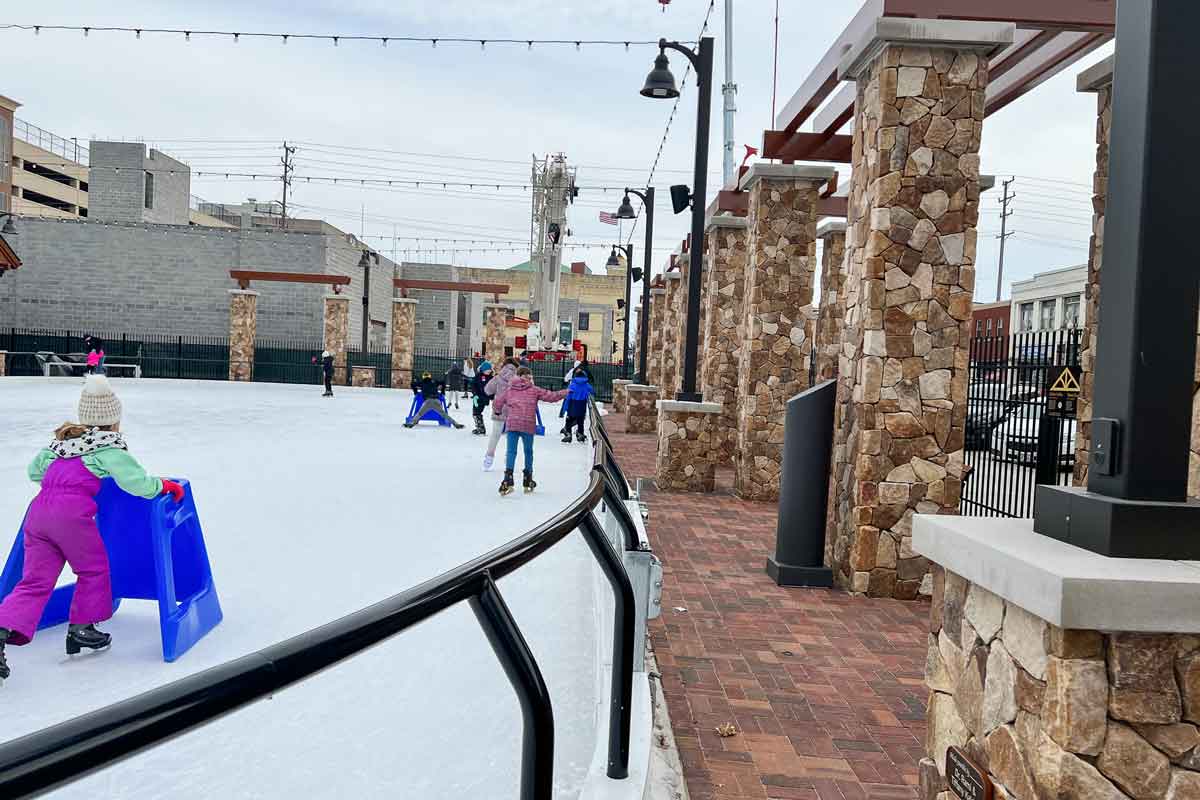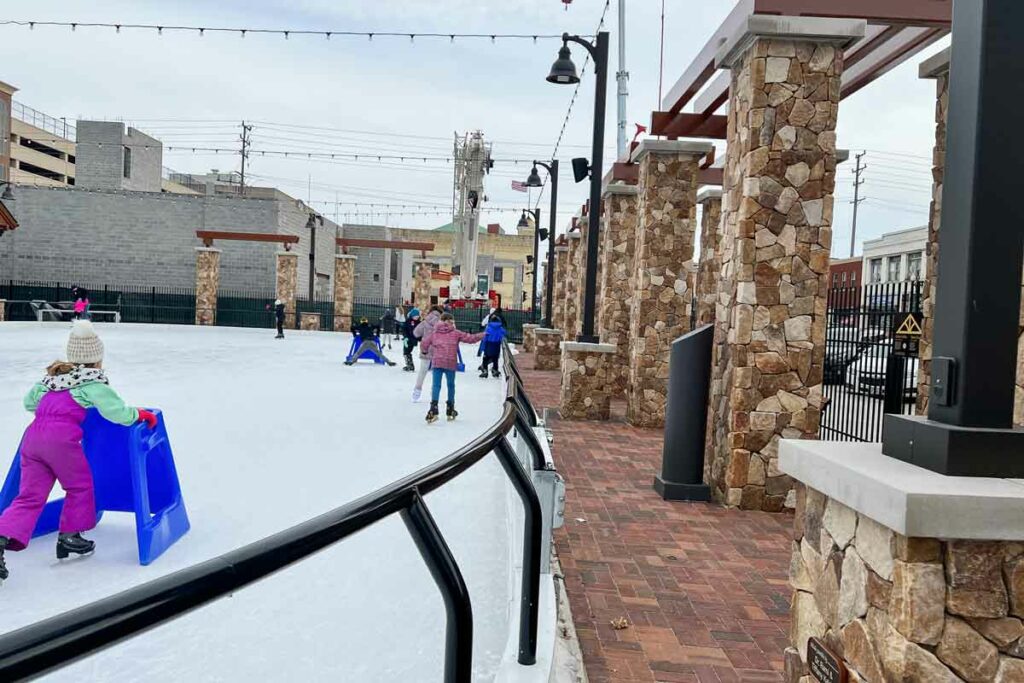 1. The Plaza at Gateway Park, Neenah
New to Neenah in 2021, The Plaza at Gateway Park is located in their idyllic downtown near shopping and restaurants. The Plaza can open for skating as soon as the weather is 50 degrees or cooler, generally in mid-November.
This delightful destination is rated one of the ten most charming skating rinks in the United States. It was inspired by Rockefeller Center in New York City and delivers a lovely day or evening of skating, relaxing by fire pits, and ample seating for resting or observing your skaters. Visit in the evening for a magical spin around the rink under twinkling lights!
Skate rentals are available, as well as trainers for those needing a little more support at first. You can also take skating lessons here or book the location for private parties. The Plaza hosts special events throughout the winter and year-round.
The on-site coffee shop, Globe Coffee, is ready to meet all of your snacking needs and even has s'mores supplies to use at the gas fire pits near the rink.
Note: The Plaza is entirely cashless, be sure to have a debit or credit card on hand!
FREE Places to Ice Skate in Neenah
Washington Park, 631 West Winneconne Avenue, Neenah

This summertime fave is a perfect winter destination also! Skating, sledding, and DQ nearby for frozen hot chocolate flavored treats and the best fresh popcorn in Wisconsin.

Green Park, 337 Columbian Avenue, Neenah
Memorial Park, 1175 Appleblossom Drive, Neenah
Indoor Ice Skating in Neenah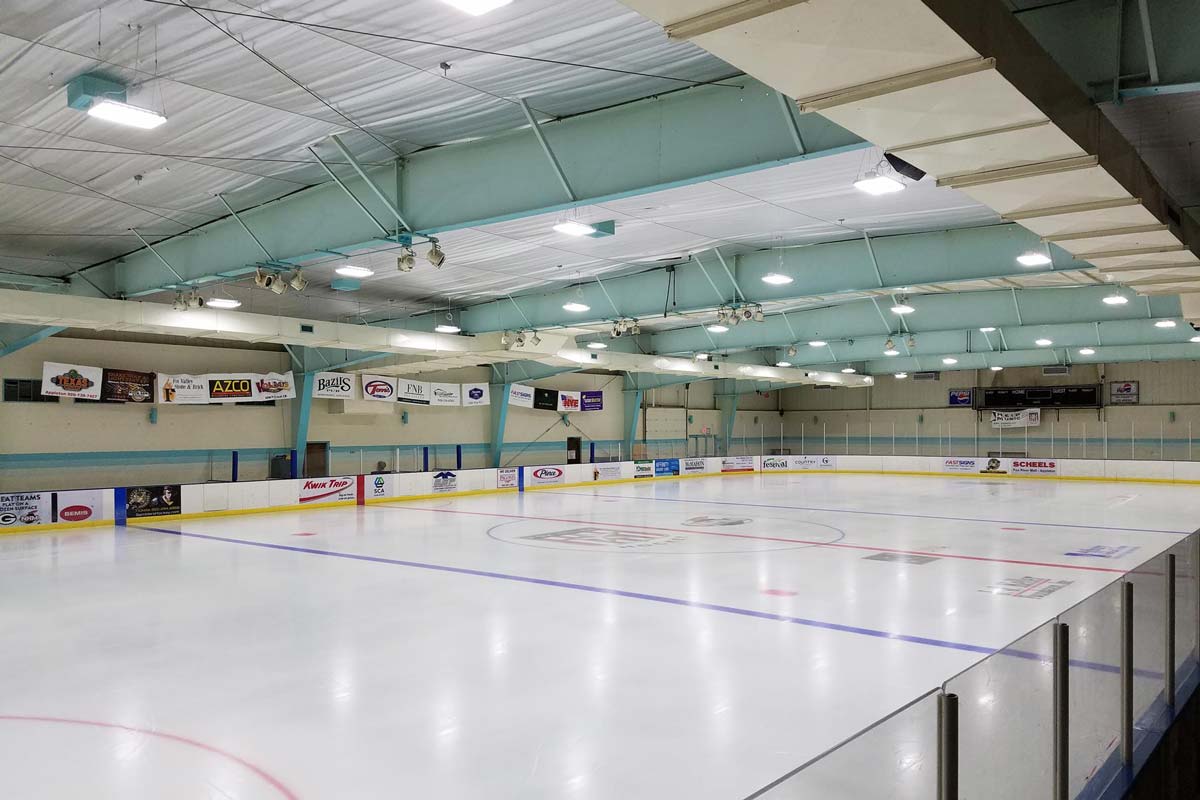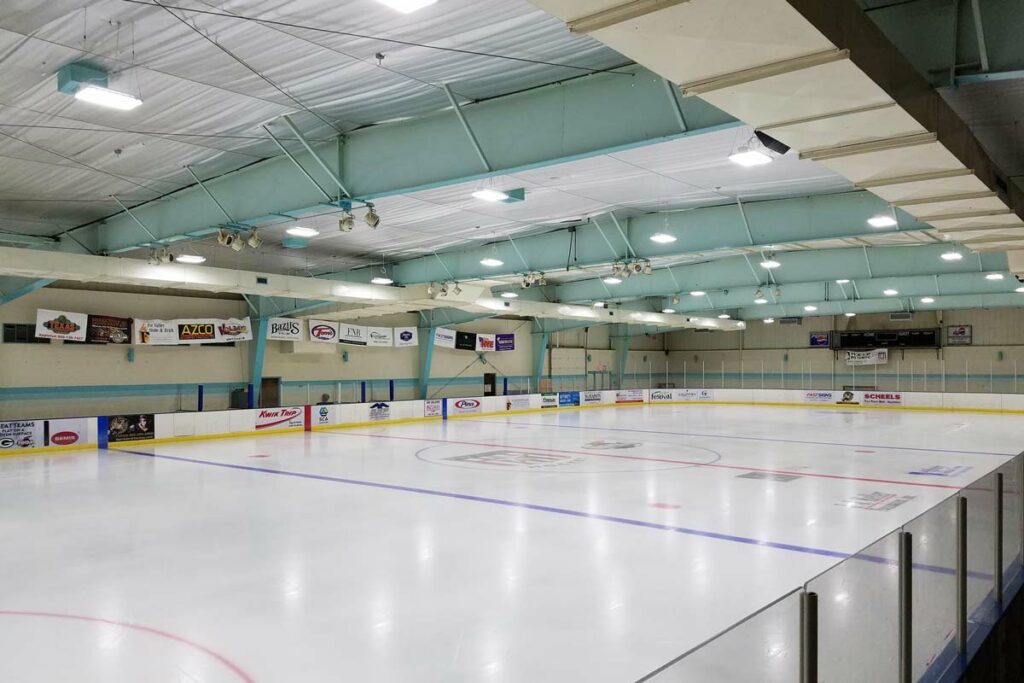 2. Appleton Family Ice Center, Appleton
Appleton Ice, Inc., a non-profit organization, operates Appleton Family Ice Center (AFIC) at Appleton Memorial Park and Tri-County Ice Arena (TCIA) in Neenah. The center offers classes and a learn to skate program whether for figure skating, hockey or recreational skating. They also offers a Try Hockey for Free events. Open skating for the public is typical Sunday afternoons.
Tri-County Ice Arena
The Tri-County Ice Arena in Neenah is home of Fox Valley Youth Hockey Association, Valley Figure Skating Club, Boys and Girls High School teams, Neenah-Menasha-Hortonville High School team, as well as Broomball and Men's Hockey Leagues.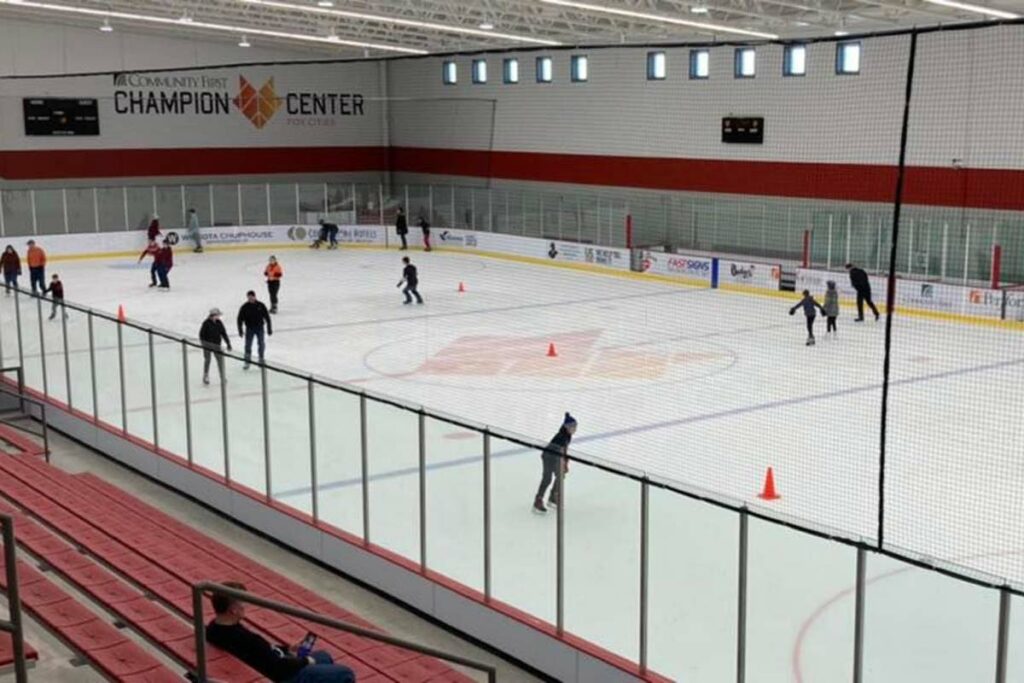 3. Community First Champion Center, Appleton
The Community First Champion Center is a 164,000-square-foot facility and features three competition areas including an ice rink, a fieldhouse and a seasonal arena that transitions between an ice rink and hardwood courts. The center hosts many events and sports competitions including basketball, volleyball, hockey, figure skating, gymnastics, cheer, dance, wrestling, futsal, and more.
The NHL-sized ice rink has open skate opportunities and offers skate rentals for an additional charge.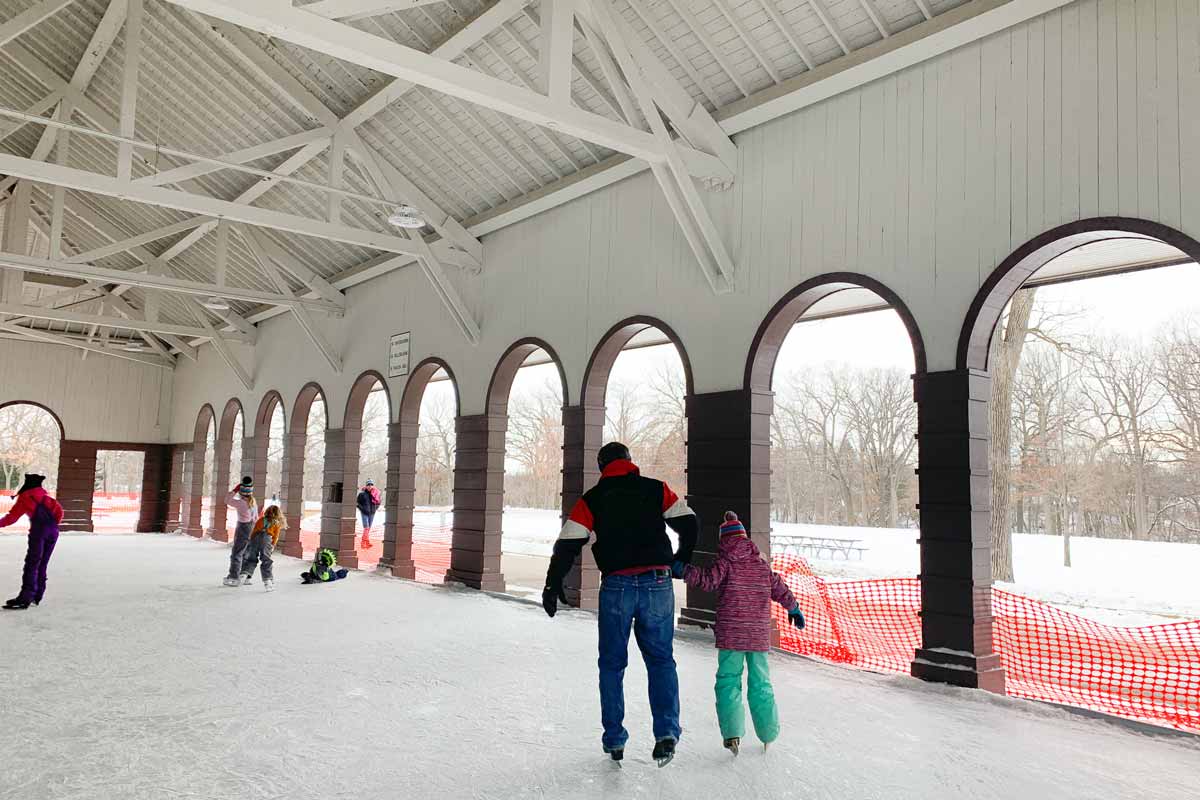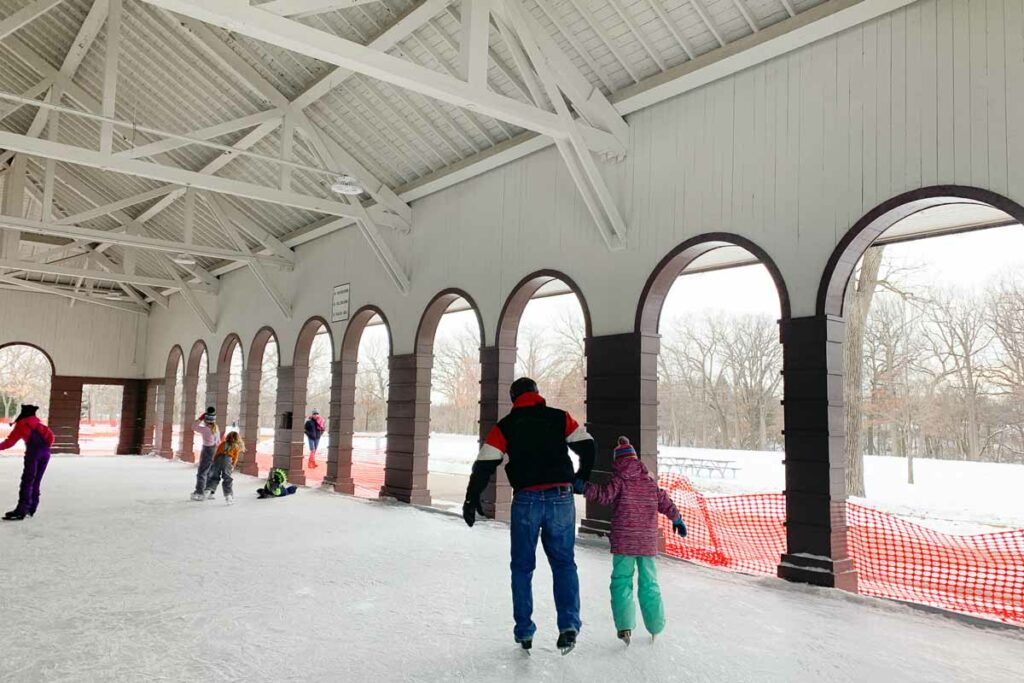 FREE Places to Ice Skate in Appleton
Outdoor rinks are weather-dependent and typically open January and February. Some will be open before others and warm days impact the rinks' ability to stay open. Before you head out, check with the Appleton Parks & Recreation Facebook Page for updates including rink conditions.
Memorial Park, 1717 East Witzke Boulevard, Appleton
Colony Oaks Park, 801 North Briarcliff Drive, Appleton
Erb Park, 1800 North Morrison Street, Appleton

Both hockey and skating rinks with a warming and concession area.

Highview Park, 100 West Wayfarer Lane, Appleton
Pierce Park, 1035 West Prospect Avenue, Appleton

Both hockey and skating rinks. The skating rink in the pavilion is generally one of the first to open in the city.

Jones Park, 301 West Lawrence Street, Appleton

Both ice hockey rinks and skating rinks with a warming and concession area.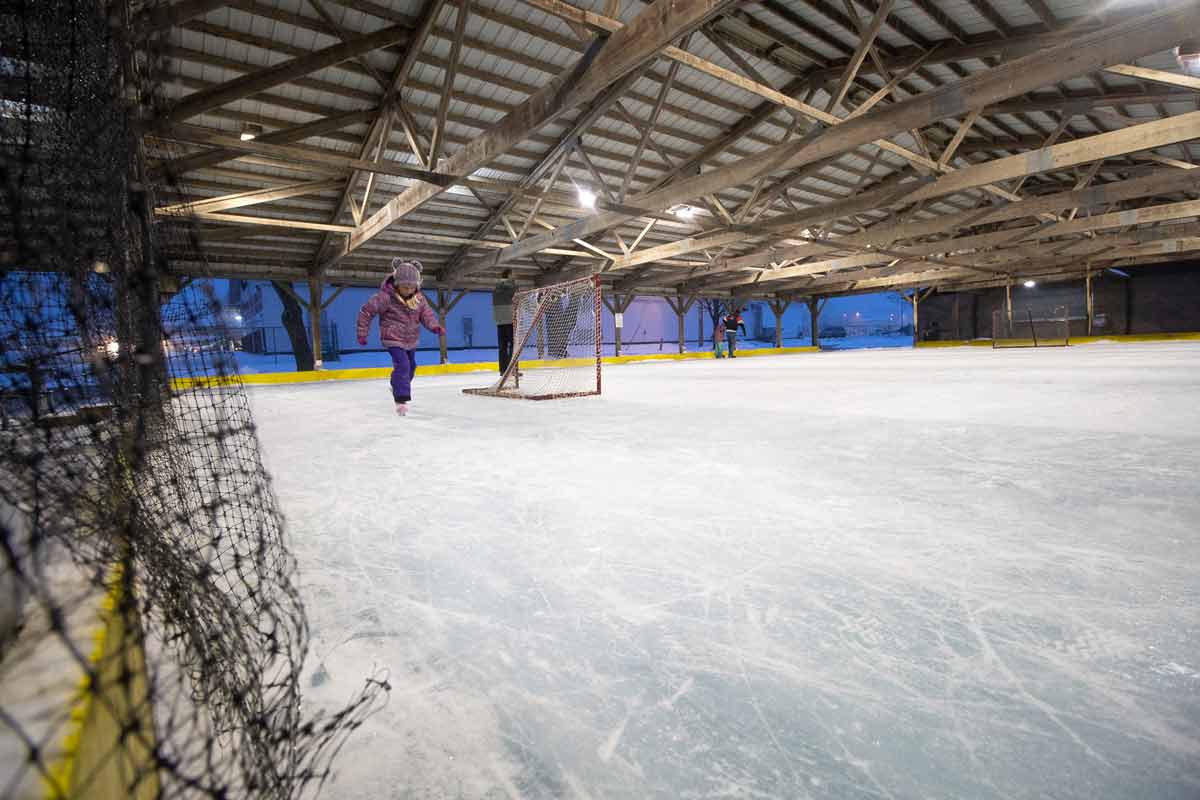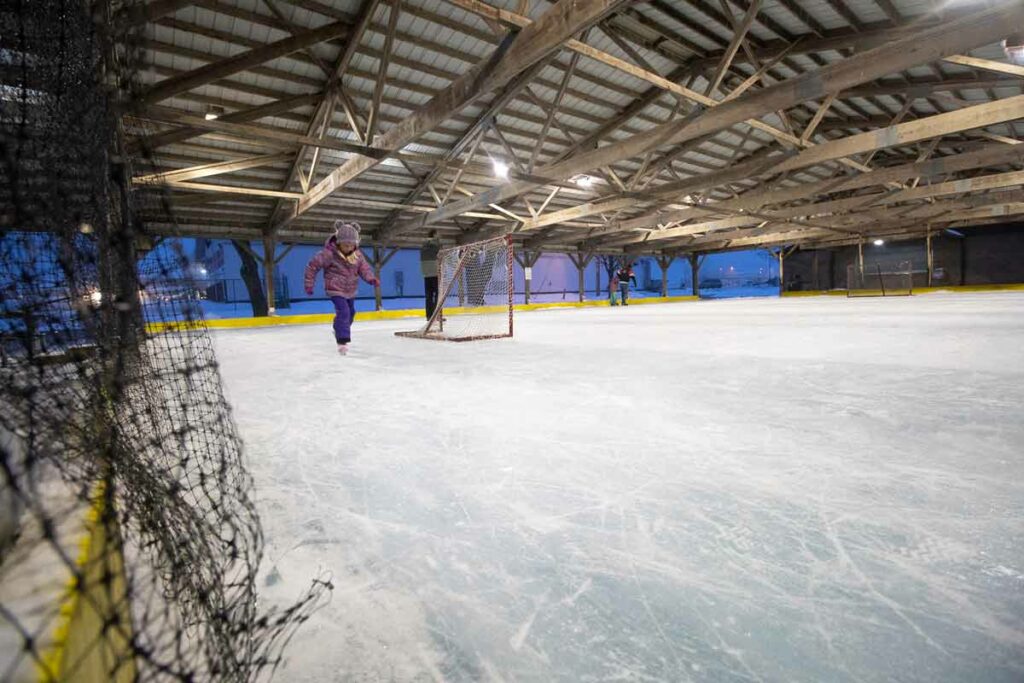 More Places to Ice Skate
Community Park, Greenville

The ice rink in Greenville is located in the pavilion. The surface is flooded typically in January. Watch the Greenville Park & Recreation Facebook Page for updates. Plastic sheets line the edges of the rink to block the wind. There are also nets for hockey. A nice feature at this rink is a bluetooth speaker to connect to for music. Find the directions at the pavilion.

Fristch Park, 1651 Sandys Lane, Menasha
Hart Park, 700 7th Street, Menasha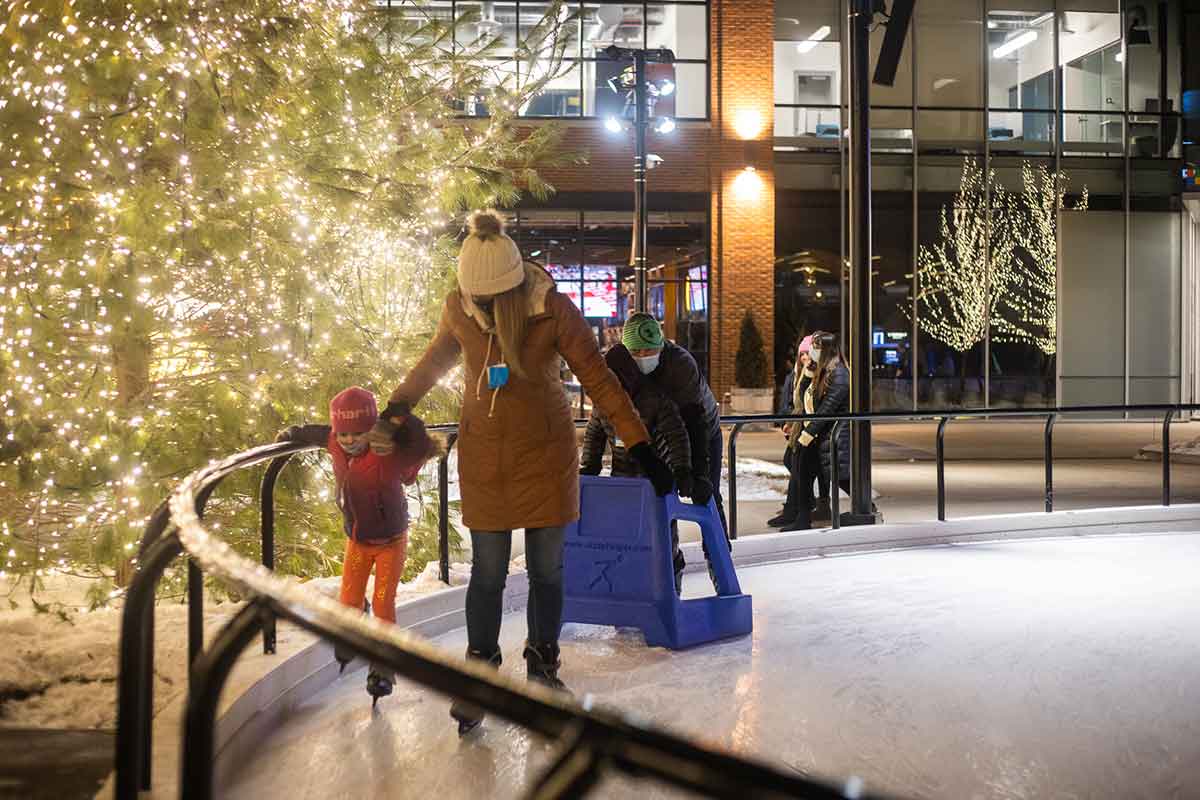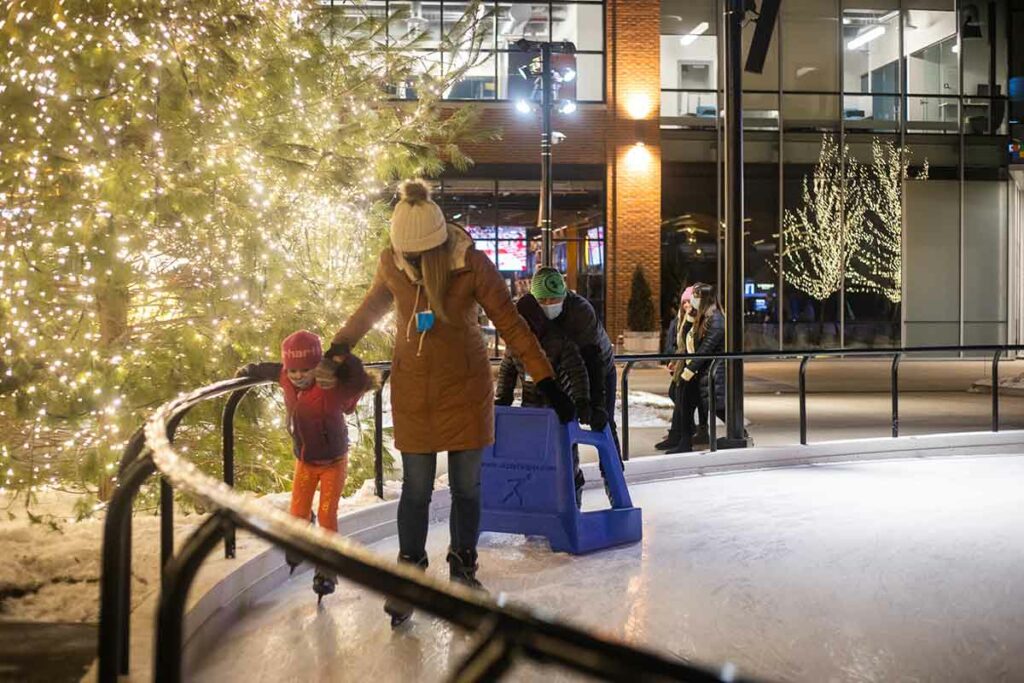 4. Titletown District in Green Bay
Titletown District is a year-round destination that really sparkles in the winter. Located near Lambeau Field, the community destination offers a unique loop skating rink and ice bikes for 30-minute rentals! Nighttime is perfect for a fun winter visit, with skating surrounded by illuminated trees and special glow skates.
The Winter Jubilee Light Show featuring animation, lasers, and fireworks, lights up weekend evenings during the holiday season. Keep an eye on their calendar for fun events like Santa Skates, live music, and Community Nights.
There are several options to fill hungry bellies, from The Leaps & Bounds Cafe to a full meal at 46 Below or Hinterland Restaurant and Brewery.
Skate rentals are available, or you are welcome to bring your own. Admission fees and waivers must be handled before you hit the ice in the Admissions Building on the park's south side. Save a little time by completing your waiver ahead of time online.
Tubing is also available on Ariens Hill, a 300-foot long run, all winter long with a little help from a snow-making machine and grooming.
FREE Places to Ice Skate in Green Bay
Colburn Park, 1025 South Fisk Street, Green Bay

Hockey & ice rink with an attendant, warming shelter and lights

Perkins Park, 600 North Fisk Street, Green Bay

Hockey & ice rink with an attendant, warming shelter and lights
Skate rentals: $3.00 per person
Skate sharpening: $5.00 child skates and $8.00 adult skates

Red Smith Park, 2765 Sussex Road, Green Bay

Hockey & ice rink with an attendant, warming shelter and lights

Astor Park, 100 Porlier Street, Green Bay
Atkinson Park, 624 Ethel Street, Green Bay
Beaver Dam Park, 1331 Hobart Drive, Green Bay
Edison Park, 442 Alpine Drive, Green Bay
Navarino Park, 228 South Jackson Street, Green Bay
McAuliffe Park, 3100 Sitka Street, Green Bay
More Places to Skate in the Green Bay Area
VFW Park, 730 Grant Street, De Pere

Multi-use rink, hockey & ice rink
Lighted

Legion Park, 1212 Charles Street, De Pere

Separate rinks for ice skating and hockey
Lighted

Pinewood Park, 1013 Harwood Avenue, Howard
Indoor Ice Skating in the Green Bay Area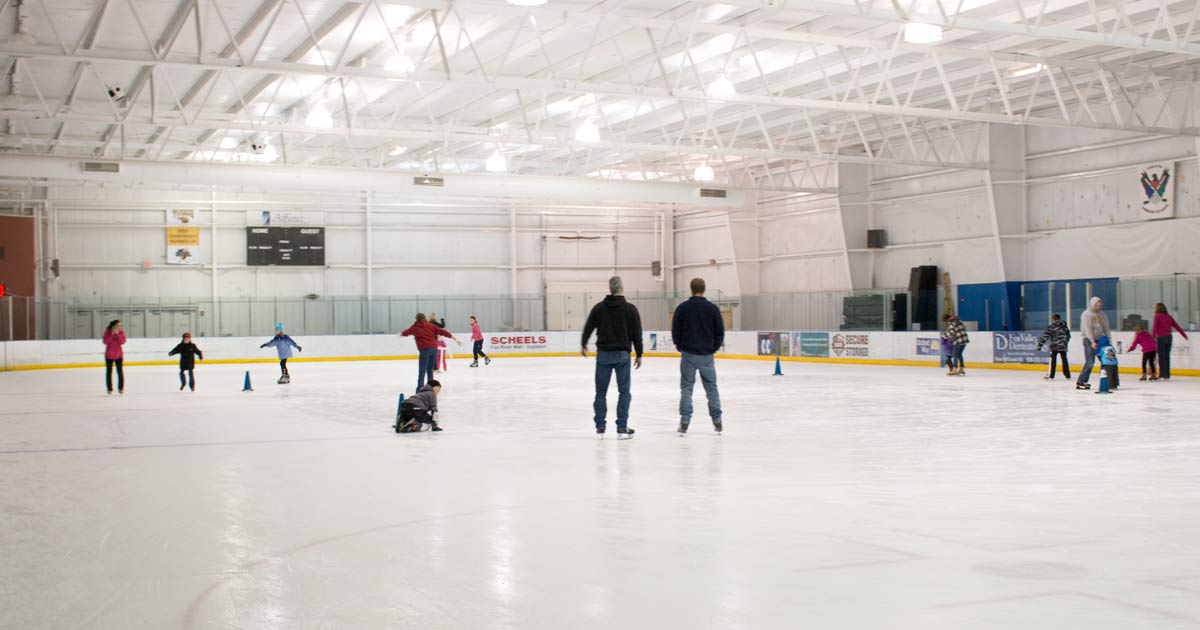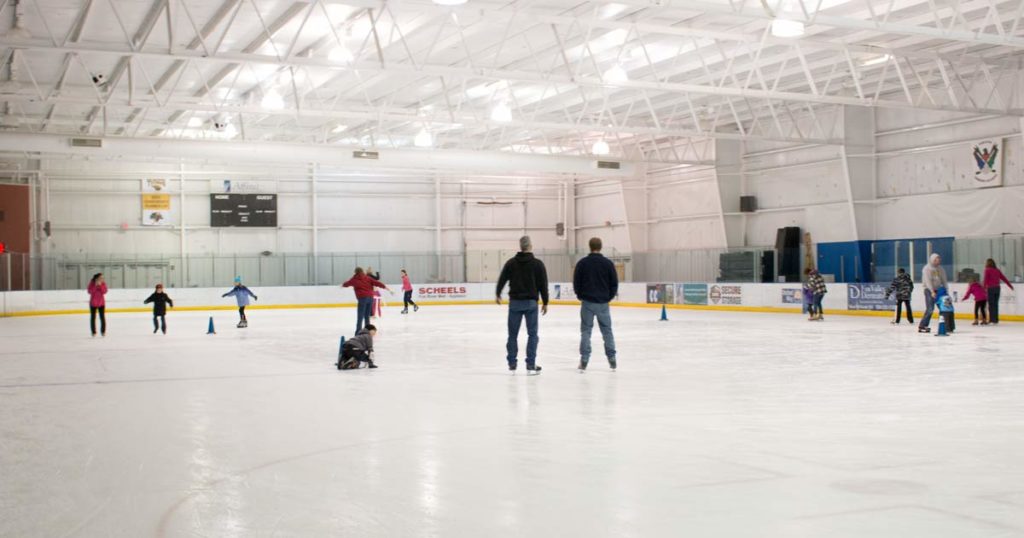 5. Oshkosh Community YMCA: 20th Ave
The Oshkosh Community YMCA is home to the only indoor ice rink in Oshkosh. Open year round, they offer recreational skate opportunities, learn to skate programs, figure skating classes and ice hockey for youth and adults.
Open skate is available based on need including open skate for all skill levels and ages (no hockey sticks or pucks), open figure skating for skill development, adult open hockey, high school open hockey and stick n puck for youth and adults.
The Oshkosh YMCA Ice Rink is home to Oshkosh Youth Hockey Association (Warbirds), Oshkosh Ice Hawks and UW-Oshkosh Men's Club Hockey.
Dr. Eric's Skate Club is a free skating program and a great opportunity to try skating for those new to the sport.
FREE Places to Ice Skate in the Oshkosh Area
Roe Park, 408 Washington Ave, Oshkosh
Horan's On Main, Community Ice Rink, Main Street, Omro

free skates to use, warming shelter
Living Near Lakes Bonus! If you are fortunate enough to know someone who lives on a larger body of water, such as Lake Winnebago, you may be able to skate there if the ice is thick enough! Make sure to ask someone who knows if it is safe before going out on frozen lakes and ponds. Find ice safety information on the Wisconsin DNR website.