Whether you're a lifelong Green Bay Packers fan living in Northeast Wisconsin, a visitor, or a family new to the area, Packers Titletown District is a must-visit destination during the cold winter months and warm summer months. There is always something to do, and events are happening weekly throughout the year.
It makes a perfect entry for a summer or winter bucket list and is a great spot to take out-of-town visitors!
It is easy to find, located west of Lambeau Field on Lombardi Drive, and there is plenty of parking nearby.
Winter favorites are the skating rink and tubing. In the summertime, you can play games, explore the playground, and play on the field.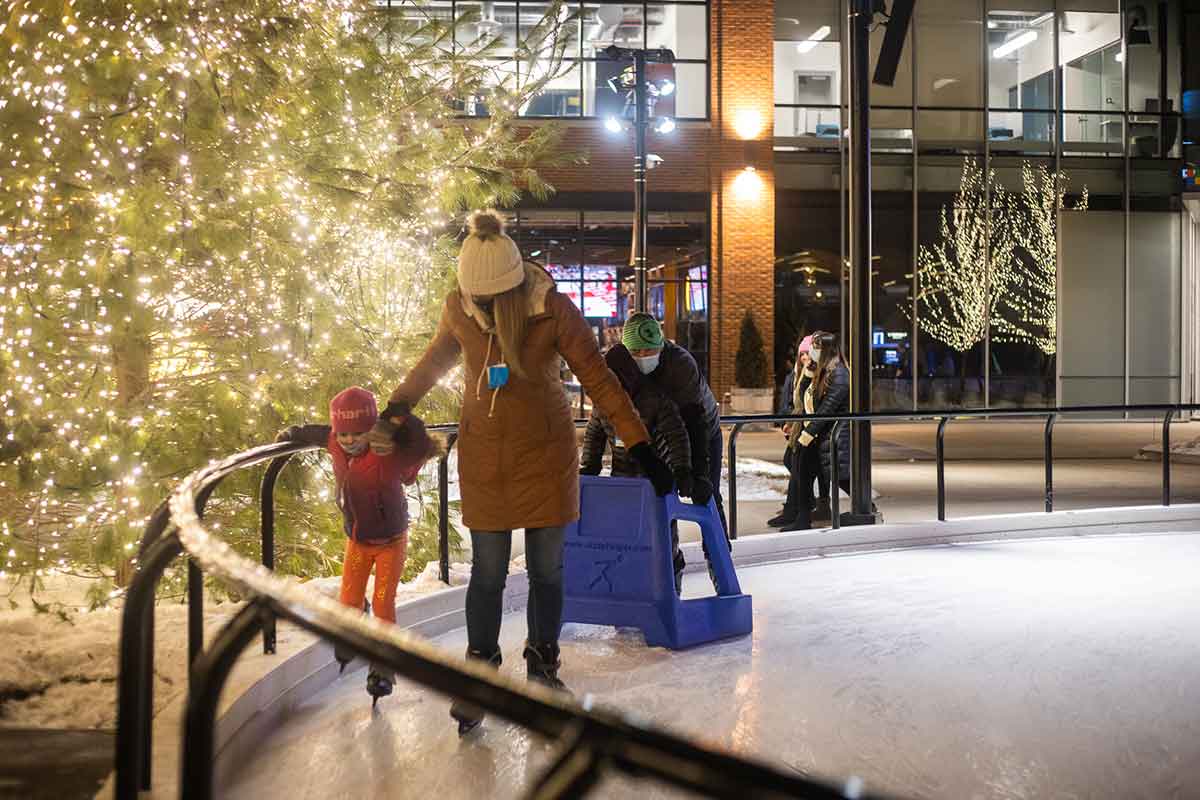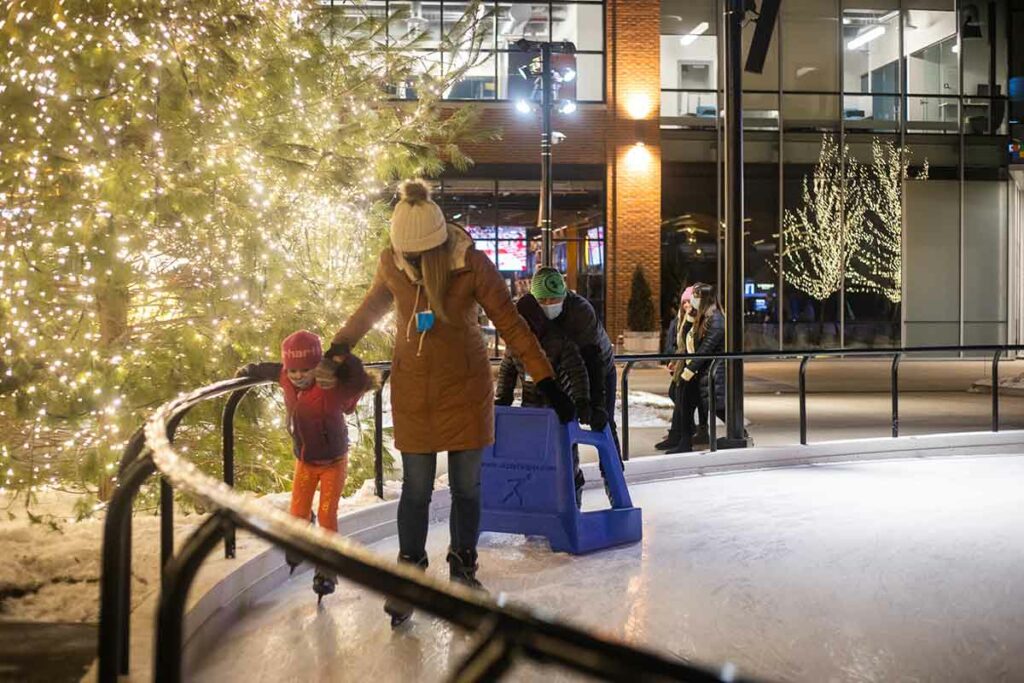 Titletown District in the Winter
From Christmas & Holiday Events like Santa or the Winter Jubilee: Light Show to themed skate nights, live music, crafts, aerobics, and fitness classes, there is always something fun happening. Check out their calendar for annual family events, classes, and programs.
Safety Procedures – Know Before You Snow – Bring a credit card. Cash is not accepted.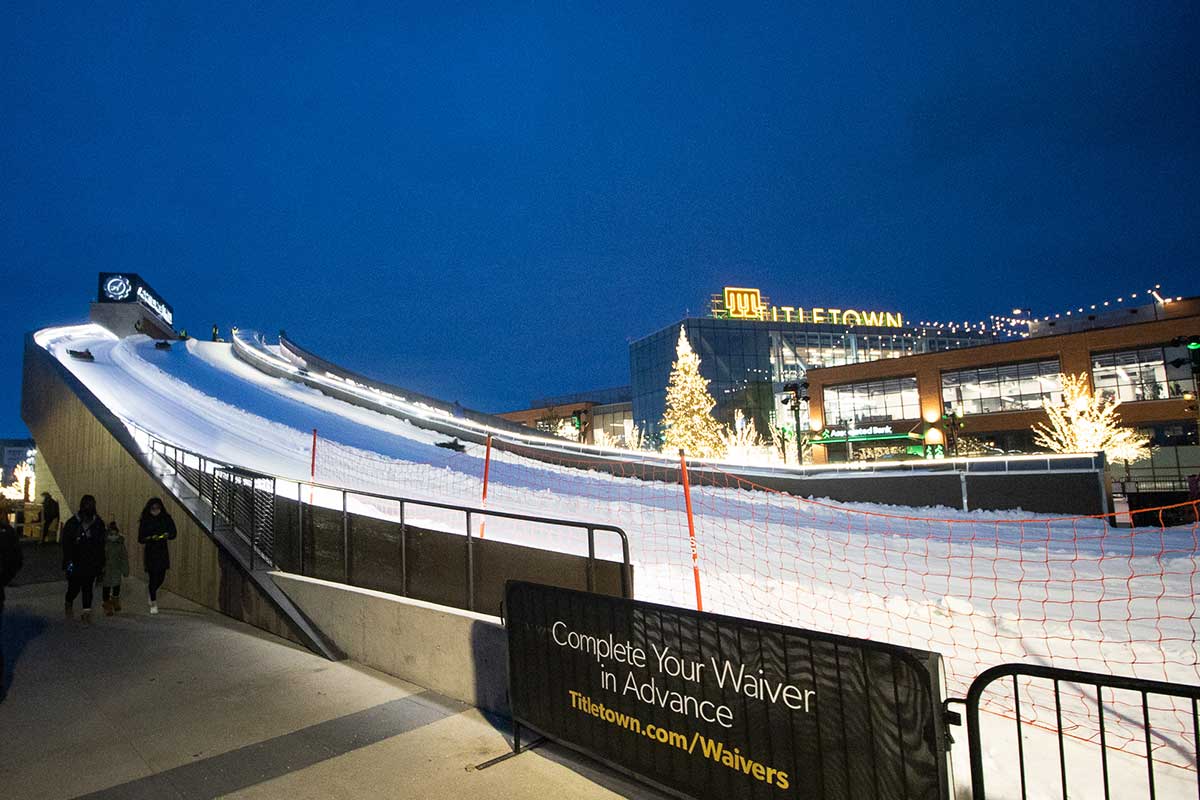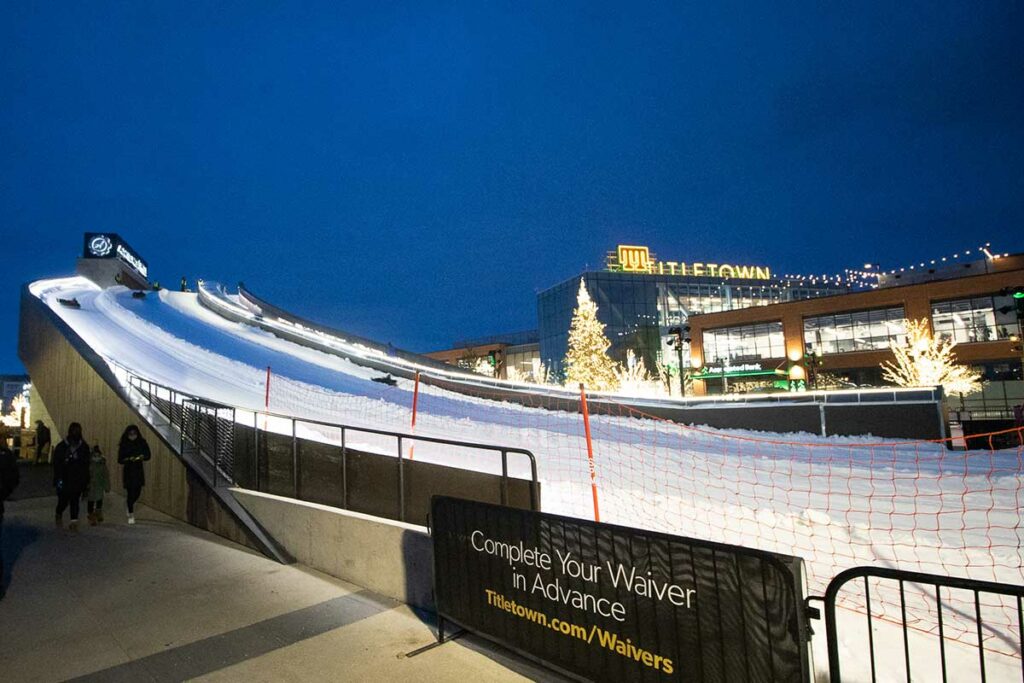 Ariens Hill Tubing Hill
Snow Tubing at Ariens Hill 300+ feet from start to finish. Snowmaking machine and grooming for the perfect conditions all winter season. Pricing options include one time rides or unlimited.
Height Requirements: Must be 42" tall
All guests 13 years old and younger must have a parent present.
Ice Skating Rink
The Titletown Ice Rink is a unique loop. Skating passes, and skates are available at the Admissions building on the south side of the park, adjacent to Ariens Hill's side. Whether you choose to rent or bring your skates, you must pay the admission fee to access the rink. Ice Skating trainers or "walkers" are also available to aid kiddos in learning to skate.
Try an ice bike! Ice bikes combine bicycle riding with ice skating and are available for a 30-minute rental (may not be available during peak skating hours).
Go during the week for less busy and better for littles learning how to skate.
All guests 13 years old and younger must have a parent present.
All guests must sign a waiver to skate at Titletown. Complete your waiver online at Titletown.com/Waivers before your visit.
Family packages are available to save a little money!
Holiday Happenings
Winter Jubilee – Community light show runs throughout December. Weekends only until closer to Christmas, then daily.
Santa Events – Skate with Santa, visit his workshop, or just drop off a letter.
Find everything on their calendar!
Food
There are lots of spots for picnics or try one of these nearby options!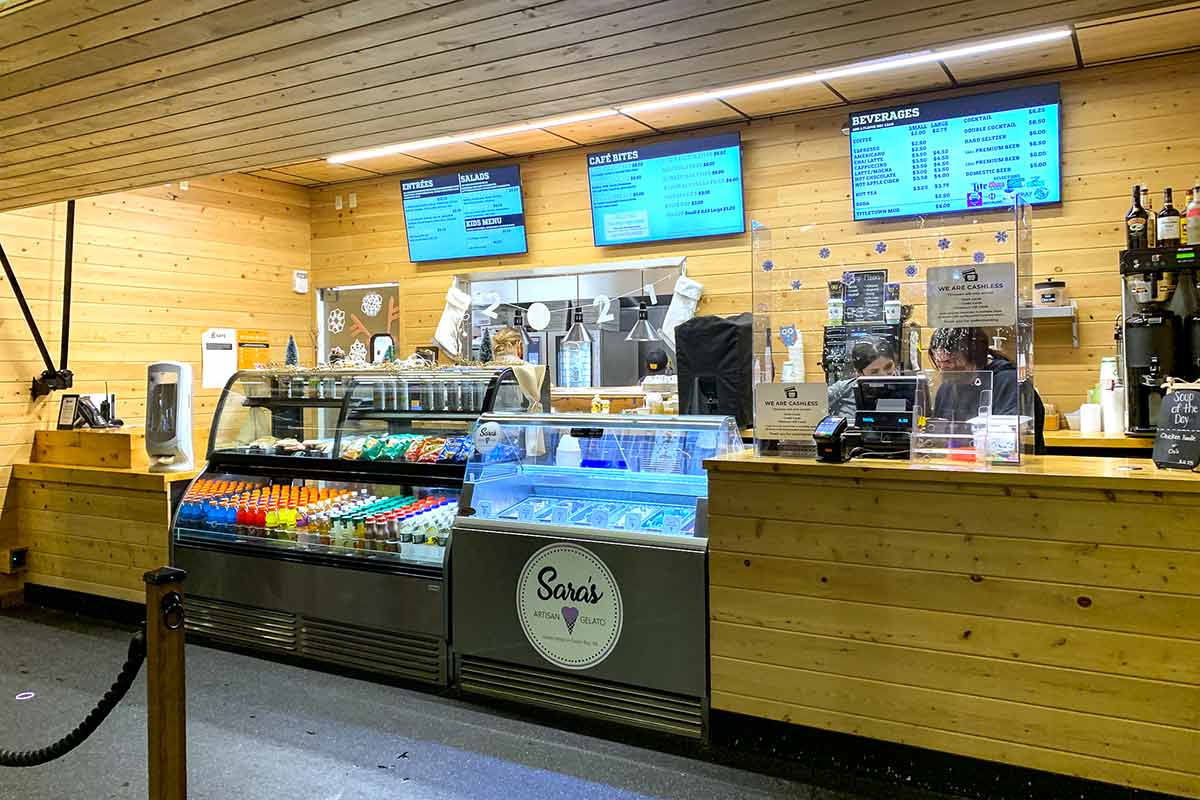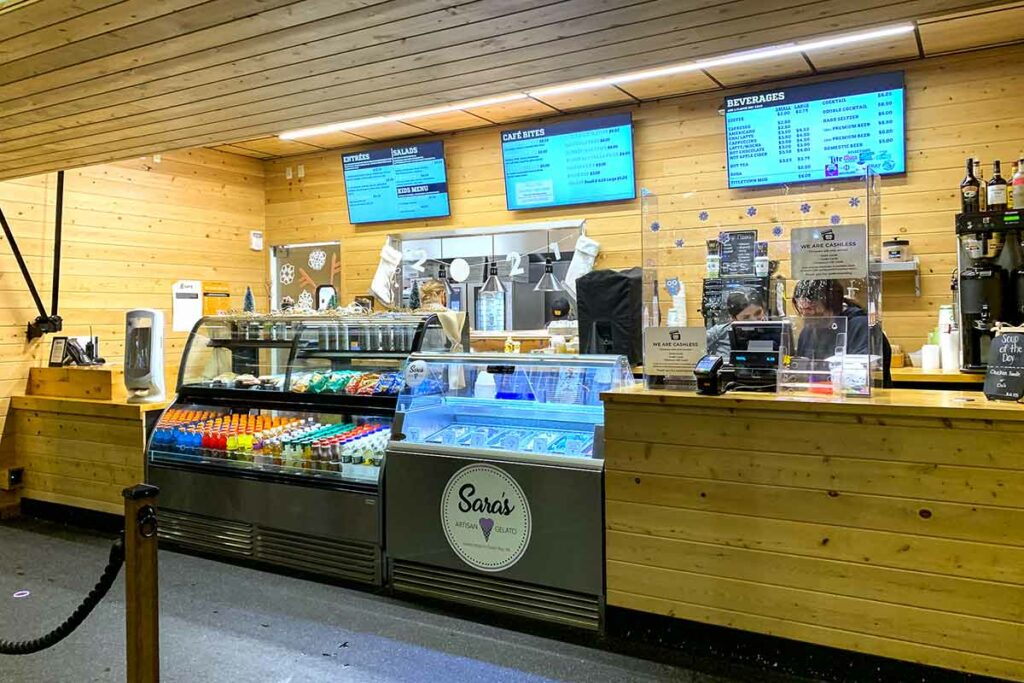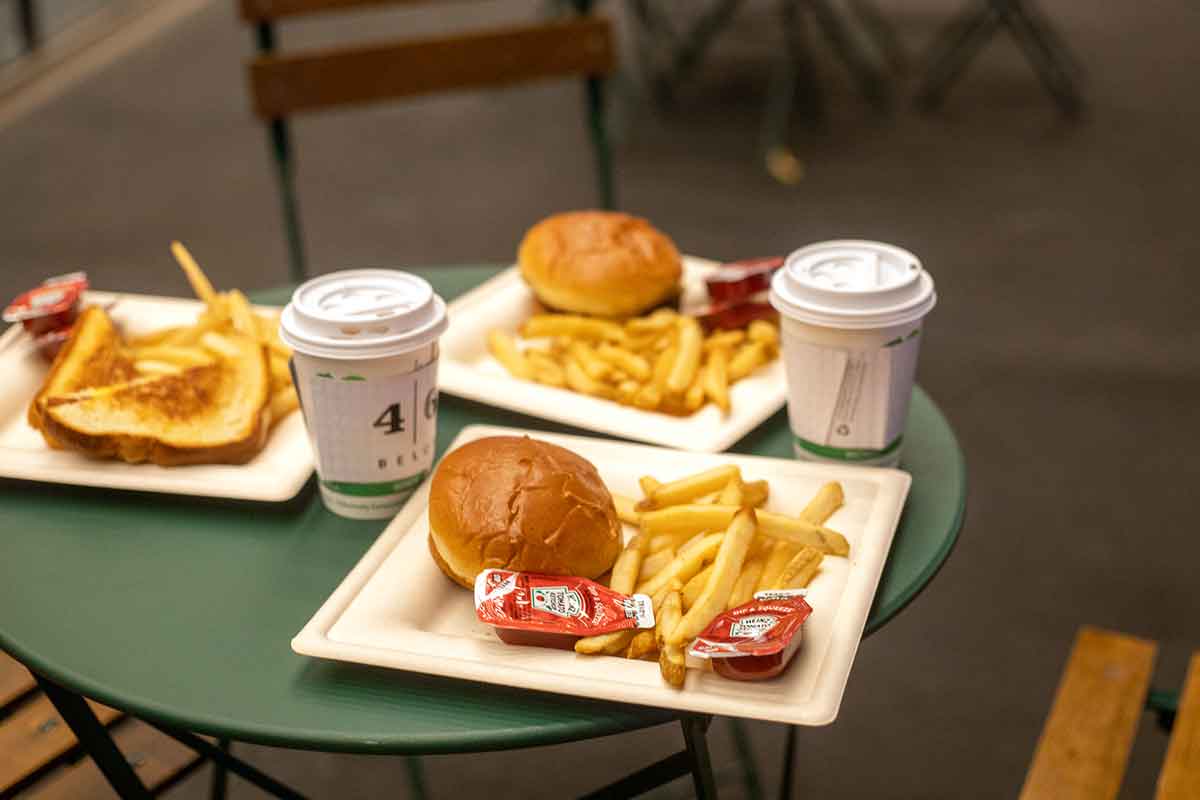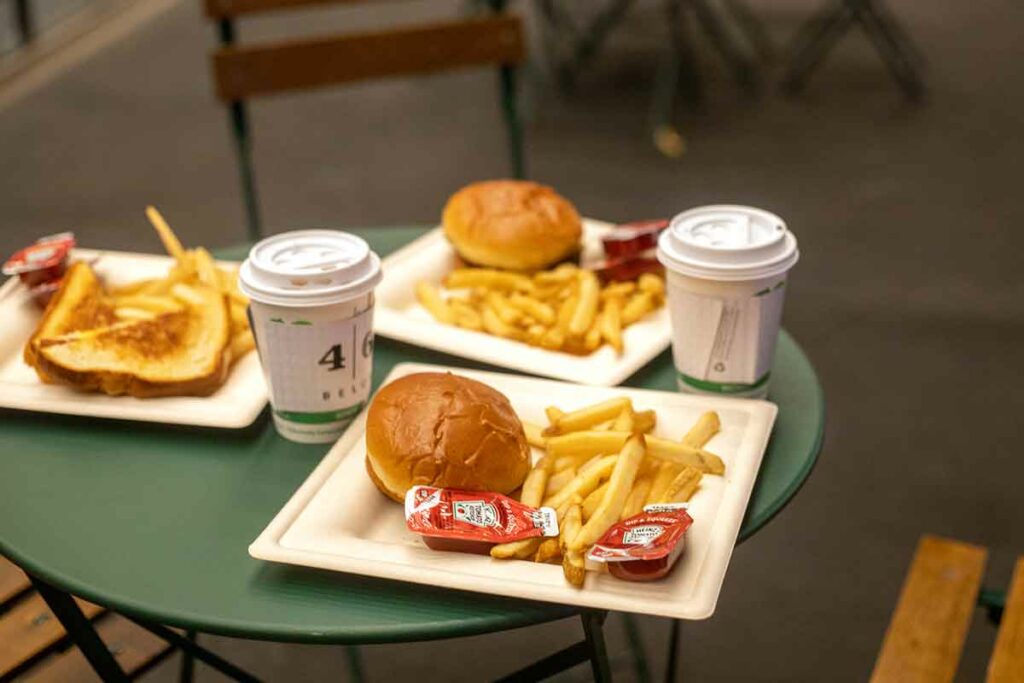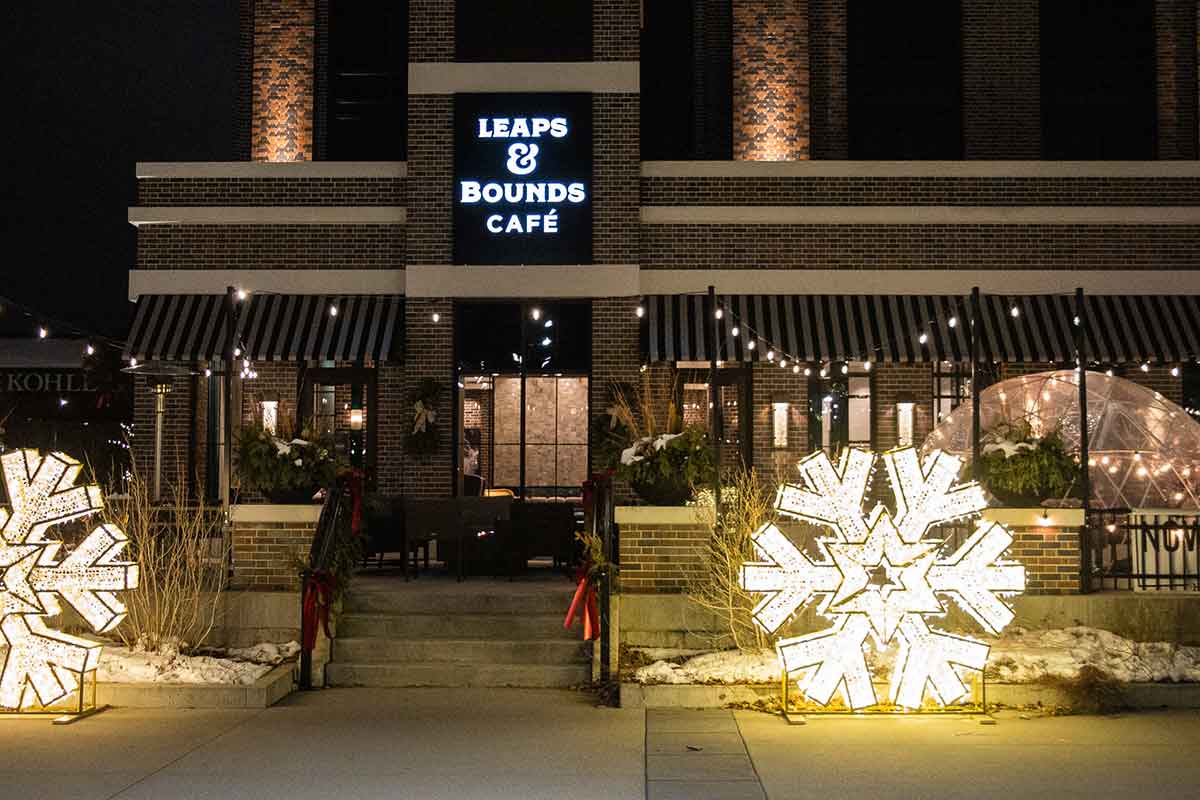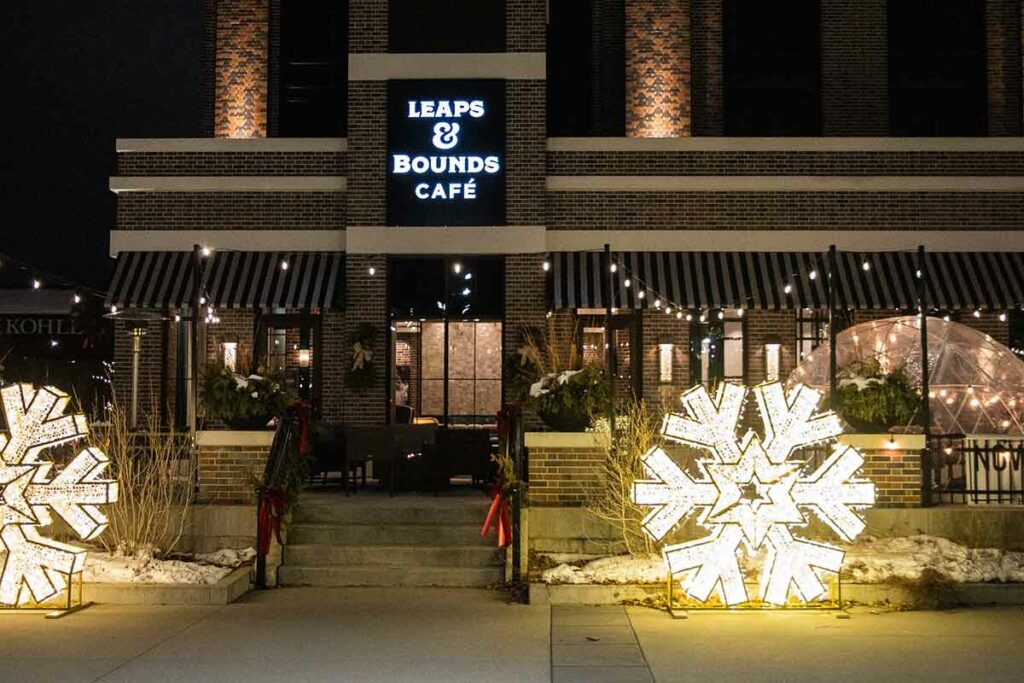 Green Bay Packers Stadium
Heading to the stadium, you'll find Green Bay legacy-themed restaurants, stadium tours, photo ops, and unique gifts for your favorite fans at the Packer Pro shop.
Special Stadium events to look out for:
Family Night – during the preseason, this night is just for families!
Fun Runs – Kids Runs, 5K, and more.
Holiday Events – Halloween, Christmas, and other events take place in the atrium.
Training Camp – Players borrow bikes from kids to get to practice!
Other Nearby Attractions
Hinterland Brewery (within walking)
Lodge Kohler (within walking)
Margaritas
Chuck E Cheese
Bass Pro shop
Titletown, 1065 Lombardi Ave, Green Bay, Wisconsin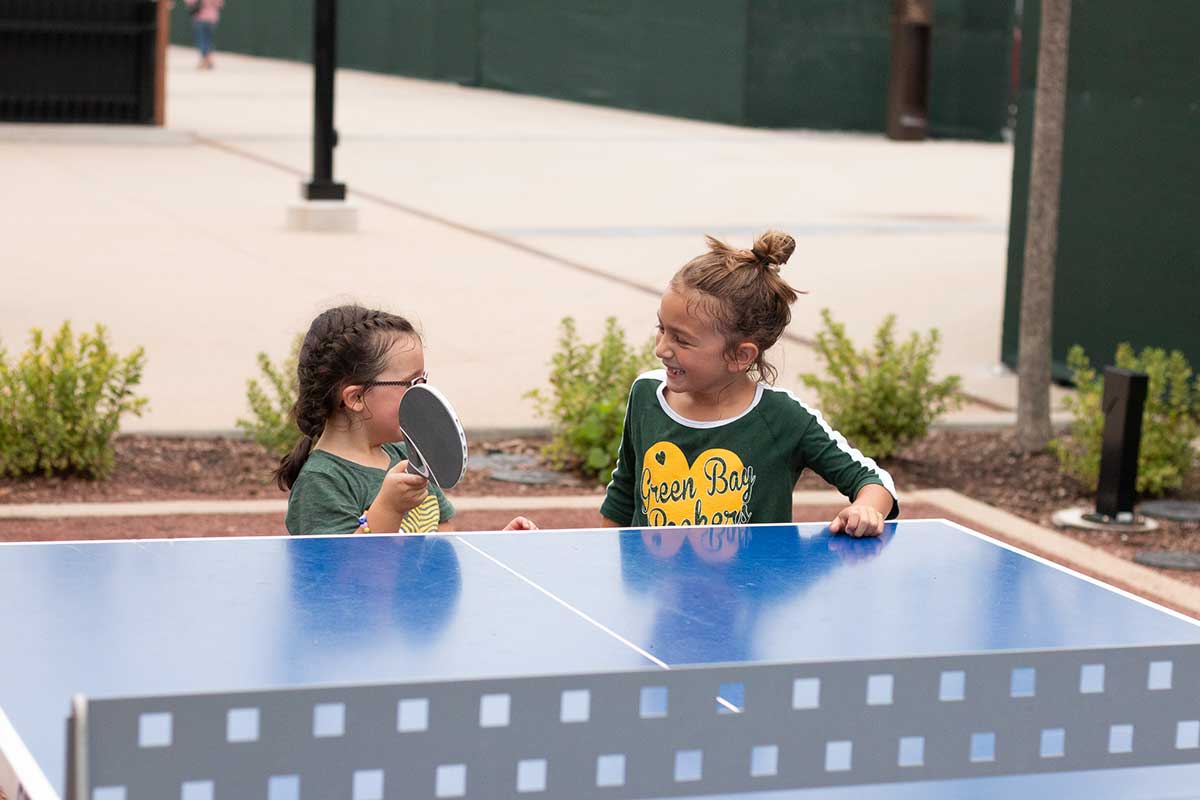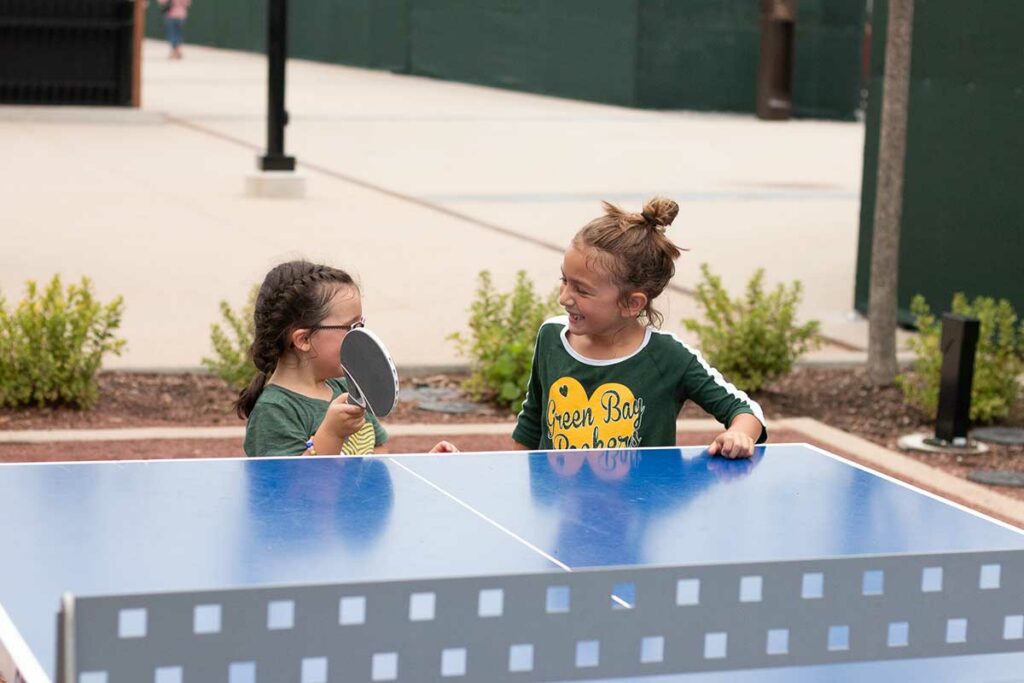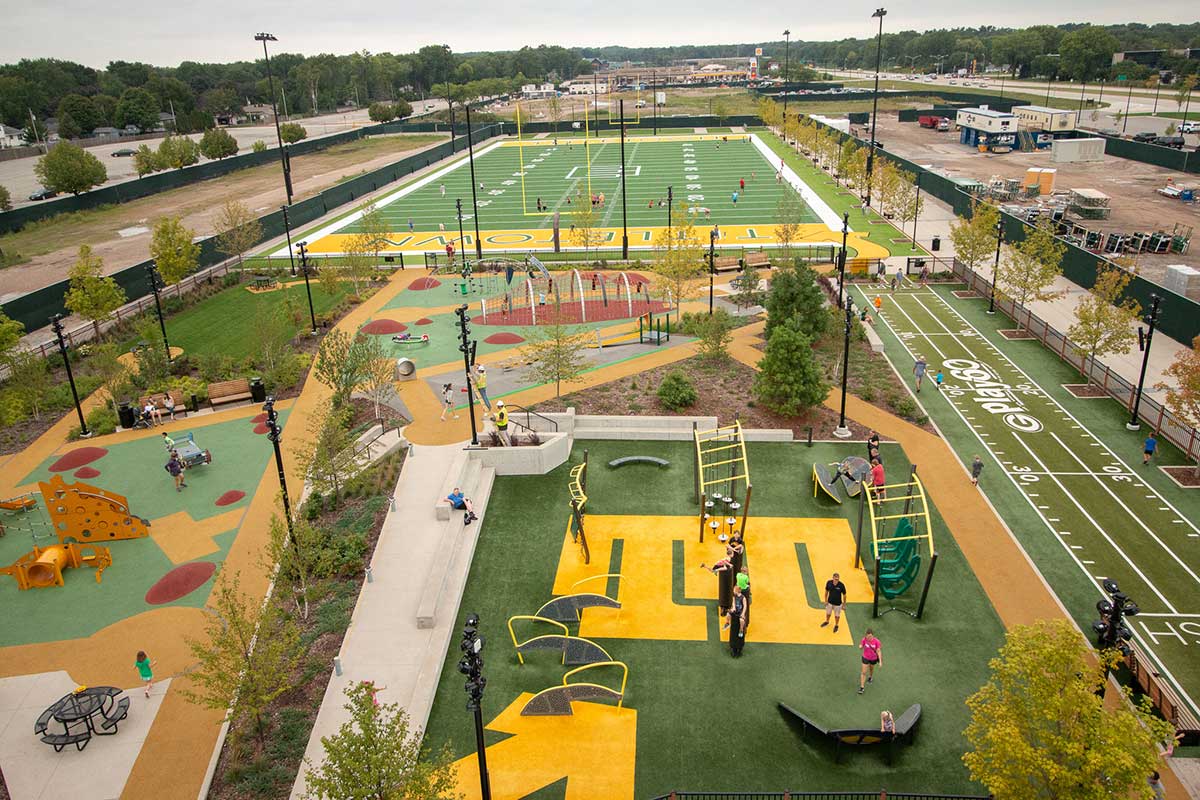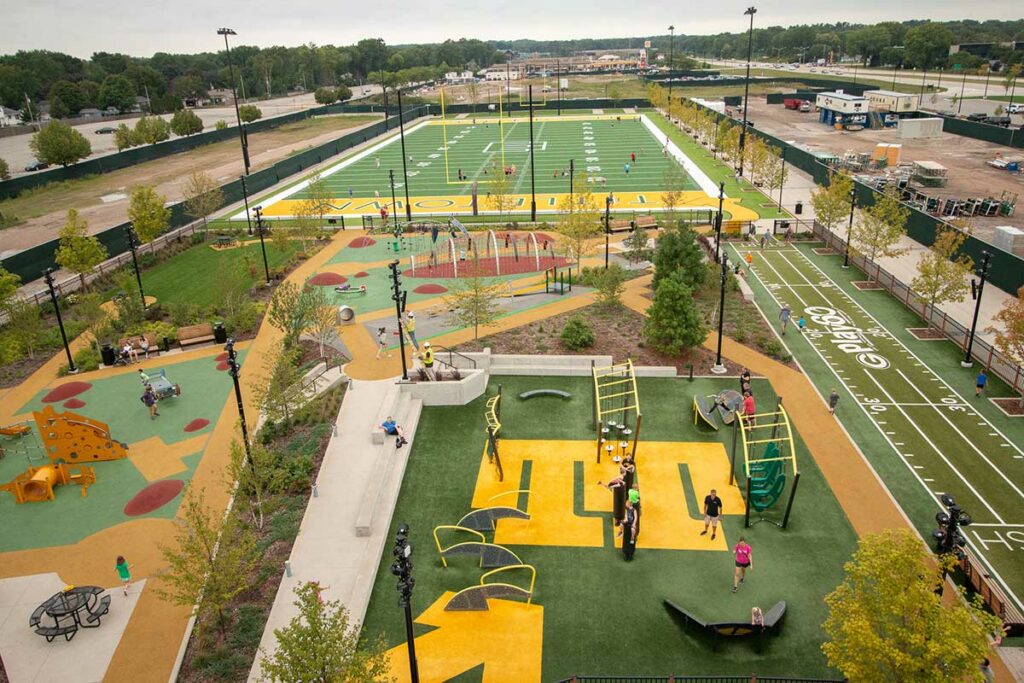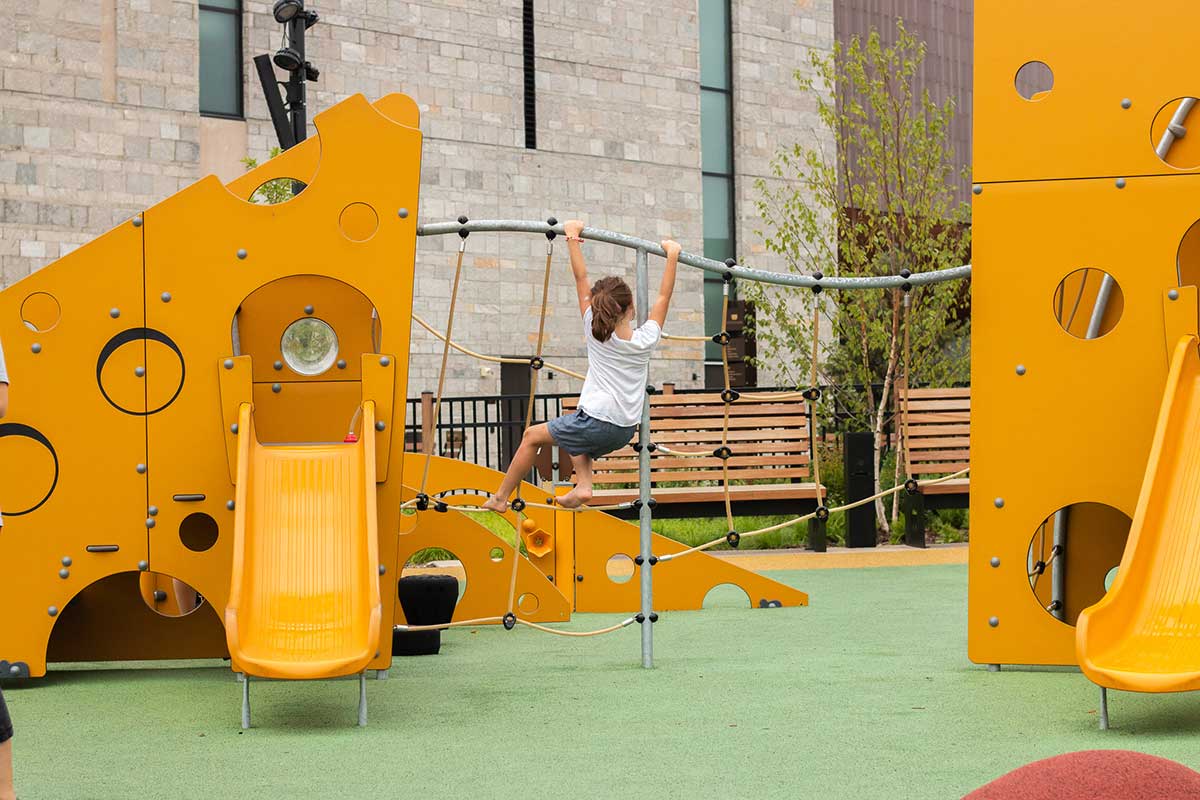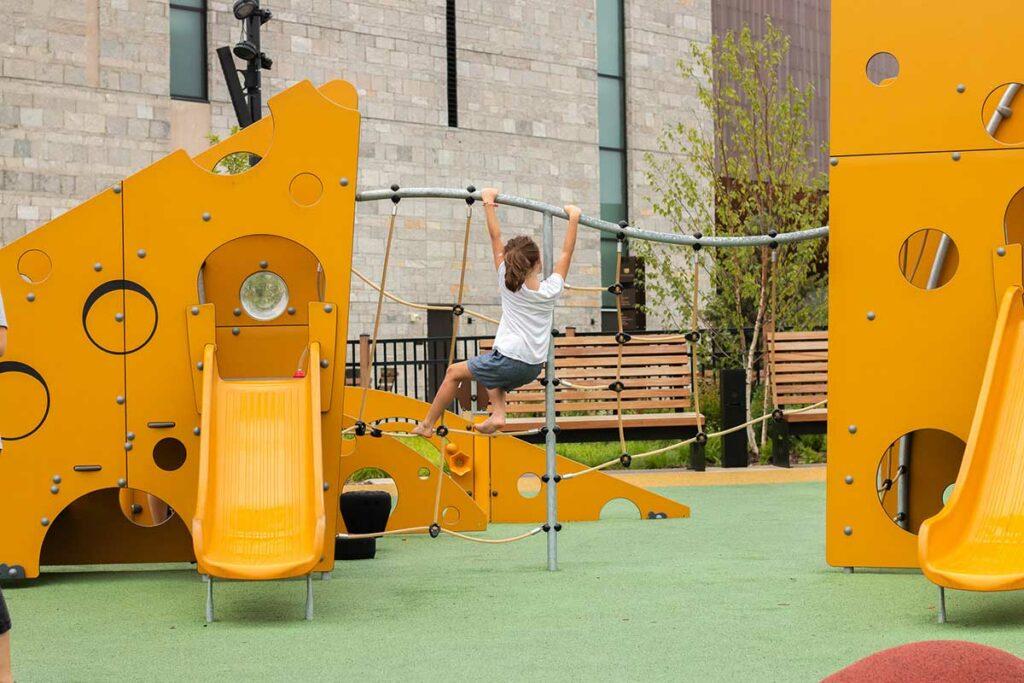 Playground, Games & Football Field
This 36,000-square-foot unique park has a rubber surface and multiple levels. The Play 60-theme area includes a 40-yard dash, climbing structures, slides, and more. Closed during the winter.
During warmer months, try horseshoes, bean bag toss, shuffleboard, bocce, and ping pong. The plaza also includes tables for relaxing and carts full of books, magazines, board games, and art supplies. All the equipment and supplies are there and ready to use, free of charge!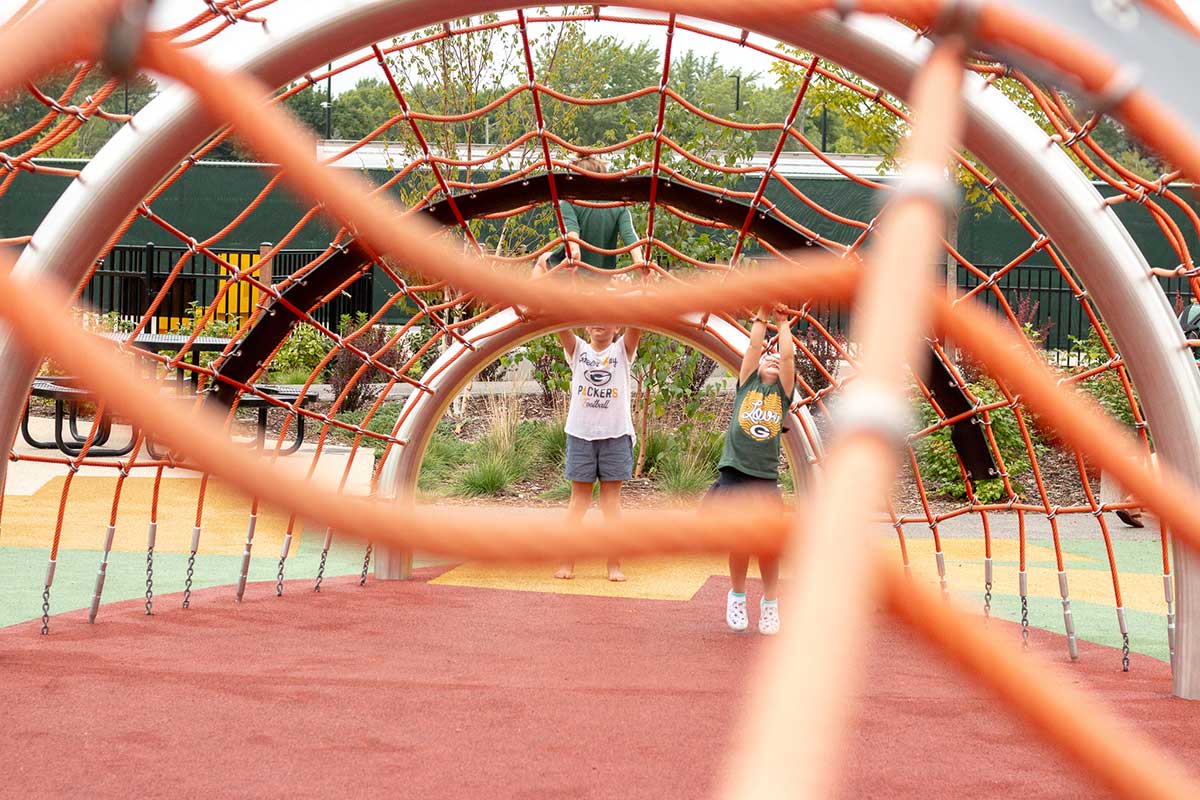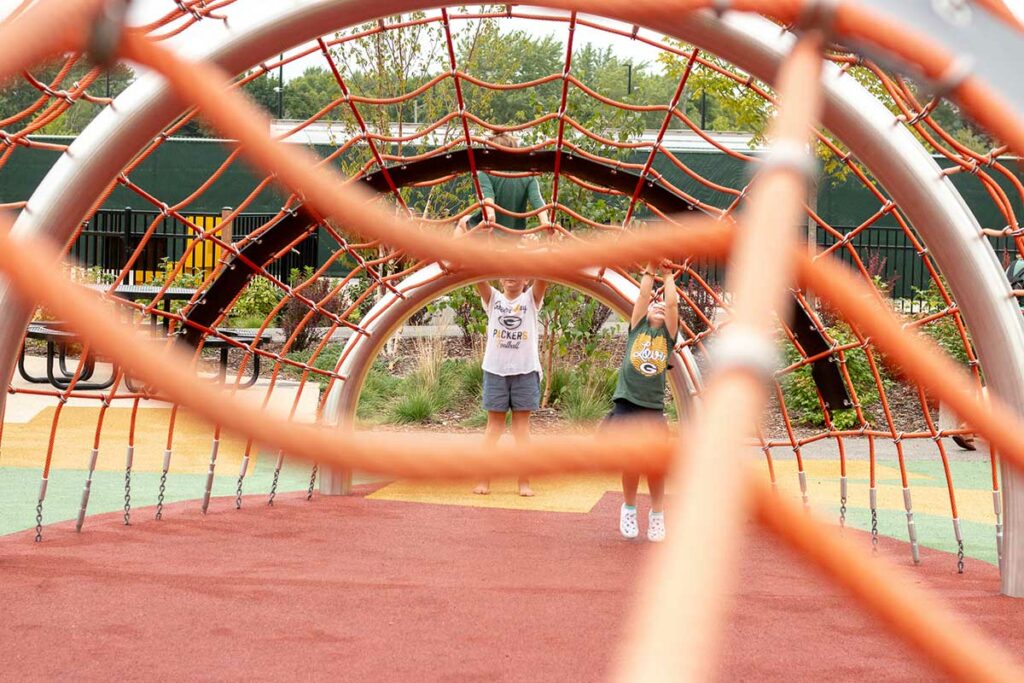 If you are a Packer in training, check out the regulation football field! With spectacular views of the green and gold stadium, this field hosts fitness classes, pickup games, tag, or is perfect for just running around.
Bring water bottles – water bottle fillers are located near the bathrooms.
Bring along a football or frisbee to play with on the field.
The park has very little shade. Be sure to pack your sunscreen and hats.