We are lucky to live in an area that is perfect for bald eagle-watching. We have many opportunities to observe the Fox River eagle pairs and other spots where the water does not freeze over to watch the majestic birds in action soaring, perching, fishing, and even tending to their eaglets! The winter months provide a clear view and fewer other birds around disrupting their fishing.
When is the best time to see eagles?
December through February are the best months to spot an eagle near open water.
Mornings are usually more productive when viewing around the locks and dams, but you'll find eagles during the day in the surrounding countryside where they search for carrion.
Later in the afternoon, eagles return to their favorite roosting area, usually in a valley or ravine, which shelters them from the bitter winter winds. Never enter a roost at night!
Sunrise & Sunset Viewing: 7:00 am & 4:00 pm. Sunrise and sunset are especially active times for eagles, but in active spots and warmer days, you can catch a glimpse almost any time.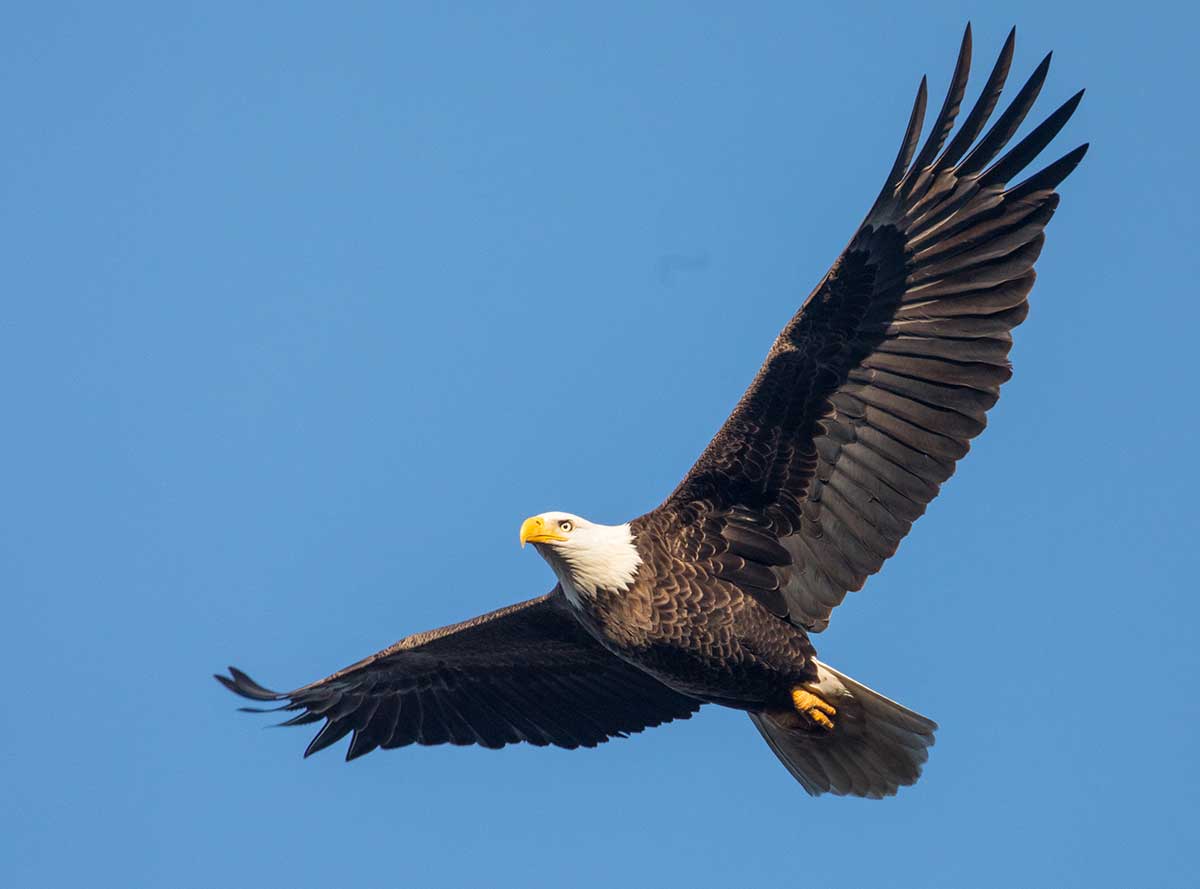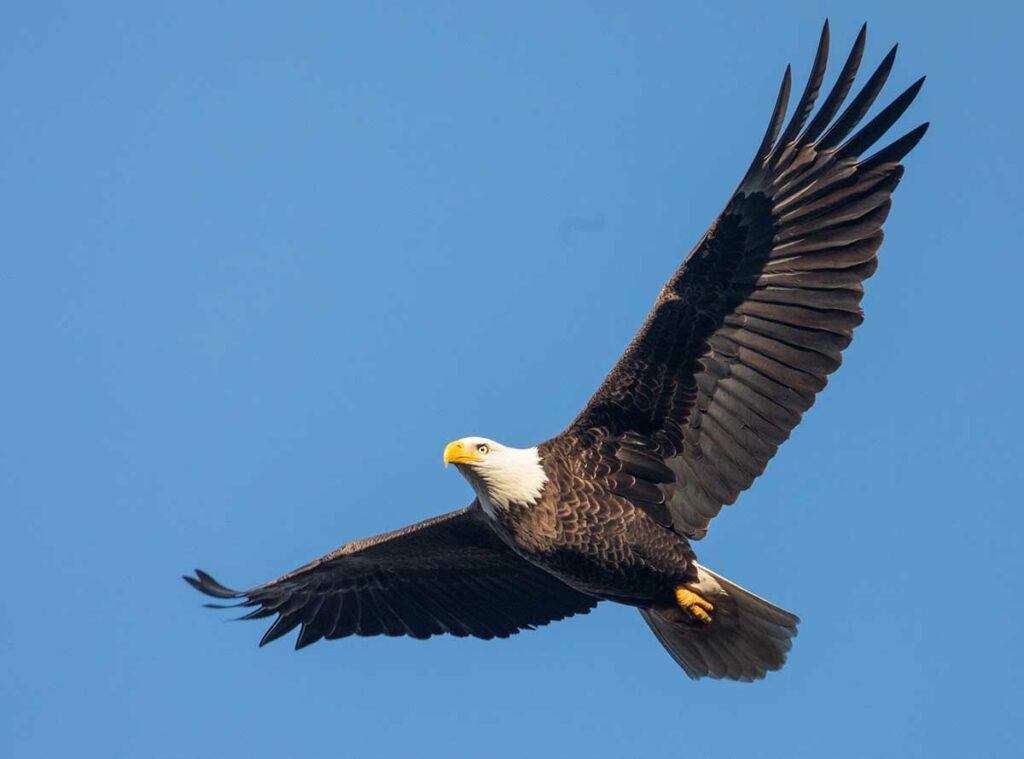 Where to see eagles in the Fox Valley?
1000 Islands Environmental Center, 1000 Beaulieu Court, Kaukauna
Riverside Park, Riverside Drive and River Street, Kaukauna
Historical marker and cedars lock, 1169 W. Main St., Little Chute
Sunset Park, 800 W. Kimberly Ave., Kimberly
Telulah Park, 1300 E. Newberry St., Appleton
College Avenue bridge and Banta Court, Appleton
Lawe Street-Newberry Trail, 668 E. Newberry St., Appleton
Vulcan Heritage Park, 535 W. Water St., Appleton
Atlas Science Center, 425 W. Water St., Appleton
Lutz Park, 1320 S. Lutz Drive, Appleton
Fritse Park / Trestle Trail, 899 N. Lake St., Menasha
Jefferson Park, 915 Third St., Menasha
Kimberly Point Park, 290 Lakeshore Ave., Neenah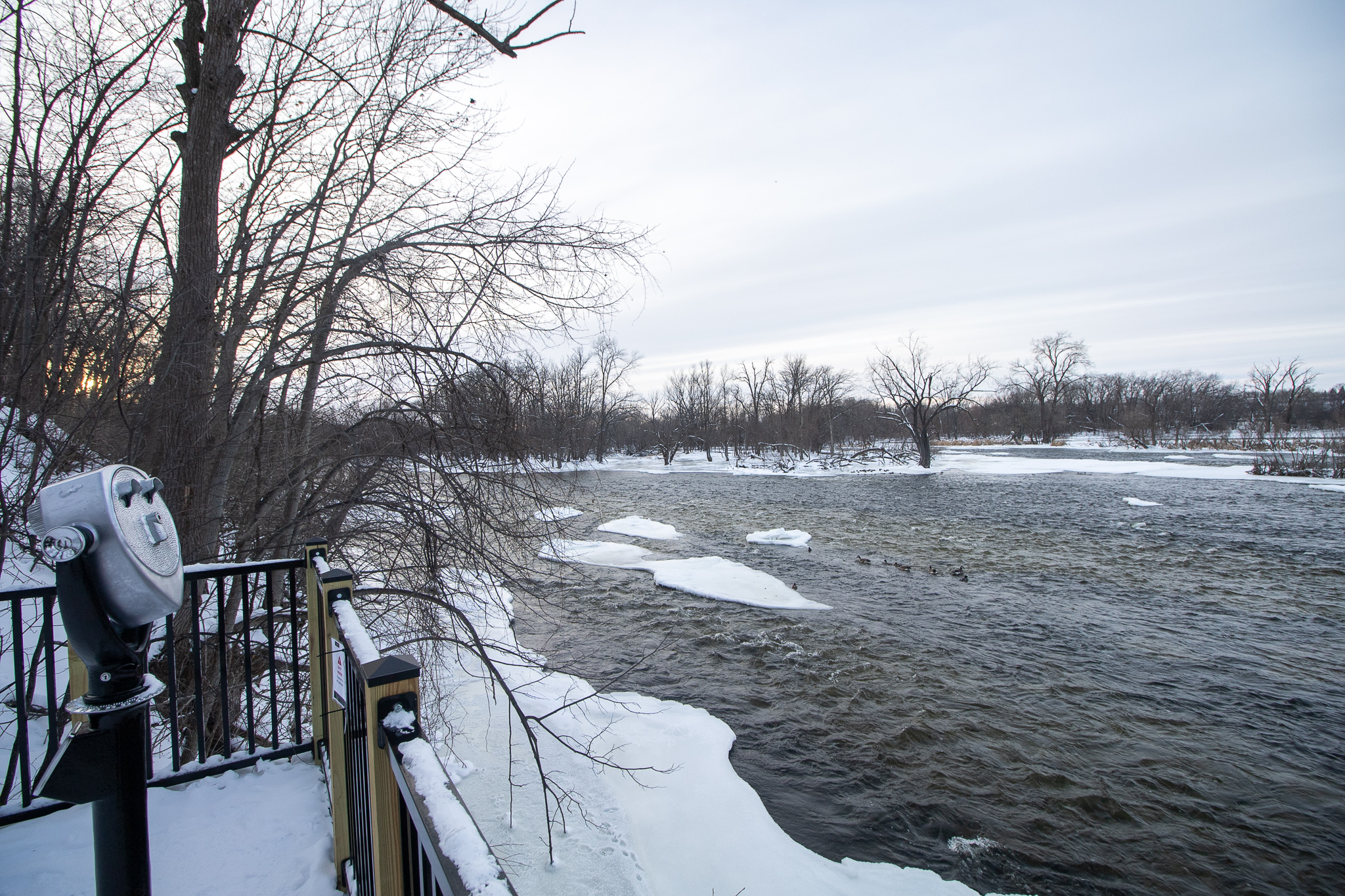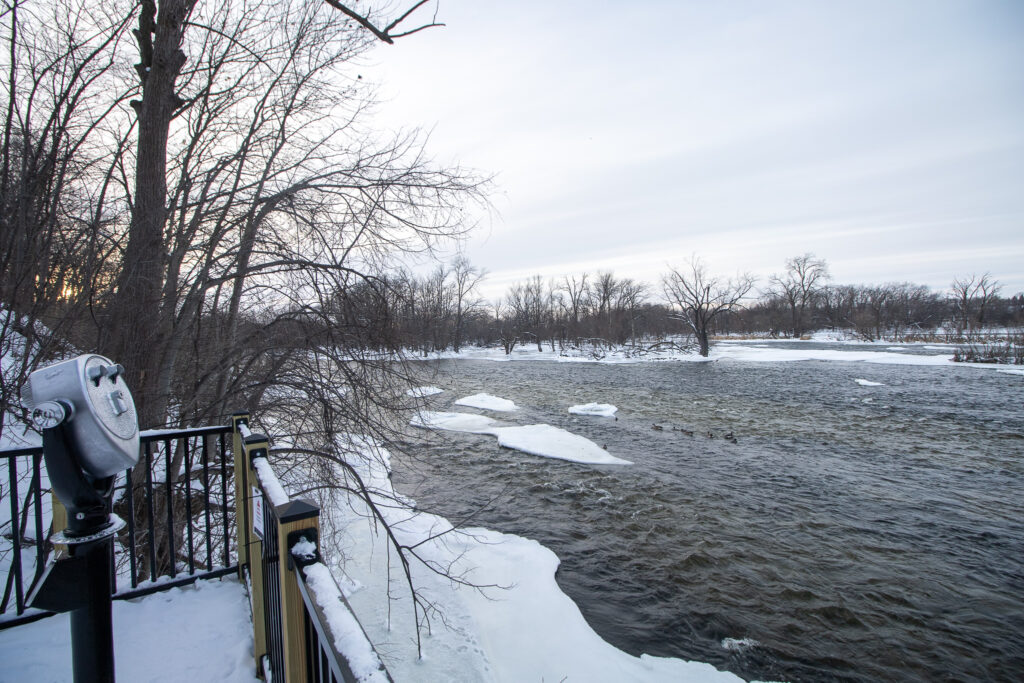 Please follow these tips for the safety and comfort of the eagles and your family:
Visitor centers and indoor portions of nature centers may be closed during the pandemic. Be sure to dress warmly and use bathrooms before heading out.
In your car, keep a distance of 100 yards.
On foot, keep a distance of 300 yards.
Viewing with spotting scopes or binoculars works great!
Beware that human presence can stress eagles by causing them to expend the energy needed for survival.
Avoid making loud noises such as shouting, slamming vehicle doors, or blowing the horn.
Observe from a comfortable distance using binoculars or spotting scopes.
When taking pictures, use common sense to avoid disturbing eagles.
Eagle Awareness
Bald eagles were one of the first species protected by the Endangered Species Act. Conservation efforts for our National Symbol grew the population from only 400 nesting pairs in the United States to more than 11,000 nesting pairs, with over 1,500 in Wisconsin, making us in the top three states in the lower 48! Each year, American Eagle Day is celebrated on June 20th, which the American Eagle Foundation uses as a call to action to take steps in our communities to help protect these birds such as river, lake, and stream clean-up efforts.
Eagle Watching Events
1000 Islands Environmental Center Eagle Days – Each January on the 4th Saturday, 1000 Islands hosts a free family day with an educational program featuring a live bald eagle, a full-size replica of an eagle's nest, hands-on eagle activities, children's crafts, coloring contest, door prizes and more.
Other Opportunities to see eagles around Wisconsin & Resources
Eagle Exhibit at the Menominee Park Zoo – This year-round exhibit was added in 2021 and houses two non-releasable Bald Eagles and is found between the elk and wolf exhibits. There is a wing-size display on the overlook between the wolf and elk exhibits that an Eagle Scout created and installed.
Heckrodt Eagle Scout Nest – An Eagle Scout project was completed at Heckrodt Wetland Reserve in Menasha that depicts the size of an eagle nest. You need to climb a ladder to get in and out!
NEW Zoo – There is a bald eagle with a home in the walkthrough aviary at the NEW Zoo in Green Bay.
Become an Eagle Watcher – Learn about how to get involved by adopting an eagle nest as an official watcher.
Live Eagle Camera – Want a close-up view and no exposure to the cold? Try out a Live Eagle Cam at the American Eagle Foundation!
Animal Report Printable – Document what you learn with this fun FREE printable from The Homeschool Scientist.
Bald Eagle Printable Booklet – Are bald eagles really bald? How fast can an eagle fly? What does "eagle-eye" mean? Discover the answers to these questions and learn all about eagle anatomy, eagle diet, eagle symbols, eagle habitat, and more with this free science unit study and lap book for your elementary student from Homeschool Share.
National Geographic Kids – Learn more about eagles with National Geographic.
Printable Coloring Pages – Over 80 FREE eagle coloring pages.
Eagle Crafts / Activities for Kids – Pinterest board with lots of ideas.