Get ready to check out penguins, lions, and all your favorite critters this summer at the NEW Zoo in Green Bay! The zoo is ready to provide families with a day of fun learning opportunities in the sunshine with animals from around the world!

With over 200 animals and nearly 90 different species, kids get to connect with nature and learn about various habitats and the variety of animals that call them home. As they explore the zoo, they will be immersed in a world of wonder as they see animals roam, snooze, and play. There are opportunities to feed the giraffes and petting zoo found in the Children's Barn. You can get right into the world of prairie dogs with cool viewing stations that take you inside of the animal exhibit.
For more fun, play iSpy with the kiddos or create a family scavenger hunt challenge to find everyone's favorite animals, landmarks, and spots in the zoo. It will make for an even more engaging visit!
Before heading home, be sure to stop in the gift shop for keepsakes, trinkets, and treasures. From stuffed animals to puzzles, games and more, there is something for everyone to remember their visit to the zoo!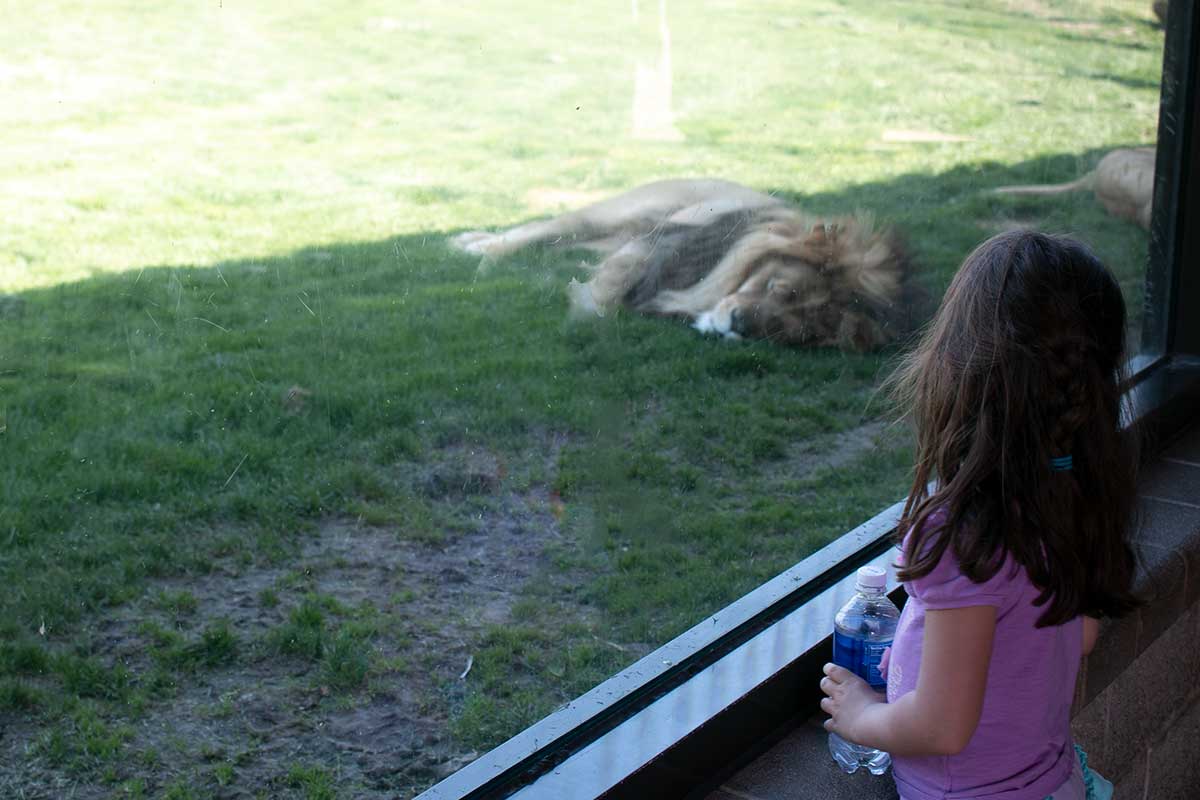 COVID Precautions & Changes for 2022
The zoo continues to take measures to keep animals, staff, and guests safe while we make wonderful family memories!
When can we visit the zoo?
The zoo is operating on its regular schedule, 9 am – 4 pm each day. You are welcome to purchase your tickets in advance or on arrival—reservations are no longer required.
What safety precautions are being taken?
For families to stay safe, zoo volunteers and staff will be routinely cleaning public areas and restrooms, plus hand sanitizing stations will be available for visitors to use throughout the zoo.
Will we need masks?
We encourage guests to follow the Brown County Public Health face-covering recommendations and wear face-coverings inside buildings and when unable to socially distance for your safety, as well as for the safety of our staff and animals.
Face coverings are required to participate in certain programs, including the Giraffe Feeding Experience and the Penguin Feeding. Masks are also required to participate at the Adventure Park.
Is everything open?
The Mayan Restuarant may be closed due to a lack of staff. There is a picnic area across from the zoo and snacks available in the Visitor Center for purchase.
For more information on visiting this summer, please visit newzoo.org/covid19.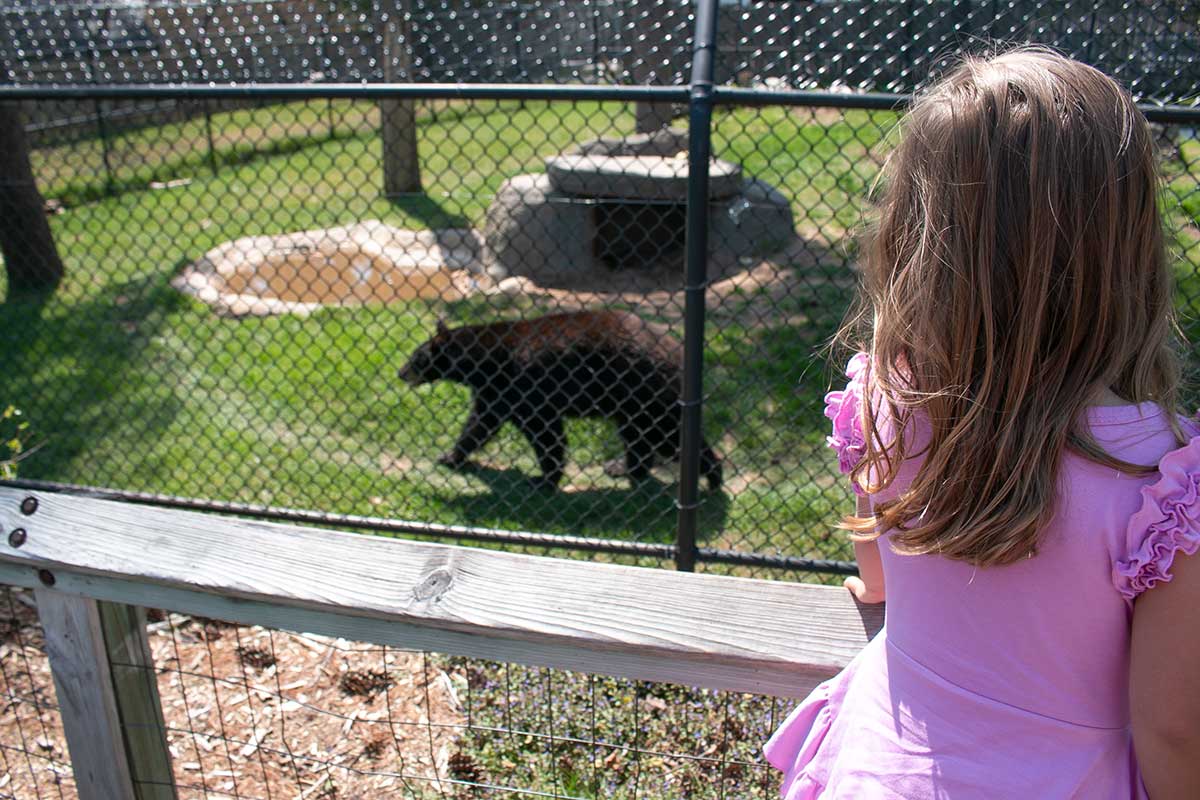 Snacks & Food
At the Zoo
After exploring, tame any tummy rumbles at the Mayan Restaurant, which will offer walk-up ordering and an outdoor eating area. Feast on juicy burgers, funnel fries, or dive into a chilly cup of Dippin' Dots; there are many sweet and savory options for all appetites!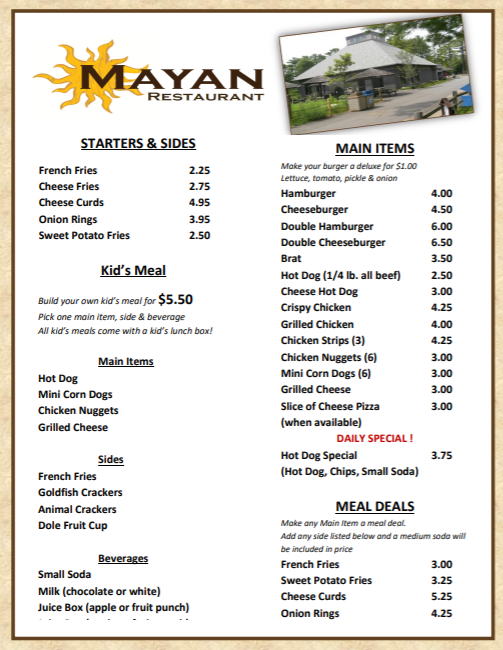 For those looking to grab a quick bite, convenience snacks are available at the entrance, and beverage machines are well stocked and readily available around the zoo.
Picnic Area and Playground
Across the street from the zoo and adjacent to the parking lot, you'll find a park with a fun playground to explore, a pond, and plenty of areas to picnic using tables or to spread out a blanket in the ample shady, grassy areas. You are able to leave to lunch play and then re-enter the zoo to continue exploring.
Nearby the Zoo – Within 5 miles
Coffee:
Ice Cream:
Breakfast, Lunch, or Dinner:
READ MORE: 65 Restaurants with Outdoor Dining in Green Bay Area
Things to Do Nearby the NEW Zoo
13 Green Bay Area Family Friendly Nature Trails
These family-friendly trails can take you from waterfalls to bird watching or the bay of Lake Michigan!
Titletown District
Near Lambeau field, this park is an adventure for your whole family. There is playground equipment perfect for your little climbers and football practice features ready for your bigger family members to explore. You'll also find game courts with free equipment to use!
Green Bay Botanical Garden
The grounds are beautiful year-round at the garden and you'll find a Children's Garden with a maze and lots of other fun features.
Bay Beach Amusement Park
Tickets for rides at Bay Beach are just 25 cents each and parking is free! An inexpensive surprise side trip after the zoo is sure to be a win.
Bay Beach Wildlife Sanctuary
Do you have the type of kid that never gets tired of seeing zoo animals? This is a great stop with play areas and you can buy corn to feed the ducks!
Adventure Park – Right next door to the NEW Zoo has a ropes course, climbing walls, zip lines, and obstacle course for big adventures!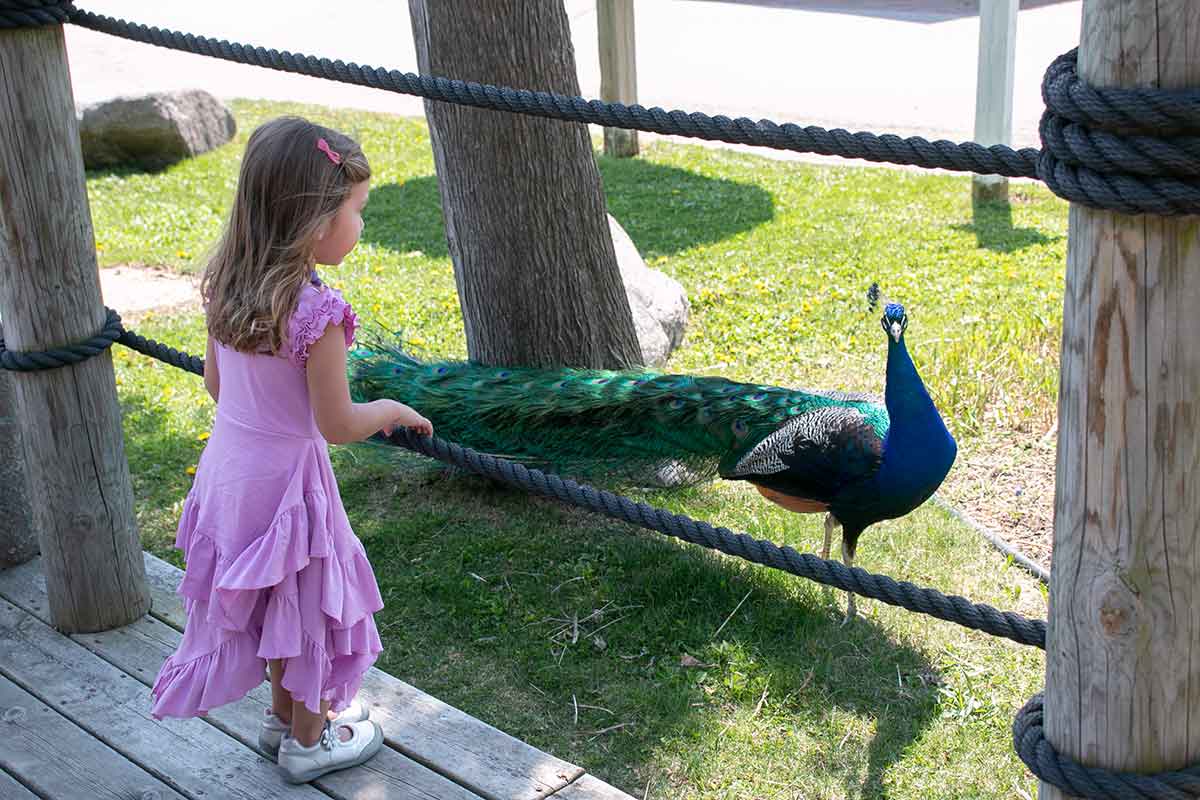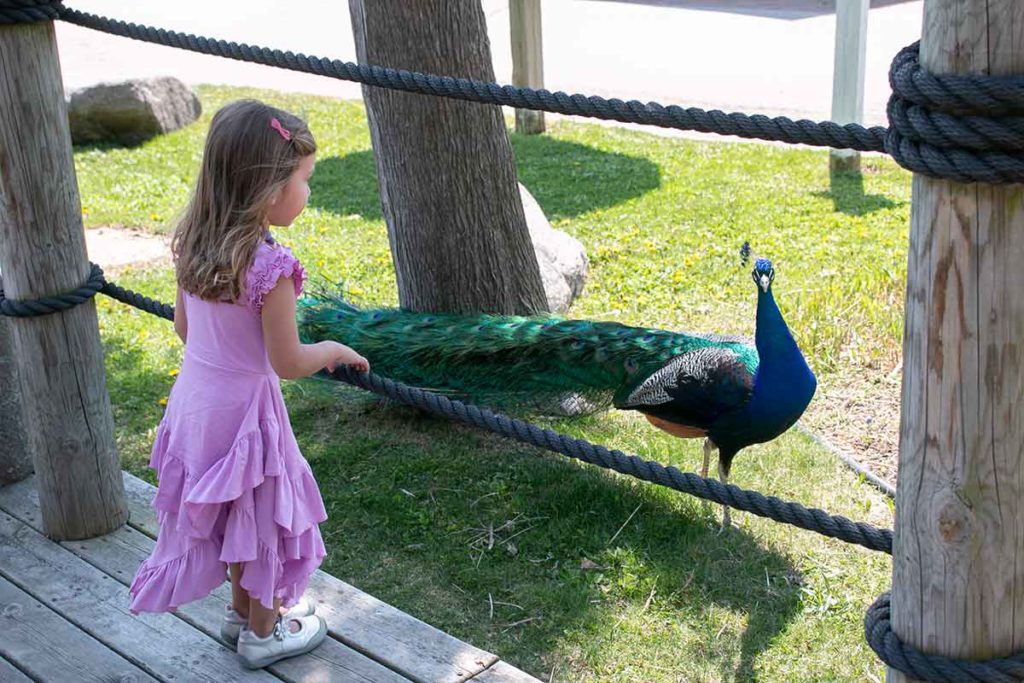 About the NEW Zoo & Adventure Park
The Northeastern Wisconsin Zoo, or NEW Zoo, is in Suamico, Wisconsin. It is an accredited zoo with the American Zoological Association that brings together accredited zoos and aquariums in the United States to work together to save specific endangered animals from extinction. There are 43 acres of zoo to explore in the northwest of the Brown County Reforestation Camp and together cover 1,560 acres and see more than half a million visitors each year.