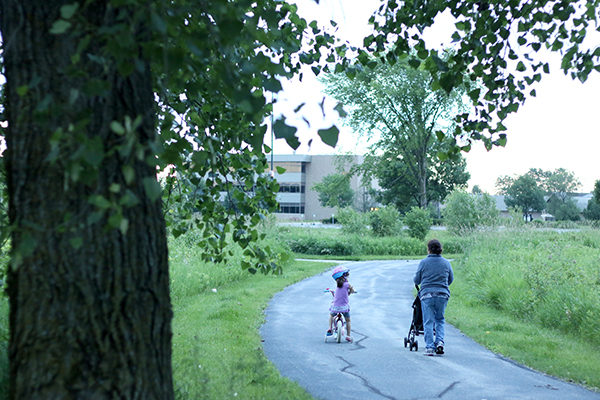 Whether you are training with your kids for a Fun Run or just burning off some energy we have you covered! Here is a list of our favorites and reader suggestions for family friendly trails that are both toddler and stroller approved.
1. Fox Valley Technical College / Highway 41 Overpass, Grand Chute

Parking: 3404 W Brewster St (Behind Brewster Village, past the Goodwill Community Gardens), Fox Valley Technical College near the soccer field at the corner of Northland and Bluemound or Casaloma Dr., Appleton, next to the Timber Rattler's Stadium
Notes: The trail winds around and through the FVTC property and crosses over Highway 41 past the Fox Cities Stadium to Casaloma.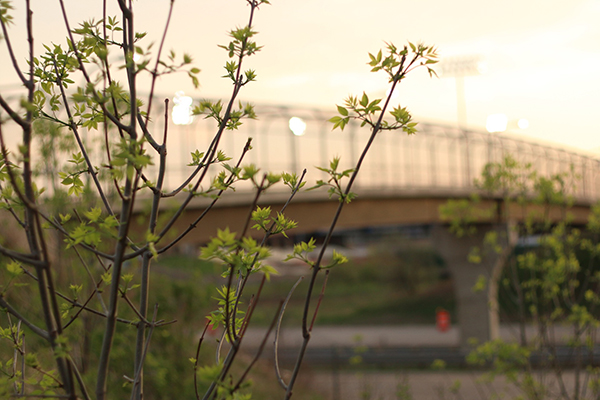 2. Prairie Hill Park, Grand Chute

Parking: 2901 N. Abendroth Street, northwest of Northland (CTH OO) and Bluemound
Paved and unpaved off road trail. Also enjoy the catch-and-release fishing pond, playground and hill to explore.
3. Fox Cities Trestle Trail, Neenah/Menasha

Parking: Fritse Park (west side of Little Lake Butte Des Morts) or Broad Street in Menasha (east side), small on-street parking lot by the entrance
Notes: This pedestrian bridge is 0.8 miles long and crosses Little Lake Butte des Morts. It is also lite and includes a pavilion for sitting and fishing platforms. This the longest walking bridge in Wisconsin.
Feedback: Liz, "Friendship trail/trestle bridge fun and lots of turtles and ducks and ducklings in the late spring early summer time."
Feedback: "Trestle Trail from Neenah to menasha is our favorite… Stroller friendly and Fritze Park to play at as well!"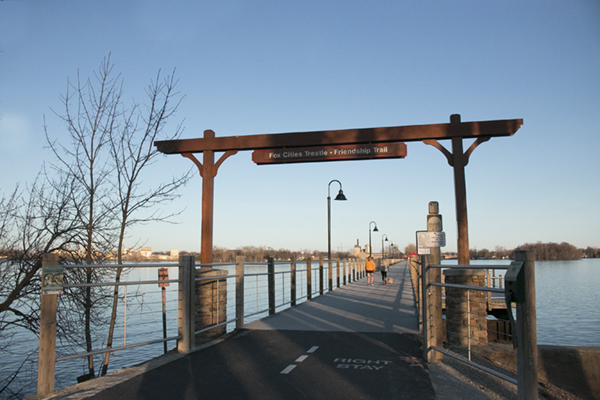 4. Memorial Park, Neenah
Parking: Available at the park.
5. Newberry Trail, Appleton
Parking: Telulah Park, 1300 E Newberry St, Appleton
Notes: Located between South River Street and Telulah Park in Appleton, this 1 mile trail runs along the Fox River in downtown Appleton.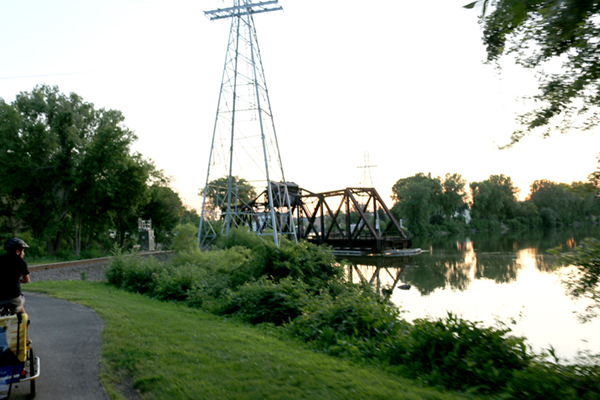 6. Wiouwash Trail: Hortonville
Parking: Highway 10 at Medina and Black Otter Lake, Hortonville.
Notes: The trail runs six miles from Hortonville to the Winnebago County line near the junction of Highways 41 and 45. Lots of wildlife, one section goes through wetland.
Comments: Abigail, "Wiouwash is flat and safe. Goes through Oshkosh all the way to Larsen. Lots of trees and wildlife."
7. Terrell's Island, Oshkosh
Notes: 3 mile breakway trail on the south shore of Lake Butte des Morts.
Comments: "Terrell's Island near Oshkosh/Omro. It's jogging stroller suitable."
Comments: Becki, "Terrell's Island can be chilly at times over the water but it's our favorite to walk and bike!"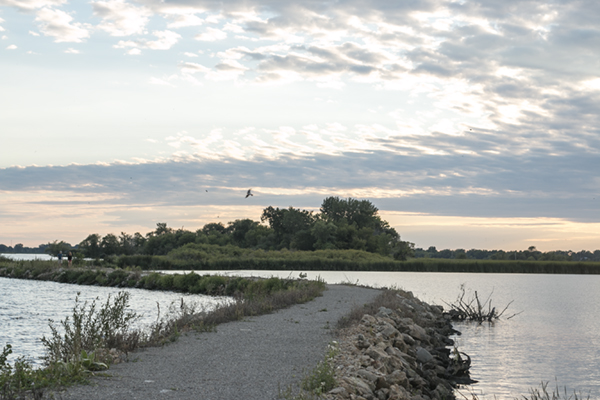 8. High Cliff State Park, Sherwood

Parking: N7630 State Park Rd, Sherwood
Comments: Sadie, "I LOVE High Cliff State Park…many of the trails are flat and wide…perfect for strollers."
9. Heckrodt Nature Preserve
Parking: 1305 Plank Rd Menasha, Wisconsin
Notes: Heckrodt Wetland Reserve's trail system is open 365 days/year from 6 AM – 9 PM. Bikes and dogs are not allowed, strollers are. 3 miles of trails, including nearly 2 miles of elevated boardwalks, provide access to the wetland habitat. Wagons, strollers and wheelchairs are available to check out. More information.
Hours:
Monday: Closed
Tuesday – Friday: 8 am – 4:30 pm
Saturday – Sunday: 11 am- 4 pm
Comments: Kristy, "

Heckrodt in Menasha has boardwalks and crushed limestone trails- very accessible for strollers or wheel chairs.

"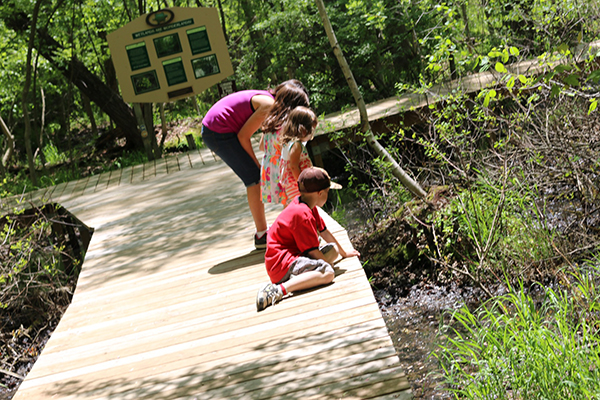 10. 1000 Islands Environmental Center
Parking: 1000 Beaulieu Court, Kaukauna
Notes: The center has about 7 miles of trails including a 1 mile trail along the river with about half of boardwalk. The hiking trails along the river have benches with great views. More information.
Hours:
Monday – Friday: 8 am – 4 pm
Saturday – Sunday: 10 am – 3:30pm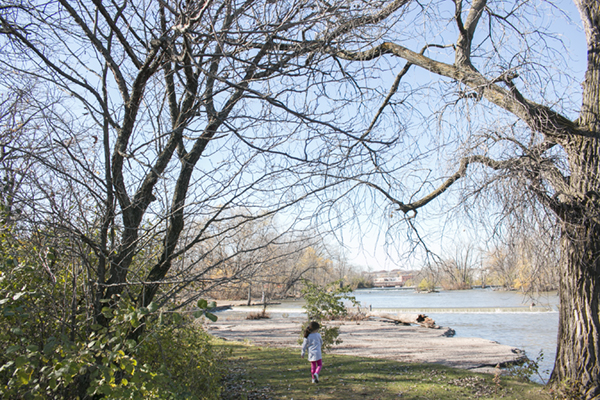 Bonus! Rachel, "Try a cemetery! Our kids love to ride at Riverside Cemetery in Appleton. There are a lot of different paths to take and I can see them even from a distance."