Our family enjoyed exploring New London during a beautiful winter day. If you aren't familiar with the area, New London is on the border of Waupaca and Outagamie Counties and just 17 miles from Appleton, 34 miles from Green Bay, and 35 miles from Oshkosh. The city boasts more than 900 acres of parks, trails, and recreation facilities.
Some of our favorite family-friendly things to do in New London include the St. Patrick's Day Parade in mid-March, sturgeon spawning in late Spring, strolling downtown and along the river, and looking for murals while eating ice cream! We also have enjoyed the Fox Valley Driving Horse Association annual sponsored old-fashioned horse-drawn sleigh rides through Hatten Park to benefit New London Community Cupboard.
Our outdoor winter adventure started with finding murals around town with stops at Memorial Park and Hatten Park. We then went to explore at Mosquito Hill Nature Center! We started with a hike and ended with playing at the Children's Play Area.

Read on for more details about all our favorite winter things to do in New London:
Murals – Wolf River Art League's Start Art Project includes more than 50 murals, mostly within walking distance from one another.
Memorial Park – This park includes historical features, trains, and play areas!
Hatten Park – Nature trails and cross country skiing make this a perfect wintertime park.
Mosquito Hill – Explore indoors and out at this 441-acre nature center near the Wolf River.
Sledding
Ice Fishing
Support Local: Head to Familiar Grounds on Pearl St. for a coffee or hot chocolate warm-up!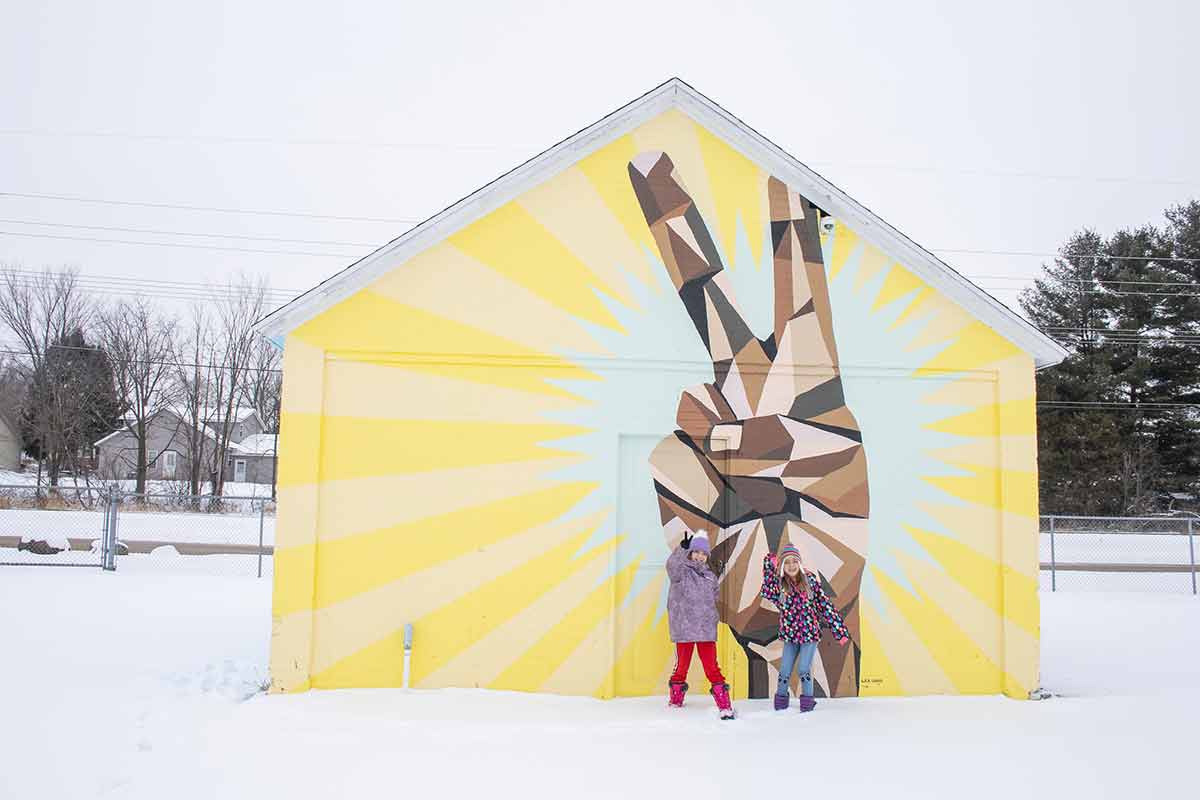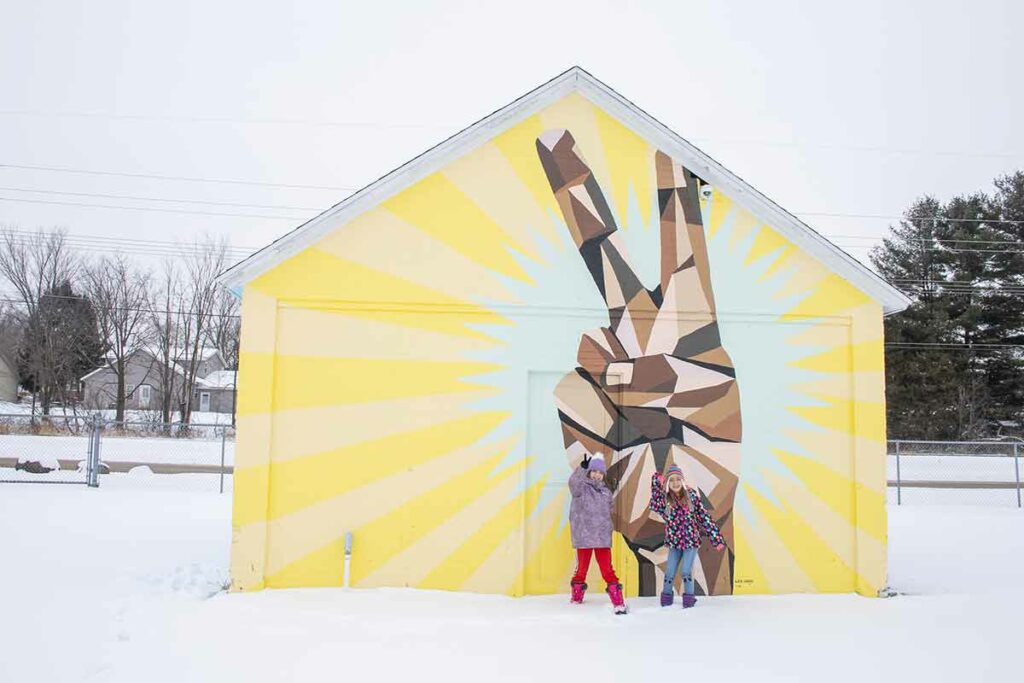 Murals
New London is home to more than 50 murals from the Start Art Project by Wolf River Art League. Find all of the murals we have located in New London, including our interactive map here.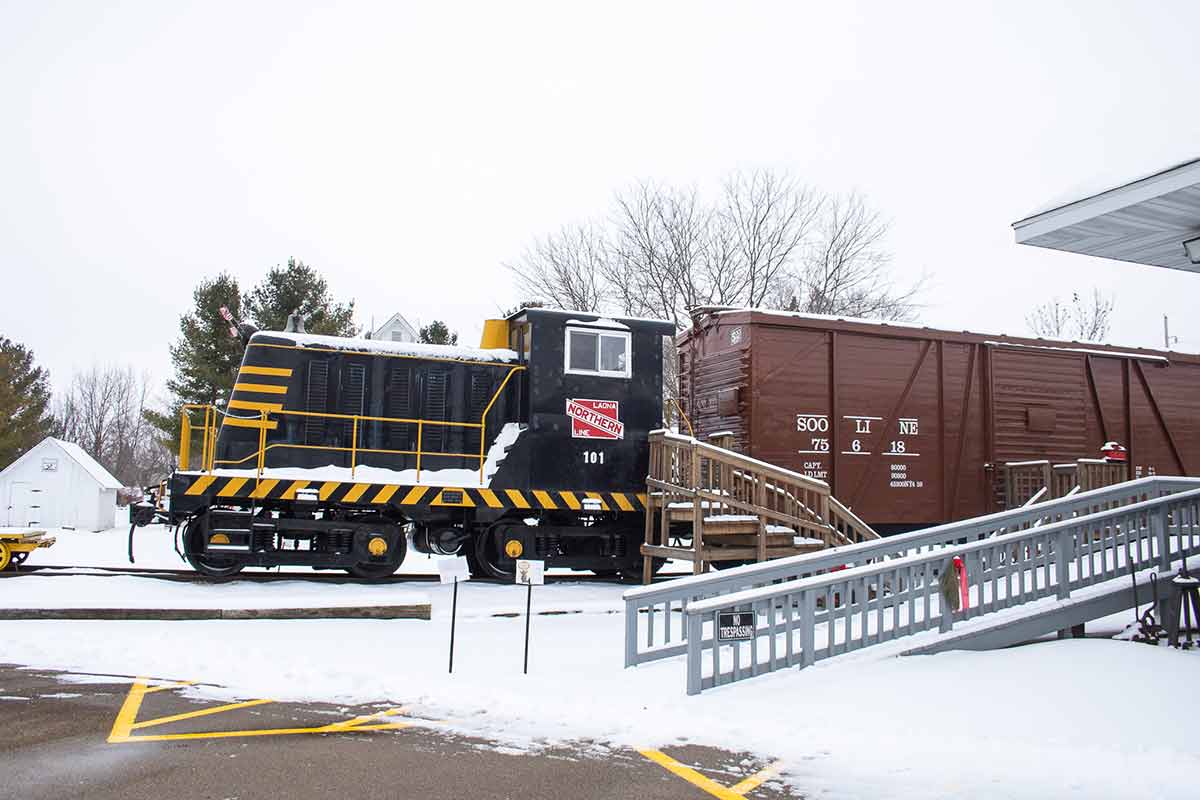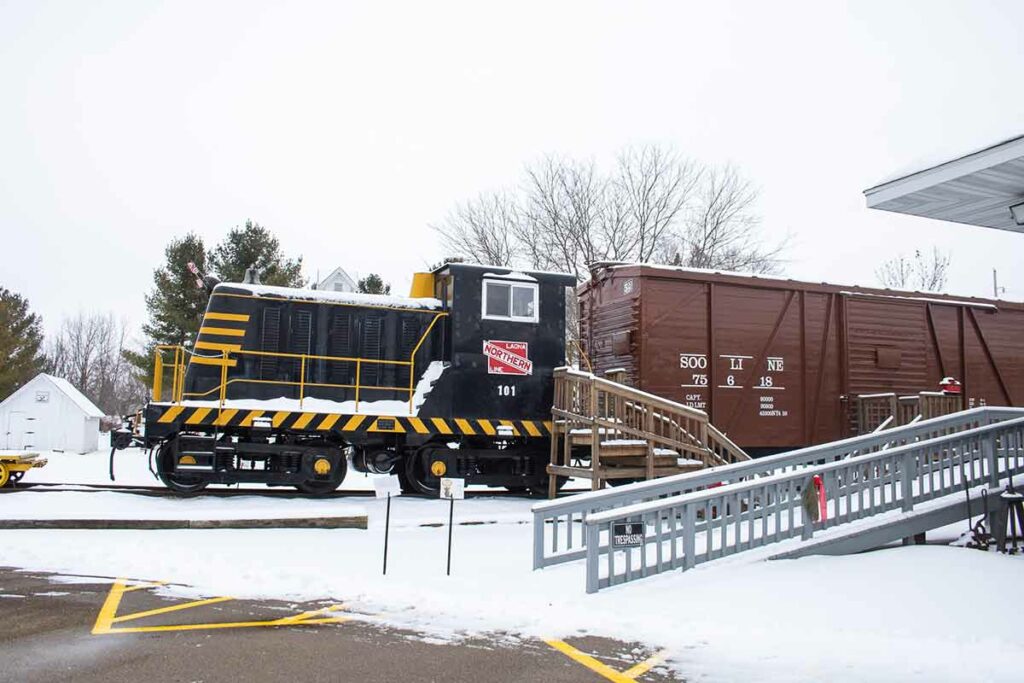 Memorial Park
Memorial Park is located at 800 Montgomery Street and includes a skate park, basketball court, baseball fields, volleyball courts, and playground.
The New London Historical Village is located adjacent to Memorial Park and includes six of New London's historical buildings relocated in the village for preservation. They include an octagon-shaped house, a one-room school, a little white chapel, a log cabin, a train depot, and Simmon's garage. They all have original or period furnishings. Train lovers will enjoy checking out the locomotive, boxcar, and two cabooses, as well as browsing the depot and its exhibits of railroad artifacts and memorabilia. Learn more about the buildings or to request a tour visit at www.historicalvillage.org.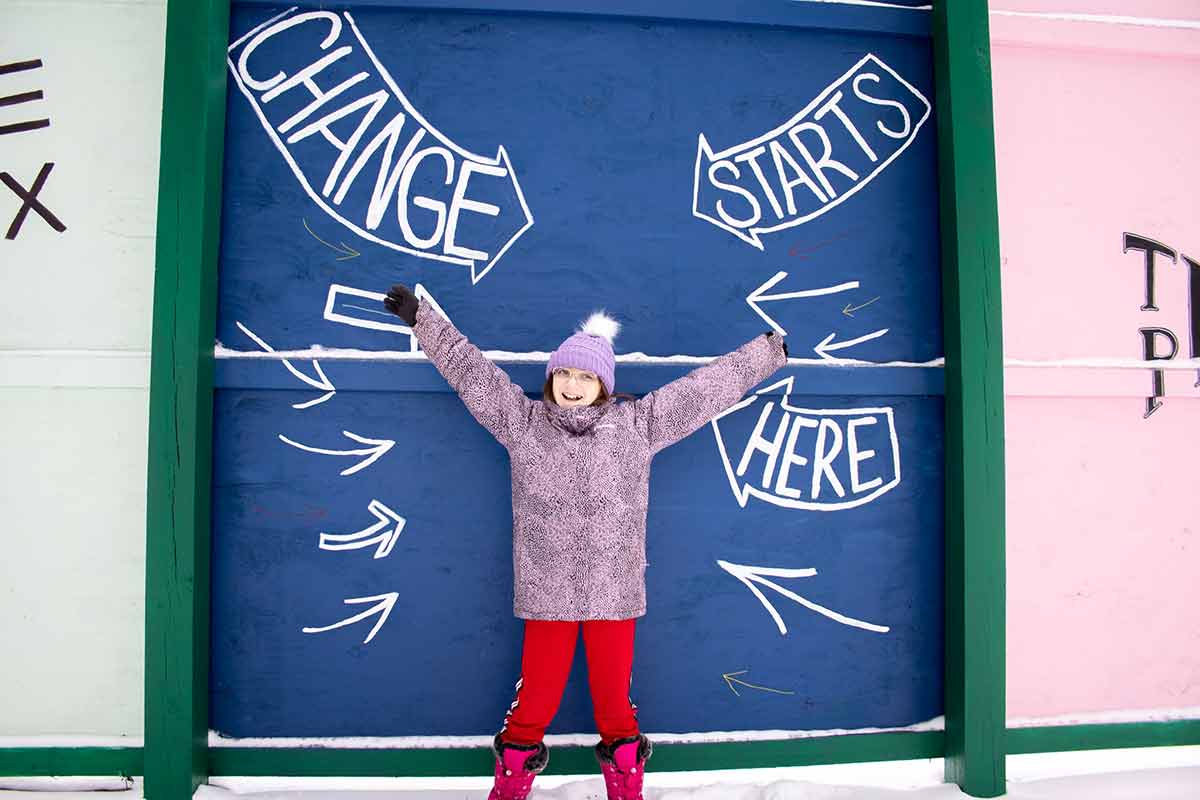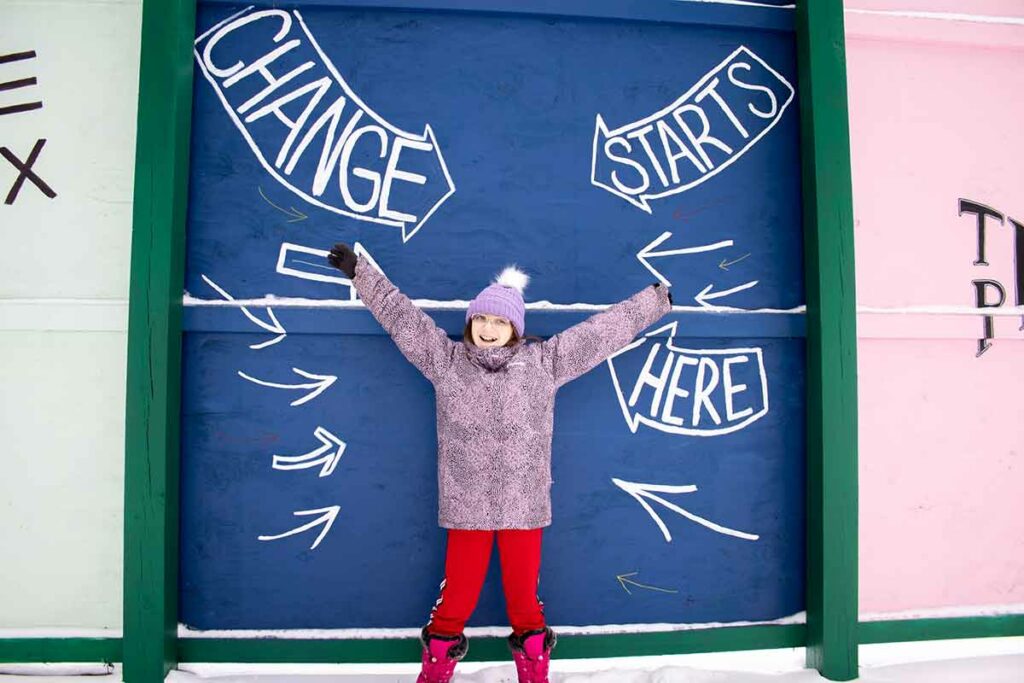 Hatten Park
Hatten Park is a beautiful park at 801 Werner-Allen Boulevard. It sits on 120 wooded acres with nature hiking (walking or biking), cross-country ski trails, basketball court, baseball fields, tennis and volleyball courts, horseshoe pits, disc golf course, flower garden, and classic playground.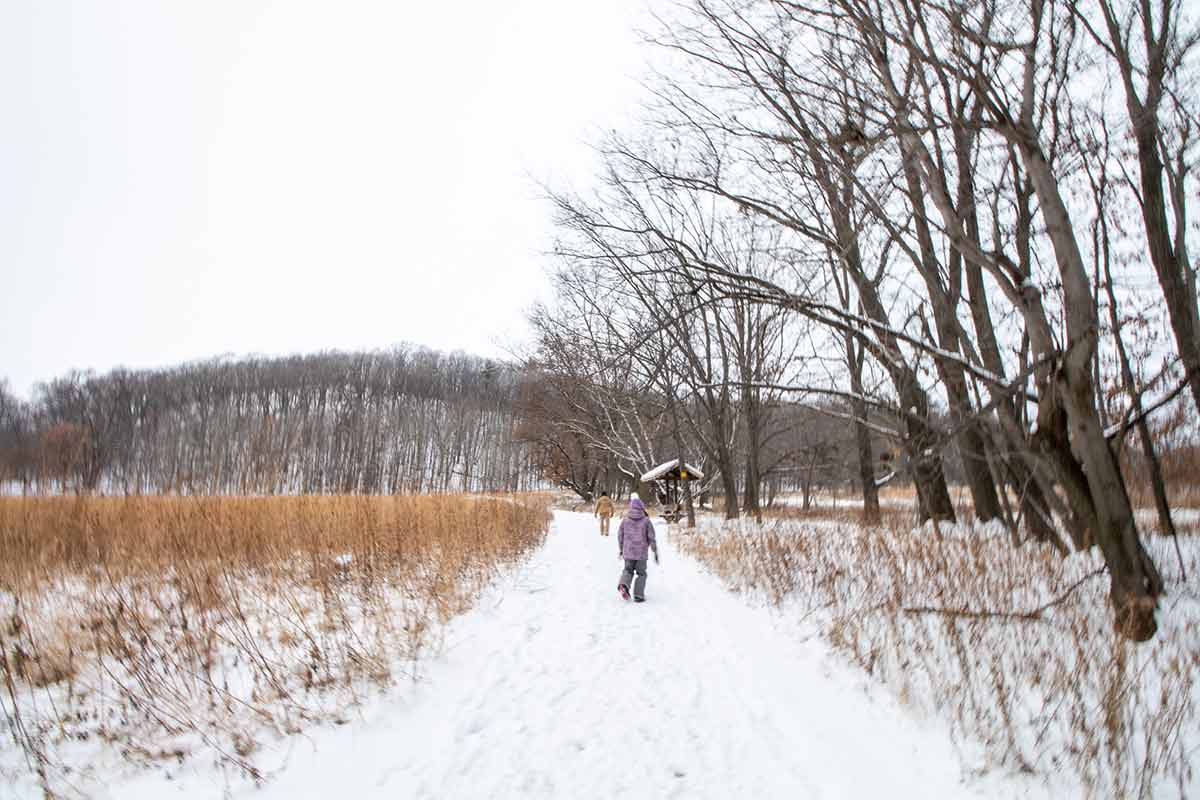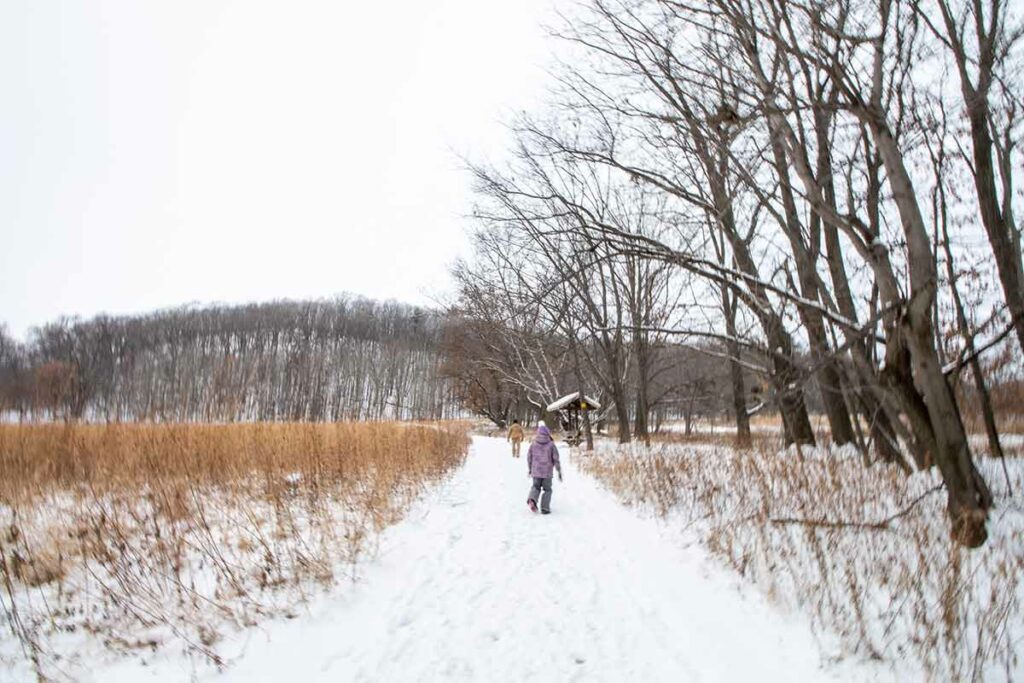 Mosquito Hill
Mosquito Hill Nature Center is an environmental education and recreation facility operated by the Outagamie County Parks Department. The center is open year-round on 441 acres adjacent to the Wolf River and just 2 miles east of New London.
Visitor's Center
Inside the interpretive building, you will find a selection of natural history displays, a gift shop, a library, an auditorium, and classrooms.
Nature Trails
Mosquito Hill is one of the highest elevation points in the area and includes trailers for hiking, walking, ungroomed ski trails, and snowshoeing. Trails cover wooded areas, prairie, and some paved areas, as well as scenic vistas at the top of the hill. The perfect hike for our family was the Prairie Loop along with the All People's Trail. It is an easy/moderate trail with gentle inclines. Plan your visit by checking out the trail map.
Children's Play Area (Playscape)
After our hike, the kiddos loved checking out the children's play area! The natural play area includes a fun and whimsical treehouse for make-believe play with a slide, climbing boulders, tunnels to crawl through, and a timber bridge.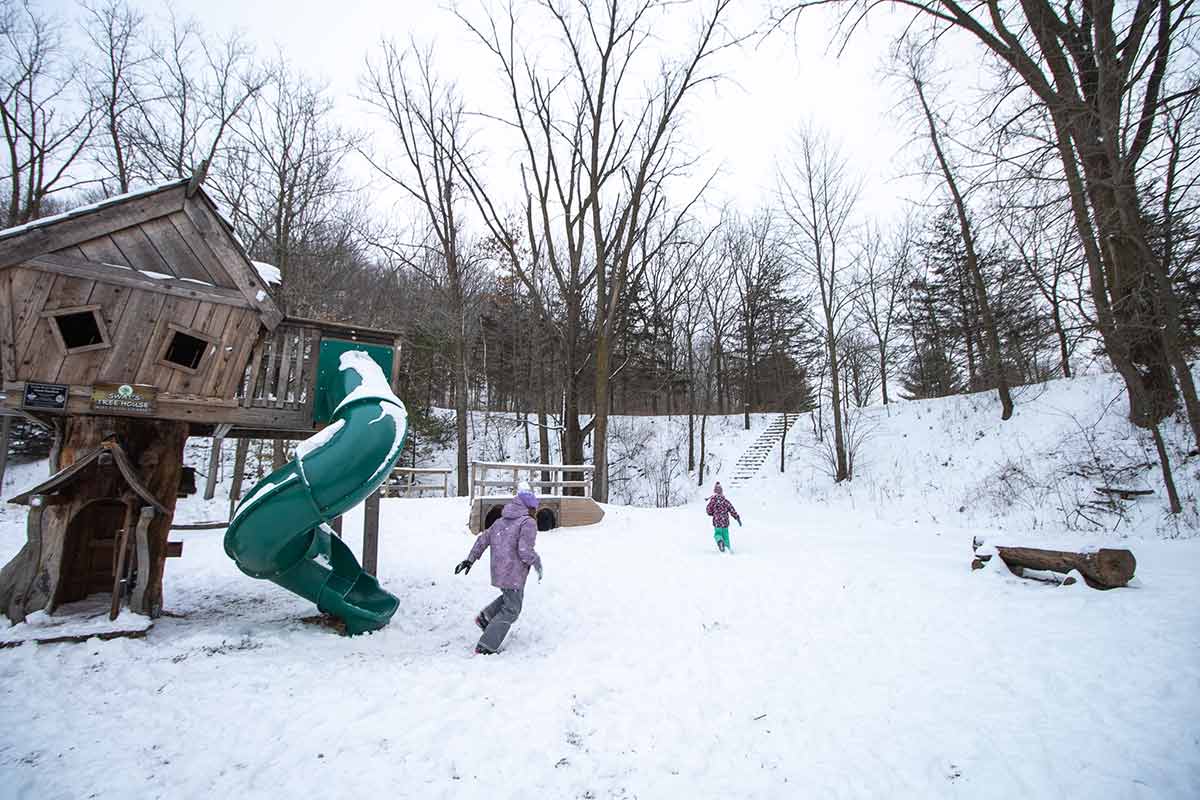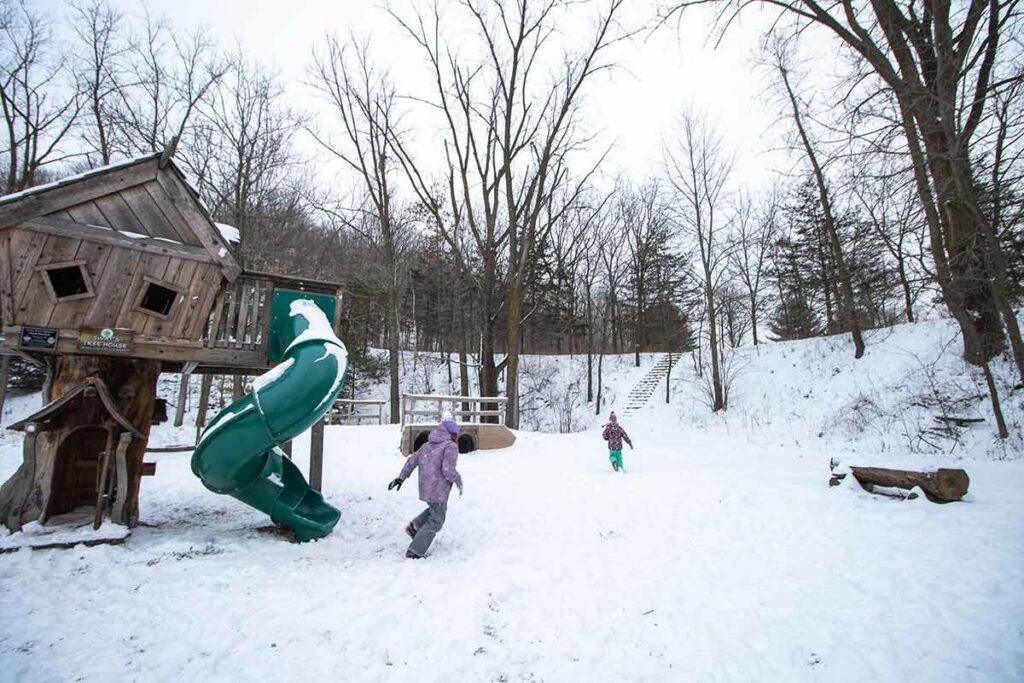 Sledding
Find the New London Sledding Hill across from Riverside Park and the boat launch behind the city garage on Wolf River Avenue. The sledding hill also has a warming shelter.
Ice Fishing
New London is also known for the great fishing along the river, including perch, bluegill, and walleye. Stop by Johnny's Little Shop of Bait at 1205 W. Wolf River Ave for current ice conditions, fishing supplies, advice, or to get a closer look! Updates are also posted on Facebook or by calling (920) 982-4802.