Looking for somewhere to swim indoors in the Fox Cities or surrounding areas? We've got you covered in the winter months and on rainy days in the summer months when the outdoor pools are not available, with indoor pools that are open to the public.
Indoor pools are generally open year-round but might be unavailable for guest use when there are lessons or birthday parties happening. We've used reader feedback, team experience, and research to find the best indoor swimming pool in the Fox Valley.
Please see individual websites for hours, safety measures, additional information, or if you have questions. Keep in mind that indoor hotel pools generally do not have lifeguards present.
Some local hotels also have outdoor pools open from around Memorial Day to Labor Day also.
Looking for a drier option too? Check out our Indoor Play Guide.
Fox Cities Area Indoor Swimming Pools
Find an Indoor Swimming Pool Near Me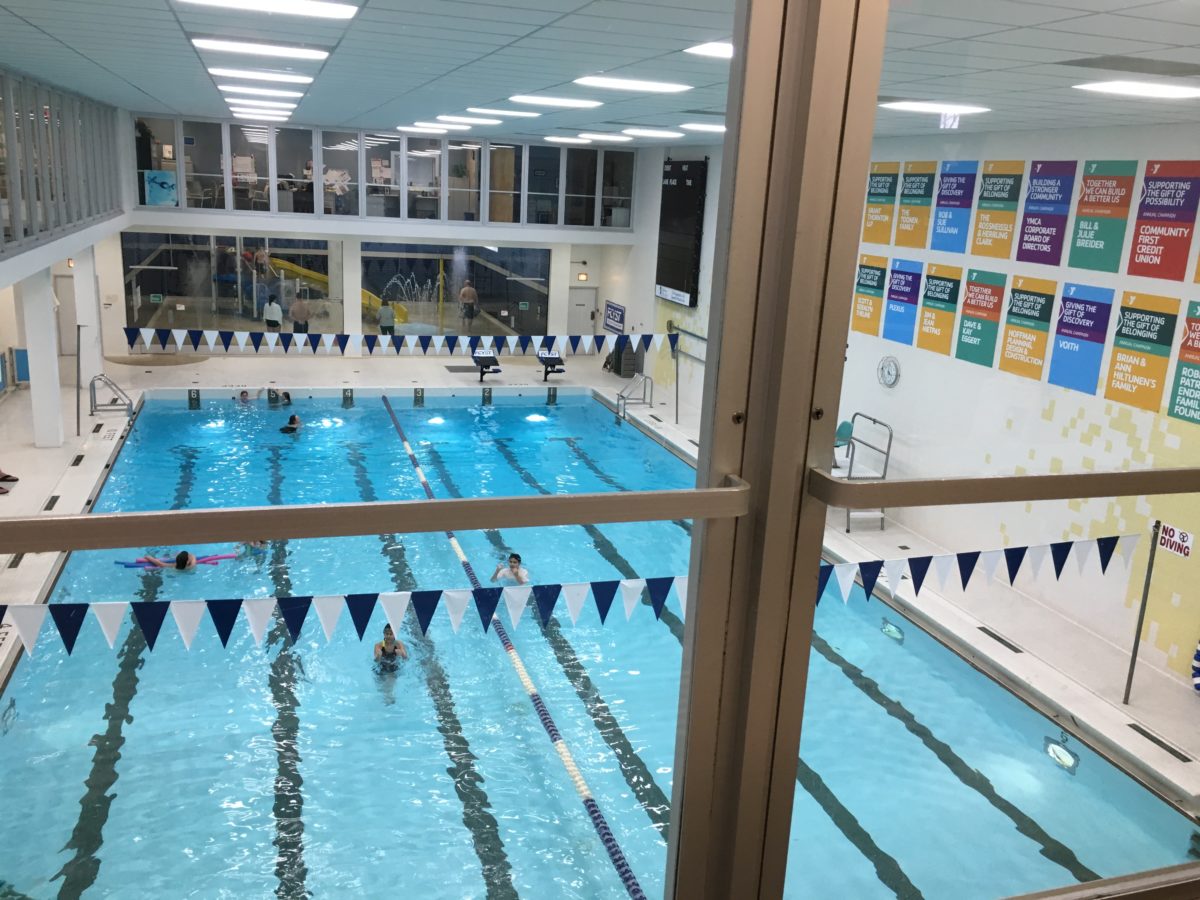 Indoor Swimming Pools in Appleton Area
Appleton Downtown YMCA, Appleton
The Appleton YMCA is one of six branches of the YMCA of the Fox Cities, located in Downtown Appleton. This location has two pools – a larger 25 meter pool with six lanes, The Guardian Pool and a heated smaller pool – The Boldt Pool. The Guardian Pool is great for more confident swimmers, lap swimming, diving and treading water. This is also a great spot for big kids to enjoy and you can keep an eye out from the over looking floor-to-ceiling windows in areas with seating on the main floor. The Boldt Pool is great for younger swimmers with warmer controlled temperatures and shallower depth.
Families with younger kids will love the indoor splash pad with spray features and small water slide! The area is enclosed and great for wandering kiddos.
There are family locker rooms available that have private changing, shower, and restrooms for use.
Find metered parking on surrounding streets or park in the ramp across the street when available.
Appleton Downtown YMCA, 218 E Lawrence St, Appleton, WI
(920) 739-6135
Day passes available to guests accompanying a YMCA member.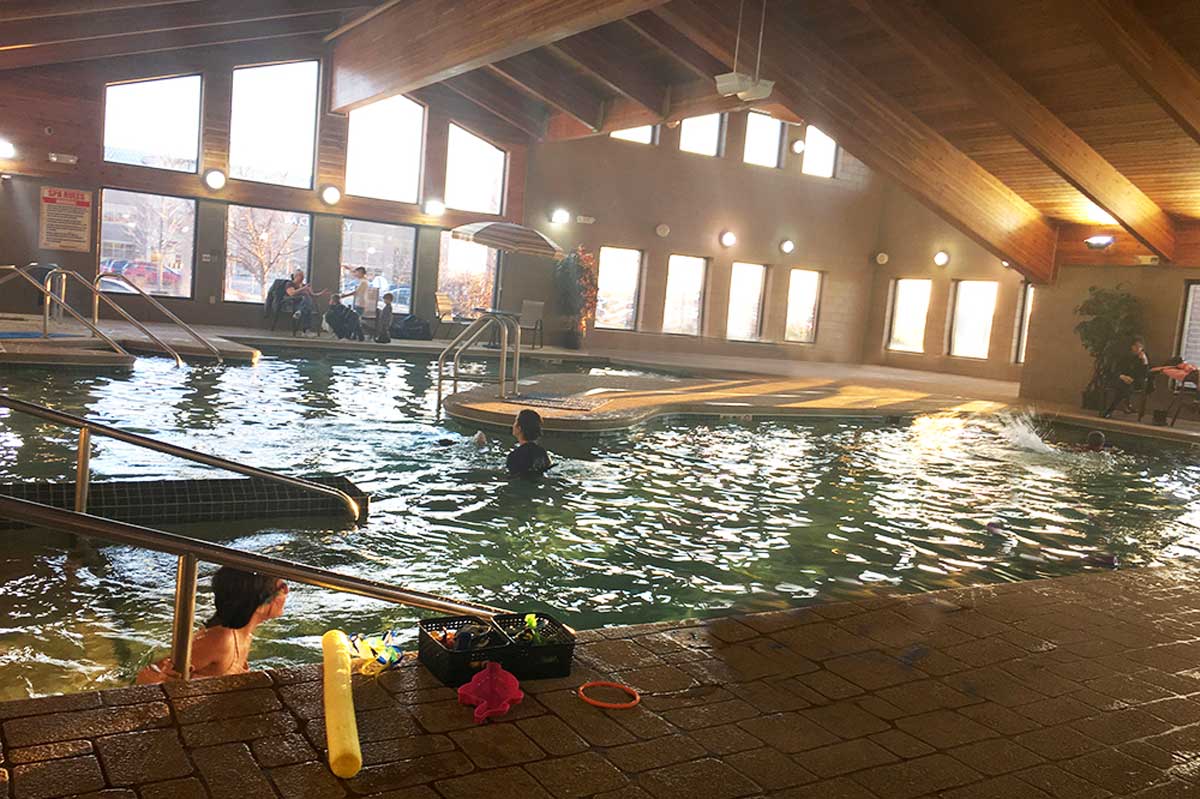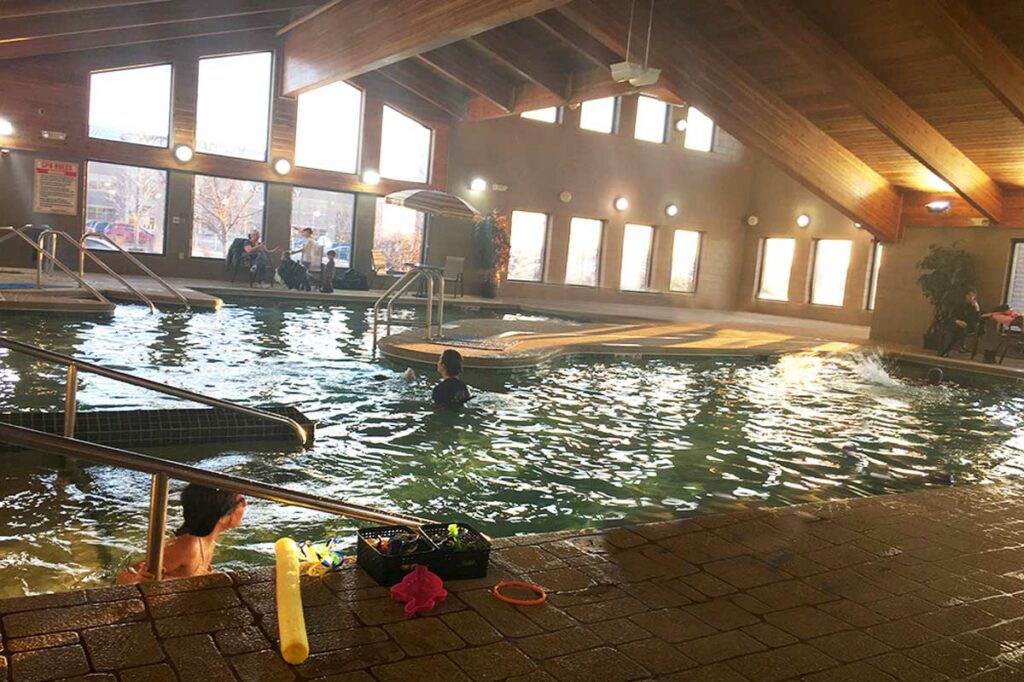 AmericInn, Appleton
The AmericInn is located in North Appleton off of Ballard Road and Highway 41. It's a newer hotel in the area, opened in 2017. It is also nearby Badger Sports Park Family Amusement Center and Appleton Memorial Park. Their heated pool is open daily. Towels are NOT provided to the public, so please remember to bring your own towels. No food or glass is allowed in the pool area. Call for day use rate and availability on Fridays and Saturdays when availability for use is based on hotel guest capacity and birthday parties.
AmericInn by Wyndham, 3900 N Gateway Dr, Appleton, WI
920-968-2124
Call for availability on weekends.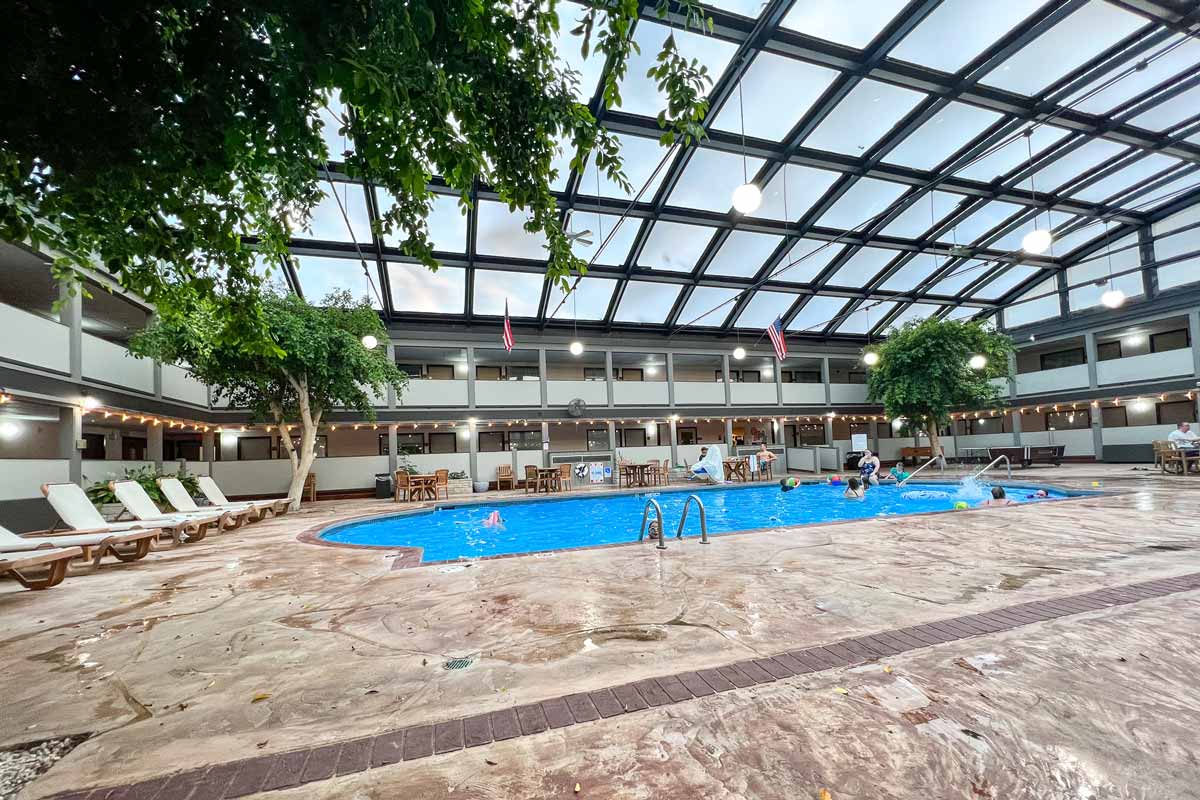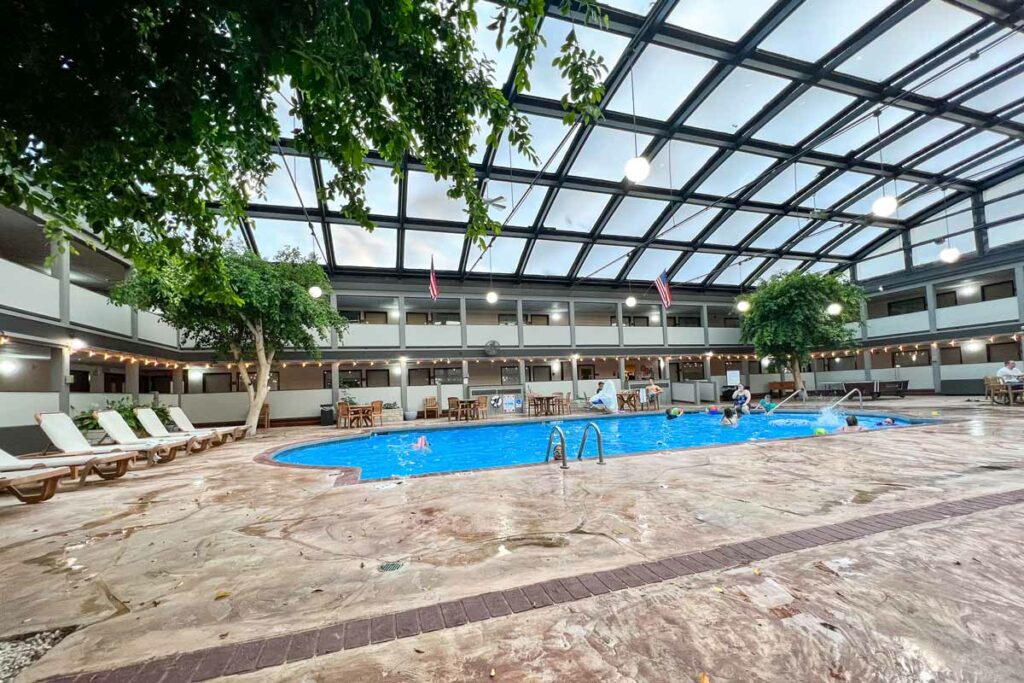 Clarion Inn, Appleton
The Clarion Inn in Appleton is on College Avenue and not far from the Appleton Airport and the Fox River Mall. The atrium includes an indoor salt water pool with lounge chairs and tables, as well as a hot tub. The glass ceiling provides lots of natural light. Call for day pass availability or book a pool side room for the night! Bonus tip – pool toys including inflatables and pool noodles are allowed. If you are visiting, Urban Air Adventure Park is just down the road and is must see family fun center!
Clarion Inn, 3033 W College Avenue, Appleton, WI
920-731-4141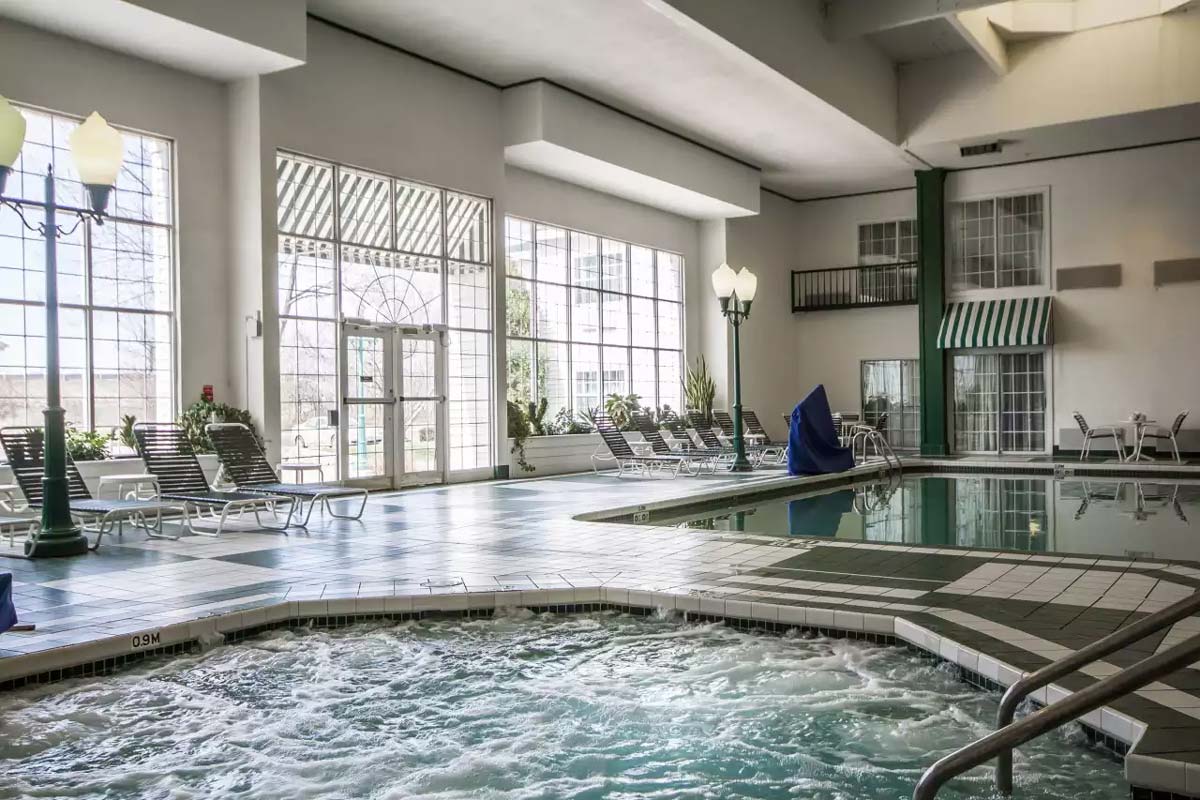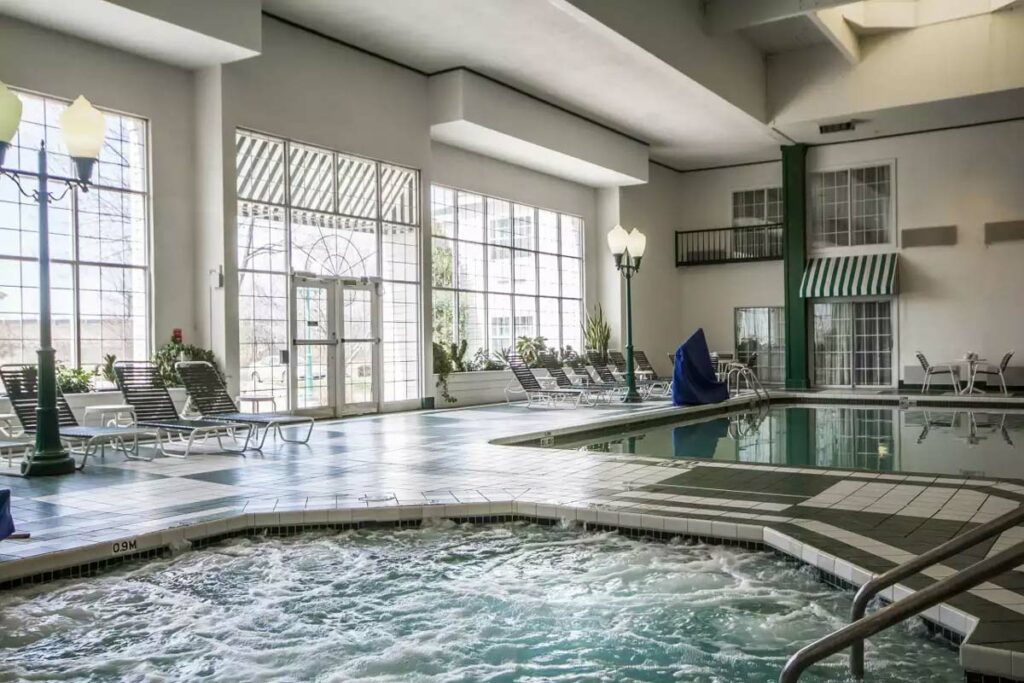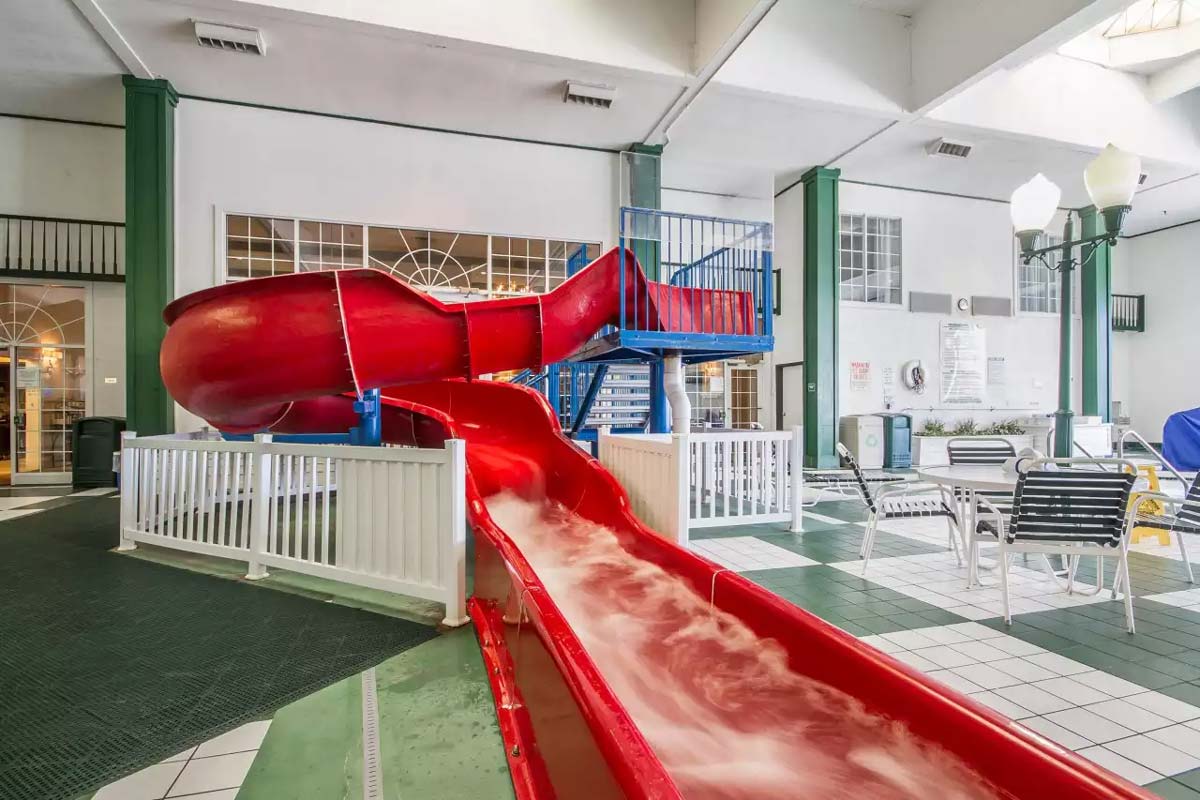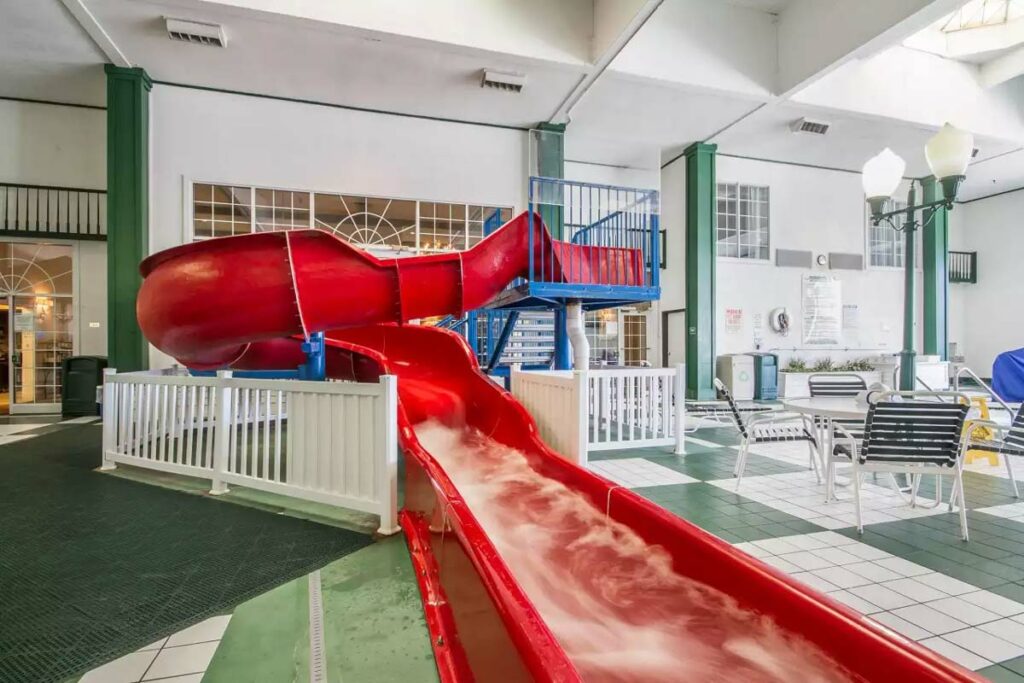 Comfort Suites, Appleton
Comfort Suites (Choice Hotels) in Appleton is located directly off Highway 41 and within view of the Fox River Mall. This hotel location has an indoor heated pool, whirlpool hot tub, and water slide. Although they do not offer day passes, booking a meeting room gets 10 wristbands for the swimming area, making this a great spot for a birthday party or to gather up some friends for a day of splashing and pretending it isn't a Wisconsin winter! If you are looking to say overnight, the hotel also offers poolside rooms.
Note: Appleton East High School and Appleton West High School indoor pools, formerly included with the seasonal pools that could be accessed with a city pool season pass or punch cards, no longer offer open swim times. These locations do still offer swim lessons year round.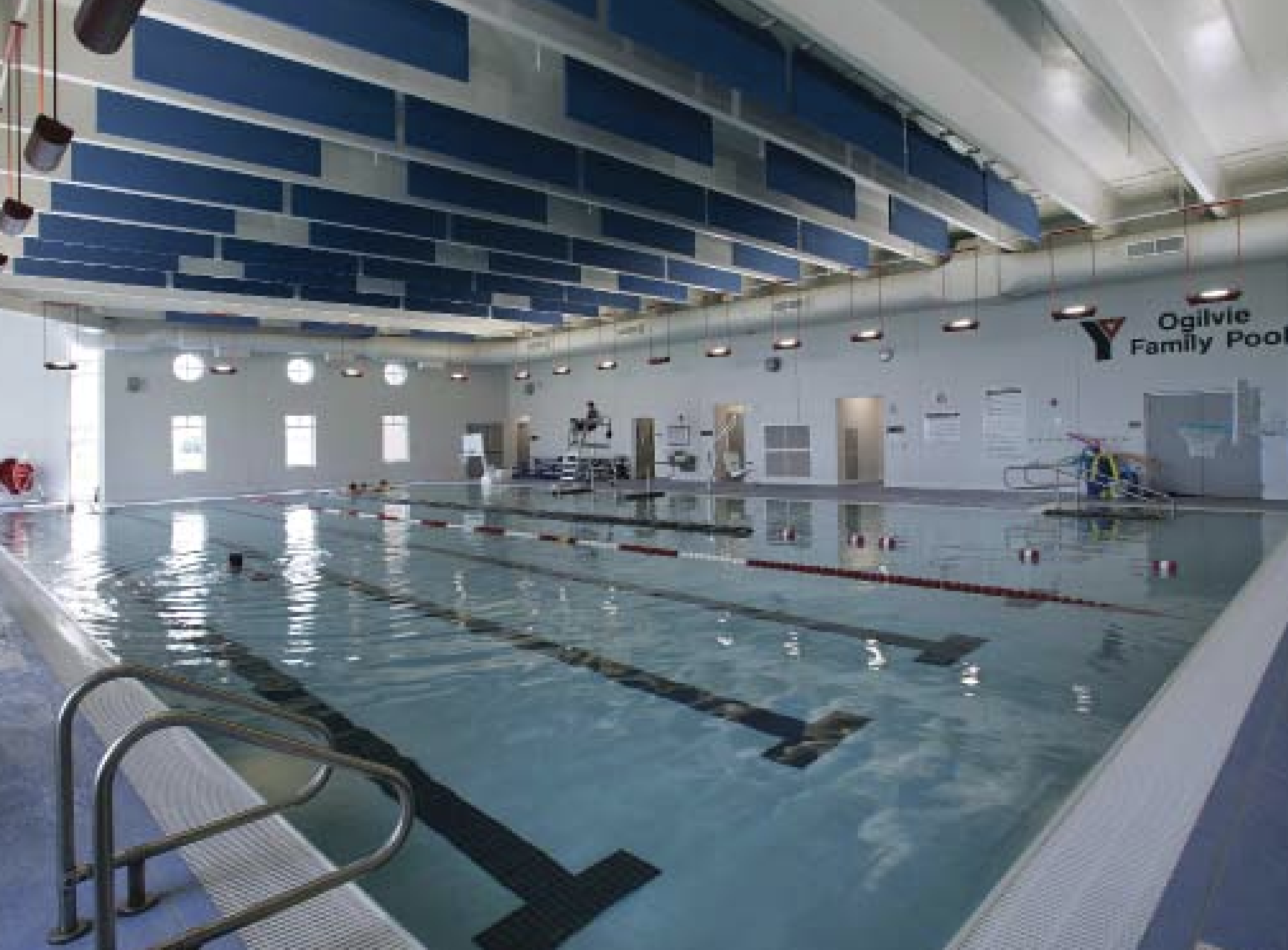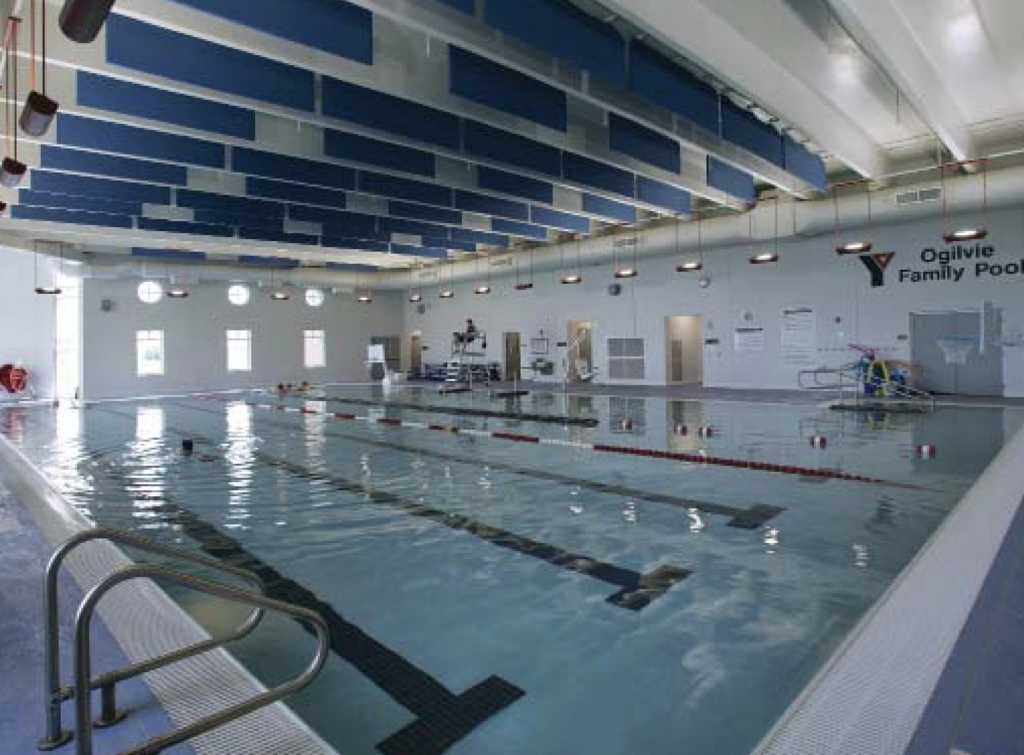 Indoor Swimming Pools in the Greenville Area
Fox West YMCA, Greenville
Part of the YMCA of the Fox Cities, the Fox West YMCA in Greenville is a family friendly facility with a four-lane lap section and general swimming. Day passes are available to guests accompanying a YMCA member. Find information about swimming lessons, water aerobics and open swim by calling or visiting their website. This YMCA also has beautiful walking trails that connect to Lion's Park.
Fox West YMCA, W6931 School Rd, Greenville, WI
920-757-9820
Day passes available to guests accompanying a YMCA member.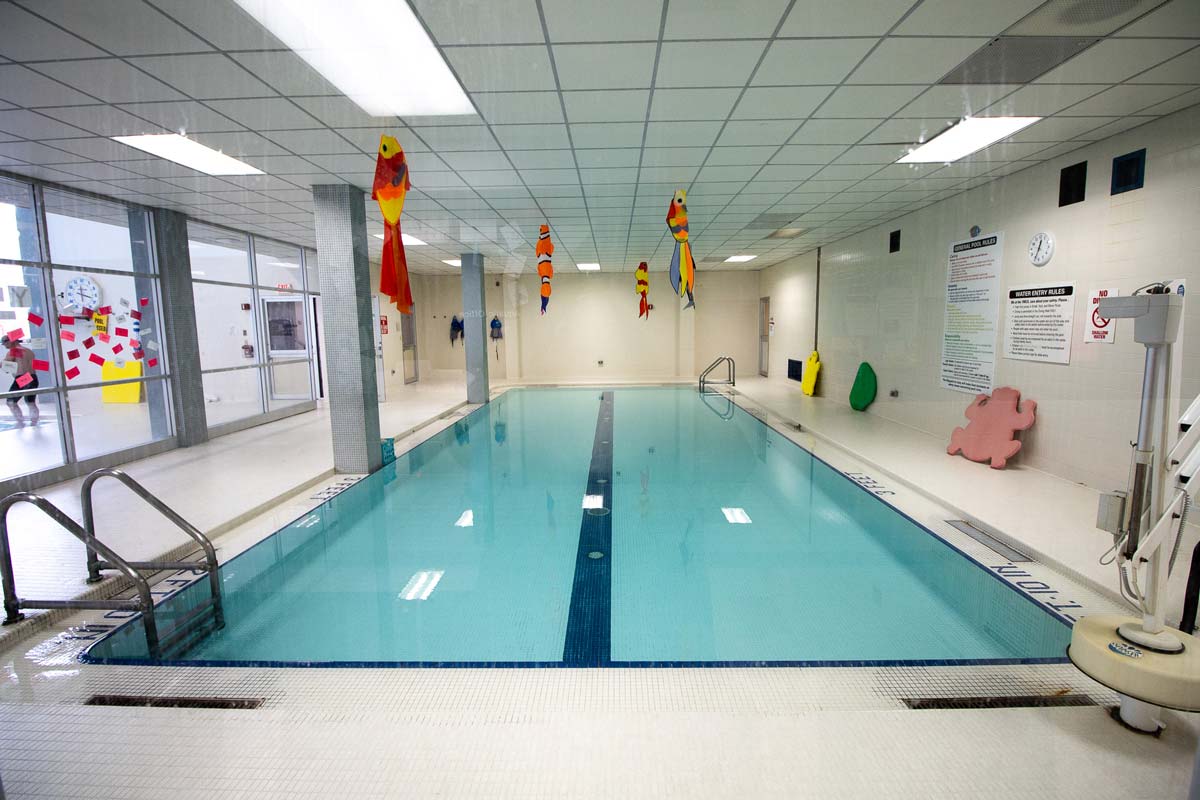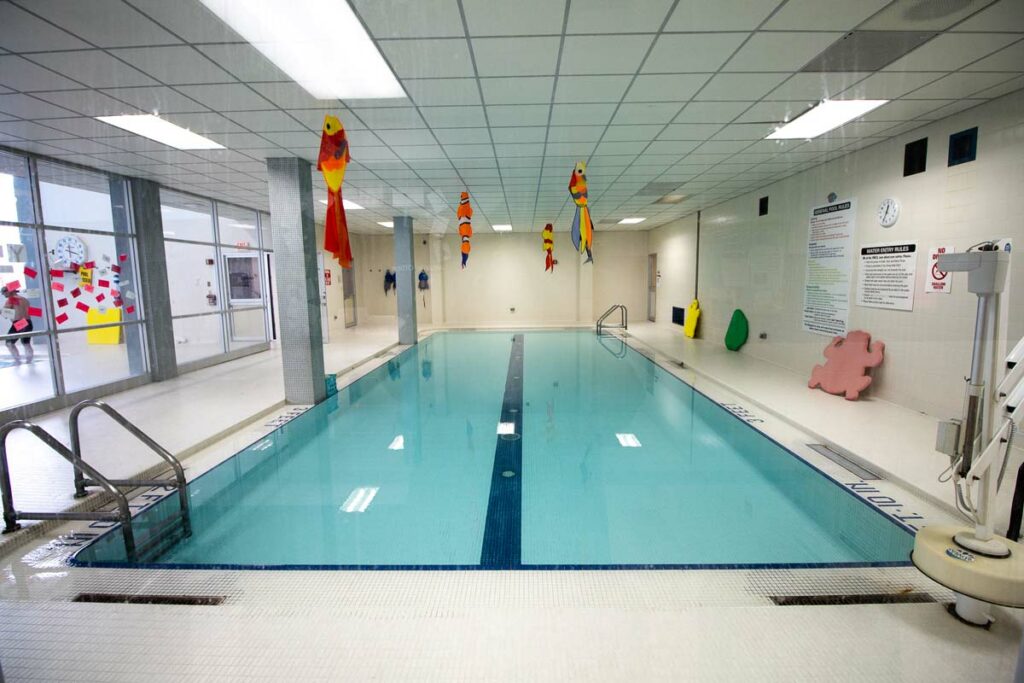 Indoor Swimming Pools in Neenah/Menasha Area
Neenah-Menasha YMCA, Neenah
The Neenah-Menasha YMCA has been a staple in Downtown Neenah for many years. You've probably seen the water slides that peek out of the building as you cross the bridge! The aquatics center has two pools. Our favorite parts are the warm water temperature in the separated leisure pool/baby pool and that giant water slide that leaves the building a bit (the slide does have to close for particularly cold weather events).
Check their monthly pool schedule for slide access times, open swim, and water aerobics times.
If you are visiting and looking for other things to do in Neenah, The Bergstrom-Mahler Museum of Glass, Riverside Park (the Rocket Park) and The Plaza are nearby family fun spots.
Neenah-Menasha YMCA, 110 W North Water St, Neenah, WI
920-729-9622
Day passes available to guests accompanying a YMCA member.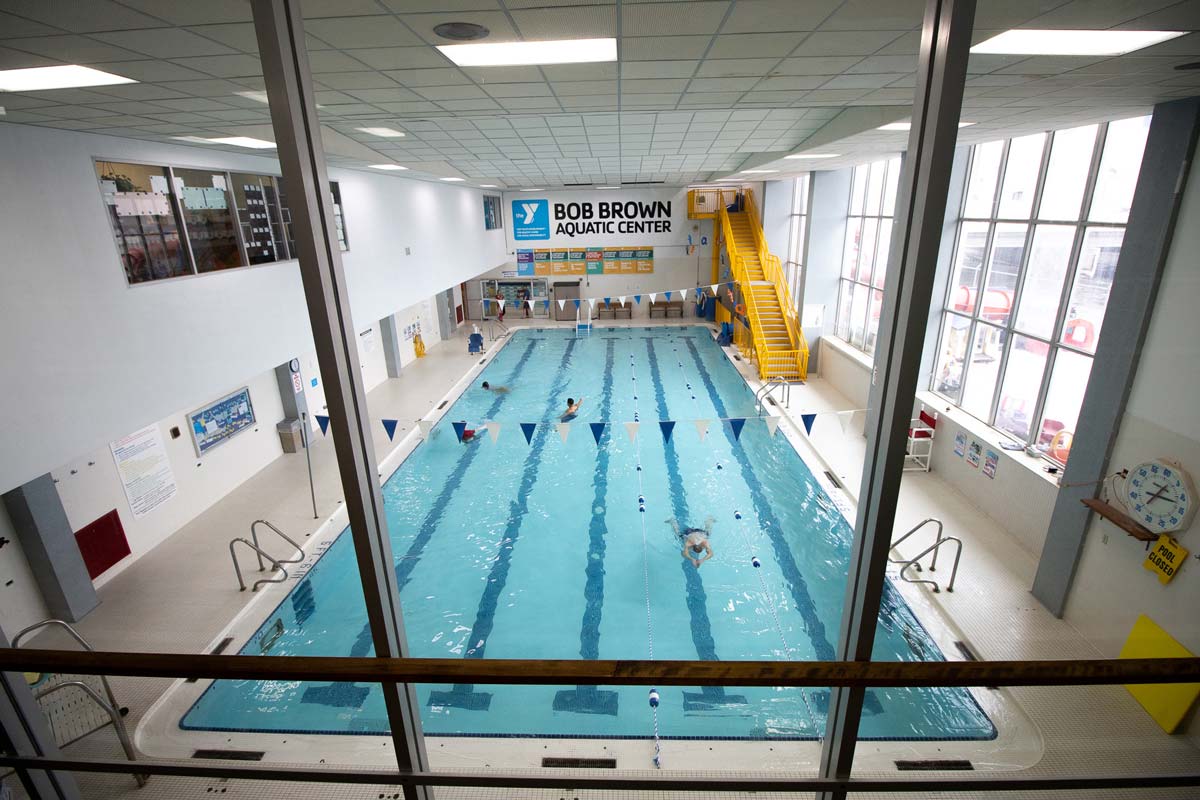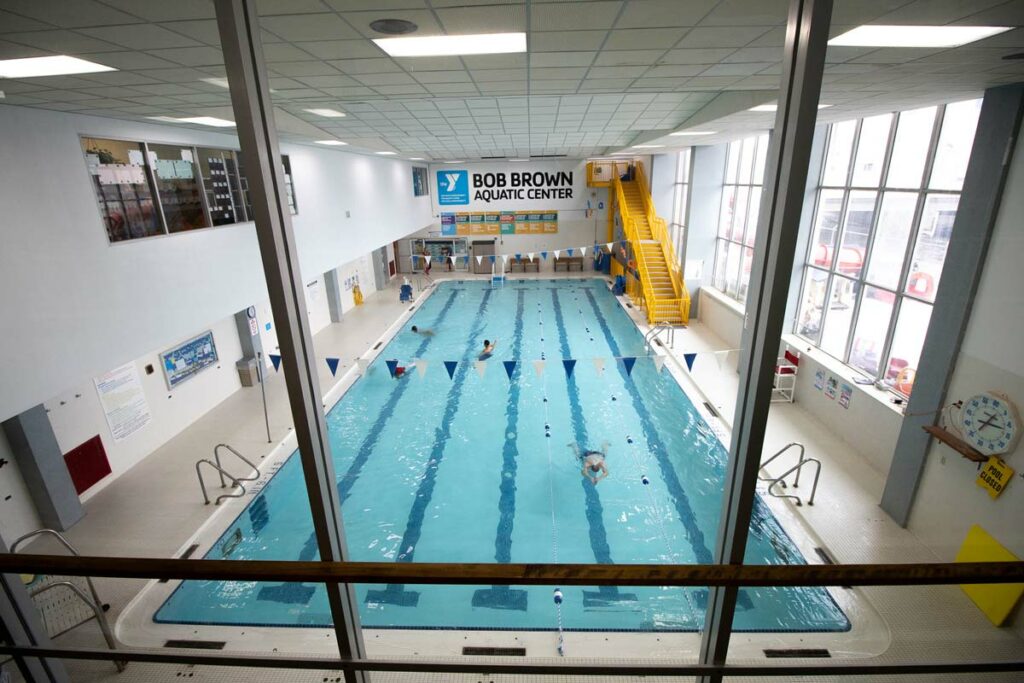 Neenah High School, Neenah
Neenah High School's 25-meter pool, is heated and has 8 swimming lanes. There are not a lot of frills here, no rope swings, surf machines, or climbing walls — but you will find plenty of space to swim and work on skills here! Open swim is available year round on Monday-Thursday from 7 – 9 pm. Day and annual passes are available for purchase. Watch for updates on their Facebook page.
Neenah High School, 1275 Tullar Rd, Neenah, WI
920-751-6900 ext. 16059
Field house parking and entrance is off Appleblossom Drive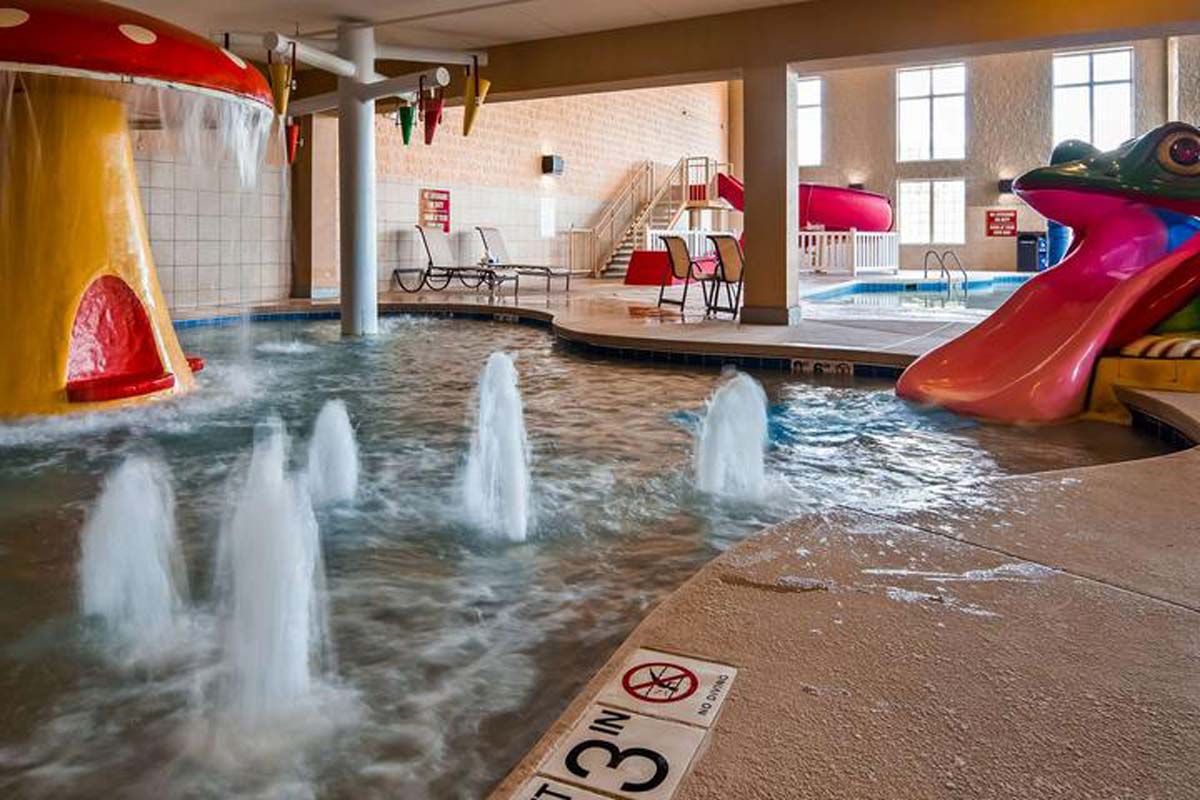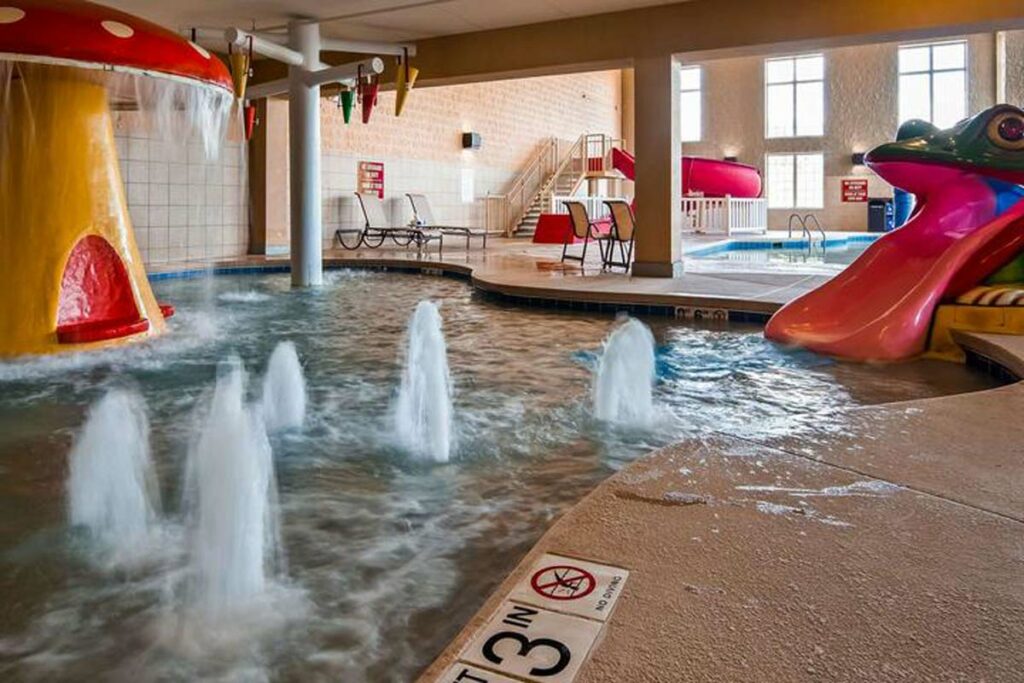 Bridgewood Resort Hotel & Conference Center, Neenah
Bridgewood Resort Hotel in Neenah is perfect for out of town guests, a staycation or even a pool birthday party! The separate kiddie pool has a depth of just 6-18 inches for children ages 2-8. The pool also features geysers, a frog slide, tipping water cones, and water basketball. The larger activity pool has a slide, water basketball, and in water benches. Check out the outside mini golf during the warmer months!
Bridgewood Resort Hotel, 1000 Cameron Way, Neenah, WI
920-720-8000
Available only for party rental or with a hotel stay
Swimtastic Swim School, Menasha
Swimtastic Swim School offers swimming lessons in the Fox Valley and hosts Family Open Swim in their warm pool, perfect for burning off some energy and practicing swimming skills. The pool is nice and warm with 90 degree water, a fun palm tree shower and a waterslide.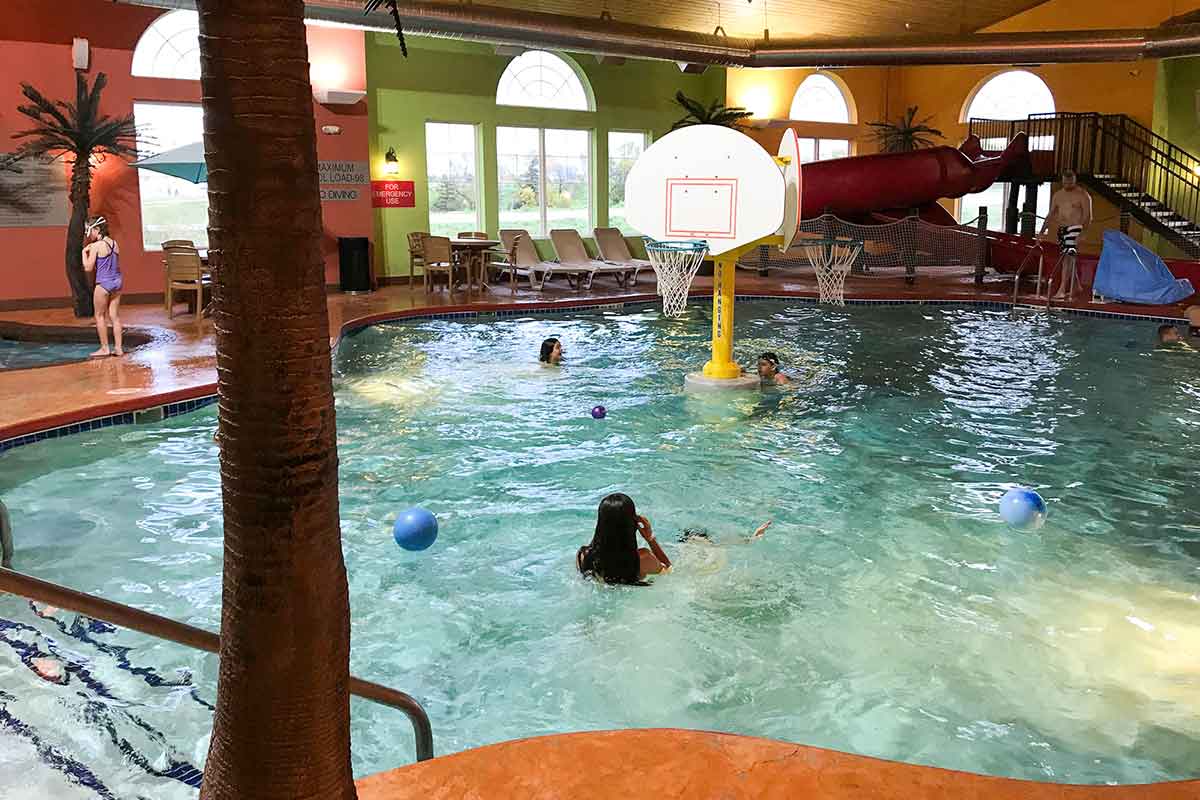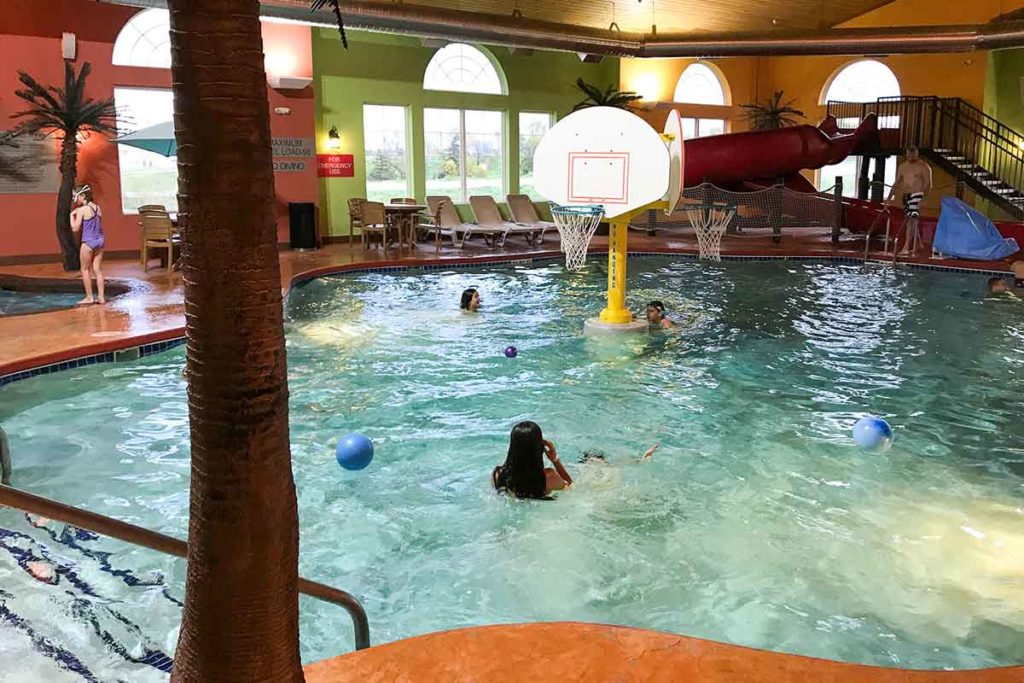 Indoor Swimming Pools in Little Chute Area
Country Inn & Suites, Little Chute
This small water park with tropical vibes in Little Chute has a hidden gem feel to it on low-traffic days! The free-form pool is fun for family members of all ages and has basketball hoops. There is a splash pad-type area and a slide that is independent of the pool area, which makes this a great spot for younger children to play. You'll find a comfort station/public bathrooms within the pool area for extra convenience with little ones.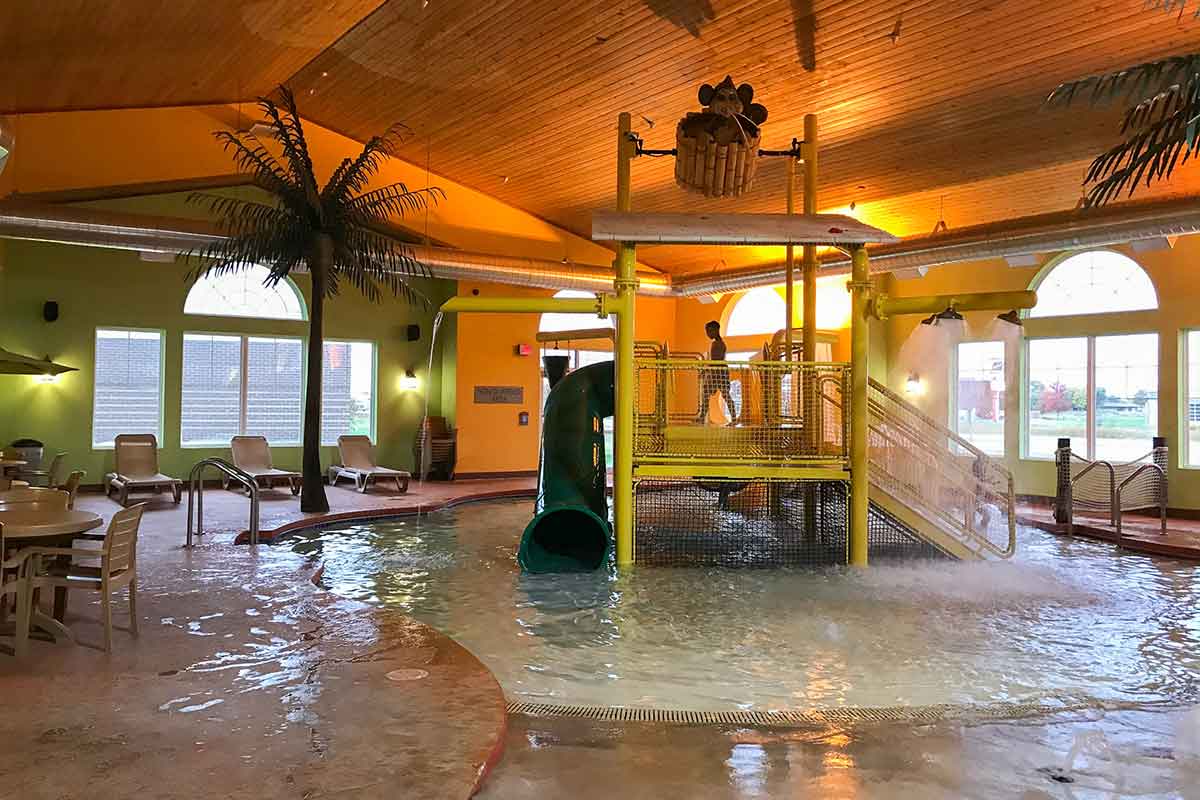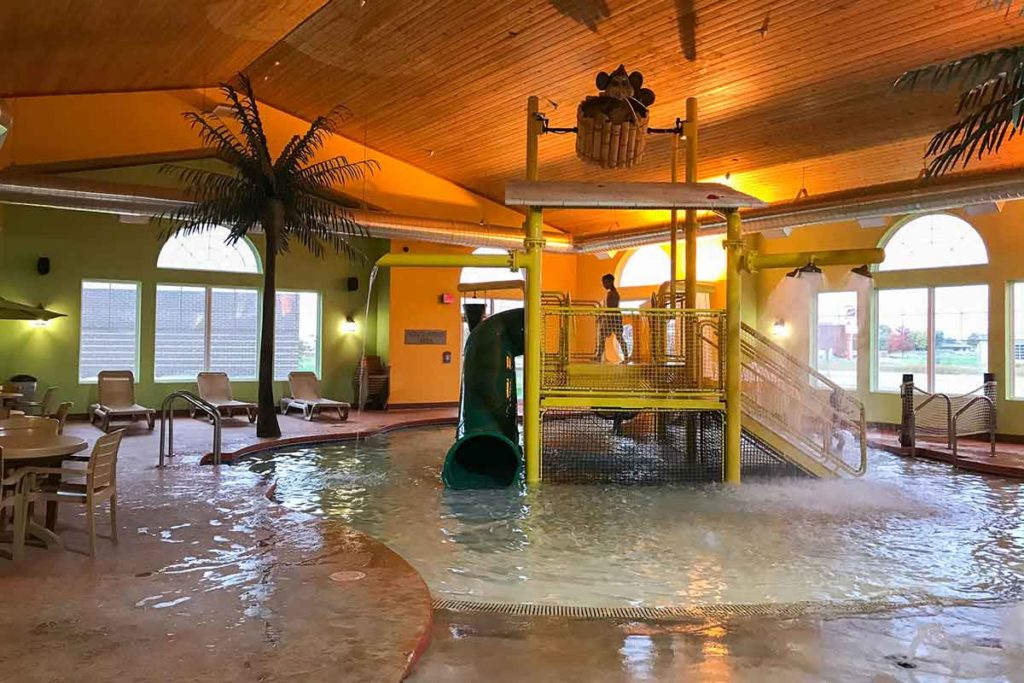 Indoor Swimming Pools in Kaukauna Area
Days Inn & Suites, Kaukauna
Currently Closed for Maintenance
1201 Maloney Road, Kaukauna, WI
920-766-0088
Indoor Swimming Pools in Kimberly Area
Heart of the Valley YMCA (HOTV), Kimberly
Another one of the YMCAs within the Fox Cities, the Heart of the Valley YMCA has a family friendly pool at their facility. The pool area has a viewing area on the pool deck and just outside with plenty of tables. The water is heated and there are lots of fun things to play with like noodles and large kick/lily pads. There is also a slide that is often open during open swim and separate lanes for lap swims.
This location also has an indoor play area that is perfect for kids 9 and under.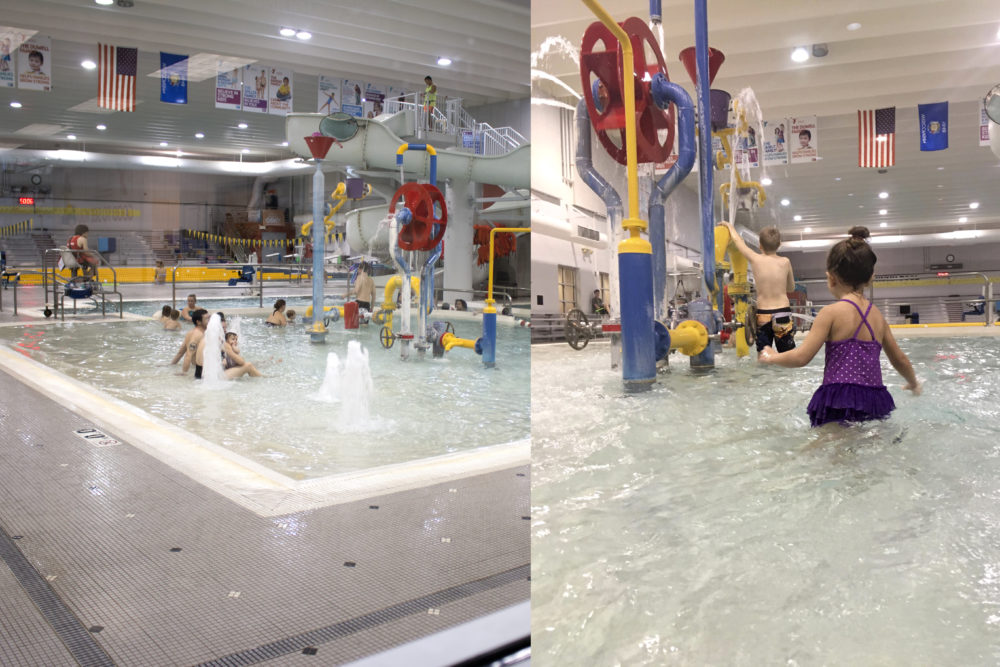 Indoor Swimming Pools in Oshkosh Area
Oshkosh Community YMCA, Oshkosh
The Oshkosh Corp Family Pool, located at the 20th Avenue location, has the vibe of indoor waterparks on a smaller scale. Although there is no wave pool, you will find a water slide, zero-depth entry, a lazy river current, water play elements, and water-spouting gadgets all in the warm water pool area made for family fun.
Guest admission is open at the Oshkosh location, other fun things to do include indoor ice skating and basketball courts. See their website for up-to-date guest pass information and open swim hours.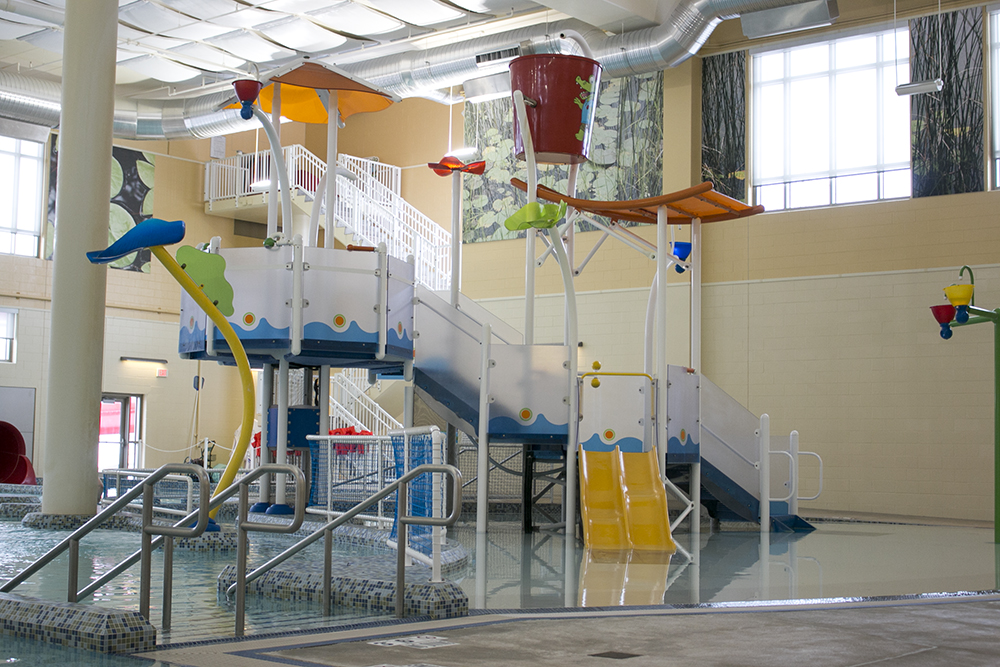 Indoor Swimming Pools in Green Bay Area
The Kroc Community Center, Green Bay
The Salvation Army Ray & Joan Kroc Corps Community Center or The Kroc Community Center, is a 102,000 square foot family support, education, recreation and cultural arts center in Green Bay. The facility is open to members and the general public.
A lap pool, lazy river, waterslide, and Splash Zone are waiting at this fun indoor pool that welcomes guests with day passes. The Splash Zone is an indoor water park area with zero-entry and contains a play structure, water cannons, slides, and a dumping bucket. Adult supervision is required in this area for kids ages 3 – 11, children under 2 years of age must have an adult with them.
Have you been curious about log rolling lessons? This is where you'll find them!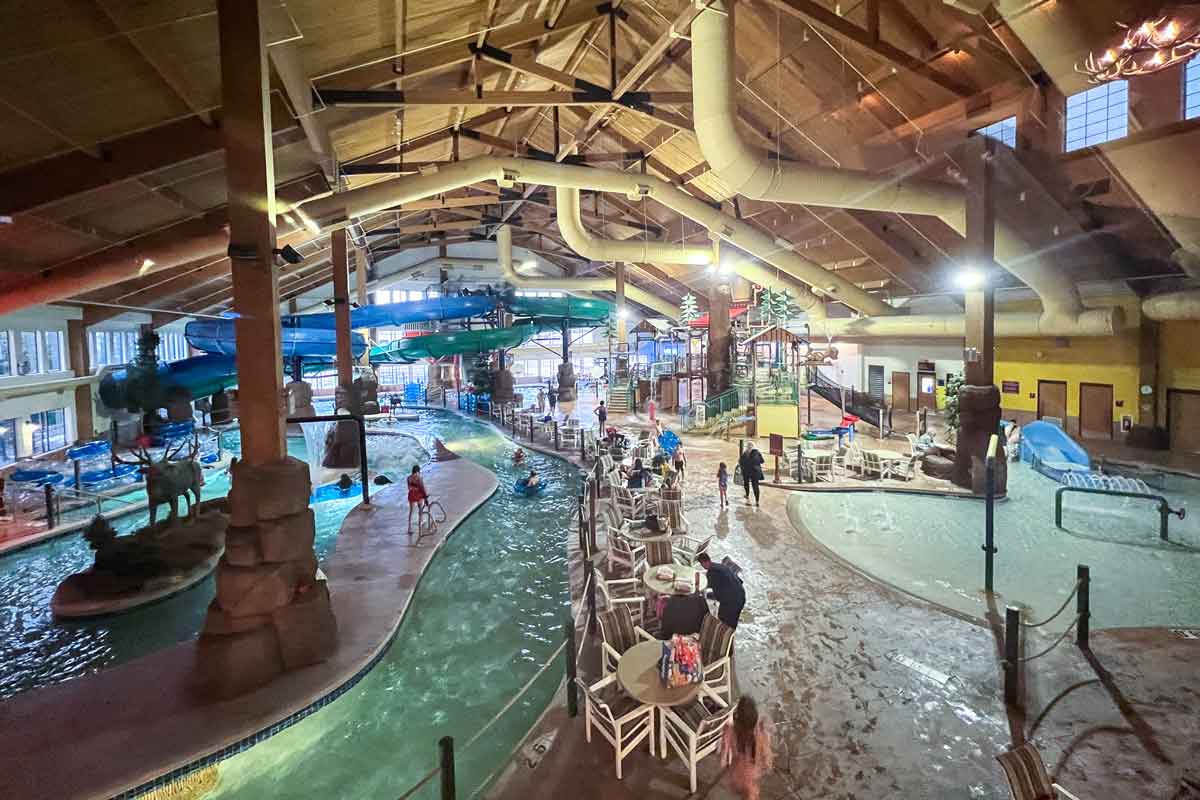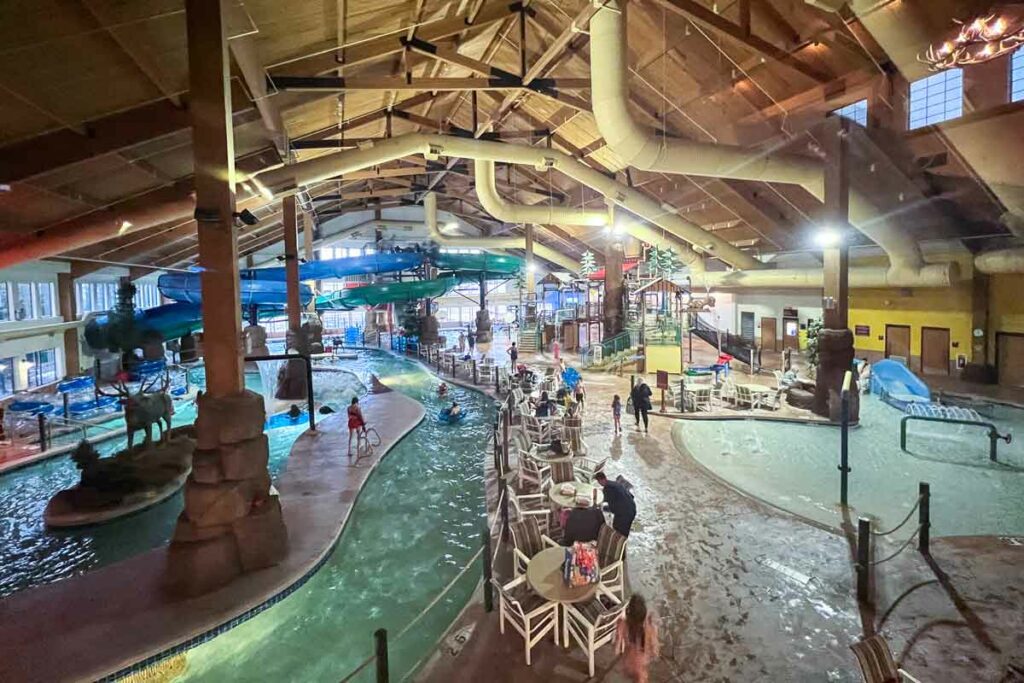 Tundra Lodge, Green Bay
The Tundra Lodge Waterpark boasts the largest Waterpark resort of its kind in Green Bay with a s story, 30,000-square-foot aquatic playground. This is a great spot for a mini family vacation, especially in colder months! The water park has a lazy river, big tube slides, smaller body slides, recreation pool with basketball hoops, indoor hot tub that extends to the outside, and splash area.
Coast Guard approved life jackets are available or you can bring your own. There are also life guards present.
Day passes are available, but be sure to check that they are available for the day you'd like to visit.
It is highly recommended that you call ahead to ensure there are day passes available.
If you need a break from the water, head over the the adjacent arcade with over 70 arcade games.
Indoor Swimming Pools in Seymour Area
Seymour Aquatic Center, Seymour
Managed by the Seymour Community School District, the Seymour Aquatic Center has an eight-lane competition pool, a zero depth activity pool and a diving well. The big pool is heated to around 82 degrees and is 4 to 5 feet deep.
All locker rooms have special needs facilities. There is also a family locker room. Make sure to bring your own lock for lockers.
The Aquatic Center offers adult swim, open swim, lap swim, lessons and other programs in both pools and is open to both Seymour residents and non residents. Day passes start at $2/person for residents and $4/person for non-residents.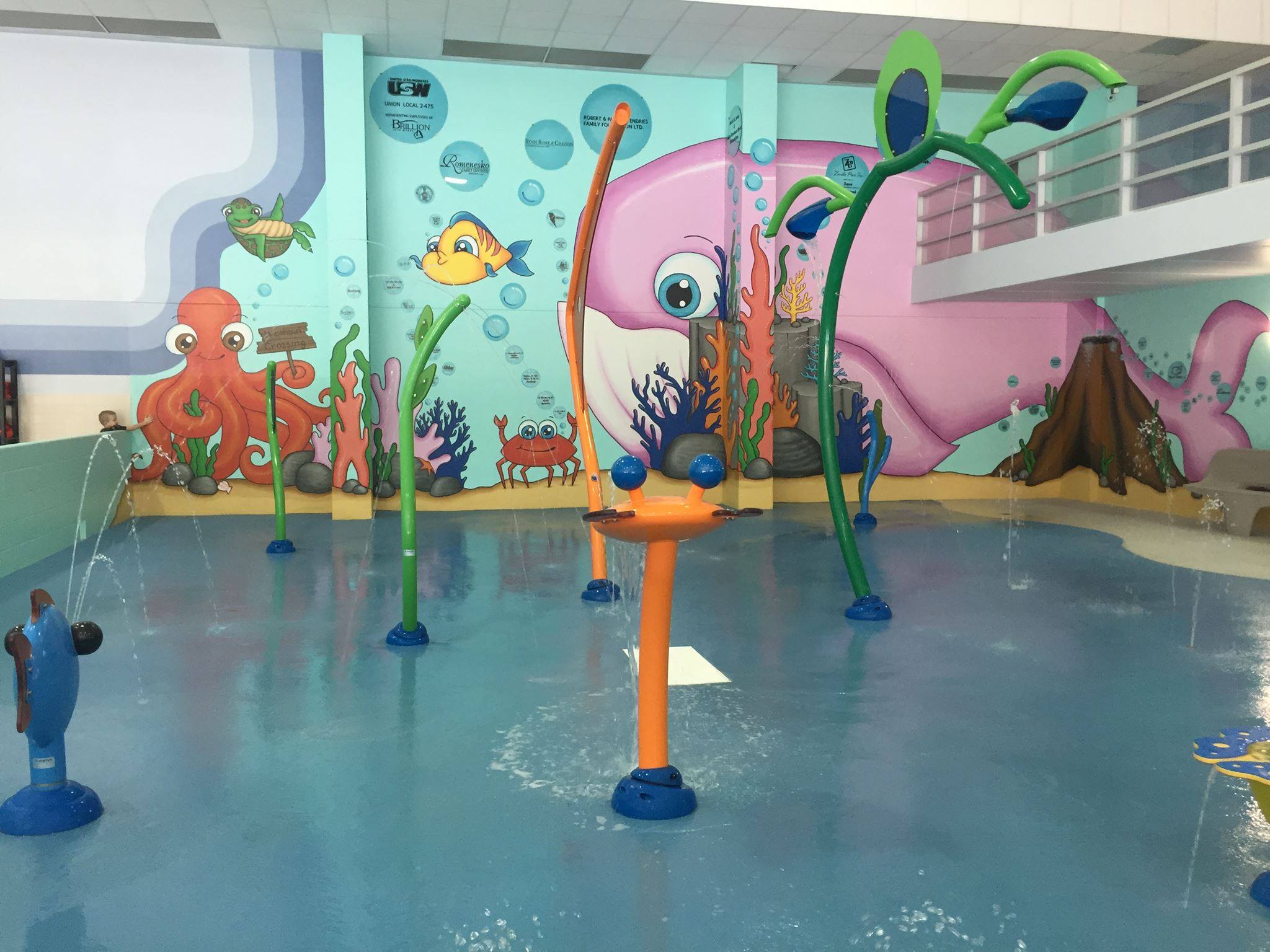 Indoor Swimming Pools in Brillion Area
Brillion Community Center, Brillion
The Brillion Community Center offers several amenities, including the following an indoor pool, indoor splash pad, racquetball court, gymnasium, fitness room and more.
The community aquatic facility includes an indoor L-shaped pool, heated to 83-86 degrees available for recreational swim year round. The shallowest part of the pool is 3 feet deep and the deepest is 10 feet.
Open swim and splash pad times vary throughout the week. More details and current-day pass pricing can be found on the Brillion Parks and Recreation website.
Indoor Swimming Pools in New London Area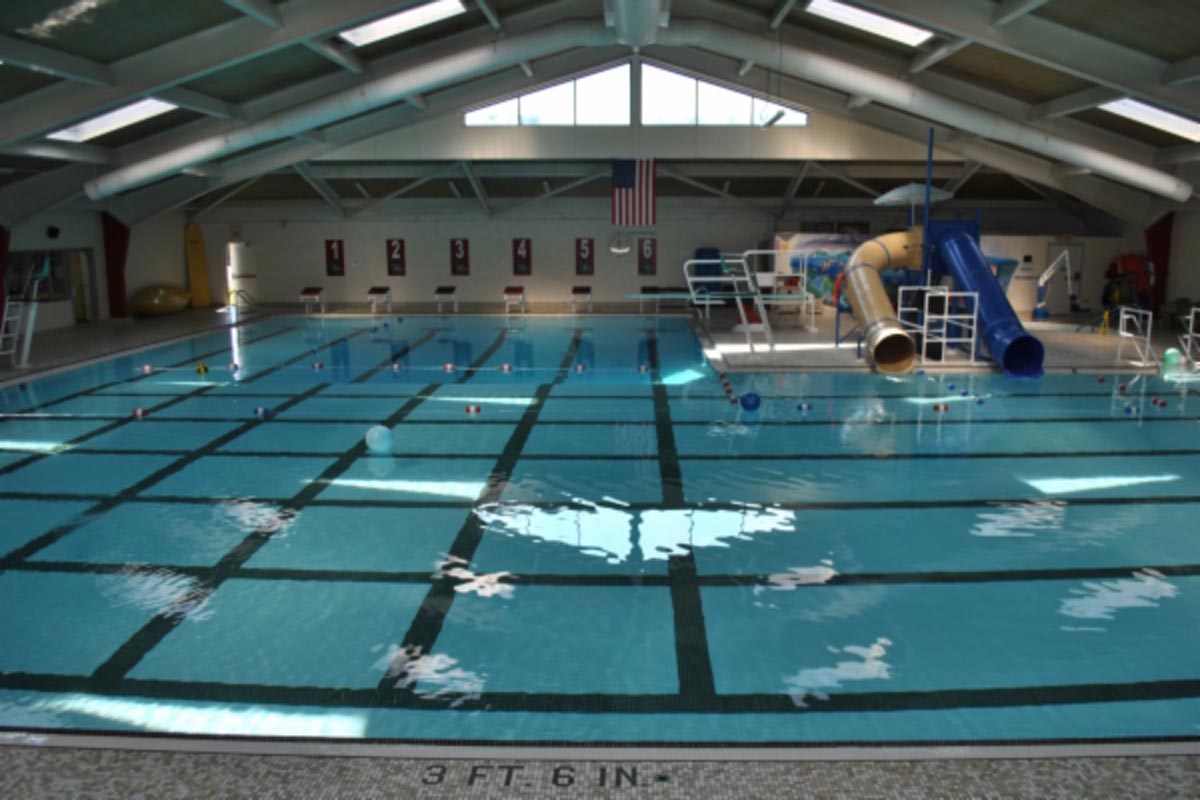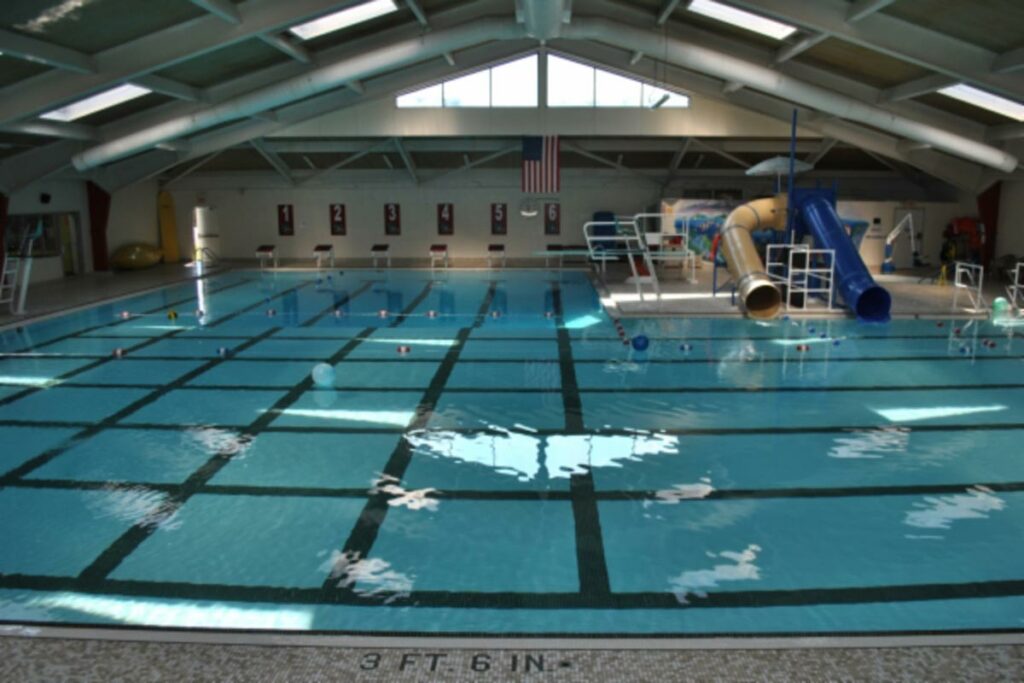 New London Aquatic & Fitness Center, New London
Managed by the New London Park & Recreation, the New London Aquatic & Fitness Center includes an indoor pool facility with water slides, exercise room, sauna, whirlpool and an outside splash pad for kids in the summer. The L-shaped pool spans 25 yards and includes a 1-meter diving board and 2 tube water slides. The Pool is patrolled by lifeguards. The main pool temperature is held between 84-86 degrees while our whirlpool hot tub is set to be 103–104 degrees. The hot tub is open throughout the day to patrons 18 and older, but closed to the public during swimming lessons.
Public Swim is open to all ages. Under the age of 7 must have someone 13 or older in the water within arms' reach at all times!
Non-swimmers under the age of 10 must have someone 18 years with them. Open swim times vary throughout the week and by month, so check-in to ensure availability before you head out!
Day passes and monthly passes are available for both New London residents and non residents. Day passes start at $3/person for residents and $4/person for non-residents. Children under the age of 4 receive FREE Admission with paying adult.
Private pool rental by the hour is available for birthday parties or groups on Sundays.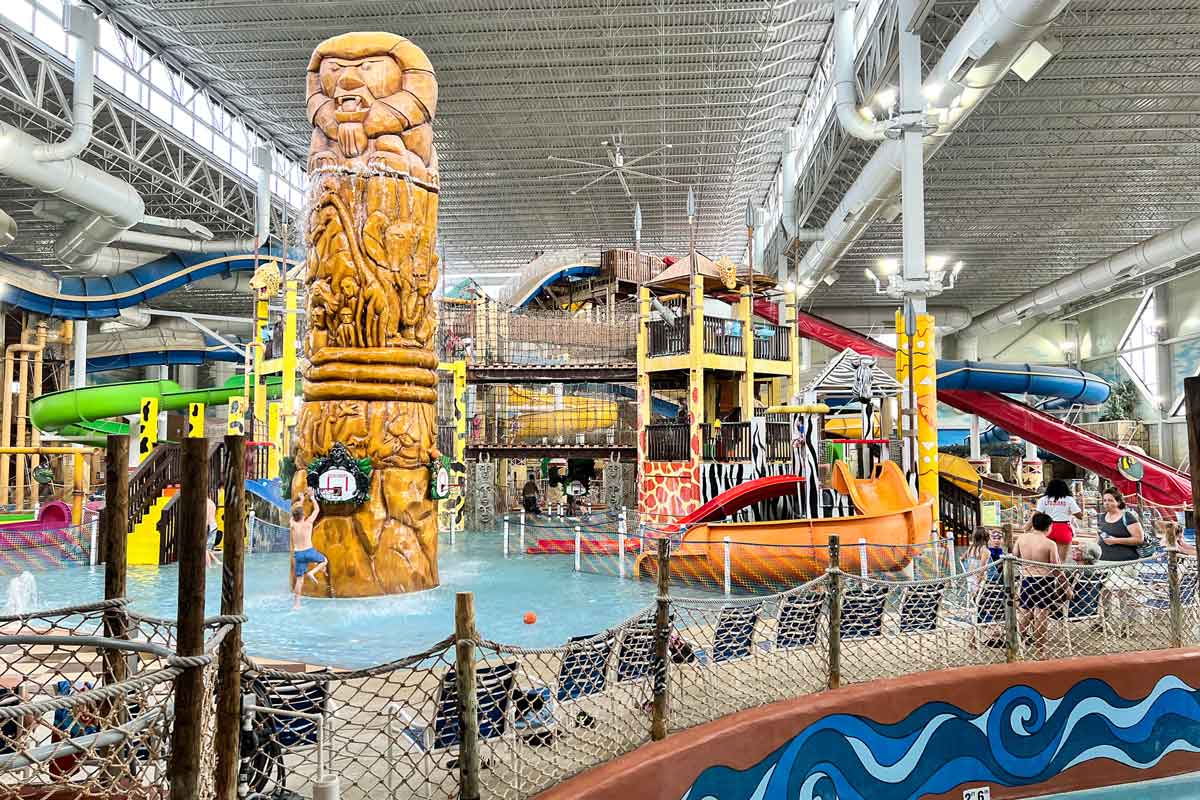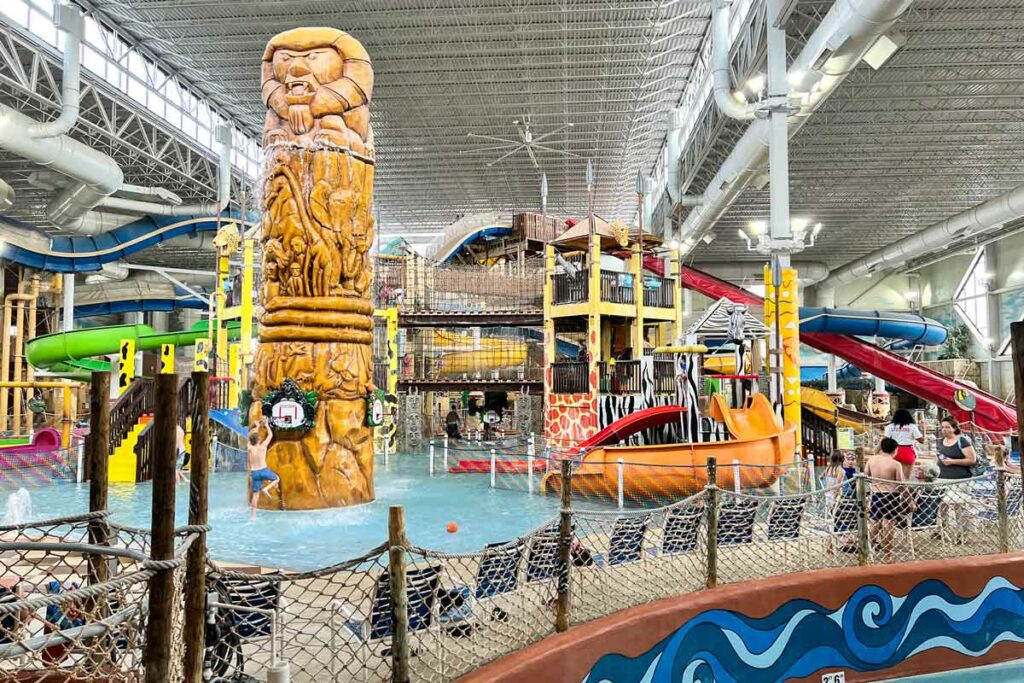 Nearby Water Parks
With the water park capital of the world, Wisconsin Dells about a two hour drive away, and smaller water park hotels nearby, there is no shortage of options for a fun day—or days—of splashing and sliding.
Book a weekend away at Wilderness Resort, Kalahari, Mt. Olympus, Chula Vista, or Great Wolf Lodge for a full experience with lots of activities to build family memories in the water and out! If you're hoping for something slightly closer to home, try Blue Harbor Resort in Sheboygan or The Springs Water Park at the Ingleside Hotel in Pewaukee, Wisconsin.
---
Looking for outdoor swimming? Check out our post on summer splash pads.
Note: We do our best to ensure that all information on Go Valley Kids is accurate, but locations with indoor swimming pools may close or change their availability for open swim based on staffing, events, or maintenance issues. Check individual websites for availability, or we've also listed phone numbers to call ahead, which we've found to be the surest bet for quickly getting the information you need at many of these locations.