Have you ever been to Heckrodt Nature Reserve? This gem is right in town in Menasha and its FREE! The 76-acre urban nature reserve includes forested wetland, cattail marsh, open water, created prairie, open field, and upland forest habitats.
We started our exploration in The Nature Center.
Nature Center at Heckrodt Nature Reserve is open:
Tuesday – Friday: 8 am to 4:30 pm
Saturday: 11 am – 4 pm
Closed Sunday and Monday.
Trails are open daily 6 am to 9 pm
The kids enjoyed the fish and indoor aquariums. It was also fun to look at the animal displays, all Wisconsin native. We enjoyed a craft and touch-and-feel displays in the meeting room. There is also a classroom amphitheater, "The Discovery Den" with lots of puzzles and puppets, perfect for little ones.
Outside you'll find 3 miles of looping trails with almost 2 miles of it as an elevated boardwalk. The trail is stroller and kid-friendly. Bikes and dogs are not allowed, so rest assured you won't be run over. The trail is open 365 days a year from 6 am to 9 pm. You are sure to see some animals. We saw deer, chipmunks, squirrels ducks and birds (and thankfully no snakes)! It is one of our favorite walking trails.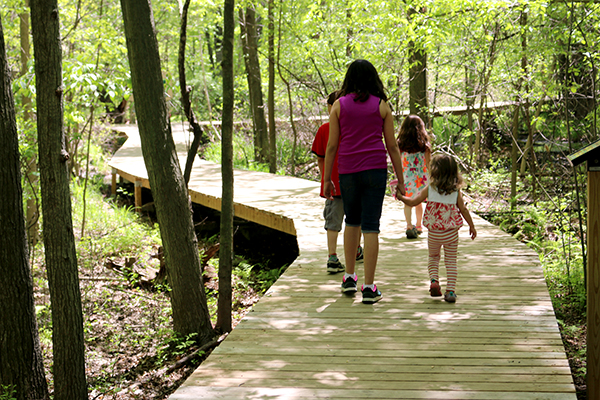 Heckrodt has a lot of great Scavenger Hunt printables on their website, download them here.
Along the trail is also a fun little park. This park was made for exploring. It's not your traditional park with slides and swings but a natural park at its finest. Tunnels and holes to climb in, giant mushrooms and even a teepee.
They also have lots of great family programs throughout the year like the Prairie Hootenanny in October.
Round off your visit our favorite way, a picnic. There are lots of picnic tables. We topped the day off with ice cream, here are our favorite places! Need more ideas for things to do this summer? Check out our Summer Bucket List!
Heckrodt Wetland Reserve
1305 Plank Rd, Menasha, WI 54952
(920) 720-9349