Enjoy the Wisconsin winter outdoors with your whole family. Here are a couple tips from our family to yours.
Snowshoes can be rented for children at about age 4. Our 5 year old lasted about 55 seconds. Which brings me to my next tip …
Consider pulling younger kids along in a sled or toboggan (or if kids snowshoeing get tired). We brought a blanket too for the sled.
Snowshoes attach to your regular snow boots and usually aluminum. Some places still rent out the traditional wooden versions (1,000 Islands). Snowshoe sizes are determined by weight.
Snowshoe trails are not groomed. Most trails require a 6 inch base of good snow. Fluffy, fresh snow is best!
Call ahead for conditions and to make sure snowshoes are available.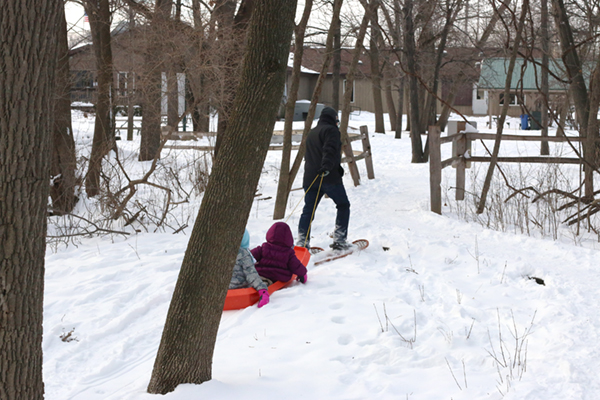 If you can walk, you can snowshoe! Check out these places.
1,000 Islands
1000 Beaulieu Court, Kaukauna WI 54130
920.766.4733
Rentals are available out of the Environmental Center.
Monday – Friday: 8 am – 4 pm
Saturday – Sunday: 10 am – 3:30 pm
Adults – $2.50 per pair
Children – $1.50 per pair
Weekend or Weekday Off Property – $5.00 per pair
Friends of 1000 Islands Members – No Charge
Heckrodt Wetland Reserve
1305 Plank Road, Menasha, WI 54952
920.720.9349
The snowshoe trail is about 1/2 mile long, not including the prairie trail.  The prairie trail will add about 1/4 mile. The terrain is relatively flat. Head over to Camp Winnecomac for the best trails.
Rentals are available for $5 a pair.
Tuesday – Friday: 8 AM – 4:30 PM
Saturday – Sunday: 11 AM – 4 PM
Monday: Closed
Ledge View Nature Center
W2348 Short Rd. Chilton, WI 53014
920.849.7094
Rentals available for $5 a pair. Staff available for help.
Monday – Friday: 8 am – 4:30 pm
Saturday – Sunday: 10 am – 4:30 pm
High Cliff
N7630 State Park Rd, Sherwood, WI 54169
920.989.1106
Snowshoeing is permitted anywhere in High Cliff except on ski trails when snow covered. The Forest Management trail is good for winter hiking and snowshoeing. Snowshoe rentals are available on a first-come, first-served basis when the park office open.
Tuesday – Sunday: 10 am – 4 pm
Snowshoeing is also available at both Bubolz Nature Preserve in Appleton and Mosquito Hill in New London but are current closed because of water/ice conditions. Visit their websites for more information.
Get out and explore! Any fresh snow is perfect for snowshoeing. Where is your favorite place to snowshoe?