Winter has arrived, and you might be feeling a little cooped up at home with the kids. Don't let the cooler temperatures and snow keep you indoors—there are so many ways to enjoy this part of the year!

Wintertime in Wisconsin offers us plenty of days to get out and enjoy the breathtaking beauty of nature at rest. And, you won't have to worry about swatting mosquitoes or poison ivy to boot! If you and your family have not yet tried your hand (er, foot?!) at snowshoeing, this season is the perfect opportunity to take the plunge.
Feeling a little intimidated in researching all the details? Not to worry–we've got you covered. Keep reading for our tips for successfully snowshoeing with children (including little ones), where to rent snowshoes, and a heap of locations both near & a day trip away to enjoy a refreshing snowshoe adventure with your family this winter.
Tips for Success for Family Snowshoeing:
Snowshoes can be rented for children at about age 4. But, buyer beware—young children may only last a few minutes. This brings me to my next tip…
Consider pulling younger kids along in a sled or toboggan (or if kids snowshoeing get tired). We brought a blanket too for the sled. Also, consider babywearing for the littlest of winter enthusiasts. I've also found wearing a giant coat, front carrying a baby, and zipping the coat over baby's feet and body make a cozy den for your little bundle.
Snowshoes attach to your regular snow boots and are usually made from aluminum. Some places still rent out the traditional wooden versions (1,000 Islands in Kaukana is one). Snowshoe sizes are determined by weight. Are you looking to invest in some of your own? We've had great success at Scheel's in Appleton. You can also purchase or rent snowshoes from REI in Appleton.
Snowshoe trails are not groomed, and many places will allow you to snowshoe off trail, too! Most trails require a 6 inch base of good snow for a successful snowshoe adventure. Fluffy, fresh snow is best!
Call ahead for conditions and to make sure snowshoes are available.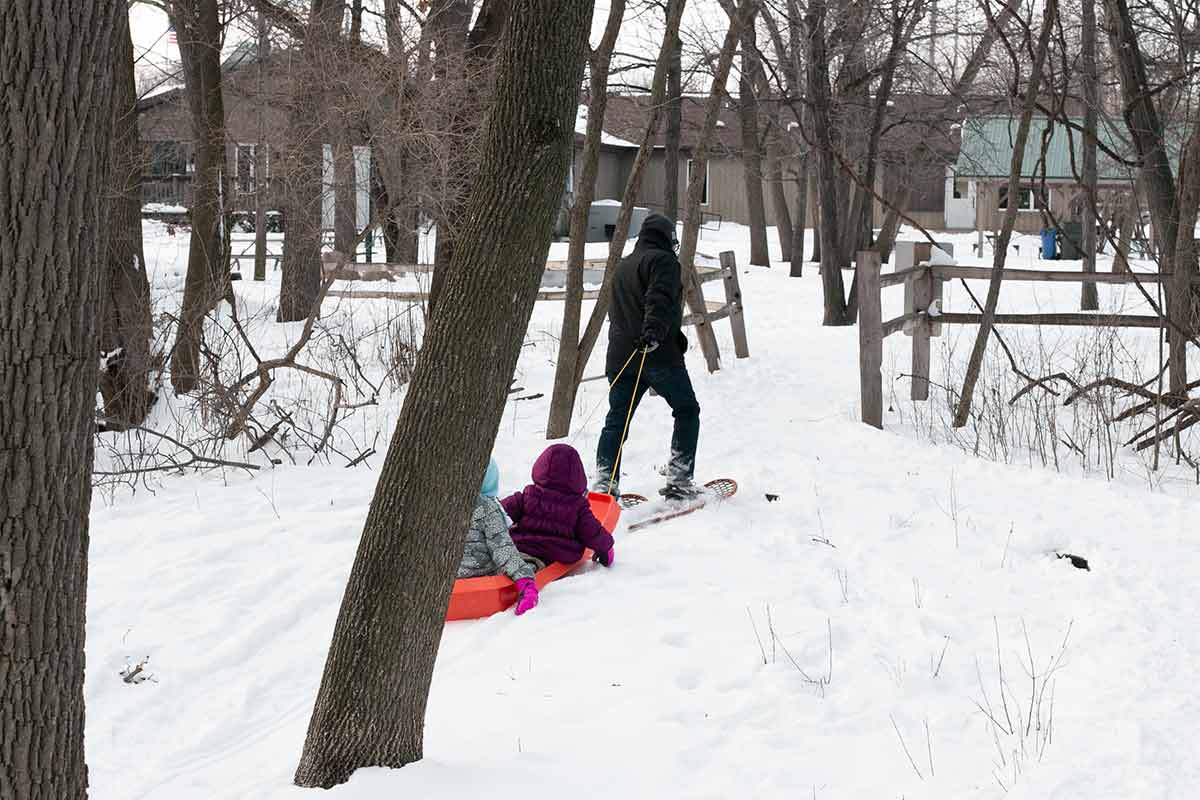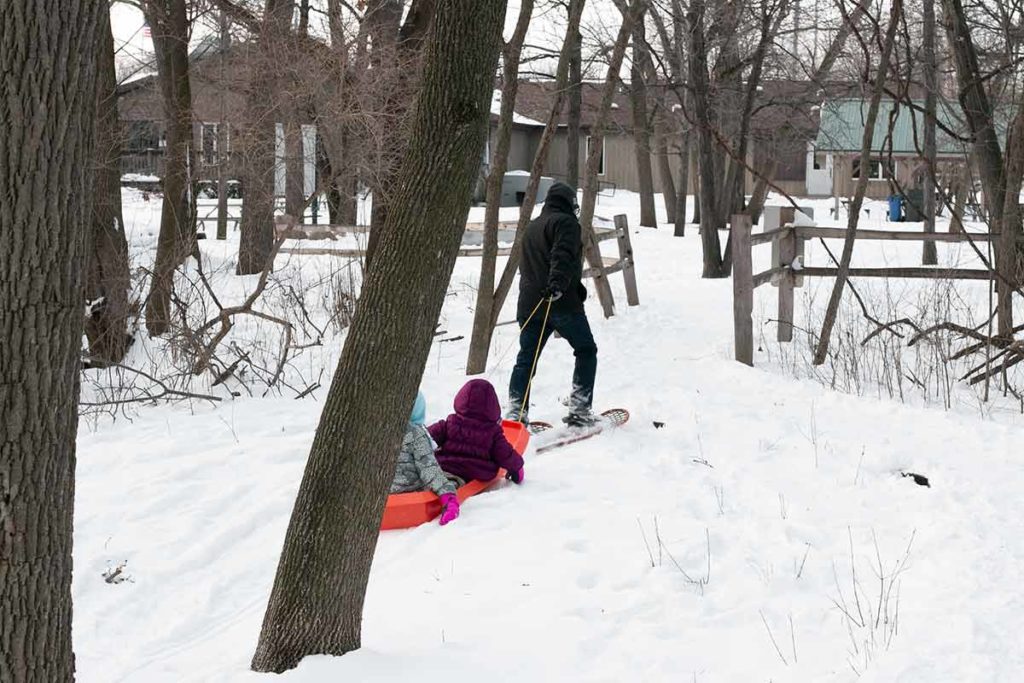 If you can walk, you can snowshoe! Check out these places that offer trails and equipment for snowshoeing!
1,000 Islands Environmental Center
Rentals are available out of the Environmental Center to use both on and off the 1,000 Islands property.
Hours: Monday – Friday: 8 am – 4 pm
Saturday – Sunday: 10 am – 3:30 pm
Rental Fees
Adults: $2.50 per pair
Children: $1.50 per pair
Weekend or Weekday Off-Property: $5.00 per pair
Friends of 1000 Islands Members: FREE
1000 Beaulieu Court, Kaukauna WI 54130
920-766-4733
1000islandsenvironmentalcenter.org
The snowshoe trail is about 1/2 mile long, not including the prairie trail. The prairie trail will add about 1/4 mile. The terrain is relatively flat. Head over to Camp Winnecomac for the best trails.

Rentals are available for a $5 deposit per pair which is returned when you return your snowshoes after your adventure. Be sure to bring along your ID or keys to leave with your deposit. Heckrodt rents snowshoes only when there are six or more inches of fresh snow—it might be best to call ahead to be sure that you'll be able to rent even if it appears that there is enough snow.
Hours: Tuesday – Friday: 8 am – 4:30 pm
Saturday – Sunday: 11 am – 4 pm
Closed Mondays
1305 Plank Road, Menasha, WI 54952
920-720-9349
heckrodtnaturecenter.org/visit/nature-center/
Ledge View Nature Center
Trails are open year-round from dawn to dusk and the nature center is open every day except for national holidays. Call ahead to set up your rental and check on snow conditions.
Nature Center Hours: Weekdays 8 am – 4 pm
Weekends 10 am – 4 pm
Rental Fees: $5 per pair
W2348 Short Rd. Chilton, WI 53014
920-849-7094
ledgeviewnaturecenter.org
High Cliff State Park
Snowshoeing is permitted anywhere in High Cliff except on groomed cross country ski trails when snow-covered. The Forest Management trail is good for winter hiking and snowshoeing. Snowshoe rentals are available on a first-come, first-served basis when the park office is open.
$5 per person for 3 hours on the property only
Park office hours: Tuesday – Sunday 10 am – 4 pm
Closed Mondays
Read more about the park here to plan your adventure.
N7630 State Park Rd, Sherwood, WI 54169
920-989-1106
dnr.wi.gov/topic/parks/name/highcliff
Gordon Bubolz Nature Preserve
4815 N Lynndale Dr, Appleton
920-731-6041
bubolzpreserve.org
Bubolz offers 8.5 miles of trails for snowshoeing! They will update their website with trail conditions, or you can call. Always call ahead on weekdays to check on rental availability.
Hours:
Tuesday – Saturday: 9 am – 3 pm
Sundays: 11 am – 3 pm
Closed Mondays
Rental Fees: Members: $5 per pair
Nonmembers: $7 per pair
Trail fee only: $2 with your own equipment for non-members and FREE for members.
Mosquito Hill Nature Center
Snowshoe trails open and rentals available when conditions permit. Please call ahead to check the trail conditions.
Hours: Tuesday – Sunday 9:30 am – 2 pm
Rental Fees:
Adults: $4 per pair
Students and Seniors: $3 per pair
Friends of Mosquito Hill members: FREE
Read more about visiting Mosquito Hill with little ones here.
N3880 Rogers Rd, New London, WI 54961
920-779-6433
outagamie.org
Navarino Nature Center
Hours: Tuesday – Friday 8 am – 4:30 pm
Saturday 8 am – 3 pm
Closed Sunday & Monday
Rental Fees:
Adults: $4 per pair
Kids (Under 15): $2 per pair
Check out their winter map for designated snowshoe trails. Find out details on their winter events, including many snowshoe hikes, here. Mark your calendar for Saturday, February 12th for their Frozen Fun event, including snowshoeing opportunities for kids! Read more here.
W5646 Lindsten Rd, Shiocton, WI 54170
715-758-6999
navarino.org
Hartman Creek State Park
While the park does NOT rent snowshoes, you can rent them at Adventure Outfitters, LLC in nearby Waupaca at $15 per day per pair or 3 days for $25. Each additional day is $5.
The park is open from 6 am – 11 pm year-round. Check out the winter map to find the 3.5 miles of designated snowshoe trails. Keep reading here for more information about family fun & adventure ideas at Hartman Creek State Park.
N2480 Hartman Creek Rd, Waupaca, WI 54981
715-258-2372
dnr.wisconsin.gov/topic/parks/hartmancreek
Looking for even more spots to snowshoe? Check out these parks for a family day trip snowshoe destination:
Devil's Lake State Park
Free snowshoe rentals are available out of the Nature Center. Call first to check hours and availability. You'll want to stick to trails that are not steep and rocky. We suggest trying a portion of the Upland Loop Trail (3.8 mi) or asking for suggestions at the Nature Center.
Check out our guide to find other fun stops in the Baraboo area.
S5975 Park Rd, Baraboo, WI 53913
608-356-8301
dnr.wisconsin.gov/topic/parks/devilslake
Newport State Park
Newport State Park does NOT offer snowshoe rentals, but it does offer about 5 miles of trails designated for snowshoeing or hiking in the winter! Newport State Park is also designated as a Dark Sky Park (one of only two in the Midwest and 18 in the country), making it an ideal location for stargazing if you stick around past dark. If you're lucky, you just might even catch a glimpse of the Aurora Borealis Northern Lights here at one of the darkest spots in our state! Check out the winter map to locate the snowshoe trails.
475 County Rd NP, Ellison Bay, WI 54210
920-854-2500
dnr.wisconsin.gov/topic/parks/newport
Get out and explore! Any fresh snow is perfect for snowshoeing. Where is your favorite place to snowshoe?