Whether you are looking for walking, hiking, snowshoeing or skiing, there are lots of options for exploring this winter about 1.5 hours or less from the Fox Valley!
Trail Profiles can be found in these articles:
52 Hike Challenge
The perfect option for people new to the 52 Hike Challenge. Signing up for this FREE package gets you access to the challenge resources page and challenge guide download. The resources page includes hiking logs.
www.52hikechallenge.com/pages/kids-series
Wisconsin State Parks & Explorers Program
Discover Nature and Earn FREE Patches through the Wisconsin Explorers Program
15 Wisconsin State Parks Organized by Distance from Appleton (Less than 2 hours from Appleton)
High Cliff State Park, Sherwood

Trails for all skill levels from 0.4 to 3.4 miles. Snowshoeing allowed on all trails except those designated for cross-country skiing.

Lost Dauphin State Park, De Pere

Small park with rolling hiking trails. No admission sticker required for entrance.

Heritage Hill State Park, Allouez

Walkthrough this outdoor museum including structures from Wisconsin as far back as 1762. Individual admission fees for entrance.

Hartman Creek State Park, Waupaca

10 miles of varied trails in the park, from flat and 1 mile long to 4.87 miles of hiking trail. Snowshoeing allowed on 3.5 miles of trails snowshoeing and off-trail hiking allowed anywhere other than the 6 miles of groomed cross-country trails.

Copper Culture State Park, Oconto

Walking throughout the park and along the Octono River available. No admission sticker required.

Point Beach State Forest, Two Rivers

17 miles of hiking trails from a half mile to 7 miles long. 6 miles of Lake Michigan shoreline available to explore.

Kettle Moraine State Forest – Pike Lake Unit, Hartford

Endless miles of hiking trails to explore!

Potawatomi State Park, Sturgeon Bay

Three designated trails for winter hiking and snowshoeing from 0.5 to 1 mile.

Kohler-Andrae State Park, Sheboygan

Hiking and snowshoeing trails from 1 – 2.5 miles, boardwalk and shoreline for exploring.

Peninsula State Park, Fish Creek

Six miles of designated hiking and snowshoeing trails. Bonus! Sledding and tubing available on the number 17 fairway at the golf course.

Harrington Beach State Park, Belgium

Hiking trails and shoreline to explore. Designated groomed cross-country trails not open for hiking or snowshoeing.

Roche-A-Cri State Park, Friendship

Winter hiking and snowshoeing on more than 6 miles of trails. Main entrance closed in winter, use the parking lot on the north side of Czech Avenue, west of Hwy 13.

Buckhorn State Park, Necedah

Snowshoes available, avoid trails groomed for cross country skiing.

Mirror Lake State Park, Baraboo

Over 19 miles of hiking trails, snowshoeing and hiking allowed off trails designated for cross-country skiing.

Devil's Lake State Park, Baraboo

29 miles of trails are open but not maintained through the winter. The Steinke Basin Loop trail is periodically packed for easier hiking. Snowshoeing allowed anywhere in the park, avoid bluffs.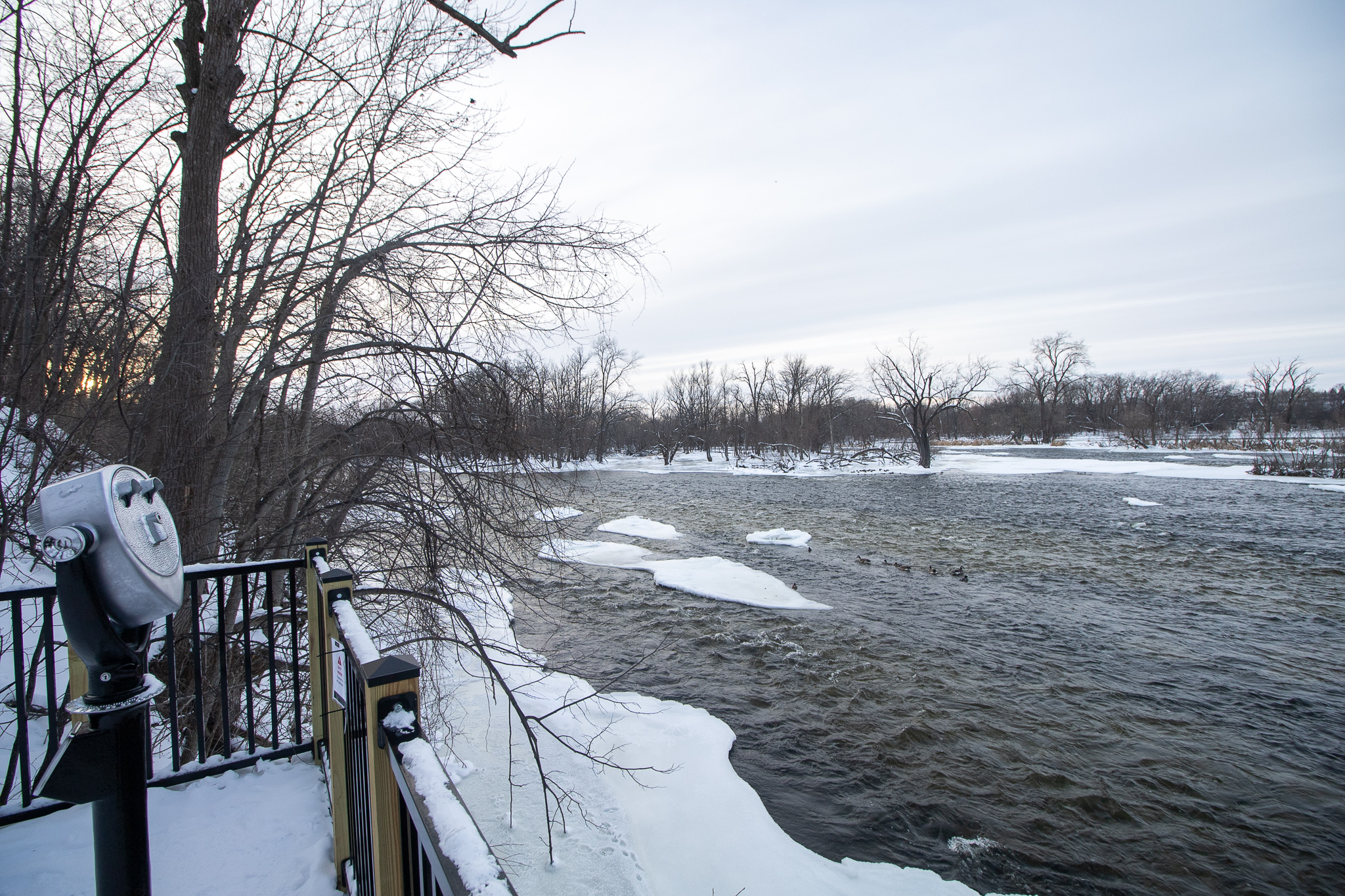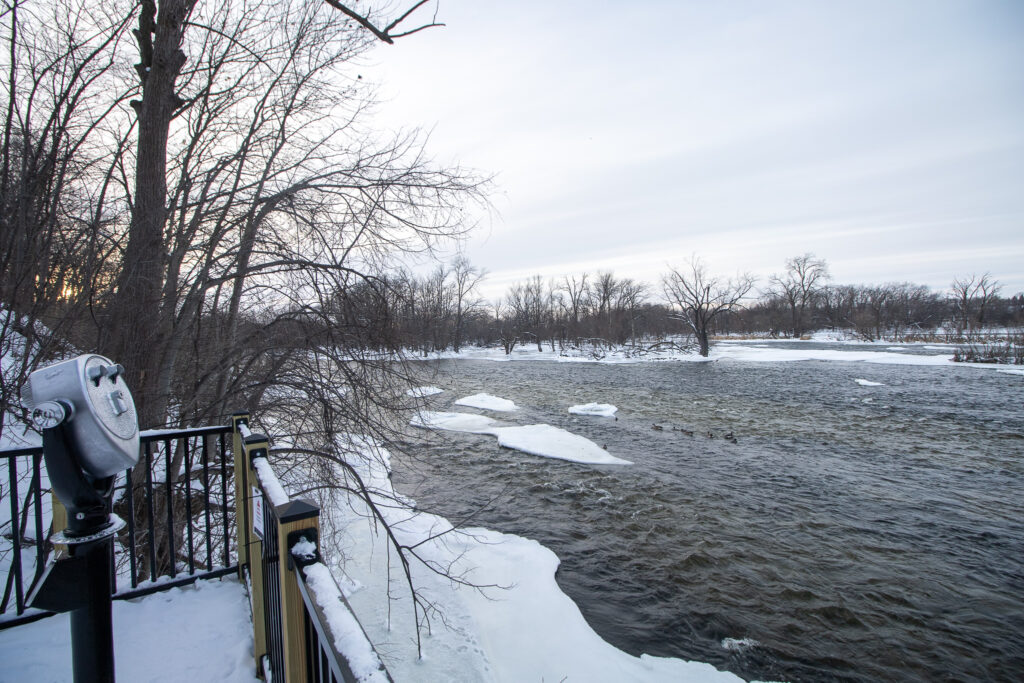 Winter Hiking
1000 Islands Environmental Center, Kaukauna
Apple Creek Trail / Thrivent Trail, Appleton
Baird Creek, Green Bay
Bay Beach Wildlife Sanctuary, Green Bay
Bubolz Nature Preserve, Grand Chute
Brillion Nature Center, Brillion
Bruce B. Purdy Nature Preserve (Apple Creek YMCA), Appleton
Cave Point County Park, 5360 Schauer Rd, Sturgeon Bay
Casaloma Conservancy, Grand Chute
CE Trail, Kimberly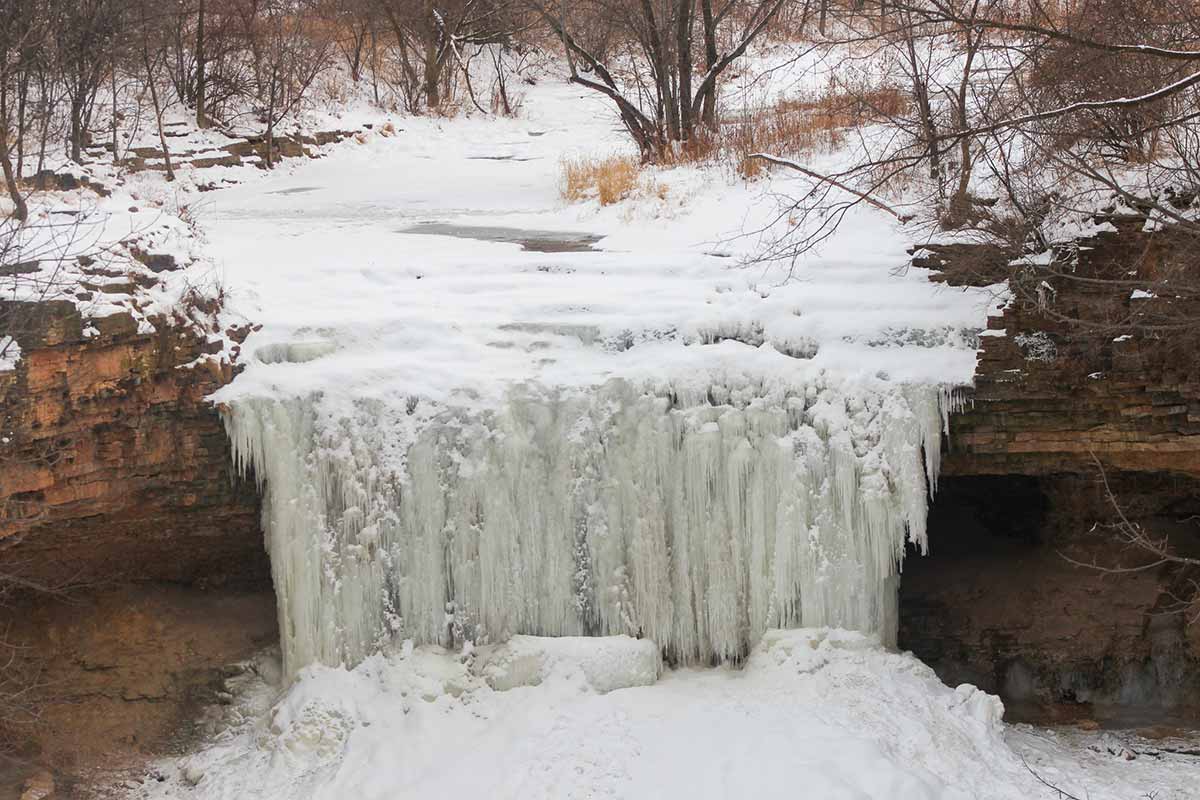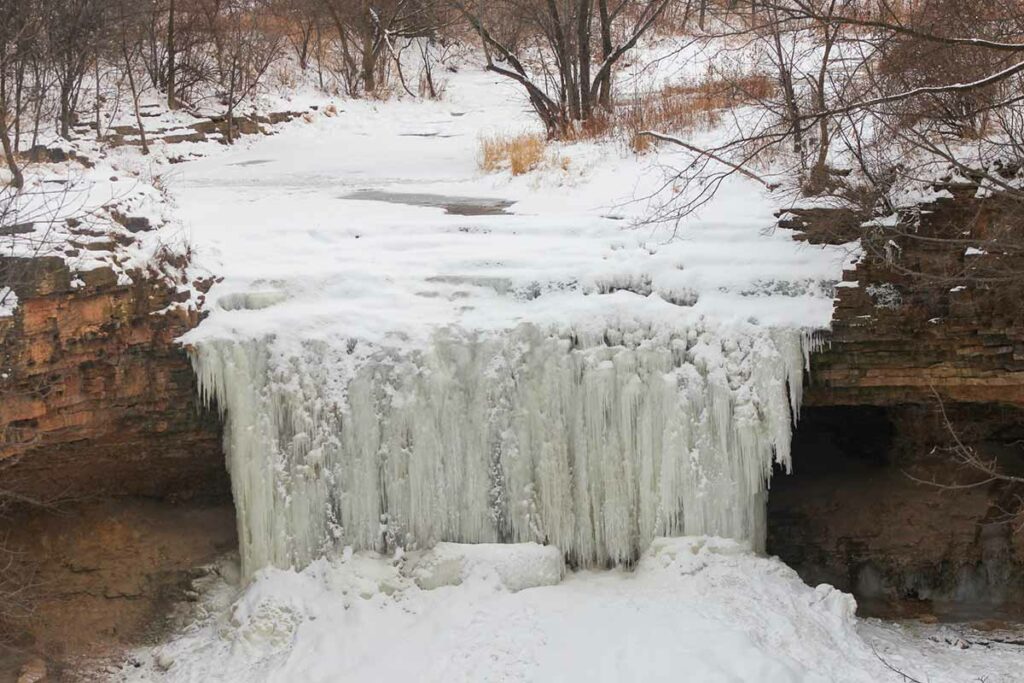 Devil's Lake State Park, Baraboo
Fonferek Glen, Green Bay
Fox Cities Trestle Trail, Neenah / Menasha / Fox Crossing
Fox River Trail, Green Bay / De Pere
Fox Valley Technical College, Grand Chute
Green Bay Botanical Garden, Green Bay
Heckrodt Nature Preserve, Menasha
Hartman Creek State Park, Waupaca
Heritage Parkway Trail, Little Chute
High Cliff State Park, Sherwood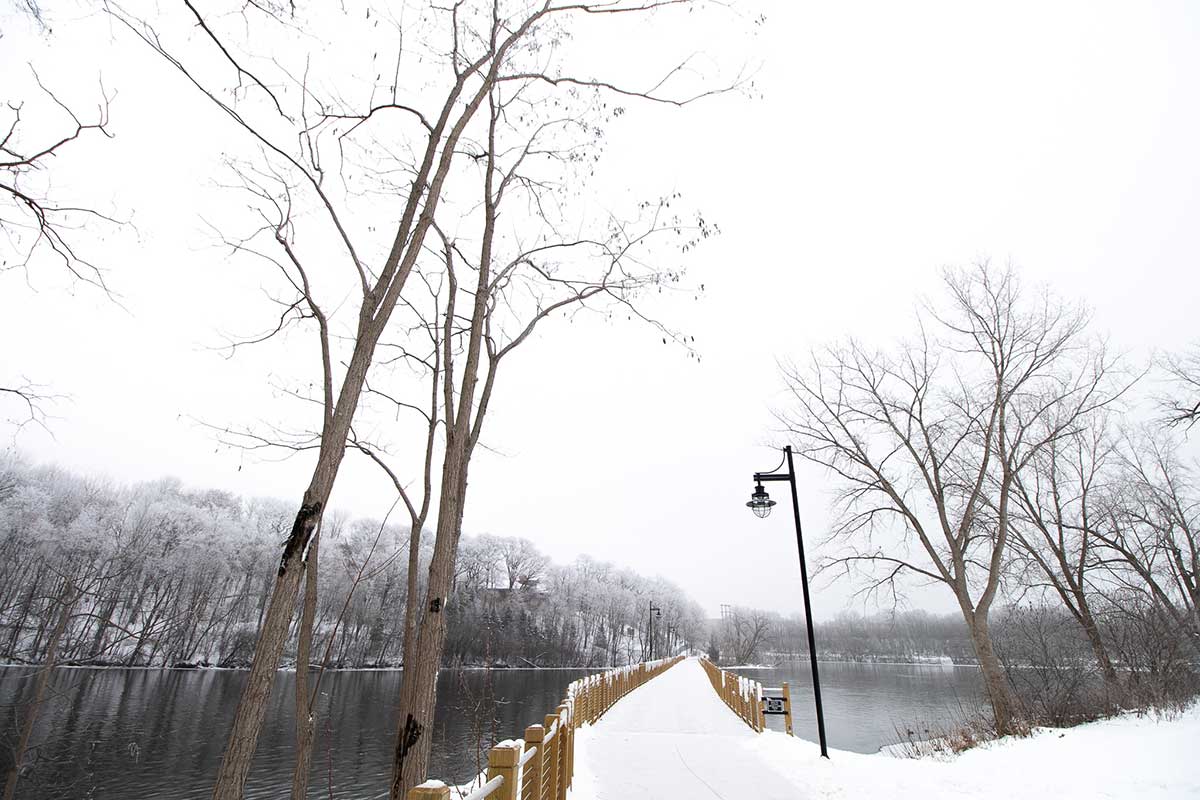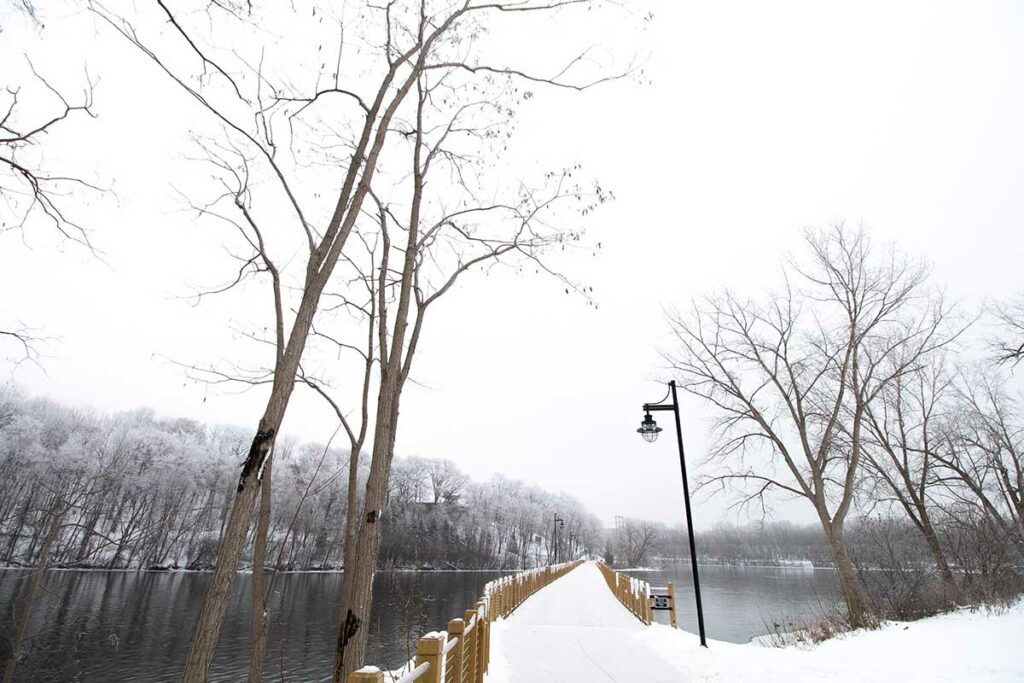 Hydroelectric Heritage Trailway, Appleton
Horicon Marsh, Horicon
Iola Winter Sports Club, Iola* – groomed cross country ski trails
Ken Euers Nature Area, Green Bay
Kohler-Andrae State Park*
Ledgeview Nature Center, Chilton
Lion's Den Gorge Nature Preserve, Grafton – bring your sled!
L.H. Barkhausen Waterfowl Preserve, Suamico
Maribel Caves County Park, Maribel
Mascoutin Valley State Park Trail, Rosendale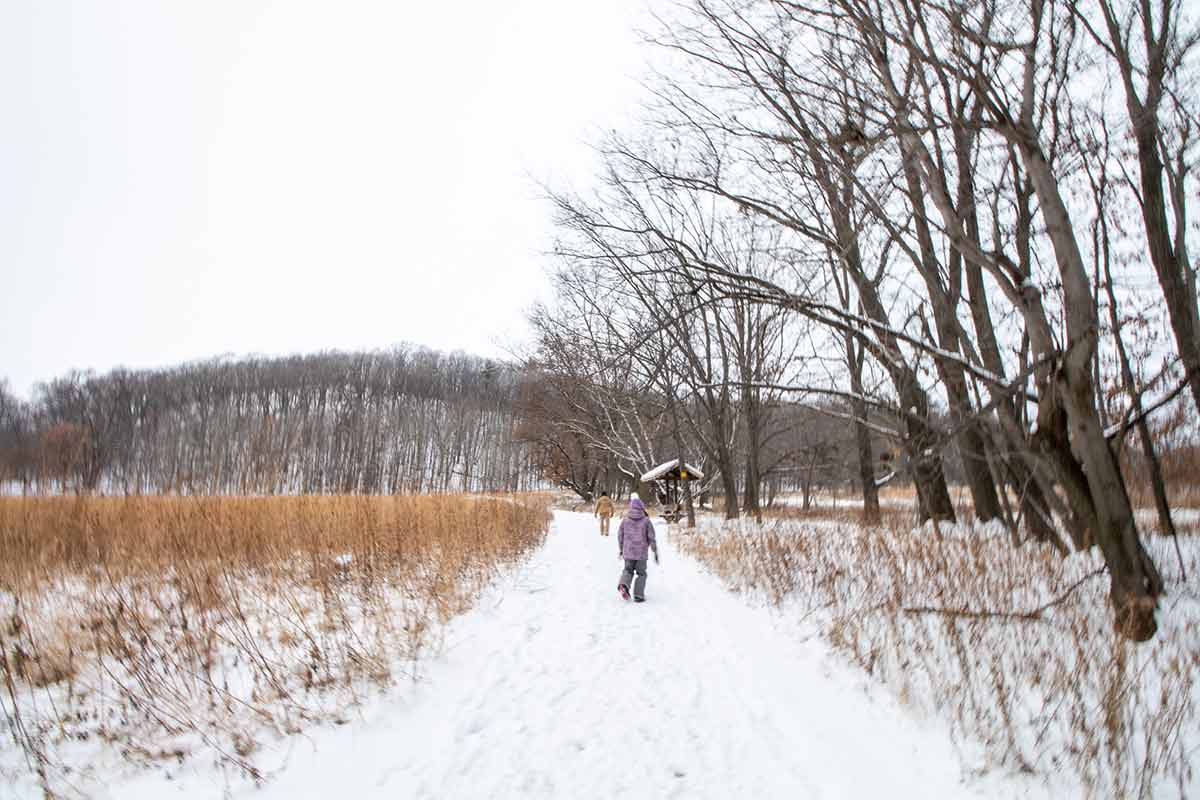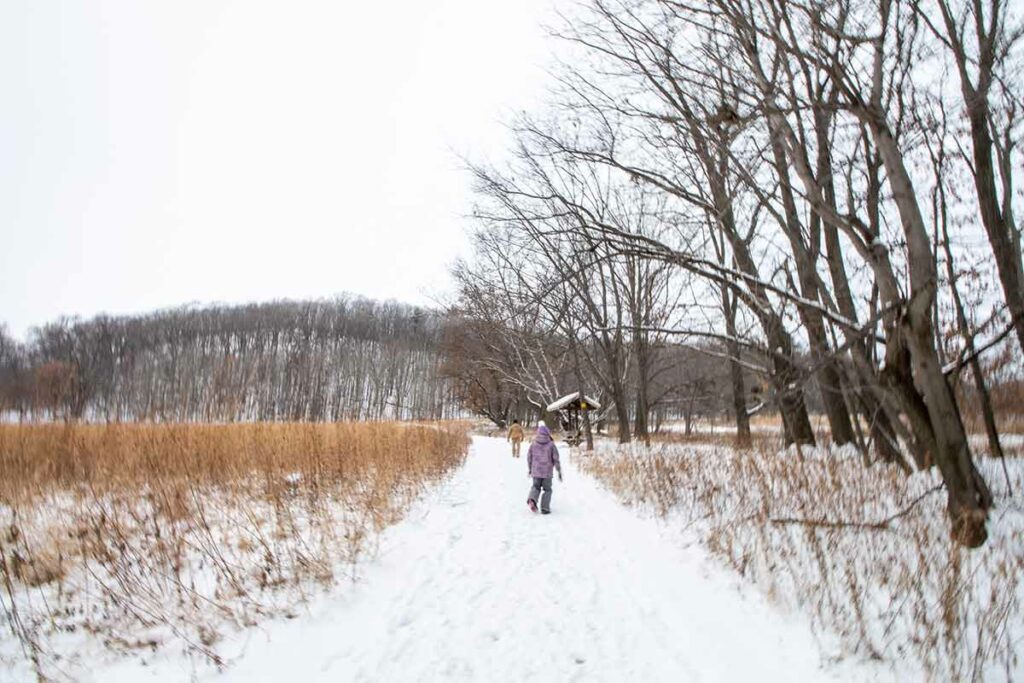 Meadowbrook Trail, Howard
Memorial Park, Appleton
Menominee Shoreline Trail to Menominee Park, Oshkosh
Mountain Bay State Trail, Howard
Mosquito Hill Nature Center, New London
Navarino Nature Center, Shiocton
Newberry Trail, Appleton
North Island Trail, Appleton
Old Stone Bridge Trail, Grand Chute
Osprey Point, De Pere
Pamperin Park, Green Bay
Peninsula State Park, Fish Creek*
Plamann Park, Appleton
Point Beach State Park*
Prairie Hill Park, Grand Chute
Reid Golf Course, Appleton
Riverview Gardens, Appleton
Schmeeckle Reserve, Stevens Point
Sheldon Nature Trail, Oshkosh
Stevens Point Sculpture Park and the Green Circle, Steven Point
Terrell's Island, Omro
UW-Green Bay Arboretum Trail, Green Bay
Waukau Creek Nature Preserve, Waukau
Whitefish Dunes State Park*
Wiouwash State Trail
* may have an entrance fee or suggested donation