While strolling amidst the breeze and wildflowers and searching for pond frogs may be some of the treasures of a visit to Bubolz Nature Preserve in the spring and summer months, the frosty trees, glistening snow, and trails of scurrying animals of winter make the landscape equally breathtaking, adventuresome and rejuvenating. Are you beginning to get the mid-winter itch to get outdoors? Don't let the cold weather keep you inside! Bundle up in plenty of layers and get out into nature with your family at Bubolz yet this winter.
READ MORE: 12 Nature Centers to Visit with your Family about 1 Hour from Appleton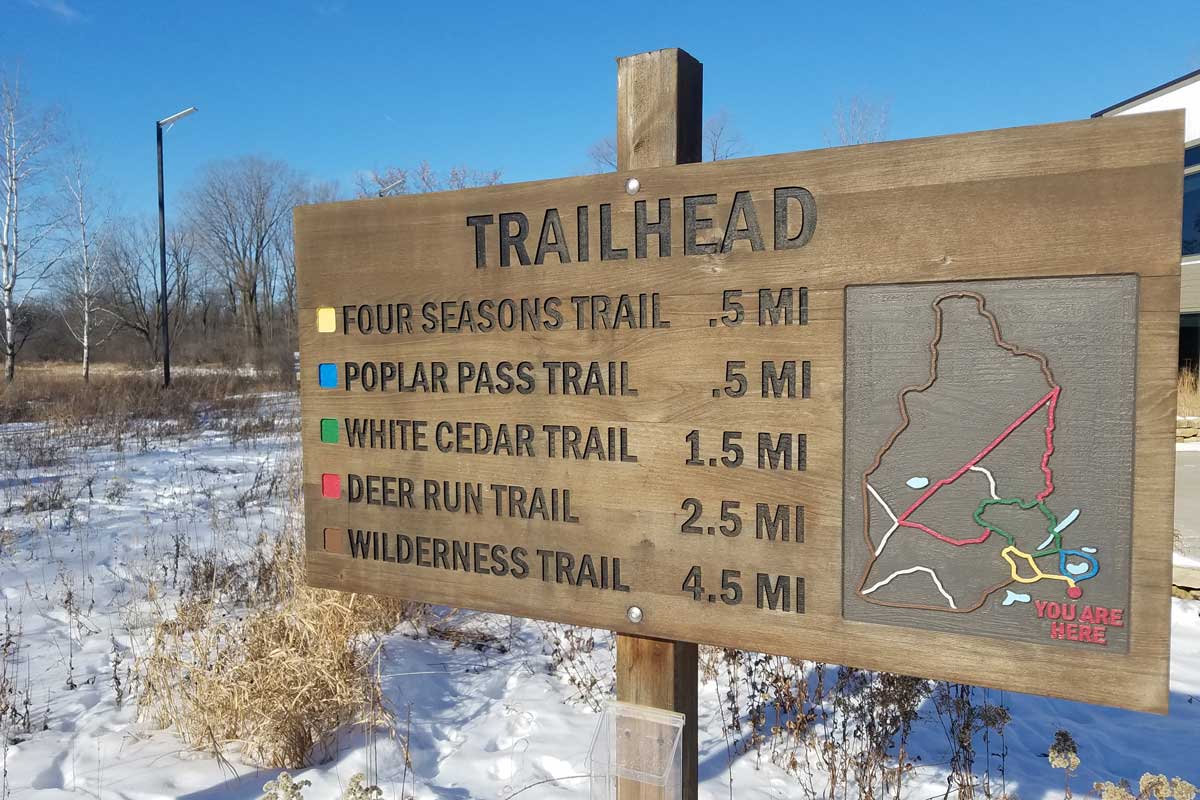 Plan Your Winter Visit: Bubolz Nature Preserve
Bubolz At-A-Glance:
Address: 4815 N Lynndale Drive, Appleton, Wisconsin
Phone: 920-731-6041
Trail Hours: All trails are open from dawn to dusk daily year round.
Environmental Center & Kenna's Kabin Hours:

Tuesday – Friday 8 am – 4:30 pm
Saturday 11 am – 4 pm
Sunday noon – 4 pm

Pets and Bikes: Neither are permitted on the trails.
About: The Bubolz Nature Preserve offers a place for the community to encounter nature through recreation opportunities and educational programming. They aim to bring individuals closer to nature, teach about conservation & protecting the environment, and offer a better quality of life for those in our community.
Tips To Enjoy Your Visit in Winter
Dress your little ones in layers and bundle up if it's a chillier day. Use baby wearing or hiking backpacks for babies or littler toddlers who need a break off of their feet. Dress your kids in snow pants so they can sit down on the trail whenever they need a break. This will also be perfect for when they want to play at the Natural Playscape. If you need a warming break, the restrooms are heated! You can take a bathroom break and warm your hands a bit before heading back out into the cold.
Hiking Trails
Make sure to stick to the trails that are designated for hiking or snowshoeing. Access to the hiking trails is free. The trails range from 0.5 miles to 4.5 miles in length, so you can pick one that is the right length for your family. Check out the 2.5-mile Deer Run trail to access the park's observation tower! The park map offers all of the details for your planning.
Snowshoeing
Bubolz offers 8.5 miles of trails for snowshoeing! They will update their website with trail conditions, or you can call. Always call ahead on weekdays to check on rental availability. Rentals are available Tuesday – Saturday 9 am – 3 pm and Sundays 11 am – 3 pm. Please call ahead on weekdays. The cost per pair is $5 for members and $7 for non-members. If you have your own snowshoes, then you only need to pay a trail fee ($2) if you are not a member.
READ MORE: Get Out and Enjoy Winter in Wisconsin: Plan Your Next Family Snowshoe Adventure
Cross-Country Skiing
Bubolz grooms ski trails when the snow conditions are favorable. You can rent skis (see the times above) for $15 per non-member and $10 per member. The trail fee for non-members who have their own skis is $5 and free for members.
Winter Programs & Events
The Nature Preserve offers special programs that will help you and your family enjoy the wonders of wintertime in Wisconsin. Some of these programs include winter break camp, dog sledding demonstrations, candlelight ski & snowshoe hikes when snow levels permit, and ski clinics. Prior registration is required for programs. Events are generally open to the public!
Natural Playscape
Check out the natural playscape and playground located beyond the restrooms! Your kids can enjoy climbing, sliding, and tunneling all in the snow. Come back to the Environmental Center to warm up and play afterwards.
Kenna's Kabin
Kenna's Kabin is an indoor play area and environmental learning space designed for children. It includes a library, toys, tree house with slides, and other learning tools.
READ MORE: Kenna's Kabin – The Perfect Indoor Nature Play Area for Toddlers & Preschoolers!
Nearby Bakery Treats