We can't be the only ones dreaming about an escape. These Wisconsin cabins will have you remembering why you love winter.
First time renting a cabin? Here are some things to keep in mind.
Check out the host or property ratings and reviews.
Are linens and basics included?
How much cleaning is required? Is there an additional cleaning fee?
Is the rental a single room, condo, or whole house?
Is there a minimum night requirement?
Will you be staying in or looking for things to do nearby? Check out nature areas or area attractions.
From the owner: Leave your troubles at the end of the 1/4 mile driveway and journey into the woods to this private log cabin complete with all the modern amenities. This cabin is located on 70 acres of woods with a small stream running through it and an outdoor hot tub, private swimming pond complete with a sandy bottom. Juneau County Snowmobile trails and ATV Trails are accessible from the cabin as well.
Why the cabin is great for families: Walk the miles of winding woods trails. An indoor roaring fireplace is perfect for relaxing during the cold winter nights or build a bonfire and gather the family around and cook smores. Your rental includes a generous supply of firewood to use while you're here.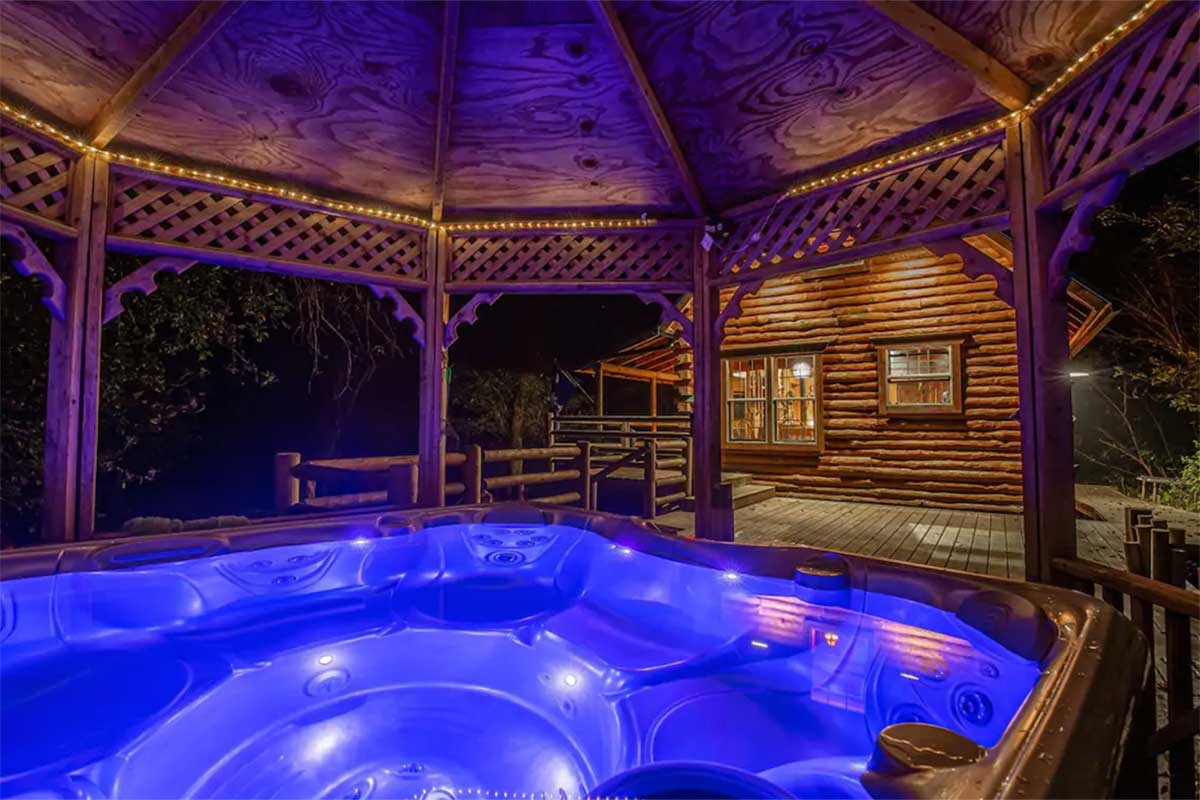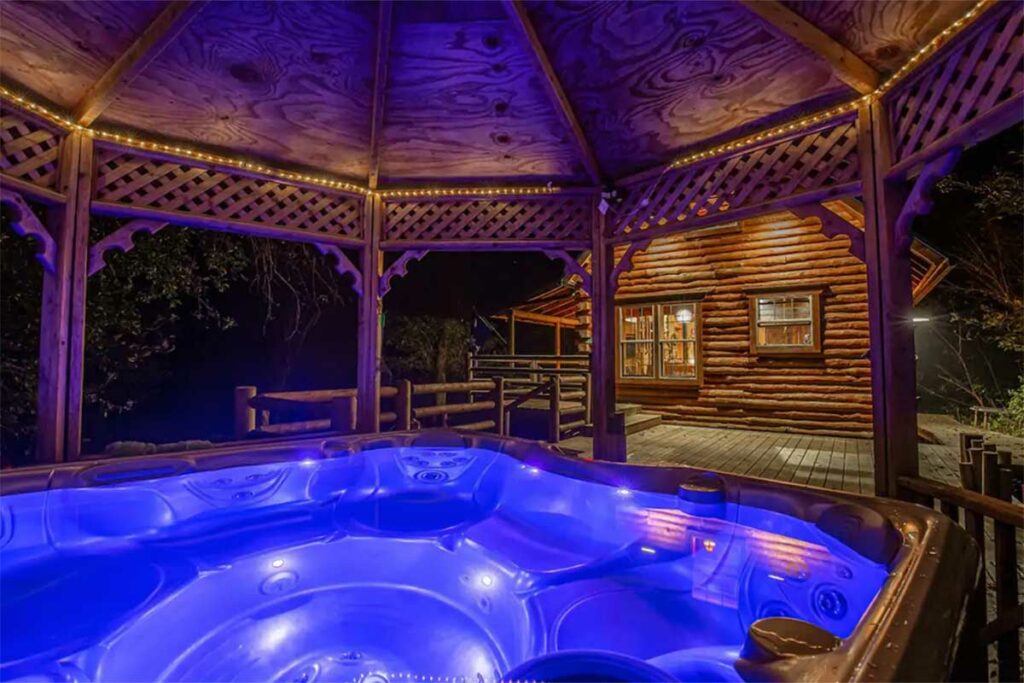 Starts at: $200/night
Location: New Lisbon, Wisconsin
Sleeps: 10 guests
Bedrooms: 3, 9 beds
Bathrooms: 2
Bonus: outdoor 5 person hot tub available year-round
Beechwood Cottage – Secluded A-Frame
From the owner: The perfect combination of rustic, modern, and nature. The inside of the cottage has been newly decorated and updated with modern furnishings and equipped with all of the amenities needed to make any guest feel right at home. The oversized picturesque windows bring the surrounding nature inside.
Why the cabin is great for families: Plenty of room for playing in the snow, a well lit snuggly spot overlooking the woods to read books or play games, cozy fireplace, kitchen ready for preparing meals, and the hosts have families in mind providing children's dinnerware, a Pack 'n Play, and books and toys.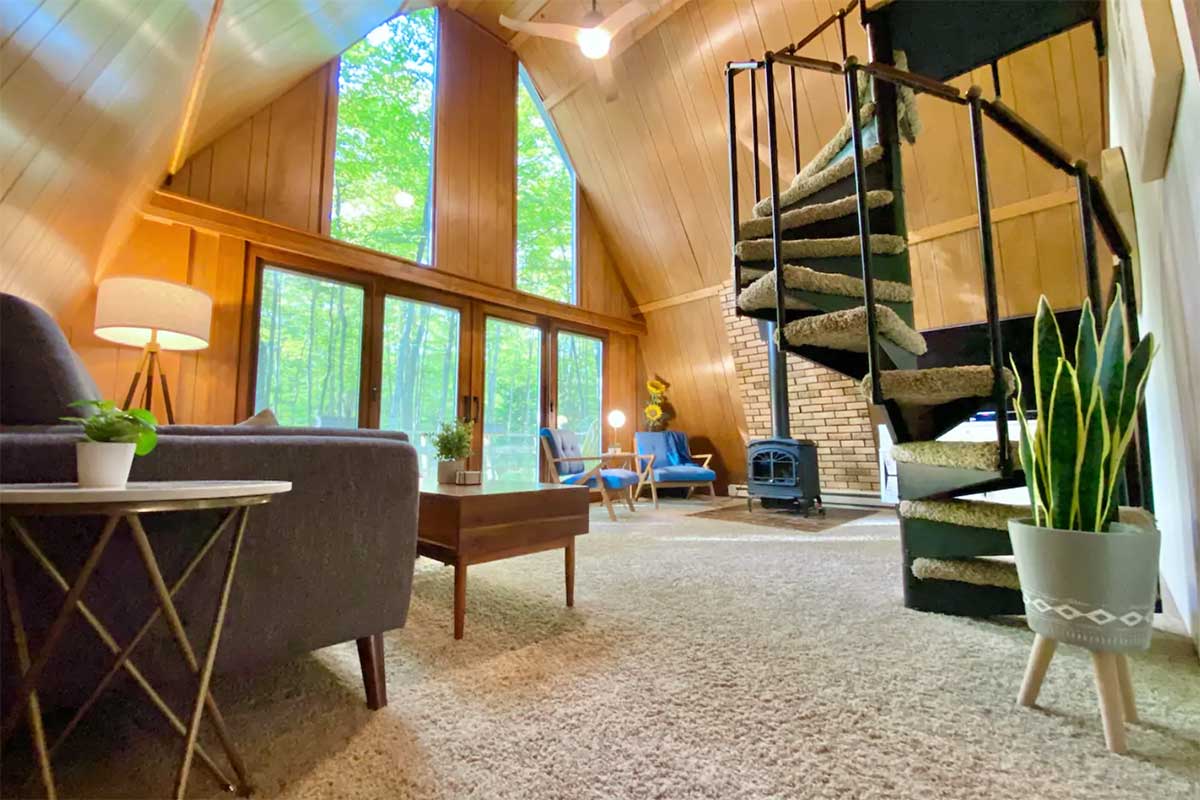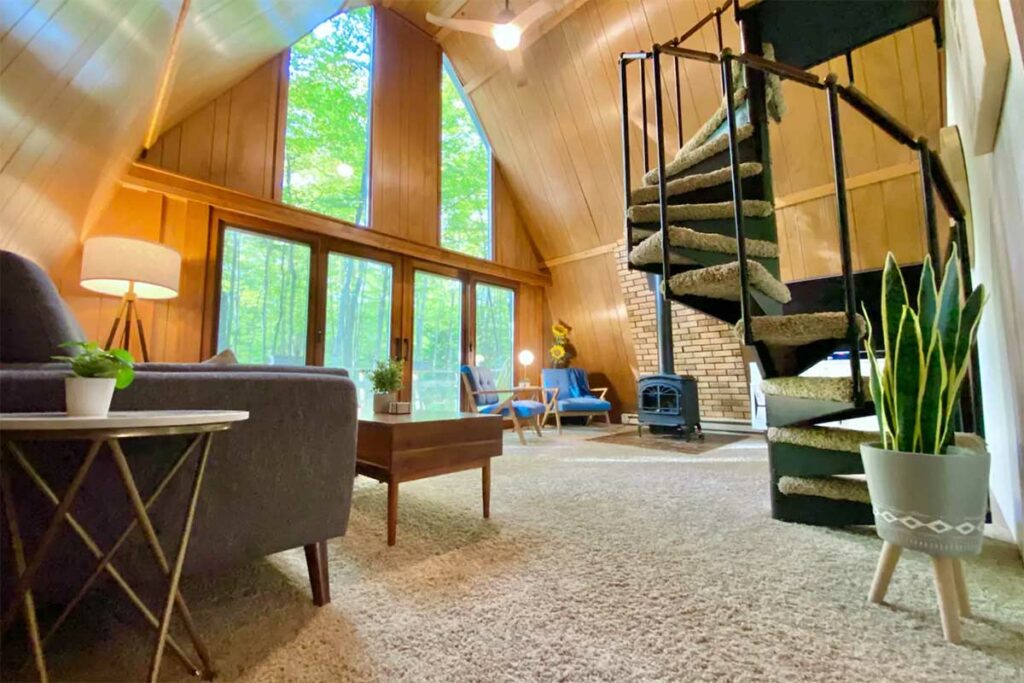 Starts at: $200/night
Location: Sister Bay, Door County
Sleeps: 4
Bedrooms: 2
Bathrooms: 1
The Glass House on Birch Bluff
From the owner: The Glass House on Birch Bluff is named in honor of Fredrica "Fritzie" Glass who had it built-in 1969. Fritzie was an artist, teacher, and author who led a rich life both in Milwaukee and Door County. We've tried to honor her love of nature and beauty in this space. The cottage sits atop a private bluff on three gorgeous acres in Fish Creek. It is a wonderful place to be alone and unwind, and yet a short distance to all that northern Door County has to offer!
Why the cabin is great for families: Light and airy space with a cool built-in art area, so much outdoor space to explore, a firepit waiting for s'mores making, and a kitchen stocked with the basics you need for meals.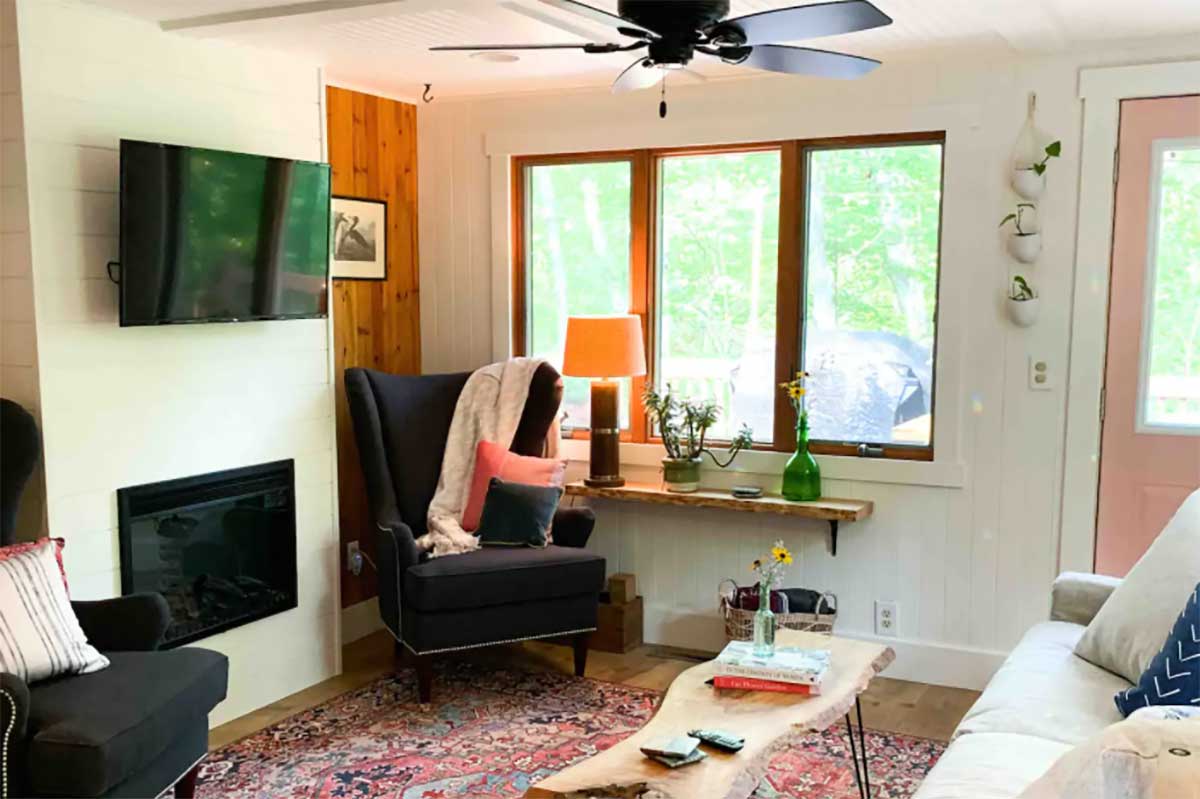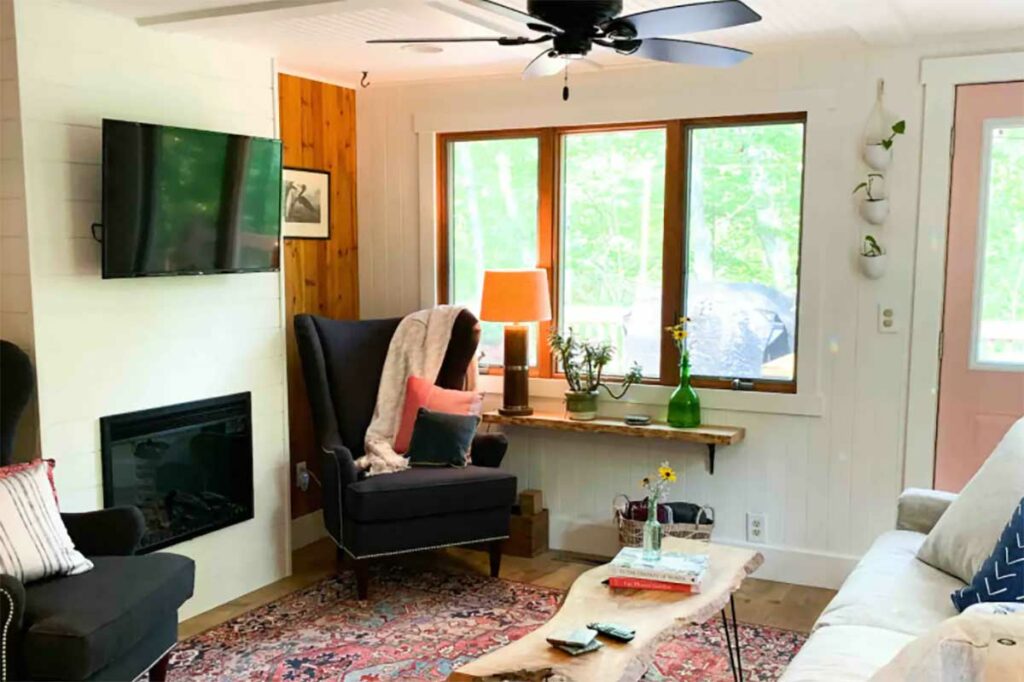 Starts at: $100/night
Location: Fish Creek, Door County, Wisconsin
Sleeps: 3 guests
Bedrooms: 2
Baths: 2
Bonus: indoor fireplace
Northwoods Tranquility – Peaceful & Private in Harshaw Wisconsin
From the owner: Cozy home features warm lighting & paint colors and creative Northwoods decorating with a modern touch. Amenities include high-speed internet, stainless appliances, coffee maker, front load washer and dryer, streaming services/Apple TV, 3 flat-screen TVs, 2 fireplaces, central AC, and a high-efficiency furnace. The home is situated on 4 wooded acres (not lakefront) off a well-maintained gravel road. Very private. No neighbors in sight. Wildlife is abundant.

Why the cabin is great for families: You can bring your dog! There's an extra deep bathtub for end of the day bubble baths (for moms or kids, you pick), outdoor space to explore, and frequent wildlife visitors to watch from near the fireplace.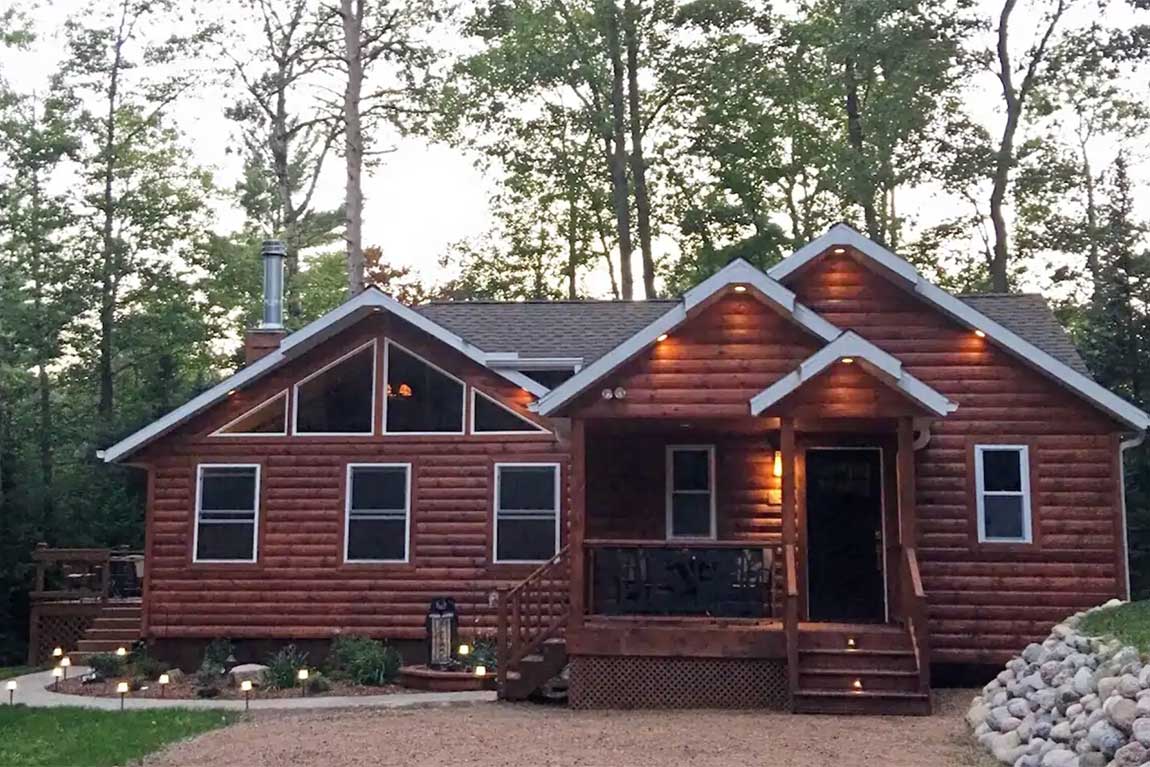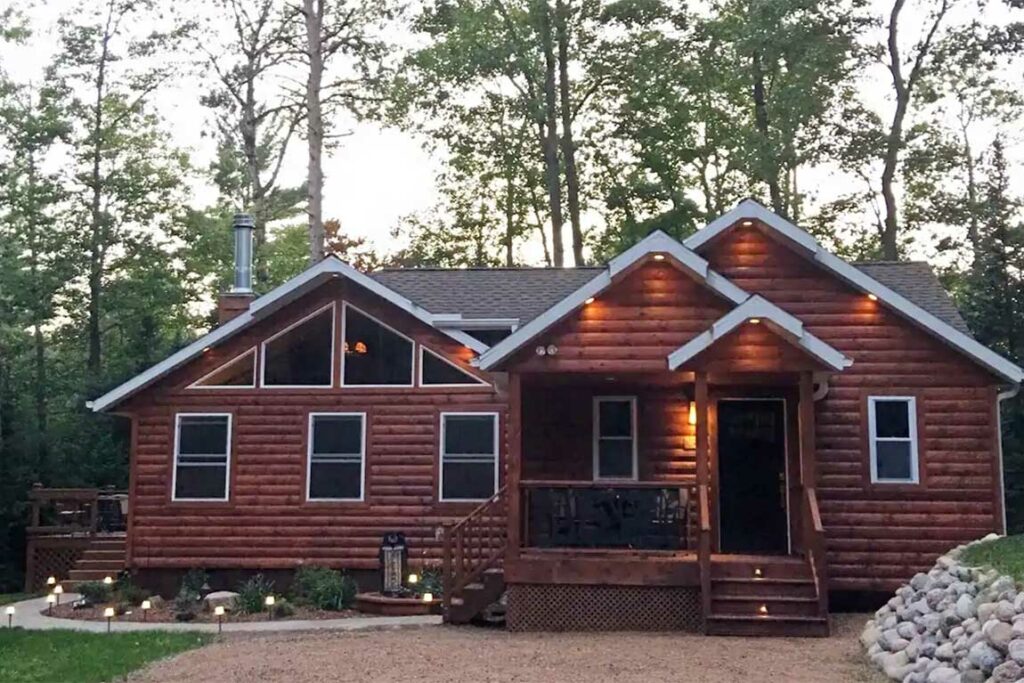 Starts at: $153/night
Location: Harshaw, Wisconsin
Sleeps: 4 guests
Bedrooms: 2
Baths: 2
Door County Dreaming in Baileys Harbor
From the owner: Newly remodeled home walking distance to Bailey's Harbor. Close to beaches, snowmobile trail, Ridge's Sanctuary, restaurants, bars, and local brewery!
Why the cabin is great for families: This little house is tucked away in the woods with so much room for building snowmen and a cozy bedroom for the kids that's perfect for whispering and giggling after a long day of playing and exploring.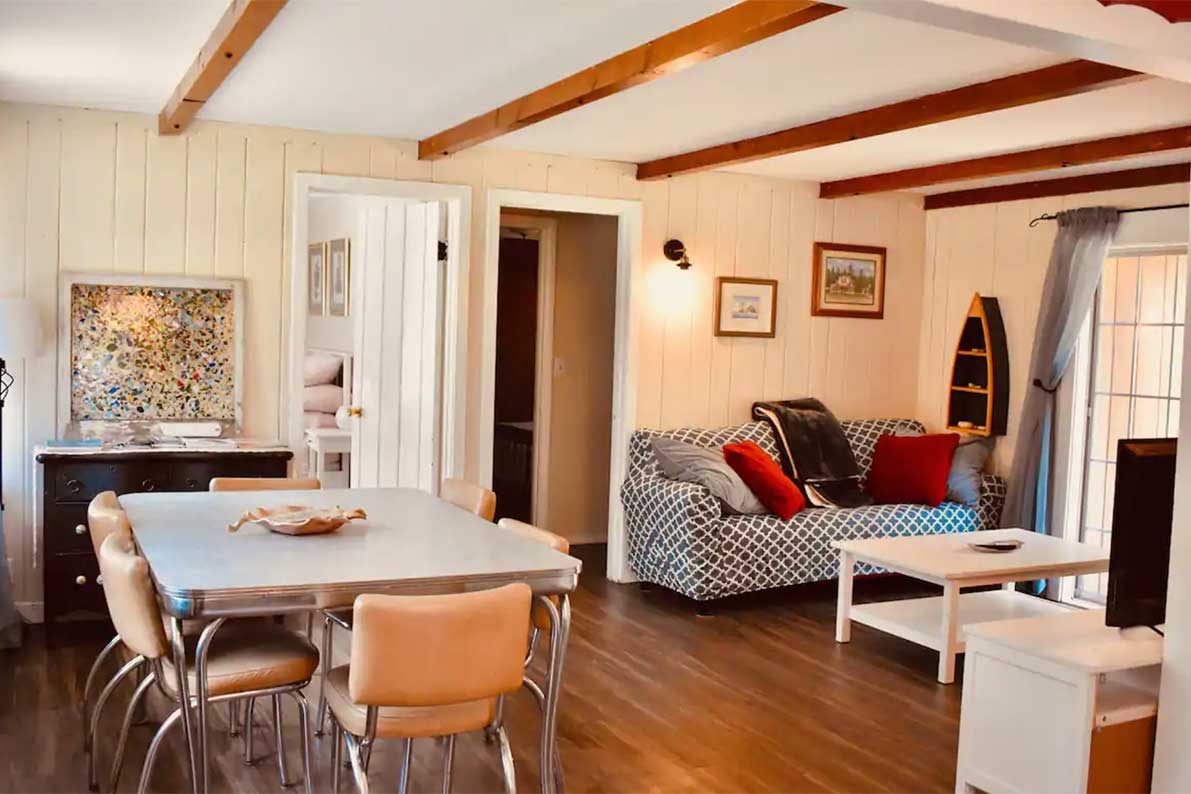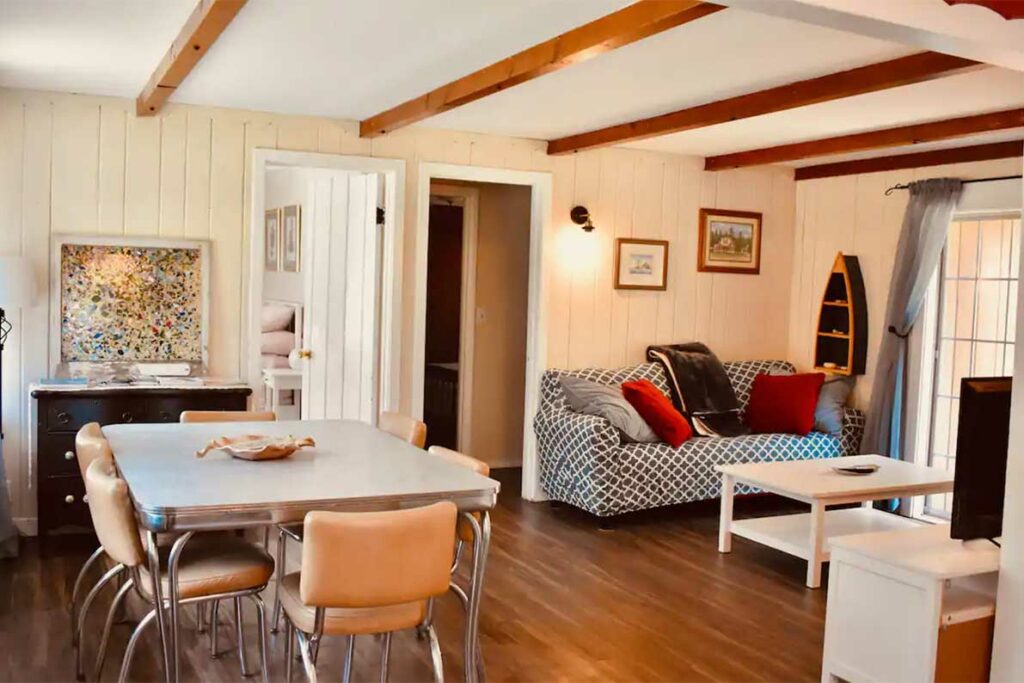 Starts at: $230/night
Location: Baileys Harbor, Door County
Sleeps: 6 guests
Bedrooms: 4
Bathrooms: 1
Bonus: large fire pit, DVD collection
Golden Lodge Eagle River
From the Owner: Centrally located between the gorgeous towns of Eagle River and St. Germain, his spacious, dog-friendly retreat features an inviting and charming living room area with vaulted ceilings and comfortable furnishings, which is the perfect place to spread out and cozy up by the fireplace and share a wholesome time with your family as you plan tomorrow's adventure.
Why the cabin is great for families: Open floorplan with a kitchen ready for making meals, lots of open outdoor space for stomping around in the snow or building a fort overlooking the lake, and a dryer ready to take care of those wet snow clothes after!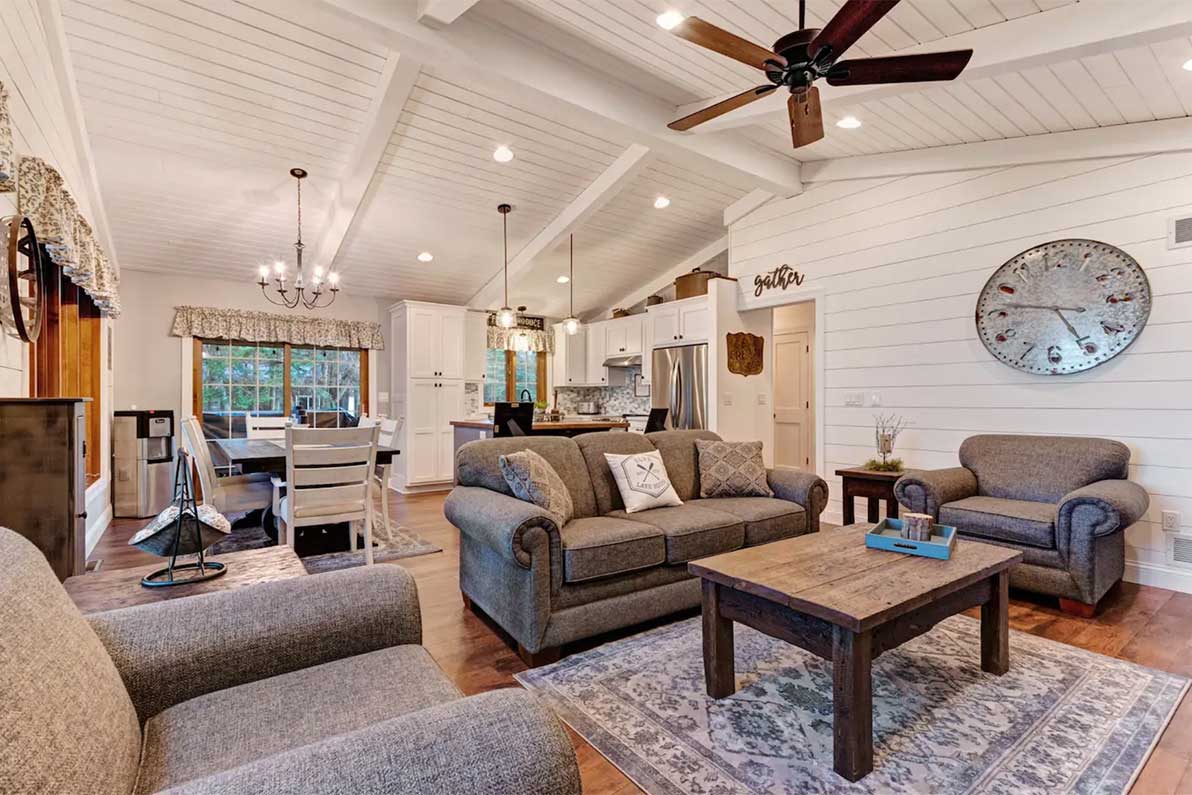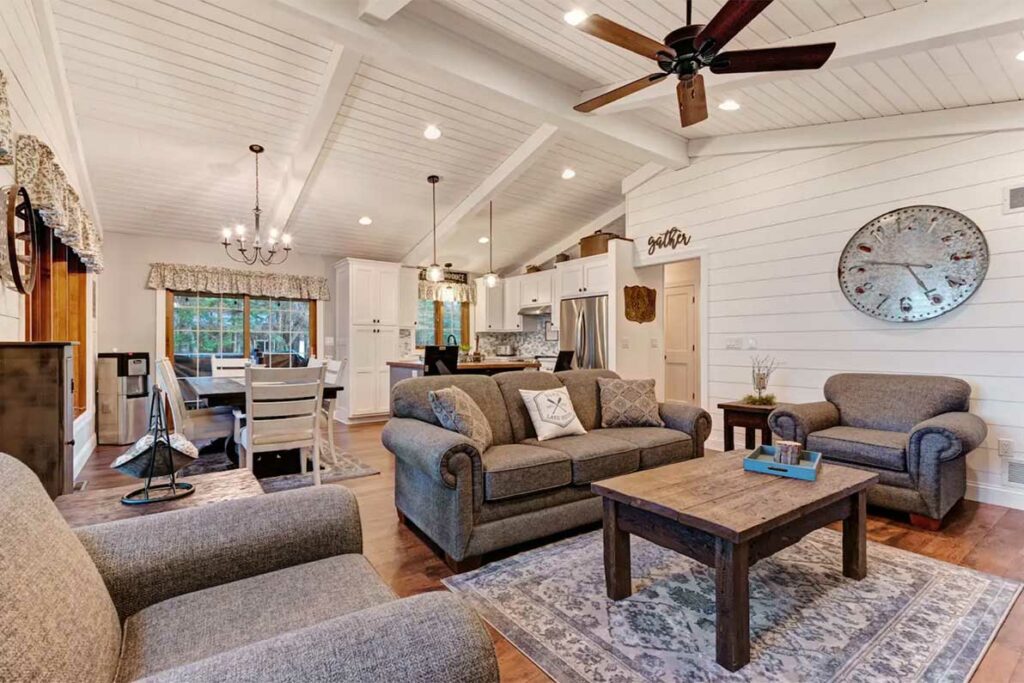 Starts at: $435/night
Location: Lake Muskellunge, Eagle River
Sleeps: 10 guests
Bedrooms: 3 bedrooms
Bathrooms: 3
Bonus: dog friendly, newly remodeled, wraparound deck, wifi
Wisconsin's Northwoods
From the Owner: Enjoy the four-season wonders of Wisconsin's Northwoods at this beautiful Eagle River home, where you'll be treated to views of Tambling Lake directly from the house!
Why the cabin is great for families: Bright and open living area with a fireplace perfect for spending an afternoon putting together a puzzle after playing in the snow. This is a great choice for larger families, with plenty of sleeping space including bunk beds, a full kitchen, and a laundry area so you don't have to worry about taking home a laundry chore!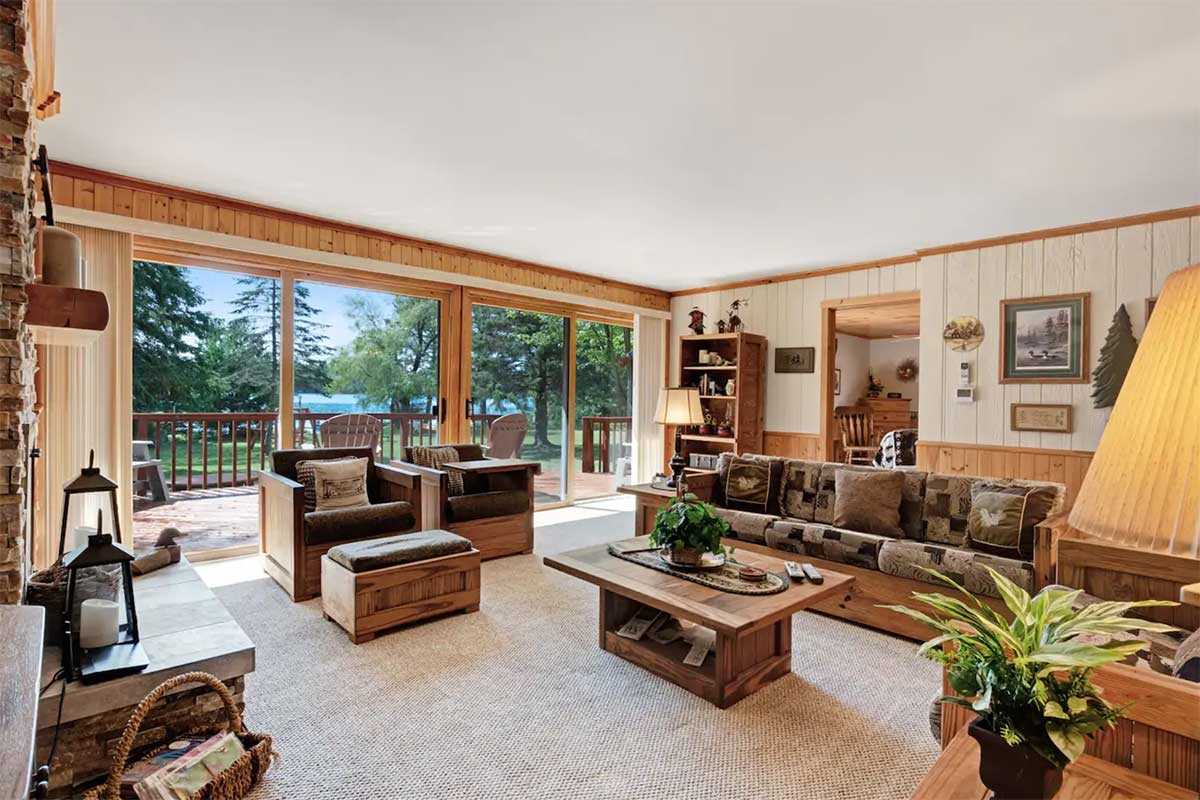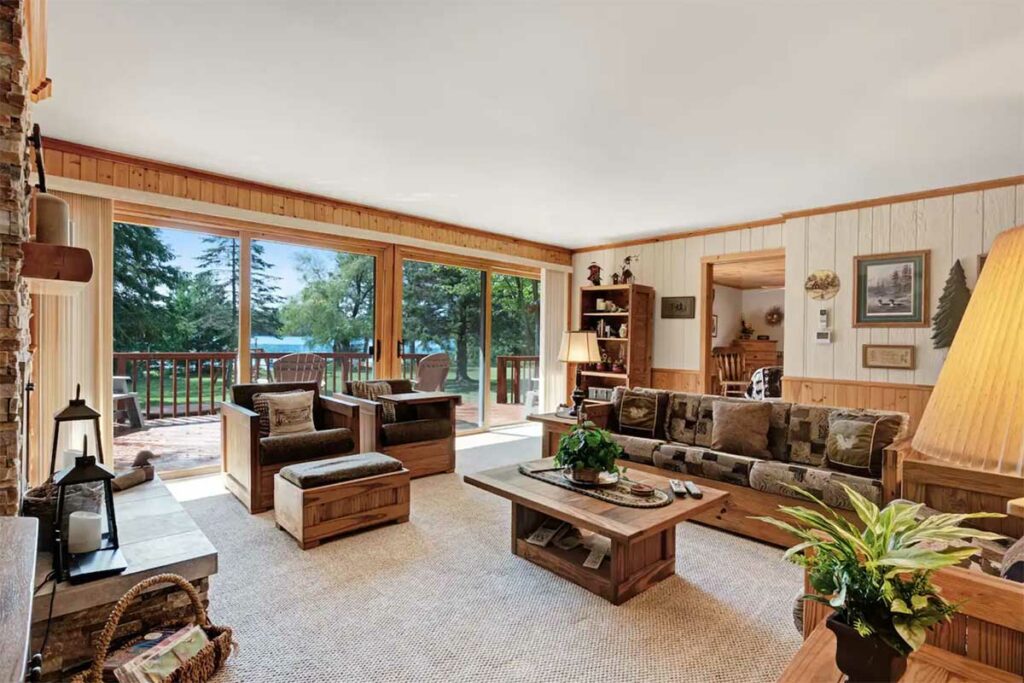 Starts at: $293/night
Location: Tambling Lake, Eagle River
Sleeps: 9
Bedrooms: 3
Baths: 2
Bonus: gas grill
Farmhouse Cottage on Lake Minocqua
From the Owner: This Cottage on Lake Minocqua has been a labor of love project from November 2017 to July 2019. We made decisions to restore, preserve the history, and maintain the character of this home. We changed the original layout to maximize our lake view. We enjoy boating, strolling around the downtown area, and taking bike rides down the Bearskin Trail in the summer. During the winter we love to snowmobile and ice fish, but there are so many other things to do! We hope you'll love it as much as we do.
Why the cabin is great for families: Full of natural light and surrounded by nature, this cottage looks storybook perfect covered in snow. Icefish steps away from the cottage, play in the snow or watch from a cozy spot by the window with a cup of hot tea.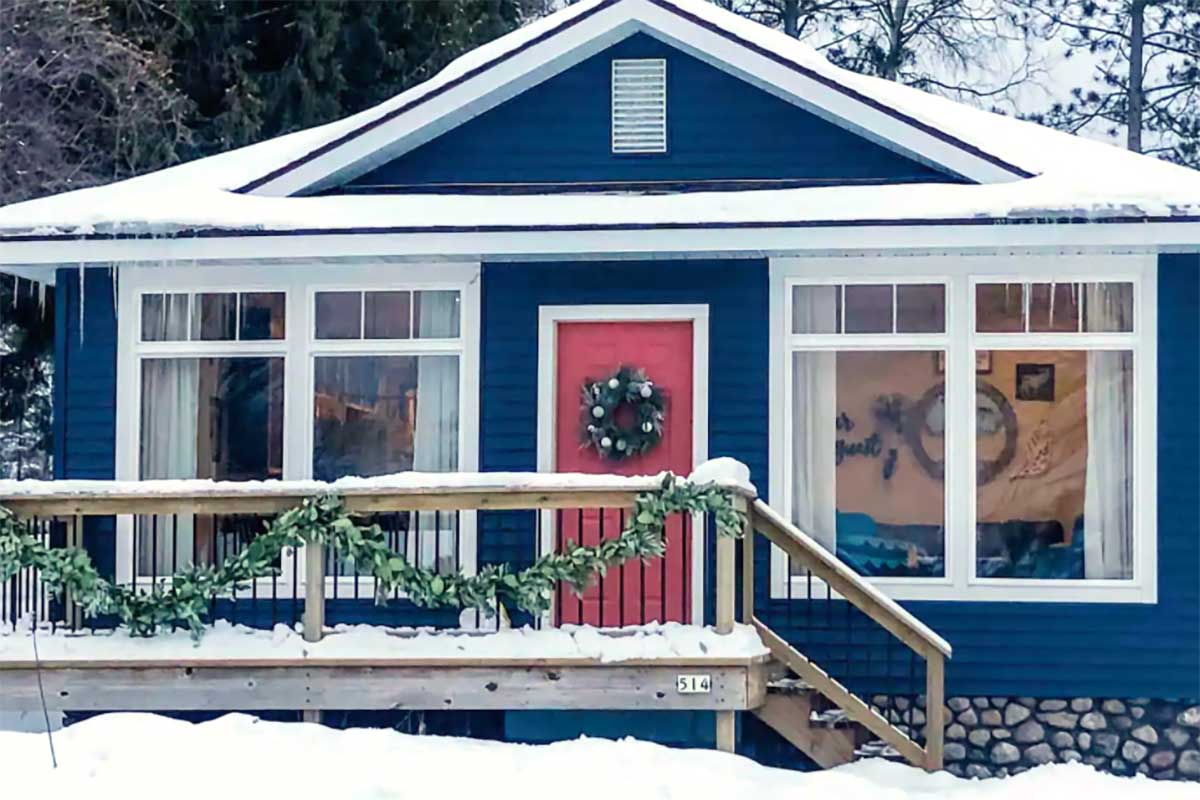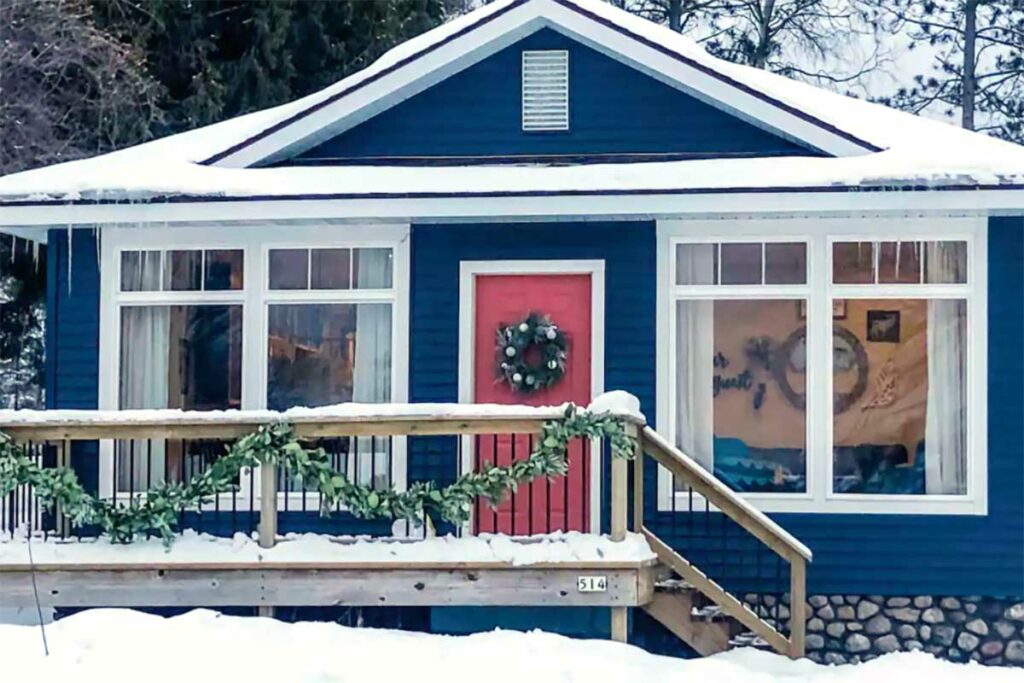 Starts at: $304/night
Location: Lake Minocqua
Sleeps: 8
Bedrooms: 2
Baths: 2
Bonus: Two laundry areas mean you can take home clothes ready to put back into drawers!
Brussels Cottage
From the Owner: If you can envision a waterfront lot with mature trees and views straight out of a dream, interior design and decor suited for a Pottery Barn magazine, and every creature comfort you could ask for in a Door County waterfront retreat…then you are envisioning The Bayhouse!
Why the cabin is great for families: This beautiful space has a fun lofted sleeping area ready for the kids and plenty of space to explore!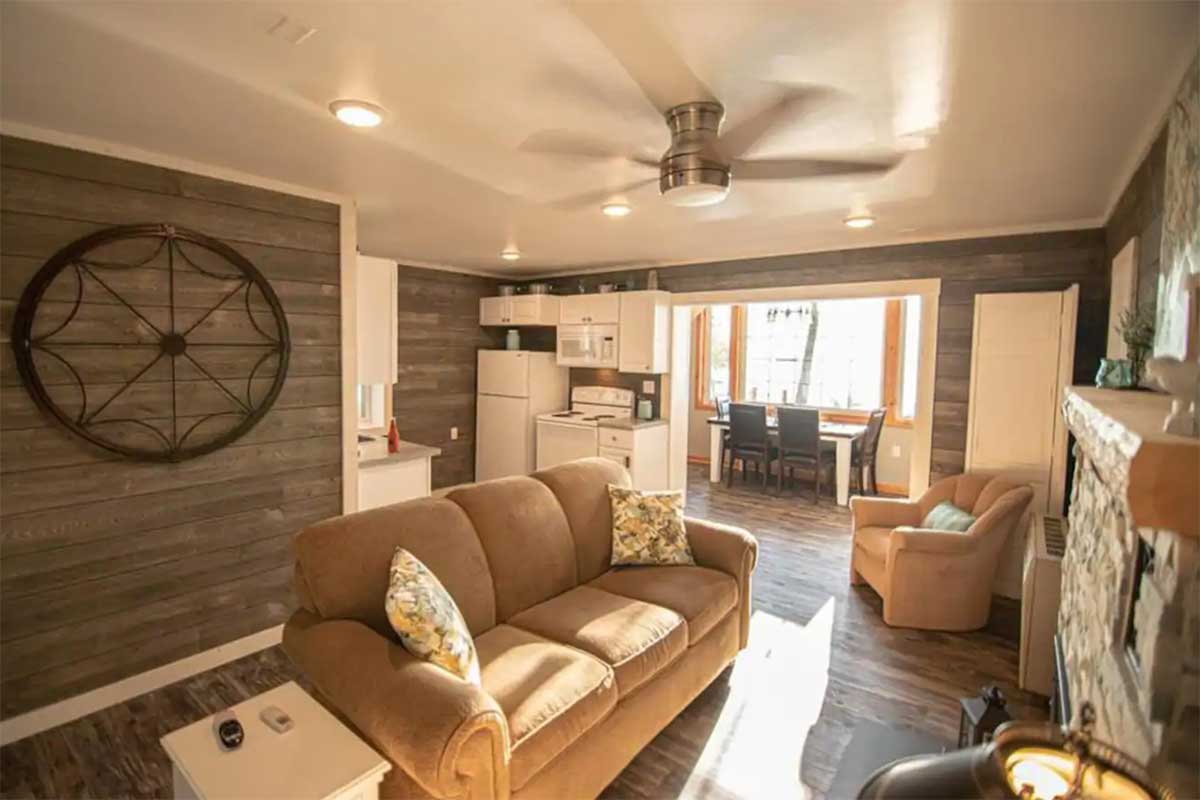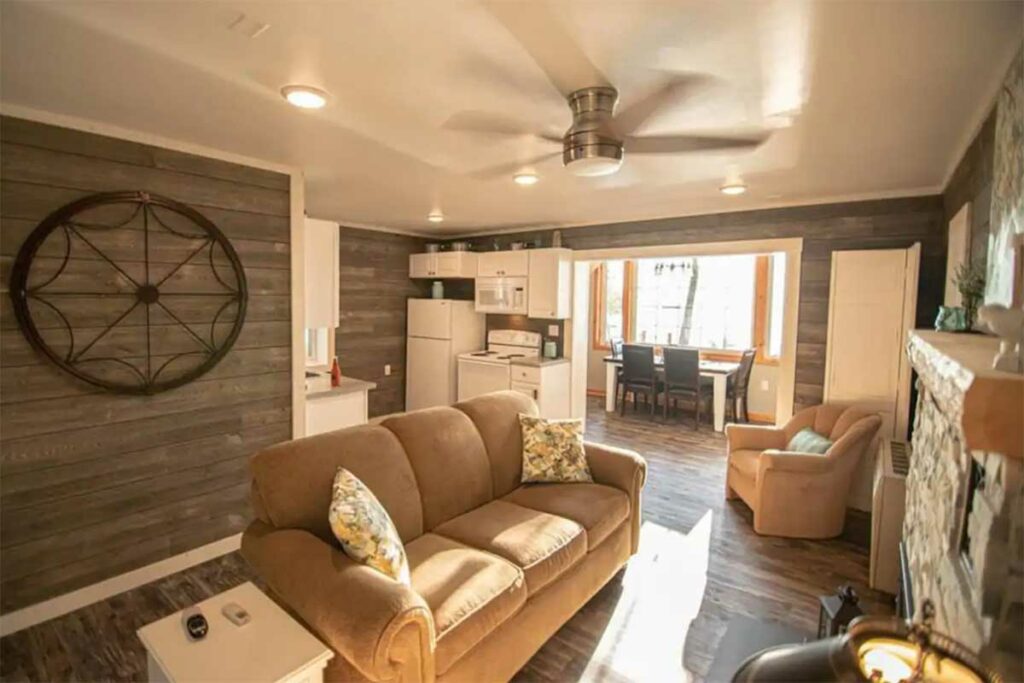 Starts at: $300/night
Location: Brussels, Door County
Sleeps: 6
Bedrooms: 3
Baths: 1
Stunning Lake Superior Home
From the Owner: We are situated right on Lake Superior's South Shore. It is a really special place and design, where artists have recorded albums here, bestselling books were written (really!), marriages begun and anniversaries celebrated, and many beautiful memories made. We kept this for ourselves and our close friends for 13 years, but as our kids became teenagers and we were able to get here less, we wanted to bless others by sharing its unique beauty and incomparable setting.
Why the cabin is great for families: The wintertime views from this beautiful house full of windows is breathtaking and inspiring. You'll be only 15 minutes away from the awesome winter caves unique to this area. There is plenty of room for everyone with really unique sleeping areas and you can bring along your furry family members!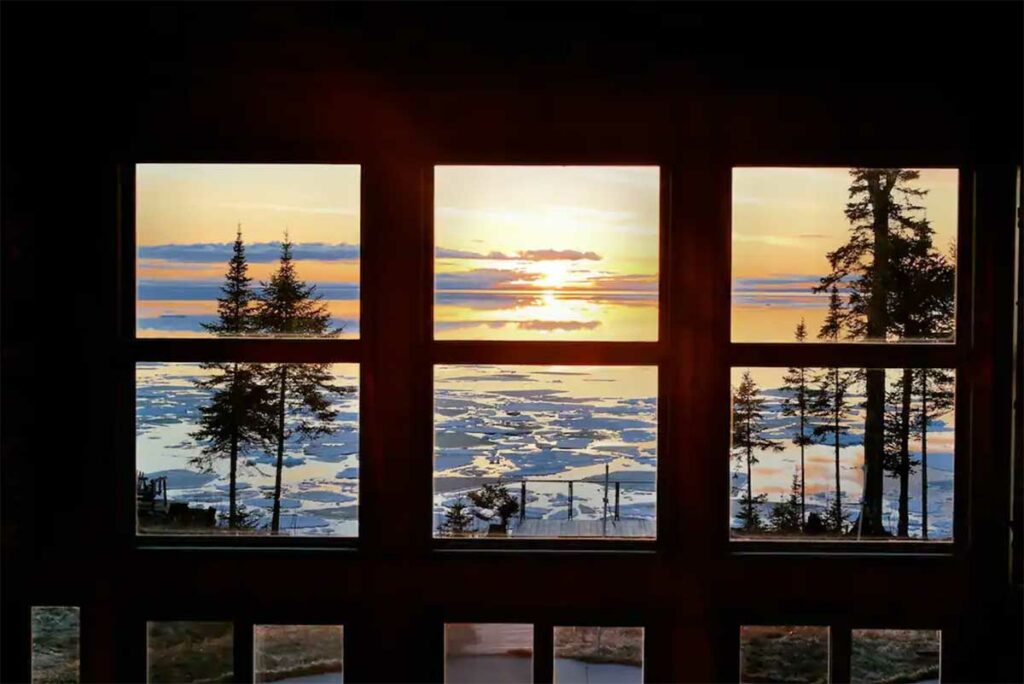 Starts at: $222/night
Location: Herbster, Wisconsin
Sleeps: 8
Bedrooms: 3 (4 beds)
Baths: 2
Bonus: dog friendly, hiking nearby
Hygge House
From the Owner: Our cabin is small but mighty! It has the potential to sleep 6 but makes a great space for 2-4. We are just 2 miles away from CAMBA trailheads, 1/2 mile from the Namakagon River, and 2 miles from the town of Cable. In Danish, hygge (HUE-gah) is described in many ways, but it is simply the Danish ritual of enjoying life's simple pleasures. Friends, family, graciousness. The Hygge House encapsulates this definition by arming itself with a slow and peaceful way of living. No television, Chemex coffee system, gas fireplace, blankets to snuggle, outside deck for enjoying the peace, yet only 2 miles from town if you're craving some local action.
Why the cabin is great for families: Relentlessly relaxing and unplugged environment offers endless opportunities for connecting with each other and nature. The trail system is ready for you to visit year-round. You're only a 20-minute drive from Hayward which is home to the Fresh Water Fishing Hall of Fame, that giant fish museum that you definitely need to see, and the cutest main street around.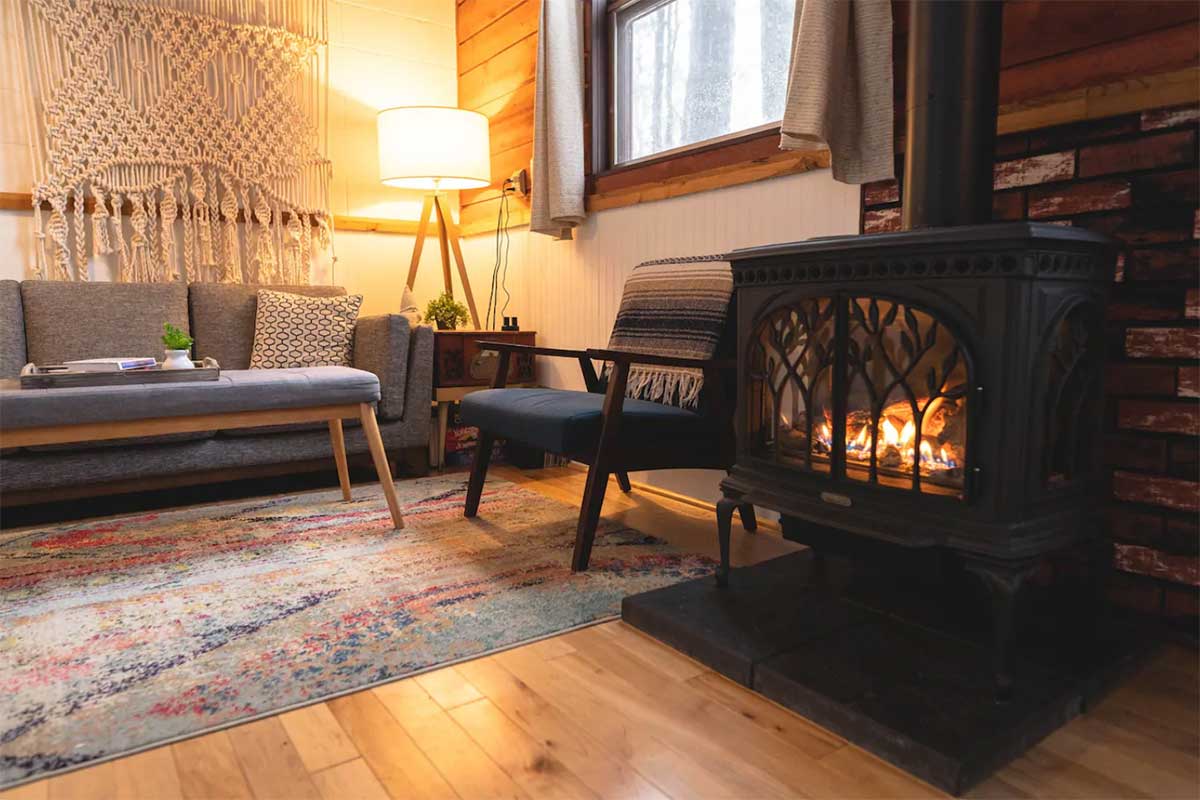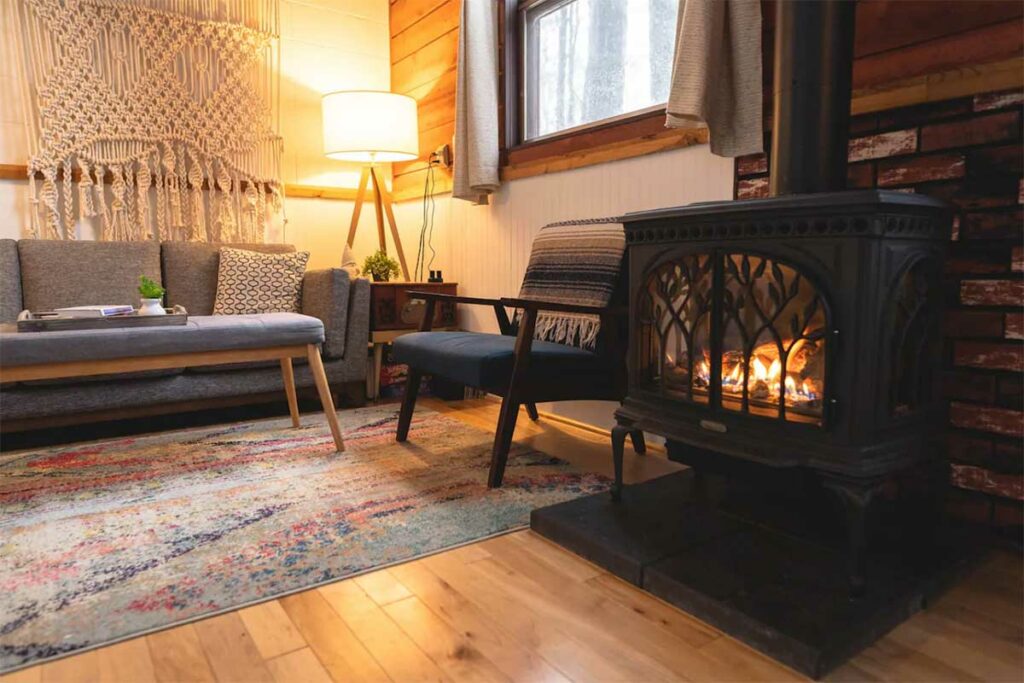 Starts at: $121/night
Location: Cable, Wisconsin
Sleeps: 4
Bedrooms: 3
Baths: 2
Bonus: kitchen stocked for baking adventures, outdoor fire pit for year-round use
Couple Retreat: Tiny House
From the owner: Our cabin is designed to immerse you in the forest of Wisconsin without sacrificing the comforts of home. Our house is the perfect retreat for couples, individuals, or groups of friends looking to escape and relax. We are open for stays and have further increased cleaning protocols during Covid-19 so that you can continue to enjoy nature comfortably.
What makes this the perfect getaway spot: This tiny house is surrounded by woods and looks dreamy year-round, there are huge windows that bring the outside in. You'd be hard-pressed to find a cozier spot to cuddle and tune out the world.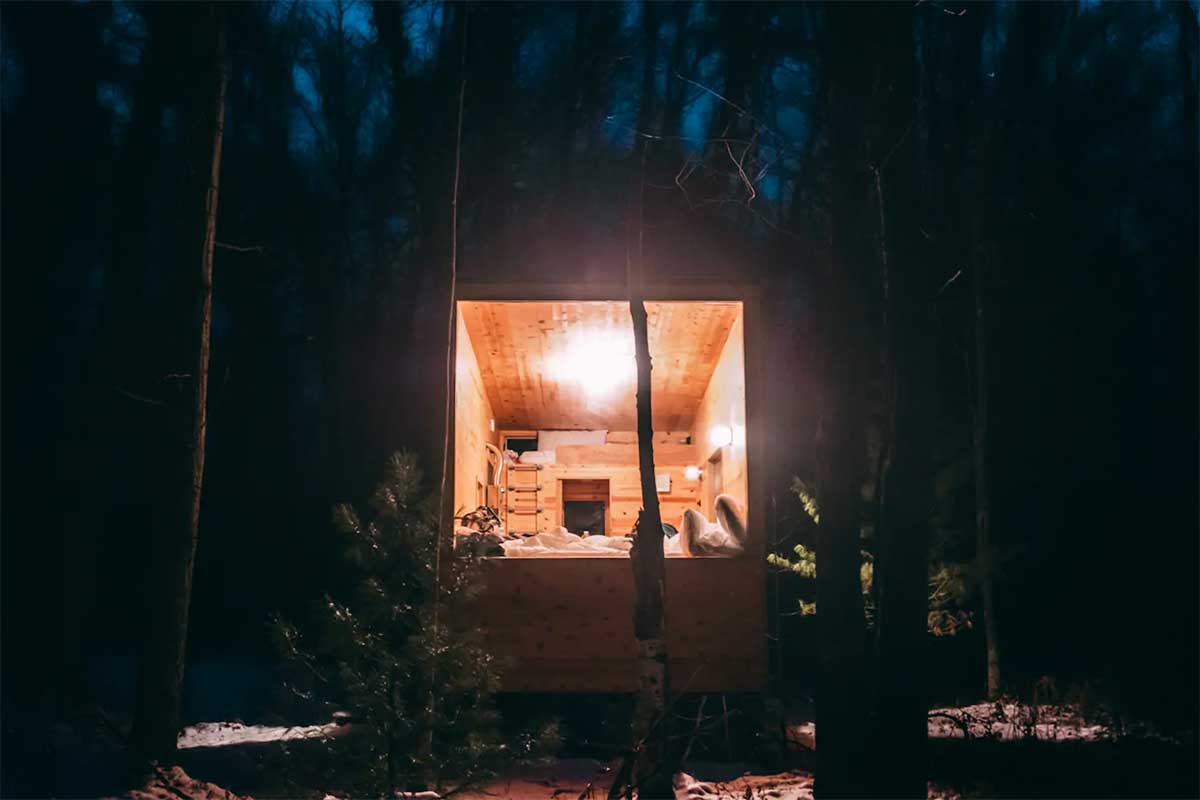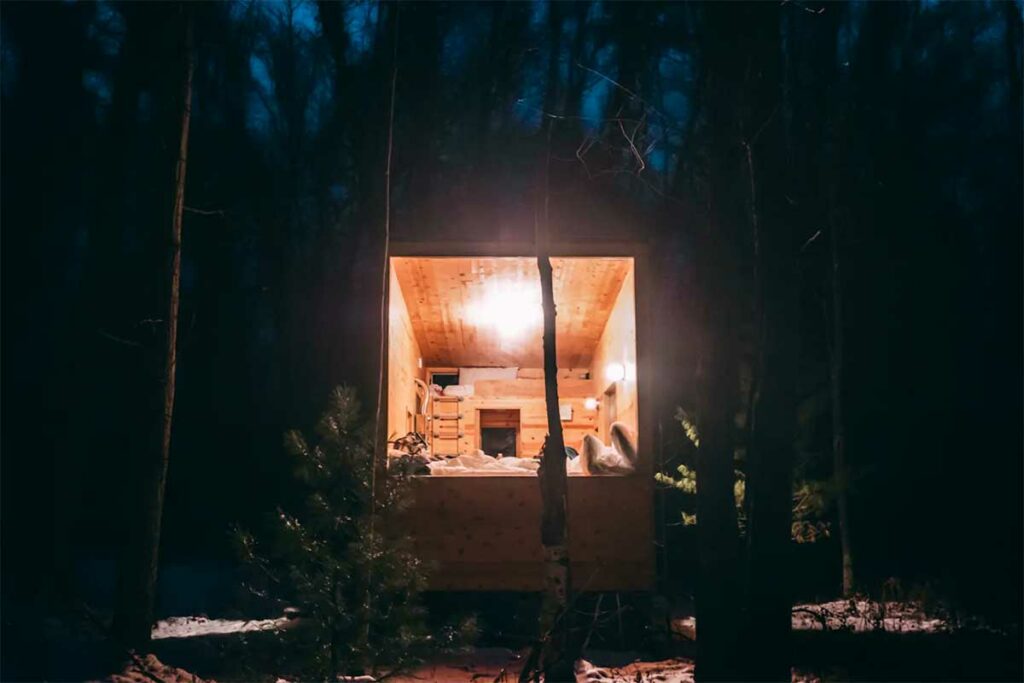 Starts at: $230/night
Location: Fall Creek, Wisconsin
Sleeps: 3
Bedrooms: 1
Bathrooms: 1
Bonus: You can bring your pet along for your cozy getaway.
---
As an Airbnb Associate, I may earn a fee when you book from this article.