Families who crave adventure with only a short car ride will enjoy visiting one of Green Bay's secluded water gems! Nestled in a nook right off the highway on the way to Door County, you'll find a lovely roadside waterfall and plenty of walking area to stretch out while you spend time together and have fun exploring! (Here are our favorite things to do in the summer in Door County!)
The waterfall inside Wequiock Falls Park in Brown County may sometimes be overlooked by the average passersby, giving it a somewhat camouflaged feel. There is no official signage for the park, but GPS and map systems accurately direct where to pull into the small parking lot and cross the grounds to the falls' 25-foot ravine. View the waterfall and rock formations from the old bridge and fencing overlook from above, or those wanting an up-close experience can also take the stairs down to the level of the falls.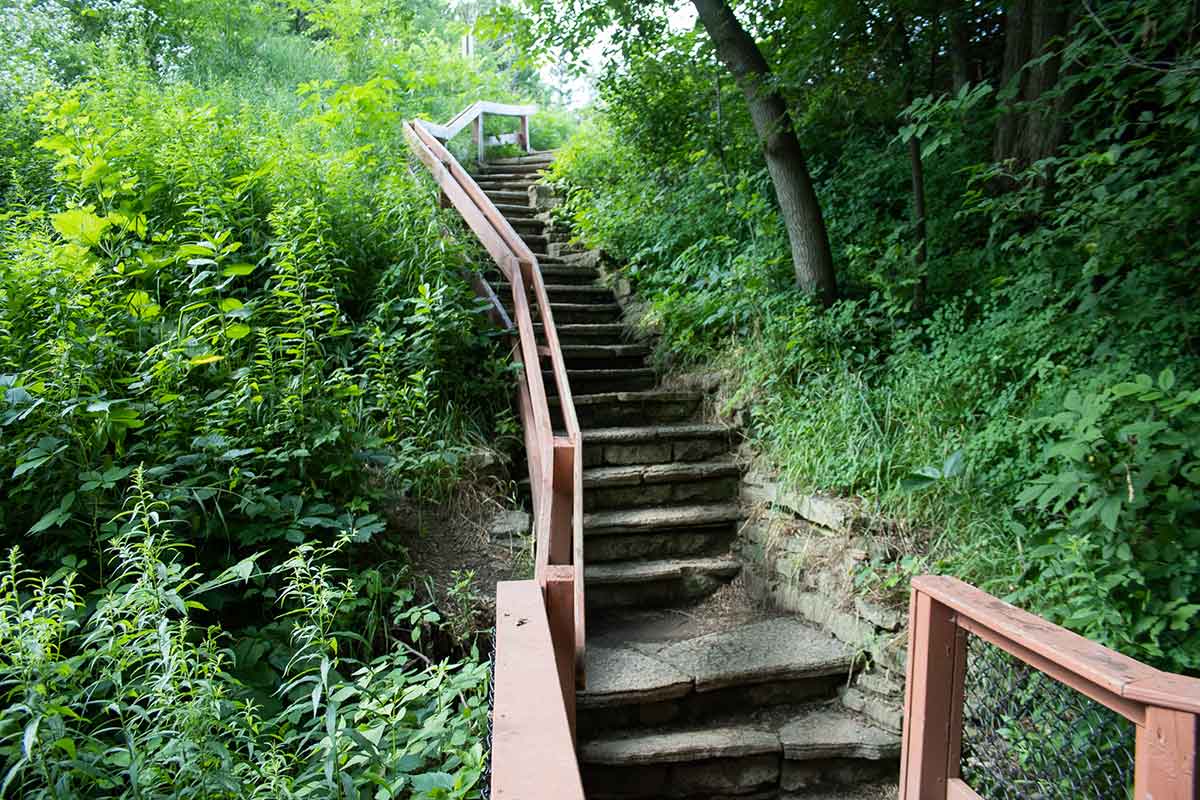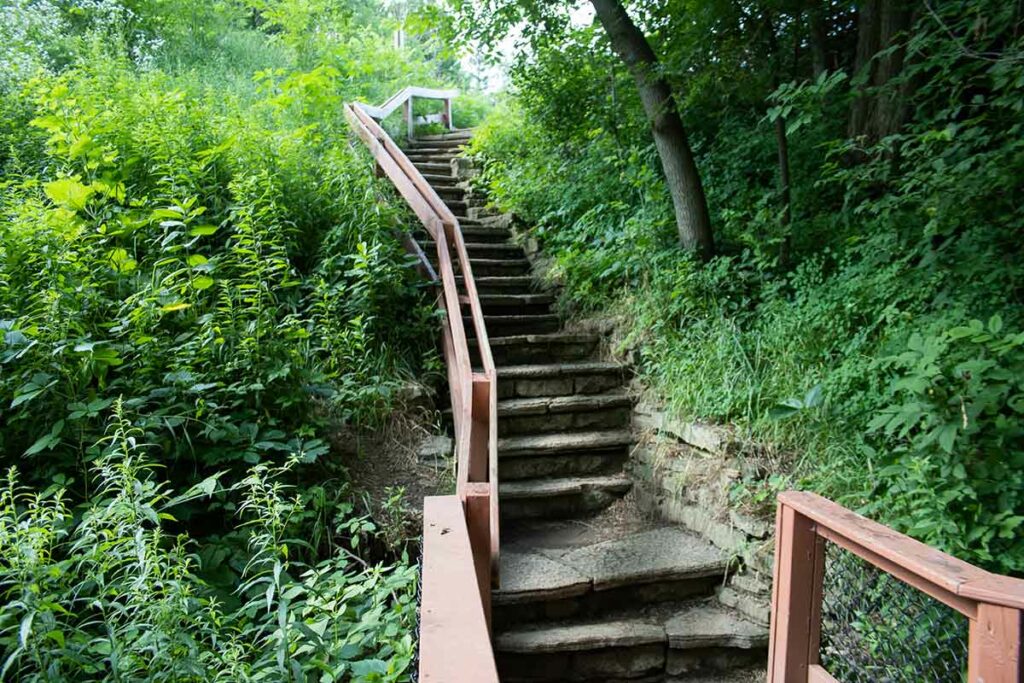 The falls' source is the Wequiock Creek, part of The Northeast Wisconsin Land Trust protecting the Wequiock Creek Natural Area from development. The gorgeous caved area is part of the historic Niagara Escarpment. The Niagara Escarpment runs throughout multiple states, including several key areas of Wisconsin. It contributes to the unique beauty of favorite spots like Fonferek Glen Waterfall, High Cliff in Sherwood, and other popular Wisconsin State Parks in Northeast Wisconsin.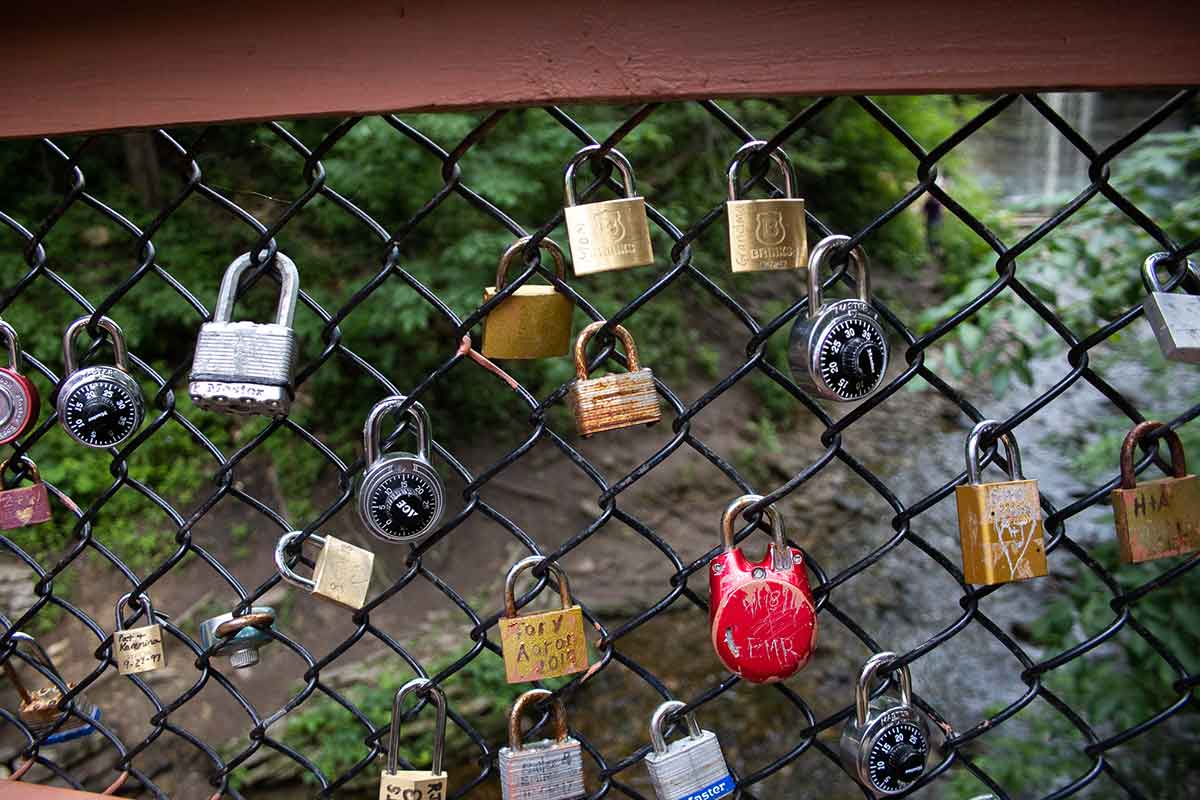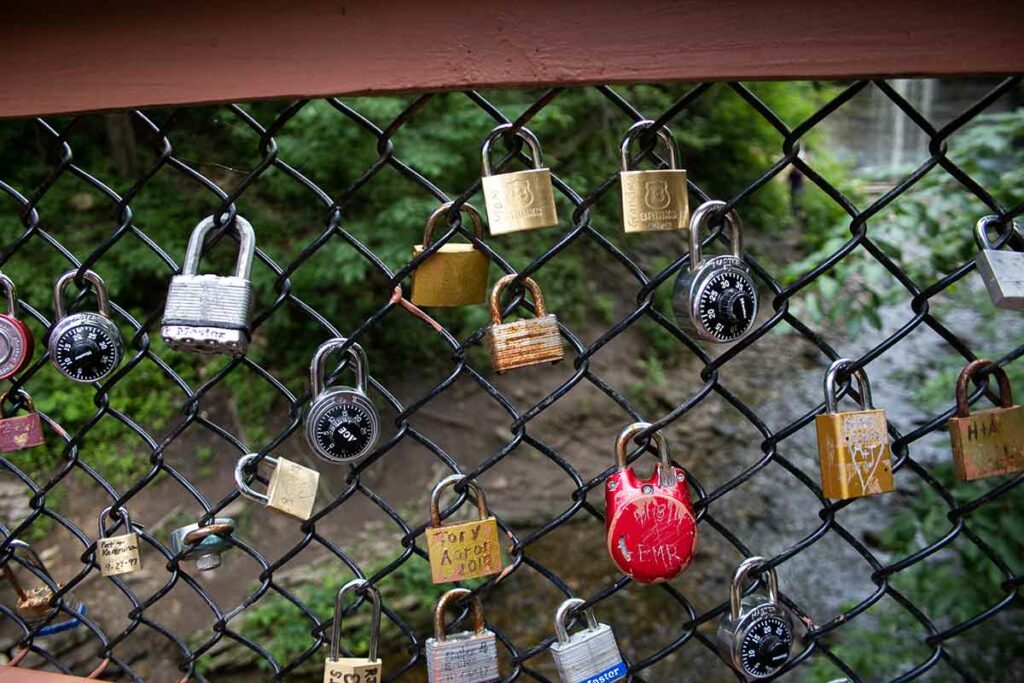 These geographical activities mean Wequiock can offer an impressive view and opportunity for families to explore throughout the year! It is a reasonably easy walk to get down to the gorge. On the way down, families will find an eccentrically decorated fence like the Pont des Arts bridge in Paris, where there is a collection of engraved and initialed locks.
Depending on the season, water levels vary, so please use caution when exploring. While families can get close to the falls, rocks can become slippery when wet. The seasons each offer unique views; winter provides a 'frozen in time' feel with still large icicles, spring showcases the falls' powerful gushes after a rainstorm, and during summer and autumn, the falls tend to slow down and reduce to a relaxing trickle.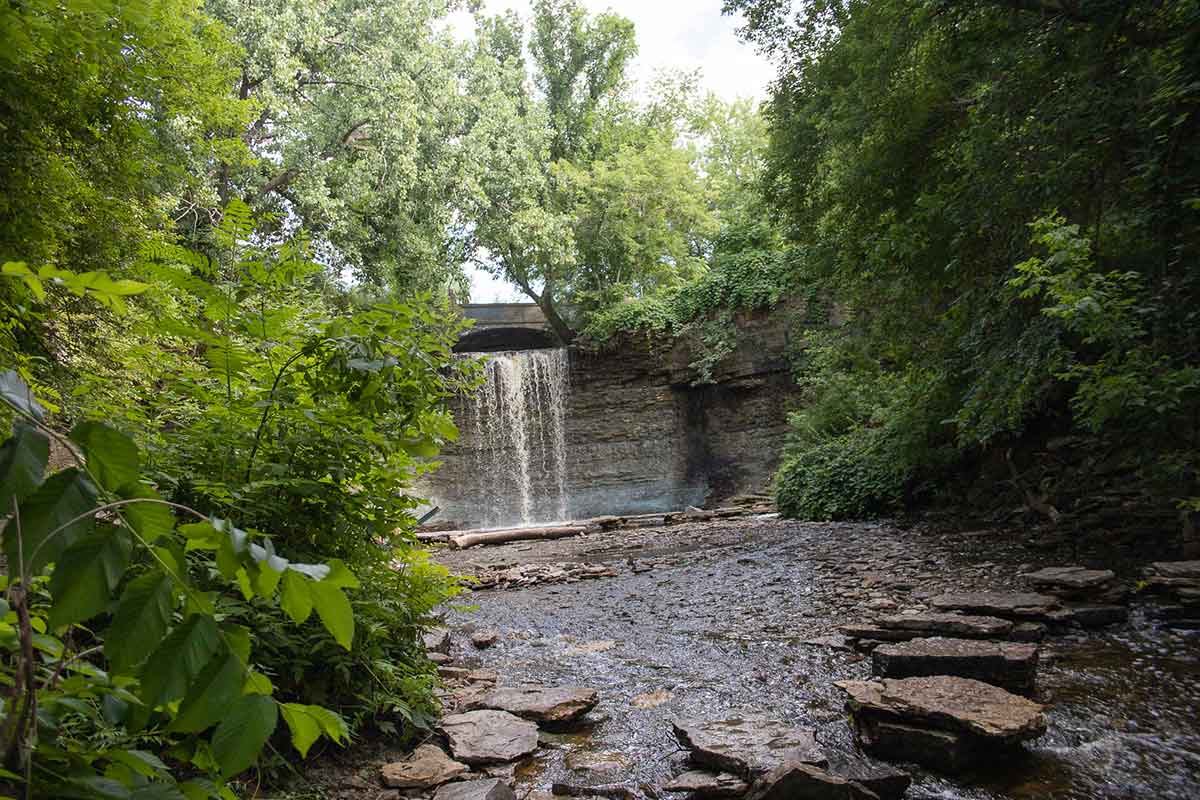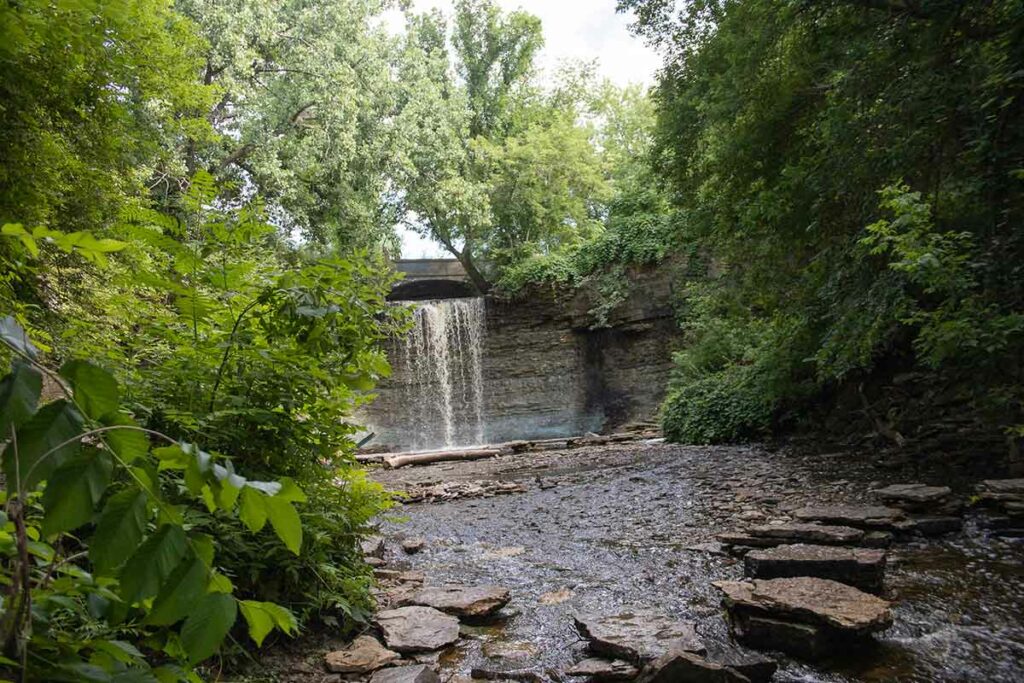 Tips for Visiting
Wear Appropriate Shoes: Be sure to wear comfortable non-slip shoes regardless of the season. In winter, consider ice cleats for safety on icy trails and around the falls. While visiting does not require much climbing or advanced maneuvers, rocks can shift or become slick any time of year.
Be Prepared: Visiting up close requires walking down a semi-steep stairwell. Strollers or wheelchairs cannot get to the falls, though visitors with limited mobility can still see the pretty sights from above! We also recommend throwing extra socks and pants in the car if slips happen. Snow pants and waterproof snow boots are also great for the kids to slide around on the ice.
Watch the Light: Be sure to plan your visit with enough time to explore and take photos before sunset, especially when we lose light quickly in the winter. This area would not be safe to attempt to navigate in the dark.
Stay Hydrated: Don't forget a water bottle during your visit; even in the best weather, dehydration can happen, especially with young children who tend to tire quickly.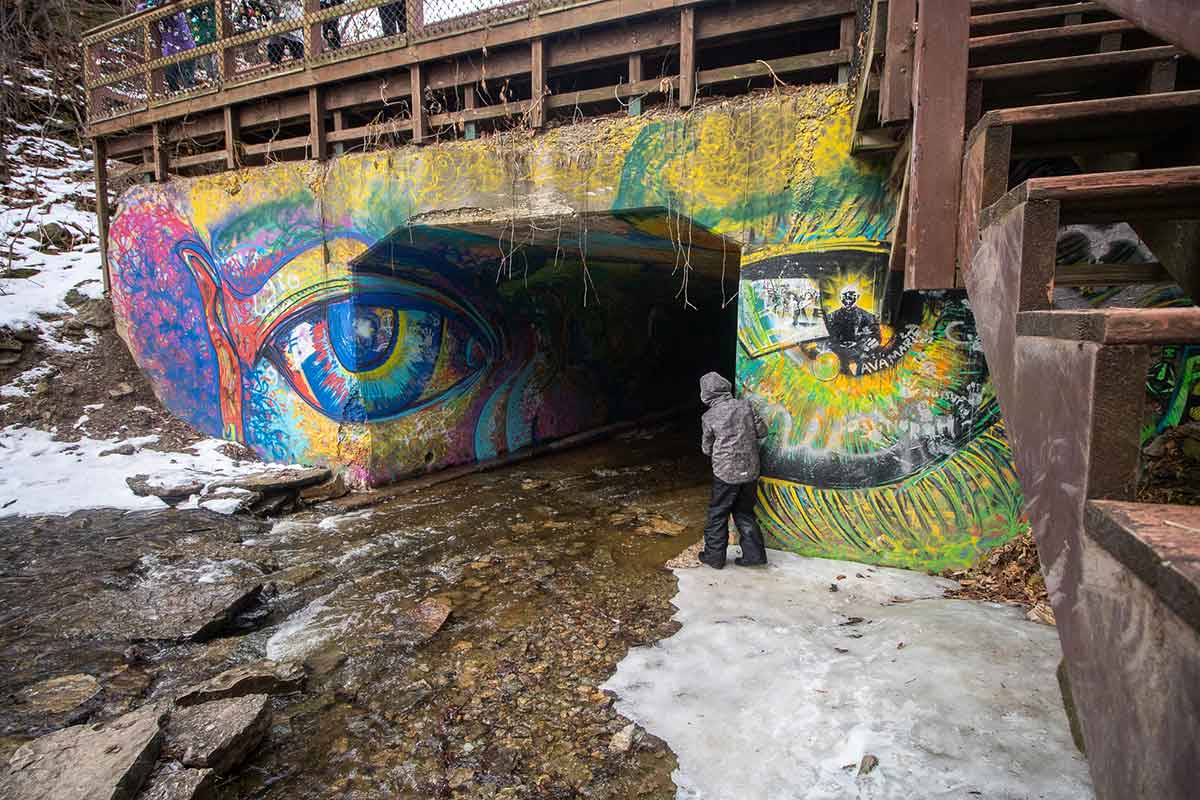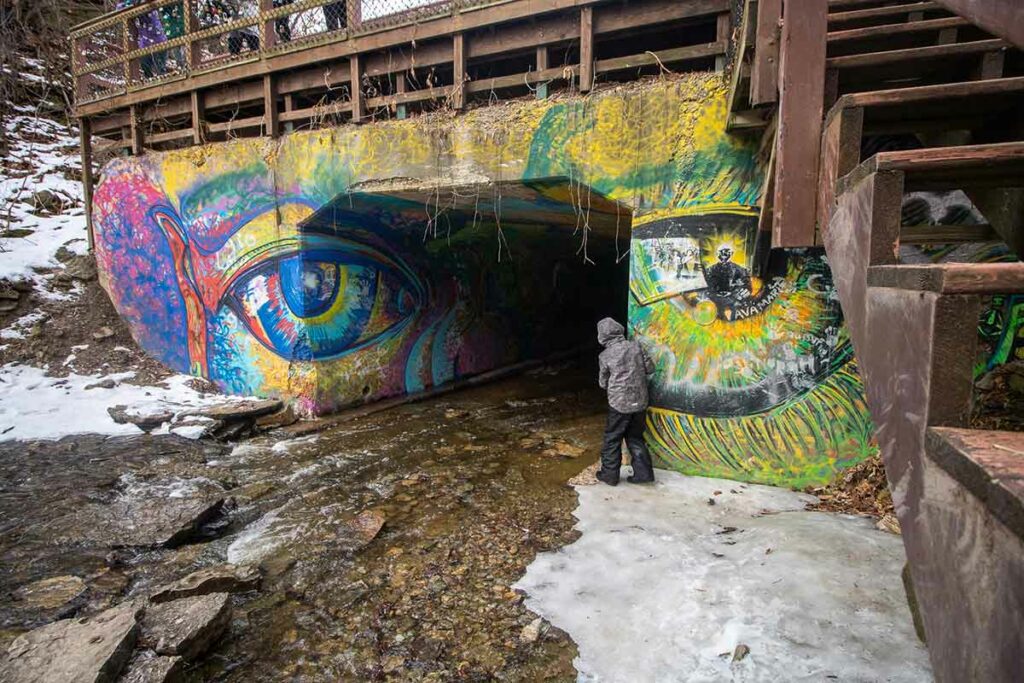 Along with a picturesque view, the park offers families a spacious place to picnic and relax. The park does offer tables, restrooms, drinking water, and free parking. Remember to be courteous of others and mindful of nature. Most importantly, enjoy this beautiful gem found in our community! Bay Shore County Park is also a nearby fun place to explore.
Wequiock Falls, 3426 Bay Settlement Road, Green Bay