We, like many other parents, are looking for things to do this summer that are outside and not too crowded. We're looking for out-of-the-box ideas that won't be expensive and will suit the entire family. This back to the basics little day trip doesn't have fancy frills. It's quite simple – enjoy peaceful natural surroundings and maybe even have some quiet time. This trip is off the beaten path and is a perfect spot to explore with your littles.
The Red Mill Gift Shop and the adjacent Nelson Park are located on the Crystal River on County Highway K, about two miles south of the city of Waupaca. The Crystal River is part of the Chain O' Lake interconnected lakes with crystal clear spring-fed waters. Little Hope is located not far from Hartman Creek State Park and also located near Rustic Road 23 (one of our recommended scenic drives).
A couple of things we recommend bringing along – bug spray, sunscreen, blanket, picnic lunch or snack, towels, some books, and money for an ice cream treat.
Just a friendly reminder to leave nature better than before your visit. We try to remember to bring along a gallon zip-top bag to pack out any wrappers or tuck away any trash that we find on trails.
Read More: Art, Nature and Fun at Stevens Point Sculpture Park!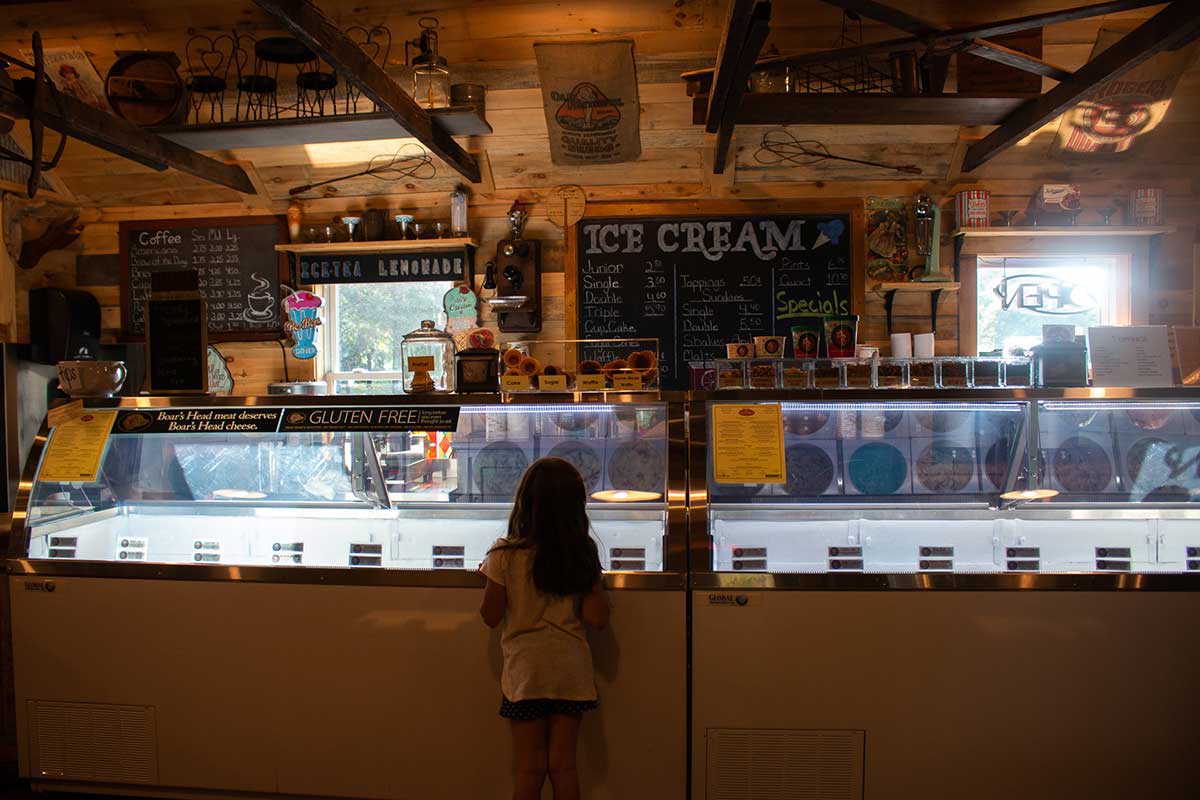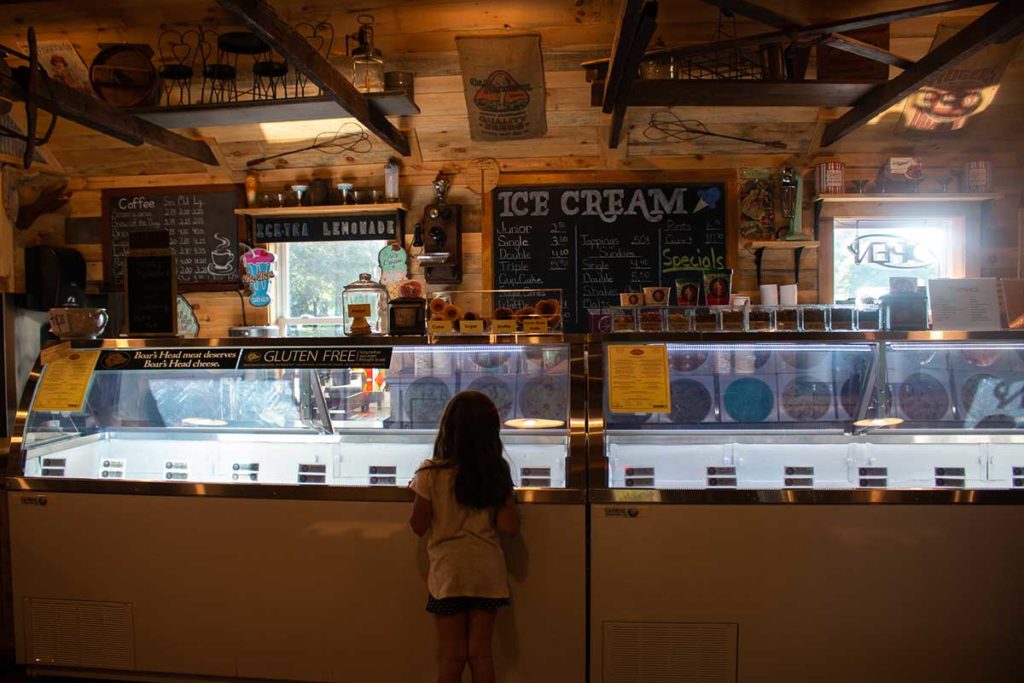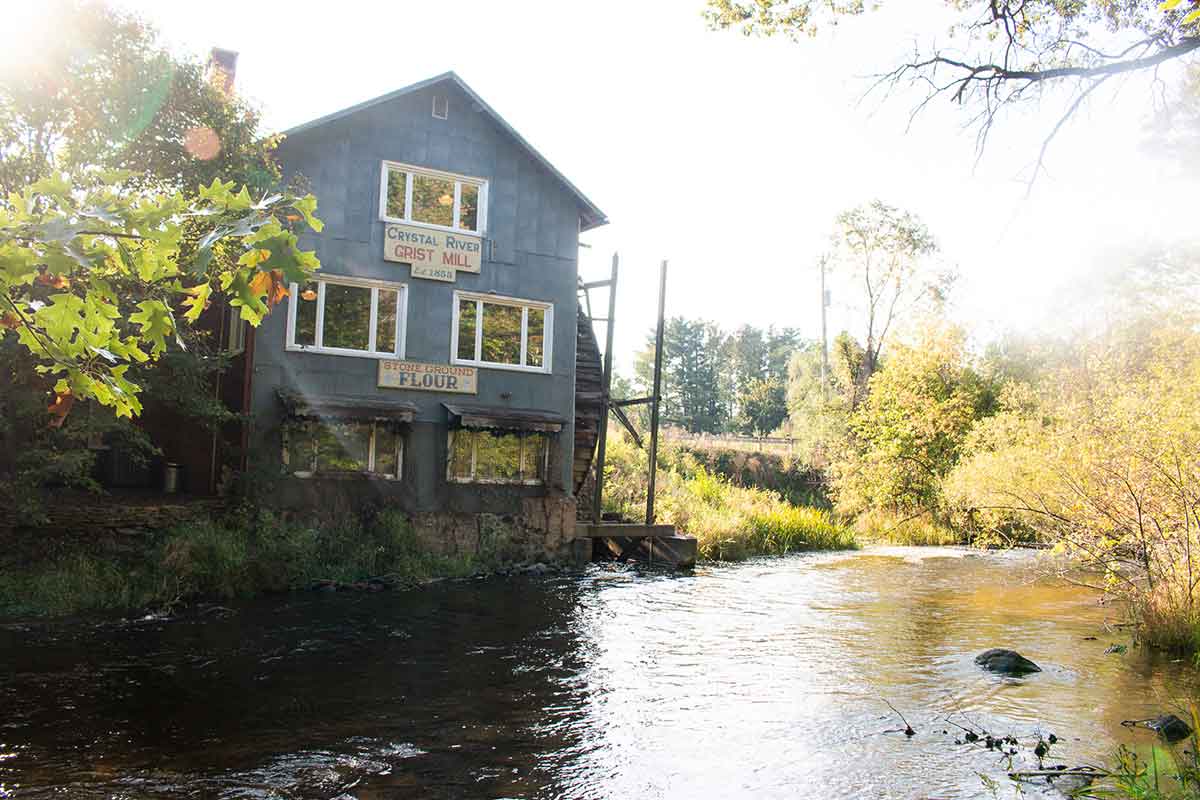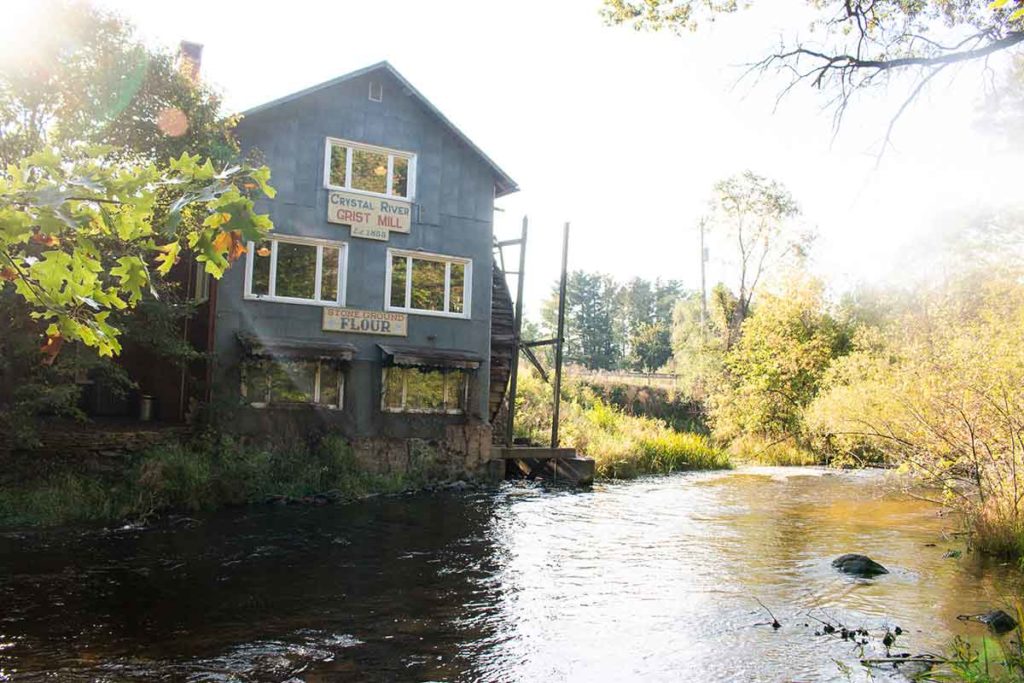 Red Mill Gift Shop
The Red Mill was originally a grist mill made to make flour built back in 1855. It has been converted into a cute gift shop offering Chocolate Shoppe Ice Cream, candy, coffee, soups, and sandwiches. It is perfect for grabbing a bite to eat before or after exploring the grounds.
Follow signs to the covered bridge and little walking trail behind the mill. Explore a garden, woods, a little chapel and an iconic red-covered bridge. The bridge makes a perfect backdrop to capture a picture so make sure to have your camera or phone. Enjoy or snack from the Red Mill, read a book, or just chat while sitting along the river.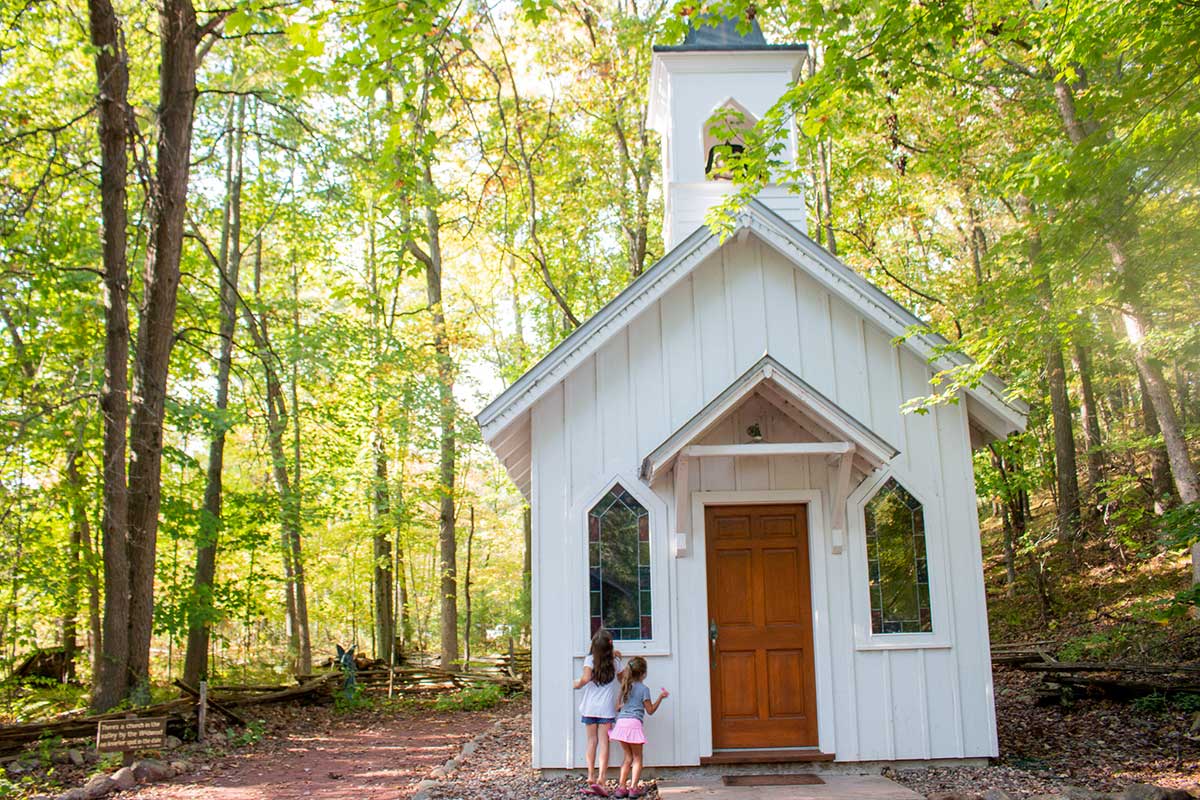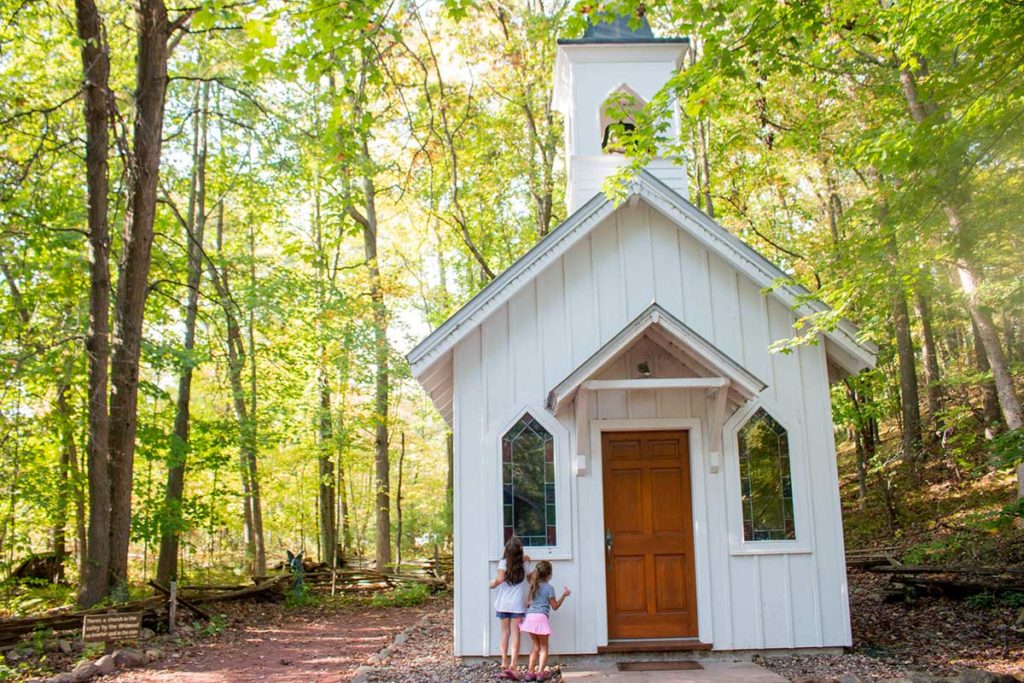 Nelson Park
This is a public park located right next to the Red Mill. Nelson Park is a half-acre park with bathrooms, picnic tables, grills, a footbridge to a small island, and riverside benches. The park is also a popular fishing spot and pass-through for kayaks and canoes exploring the chain of lakes.
But what do we love most about this little park? Creek stomping! Or in this case river stomping! The water is shallow and great for cooling off little feet. It brings fond memories of my childhood!
Littles might enjoy playing with a bucket, shovel, and net while exploring the water. Hike up your shorts, grab your water shoes, and enjoy exploring what is happening under the surface of the water.

A great tip for littlest explorers is to bring along a Puddle Jumper or other small life vest. It can help to keep a stumble or slip from becoming a big deal event.
There is plenty of shade to lay out a blanket making this a perfect spot for a picnic lunch or snack. Or, just drying off and reading a story or talking about your river adventure before you head back into the car for the short drive home.
Read More: 15 Awesome Wisconsin State Parks That Are Less Than Two Hours From Appleton!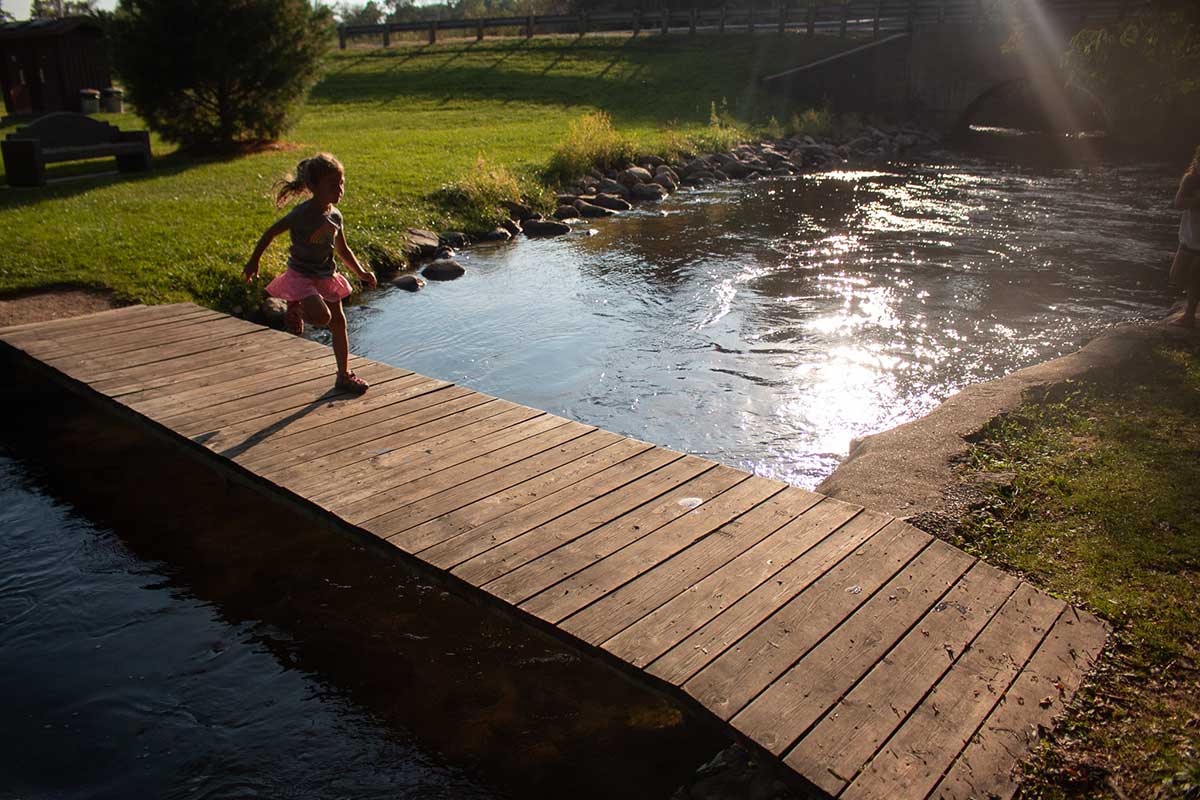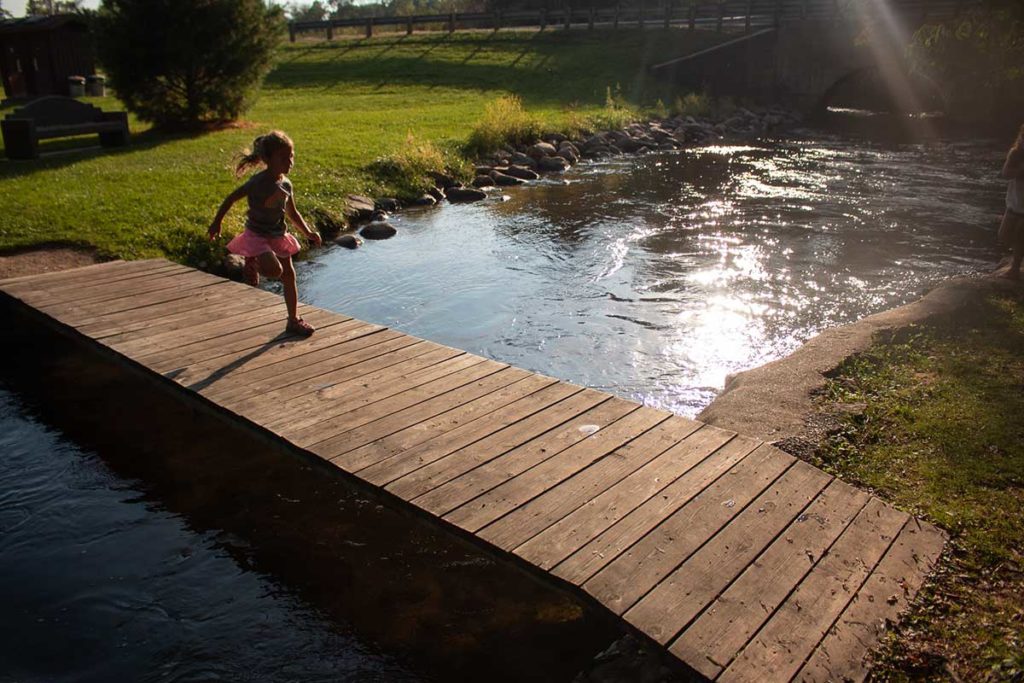 Other Nearby Things to Do in Waupaca
Tom Thumb Mini Golf, N2494 Whispering Pines Rd, Waupaca

Tom Thumb Mini Golf is a nostalgic miniature golf course, reminiscent of the 1950s, located on the Waupaca Chain of Lakes. Enjoy 18 classic hazards, a picnic area, snack shack. Bonus – the course is shaded too.
Opens in May for the season.

Hartman Creek State Park, N2480 Hartman Creek Rd, Waupaca
Hiking, swimming, and Hellestad House Log Cabin
Waupaca's Lesser Know Swimming Spots – Marl Lake Dock on the upper Chain O' Lakes and Government Island on Rainbow Lake (largest lake of the Chain O' Lakes)
Clearwater Harbor Waterfront Restaurant & Bar, N2757 County Hwy QQ, Waupaca

Waterfront family-friendly dining with live music and playground for kids

Animal Haven Farm Zoo, N1720 Buchholz Rd, Weyauwega

This family-owned zoo is just a couple of minutes from Highway 10 in between the Fox Valley and Waupaca and features over 100 animals including lions, tigers, camels, zebras, bears, buffalo, swans, wallabies, emu, ostrich, rhea, llama, deer, wolves, and farm animals. There is also a playground and picnic area. Admission for adults is $12, children are $8, and under age 2 is free.
Read More: Where to Rent Kayaks