Families who are fans of the chilly white fluff still have the opportunity to enjoy it in Northern Wisconsin in the surrounding areas of Minocqua! Many people think of Minocqua as a family summer adventure, but there is so much fun here in the winter too! A relatively short drive from the Fox Cities, the town provides fun, winter-inspired adventures, including snowshoeing, ice fishing, exploring, and of course, the opportunity to see the world's largest penny and to settle in for some warm treats!
Minocqua is a derivative of the Ojibwe word "Ninocqua," meaning "noon-day rest." This quaint destination lures visitors with its laid-back vibe, beautiful views, and fresh, icy air. Here, families will feel time stand still, introducing the essence of calmness and relaxation. There are so many things to do in Minocqua with kids, and its neighboring towns truly have so much to offer visitors.
It is definitely the perfect winter getaway to bid farewell to winter!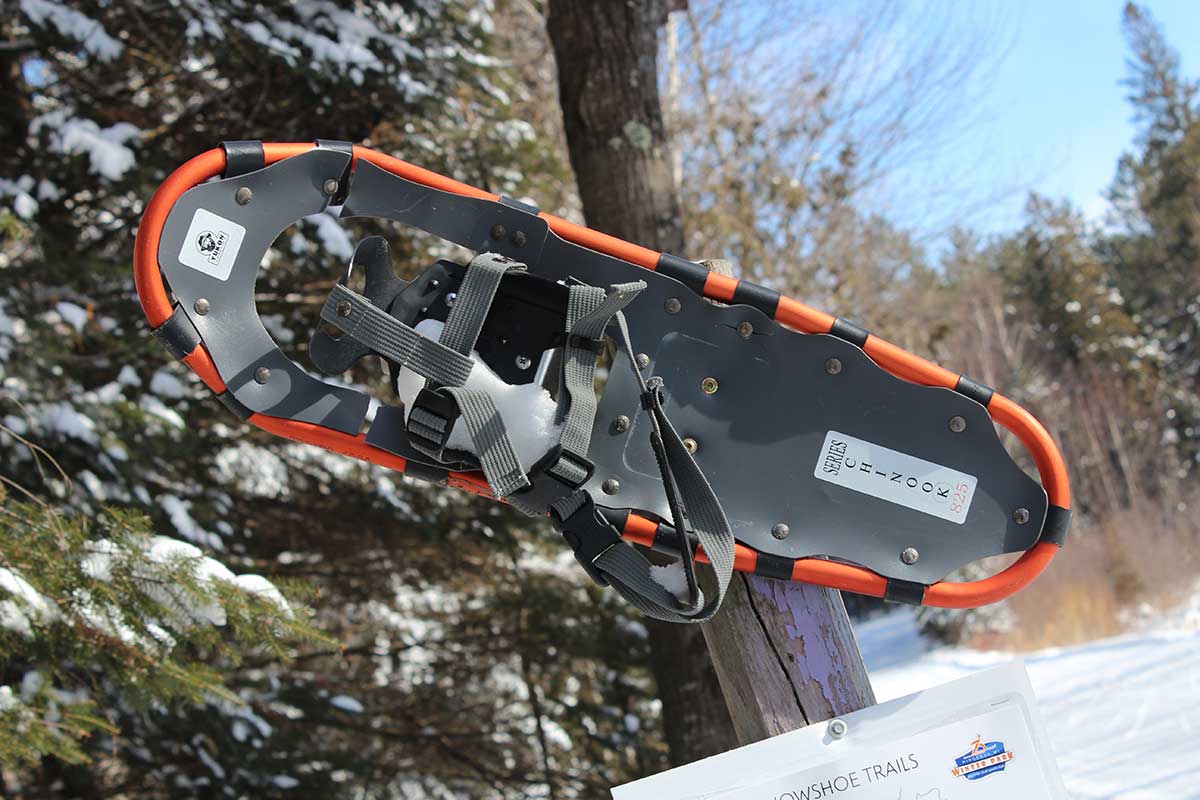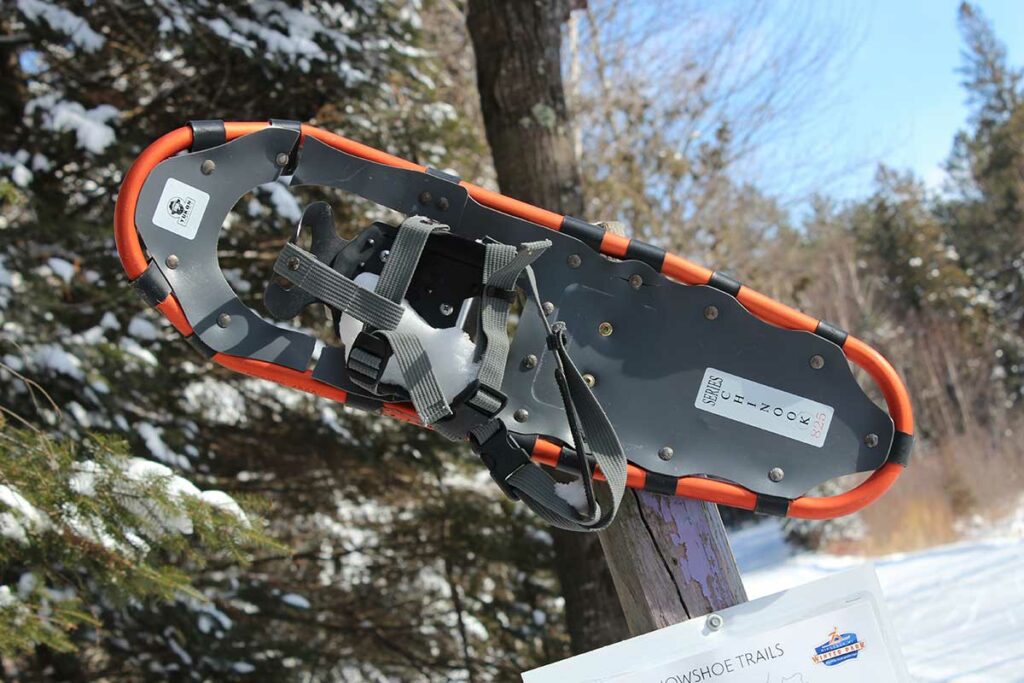 10 Fun Winter Things To Do in Minocqua with Kids!
1. Visit Minocqua Winter Park
Minocqua Winter Park is a stretch of 6,500 acres of groomed trails nestled deep within the woods and the perfect place to burn off energy with an afternoon of winter activities like snowshoeing, cross-country skiing, and fat-tire biking! You can also bring your furry companion and try out skijoring – skiing with dogs, on the designated ski trails.
Those new to winter excursions can rent skis and snowshoes or arrange lessons at the ski shop. There are activities for all skill levels, including snow tubing for those 42 inches or taller.
Children can participate in the Storywalk, where pages of a story are placed around the park's Popple Loop for visitors to read on their trek along the snowshoe trail. Families can also compete in a friendly game of Bingo along the trails, and the winner can turn in their card for a prize!
7543 Squirrel Hill Road, Minocqua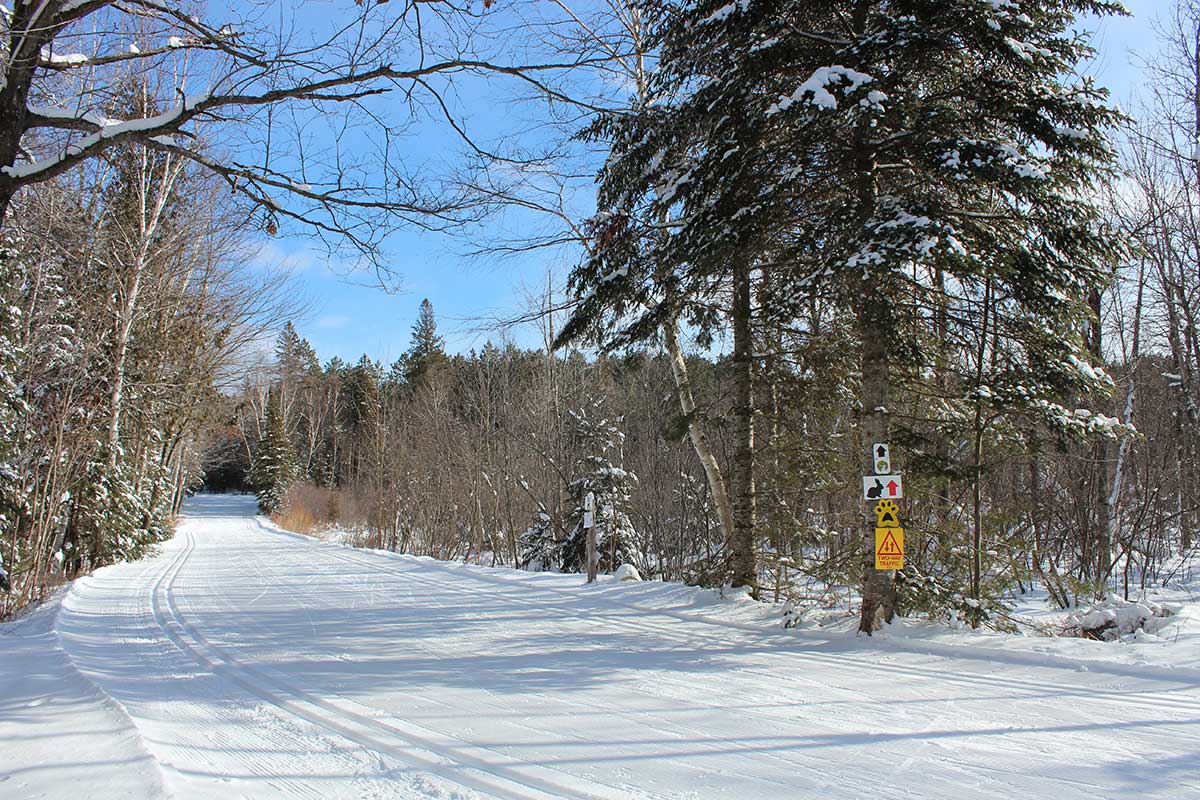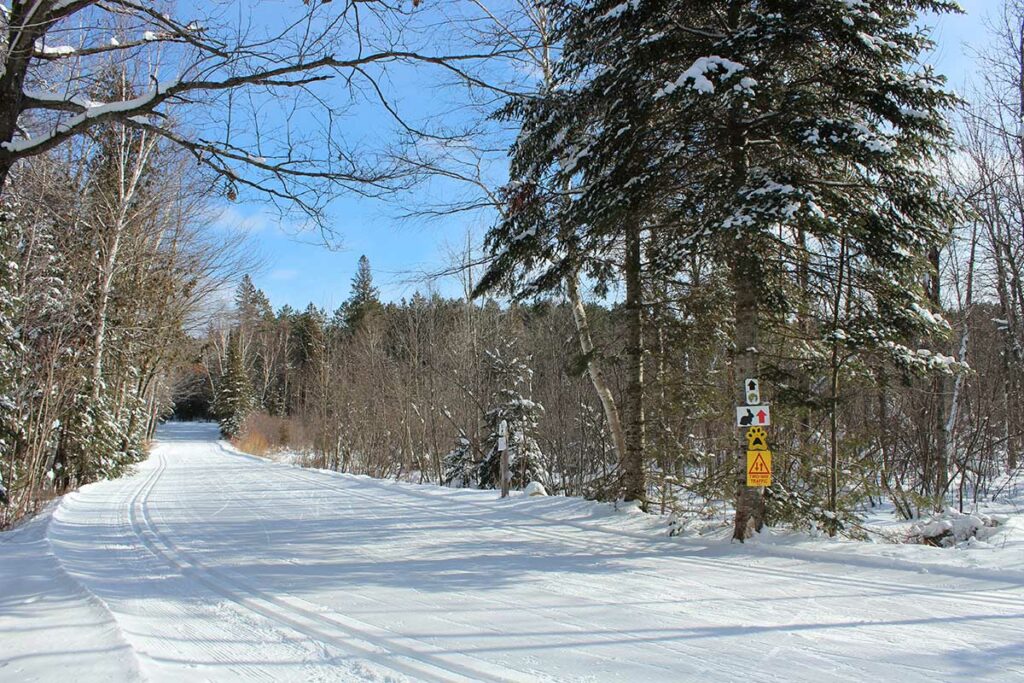 2. Ice Fish on Kawaguesaga Lake
If the weather is right, try ice fishing on Kawaguesaga Lake and reel in smallmouth bass, walleye, musky, and panfish! Fishing enthusiasts will enjoy spending time on the ice and seeing who brings in the biggest catch. Connected to the Tomahawk River, the 44-foot-deep lake can provide a day out in nature and the opportunity to experience one of winter's most popular activities.
Purchase a fishing license, get your bait and tack ready, drill a hole, and lower that line!
Kawaguesaga Lake, Minocqua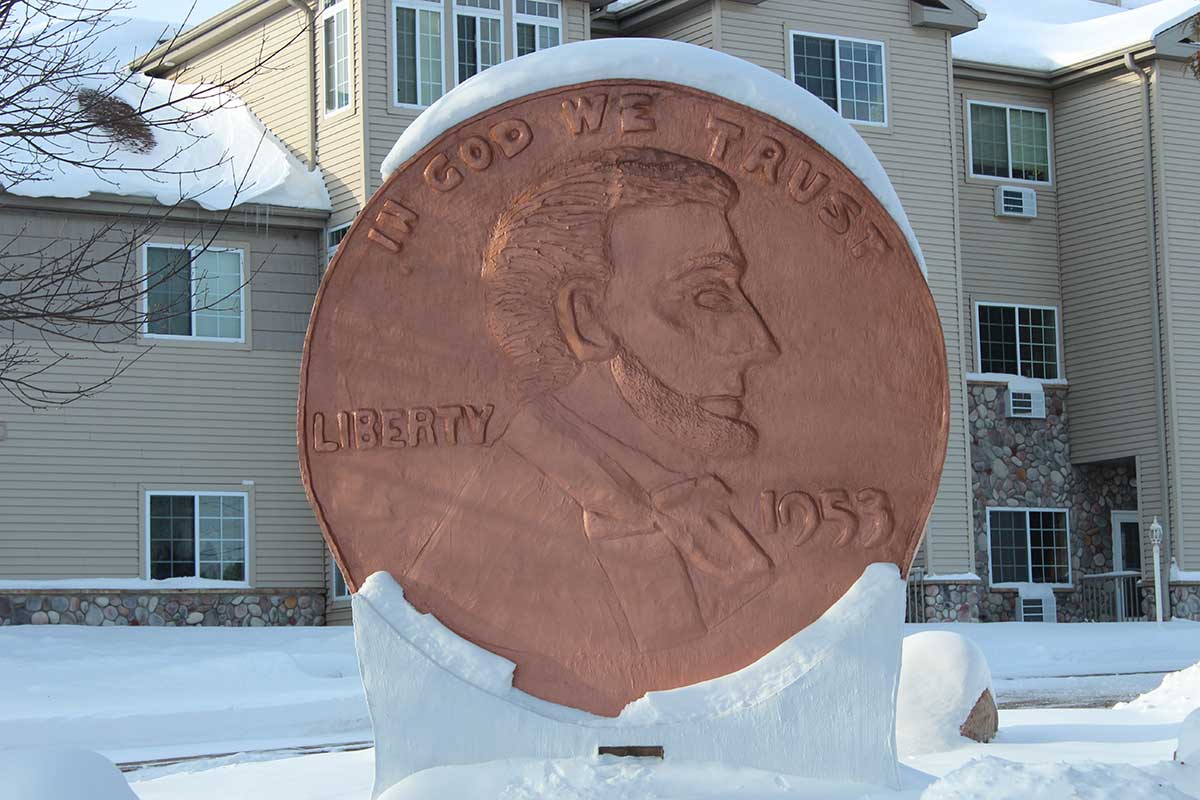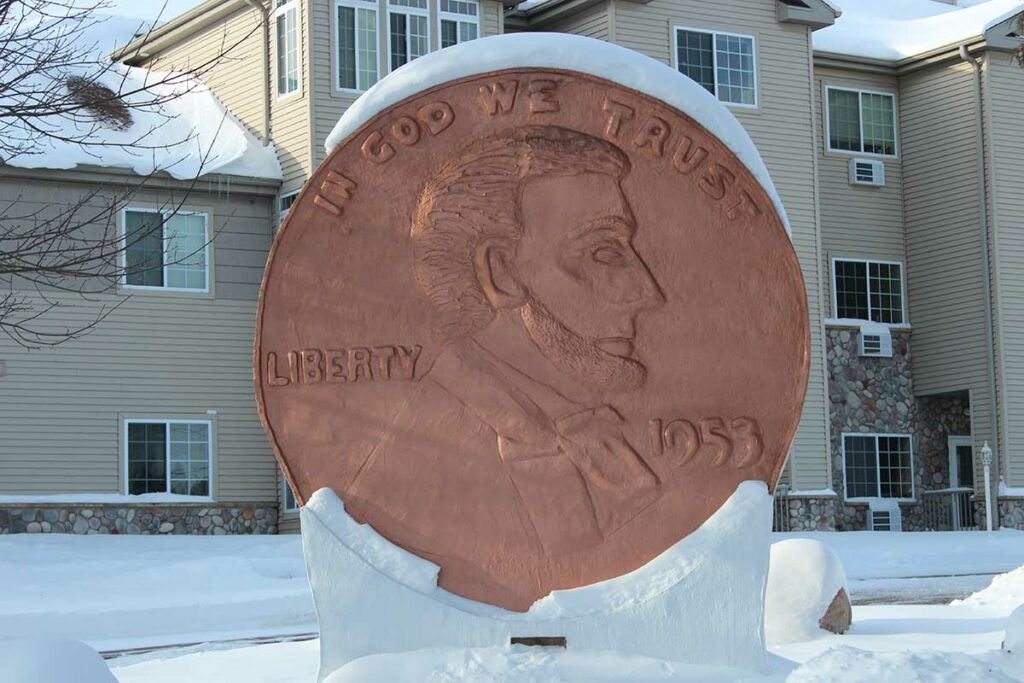 3. Take a Selfie with the World's Largest Penny
You can find the World's Largest Penny near Woodruff, just a few minutes from downtown Minocqua! The marvel commemorates the 1.7 million pennies collected as part of a 1953 fundraiser organized by resident and visionary Dr. Kate Pelham Newbomb. Newcomb, known as "The Angel on Snowshoes," would snowshoe through harsh winter weather to reach and care for her patients. She encouraged schoolchildren to save their pennies so Woodruff could build a hospital. The concrete replica weighs a whopping 17,452 pounds and offers a fun photo op for the family!
4. Sip Hot Chocolate at Cafe Sonder
Head to historic downtown Minocqua to visit the Cafe Sonder, a corner-nestled shop, and savor the delicious aromas of fresh baked goods and to enjoy a steamy cup of Abuelita Mexican Hot Chocolate or dozens of other features like espressos, lattes, and Rishi tea. Families looking for a light bite will also be pleasantly surprised with their healthy brunch offerings, including housemade quiches, Nordic sandwiches, and fruit and cheese plates.
5. Learn about Animals at the Northwoods Wildlife Center
Northwoods Wildlife Center rehabilitates close to 600 sick and injured animals per year and works to educate the community about nature, wildlife ecology, and animal care through its outreach programs. Guided tours of the facility are available throughout the year, and beginning in April, families can learn about native Wisconsin birds of prey and reptile species, including eagles, hawks, falcons, owls, and more.
8683 S. Blumenstein Road, Minocqua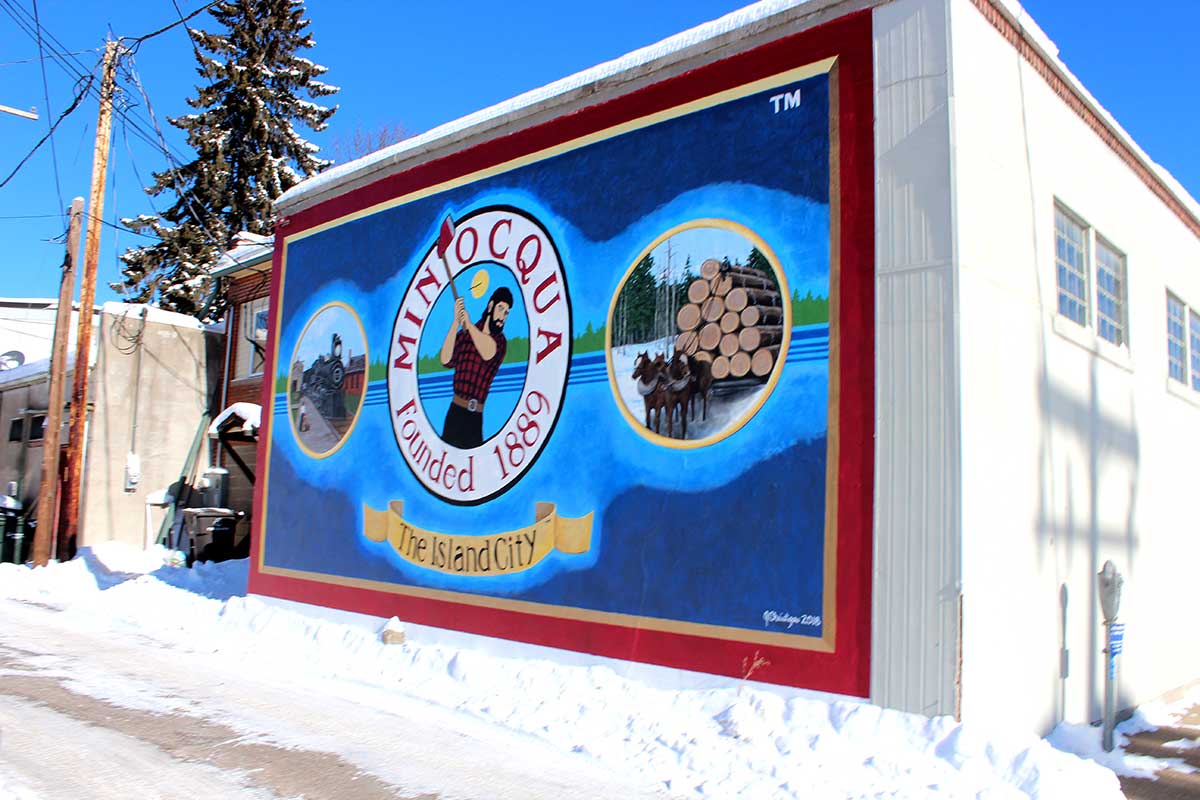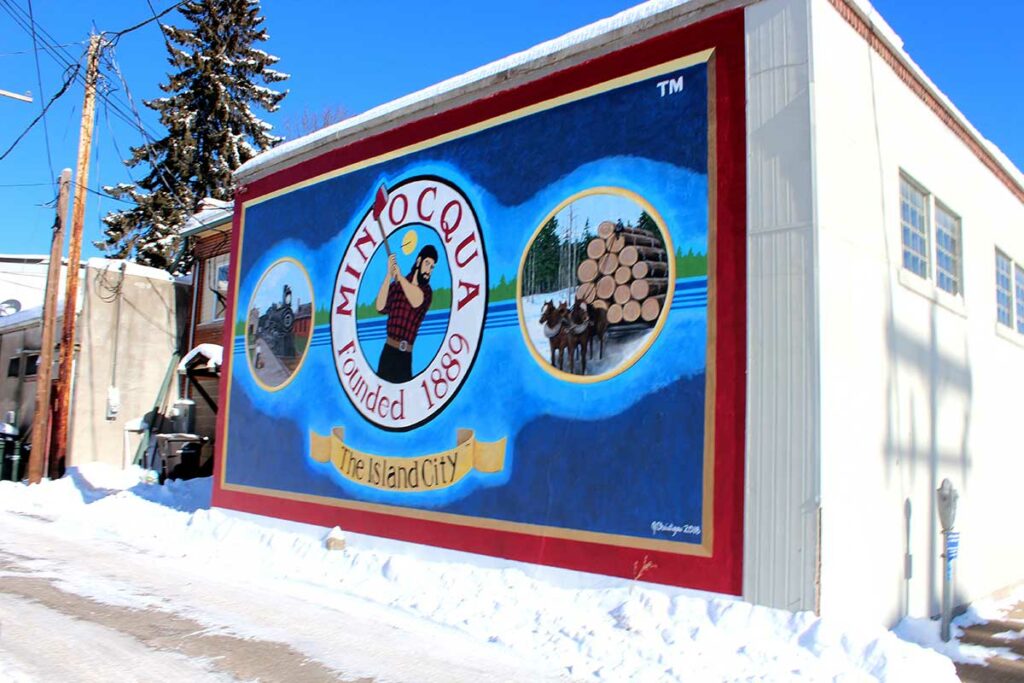 6. Shop Downtown
While downtown, explore the many local shops and keep an eye out for the gorgeous murals painted amongst them! Sunshine or snow, no trip to the Northwoods is complete without finding some treasures and trinkets to bring home. Nibble on chocolate and fudge at Kilwin's or score some cozy apparel at Glik's, downtown offers a variety of boutiques and stops for everyone in the family.
Downtown, Oneida Street, Minocqua
7. Explore Torpy Park
Twirl around the ice at Torpy Park, a 4-acre waterfront recreation area located just off of downtown. Amenities include restrooms, picnic shelters, a playground, and a smooth ice rink. Spend the afternoon on the ice, perfect for ice skating for all ages, or bring some gear for a game of ice hockey. The park is free to visit and has ample parking, making it easy to hop back in the car quickly to warm up.
8. Eat Pizza
Fill your belly with fresh, piping-hot pizza from the Minocqua Pizza Company! The atmosphere is relaxed and family-friendly, plus the food is exquisitely delicious! Enjoy a variety of homemade pizzas and their famous Billy Bread – slices of cheesy garlic goodness! The business is locally owned and serves up top-notch customer service, just as impressive as their tasty dishes! Dine in or carry out a meal and savor all the flavors of the best pizza in town!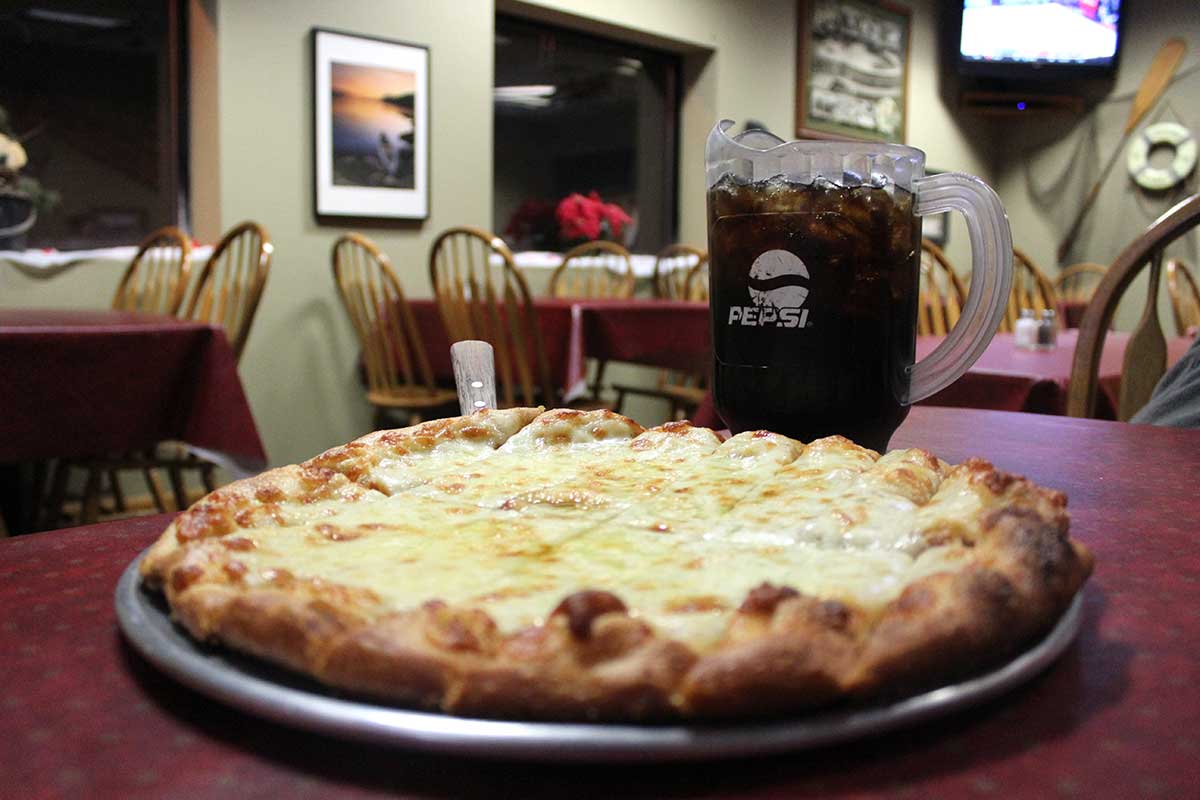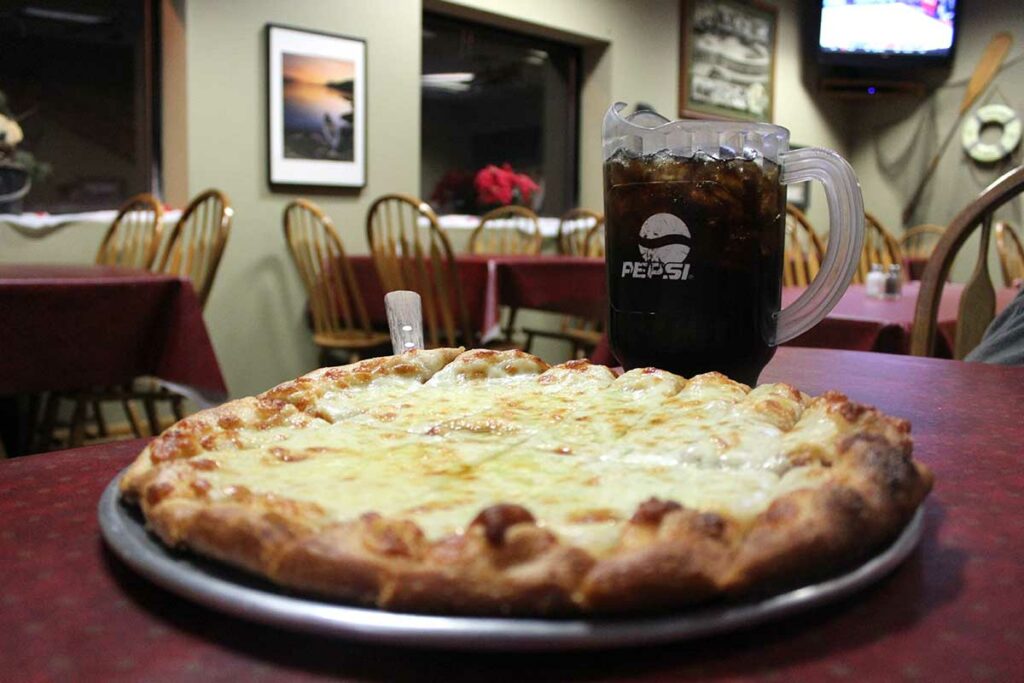 9. Take a Zipline Adventure
Soar over snow-dusted pines with a Northwoods Zipline Adventure Tour! Kids as young as three can travel across tree canopies and experience a thrill like no other. Experienced guides help adventure-seekers across the zip line, bridges, and uniquely designed course during the 45-minute tour. All gear is provided, including a harness, helmet, and gloves and the tour is open year-round! Teens and adults can also take on the course, making this activity one that everyone in the family can do!
10. Swim & Relax at The Waters of Minocqua Waterpark
Splash and take on whipping waterslides at The Waters of Minocqua, the largest resort in the Northwoods! After a day of trekking through nature, bring the fun indoors into the 84-waterpark featuring water slides, a hot tub, and a kiddie play area.
The resort hosts 100 rustic guest rooms, each with a microwave, mini-fridge, and coffee maker, as well as suites with fireplaces, balconies, vaulted ceilings, and bonus sofa sleepers.
Families can start the day with the resort's complimentary continental breakfast or order from the restaurant or cafe. Parents rejoice, the resort serves Starbucks blends!
Families can also unwind in the on-site arcade and redeem tickets in the giant prize vending machines!
South 8116, US-51, Minocqua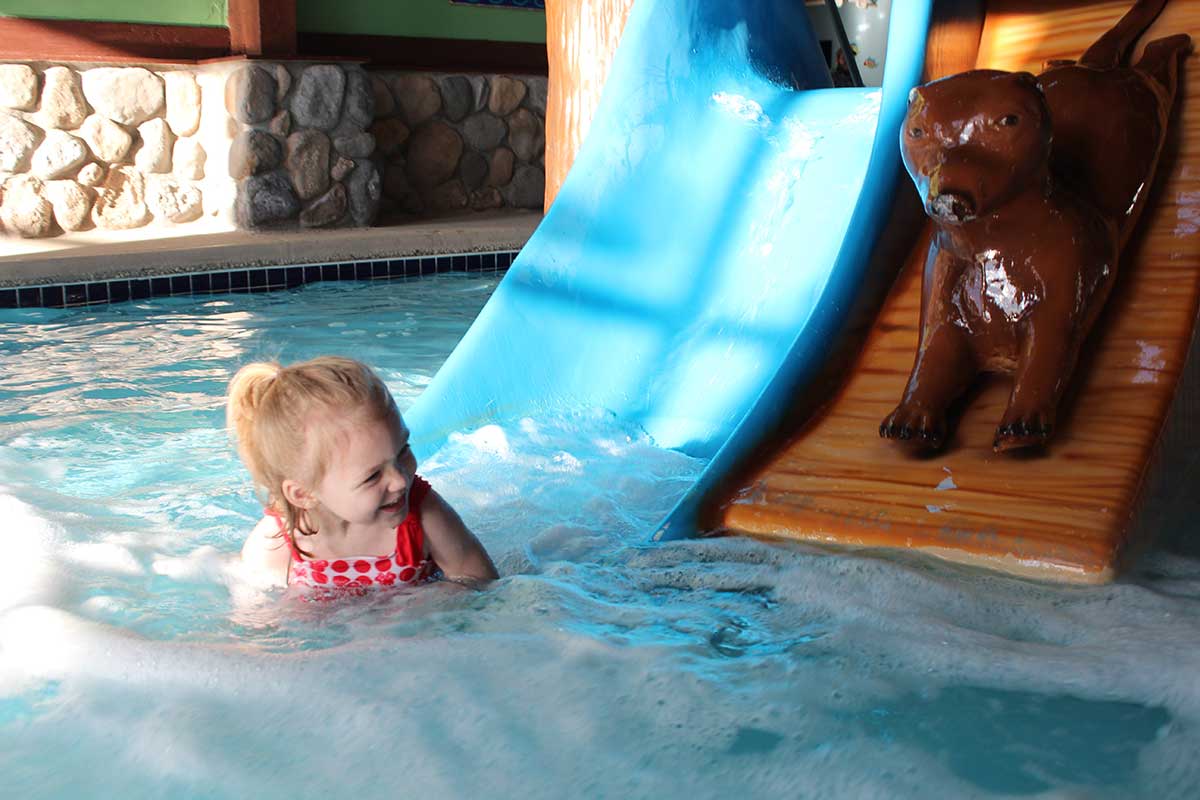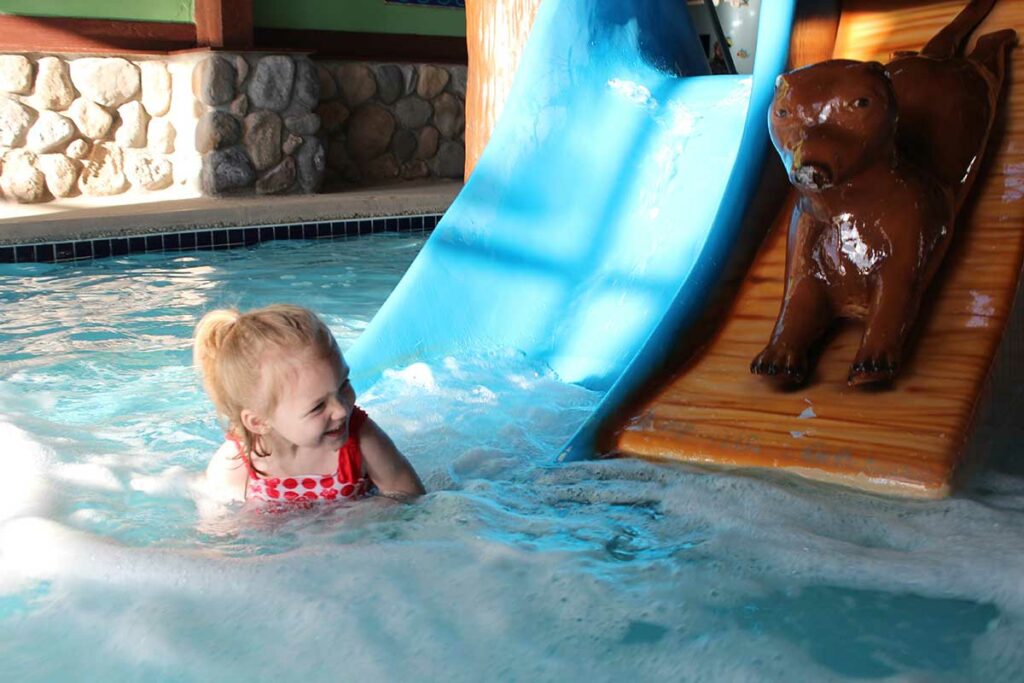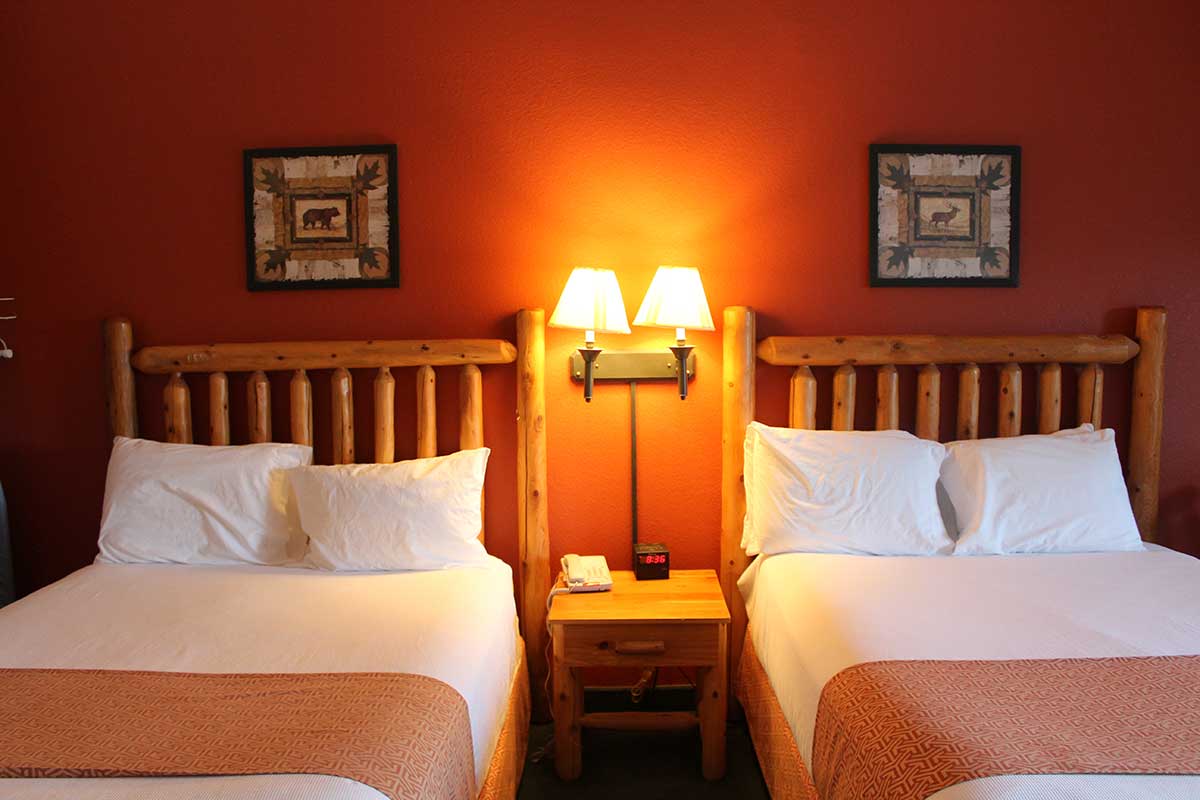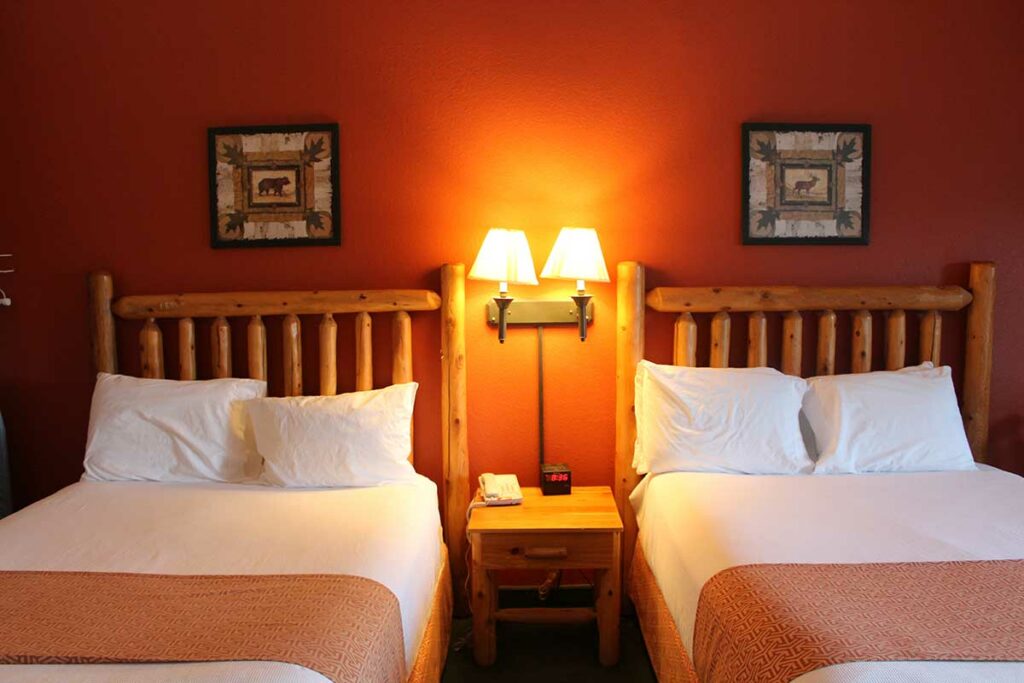 If you're looking for an adventure and to embrace the snow before spring, trails along Minocqua, Wisconsin, and the surrounding Northwoods area provide many opportunities for fun, exercise, and togetherness! What activity will you check off your list before saying goodbye to winter?