If you have not yet made the trek over to Waupaca to visit Hartman Creek State Park, now is the time to add it to your family day trip itinerary! A short 40-minute drive from the Fox Cities, Hartman Creek State Park, established in 1966, offers all of the quiet, natural beauty of the charmingly forested Chain O' Lakes area that attracts so many to the Waupaca, WI area each year.
Hartman Creek is open from 6 am – 11 pm year-round and offers many family-friendly recreation activities, including a swimming beach and concessions, several hiking and biking trails, access to beautifully clean lakes for kayaking and fishing, a campground, and opportunities for picnicking in one of its shelters. But before you head on over, we recommend you join the 2022 Wisconsin State Parks Challenge and get your kids started with the Wisconsin Explorer's Program so that you can earn prizes and patches while you explore nature together.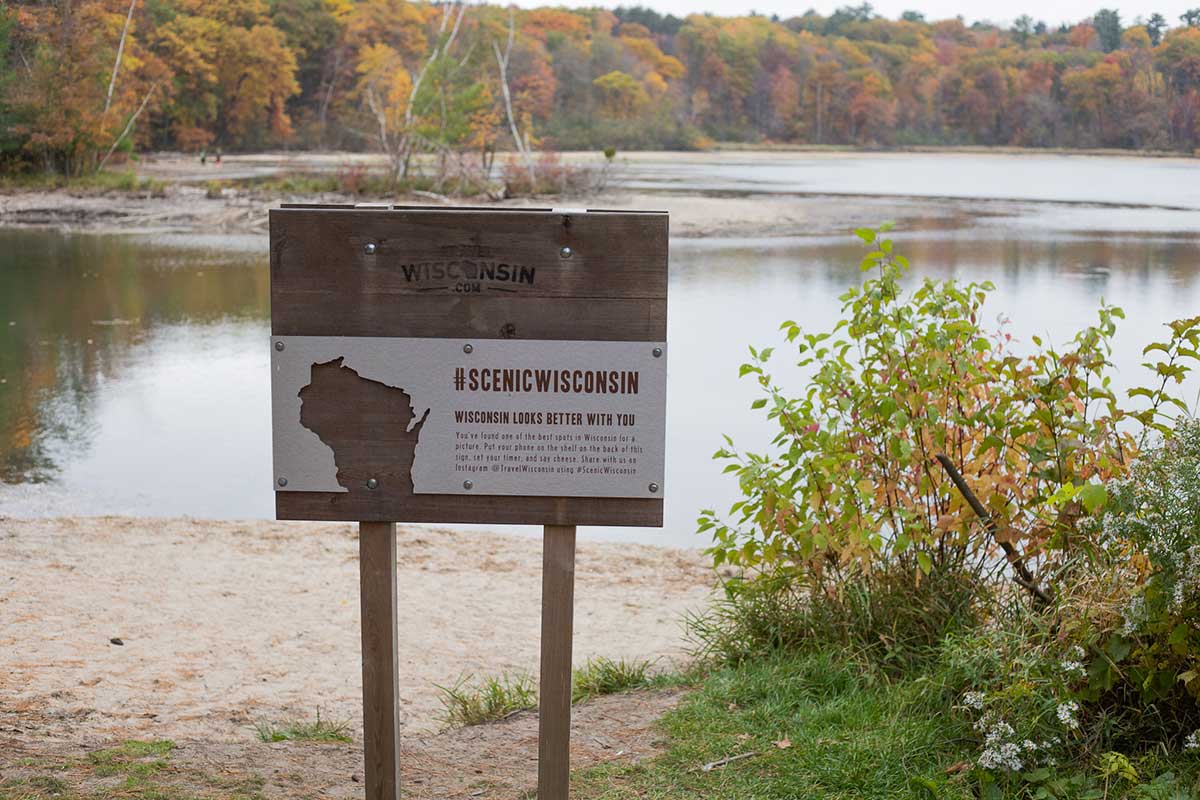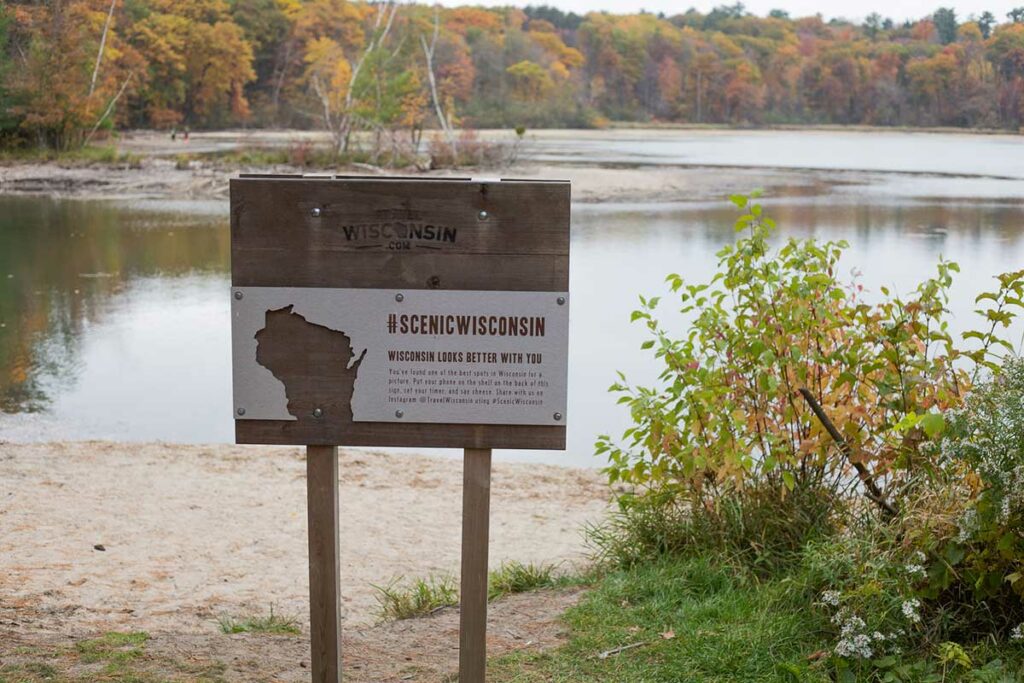 Hartman Creek State Park At-A-Glance:
Travel Specs: 47 minutes | 48 miles, Waupaca County
Address: N2480 Hartman Creek Road, Waupaca
Camping: Yes, 103 family campsites
Vehicle Admission Pricing: With a WI license plate, you can purchase a daily pass for $8 or an annual pass to all of Wisconsin's state parks for $28. Stop in at the park office.
Pets: Leashed pets are allowed in the park.
History: Hartman Creek State Park first opened in July of 1966. The land was originally part of the stagecoach road from Oshkosh to Steven's Point in the 1800s and later became farming land for hops and then dairy cattle. The property was foreclosed in the Great Depression and developed into a Fish Hatchery by the Wisconsin Conservation Department. Many of the trails present today trace the routes of long-ago lumberjacks who harvested the trees here.
Recreation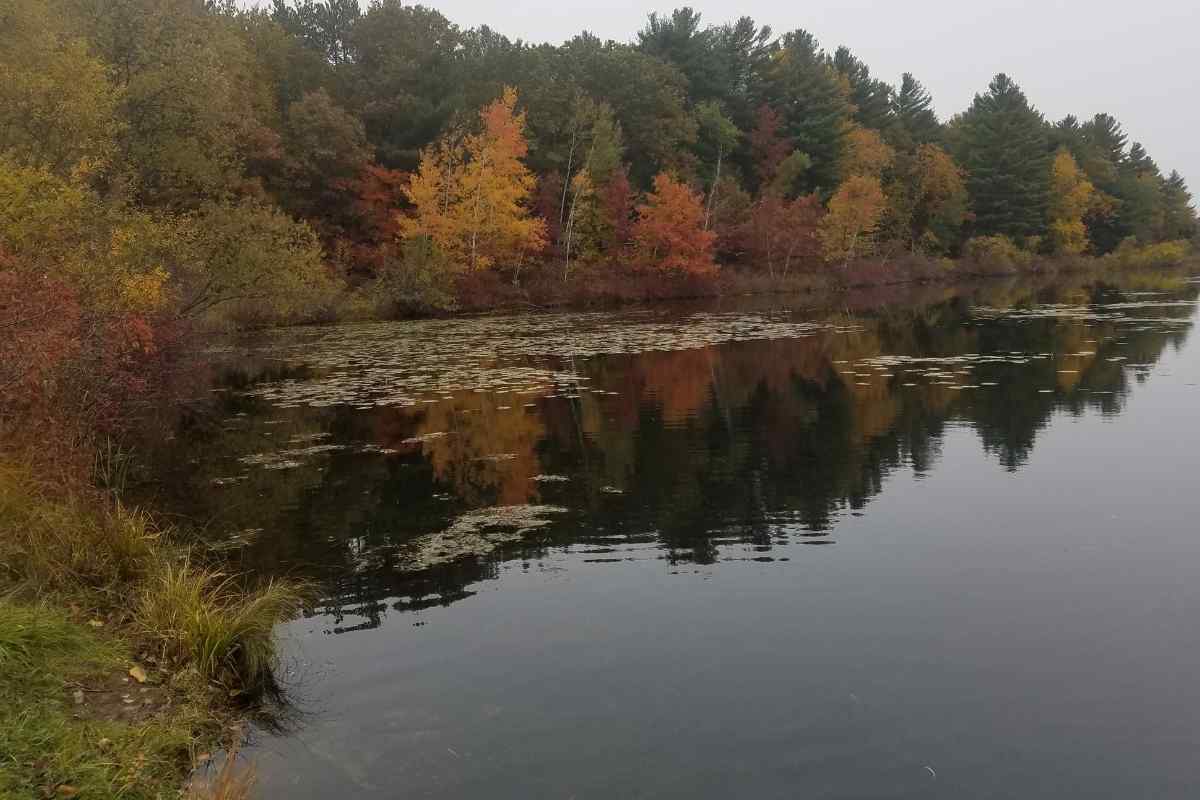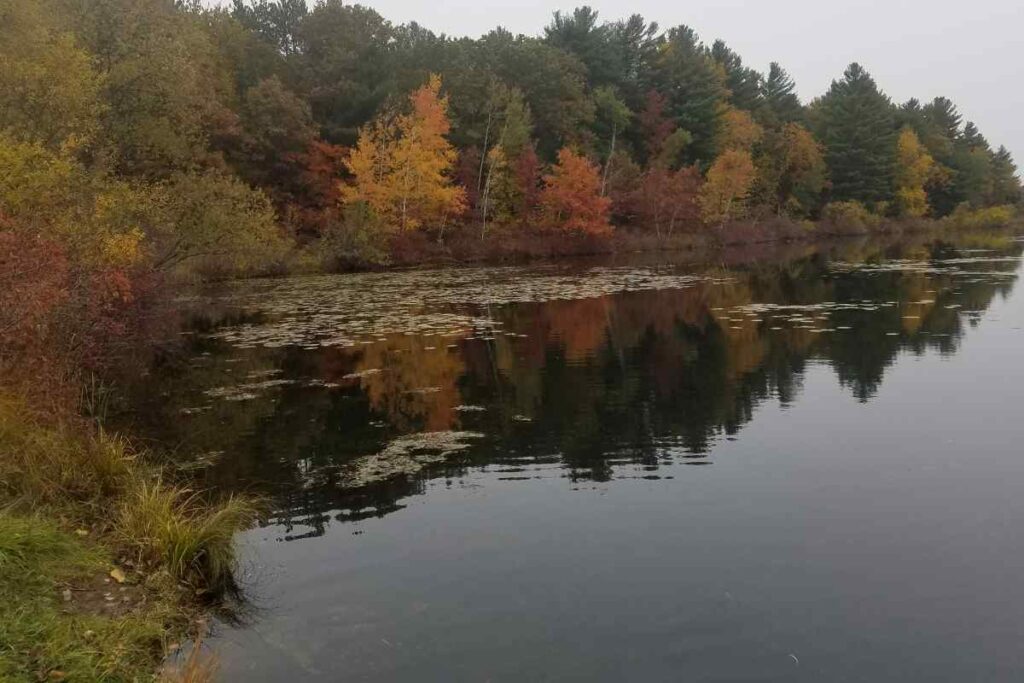 Hiking and Biking
With nearly 10 miles of available trails for visitors to roam, you are sure to find a trail that's just the right length and difficulty for your family. The 1.0 mile Deer Path Trail that encircles Allen Lake is an excellent option for younger hikers, and it offers great views of the lake and native wildlife.
You'll want to bring a hiking backpack for any babies or toddler who might tire quickly as stroller-friendly trails are harder to come by at Hartman Creek. Preschoolers and older children should be good to go with a bottle of water, some trail mix, and a hiking stick to boost their independence and confidence.
Another favorite low-key family hike is through the pine forests along the horse trails just north of Hartman Lake. The footing here is softly padded with a thick layer of pine needles, and the hiking grade is generally easy, but be sure to watch for horse apples along the way!
For the more adventurous hiking family, try a pass on the 3 miles of Ice Age National Scenic Trail that cuts north to south through the park.
Hartman Creek State Park also offers bike trails with a variety of difficulty levels for your two-wheeled adventures. Find these trails in the southwest corner of the park near the group campsites. Some of the trails in the park require a State Trail Pass for biking and horseback riding. The passes are $25 annually or $5 daily.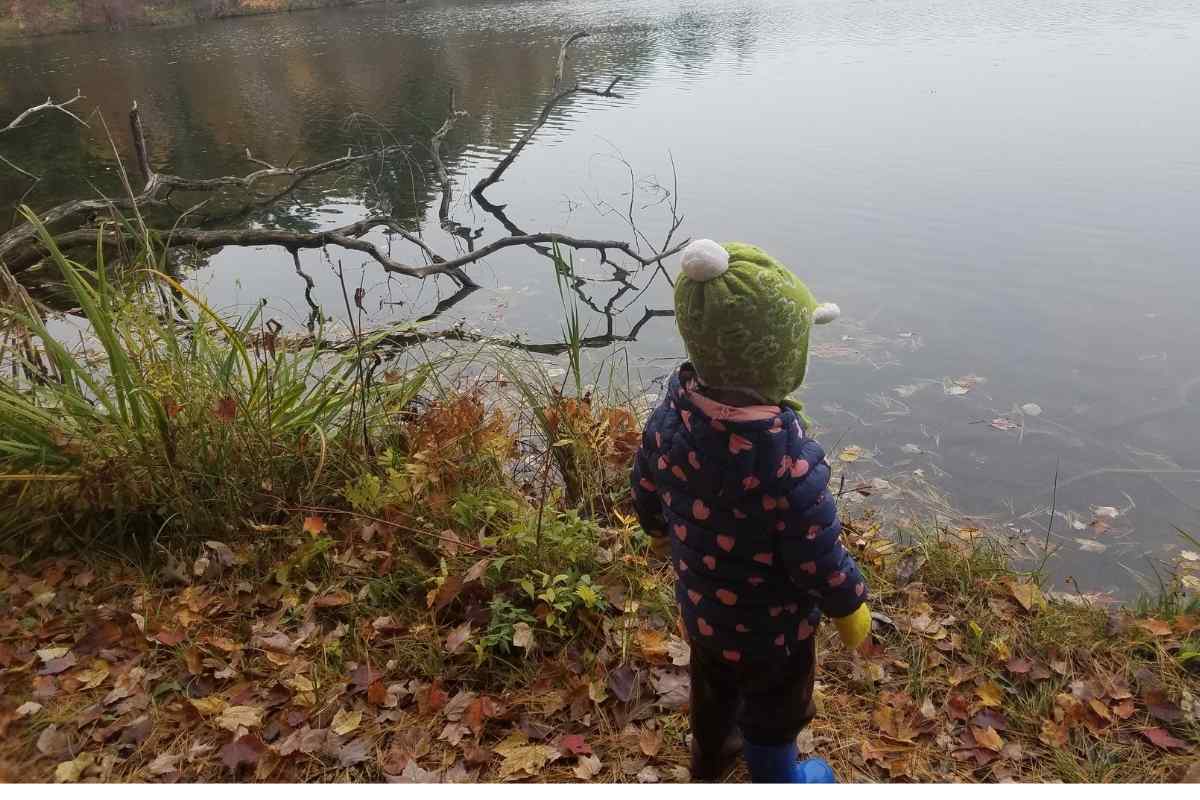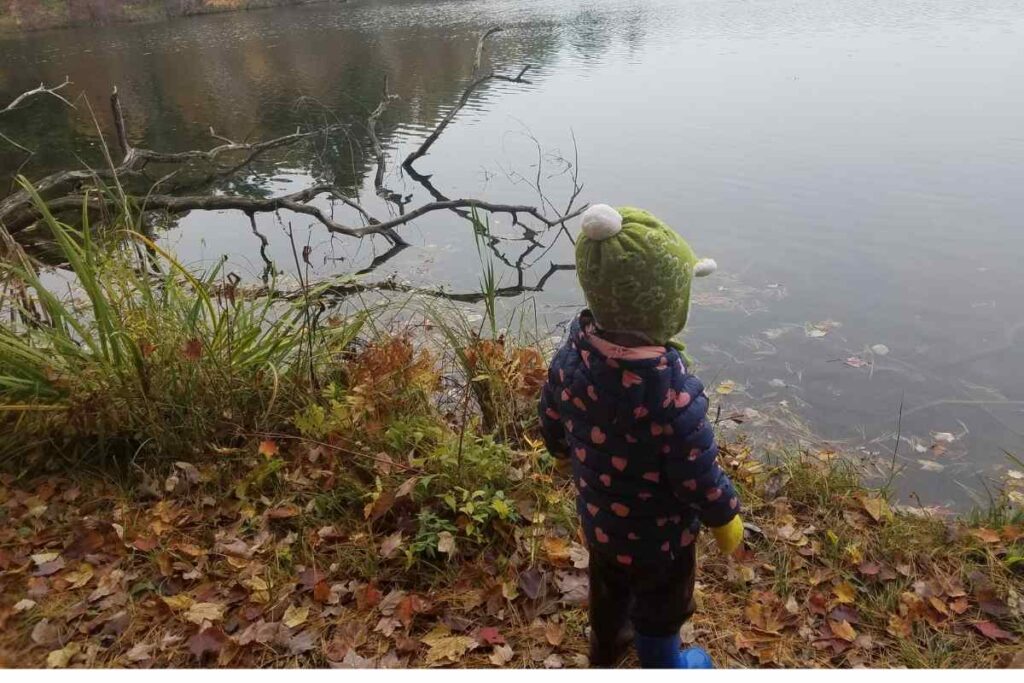 Boating
With the beautifully clear waters, the lakes at Hartman Creek State Park are a water lovers delight! The park is home to several lakes. Take your kayak or canoe for a paddle through the head of the Chain O' Lakes here: Marl Lake, Pope Lake, Manomin Lake, and Knight Lake.
Keep in mind that these lakes operate under a 'slow, no wake' speed limit for those using motorized boats.
Two other great options for paddlers (no motors here) are Hartman Lake and Allen Lake; both offer boat launches and easy waters to relax and peruse natural beauty.
No kayak? No problem! Find a rental:
Fishing
Hartman Creek is a perfect spot to try out your fishing skills! In fact, before becoming a state park, dams were built here to create a fish hatchery.
New to angling? Not to worry! The park office offers basic fishing gear to try your luck at catching one of the many perch, bass, bluegill, and other panfish that are available in these gully and spring-fed lakes.
Children under 16 years can fish for free in Wisconsin, and your first adult fishing license is only $5! They even offer couples fishing licenses for a deal at $31. Check out the Wisconsin Department of Natural Resources's website for all of the fishing guidelines and rates.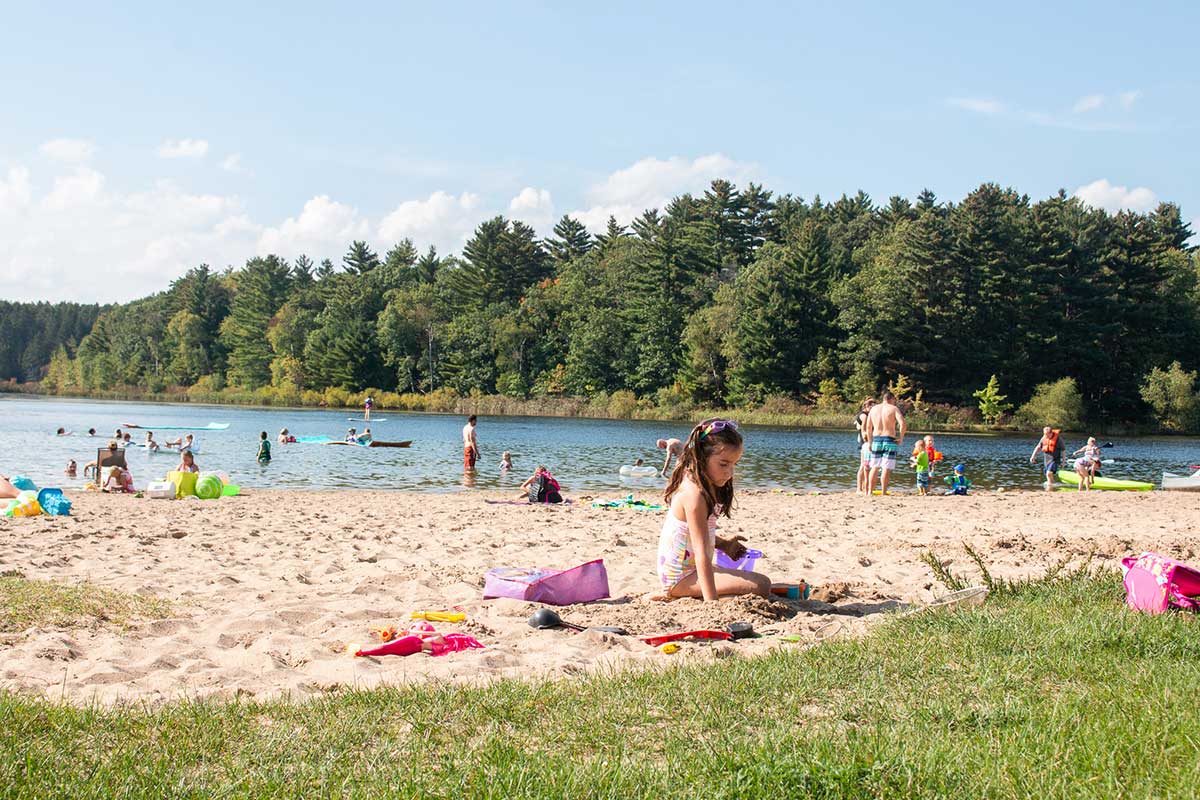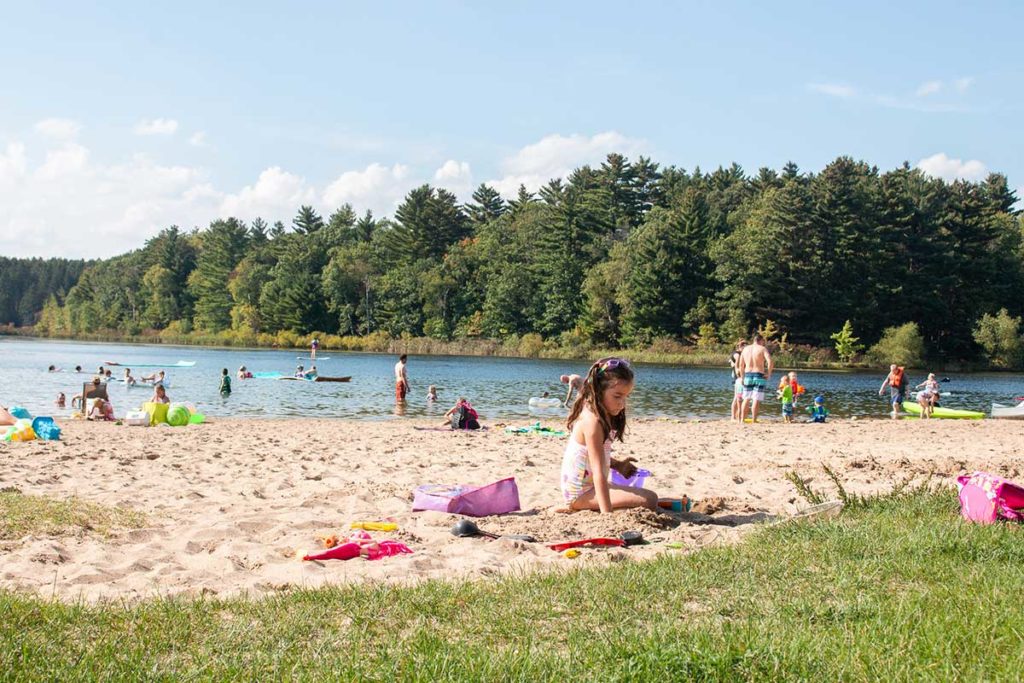 Hartman Lake Beach & Swimming
Need a break from the heat? Hartman Lake is home to a 300 ft beach and large marked-off swimming area for you and your family to enjoy a refreshing dip.

Nearby amenities include:
shower areas
bathrooms
picnic tables
a playground
concession stand — open on weekends and most weekdays unless there is rainy weather
There is not a lifeguard on duty at this beach, so you'll want to keep a close eye on your little swimmers.
READ MORE:
Camping
Interested in staying for more than one day? Hartman Creek's family campground, open seasonally from April to November, offers 103 reservable individual family sites along with five group camping sites. The family campsites offer both forested pine sites and sites with a mixture of hardwood/old apple orchard trees, so it is easy to find a spot with some great shade.
Family-friendly amenities include two flush toilet and shower buildings (in case your little one is more than a little squeamish about the vault toilets), firewood, and ice available for purchase on-site near the ranger's station (please do not bring in your own wood to avoid disease spread), a handful of sites with electric hook up available, and is within easy walking access to Allen Lake, a picnic shelter, and the playground. Be sure to reference the campground map to pick your perfect site.
Winter Activities
Winter is an excellent time to visit the beauty of Hartman Creek State Park! The park offers 6 miles of groomed cross-country ski trails and 3.5 miles of snowshoeing trails for you and your family to enjoy in the snowy months. The park also permits off-trail hiking and snowshoeing, as long as you steer clear of the trails groomed for cross-country skiing. Ice fishing is also a frequent sight on the park's many lakes in the winter months, but keep in mind that the park itself does not monitor ice conditions for safety.
Many of the park's amenities are closed in the winter months, but the park office and vault toilets do remain open.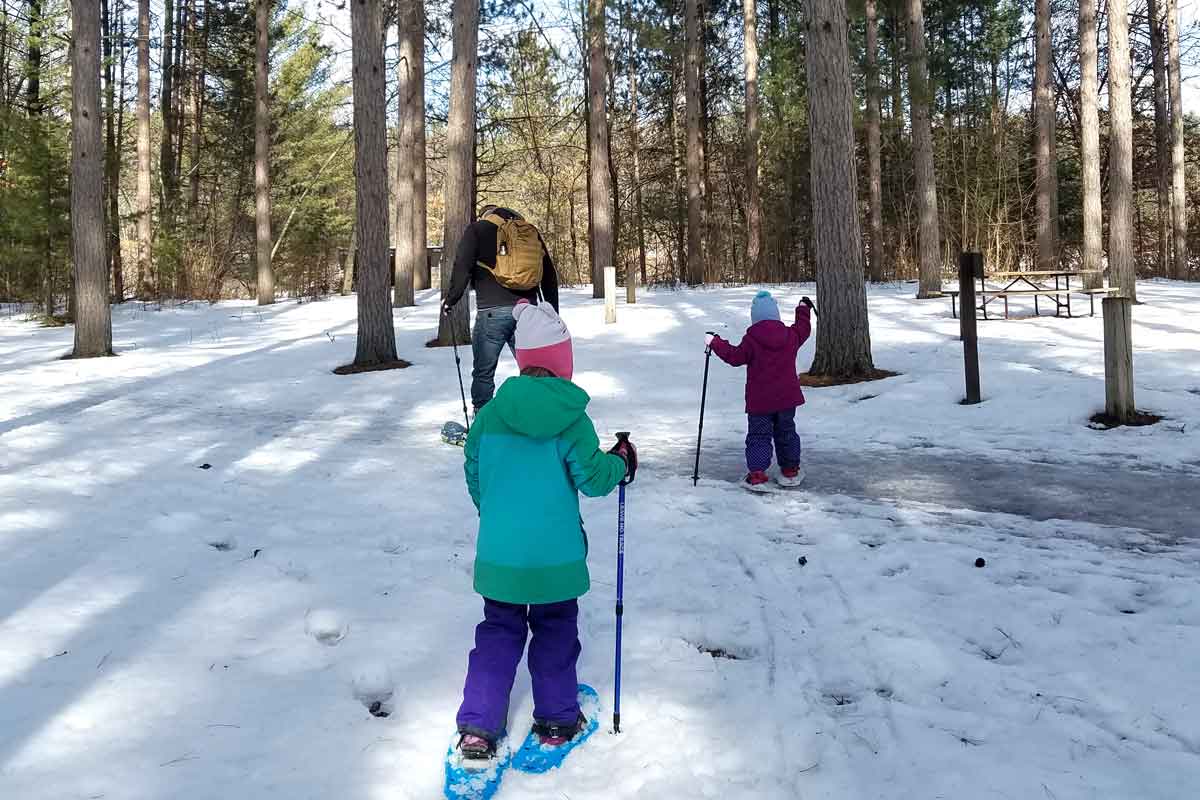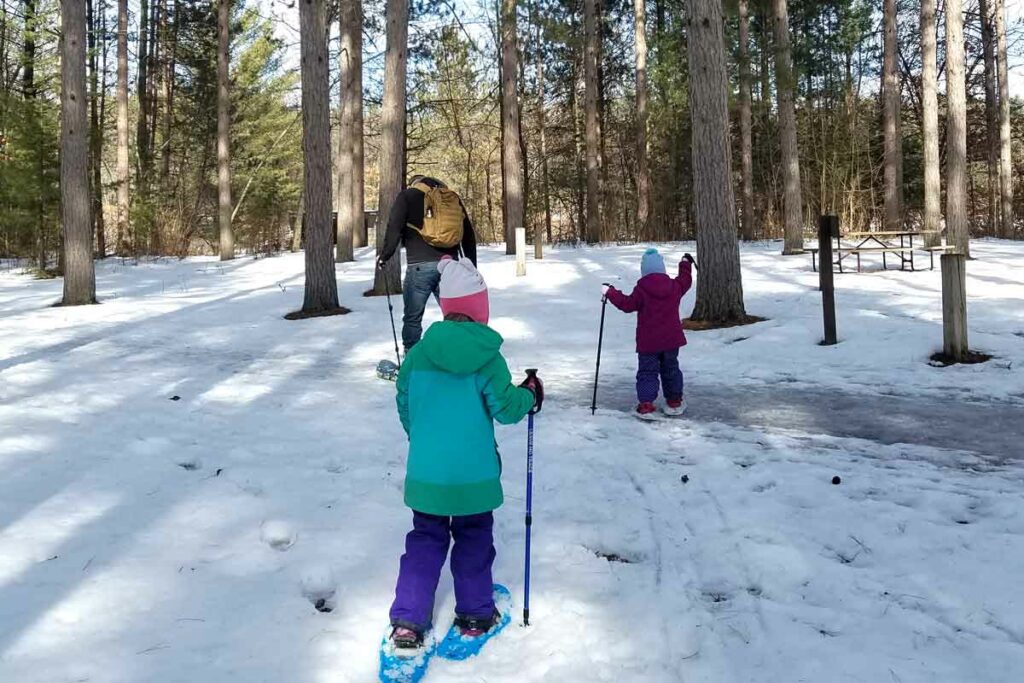 Only Have Time for a Quick Visit?
Have young children and want to maximize your visit in a short amount of time? Allen Lake is just the ticket. You can fish off of the pier, take a 1.0-mile hike around the lake on the Deer Path Trail, paddle into the lake via its boat landing, and enjoy the surrounding playground and picnic shelter, all in a one-stop spot at the park. There are even bathroom facilities nearby for any emergency visits! Have your furry friend along? Just across from the Allen Lake fishing pier is a pet picnic area. While at Allen Lake, you'll also have to chance to check out a piece of Wisconsin history at the Hellestad House. Originally built by Olle Hellestad in 1864, this home was restored on this site by the Friends of Hartman Creek in 1999.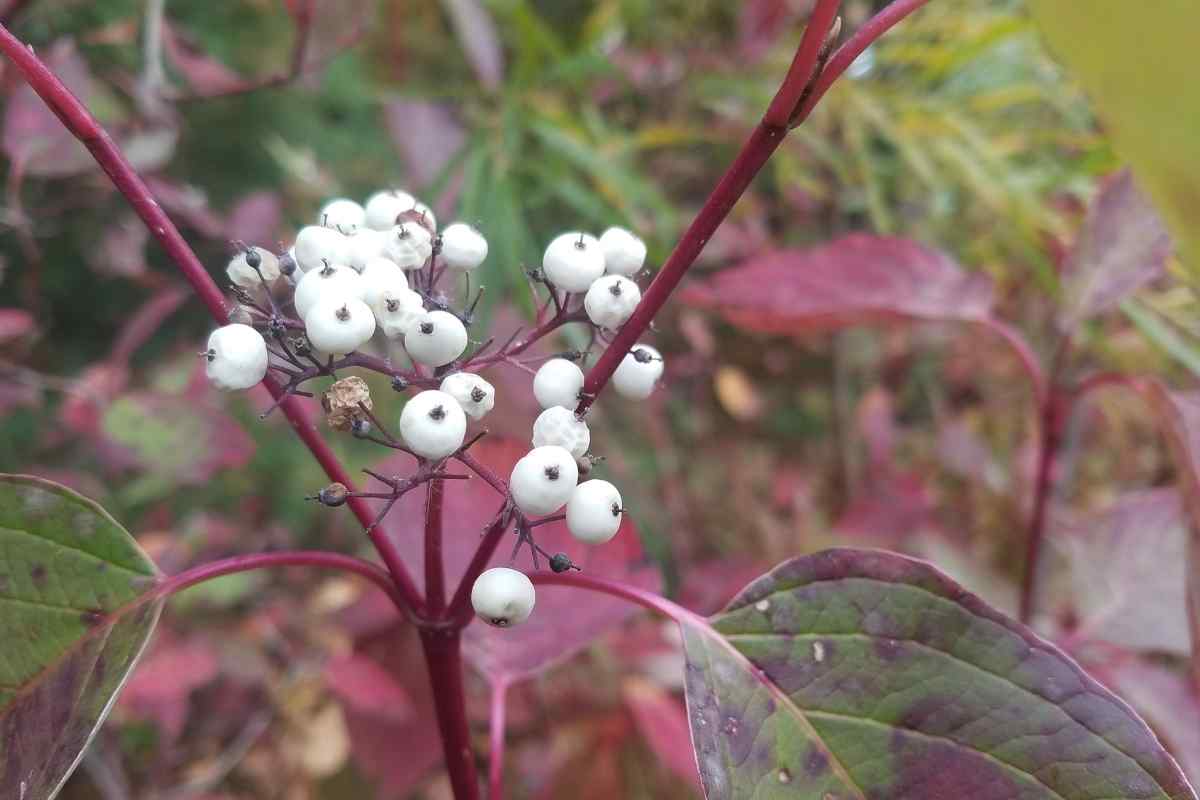 Nearby Stops, Eats & Shops Worth the Side Trip
A trip to Hartman Creek State Park would not be complete without checking out some of the other fun shops and stops that the Waupaca and Chain O' Lakes area has to offer!
Adventure Outfitters

, N2757 County Rd QQ, Waupaca

Just down the street, Adventure Outfitters is a perfect spot to either purchase or rent your favorite outdoor and water gear to enjoy the surrounding crystal clear lakes and beautiful woods.

Christensen's Orchard, N4513 Ware Rd, Waupaca

If you find yourself Hartman Creek-bound in the fall, Christensen's Orchard is worth a pit stop! The family-run orchard offers 15 varieties of apples, and a heap of other delicious fall treats like apple cider, caramel apples, pumpkins, jams, etc.

Little Fat Gretchen's Diner, 108 S Main St, Waupaca

This family-friendly diner offers delicious breakfast and lunch fare along with homemade pies and other irresistible bakery treats!

Main Street Marketplace, 103 N Main St, Waupaca

Open Tuesday – Saturday from 11 am – 2 pm, this cute local shop in downtown Waupaca offers various tourist delights and gifts, including home décor, kids games & toys, and local honey & fudge.

Scoopers, E1209 County Q, Waupaca

This summer favorite offers 32 flavors of ice cream and a variety of coffee drinks too.

Wau-King Trail, trail head located alongside Central Wisconsin Veterans Memorial Cemetary, N2665, County Road QQ, Waupaca, Wisconsin

A lovely little trail that weaves through nature just off of Highway 22. Pro tip: Go at dusk, and you'll likely be greeted by a handful of friendly deer.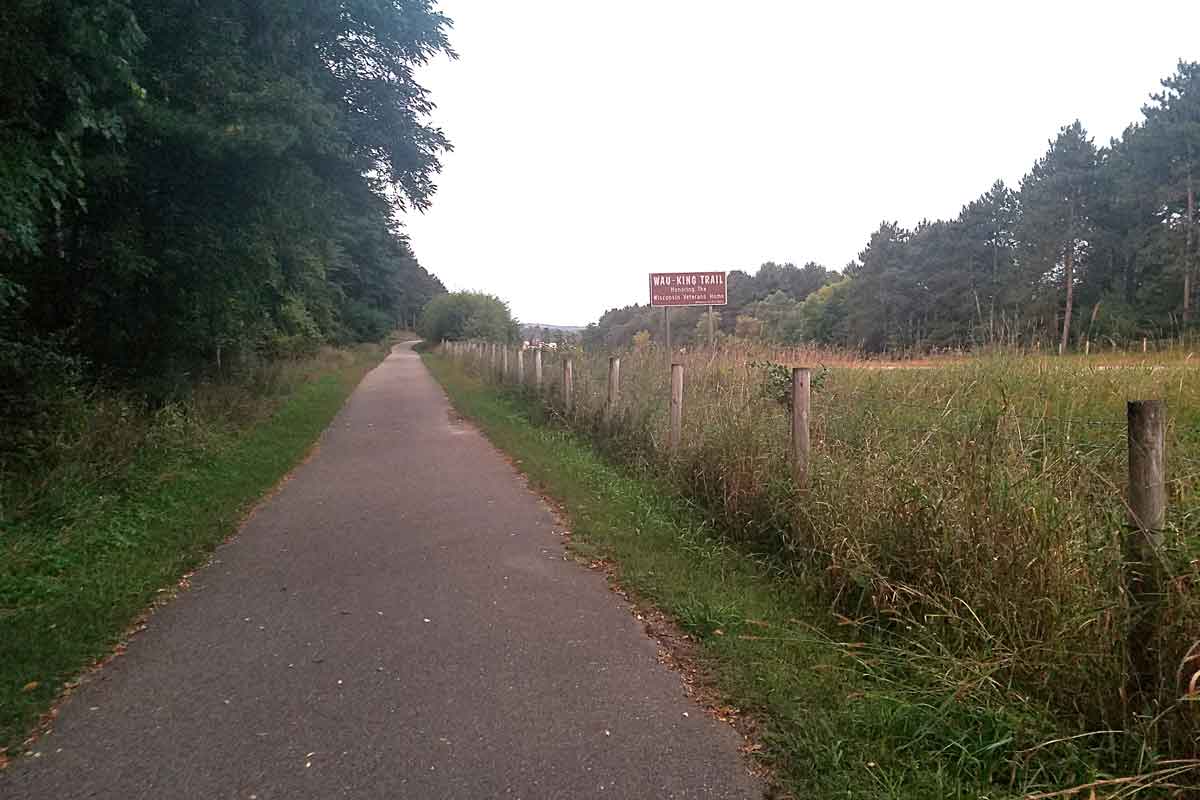 Looking for more state park adventures? We've got you covered with 26 Awesome Wisconsin State Parks That Are Two Hours or Less from Appleton!