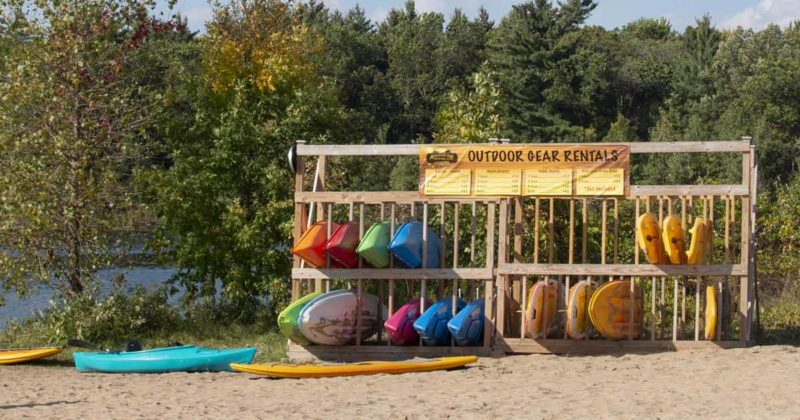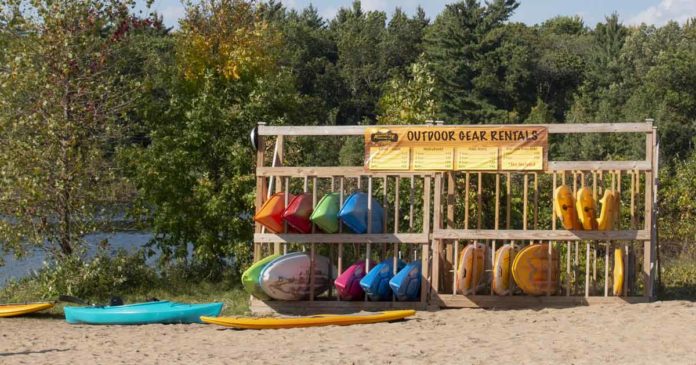 We have lots of options for kayak rentals in Northeast Wisconsin! Grab a partner and enjoy the Wisconsin outdoors from the water.
Looking for something else? Check out these options for: Canoes, Paddleboards, Boat Rentals
E8130 Flease Rd, New London, Wisconsin
2-Hour Trip – Shuttles 9 a.m. to 4 p.m. 1 Kayak $23
4-Hour Trip – Shuttles 9 a.m. to 2 p.m. 1 Kayak $26
"Here the Wolf and Little Wolf rivers flow through the forests and farmlands of central Wisconsin, creating spectacular scenery and incredible recreational opportunities." There is a short tubing trip & long tubing trip. Trip lengths vary depending on water levels. The long tubing trip only runs when the water levels are higher. Kayaking and canoeing also available. Release forms available on website.
1 man kayaks (200lb Max Weight Per Kayak)
100 E Main St, Albany, Wisconsin
Trips approximately 1-2 hrs.
1 person Kayak $15. Cash or check only.
"S&B Tubing is located right on the Sugar River so your trip begins when you arrive. You float from our shop in Albany to a designated location about four miles South along the river. When your excursion ends S&B staff will be there to help you with your equipment and belongings, and direct you to the next available shuttle bus. Shuttle wait times are usually eight minutes or less." Trips approximately 3-4hrs.
N5636 State Hwy 76, Shiocton, Wisconsin
$30 per single kayak
$40 per double kayak
Trip 1: Judd Park to CCC Landing
Time: 7 miles, ~3 hours*
Trip 2: CCC to River Road (available ONLY with reservations!)
Time: 9 miles, ~4.5 hours*
631 Saunders Rd, Kaukauna, Wisconsin
201 River Heath Way, Appleton, Wisconsin
Rentals by the hour or day ranging from $20 (1hr) to $320 (week)

Equipment rental only. You provide the transportation.
Single and tandem kayaks available. Reserve online.
305 Mill St., Horicon, Wisconsin
Single kayak $26 per day
Double Kayak $52 per day
"Experience a canoe or kayak trip through the Horicon Marsh, exploring this wetland of international importance. The still waters of the marsh offer relaxing paddling and the flora and fauna are unmatched. For birdwatchers, a canoe or kayak trip on the marsh brings opportunities to catch a glimpse of some of the marsh's most elusive birds."
3199 County Rd Z, Wisconsin Dells, Wisconsin
$35.00 per canoe/kayak
Present your release form copy to the driver. The bus leaves promptly so be ready to go. The bus ride takes you just a few miles up river and it only takes a few minutes to get there. Two of our routes originate upriver. If you launch from the Dam you must pay an additional $3 launch fee at the Dam. This is charged by the Dam Keeper not by Point Bluff and must be paid to him in cash. Our other upriver launch is from the same place from which the tubes launch. Our staff will assist you in launching your canoes. Regardless of what time you launch, you must be back to Point Bluff by 6 p.m. or you will incur late charges. Once you arrive, you may pull your canoe or kayak up on the shore next to the boat landing, then head to the sign up area to retrieve your keys. We gladly invite you to come into the restaurant and bar at Point Bluff, however, we do serve food so you must wear shoes and shirts when inside. You may eat or drink on the deck in your swim attire.
W7855 Morgan Street, Shiocton, Wisconsin
Kayak $35-45, tandem $50, fishing kayak $45 (cash only)
"Dragonfly is a kayak and canoe rental business located right in your backyard, offering relaxing river adventures on one of Outagamie County's best kept secrets – the Wolf River. Our signature paddle is 2-3 hours long (5.5 miles) that ends at Dragonfly where your vehicle will be parked." Children must be at least 12 years old (under 90 lbs must bring own vest).  All paddlers 12 to 17 years old must be accompanied by an adult.
425 Maritime Dr, Manitowoc, Wisconsin
Single kayak starting at $20
Double kayak starting at $30
"Manitowoc Marina is proud to rent Hobie Kayaks and Stand-up Paddleboards! We offer a variety of Kayaks and Stand-Up Paddleboards, including the Hobie Mirage series. If you have never experienced a Hobie Mirage kayak, we highly recommend it!
All rentals are issued from Manitowoc Marina and may be taken on the Manitowoc River or up to one nautical mile offshore (weather permitting). Inquire about group events on any body of water in the surrounding area!"
2004 Washington St., Two Rivers, Wisconsin
Single kayaks $30 (3hr. rental)
Double kayaks $38 (3hr. rental)
Specializing in diving, snorkeling, and scuba classes. Also offers kayak paddle board rentals.
820 Indiana Ave., Sheboygan, Wisconsin
Single Kayak $20/hr and up
Double Kayak $30/hr and up
"Our seasonal kayak rental dock is located on the Sheboygan River in front of Sprecher's Restaurant .  Our rental stands are hourly and reservations are not necessary or accepted for groups under 10 just show up! Off site and longer rentals available at the shop with delivery, just call." Rentals of all kind including year round renting of board and wetsuits, if you want to bear the cold waters.
Delivery to: Sheboygan Area $25, Elkhart Lake -Crystal Lake $55, Oostburg-$45, Cedar Grove-$55  (minimum 2-DAY rental, FREE DELIVERY WITH ALL RENTALS OVER $500
126 Pine St., Green Bay, Wisconsin
Kayaks starting at $18/hr
"All Reservations must be booked online at least 24 hours in advance. We are happy to take same day reservations over the phone or in the shop as availability permits. Please show up 15 minutes ahead of your reservation to fill out a liability waiver and go through orientation with a member of our staff. Unless previously agreed upon, all rentals leave from our downtown location located at 126 Pine St. at the entrance to the City Deck."
142 N. Broadway, Green Bay, Wisconsin
Single kayak starting at $50/day
Double kayak starting at $64/day
"Ever wanted to try Kayaking or learn why Stand Up Paddleboards (SUP) are becoming so popular? Just want to try before you buy and want more than just a regular test ride? Or, are you just looking to have an incredibly fun afternoon with friends or family? No matter the reason, we have an entire fleet of kayaks and SUPs waiting for you to rent. Just browse our information below, select the boats you need and we'll make sure we meet your reservation needs! We rent trailers and all the accessories you might need as well!"