There's no shortage of water around our area. We also have lots of options for kayak rentals in Northeast Wisconsin to get out on the water! Kayaking is a great way to explore areas that we know from the shore in a new way. Grab a partner and enjoy Wisconsin outdoors from the water.
GVK Tips for a Happy Kayak Trip with Kids
Plan for 1 adult per child for your first trip.
Starting out in calm waters is great for building skills while avoiding extra external stressors.
Older children will be able to tolerate longer trips, but a good plan for a first outing is 30-60 minutes.
Don't forget your sunscreen and bug spray! Biting flies and mosquitos seem to find us everywhere, especially on a still day.
Wear lightweight clothing and a change of clothes (or at least pants!) for after. Think about adding a hat to keep sun off of faces and out of eyes.
Looking for something else? Check out these options for: Canoe, Paddleboard, Boat Rentals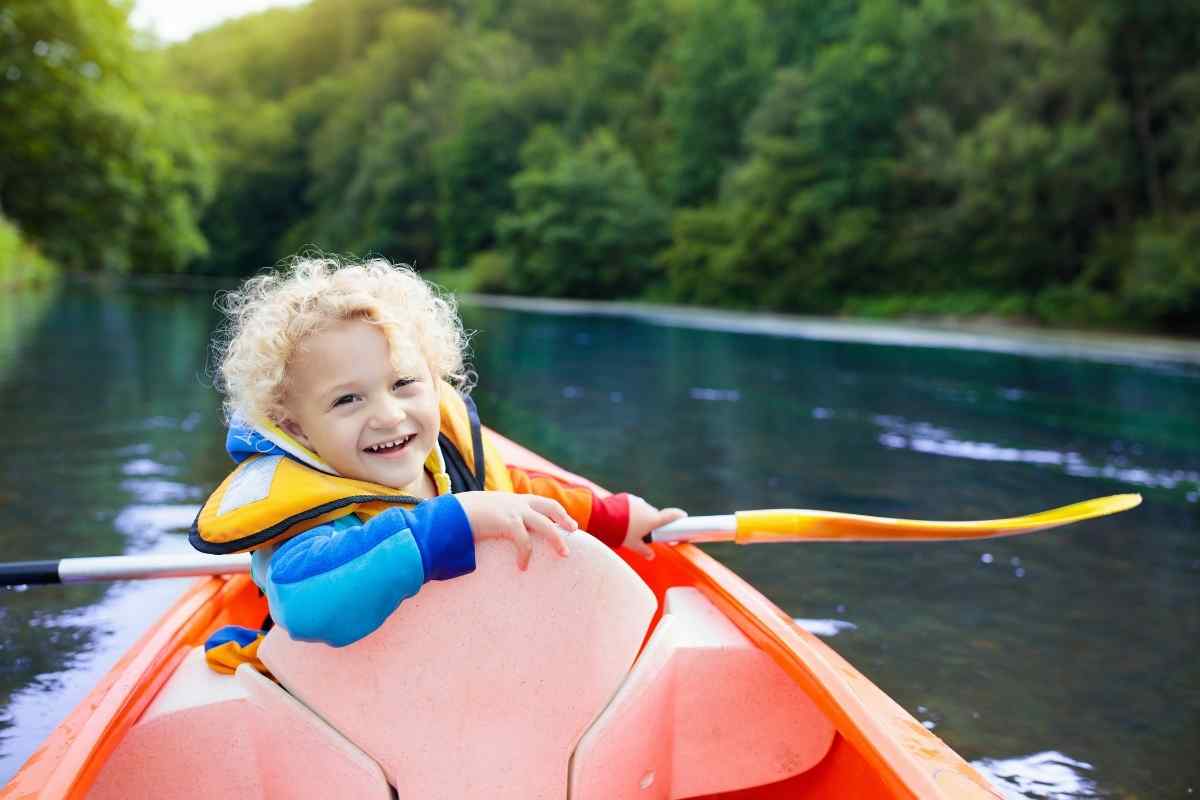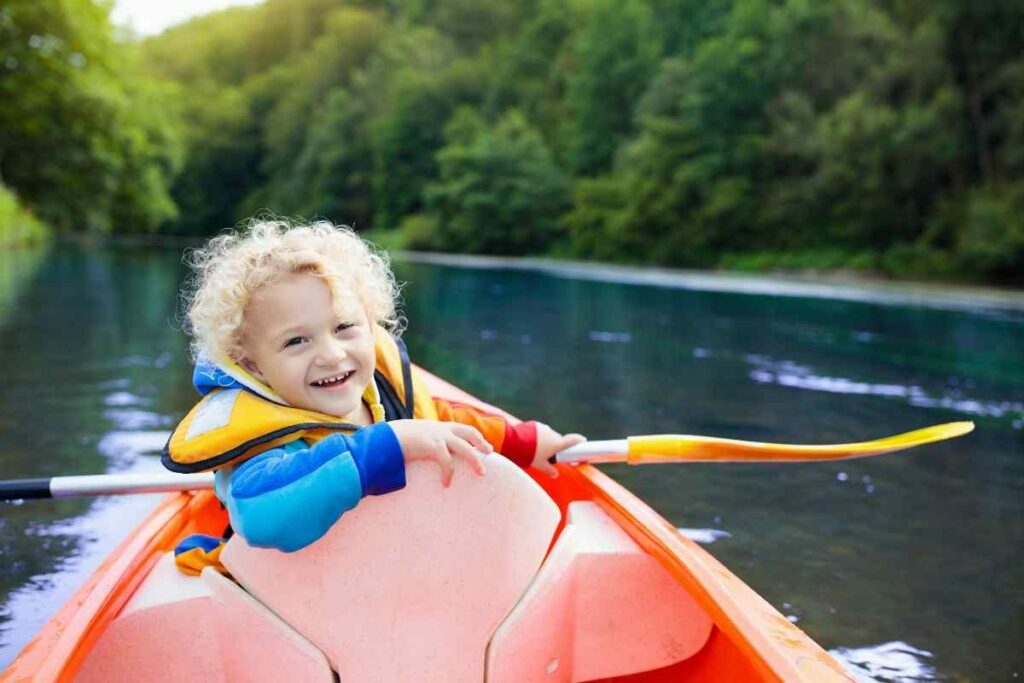 Kayak Wisconsin Self-Serve Kiosk Locations in The Fox Valley
Kayak Wisconsin offers a convenient way to kayak in the Fox Valley. With the use of an app and Bluetooth locks, you can easily book a rental and head out at your convenience.
Sunset Park, Kimberly

300 Sunset Park Road, Kimberly
Rental fees: $20 – 35

Kayaks $5 less on weekdays

Rentals available May 27 – September 5, 2022

Lower Mueller Park, Wrightstown

660 Washington Street, Wrightstown
Rental Fees: $20-50

Kayaks $5 less on weekdays

Rentals available May 27 – September 5, 2022

Heesakker Park, Little Chute

1509 E Lincoln Avenue, Little Chute
Launch is ADA compliant
Rental Fees: $20 – 35

Kayaks $5 less on weekdays

Rentals available through September 5, 2022
Note for 2022 Season: Rentals in all locations requiring 12 hour advance reservation for the rest of the season.
How Do Self-Serve Kayak Wisconsin Rentals Work?
Reserve your kayak! Select your location, sign the waiver, and pay the rental fee all online.
Download the app! Within two hours of reserving your kayak, you'll receive an email with the app and authentication information to unlock your kayak.
Head out on your kayak adventure! Arrive at your location, unlock your equipment with the app, and hit the water.
Recyclist Bicycle Co., Kaukauna & Appleton
Equipment rental only. You provide the transportation. Single and tandem kayaks are available. Reserve online.
Address:

631 Saunders Road, Kaukauna

201 River Heath Way, Appleton

Website: recyclist.com
Rentals: by the hour or day ranging from $20 (1hr) to $320 (week)
Other things to do with kids in Kaukauna:
Near-by things to do with kids in Appleton:
Adventure Outfitters, Waupaca
Enjoy the beautiful Chain O' Lakes! The Lakeside location on Taylor Lake offers pontoon, pedal boats, kayak, paddleboard, canoe, pedal boats, and Maui mats rentals.
Address:

N2757 State Road QQ Waupaca – Next to the Clear Water Harbor
106 South Main Street, Waupaca
Hartman Creek State Park

Website: adventureoutfittersllc.com
Rentals: available for 2-hours, 4-hours, daily, 3-days and weekly
Daily Trip Kayak Adventures: 2-3 hour trips that include everything you need, including transportation.
Clear Kayaks: See what's happening in the water below! Available for guided nighttime experiences and daytime rentals.
Other things to do with kids in Waupaca:
Wolf River Trips & Campground, New London
"Here the Wolf and Little Wolf rivers flow through the forests and farmlands of central Wisconsin, creating spectacular scenery and incredible recreational opportunities." Wolf River Trips also offers tube and canoe trips.
Address: E8130 Flease Rd, New London
Website: wolfrivertrips.com
Rentals:

1 person kayak $24 – 27
Note: 1 man kayaks only (200lb Max Weight Per Kayak)

Other things to do with kids in New London:
S&B Tubing, Albany
"S&B Tubing is located right on the Sugar River so your trip begins when you arrive. You float from our shop in Albany to a designated location about four miles south along the river. When your excursion ends S&B staff will be there to help you with your equipment and belongings and direct you to the next available shuttle bus. Shuttle wait times are usually eight minutes or less."
Address: 100 East Main Street, Albany
Website: sandbtubing.com
Rentals: 1 person kayak $20
Horicon Marsh, Horicon
"Experience a canoe or kayak trip through the Horicon Marsh, exploring this wetland of international importance. The still waters of the marsh offer relaxing paddling and the flora and fauna are unmatched. For birdwatchers, a canoe or kayak trip on the marsh brings opportunities to catch a glimpse of some of the marsh's most elusive birds."
Point Bluff Resort, Wisconsin Dells
"Our tubes, canoes & kayaks offer a great way to enjoy the best experience water on the Wisconsin River!"
Address: 3199 County Road Z, Wisconsin Dells
Website: pointbluff.com
Rentals: $35.00 per canoe/kayak
Other things to do with kids in Wisconsin Dells:
Dragonfly Paddlers, Shiocton
"Dragonfly is a kayak and canoe rental business located right in your backyard, offering relaxing river adventures on one of Outagamie County's best-kept secrets – the Wolf River. Our signature paddle is 2-3 hours long (5.5 miles) that ends at Dragonfly where your vehicle will be parked."
Address: W7855 Morgan Street, Shiocton
Website: dragonflypaddlers.com
Rentals:

kayak $35-50
tandem $50
fishing kayak $50

Note: Children must be at least 12 years old (under 90 lbs must bring own vest). All paddlers 12 to 17 years old must be accompanied by an adult.
Other things to do with kids in Shiocton:
Manitowoc Marina, Manitowoc
"Manitowoc Marina is proud to rent Hobie Kayaks and Stand-up Paddleboards! We offer a variety of Kayaks and Stand-Up Paddleboards, including the Hobie Mirage series. If you have never experienced a Hobie Mirage kayak, we highly recommend it!
All rentals are issued from Manitowoc Marina and may be taken on the Manitowoc River or up to one nautical mile offshore (weather permitting). Inquire about group events on any body of water in the surrounding area!"
Address: 425 Maritime Dr, Manitowoc
Website: manitowoc-marina.com
Rentals:

Single kayak starting at $22
Double kayak starting at $32

More things to do in Manitowoc with kids:
Shipwreck Adventures, Two Rivers
Specializing in diving, snorkeling, and scuba classes. Also offers kayak and paddleboard rentals.
Address: 2004 Washington Street, Two Rivers
Website: shipwreckadventures.com
Rentals: Single and tandem kayaks
More things to do with kids in Two Rivers:
EOS Surf, Sheboygan
"Our seasonal kayak rental dock is located on the Sheboygan River in front of Sprecher's Restaurant. Our rental stands are hourly and reservations are not necessary or accepted for groups under 10 just show up! Off-site and longer rentals available at the shop with delivery, just call."
Address: 820 Indiana Avenue, Sheboygan
Website: eossurf.com
Rental Fees:

Single Kayak $20/hr and up
Double Kayak $30/hr and up

More things to do with kids in Sheboygan: