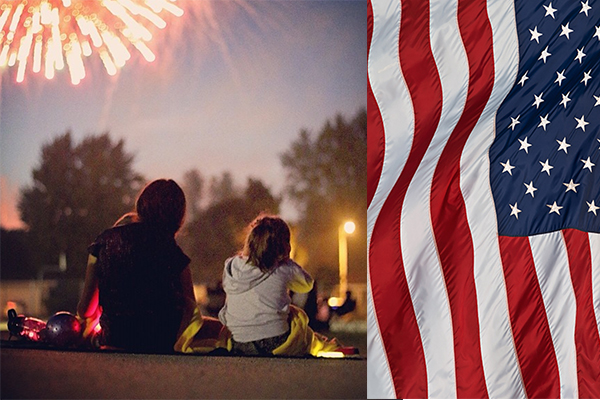 Enjoy some fun with the family on the fourth with these upcoming events and things to do!
1. 47th Annual Oneida Pow Wow, Oneida | Friday, June 28, 2019 – Sunday, June 30, 2019
As one of the largest powwows in the Midwest, enjoy authentic, Native American dancing and singing at the Norbert Hill Center complete with a point-system competition and $91,000 in prizes.
2. Parade, Carnival & Fireworks, Dale | Saturday, June 29, 2019
Vintage Tractor and Car parade starts at 2 pm. Enjoy Big Top Amusements from 3 – 7 with Carnival Rides, Snow Cones, Pie, Ice Cream, Theda Star Helicopter display, Gold Cross Ambulance display, Bean Bag Tournament, Kids Raffles and more.
3. Kiddie Parade & Fireworks, Fremont | Sunday, June 30, 2019
Celebrate the fourth in Fremont with a Kiddie Parade and fireworks! Registration will begin at 9am downtown across from Premier Bank. There will be hot dogs, soda and prizes! Fireworks will start around dusk and will be launched from a platform across from Hotel Fremont.
4. 4th of July Festival, New Berlin | Tuesday, July 2, 2019 – Thursday, July 4, 2019
Participate in a family game night, cornhole tournament or pie bake-off and enjoy the carnival, a variety of live music from talented bands, a parade and more. Fireworks will be held on July 4th at 10pm at Malone Park.
5. Memorial Park Firework Show, Appleton | Wednesday, July 3, 2019
Head to Memorial Park for the Fox Cities best firework display! Festivities begin at 4pm and feature live music, children's activities, food and beverages. Fireworks will begin approximately around 9:15pm.
6. 4th of July Festival, Hilbert | Thursday, July 4, 2019
Hilbert Civic Park gates open at 10am and the event kicks off with the Hilbert Fireman 100+ unit parade at 11am on Hilbert's Main Street. Enjoy food, music and entertainment for kids; including bounce houses, rides and games throughout the day. A fireworks display will cap off the evening.
7. Community Fest, Neenah/Menasha | Wednesday, July 3, 2019 & Thursday, July 4, 2019
Grab a bite to eat at Curtis Reed Square starting at 3:30pm and get ready to celebrate! Bring the whole family down for Pajama Jam and move to the groove with Rhex Arboleda, followed by a fun event schedule for the 3rd and 4th. Fireworks will begin at 9:30pm on Thursday, July 4th.
8. 108th Annual Fourth of July Celebration, Bonduel | Thursday, July 4, 2019
Come check out Bonduel's historical parade celebration starting at 11am at the high school, located on West Green Bay Street. The parade proceeds east on Washington Street to Village Park. There will be a bike giveaway following the parade. Fireworks will begin around 9:45pm.
9. Fire over the Fox, Green Bay | Thursday, July 4, 2019
Festivities begin at 1pm with a Liberty Bell ringing and veterans salute on the Brown County Courthouse, North Grounds. Enjoy live entertainment, patriotic ceremonies, fantastic food and beverage offerings from a multitude of vendors, children's rides and entertainment, as well as a ski shows on the Fox River. Fireworks will begin at dusk.
10. Fourth on the Shore, Manitowoc | Thursday, July 4, 2019
Venture out for a day filled with fun including a kayak rendezvous rally, motorcycle stunt show, comedy magic show, music, food and more. Fireworks on the lakefront will begin at 9:30pm.
11. Sturgeon Bay Celebrates, Sturgeon Bay | Thursday, July 4, 2019
Festivities begin at 5pm at Sunset Park and include an old-fashioned ice cream social, live music from Milwaukee reggae band, Unity the Band, and more. Get a taste of summer with burgers, brats, cheese curds, kettle corn, cotton candy and sweet corn. Fireworks will hit the sky around 9:30pm.
12. Americana Band & Fireworks, Fond Du Lac | Thursday, July 4, 2019
Tune into patriotic music by American composers as part of Fond Du Lac's Independence Day tradition, which began in 1903. Fireworks will begin following the concert at dusk on the lakefront.
13. Celebration & Fireworks, New London | Thursday, July 4, 2019
Head to Hatten Park for food and fun! Gates open at 6:30pm and admission is free. Free kids carnival games will begin at 7pm. The firework display will begin at dusk.
14. Fireworks Extravaganza, Townsend | Thursday, July 4, 2019
From 10am-6pm at Townsend Ballpark, enjoy live music, raffles, food, a live auction and a beautiful firework display at dusk.
15. Festival Foods Fireworks, Oshkosh | Thursday, July 4, 2019
Located at Pioneer Drive Park, attendees can enjoy music and entertainment for all ages. The Oshkosh Symphony Orchestra will begin at 5:30pm and fireworks will conclude the evening around 9:45pm.
16. Mid-Western Rodeo, Manawa | Thursday, July 4, 2019 – Saturday, July 6, 2019
Head to Hoffmann Memorial Park for the "greatest show on dirt" featuring a rodeo, dancing, live music, fun run, rockin' roadshow and more.
---
Fireworks will also be in Winneconne, Two Rivers, Kohler, Washington Island, Waupaca & Crivitz.
---
Where is your family's favorite place to see fireworks on the fourth? Let us know in the comments below! Happy Fourth!
Save
Save
Save
Save
Save
Save
Save
Save
Save