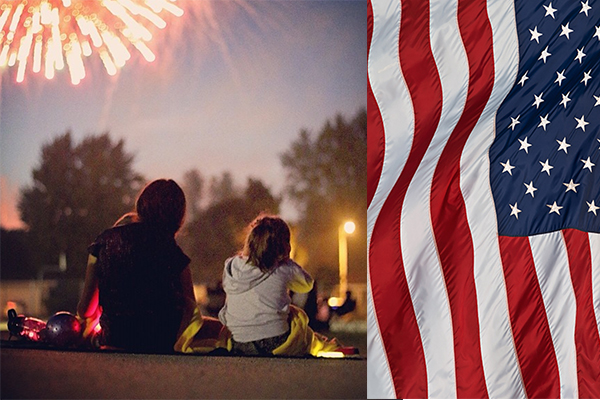 Looking for a way to celebrate the 4th of July Independence Day with your family? Here are some great ideas!
1. Freemont Fireworks, Downtown Fremont on the Wolf River, July 1st, 2018
Fireworks will start around dusk and will be light from a barge on the water in town. Catch the Webfooters show at 6pm, and watch the fireworks after!
2. Appleton Firework Show, Memorial Park, Tuesday, July 3rd, 2018
Festivities kick off at 4 pm and last until 11 pm. Enjoy live music and children's activities. Please support Appleton Area Jaycees by purchasing food and beverages at our food tent and vendors. We have also watched the fireworks at Einstein Middle School and Huntley Elementary School in the past.
More info
3. Hilbert Community 4th of July Celebration, Wednesday, July 4, 2018
Festivities start with a parade at 11 am at the Hilbert Civic Park at the corner of 8th St (Hwy 57/32) and Chestnut St. There will also be bounce houses, children's games and rides. Fireworks at dusk. One reader writes, "I grew up in Hilbert & love this parade. Get there about an hour early for a good seat! Lots of candy thrown!!"
More info
4. Community Fest, A Neenah/Menasha Event, Tuesday, July 3rd – Wednesday, July 4th 2018
Pajama Jam with "Move to the Groove" and a Parade of Lights on Tuesday. Pancake Breakfast, Little Parade, Petting Zoo & Carriage Rides, Pet Show, Water Ski Show, and lots more!
More info
5. 107th Annual Fourth of July Celebration, Bonduel, Tuesday, July 4th, 2018
Parade starts at 11 am at the high school on West Green Bay Street and proceeds east on Washington Street to Village Park.  Bike Giveaway and Baseball following. Fireworks begin at dusk. One reader writes, "Bonduel boasts the largest Fourth of July parade in the nation."
More info
6. Sawdust Days, Oshkosh, Tuesday, July 3 – Saturday, July 7th, 2018
Rides, Flea Market, Historic Village, Fireworks, Kids Zone and more at Menomonee Park, next to Lake Winnebago in Oshkosh. Parade begins Friday, July 4th at 9 am at the corner of Ceape Ave. and North Main St and heads north to East Irving Ave. Turns on East Irving Ave and heads East to Menomonee Park. Also features Sabor-a-Mexico, the largest free Hispanic Ethnic festival north of Chicago. Firework show from Monkey Island in Millers Bay at Menominee Park, Tuesday, July 4th at 9:45.
More info
7. Fire over the Fox, Green Bay, Wednesday, July 4, 2018
Festivities begin at 1 pm with a Liberty Bell Ringing & Veterans Salute on the Brown County Courthouse, North Grounds. Live entertainment, patriotic ceremonies, veteran salutes, fantastic food and beverage offerings from a multitude of vendors, children's rides and entertainment, ski shows on the Fox River, and fireworks set to music.
More info
8.  Oneida Pow Wow,  Friday, June 29, 2018 – Sunday, July 1, 2018
Native American dancing, singing, food, crafts, and Lacrosse exhibitions.
More info
9. Manitowoc Fourth on the Shore, Wednesday, July 4, 2018
Discounted admission to the Wisconsin Maritime Museum, vendors, food truck, live music, comedy and magic shows. Fireworks at 9:30 on the Lakefront.
More Info
10. Sturgeon Bay Celebrates! Sunset Park, 747 N. 3rd Avenue, Wednesday, July 4, 2018
Food, drinks, music and more beginning at 6pm. Fireworks at dusk over the water.
More info
11. New Berlin, We Stand United 4th of July Festival, Monday, July 2nd – Wednesday, July 4th, 2018.
Carnival, games, parade, pie bake-off, music, and more! Fireworks Wednesday, July 4th at 10pm.
More info
12. Manawa Mid-Western Rodeo, Thursday, June 29 – Saturday, July 1, 2017
Rodeo, live music, and parade. Fireworks on Saturday, June 28.
More info
Moved this year to later in July!
Brats, Beer & Beethoven – FREE Family Concert, Fox Cities Stadium, July 14, 2018
Brats, Beer & Beethoven is a FREE, family-friendly, community event featuring a concert by the Fox Valley Symphony Orchestra and a huge fireworks celebration at Fox Cities Stadium. Tailgating is encouraged. Doors open at 6 pm. Concert begins at 7:30 pm.
More info
---
Fireworks will also be in Fond du Lac, Clintonville, Waupaca, Kewaunee, Oconto, and Washington Island.
---
What is your favorite way to celebrate the Independence Day holiday? Feel free to share anything we missed in the comments!
Save
Save
Save
Save
Save
Save
Save
Save
Save