Wolf River Art League is painting up a storm in New London and murals are popping up all over town! The Start Art Project has painted nearly 50 murals. You may be able to even catch an artist in action. The great thing about these murals is almost all of them are in walking distance from one another. There are also convenient stops along the hunt if you need incentives for littles or you work up an appetite!
Grab a coffee or a treat at Familiar Grounds (206 N Pearl St, New London), ice cream at Dairy Queen (600 N Water St, New London) or run into Festival Foods (308 N Shawano St, New London) for a snack if you need a break.
Pfeifer Park has lovely views of the river and would make a great picnic spot. Hatten Park is also pretty for a little nature walk or pictures.
While you are in town, also check out Mosquito Hill Nature Center.
Remember to tag #gvkmuralhunt in your fun pictures on instagram!
Follow Wolf River Art League on Facebook for updates on new murals!
Find murals across Northeast Wisconsin with our Interactive Map HERE.
Find More Murals: Appleton | Neenah/Menasha | Kaukauna | Kimberly | Little Chute | Green Bay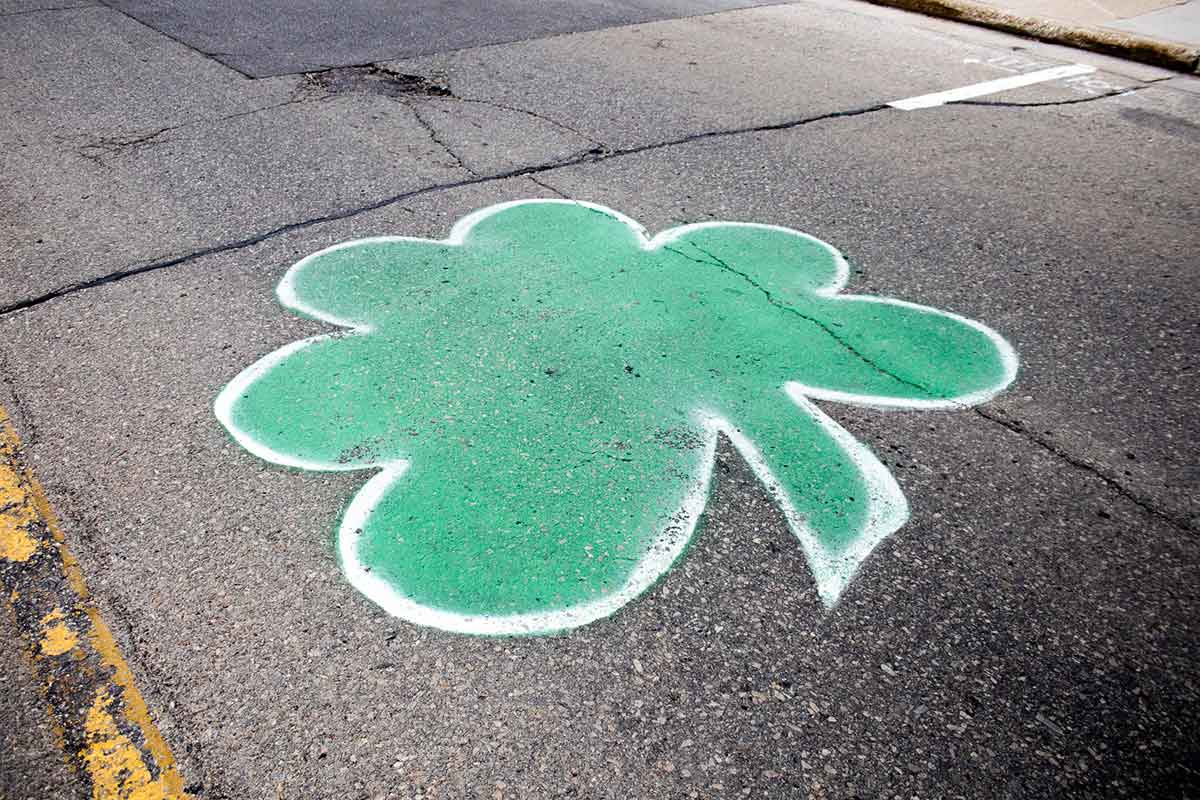 Adventure Awaits (2020)

Where: New London Aquatic & Fitness Center, 815 W Washington St, New London
Artists: Shawnee Allen and Season Polsin

Amidst The Daisies (2020)

Where: Hilker Warehousing, 405 W Wolf River Ave, New London
Designers & Artists: Julie Parker, Season Polsin, Lori Jo Schneider, Shawnee Allen, and Natosha Daul

Anna's Wings (2020)

Where: Longevity Nutrition, 201 S Pearl St, New London
Designer & Artist: Abby Young

Be Your Own Kind of Beautiful (2020)

Where: Demming-Noel Agency, Inc.,  228 W North Water St, New London
Designer & Artist: Kendall Lotto

Bloom Where You Are Planted

Where: The Barn, 309 S Pearl St, New London
Designer & Artist: Shawnee Allen

Blooming Buds (2020)

Where: Franklin Park Apartments, Cook Street and Lawrence Street, 505 Division St, New London
Artist: Peggy Hobbs
Assisting Artist: Sue Murphy

Change is Good (2020)

Where: The Pad Video Game Store, 102 E Cook St, New London
Artist: Shawnee Allen

Chick and Hens (2020)

Where: Bult's Quality Bake Shop, 114 W North Water St, New London
Designer & Artist: Benjamin Robert Geyer

Choose Peacec (2020)

Where: Rice's Greenhouse, 603 Montieth St., New London
Designer & Artist: Season Polsin

Drip Drop Icy Hot (2020)

Where: Memorial Park Skate Park, 800 Montgomery St, New London
Designer & Artist: Bailey Polsin
Assisting Artist: Hailey Wegner

Flower Power (2020)

Where: El Tequila, 208 N Water St, New London
Designer & Artist: Priscilla Wright
Assisting Artists: Amy Laffaldono, Jayden Handschke, Jaid Hintzke, and Carly Zingler

Free Like a Bird (2020)

Where: The Barn, 309 S Pearl St, New London
Designer & Artist: Amanda Morrison
Assisting Artists: Season Polsin, Julia Bosquez, Shawnee Allen, Nettie McGee, Sharon Ehlke, and Julie Parker

Freedom (2020)

Where: Cellcom (north side of the building), 301 W North Water St, New London
Designers & Artists: Martha Schoen and Peggy Nichols

Garf (2020)

Where: The Pad, 102 E Cook St, New London
Designers & Artists: Lincoln Postal and Paige Stein

Grow (2020)

Where: Lynn Tank Agency, 221 W North Water St, New London
Designer & Artist: Natosha Lea

HE(aRt) and Soul (2020)

Where: Longevity's, 201 S Pearl St, New London
Designer & Artist: Season Polsin

Juicy Watermelon (2020)

Where: Rice's Greenhouse, 603 Montieth St., New London
Designer & Artist: Diane Rosol Urban

Life on the River (2020)

Where: PC & Cell Solutions, 301 W North Water St, New London
Designer & Artist: Julie Parker

Mr. Happy (2020)

Where: Grand Cinema Theatres (back entrance), 208 Wolf River Plaza, New London
Artist: Shawnee Allen

New Dublin St. Patrick's Day Mural

Where: Bumper to Bumper, 104 S Pearl St, New London
Artists: Wolf River Art League with Forward New London

One Love (2020)

Where: Memorial Park Skate Park
Designer & Artist: Lindsey Uvaas

Own Your Own Happiness (Hummingbirds) (2020)

Where: Hilby's Bar & Restaurant / New London Lanes, 300 S Pearl St, New London
Designer and Artist: Brittany Roob
Assistant: Jonathan Roob

Pop Art Girls (2020)

Where: Touch 'n Tan, 1819 N Shawano St, New London
Designer & Artist: Tom Muskevitsch

Red Spot (2020)

Where: Grand Cinema Theatres, 208 Wolf River Plaza, New London
Designer & Artists: Larry and Carrie Katerzynske
Assistants: Melissa Mulroy and Lindsey Uvaas

Roscoe (2020)

Grand Cinema Theatres, 208 Wolf River Plaza, New London
Designer & Artist: Madison Roberts

Save the Bees (2020)

Where: Becky's Dog Grooming, 512 N Shawano St, New London
Designer & Artist: Lori Jo Schneider
Assistants: Maddie Schneider & Angie Taugher

Selfie Wall (2020)

Where: Hatten Park, 801 Werner-Allen Rd, New London
Designer & Artist: Shawnee Allen
Artistic Assistant: Shaye Allen

Splash of Heart (2020)

Where: River's Edge Salon, 308 W North Water St, New London
Designer & Artist: Christine Blink

Stay Wild (2020)

Where: Grand Cinema Theatres (back entrance), 208 Wolf River Plaza, New London
Designer & Artist: Tasha Zeinert
Priming Assistant: Nettie McGee

Sunset Cranes (2020)

Where: Grand Cinema Theatres, 208 Wolf River Plaza, New London

The Butterfly: It is Well with my Soul Mural (2020)

Where: Easy Street Grill, 519 W North Water St, New London
Artist: Brandi Jo Buss
Assistant Artists: Brian Buss, Shawnee Allen, Season Polsin & Lori Jo Schneider

The Doors of Preception (2020)

Where: Memorial Park Skate Park, 800 Montgomery St, New London
Designer & Artist: Brian Buss
Assisting Artists: Zoe Buss and Tony Hobbs

The Hobbs Sisters: Love Yourself (2020)

Where: Hilker Warehousing, 405 W Wolf River Ave, New London
Artists: Season Polsin and Alyssa Hobbs

The Orb (2020)

Where: near Trinity Evangelical Lutheran Church, 709 W Beckert Rd, New London
Artist: Kelly Polsin

The Spirited Bird

Where: Northwestern Mutual, 207 Wisconsin St, New London
Artist: Shawnee Allen

The Sunflower (2020)

Where: Bumper to Bumper, 104 S Pearl St, New London
Artist: Season Polsin

This is Us (2020)

Where: Grand Cinema Theatres, 208 Wolf River Plaza, New London
Artist: Season Polsin
Helpers: Randy Schneider and Nettie McGee

To Everything, There is a Season (2020)

Where: Robins Nest Learning Center, 112 W Wolf River Ave, New London 
Designer & Artist: Julia Bosquez
Assistant: Lori Jo Schneider

Together (2020)

Where: Hilker Warehousing, 405 W Wolf River Ave, New London
Artists: Season Polsin & Natosha Daul

Together We Are An Ocean (2020)

Where: Luaders Law Office / Patty's Hair Affair, 213 W North Water St # B, New London
Artist: Metzil Omacic
Assisting Artist: Peggy Nichols

True North (2020)

Where: Division Street, near the intersection of Beckert Road
Designer & Artists: Julia Bosquez and Season Polsin
Prep & Installation: Kelly Polsin

Upcycled Garden (2020)

Where: Robins Nest Learning Center, 112 W Wolf River Ave, New London 
Designer & Artist: Priscilla Wright
Assisting Artists: Amy Laffaldono, Jayden Handschke, Jaid Hintzke, and Carly Zingler

Walk Along My Colorful Birch (2020)

Where: Pfeifer Park (near baseball diamond) Take a walk along the riverside and end here (backside of Up-Close Wash)
Artist: Sharon Ehlke
Assisting Artist: Season Polsin

We Love New London Mural (2019 & 2020)

Where: Amazing Low Furniture, 210 Wisconsin St, New London
Artists: Wolf River Art League

When Blue You See … Think Of Me (2020)

Where: Up-Close Wash (Next to New London Area Chamber of Commerce)
East side of Car Wash (front side of Pfeifer Park Mural)
Artist: Season Polsin
Assisting Artist: Brandi Buss

Wild & Free (2020)

Where: Mid-State Asphalt, 519 N Shawano St, New London
Designer & Artist: Julee Knapp

Wolf River Mermaid (2020)

Where: Memorial Park Skate Park, 800 Montgomery St, New London
Designer & Artists: The Peterson Family – Matt, Kristina, Halle, and Finley

You Blow Me Away (2020)

Where: Cozy n' Sweet Pop-up Candy Shoppe, Pearl Street Alley
Designer & Artist: Lori Jo Schneider
Primer and Paint: Nettie McGee, Kelly Polsin, Season Polsin, and Charles Hart