Twinkling lights, beautifully decorated Christmas trees, Santa, hot cocoa—we're ready for it all. There are so many fun things to do around Appleton and the Fox Cities during the holiday season. Everything feels magical and festive; even ice skating and sledding are more fun in the holiday glow!
Things kick off early ahead of Thanksgiving with holiday parades and stretch past the New Year. We're sure that you will find plenty of fun to fill your days and make new memories.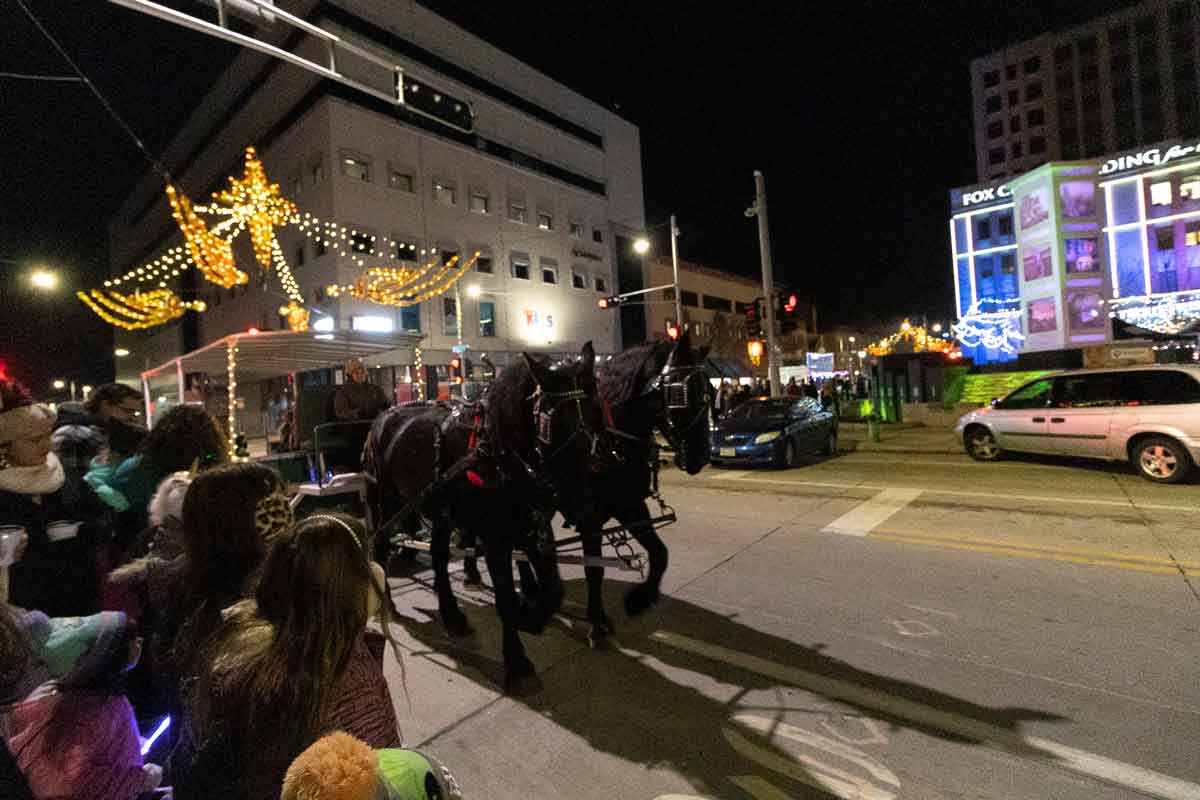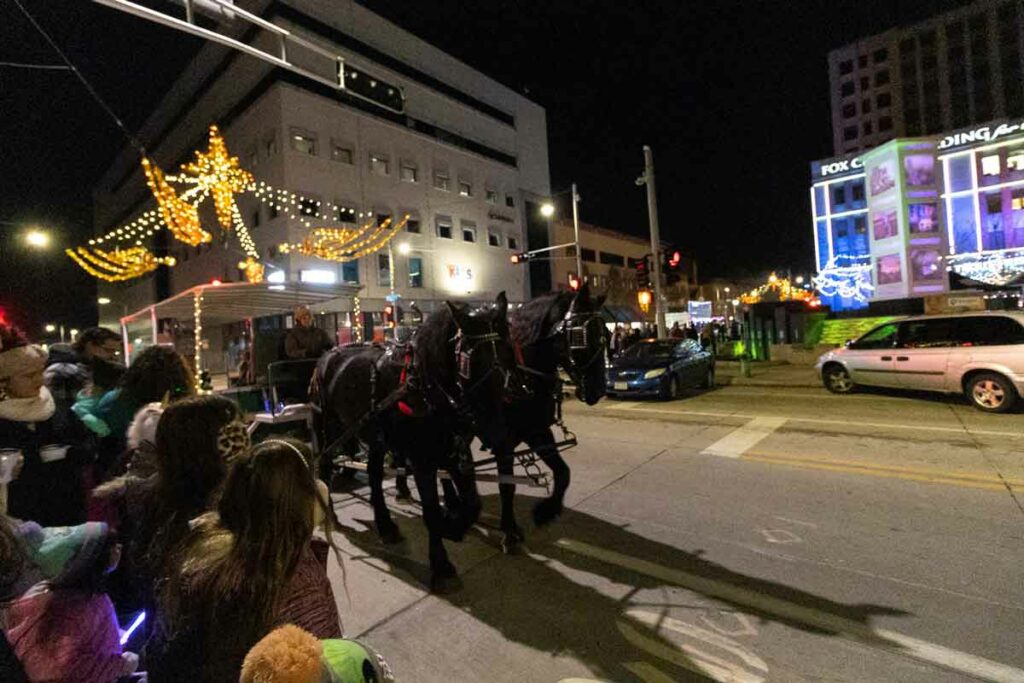 Tree Lightings & Downtown and Community Events
Holiday Season Kickoff, Downtown Green Bay at 5:30 on November 16, 2022, with holiday lights, music, small business specials, and hot cocoa!
Light Up Appleton is Downtown's annual holiday kick-off event with live music, a window scavenger hunt, food trucks, a treat walk, and more! Don't miss it on November 19, 2022, from 3 – 7 pm.
Christmas at the Pond in Kimberly on Sunday, November 27, 2022, from 5 – 7 pm takes place at Memorial Park and is a FREE family event.
A Very Neenah Christmas transforms Downtown Neenah into a Christmas wonderland on December 2, 2022, from 6 – 8 pm with ice sculptures, live reindeer, light-up dancers, an outdoor showing of The Grinch, live mannequins, and so much more!
Jingle Bell Boulevard is a two-night drive-through display that Santa has been known to make appearances at in Grand Chute. Catch this FREE family event on December 14 and 21, 2022, from 6 – 8 pm.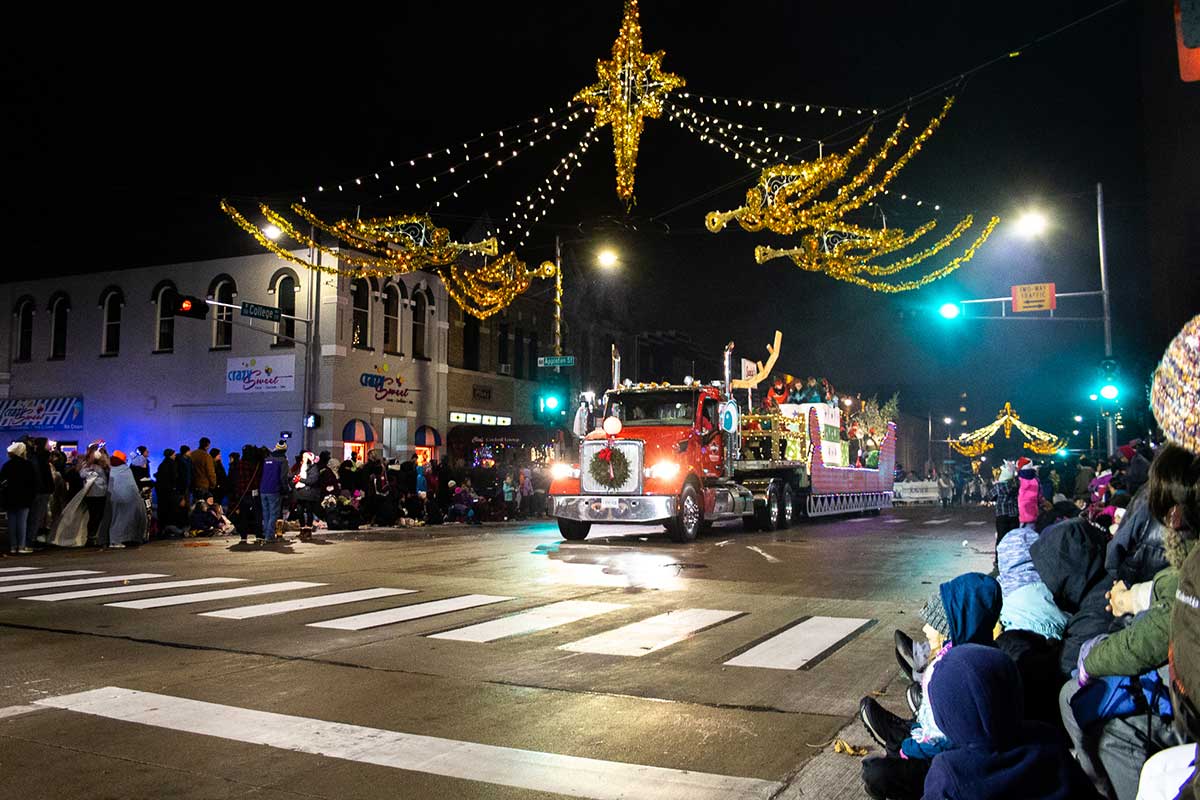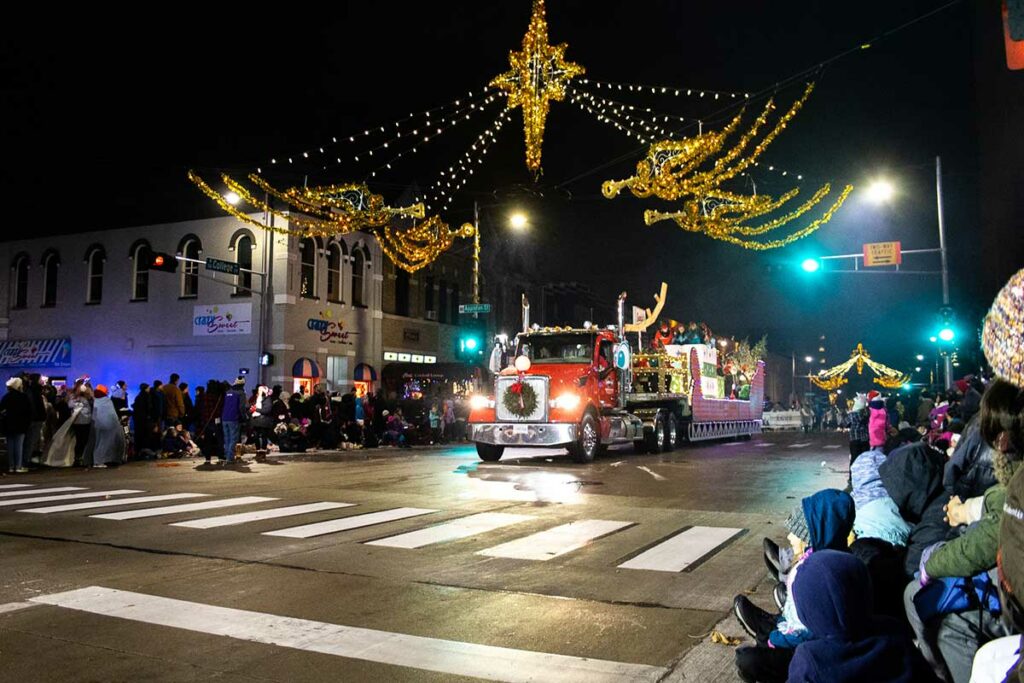 Downtown Appleton Christmas Parade
Parades
Between November 19 and December 6 there are 8 holiday parades happening around the Fox Cities, including the largest nighttime Christmas parade in the Midwest, the 51st Annual Downtown Appleton Christmas Parade!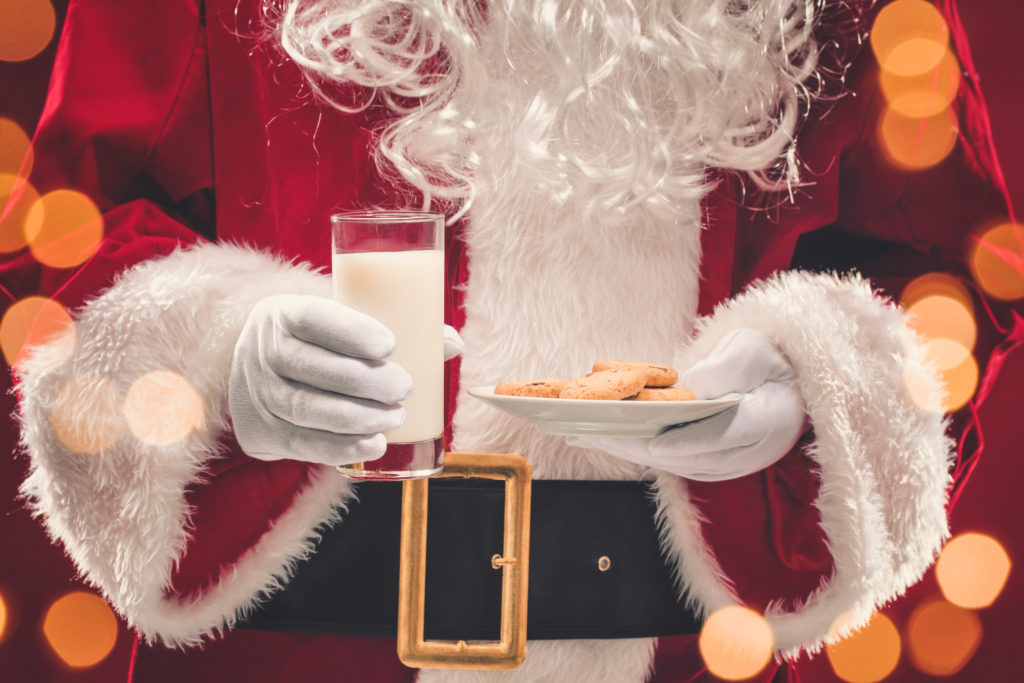 Santa Events and Breakfasts
There are dozens of Santa events throughout the season! From breakfast to evening hot chocolate and cookies, there is something for everyone on our calendar.
Some of our favorite annual events include:
You can visit Santa any day throughout the season at Cabelas, the Fox River Mall, and other spots throughout the Fox Cities and surrounding area; find them all here!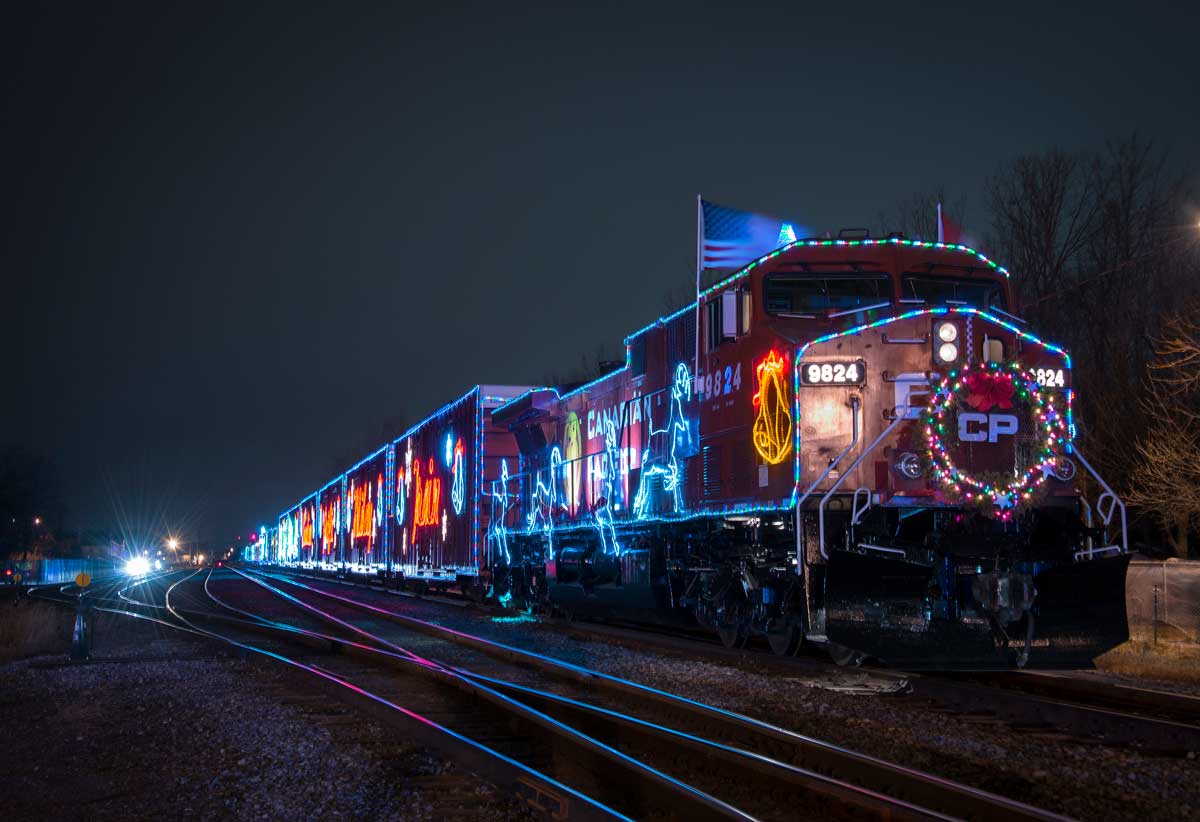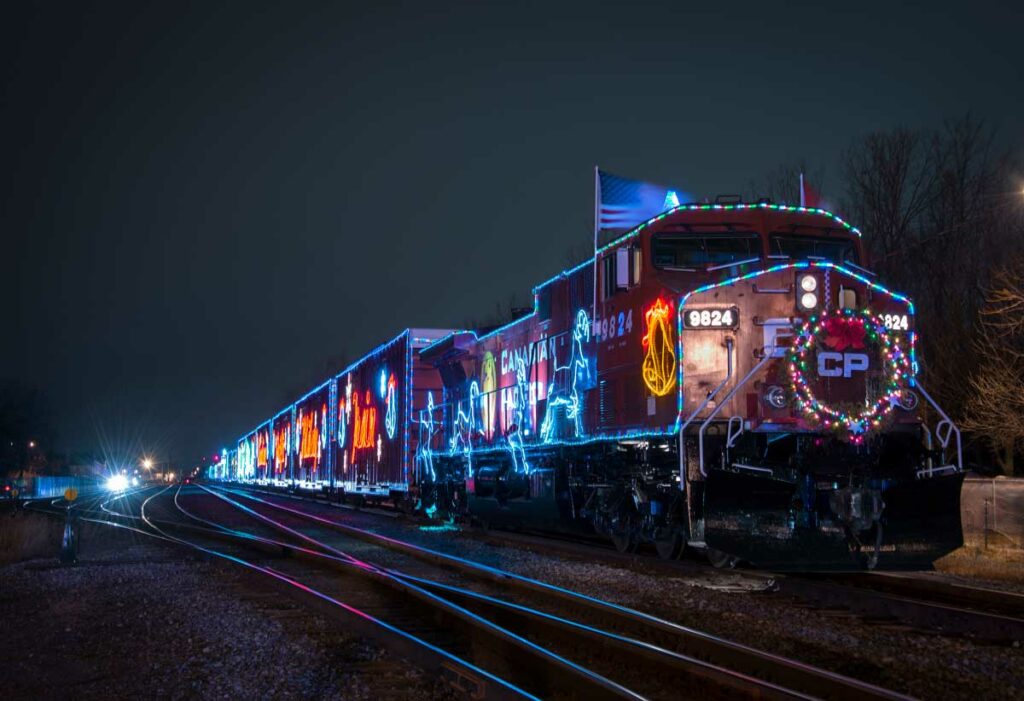 Polar Express & Other Holiday Fun for Train Lovers
National Railroad Museum, Green Bay
The popular Green Bay Polar Express event at the National Railroad Museum sells out quickly every year in July but people's plans often change. Watch the Moms groups on Facebook for people selling tickets or even post asking your friends. The National Railroad Museum is open during the holidays and is decorated. Make your own Polar Express fun day and play in the trains in your jammies.
Mid-Continent Railway Museum
The Mid-Continent Railway Museum has two weekends of Train Rides with Old Saint Nick! Santa takes time to visit with each family on a 7-mile round trip ride that lasts 55 minutes while his elves spread Christmas cheer with small gifts for children onboard.
The Canadian Pacific Holiday Train
The Canadian Pacific Holiday Train brings performers spreading the holiday spirit to towns in Canada and the United States aboard a fully lit train. We're lucky to have some stops in Wisconsin, all with performances by Alan Doyle and Kelly Prescott!
Thursday, December 8, 2022: Gurnee, Sturtevant, and Caledonia
Friday, December 9, 2022: Wauwatosa, Hartland, Oconomowoc, Watertown, and Columbus
Saturday, December 10, 2022: Portage, Wisconsin Dells, Mauston, Tomah, Sparta, and LaCrosse
Model Train Open Houses
The Paper Valley Model Train Club hosts holiday open houses each year. They are so much fun for the whole family, even those not currently in love with trains!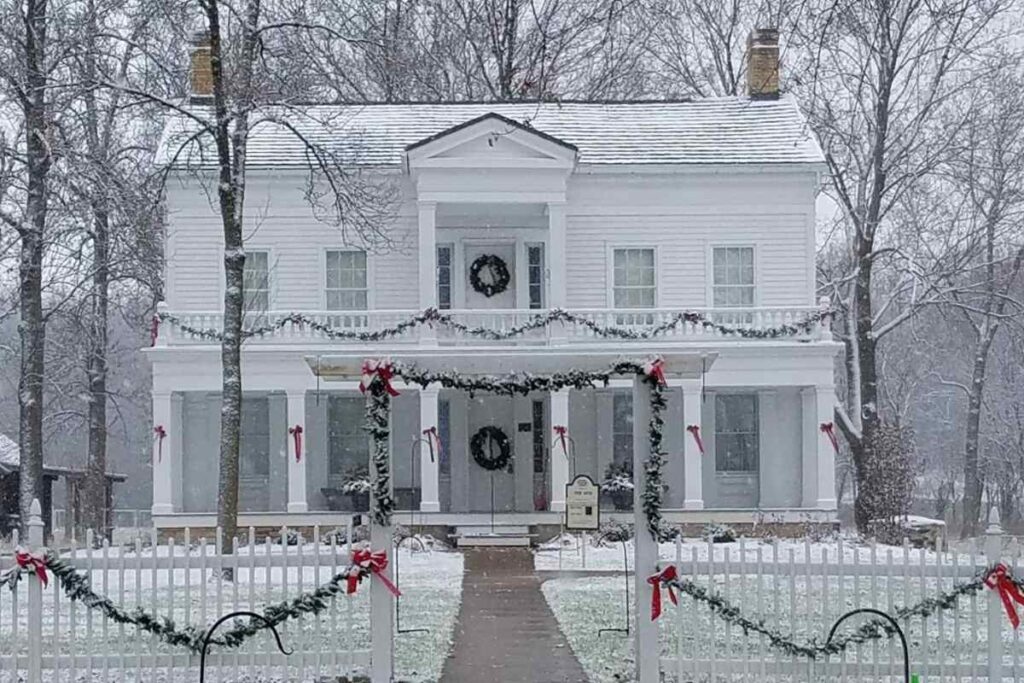 Historic Holidays
Hearthstone Historic House Museum presents Victorian Christmas: 1882 on Friday and Saturday evenings beginning November 26, 2022, and running through January 8, 2023. See the trends in 19th-century holiday decor with docents in each room wearing their Victorian holiday finest and explaining holiday traditions or answering questions.
On December 3 & 10, 2022, from 2 – 7 pm, the Grignon Mansion in Kaukauna offers holiday tours, horse-drawn wagon rides, hot drinks, holiday crafts, and more!
Slightly farther away, Old World Wisconsin presents Home for the Holidays, looking at the vibrant holiday traditions brought to Wisconsin by immigrants on December 3 – 4 & 10-11, 2022.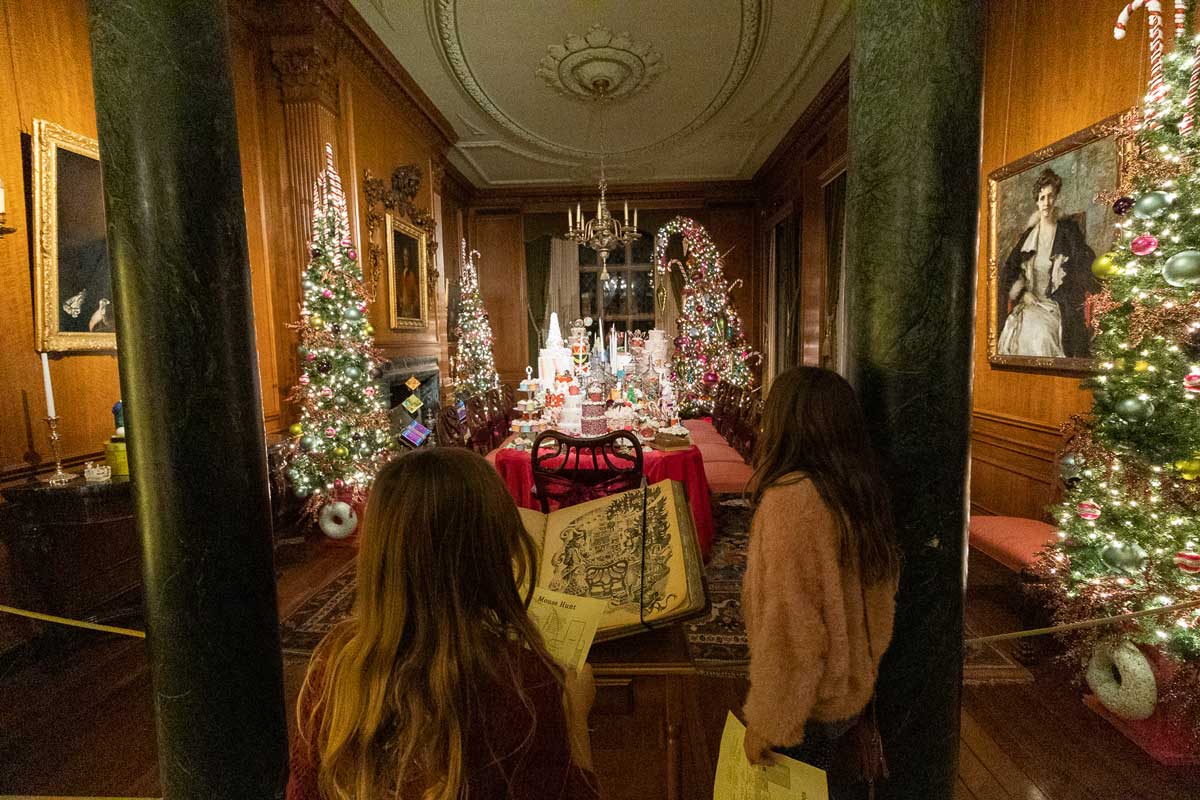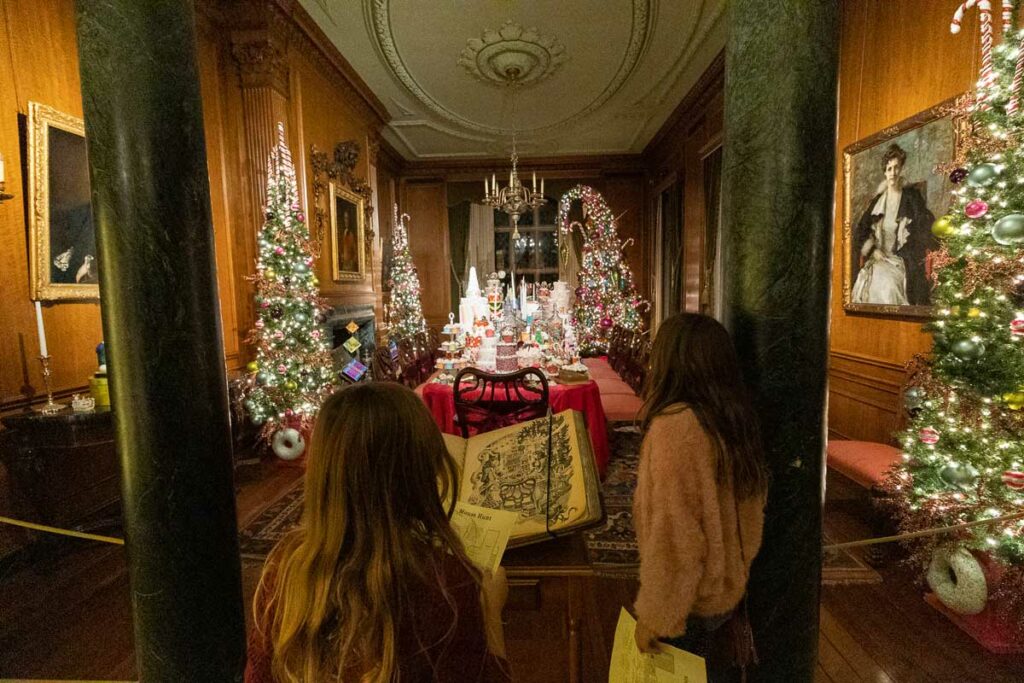 Nutcracker Performances and Events
Events
Nutcracker in the Castle at The Paine – If you haven't made it to check out this season-long event in Oshkosh, this is your sign to go. They offer self-guided tours or guided tours from November through January. There are a handful of free admission for kids days, and you can drop in the Conservatory that has been transformed into Sugar Plum Fairy's Cupcake Cafe.
Nutcracker Sweets Fundraiser at New Berlin Public Library – On December 3, 2022 from 9 am to 2 pm, visit the library for their annual cookie walk, book sale, raffle, and more. Find the event on our calendar.
Performances
The Nutcracker at St Norbert's College – Performances by The Dance Company at Walter Theater in the Hall of Fine Arts on November 25 – 27, 2022. Order tickets online.
The Nutcracker at the Weidner – The Northeastern Wisconsin Dance Organization and Weidner Philharmonic team up to present Green Bay's only Nutcracker performance with a live orchestra November 25 – 26, 2022. Order tickets online.
The Nutcracker at Cedarburg Performing Arts Center – Lake Shore Dance Company's 25th Anniversary Presentation of the classic holiday ballet on December 2 -3, 2022. Order tickets online.
The Nutcracker at Capitol Civic Center – Jean Wolfmeyer School of Dance presents the iconic ballet at Capitol Civic Center in Manitowoc. Order tickets online.
BONUS! Check out a completely different version of the favorite in Milwaukee, The Flamenco Nutcracker at South Milwaukee Performing Arts Center on December 10, 2022, and The Hip Hop Nutcracker at Marcus Performing Arts Center on November 26, 2022; both offer fresh, powerful, and innovative takes on the ballet.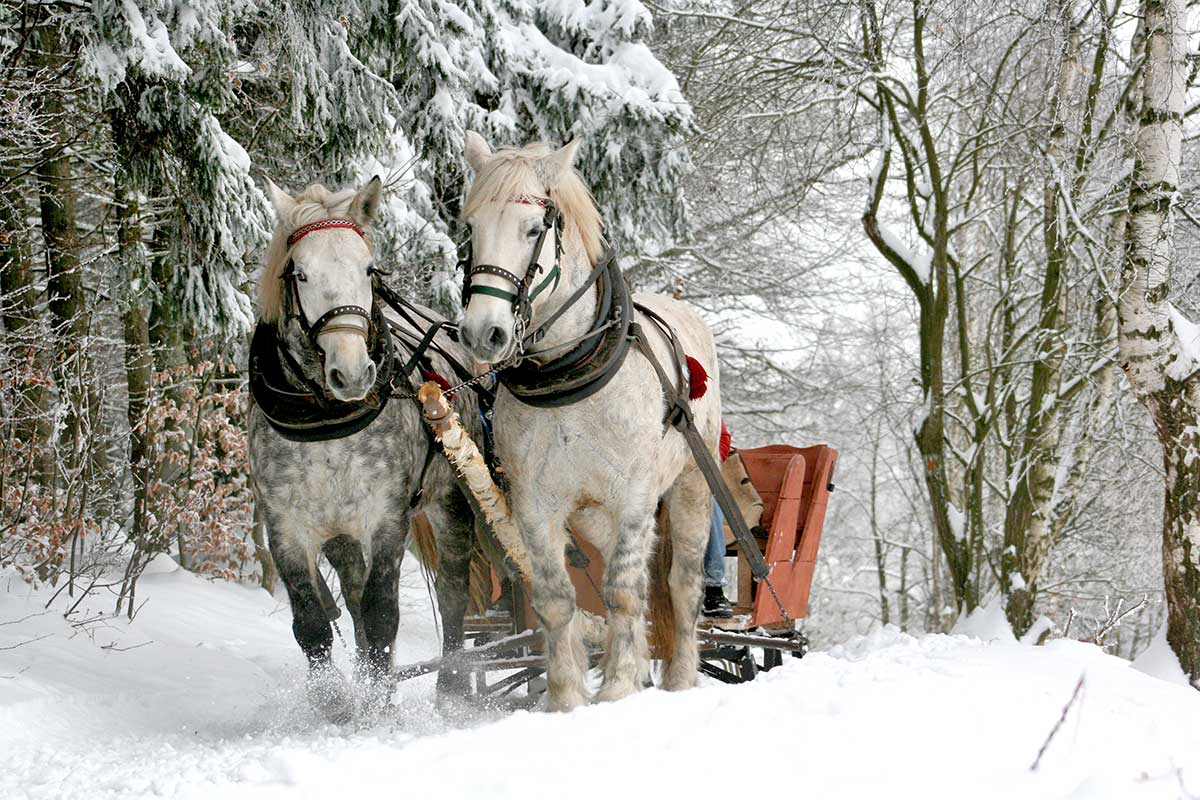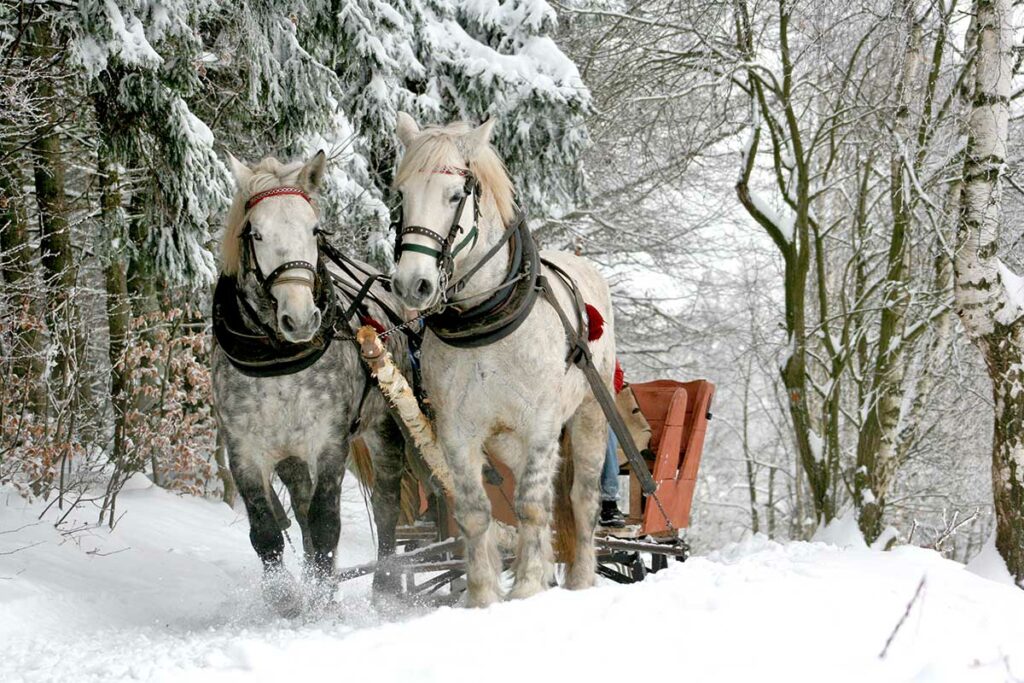 Sleigh Rides
Okay, we're fully convinced that there is nothing more magical or more idyllic than a horse-drawn sleigh ride through a Wisconsin winter landscape. There are 10 amazing options for a horse-drawn adventure this winter! We hope you decide to dash through the snow!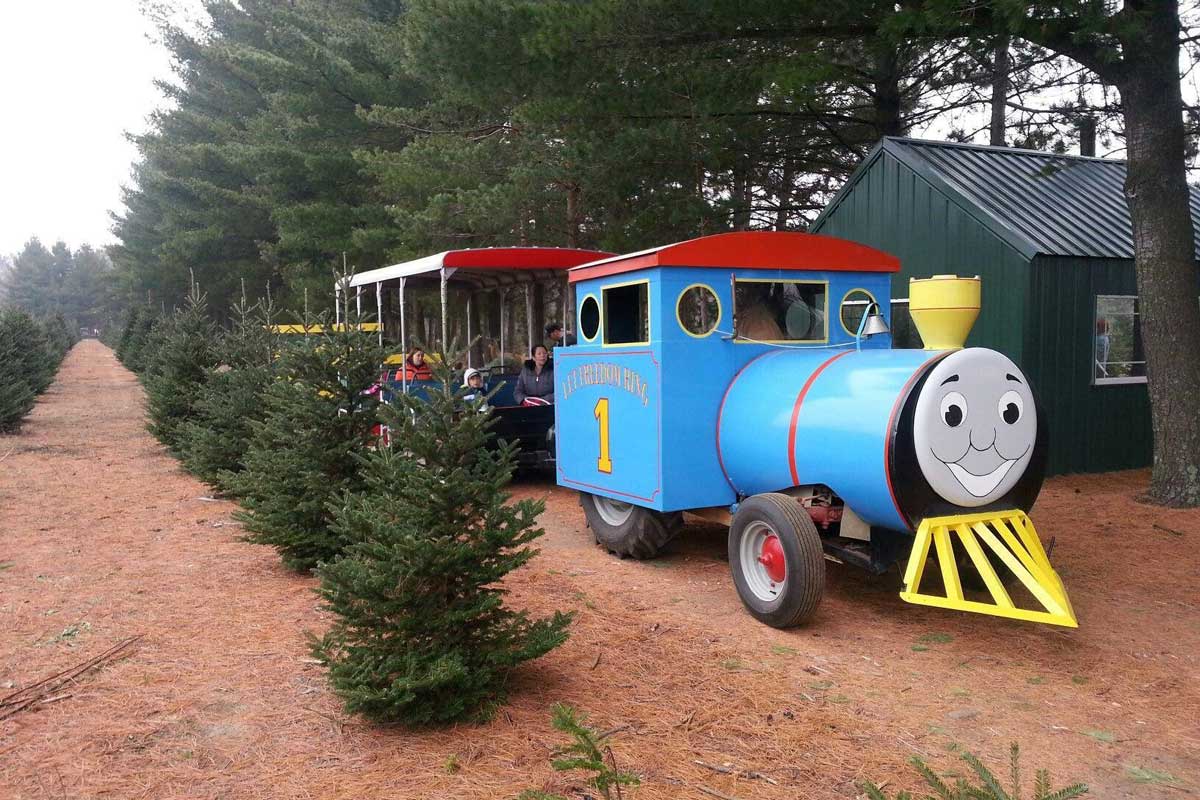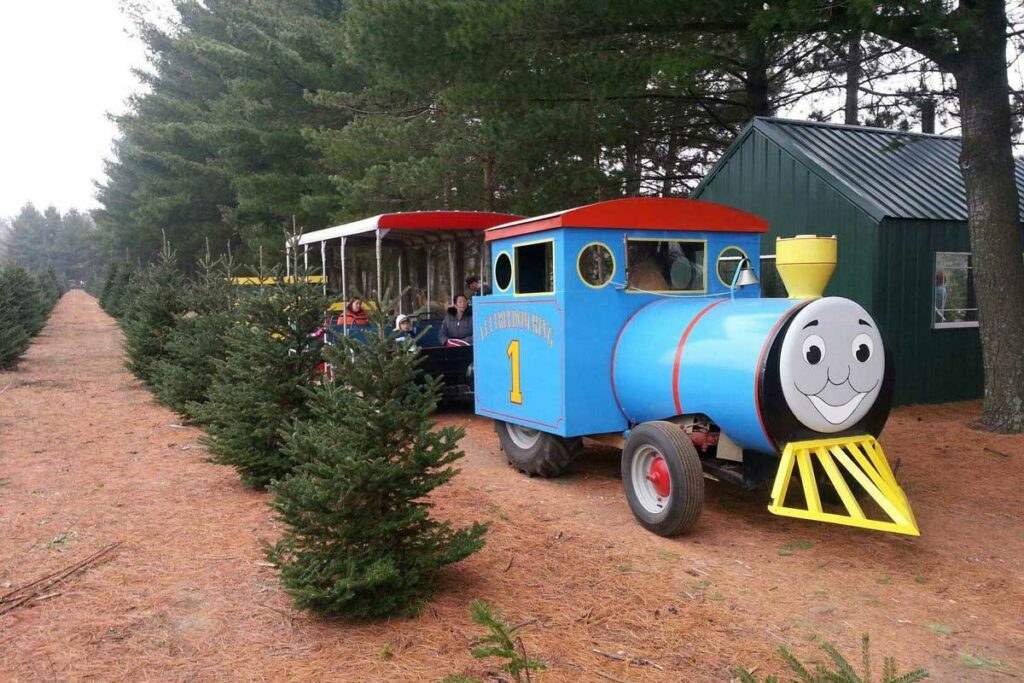 Christmas Tree Farms
While it might be easier to swing by a tree stand—and we have lots of great options in the Fox Cities—it is a Family Holiday Experience to bundle up, head out to a tree farm, and cut down that perfect-for-you tree. There are 11 Picture Perfect Christmas Tree Farms Near the Fox Cities to choose from! These locations have sleigh rides, hot cocoa, warming fires, and so many more options to make your day magical.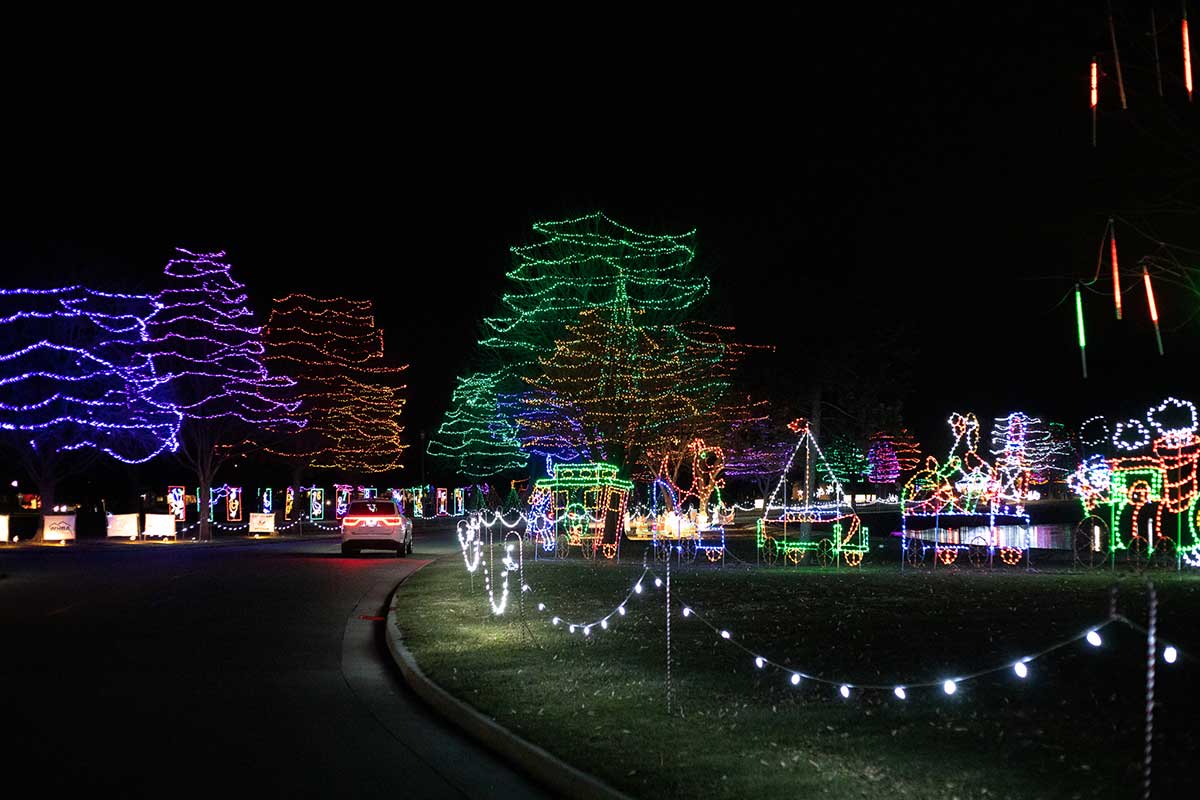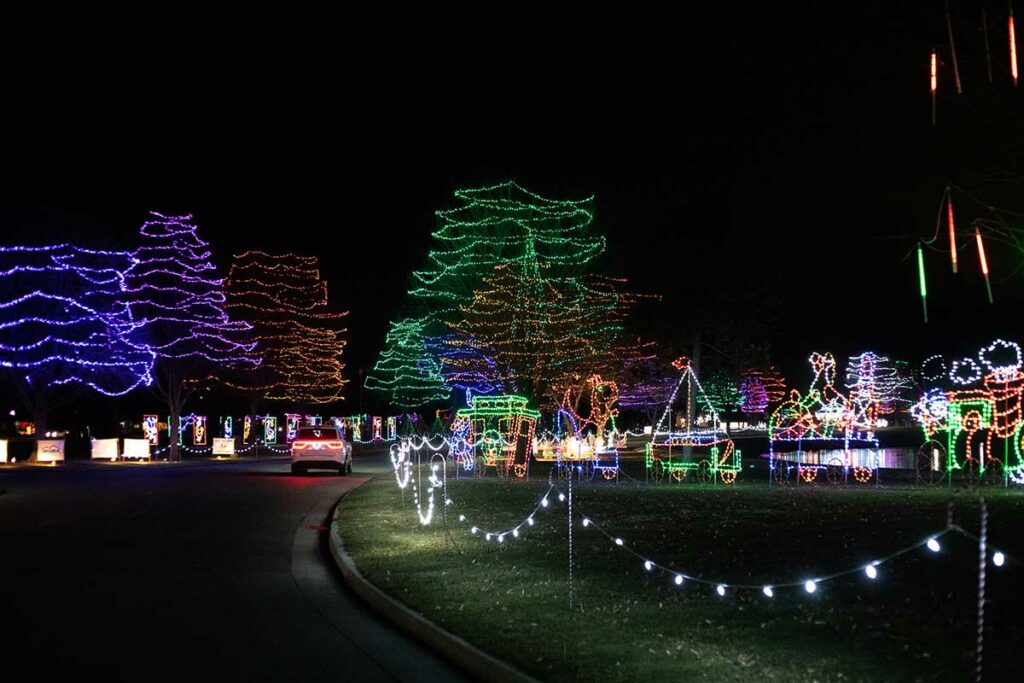 Community Light Displays
Darboy
Stroll through the magically lit woods in Darboy Community Park for Fox Cities Festival of Lights. Truly a community project supported, built, and giving back to organizations in the area. You'll spot Fox Cities landmarks completely constructed of lights, and you can make a visit to Santa or grab a cup of coffee or cocoa on-site!
Kaukauna
This one is designed to be enjoyed by even the littlest family members! There is a sweet outdoor, free, walk-through Library of Lights at the Kaukauna Public Library throughout the month of December.
Green Bay
The Green Bay Botanical Garden glows all season long with WPS Garden of Lights, starting on November 25 and running through December 30, 2022. In addition to the light display, you'll find story times with Mrs. Claus and photos with Santa, wagon rides, warming fires and more!
Winter Juiblee at Titletown runs on weekends throughout December and daily starting December 20 – 28th, 2022.
Santa's Rock N Lights is on hiatus this year, but there are lots of other great options in Green Bay for large light displays!
Oshkosh
Oshkosh Celebration of Lights transforms Menominee Park each holiday season. The park lights up on November 25 and glows through December 31, 2022. You can make reservations for a horse-pulled wagon ride, there are free nights sponsored by community organizations, and Santa makes appearances!
More
There are 20 Spectacular Community Light Shows in the Fox Cities or a short drive away! Don't forget to bookmark our Giant Master List of 100+ Homes in the Fox Valley with Holiday Lights to plan the perfect light tour!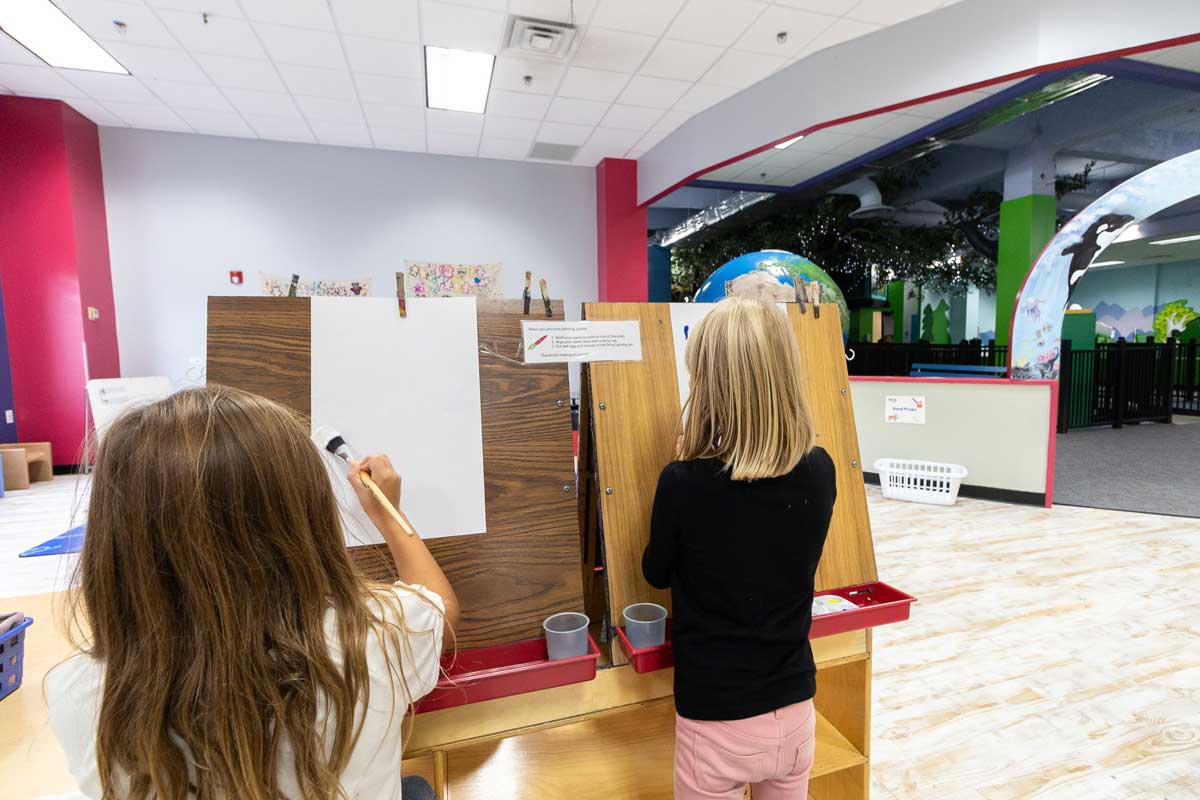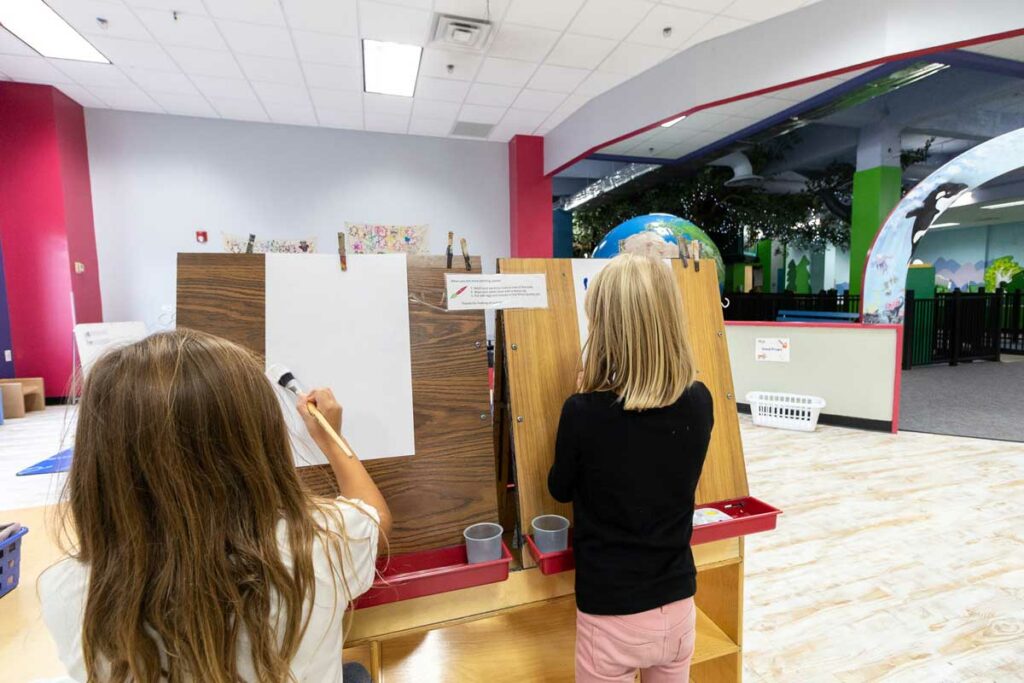 Inclusive Holiday Events
Sensory Superstars program at Building for Kids takes place weekly on Sundays from 9 am – 12 pm. The volume is turned off or low on exhibits and music, and calm-down kits and self-regulation tools are available in the Welcome Center. On Sunday, December 11, 2022, the morning will include a Holiday Social with cookies, crafts, sensory-friendly accommodations, and more. No pre-registration is required!
If your child would love to visit Santa but needs sensory accommodations, a VIP visit at Journey Chiropractic Center in Green Bay might be the perfect solution. Sign up in advance to have a private visit with Santa without bright lights or crowds and a sensory smart Santa and elves on Sunday, December 11, 2022.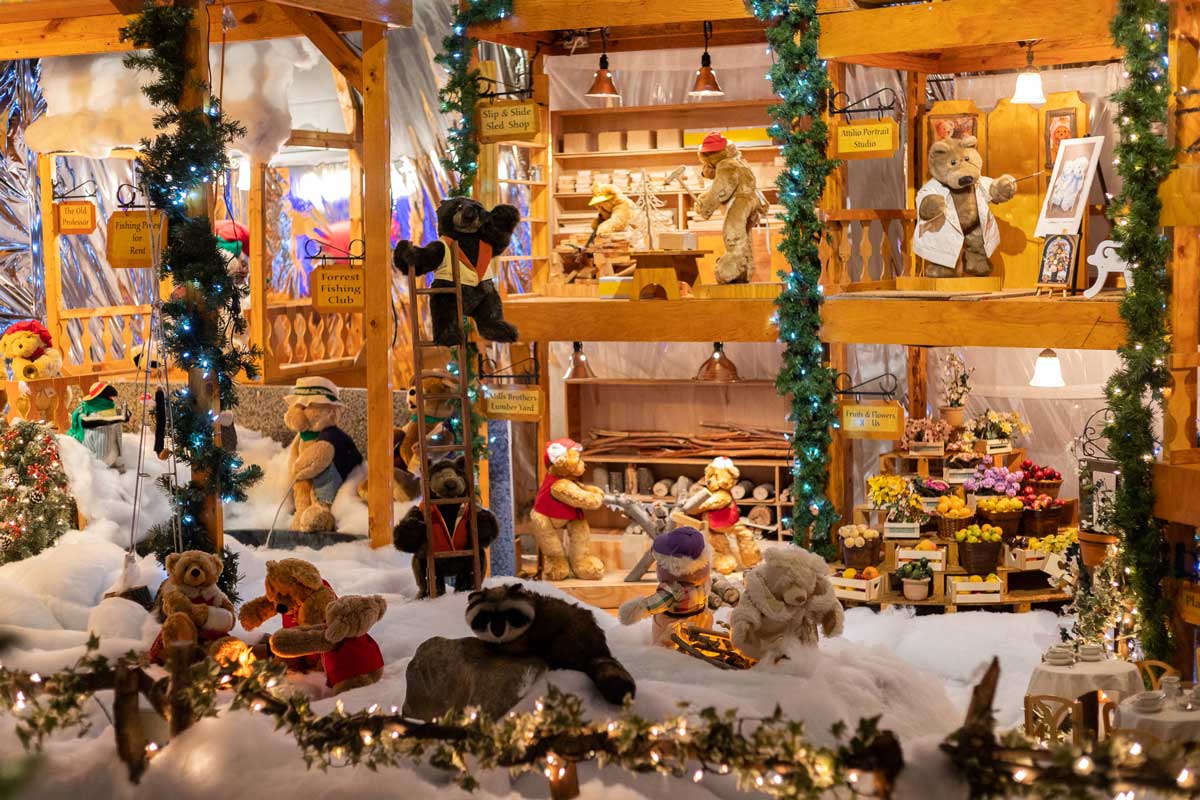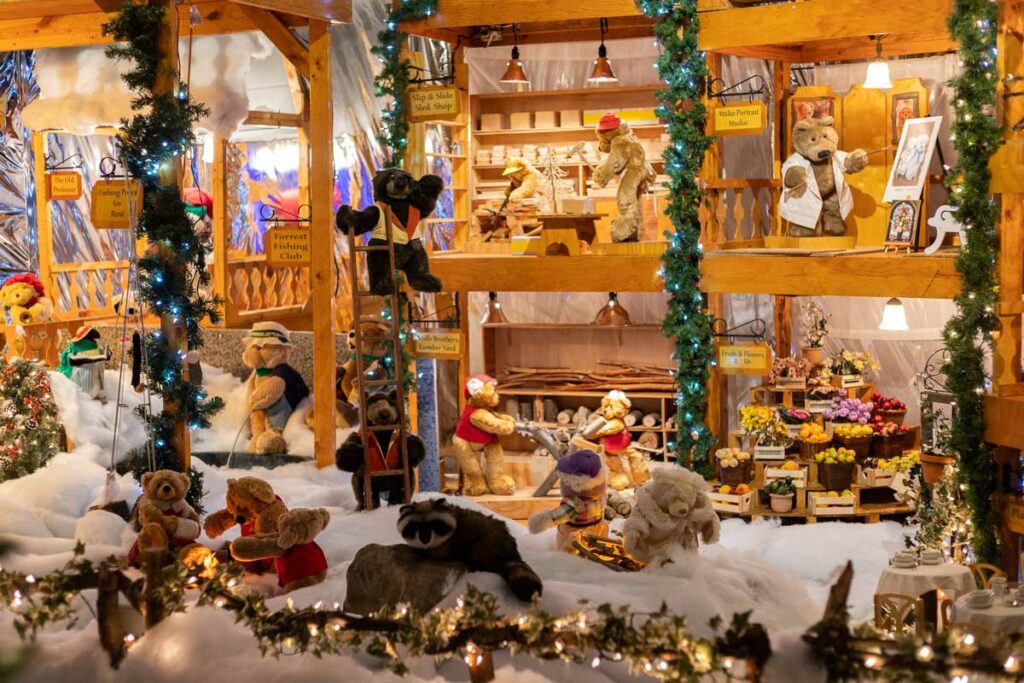 The North Pole, Chilton
Visit the North Pole
We're so lucky to have the North Pole right in our backyards to visit all holiday season long. Do not miss checking out this local favorite in Chilton if you have never been!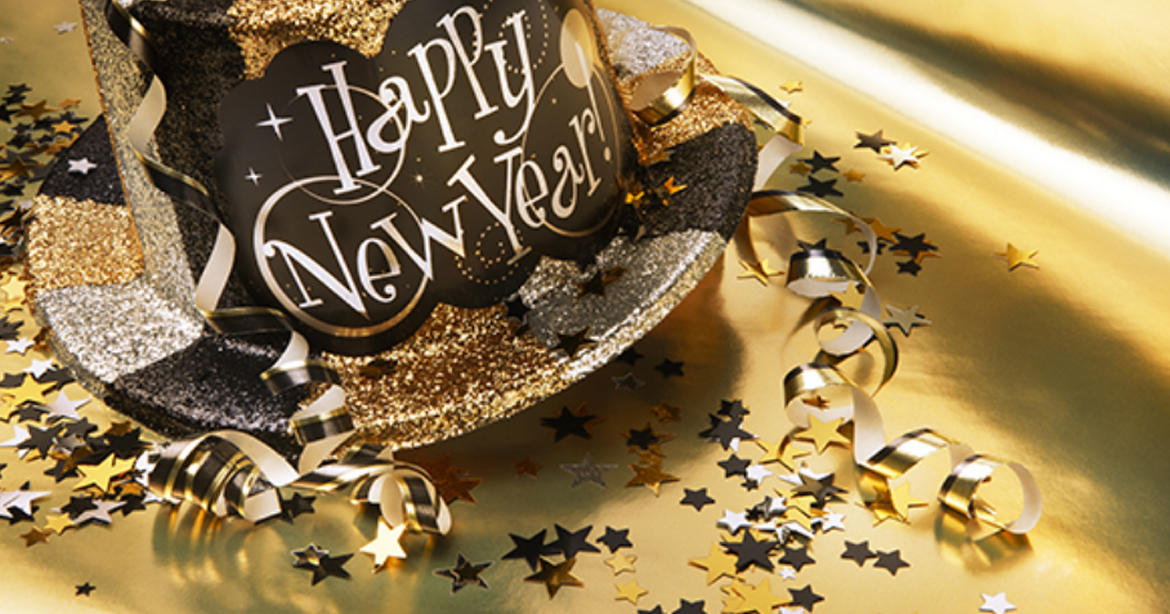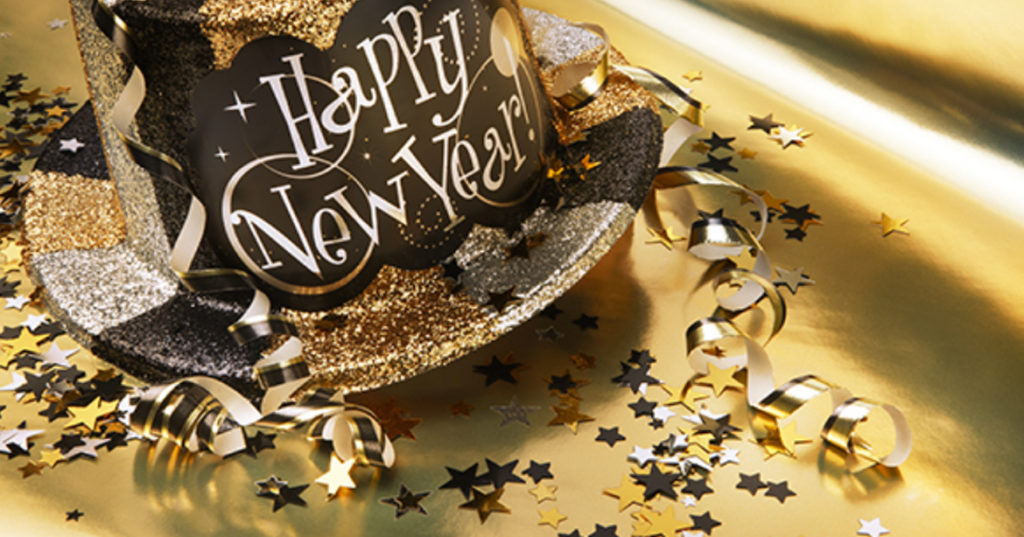 BONUS! New Year Events
Community First Champion Center will host a New Year's Eve Open Skate from 11 am – 3 pm on Saturday, December 31, 2022.
The Children's Museum of Green Bay will host 2022 Kids Rockin' Eve from 10 am – 1 pm on Saturday, December 31, 2022. The event is included with admission, and there will be countdowns on the hour at 11 am, 12 pm, and 1 pm.
New Year's Eve at Titletown means family fun all day long! There will be extended skating and tubing time, ice sculptures, fire pits, party favors, photo ops, outdoor music, and a countdown with fireworks. Drop in any time from 10 am – 1 am to say goodbye to 2022.
Historically, Building for Kids and Super Bowl have family events with noon time countdowns, but these have not yet been announced for 2022. Watch their websites and social media for updates.