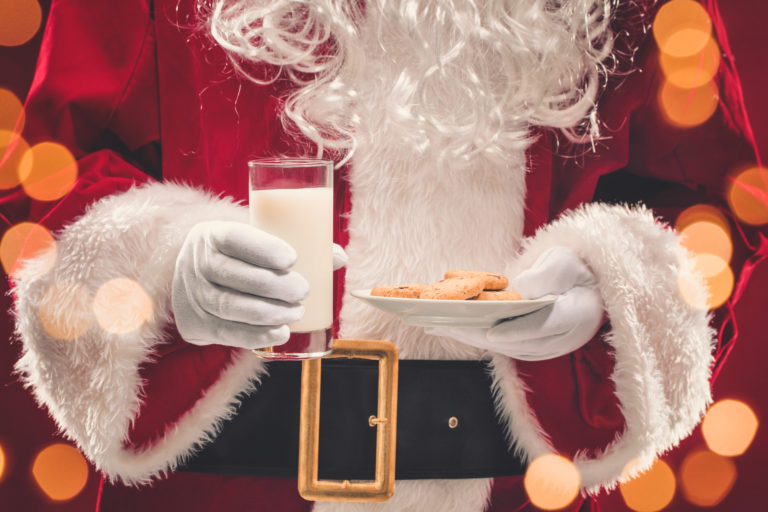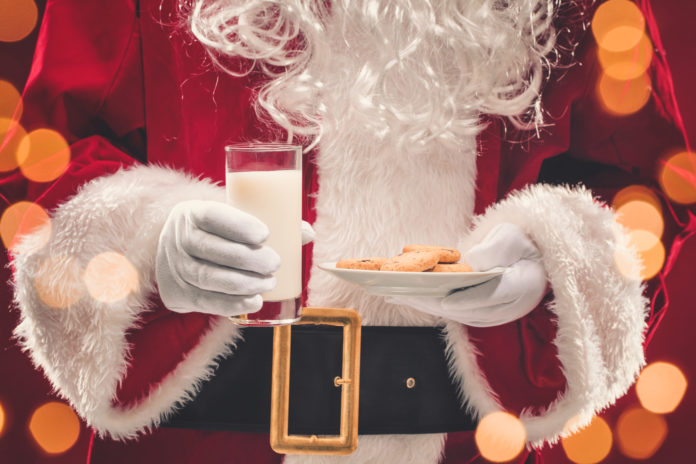 Looking for Santa? We have rounded up Breakfasts with Santa, Lunch with Santa, cookies and more!

Christmas in the Air
EAA AirVenure Museum, 3000 Poberezny Rd, Oshkosh
Saturday, December 7, 2019 from 8am – 3 pm
Stir up your holiday cheer with a special family event at the EAA Aviation Museum. Roam the museum to enjoy the holiday decorations throughout the exhibits. Enjoy local musical, choral, and dance groups performing on various stages including Julie's Touch of Silver Dance Studio in their holiday revue! Other activities include writing letters to Santa, cookies and milk, and face painting.
Amidst all the fun, do not miss the arrival of Santa Claus as he flies in by helicopter at noon to visit with all of the children! Have your picture taken with Santa, or take your own family photos in staged areas throughout the museum.
All events and museum admission are free between 10 a.m. and 3 p.m. Donations of unwrapped toys for Toys for Tots or non-perishable food goods for the Oshkosh Area Community Pantry are greatly appreciated.
Breakfast with Santa tickets will be released in November. Enjoy an all-you-can-eat pancake breakfast before Christmas in the Air begins! Beat the crowds, have your photo taken with Santa, and receive a special gift!
More Information
Unwrap a Good Book with Santa
Aurora Kaukauna Clinic, Kaukauna
Saturday, November 23, 2019 from 9 am – 12 pm
Please join Santa and his elves at the Aurora Health Clinic in Kaukauna for a fun-filled morning of reading with Santa, promoting literacy through the Reach Out and Read Program, decorating holiday crafts and eating yummy cookies! Each child will receive a book and a photo opportunity with Santa!
Holiday Extravaganza
The Children's Museum of Green Bay
Friday, November 29, 2019 from 10 am – 12 pm
Join Santa for a special holiday extravaganza in his honor and meet some of his trusty reindeer (yes, live reindeer!). Bring along a camera and capture all the memorable moments.
More Information
Breakfast with Santa (and Fang!)
Neuroscience Group Field, 2400 N Casaloma Dr, Appleton, Wisconsin
Saturday, November 30, 2019 from 9 am – 12 pm
Wisconsin Timber Rattlers are hosting a breakfast with Santa! Santa will be the guest of honor at both breakfasts and there will be a photo station for children to have their picture taken with him. Fang will have a place for attendees to decorate Christmas cookies, too. The event is $10 for adults and $5 for children between the ages of three and twelve. Children aged two and under may attend for free. Breakfast includes eggs, French toast sticks, sausage, donut holes, coffee, and juice. Deadline to register is November 22nd.
More Information
Breakfast with Santa
St Jude Parish, 1420 Division St, Green Bay, Wisconsin
Sunday, December 1, 2019 from 8 am to 11 am
All ages welcome to join us for pancakes, eggs, sausages, and all the fixings. Santa will be there along with many other activities for the children young and old. Hosted by the Knights of Columbus Council 5382.
More Information

Breakfast with Santa
Gather on Broadway, 139 N Broadway, Green Bay
December 1, 8, 2019 from 7:30 am – 10 am
Experience the magic and wonder of the holiday season as Gather on Broadway is transformed into Santa's North Pole workshop! Bring your family for a delicious breakfast buffet with Santa and his elves. The morning includes a storytime, cookie decorating, holiday arts & crafts, a special take-home gift, and photos with Santa. $25 per adult / $10 per child (ages 5 to 13) / Children under 4 free
More Information
Breakfast with Santa
Hagemeister Park, 325 N Washington St, Green Bay
Sunday, December 1, 2019 from 9 am – 12 pm
Pictures and breakfast with Santa. $12 for adults, $6 for 5-12 year olds, free for 4 and under.
More Information
Breakfast with Santa
St Norbert College, 100 Grant St, De Pere
Saturday, December 7, 2019 from 9 am to 11:30 pm
Santa has added St Norbert College to his lists of visits this holiday season. Join the jolly olf man himself along with many of his merry elves in Michels Commons Ballroom to kick off the most wonderful time of the year. Breakfast, arts, and crafts, and everyone gets to visit with Santa. Please bring an unwrapped toy to this event which will be donated to a child in need. $12 for adults, $9 for kids ages 3-12, free for 2 and younger. Registration opens November 1st.
More Information

Pictures with Santa
Bergstrom Ford of Neenah, 525 S Green Bay Rd.
Saturday, December 7, 2019 from 9 am – 12 pm
FREE EVENT! You and your family are invited! Join us as we kick off Santa season! Free photos with Santa, holiday treats, petting zoo, carriage rides and kids fun!
More Information
Lunch with Santa
Ground Round, Neenah 1010 Cameron Way, Neenah, Wisconsin
Saturday, December 7, 2019 from 11 am – 2 pm
Bring your children to sit with Santa. Every child will receive a goody bag, free kid meal coupon(good for a future visit), and can have face painting. Full dinner and kid's menu available. Reservations suggested but not required. Please call 920.725.1010 to book your time.
Visit with Santa
BackPorch Trades, 504 London St, Menasha
Saturday, December 7, 2019 from 2 – 4 pm
Come and Visit with Santa! Enjoy hot cocoa and cookies all day! Each child will receive a special treat from Santa! Have your child draw a picture for Santa and be entered into a drawing for a chance to win $5 BackPorch Trades Bucks and have your art posted!
More Information
Pictures with The Grinch
Harley-Davidson of Appleton, 5322 Clairemont Drive, Appleton
Saturday, December 7, 2019 from 10 am – 2 pm
More details to follow!
St Nick's Night at Scheels
Scheels, Fox River Mall, Appleton
Thursday, December 5, 2019 from 5:30 pm – 7:30 pm
Scheels is helping St. Nick hand out his extra toys and candy this year! We will have games and Christmas crafts throughout the store. Come see if you can find them all!
Pancakes on the Polar Express
YMCA Appleton, 218 E. Lawrence St, Appleton
Thursday, December 5, 2019 from 5 – 6:30 pm
Hop aboard the Polar Express and enjoy a pancake breakfast for dinner! This magical night is for kids and adults of all ages and includes photos with Santa, hot cocoa, crafts, music and more!
This is a family event and all are encouraged to come wearing their pajamas!
Cost – $5
More Information
Santa Claus is Coming to Town
Washington Park, 631 Winneconne Ave, Neenah
Friday, December 6, 2019 from 6 – 7 pm
For kids ages 3 through 2nd grade, registration required, cost $10. This will be a special evening featuring holiday punch, cookies, holiday crafts, and a special visit from Santa Claus! Parents are encouraged to bring their camera.
More Information
Sit with Santa!
Dick's Drive-in, 1718 Crook's Ave, Kaukauna
Saturday, December 7, 2019 from 11 am – 12 pm
Santa and Mrs. Claus will be at the Kiwanis/KPL Foundation Tree Lot for a fun photo op! Select your holiday tree and then get your picture taken with the Clauses! Funds from tree purchases help Kaukauna Kiwanis and the Library continue their missions helping people right in our community!
Pictures with Santa
The Grand Meridian, 2621 N Oneida St, Appleton
Sunday, December 8, 2019 from 1 – 4 pm
Come and enjoy cookies, cocoa, crafts, and gifts! Free event, first 100 guests receive a goodie bag. Please bring a donation for Ronald McDonald House Charities of Eastern Wisconsin: non-perishable foods, gift cards, new toys, books, movie passes, etc.
More Information
Breakfast with Santa
Classic Lanes Fox Valley, 934 Byrd Avenue, Neenah
Details TBA
Christmas Family Night with Santa
Waverly Beach Bar & Grille N8770 Fire Lane 1
December 10, Menasha from 5 – 7 pm
Free event for families! Pictures with Santa, crafts, hot chocolate and apple cider.
More Information
Visit with Santa
Fox West YMCA, W6931 School Road, Greenville
Tuesday, December 10, 2019 from 5 – 7 pm
A fun, free family event to help celebrate the holidays. Enjoy a treat from our bake sale and some hot cocoa while listening to some holiday music. Visit and take a picture with Santa! We are sponsoring Toys for Tots and the local food pantry. We would greatly appreciate your support by bringing in a non-perishable food item or a gift for Toys for Tots! All ages welcome.
More Information
Breakfast with Santa
Titletown, Lombardi Avenue, Green Bay
Details TBA
Breakfast with Santa
Beja Shriners, 1950 Bond Street, Green Bay
Sunday, December 8, 2019 from 8:30 – 11 am
Pictures with Santa, cookie decorating, face painting, all the fun activities you have come to expect will be available once again. And, of course, breakfast with scrambled eggs, sausage, and pancakes.
The cost is $7 for adults and $4 for children (4-12). Children three and under are free.
More Information
Pajama Storytime with Santa
Little Chute Library
Monday, December 16, 2019 from 6:15 – 7:00 pm
Enjoy holiday stories with Santa and a craft! All ages welcome.
More Information
You can also find Santa at other locations throughout the Fox Valley here!