Menominee Park is one of our family's favorite destinations. Located on the east side of Oshkosh along the shores of Lake Winnebago. Menominee Park is part of the City of Oshkosh Parks Department and the Oshkosh Zoological Society supports the zoo's animals, educational activities, and more!
The best part of this park is you can get away without spending any money, but for under $10 you can feed a couple of animals and ride the train. Spend the whole day or just an hour. Here are our favorite parts and a couple of tips.
BONUS TIP: To top off the day, stop by Leon's for a treat! You will be greeted by a friendly server as soon as you pull up at this carhop. Eat in your car, although this doesn't sound very appealing for little ones, or at the picnic tables. Enjoy vanilla and chocolate frozen custard, a special feature every day, homemade root beer, slushies, shakes, and more!
2020 Safety Changes
Only fifty people will be allowed to enter the zoo at a time.
Additional hand stations will be available
Visitors will be asked to physically distance 6 feet from others.
Events and activities may be canceled or rescheduled.
Menominee Park and Zoo
520 Pratt Trail, Oshkosh, WI

(920) 236-5082
Read More: 5 Oshkosh Area Family Friendly Nature Trails for Biking, Walking & Hiking
The Menominee Park Zoo
The Menominee Park Zoo is located near the playground. Admission is FREE but consider dropping a donation on the way out. The animals are all around a beautiful pond and the trail is very stroller friendly. The zoo is approximately 8 acres and homes about 30 – 50 animals from goats, llamas, birds, otters, elk, wolves, and more. Permanent exhibits include wolves, elk, and otters. Also, check out the interactive educational displays created by kids to entertain and educate kids!
About the Animals
River Otter Exhibit is the home of Minnie and Winnie. If they aren't swimming look for them in one of their favorite places to nap, the large log on the west side of the exhibit.
The Eagle Exhibit is expected to be complete in 2020 and is located between the wolf and elk exhibits on the eastern side of the zoo.
Visit the Gray Wolf Exhibit to meet the newest pack of wolves this summer at the zoo – Hula, Oki, and Koa!
Menominee Zoo is also the home of a family herd of five American Elk – Papa, Mama, Georgia, Stella, and Lilly.
Dash is the resident African Spurred Tortoise and is currently 25 years old and weighs 85 pounds! She loves to explore around the zoo and eat grass on warm sunny afternoons. If she isn't out and about you can find her next to Bubba the baboon.
The Aviary is home of Zeke the turkey vulture, 2 Rio Grande Wild Turkeys, Ring-Necked Pheasant, and Indian Peafowl. Make sure to also say hello to the Blue and Gold Macaw!
Each summer the zoo features exotic animals and farm animals on loan. 2020 Summer special seasonal animals include a Bobcat, Coatimundi (a racoon relative), and a Ring-Tailed Lemur.
Before you Visit
Hours: June 6 – September 27, 2020: 9 am – 7 pm
Admission: FREE
General Rules: The following are NOT allowed: carry in food, bicycles, rollerblades, dogs, pets and smoking
Notes for 2020: Programs for the Wildlife Wednesdays are subject to change. Limit to 50 guests at a time.
Menominee Park Beach
We usually pack a lunch or snack and enjoy it by the beautiful beach. There are picnic tables by the beach and the playground, but our kids usually prefer a picnic blanket. Another great thing about Menominee Park is there is plenty of shade. Pack sand toys, the nice sandy beach is a fun place to build castles, rivers, masterpieces, and more. It's also a great place to watch for boats. The Oshkosh Yacht Club often teaches classes nearby. The Beach House also has restrooms.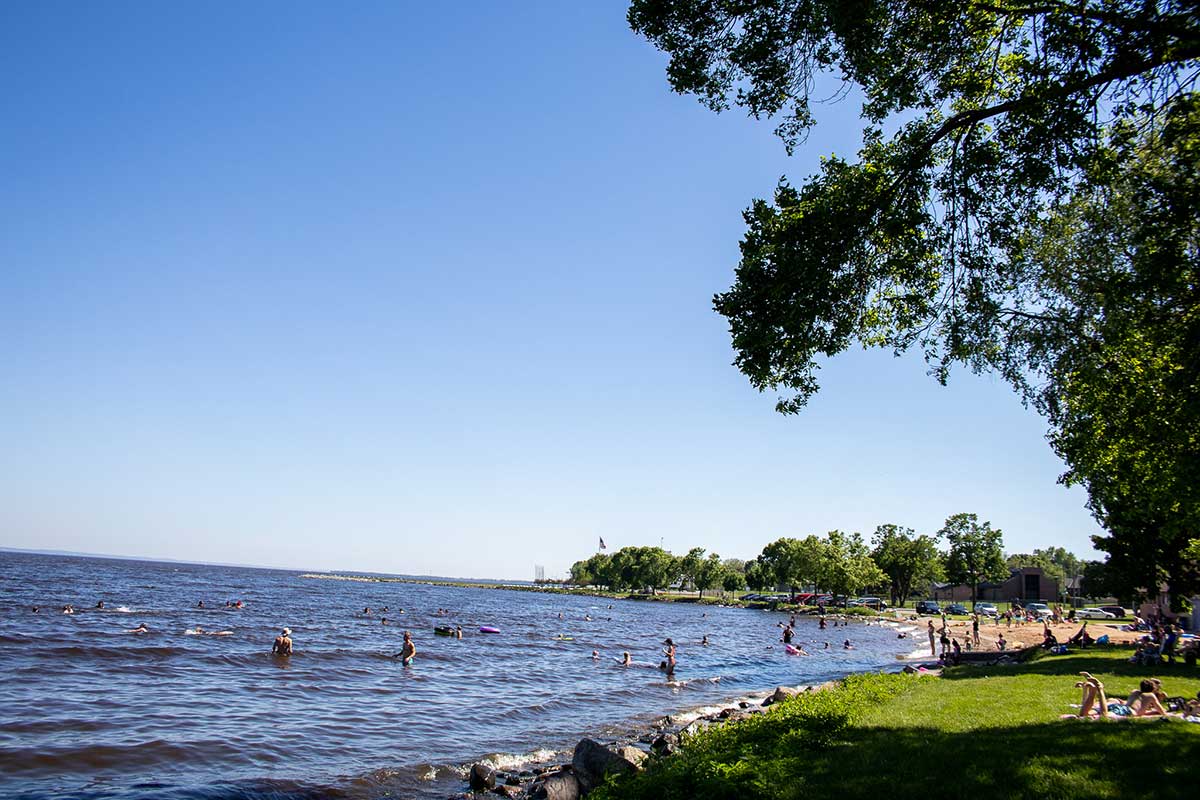 Menominee Park Children's Amusement Center
Pack a couple of dollars along for the train or if your more adventurous a water rental! It's a little of a walk from the other parts of the park, so if you have little ones you might want to follow the signs and drive or bring your stroller. The train ride runs around a pond, over an exciting little bridge, and through a "tunnel."
Hours: Fridays, Saturdays, Sundays, and Mondays from 11 am to 7 pm.
Admission: $1.50/person
Water Rentals
Aqua bikes, paddleboards, kayaks, canoes, and 4-person mini non-motorized pontoon are available to rent in the small lagoon adjacent to the rides. Rentals are available for same-day, as well as outside of normal business hours. Water rentals are available Fridays, Saturdays, Sundays, and Mondays from 11 am to 7 pm.
Paddle boards Rental: $9/hour
Aqua Bikes Rental: $7/hour
2-Person Mini Pontoon Rental: $7/hour
Kayak Rental: $9/hour
Canoe Rental: $9/hour
4-Person Mini Pontoon Rental: $12/half hour
Don't forget cash, they do not accept credit cards.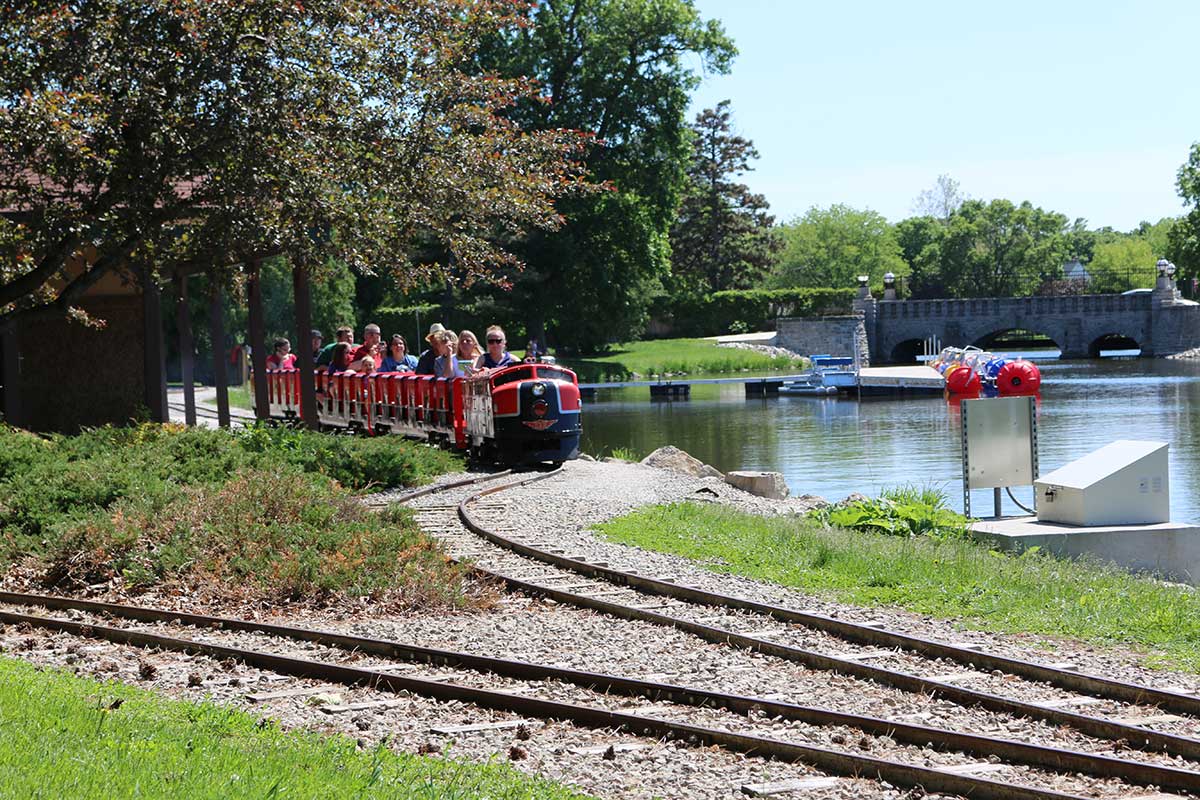 Snacks at LakeFly Café
If you get hungry snacks are available at both the zoo and by the amusement rides. The café great way to support the zoo and get a snack! The stores carries fun zoo souvenirs and concessions including stuffed animals, puzzles, drinks, slushies, hot dogs, pretzels, popcorn, cotton candy, and ice cream treats. All proceeds go back to zoo exhibits.
June 6 – September 27, 2020
11 am – 7 pm: weekdays
10 am – 7 pm: weekends
Little Oshkosh Playground
This community park reopened in the Spring of 2020. Although the iconic wooden playground was replaced there is still lots of fun to explore including reimagined extra high slides, climbing, swings, teeter-totters, tire swing, merry-go-round, and more!
2020 Events
Note: All events may be changed, canceled or rescheduled. Updates will be posted on the Oshkosh Parks Department Facebook Page.
Egg-Citing Day at the Zoo – April 4, 2020

This annual zoo fundraiser is a fun Easter celebration for the whole family! Visit the Easter Bunny, go on an egg hunt inside the zoo, games, raffles, contests, and prizes.
Cost: $3/child (1 & under are FREE). Tickets are sold in advance.

Kidsfest Kick-off Carnival and Children's Day Parade – May 23, 2020: 1 – 4 pm CANCELED for 2020

A FREE celebration for the opening day of Menominee Park. Kids are encouraged to build their own float and join the parade. Awards, light refreshments, and other activities.

Tropical Tuesday – July 21, 2020: 1 – 4 pm

An afternoon of tropical fun leas, dancing the hula, and other fun entertainment.

Wildlife Wednesday – June 17, 2020 (Celebrate June Dairy Month), June 24, 2020 (Butterfly Gardens), July 8, 2020 (Growing Oshkosh), July 22, 2020 (Animal Story Time), August 19, 2020 (David Stokes and his frogs), August 26, 2020 (Why Wetlands?)

A variety of FREE presentations and outdoor activities designed to help children and families knowledge, a healthier attitude, and respect for wildlife.

Wild, Wild West Day – July 21, 2020: 1 – 4 pm

Enjoy the western-themed activities, bounce house and slide, fun children's activities, and entertainment.

Bubble Bonanza – August 25, 2020: 1 – 4 pm

Enjoy an afternoon of lots of bubbles, bounce house and slide, fun children's activities, and entertainment.

Brews on the Bay – July 8, July 29, August 12 and September 9, 2020: 5 – 9 pm

Family-friendly music, games, and food trucks.

Snooze at the Zoo – September 12, 2020

Pre-Registration is required and opens on July 27, 2020. To register, or for more information about 2020 events call (920) 232-5319.

Enjoy camping with your favorite animals! Fun activities include animal demos, crafts, flashlight safari, dinner, and breakfast. Each camper receives a t-shirt and water bottle.
Cost: $15 a camper.

Zooloween – October 17 and October 18, 2020: 11 am – 3 pm

Trick-or-treating, bounce houses, Halloween treats, concessions, games, crafts, prizes, mascots and more!
Cost: $5 for adults (18 years old and up), $3 for children (2-17 years old), 1 year and under free. Purchase tickets in advance beginning October 1, 2020 online or at Oshkosh Festival Foods and Oshkosh Parks Department.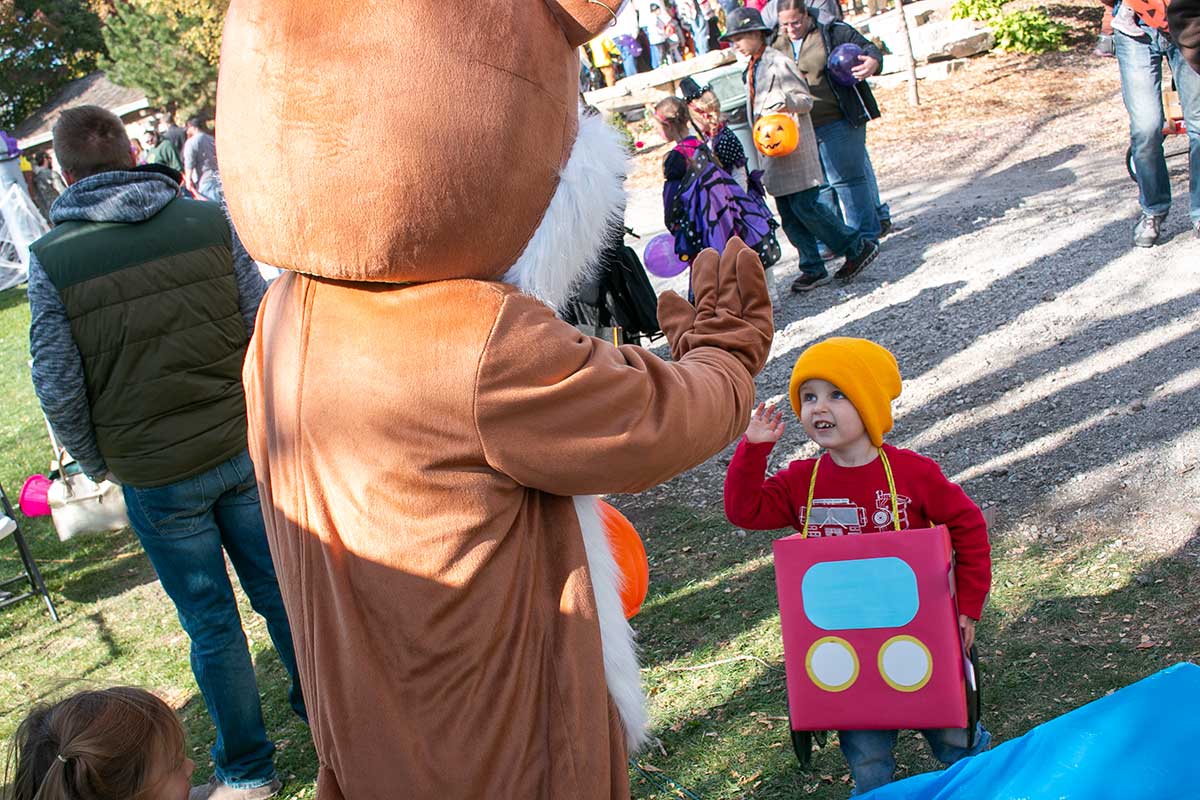 Other Fun Family Friendly Things to Do in Oshkosh
Read More: 25 Restaurants with Outdoor Dining in the Oshkosh Area to Visit this Summer