If you're looking for a fun, educational day with the family, you can't beat a visit to the Experimental Aircraft Association (EAA) right here in Northeast Wisconsin. The EAA Aviation Museum, located in Oshkosh, Wisconsin, is known worldwide thanks to the annual EAA Airventure Fly-in, but the aviation museum itself offers fascinating and engaging exhibits daily for adults and children alike.
The EAA Aviation Museum started as a small group of aviation enthusiasts in the 1950s and has grown into a collection of more than 200 historic airplanes and helicopters, over 20,000 historic aviation objects, and world-class exhibits showcasing the incredible history of both civilian and military aviation. With hands-on and immersive displays, this expansive museum will capture the attention of the entire family. From May to October, visitors can ride a short tram ride to Pioneer Airport, where they'll find a unique "living history" recreation of what airports were like during the early days of air travel. The museum is also located right by the more modern Wittman Regional Airport, known as "The busiest airport in the world" during the week of the annual EAA Airventure Fly-in.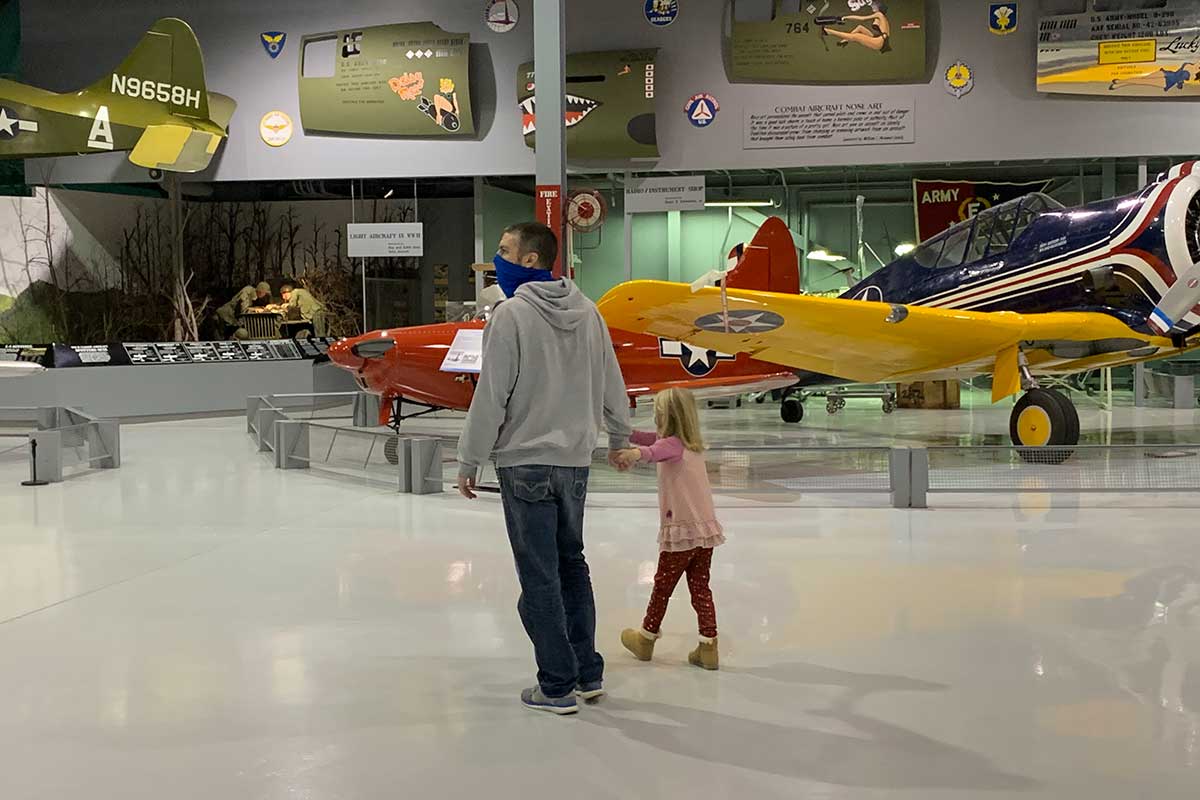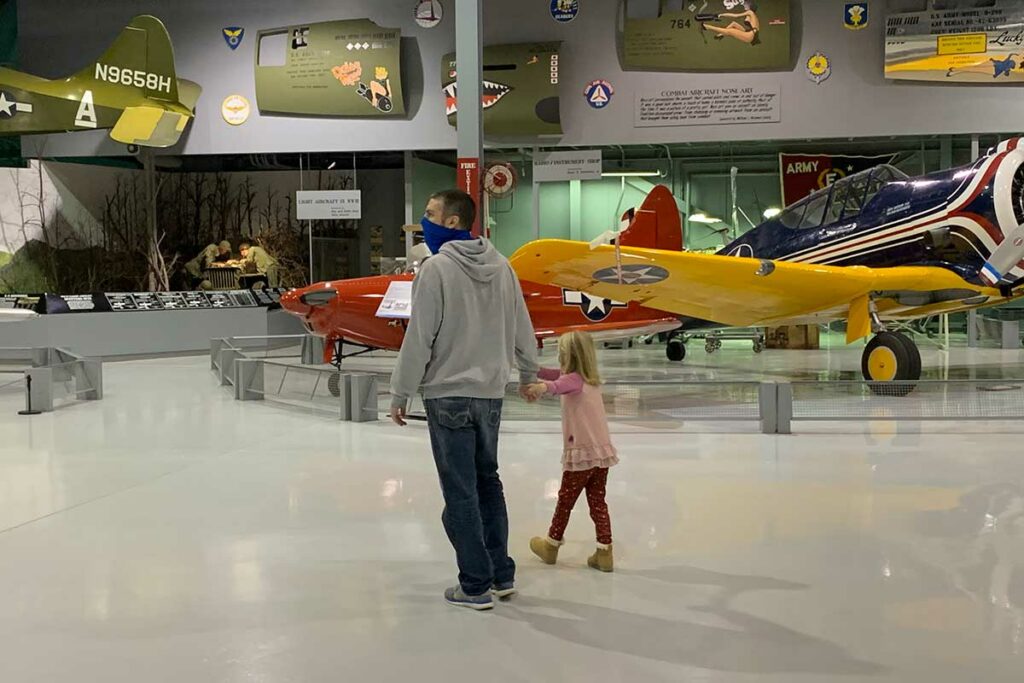 Favorite Spaces/Features
Pioneers of Flight – A staple exhibit at the EAA, this exhibit boasts real airplanes from the infancy of flight in the United States, plus a single-rider hot air balloon basket woven in 1921! Each exhibit includes a biography about the original pilot of the aircraft.
KidVenture Gallery – Currently closed due to Covid-19. This exhibit's design is interactive and engaging for young aviation enthusiasts (though it will capture adult visitors' attention as well!). This exhibit's centerpiece features the Raptor Gallery, which contains 16 interactive exhibits focusing on the world's most advanced airplane, invites children to climb right into the cockpit. A scenic overlook from the Tower of Flight offers museum visitors an opportunity to view aerial activities at Pioneer Airport.
Pioneer Airport – We loved Pioneer Airport for its immersive approach to history and attention to detail. Viewing the antique planes in their "natural habitat" drives home the great leaps in technological innovation compared to modern aircraft. With more than 50 vintage airplanes displayed across seven hangars designed to bring visitors back in time, you'll want to set aside plenty of time to take in everything there is to see. Weather permitting, visitors can sign up for a flight between May and October — these flights are FREE for kids 8-17 years old. Visit the EAA website to learn more.
Details
The EAA Aviation Museum is a great way to spend the day with your family. Kids will be captivated by the immersive exhibits, real airplanes, educational videos, and the interactive exhibit in the Kidventure Gallery. Visitors can expect a thorough and fascinating history of aviation from its earliest days to modern times, plus featured exhibits currently showcased in the museum, generally for one season.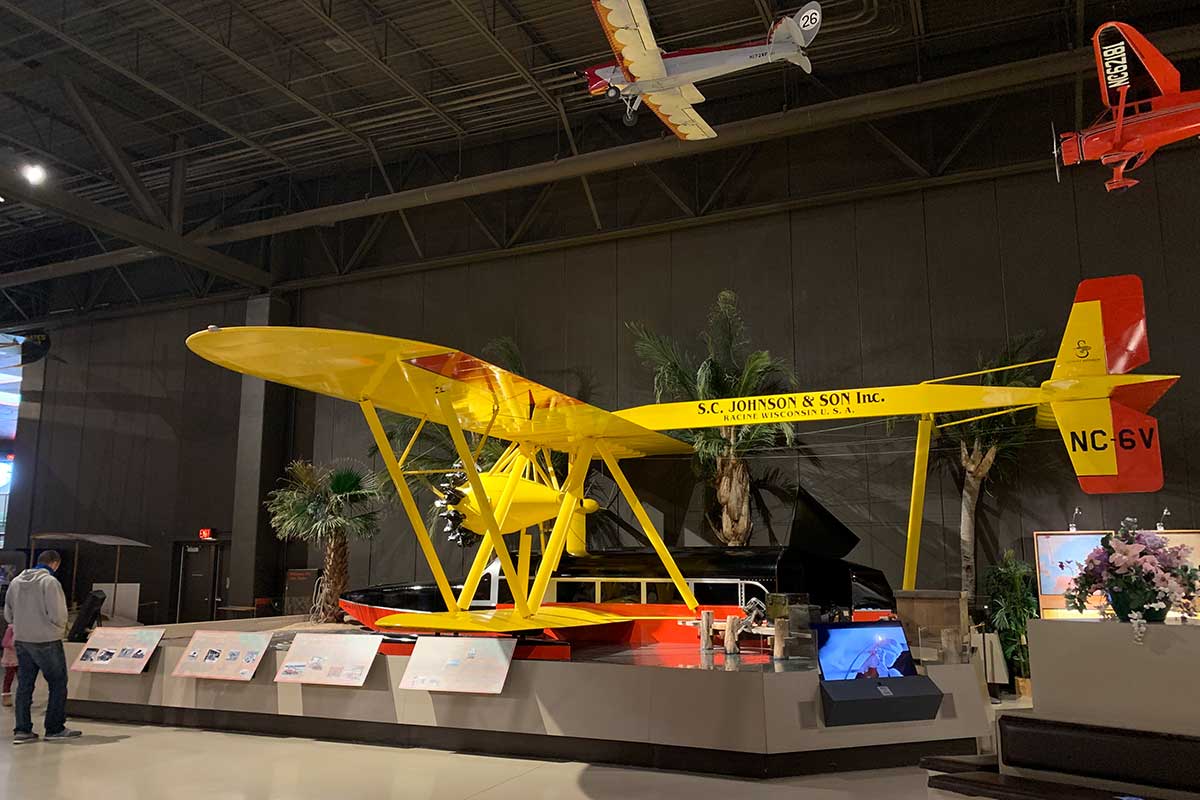 Current Exhibits:
Huey: The Workhorse of Vietnam – Located in the Eagle Hangar, paying tribute to the UH-1B Huey gunship and the men who flew them.
WASP: Women Flyers of WWII – Located in the Telling Gallery, highlighting the heroic women pilots of World War II.
The Borman Collection – Honoring US Airforce Col. Frank Borman and displaying dozens of his personal items — many of which have been to space with him!
The EAA is more than a museum — it's also a working airport! Watch as planes land and take off from Pioneer Airport or sign up for a short flight. Flights are available for free for ages 8-17 through the Young Eagles program. For ages 16 and up, passengers have the option to fly in restored antique open-cockpit biplanes for $75 per passenger.
COVID-19 Reopening Policies and Procedures
Admission prices will remain the same, but capacity is limited. Museum headcount is monitored by gift shop personnel and limited to 250 guests, with a limit of 50 for groups. New arrivals will be directed to an overflow area to wait until a proportional number of visitors have exited if capacity has been reached.
Face covering for all visitors aged 5 and up is mandatory. A health screening will occur while you remain in your car in the museum parking lot before entering.
High-touch areas are closed until further notice, including:
Johnson Wax Exhibit
Willan Space Gallery
KidVenture
Cockpit Simulator
Powered Parachute Simulator
Visitors should maintain 6 feet of social distance.
Bathrooms are disinfected by facilities staff every 90 minutes.
Location
3000 Poberezny Road, Oshkosh
The EAA Aviation Museum is located on the south side of Oshkosh, Wisconsin, right off of highway 41 and WI Trunk 44/South Park Avenue, adjacent to Wittman Regional Airport and nearby to The Shops at Oshkosh (outlet mall) and plenty of restaurants.
Hours
Monday – Sunday: 10 am – 5 pm
Closed all major holidays.
Pioneer Airport is open on Saturdays and Sundays from the first weekend in May until the second weekend in October, opening daily from 10:30 a.m. to 4:30 p.m. between Memorial Day and Labor Day.
Admission
Adults 9 and older: $12.50
Ages 6-8: $9.50
Ages 5 and under: FREE
Family Rate: $31.00 – includes 2 adults and up to 5 immediate family members or children (does not include extended family members)
Seniors over 61, veterans, active military personnel, and their spouses: $10.50
The EAA Aviation Museum also offers a membership option that includes amenities like free admission to nearly 400 museums nationwide, as well as group rates. See their website for information on these options.
Parking
Free parking in an adjacent lot.
Are you a pilot? Guests are welcome to utilize Wittman Regional Airport to fly in for their visit! Park your aircraft at Basler Flight Services, located at the Wittman Airport, and ride the free shuttle service to the museum during open hours.
Special Events/Free Days
EAA Airventure Fly-in: July 26 – August 1st, 2021 – The Airventure is an annual event that attracts visitors from around the world. With seven full days of aerobatics, historic airplanes, and so much more, all in the company of fellow aviation enthusiasts. Both camping and daily admission are available. New for this year is Express Arrival in partnership with Airbus as well as free admission for guests 18 and under, sponsored by Boeing. Visit the EAA website for complete details: eaa.org/airventure/eaa-airventure-tickets. You can also visit a dedicated page for ongoing COVID-19 information and updates here.
Space Day – EAA Space Day 2021 has yet to be scheduled. This event focuses on space flight and getting kids engaged with space flight through hands-on activities. The first Space Day in 2019 (2020 was canceled due to COVID-29) drew over 1,300 attendees.
EAA September Swing Hangar Dance – The 2021 event has not yet been scheduled but promises a fantastic time reliving the big band era with a 1940s-style hangar dance located in the EAA Aviation Museum's Eagle Hangar. With a large collection of World War II airplanes, vehicles and artifacts, it promises to be a grand blast from the past.
There are no free days planned currently for 2021, however, EAA members receive free admission at all times.
Amenities
The EAA Aviation Museum welcomes visitors and groups with special needs. All museum areas are accessible to individuals in wheelchairs or with other physical impairments via ramps and elevators. Restrooms are also ADA compliant. If you have any special requirements, you can contact the museum in advance by emailing museum@eaa.org.
Free wheelchairs and strollers are available for guests.
Baby-changing stations are available in both the men's and women's restrooms.
A gift shop is located just inside the museum's entrance selling a large selection of aviation-related items. Masks are available for purchase there as well.
EAA Aviation Center
3000 Poberezny Road, Oshkosh, WI
(920) 426-4818