Summer is the perfect time to spend endless hours outside enjoying nature, the breeze, and warm sunshine. Through the Wisconsin Explorers Program, not only will kids trade in the electronics for much-needed time outdoors, but they can gain a sense of accomplishment and stay active. Come along and learn how to earn patches by participating in activities, solving mysteries, and caring for our Wisconsin State Parks!
It's never too early to teach our children about the importance of caring for their environment and an engaging way to start is with the Wisconsin Explorers Program. The program promotes a wonderful bonding opportunity for families along with a hefty dose of fresh air! The Wisconsin State Parks and the Department of Natural Resources (DNR) work together to bring Wisconsin families this free interactive project for children to discover the wonders of our state parks, forests, beaches, and appreciate the life within it. The program has three age levels: 3-5 years, 6-8 years, and 9 years and up. Each age group completes a booklet with various activities designed just for them.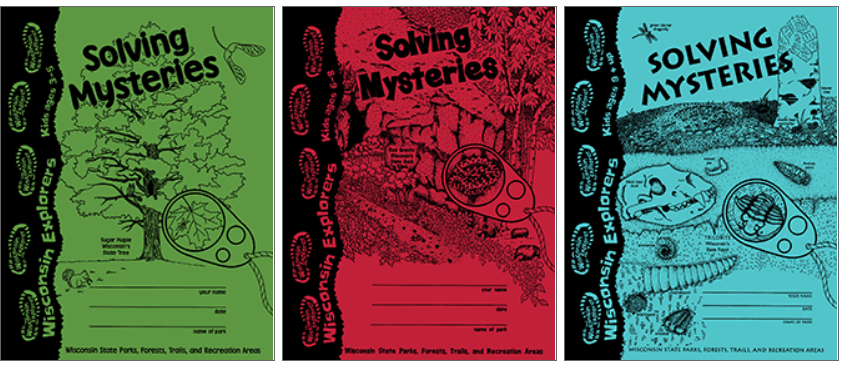 There are nine booklets total and if a child begins age three, they could participate until age 11 – without repeating booklets! These booklets feature nature activities, games, scavenger hunts, crafts, hiking quests and tips to help families explore the great outdoors together. Booklets are available directly at most state parks or online on the program's website. Simply select the booklet that corresponds with your child's age, download, print, and hit the trails!

Once a child meets all the requirements within their booklet, like attending a nature presentation, helping to clean the park, beach or campsite and completing explorations, they will earn a collectible state symbol patch commemorating their effort and success! Youth adventurers can earn a total of nine themed patches that symbolize great Wisconsin symbols. To receive a patch, parents can fill out the patch request form in the booklet. The form can then be submitted in person at any state park or sent in by mail.
Patches to Earn
American Badger – state animal
American Robin – state bird
Sugar Maple – state tree
Honeybee – state insect
Whitetail Deer – state wildlife animal
Wood Violet – state wildflower
Red Granite – state rock
Muskellunge – state fish
Trilobite – state fossil
The Explorers program aims to educate children about the environment and nurtures the values of building bonds, stewardship, handwork and compassion. Most of all, it encourages kids to be active, have fun and engage their minds, bodies and spirits. There are so many ways for children and their families to support and enjoy state parks, many of which extend beyond this program. Being mindful and respectful of nature not only benefits the wildlife that call it home, but it assures that many others get the chance to enjoy the park and what it offers us.
Ways Families Can Support Parks and Wildlife:
Clean up litter, garbage and debris and dispose of it properly
Be on the lookout for vandalism and report it to park staff
Avoid introducing or transferring invasive species into water bodies, woodlands and beaches
Abide by the park rules, regulations and all posted warnings
Observe the wildlife but leave them in their natural habitat
Refrain from removing rocks, natural formations, flowers and plants
Promote a positive environment for all by respecting others, their space and the park
If you're ready for a challenge and want to immerse yourself into nature, grab a booklet, water bottle, lace up your boots, and jump right into the program! We'll even help you find the best spots to start: Check out 26 Awesome Wisconsin State Parks Less than 2 Hours From Appleton. And, if you want even more adventure while you're visiting the parks, be sure to join the Wisconsin State Park Challenge with your family!
Show off your patches! Tag us on social media with #govalleykids