What could be more magical than a selfie with thousands of blooms in a sunflower field? Native to North America, acres of the happy, bright yellow flowers can be found in Outagamie County and beyond. To catch a shot in these Instagrammable backdrops, hit the road and head to one of these farms!
Sunflowers bloom in Wisconsin typically in the late summer to early fall during July, early August. The season lasts for a very short time, only 1-2 weeks. Keep an eye on the farms' Facebook pages and websites for updates.
We are on the verge of the season and farms will soon be ready to welcome you for some photo opportunities! Put these fields near the Fox Cities on your late summer bucket list!
READ MORE: 2022 Farmers' Markets Across Northeast Wisconsin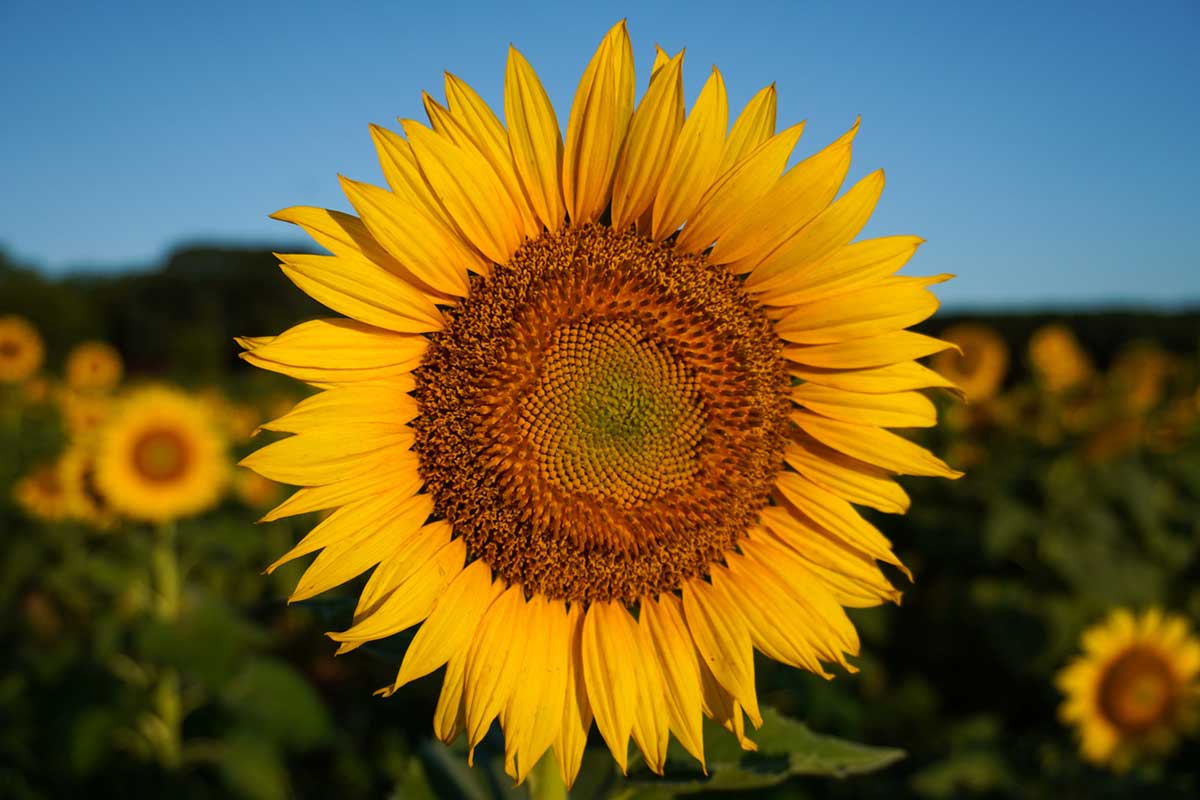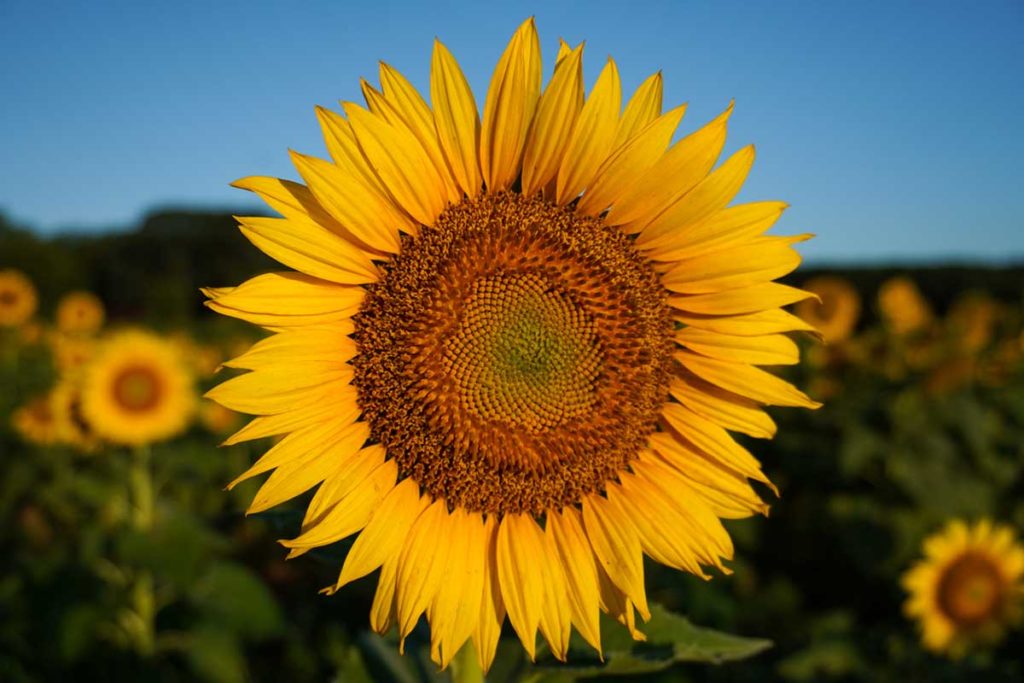 Sunflower Facts
They can grow up to fourteen feet tall!
Seeds can be made into an edible spread called Sunbutter, a great substitute for peanut butter for nut-free lunches!
The flower heads love full sun and track it through a process called heliotropism
They are self-pollinating.
A seed head actually consists of thousands of mini flowers.
More than just cutting flowers, the seeds are used for sunflower oil, livestock feed, food for birds and squirrels, and of course, a delicious snack for humans.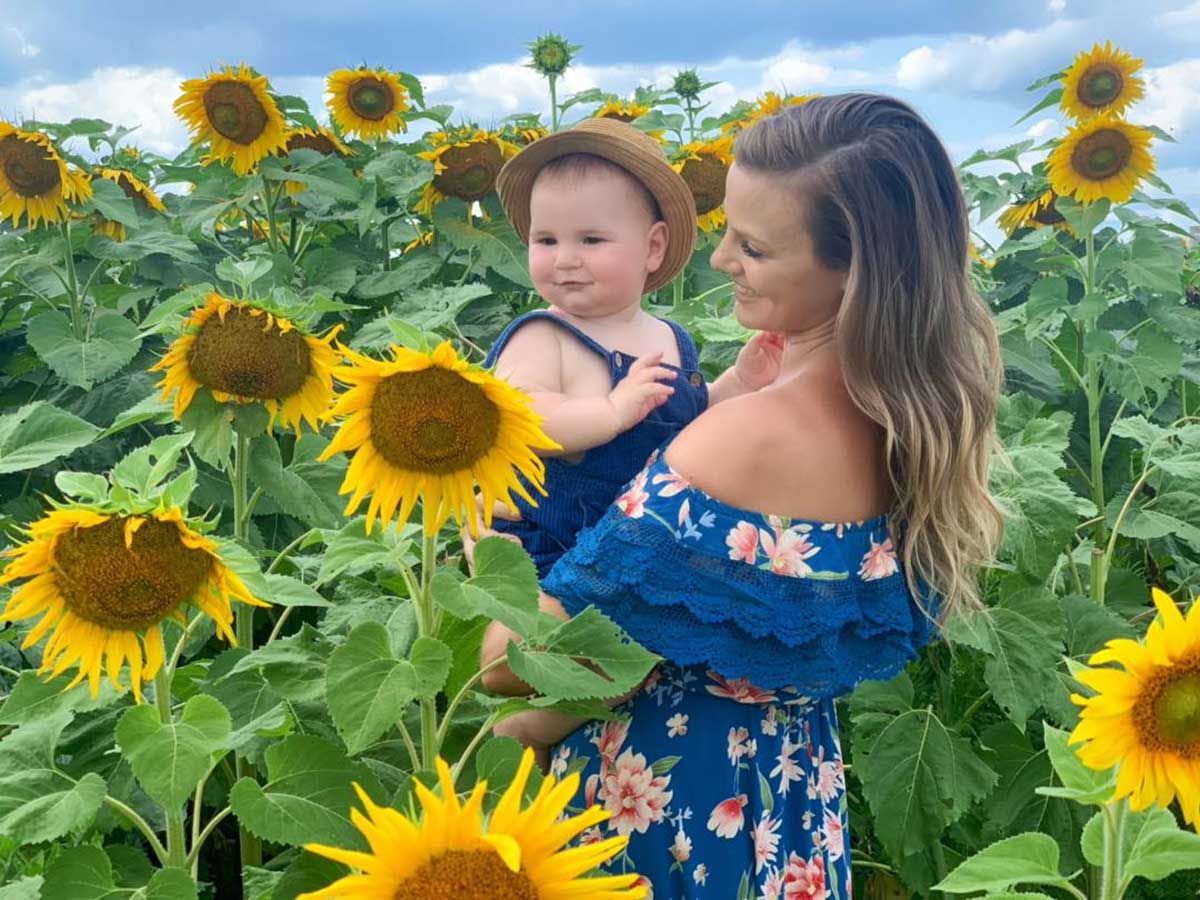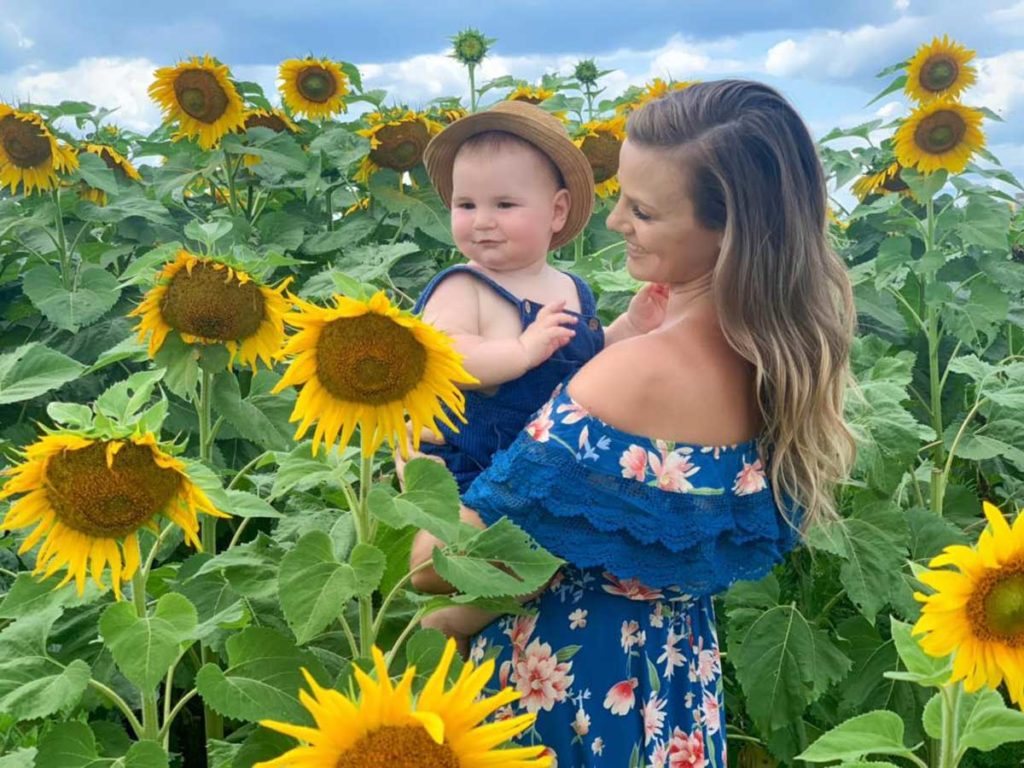 Bergsbaken Farms
Bergsbaken Farms is a family-owned and operated functional farm growing corn, black oil sunflower seed, sweet corn, and more in Cecil.
Distance: 40 miles / 50 minutes from Appleton
Distance: 40 miles / 50 minutes from Oshkosh
Distance: 30 miles / 35 minutes from Green Bay
The farm is hosting its 5th Annual Sunflower Festival on Friday, July 29 – Sunday, July 31, 2022, from 10 am to 4 pm. Admission is just $2 per person. They welcome you to bring along your favorite photographer for your family photos for an additional fee and do have some photo props on hand.
Event Features: Viewing platforms, wagon rides, bounce houses, face painting, pick your own sunflowers, live music, concessions, dog friendly.
Kelley Country Creamery
Kelley Country Creamery is a functional dairy farm with pastured cows and has award-winning ice cream, making this potentially the sweetest road trip on our list! You can enjoy your ice cream treat on their beautiful porch overlooking their hillside pastures after catching a peek of ice cream being made in through the viewing window in the ice cream parlor.
Distance: 45 miles / 40 minutes from Appleton
Distance: 25 miles / 30 minutes from Oshkosh
Distance: 80 miles / 1 hour from Green Bay
Sunflowers Taking Flight starts on Monday, July 25, 2022 at 11 am and is expected to last about two weeks. This event supports Old Glory Honor Flights through flower bouquet sales, hats, and tee shirts. Note: Admission and all other purchases are cash only.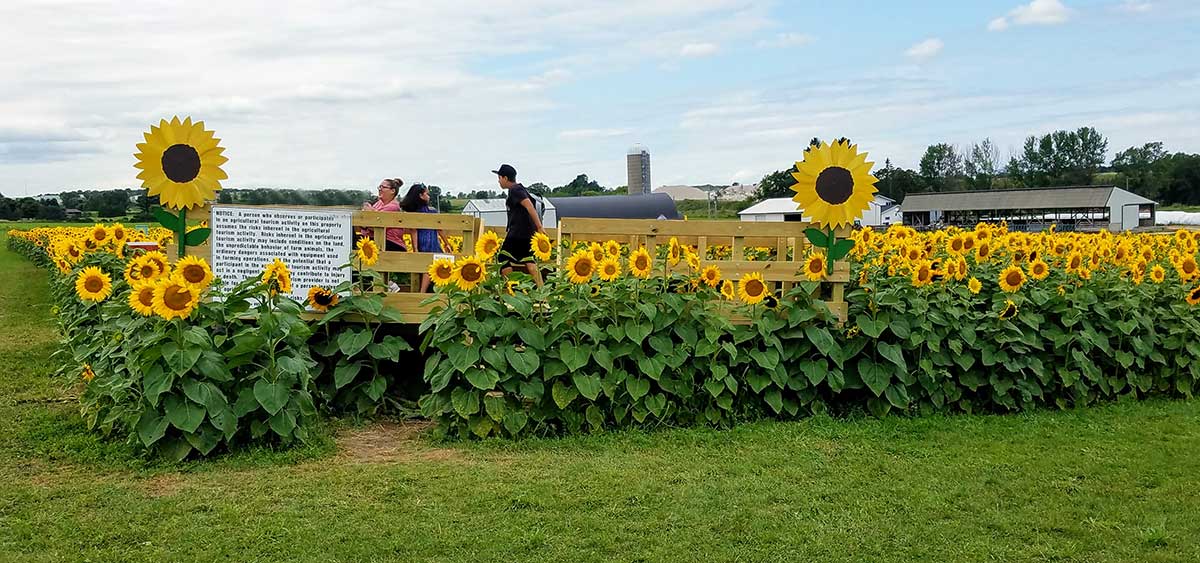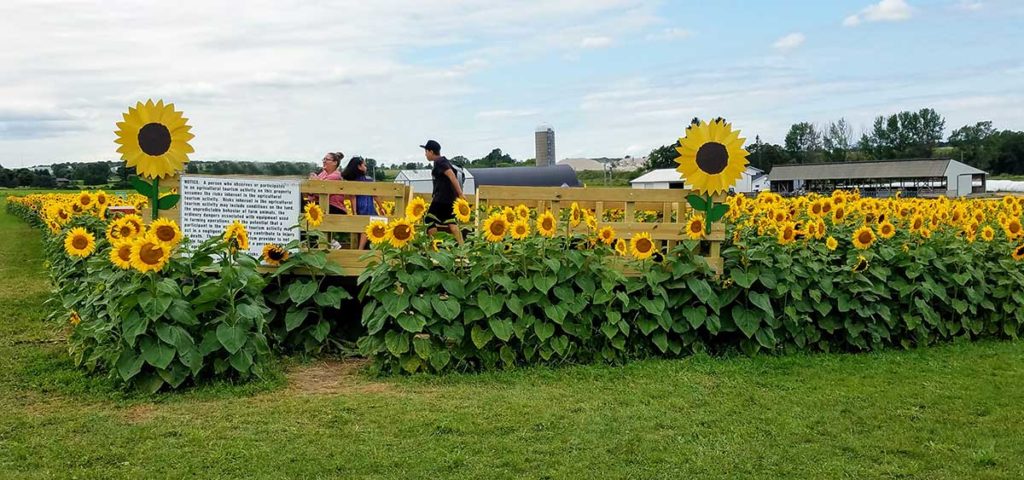 Polly's Pumpkin Patch
Polly's Pumpkin Patch is a small family farm located just North of Chilton on Highway 57. It is a fun fall destination with activities all season long.
Distance: 30 miles / 40 minutes from Appleton
Distance: 40 miles / 50 minutes from Oshkosh
Distance: 35 miles / 45 minutes from Green Bay
Polly's added a sunflower field to the farm! There are 10 different stops along the sunflower paths for various photo opportunities.
Visit animals and take a ride down the slide, then refresh in the store with apple cider donuts and drinks. Saturday and Sunday hot dogs and grilled cheese are available for lunch.
Opening day is July 26, 2022. Polly's opens daily at 10 am, but closing hours vary between 6:30 and 8:30 pm throughout the week. Admission for all visitors over age 5 is $5 per person.
Waldvogel's Farm
Waldvogel's Farm is Wisconsin's largest pumpkin farm which hosts Free Sunflower September each year with many attractions for children and families to enjoy while visiting the farm.
Distance: 60 miles / 60 minutes from Appleton
Distance: 40 miles / 45 minutes from Oshkosh
Distance: 90 miles / 90 minutes from Green Bay
Running from September 17 to 30, 2022, from 10 am to 6 pm on weekends or 1 pm – 6 pm during the week, Waldvogel's Farm will be hosting its annual fall event. Guests can visit the sunflower patch, take gorgeous photos, and even take home a sunflower—all for free!
In addition to the event, Waldvogel offers over 50 fun, safe, and interactive attractions for families, including wagon rides and train rides, corn mazes, barnyard animals, mini-golf, gem mining, ball zone, castle, a children's play area, and more! Some of the activities are limited during the weekdays, check the differences before you choose a visiting day.
While the sunflower event is free, those who would like to explore and play on the farm can buy an admission ticket for $11.85/per person in advance online or for $14.69 at the gate. Children age two and under are free with a paid adult.
For a full list of attractions and updates from Waldvogel's, follow them on Facebook.
Other Sunflower Farms in Wisconsin
Drive-by Flower Spotting
CE Trail of Highway 10: We've spotted sunflower fields along the CE trail past Neenah in past summers while driving on the highway. You might be able to spot them and then head out later for a fun walk or bike ride with the whole family and sneak in some perfect fall photos.
De Pere: Corner of Ridge Street and Main Street.
Door County: HWY 57 in Door County in Institute.
READ MORE: Gardens In and Around Northeast Wisconsin