Whether it's your anniversary, celebrating a special occasion, babymoon, or just a weekend away from kids, these romantic Wisconsin getaways scream r&r!
It can be hard to find quiet moments in the hustle of everyday life with work and school and so many demands on our time. Taking time to focus on each other can help us to be the best parents and partners we can be. Heading out on a romantic escape for quality time with your favorite person is the perfect solution for making that time!
From luxurious resorts with private pools to charming bed and breakfasts to cabins tucked away in the woods, Wisconsin offers perfect settings for a romantic escape.
In this article, we'll take a look at some of the best romantic getaways in Wisconsin, including options for couples looking for a spa experience, wineries, breweries, and fine dining. If you're ready to start planning your trip, this is a great place to start!
Romantic Getaway in Wisconsin with Pool in Room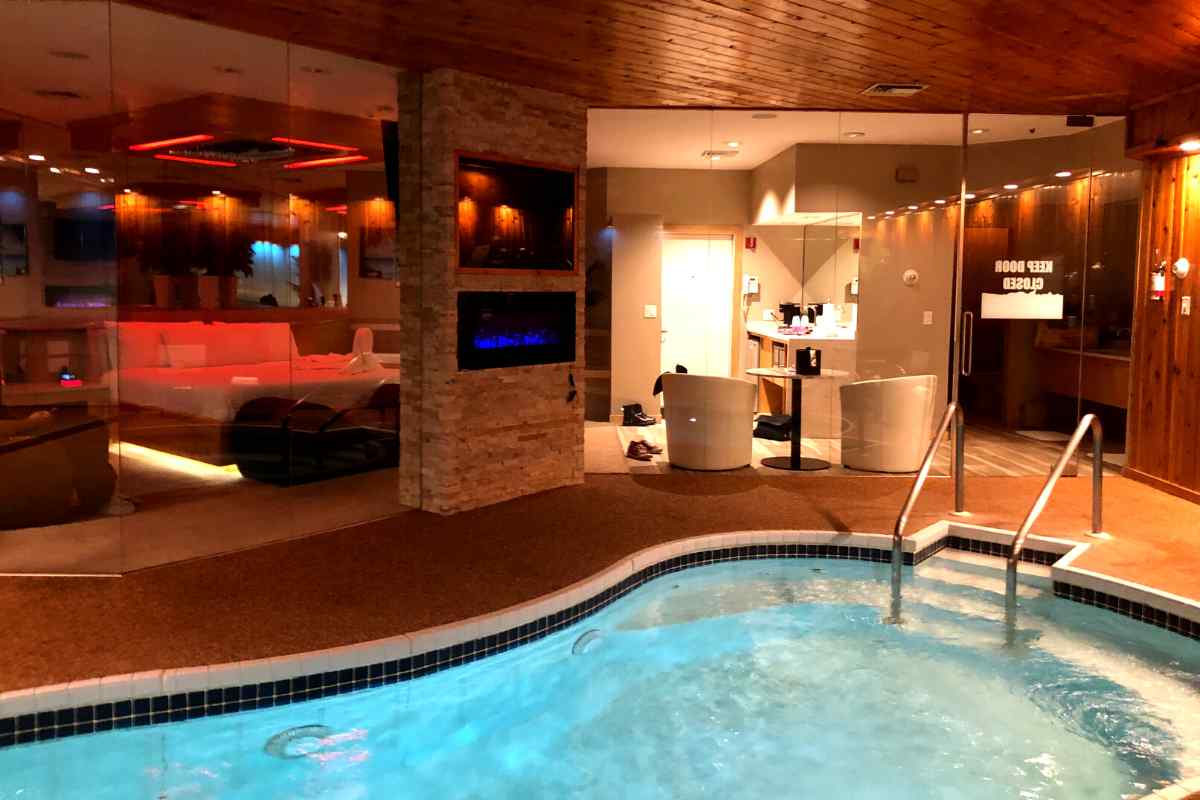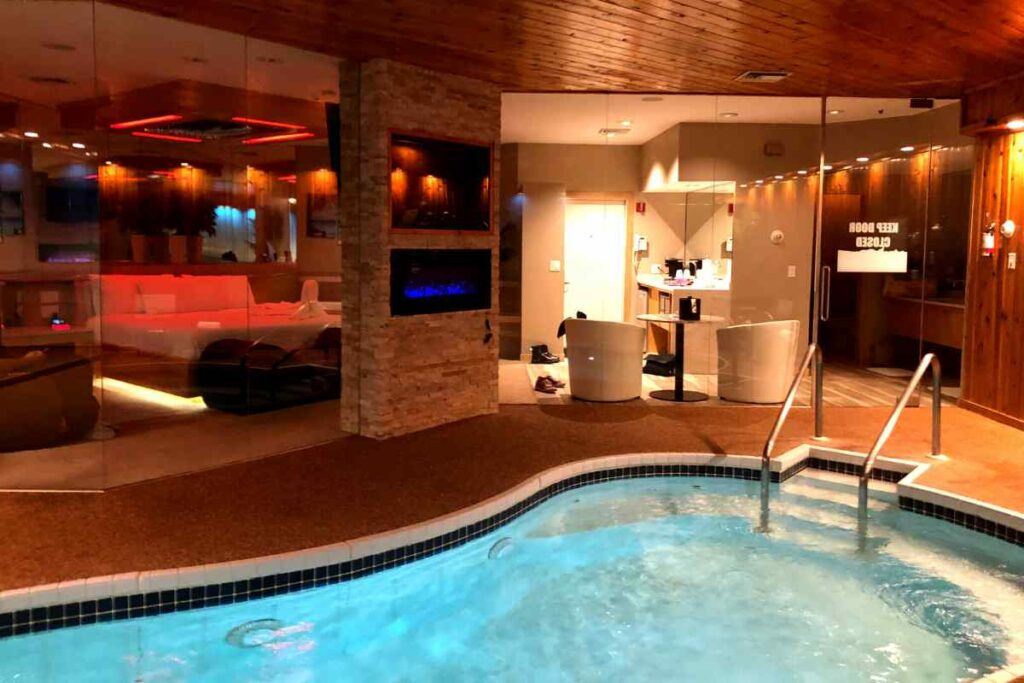 Sybaris Pool Suites, Mequon
Sybaris is just a short drive away. About two hours from the Fox Cities and ready to defy your expectations, the suites set the bar for in-room amenities for a completely private and secure setting for time to relax, connect, and have fun with your favorite person. Do not hesitate to make this the destination for a perfect romantic overnight, totally cut off from the rest of the world.
Our favorite things from our stay:
Guest rooms have everything you need for your stay. Cozy robes, plenty of towels, personal care items, ice, a mini fridge, coffee maker — there is even a tower fan and massage chair. Connect to the Bluetooth audio to play your favorite Spotify playlist throughout the whole room, including the pool. Adjust the lighting and temperature to be perfect for you in every part of the space.
There's so much space! Our suite had a king-size bed, massage chair, and whirlpool tub in the main room and still managed to feel open and airy. Despite there being a whole pool adjacent to the room, it was not humid or stuffy at all.
Obviously, the private pool. The pool room with a palm tree-laden mural and mirrored wall is kept at a completely ideal temperature and has an adjacent steam room, fireplace, and flat-screen tv. Every part of the room is warm, super clean, and so comfortable.
There are other room options, including one with a larger private pool in the room complete with a slide, a swim spa, or hot tubs. The resort also offers add-ons for your stay, including a bottle of champagne or chocolate-dipped strawberries, as well as early check-in or late check-out.
You don't have to miss out on the experience if you cannot get away for an overnight stay, Sybaris offers afternoon packages also.
10240 N Cedarburg Rd, Mequon
262-242-8000
Charming Bed & Breakfasts
Is a cozy room at the end of the day and freshly made breakfast—by someone else—exactly what you're craving? Bed & breakfasts are a perfect option for a romantic stay with lots of little touches for comfort, like coffee and tea hours and an endless jar of cookies.
Astor House, Green Bay
This historic, fully restored bed and breakfast is located in the heart of Green Bay, Wisconsin. It is on the National Register of Historic Places. The house is full of character, with ornate decorations, hardwood floors, and original architectural details, with each room having its own character.
The inn features elegantly appointed guest rooms—many have double whirlpool tubs and gas fireplaces. Wake up with a beautiful breakfast in the parlor. The friendly staff will make sure your stay is comfortable and relaxing. They have thoughtfully included details to make your romantic getaway picture perfect: fresh flowers, corkscrew, wine glasses, and bottled water.
637 South Monroe Avenue, Green Bay
920-432-3585
Reader Recommendation: Highly recommend Astor House in Green Bay. Best breakfast I've ever had, and most of their rooms have whirlpools. Tom & Linda are amazing hosts. Also walking distance to Captain's Walk winery.
Honeybee Inn Bed & Breakfast, Horicon
The inn features luxurious guest rooms, each with its own private bathroom, as well as a delicious breakfast, served each morning. Rooms with fireplaces, two-person jacuzzi tubs and showers, balconies to take in the beautiful natural landscapes, and luxurious bedding make this a perfect destination for a getaway that includes lots of time to relax and connect. Bonus! Nearby Horicon Marsh offers world-class birding for a relaxed adventure.
611 East Walnut Street, Horicon
920-485-4855
Otter Creek Inn, Eau Claire-Altoona
This bed and breakfast features elegantly appointed guest rooms, each with its own large jacuzzi tub and fireplace, as well as a delicious breakfast served each morning. The inn is surrounded by beautiful natural views. It is close to boutique shopping, a golf course, hiking trails, horseback riding, winery and brewery tours, and so much more, making it a perfect place to spend a weekend exploring, relaxing, and reconnecting.
2536 Hansen Lane, Eau Claire
715-577-1816
Washington House Inn, Cedarburg
This elegant inn is located in historic Downtown Cedarburg. Romantic rooms with exposed stone walls, fireplaces, and oversized whirlpool baths in the room are available. Enjoy a delicious breakfast featuring their famous scones included with your stay and add on a Date Night or Celebrate in Style for extra amenities and activities.
W62N573 Washington Avenue, Cedarburg
262-375-3550
Romantic Boutique Hotels
Some of the best hotels to escape to for a romantic getaway are bespoke, boutique, and beautiful hotels tucked into cities. These romantic hotels will place you a short walk away from culture, shopping, and other options to explore during your next romantic vacation. Choose from 5 on-site bars and restaurants for dinner and cocktails.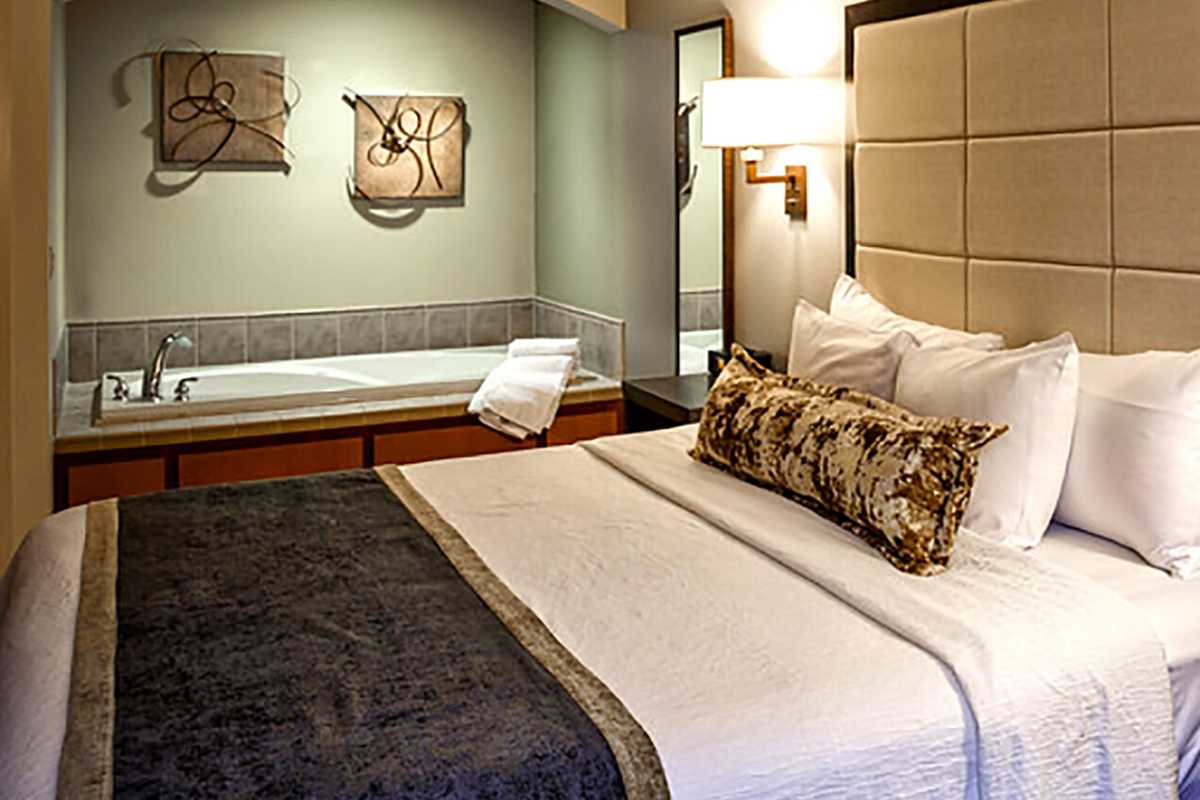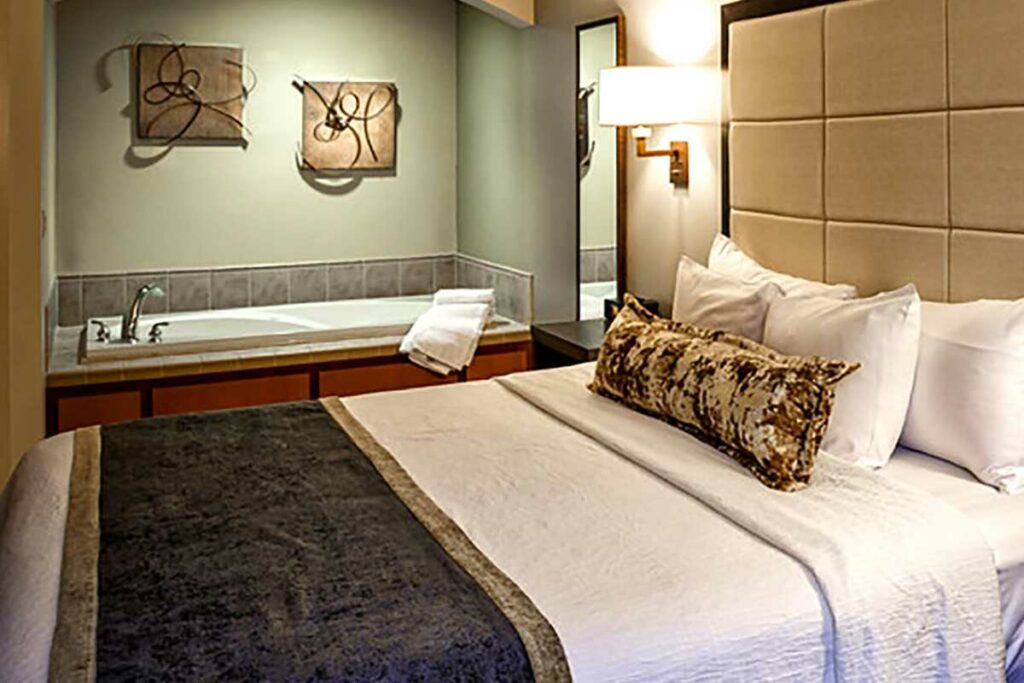 CopperLeaf, Appleton
This luxury hotel close to home offers a Romantic Escape Package that includes wine, chocolates, and late checkout with room options that include a fireplace. Enjoy an indulgent dinner from the on-site dining option, Rye, delivered right to your room. Visit the spa to indulge in a couples massage, relax in the sauna or steam room, or choose from many other spa treatments to enhance your stay.
300 West College Avenue, Appleton
920-749-0303
Ironworks Hotel, Beloit
This historic hotel offers a unique blend of old-world charm and modern amenities. The hotel features elegantly appointed guest rooms. Suites feature soaking tubs, large walk-in showers, fireplaces, and river views. The on-site steakhouse offers room service, and complimentary breakfast is included with your stay.
500 Pleasant Street Rock, Beloit
844-212-1879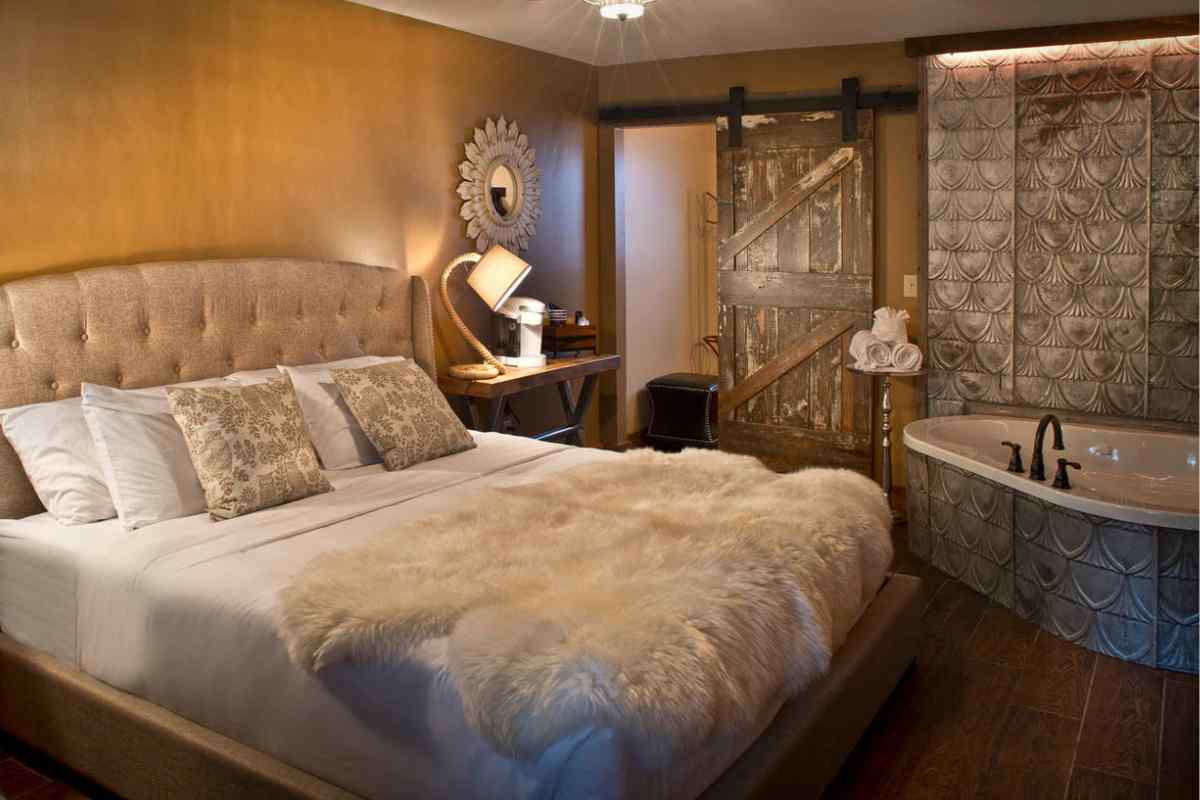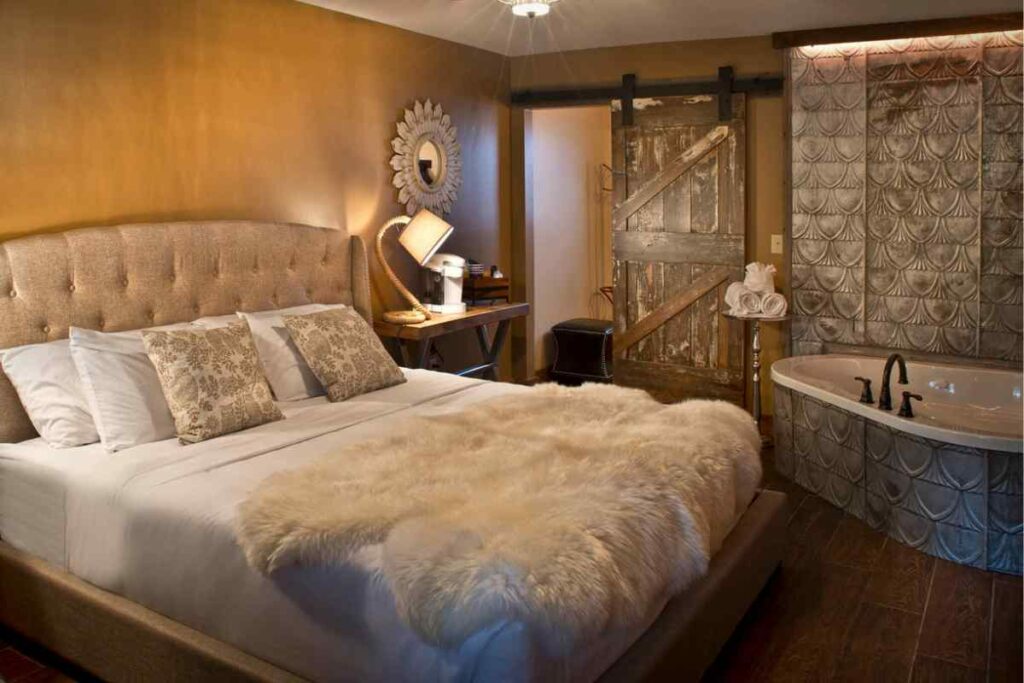 Maxwell Mansion, Lake Geneva
This elegant mansion's location on the shores of Lake Geneva makes it a perfect destination for a romantic getaway. Choose from the old-world charm of mansion rooms, elegant Carriage House rooms with in-room two-person whirlpool tubs, or the most luxurious rooms in the Stables with steam showers and soaking tubs. Indulge in craft cocktails in the Apothecary Bar and get cozy by an outdoor fireplace. Visit in the summer to lounge in the luxurious, adults-only outdoor pool.
304 South Wells Street, Lake Geneva
262-248-9711
Iron Horse Hotel, Milwaukee
This Iron Horse Hotel features unique architectural elements, original art, and sleek furnishings. Book the Crazy Little Thing Called Love package that includes sparkling wine, chocolate, turndown, and a late checkout and dine at the on-site restaurant, Ash, with an indulgent, seasonal menu for a truly decadent stay.
500 W Florida St, Milwaukee
414-374-4766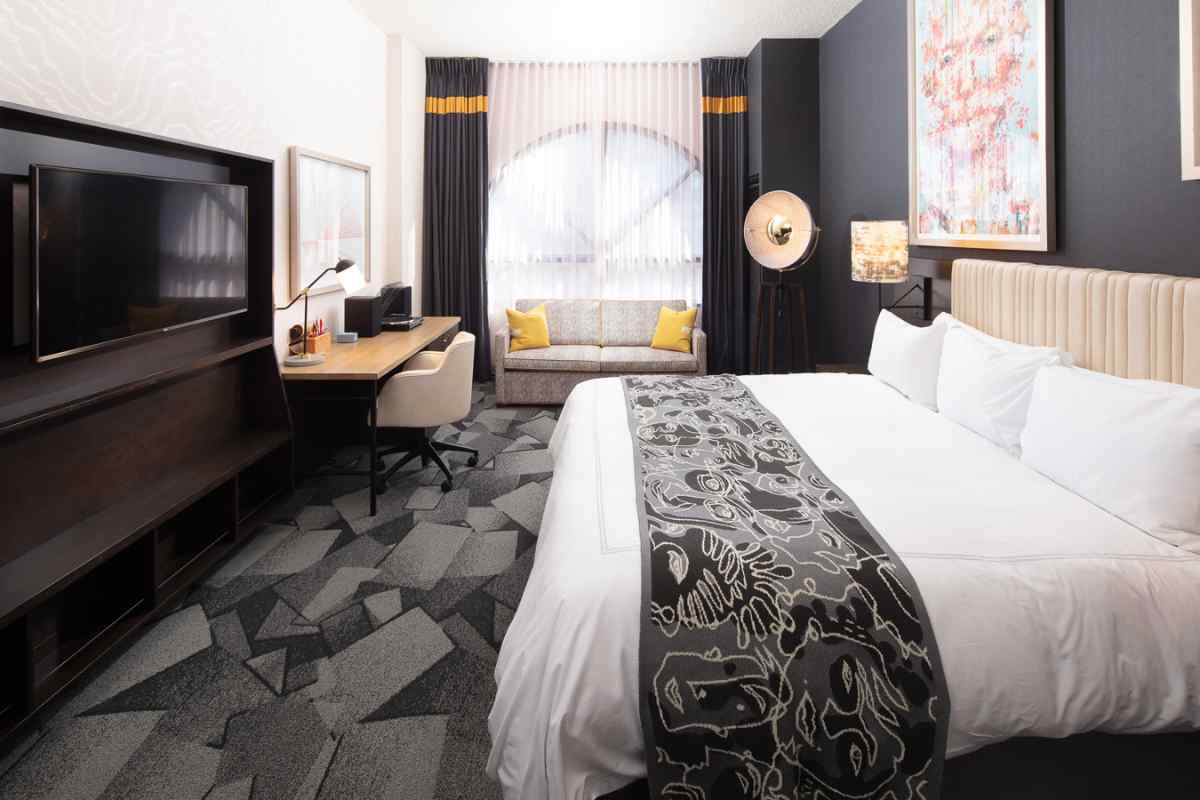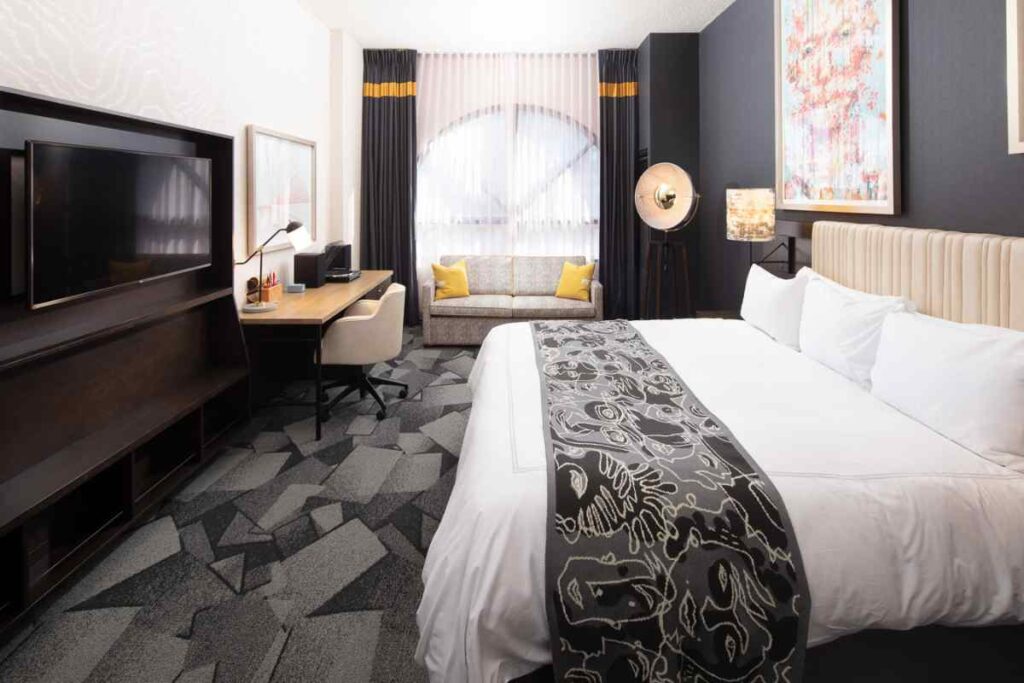 Saint Katie-The Arts Hotel, Milwaukee
This award-winning hotel is well-rated by couples specifically. The hotel and rooms feature original local art and creative details. You'll find drawing paper, record players, and ukuleles in the gorgeous rooms to create and play together during your stay.
Reserve a Premier King to be on the highest floor with the best panoramic city view.
Choose on-site options for craft cocktails and artisanal cuisine or check out the chef-designed in-room dining options.
139 East Kilbourn, Milwaukee
414-286-4987
Door County Escape
Door County is one of the most naturally romantic places in Wisconsin. Start with a scenic drive on the way to the first night of your getaway in one of the charming small towns that make up the county. They are all perfect for a romantic stroll and have a variety of outdoor activities.
This quintessential destination is the perfect choice for couples looking to escape the busy pace of everyday life. Enjoy the beautiful natural landscapes and many state parks to unplug and connect. Spend a weekend exploring everything the area offers with your partner, from winery tours and fine dining to hiking, cross-country skiing, and biking in a gorgeous small town.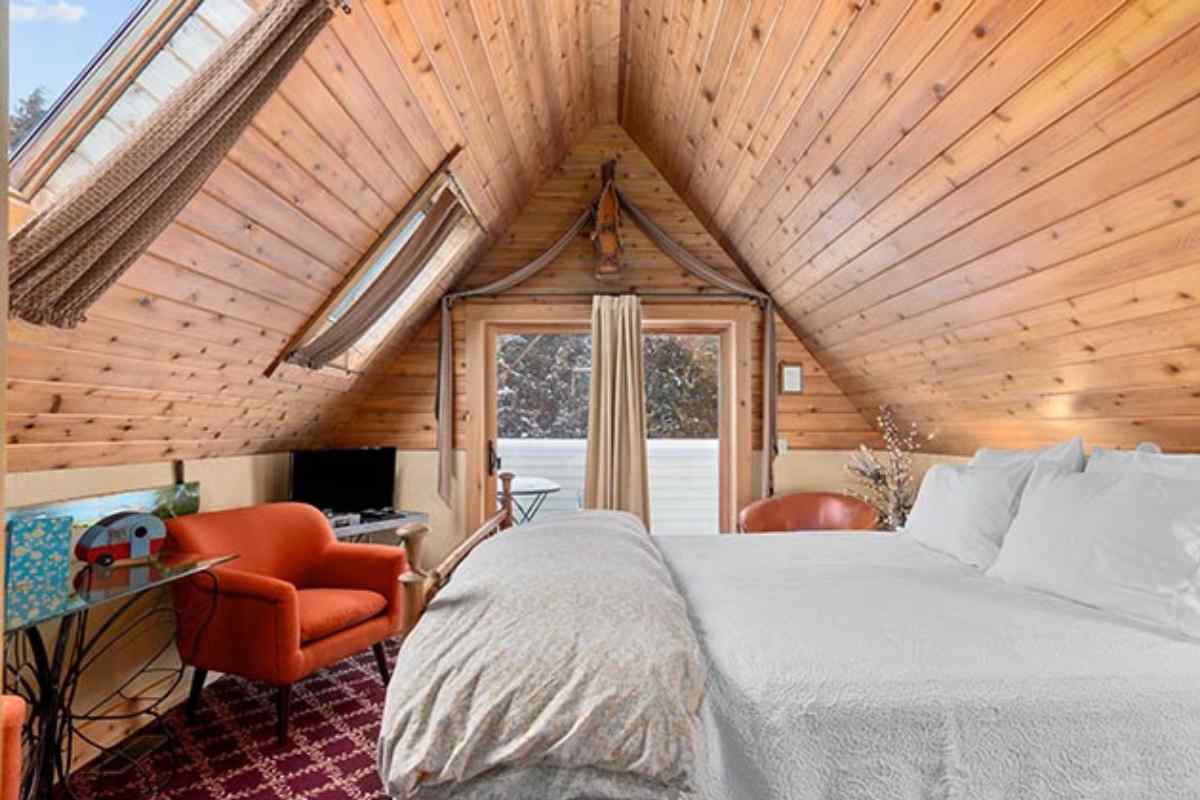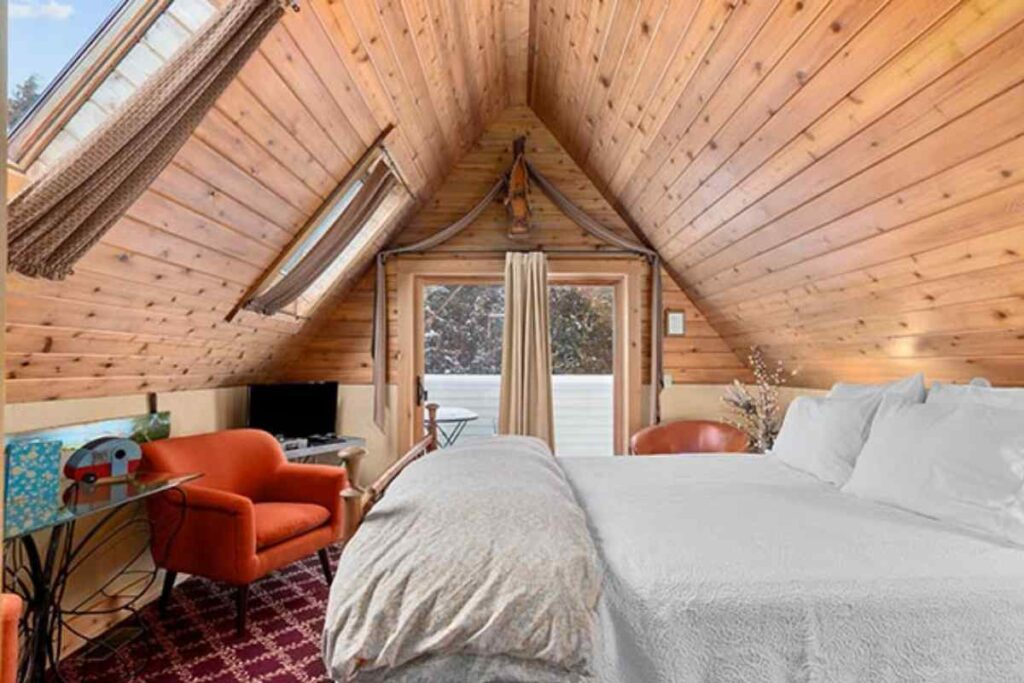 The Black Walnut Guest House, Sturgeon Bay
This charming bed and breakfast is located in the heart of Sturgeon Bay. The beautiful and cozy rooms feature fireplaces and in-room hot tubs, soaking tubs, and whirlpools. Breakfast is served daily, with your personal selections delivered to your room at the time that you choose, allowing you to relax and rest completely.
454 North Seventh Avenue, Sturgeon Bay
920-743-8892
Americinn, Sturgeon Bay
This modern hotel is located in the heart of Sturgeon Bay, book a king suite with a fireplace in the room and ask about the package, including dinner and a wine basket to upgrade your stay.
622 South Ashland Avenue, Sturgeon Bay
888-312-2398
Wave Point Marina and Resort, Sturgeon Bay
The suites at this waterfront resort all face the bay for gorgeous views. Suites feature in-room, oversized whirlpool tubs and fireplaces for a cozy and relaxing environment to relax and connect.
3600 County Rd CC, Sturgeon Bay
920-824-5440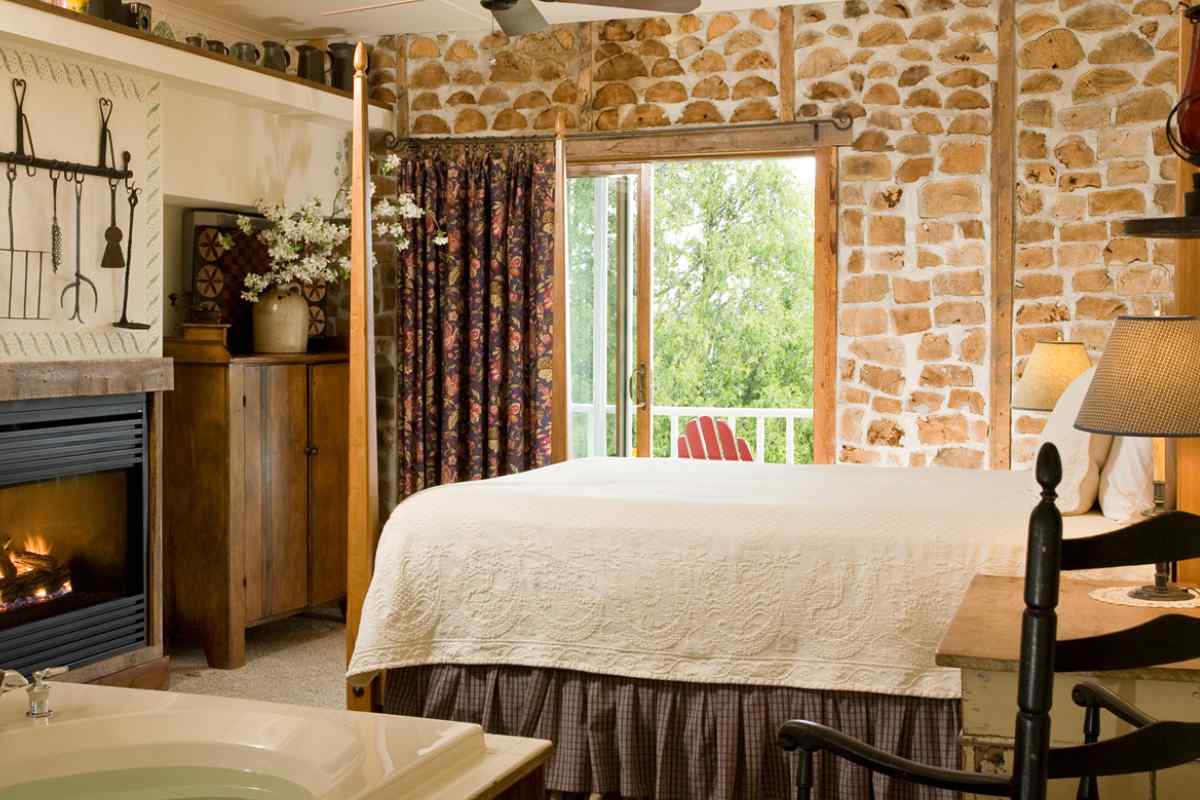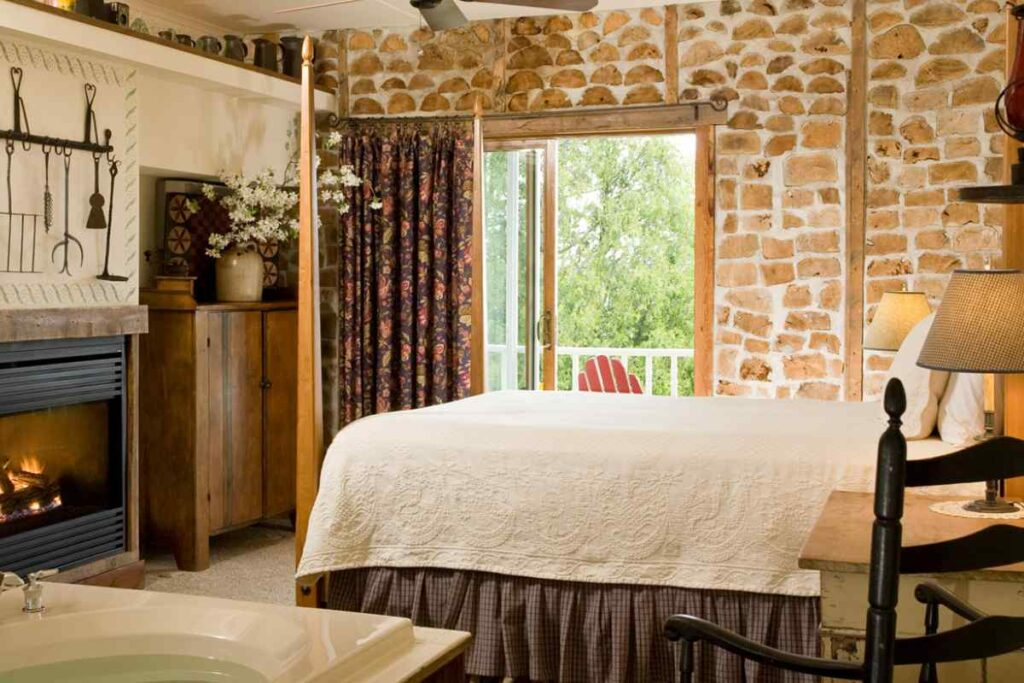 Blacksmith Inn on The Shore, Baileys Harbor
The adults-only inn features charming guest rooms, each with an in-room double whirlpool and fireplace, as well as a delicious breakfast delivered to your room each morning. Rooms on the third floor have water views capturing the natural beauty of the harbor from private balconies complete with a hammock.
8152 State Highway 57, Baileys Harbor
920-839-9222
Edgewater, Ephraim
This waterfront hotel is located in the picturesque village of Ephraim, promises elevated leisure. Suites include luxury linens and in-room whirlpool tubs. Your balcony or veranda gives the perfect setting to watch the sunset before curling up by the in-room fireplace. Add on the Romance Package with a dinner prepared by a local chef, cheese and charcuterie, local chocolates, and breakfast for two in the morning.
Highway 42, Ephraim
920-854-2734
Homestead Suites, Fish Creek
This cozy hotel features king suites with in-room two person whirlpools and gas fireplaces. They offer Weekend Romance Packages and fantastic off-season deals for a budget-friendly romantic weekend getaway.
4006 Main Street, Fish Creek
920-868-3748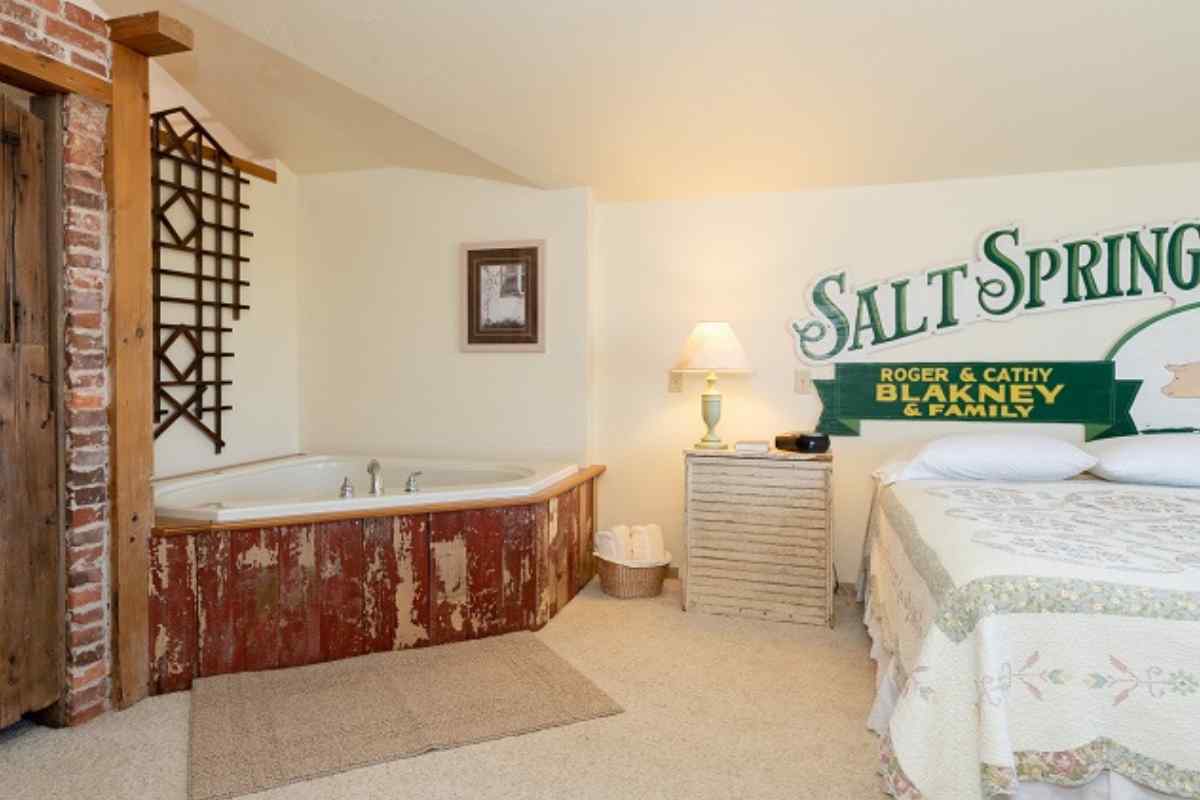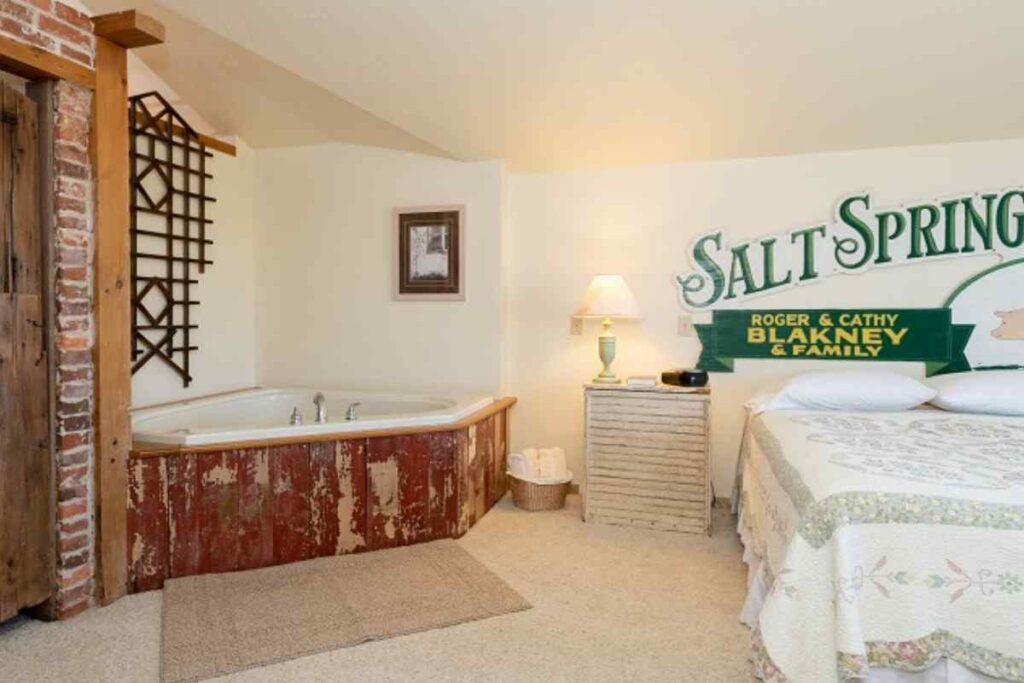 Cornerstone Suites, Egg Harbor
The large and distinctive suites at this 100-year-old converted barn feature woodstoves or fireplaces and whirlpool tubs ideal for couples searching for an escape from busy lives. The Garden Suite has a private stargazing deck to really amp up the romance in one of the best areas of the state to see a sky full of stars.
6960 WI-42, Egg Harbor
920-493-8845
Couples Massages & Spas
If complete indulgence sounds like the best part of a romantic stay at a beautiful location, this is the section of our list for you!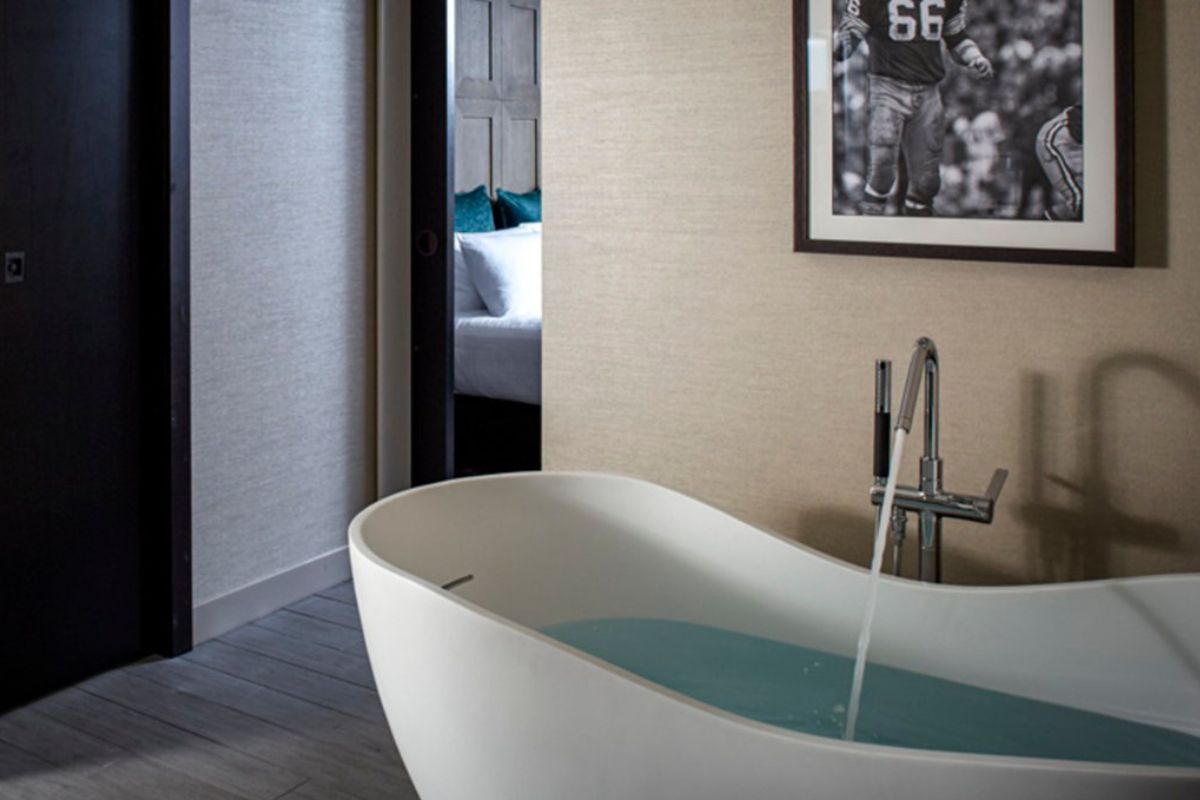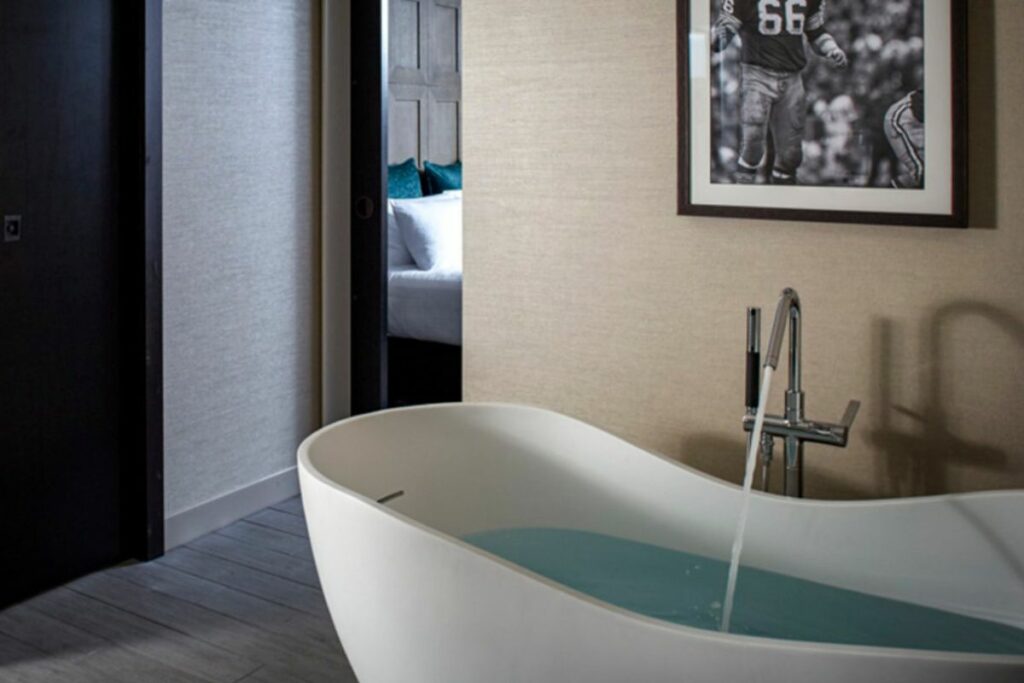 Lodge Kohler, Green Bay
This hotel is located in Titletown with views of Lambeau Field. It offers gorgeous suites with soaking tubs, luxurious showers, elegant living rooms, private decks, large windows, and endless modern amenities. They offer so many add-ons to elevate your stay and indulgent in-room dining. The hotel's Kohler Waters Spa offers various services, including couples massages.
This a perfect option for Packer fans—you'll be walking distance from a tour of the stadium and the Packers Hall of Fame.
1950 South Ridge Road, Green Bay
855-395-7638
Sundara Inn & Spa, Wisconsin Dells
This spa resort offers a peaceful and secluded retreat. Suites have their own unique features, including fireplaces, outdoor hot soaking tubs, in-room whirlpools, spa terraces, and more. Guests can indulge in a relaxing couples massage in the spa's private couples suite and get pampered with a full of spa treatments for two.
920 Canyon Road, Wisconsin Dells
888-735-8181
American Club Resort Hotel and Inn on Woodlake, Kohler
The American Club Resort Hotel and Inn on Woodlake offer luxurious suites, with some of them featuring private balconies and fireplaces. Both hotels are part of the Kohler Resort, which offers a variety of recreational activities and services, such as the Kohler Waters Spa with Spa Together options for two including couples massages and other wellness options.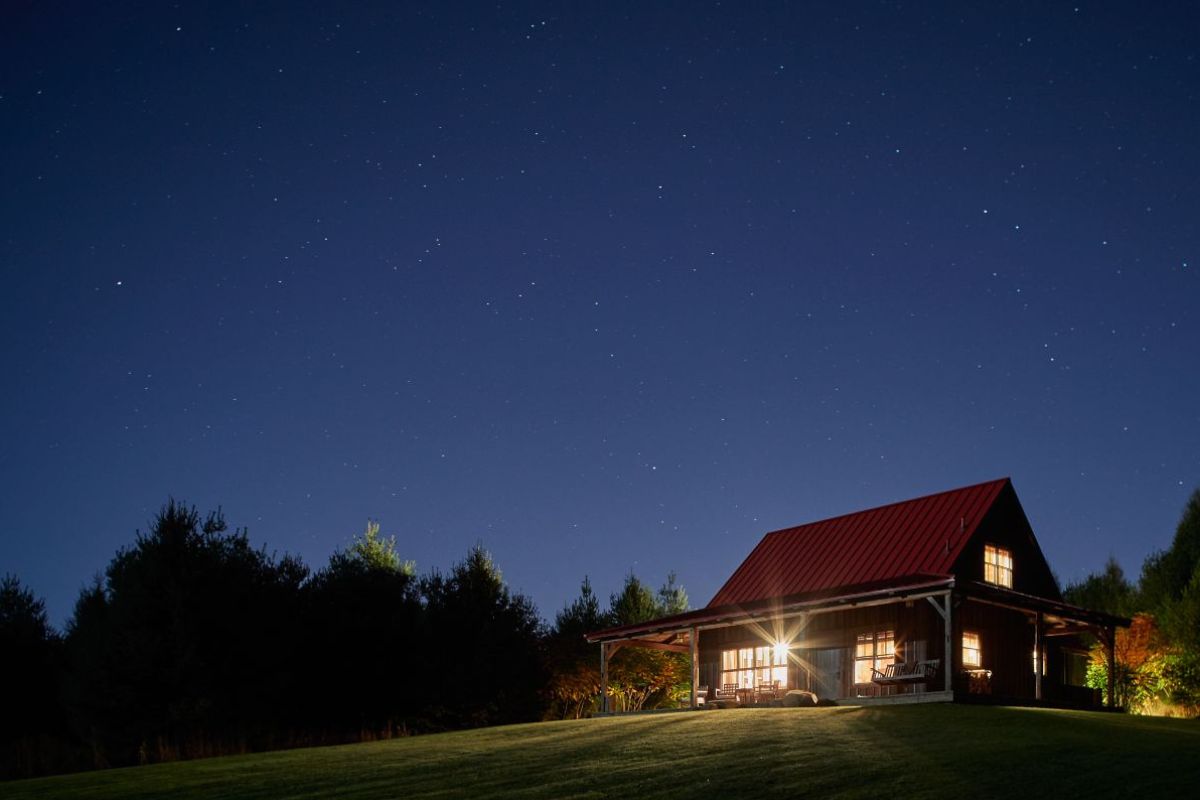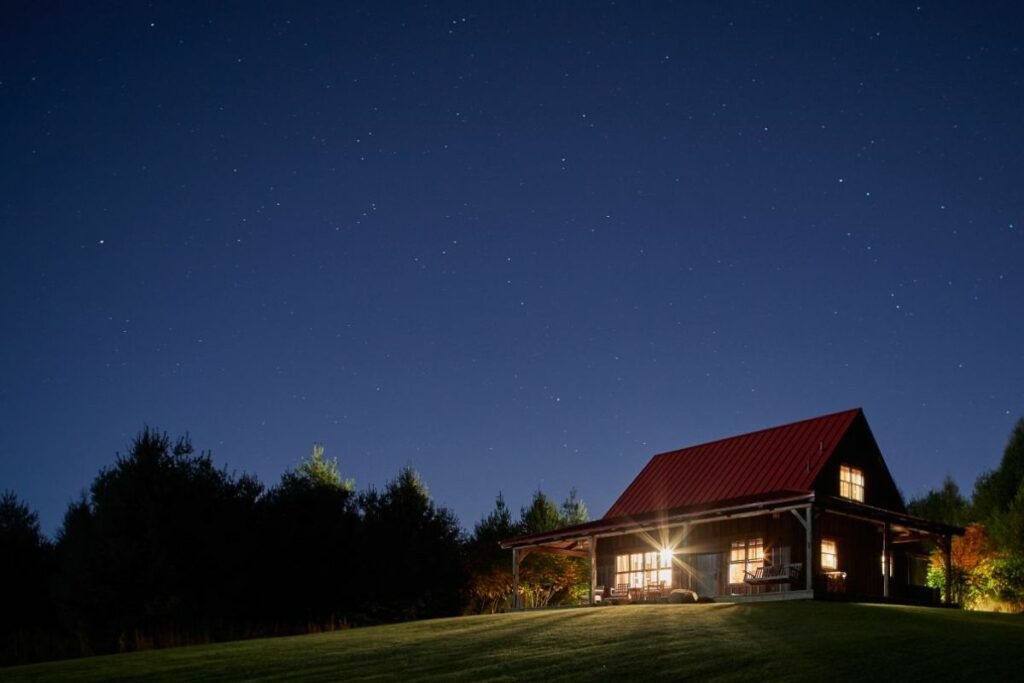 Cabin Collection, Kohler
This collection of luxurious cabin rentals tucked into secluded resort areas. The cabins are surrounded by nature and offer a private setting that is perfect for a romantic getaway. The cabins feature amenities such as private balconies, fireplaces, and hot tubs. Visit the Kohler Waters Spa for couples massages and other spa treatments.
444 Highland Drive, Kohler
855-444-2838
Blue Harbor, Sheboygan
Blue Harbor's whirlpool suites have a large whirlpool tub and fireplace for a cozy, romantic getaway. The resort is located on the shores of Lake Michigan and has a spa offering couples massages and a full menu of spa services. Want to play before you relax? Head to the 84-degree, 54,000-square-foot indoor waterpark with slides and a lazy river.
725 Blue Harbor Drive, Sheboygan
866-701-2583
Chula Vista Resort, Wisconsin Dells
Condo luxury suites at Chula Vista have private balconies, fireplaces, and an oversized jacuzzi. The onsite spa has many massage options for complete relaxation and rejuvenation and the resort offers a couples getaway package.
1000 Chula Vista Parkway, Wisconsin Dells
800-388-4782
Four Seasons Island Resort, Minocqua
An onsite spa and romantic hideaway packages make this secluded island resort in the Menominee Rivera fun option for couples looking for a small escape from everyday life. Find fun activities during the day—book a boat tour, play golf, or visit the on-site spa.
N 16800 Shoreline Drive, Pembine
715-324-5800
Remote Cabins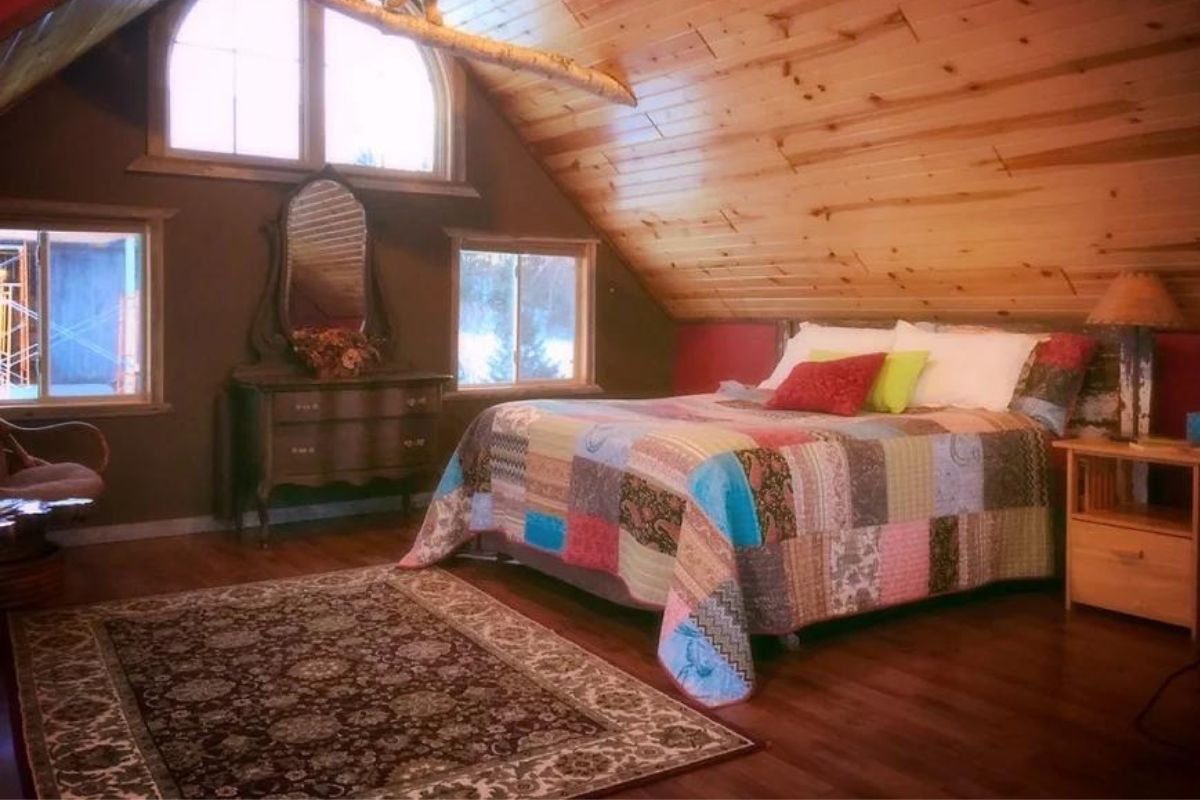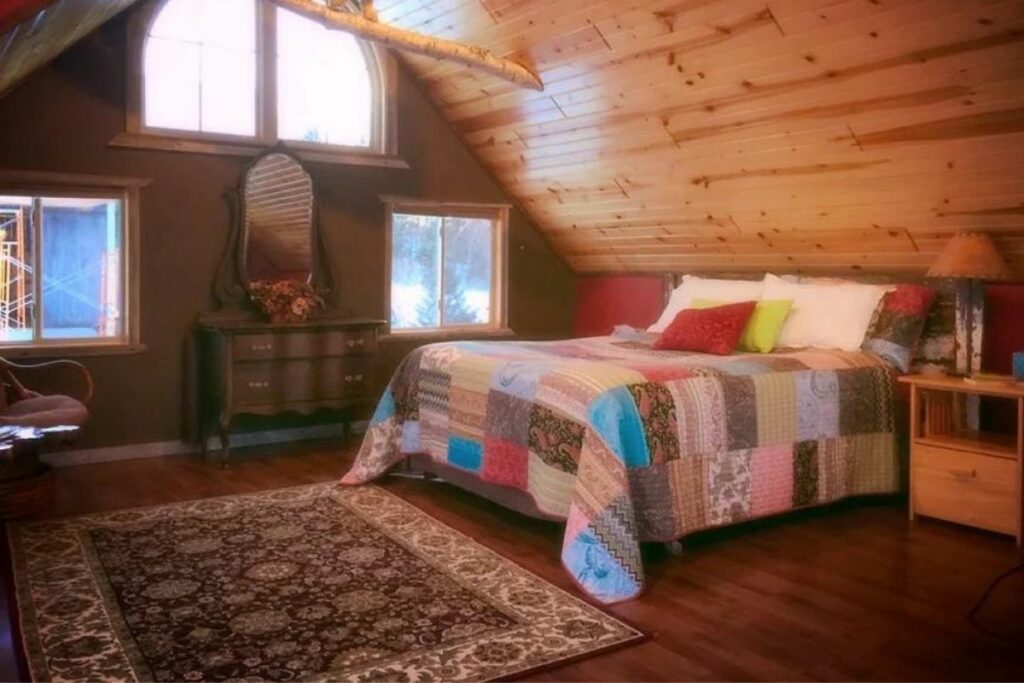 Living Waters, Hixton
Located in Central Wisconsin, this is the ideal romantic getaway for couples that love to be surrounded by nature. The cabin features a cozy and rustic decor, with amenities including a fireplace, a hot tub, and gives a perfect opportunity to unwind and connect. If cooking a special dinner together is part of your ideal weekend away, the full kitchen will be perfect. There are also nearby local restaurants to explore.
N9703 Macarthur Road, Hixton
715-797-7937
Reader Recommendation: Check out Living Waters in Hixton they have a cabin and a cottage to rent (book on their website or through Airbnb) both have private outdoor hot tubs. We stayed last year it was very cozy.
Check out these additional 35+ Cozy Cabin Rentals in Wisconsin
Themed Rooms
Delton Grand Resort and Spa, Wisconsin Dells
This luxury resort is located on the shores of Lake Delton, Wisconsin. The Lakefront Studios each have an in-room whirlpool bath, private patio, and a unique theme to be truly transported away from everyday life. From Vegas to Morocco, choose the perfect destination for your couples retreat.
670 East Lake Avenue, Wisconsin Dells
608-253-6049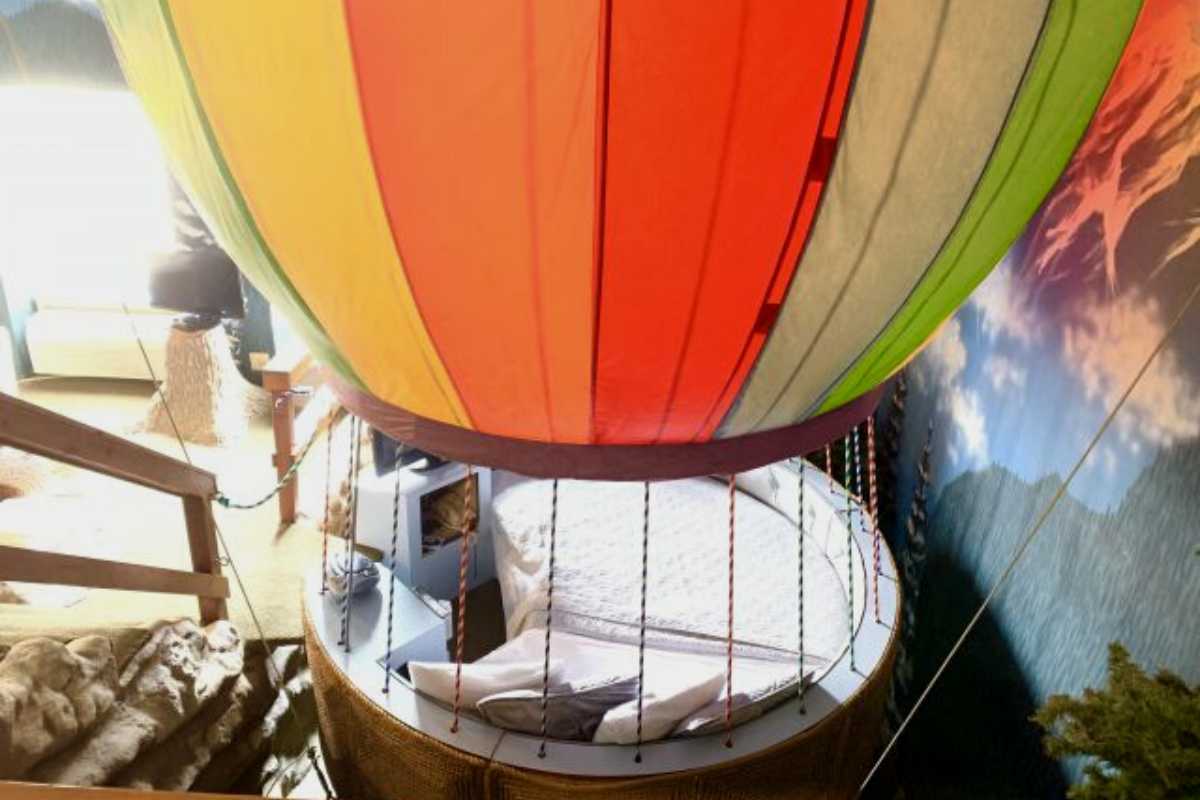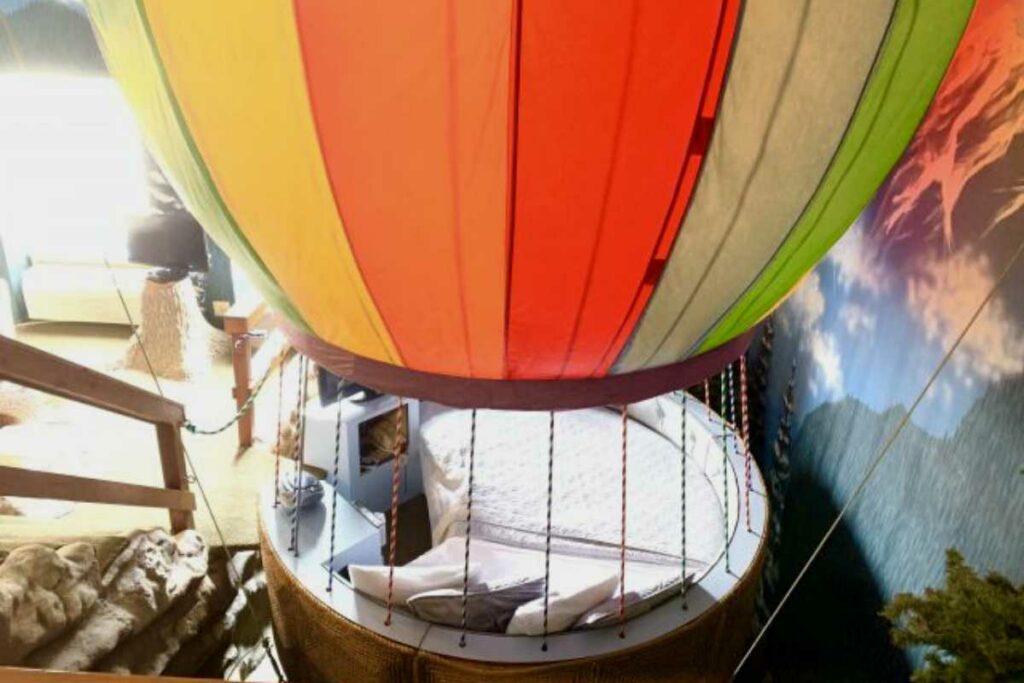 Don Q Inn, Dodgeville
Completely unique hotel in Wisconsin's Driftless Area in has 25 Original and Fantasy Suite theme rooms near The House on the Rock, Cave of the Mounds, Governor Dodge State Park, and Frank Lloyd Wright's Taliesin for a weekend away that is full of fun, adventure, and exploring Southern Wisconsin.
Sleep in a cave, Viking ship, hot air balloon, space capsule, or jungle. Each themed room has an oversized whirlpool, large copper tub, or heart-shaped tub.
3658 Hwy 23 North, Dodgeville
608-935-2321
Lake Views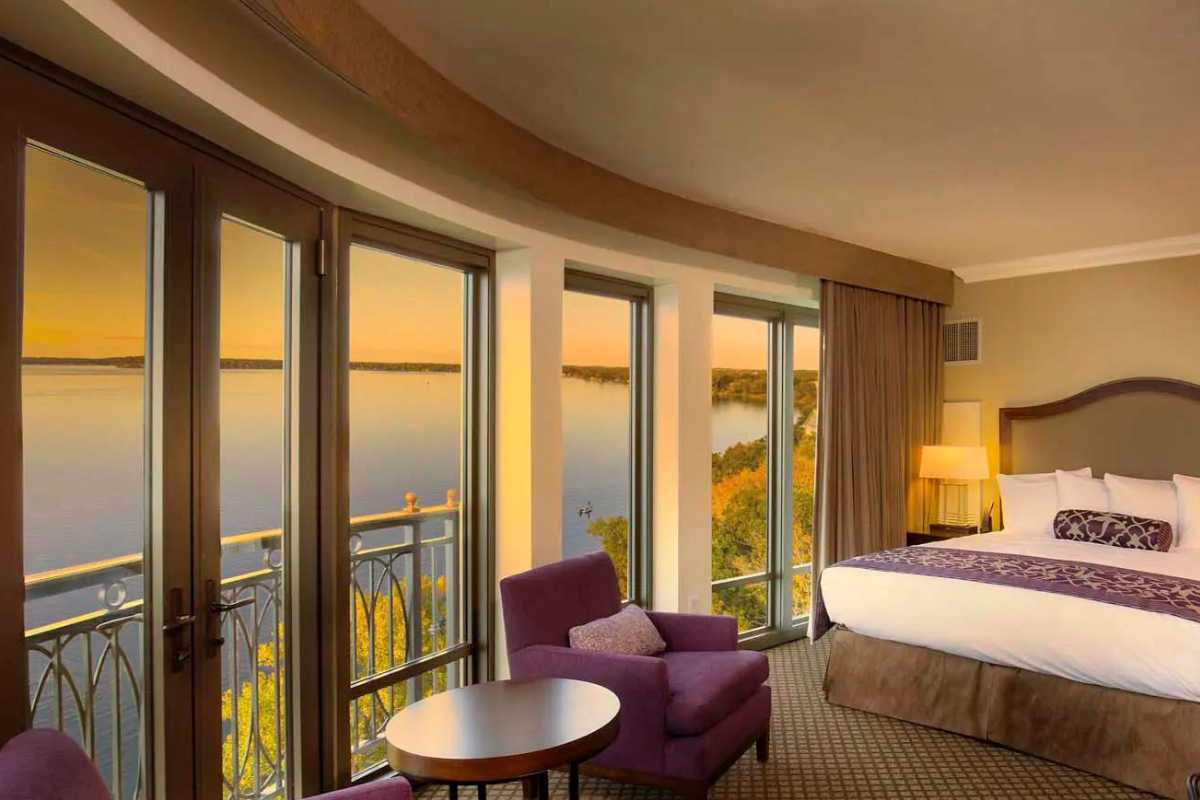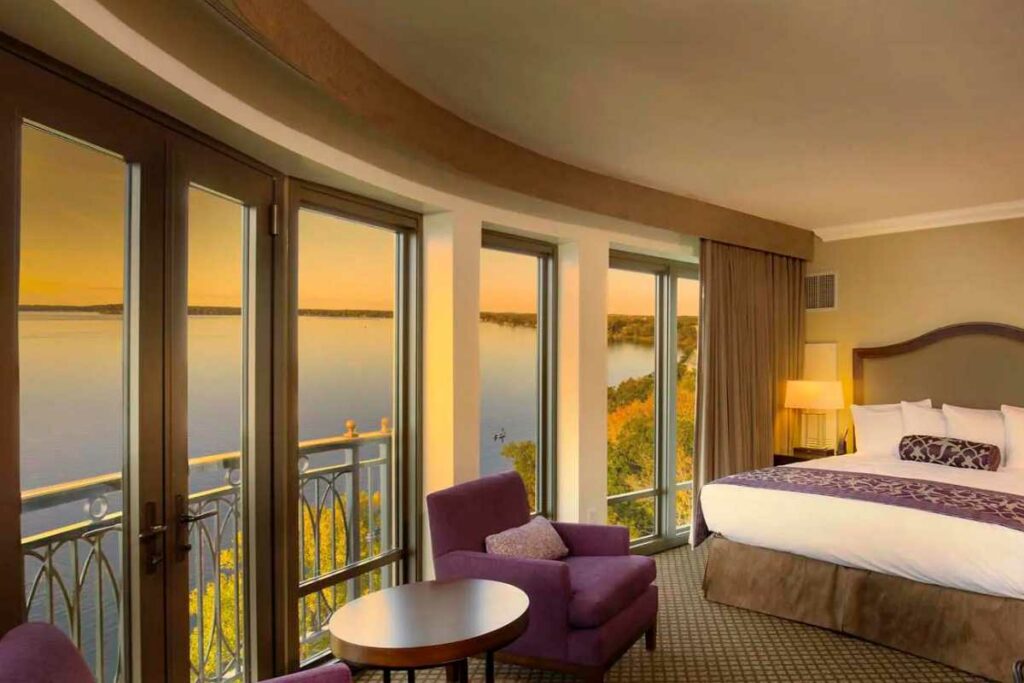 The Edgewater, Madison
This luxurious hotel is located in Downtown Madison offers a variety of amenities such as indoor and outdoor pools, a spa, and a variety of dining options. The hotel features elegantly appointed guest rooms and suites with gorgeous lake views, some of them with floor-to-ceiling windows, private balconies, fireplaces, and soaking tubs.
1001 Wisconsin Place, Madison
608-535-8200
The Osthoff Resort, Elkhart Lake
This beautiful resort is located in Elkhart Lake, Wisconsin, and offers a variety of amenities such as indoor and outdoor pools, a spa, and a variety of dining options. The Guest Rooms and Deluxe Suites have private balconies and two-person whirlpool baths. The spa offers couples massage and the resort offers a Couples Journey Package for your ultimate getaway.
101 Osthoff Avenue, Elkhart Lake
855-876-3399
Grand Geneva Resort & Spa, Lake Geneva
This luxurious resort is located in Lake Geneva, Wisconsin, and offers a variety of amenities including indoor and outdoor pools, a spa, and a variety of dining options. The resort offers multiple romance packages.
7036 Grand Geneva Way, Lake Geneva
262-248-8811
The Water Street Inn, Ephraim
This gorgeous and timeless hotel is a historic landmark and it is giving country house resort vibes with incredible sunset views for a romantic retreat.
9944 Water St S, Ephraim
920-854-2831
Bubbly Hot Tubs & Cozy Fireplaces
The Landmark Resort, Egg Harbor
This hotel offers a variety of amenities such as indoor and outdoor pools, hot tubs, steam rooms, nature trails, sports courts, and more. Cozy rooms with fireplaces are available.
4929 Landmark Drive, Egg Harbor
920-868-3205
The White Lace Inn, Sturgeon Bay
This bed and breakfast oozes romance with Victorian beds, oversize whirlpools, and fireplaces in rooms. Enjoy a full breakfast in the morning.
16 North 5th Avenue, Sturgeon Bay
920-743-1105
The Wilderness, Wisconsin Dells
Sneak away without the kids to this cabin-themed water park for a cozy room with a fireplace to cuddle up near after a float on the lazy river.
Kalahari, Wisconsin Dells
Grab a king suite for a whirlpool tub and book a couples massage at the onsite spa while you enjoy this destination together. Take the opportunity to enjoy the golf course or a slow dinner without the kids in tow convincing you to spend all of your time at the water and theme parks or game rooms!
Affordable Luxury
Best Western Premier Bridgewood Resort Hotel, Neenah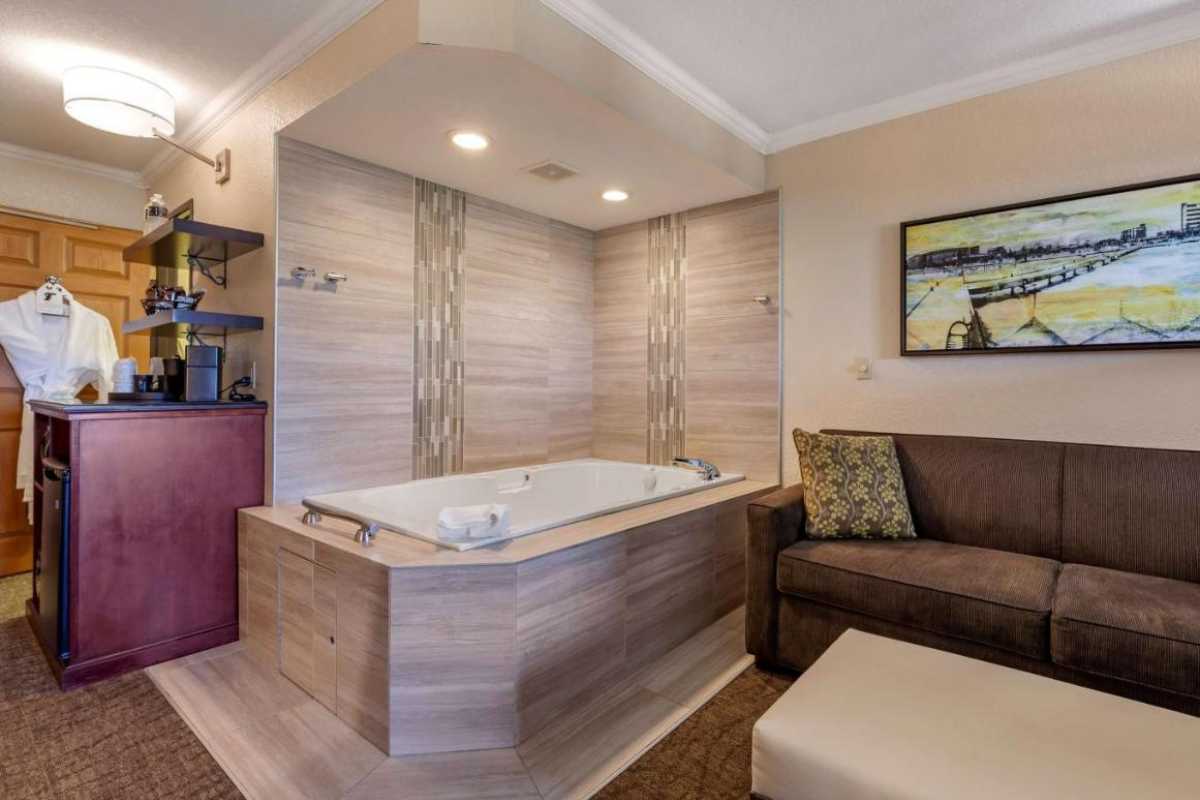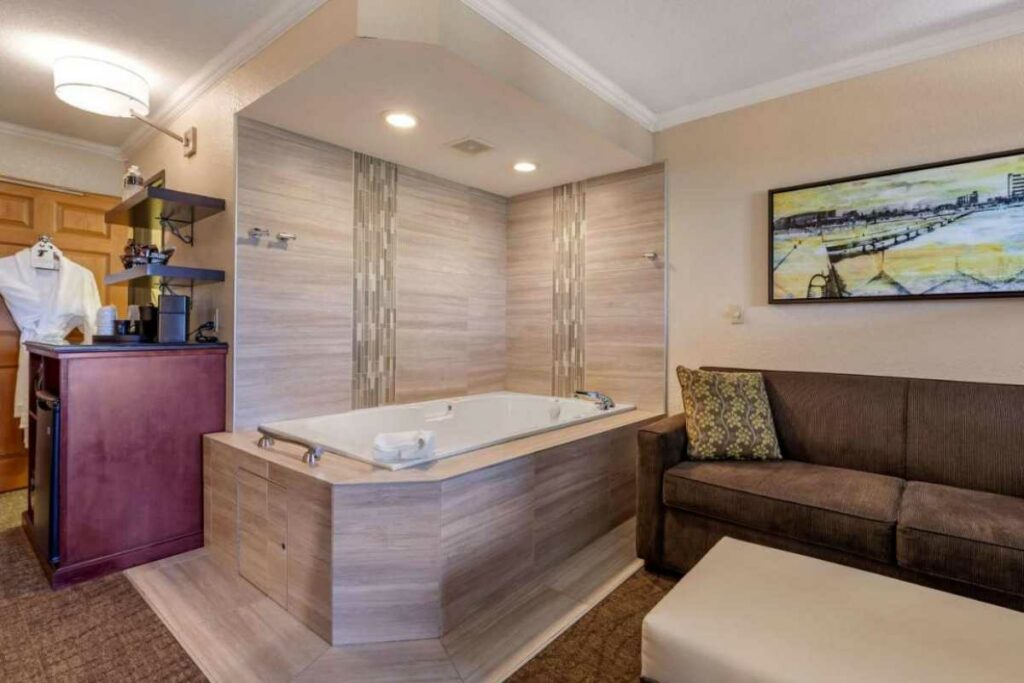 The hotel's affordable suites offer luxury accommodations with fireplaces, whirlpools, and private balconies or patios. Check out their romance package for fun add-ons to your stay.
1000 Cameron Way, Neenah
920-720-8000
Reader Recommendation: There are also double shower heads in the shower. Whether for a couple's shower or one person experiencing, it's amazing.
Americinn, New London
The suite here is perfect for a quick romantic getaway. The suite features a king-size bed, a private whirlpool tub, and a fireplace.
1404 N. Shawano Street, New London
855-516-1090
Best Western Premier Waterfront Hotel & Convention Center, Oshkosh
Located on the shore of Lake Winnebago, the hotel has king suites with fireplaces and oversized in-room tub.
1 N Main Street, Oshkosh
920-230-1900
St. Brendan's Inn, Green Bay
The hotel offers a comfortable and luxurious stay at an affordable price. Rooms with whirlpool tubs and walk-in showers that offer a romantic and luxurious experience for a cozy romantic getaway.
234 S Washington Street, Green Bay
920-884-8484
Things to Do on Your Romantic Getaway
Culinary Experiences
A delicious meal can be an essential part of romantic getaways. Wisconsin is home to many renowned fine dining locations that offer a wide range of cuisines and dining experiences for those looking for a culinary adventure.
From the farm-to-table cuisine of L'Etoile in Madison, to the stunning views and creative American cuisine of The River Room in Wisconsin Dells, these restaurants offer a unique and memorable dining experience for those looking to indulge in the best of local ingredients and flavors.
Whether you are looking for a cozy atmosphere or an elegant setting, these restaurants are sure to impress and provide an experience that will enhance your romantic getaway.
L'Etoile: This restaurant is located in Madison, Wisconsin, and is considered one of the most renowned fine dining restaurants in the state. L'Etoile offers a farm-to-table menu, featuring local and seasonal ingredients. It's known for its French-inspired cuisine and wine list.
Bacchus: This restaurant is located in Milwaukee, Wisconsin, and is known for its seasonally focused menus and extensive wine list.
The River Room: This restaurant is located in Wisconsin Dells and is known for its stunning views of the Wisconsin River and its creative American cuisine. The River Room offers a wide range of fine dining options, including local ingredients, seasonal menus, and a great wine list.
Winery Tours
Wisconsin is home to a growing number of wineries that produce a variety of wines made from local grapes and other fruit. All locations have tasting rooms and tours. Ideas for wineries to visit on your romantic getaway:
Wollersheim Winery, Prairie du Sac: Known for its award-winning wines, including its signature ice wines, made from locally grown grapes.
von Stiehl Winery, Algoma: Known for its wide range of wines, including dry reds, whites, and fruit wines.
Parallel 44 Vineyard & Winery, Kewaunee: Known for its locally grown grapes and fruit wines.
Door 44 Winery, Sturgeon Bay: Known for its unique and diverse wines, including dry reds, whites, and fruit wines.
Island Orchard Cider, Ellison Bay: Known for its hard ciders made from apples grown on the property.
Breweries to Visit
Wisconsin is home to a growing number of breweries that offer tours and tastings of their locally-produced beers. Locations below have taprooms, tastings, and tours. Some of the do-not-miss breweries with tours and tastings in Wisconsin include:
New Glarus Brewing Company: Known for its wide range of beers, including its signature Spotted Cow beer.
Capital Brewery, Middleton: Known for its German-style beers.
Lakefront Brewery, Milwaukee: Known for its wide range of beers, including its signature Riverwest Stein beer.
Central Waters Brewing Company, Amherst: Known for its wide range of beers, including its signature Bourbon Barrel Stout.
Karben4 Brewing, Madison: Known for its wide range of beers, including its signature Fantasy Factory beer.
Editor's Note: Go Valley Kids received complimentary accommodations to facilitate reviews. As always, all opinions are our own.