While summer is a natural choice to visit the waterparks, some resorts are perfect picks for planning a visit any time of the year with more indoor attractions that you can imagine—Kalahari is definitely one of them!
Kalahari Resorts & Conventions are African-themed parks with 4 locations across the United States – the Pocono Mountains in Pennsylvania, Sandusky in Ohio, Round Rock in Texas, and Wisconsin Dells (the Lake Delton area).
The theme park resort is a family destination and fun for all ages. The Wisconsin location is in the water park capital of the world, located about 42 miles northwest of Madison on the Wisconsin River.
It includes an indoor and outdoor waterpark, a family entertainment center with lots of arcade games and rides, a convention center, restaurants, a spa, and a variety of accommodations fitting for the smallest or largest groups.
Time for a family road trip! Start planning your next Wisconsin Dells vacation at a waterpark!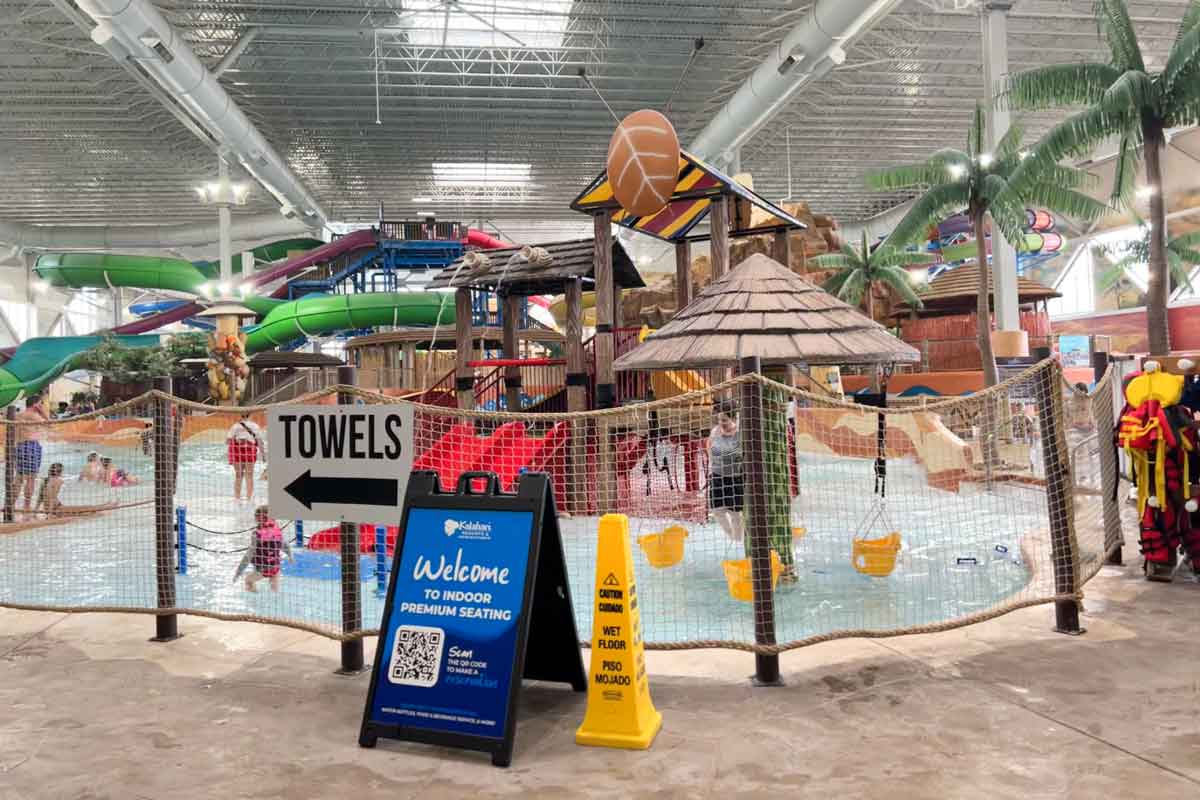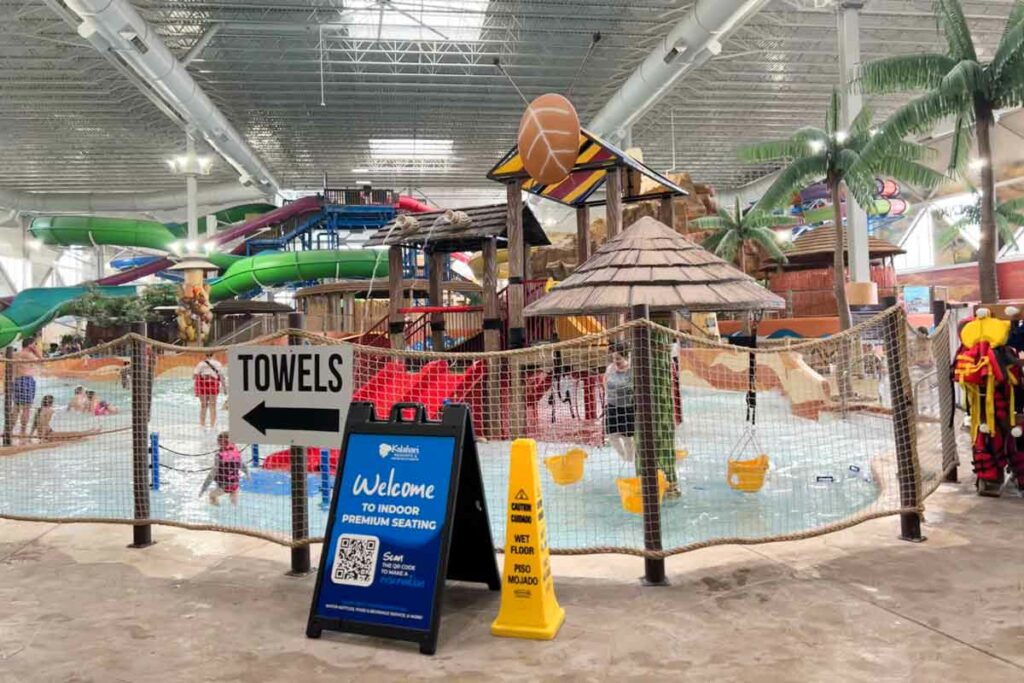 Indoor Water Park
Open year-round, the waterpark is 125,000 square feet and boasts the largest indoor waterpark in Wisconsin Dells.
When staying onsite, registered guests' water park passes are included with your stay and are a super convenient wristband.
If available (and not peak times), day passes can also be purchased. It is strongly recommended to purchase ahead of time, and passes are guaranteed when purchased online.
Waterpark passes are not required for toddlers 2 years of age or under. Day passes vary by day and start at about $55 each. Special rates are available for armed forces with a valid Military ID at check-in.
Towels are only provided for registered guests and not day pass users.
For the ultimate experience, private poolside cabanas and bungalows are available for daily rentals and include flat-screen tv, refrigerator, security safes, chaise lounges and tables, and food and beverage delivery. It's perfect for a pool break or rest!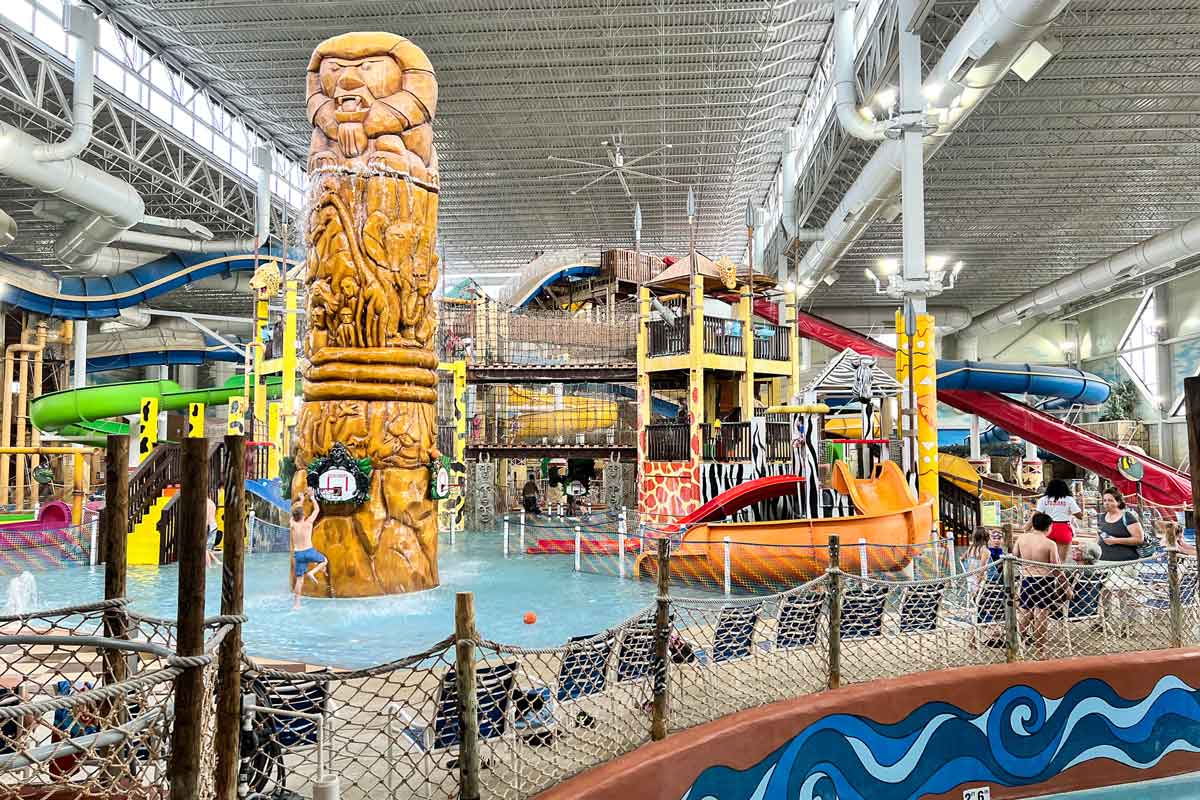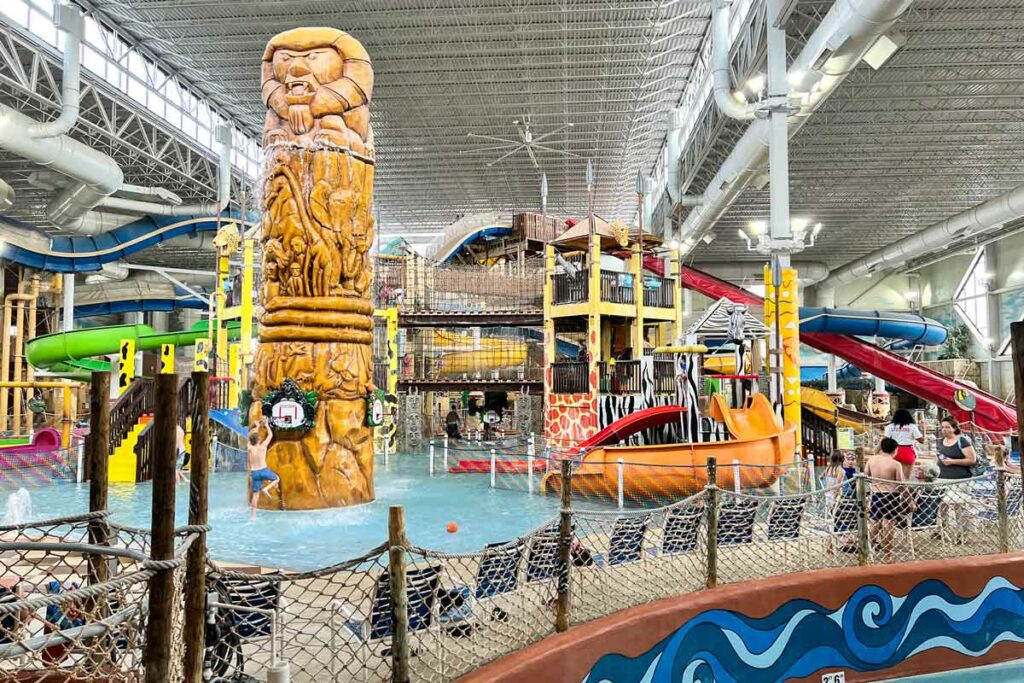 The African theme and safari vibes continue throughout the waterpark. Features include:
Zero-depth entry wave pool
Lazy river
3,000 square foot activity pool with basketball hoops
270-foot long tandem tube slide
Open & enclosed twisting waterslides
Funnel water slide
Surfing simulator
Whirlpools (indoor and outdoor hot tubs, swim-up bar)
Family-friendly double raft water slides perfect for parents and younger kids
Splash Down Safari & Kiddie Pool – Kids play area (zero entry) and an activity pool with water toys, slides, swings and splash pads
The park is typically open daily from 10 am to 9 pm but confirm before your visit. They do rotate openings and closings of all attractions during the day. They are clearly marked, you'll find signs at the attraction entrances. Make sure to note favorites, so you don't miss out or have upset kiddos!
Children under 48″ are required to wear a U.S. Coast Guard-approved life vest. Some life vests are available on a first-come, first-served basis, or you can bring your own.
PRO TIP: Plan around water park hours, not your check-in time! The water park can be used before check-in at 10 am on the day of your arrival and after checkout until the waterpark closes on the day of your departure.
Outdoor Water Park
Open seasonally from Memorial Day to Labor Day, the Kalahari Zambezi Outdoor Waterpark is also included for registered guests and day passes!
Outdoor pool
Water Slide flume
High-speed funnel water slide
Multi-level water fun tree fort
Waterslides
Whirlpool spa
Lazy river
Tube slides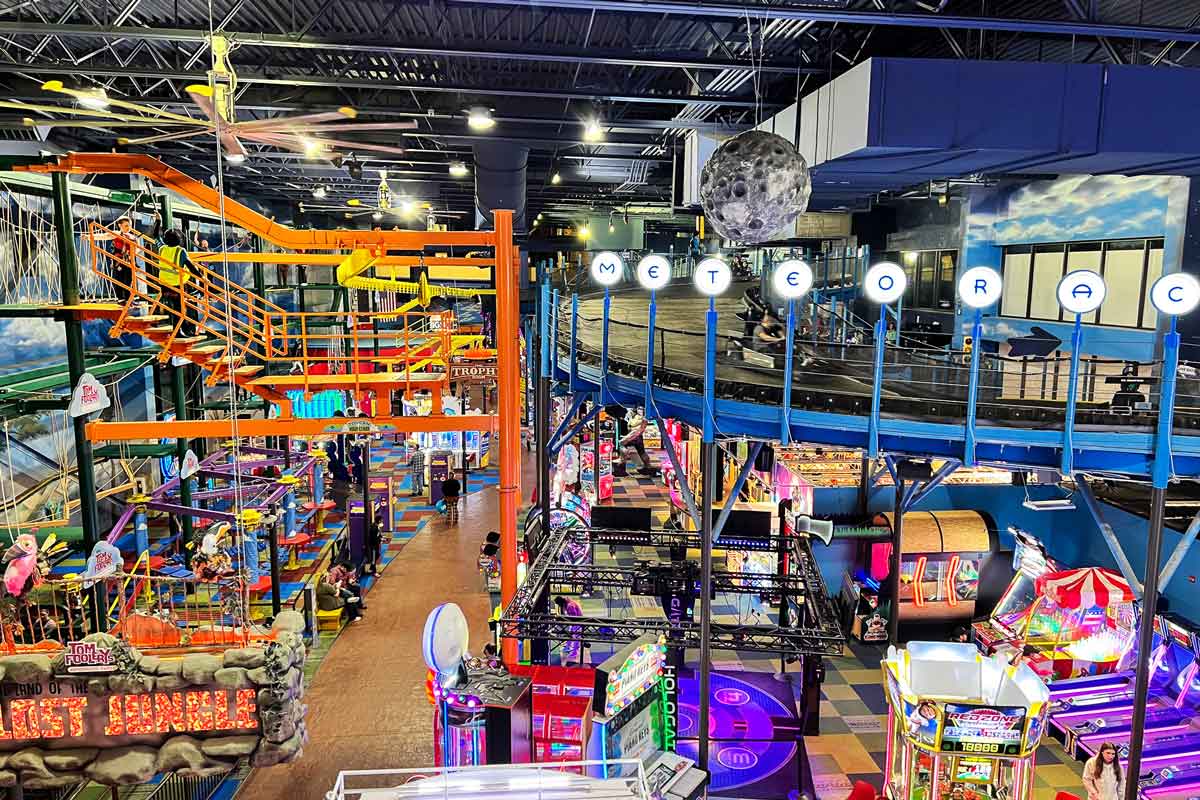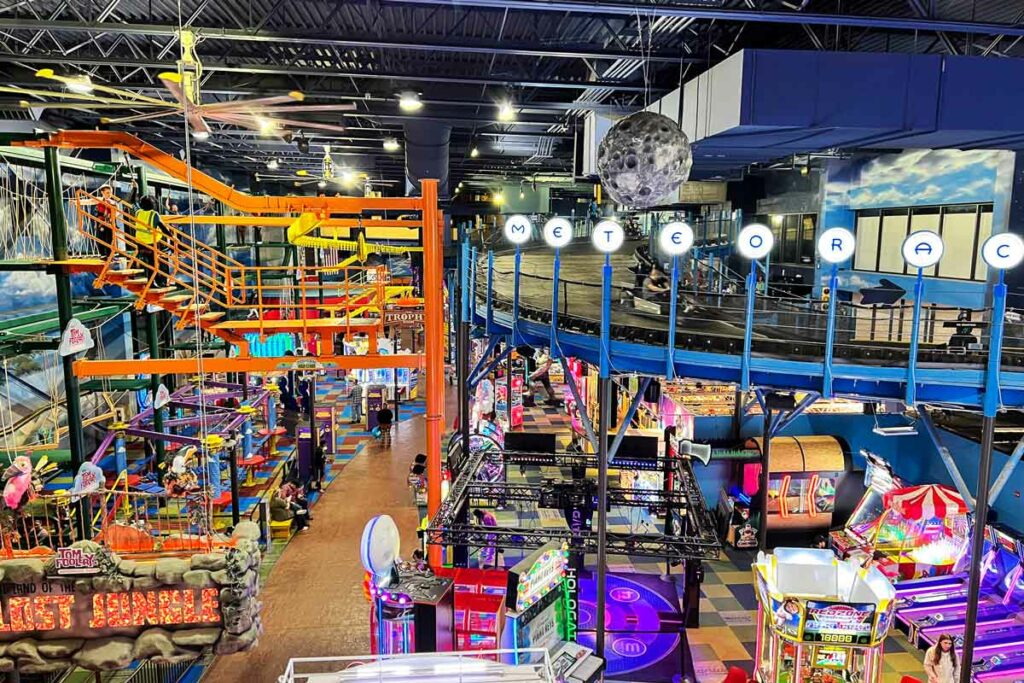 Indoor Theme Park & Amusement Park
Almost as big as the indoor water park, Tom Foolerys Adventure Park is 100,000 square feet and impressive as you walk in (think Urban Air but bigger)! You can enter the park from the hotel resort or outside from the parking lot.
Discounted day passes are available for resort overnight guests, but anyone can visit the park!
There is no entrance fee. Unlimited passes can be purchased, or individual attractions can be purchased separately.
There are so many options for younger children to older kids and adults, it truly is fun for the whole family and perfect for rainy days, hot and humid days, or just a water break!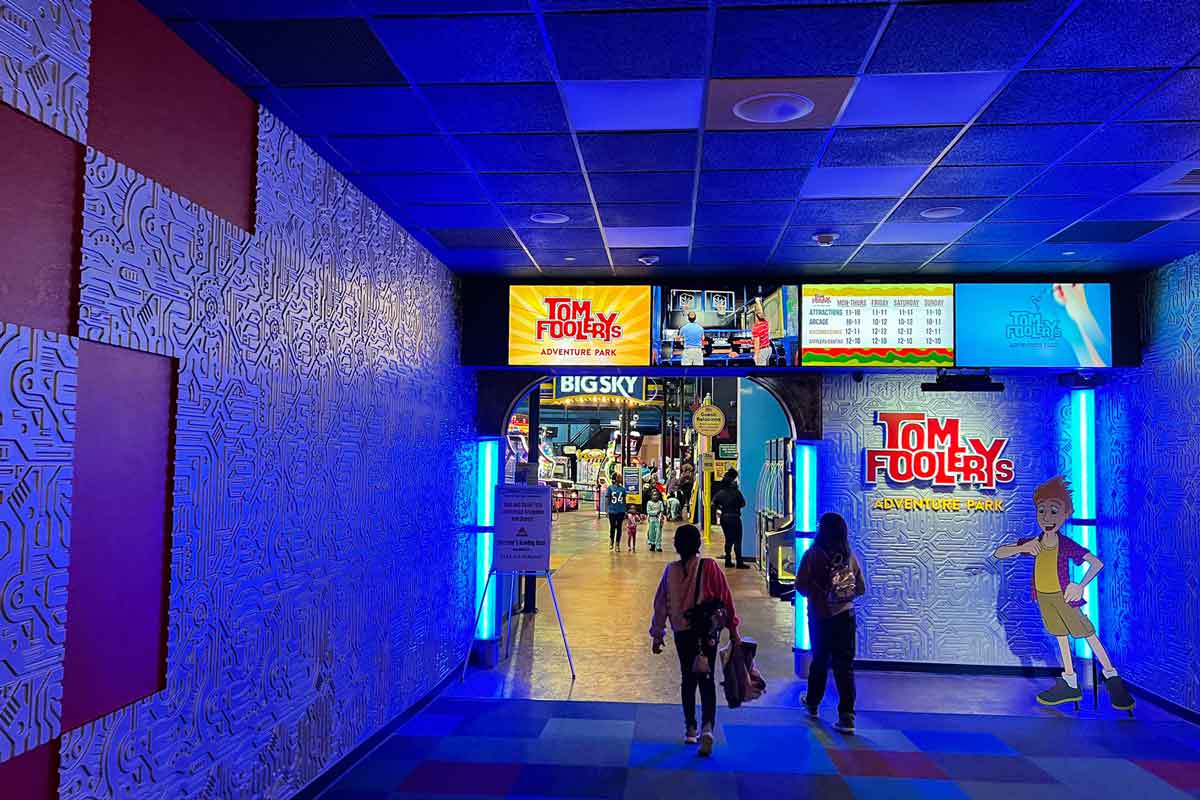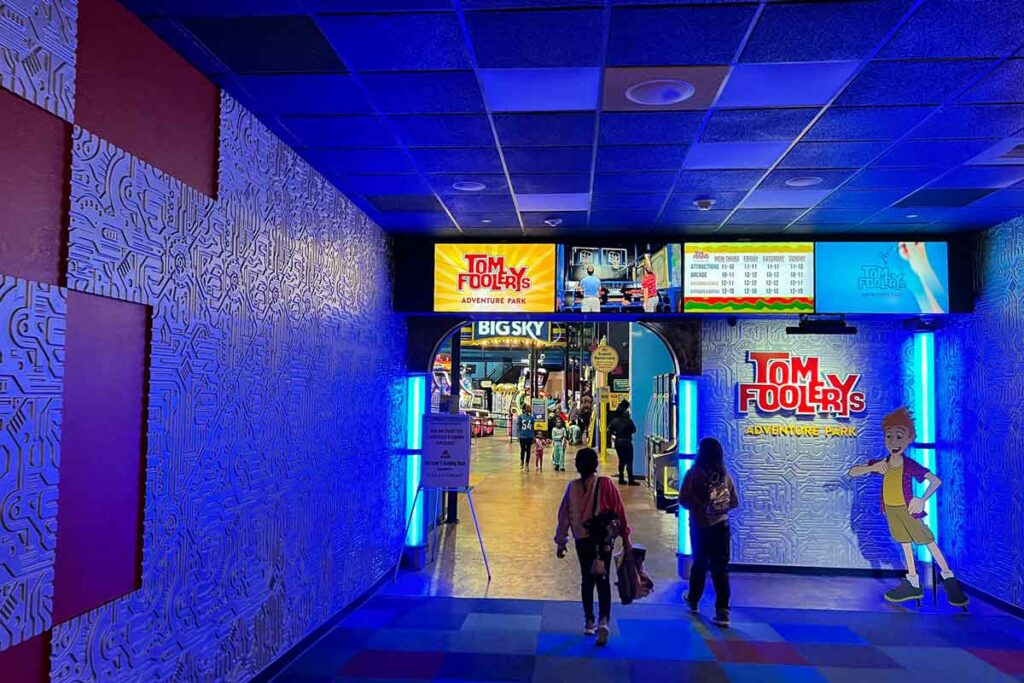 PRO TIP: We loved the option for arcade games to receive electronic tickets or paper tickets! It was such a thoughtful perk.
Ferris wheel
Carousel
Mirror maze
2 Story go-kart race track
Virtual reality adventure areas
Escape rooms
Ropes course
Climbing wall
Indoor zip line
Blacklight glow mini golf
24 lanes of intergalactic glow bowling
Laser tag
Bar and snack options
Arcade game and prize store
PRO TIP: Closed-toe shoes are required for some attractions. With all the walking (and running around), comfy athletic shoes would be a great option!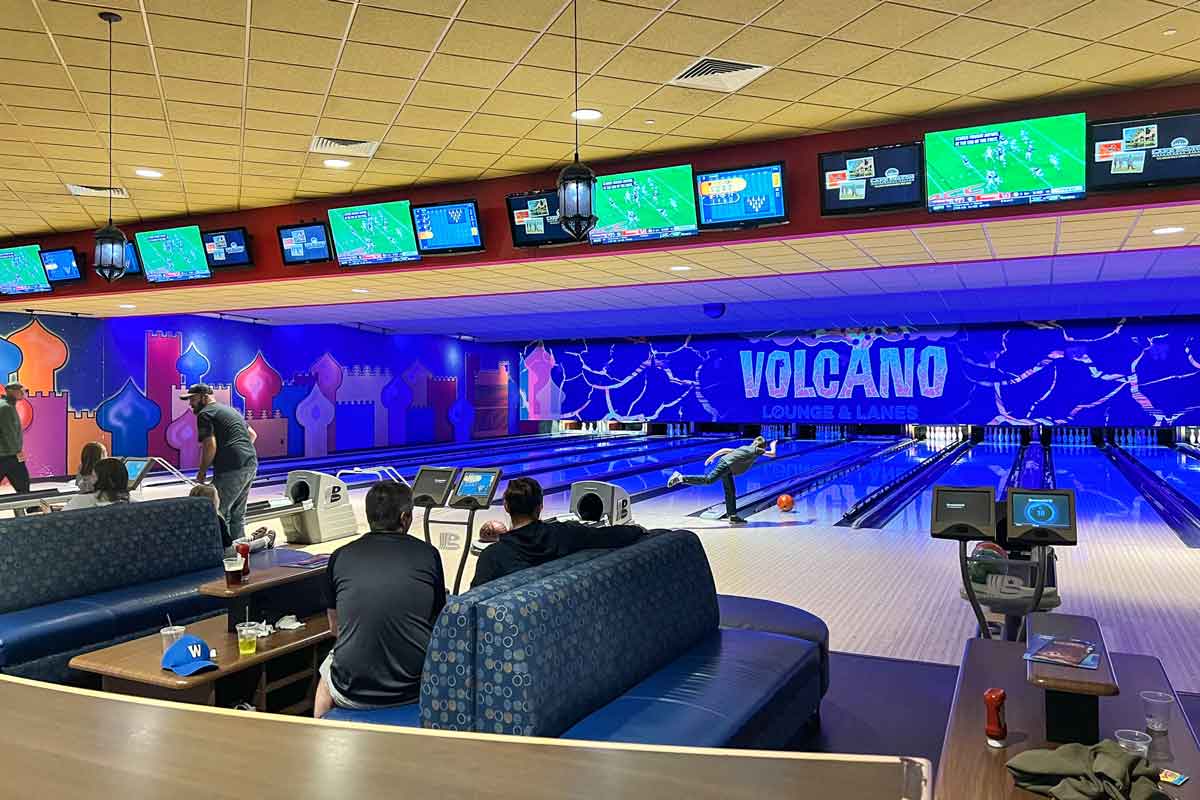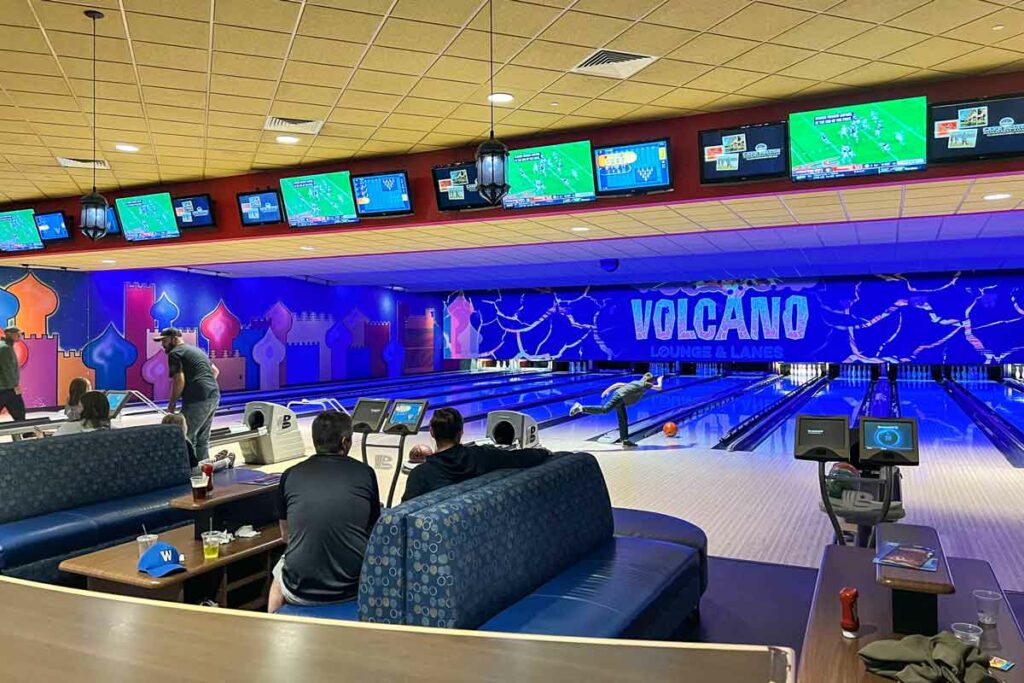 Tommy Bartlett Exploratory
Also included with your stay at Kalahari is complimentary admission to Tommy Bartlett Exploratory, an interactive science center with more than 175 interactive exhibits.
Families can dig into challenging puzzles, explore optical illusions, check out cool tech gadgets and computer games, and walk though an authentic Russian Space Station MIR core module to see where astronauts lived and worked while in space!
Passes are distributed at check-in, and you'll need both your passes and your Kalahari wristband for admission. The attraction opens at 10 am each day.
Timbavati Wildlife Park
During warmer weather months (May 1 – October 31), the Timbavati Wildlife Park is open each day from 9 am – 6 pm.
The unique park has many interactive experiences with animals from around the world.
Admission is free for all guests at Kalahari with passes distributed at check-in. As with Tommy Barlett Exploratory, you will need both your passes and your wristband for entry.
Accommodations
When booking your stay and making online reservations, pay careful attention to the details. There are so many types of rooms to choose from, and the layout arrangements are all different.
Guest rooms are available to accommodate as little as 2 people to 44 and are decorated with beautiful imported African art and artifacts that are both modern and interesting.
Different rooms and spacious layouts include one or two bedrooms, whirlpool suites with an indoor or outdoor hot tub, patios, kitchens, fitness center access, and more!
Check their website for deals, discounts, and special offers. Earlier planning will save you a little on your stay, and Kalahari offers different specials year-round, including for military members and veterans and multi-night discounts.
Accommodations Options:
Suites located in the main resort
Sands building connected to the main resort via enclosed sky-walk (long walk, but you won't have to go outside on a sub-zero day!)
Apartment-like villas a short drive away
Lakefront cabins, cottages, and chalets on Lake Delton a short drive away
Waterpark access is included for all registered guests no matter where you stay on the resort. If you are staying outside of the rooms attached to the waterpark, there are shuttles available to get you to the attractions easily.
Add-on options also include discounted admission wristbands and tickets for Tom Foolerys Adventure Park.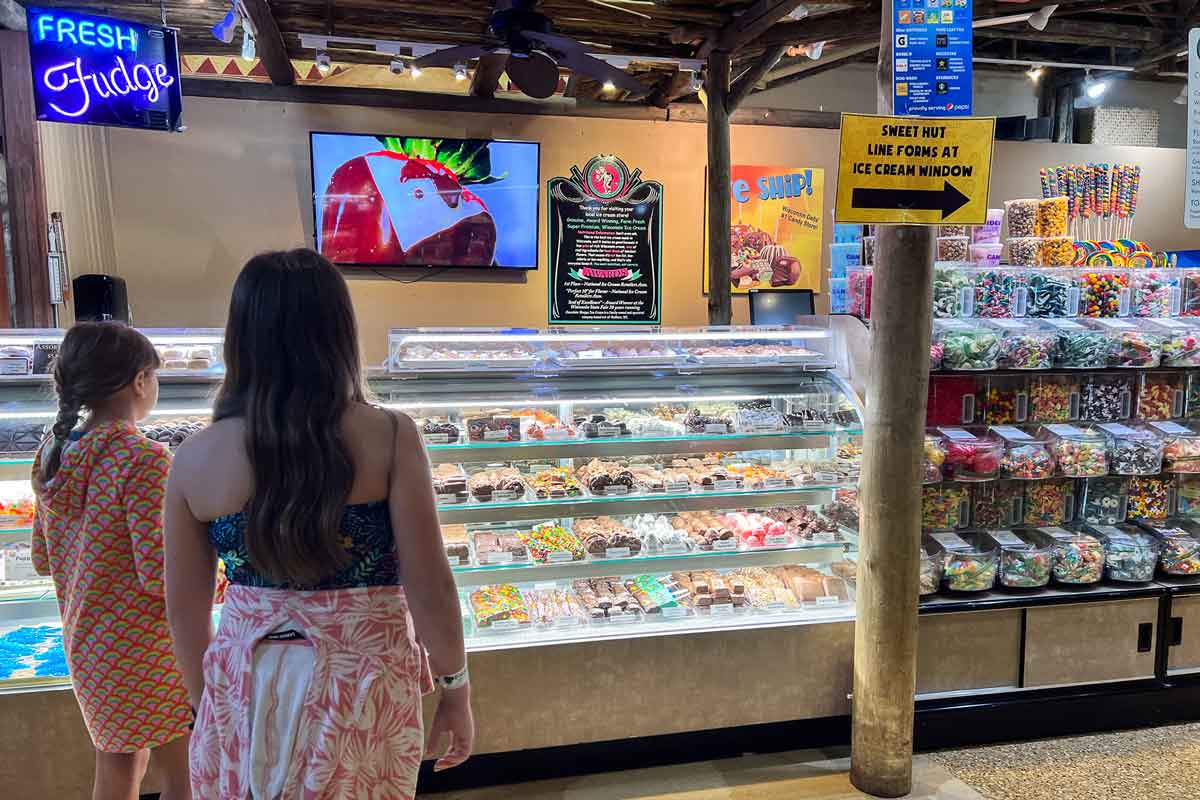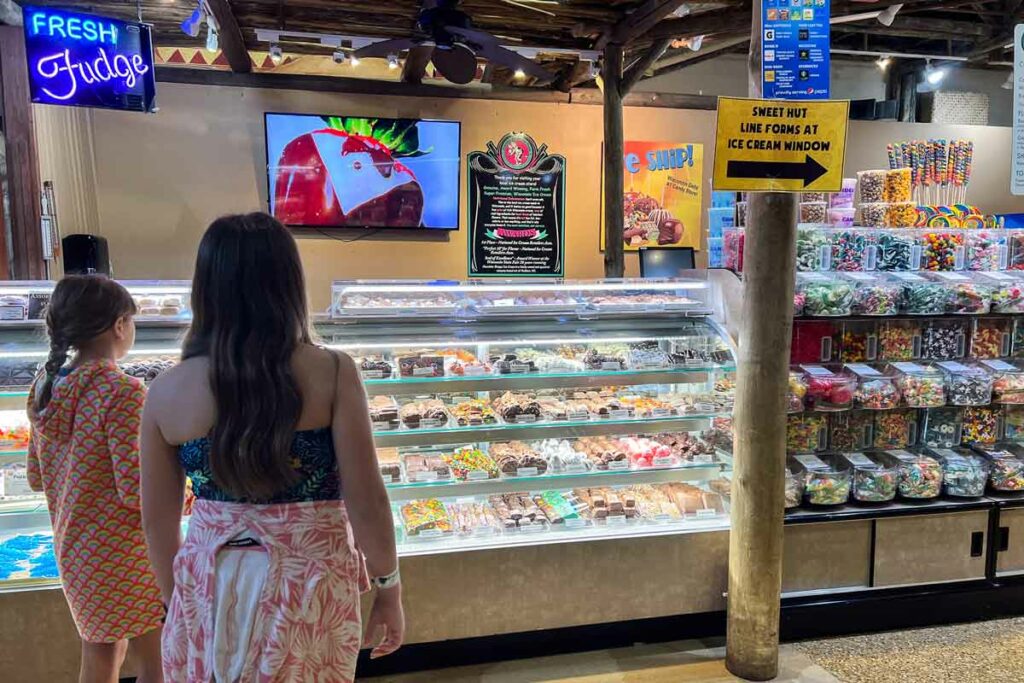 On-Site Restaurants
One of the amazing things about this resort is that you can choose never to leave or go outside for your entire stay (perfect for cold Wisconsin winters) with everything under one roof!
Dining options include a Wisconsin Brew Pub with classic burgers and cheese curds and sports playing on tv to premium cut steaks and seafood at Double Cut Charcoal Grill.
On-Site Dining Options:
Ice cream and candy shop
Piano bar and lounge
Pizza delivered to your room
Onsite waterpark dining
Cafeteria style snacks
Kid-friendly buffet
Coffee shop and dessert bar
Pizza and drinks while you bowl
Vending machine snacks and drinks
PRO TIP: There is a Kwik Trip conveniently located right down the road!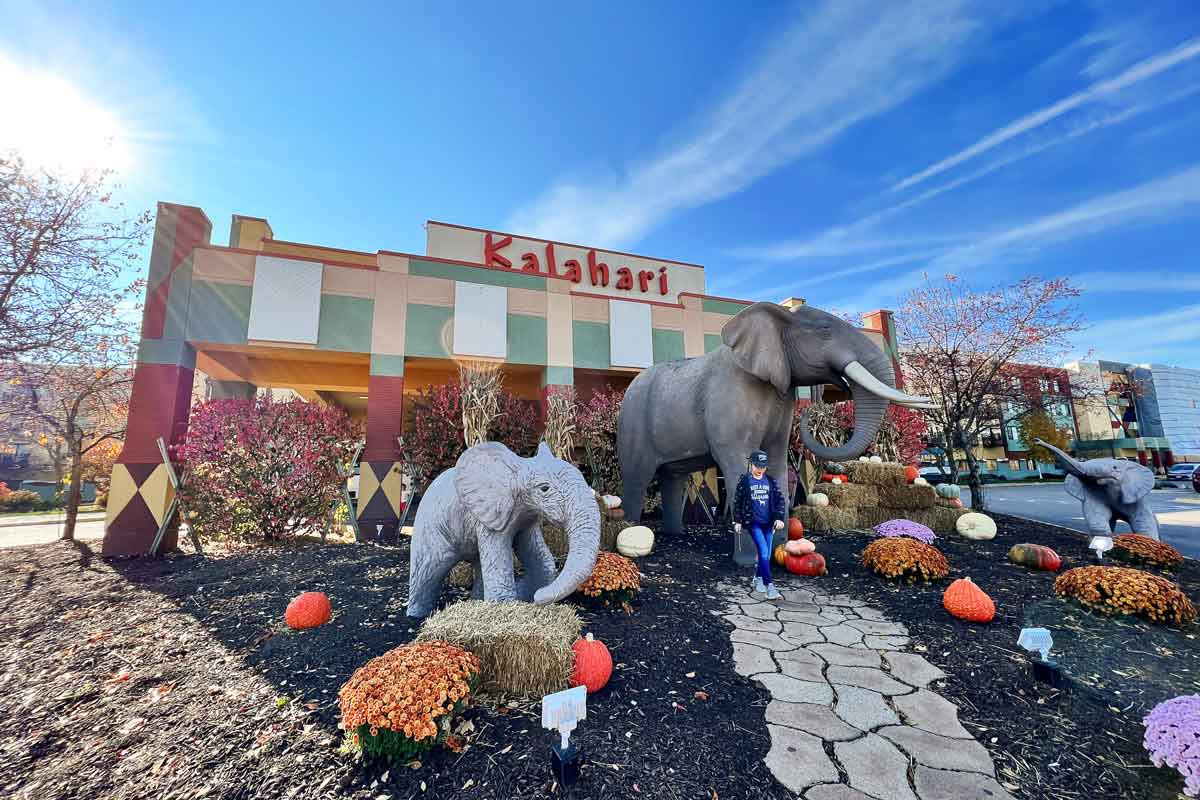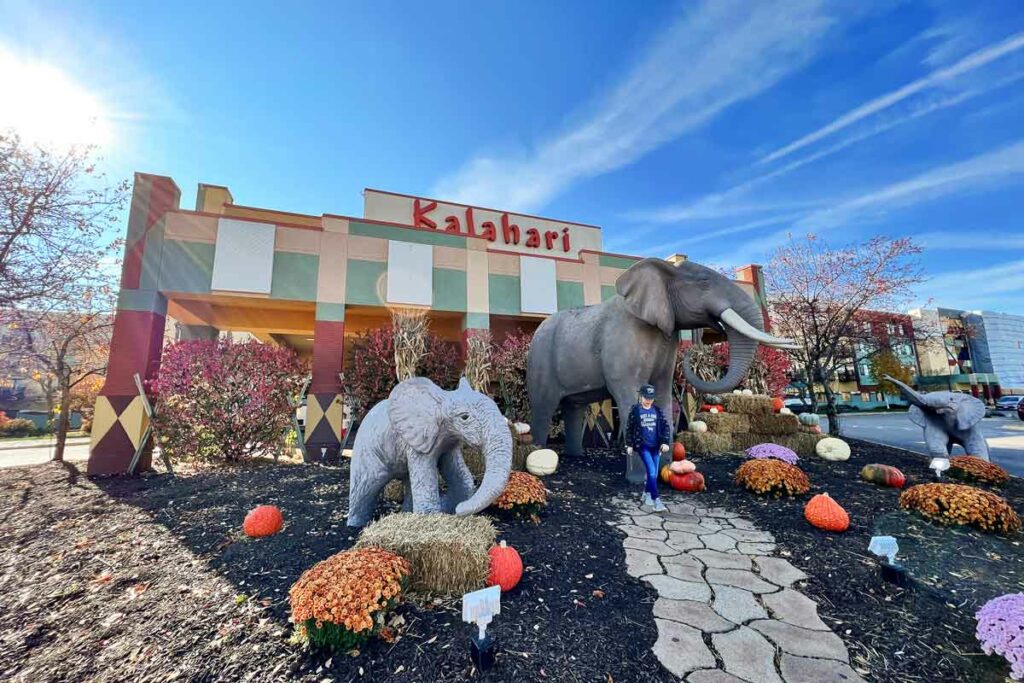 Kalahari Wisconsin Dells