Spring is here and we've been cooped up inside, pack up and gather the family for a trip to an indoor waterpark! Wisconsin is home to many fantastic spots to splash and unwind, and as luck would have it, some of the best are only a short drive away! Grab your swim trunks and goggles, and prepare to glide through winding water slides, be doused with massive water splash buckets and to drift around a lazy river so soothing that you'll forget all about winter!
Jump to Section: The Ingleside Hotel | Blue Harbor Resort | Kalahari Resort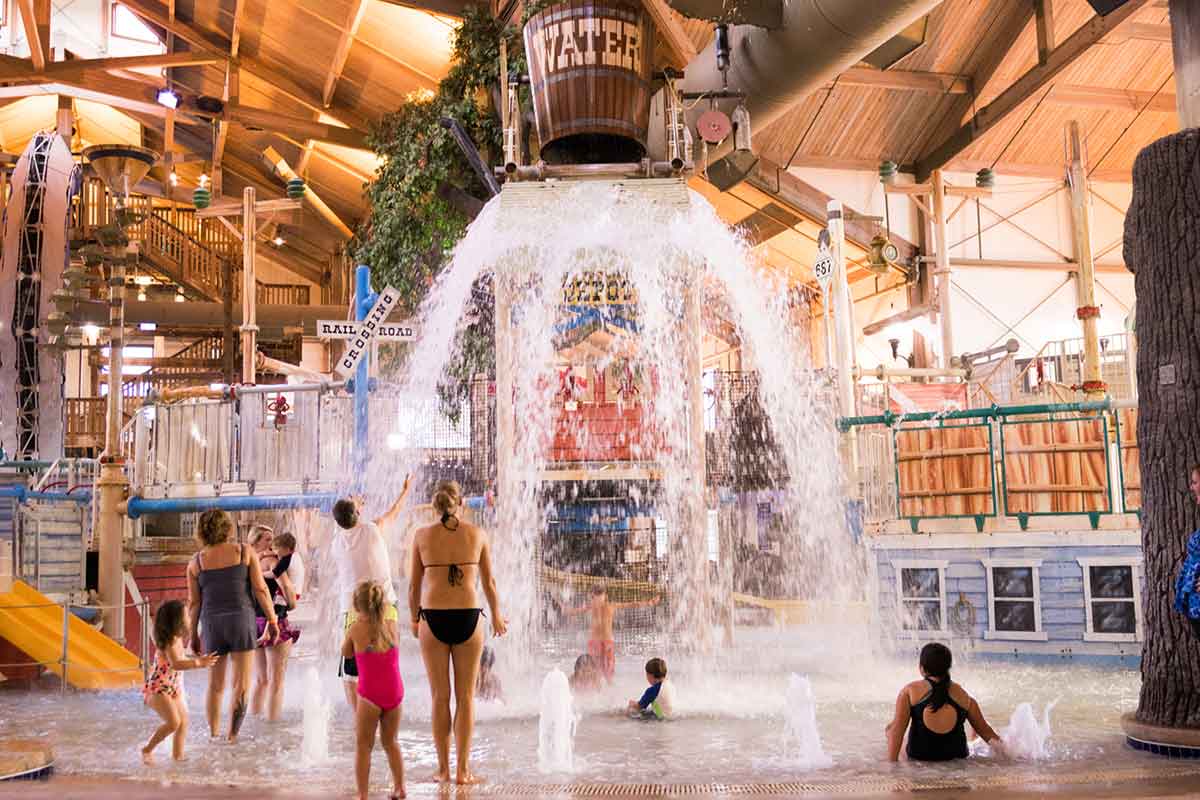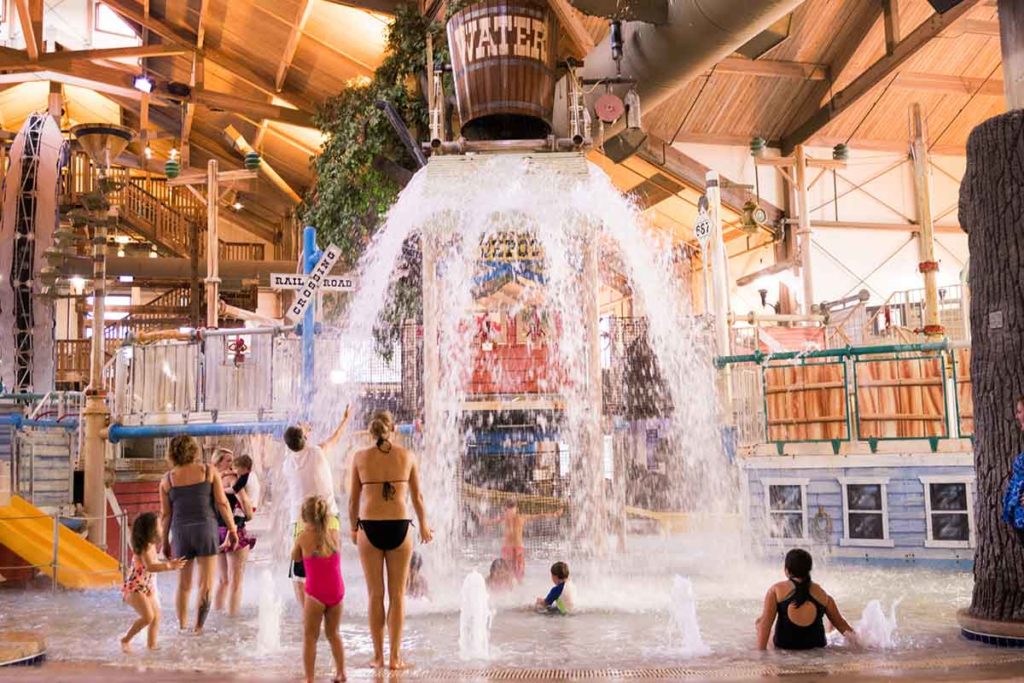 Springs Waterpark at The Ingleside Hotel in Pewaukee, Wisconsin
Conveniently located just off the highway in Pewaukee, The Ingleside Hotel boasts a gorgeous property with a fresh, contemporary flair. It celebrates the interests of each member of the family as it offers golf on the course, multiple on-site dining options and a multitude of fun for kids, including the Geyser Arcade, which holds over fifty interactive and competitive games. Beyond noshing on delicious eats and gearing up for some steep competition in the game room, one of the property's best attributes is their 45,000 sq. foot waterpark!
The Springs Waterpark is the perfect mix of an aquatic adventure and day of relaxation, all under one roof. From thrilling tube and body slides to an activity pool and meandering lazy river, endless fun awaits! Adults and teens can soak up some heat in Night Fall Springs, the indoor-outdoor hot tub and little guests will be all smiles as they splash in the Waukesha Water Works zone, a zero-depth area specifically geared for toddlers and babies. The waterpark's interactive children's area also features a 600-gallon water dump bucket, squirting water cannons, two age-appropriate water slides and a bubbling water geyser.
If you're looking for a thrill, meet your match with a trip down one of the hotel's water slides. Hop on board a long boat and face the Triple Dog Dare, a 362-foot long tube slide, or the Double Trouble, a 317-foot long tube slide for two. Then, bravely face the fiercely fast Cyclone, a body slide that sends you soaring through 206-feet of twists and turns! Once you hit the water, head over to Whistle Stop Wash, a four-foot deep activity pool, complete with a lily pad rope walk and water basketball areas.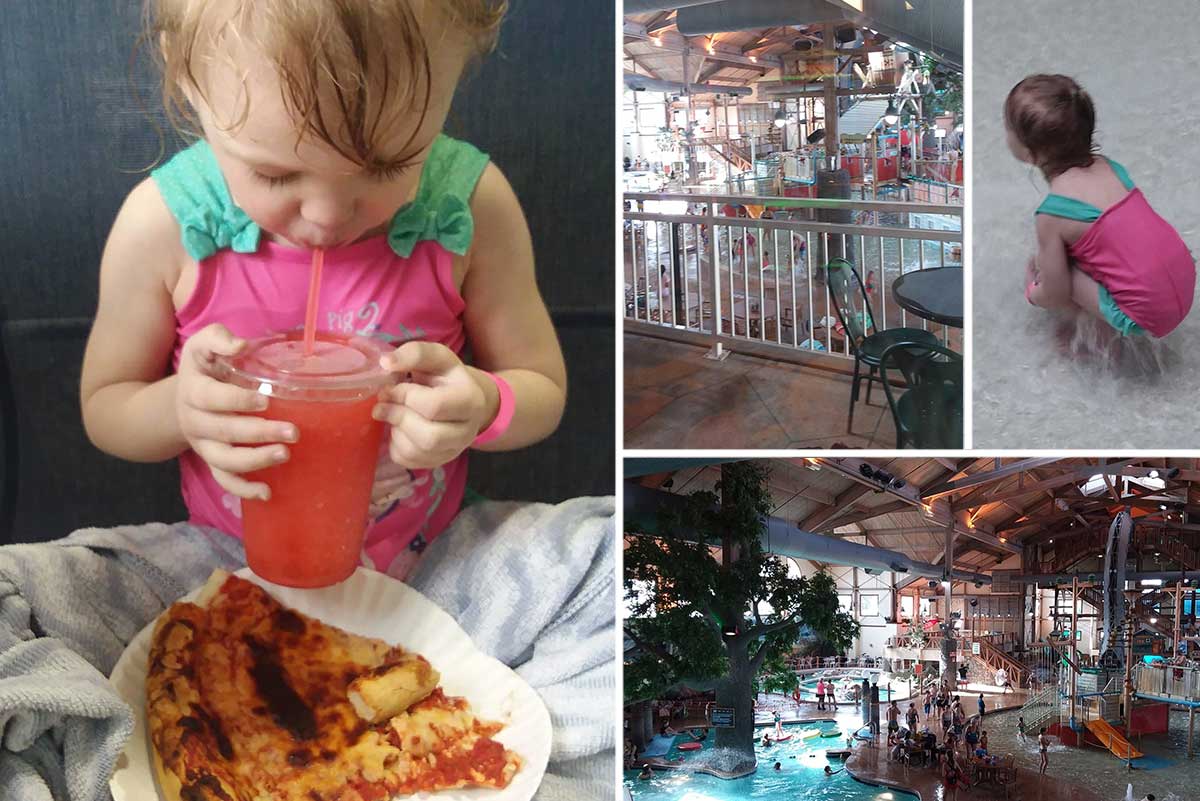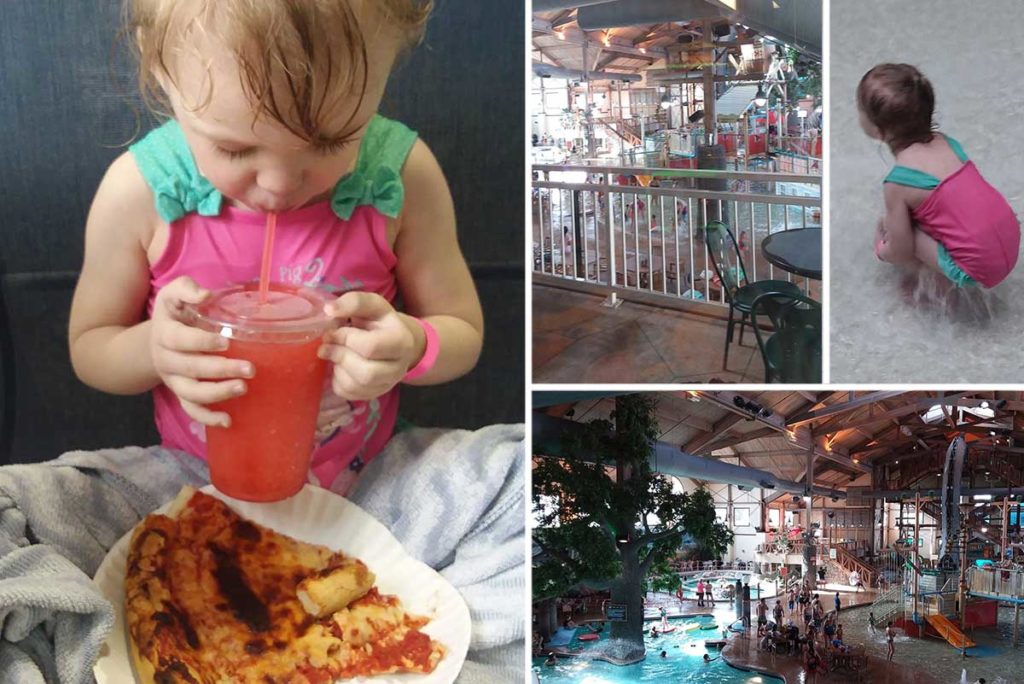 Still, no visit to the waterpark is complete without a trip down The Barrel Roll River. In true Wisconsin-style, let your mind polka as you tube float down the lazy river. If mellow is your vibe, you can enjoy a swim in Ingleside's second pool. Located outside of the waterpark, take a moment to savor the quiet and refresh. All that fun will leave you hungry, so grab a pool-side snack at the Square Meal Snack Bar, which serves up affordable eats like hot pizza, fresh sandwiches, Dippin' Dots ice cream and more!
At the end of the day, you'll find yourself returning to a spacious, newly remodeled guest room with the most comfortable bed – ever, a picturesque view and a roomy bathroom with a sleek, walk in shower. Rooms also come equipped with a microwave and a mini fridge. The Ingleside Hotel has 194 guest rooms and suites, all of which are designed to give families all the comforts of home, paired with the joys of vacation – so kick back, enjoy and order room service! The Ingleside Hotel prides themselves on their friendly service and impeccable menu selection. Best of all, if your family needs late night snacks, the hotel lobby features a 24-hour market that sells sweet and savory snack items, milk, coffee, cereals, popcorn and more.
In the morning, head down to Didi's, the on-site restaurant for a delicious and hearty breakfast. Your family can enjoy many freshly prepared dishes from the menu, like the quiche of the day or cinnamon sugar french toast, or go all out with the all-you-can-eat breakfast buffet. Kids are only $8 and children under two eat free. Fuel up, because after breakfast, you'll want to head back to the waterpark for even more family fun!
Ingleside Highlights:
Spacious guest room layouts for families
24-hour market in the lobby
Bonus pool in addition to a large waterpark
Budget-friendly breakfast buffet
Springs Waterpark at The Ingleside Hotel
2810 Gold Road, Pewaukee, Wisconsin
www.theinglesidehotel.com
Jump to Section: The Ingleside Hotel | Kalahari Resort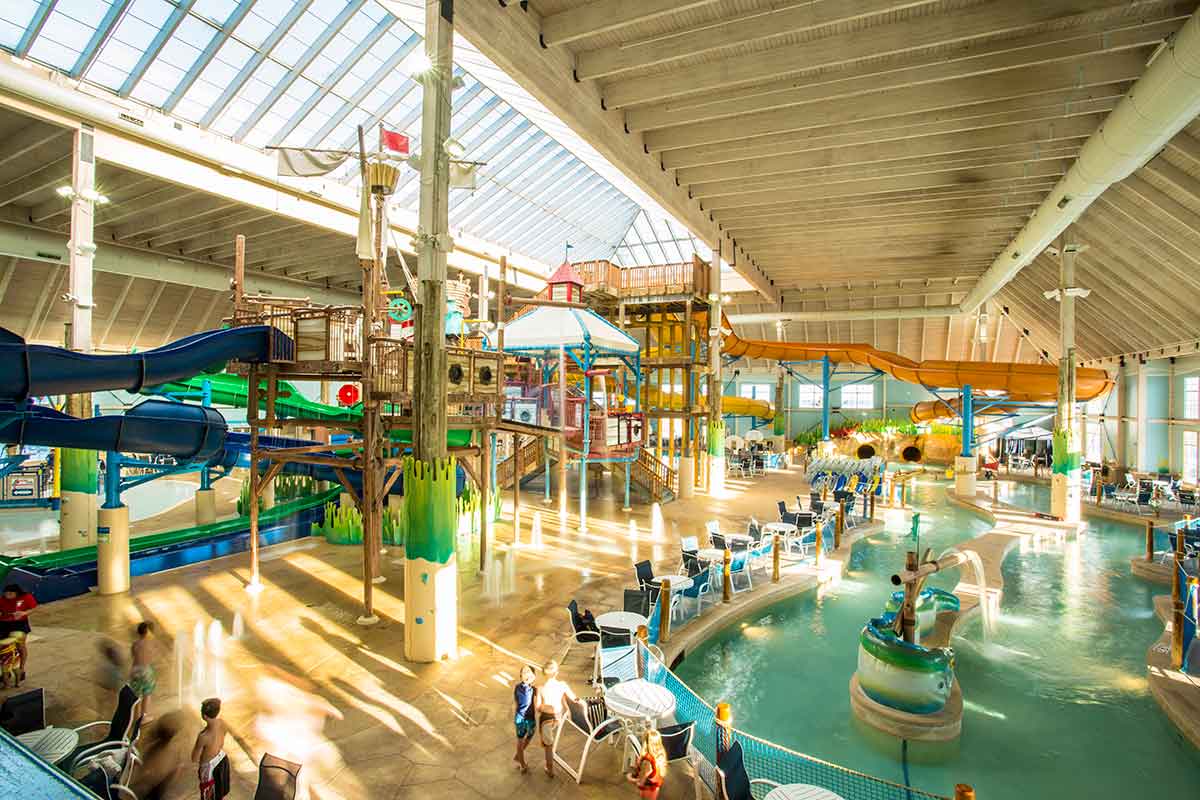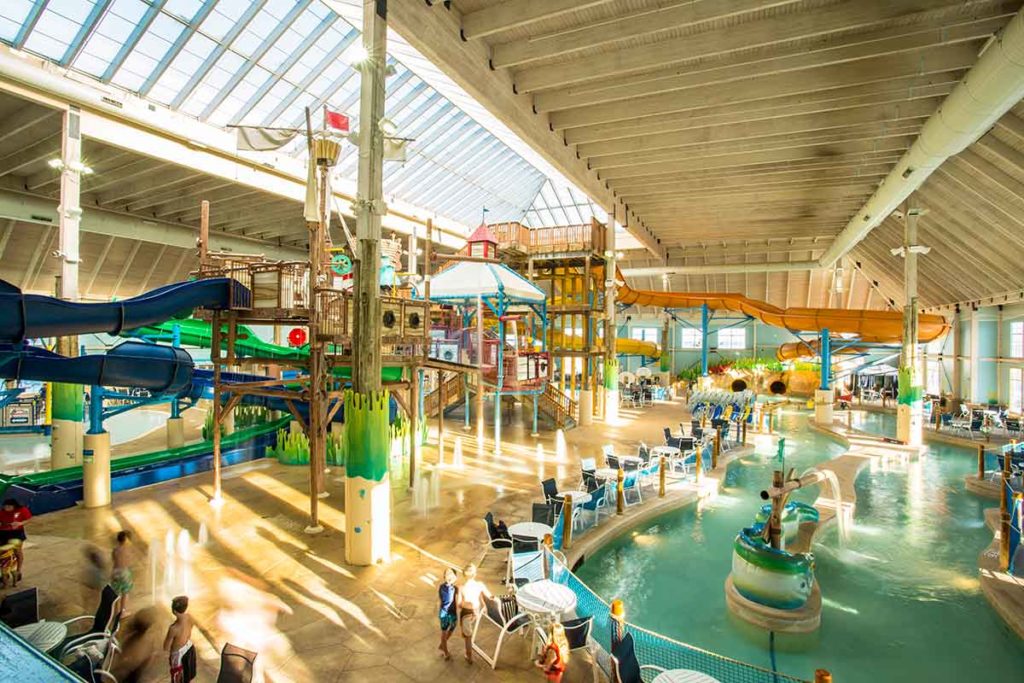 Blue Harbor Resort in Sheboygan
If you're looking for a splash of fun in addition to scenic tranquility, gather the family and head to Sheboygan for a visit to Blue Harbor Resort. Nestled alongside Lake Michigan, the resort offers premier lodging with 178 guest suites and 64 private villas, 54,000-square-foot waterpark and entertainment area, multiple on-site dining options, a spa and retail outlet – making it an ideal winter escape for both kids and parents!
Families can surf, soak and swim their way through the resorts' 84-degree Breaker Bay Waterpark with a variety of attractions and activities including tube slides, Molly's Moat, a 3,600-square-foot lazy river and a four-story water activity center that's home to a 1,000-gallon water dump bucket! Climb and adventure through twelve levels of fun with suspension bridges, web crawls and cargo nets with more than 60 interactive, guest-activated water effects! Guests can also enjoy a 79,000-gallon recreation pool with the Lilly Hopper, floating sea friend climbers and four hoops for water basketball. Parents, a relaxing oasis awaits you in the Turtle Tub, a sizable, kid-free whirlpool surrounded by three, large turtles!
Little swimmers will love Toddler Tides, an area designated for them to splash, play and explore. It features a colorful play structure, waterslide with a gentle spray wave, and zero-depth play area, which gives young children a sense of independence and parents a peace of mind. Additionally, there are multiple ground water sprayers, spill buckets and hands on fun they can discover around the park.
For the thrillist in the family, challenge The Riptide, the only double surf simulator in eastern Wisconsin! Riders can take on boogie boarding on their knees or chest and work their way up to surfing like a pro! The waterpark also has four exhilarating waterslides that will send you plunging into the balmy water below. The Soaker and The Splashdown are each three-story tube slides that cover over 600 linear feet. In addition, Sammy's Slider and Snapper's Splash, both body slides, are an exciting must-do for all members of the family.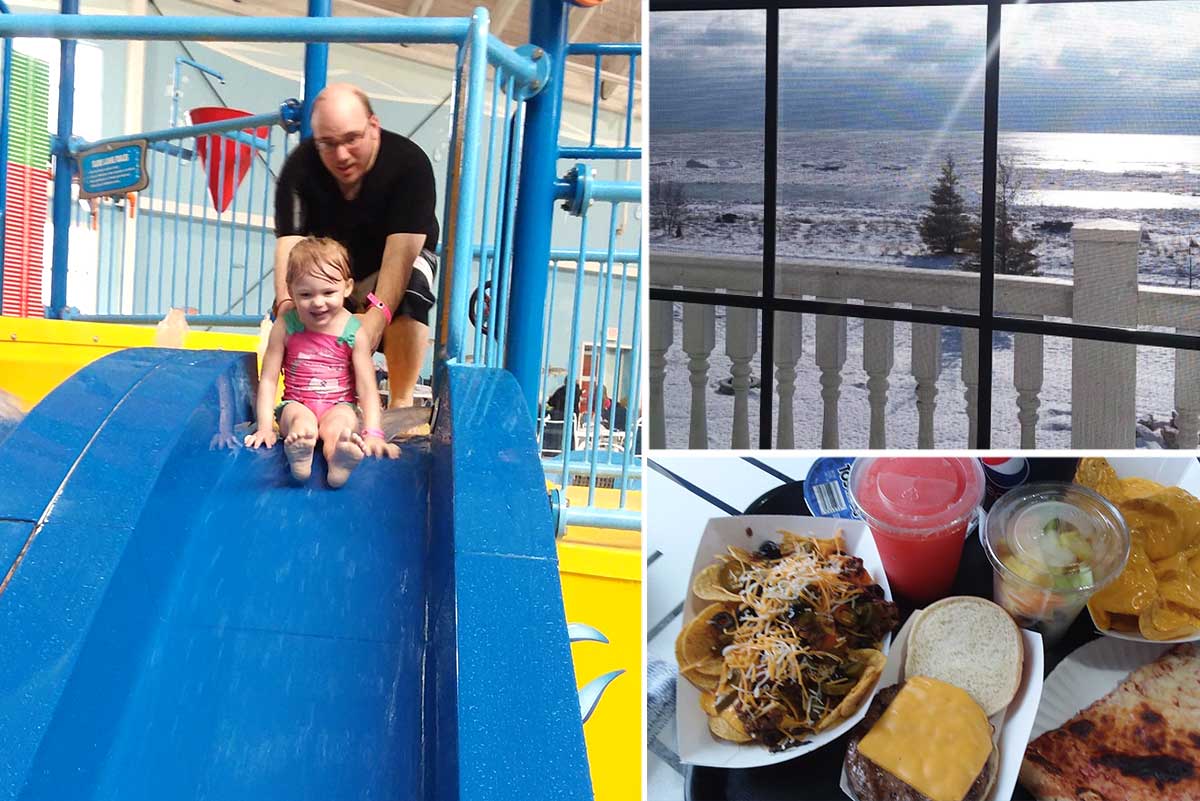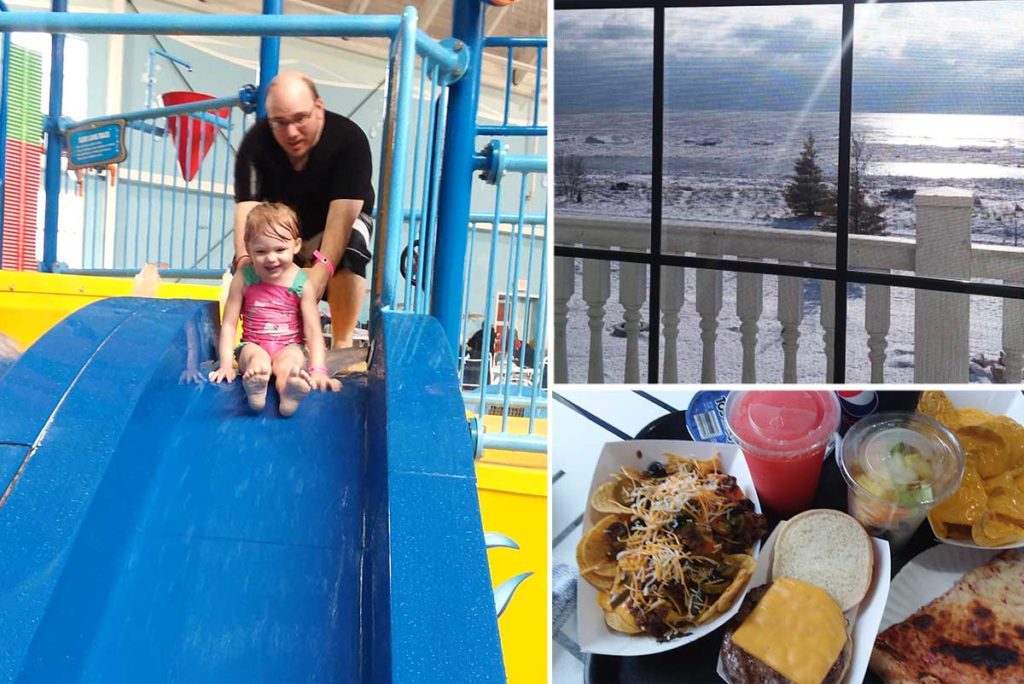 Along with the fun, hunger is sure to strike – stop by the Rocky Bottom Snack Shop, located right in the waterpark, and grab a quick bite. The snack shop offers up many kid's favorites including burgers, chicken tenders, pizza, nachos, fresh fruit and slushies. Adults can also enjoy frozen cocktails and other beverages – so there is something perfect on the menu for everyone in the group! For those looking to stay in the waterpark throughout the day, the resort also offers lockers and restrooms for families. Best of all, they have multiple swimsuit dryers that quickly dry suits for mess-free packing.
The fun doesn't end in the waterpark, as the resort offers an entertaining arcade! The arcade, which connects to the waterpark, features interactive games, a photo booth and a station to make adorable stuffed animals. The games are affordable and earn players tickets which they can redeem for a variety of age-appropriate prizes. Families can also swing through The Lost Temples, the resorts indoor glow-in-the-dark mini golf course!
After a long day wading through the waterpark and golfing under the neon's, guests can enjoy a calming walk around the property, In the lobby, there is a shop that offers a variety of keepsakes for all ages including local art, games, clothing, novelties and more. Guests can also dine amongst two sailing-centric restaurants: On the Rocks and The Beacon. Both eateries offer guests a diverse menu, including unique, Wisconsin-themed dishes such as Breakfast Poutine and The Sheboygan Classic. There are also plenty of food options for kiddos in addition to sweet treats at The Shoreline Café, which sells homemade chocolates, fudges, baked goods ice cream. They also offer a full line of Starbucks coffees – the true answer to all parent's vacation prayers!
At the end of a fun day with family, settle in for the night in your cozy guestroom. The property offers a variety of room types to accommodate families of all sizes and even has themed rooms! Rooms feature all the customary comforts and lead out to a private balcony where you can take in the gorgeous views. Rest up, you'll need your energy for another action-packed day that lays ahead!
Blue Harbor Highlights:
Themed guest rooms with balconies
1,000-gallon water dump bucket
Swimsuit dryers in locker area
Affordable arcade and large prize selection
Blue Harbor Resort
725 Blue Harbor Drive, Sheboygan, Wisconsin
www.blueharborresort.com
Jump to Section: The Ingleside Hotel | Blue Harbor Resort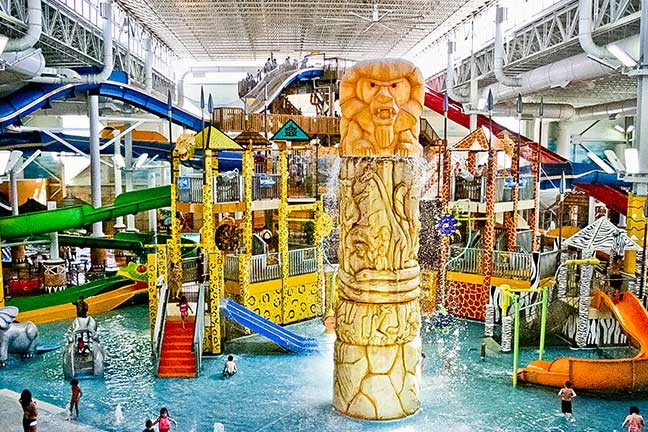 Kalahari Resort & Waterpark, Wisconsin Dells
An exhilarating African-inspired adventure awaits your family – no international travel required! Kalahari Resort, located in Wisconsin Dells, features 756 spacious guest suites, a multitude of on-site dining options, a spa and salon, 15-screen cinema, arcade, adventure park, and a 125,000 square-foot indoor waterpark – making it the largest in the Midwest!
Walking through the doors of Kalahari, you'll feel as if you've voyaged to a whole different world. African drumbeats will fill your ears as you take in the essence of Africa and a gorgeously decorated resort. The resort, which aims to share the authentic beauty of Africa with its' guests, is tastefully decorated with custom-crafted artwork and furniture and plays music that originated straight from the streets of Cape Town. As you check in, you'll be greeted with a smile from staff – many of which who are from various cities in Africa! The lobby also features a serene pond to relax alongside, life sized animal sculptures and a twisting pathway to lead you on a luxurious family excursion!
Time to dive in! The waterpark is heated to a cozy 84-degree temp, which closely resembles the African climate. Families will find there is something geared for every member of the family, including the brave adventurist and the wiggly, energetic toddler! First, grab your whole crew and check out Victoria Falls, a 504-foot family raft ride. Next, make your way through the Elephant's Trunk, a twisting tandem tube slide that sends you reeling on a 270-foot-long journey, or test your balance on the water walk or shoot some hoops in Crocodile Cover, a 3,000 square foot activity pool.
Shout out to all the thrill seekers – if speed is your game, the Tanzanian Twister is for you! Riders will twist and shout through the tunnel flume at speeds reaching up to 40 miles-per-hour and will then free fall into the catch pool below. Face the Screaming Hyena, a ride that begins 60-feet above the park floor or gear up for the tumultuous Master Blaster, a 570-foot water coaster!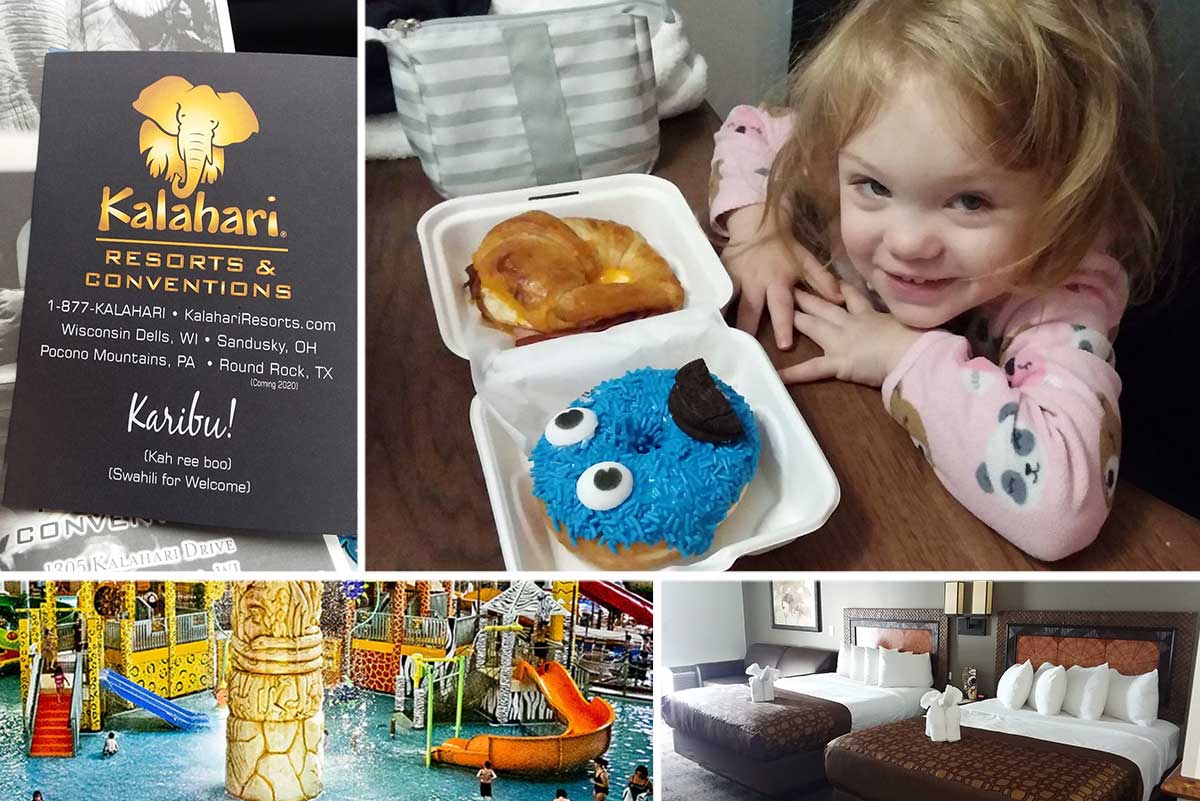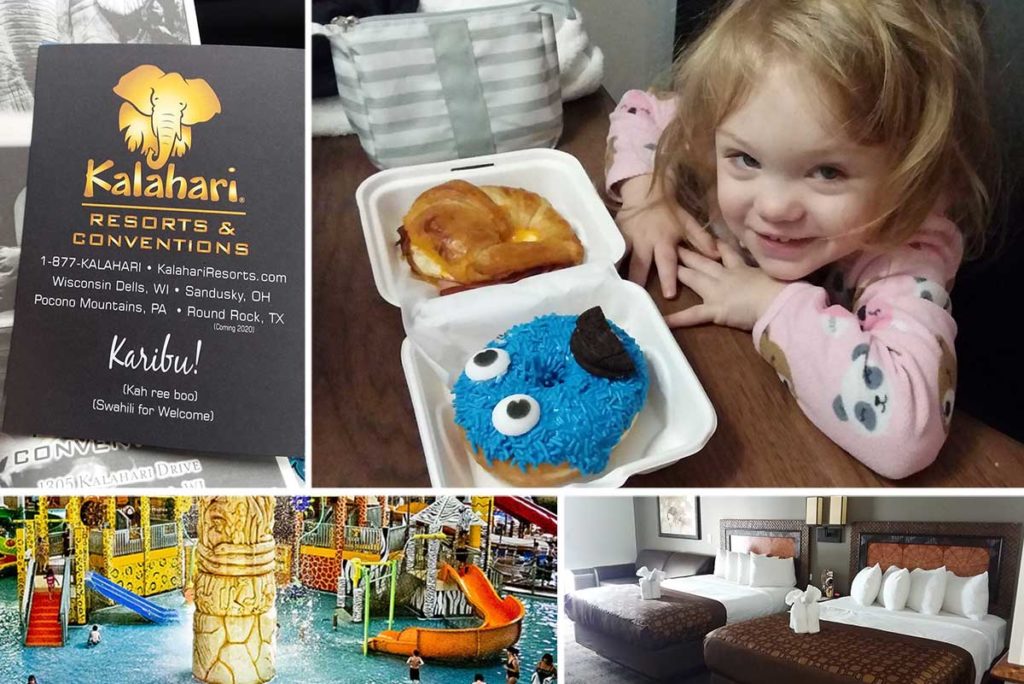 Toddlers can splash around Tiko's Watering Hole, an exclusive area designed with little swimmers' diverse interests in mind! It features animal-themed slides, sections of toddler play zones and climbing structures, a water piano and the most ingenious activity yet – a kiddie-sized lazy river! The kiddie river, which is a foot deep, features mini tubes for young children to ride on and glide around. There are also many sets of water swings available for babies and toddlers, including a parent and child combo swing that allows extra water fun and bonding time.
The waterpark also offers up unique attractions for their guests. Kalahari is the first resort in the country to introduce Underwater Virtual Reality, which allows participants the opportunity to experience the majestic ocean and it's creatures by using the innovative technology of a virtual reality mask and a snorkel, all from right in the waterpark! Kids who have always dreamed of transforming into their favorite water creature can also get their wish as the park offers fun lessons such as Become a Shark and Become a Mermaid!
After hours of sploshing and splashing, get ready for the fun to continue in the Big Game Room, which features hundreds of the biggest and best arcade games and turn your winnings into great prizes from the walk-in prize store. Guests will also enjoy Tom Foolerys Adventure Park, which connects to the resort and features a ceiling-high bumper car track, mini golf course, a merry-go-round, escape room, thrill rides and a ferris wheel! Along with the adventure park, guests can also catch a family-friendly flick in the on-site cinema.
It's not truly an adventure without some safari snacks! Kalahari has a magnitude of on-site dining options, From formal sit downs to quick bites, they will all leave your taste buds roaring! Kids will especially enjoy the Sweet Hut, which specializes in sweet indulgences like ice cream, candies, cookies and character-themed donuts! Nearby at Java Manjaro, parents can indulge with Starbucks coffees, fresh pastries and world-class desserts.
As the sun sets and the crickets begin to chirp, it will be time to retreat to your guest room. Guest rooms are refreshingly clean and modern and are adorned with stunning African art and cute, folded elephant-shaped towels! While there are a variety of room types available, many feature a private patio or balcony as well as upscale amenities like a mini refrigerator, microwave and generously spacious wardrobe closet.

One of the unique elements that can be found in all of Kalahari's guestrooms, is a little card that explains their dedication to sustainability. The resort partners with Clean The World, the largest global recycler of hotel amenities that provide sterilized hygiene kits around the world. Through this partnership, Kalahari has prevented more than 43,000 pounds of plastic from ending up in landfills and in turn, helped to contribute more than 33,000 hygiene kits! What's better than an adventure filled family vacation plus helping to save the world?
Kalahari Highlights:
Comfortable, modern rooms with private patio/balcony
Kiddie lazy river and multiple toddler play zones
Ginormous waterpark and arcade with bumper cars, rides and golf
Recycling efforts through partnership with Clean The World
Kalahari Resort & Waterpark, Wisconsin Dells
1305 Kalahari Drive, Wisconsin Dells, Wisconsin
www.kalahariresorts.com/wisconsin
---
The Ingleside Hotel, Blue Harbor Resort and Kalahari Resort all equally strive to provide families with opportunities to foster memories, enjoy each other's company, relax and embrace thrill and fun throughout the year. For your next family getaway, head to one of these amazing waterparks here in Wisconsin – you'll forget all about chill of winter, we promise!
---
Go Valley Kids received complimentary accommodations in order to facilitate this review. As always, all opinions are our own.