There's nothing quite like a beach day! Packing up a cooler, toys, and maybe a good book and jumping in the car to head to a sandy shoreline feels like a mini-vacation. Living in Northeast Wisconsin means we can easily and quickly venture to the Bay, Lake Michigan, and dozens of smaller lakes, swimming holes, and manmade beaches just a short drive away. From ocean-like beaches and sand dunes to man-made swimming holes and ponds, find the perfect place for your next beach day!
READ MORE: The Ultimate Ice Cream Lovers Bucket List: 60+ Favorites!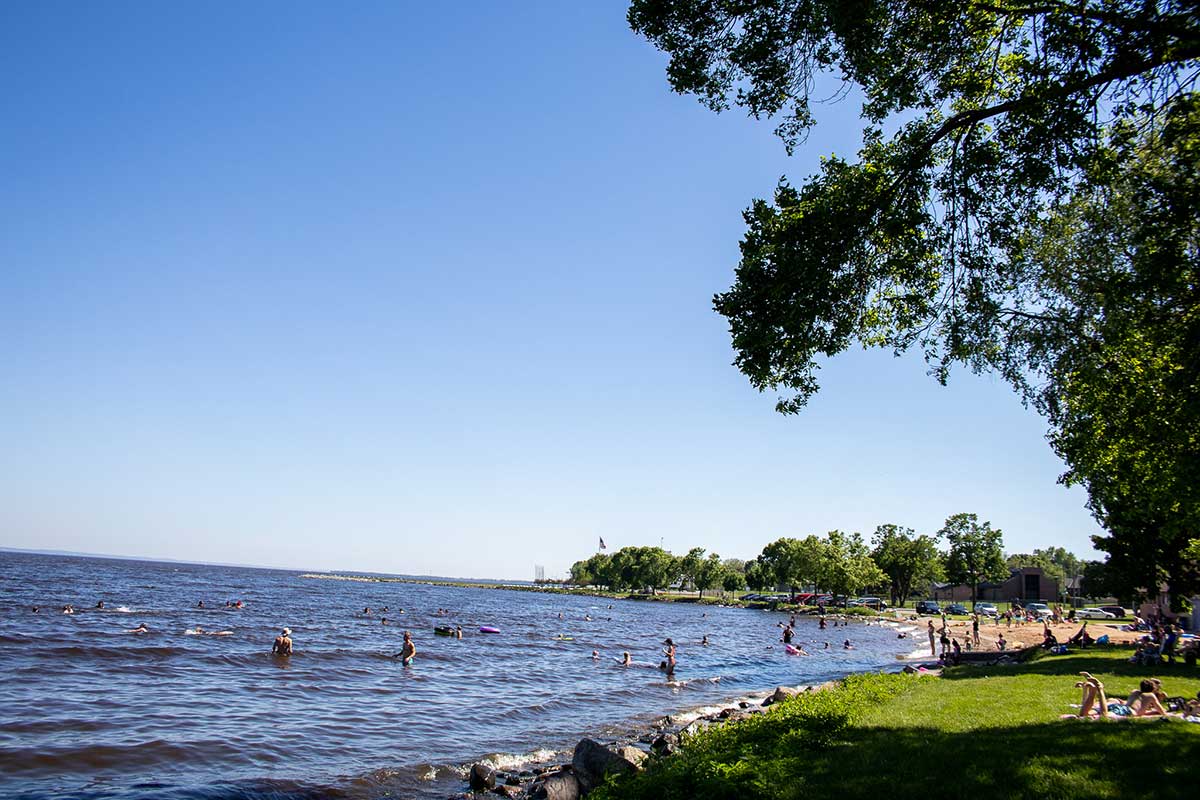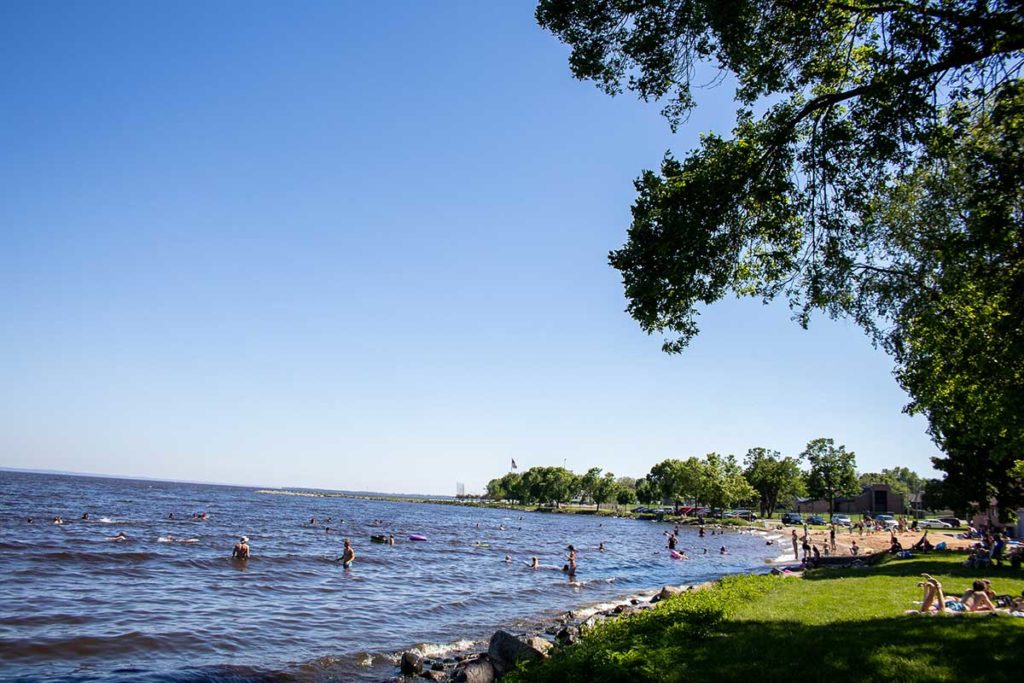 Things to Keep In Mind for Your Next Beach Visit
Check the condition and status of the water. Beach advisories are available for the Great Lake beaches as well as inland beaches at www.wibeaches.us.
Swimmer's Itch is generally reported at some of these lakes every year. It is a skin rash caused by a parasite. It is not dangerous or contagious, but it can be uncomfortable and is actually a sign of a healthy environment and landscape.

How to reduce the risk of getting swimmer's itch?

Wear waterproof sunscreen, suntan lotion or baby oil.
Towel off after leaving the water
Swim in water away from the shore.
Avoid swimming in areas where snails have accumulated.
Don't encourage birds to stay near swimming areas by feeding them.
Shower as soon as possible to reduce risk.

Swimmer's Ear is more probable with lots of swimming and hot humid weather. Make sure to dry out ears at night after a day of swimming. Some people also recommend a few drops of rubbing alcohol or rubbing alcohol mixed with an equal amount of white vinegar in your ears after you swim.
More children drown in open water than in pools. Undercurrents and waves can be challenging for even experienced swimmers. Murky water can also hide hazards like rocks, logs, or drop-offs. In addition, many of these lakes do not have lifeguards. Keep an eye on your kiddos. Consider life jackets as an extra precaution. Inexperienced swimmers should only be an arm's length away.
Slather Up! – Don't forget the sunscreen!
Lake Winnebago Beaches
Menominee Park Beach
Menominee Park is full of family-friendly fun things to do, including a free zoo and a small amusement park. The beach area includes a pool house with bathrooms. The park also has lots of shade areas.
READ MORE: The Ultimate Playground, Beach, and Animals at Menominee Park and Zoo in Oshkosh
High Cliff State Park
High Cliff has a small swim area with no lifeguards on duty. The bathhouse has flush toilets, showers, changing areas, and open shelters. Remember, don't swim alone and watch children closely near the water. Vehicle passes are $28 for the season for the state park system.
READ MORE: 18 Fox Valley Family Friendly Nature Trails for Biking, Walking & Hiking, including High Cliff State Park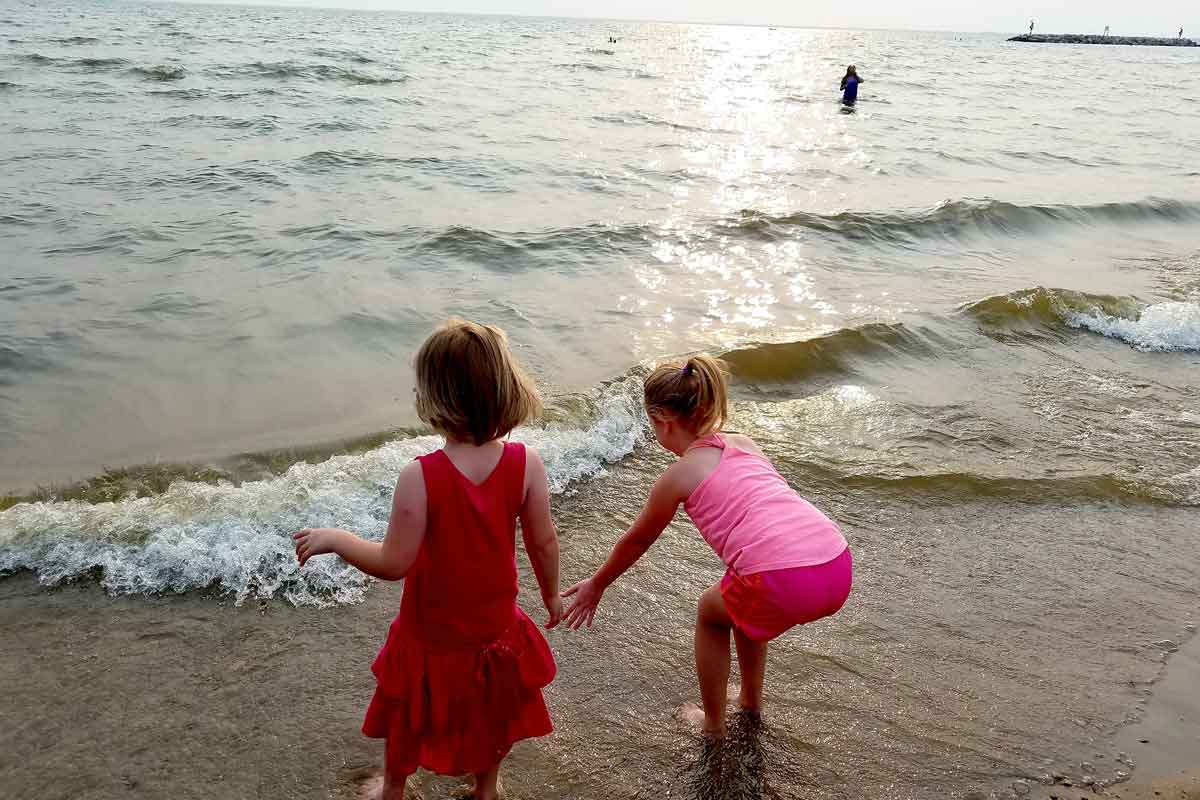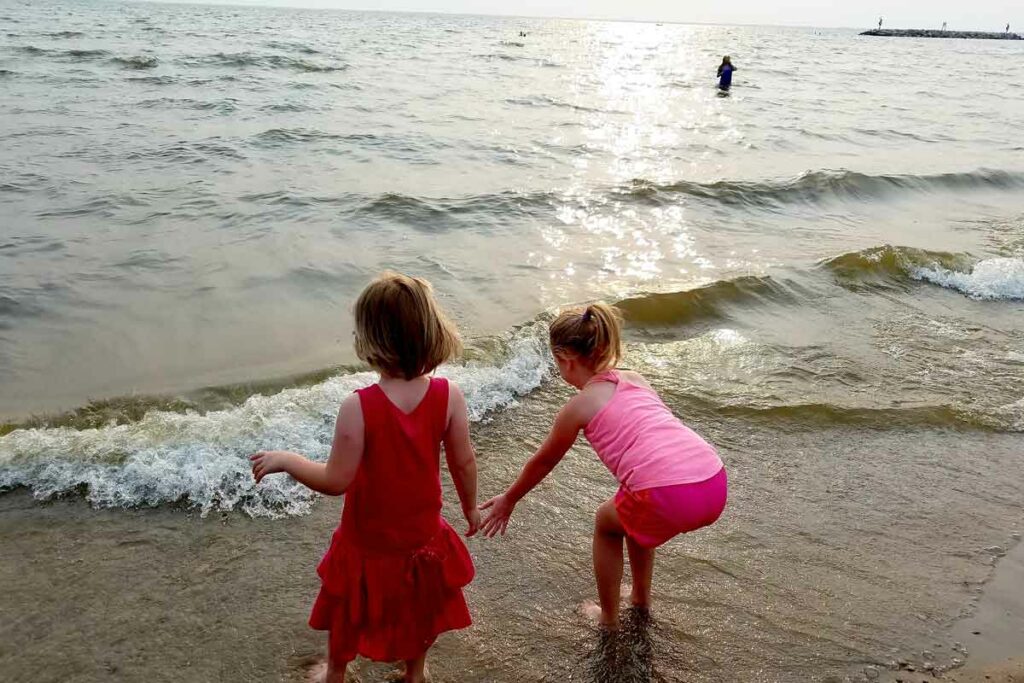 Wisconsin Lakes & Beaches
Dodge Memorial Park, Green Lake
One of the three Green Lake parks on the 27.3 miles of shoreline includes a swimming area. Green Lake is Wisconsin's deepest natural inland lake, with a recorded depth of 237 feet! Dodge Memorial Park is located at the Southwest end of Green Lake; this park offers a boat launch, swimming beach, snack bar, restrooms, picnic area, and pier. The large sand area has a shallow sandy bottom. This is the top spot for swimming in Green Lake.
Sunset Park, Green Lake
Another of the three Green Lake parks that offer swimming. This spot is most popular for water skiing and tubing. A GVK reader shares that there is not a beachy area.
Hattie Sherwood Park, Green Lake
Last of the three Green Lake parks that include swimming areas. Hattie Sherwood Park is located at the north lakeshore and offers a sand swimming beach and restrooms.
South Park Beach, Waupaca
At the south end of Waupaca's Main Street, South Park offers a variety of recreational opportunities, including picnicking, a playground, two shelters, restrooms, a sandy swimming beach (guards on duty daily Memorial Day-Labor Day), a bathhouse, a fishing pier, and boat launch. There is a baby slide, slide on a raft, high dive, and diving boards.
Read More: Creek Stomping, Ice Cream, and Picture Perfect Bridge in Little Hope, near Waupaca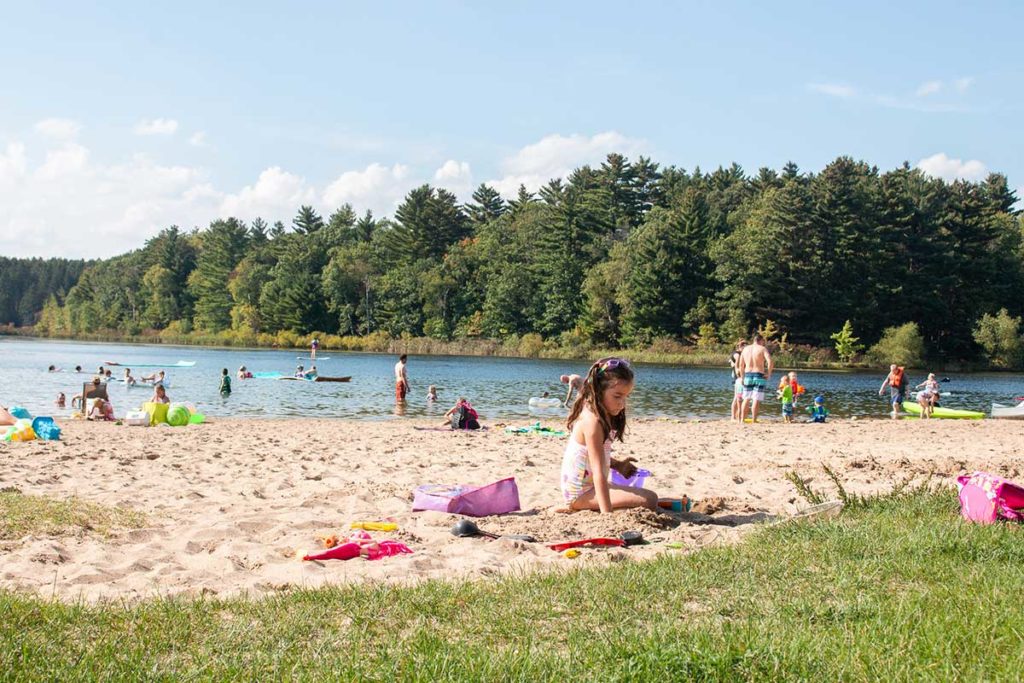 Hartman Lake, Hartman Creek State Park, Waupaca
Hartman Lake is located in Hartman Creek State Park. Hartman Lake offers a large sandy beach with clear water. They also offer bike, kayak, paddleboard, and canoe rentals, a small store for snacks and supplies, and nature classes (free) taught by a park ranger. Vehicle admission stickers are required for entrance and $28 annually, day passes are $8.
Fireman's Park & Swimming Beach, Elkhart Lake
Elkhart Lake offers a white sandy beach at Fireman's Park and Swimming Beach. The beach has a concession stand, picnic tables, grills, and sand volleyball courts. Current admission rates, season, and hours.
Shawano County Park
Located on Shawano Lake, the park includes 800′ of shoreline, including a swimming beach with restrooms and showers. Also includes camping, a convenience store, a playground, picnic tables, grills, a tennis court, a basketball hoop, and a volleyball court.
Sunset Lake Park
This 18-acre county park is located on the 63-acre Sunset Lake and is also the home of The Central Wisconsin Environmental Station, a camp run by the University of Wisconsin-Stevens Point (the southeast side of the lake).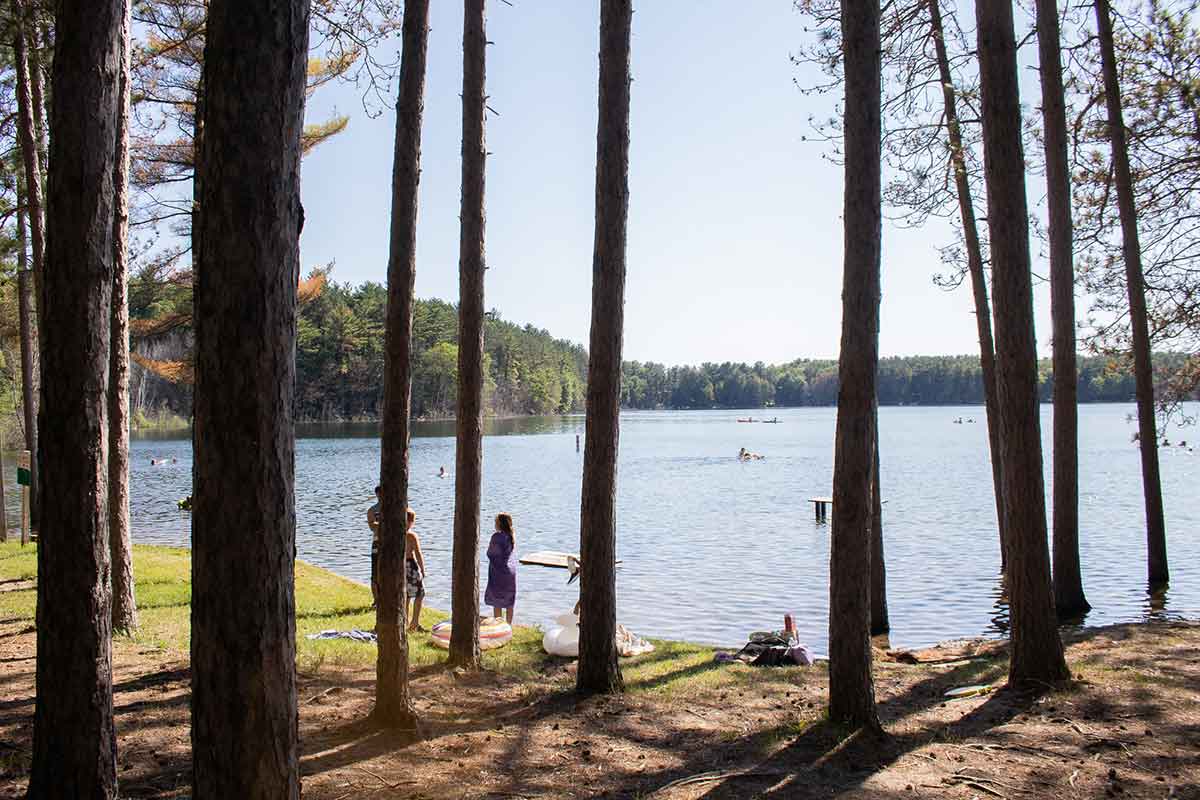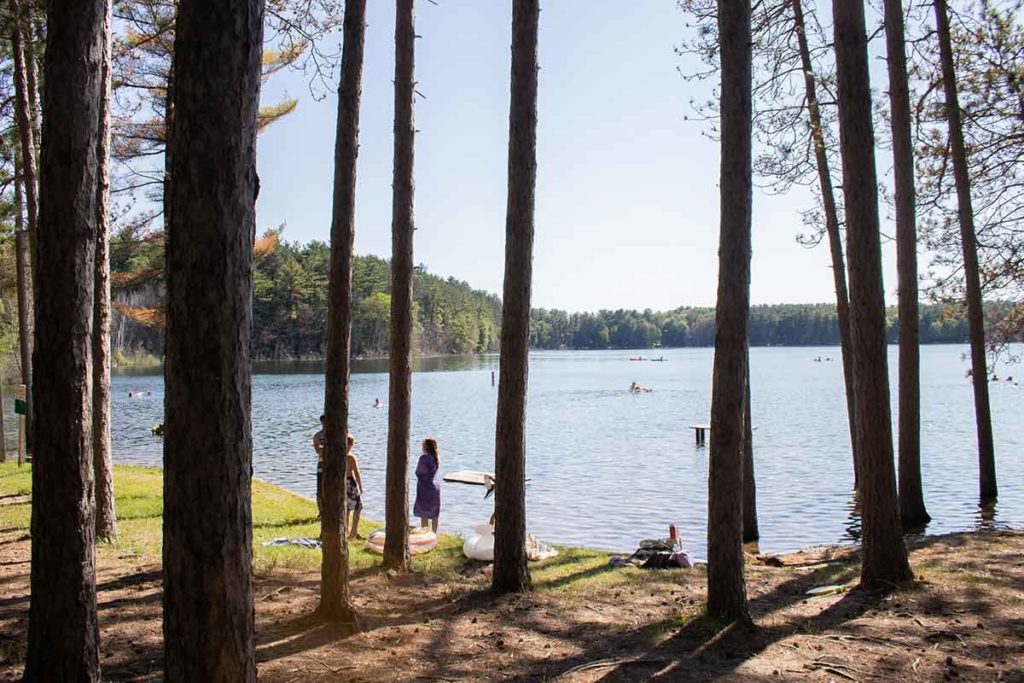 Man-Made / Small Swimming Holes
Ashwaubomay Lake
Ashwaubomay Lake is located within Ashwaubomay Park and includes diving boards, tube slide, floating rafts, water basketball hoops, volleyball, concession stand, and more. Admission rates, hours, and season.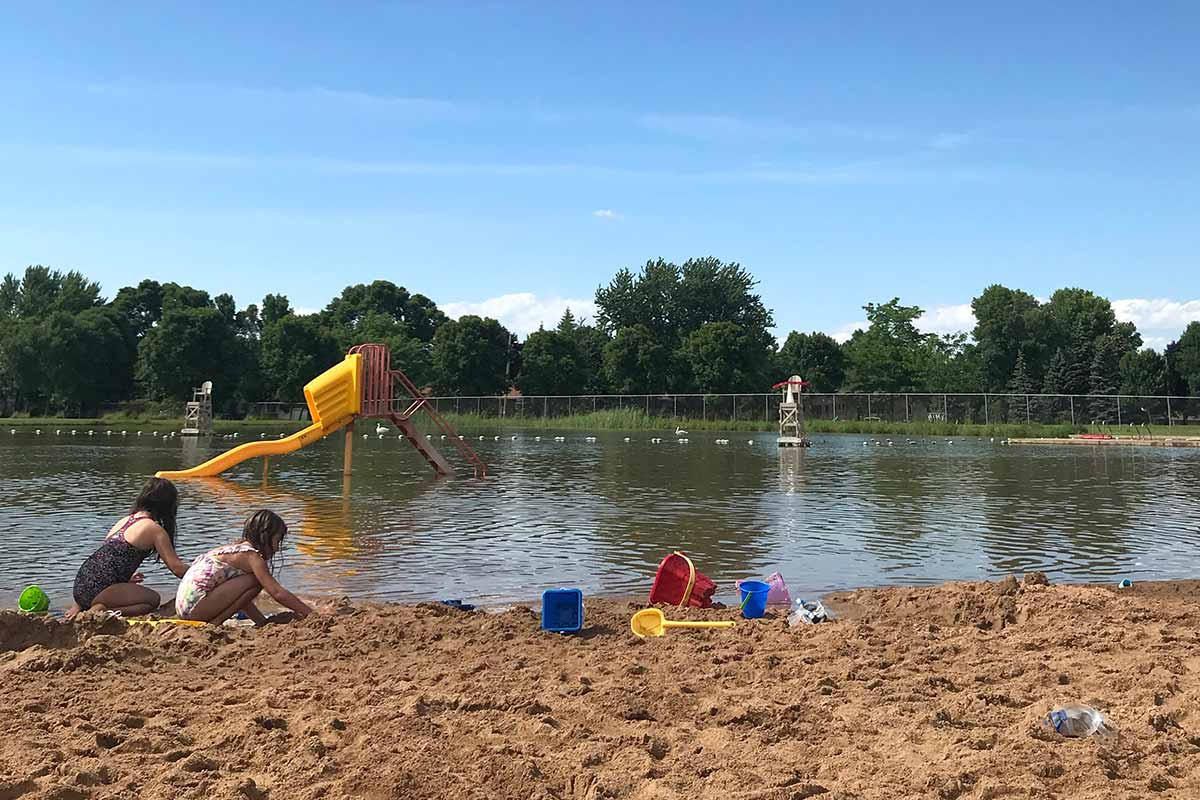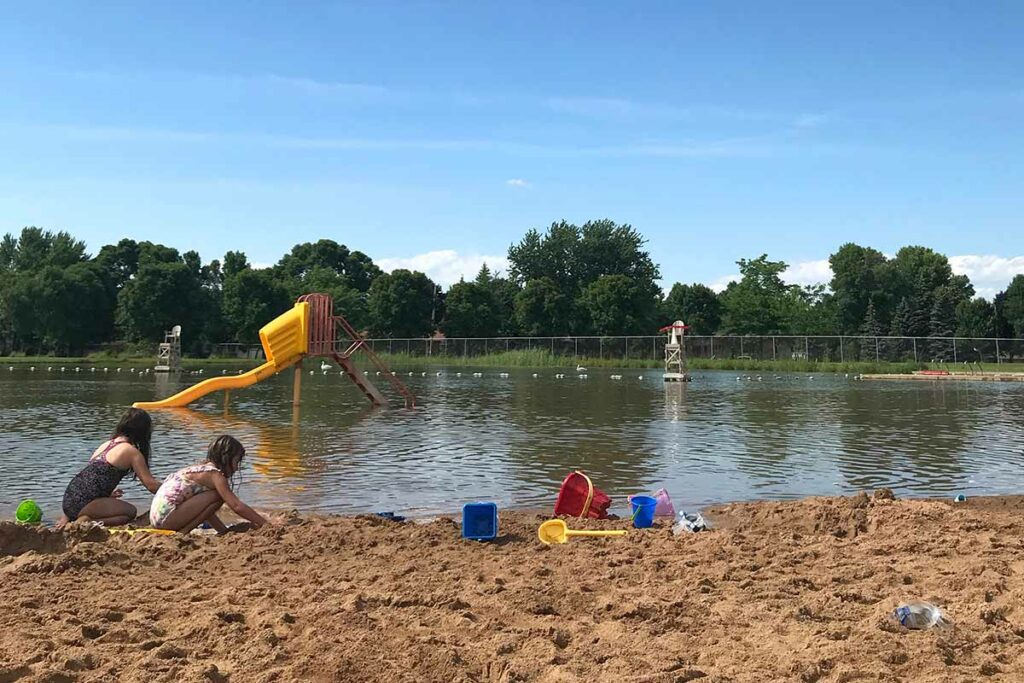 Sunset Beach, Sunset Park
Sunset Beach Swimming Facility, located in Kimberly's Sunset Park offers a sand beach with an extensive shallow water area, shallow water slides, a diving well featuring a drop slide, low and high diving boards, and a sand volleyball court. Sunset Beach is staffed with Red Cross Certified Lifeguards. Hours, admission rates, and more information.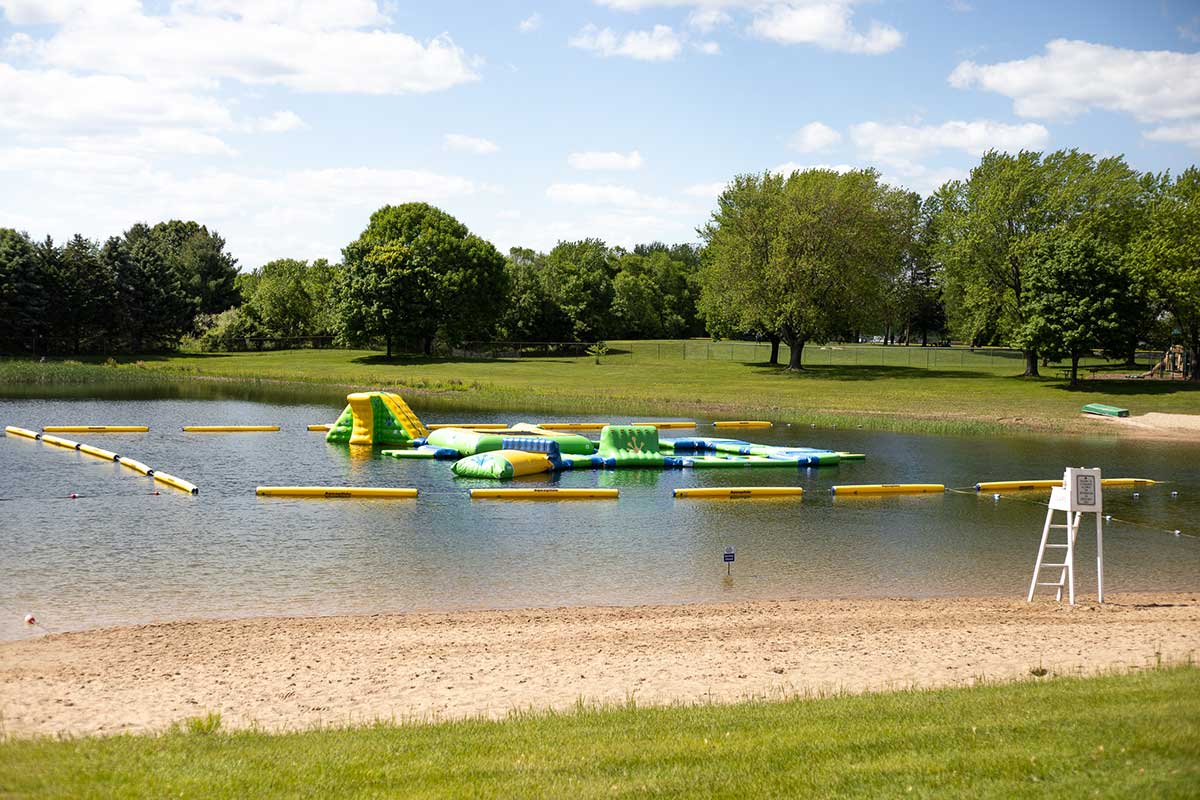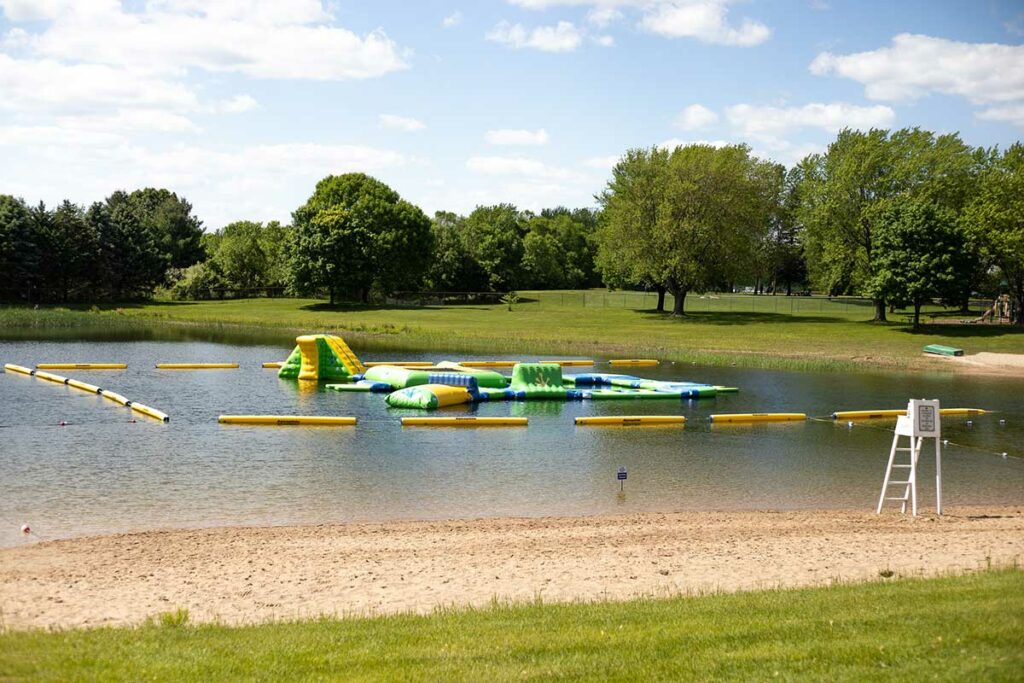 Plamann Lake, Plamann Park
Plamann Park has 257 acres of scenic hills and trails. The park offers many park activities, including Plamann Lake with a sandy beach. The beach opens in early June and closes in mid-August each year. Hours, admission rates, season details.Plamann Lake & Park, 1375 E Broadway Appleton, Wisconsin
Lake Park, Black Creek
Public lake with sandy beach, volleyball net, charcoal grills, and playground. Swim at your own risk, no lifeguards present.
Arthur Marble Park, Winneconne
Marble Park is a four-acre swimming pond and is always staffed with lifeguards. Admission rates, season information and hours.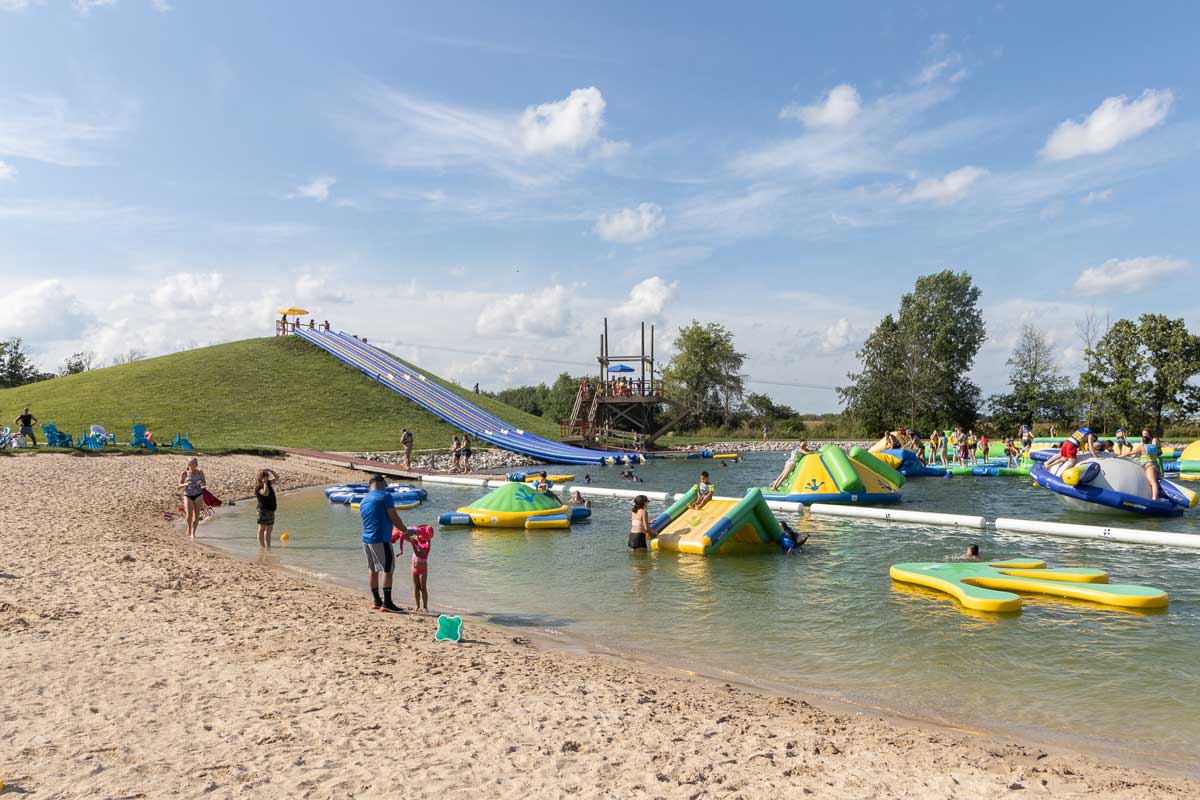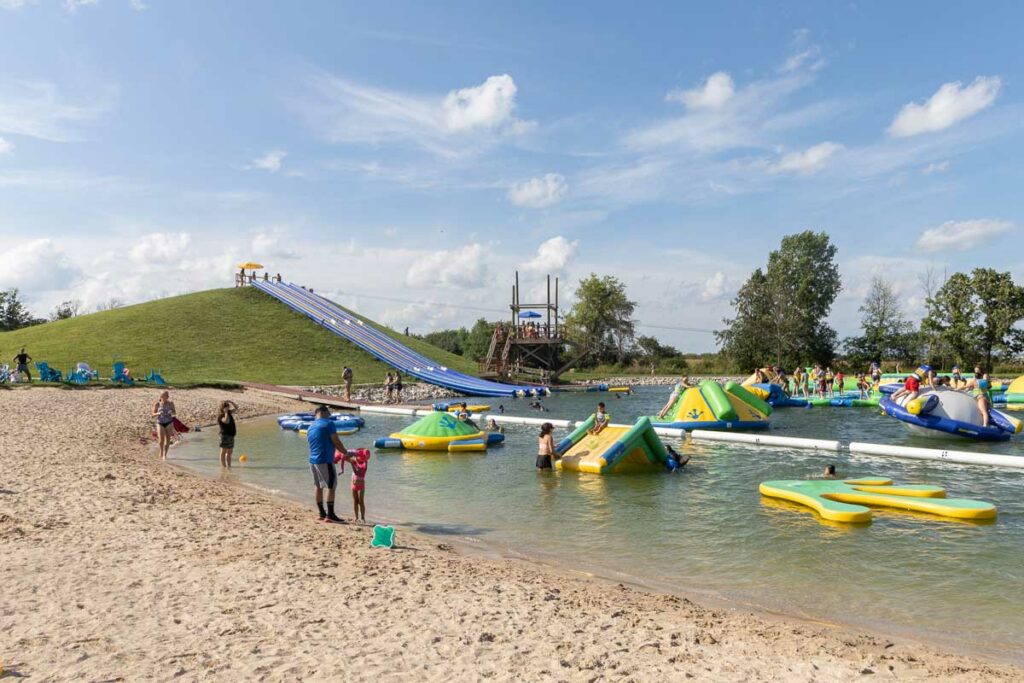 Fondy Aqua Park
Clean freshwater pond with beach, inflatable obstacle course and slides, zipline, and water sport rentals including kayaks and standup paddleboards. Admission rates, hours, and season information.
Shiocton Lake Park
Small swimming spot with a playground.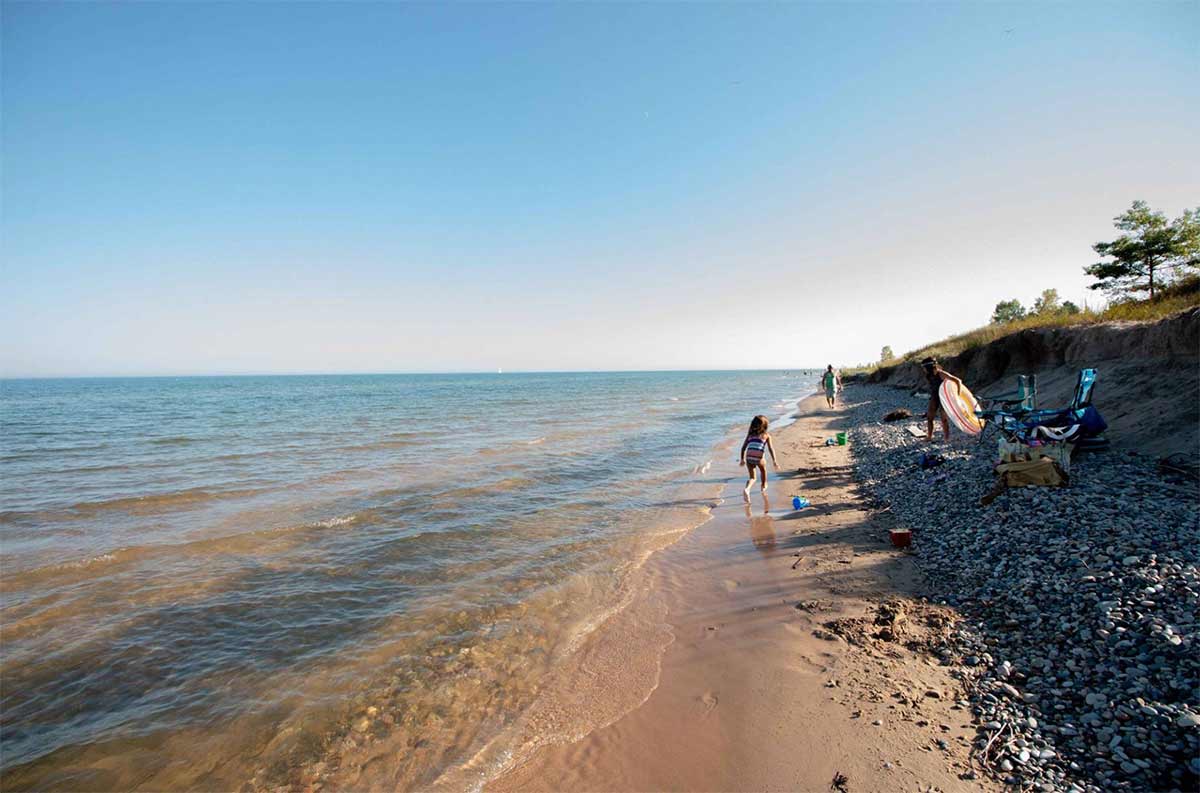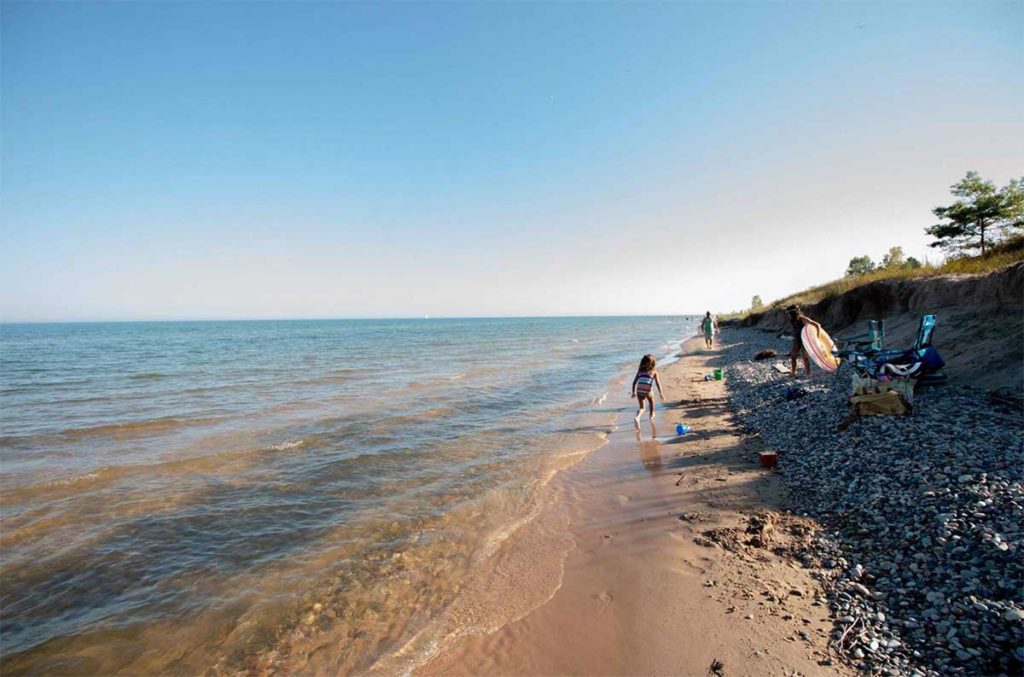 Beaches along Lake Michigan
Perfect choice for a hot day. It is generally cooler by the lakeshore and the water is quite cool. The water is warmer at the end of the summer.
READ MORE: 26 Awesome Wisconsin State Parks That Are Less Than Two Hours From Appleton!
READ MORE: 13 Green Bay Area Family Friendly Nature Trails for Biking, Walking & Hiking (and Waterfalls!)
Point Beach, Point Beach State Forest
Located in Two Rivers, the 2,900-acre Point Beach State Forest offers 6 miles of Lake Michigan shoreline with beautiful sandy beaches, as well as a separate beach area for dogs. Recommended by numerous moms, Point Beach is a must-see. The state park also offers sand dunes, a lighthouse, camping, hiking, biking, skiing, nature, and snowmobile trails. Day use areas are open from 6 am to 11 pm daily. Vehicle admission stickers are required for entrance: $8 daily and $28 annually.
Neshotah Beach, Neshotah Park
Located within the 50-acre Neshotah Park, this is a beautiful ocean-like Lake Michigan beach and has several hundred yards of sand beach, volleyball and basketball courts, picnic areas, playgrounds, bike and walking trails, horseshoe pits, and a softball field. The Beach House offers a changing area, restrooms, and a concession stand. There is also a jet ski/kayak launch area in the parking lot near 22nd Street.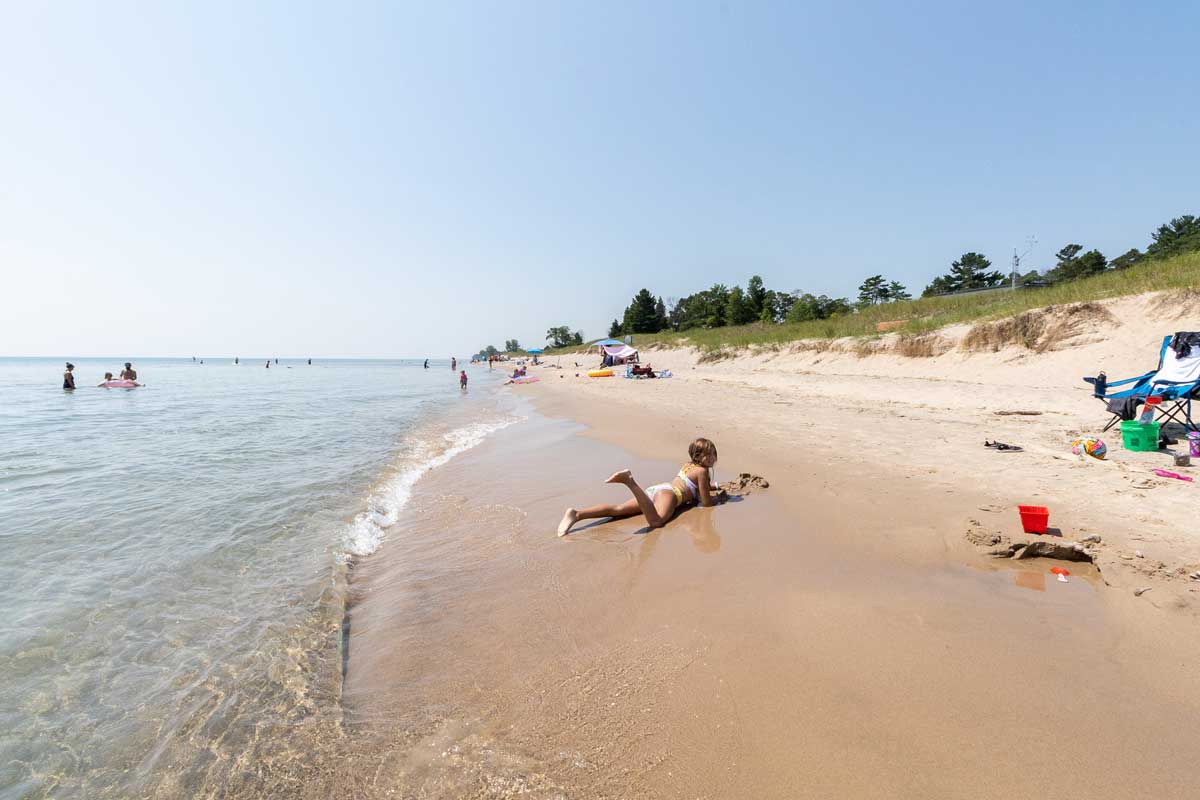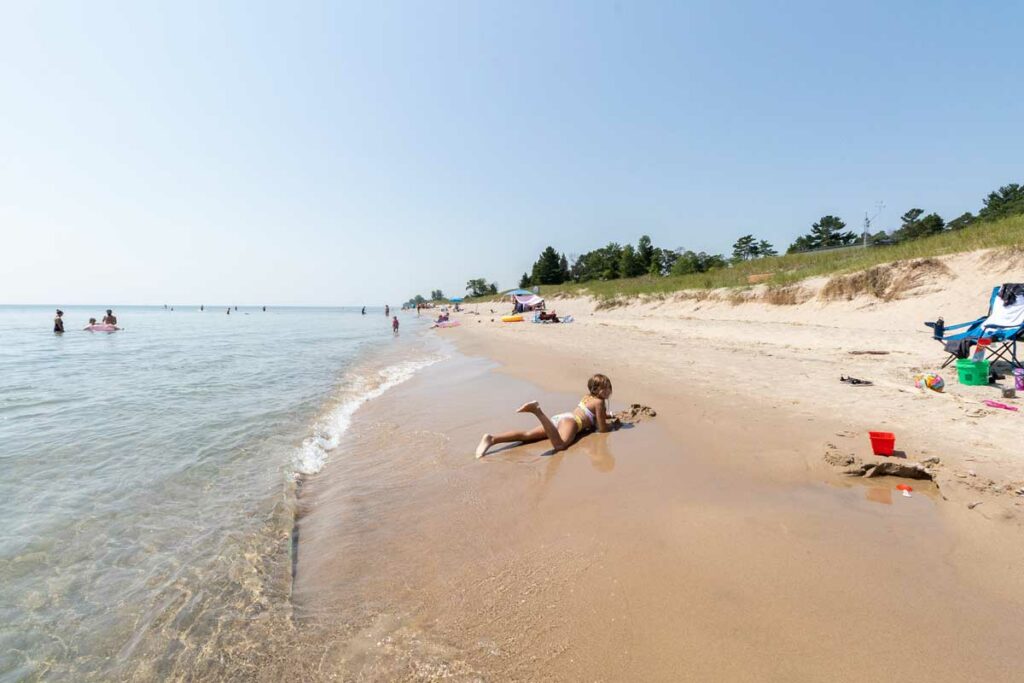 Kohler-Andrae State Park
One of our favorite ocean-like beaches, Kohler-Andrae State Park in Sheboygan, Wisconsin, is home to gorgeous sand dunes, miles of golden beach, shimmering blue Lake Michigan water, whispering pines, an abundance of wildlife, and recreational activities for everyone. Vehicle admission stickers are required for entrance and are $28 annually.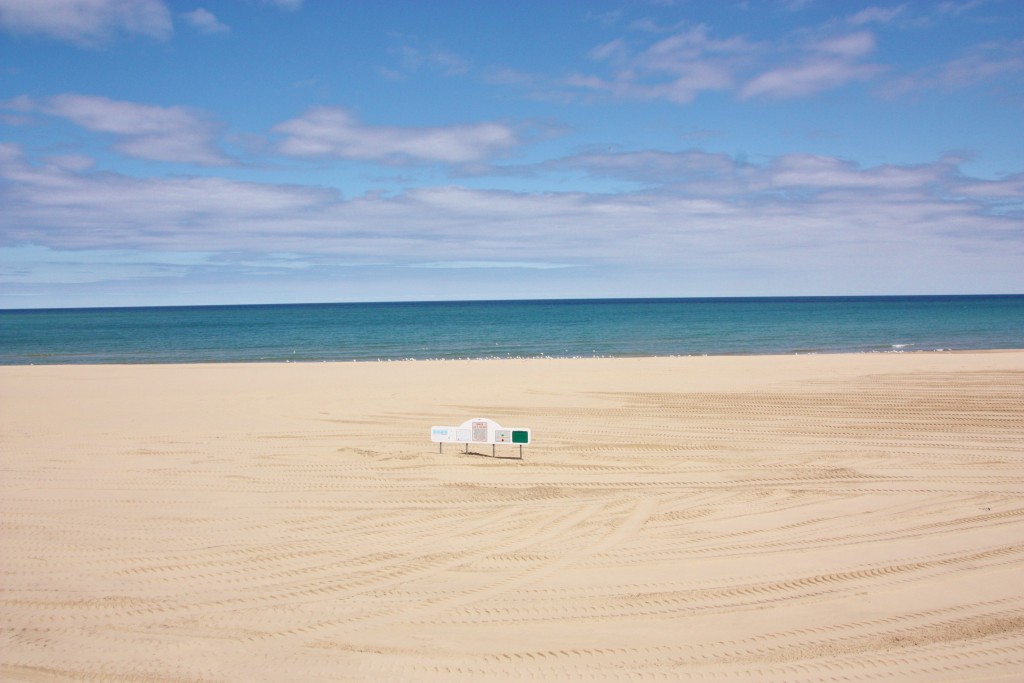 Deland Park (North Beach)
Sandy beaches, nautical-themed playground, lighthouse, sand volleyball, and fun.
Crescent Beach Boardwalk
Sandy beach with a half-mile of boardwalk on Lake Michigan. This is another great spot to head to have that ocean-like experience that the Great Lake offers!
Selner Park & Beach
This park offers a white sandy beach on Lake Michigan, playground, and plenty of picnic areas, including a pavilion and gazebo well off the beach to keep the literal sand out of your sandwiches.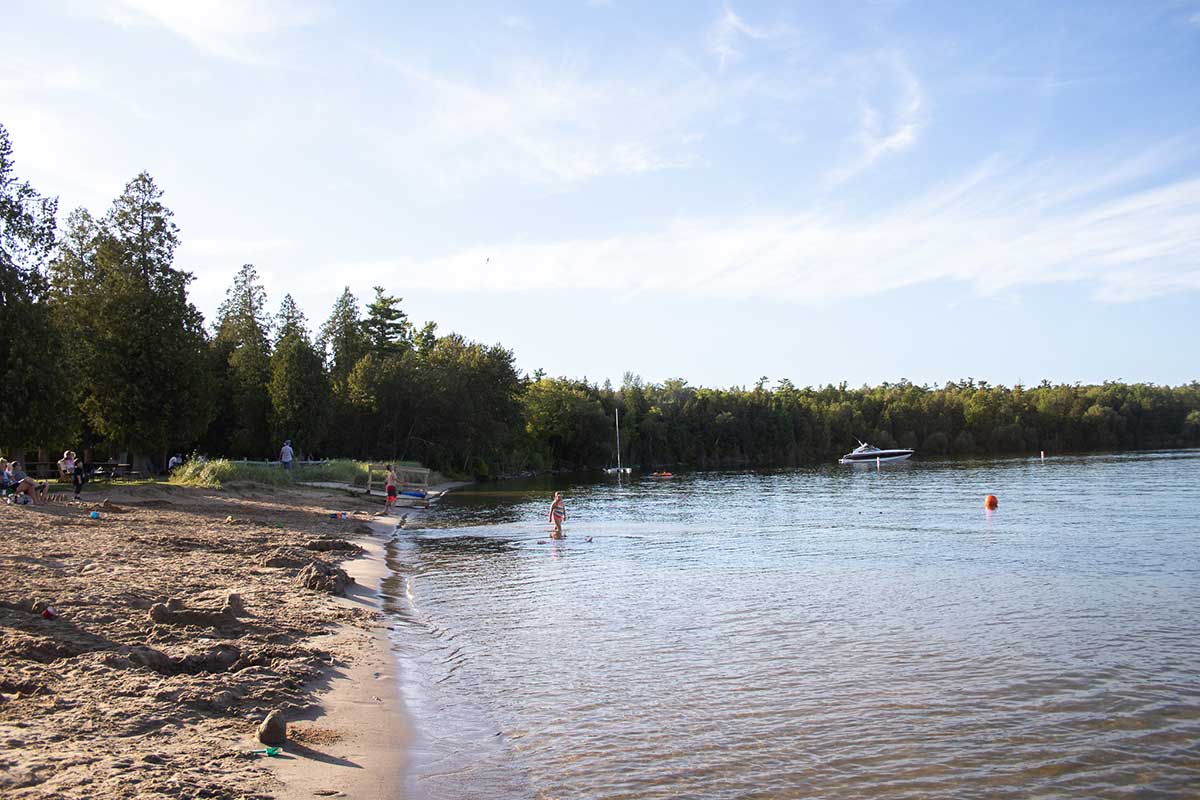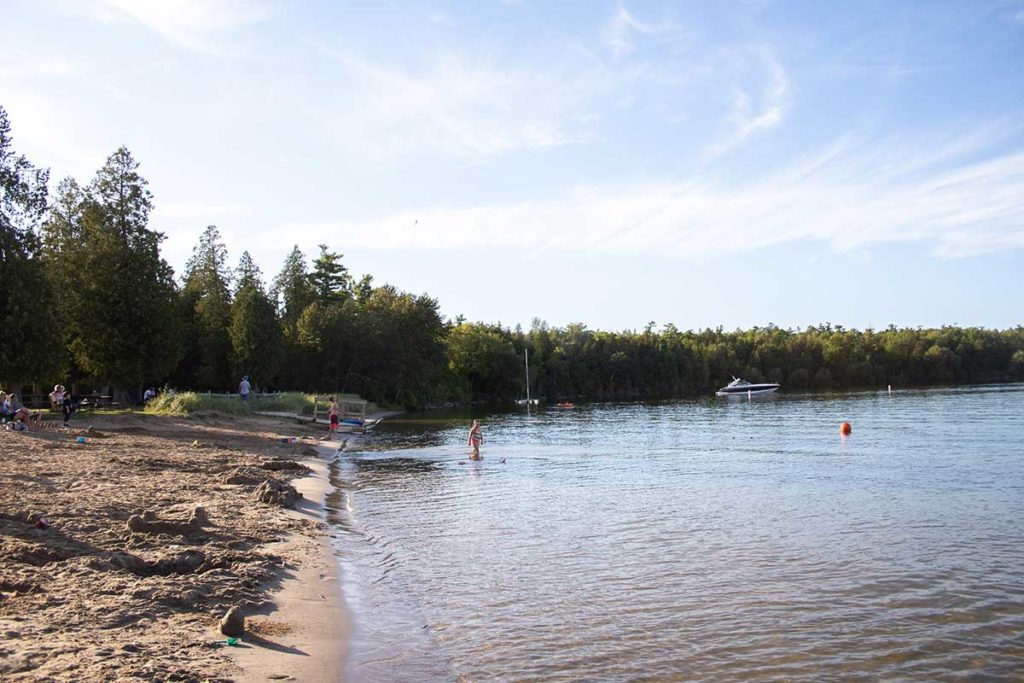 Door County Beaches
Door County is full of beautiful waterfront beaches, parks, and trails perfect for sightseeing and breathtaking sunrises and sunsets.
Here are some great video tours of the following Door County beaches. Also, check out this beach guide resource from Destination Door County for options on-and-off the beaten path.
READ MORE: Things to do in Door County with Kids
Clark Lake, Public Swimming Beach
Clark Lake offers a public swimming beach in beautiful Door County near Bailey's Harbor. This 864-acre lake offers clear water and a bottom of mostly sand and rock. The lake is perfect for swimming, boating, canoeing, jet skis, and fishing. Clark Lake is separated from Lake Michigan by sand dunes.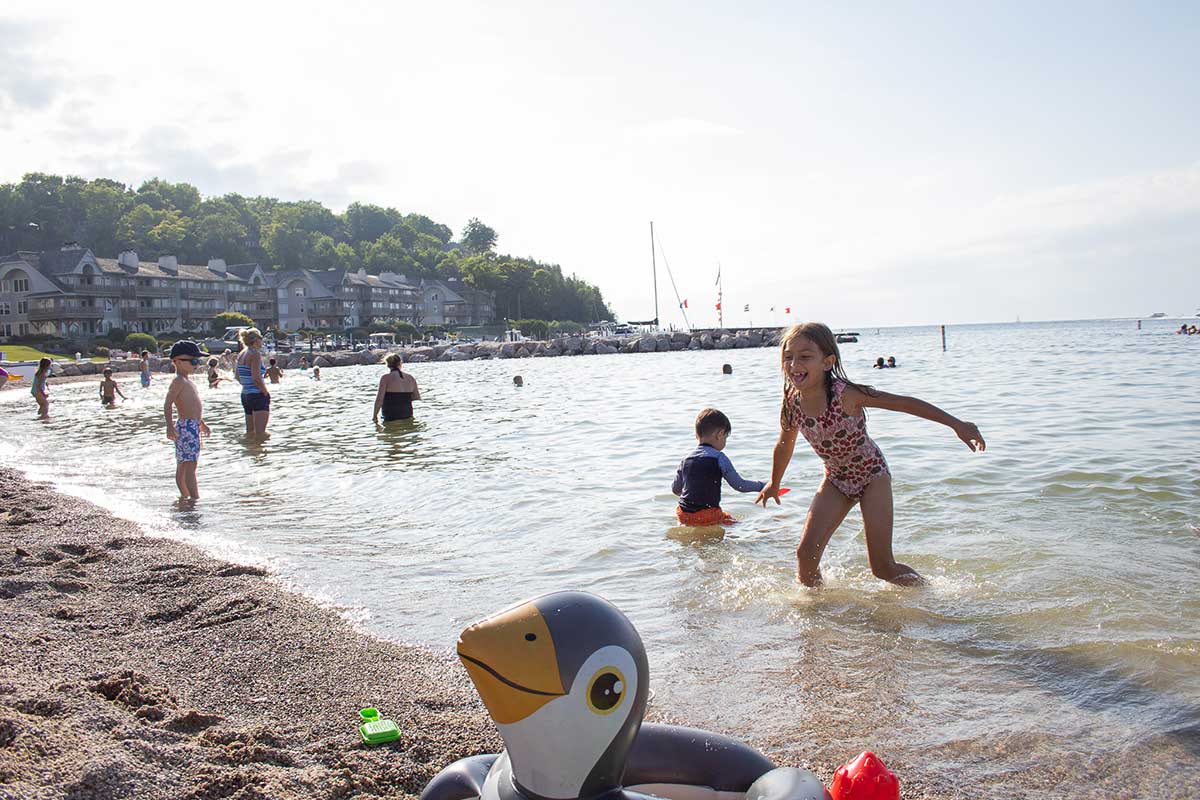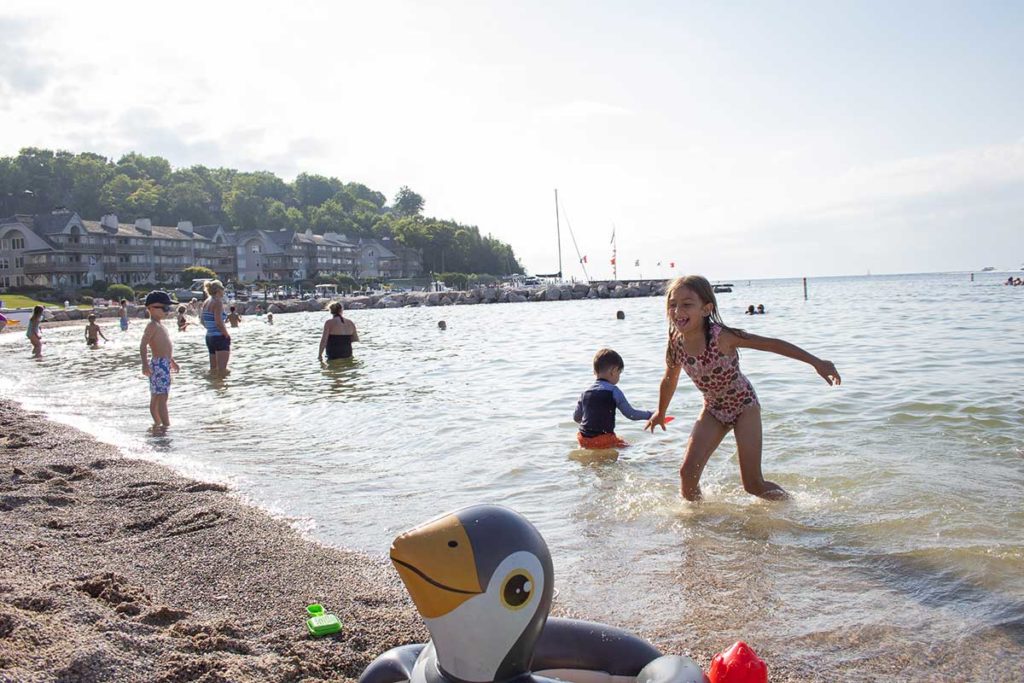 Sister Bay Beach
The largest beach and beachfront park in Door County including 600 feet of sandy shore, walkout pier, playground and bathrooms near restaurants and shops.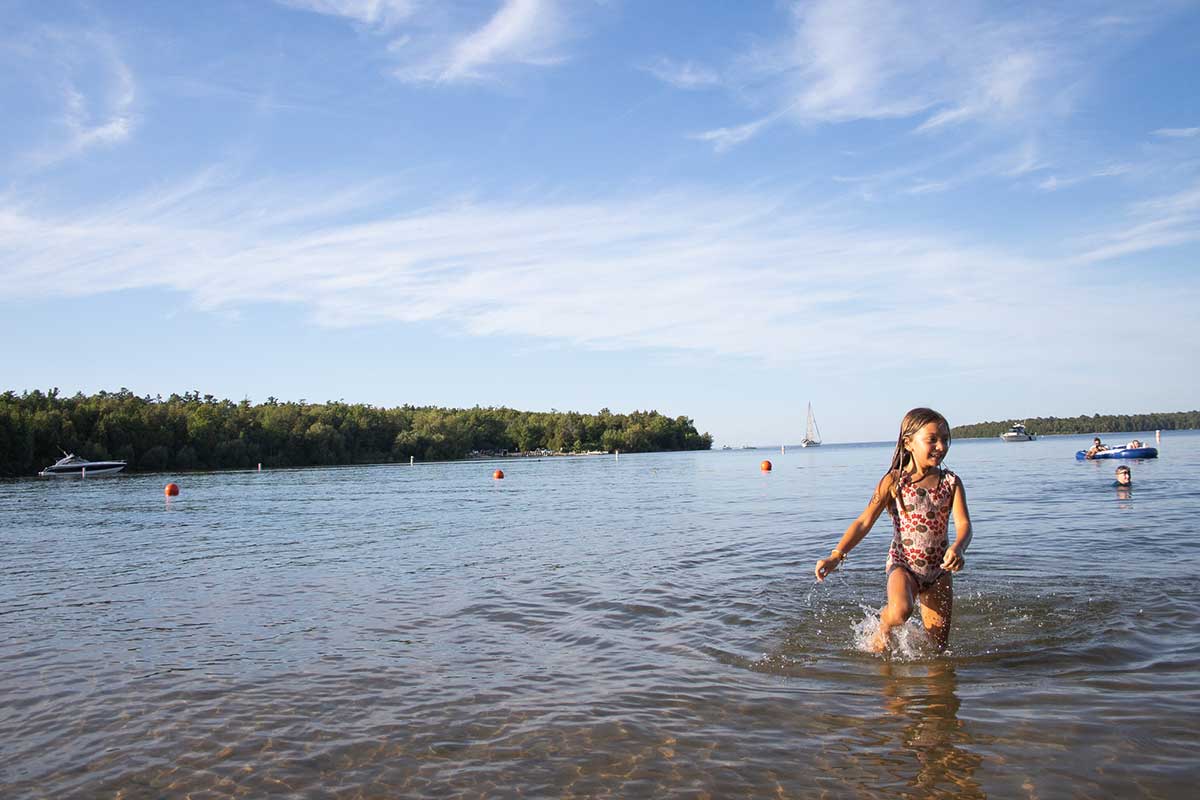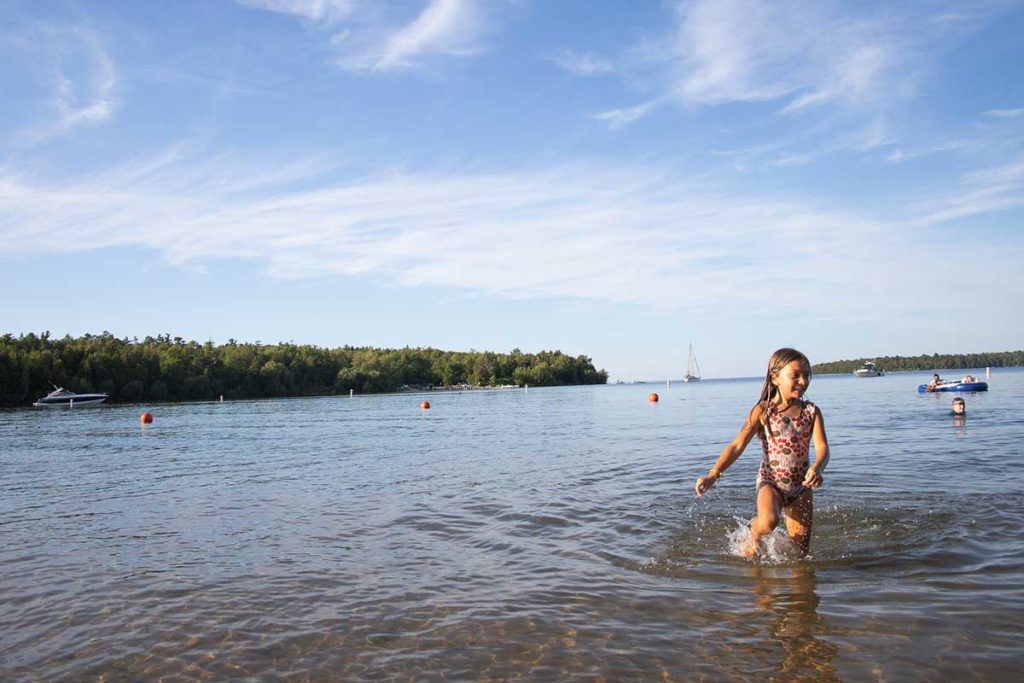 Nicolet Bay Beach, Peninsula State Park
Nicolet Beach offers a swimming area (no lifeguard provided), rental of kayaks and other watercraft, a snack bar, and plenty of sand for sunbathing. Wisconsin State Park vehicle admission stickers are required for entrance: $28 annually.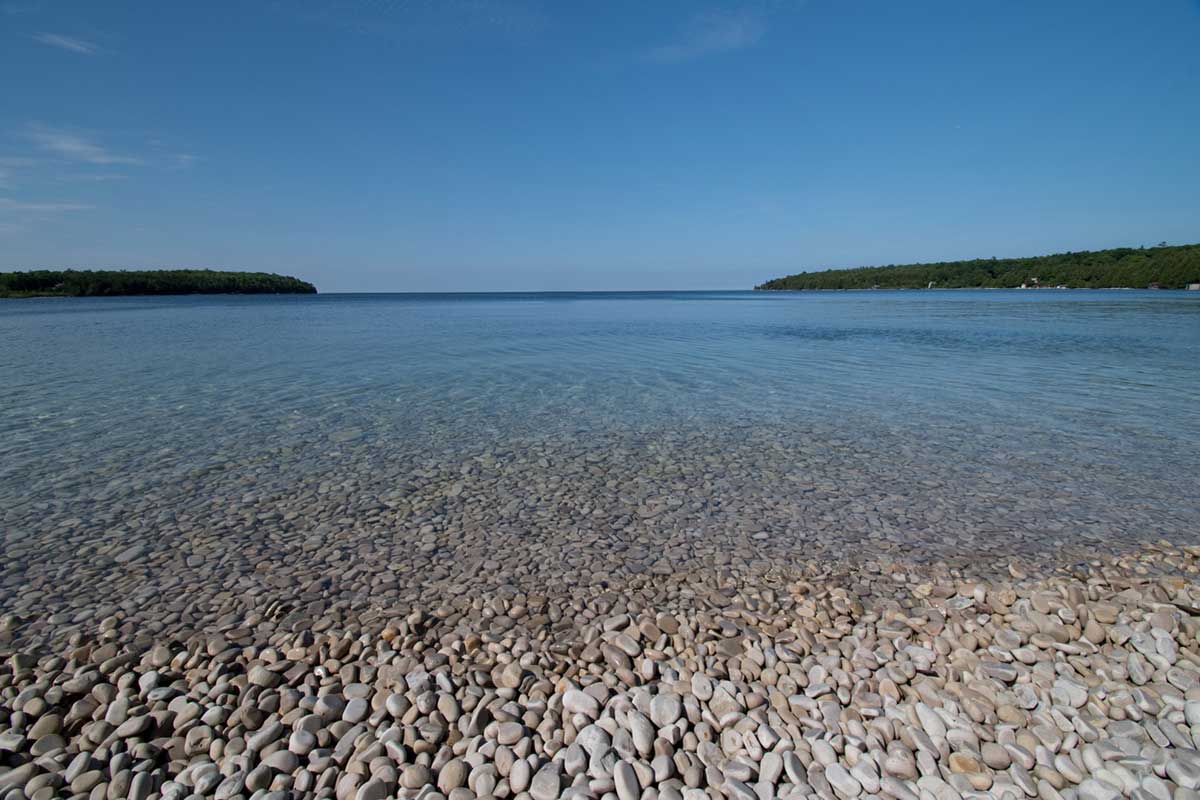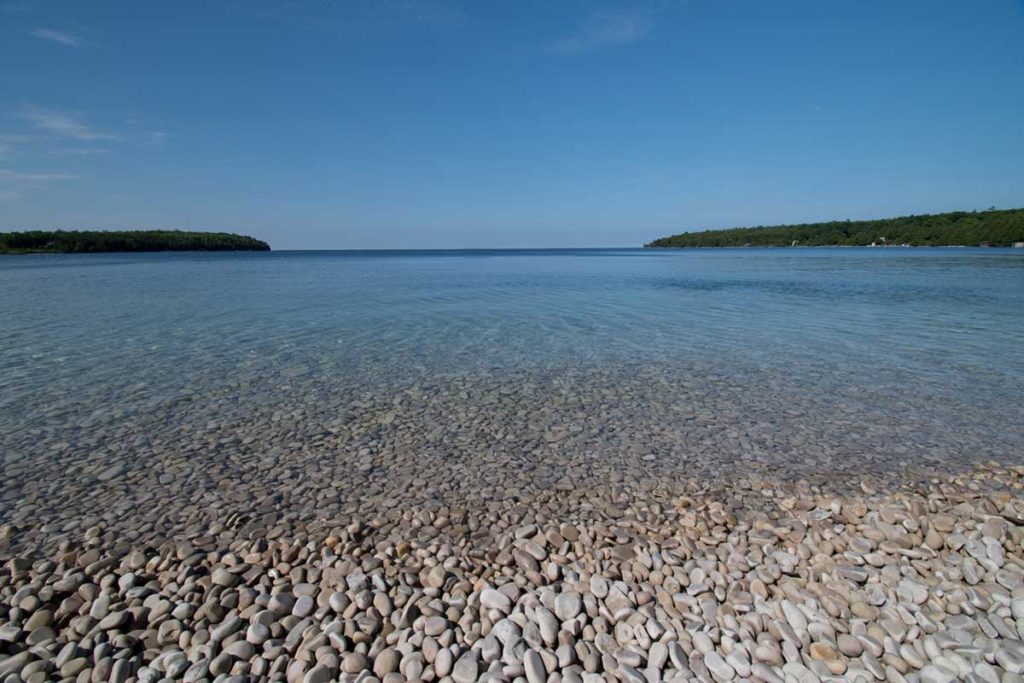 Schoolhouse Beach, Washington Island
Another ocean-like and popular scenic spot with clear blue water & a beach of smooth limestone rocks.
Ridges Beach, Bailey's Harbor
Ridges County Park is home to unique and rare plants and wildlife. It's a great spot to head if you have a bird watcher in your family. You'll find a sandy beach and shallow waters here and on windy days, you might see kiteboarders!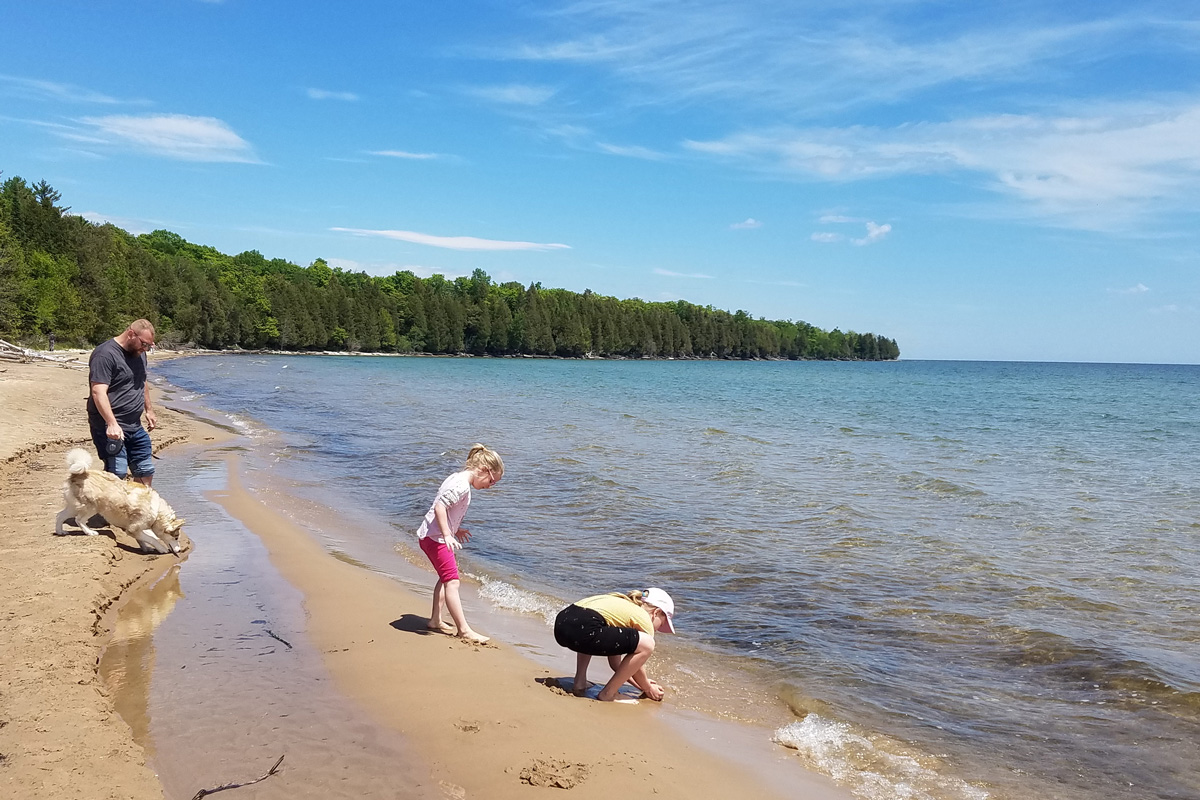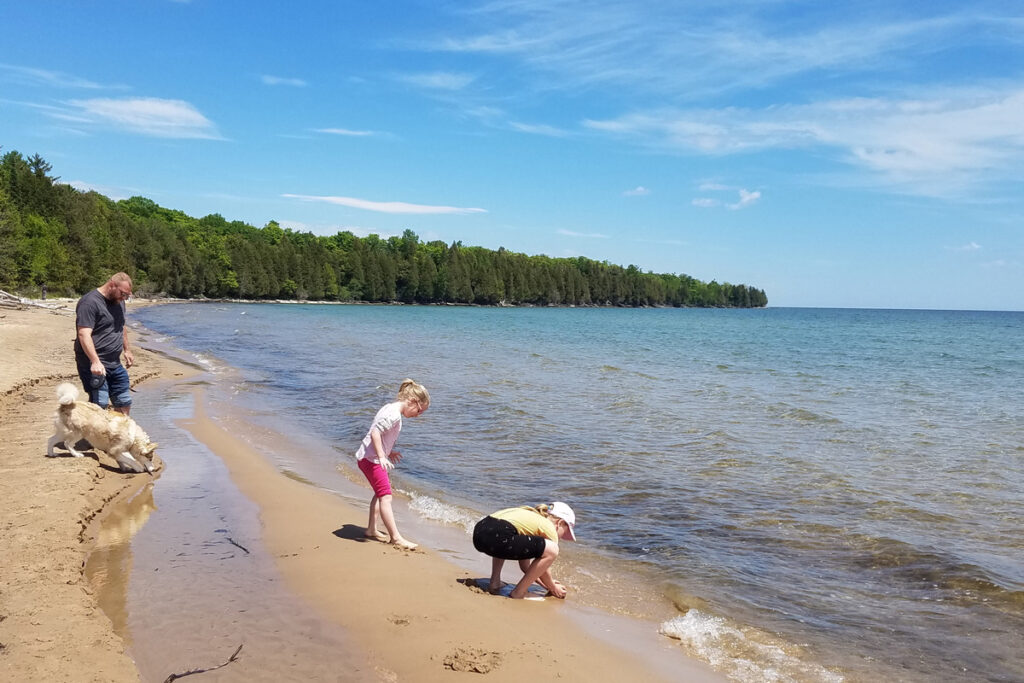 Newport State Park
Near the tip of the Door County Peninsula, this beach has cool rock formations and a wooded shoreline in Wisconsin's only formally designated wilderness park. It is a quieter spot to enjoy Lake Michigan after a hike or bike ride. You'll need a state parks pass which are $28 per vehicle for the year.
Egg Harbor Beach
Another great beach for families! This beach has a playground, a small boat launch ramp, changing rooms, and walking paths.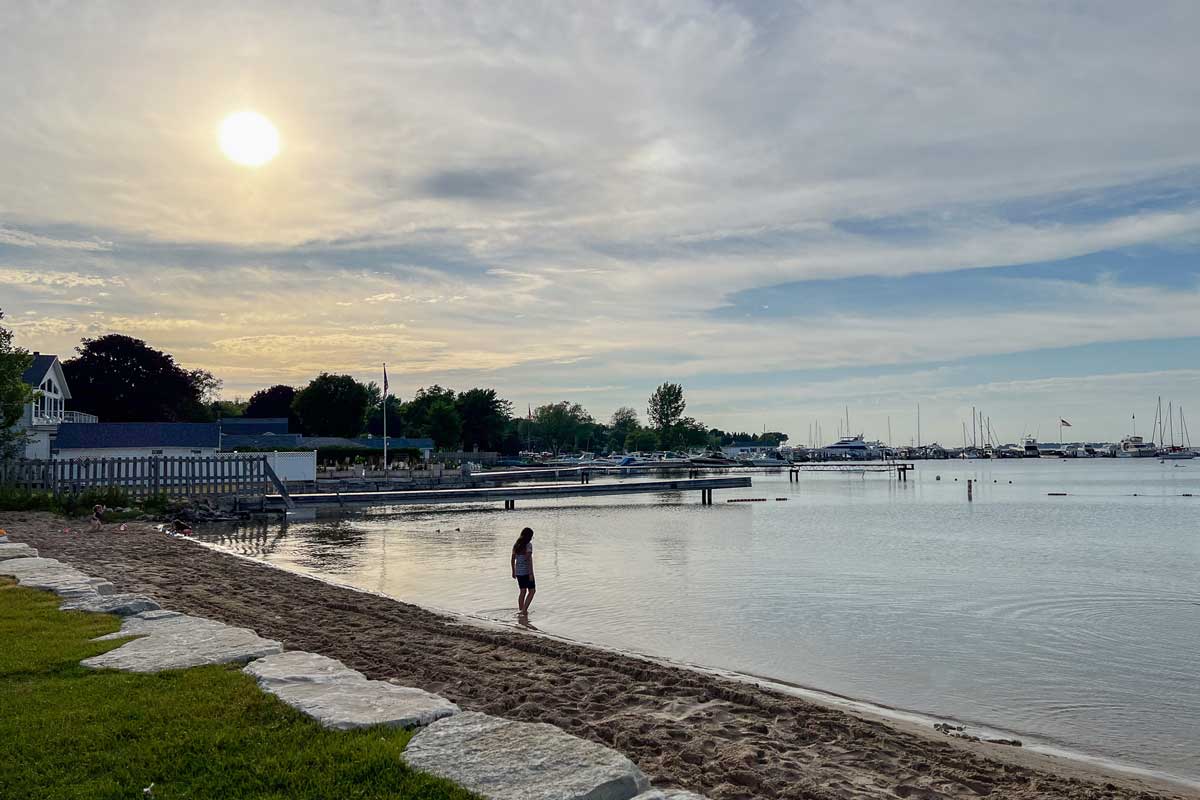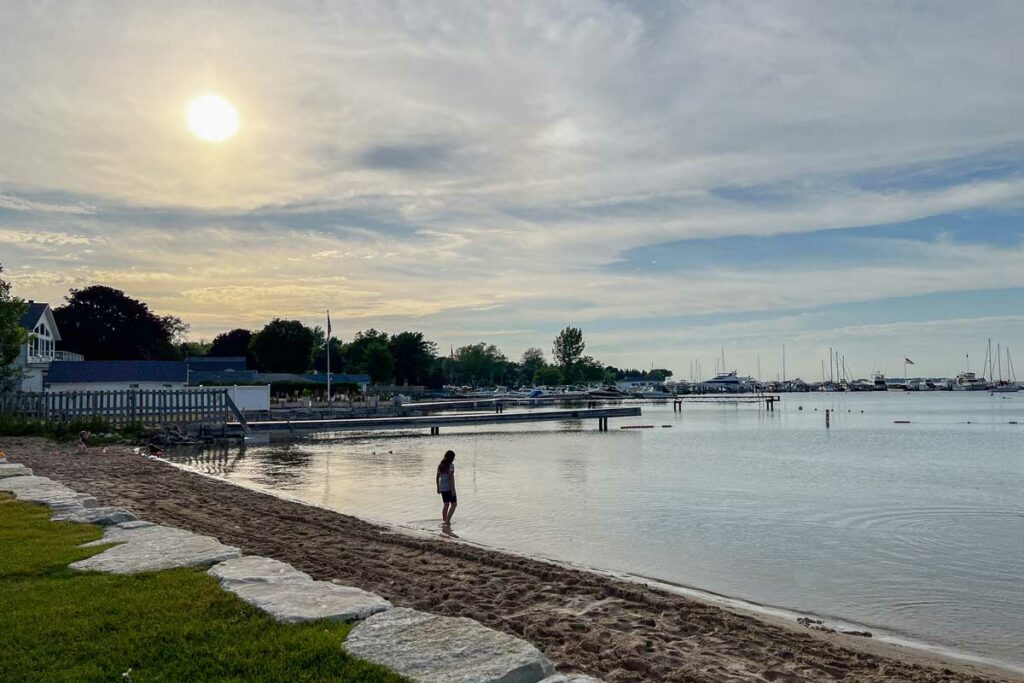 Ephraim Beach
You'll find a sandy shore and shallow waters waiting for you at Ephraim Public Beach. There's a foot wash and bathroom. Nearby you can find Ephraim Wetland Preserve to explore using trails and bridges and Harborside Park with a playground. Don't forget to pack along some paint or paint markers to stop by Anderson Dock and Marina to leave your mark for a quintessential Door County experience and truly Instagrammable photo-op!
Whitefish Dunes State Park
Trek down a boardwalk through the dunes to reach the beach at this gorgeous state park with chilly waters. This is another great choice for a hot day. There's plenty of parking and a beach house with changing rooms and a foot-washing station. A state parks sticker pass is required and can be purchased for $28.
READ MORE: Indoor Swimming Pools in Northeast Wisconsin