NOTE: Community spread of COVID-19 remains high, please keep in mind current recommendations and guidelines to practice safe social distancing which includes masking outdoors when around folks from outside of your household.
I love day trips. I also LOVE waterfalls and hiking. My kids do not enjoy road trips yet, especially ones where we are in the car for more than a few hours. Thankfully there are lots of great hiking and waterfall options within a two-hour drive of Appleton. Why two hours? It is the perfect distance for families with little kids. We leave late morning, making for an early nap on the drive for the littles. We either have packed lunch or grab something to enjoy as we are just about to the park. Then, on the way home, we can enjoy a movie and ice cream or hot cocoa and be home in time for a late dinner and early bedtime. (Because as much as memories, that is what it is about, right? Getting them to sleep.) Whether you are going for memories, sleep, or anything in between, here is some information about and some tips for my favorite waterfall destinations within two hours of Appleton.
Our Favorite Waterfalls Within Two Hours of the Fox Valley
Tips for Winter Waterfall Exploring
Wear layers. Start with a warm base layer and add a warm winter coat, snow pants, boots, hats, scarves, and mittens. It is easier to take things off than to get a distance from the car and need to turn back with chilly kids.
Add cleats or crampons! It can be super slippery on rocks, trails, and around falls. These little additions can improve everyone's safety and comfort.
Bring extras. Throw an extra hat and pair of mittens into your pack. If one becomes wet, you've got another on hand.
Don't forget water. Sometimes when we head out on winter walks and hikes it is easy to forget that we're using as much or more energy than on a summer day! Pack enough water for everyone.
Bring hand warmers. We take these everywhere in the winter. They make such a difference in comfort slipped into a mitten or even a boot.
Tips for Summer Waterfall Exploring
Wear sturdy, non-slip shoes.
Bring bug spray. Apply it before you hit the trail, but also pack it along on your hike or with your picnic supplies.
Don't forget water!
Watch for signs that let you know where to avoid to stay safe.
Bring along a swimsuit or clothes that dry quickly if you're headed to falls that you're able to explore close up.
Pack extra clothes for little people that might be uncomfortable if their clothes end up wet or muddy.
Have a light blanket in the car for the trip home. Playing in water and woods and then being in an air-conditioned car can be super chilly!
Green Bay Waterfalls
Read More: 13 Green Bay Area Family Friendly Nature Trails for Biking, Walking & Hiking (and Waterfalls!)
Fonferek Glen
Spend the afternoon alongside family and venture through Fonferek Glen County Park, a 74-acre nature reserve located in Green Bay. The park features plenty of wide-open space to explore, and families can trek along the Dolomite cliffs or creek and take in the scenery of the 30-foot waterfall! It's also one of our favorite places to hike around Green Bay.
2825 Dutchman Rd, Green Bay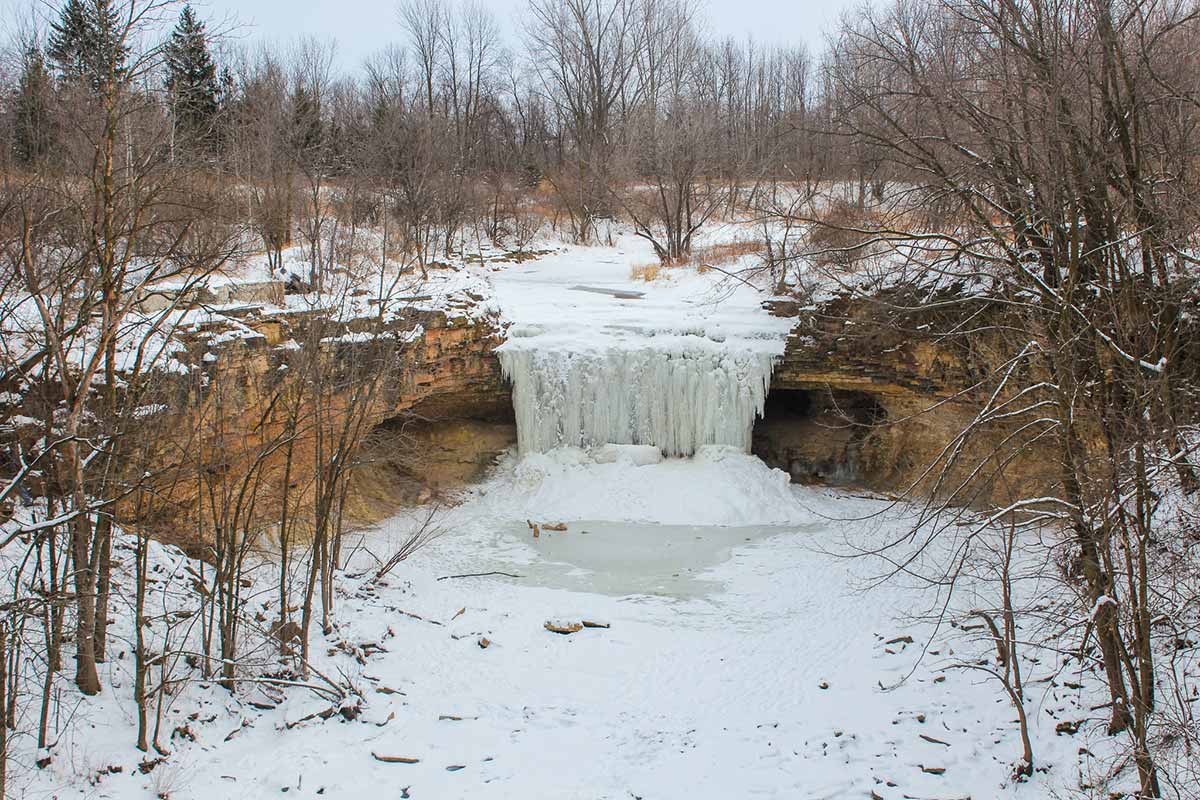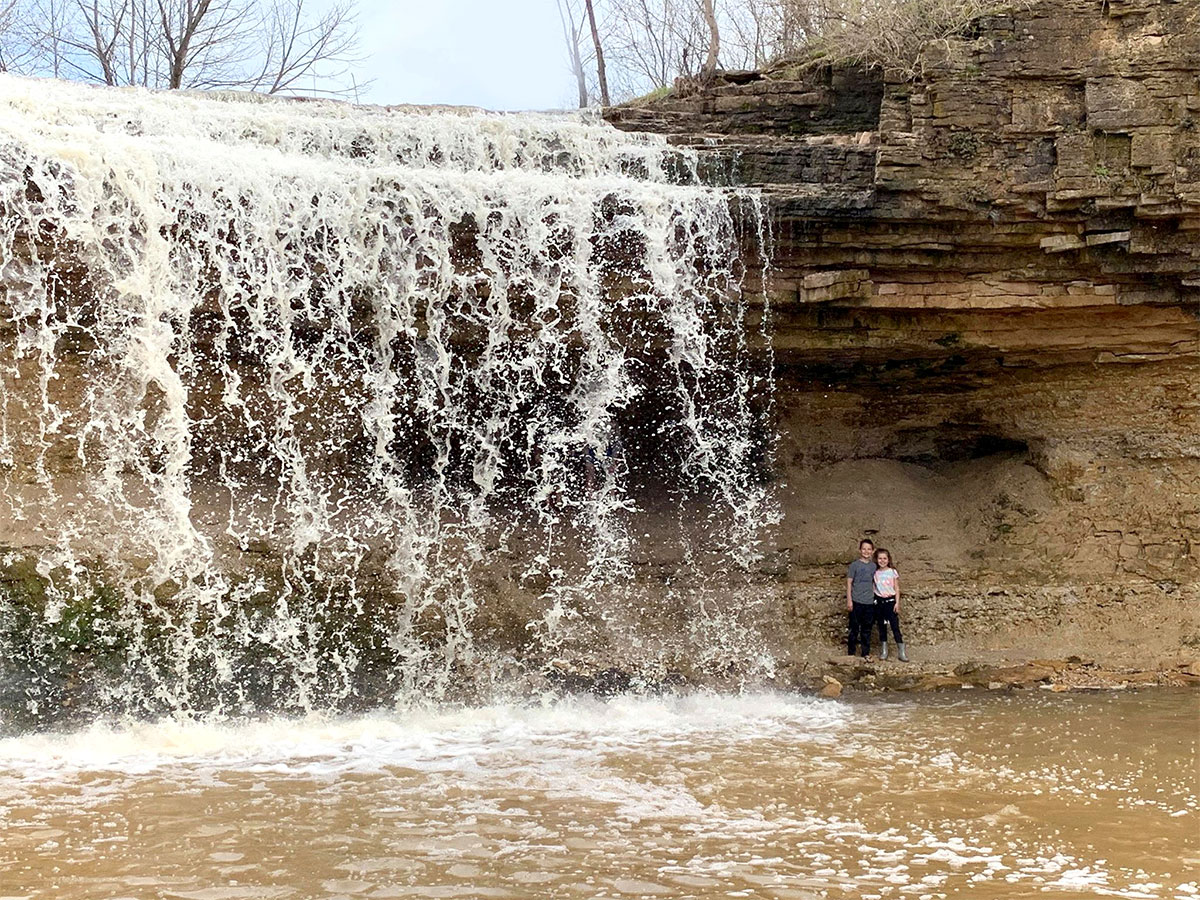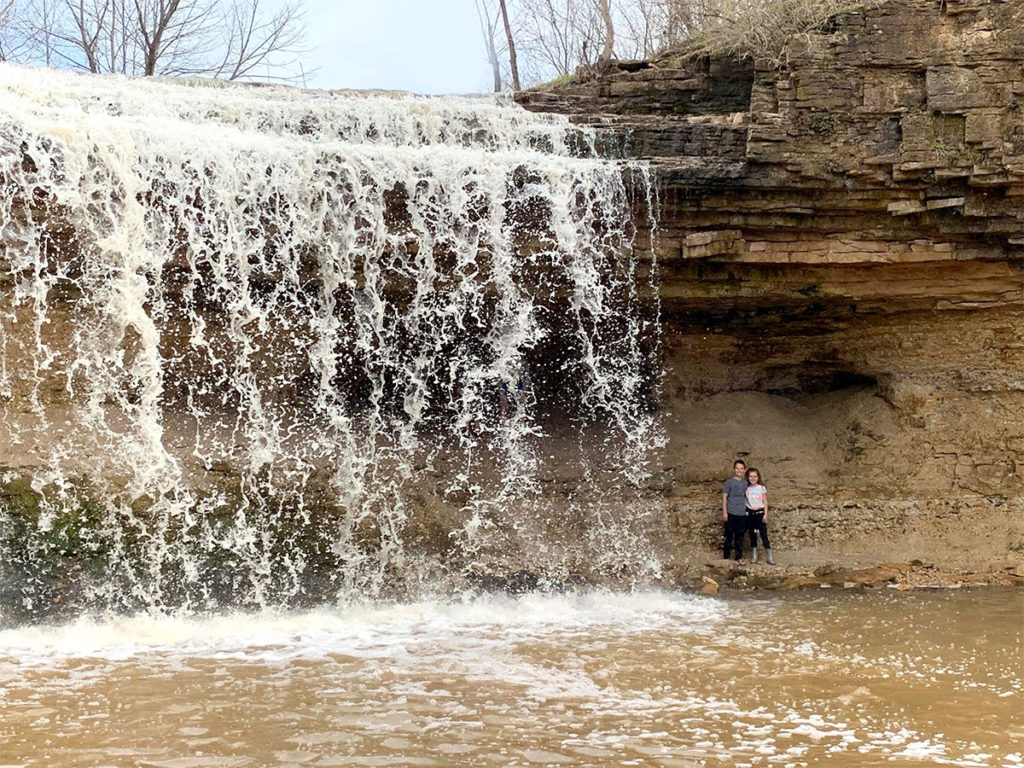 Wequiock Falls
The waterfall, found inside Wequiock Falls Park, may be overlooked by the average passersby, giving it a somewhat camouflaged feel. There is no official signage for the park, but GPS and map systems accurately direct where to pull into the parking lot and cross the grounds to the falls' 25-foot ravine. You can view the waterfall from the bridge or take the stairs down to falls level.
Depending on the season, water levels vary, so please use caution when exploring. While families can get close to the falls, rocks can become slippery when wet. The seasons each offer unique views; winter provides a 'frozen in time' feel with still large icicles, spring showcases the falls powerful gushes after a rainstorm, and during summer and autumn, the falls tend to slow down and reduce to a relaxing trickle.
3426 Bay Settlement Rd, Green Bay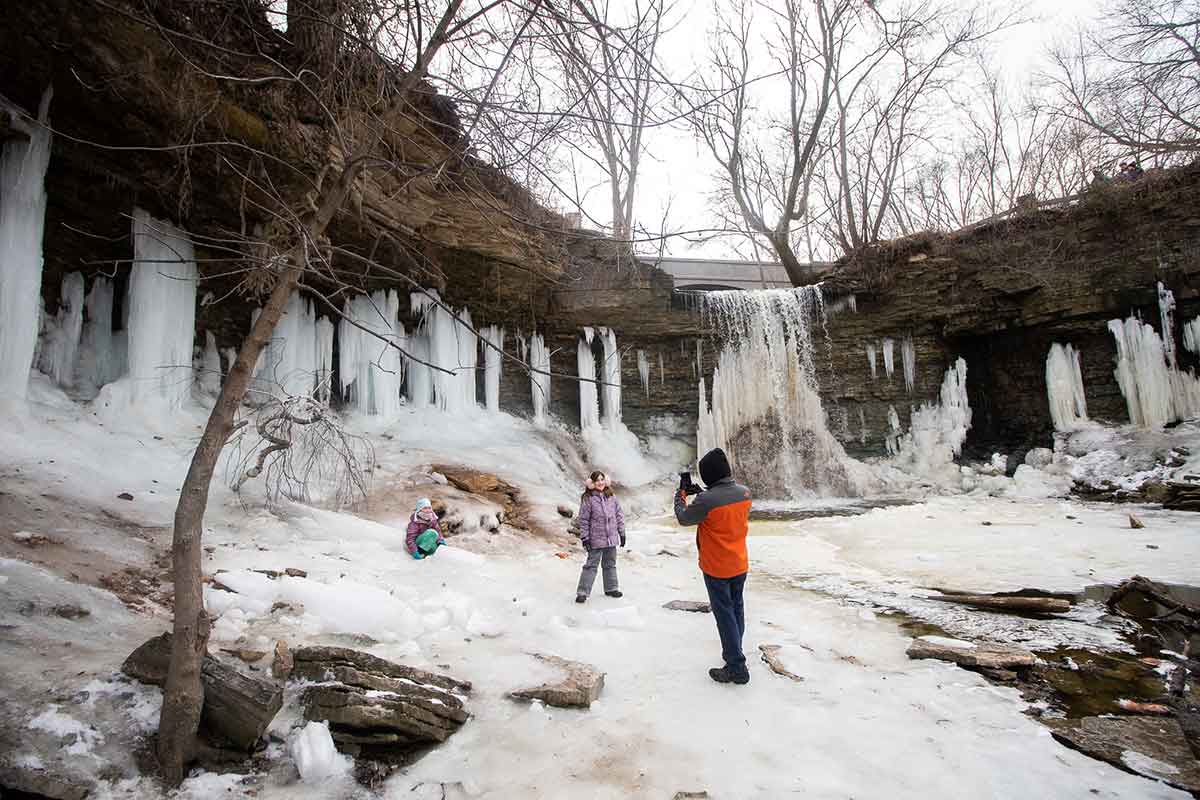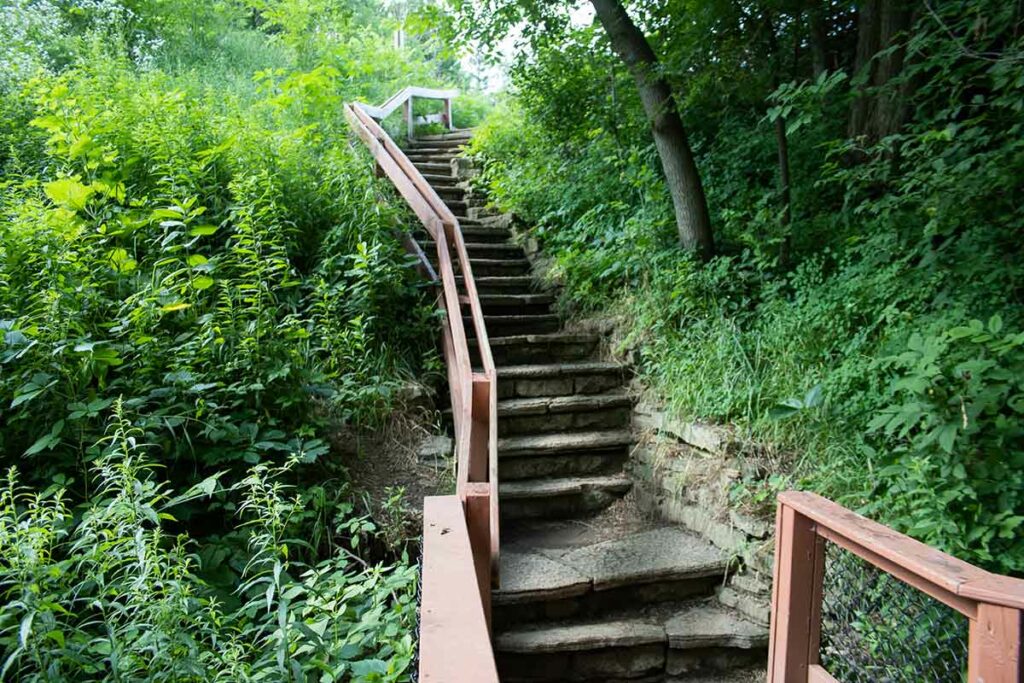 Bay Beach Wildlife Sanctuary
The falls here are super easy to observe on the boardwalk!
1660 E Shore Dr, Green Bay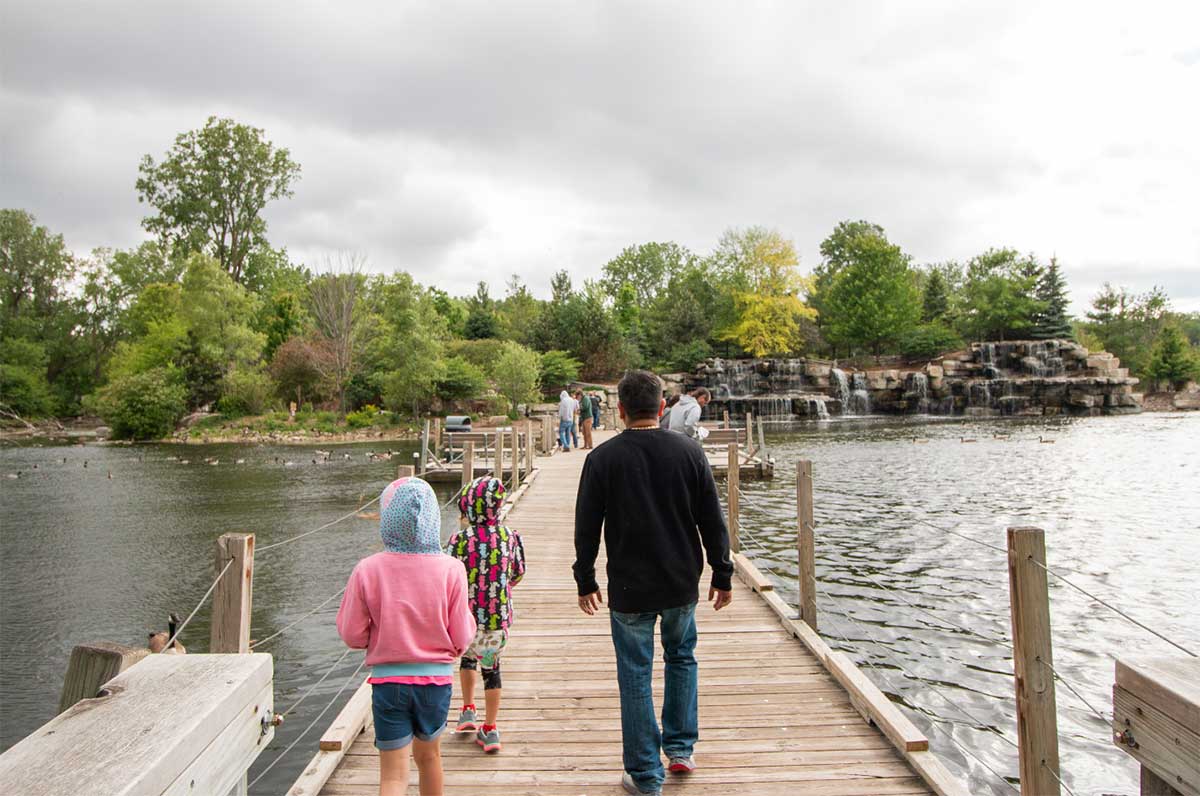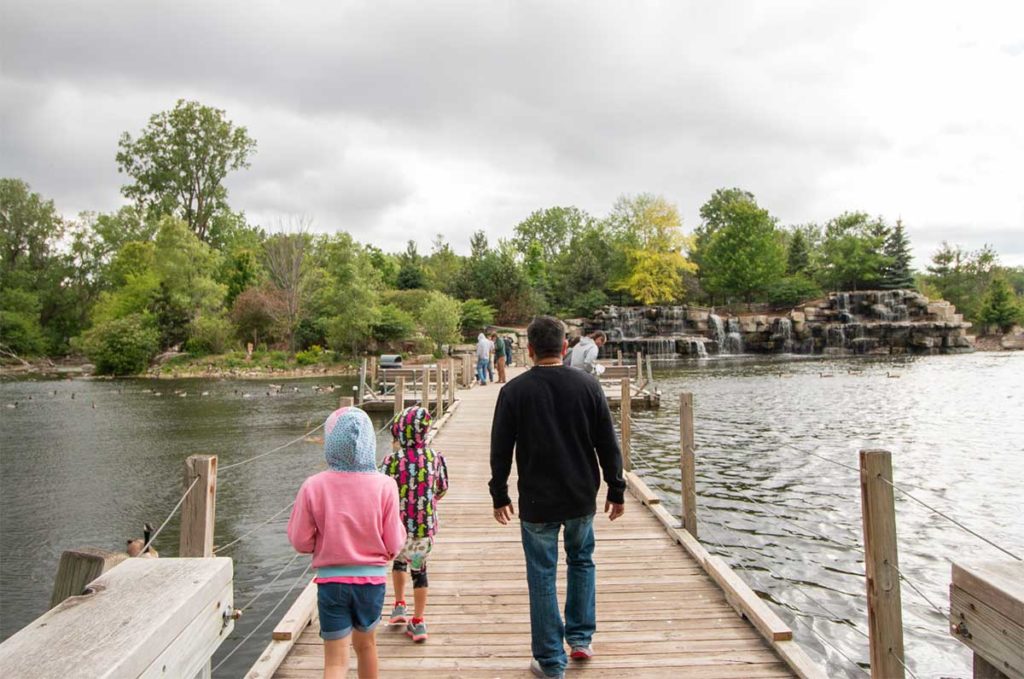 Read More: Helpful Tips for Your Bay Beach Wildlife Sanctuary Visit
The Dells of the Eau Claire River, Aniwa
County Rd Y, Aniwa, Wisconsin
A not quite two-hour drive day trip – and by far our favorite – is The Dells of the Eau Claire River Park and campground. The first time we visited, we unknowingly parked near the beach area. There is also a more popular (and more crowded) lot up by the big part of the falls. Both are free, and both have pit toilets. If you are up for exploring, I would recommend parking by the beach. It eases you into the big waterfall area. You can enjoy the sounds of the river as you walk, first you hear the rapids, and soon the dam. As soon as you cross the dam you are able to climb and explore down by the water. It is relatively protected, so my mom-nerves were only on medium-high alert.
Following the path along the river, you will cross a road, and then you will see it. The most wonderful natural playground you could ever imagine in central Wisconsin! There are rocks to climb, waterfalls to watch, natural pools to splash in, frogs and bugs, and I don't want to think about what else galore! I like nature, but am still a squirmy city girl.
The big area has some trails that follow the river. These can be scary hiking, as some of the drop offs are quite steep and high. The overlook also makes me super mommy nervous. But it is well worth it, and fun to explore. There is also a camping area, and our kids had just as much fun hiking the wooded trail between the waterfall area and campground.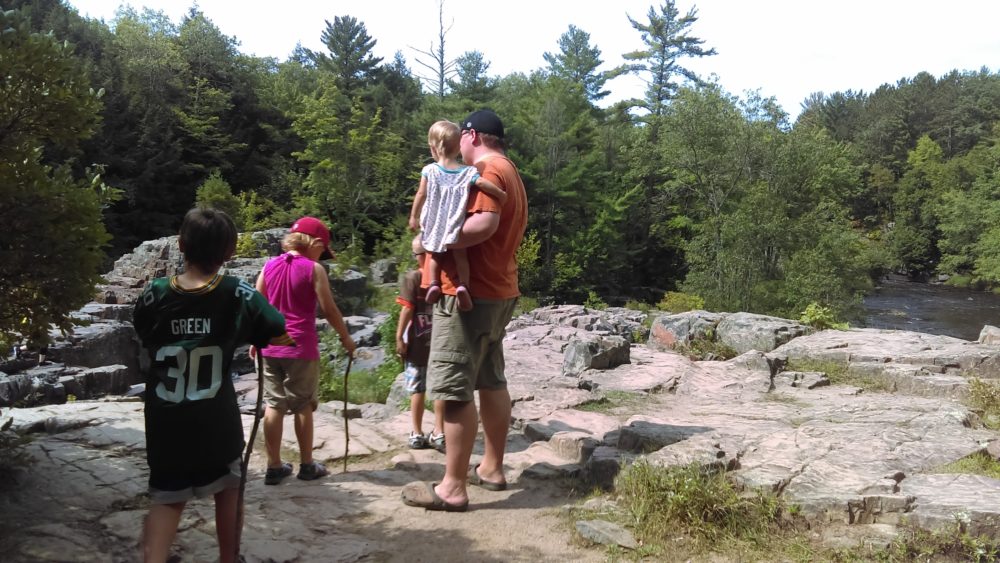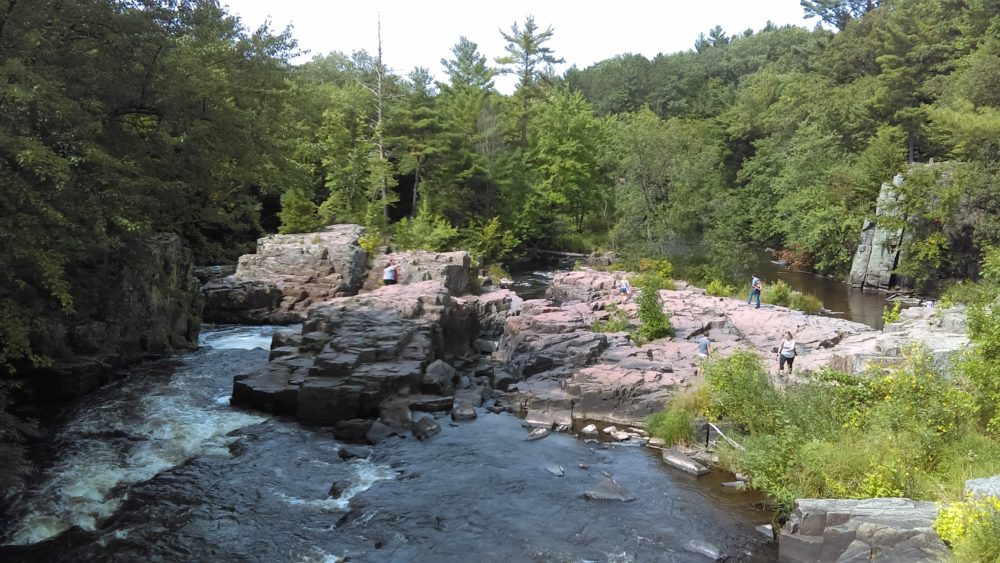 Dave's Falls, Amberg
Old 141 Rd, Amberg, Wisconsin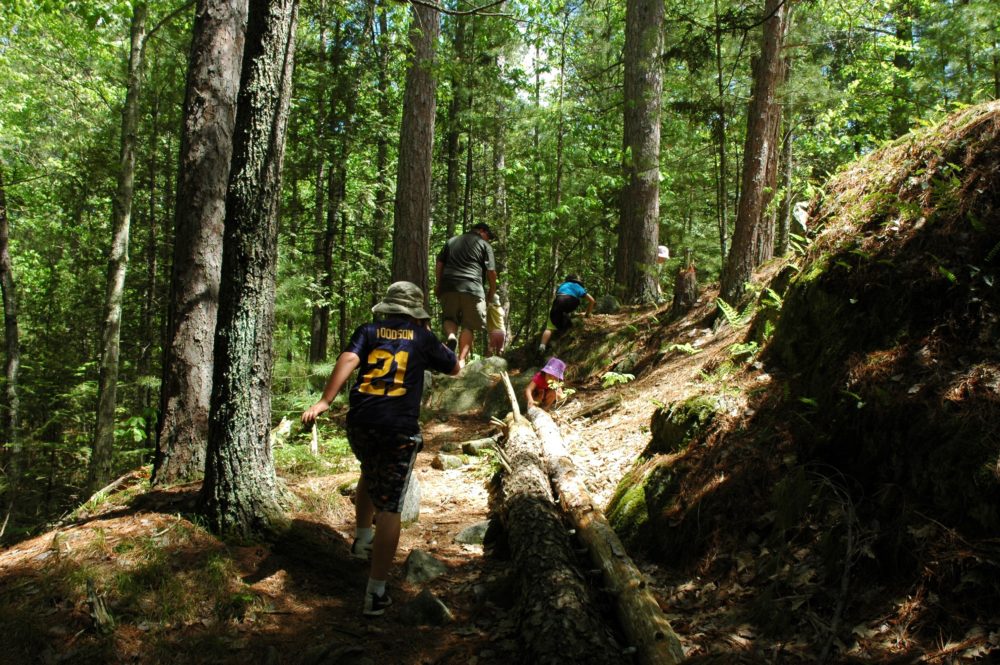 The drive to Dave's Falls is easy. Take 41 north, then follow 141 North (it splits just north of the NEW Zoo exit). Follow 141 all the way through Wausaukee. You can't miss Wausaukee, it has a 25 mph speed limit. It is a cute little town with a nice roadside ice cream shop. About five miles after Wausaukee you will see a sign for Dave's Falls County Park. If you end up in Amberg; you have gone too far. From Appleton, it is only an hour and a half drive. It does feel longer than that though. Parking for Marinette County Parks is a $3 fee for the day or $12 for the year.
Notes about the park:
Bring exact change or a checkbook. It is a self-pay station.
There is a fun old-fashioned pump for well water, a small playground, and a picnic area.
Fair warning: There are only pit toilets!!
SUMMER WARNING BRING BUG SPRAY. Better yet, just bathe in it before you leave and when you get there. The last two times we have gone the mosquitoes have been horrific! I am from Wisconsin; I get mosquitoes and they are particularly bad here.
After you have paid, parked, and coated yourself in six kinds of bug repellent, it is time to explore! There are relatively easy to maneuver paths, but they are not stroller friendly. You can enjoy the main part of the falls without leaving a fairly even trail. There are wood stairs with a railing (about equivalent to the stairs for a second story patio), a footbridge, and rocks, but the main area is pretty easy navigating.
Once you get down the steps, your adventure begins! There are trails and paths winding all around the falls and the woods. The rock formations around the falls are great for kids and adventurous adults to climb. The ones near the river will make any mom nervous, but they are easy climbs and have amazing views. The rocks and little sand area across the bridge and to the left are my favorite. The girls like skipping stones, while my little monkey boys like climbing the rocks. Think playground size danger – if they fall it would be similar to if they fell from a playground slide or something, so I try to let them have fun.
There are enough paths and places to explore and climb that you could spend almost a whole day at just this park alone. If you are on a tighter schedule, you can see the sites, take a few frame worthy pictures and be done in 45 minutes.
Other Marinette County Parks:
It has been a few years since I visited the other Marinette County parks' waterfalls. There is one, Twelve Foot Falls, which you can see the falls from the parking area. From Twelve Foot Falls Park, you can hike to see eight foot falls and eighteen foot falls. I do not remember being impressed by these when I went before kids. Perhaps once the youngest is able to keep up and enjoy hiking we will explore these some more. It might be a nice spot for a picnic, but for now, if you are headed to Marinette area, Dave's Falls is your best bet.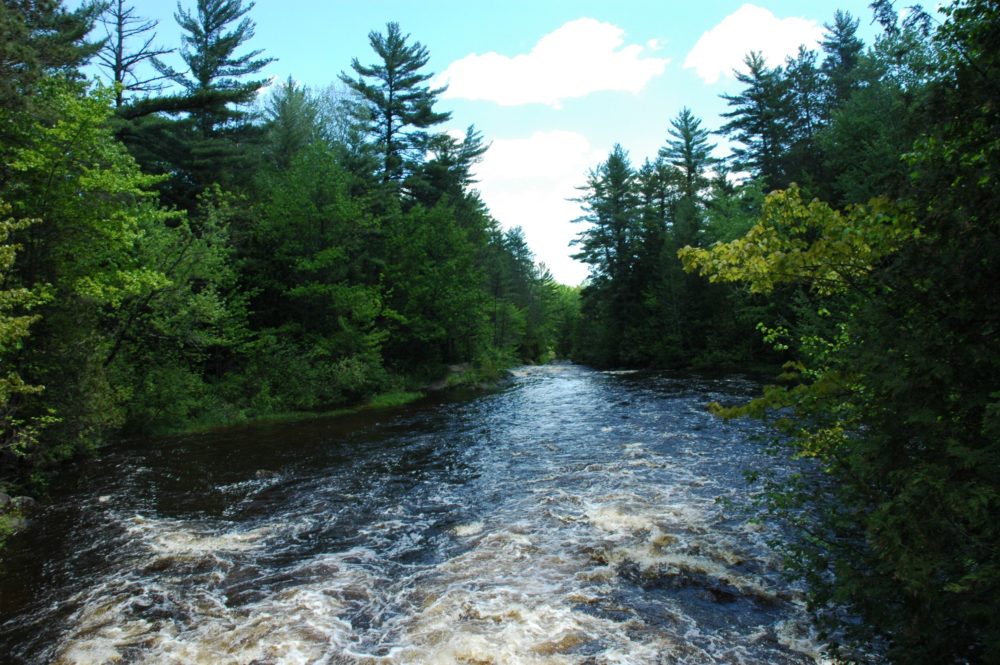 Other Waterfalls
Outside of the two hour drive we have ventured up to Eau Claire and Duluth. Amnicon Falls was great, but not worth the drive when The Dells of the Eau Claire river is so much closer and nearly the same hiking, terrain and swimming. There is a waterfall at Amnicon Falls park where you can hike behind the falls. Not for non-swimmers or kids under about 10. You have to go through water and there really isn't much of a path. Cool for older kids. Not cool for littles. The Duluth area was beyond crowded when we went, and the fee to park at Split Rock was quite high on top of the crowds, so we stopped at a boat launch just south of Split Rock. It was wonderful! Not worth the drive, but it salvaged our trip. We will go back when the kids are older, but managing kids and crowds is just too much for me.
I have not been to Parfrey's Glen or Stephen's Falls near Dodgeville, Wisconsin or Cascade Falls by Osceola, Wisconsin – but those are also on our bucket list. And the last one, far outside the two hour drive, but which I would be remiss not to mention, is Sliding Rock in North Carolina. My family stopped there on a road trip home from Florida when I was about ten. I still remember it and look forward to taking my kids. Because doesn't everyone really just want to ride a waterfall like a slide?
---
Thanks to our guest writer, Sarah Sellnow for her contribution to this article. If you'd like to be a guest writer send your story ideas to editor@govalleykids.com.
Save
Save
Save