When spectacular United States waterfalls come to mind, you might not immediately think of Wisconsin—it might be a surprise to learn that there are more than 40 beautiful waterfalls in Wisconsin! From the farthest up-north locations in northwestern Wisconsin to the Driftless Area in the south, there are so many possibilities to find waterfalls in every part of the state.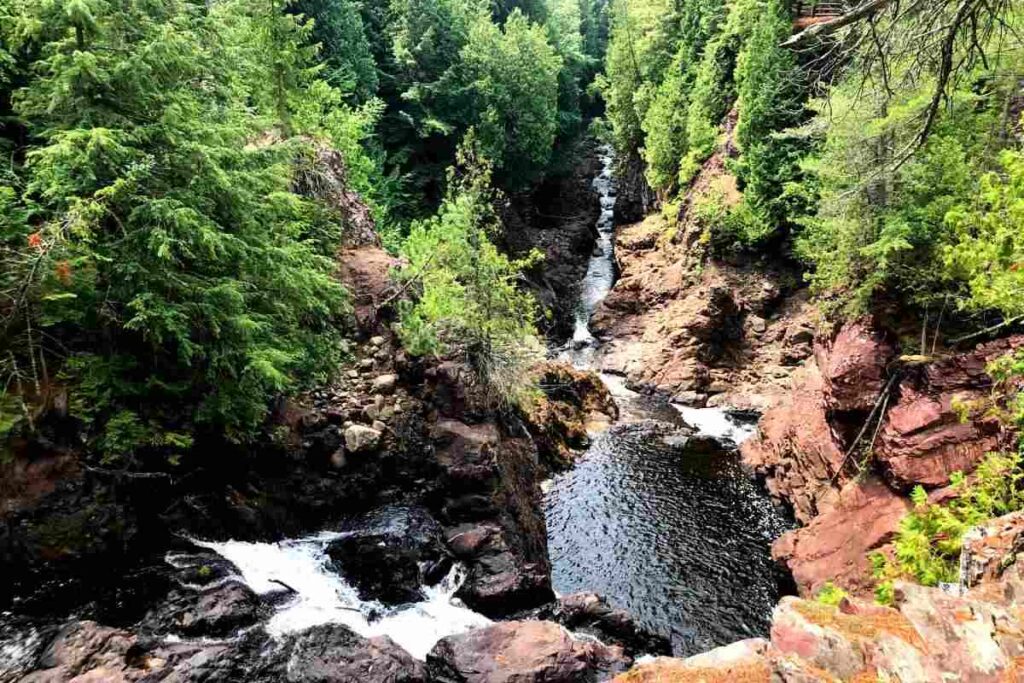 We've selected the best waterfalls in Wisconsin that are not too tricky to reach. Many are very easily accessible for families with children along for a single adventure or a waterfall road trip. We'll provide parking areas for more hidden falls off the main roads (some are on gravel and dirt roads) and details on how to reach the trail to the waterfall at each location. If we know fun things to do near the waterfall locations, we've included that too!
Speaking of a road trip, many of these falls are located close together in Wisconsin State Parks and county parks. If you want to pack as many different waterfalls into one day trip as possible, keep in mind that Marinette County is the Waterfalls Capital of Wisconsin, or check out our map below to find your perfect route.
Find a Wisconsin Waterfall Near You:
Tips for Winter Waterfall Exploring
Wear layers. Start with a warm base layer and add a warm winter coat, snow pants, boots, hats, scarves, and mittens. It is easier to take things off than to get a distance from the car and need to turn back with chilly kids.
Add ice cleats! It can be super slippery on rocks, trails, and around falls. These little additions can improve everyone's safety and comfort.
Bring extras. Throw an extra hat and pair of mittens into your pack. If one becomes wet, you've got another on hand.
Don't forget a water bottle. Sometimes when we head out on winter walks and hikes, it is easy to forget that we're using as much or more energy than on a summer day! Pack enough water for everyone.
Bring hand warmers. We take these everywhere in the winter. They make such a difference in comfort slipped into a mitten or even a boot.
Tips for Summer Waterfall Exploring
Wear sturdy, non-slip shoes.
Bring bug spray. Apply it before you hit the trail, but also pack it along on your hike or with your picnic supplies.
Don't forget water!
Watch for signs that let you know where to avoid to stay safe.
Bring a swimsuit or clothes that dry quickly if you're headed to falls that you can explore close up.
Pack extra clothes for little people who might be uncomfortable if they get wet or muddy.
Have a light blanket in the car for the trip home. Playing in water and woods and then being in an air-conditioned car can be super chilly!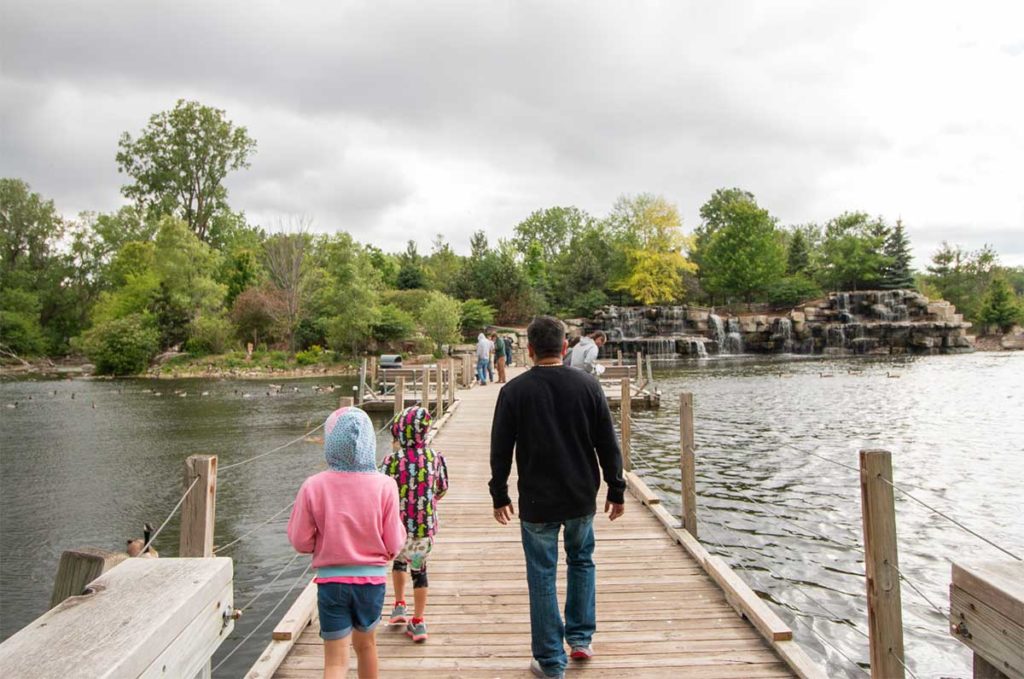 1. Bay Beach Wildlife Sanctuary, Green Bay
Bay Beach Wildlife Sanctuary is a 600-acre urban wildlife refuge open to the public year-round. The refuge is home to rehabilitating animals with the goal of returning to the wild; they can be observed in their habitats from the walking trails.
This is a great place for strollers and mobility assistive devices because the falls here are super easy to observe on the boardwalk near the entrance to the education center with educational collections, displays, nature play areas, and a gift shop. You can buy corn here to feed the ducks and geese near the falls! Note this waterfall doesn't run during the winter months.
1660 E Shore Dr, Green Bay, WI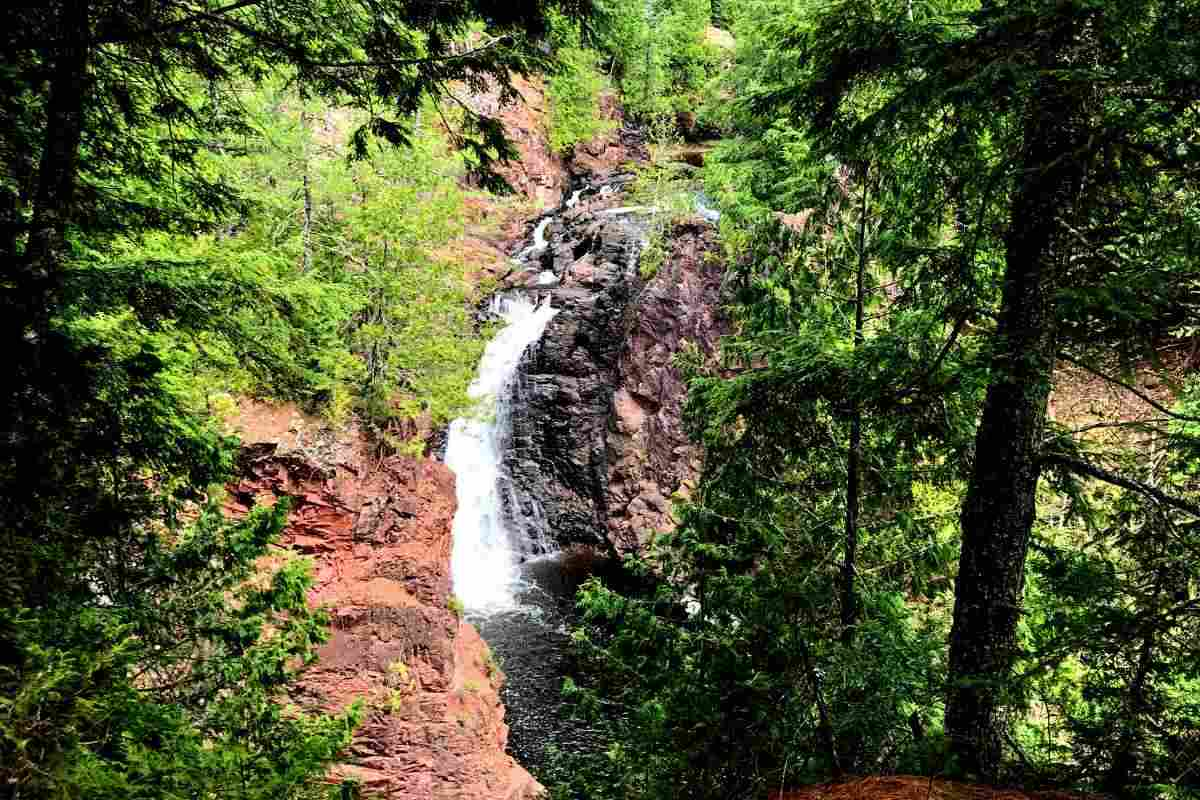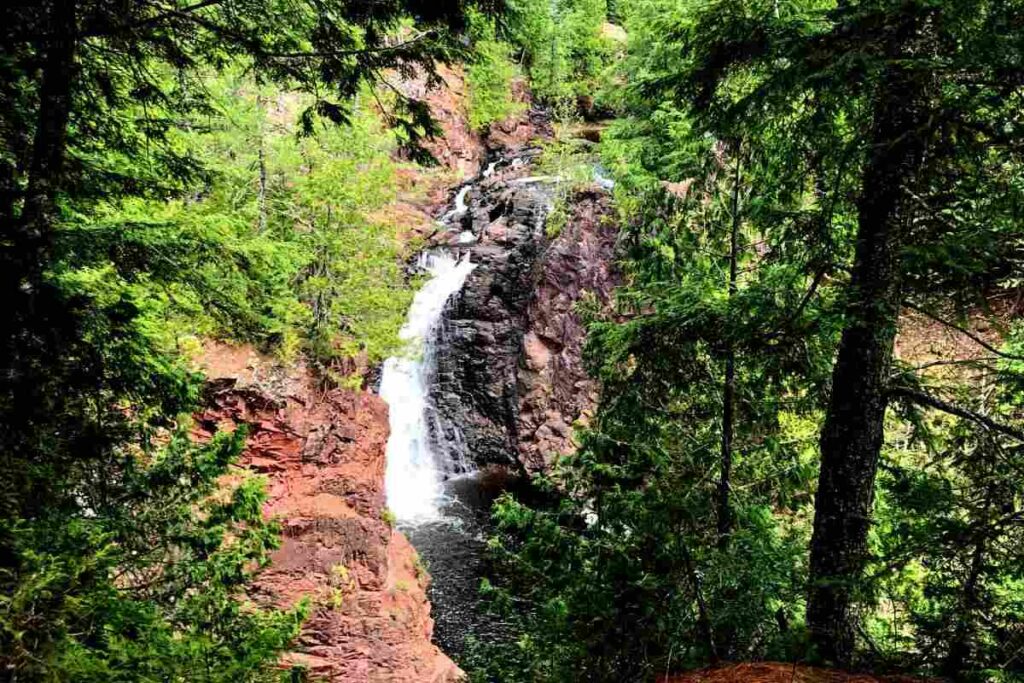 2 – 5. Copper Falls State Park: Copper Falls, Brownstone Falls, Tyler Forks Cascades, and Red Granite Falls, Mellen
Copper Falls State Park is one of Wisconsin's most scenic state parks, with waterfalls on the Bad River and Tyler Forks tributary. There are four waterfalls in the park which is full of streams, canyons, deep gorges, and miles of trails to explore.
The 1.7-mile Doughboy's Nature Trail is one of the best hikes in Wisconsin and has viewing spots for three waterfalls in the park Copper Falls, Brownstone Falls, and Tyler Forks cascades. The rock stairs on this trail can be a little slippery if it has been rainy or damp, wear good shoes and watch your step!
About a half mile of the trail is accessible and can be reached via the Disabled Access road.
Red Granite Falls is also located in the park and might be best described as a set of rapids. The unique feature of this spot is that you can easily explore everywhere around the falls. The trail to the falls is a mostly level 2.5-mile hike with a trailhead near Loon Lake.
Copper Falls State Park, 36764 Copper Falls Rd, Mellen, Ashland County, WI
6. Cascade Falls, Osceola
No hiking needed to view this gorgeous waterfall! Just steps off South Cascade Street in Downtown Osceola, you'll find the scenic 25-foot falls fed by Osceola Creek. There's no entrance fee to the city park.

If you're feeling adventurous, you can take a trip down 135 steps to enjoy the natural beauty of the falls. It is accessible from the deck and set of stairs by Sodie's Cigar Shop. If you'd like a scenic lunch, you'll find the park's picnic area inviting.
You can also head out onto one of the trails (Cascade Falls Trail, Eagle Bluff Trail, or Simenstad Trail) to explore and take in views of the St. Croix River and different vantage points of the falls.
Cascade Falls, Cascade Street, Osceola, Polk County, WI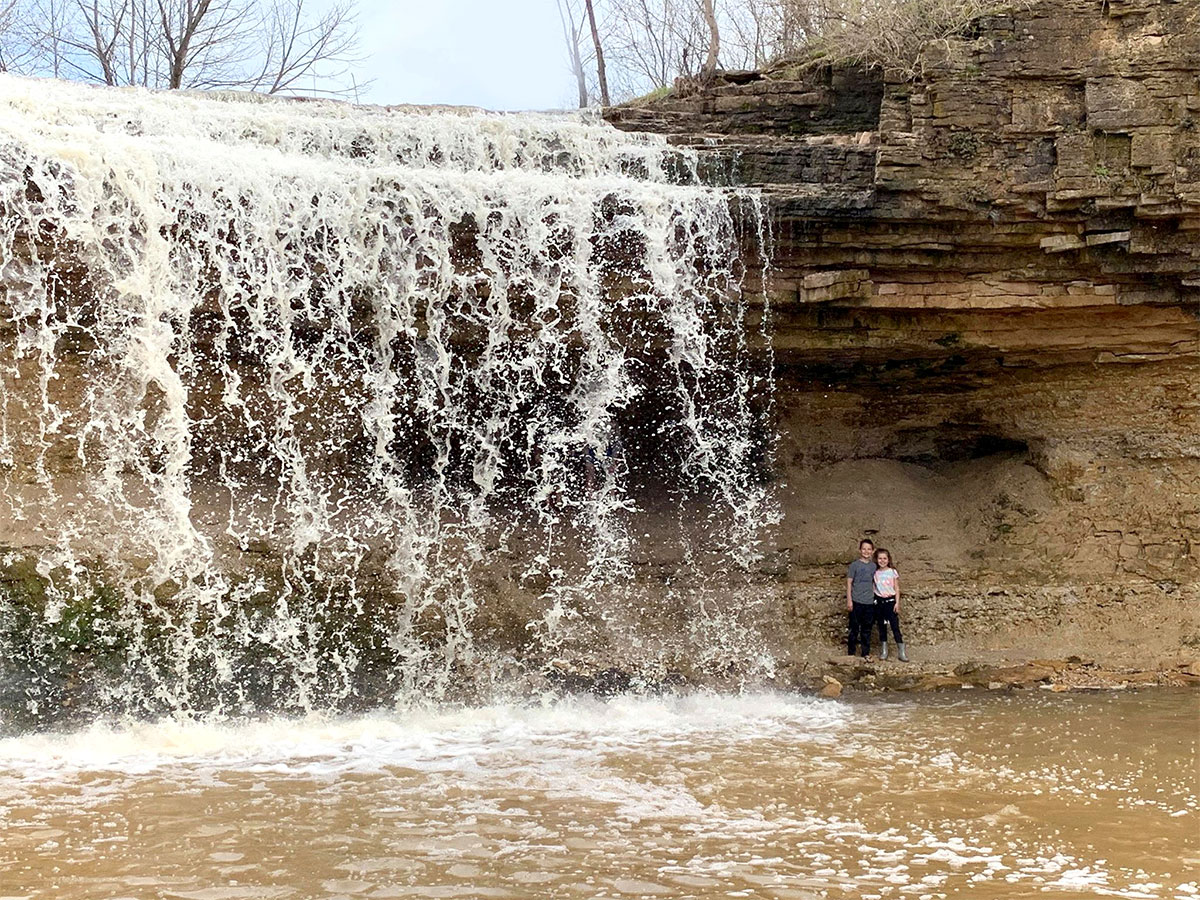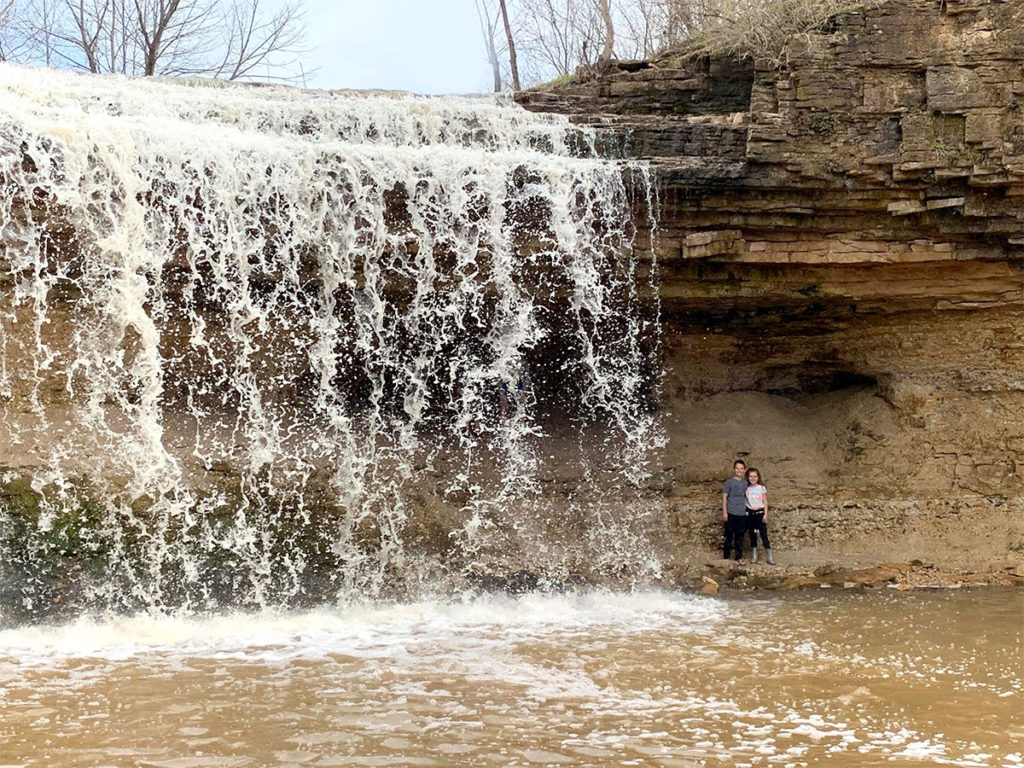 7. Fonferek Glen, Green Bay
Spend the afternoon alongside family and venture through Fonferek Glen County Park, a 74-acre nature reserve in Green Bay. The park features plenty of wide-open space to explore, and families can trek along the Dolomite cliffs or creek and take in the scenery of the 30-foot waterfall! It's also one of our favorite places to hike around Green Bay.
2825 Dutchman Rd, Green Bay, WI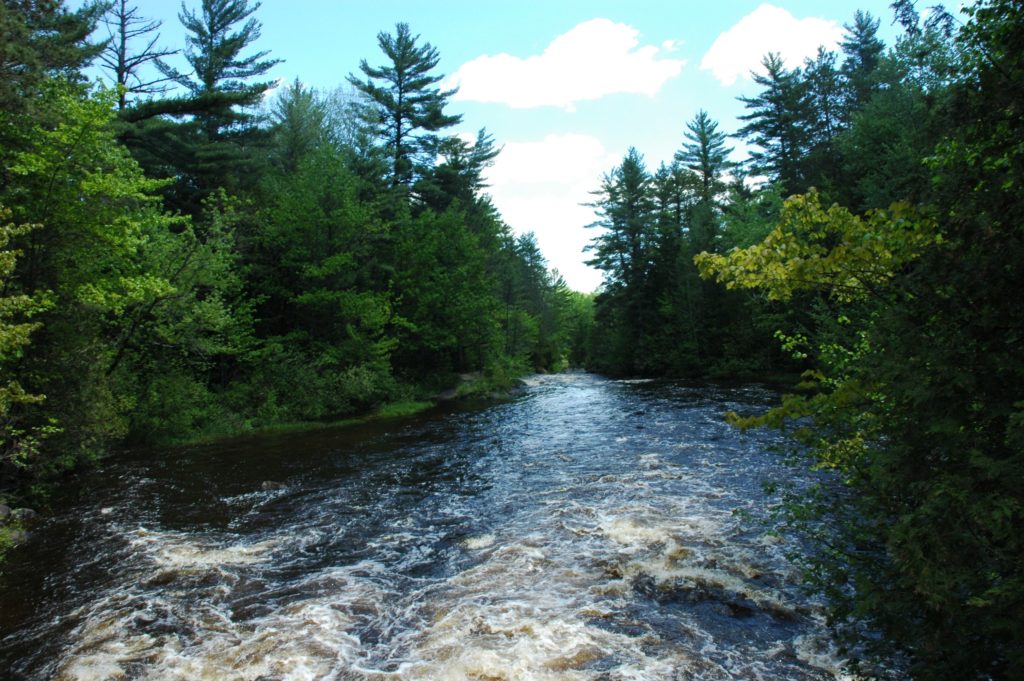 8. Dave's Falls, Amberg
Just north of the NEW Zoo exit, follow 141 through Wausaukee. You can't miss Wausaukee, it has a 25 mph speed limit. It is a cute little town with a nice roadside ice cream shop. Five miles after Wausaukee, you will see a sign for Dave's Falls County Park along the Peshtigo River. If you end up in Amberg, you have gone too far in the county with the most waterfalls!
Notes about the park:
Bring exact change or a checkbook. It is a self-pay station. $3 for the day at Marinette County Parks.
There is a fun old-fashioned pump for well water, a small playground, and a picnic area.
Fair warning: There are only pit toilets!!
SUMMER WARNING BRING BUG SPRAY. Better yet, just bathe in it before you leave and when you get there. The last two times we have gone the mosquitoes have been horrific! I am from Wisconsin; I get mosquitoes, and they are particularly bad here.
After you have paid, parked, and coated yourself in six kinds of bug repellent, it is time to explore! There are relatively easy-to-maneuver paths, but they are not stroller friendly. You can enjoy the main part of the falls without leaving a fairly even trail. There are wood stairs with a railing, a footbridge, and rocks, but the main area is pretty easy to navigate.
Dave's Falls, Old 141 Rd, Amberg, WI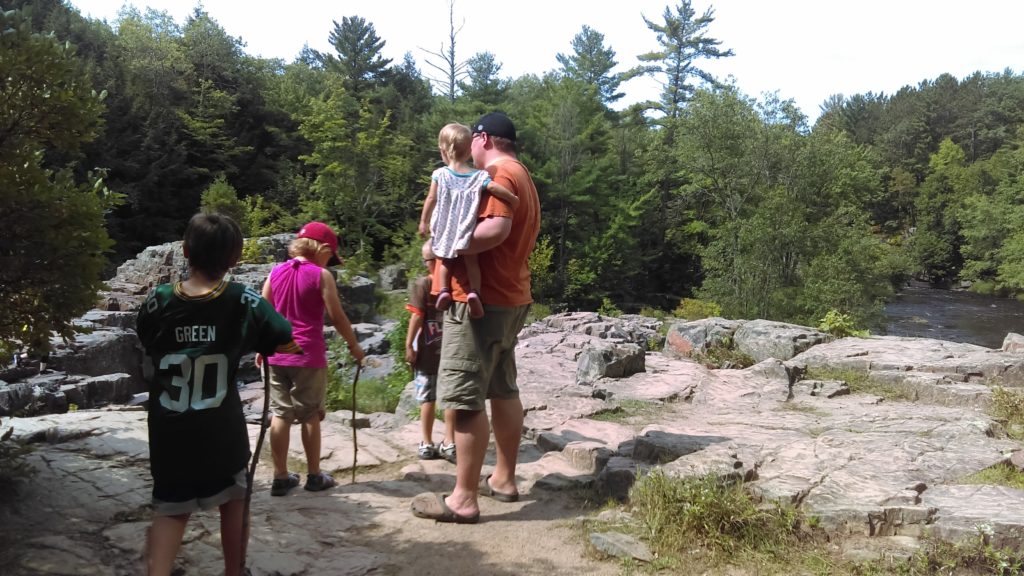 9. The Dells of the Eau Claire County Park, Aniwa
The Dells of the Eau Claire River Park and campground is a favorite Central Wisconsin adventure. The Eau Claire River created this amazing geological feature with 1.8 billion-year-old volcanic rock palisades and potholes carved into the rock of the dells and gorge.
You can reach the falls from a beach parking area or an upper lot by the falls. If you choose to park at the beach, follow the Ice Age Trail along the river from the beach and then cross a road to the most wonderful natural playground you could ever imagine, with rocks to climb, waterfalls to watch, and natural pools to splash in.
The best time to visit these popular falls if you're looking for fewer fellow travelers would be on weekdays or earlier in the morning.
The Dells of Eau Claire, P2150 County Highway Y, Aniwa, WI
Other fun things to do in Wausau and Stevens Point
10. Foster Falls, Gurney
This remote waterfall is around 25 feet tall and is easy to reach with a short walk from a well-maintained dirt road.
Foster Falls, Iron County, north of Upson, Gurney, WI – North on 122 from Upson and then west onto Sullivan Fire Lane; look for a side road on the right with a turnaround and park here. You can follow your ears to the falls on the right!
11. Horseshoe Falls, Dunbar
A true hidden gem in Marinette County! This one takes a hike to reach one of the more obscure waterfalls in the Waterfall Capital of Wisconsin. It is not among the largest falls on this list, but it is magical and stunning, tucked away on a bend in Pike River.
Horseshoe Falls, Trailhead, and parking on 12 Foot Falls Rd off of Forest Road 510, Dunbar, WI
12. Houghton Falls, Bayview
These 60-foot falls protect a pre-Cambrian sandstone gorge along the shore of Lake Superior. They are located in a natural state area important for trees, shrubs, plants, wildlife, and migratory birds. It is open year-round.
Houghton Falls, Bayfied County, Bayview, WI – Trailhead and parking south of Houghton Falls Road.
13. Interstate Falls, Hurley
These 18-foot falls near Hurley can be viewed from overlooks on an easy .3-mile trail. The waterfall is along the Montreal River and tumbles over black basalt rock formations created over a billion years ago from lava seeping up, creating the rapids and cascades that lead to the falls.
Interstate Falls, Iron County, Hurley, WI – Look for the Interstate Falls sign on Highway 2 west of Hurley and turn onto Center Drive, where you'll find a parking area and trailhead.
14. Lost Creek Falls, Cornucopia
You can walk behind a scenic waterfall tucked into the woods with an 8-foot plunge on a 2-mile out-and-back gravel trail that takes you over two bridges crossing Lost Creek. This is a perfect place to plan a trip with a closer look at a waterfall.
Lost Creek Falls, Cornucopia, Bayfield County, Cornucopia, WI – Parking area and trailhead on Trail Drive off County Highway C.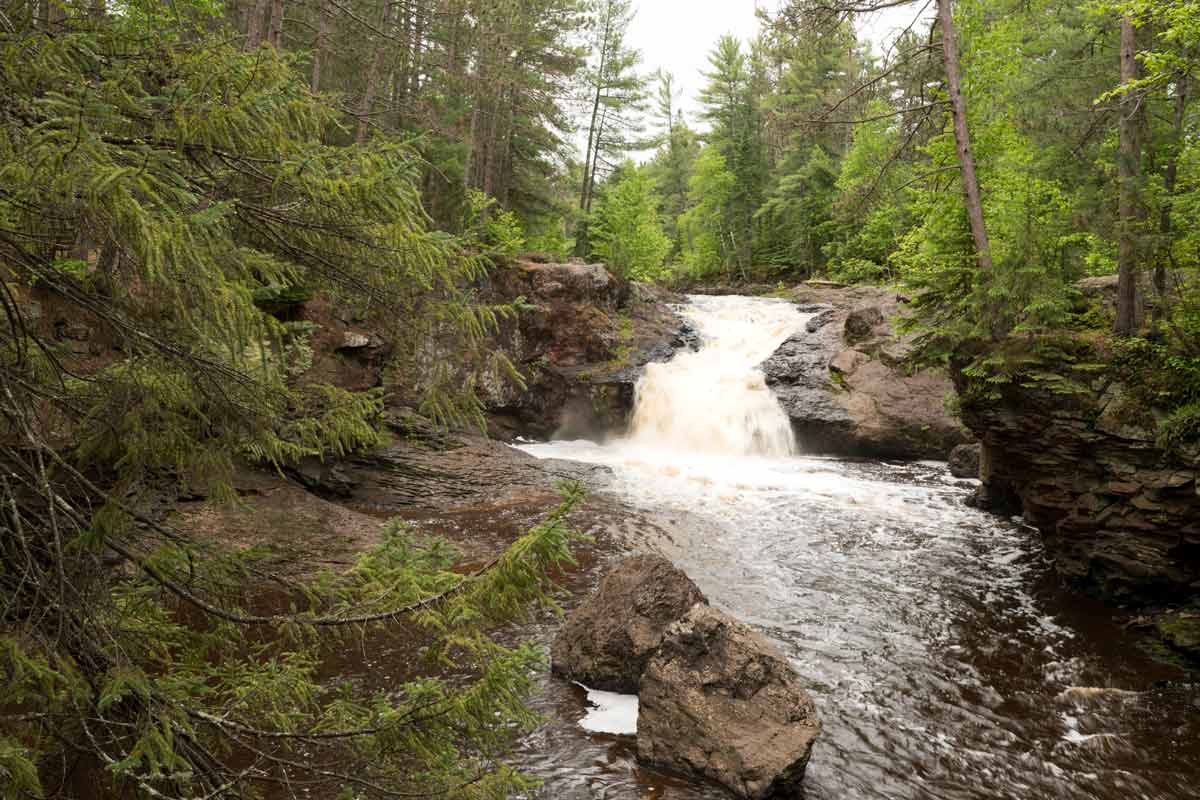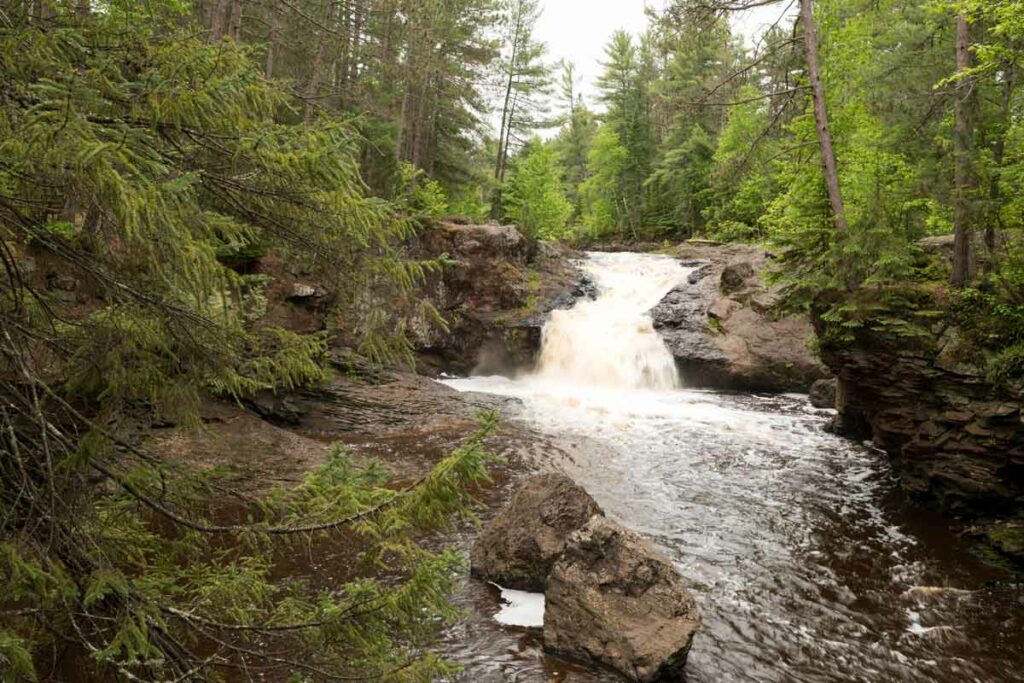 15-18. Amnicon Falls State Park, South Range
This smaller state park near Superior has less than 2 miles of easy, family-friendly hiking trails but is full of waterfalls, cascades, and rapids cutting through craggy basalt bumps and sandstone carved into gorges. This park is near Pattison State Park for a day of waterfall hikes and adventure.
Upper and Lower Amnicon Falls
Easy-to-visit Lake Superior waterfalls. The falls are about 15 feet high and 30 feet long ending in a pool that allows swimming. A picturesque covered bridge between the falls was designed by a La Crosse man in the early 20th century and is one of only five remaining.
Snake Pit Falls
Across the bridge to a small island river find this plunging set of falls into a pool with secret spot vibes.
Then and Now Falls
True to their name, these cascade falls can generally be found only in the spring or after a big rain.
Upper and Lower Amnicon Falls, Snake Pit Falls, & Then and Now Falls, Amnicon Falls State Park – 4279 S. County Highway U, WI
19. Morgan Falls, Marengo
This is a thin, tall (70 feet) waterfall tucked away in Chequamegon-Nicolet National Forest, surrounded by rugged, moss-covered rocks making it one of the most picturesque waterfalls in northern Wisconsin. There is a hiking trail that is a 1.2-mile loop to view the falls with a boardwalk and bridge to ease your way. You can also access a hike to St. Peter's Dome, a large granite outcropping with gorgeous views.

Note: There is a fee to access the National Forest.
Morgan Falls, Marengo, WI – The parking lot and trailhead are located on Ashland Bayfield Road.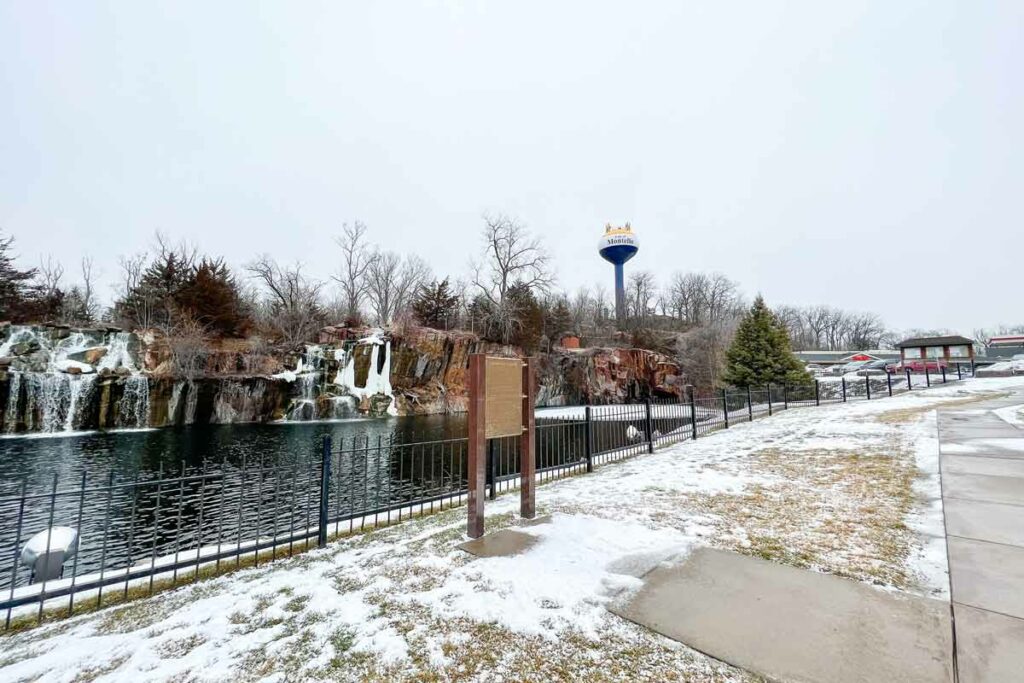 20. Montello Granite Quarry Falls, Monello
This is a perfect road trip side quest adventure waterfall if you're headed to Wisconsin Dells! The retired quarry has been repurposed into Dagette Memorial Park by the city of Montello and is beyond easy to access. The man-made cascading falls were built in 1992 and look magical year-round.
Montello Granite Quarry Falls, Montello, WI – Easy parking in a shared lot with Kwik Trip, and then just follow the sidewalk paths to the observation area.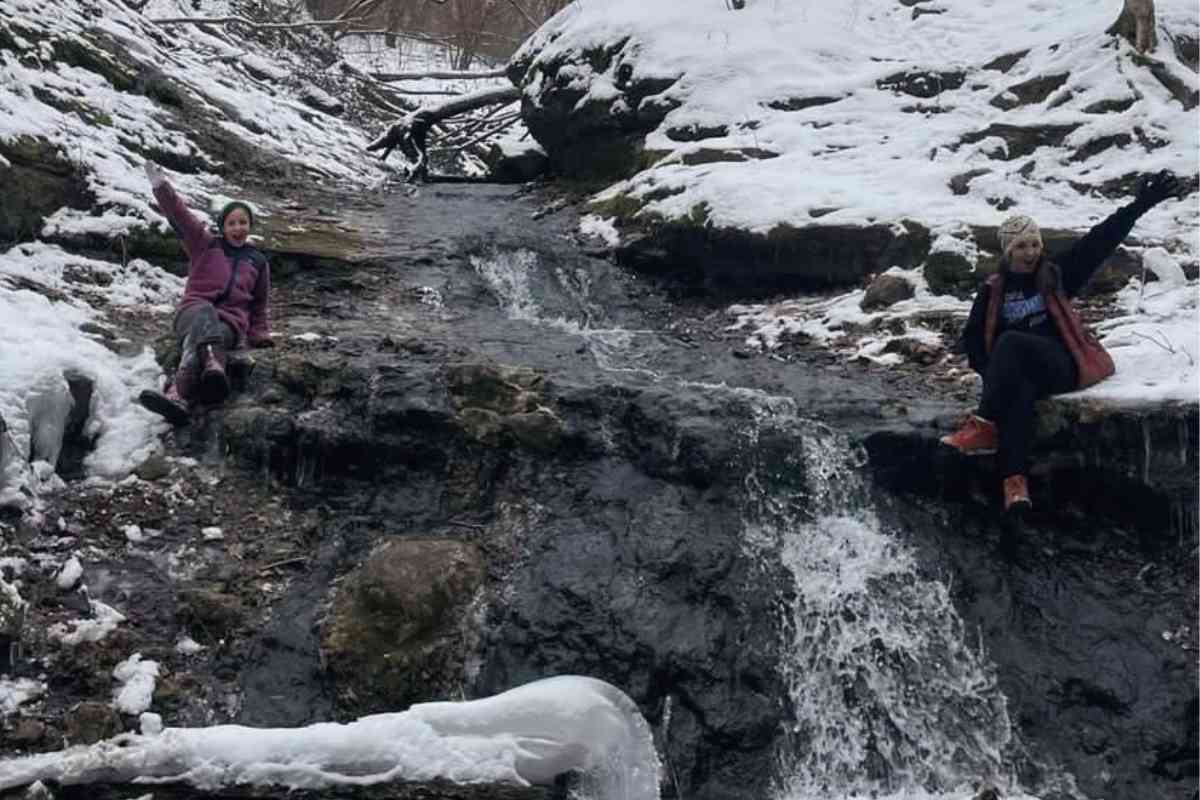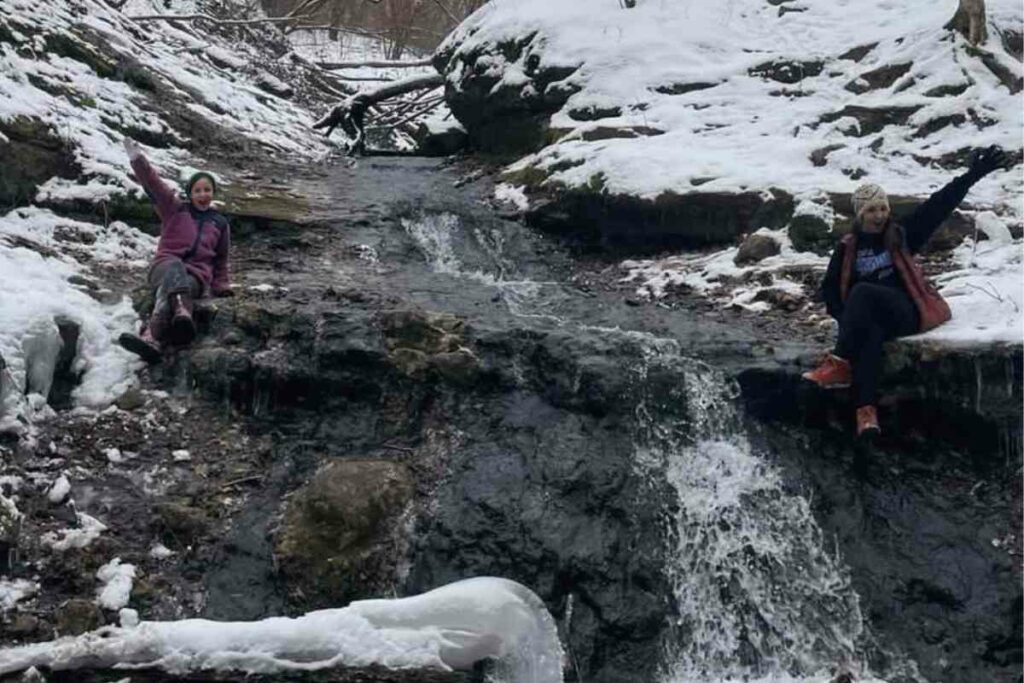 21. Parfrey's Glen, Merrimac
This State Natural Area is the most visited natural area outside of Devil's Lake State Park. The Glen is around 100 feet deep, and the walls are sandstone and quartzite. It is home to many threatened plants and insects, be sure to stay on the 0.8-mile trail, and picking flowers or collecting items like rocks is not allowed. Following the stream up to the waterfall is okay, but do not go around or beyond the falls. You can find a picnic area a short distance from the parking area.
Parfrey's Glen, Merrimac, WI – Hwy 113 South, entrance on the left on County Road DL. If you reach the Old Schoolhouse Restaurant, you've gone too far! State Parks pass required.
22. Potato River Falls, Gurney
This is one of the most spectacular Wisconsin waterfalls that drops 90 feet over two drops on its way to the Bad River. There are trails with stairs and observation decks for both the upper and lower falls that total about one mile altogether. The park area at the end of Falls Road has a picnic shelter and pit toilets.
Potato River Falls, Gurney, WI – Highway 169 to Falls Road, park at the end of the road.
23. Lower Potato Falls, Gurney
This is a super impressive waterfall! It is 50 feet tall and has lots of opportunities to explore \ with observation decks, trails, and stairs for views and access. The park has a picnic area, pit toilets, and a parking lot.
Lower Potato Falls, Gurney, WI – Potato River Falls Road in a town park.
24-25. Pattison State Park, Superior
Superior, Douglas County, WI
The highest waterfalls in Wisconsin and the 4th highest east of the Rocky Mountains are found in this 1400-acre state park along with a beach, nature center, and hiking trails.
Big Manitou Falls
This Northern Wisconsin gem is the tallest waterfall in Wisconsin at steep drop of 165 feet, cascading from the Black River. Following the Big Manitou and Little Manitou Falls Trail in Pattison State Park will take you on an easy 4-mile walk loop hike with multiple lookout points to view Big Manitou Falls.
Big Manitou Falls, Pattison State Park, Superior, WI
Little Manitou Falls
Little Manitou Falls is a 30-foot waterfall just upstream from Wisconsin's highest waterfall, and you can get up close to this one.
Little Manitou Falls, Pattison State Park, Superior, WI
26-27. Long Slide Falls & Smalley Falls, Pembine
One easy hike, two spectacular waterfalls! Get your county park pass to access the parking lot and trailhead to see one of the most impressive waterfalls of the Lake Michigan Watershed.
The falls are a 50-foot scenic slide, the highest in Northeastern Wisconsin. Follow the signs to Long Slide Falls, and it is just a short walk to the falls and then another ½ mile to Smalley Falls.
Long Slide Falls & Smalley Falls – North of Pembine on US Highway 8/141. Follow the signs to Morgan Park and then Long Slide Falls.
28. Pewit's Nest, Baraboo
Pewit's Nest State Natural area is about two miles southwest of Baraboo. The natural gorge is 30 – 40 feet deep and formed during the retreat of the last glacier through the area. The area has unique Cambrian sandstone features in a narrow canyon with low waterfalls cut by Skillet Creek. Walking trails lead to the gorge and a lookout at the top of the cliffs. It is prohibited to climb on the rock walls, enter closed areas here, and carry in food or beverages.
Pewit's Nest, Baraboo, Saulk County – Parking area south of County W. Do not park on the road, you can be fined or towed.
29. Stephen's Falls, Dodgeville
Tucked into Governor Dodge State Park, a half-mile paved and boardwalk trail leads to a staircase to the 20-foot cascade falls. This is a little storybook setting with a sweet and short hike to a beautiful feature of the Driftless Area.
While in the area, it is worth visiting Wyalusing State Park for amazing views of the Mississippi River and Driftless.
Stephen's Falls, Governor Dodge State Park, 4175 WI-23, Dodgeville, WI
30. Superior Falls, Saxon
Impressive waterfalls near Lake Superior that is relatively easy to reach and viewable from the parking area. The falls consist of several drops between gorge walls. There is a paved trail that has views of the falls and lake. There is also a rustic trail to get a view of the upper falls.
Superior Falls, Near Ironwood and Hurley, Saxon, WI – Highway 122, north of US 2, about a ½ mile into Michigan's upper peninsula, look for a gravel road and sign for Superior Falls.
31. Upson Falls, Upson
While this is a relatively short waterfall at only eighteen feet tall, it is a beautiful spot you do not want to miss if you are in the area.
The pathways to the falls might be a little hard to follow as it is not a maintained trail system. Campgrounds, bathrooms, and picnic areas are all available.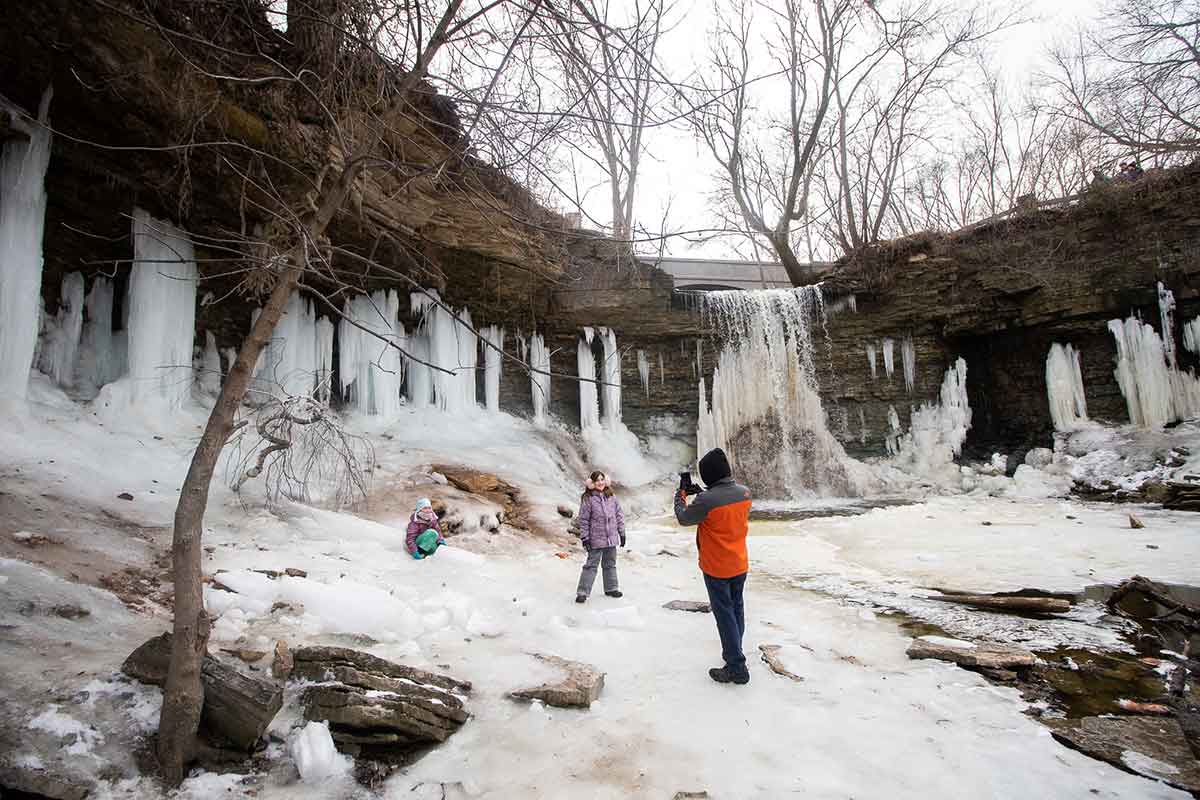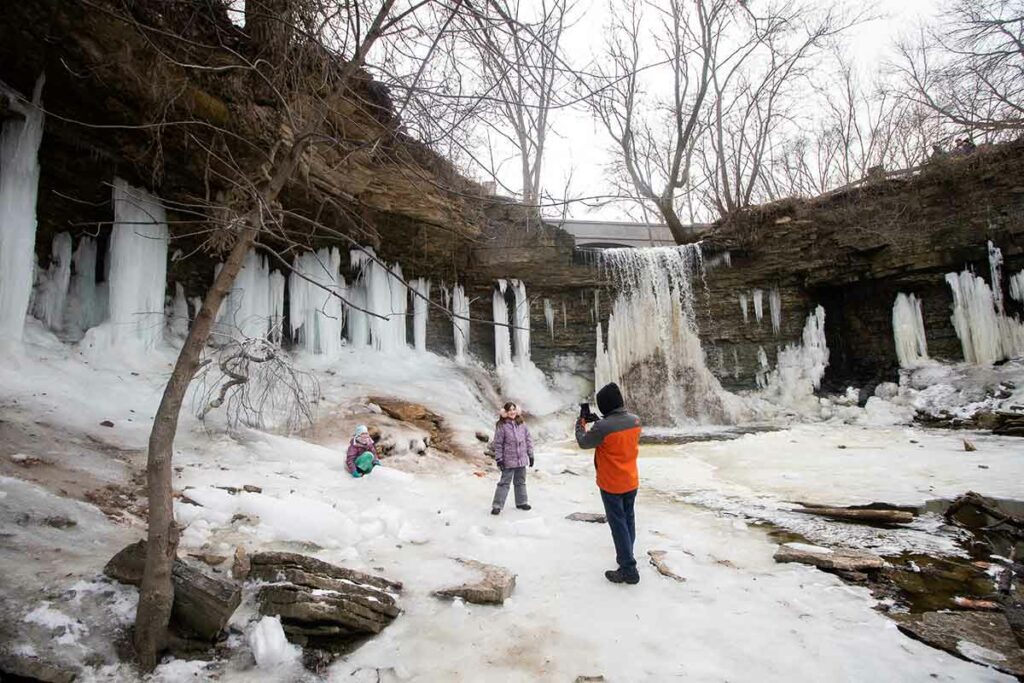 32. Wequiock Falls, Green Bay
The waterfall inside Wequiock Falls Park in Brown County may be overlooked by the average passersby, giving it a somewhat camouflaged feel. There is no official signage for the park, but GPS and map systems accurately direct where to pull into the parking lot and cross the grounds to the falls' 25-foot ravine. You can view the waterfall from the bridge or take the stairs down to falls level.
Depending on the season, water levels vary, so please use caution when exploring. While families can get close to the falls, rocks can become slippery when wet. The seasons each offer unique views; winter provides a 'frozen in time' feel with still large icicles, spring showcases the falls' powerful gushes after a rainstorm, and during summer and autumn, the falls tend to slow down and reduce to a relaxing trickle.
3426 Bay Settlement Rd, Green Bay, WI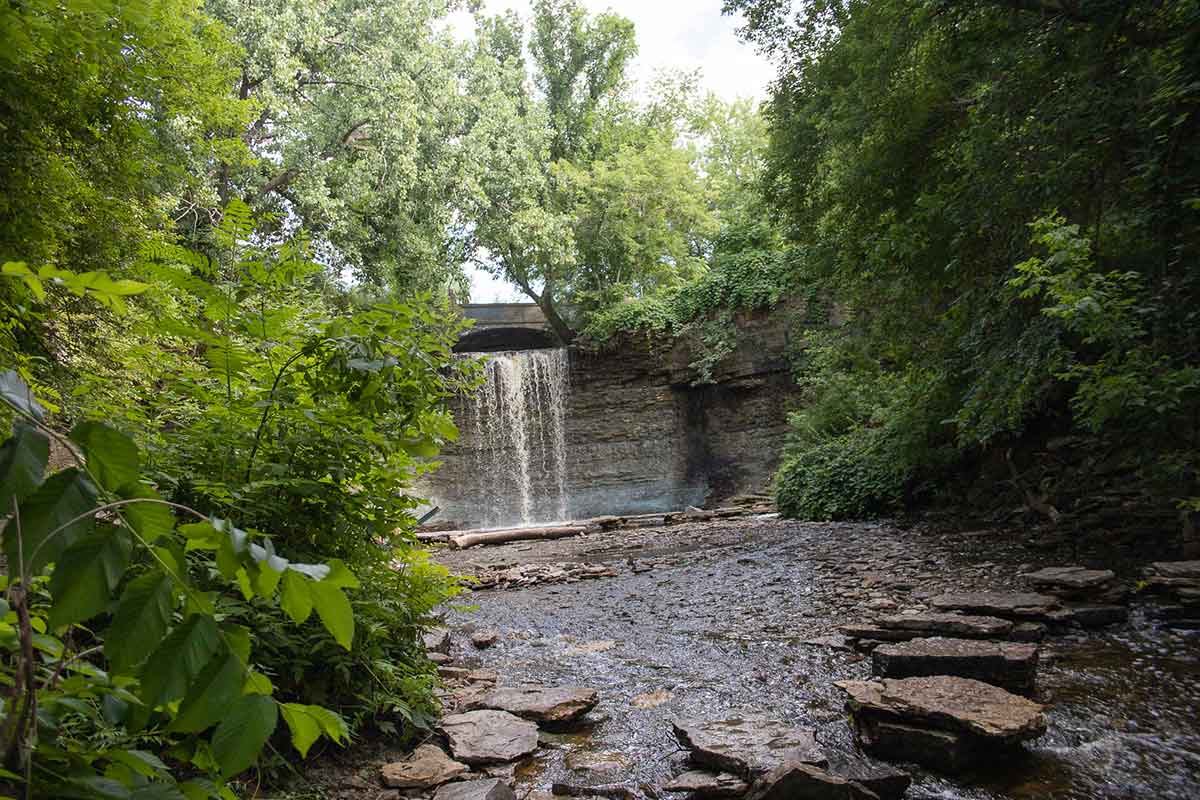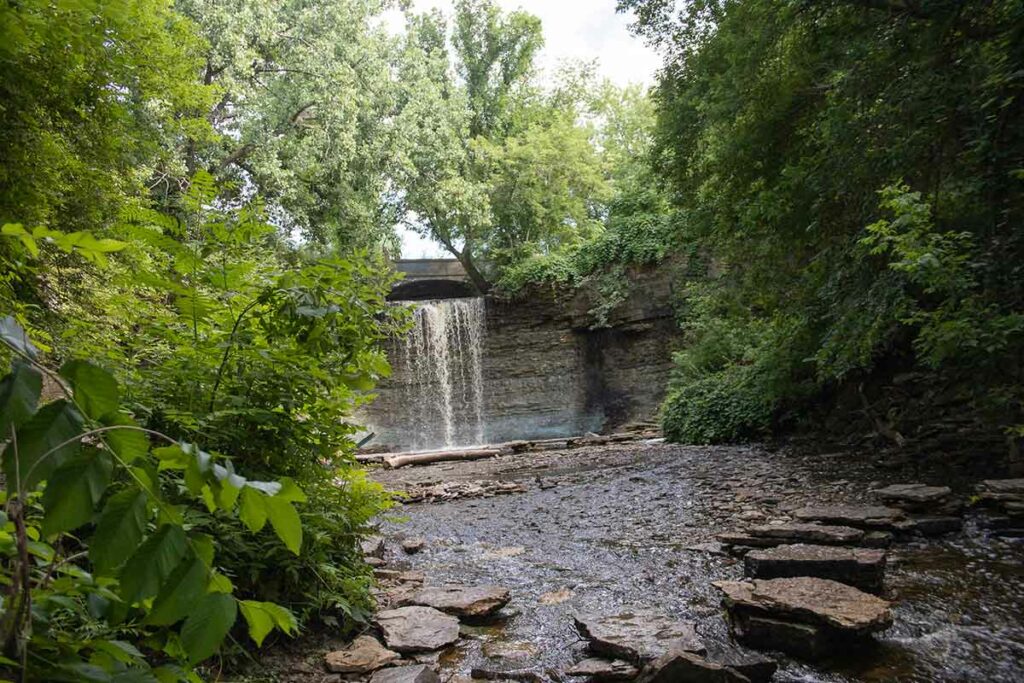 33. Willow Falls, Hudson
This is one of the most impressive waterfalls in Wisconsin at 100 feet wide, with several drops on the Willow River as it makes its way to the St Croix River in an impressive gorge. The falls are easy to reach on a set of trails; the shortest is less than ¼ mile of a steep paved trail. You can get as close as you'd like and even wade around in the falls!
The state park has miles of beautiful trails to explore, lakeside picnic areas and swimming on Little Falls lake, and a nature center on 2800 acres of prairie and rolling countryside.
Willow Falls, Willow River State Park, St Croix County – The park is just outside of Hudson off US-12 East on County Highway A
Find a Place to Stay Near Your Waterfall Destination