Spend the afternoon alongside family and venture through Fonferek Glen County Park, a 74-acre nature reserve located in Green Bay. The park features plenty of wide-open space to explore, and families can trek along the Dolomite cliffs or creek and take in the scenery of the 30-foot waterfall! It's also one of our favorite places to hike around Green Bay.
Fonferek Glen has been a popular destination for nature lovers since it opened in 1991. The county park was established when the Brown County Park Department acquired the land from the Fonferek Family. This gem quickly became a small wonder in Brown County and was often dubbed a "quieter Wisconsin Dells" in Northeast Wisconsin.
There is also a geological treat in store for visitors! Occasionally, families can stumble across history within the rocks by finding fossils! Over the years, Tabulate Coral has been spotted in the Dolostone layers. Tabulate Coral, an extinct form of coral consists of hexagonal cells called Corallites, which form a honeycomb shape and act as a skeleton for Calcite. They are from the early Ordovician period and are a type of species that were important reef makers and most common in water bedded areas.
While walking the 0.5-mile trail loop that spans the Fox River, families can also check out the many native trees and spot small animals scurrying about. Bring a pair of binoculars – the area's openness and lush trees make it a prime bird-watching spot!
Fonferek is not only gorgeous and vast, but it provides families the opportunity to stay socially distant from others but still enjoy time together. There are a variety of activities for families to enjoy at Fonferek; here are a few ideas.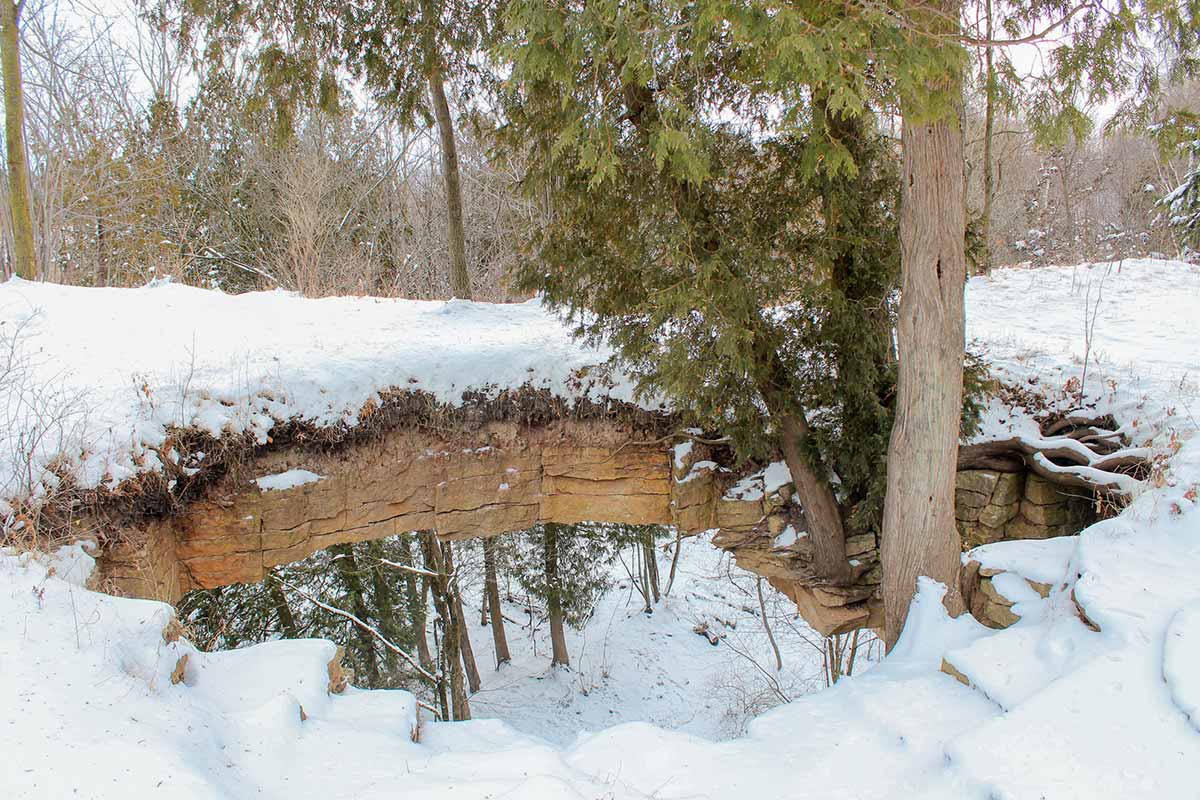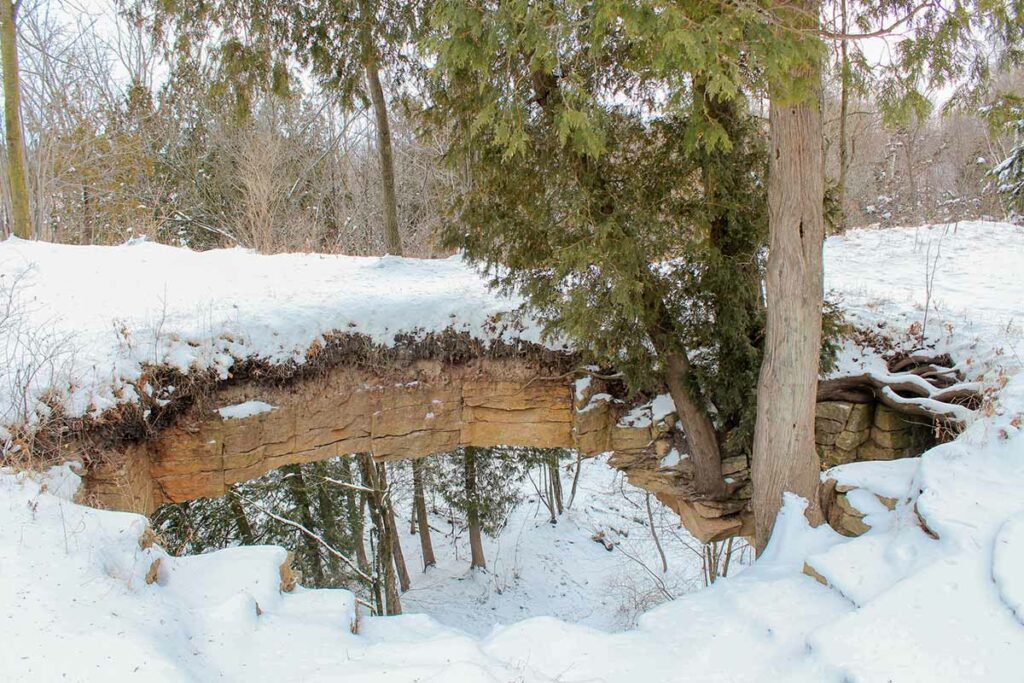 Things to Do while at Fonferek Glen
1. Try Nature Yoga
Find a safe and comfortable, and quiet spot to stretch out. Individually or as a family, work through soft stretches and poses while listening to nature's calls or follow a free guided meditation session that can be found on YouTube or in apps like Headspace.
2. Paint the Scene
Pack a set of paint pens and sketch pad, and find your muse in nature! Visitors of all artistic abilities can create a scenic oasis on paper between the beautiful trees and tranquil waterfall.
3. Go on a Scavenger Hunt
Kids will especially love adventure and an opportunity to be curious with a fun scavenger hunt! Make a list of items to find and when that object is located, check it off the list! This can be an engaging activity and promotes leaving nature in its natural state and undisturbed while learning to identify it. Try geocaching or letterboxing.
4. Picnic at the Park
No matter the season, families can bring along a picnic lunch and enjoy it at the park. Wintertime snacks like popcorn and hot chocolate can be part of a perfect little break. Be sure to clean up the area and carry out any garbage to dispose of at home.
5. Snap Some Photos
Are you a shutterbug behind the lens? Fonferek provides an amazing opportunity to develop photography skills by providing a stunning landscape! Kids can enjoy taking pictures too (my daughter loves this camera)!
Many visitors also love taking photos of the waterfall! No camera? No worries! Have fun snapping away with your phone, and don't forget a memorable family selfie!
Next time your family could use a little nature, go for a short drive to Fonferek for a fun afternoon. From the beautiful waterfall to the winding trail loop, a visit to the park provides a dose of fresh air that everyone needs!
Brown County Wisconsin – Fonferek's Glen, 2825 Dutchman Rd, Green Bay