Our kids have always been huge fans of places where they can pet animals. It is one of their favorite things to do! In their opinion, the more hands-on the better. At some of these spots, they might be able to just pet through a fence or gate, but at others, kids are able to hold baby animals, feed them, and spend more time with them. Find a new place to explore nearby or take a road trip!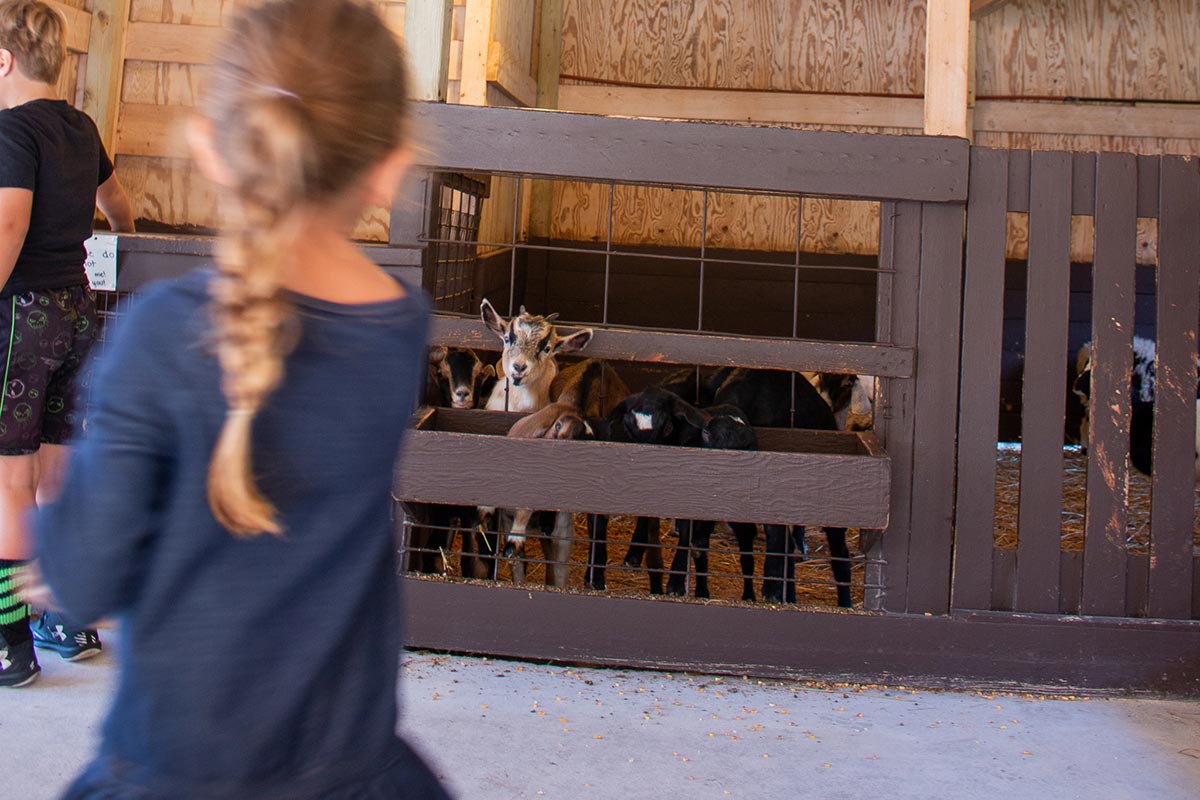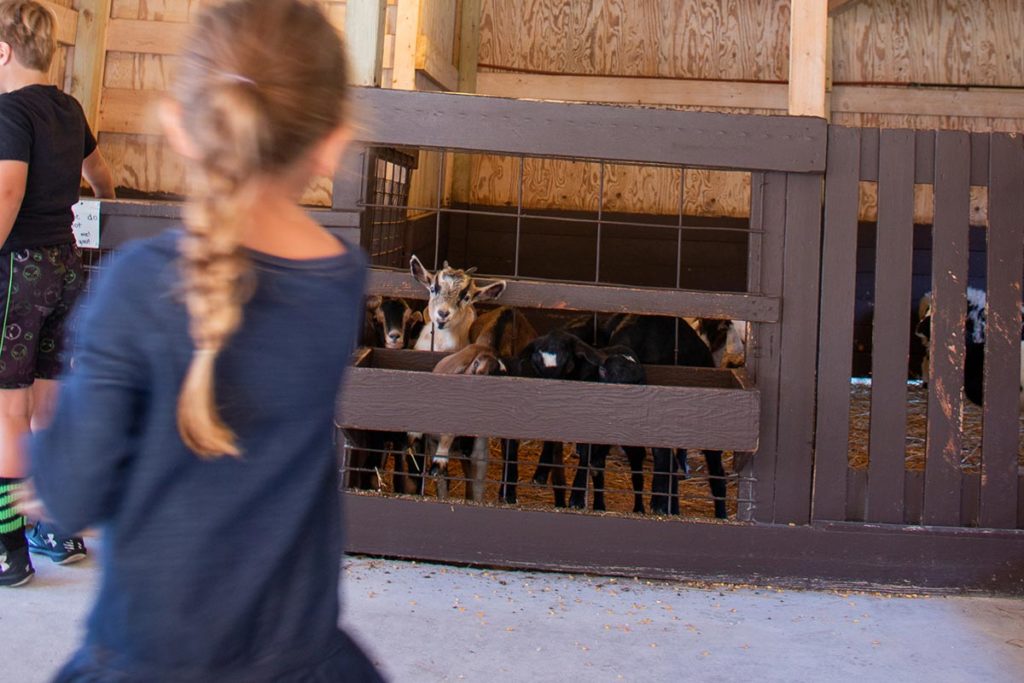 Tips for Petting Zoos and Farms
Most of these spots involve a lot of walking, wear comfortable shoes and consider bringing a stroller or wagon.
Get familiar with the rules of the zoo or farm you're visiting to help keep the animals healthy and safe. Some places ask that you wash your hands before and after. Some allow for animals to be handled, others will ask that you only pet and not lift.
Feeding rules will vary also, keep an eye on your human kids' snacks while you're visiting so that no animals end up with a between meals snack of goldfish crackers.
Bring your own hand sanitizer and/or wipes. We've ended up at a wash sink with no soap or an empty sanitizing station more than once. If you sanitize between or before feeding animals make sure that hands are all the way dry!
Don't forget the sunscreen! Often these awesome spots have a lot of sun exposure!
Be sure your camera and/or phone have space for plenty of photos. Animals and kids make for the best photo ops! Don't miss any cute moments deleting screenshots and kid selfies!
Please check with individual farms before you head out to confirm hours, admission rates, and current Covid precautions and procedures to ensure that you have a great trip!
Here is a roundup of petting zoos and farms in and around Northeast Wisconsin to enjoy with the animal lovers in your family!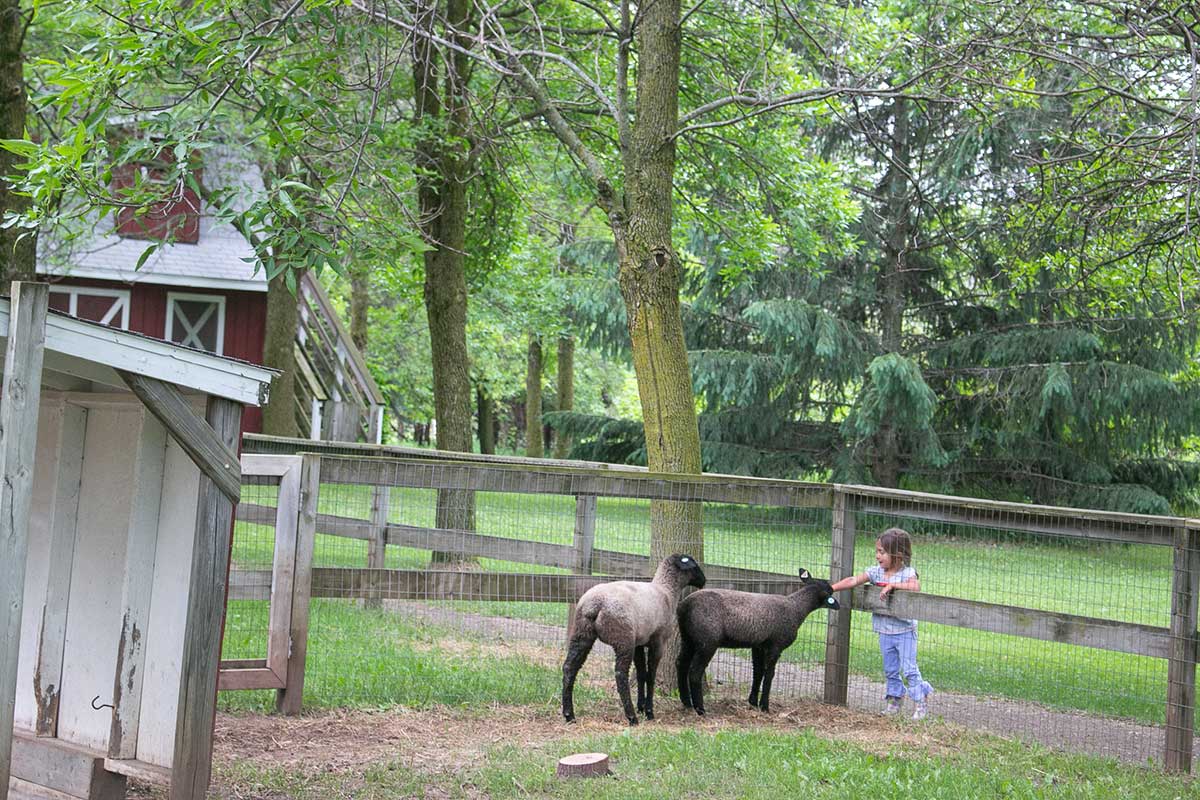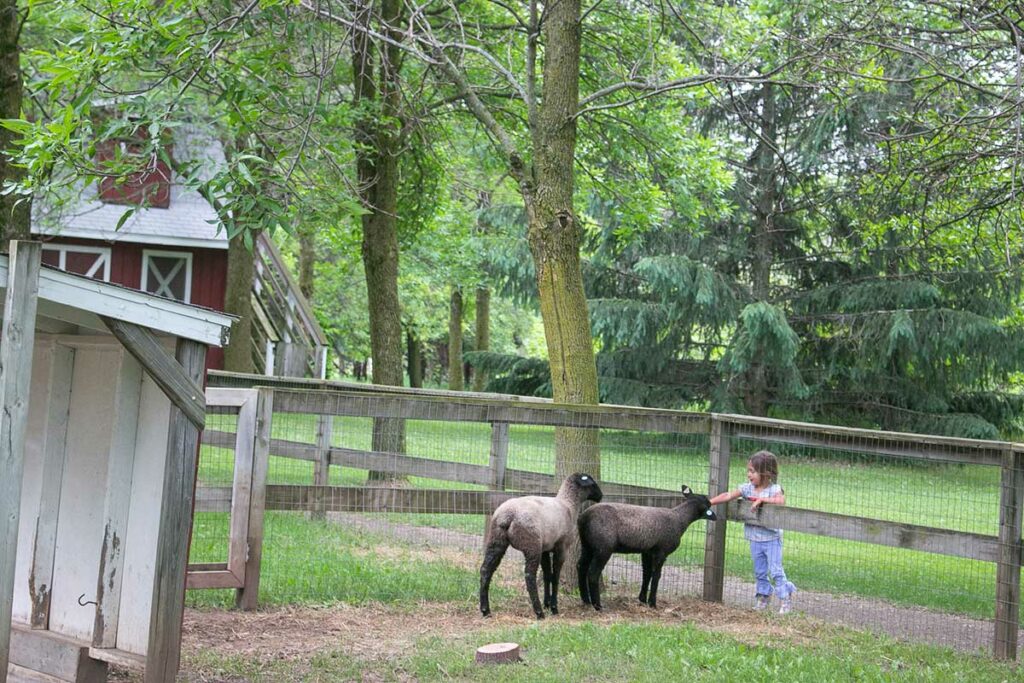 Petting Zoos & Farms Around Northeast Wisconsin
Plamann Park Children's Farm, Appleton
Kids petting farm located within Plamann Park. Petting farm is a single large barn and pen enclosure. The farm is the home of several young farm animals on loan from local farms (cows, pigs, goats, sheep, and rabbits). Animals can be viewed and pet by visitors from outside the fence, no feeding permitted.
Open daily Memorial Day to Labor Day
Hours: 9 am – 4:30 pm, weather permitting.
Admission: Free
1375 East Broadway Drive
Mulberry Lane Farm, Hilbert
Full hands-on petting farm. Kids will be able to milk a cow, catch a chicken, kiss a pig, cuddle kittens, feed goats and sheep, and take a hayride. Picnic areas are available for you to bring a bag lunch. Pumpkin picking is available in the fall.
Open May-October
Hours: vary but are roughly 10 am – 3 pm, please see full calendar for exact hours
Admission: $13.00 cash / $13.50 credit card per person older than 2; children 12 months & younger are FREE
W3190 County Road B, Hilbert
Animal Haven Farm and Zoo, Weyauwega
Small town zoo with farm animals ready to be pet. Goats are available for feeding. Zoo includes a play area for kids.
Open April – October
Hours: 10 am – 7 pm
Admission: adults $10.00, children 6-12 $8.00, 2-5 $6.00 & under 2 FREE
N1720 Bucholz Road, Weyauwega
Glacier Ridge Animal Farm, Van Dyne
One-of-a-kind petting zoo! The farm is a 14-acre petting zoo in the middle of a working bison farm. Wear good walking shoes, some of the paths are rough.
Open Memorial Day Weekend through the last weekend in October
Hours: Friday, Saturday & Sunday from 10 am – 4 pm
Admission: $8 per person. Age 2 & under and guests with special needs are FREE
N9454 Ridge Road, Van Dyne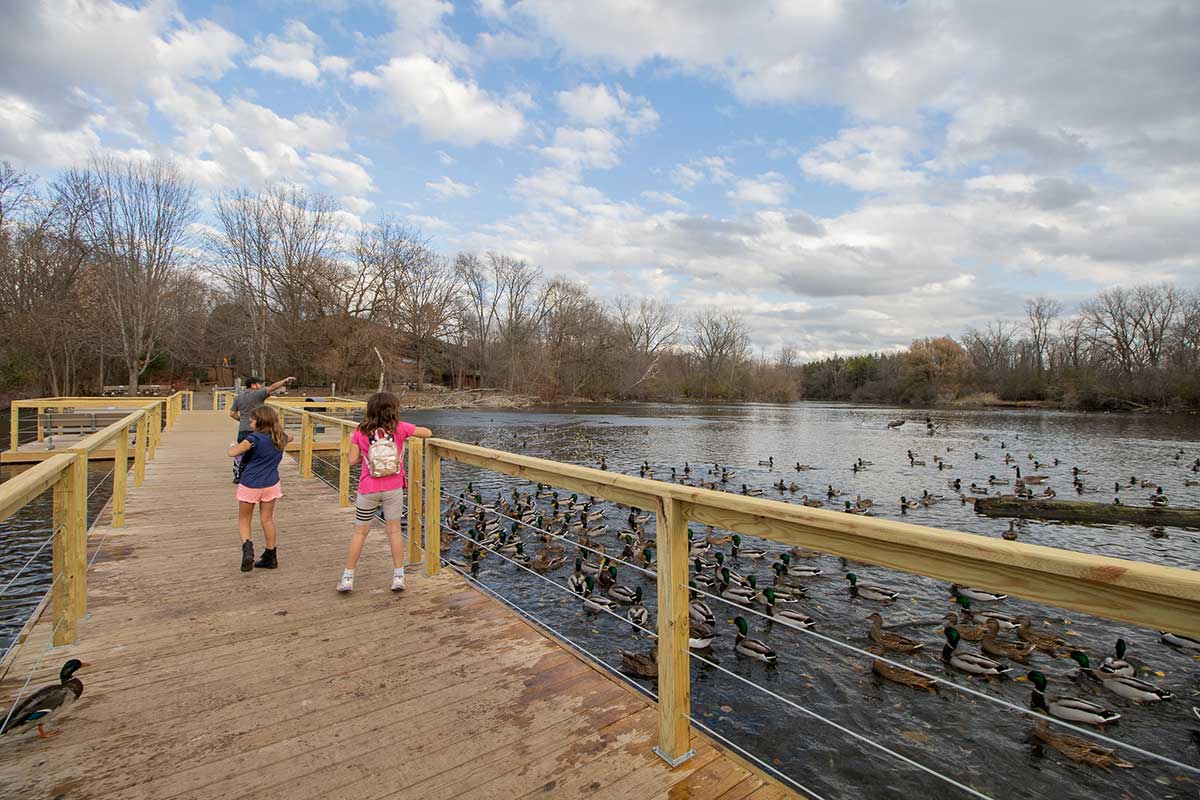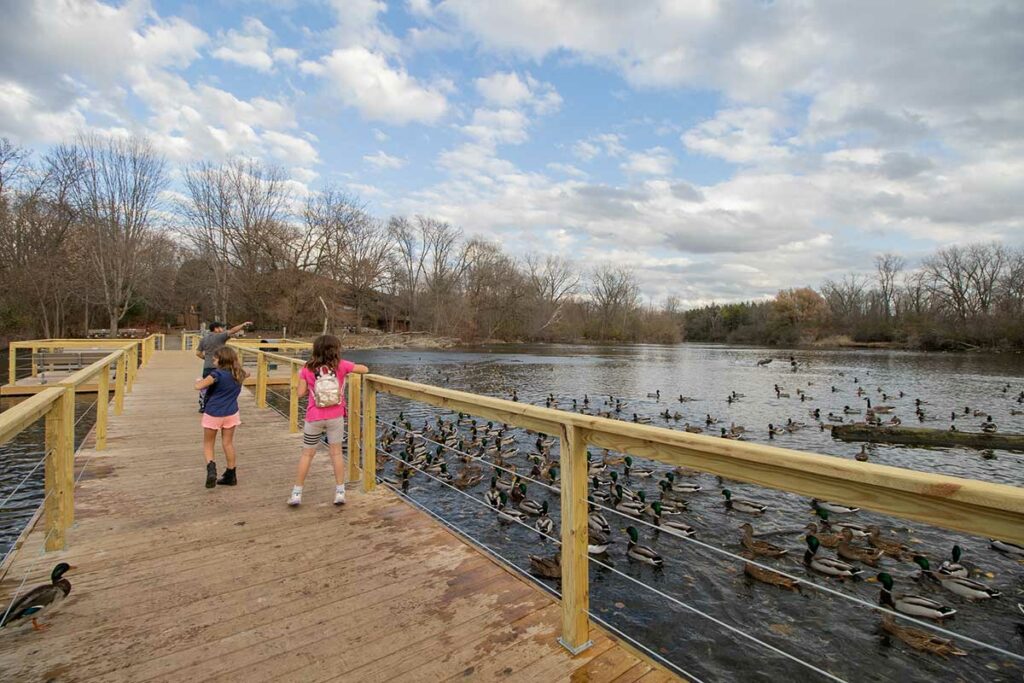 Petting Zoos & Farms in Green Bay
Bay Beach Wildlife Sanctuary Animal Center, Green Bay
Outdoor sanctuary, within Bay Beach, where kids and grown-ups can feed the waterfowl. Corn is sold at the Observation Building. Special events sometimes have live animals that can be pet. View sanctuary calendar for specific event details.
Open: Daily
Hours: 8 am – 4:30 pm
Admission: FREE
1660 East Shore Drive, Green Bay
NEW Zoo, Green Bay
Not a traditional petting zoo, but if you're looking for a one-of-a-kind interaction with a unique animal, the New Zoo is worth the trip. The NEW Zoo's Giraffe Feeding Experience is amazing. The Giraffe Feeding Experience is open year-round, outdoors at the Feeding Platform seasonally, and indoors at the Giraffe Building during cold or inclement weather. There is also a petting area with goats, lamas, and more!
Open year-round
Hours: 9 am – 6 pm daily
Admission: Adults (16+) $11, seniors and children 3-15 $8, children under 3 FREE

Half-off admission in January and February

4378 Reforestation Road, Green Bay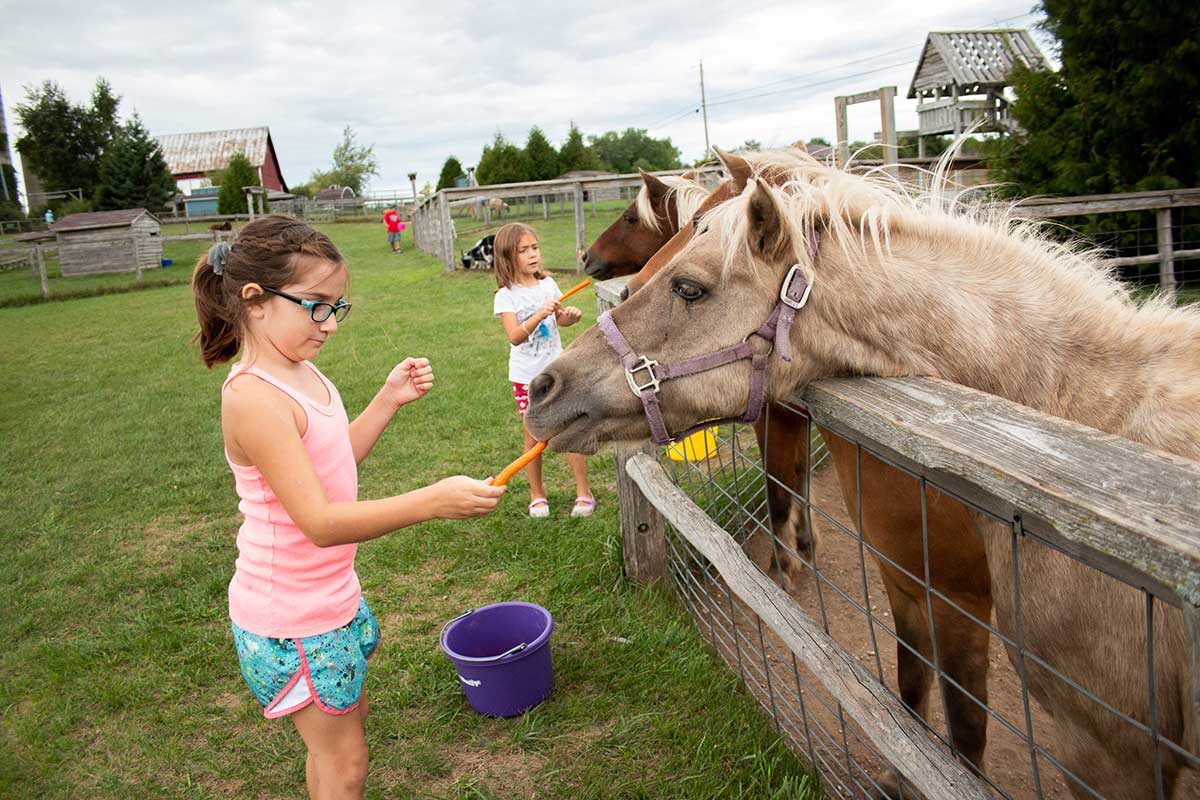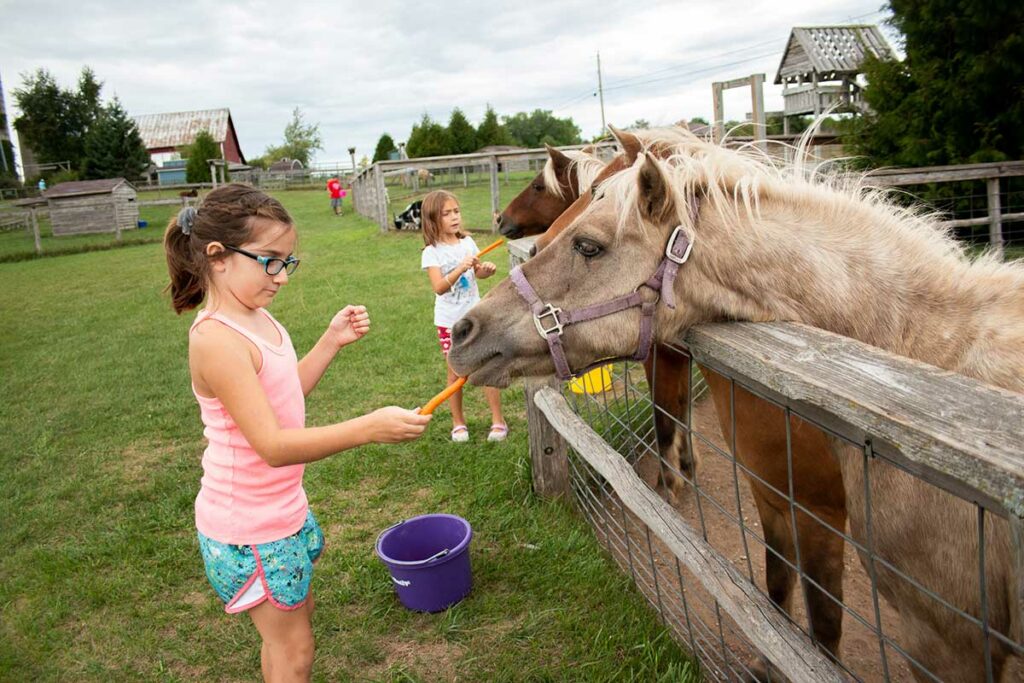 Petting Zoos & Farms in Door County
Plum Loco Animal Farm, Egg Harbor
Farm animals including ponies, horses, miniature donkeys, goats, sheep, pot-bellied pigs, chickens, turkeys, geese and miniature horses are able to be fed and pet. In addition to the farm animals, there is a Play-Farm Village for imaginative play. The play farm is specially designed for children ages toddler – 3rd grade.
NOT OPENING IN SUMMER 2021
Open when weather permits, Memorial Day to Labor Day
Hours: 9:30 am – 4:30 pm Daily (closed Wednesdays)
Admission: Adults 18 – 60 $8.00, Kids $6.75, seniors $6.25

Group discount for groups of 8 or more

4413 Plum Bottom Road, Egg Harbor (Door County)
The Farm, Sturgeon Bay
Cuddle a kitten, feed the sheep, pat a pig, milk a goat, talk to a turkey, walk through the woods and gardens, pack a picnic … So many things to do at The Farm.
Open Memorial Day to Labor Day
Hours: Daily 9 am – 5 pm
Admission: Adults (13+) $8.50, Children (3-12) $5.00, Children 2 and under FREE
4285 WI-57, Sturgeon Bay (Door County)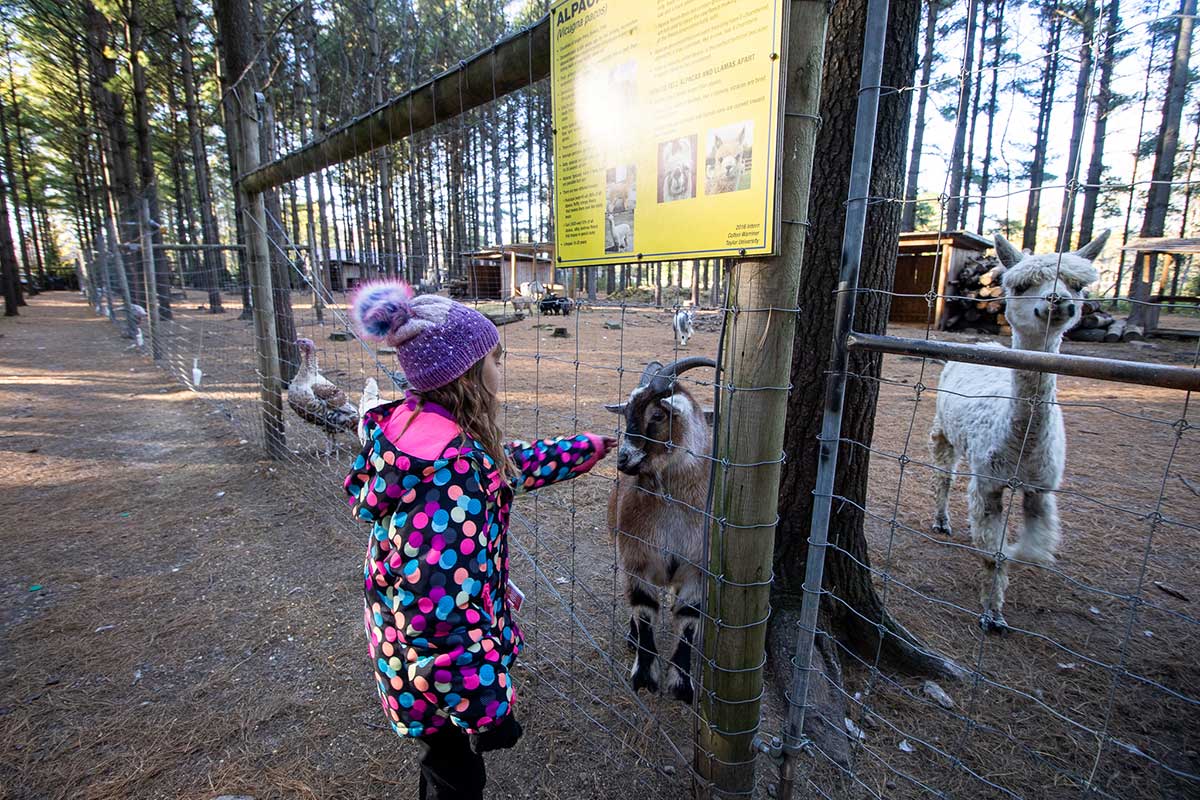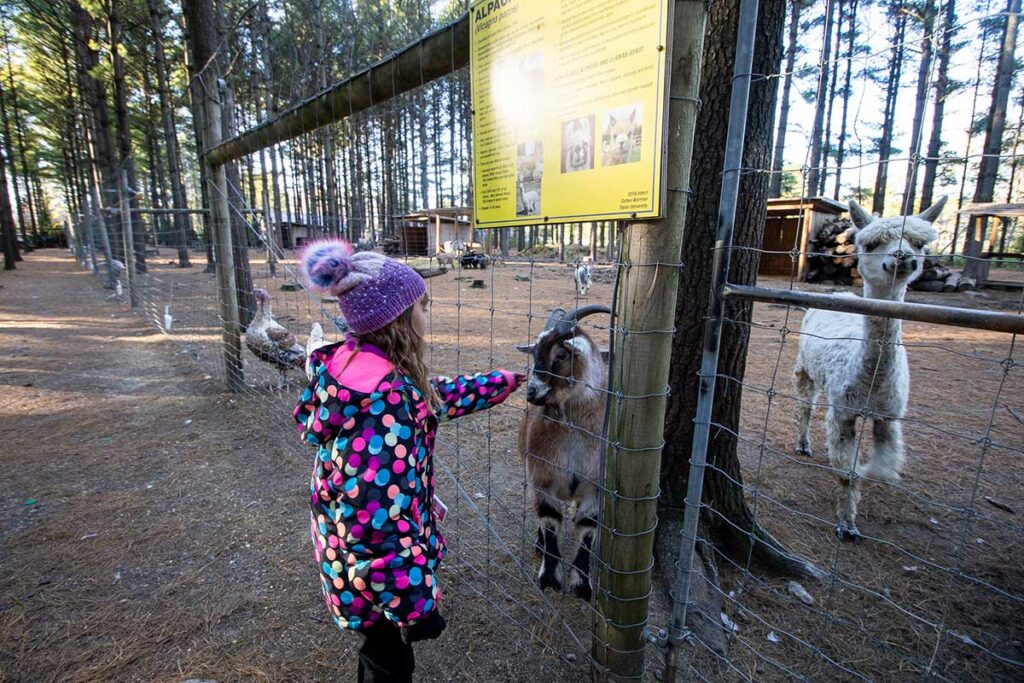 Petting Zoos & Farms South of the Fox Valley
Menominee Park Zoo, Oshkosh
Goat, sheep, and llamas are always available for petting. More animals are sometimes available for feeding and petting on a rotating basis, courtesy of Cristo Rey Ranch. Large playground and beach across from the zoo.
Open Memorial Day – Labor Day
Hours: 9 am – 6 pm
Admission: FREE
520 Pratt Trail, Oshkosh
Lakeside Park, Fond du Lac
Lakeside Park is a 400-acre park and includes a walk-up lighthouse, picnic area, shelters, pavilion, playground, zip line, petting zoo, ball diamonds, marina, rides, boat-launch ramps, handicapped-accessible fishing platforms, a new boat dock on Oven Island, Lakeside park segment of the Fond du Lac Loop, and kayak and pedal boat rentals. Also includes a fountain, large playground equipment area with an accessible playground, concessions, full-service marina, and gazebos.
Open Memorial Day – Labor Day
Hours: Monday – Saturday: 11:30 am – 8 pm, Sunday: 10 am – 8 pm
Admission: FREE
555 North Park Avenue, Fond du Lac
Shalom Wildlife Zoo
The Shalom Wildlife Zoo, located in West Bend sits on 100-acres with over 75 different species and 750 animals in various habitats. Feed buckets can be purchased for and additional charge.
Open year-round
Hours & Admission

January 2 – 18, 2021, Saturdays & Sundays: 10 am – 4 pm

$10 per person
walk the zoo or drive in your own car

April 24 – 31, 2021, open daily: 9 am – 5 pm

$14 adults, $8 children
open to walkers, golf cart rentals available

November 1 – 19, 2021, open daily: 10 am – 4 pm

$14 adults, $8 children
walk the zoo or drive your own car

November 20 – December 31, 2021, open daily: 1 – 8:30 pm

$10 a person
drive through in your car only

Last entry into the zoo is 1 hour before closing.
Open on Mother's Day, Memorial Day, Father's Day, Fourth of July and Labor Day.
Closed New Years Day, Easter Day, Thanksgiving, Christmas Eve and Christmas Day

1901 Shalom Dr, West Bend
Cristo Rey Ranch, Mt. Calvary
Take the time to walk through the ranch. Pretty gardens, wonderful animals, and great people. There are sheep, goats, llamas, emu, donkeys, rabbits, horses, pot-bellied pigs, dogs, cats, a variety of fowl including turkey, geese & ducks, also peacocks, chickens, birds (aviary) living in the rolling countryside. Quarter machine for feeding animals corn. Can bring in your own carrots to feed animals. Bottle feeding the baby animals available in springs. No personal pets.
Open year round (less to see in winter)
Hours: Winter 9 am – 5 pm, Summer 9 am – 7 pm
Admission: FREE
N8120 County Road WW, Mt. Calvary
Bear Den Zoo and Petting Farm, Waterford
The zoo is a perfect blend of local wildlife, farm favorites, and exotic animals. It's sure to be a unique experience each and every visit. The farm has a baby animal petting area and children's play area. Admission includes a hayride. Feed bags for sale to feed animals.
Open Mother's Day to Labor Day
Hours: Generally 11 am – 3 pm, but seasonally variable days, check here before you go
Admission: Adults (12+) $10, Kids 2-11 $8, under 2 FREE
6831 Big Bend Road, Waterford
Green Meadows Petting Farm, East Troy
Come and meet all the furry (and feathered), friends. From cows to goats to chicks to horses (and more), the petting farm is full of animals who love to interact with visitors.
Open Memorial Day to Labor Day
Hours: 10 am – 4 pm
Admission: $14 per person, Seniors $12, children 1 and under FREE
33603 High Drive, East Troy
Petting Zoos & Farms North of the Fox Valley
Wildwood Wildlife Park And Nature Center, Minocqua
This park and nature center is a Wisconsin must-see! Feed the bears "Bear Juice", feed "critter food" to camel, sheep, aoudad, pigs, and goats. Deer openly roam among you and will eat right out of your hand. Feed the giraffes from the feeding deck. Toss pellets into the large trout pond. Guests can purchase seed sticks to hand-feed the parakeets in the interactive free-flight aviary. Additionally, Wildwood offers the largest interactive petting zoo in Wisconsin. Guests love the animal encounter area as they are greeted by a host of animals including a kangaroo, woodchuck, armadillo, ferret, chinchilla, skunk, guinea pig, opossum, hedgehog, and many more. Guests can touch a tortoise, love a goat, feel a porcupine, cuddle a bunny, pet a skunk, or hug a pot-bellied pig.
Open May – October
Hours: 9 am – 4 pm
See website for admission
10094 State Highway 70, Minocqua
Wilderness Walk, Hayward
Zoo is home to wild Northwoods animals. Houses an extensive hands-on farm animal and nursery enclosure. Animals in the enclosure are open for petting. Deer roam the entire zoo and will approach visitors. Zoo also includes a food vendor, picnic area, playground, walking trails and a western town where you can pan for gold.
Open May – Labor Day
Hours: Opens at 10 am, close time varies throughout the season
Admission: Adults (12 +) $15.95, children $10.95, children (Under 2) FREE, seniors (65+) $13.95
9503 N State Road 27, Hayward
Petting Zoos & Farms to the West of the Fox Valley
Wisconsin Deer Farm, Wisconsin Dells
Unique family petting zoo for kids of all ages the opportunity to explore, enjoy & feed over 100 deer and other wildlife.
Open Mid April through late October
Hours: Memorial Day to Labor Day: 9 am – 7 pm, Offseason 10 am – 4 pm
Admission: Ages 12 and older $14, ages 3-11 $10, 2 and under FREE
2183 Wisconsin Dells Parkway, Wisconsin Dells
Timbavati Wildlife Park, Wisconsin Dells
Full zoo in the Wisconsin Dells area. The zoo includes an "Interaction Area" which is home to an animal nursery, parakeet encounter, parrot house, and petting areas. Staff are frequently tending to the animals and will answer questions about the animals and their care. The interaction area changes with the seasons, making it worth multiple visits. The petting areas have pygmy goats, sheep, llamas, baby camels, and other young birds and animals.
Open year-round for private tours, General admission seasonally variable
Hours: Daily Tours 11 am & 1 pm, general admission seasonally variable
Admission: Adults $19.95 (13+), Children $13.95, 2 and under are FREE
2220 Wisconsin Dells Parkway, Wisconsin Dells