It's that time of year! Cozy sweaters, apple pie, pumpkin pie, cider donuts, kettle corn, mild sunshiny days, pumpkin spice everything, and that familiar urge to decorate your front porch in the finest haystacks, mums, and perfect pumpkins. We're ready for all of the fun that comes with fall! Apple picking is one of our favorite things to do in Fall in Wisconsin!
We urge you to call ahead before you visit to ensure the locations are open. These are often seasonal businesses (and also working family farms) that often have varying hours due to staff, weather, and product availability.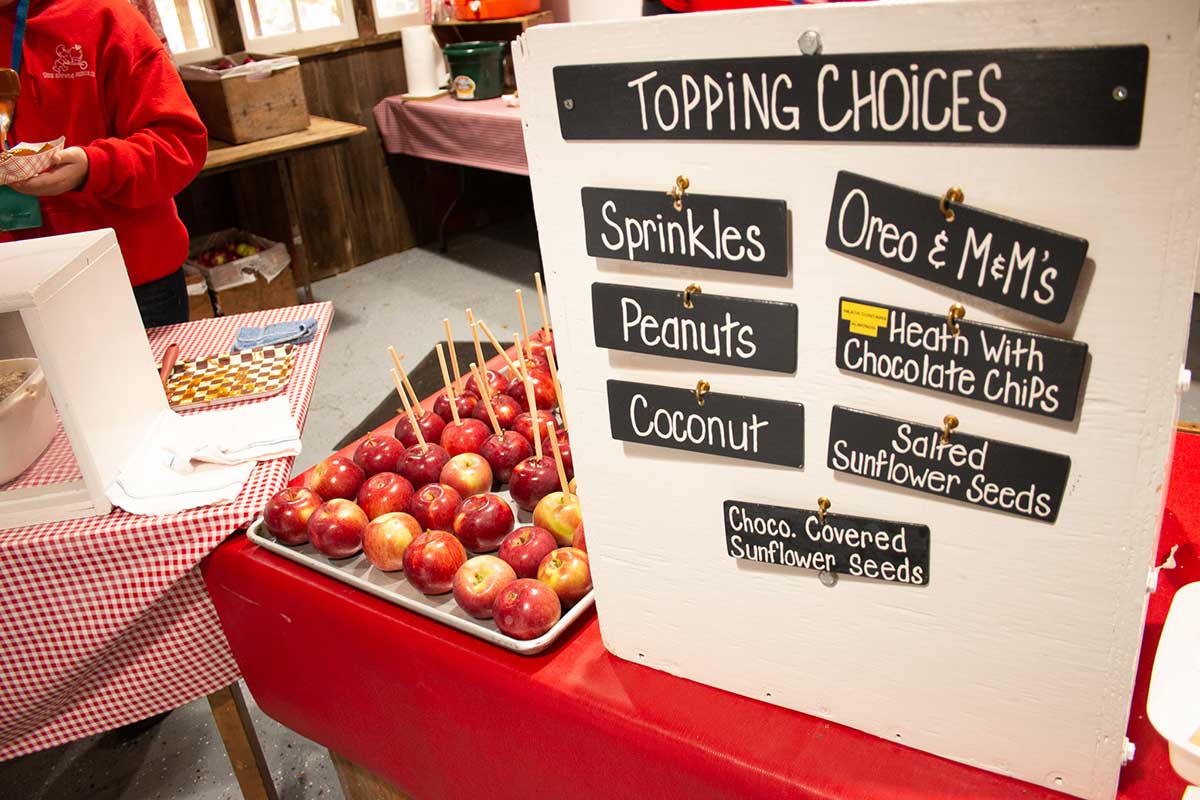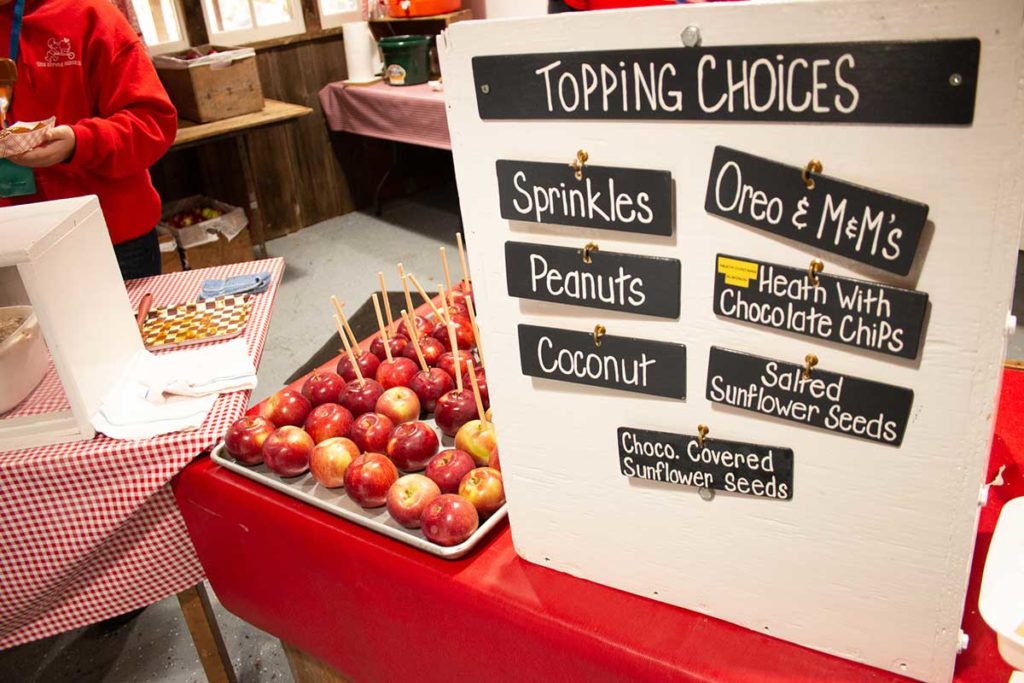 Questions to Ask When Calling Ahead
How's the picking? What is ripe?
What type of payment do you accept?
Do you have restrooms?
What do we need to bring?
Are dogs allowed?
Find an Apple Orchard Near Me
Tips for Picking
Tips for Picking
Wear rain boots or other shoes that you won't mind getting muddy. Often, orchards will be a little soggy longer after a rain.
Bring bug spray.
Have hats or sunscreen on hand. Fall can be tricky with mild temperatures but still enough sun for a pink face.
Don't forget your water bottle. It seems like our kids are thirsty after one picked apple!
Feel free to bring a wagon, but some locations will have them on hand for you. We recommend that if you're bringing your own, it is one with bigger wheels that will travel easily through the orchard.
Baby-wearing may be your best friend with your tiniest apple lovers. Mucky orchards and long walks can be hard for the most energetic of toddlers.
Talk about wasps before you head out with your kids. They're working on getting ready for winter, too and love apples as much as we do. Wearing light-colored clothing can help avoid drawing their attention and holding still if they land on an arm or head is the best bet as they will often just quickly move on.
If you have a favorite type of apple, check to see if it is in season and confirm with the farm via website, social media, or a phone call that they have it. Check out this handy chart from the Wisconsin Apple Growers Association.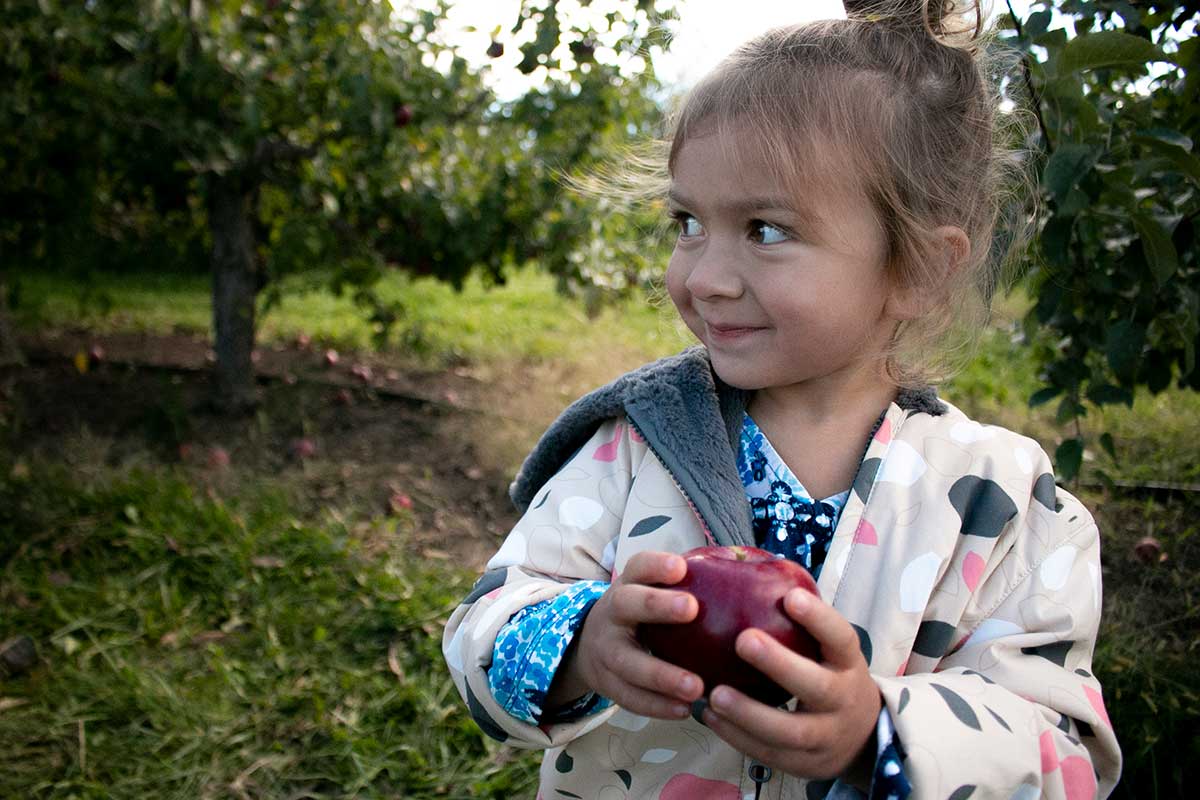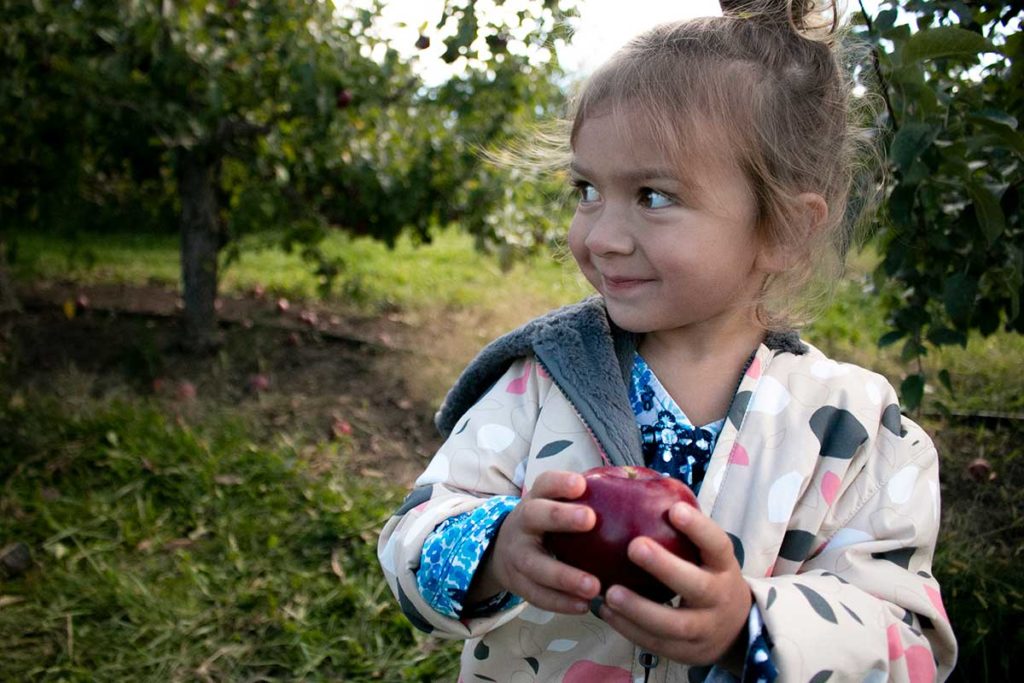 Where can I pick apples near Appleton?
Call or visit websites for hours, admission rates, and apple varieties availability.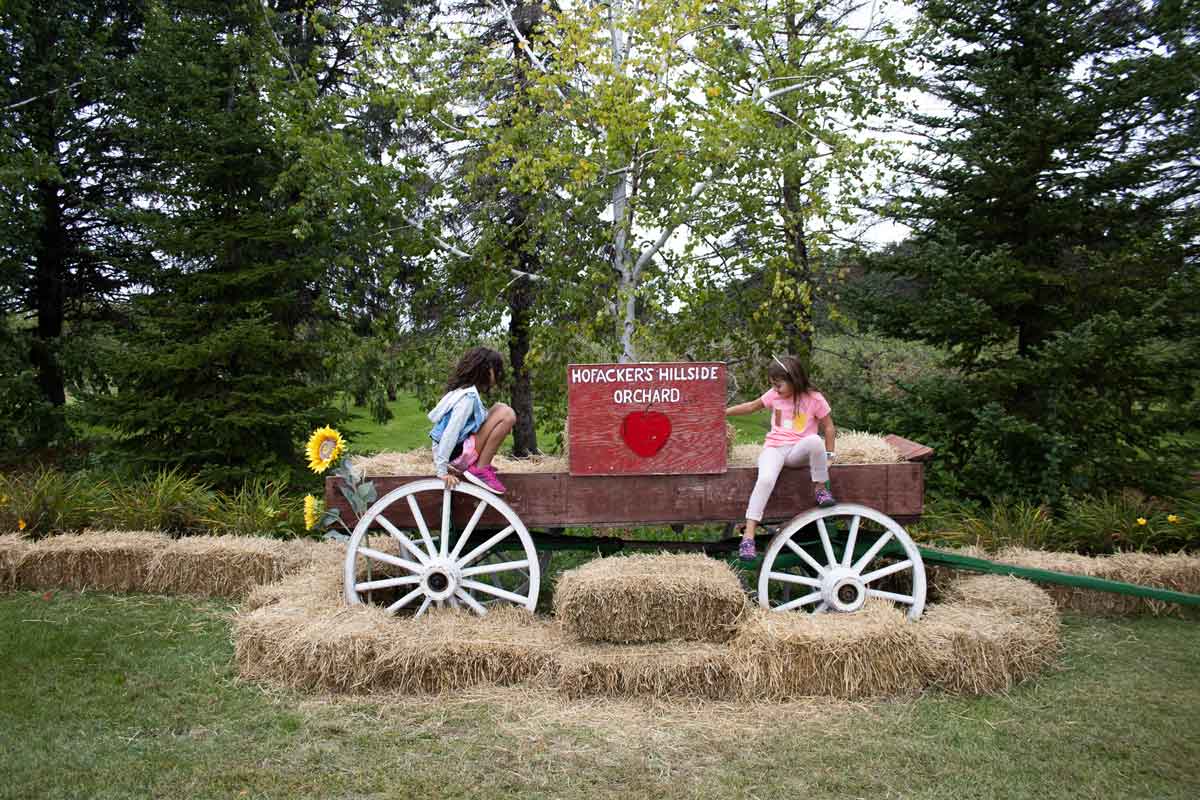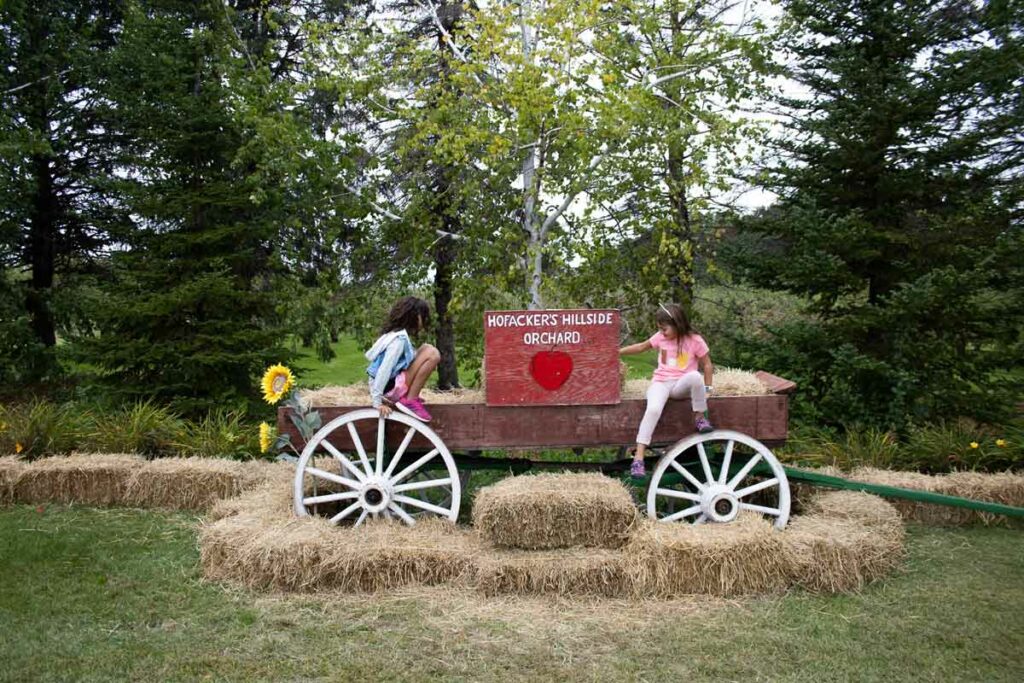 Hofacker's Hillside Orchard, Appleton
Hofacker's Hillside Orchard in Appleton is a charming family-owned farm where visitors can enjoy picking their own delicious apples right from the trees.
The picturesque setting of Hofacker's Hillside Orchard, right on the city edge of North Appleton, offers stunning views of the surrounding countryside, making it the perfect spot for a leisurely stroll or a peaceful picnic.
With a wide variety of apple varieties to choose from, including sweet Honeycrisps and tangy Granny Smiths, Hofacker's Hillside Orchard ensures everyone can find their perfect apple.
Not only can you pick your own apples at Hofacker's Hillside Orchard, but they also offer fresh apple cider, homemade apple pies, pre-picked apples, caramel apples, cider, mums, pumpkins, straw bales, corn stalks, pumpkin patch, corn maze and zipline (weekends, 5 years old and older). The Haymow zipline will provide a thrilling experience for the young and young at heart.
Address: Hofacker's Hillside Orchard, W3964 Wege Road, Appleton, WI
Phone: 920-734-0780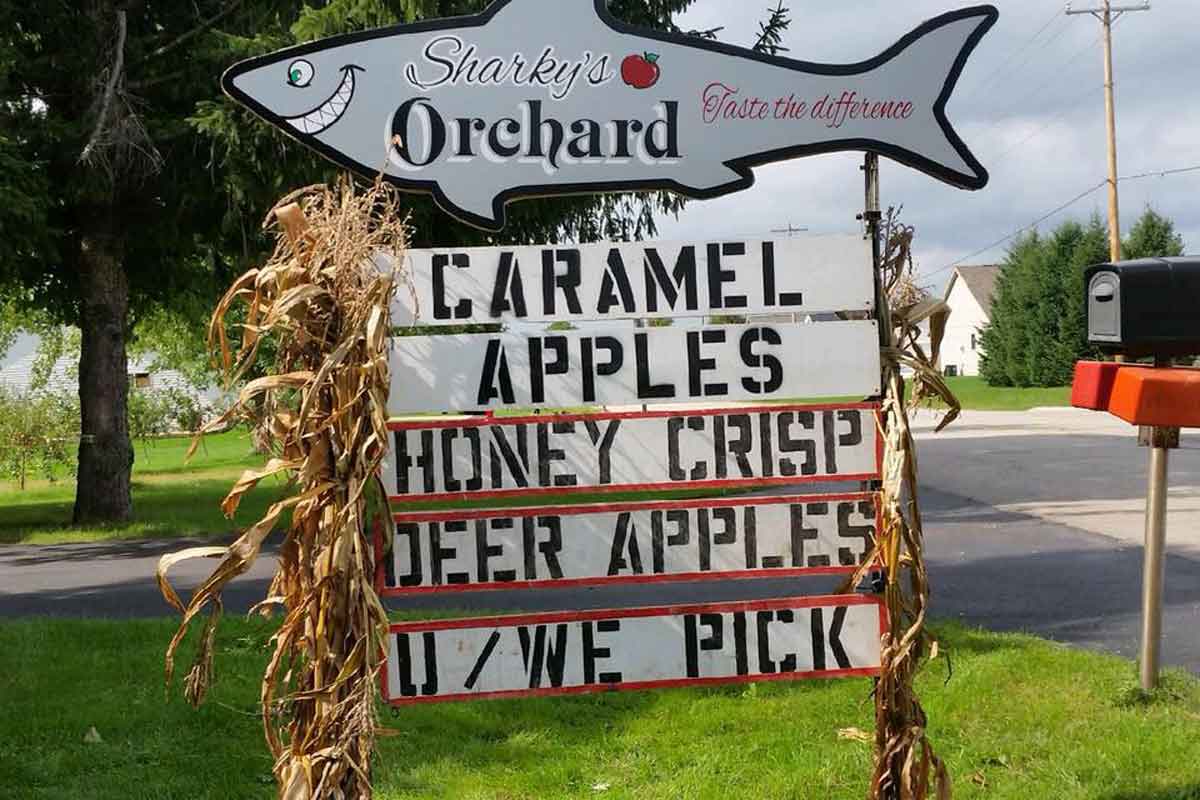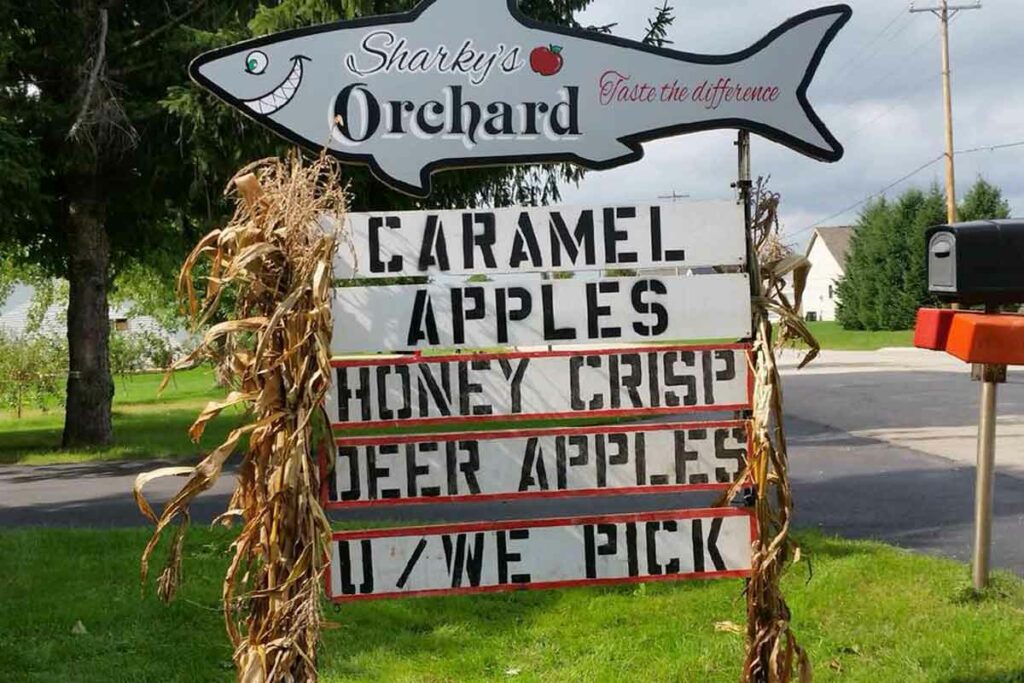 Sharky's Orchard, Appleton
Sharky's Orchard in the Appleton/Darboy area is owned by Greg Sprangers, AKA Sharky. The orchard sits on about 3 acres with about 260 apple trees. Special and unique products include their small but mighty Kinder Krisp apples and the very popular Raspberry Jam.
The orchard offers pick-your-own apples or pre-picked apples, caramel apples, and deer apples.
Address: Sharky's Orchard, W3045 Emons Rd, Appleton, WI
Phone: 920-209-2172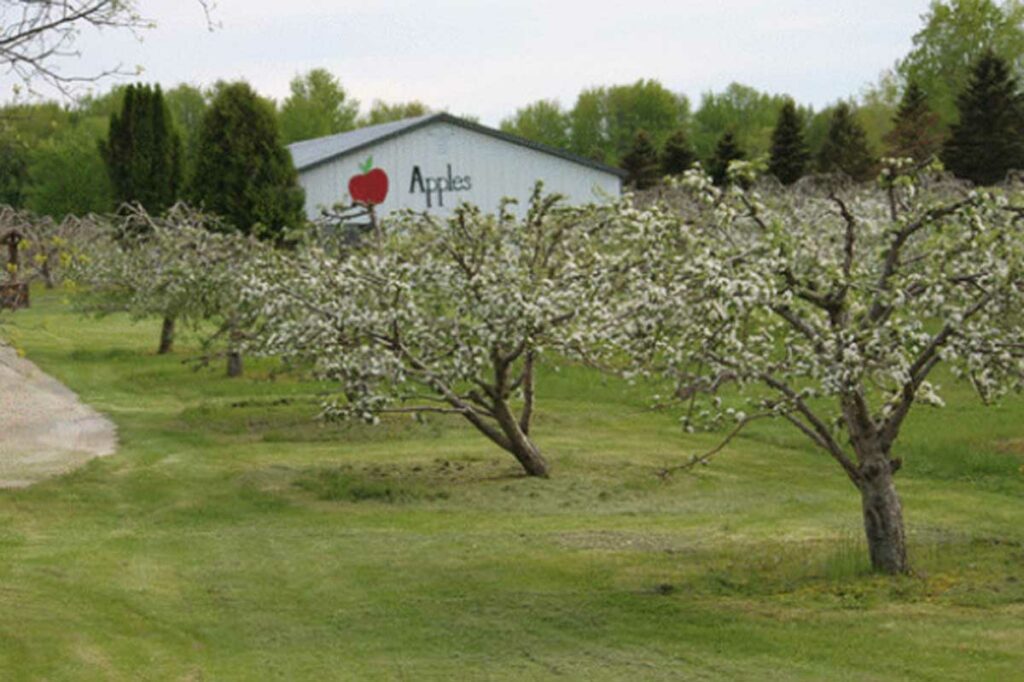 Bauer's Apple Shed, Hortonville
Bauer's Apple Shed in Hortonville is located about 5 miles west of the Fox River Mall in Appleton on US Highway 96 (Wisconsin Avenue). This family-owned orchard planted its first tree in 1972 and today has 5 acres, 300 trees and 15 varieties including Honey Crisp, Corland, Mcintosh, Spartan, Wolf River, Duchess, Chieftan, Empire, Crab Apples, Grimes Golden, Snow Sweet, Sweet Sixteen, Viking, and Early Macs.
The orchard offers pick-your-own apples and pre-picked apples. In addition to apples, they also offer a range of products, including apple wine, apple syrup, honey, jams, gift baskets, squash, pumpkins, and gourds.
Address: Bauer's Apple Shed, W7763 Wisconsin Ave, Hortonville, WI
Phone: 920-757-6187
Notes: Cash, checks, and PayPal QR payments are accepted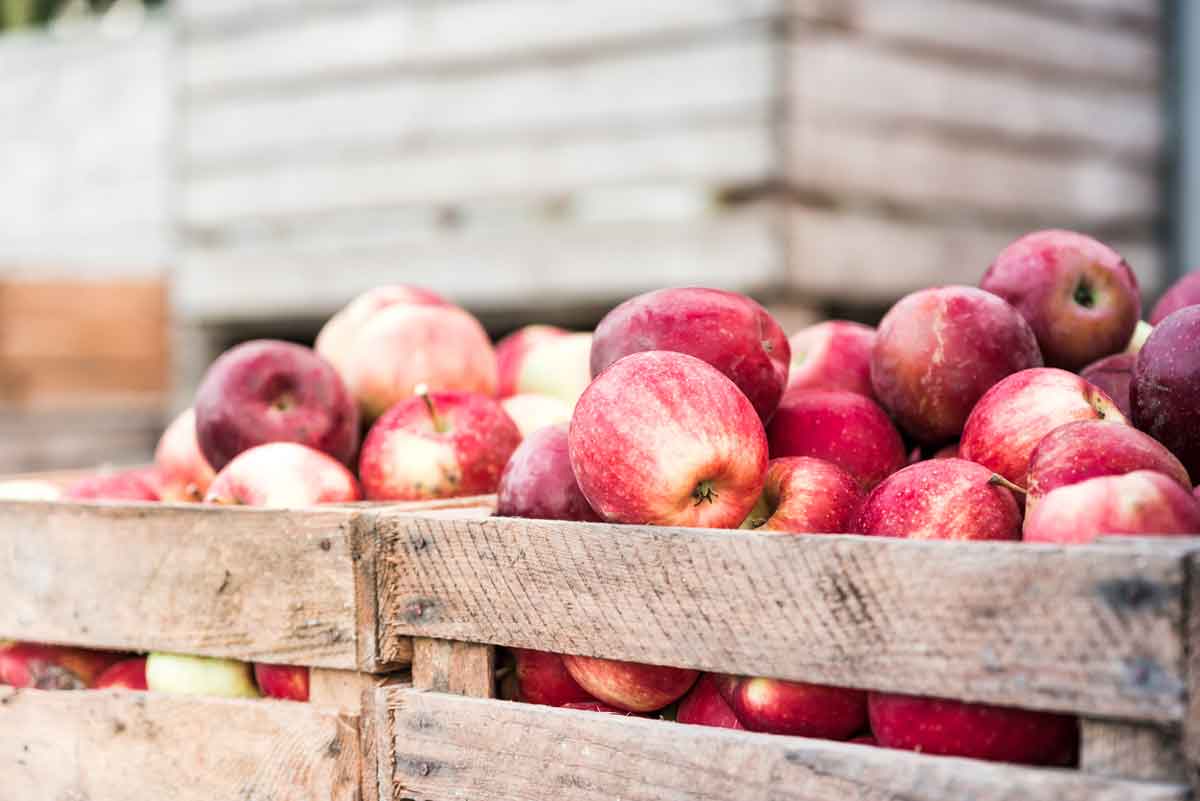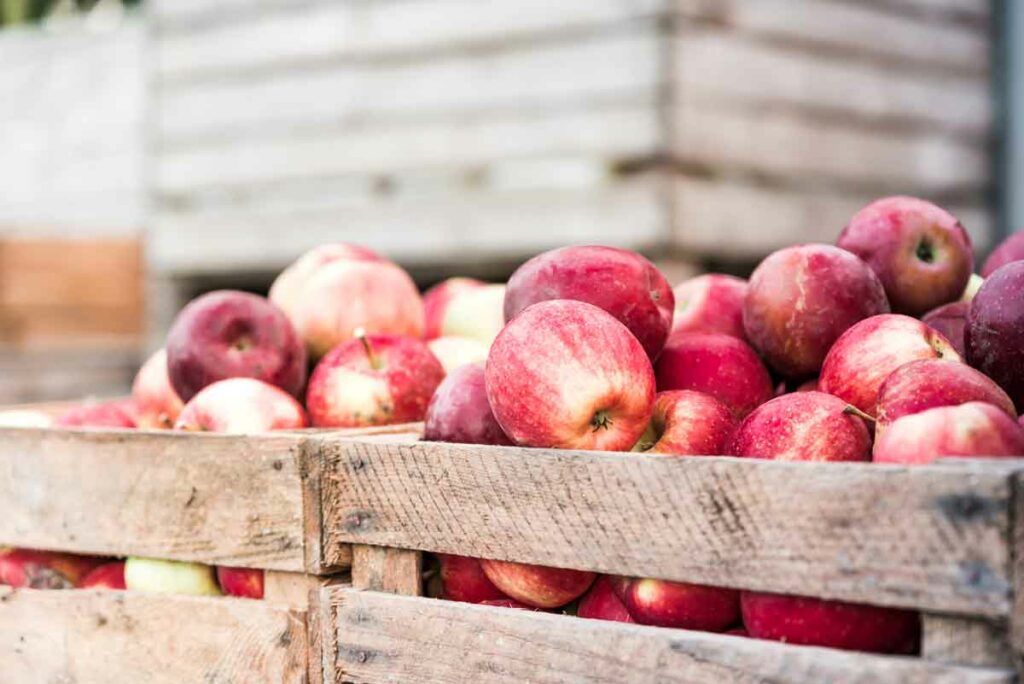 Sprangers Orchard, Kaukauna
Sprangers Orchard in Kaukauna is owned by Roger and Vanice Sprangers (they are the original owners and still running the orchard at ages 83 and 84)! When asked what their favorite thing about growing apples and sharing them with our community was they responded, seeing the smiling faces of their customers. Sprangers has over 20 acres of trees and over 30 varieties including Honeycrisp, Cortland, McIntosh, Redfree, Zestar, Golden and Red Delicious, Paula Red, Mollie, Gala, Connell Red, Autumn Crisp, Spartan, Empire, Wolf River.
The orchard offers pick-your-own apples and pumpkins, hay bales, cornstalks, squash, gourds, homemade pickles, apple butter, jams
Address: Sprangers Orchard, W2100 County Trunk KK, Kaukauna, WI
Phone: 920-733-6739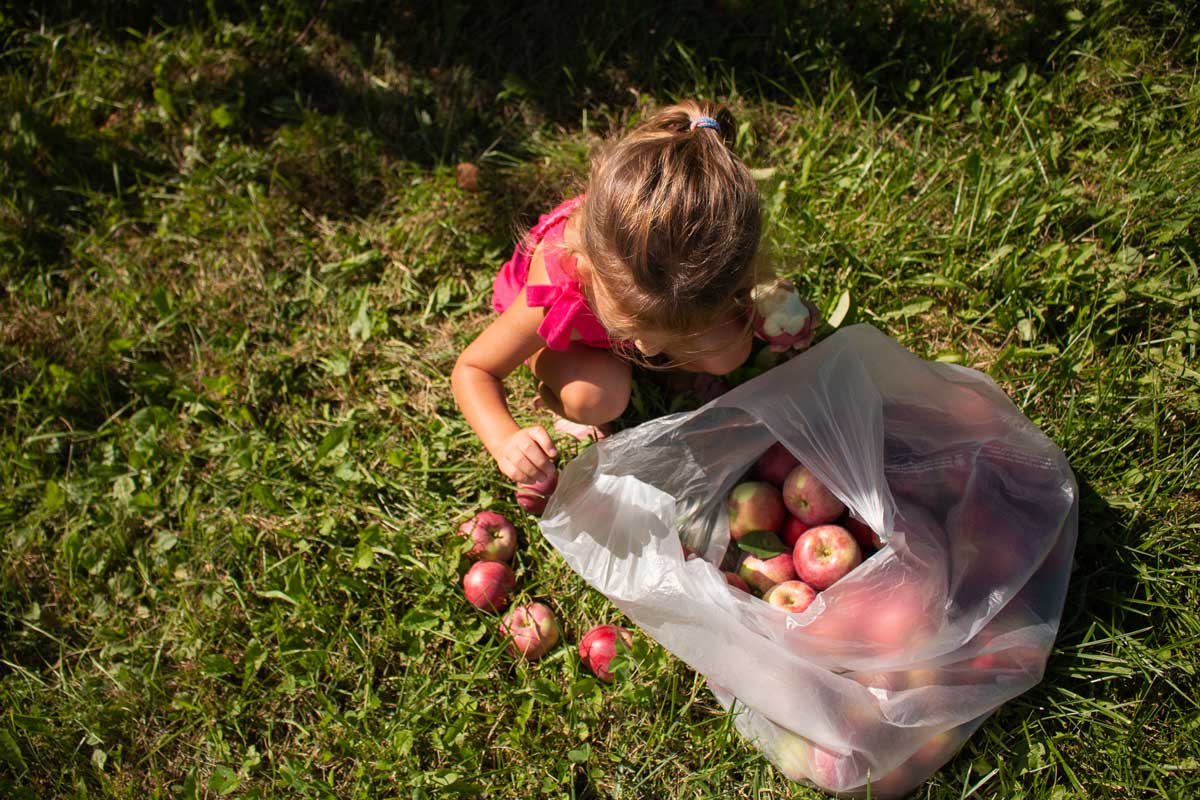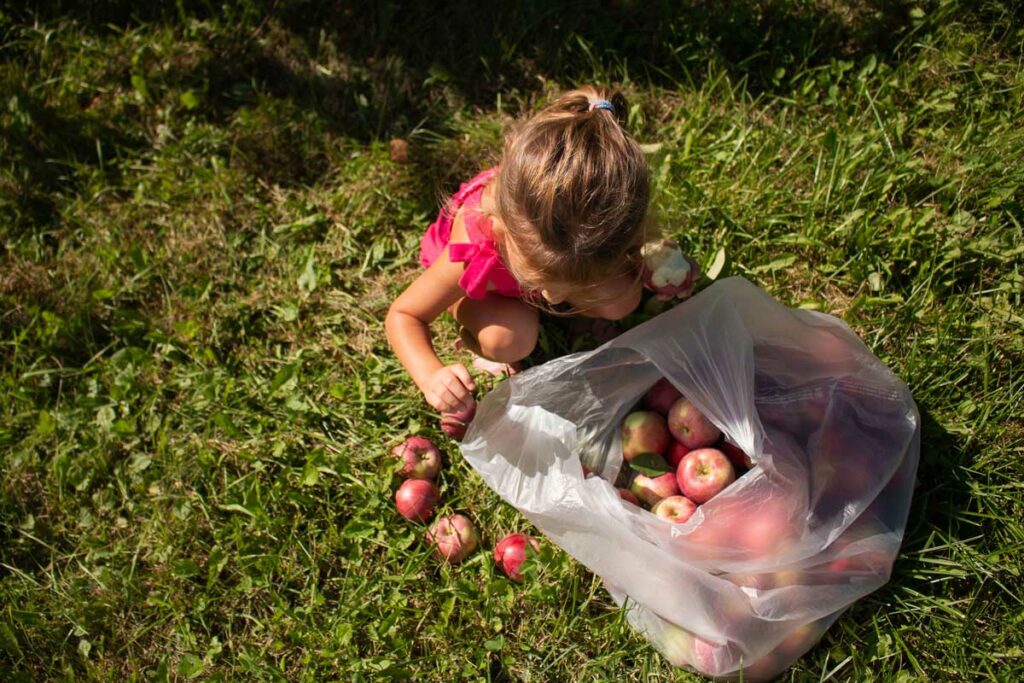 Star Orchard, Kaukauna
Star Orchard in Kaukana has deep family roots in the small community of Hollandtown, Wisconsin. First planted in 1962, the orchard was originally called "Haen's Star Orchard" after the three Haen families who started the orchard: Jerome & Merzetha Haen, Ken & Joan Haen, and Ivo & Carol Haen. The orchard is now owned by Darrell (Jerome & Merzetha's youngest son) and his wife Sharon, who jumped at the chance of purchasing the orchard in 2013. They had dreamed of owning the orchard for many years, and Darrell was especially excited to be back on the land he grew up on.
The orchard also offers local goodies, caramel apples, cider, pick-your-own apples, hand-picked apples, and a small corn maze.
Address: Star Orchard, 253 County Road CE, Kaukauna, WI
Phone: 920-759-9294 (seasonal)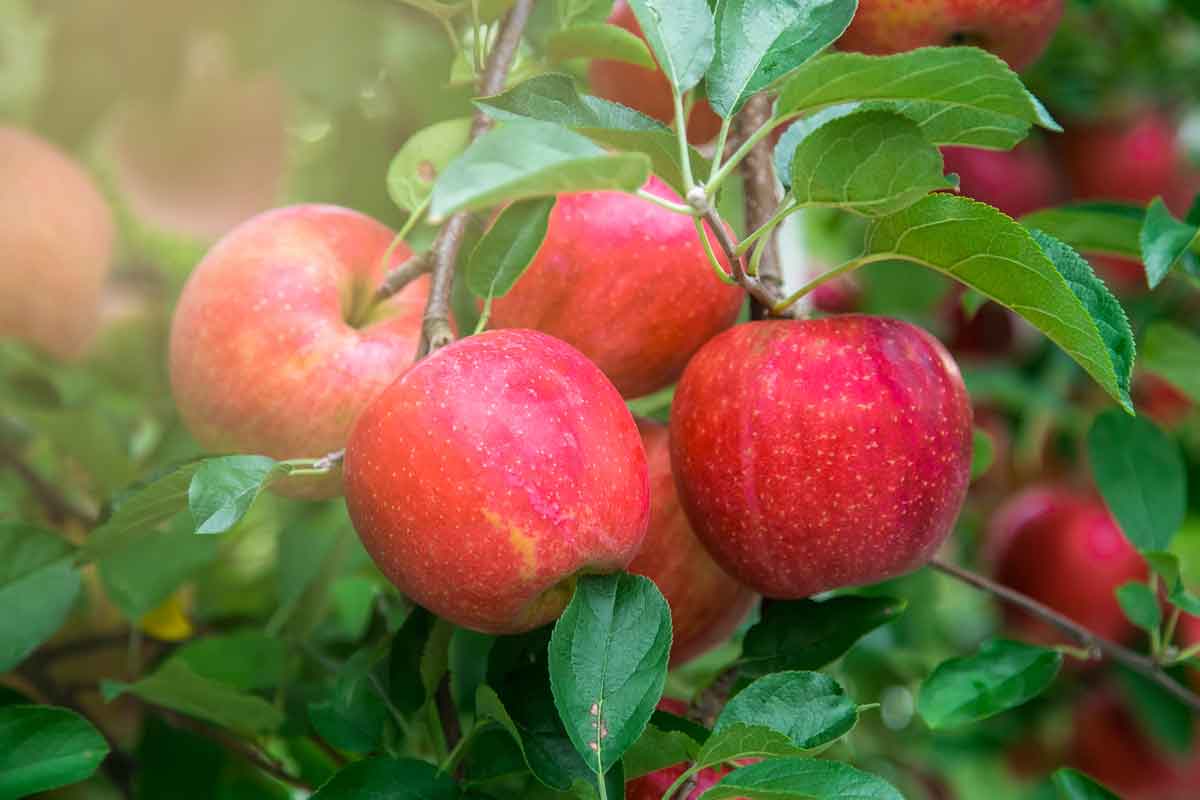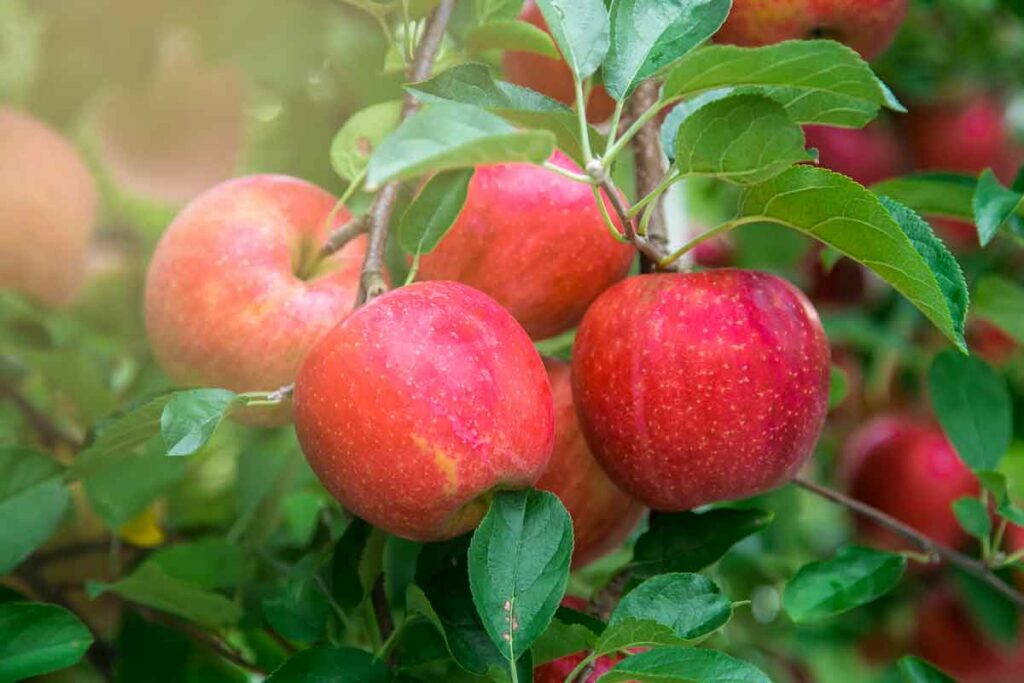 Peter's Pumpkin Patch
Peter's Pumpkin Patch in Kaukana was started in 2005 by Tim Nickel and offers pick-your-own pumpkins and apples, including Macs, Cortlands, Kindercrisps, Ginger Gold, Zestars, Dandy, Red, Blondee, early-season McIntosh, and more.
They also offer apple cider, unique pumpkins, carving pumpkins, squash, and gourds.
Address: Peter's Pumpkin Patch, WI-55, Kaukauna, WI
Phone: 920-243-8411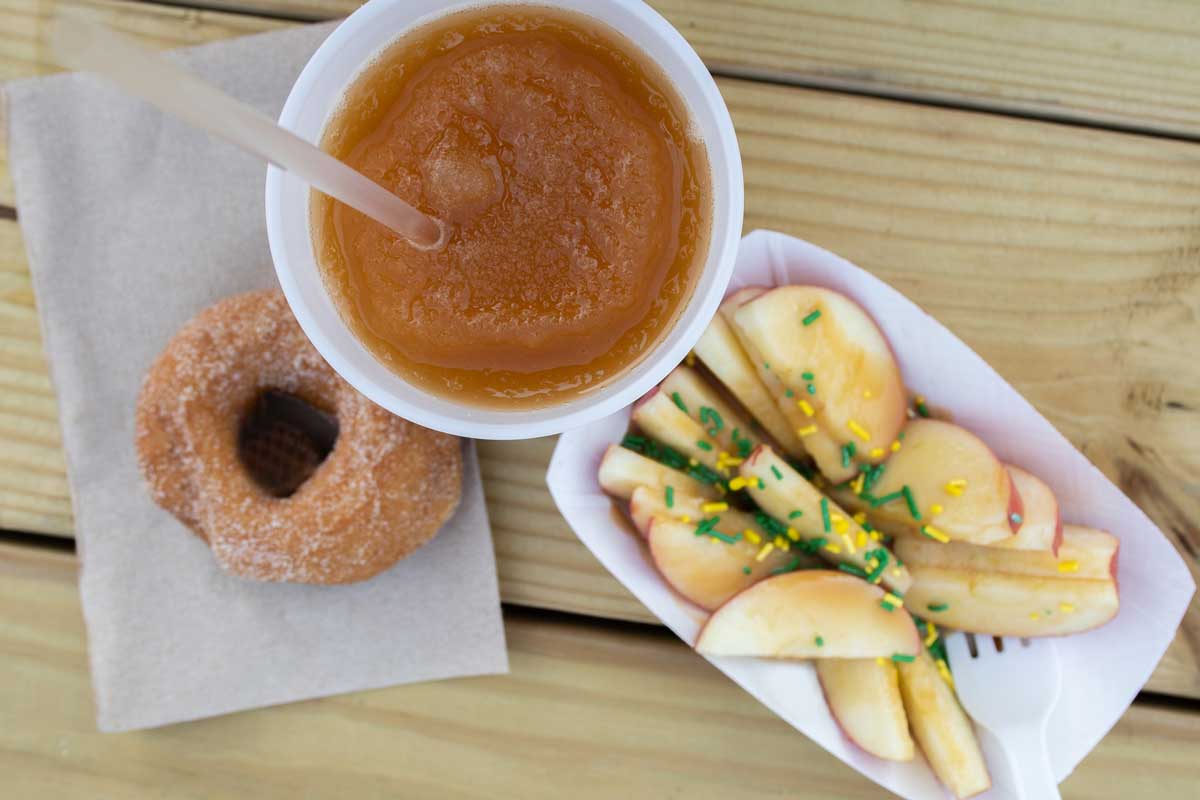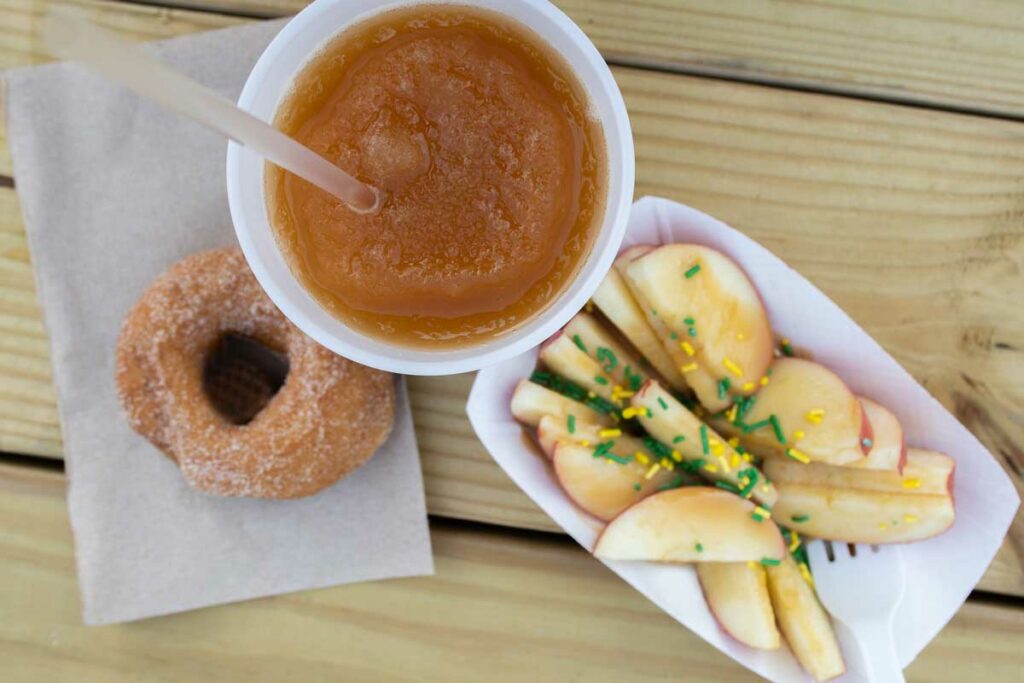 Misty Ridge Orchard
Misty Ridge Orchard is a newer apple orchard in the area owned by Steve and Carrie Gonnering. The retail store and bakery were completed in 2018. This family-owned orchard is considered a high-density orchard, meaning the trees are planted closer together to maximize the crop and resources. The orchard has over 4,000 apple trees with 20 varieties, including Honey Crisp, Cortland, McIntosh Red, Autumn Crisp, Ever Crisp, and Snow Sweet.
Note: Currently, you-pick is not offered but is part of the orchard's future plans.
The modern and trendy retail store features a temperature-controlled apple room and local products to take home, including jams, pretzels, honey, maple syrup, pies, and more.
They also sell fresh-baked apple pie by the slice, caramel apples—the caramel is made on site—with peanuts or sprinkles, apple cider, and our favorite… fresh, made-to-order cider donuts.
Outdoor fall ativities at Misty Ridge Orchard include a corn maze, petting zoo, basketball, swings, sand pile, giant tunnel, fire pit, corn hole, and kid's beanbag toss.
Address: N5126 Advent Road, De Pere, WI
Phone: 920-851-8387
Notes: Open Saturdays and Sundays only, no pick-your-own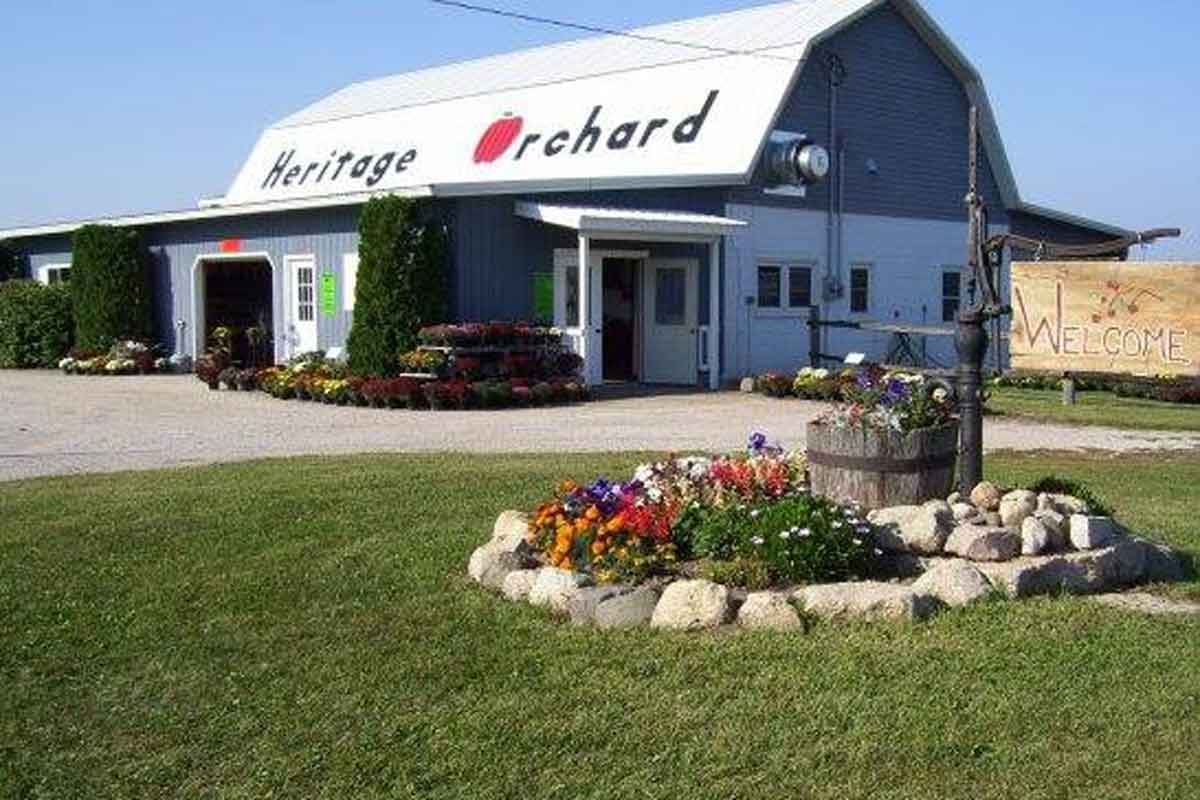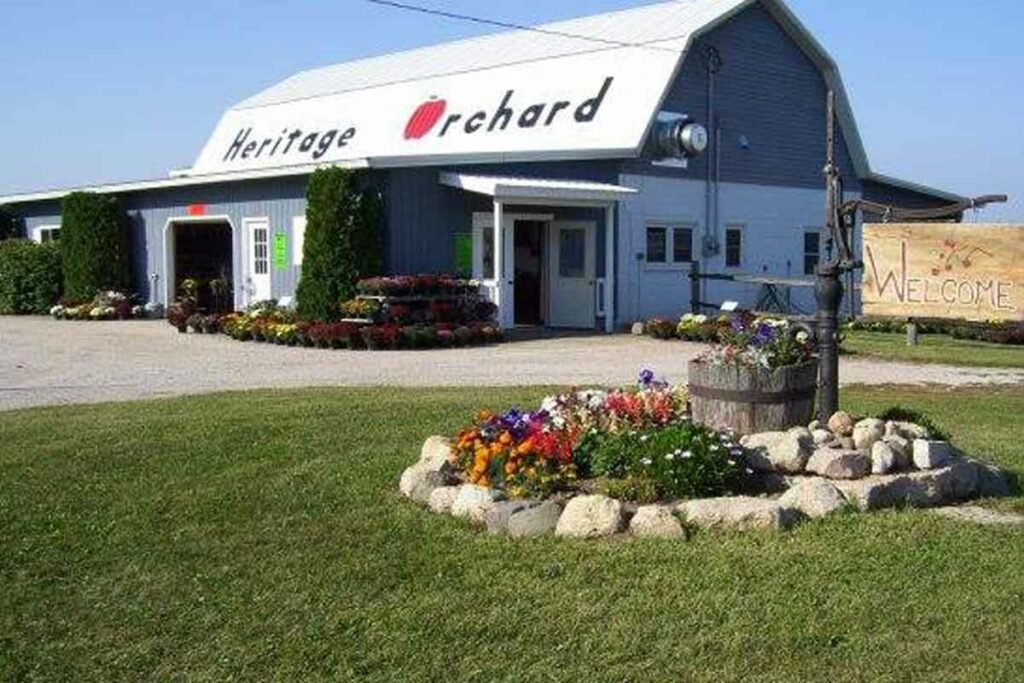 Heritage Orchard, Chilton
Heritage Orchard in Chilton on the east side of Lake Winnebago is a family-owned and operated and offers pick-your-own apples and pumpkins, as well as the farm market featuring unique food products, caramel apples, award-winning apple cider, fresh apple cider doughnuts, and the craft loft.
Address: N2963 Lakeshore Dr, Chilton, WI
Phone: 920-849-2158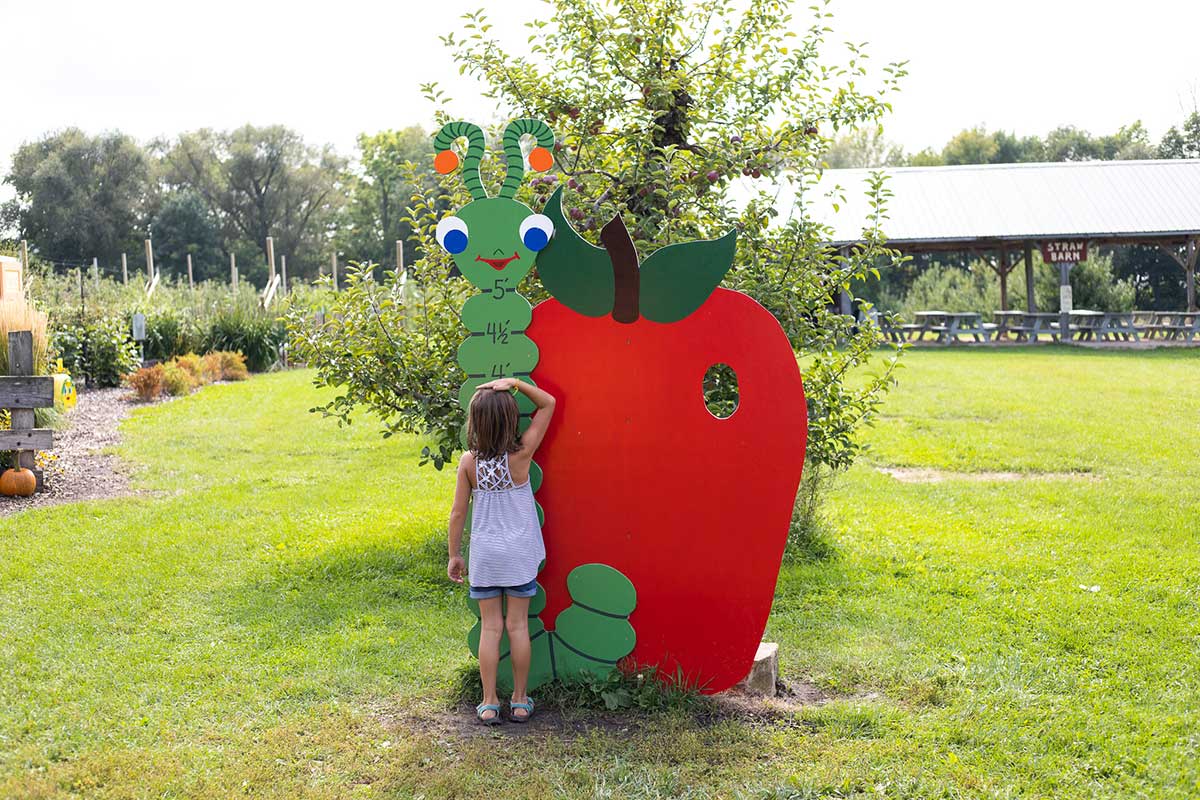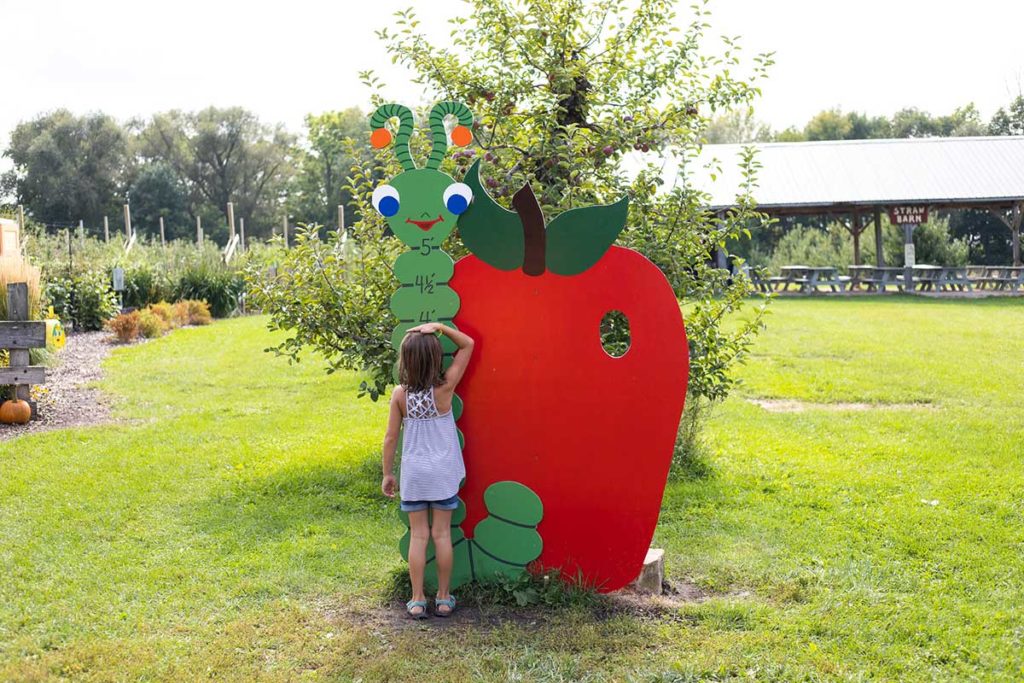 The Little Farmer, Malone
The Little Farmer is a family-owned farm located in Malone, Wisconsin. It is known for its apple orchard, pumpkin patch, and fun family activities. The farm has about 9,000 apple trees at six orchard sites and offers pick-your-own apples.
In addition to apple picking, Little Farmer has a pumpkin patch where visitors can find the perfect pumpkin for Halloween or fall decorations. The patch offers a wide selection of pumpkins in different sizes and shapes.
Little Farmer also offers several family-friendly activities and attractions. They have a corn maze, where visitors can navigate through twists and turns while enjoying the scenic views. There is also a petting zoo where kids can interact with and feed friendly farm animals including goats, sheep, peafowl, chicks, and Scottish Highland cattle. Goats can be fed for 25 cents per handful. Other activities include accessible-friendly hayrides, natural playground tricycles, hay bales for climbing, and more.
The farm features a country store, which sells a variety of fresh baked goods, including apple pies, apple cider, apple butter, and other apple-based treats. Make sure to check out their daily muffin and drink specials! Make sure to also get a fresh caramel apple! Don't be discouraged by a long line. They are worth the wait!
Address: N9438 Hwy 151, Malone, WI
Phone: 920-921-4784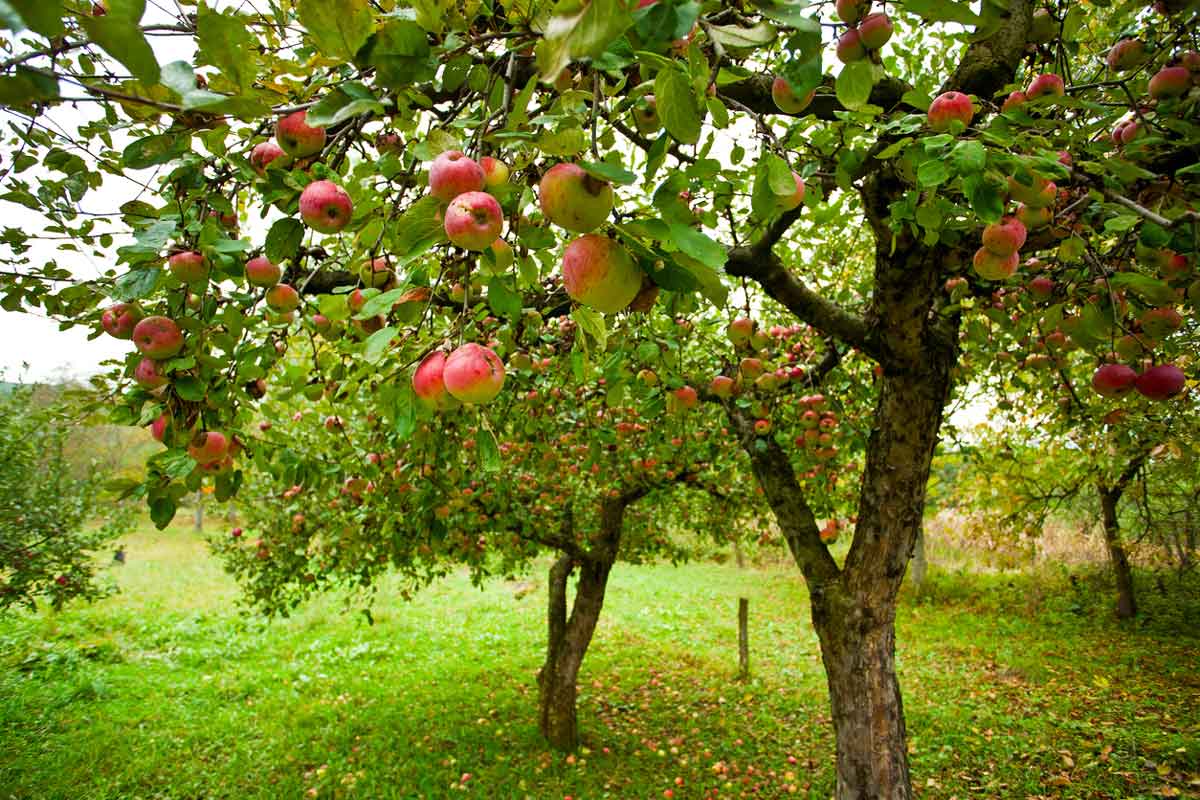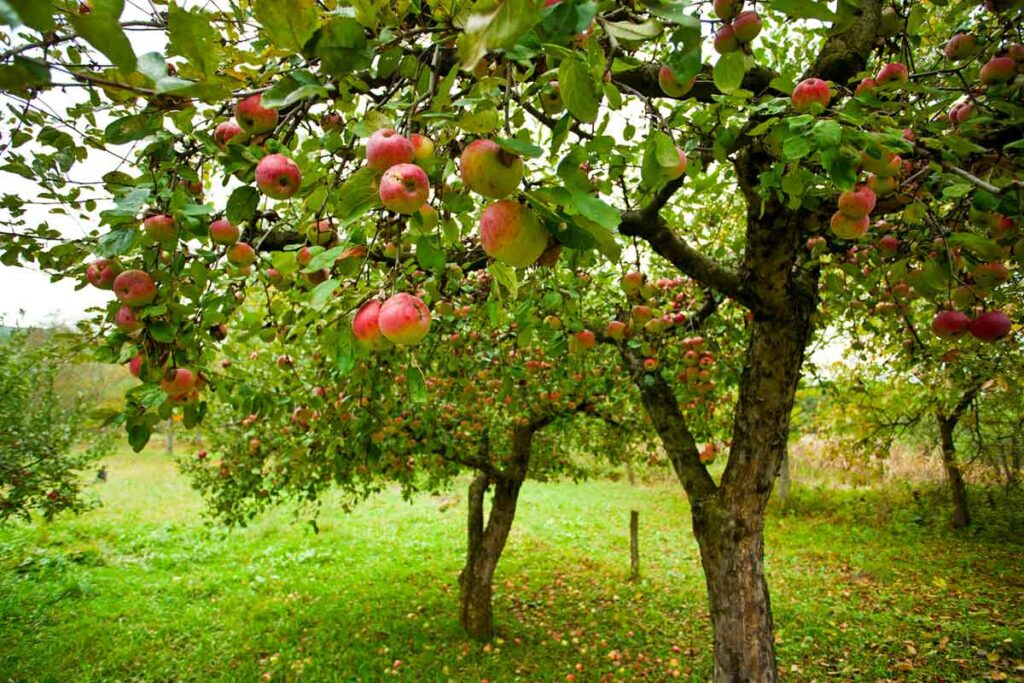 Rasmussen's Apple Acres, Oshkosh
Rasmussen's Apple Acres in Oshkosh offers Cortland and McIntosh for picking. Due to lack of rain and poor crop, the orchard is open for one week only for the 2023 season, September 16 – 22, 2023.
Address: 3871 State Road 21, Oshkosh, WI
Phone: 920-235-2850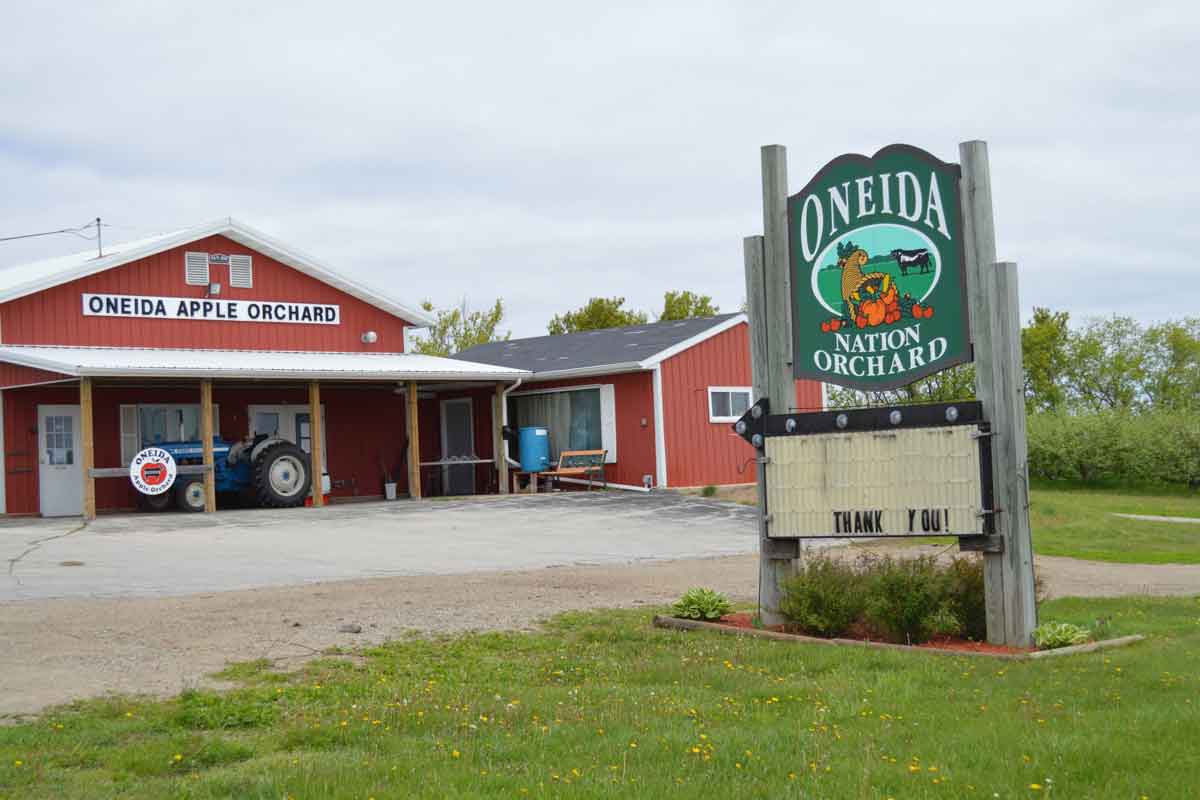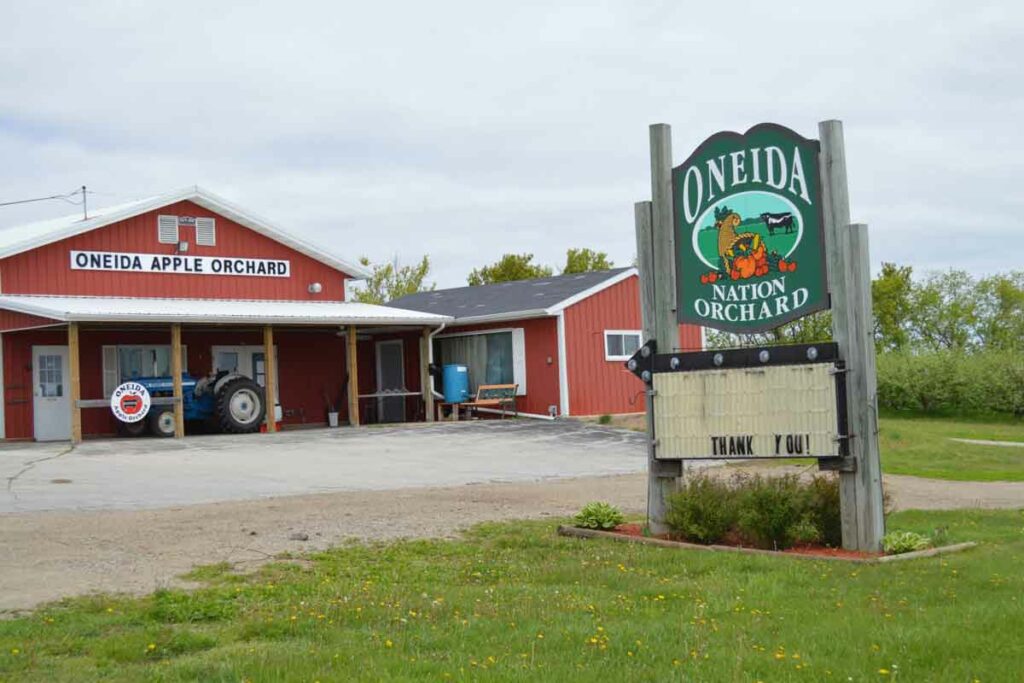 Oneida Nation Apple Orchard
The Oneida Apple Orchard is the home of 30 acres of established orchards and an additional 10 acres of newly planted orchards, making a total of approximately 4,000 trees. The orchard primarily cultivates McIntosh, Cortland, and Honey Gold apple varieties, with an additional selection of twenty other types available. In addition to the apples, the orchard offers a diverse range of fresh produce, including strawberries, raspberries, blackberries, sweetcorn, squash, and pumpkins.
Address: 3976 West Mason Street, Oneida, WI
Phone: 920-869 2468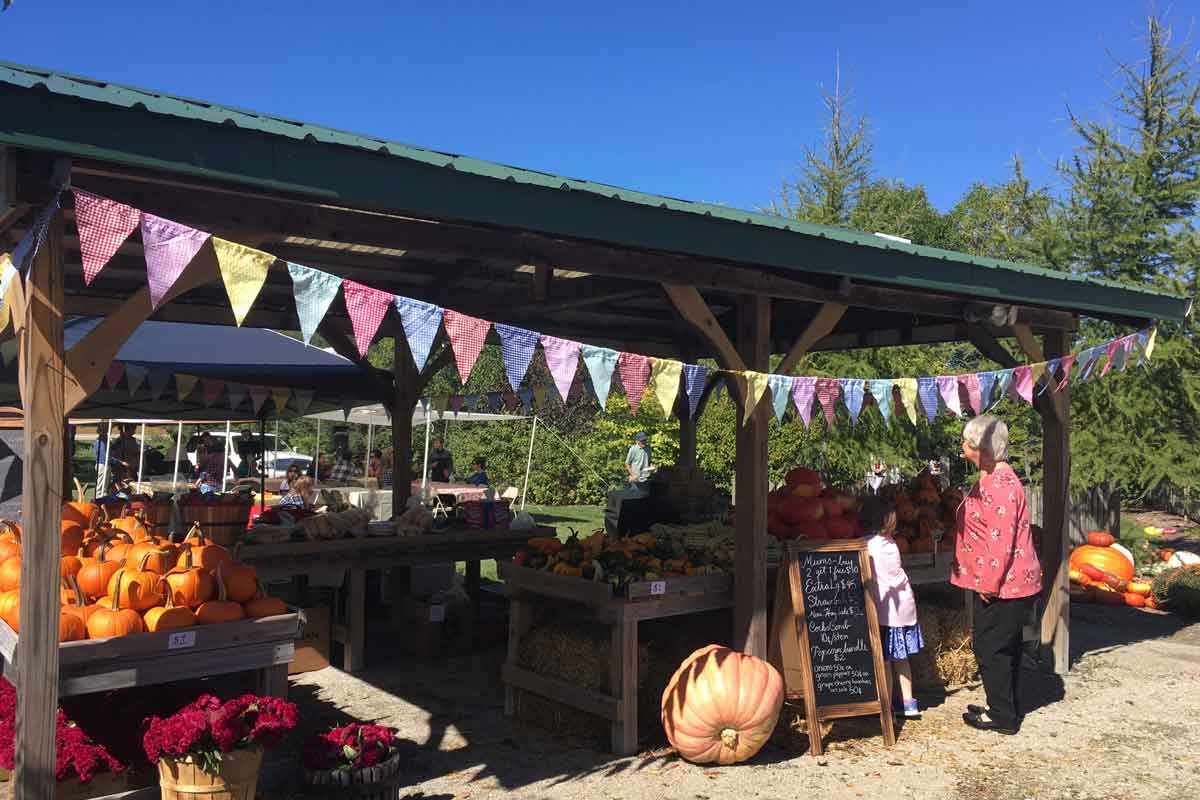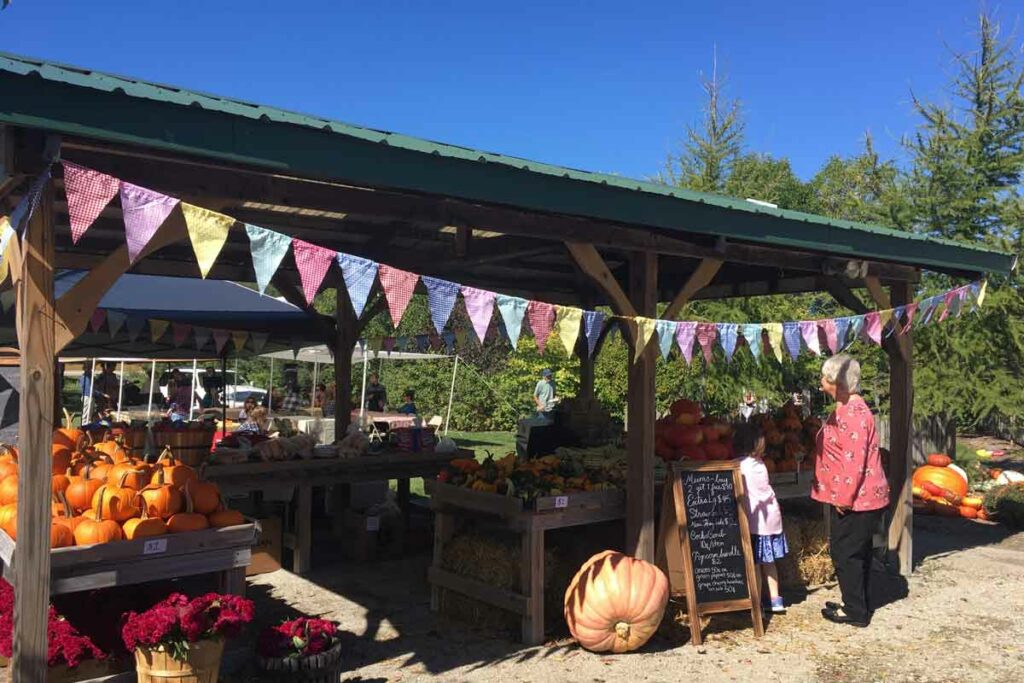 Apple Blossom Orchard & Market
Apple Blossom Orchard & Market is a family-owned and family-operated business located only 5.5 miles North of Appleton on County Road A. Known for their 19 varieties you can taste before buying!
Apples include Zestar, Paula Red, Premier Honey Crisp, Cortland, McIntosh, Fuji, Gala, Wolf River, Jonathon, Snow Sweet, Ambrosia, Pink Lady, Cameo, Jonagold, Golden Delicious, Empire and Red Delicious.
They do not offer pick-your-own.
Other fall products are pumpkins, squash, decorations, mums, apple pies, local syrup, root beer, local jams, popcorn, goat milk soap, apple cider, and more.
Address: N4366 County Road A, Black Creek, WI
Phone: 920-993-7277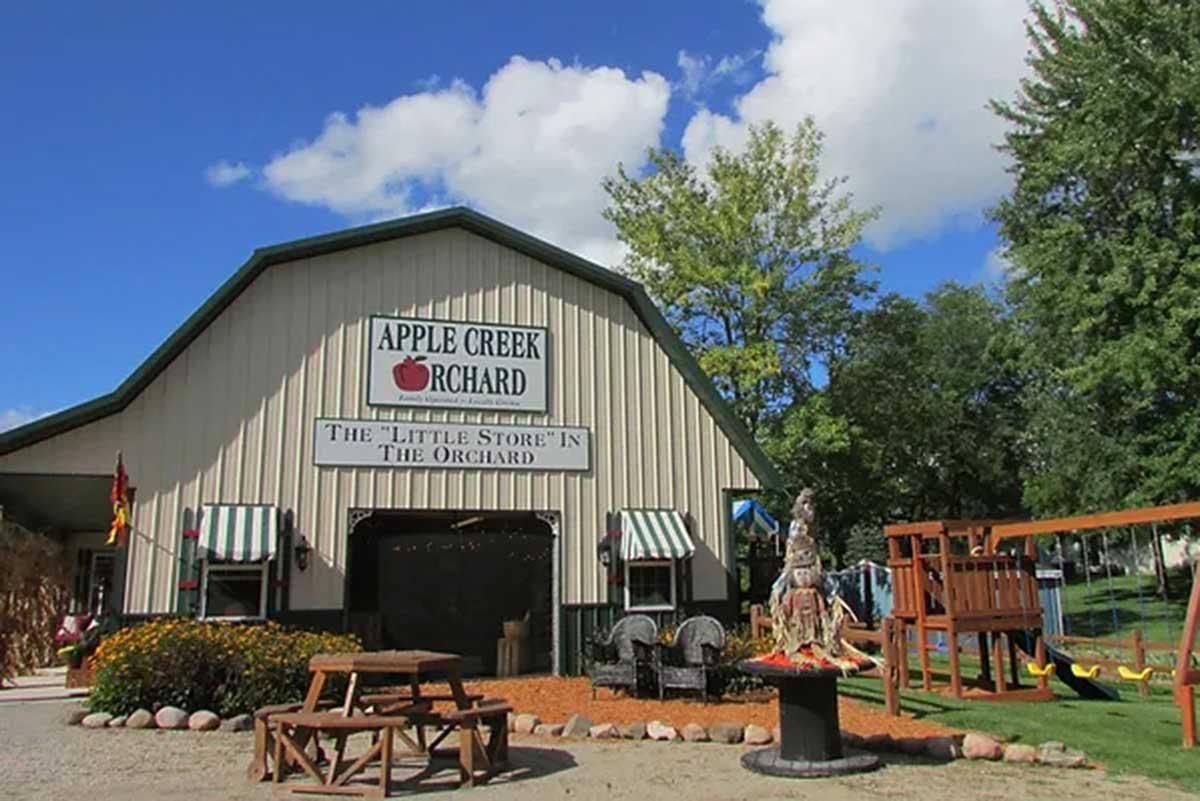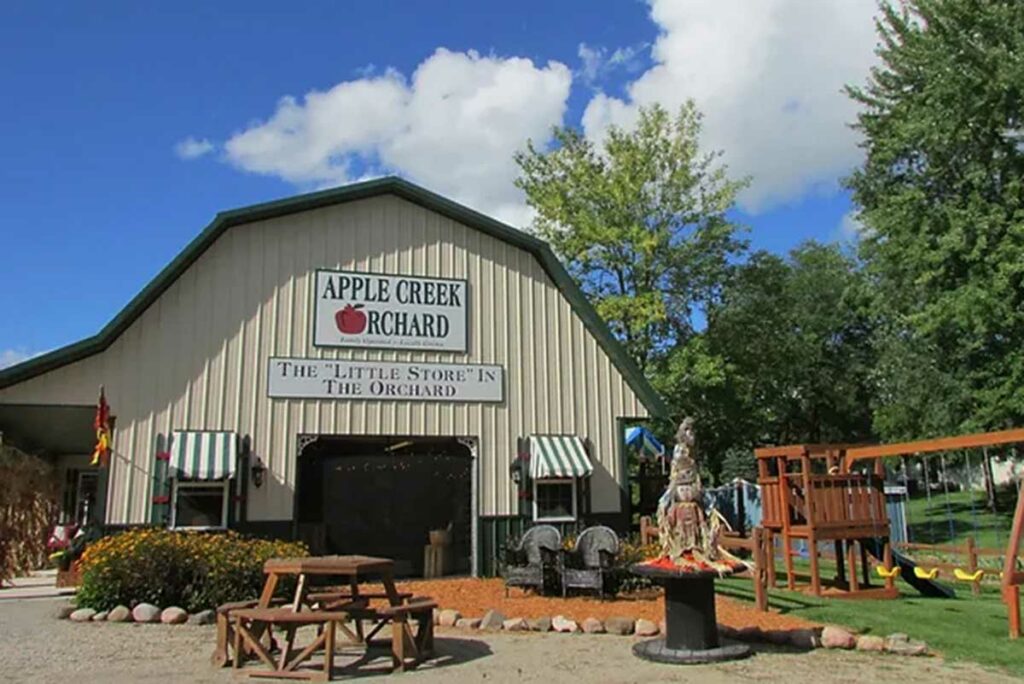 Apple Creek Orchard
Apple Creek Orchard is a little store with big charm! They have ready-picked apples, fresh pies, turnovers, caramel apples, jams, fudge, dressings, apple chips, and much more! The attic upstairs is an adorable gift shop full of lots of decorations and treasures.
Address: W2810 Cty Rd S Freedom, WI
Phone: 920-832-0322
READ MORE: 10+ Patches Perfect for Picking Pumpkins Near the Fox Cities
Heading to Door County? Check out our favorite fall spots including apple orchards and farm market stores in Door County.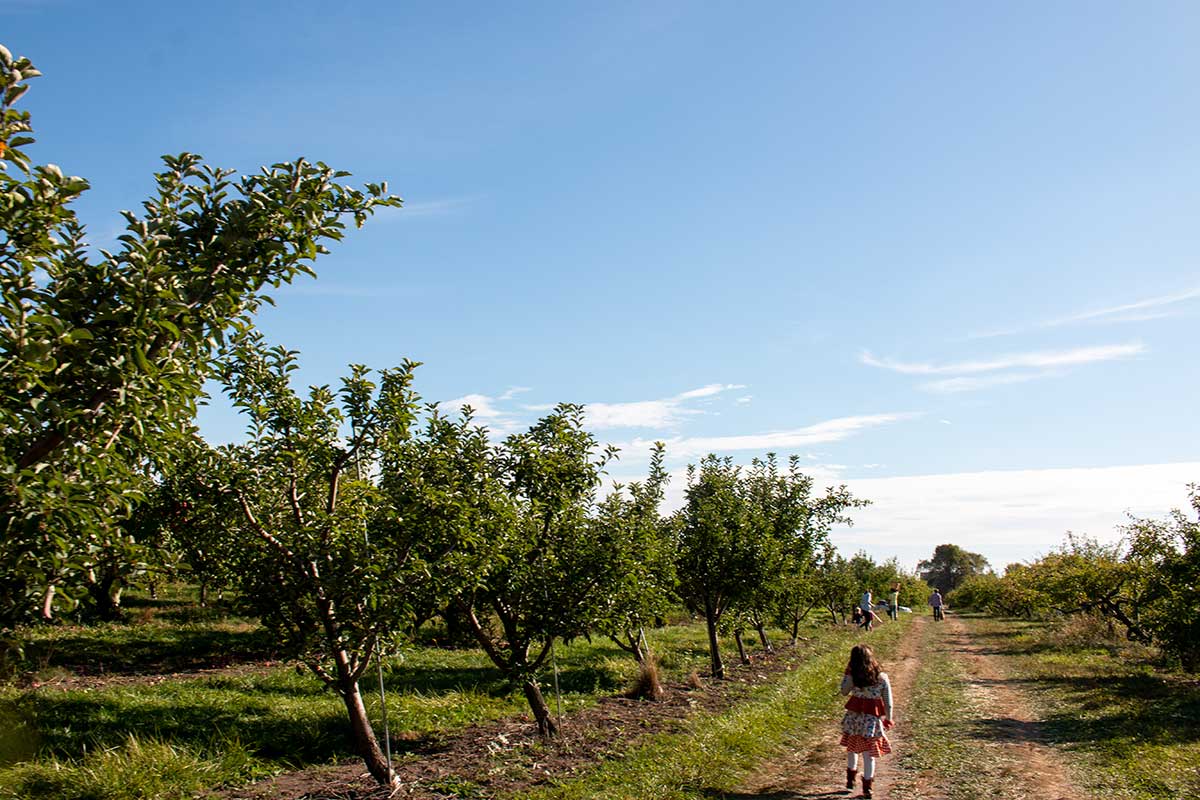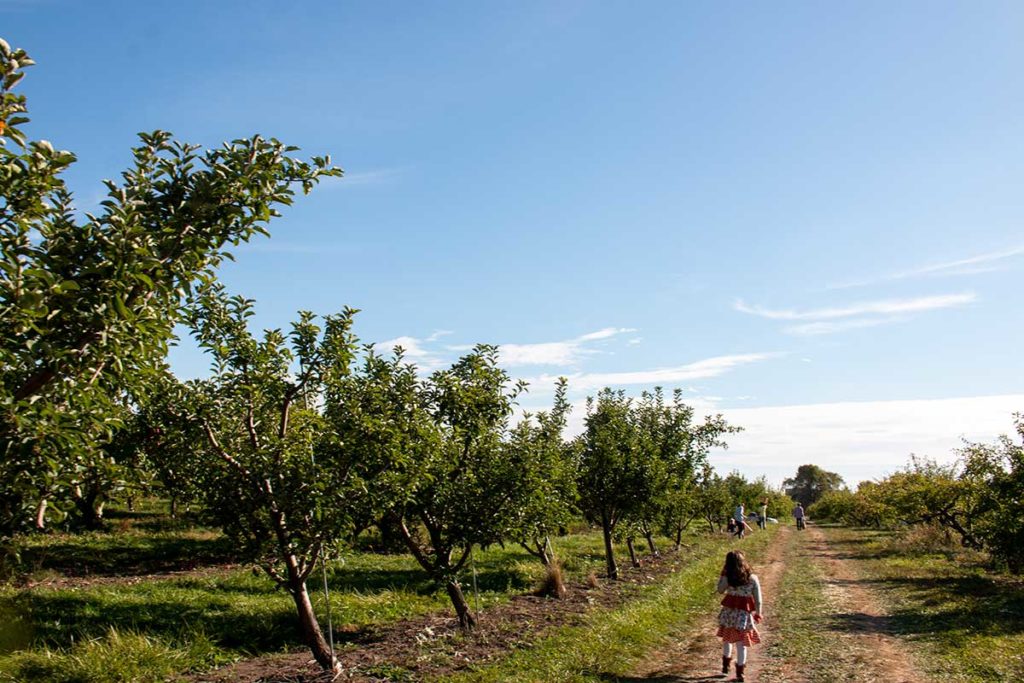 Editor's Note
Please let us know if your favorite location is missing by emailing us at govalleykids@gmail.com. It's always helpful and appreciated if you can provide details on the location.