It's that time of year! Cozy sweaters, apple pie, pumpkin pie, cider donuts, kettle corn, mild sunshiny days, pumpkin spice everything, and that familiar urge to decorate your front porch in the finest haystacks, mums, and perfect pumpkins.
Some fall favorite apple orchards and pumpkin patches will not be running all of the family fun attractions that we normally see during the fall. If you or your kids are looking forward to a tractor-pulled hayride, bounce houses, play area, or other unique feature, call ahead or check social media to ensure that you won't have a disappointing surprise on your hands.
Speaking of unusual times, remember to bring your masks as the state mandate is in place through at least the end of September. Most locations will have sanitizing or handwashing stations, but it won't hurt to have your own on hand.
We have this great list of apple orchards, pumpkin patches, and farms ready for you. If you cannot get enough of fall fun, there's plenty more action:
Typically pumpkins are available at the end of September and beginning of October.
We urge you to call ahead before you visit to ensure the locations are open. These are often seasonal businesses (and also working family farms) that often have varying hours due to staff, weather, and product availability.
Questions to ask when calling?
How's the picking?
What type of payment do you accept?
Do you have restrooms?
What do we need to bring?
Are dogs allowed?
Find an Apple Orchard or Pumpkin Patch Near Me
U-Pick Apple Farms & Orchards
Tips
Wear rain boots or other shoes that you won't mind getting muddy. Often orchards will be a little soggy longer after a rain.
Bring bug spray.
Have hats or sunscreen on hand. Fall can be tricky with mild temperatures but still enough sun for a pink face.
Don't forget your water bottle. It seems like our kids are thirsty after one picked apple!
Feel free to bring a wagon, but some locations will have them on hand for you. We recommend that if you're bringing your own it is one with bigger wheels that will travel easily through the orchard.
Talk about wasps before you head out with your kids. They're working on getting ready for winter too and love apples as much as we do. Wearing light colored clothing can help avoid drawing their attention and holding still if they land on an arm or head is the best bet as they will often just quickly move on.
If you have a favorite type of apple, check to see if it is in season and confirm with the farm via website, social media, or a phone call that they have it. Here's a handy chart from the Wisconsin Apple Growers Association: waga.org/Ripening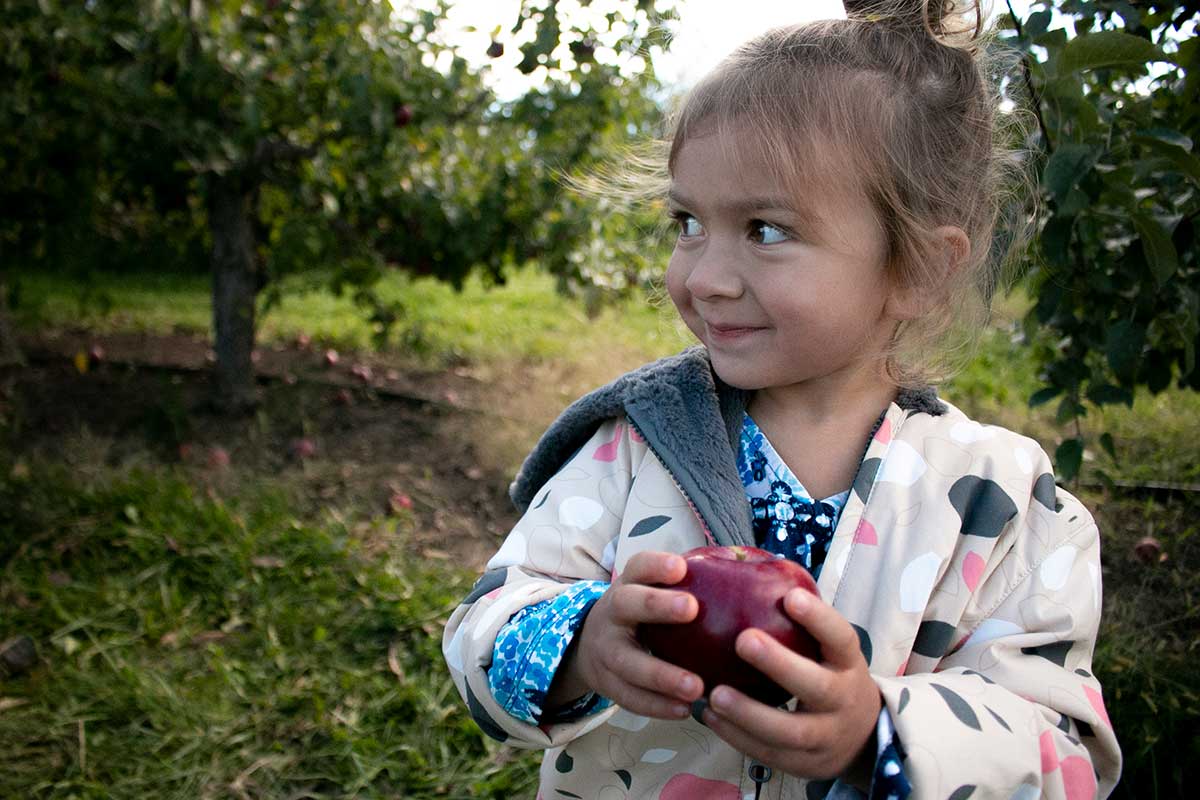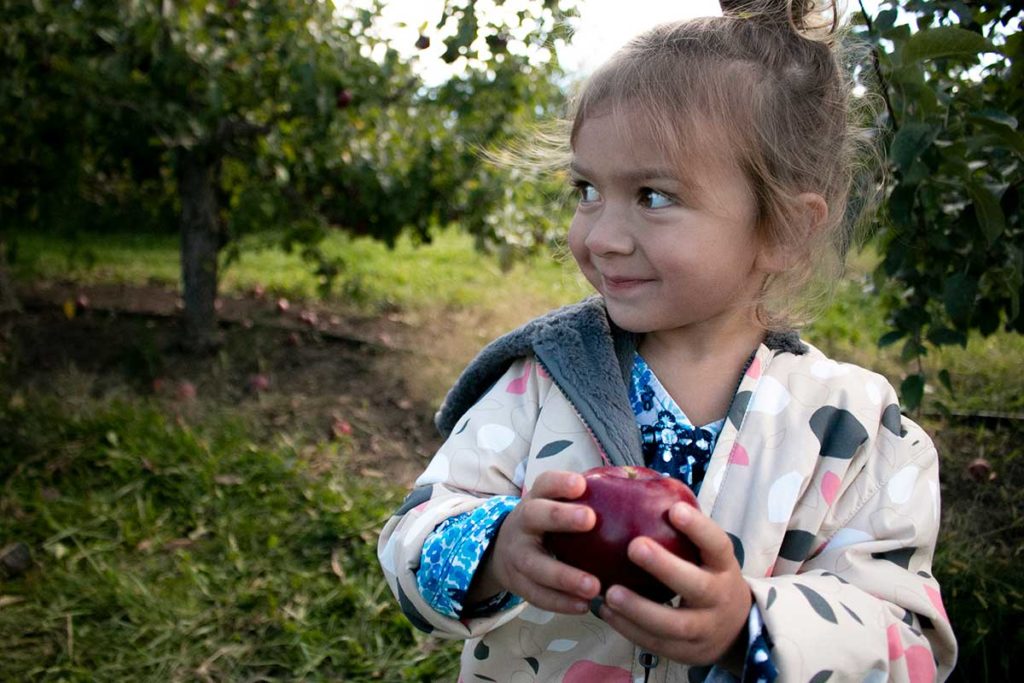 Call or visit websites for hours, admission rates and apple variety availability.
Apple Valley Orchard, 1670 Mar-El Rd, De Pere

(920) 366-0667
Open Date: September 19, 2020
What you'll find (updates for 2020):

Cash and check payments accepted.
Indoors: Face coverings are required. Shopping limited inside to one member per household with limited occupancy. No strollers or wagons inside the store.
Pay per pound is not available this year for picking your own apples. Drawstrings bags will be used. Bags can be purchased in the store before going out to pick your apples. Please leave your own bags and containers at home. 
No tractor wagon rides for 2020 to the orchard. Hand wagons are available and will be sanitized frequently.
Picnic tables, the wooden train, and photo props have been removed.
Animal walking trail.

Bauer's Apple Shed, W7763 Wisconsin Ave, Hortonville

(920) 757-6187
Opening Date: Saturday, August 15, 2020
What you'll find (updates for 2020):

Cash, checks and PayPal QR payments accepted.
Fresh picked apples or pick your own 5 miles west of the Fox River Mall (Appleton) on US Highway 96.

Heritage Orchard, N2963 Lakeshore Dr, Chilton

(920) 849-2158
Opening Date: August 29, 2020
What you'll find (updates for 2020):

Farm Market store includes season fruits, pumpkins, honey, popcorn, apple pies, cider apple cider donuts, caramel apples and more.
Pick your own apples and pumpkins
No wagon rides for 2020

Hofacker's Hillside Orchard, W3964 Wege Road, Appleton

(920) 734-0780
Opening Date: Thursday, September 3, 2020
What you'll find (updates for 2020): Pick your own apples, pre-picked apples, caramel apples, cider, mums, pumpkins, straw bales, corn stalks, pumpkin patch, corn maze and zipline (weekends, 5 years old and older).

Little Farmer, N9438 Hwy 151, Malone

(920) 921-4784
Opening Date: Tuesday, August 18, 2020
What you'll find (updates for 2020):

Applehouse open (masks required) to buy apples, caramel apples and bakery. No self serve or samples in 2020, but staff will help bag items.
Playground and hayrides closed for 2020.
Stroll a corn maze. 
Animals including goats, sheep, peafowl, chicks and Scottish Highland cattle. Goats can be fed for 25 cents per handful.
No admission cost. Cash, debit cards, and credit cards accepted for payment.

Rasmussen's Apple Acres, 3871 State Road 21, Oshkosh
Sharky's Orchard, W3045 Emons Rd, Appleton

What you'll find (updates for 2020):

Pick your own apples or pre-picked apples

Construction directions from Eisenhower Drive. Emons Road is closed on the west end so take Springfield or Creakveiw to Pinecrest Boulevard, then go 1 block to Emons Road. Call (920) 209 2172 if you get lost.

Sprangers Orchard, W2100 County Trunk KK, Kaukauna
(920) 733-6739
Star Orchard, 253 County Road CE, Kaukauna(920) 759-9294 (seasonal)

Opening Date: Friday, August 28, 2020
What you'll find (updates for 2020):

Orchard store with local goodies, caramel apples, cider, pick your own apples, hand-picked apples and a small corn maze.

Cash, debit cards, and credit cards accepted for payment.
Heading to Door County? Check out our favorite fall spots including apple orchards and farm market stores in Door County.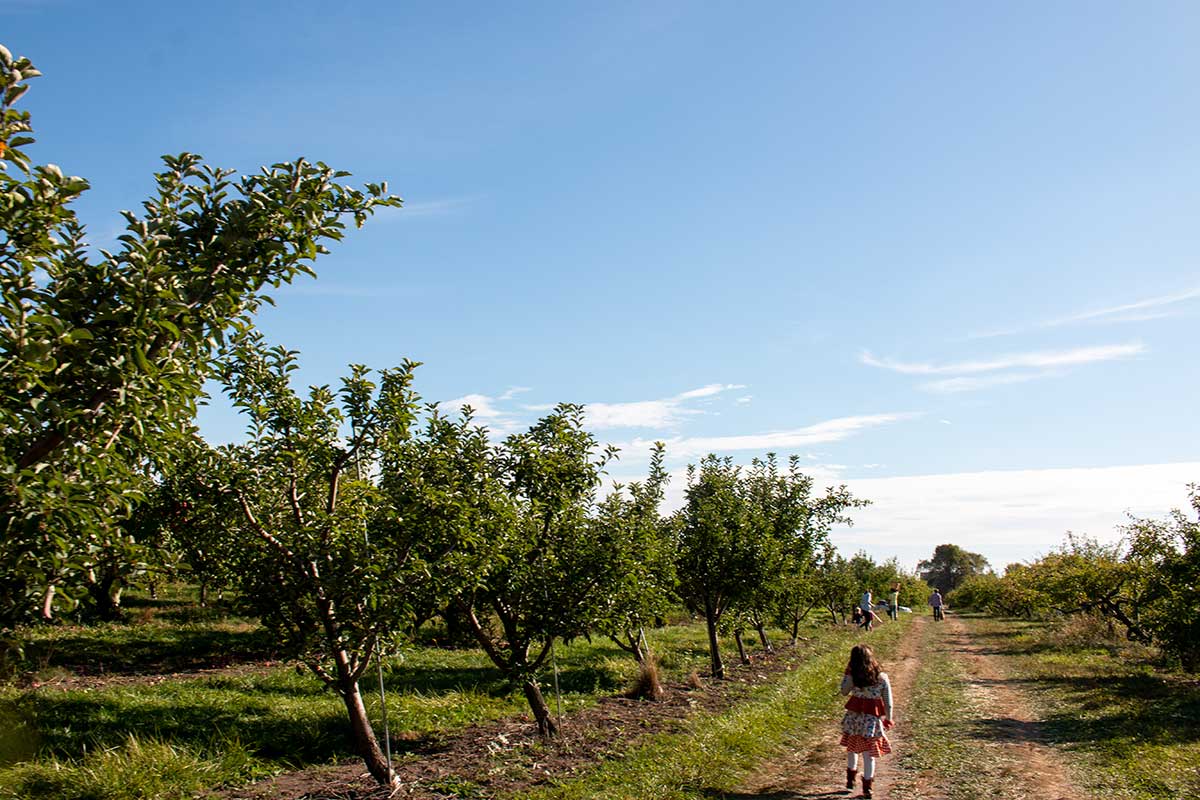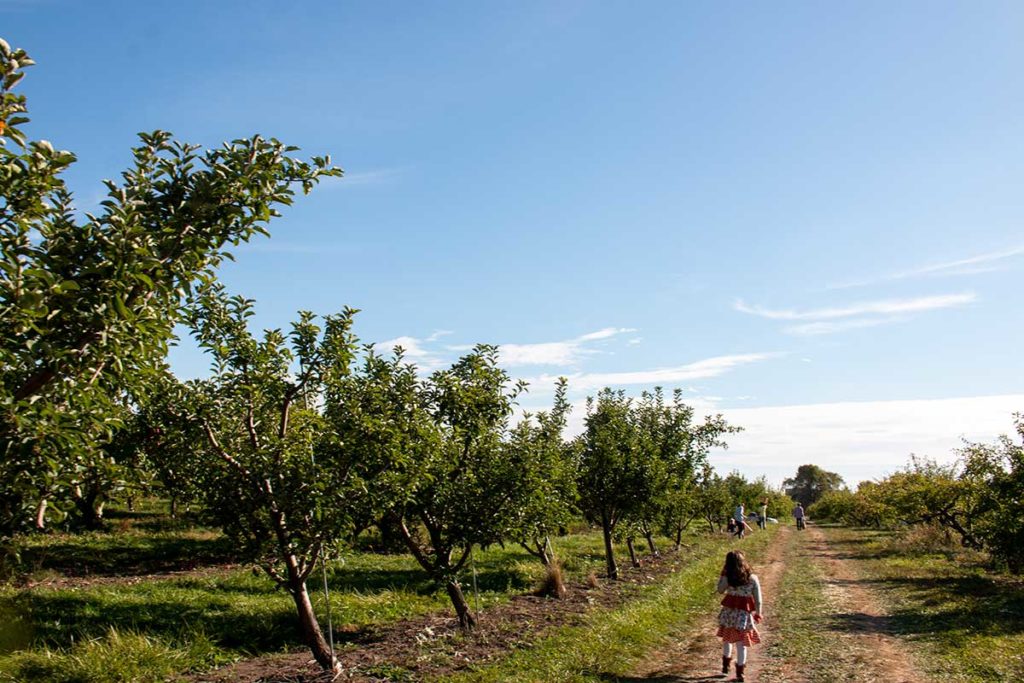 Pumpkin Picking Patches & Farms
Some patches will not be running hayrides, call ahead or check their website or social media.
Bring cash, many locations do not accept credit or debit cards.
Bring a hat or sunscreen to avoid leaving with a pink nose and cheeks.
Pick a pumpkin with even a thick stem and even color around it to help with longevity.
It is so tempting to carve right away, but waiting until close to Halloween will help your pumpkins to last longer. There are cool stickers available or little hands can do great pumpkin painting to get the fun of decorating without having to worry about rotten pumpkins on your porch.
Try using a glow stick or battery operated candle in your jack or lantern instead of a flame candle.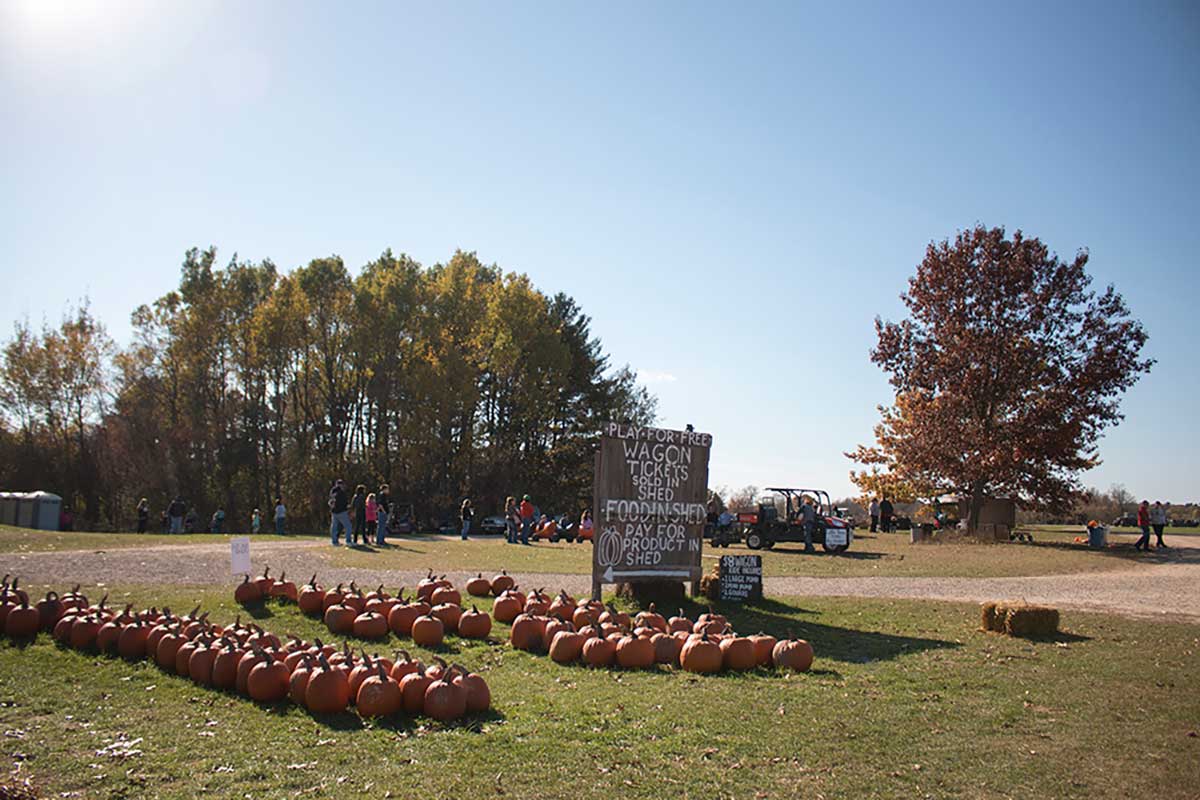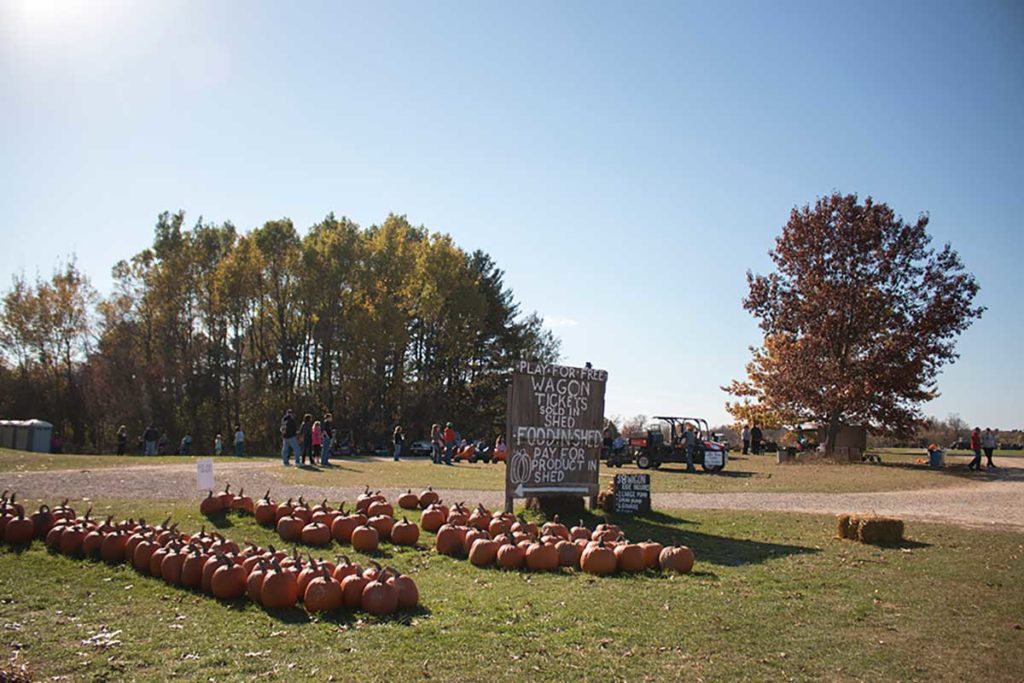 Call or visit websites for hours, admission rates and apple variety availability.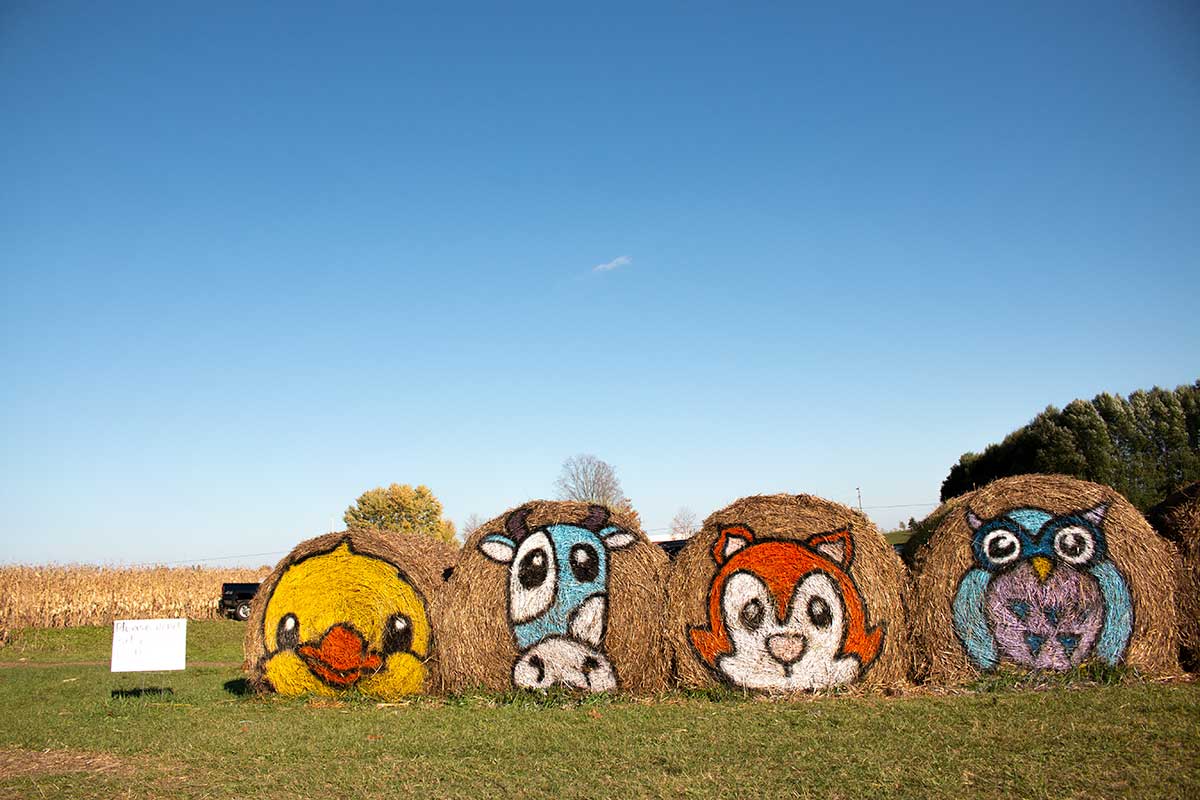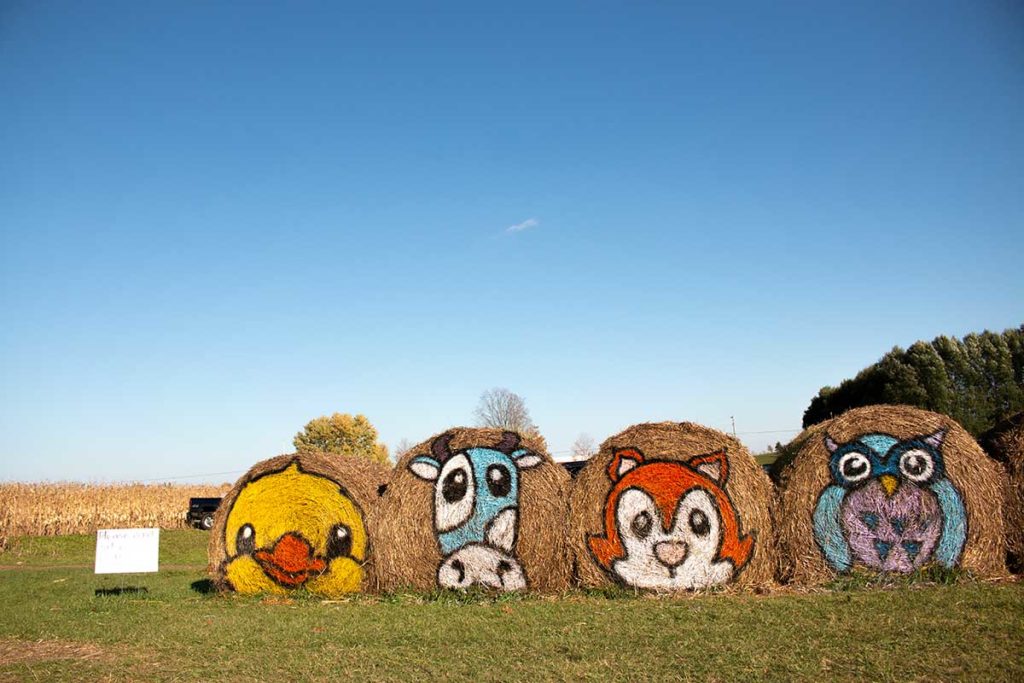 Editor's Note
Meuer Farms in Chilton will NOT be hosting family activities or the corn maze for 2020. Fresh produce and whole grain flour is available for purchase. For schedule and availability visit their website and facebook page.
Please let us know if your favorite location is missing by emailing us at govalleykids@gmail.com. It's always helpful and appreciated if you can provide details on the location.